By Cacinda Maloney
The shock thundered through him like cold blood running across the floor, he couldn't believe it, as he heard the terrible news. She is gone. The grief overtook him, so much so, that he climbed up in the tower and jumped from the company well. He was Mr. Worts, a successful merchant and miller in England, who had decided to take his family to Toronto, Canada to begin a new life in 1831. Shortly thereafter his brother-in-law William Gooderham and family joined him. They soon formed a partnership and opened a milling business.
Times were tough back then and when Worts wife died during childbirth, Gooderham was stuck. He had no experience as a miller and summoned the eldest son of Worts, who at the time was 13 and was away for school to return to help him. He believed that surely this child would remember some of the techniques of his father from the time he spent with him England at the mill. Story has it that the 13 year old kayaked across Canada to return and help the family out.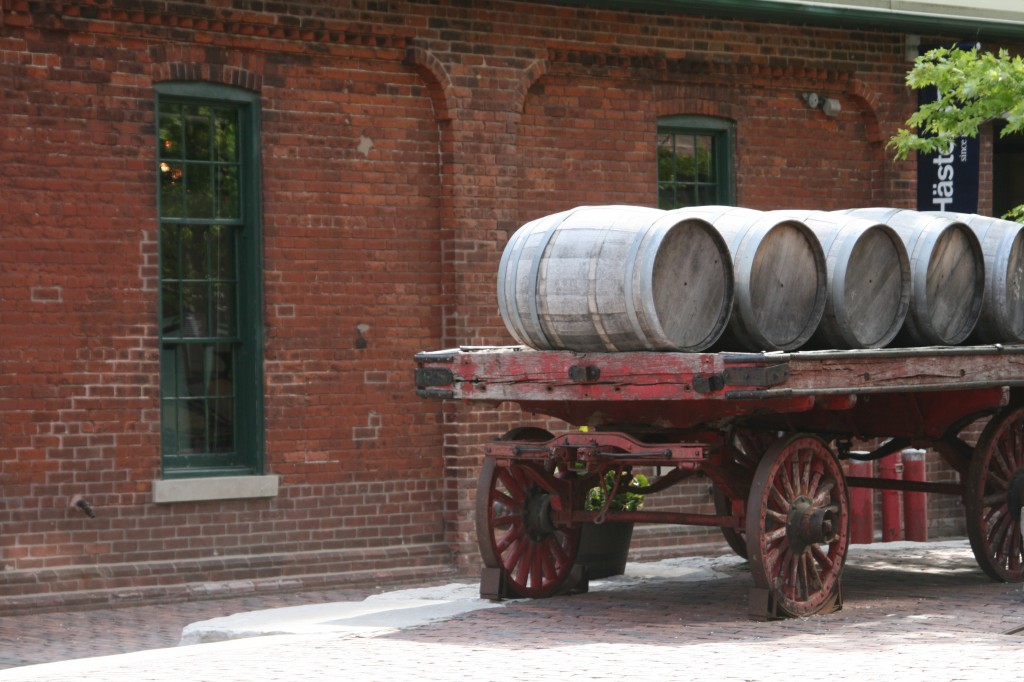 The Distillery Historic District, Toronto, Canada
Such is the story of The Distillery in the Historic District of Toronto, Canada. By 1837, Gooderham added whiskey to his mill and the distillery was born.
This restoration is the way cities should restructure their warehouse district! It was one of those experiences where the old warehouse area of the city has been renovated masterfully. The Distillery is made up of old red brick with Victorian era buildings and represents one of the best preserved and largest collections of Victorian Industrial Architecture in North America. The deconstructionists kept what they could and then turned the rest into the most modern hot spot in town. It is home to Toronto's latest designers
and boutique shops of chocolate,
gelato, sake, beer, cheese,
vinegars and oils.
You will find unique cafes, artisan shops and even a place to rent a Segways to get around!
It has a pedestrian only village that you can stroll around, which makes it a perfect ride on those scooter-like mopeds. I could easily spend an afternoon to see and sample products that are not easily found around the world. It is perfectly centrally located and just a short walk from downtown Toronto. A few times when I was wandering, I even thought I heard the footsteps of Mr. Wort, calling out for his beautiful wife, yet happy that this place was finally settled once again.
My trip to The Distillery Historic District was sponsored by Stegway Tours of Ontario. Opinions are strictly my own!