Amarillo is actually a pretty fun town, I should know…as I am from around these parts. I spent my childhood only 45 minutes from here. And I loved every minute of it! Little did I know childhoods could be so much fun! So I created a fun guide of things to do in Amarillo Texas!
---
What's in this post:
hide
Fun Things to do in Amarillo, TX!
---
Honestly, I loved how upon my return to Amarillo, how Amarillo stood out as a great western town. Amarillo attracts me because it is a slice of the old Texas. I wanted to see the history come alive. and yet still see great restaurants, bars, and plenty of things to keep me busy. So, if you've ever wondered why someone would want to visit Amarillo, here are a few reasons! I discovered a lot more fun things to do in Amarillo than I ever expected!
Sometimes when you think of your own hometown, it is hard to imagine that people would really want to go there for a planned vacation, but this couldn't be further from the truth. There are more fun things to do in Amarillo than I could even remember from my childhood. A lot has changed in Amarillo, but things are looking up, way up for Amarillo Texas!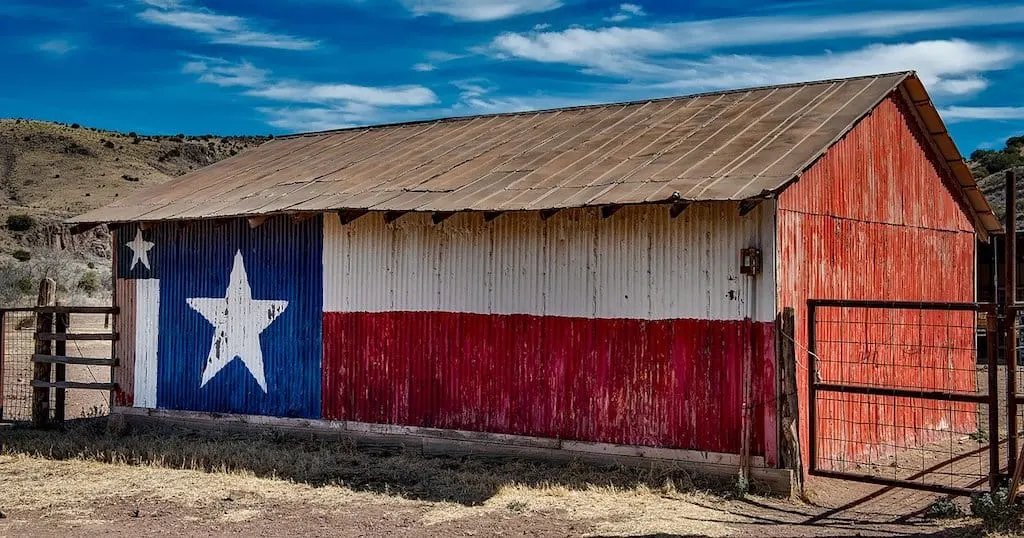 Things to do in Amarillo TX
Amarillo Texas is the business and cultural center of the Texas Panhandle and is located in the top portion of the state. Originally, Amarillo was a railroad town in the 1880s, but it has since grown into a thriving metropolis city. With industries such as cattle ranching, oil production, and wheat farming, it continues to thrive. Back in the day, my Mom even owned an oilfield construction corporation when I was a kid! This area is known for oil and gas, as my Father worked for Cabot Corporation. So the industry was alive and well back then.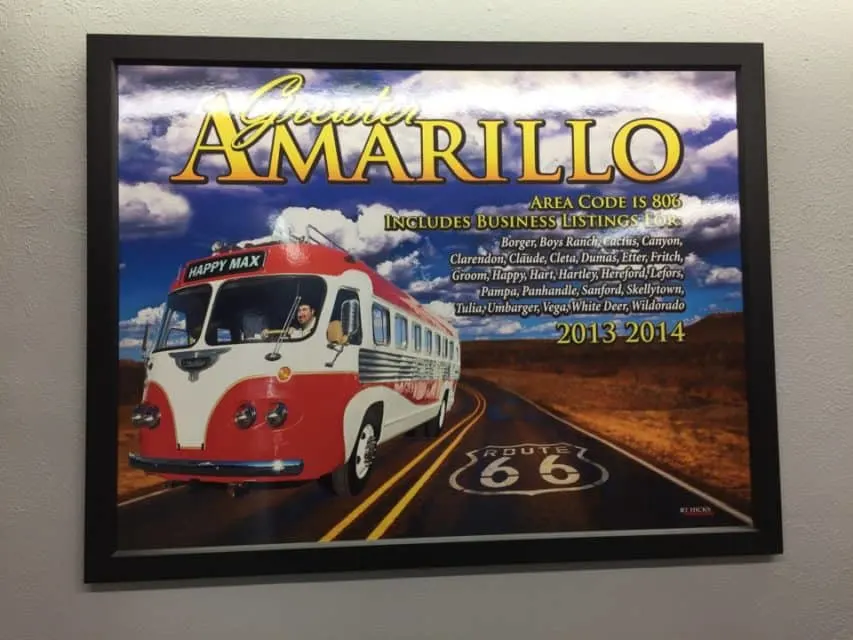 My #1 Recommendation:
One thing that many people might not know about Amarillo, Texas is that historic Route 66 runs through the old downtown area. With the American Quarter Horse Museum, Cadillac Ranch, The Big TEXAN, Palo Duo Canyon, art museums, botanical gardens, a science center, an amusement park, a zoo, local theater, an opera house, and the new Hodgetown Ballpark, you will find plenty of things to do in here.
But my number one (#1) recommendation is to see Cadillac Ranch, then have dinner at the BIG TEXAN if you want a true TEXAS experience. Then the next day, take a trip out of Palo Duro Canyon to see it for yourself. And get tickets to the show TEXAS!
These things are the stories of a true western town!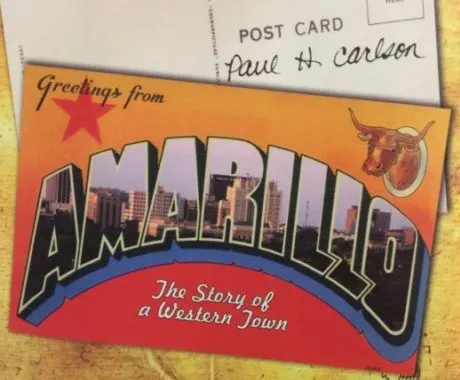 Fun Things to do in Amarillo
#1 Cadillac Ranch Amarillo, Texas
Come visit one of the USA's most popular roadside attractions: Cadillac Ranch. Sure, you can say what you want about Texans, but there are quite a few eccentric Texans that have money. So what does an eccentric Texan like Stanley Marsh the 3rd (the son of an oil tycoon) do with his money? Of course, he buys ten 1948-1963 tail fin Cadillacs and half buries them nose-first in the ground at a slant (52 degrees) corresponding to the Great Pyramid of Giza in Egypt!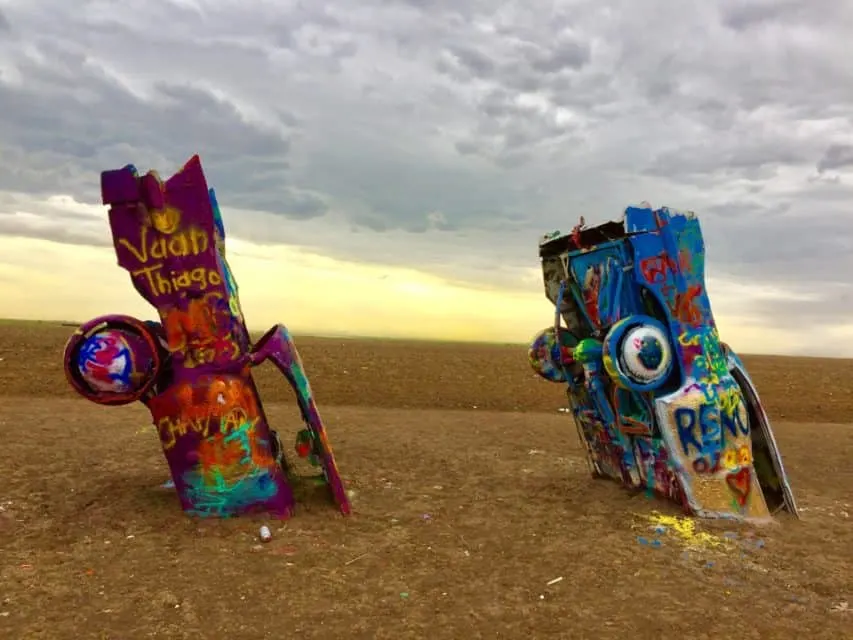 "The Cadillac's were buried in sequence from the oldest, 1949, to the newest, 1964. There are 10, each car representing the latest version of the famous Cadillac tail fin."
Cadillac Ranch is not really a Texas ranch, it is really an art installation or kitschy roadside attraction like the ones you see in Florida! In my mind, it is iconic roadside Americana, representing the heyday of the Cadillacs and is the very essence of the historic Route 66 which runs through Amarillo located near I-40 today. This is a great thing to do in Amarillo!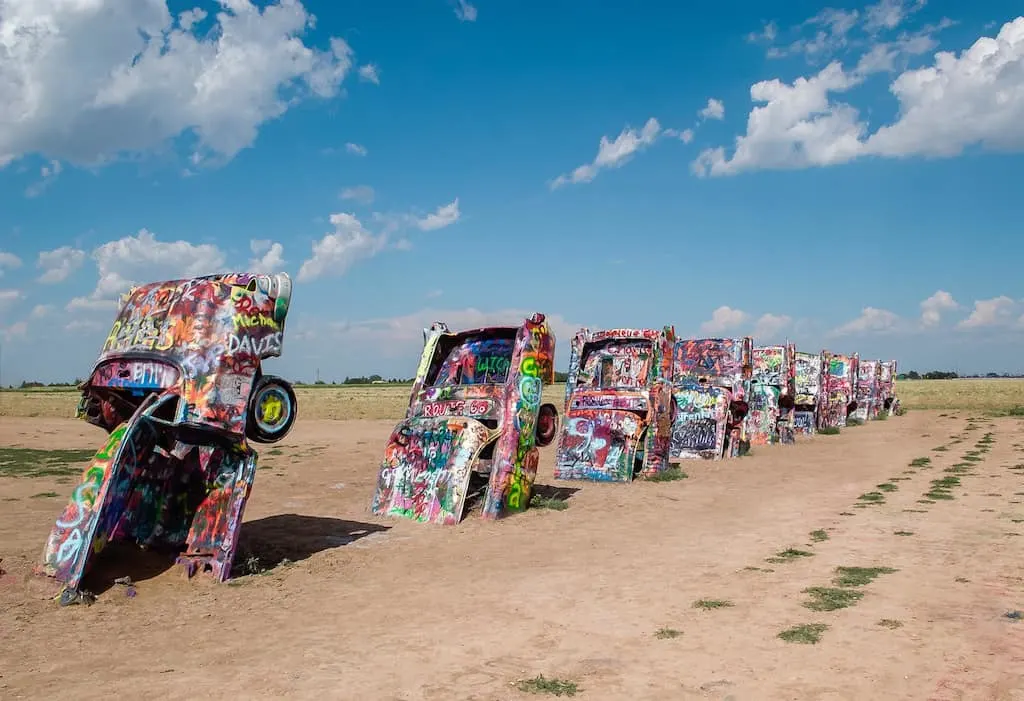 ---
Things to do in Amarillo: TIP for Cadillac Ranch
Don't forget to take a can of spray paint and your cell phone so you can splatter the cars with paint and take a selfie!
---
#2 Jack Sizemore's RV Museum
The Sizemore family has been collecting vintage recreational vehicles (RV's) for over 25 years and decided to open an RV Museum to house their collection behind the already existing RV sales business. This place is almost hidden, as many people I spoke to didn't even know that it existed. I thoroughly enjoyed every minute of wandering around this museum, where the Sizemore's have one the oldest Airstreams in existence from 1935.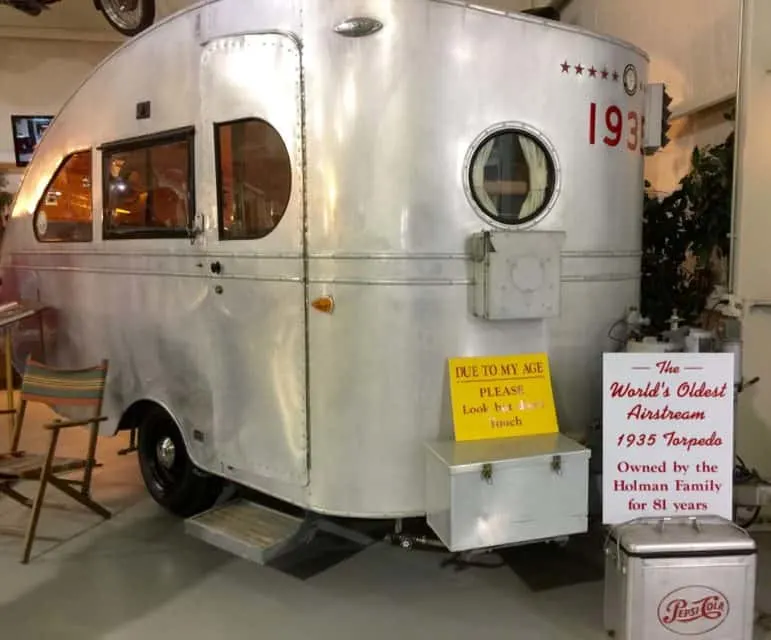 Plus, they have all kinds of different examples of RV's ever made. Things like a 1941 Airstream, a 1937 Kozy Kamper, the oldest Fleetwood in existence, a 1946 Teardrop kit, and so many examples of the '30s, '40s, 50's, and 60's RVs with accessories! Interspersed among the RVs are old soda fountain machines, vintage motorcycles, cars, and a 50's gas station that was replicated as the gas station that Mr. Sizemore used to own. This is worth every minute of stop as a fun thing to do in Amarillo.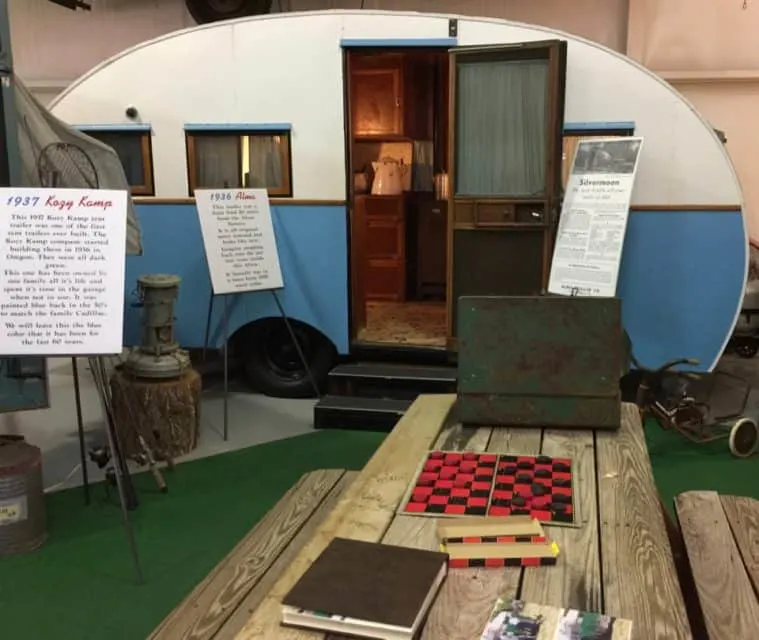 #3 Bill's Backyard Classics
Another example of a wealthy Texan is Bill Caldwell…who started Bill's Backyard Classics, a showroom floor, well actually two of them, crammed full of classic cars. Do you want to get nostalgic about the good ole' days? Well, Bill's Backyard Classics has vehicles that take you back in time is a super fun visit to Amarillo.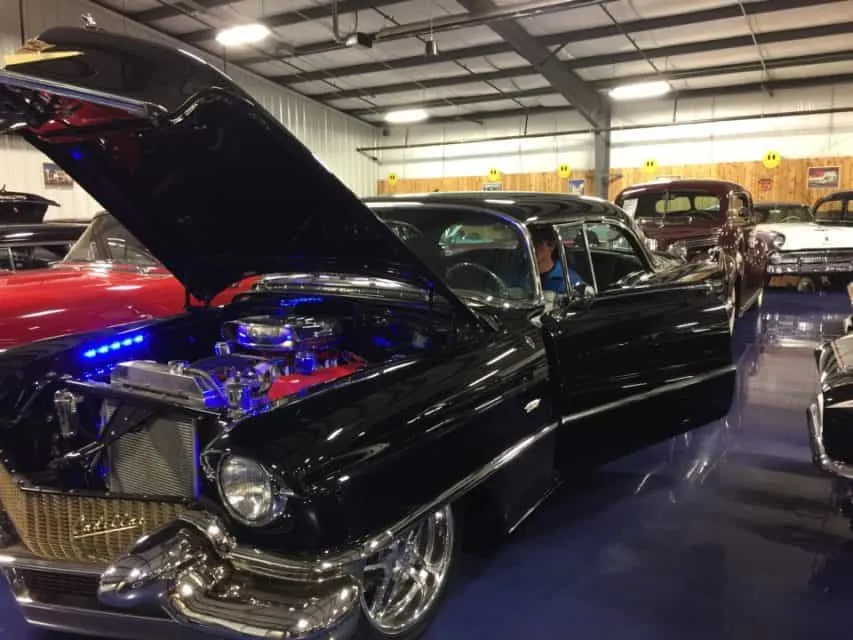 In fact, on my recent visit, he had over 171 classic vehicles! Those include cars and trucks, all kinds of makes and models that span the years of the 1920s to as new as 2012. They even have Model A's (from 1928), street rods, military jeeps, power wagons, corvettes, and rows and rows of Cadillacs from the 1950s and 1960s.
Since my Dad collected cars since he was in high school, this particular stop was interesting to me! You see, my Dad still has the very first classical American car he ever bought! Too bad I didn't get to bring my Dad along on this visit, as I know he would love to make a stop at Bill's Backyard Classics. To him, this is the BEST THING to do in Amarillo!
Here is an excerpt from my Dad:
"In 1958, I was stationed with the Army at Fr. Polk, Lousiana. I rode a bus to Houston, Texas on Friday, July 4th to look for a car to buy. After looking Friday and Saturday all day, I found the car I wanted: a 1955 Mercury customer two-door solid black, and what a beauty she was! The price of the car was $950." And below is a photo of my Dad's car that he still has today.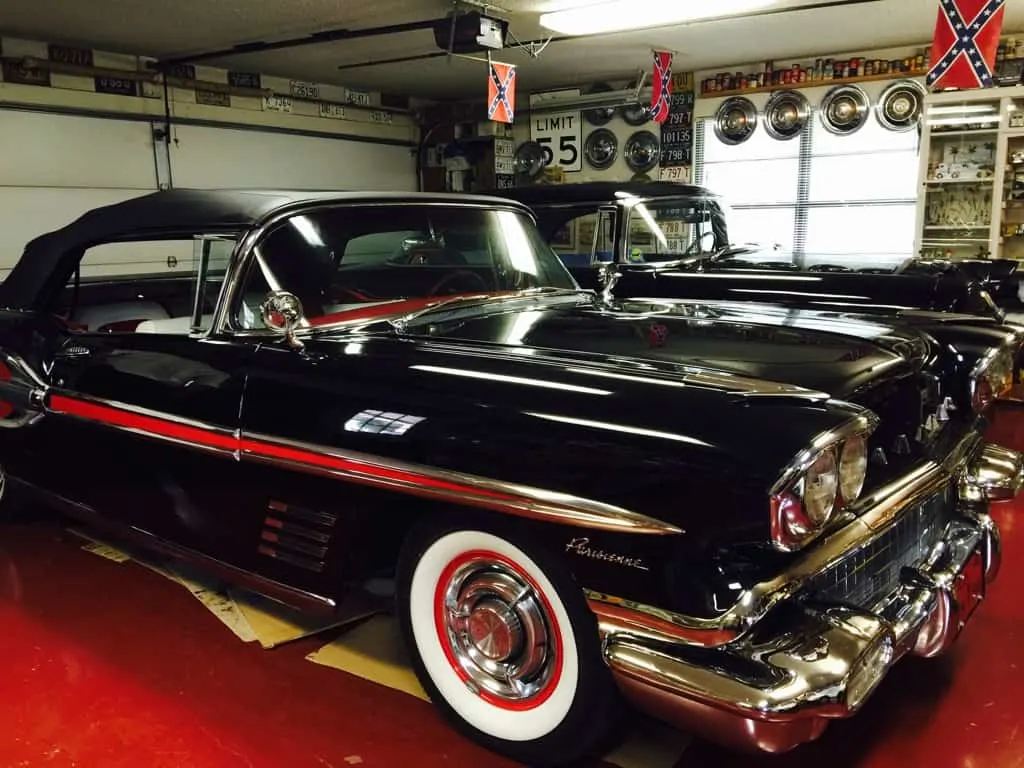 ---
Bill's Backyard Classics says that Cadillac Ranch has nothing on them!
---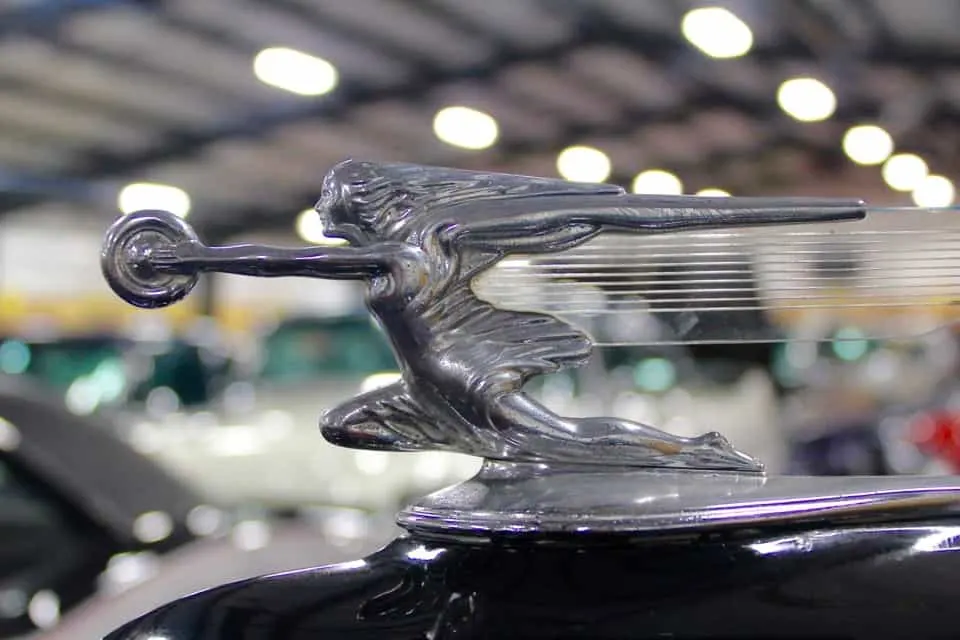 #4 The BIG Texan
BIG TEXAN: Home of the famous and free 72 oz. steak, as everything is BIGGER in Texas and this place is the epitome of that slogan! Come on over to a steakhouse, motel, Texas-shaped swimming pool, magic, and music shows, casino, ice cream parlor, gift shop conglomerate complete with 10 longhorn Cadillac limos to bring you there. Now home to a future zip line! Where in one pit-stop, you can see it all and enjoy the carnival-like atmosphere of the BIG TEXAN steakhouse!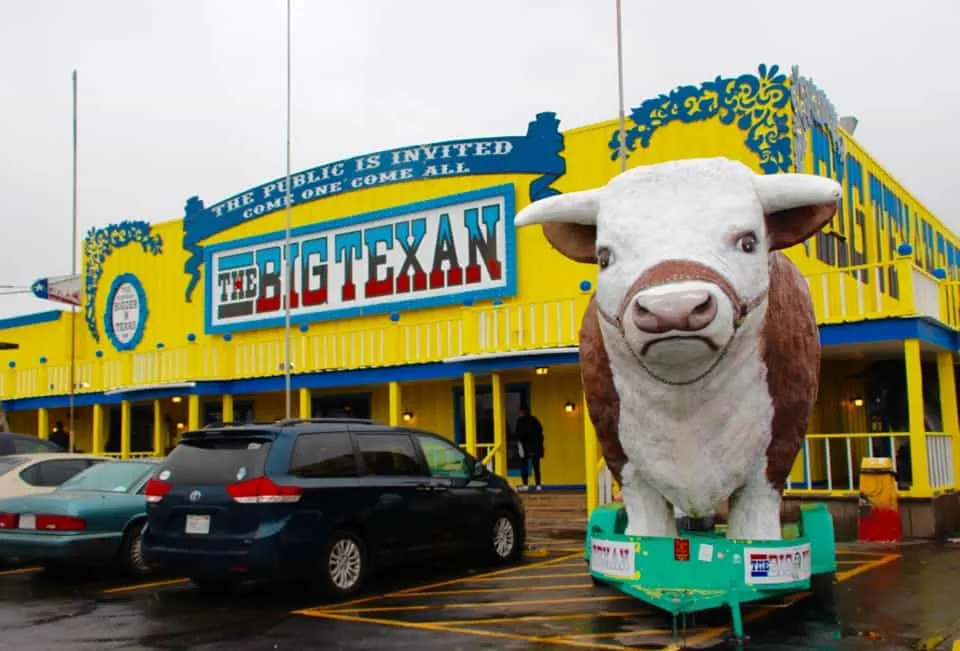 Do you want a free steak? Well, the meal consists of the 72 oz. steak, shrimp cocktail, a baked potato, a salad, and a bread roll. You have one hour to finish it all on an elevated stage with a timer, but if you can't finish in time, it will only cost you $72.00!
I even remember when I was a kid, there used to be a field beside the BIG TEXAN where the buffalo that they served would graze (they got rid of them a long time ago according to owner Danny Lee and no longer serve buffalo). When I go to Amarillo, this is my son's favorite thing to do there!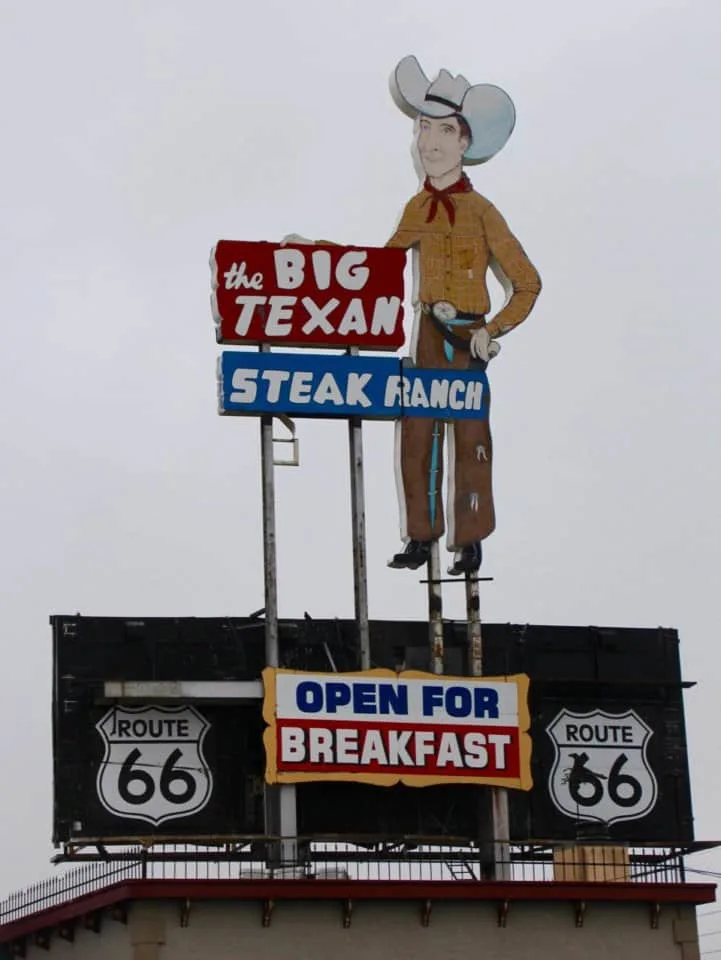 #5 Historic Route 66
As mentioned before, who would have thought that US Historic Route 66 started (or ended) right here in Amarillo, Texas? It is in the San Jacinto neighborhood near 6th Avenue between Georgia and Forrest Avenues. For more than 13 commercial blocks in the San Jacinto Heights neighborhood, you will find some pretty quirky places along this stretch of Historic Route 66—like the Lile Gallery, where Bob "Crocodile" Lile produces jewelry from broken Cadillac Ranch car pieces!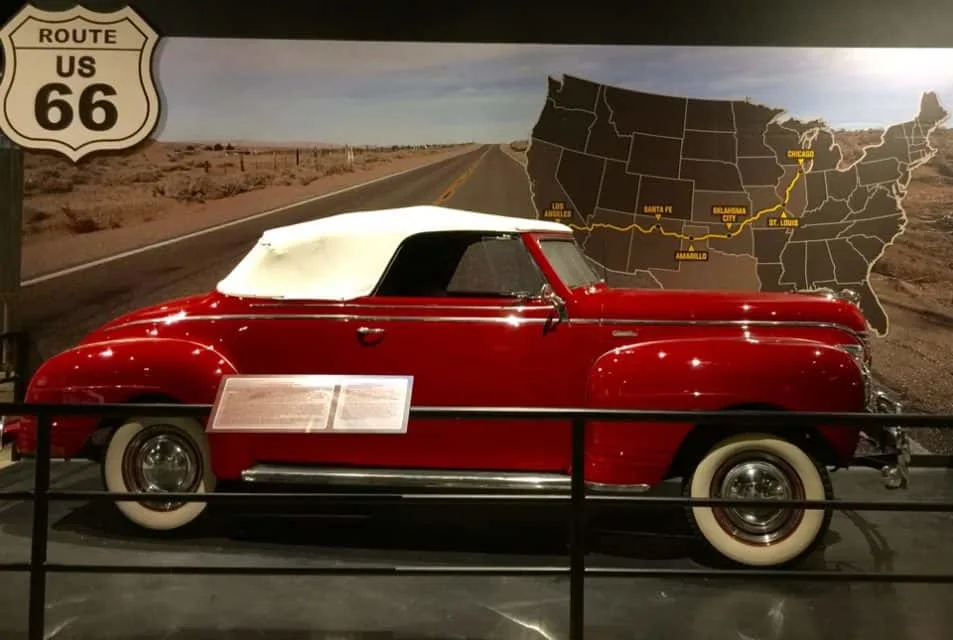 But there are also a few honkey tonks, antique stores, and good old-fashioned Mexican dive joints – Los Braceros for your eating pleasure! Of course, there is lots of eye candy for the folks looking for nostalgia in this area of Route 66. This area boasts design standards from Spanish Revival to Art Modern and Art Deco, representing a nostalgic time and evolving American tastes and culture.
Some of the historically significant buildings are the Adkinson-Baker Tire Company, the Natatorium, and Taylor's Texaco Station. Honestly, this area is a whole bunch of fun for those taking the US Route 66 drive and a great thing to do while in Amarillo.
---
Take a drive down memory lane…for the top things to do in Amarillo, Texas.
---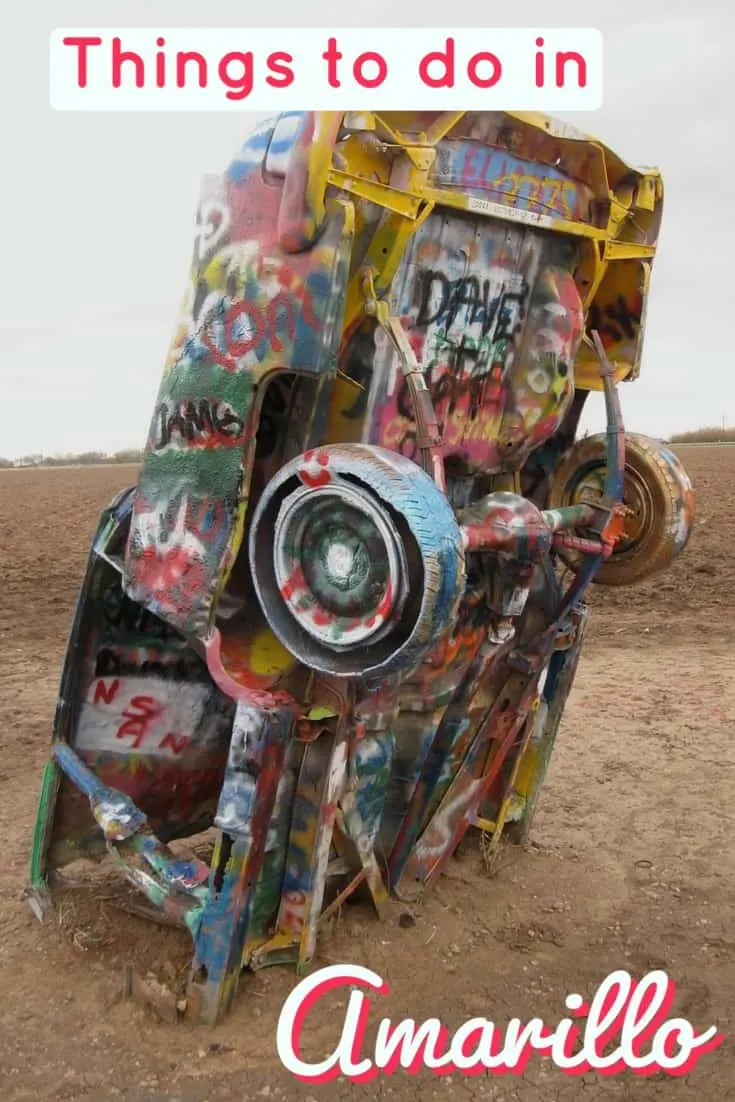 ---
Interested in reading other articles about Texas?
The Best Dallas-Fort Worth Airport Layover Options
These Boots Are Made For Walking – El Paso, Texas
Quinta Mazatlán – Tex-Mex Culture Wrapped into One
7 Things To Do In Texas Other Than The Alamo
---
#6 Harrington House
The Harrington House is a historic home built in 1914 by John and Pat Landergin. It is built in the neoclassical style and seems to transport visitors into Tudor England. Later it was purchase by the Harrington's who preserved the home and took great care of the furnishings inside. This included the original tapestry covering the walls in the Reception Hall and the parquet de Versailles flooring, all dating back from the 18th century. Of particular significance are the symmetrical façade, a full-height entry with fluted columns, and balustrades at both the porch and roof levels.
The Harrington House was given to the Panhandle-Plains Historical Society in 1983 by Mrs. Harrington. And it is now in the hands of the Amarillo Area Foundation, which manages the endowment established by the Harrington philanthropy.
#7 American Quarter Horse Hall of Fame and Museum
The American Quarter Horse Hall of Fame and Museum is a museum that highlights the horse breed and the people who love them known as the American Quarter Horse. The museum showcases paintings, films, and photographs of the horses who have been honored into the Hall of Fame.
The museum also includes exhibits related to teaching visitors about equine riding, including cowboy and riding attire, horse anatomy, and other artifacts related to the Hall of Fame's inductees. This includes photographs, film, paintings, and statues. The moment you walk into the museum, you will be greeted by the bronze status of American Quarter Horses in a larger-than-life-size.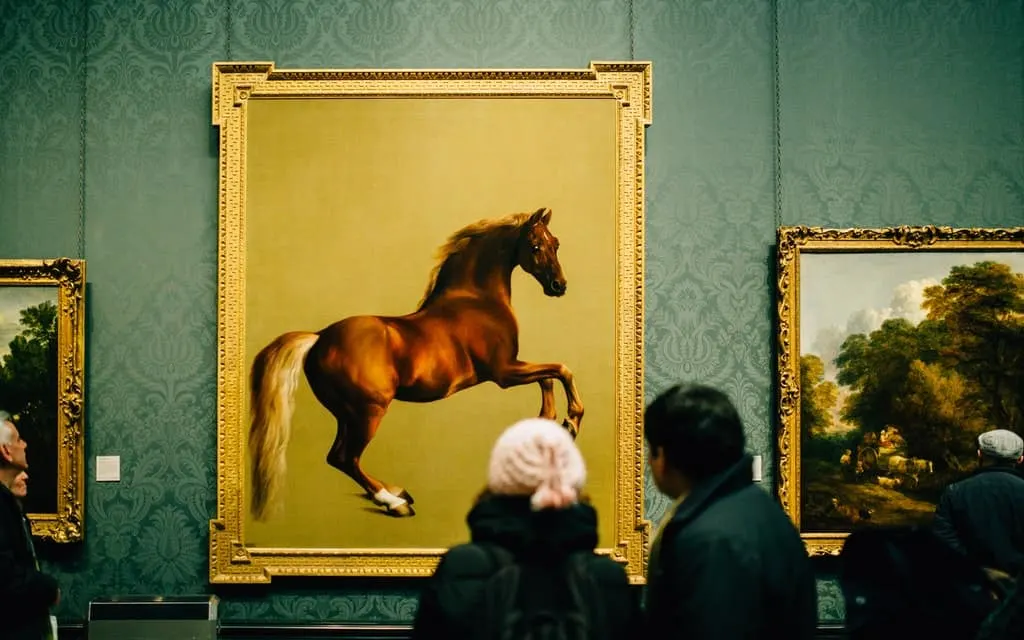 The Grand Hall houses the legends of American Quarter Horse history. With soaring rock columns and intricately etched bloodlines on the floor, this space is a place to honor and memorialize these horses. You can spend time reflecting at the Wall of Honor Plaza. You can approach it from the east, where a light sculpture displays a herd of running American Quarter Horses. Or you can approach it from the west, where granite bricks pay tribute to the people who have made generous donations to the museum.
#8 Amarillo Botanical Gardens
The Amarillo Botanical Gardens include more than 4 acres of outdoor, seasonal gardens. It primarily features plants that are native to Texas. But the park also contains an indoor conservatory that highlights tropical and exotic plants from around the world. You can take a docent-guided tour or walk around on your own. They also offer many educational classes related to gardening, plants, and anything related to the gardens. They also have a garden club and the ability for you to volunteer at the gardens. This space is also frequently used for a private event or a wedding. It is a gorgeous place, so stop on by while you are in Amarillo Texas.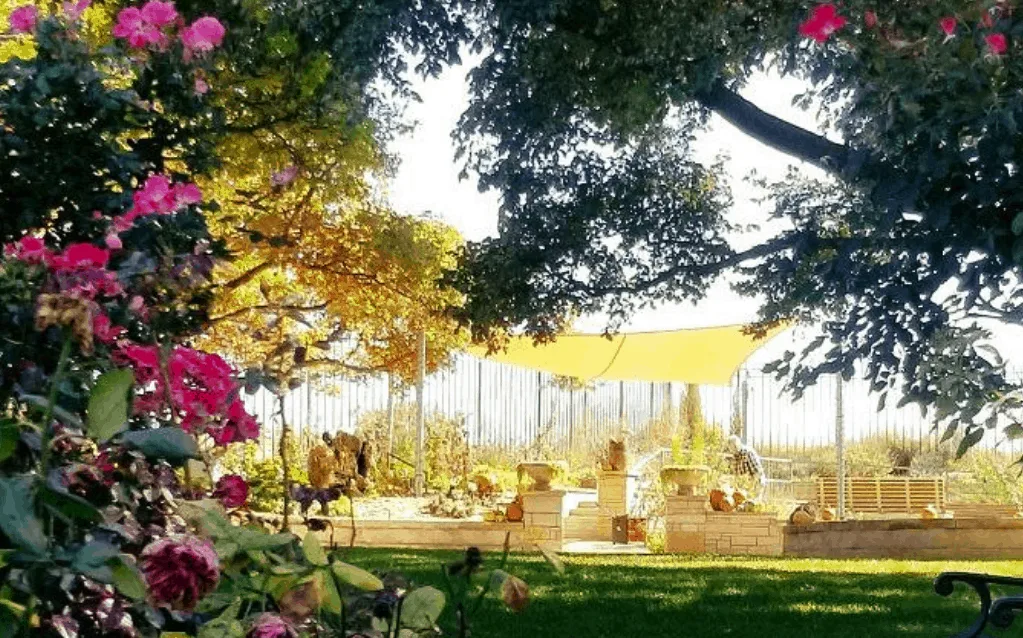 #9 Don Harrington Discovery Center
The Don Harrington Discovery Center is a science center in Amarillo that hands-on for its visitors and is family-friendly. It features places for the young ones to play like Little Builders and KinderStudio. The discovery center also has a planetarium known as the Space Theater, with an exhibit dedicated to weather conditions in outer space, but also on earth. The center has a wide variety of interactive exhibits for its visitors to interact with. The center hosts a wide variety of events each year.
#10 Helium Time Column Monument
Wow! This one is a show stopper and worth a quick visit to see this six-story, stainless steel structure called the Helium Time Column Monument. It was built in 1968 to commemorate the 100th anniversary of the discovery of helium. Amarillo, Texas has a helium plant and played a key role in the US Government's helium reserve and gas production since 1927. In 1982, the monument was lifted by a helicopter to its current site at the Don Harrington Discovery Center.
Inside the monument are four time-capsule columns that have artifacts, books, and documents for future generations to tell them what life was like in 1968 and to remind them to preserve utilizing natural resources.
#11 Amarillo Zoo
The Amarillo Zoo is a 15-acre zoological park with over 150 animals representing 88 species from around the world. They have native to Texas animals, such as bison, Texas Longhorns, and grey fox, but they also have a few exotic animals like lions, tigers, spider monkeys, black bears, hissing cockroaches, and several species of exotic birds. Actually, this list could go on and on, so I will let you see what all they have if you visit this Amarillo Zoo link. You can see that the Amarillo Zoo house quite a few amazing animals here.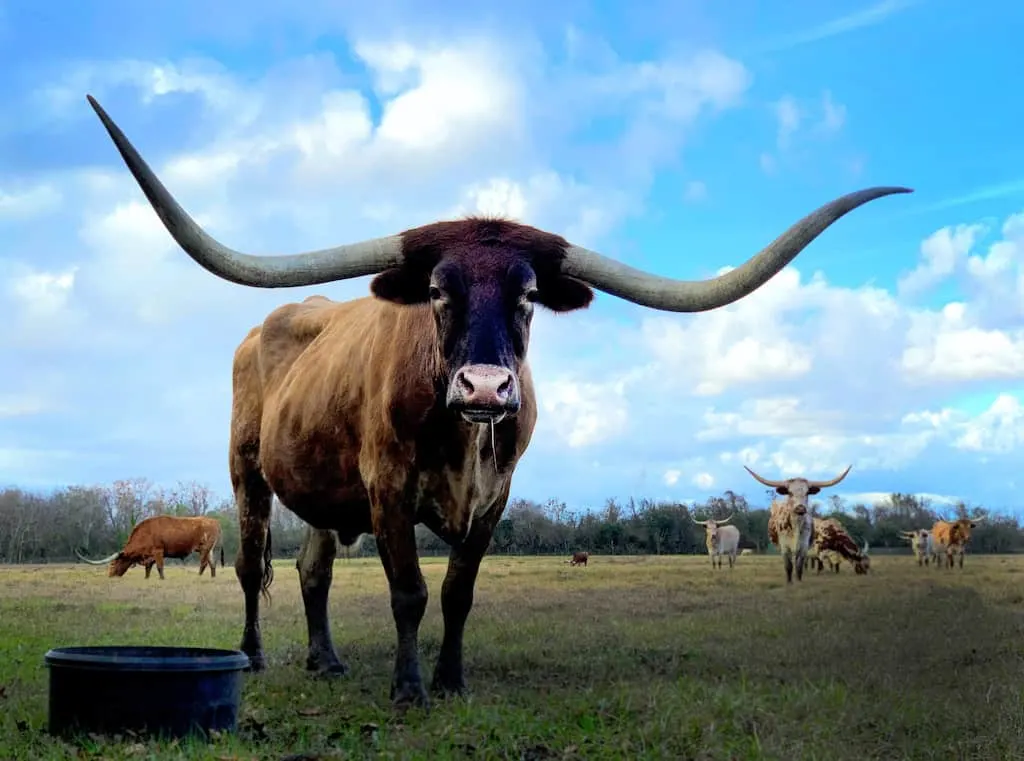 #12 Palo Duro Canyon State Park
And what is a visit to Amarillo Texas without a visit to the Palo Duro Canyon State Park? In fact, the Palo Duro Canyon State Park is the home to the second-largest canyon in the country! Many people refer to it as the Grand Canyon of Texas! And being that it is only a 20-minute drive away, it is definitely an awesome thing to do in Amarillo when you come for a visit! It is considered one of the most picturesque state parks in all of Texas.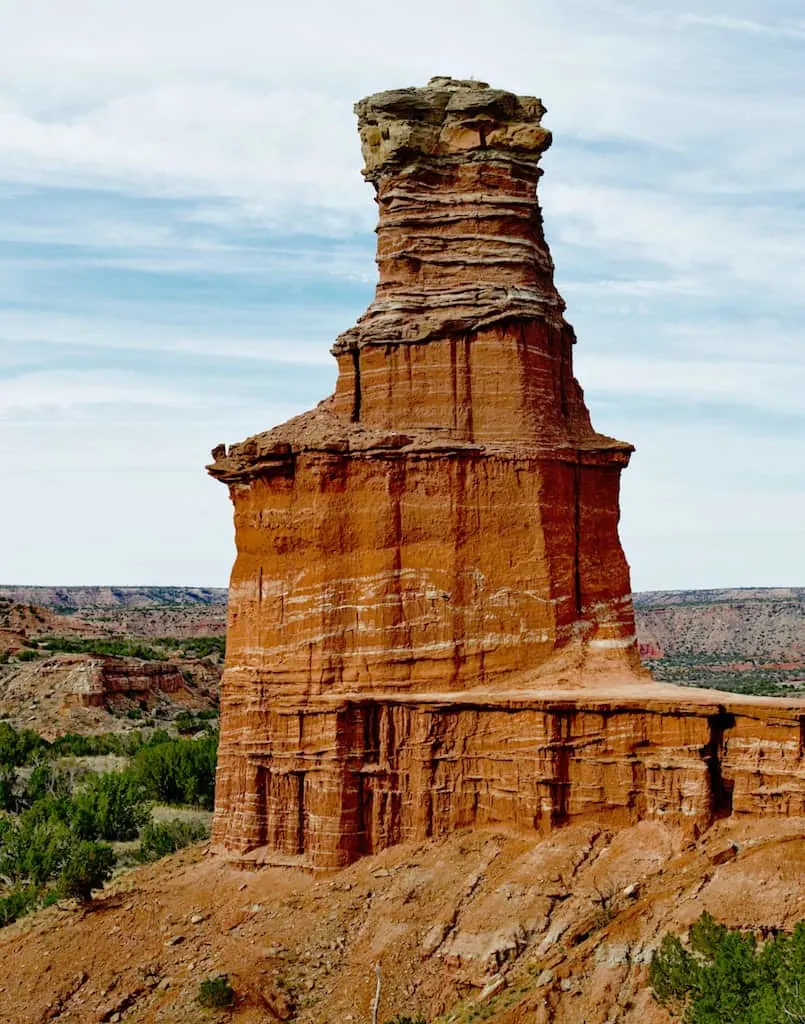 You can hike, bike, or even ride horseback on the Lighthouse trail or really any trails in Palo Duro Canyon. Many birdwatchers come to photograph from the scenic points that are available to them along the winding roads.
But more than all of that, the Palo Duro Canyon Musical hit called TEXAS is the most incredible show you will ever see about Texas! With its stunning Pioneer Amphiltheaer that is carved out of the natural basin in the Canyon, this show comes alive every summer from June to August. It features the official play of TEXAS as an outdoor musical drama!
This gorgeous state park is a must-visit for all Texans, and it should not be missed when visiting Amarillo.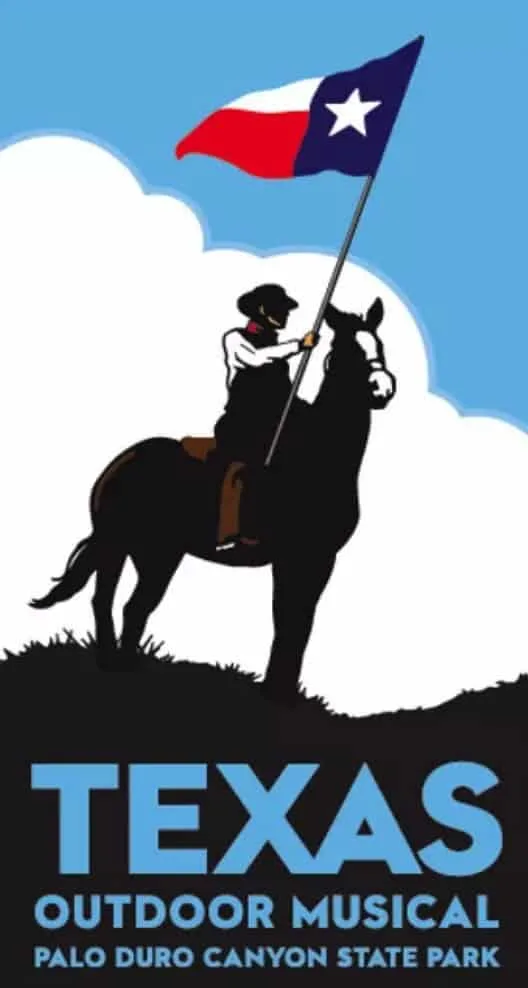 #13 Wildcat Bluff Nature Center
The Wildcat Bluff Nature Center is a 600-acre park located on Amarillo's rolling grasslands. If you want to get your hiking on, then this is the place to do it. Dogs are welcomed as long as they are on a leash. The center is located at 2301 N Soncy in Amarillo, Texas – just 3 miles north of I-40. Their trails are open every day of the year, from sunrise to sunset. During the Spring, the center becomes a popular spot to view wildflowers.
They recently opened up a new trail – called the Gnarly Mesquite Trail. It is an immediate left after the trailhead gate and is a one-mile trail to the windmill through the newly opened landscape. Soon you will be in a sweet meadow next to the old West Amarillo Creek and a seriously BIG Cottonwood tree. So bring your snacks, some water, and your dog on a leash and relax. Oh, and leave your cash, as it is free to hike here!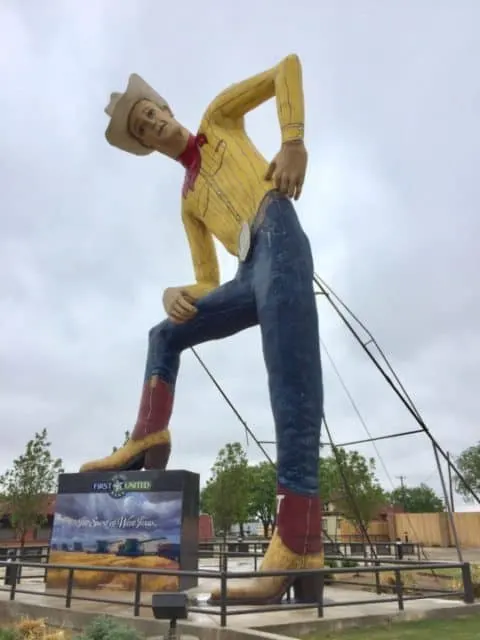 #14 Wonderland Amusement Park
How can a girl forget the fun time she had here as a kid? It seems the more things change, the more they seem the same. And Wonderland Amusement Park has really changed! This park is an old-fashioned one that has been in operation since 1951! Back then it only had three rides and they called it Kiddie Land. Since then, it has grown to now have over 30 attractions and rides.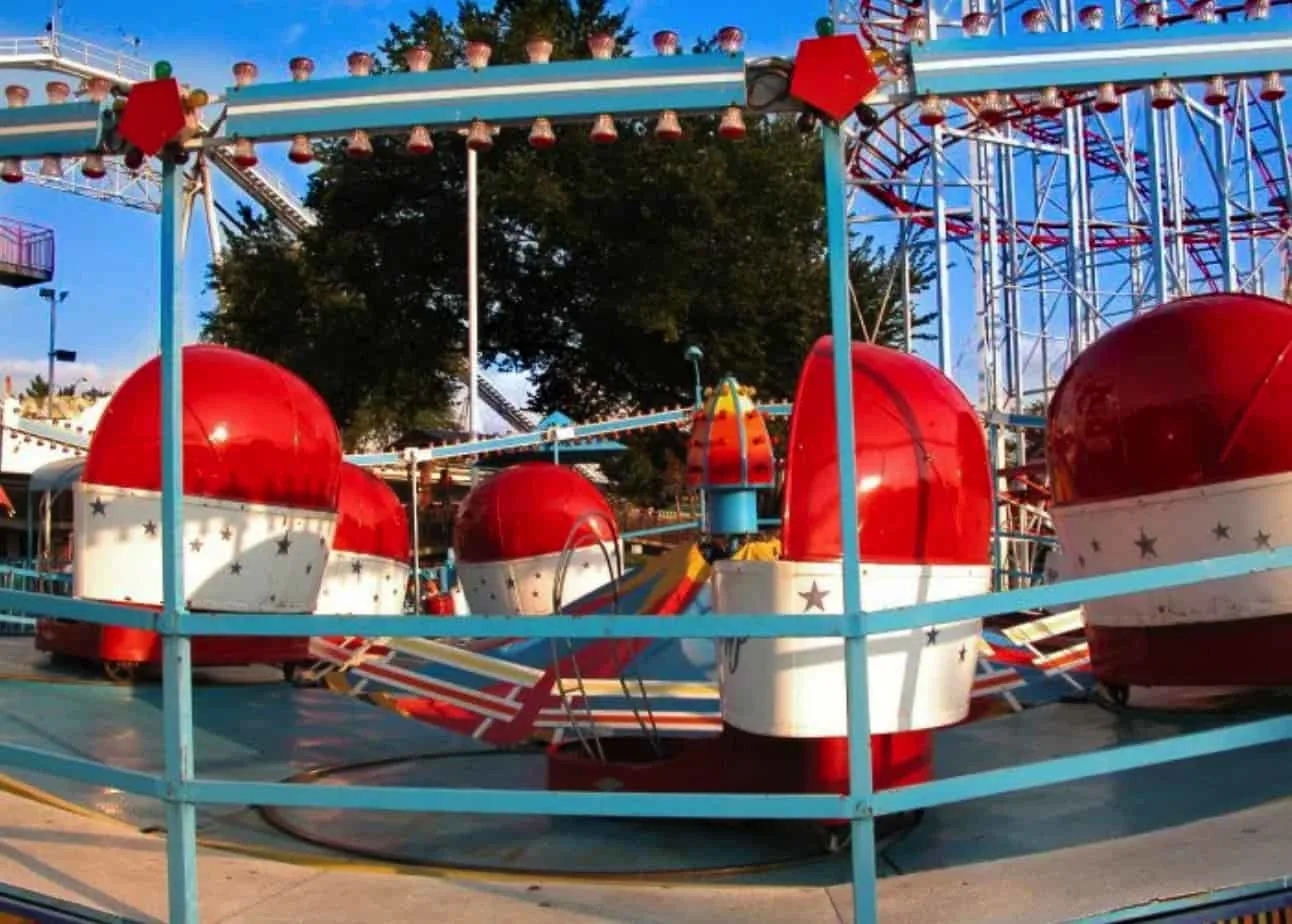 I will never forget my time spend playing miniature golf, being thrown around in the "Tilt-A-Whirl" and "Scrambler", or riding like crazy in those bumper cars. It seemed like back then the fun never ended! Today the park has several rollercoasters: Cyclone, Hornet, and Texas Tornado. Plus they have water rides, boats, merry-go-rounds, and even a train ride! I also loved the "old tymer cars" and So stop on by for some nostalgic fun and have cotton candy and Dr. Pepper on me!
#15 Texas Air and Space Museum
This one is kinda weird and interesting at the same time! When you fly into or out of the Rick Husband Amarillo Airport, you will see that it has an aviation museum located inside! This is something you can do on your way in or out of Amarillo. It showcases many civilian and military aircraft. It has an outdoor section where you can look at a "Bearcat" Reno Racer and a C-7A Caribou! So if you are into airplanes, be sure and check them out.
Here is a list of the Full-sized aircraft they currently have:
"Bearcat" Reno Racer
C-7A Caribou
Pterodactyl Ascender
P-51D Mustang
DC-3 *NEW*
NASA Shuttle Training Aircraft
T-34B Mentor (offsite)
T-33A Shooting Star (offsite)
Bell OH-13S NEW
1946 Cecil Ingram Ercoupe
Yak 11 "Mr. Awesome"
Once inside, you will even find the helicopter from the 1970s hit show M*A*S*H*, the Bell 47 (how cool is that!)! Plus, they have other aircraft displayed along with exhibits that tell the stories of the aircraft and those aviators who flew them. They have quite an impressive number of mode aircraft so it is certainly worth a quick look around! The cool thing is that you can be "hands-on", meaning you can go inside, sit in the planes, and turn some knobs! Those are things that you usually can't do.
#16 Hodgetown Baseball

⚾️

Park

Oops, I just had to add one more! I haven't been there myself, but my good friend from childhood told me about this place and he loves it! Hodgetown Baseball Park is the newest sports and entertainment destination in Amarillo with its grand opening in 2019! It is the brand new home of the Sod Poodles. They represent the idea of a place for the community to gather from all areas throughout the Texas Panhandle.
The word "HODGE" comes from Jerry Hodge, who spearheaded the effort along with other community leaders to bring professional baseball back to Amarillo! The word "TOWN "defines this prairie dog culture as multiple colonies forming one large community! Baseball brings these folks together!
Hodgetown is located over on 715 S Buchanan St, right in the heart of Amarillo.
---
So there you have it, now 16 things to do in Amarillo when you visit, so come on by now, ya hear?!
Bless Your Heart!
---
Just in case you want to cross the border:
Ultimate Broken Bow OKLAHOMA Guide
---
Disclosure: As is common in the travel industry, I was provided with accommodations, meals, and other compensation for the purposes of review by the Amarillo Convention & Visitor Council. While it has not influenced my review, I believe in full disclosure of all potential conflicts of interest.