There are more things to do in Amarillo than you would have imagined. I should know… I am from the area. But when I went back and I did a lot of the "top 10 things to do in Amarillo, TX", it certainly brought everything back into perspective. Let me start out by saying I was invited by the AMA Tourism board to visit my home state of Texas for a Top to the Bottom tour of the state.
Amarillo is very near to my hometown of Pampa, Texas. Honestly, I was pleasantly surprised as to how much fun I had. Sometimes when you think of your own hometown, it is hard to imagine that people would go there for a planned trip, but this couldn't be further from the truth. There were more fun things to do than I could have imagined.  A lot has changed since I spent my childhood in this area.
Things to do in Amarillo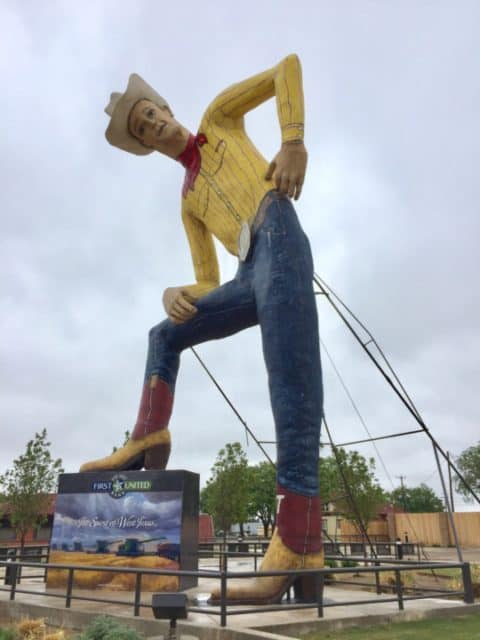 The Top 5 Things to do in Amarillo for Nostalgia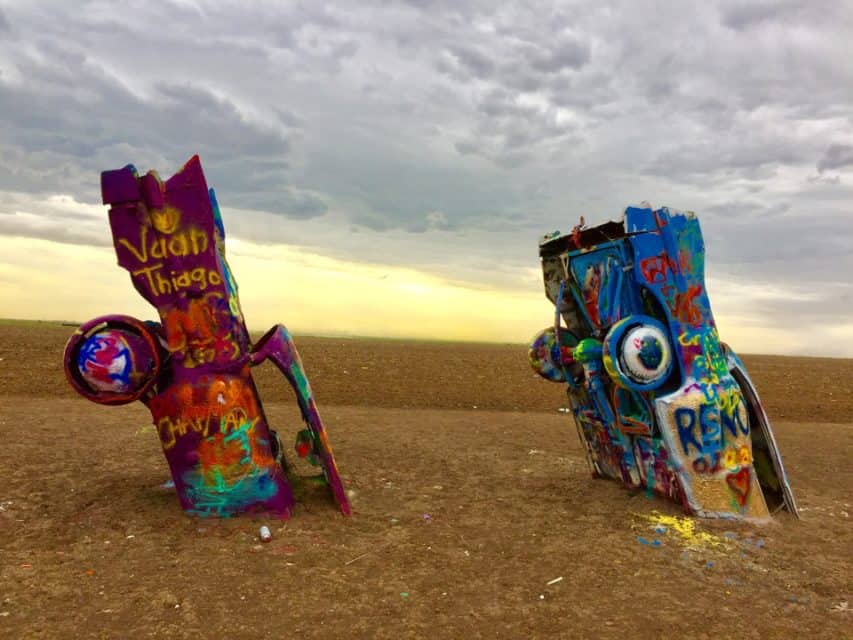 #1: Cadillac Ranch Amarillo, Texas
Come for a visit to one of the USA's most popular roadside attractions: Sure, you can say what you want about Texans, but there are quite a few eccentric Texans with money. So what does an eccentric Texan like Stanley Marsh 3 (the son of an oil tycoon) do with his money?  Of course, he buys ten 1948-1963 tail fin Cadillacs and half buries them nose-first in the ground at a slant (52 degrees) corresponding to the Great Pyramid of Giza in Egypt! The Cadillac's were buried in sequence from the oldest, 1949, to the newest, 1964. There are 10, each car representing the latest version of the famous Cadillac tail fin.
Cadillac Ranch is not really a ranch, an art installation or kitschy roadside attraction like the ones you see in Florida! In my mind, it is iconic roadside Americana, representing the heyday of the Cadillacs and is the very essence of the historic Route 66 which runs through Amarillo, although, it is located on I-40 today.
---
Things to do in Amarillo: TIP for Cadillac Ranch
Don't forget to take a can of spray paint and your cell phone so you can splatter the cars with paint and take a selfie!
---
#2: Jack Sizemore's RV Museum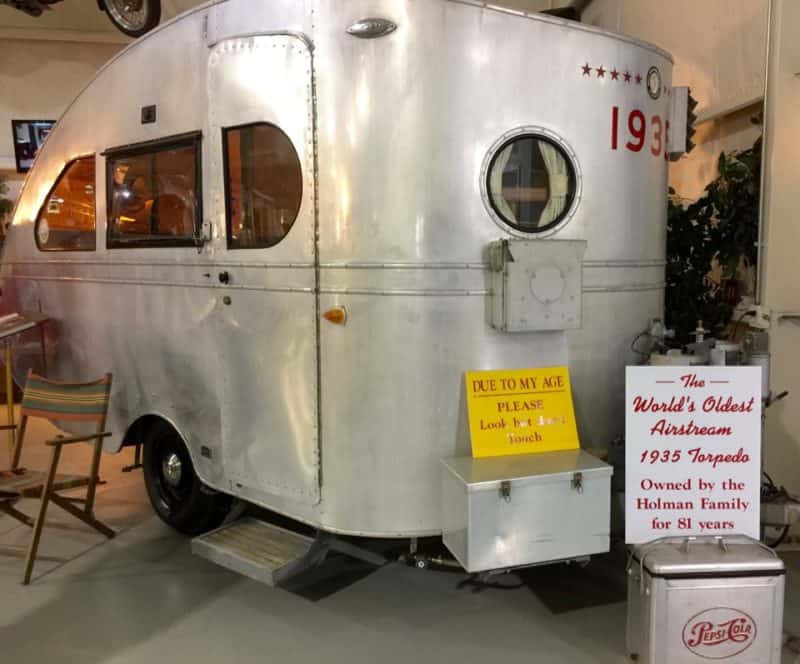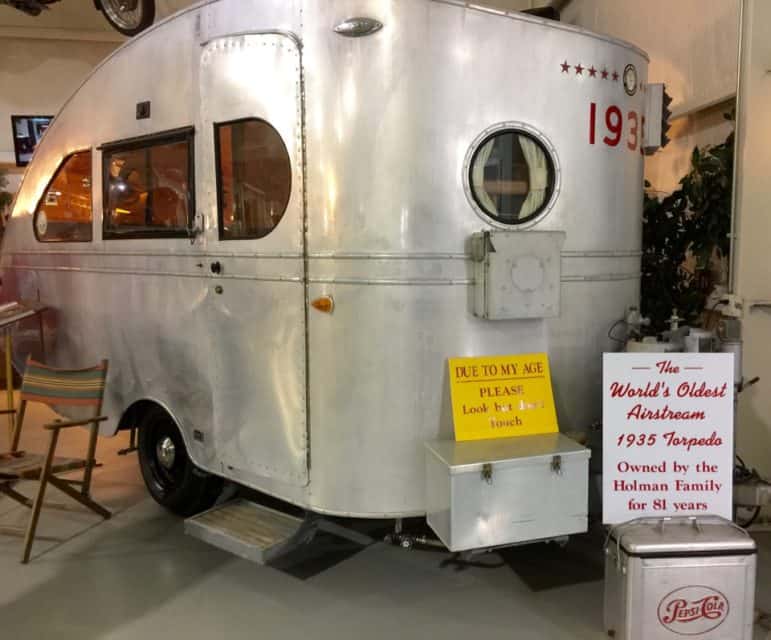 The Sizemore family has been collecting vintage recreational vehicles (RV's) for over 25 years and decided to open an RV Museum to house their collection behind the already existing RV sales business. This place is almost hidden, as many people I spoke to didn't even know that it existed. I thoroughly enjoyed every minute of wandering around this museum, where the Sizemore's have one the oldest Airstreams in existence from 1935.
Plus, they have all kinds of different examples of RV's ever made. Things like a 1941 Airstream, a 1937 Kozy Kamper, the oldest Fleetwood in existence, a 1946 Teardrop kit, and so many examples of 30's, 40's, 50's, and 60's RVs with accessories! Interspersed among the RV's are old soda fountain machines, vintage motorcycles, cars and a 50's gas station that was replicated as the gas station that Mr. Sizemore used to own. This is worth every minute of stop for nostalgia!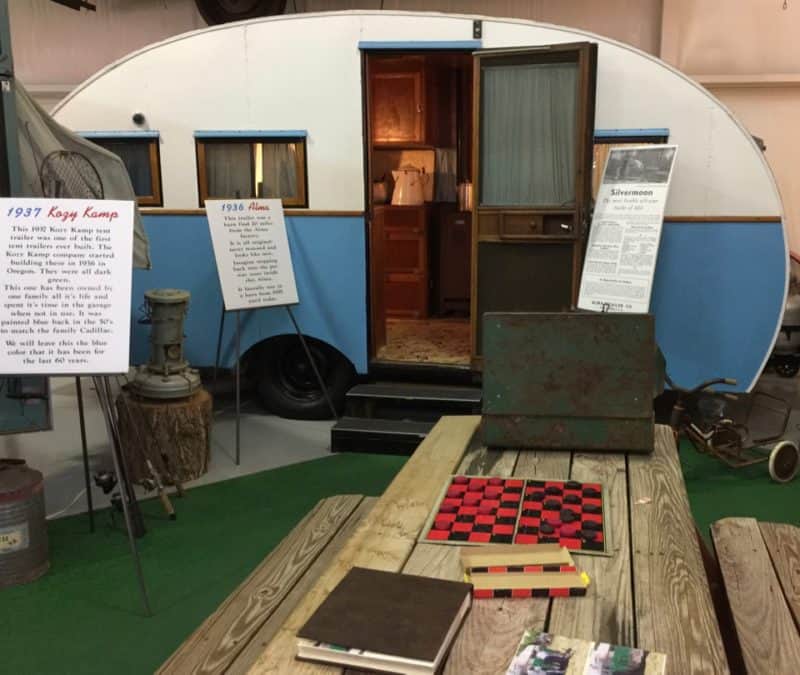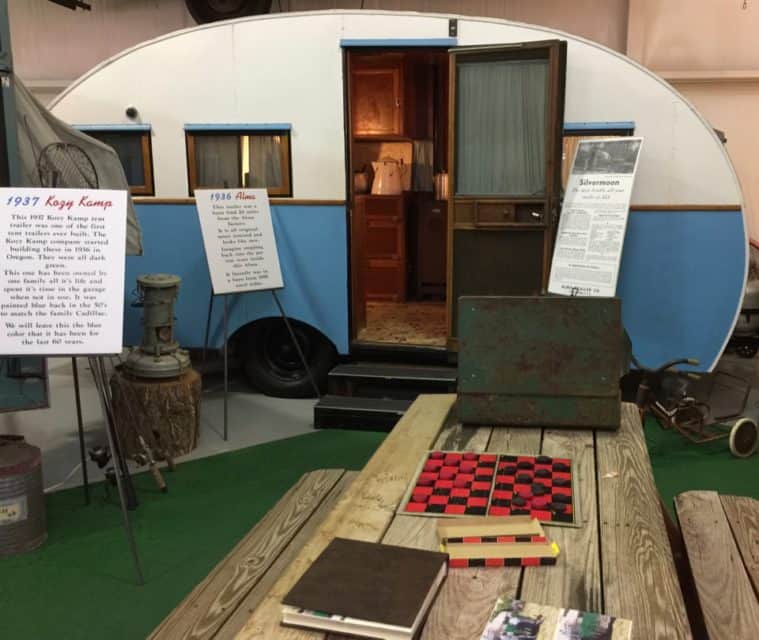 #3 Bill's Backyard Classics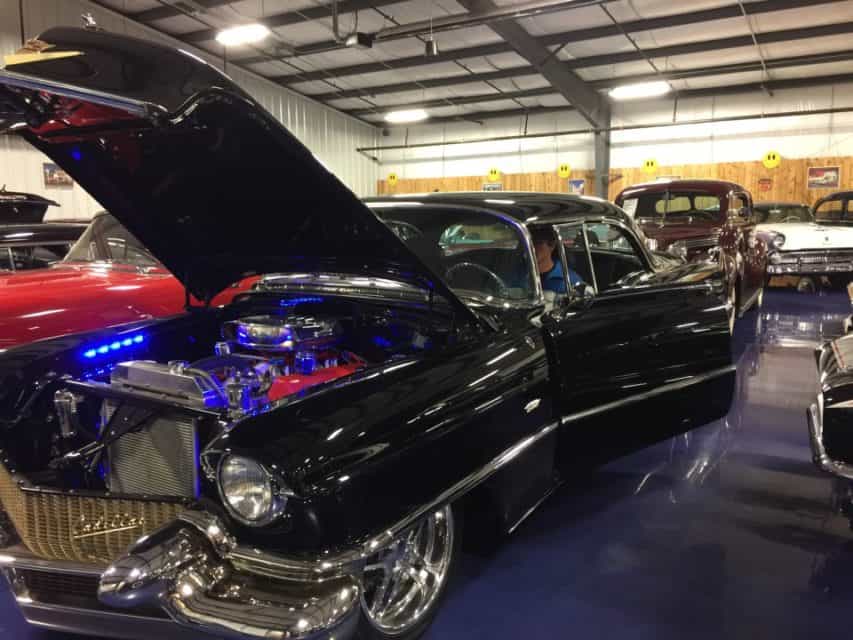 Another example of a wealthy Texan is Bill Caldwell…who started Bill's Backyard Classics, a showroom floor, well actually two of them, crammed full of classic cars. Do you want to get nostalgic about the good ole' days?  Well, Bill's Backyard Classics has vehicles that take you back in time. In fact, on my recent visit, he had over 171 classic vehicles! Those include cars and trucks, all kinds of makes and models that span the years of the 1920's to as new as 2012. They even have Model A's (from 1928), street rods, military jeeps, power wagons, corvettes, and rows and rows of Cadillac's from the 1950's and 1960's.
---
Bill's Backyard Classics says that Cadillac Ranch has nothing on them!
---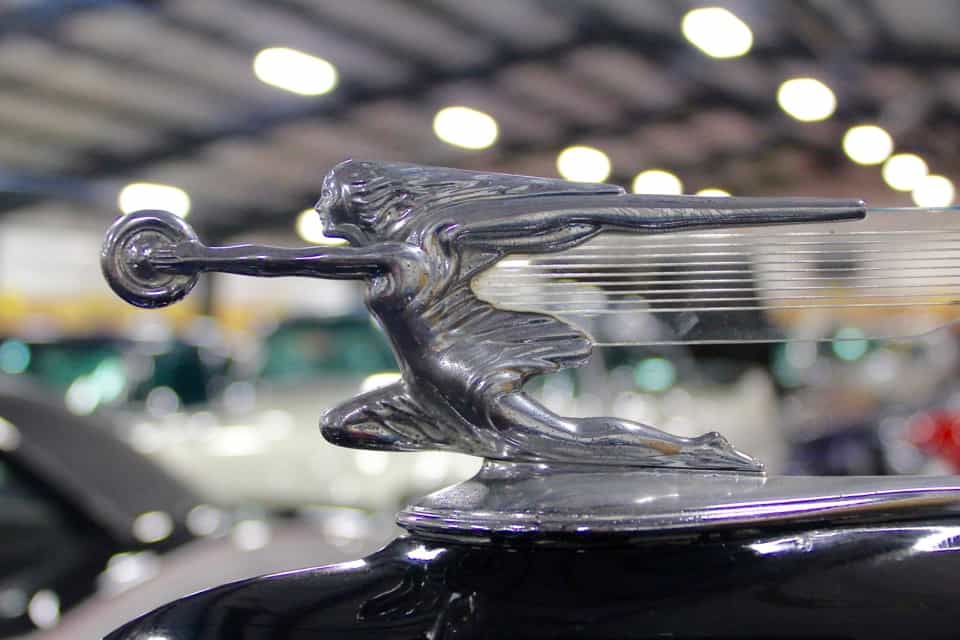 #4: The BIG Texan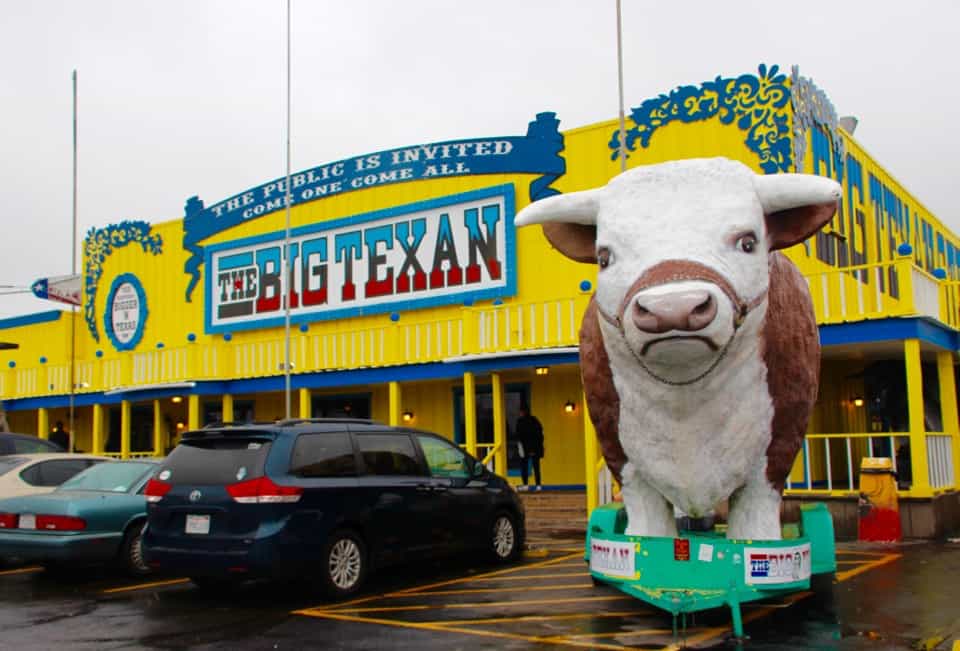 Home of the famous and free 72 oz. steak, as everything is BIGGER in Texas and this place is the epitome of that slogan! Come on over to a steakhouse, motel, Texas-shaped swimming pool, magic and music shows, casino, ice cream parlor, gift shop conglomerate complete with 10 longhorn Cadillac limos to bring you there. Now home to a future zip line! Where in one pit-stop, you can see it all and enjoy the carnival-like atmosphere of the BIG TEXAN steakhouse!
Do you want a free steak? Well, the meal consists of the 72 oz. steak, shrimp cocktail, a baked potato, a salad, and a bread roll. You have one hour to finish it all on an elevated stage with a timer, but if you can't finish in time, it will only cost you $72.00! I even remember when I was a kid, there used to be a field beside the BIG TEXAN where the buffalo that they served would graze (they got rid of them a long time ago according to owner Danny Lee and no longer serve buffalo).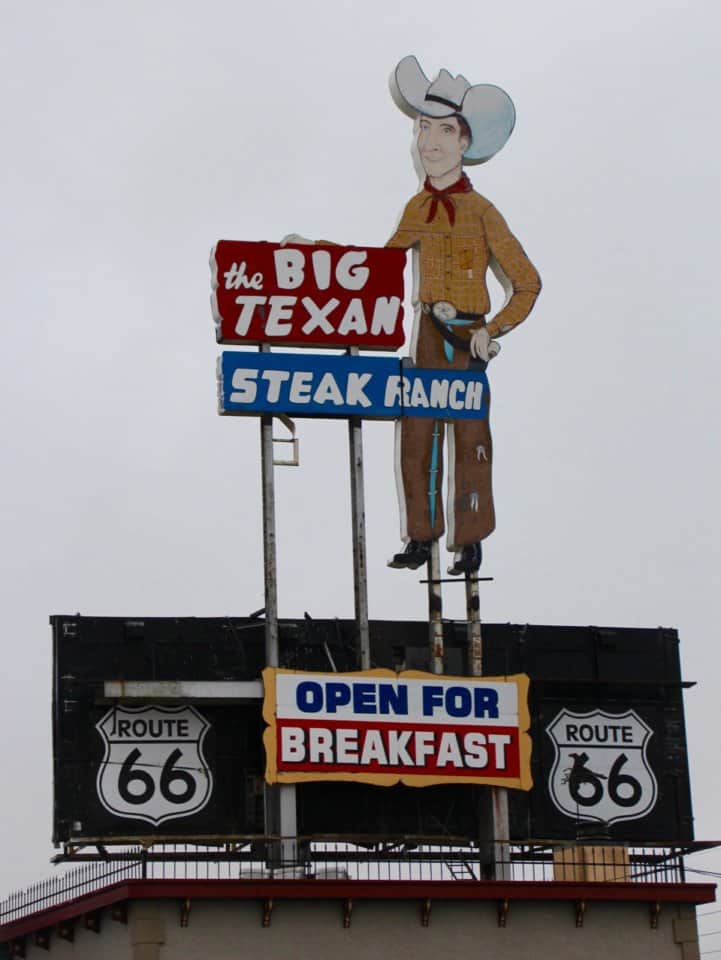 #5: Historic Route 66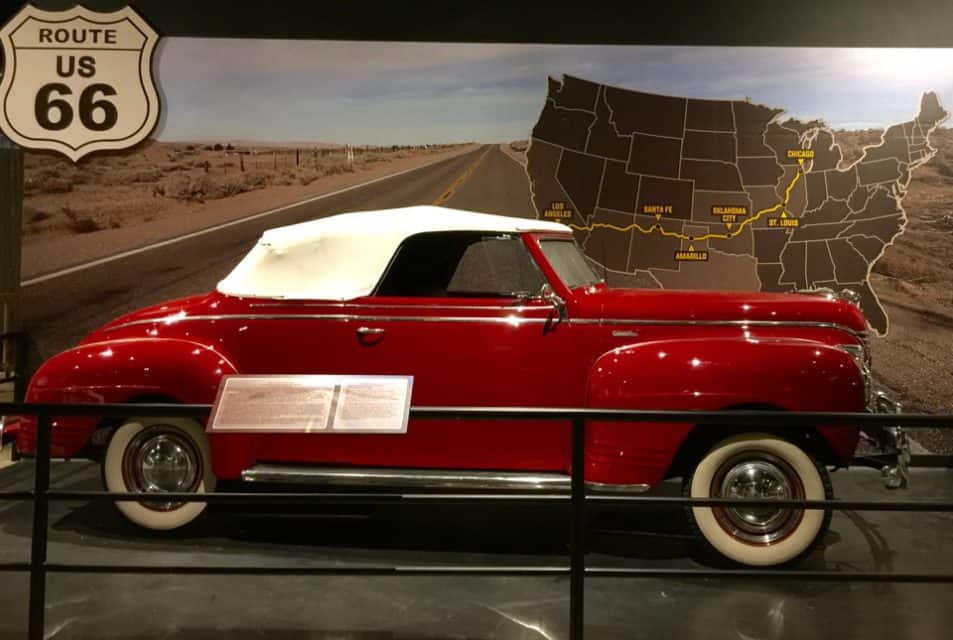 Who would have thought that Route 66 started (or ended) right here in Amarillo, Texas in the San Jacinto neighborhood near 6th Avenue between Georgia and Forrest Avenue? For more than 13 blocks you will find some pretty quirky places along this stretch of Historic Route 66—like the Lile Gallery, where Bob "Crocodile" Lile produces jewelry from broken Cadillac Ranch car pieces!
But there are also a few honkey tonks, antique stores, and good old-fashioned Mexican dive joints – Los Braceros for your eating pleasure! Of course, there is lots of eye candy for the folks looking for nostalgia in this area of Route 66. This area boasts design standards from Spanish Revival to Art Modern and Art Deco, representing a nostalgic time and evolving American tastes and culture.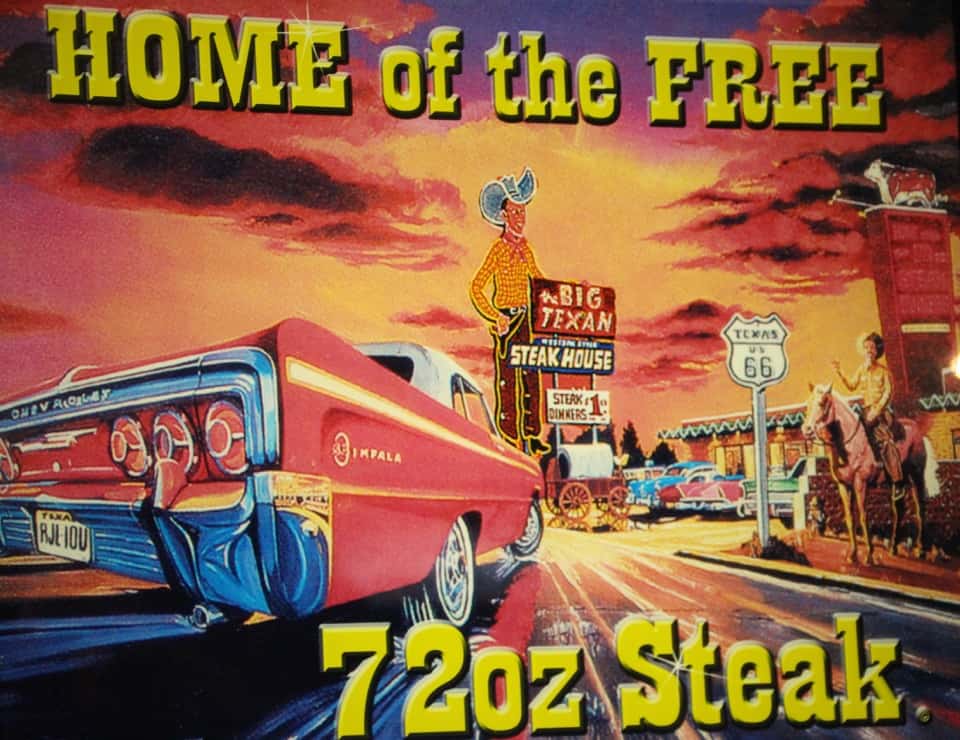 ---
Take a drive down memory lane…for the top 5 things to do in Amarillo, Texas for Nostalgia.
---
Interested in reading other articles about Texas?
The Best Dallas-Fort Worth Airport Layover Options
These Boots Are Made For Walking – El Paso, Texas
Quinta Mazatlán – Tex-Mex Culture Wrapped into One
7 Things To Do In Texas Other Than The Alamo
Disclosure: As is common in the travel industry, I was provided with accommodations, meals and other compensation for the purposes of review by the Amarillo Convention & Visitor Council. While it has not influenced my review, I believe in full disclosure of all potential conflicts of interest.