It was my good fortune to take a tour of the Lucchese Bootmaker facility in El Paso. You are probably thinking I would see how handcrafted boots are made from start to finish. And you are right. But I walked away from there with some insights into life that can be a meaningful byproduct of traveling. As these boots are made for walking. Read on as I take you on the tour.
These Boots Are Made For Walking
These Boots Are Made For Walking
Brothers Salvatore and Joseph Lucchese, whose father was a bootmaker, immigrated to the United States from Sicily in 1882 and would set up shop as bootmakers in San Antonio the following year, having learned the trade from their father. The first entry in their record keeping has a pair of boots selling for $9 back in 1897. The Lucchese business would be passed down to their kids and eventually sold to the Blue Bell Corporation in 1970. In 1986, Lucchese moved from San Antonio to their present location in El Paso. What remains steady is the traditional way of handcrafting every pair of boots that gets stamped with the Lucchese brand.
---
These Boots Are Made For Walking Lyrics
You keep saying you got something for me
Something you call love but confess
You've been a'messin' where you shouldn't been a'messin'
And now someone else is getting all your best
These boots are made for walking
And that's just what they'll do
One of these days these boots are gonna walk all over you
You keep lyin' when you oughta be truthin'
You keep losing when you oughta not bet
You keep samin' when you oughta be a'changin'
Now what's right is right but you ain't been right yet
These boots are made for walking
And that's just what they'll do
One of these days these boots are gonna walk all over you
You keep playing where you shouldn't be playing
And you keep thinking that you'll never get burnt (HAH)
I just found me a brand new box of matches (YEAH)
And what he knows you ain't had time to learn
These boots are made for walking,
And that's just what they'll do
One of these days these boots are gonna walk all over you
Are you ready, boots? Start walkin'
Songwriter: Lee Hazlewood
In a Blender magazine interview, Hazelwood said he was in a Texas bar when some patrons started razzing an older guy about his younger girlfriend and how she controlled him. The man responded by putting his feet on a barstool and saying, "I know what you think – that she might be the boss. But I am the boss of my house, and these boots will walk all over her the day that I'm not."
---
These Boots Are Made For Walking
The start of a boot is the raw material, and on any given day, there is about 2-3 million dollars' worth of goods in the Lucchese factory. There are three buyers on staff to assure the best of material is secured for Lucchese. The choice of hides is huge, including alligator, cow, goat, lizard, rattlesnake, stingray, buffalo, ostrich, shark, hippo, and crocodile. Epic among the selection is a 25' python skin, which Mario Vega, director of marketing and our tour guide, rolls out for us to see. It gives me the shivers to see the skin of this creature that once crawled in the jungles of Indonesia. Lucchese follows the guidelines that CITES (Convention on International Trade in Endangered Species of Wild Fauna and Flora) puts forth in terms of making sure no skin or hide is used from an endangered or threatened species. In fact, 88% of the hides and skins that go into their boots are a byproduct of animals initially used for their meat. I'm getting a clear sense that Lucchese holds a deep respect for the earth's creatures, and thus my respect for this company is growing.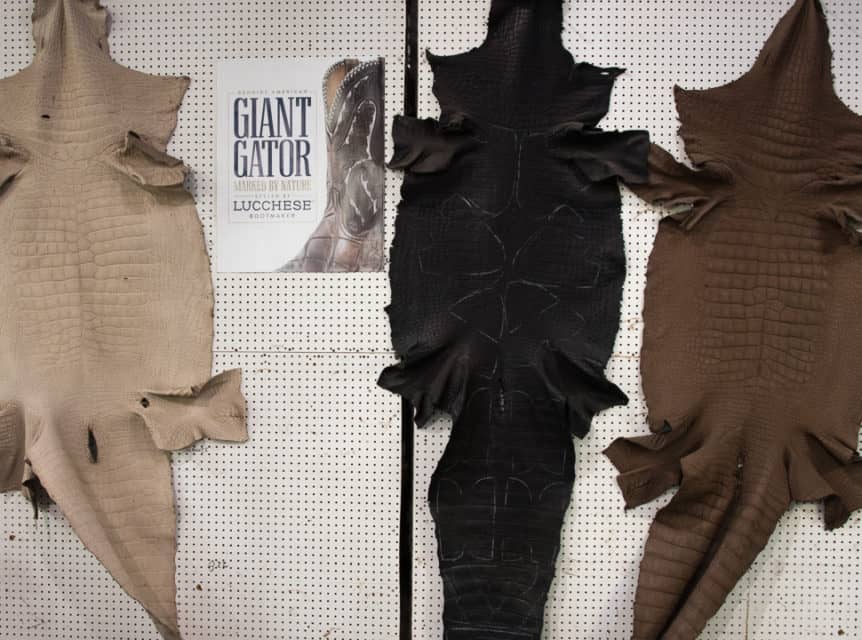 These Boots Were Made For Walking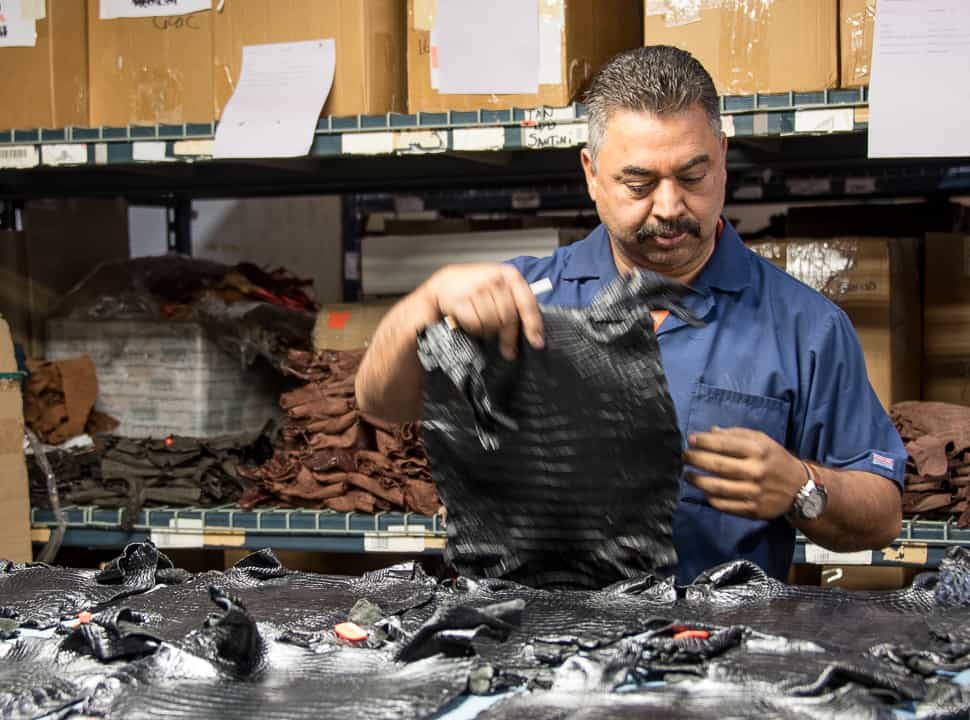 Next stop is the sorting table, where trained eyes are combing through an average of 50-60 hides and skins to get a good match in terms of color and pattern for every pair of boots. From there, this in-depth tour moves us through every station involved with bootmaking, from cutting, hand stitching, embossing, shaping, creating the soles, adhering the soles and heels, polishing, drying, and finally stamping the bottom of each boot with the Lucchese emblem. We stop near a fellow with a mouth full of lemonwood pegs who is hammering them into the soles of the boot. He stores them in his cheek and pulls them out quickly as needed. I chuckle at how he gets his job done, but it works for him. Mario informs us that this old world technique of holding the insole and outsole together with wooden pegs has proven more durable than brass nails.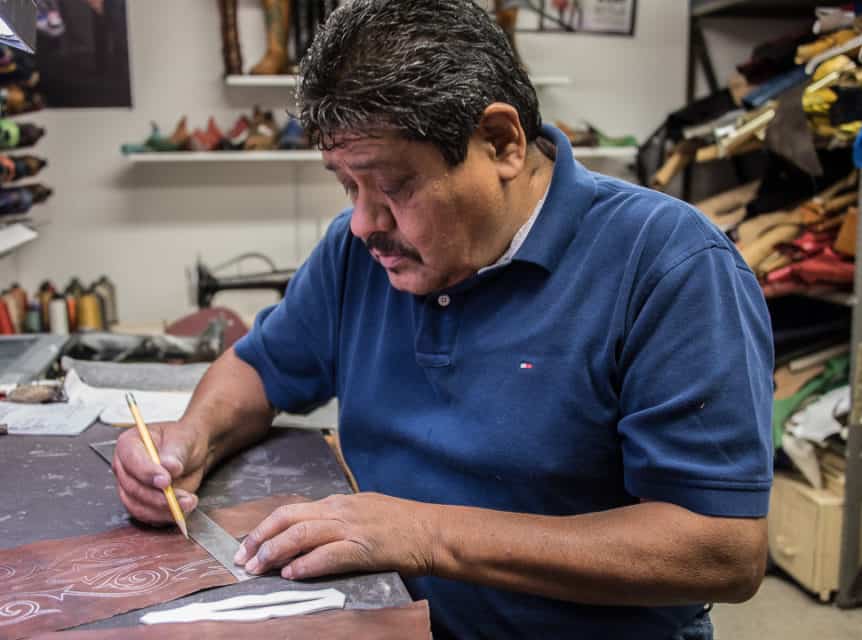 These Boots Were Made For Walking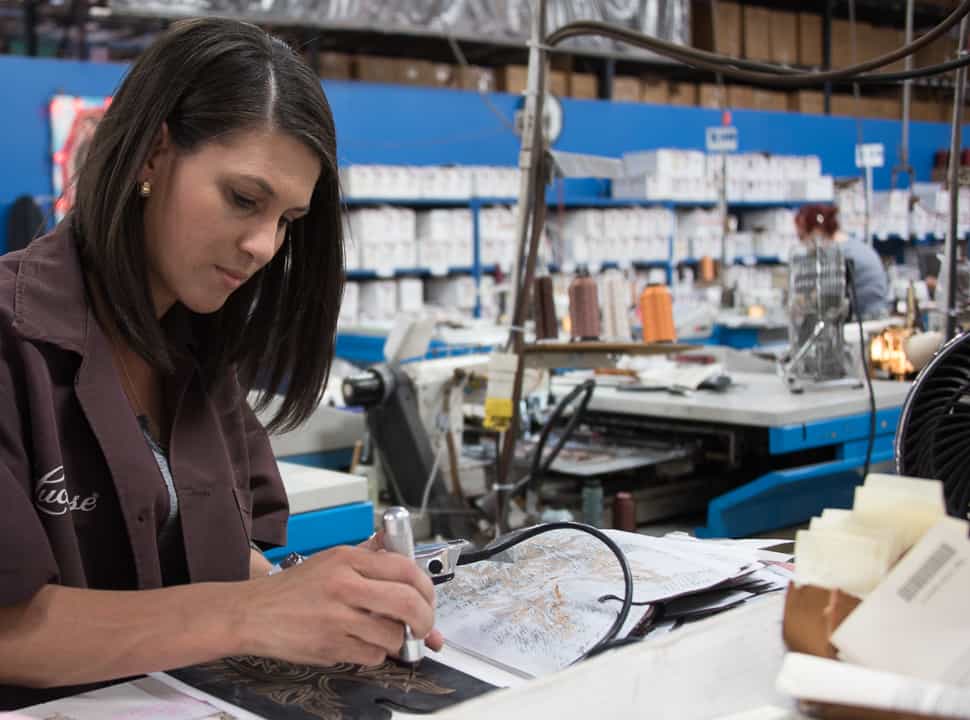 Over the top of all the clamor from the various machines, Spanish music fills the air. An occasional craftsman sways to the beat and I get a strong sense that people who work here are content with their jobs. Their smiles come easy. The vibe inside the factory is upbeat. The workforce tends to be older and is predominately Mexican, with many of them commuting to work from Ciudad Juarez, just over the border from El Paso. Mario points out that if for some reason their personnel from Mexico were no longer allowed to work in the US, Lucchese would be shut down. Mario is giving an honest assessment of the challenges Lucchese faces with finding a younger generation willing to develop the kind of skilled labor needed to produce boots. In this day and age, kids are more about the tech world versus blue collar employment.
These Boots Are Made For Walking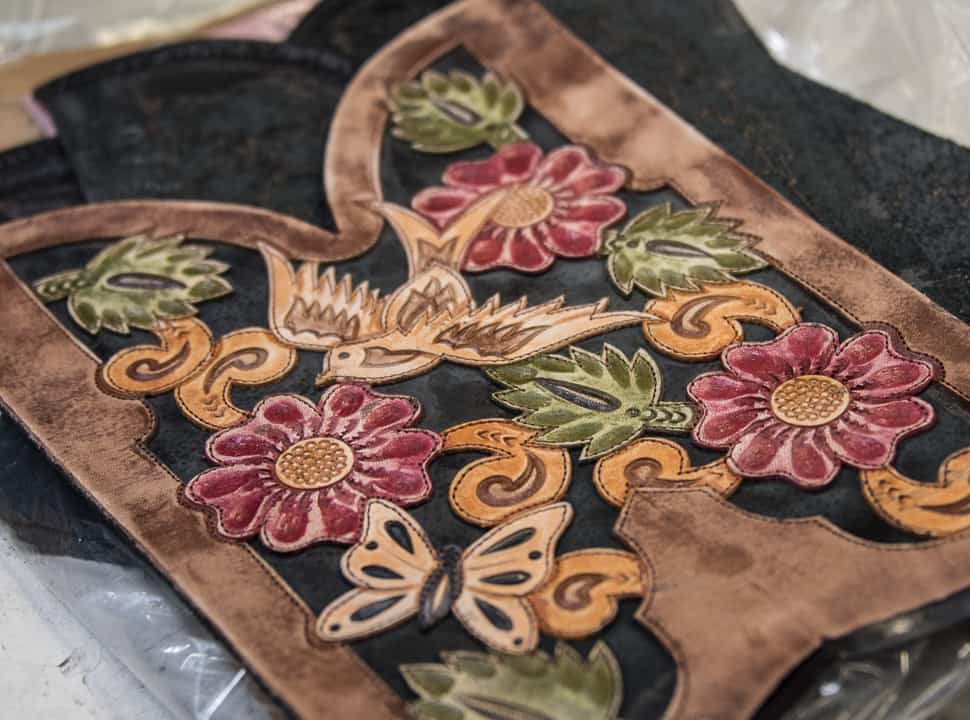 Three designers on staff continually work on creating new boot designs and present between 15-20 new creations every twelve weeks, of which 5-6 will be adopted into the Lucchese line. At the end of every workday, 475 – 525 boots are ready to roll out the door. By the time the boots are shipped, 125 pairs of hands have touched the boots in some way. Lucchese also produces bags, belts, and wallets.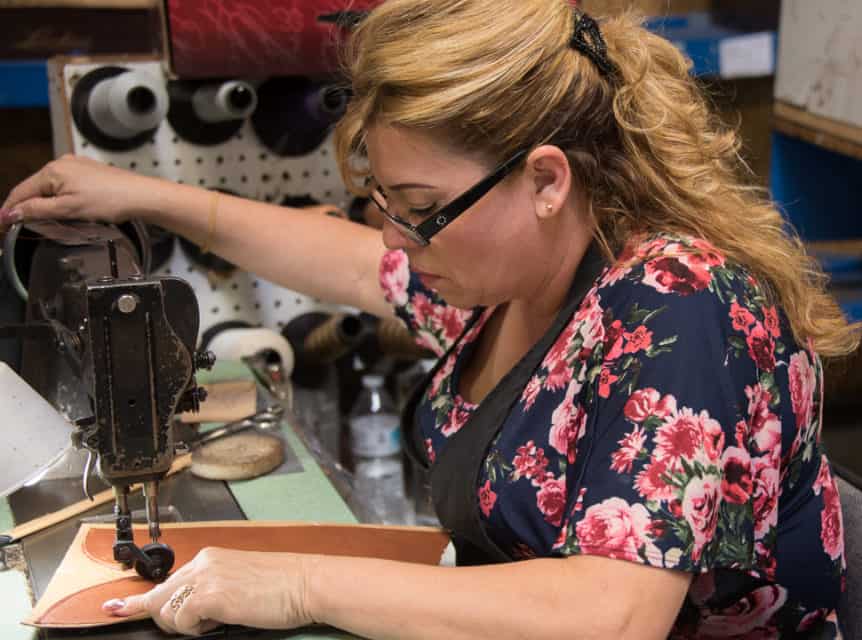 These Boots Are Made For Walking…Interesting Facts
The largest pair of boots ever made, size 25, was for Andre the Giant. Some heavy hitters in the film industry had Lucchese boots, including John Wayne, Gregory Peck, Zsa, Zsa Gabor and Bing Crosby. Today, you'll see Lucchese boots on the feet of the Dallas Cowboys cheerleaders, as well as Willie Nelson, Michael Jordan, Scott McCreery and Blake Shelton, to name a few. You can order a pair of custom-made boots, but you can also find them at Boot Barn and Cavenders. If you're in El Paso, definitely head to the Lucchese Outlet Store to scope out their enormous selection.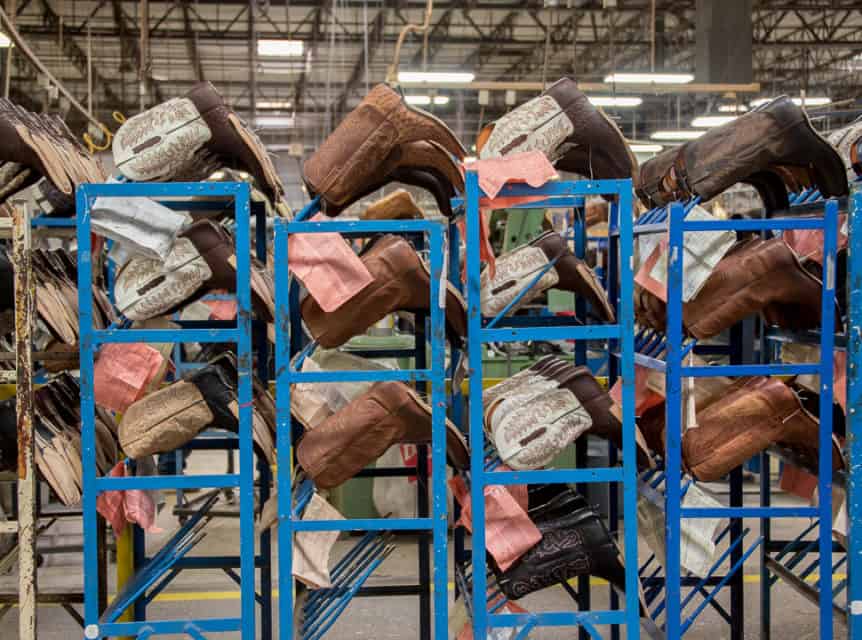 These Boots Are Made For Walking
The tour has come to an end and I have a newfound appreciation for what goes into making a pair of handmade Lucchese boots. But what has made the biggest impression on me is seeing a company that honors and respects their workforce of talented and skilled craftsmen and women who clearly have a strong work ethic. I see all these hands that work tirelessly to put food on their table. I see a place where people are far more important and valued than automation and robotics. I see a relationship that works well and benefits both an American factory and a small group of Mexican citizens.
I'm reminded that the plus to any travel is those life lessons in geography, economics, philosophy, religion…if you go with open eyes, heart, and mind. While there are not regularly scheduled tours of Lucchese, you can simply arrange a tour with a phone call to see first-hand the amazing process that goes into creating their handcrafted boots.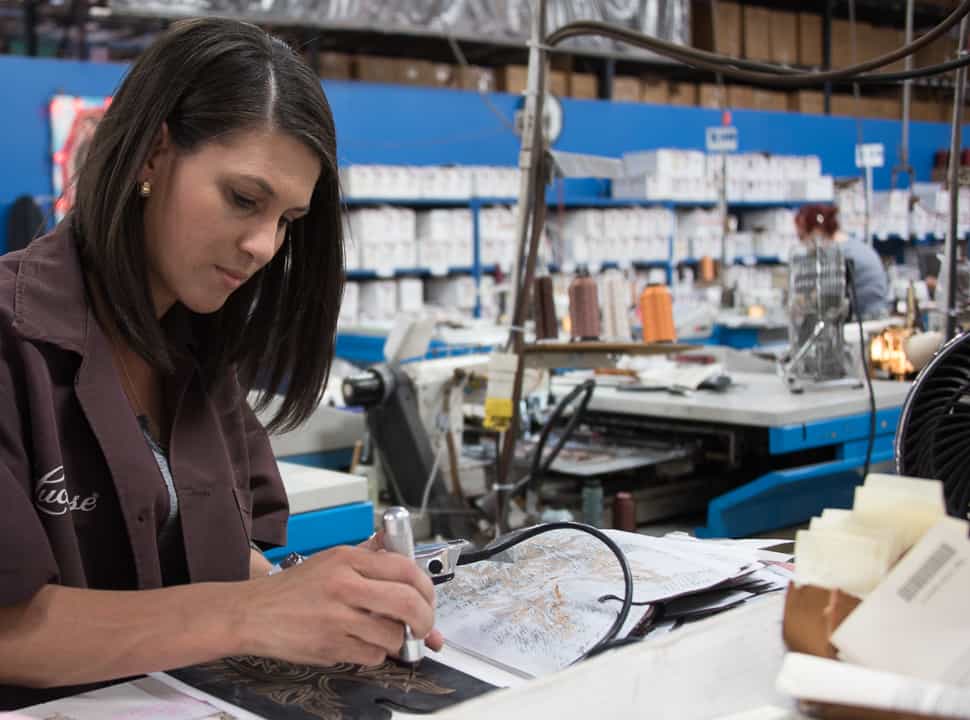 Lucky to be a person that owns a pair of Lucchese boots, for they truly have a timeless piece of art to wear. And I love walking in these boots!
Disclosure: As is common in the travel industry, Donnie was provided with accommodations, meals and other compensation for the purposes of review by the El Paso Convention & Visitor Council. While it has not influenced her review, PointsandTravel.com believes in full disclosure of all potential conflicts of interest. All Photos by the author.
Interested in exploring more about Texas?
The Top 5 Things To Do in Amarillo, Texas for Nostalgia
The Best Dallas-Fort Worth Airport Layover Options
Quinta Mazatlan: Tex-Mex Culture Wrapped Up Into One (McAllen, Texas)
7 Things To Do In Texas Other Than The Alamo