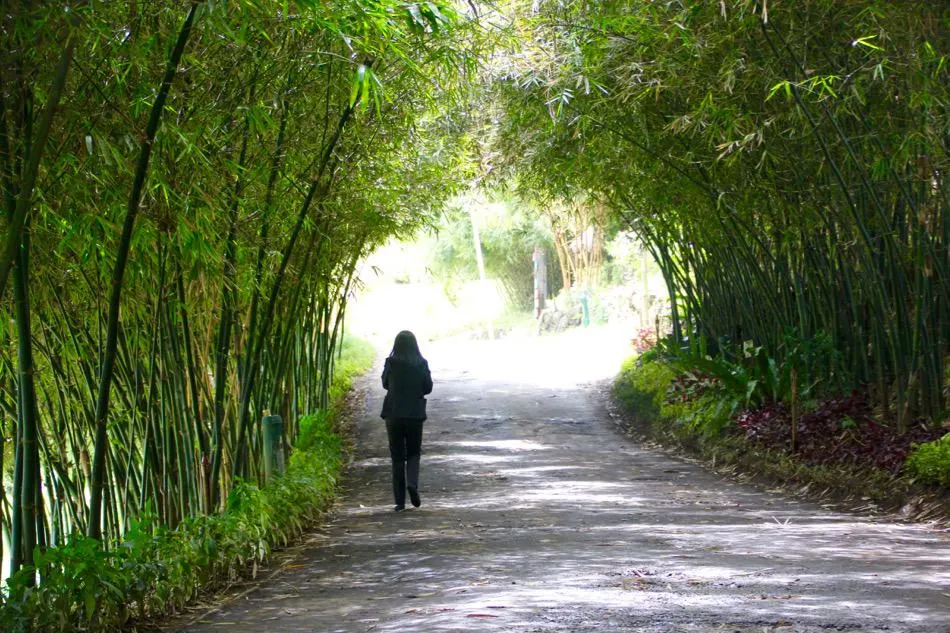 Wisata Off-Road Adventure picked us up after lunch from Café Burangrang. We were at the unique leisure park, Dusun Bambu in Northern Bandung, Indonesia, where we had just had a relaxing lunch overlooking an amazing view of boats on a pond with thatched bungalows.
---
What's in this post:
hide
Travel Bandung, Indonesia
---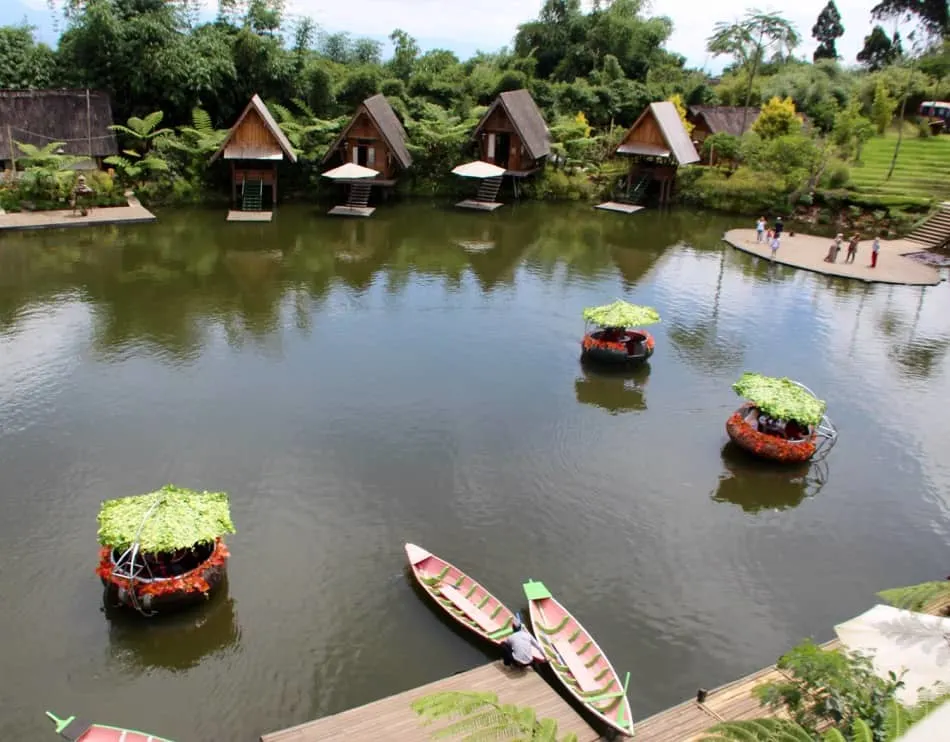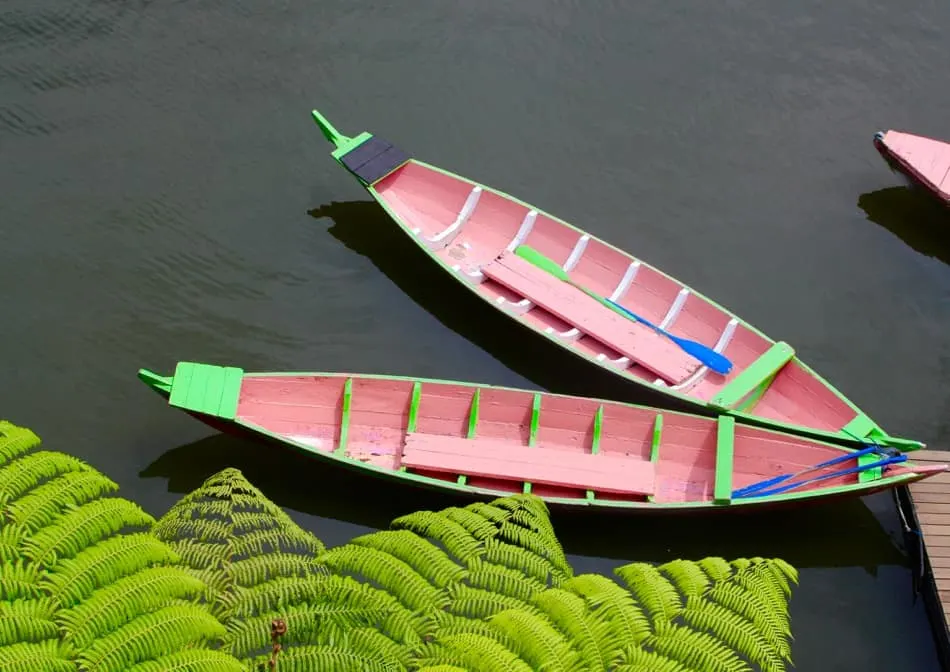 Traveling to Bandung Indonesia
The guides lead us down to the parking circle valet. One by one, we walked past the legendary UK Land Rovers circa 1970. They were quite a sight! Red ones with old tires attached to the hood. Military-issued, pale yellow types with a silver side panel, hunter green ones, a yellow one with a white top.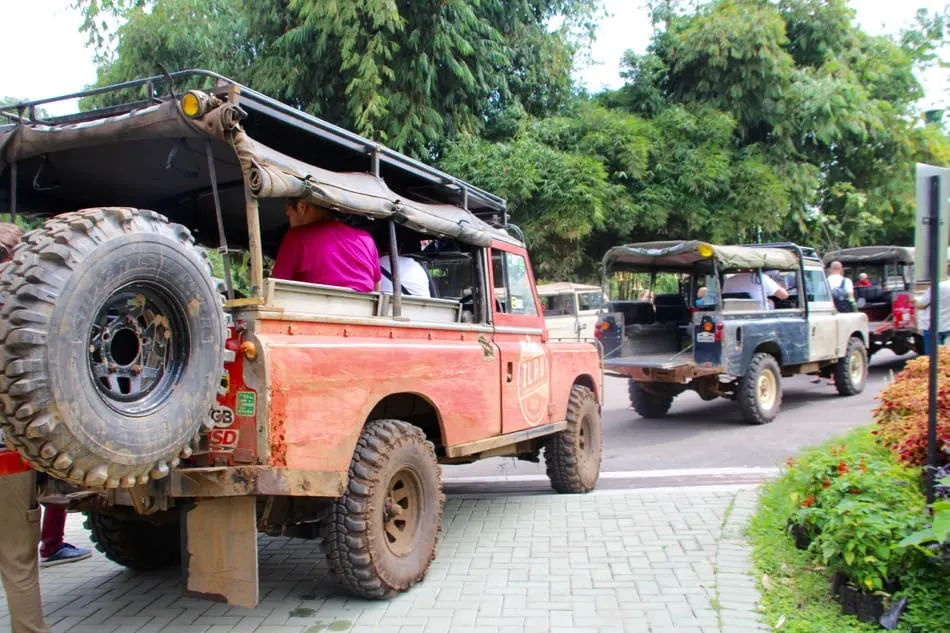 The five of us chose a white one with silver metal seats. It had floppy black vinyl seat cushions that didn't provide much padding. But we were the lucky ones, as I heard some of them only had metal seats with no cushions. Yikes!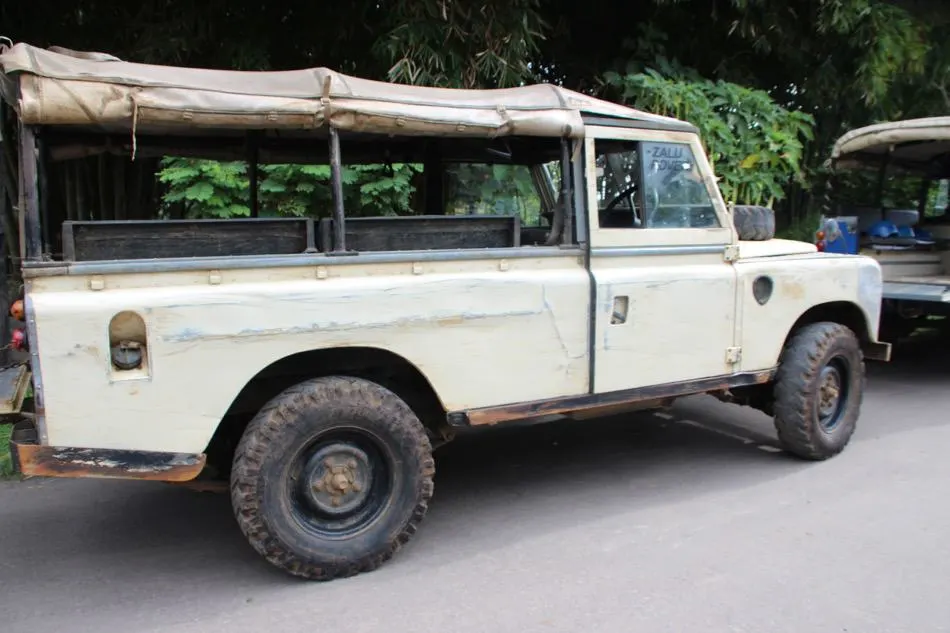 Get In and Hang ON!
I grabbed the hand strap and loaded into the back, choosing my seat closest to the rear for best viewing and photography (like I thought I could take photos… little did I know!). Soon we were a caravan of 8 bad-ass monster-like trucks making our way through this Indonesian town like a military crew entering a city on a mission. Nestled between three mountains, this area is known for its higher altitude, tea plantations, and rich cultural heritage.
Motorcycles zoomed past us on the right and on the left. Multiple riders had household goods strapped to their body! Like insane amounts of this. Traffic was crazy on the streets and freeway, but soon we made our dirt road exit by the lush green rice fields. We made our way further and further into the Jayagiri Rainforest.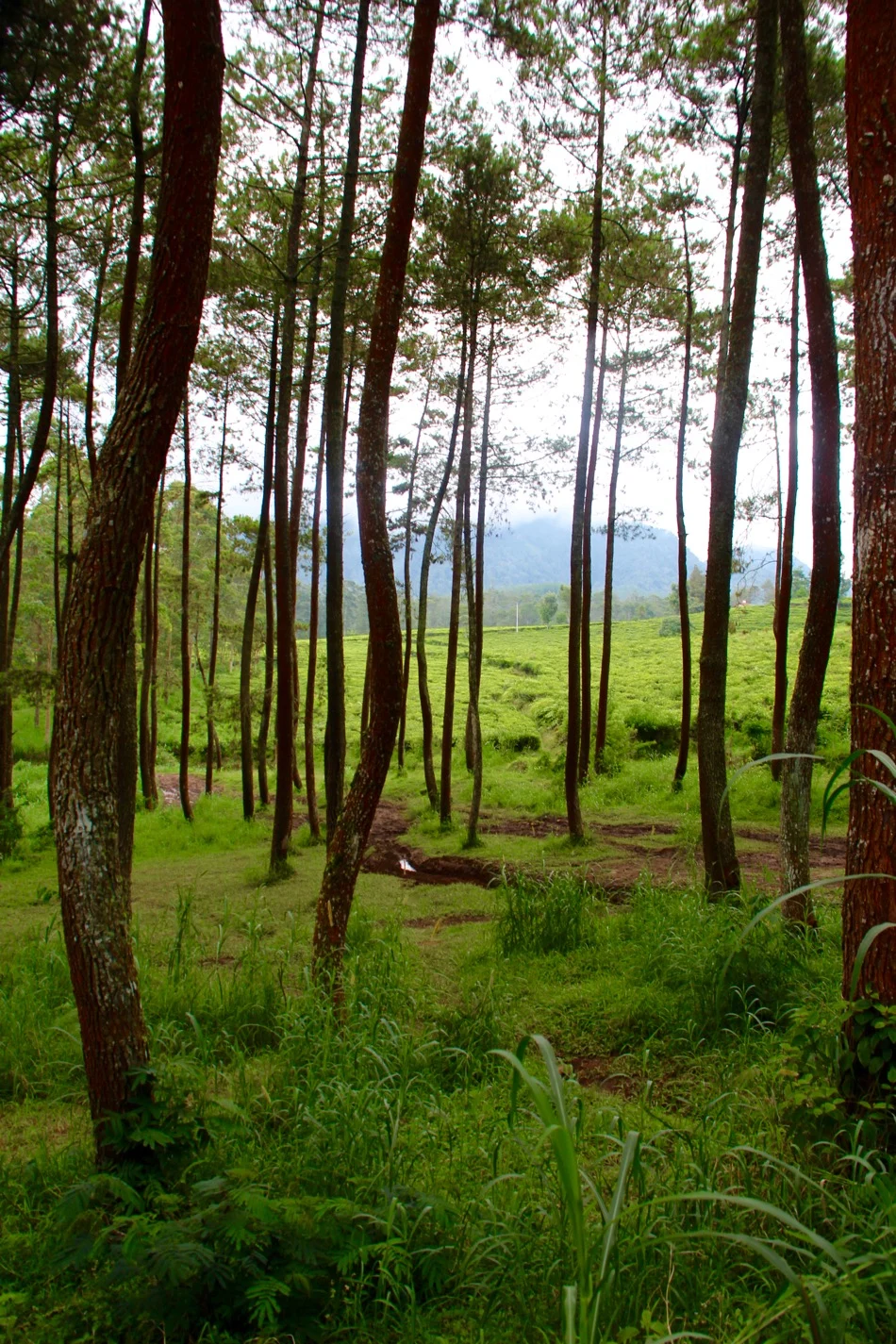 We had no idea where we were headed, but the scenery was gorgeous!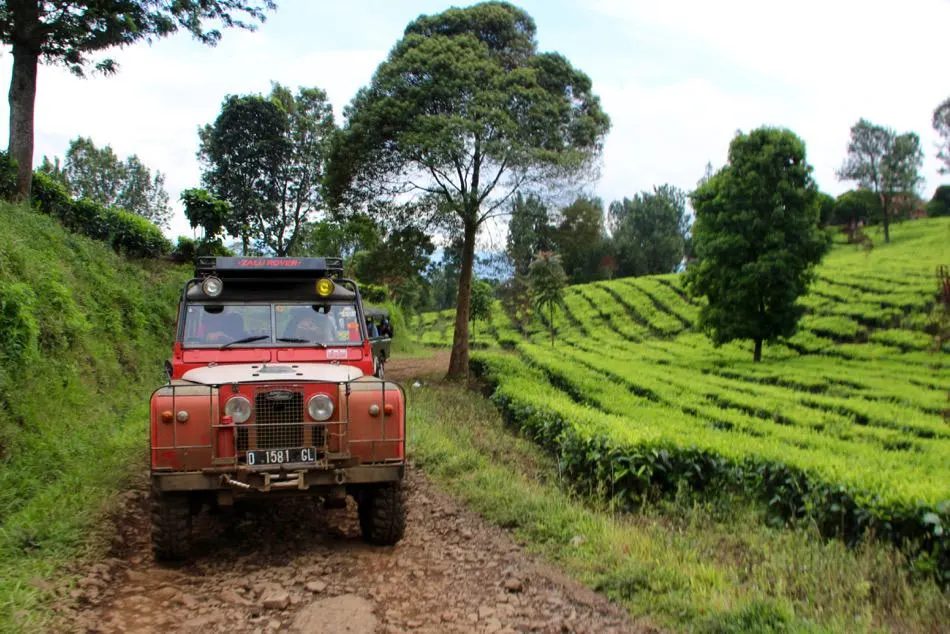 Brace Yourself for the Funest Day of Your Life!
I put my mandatory helmet on. Hanging on for dear life, I braced one foot against the metal floorboard and the other against the seat in front of me. I had to stretch out my foot even to reach across the floor to the other side. My right hand held on tightly to the strap below my seat. My left hand, gripping the loop that hung by my head.
The road was treacherous and muddy! Eventually, it wasn't even a road, it was a ditch, like driving through a carved out muddy hill six feet deep. Most of the time I could hear the screams of the other passengers like they were on an amusement park ride. Even I cursed more than what I am accustomed to! My knuckles turned white and my heart was pumping. It was insane what these trucks could go through.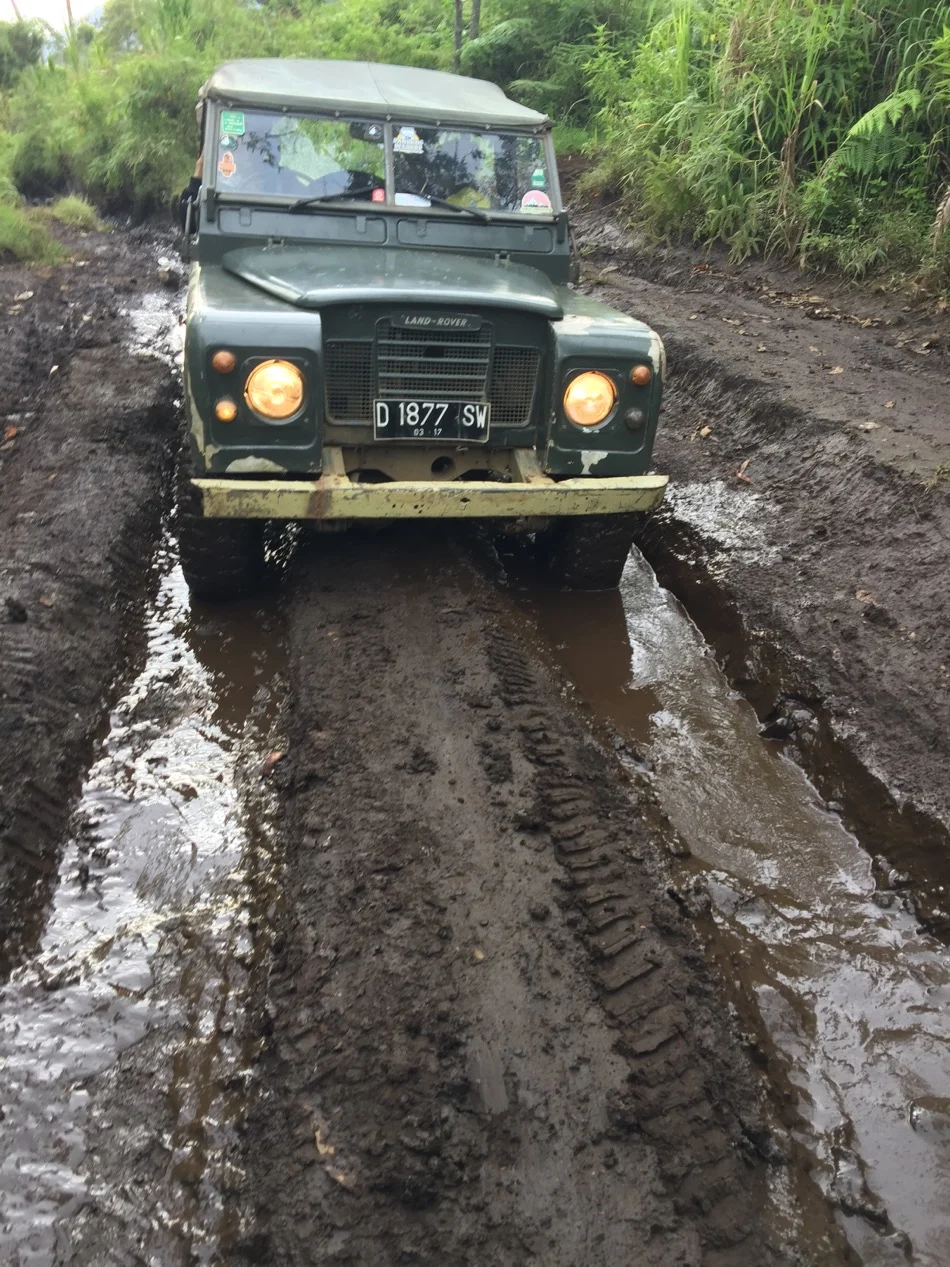 We rode.
We rode hard.
Sliding off our seat cushions.
We laughed.
We laughed hard.
We hung on.
We hung on for dear life!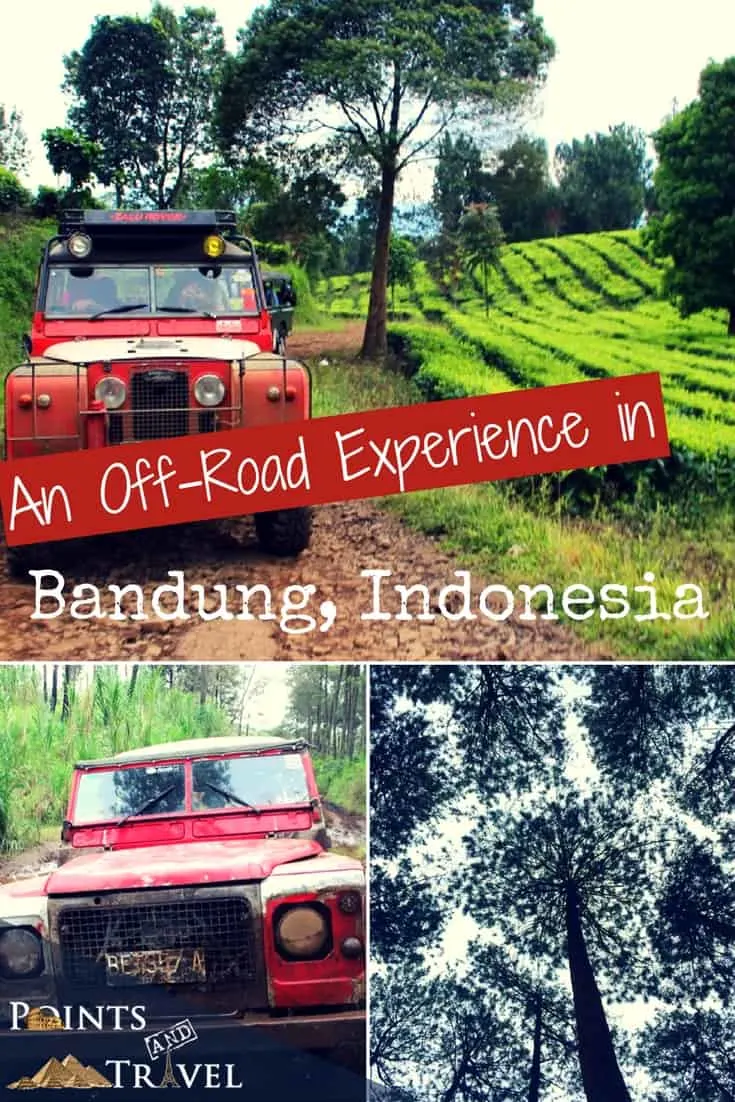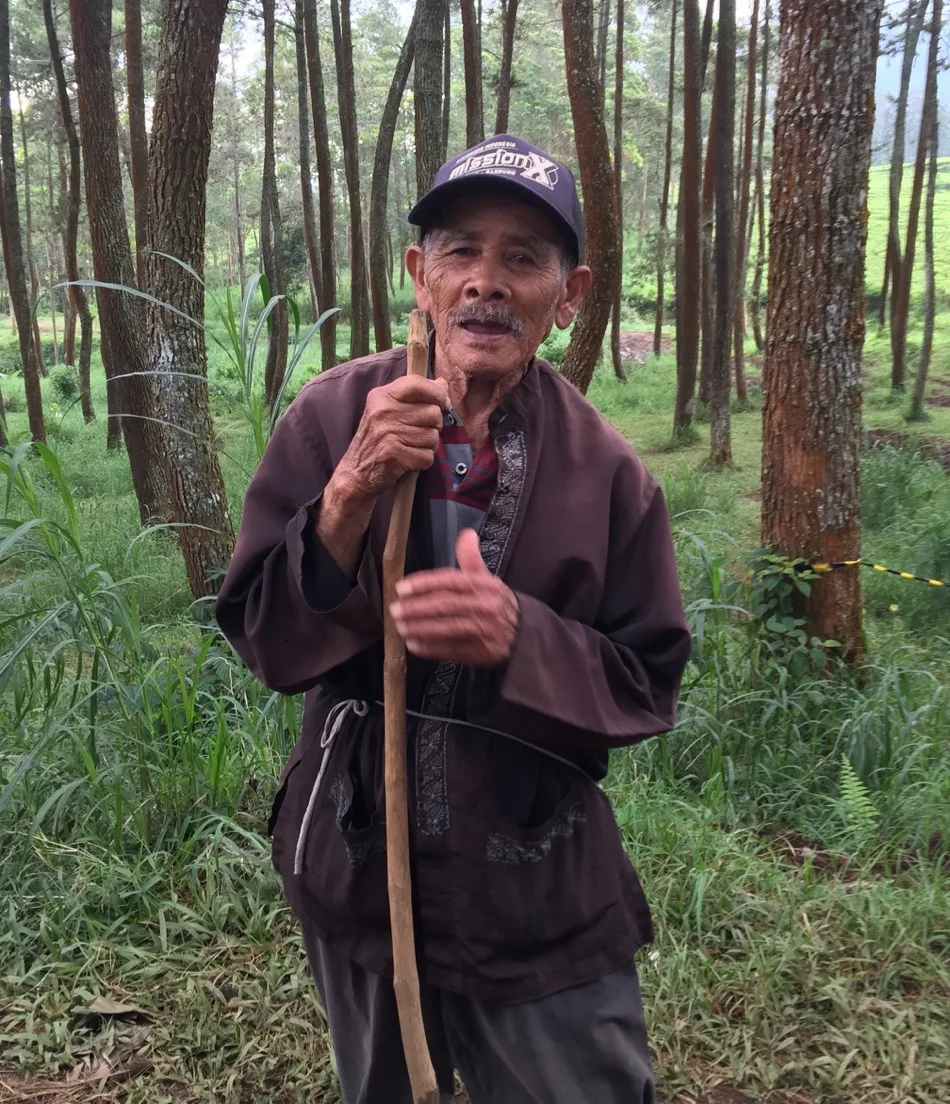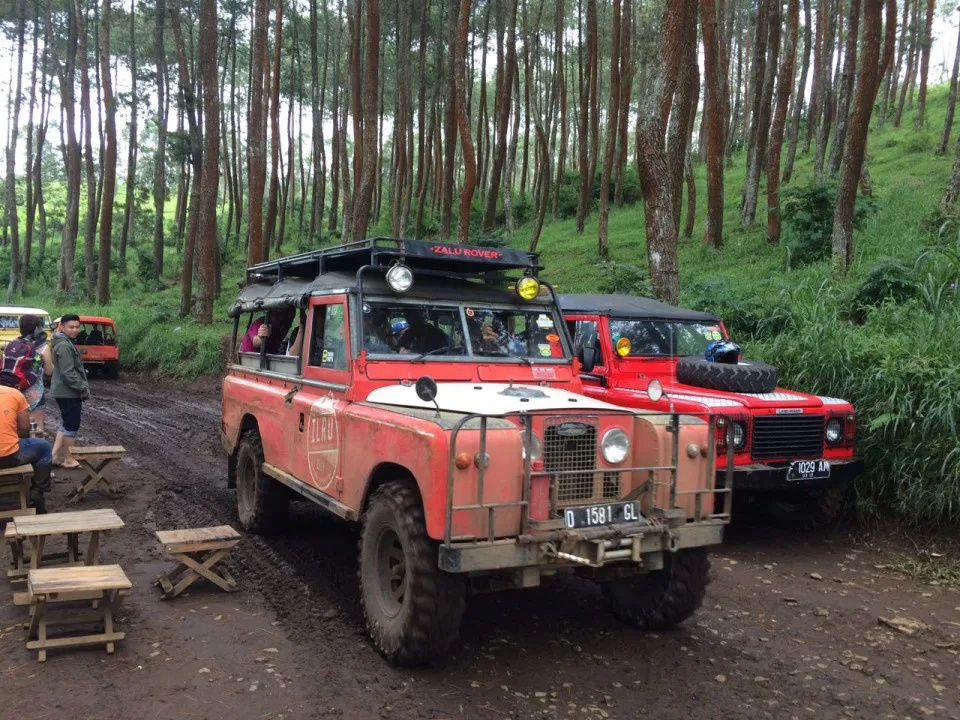 Laugh, Laugh, Laugh
Eventually, we made it to the halfway point pitstop (thank God!), and when we arrived, faintly I heard the sounds of classic rock. But as we got closer, the music got louder and soon we were in the throes of a classic rock DJ experience in the middle of the rainforest in Indonesia. It was surreal, with them blasting the Scorpions singing Still Loving You.
"I'm still in love with you, ewww, ewww."
I won't mention who that song reminds me of, but just know, it was good memories!
Travel Bandung Mountain Music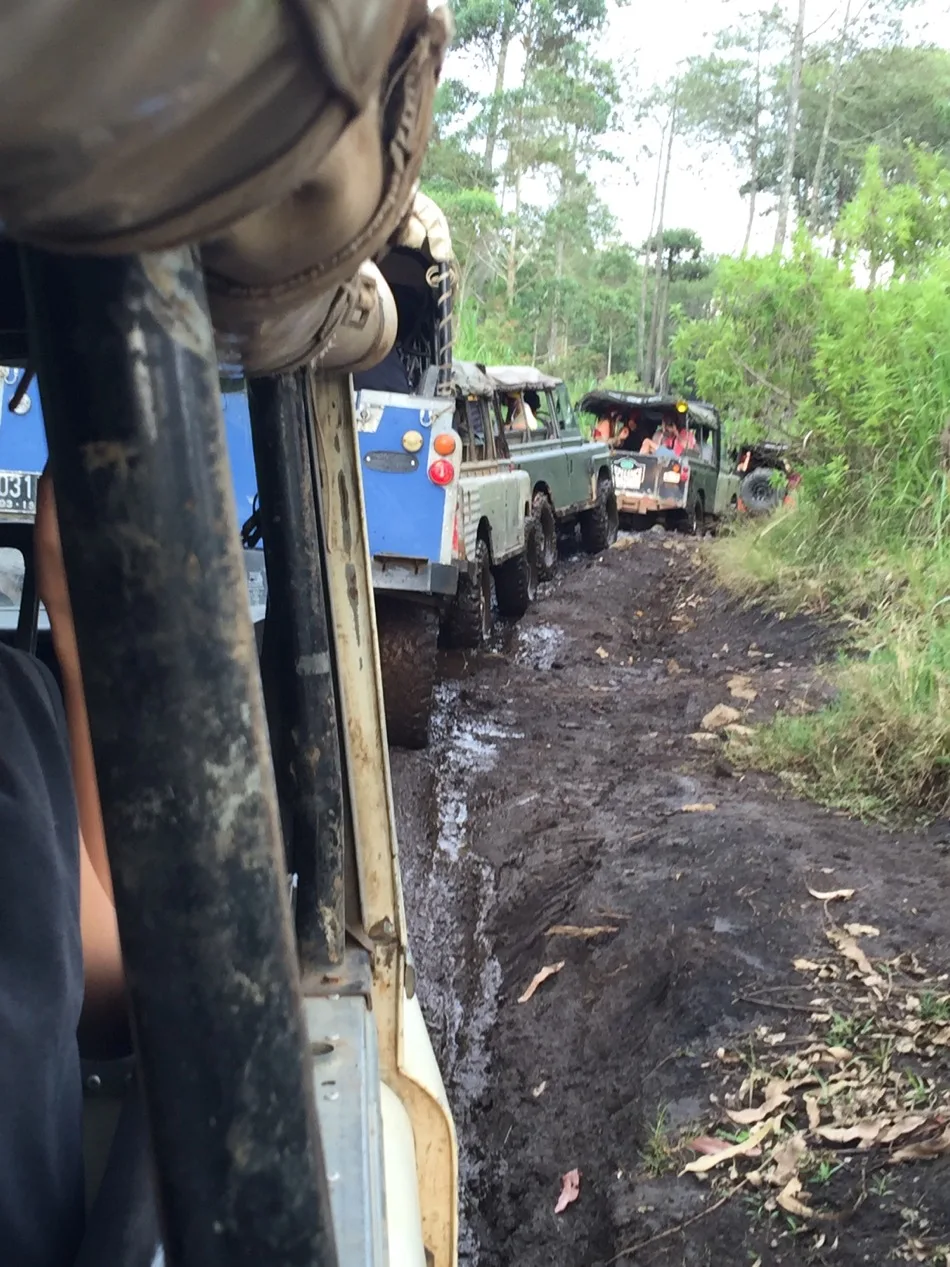 We carefully jumped out of the truck dodging mud puddles to meet the others, who had found the coffee guy's food and pastry bright red truck. I think he was the one blasting the classic rock. Some people sat around on round wooden stools, some got on top of the trucks for photos, while others walked into the rainforest just to look up.
I went into the rainforest, feeling that moment of thrill you get when you know this experience is what you look for when traveling. The views were incredible as I gazed out across the trees.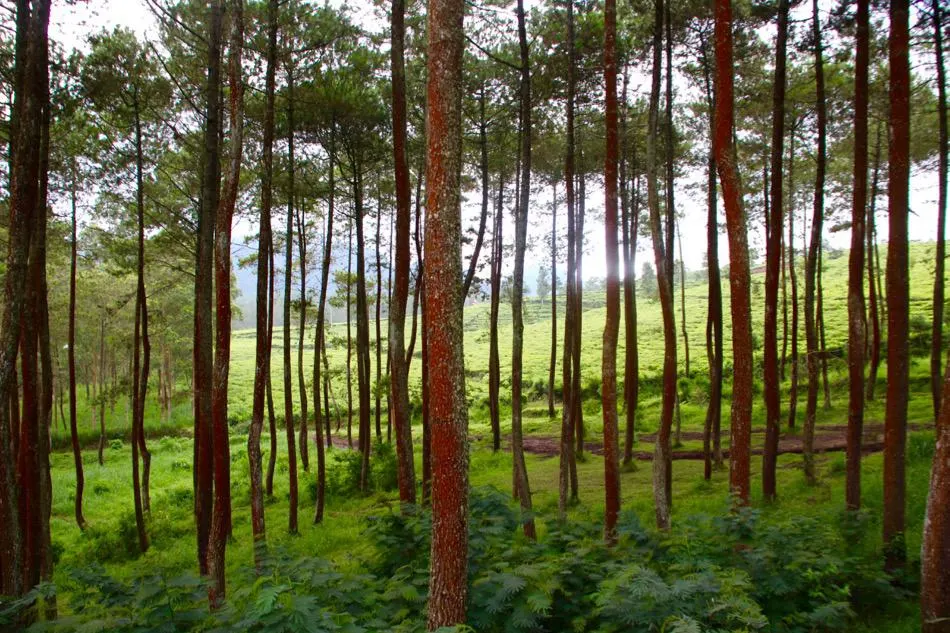 The "roads" were thick areas of marshland against green tea plantations and of course, the tallest trees ever. I stopped for a moment to breathe it all in. Even now, as I write this, I pulled up YouTube on my Mac to listen to this song again to get right back into that mood this trip created! I love moments like this!
Travel Bandung in the Mud
We reloaded into the trucks for two more hours of off-roading even harder off-roading in giant mud puddles. This crazy experience was unlike any off-roading I have ever done before and it is a wild experience if you are up for it! As a licensed Chiropractor, I would say this is not for the light-hearted or anyone with back issues! But if you want hard adventure and fun in an "off-the-beaten-path" area of the world, then this one is for you. I typically do soft adventure and so one hour versus three hours of this would have been enough for me!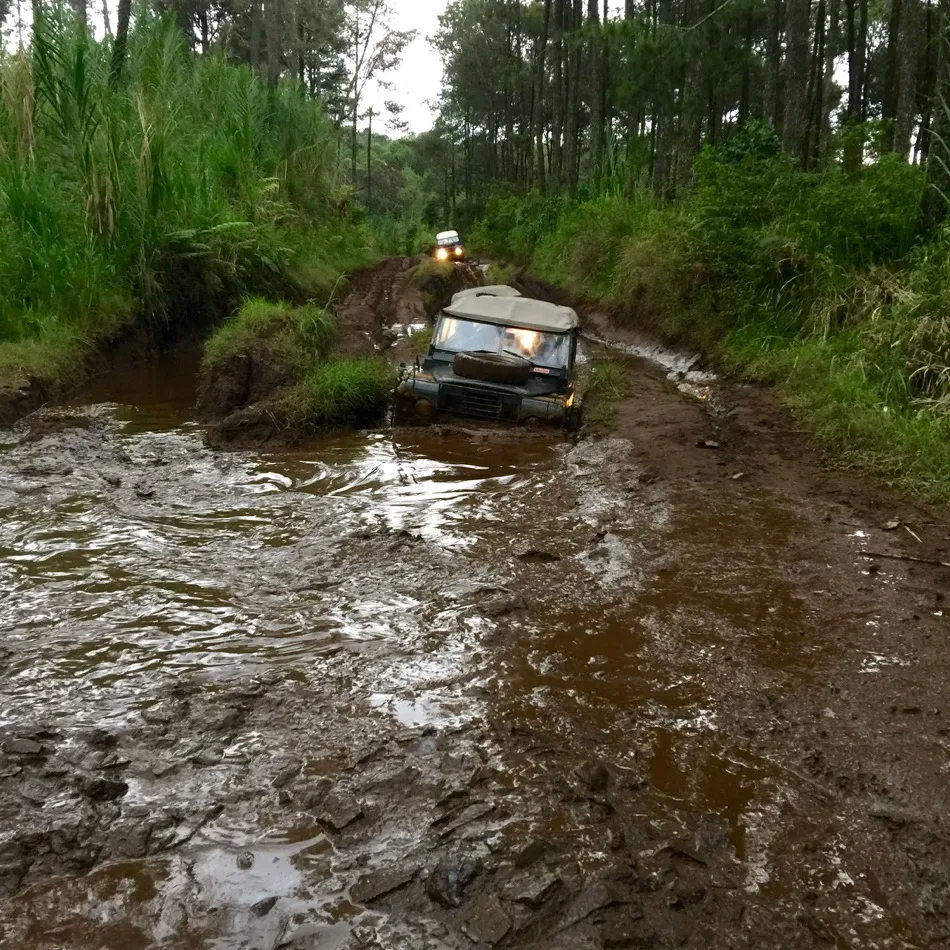 Watch this video and you will know what I mean: Bandung Off-Roading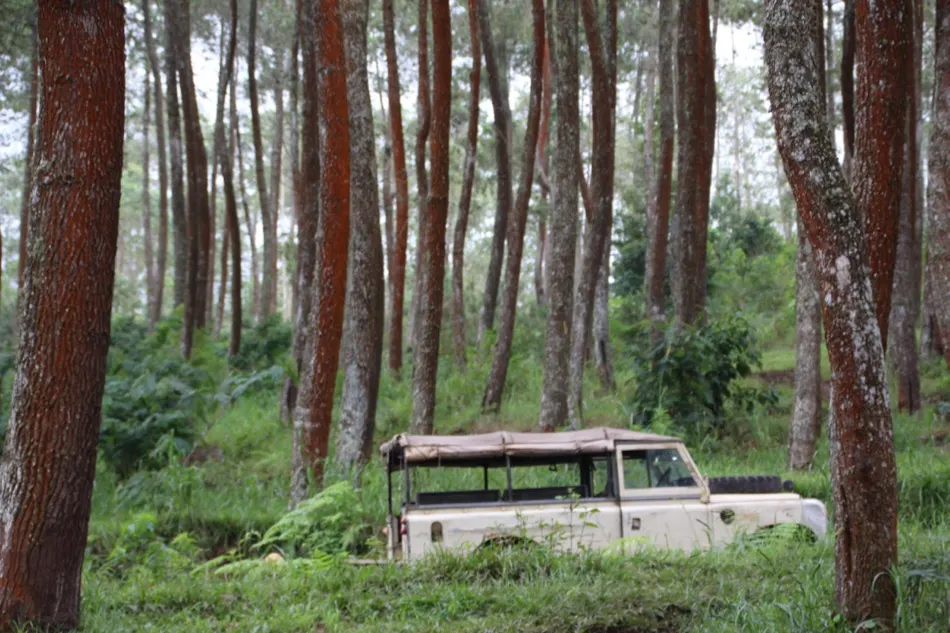 This was pretty much one of the fun-est things I have ever done!
---
Want to learn more about Indonesia?
Learning Traditional Games by Kelly Stilwell
Four Secret Places to add to Your Indonesian Bucket List
Travel to Indonesia to learn the Art of Batik
The Color Block Favelas of Yogyakarta, Indonesia
---
Disclosure: This trip was hosted by the Ministry of Tourism of Indonesia. The fun and crazy memories I have from this trip were all my own.