Dry Tortugas National Park, you have heard of it, right? Right? Well, that's ok, as there are a huge number of Americans that have never heard of it. But if there is one thing I know about the Dry Tortugas National Park and that is that it is an absolute water paradise on Garden Key. It is like being in the Caribbean, only you are still in the good ole' USA! The colors of the turquoise and aqua blue water itself is a WOW experience!
Plus a visit to see Fort Jefferson is super cool too, so two birds, one stone. Fort Jefferson is America's largest and most spectacular 19th-century coastal fort. Fort Jefferson itself is a six-sided building constructed of 16 million handmade red bricks. So let's Go!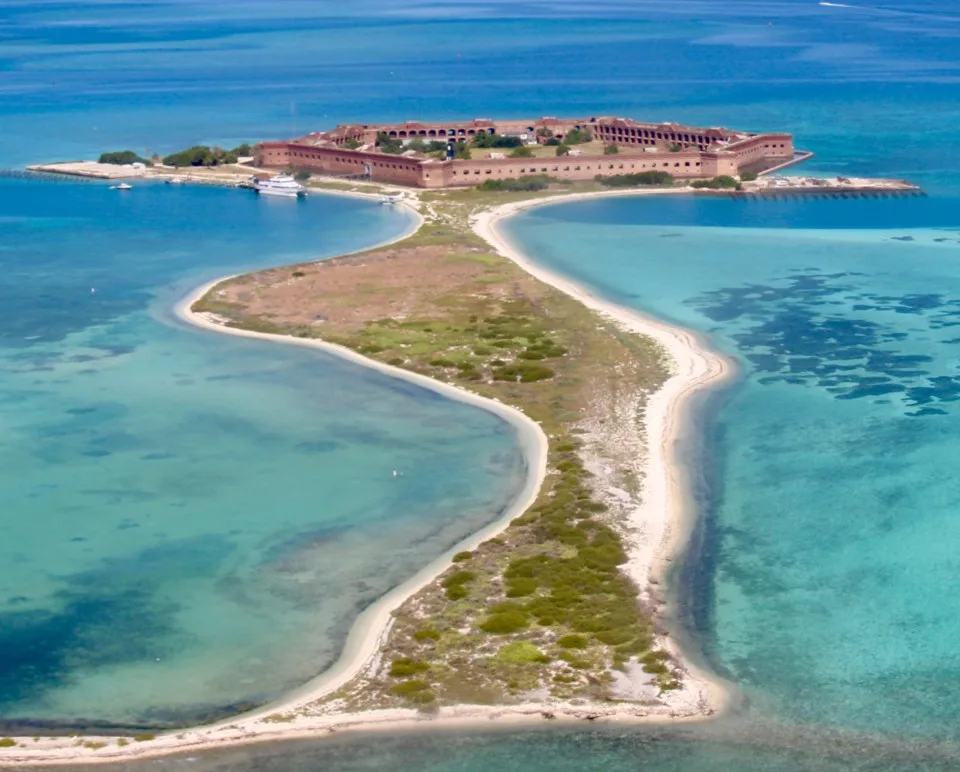 ---
What's in this post:
hide
Dry Tortugas National Park
---
And with just 60,000 annual visitors because this National Park is only accessible by boat or seaplane, you can practically have the place all to yourself as I did! This chain of seven islets (which also includes the old Fort Jefferson), is a mere 68 miles off the coast of Key West, Florida. And it is also one of the USA's least-visited national parks, so this gem is worth putting on your bucket list. Paradise without many people! Perfection. Just look at the color of that water with shades of blue and green!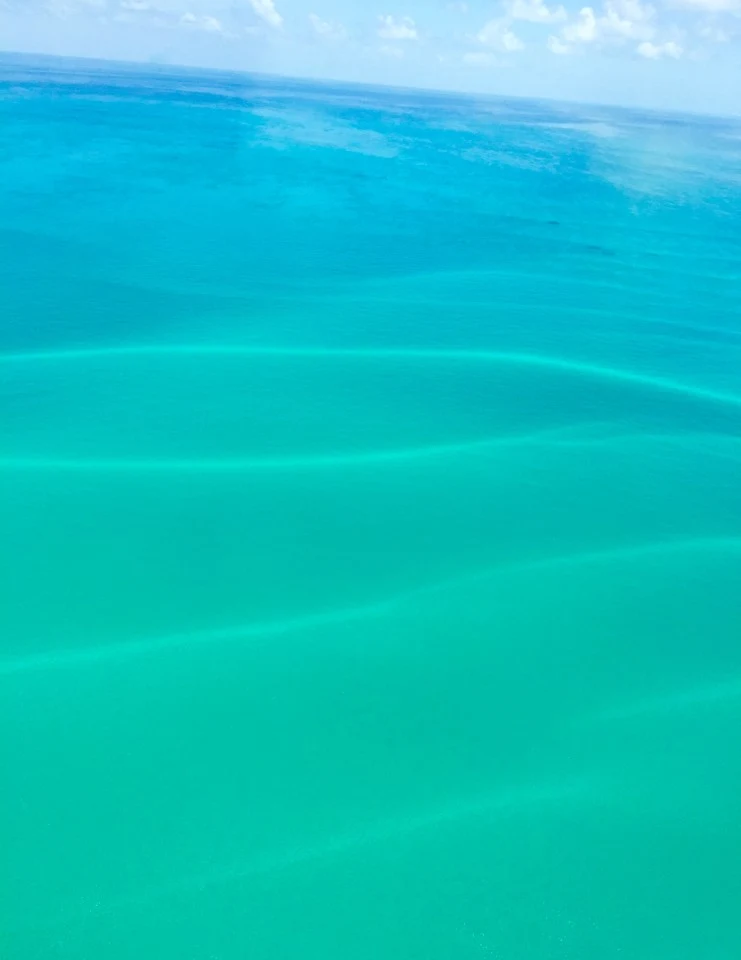 A Day Trip From Key West
An adventure out to the Dry Tortugas National Park's main islet, otherwise known as Fort Jefferson by seaplane is a totally awesome experience. There is no way you would regret taking this trip! I recommend it for anyone visiting Southern Florida and the Florida Keys. I consider a visit to Fort Jefferson a "must-do" and a great day trip from Key West. While visiting, you might as well spend the entire day there, because it is a lot of fun, plus there is a lot of Fort Jefferson history to learn!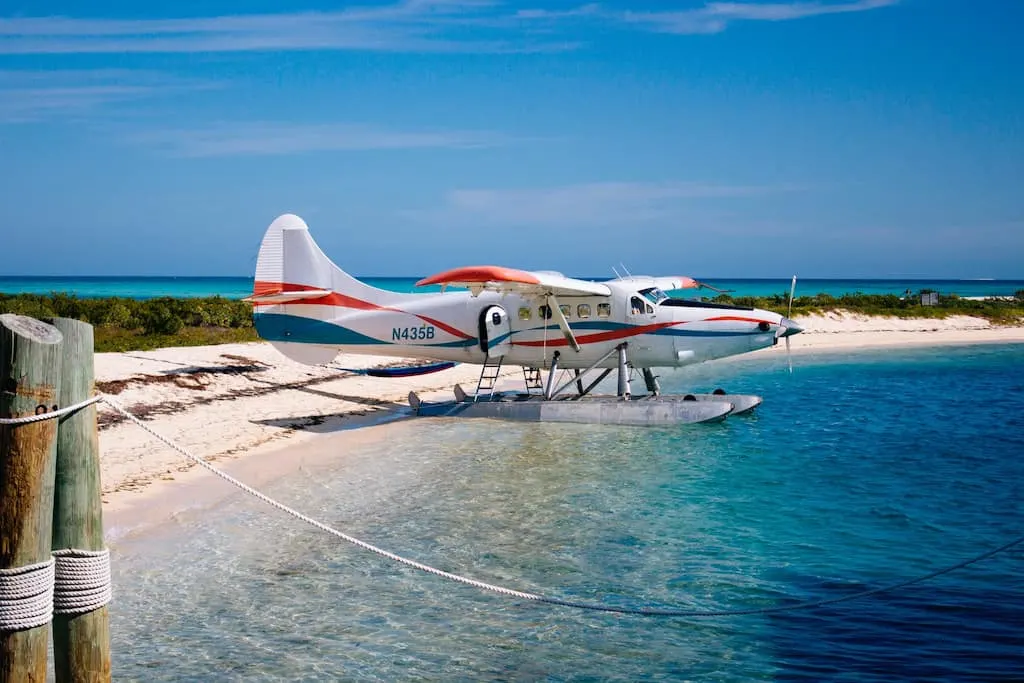 An Adventure by Seaplane
But one of the best parts is the quick seaplane ride out there and back, as that is an experience within itself. I have ridden in a seaplane before in Sri Lanka, and I think they are always super exciting! I mean who doesn't want to fly up in the air and land in the water on a seaplane?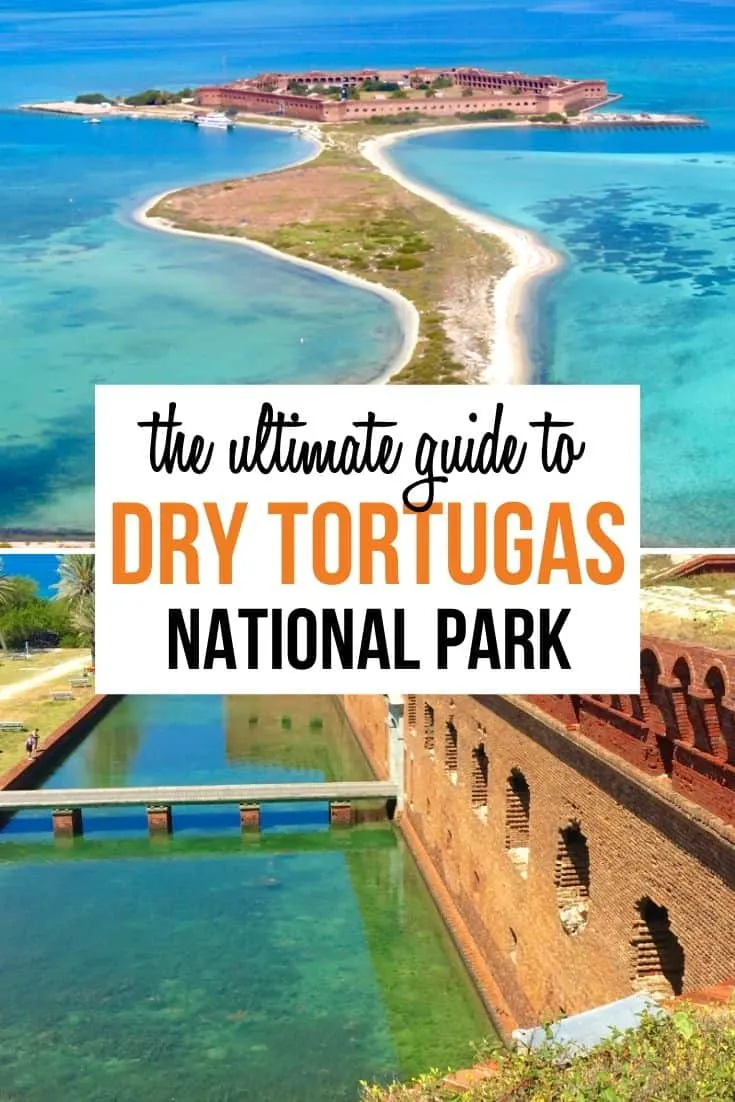 ---
Most Overlooked National Park You Should Definitely Visit
---
Almost 70 miles west of Key West, Florida and nestled among spectacular coral reefs, fascinating shipwrecks, and sandy beaches, lies seven undeveloped coral and sand islands called the Dry Tortugas.
There is a ferry out to Fort Jefferson (Land called Dry Tortugas), but it takes over 2.5 hours each way, so consider that if you are going by boat, that is unless you have a private boat! As private boats are allowed and we did see quite a few nice yachts in the area as well, so you could hire a private charter as well!

Wake Up for a Trip to Fort Jefferson!
I wake before dawn with anticipation of the day that is to follow. After all, it's not every day you get to visit a remote tropical island with a moat-encircled abandoned fort: Fort Jefferson on Dry Tortugas National Park! My eyelids are matted and stuck to each other as I roll over again and push the alarm.
This was after a night out with some crazy restaurateurs from Key West that kept me laughing way past midnight. I needed to get up and get going. As my eyes start to focus, I rise and then stumble over my shoes left on the floor of this hip Key West hotel I am staying in for my visit to the Florida Keys.
Take The Seaplane to Dry Tortugas National Park
I made my way downstairs, where the taxi was waiting. We pile in; arriving 15 minutes later close to the tarmac by the sea. Paperwork gets handled inside and soon we are walking out on the steaming hot concrete tarmac. It is a humid and hot morning in Key West.
The Florida Keys do not end here at the end of Highway 1, but from here starts a chain of islands that continues further for another 68 miles. That is where we are headed: out to Fort Jefferson on Dry Tortuga National Park. Fort Jefferson is now a part of the Dry Tortuga National Park in Florida, which encompasses seven small islands.
Seaplane Adventures Are Cool!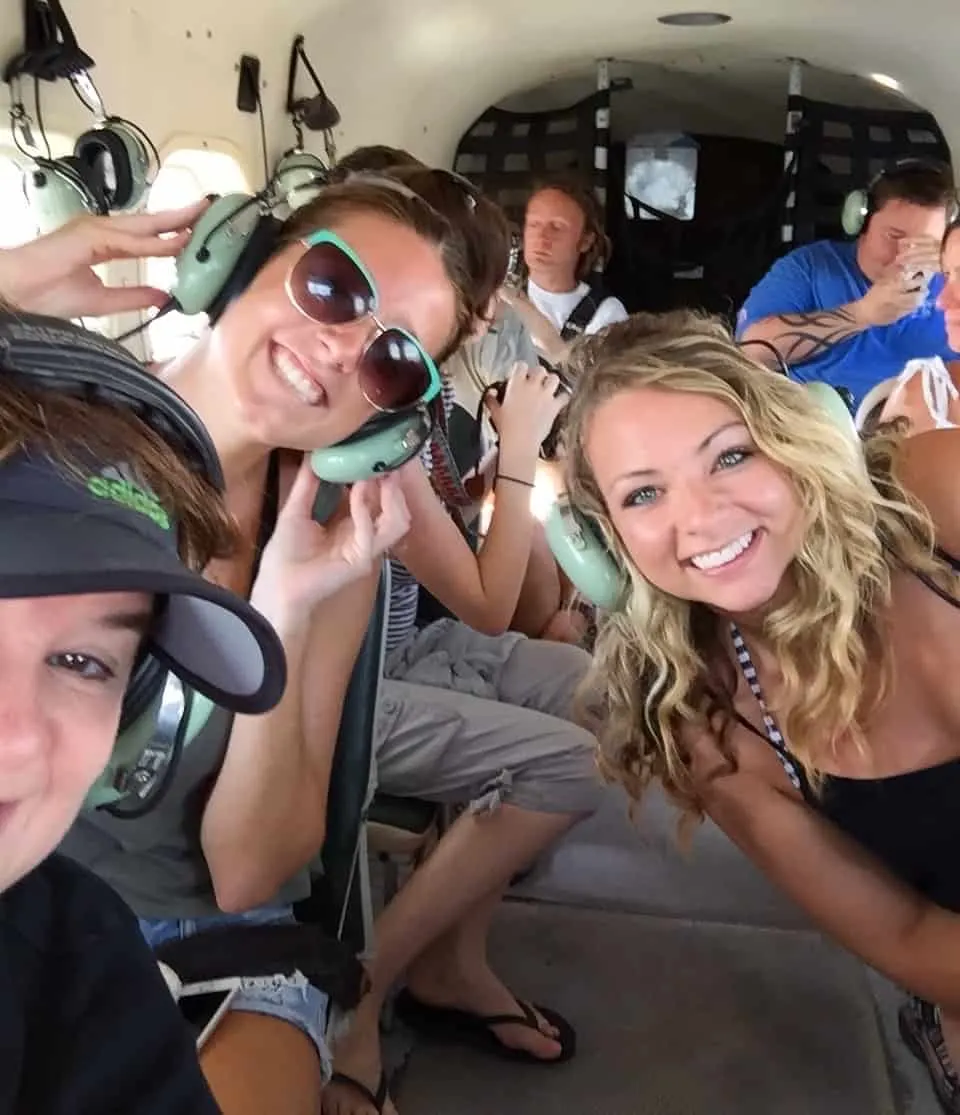 I climb in and take the archaic chair that is to be mine for the next 35 minutes. My stomach feels tied in knots, it may be hunger pains, but most likely it is just anticipation of the flight on this tiny seaplane. I put my headset on and listen to some 70's rock as the pilot fires up the engine and we take flight. Soon enough we are soaring over the turquoise blue waters with our pilot buzzing in our ears.
Flight from Key West to Dry Tortuga
We fly out past an area known as "The Flats", it is shallow, at 3-5 feet for the next 20 miles. This makes it easy to spot sea life from above. We fly for about 9 miles or so, seeing tiny Ballast Island. It is known for its scene in the James Bond thriller Licensed to Kill. Pretty cool that it is the only privately-held island within the Key West Wild Life Refuge owned by Mr. David Wolkowski, named in the movie. At the time, he had it up for sale if you have a cool 15.8 Million.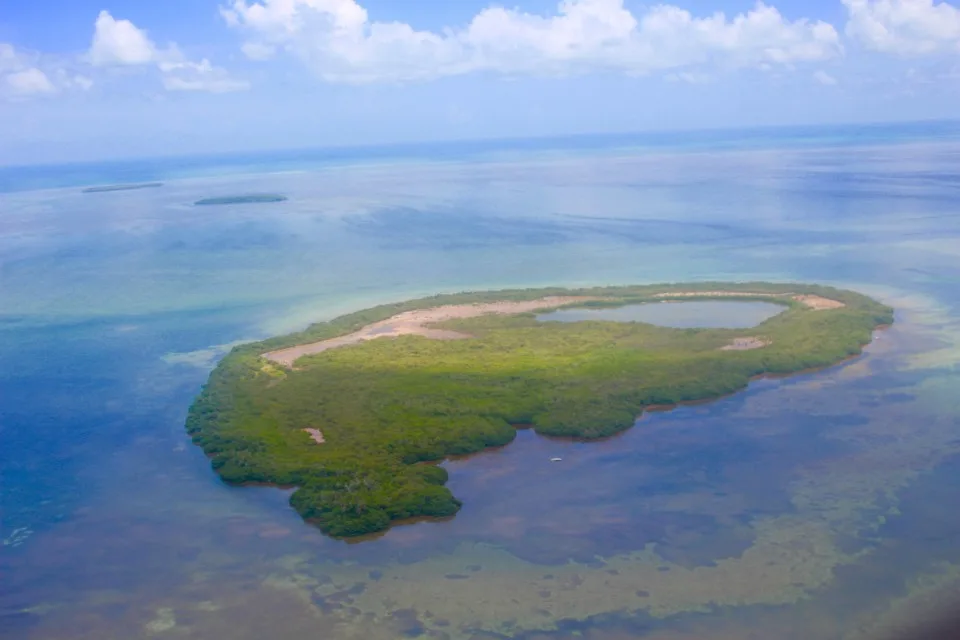 But we are in luck, as the estate of Mr. Wolkowsky has donated Ballast Key in April 2019 to the Nature Conservancy and the U.S. Fish and Wildlife Service. So it will be forever be protected from future development through this partnership.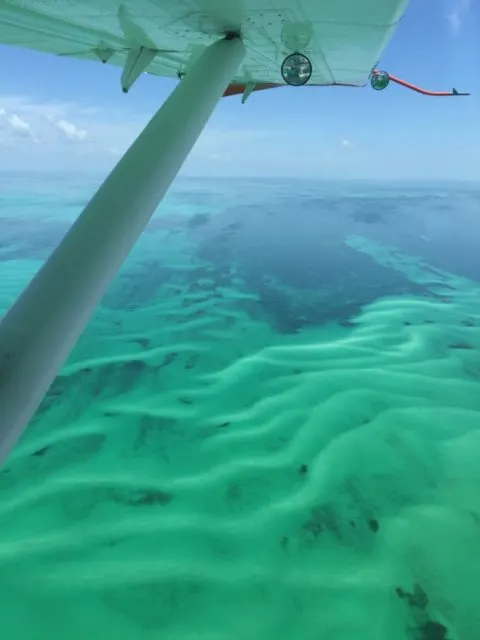 Seaplane Adventure Across "Quicksand"
Next was the "Quicksand" area, where the water is now at about 30 feet and looks like an underwater desert. The seabed is made up of huge underwater sand dunes that are continually moved by the strong current. This area is stunning with its wavy green patterns.
This is also the area where the Mel Fisher found the half a billion dollars worth of gold and silver strewn across an eight-mile area from the Spanish Galleons "Atocha" and "Margarita". So if you are in the mood for a little treasure hunt, this would be the place. Last I heard, they were digging up emeralds!
Fort Jefferson Coming into View
Then, after almost 35 minutes of flying, the pilot makes an announcement of Fort Jefferson and Dry Tortugas National Park is coming into view down below. I look out at what literally seems like the middle the ocean when I see it: a massively abandoned, 19th century Fort known as Fort Jefferson on a desolate island. It is a hexagonal (six-sided) fortress that seems to be floating in the water and is made up of over 16 million handmade red bricks! WOW!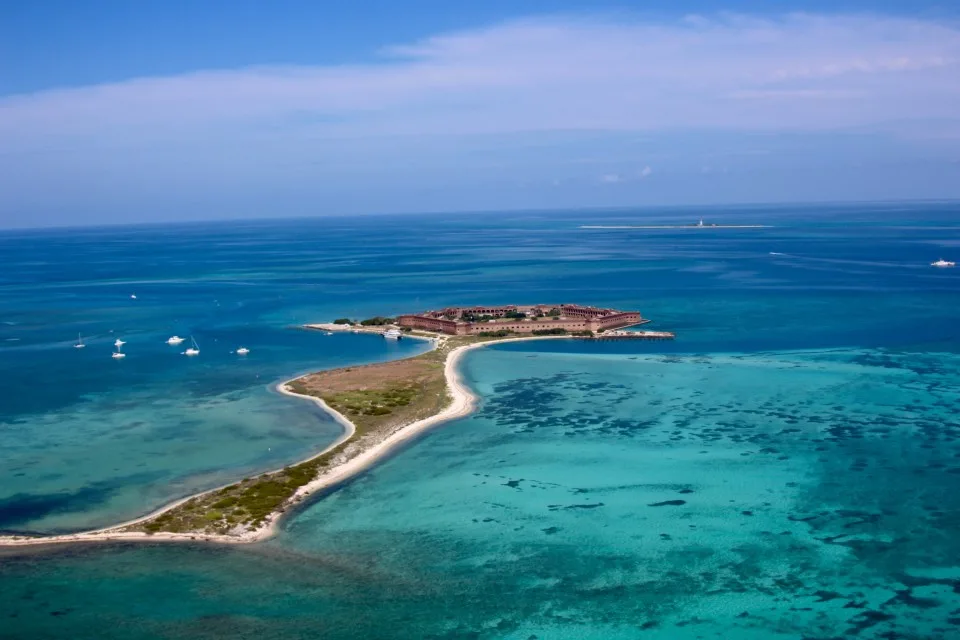 How To Get To Fort Jefferson
Upon our arrival, the pilot made a low pass over Fort Jefferson on Dry Tortugas National Park for a photo opportunity. He then circled the fort and made a smooth water landing, beaching the airplane right up to the shore. He jumps off barefoot and helps us make our way to dry land.
There are only three ways to arrive on Dry Tortuga National Park:
#1 Seaplane: The BEST WAY!
You can get to Fort Jefferson by seaplane on Key West Seaplane Charters.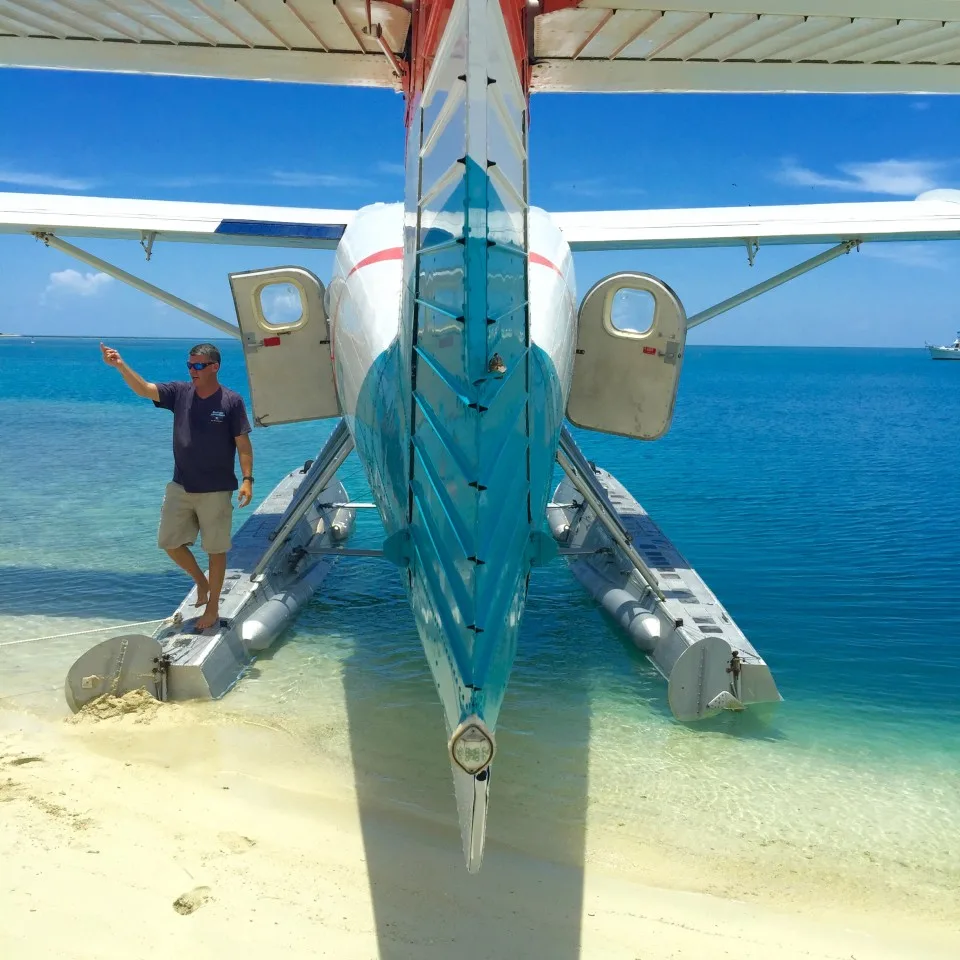 ---
Key West Seaplane Charters is the only seaplane service that is permitted to land in Dry Tortuga National Park for you to see Fort Jefferson. You will not find a cheaper price anywhere since they are the only way to book the flight. The cost for an adult for a half-day is $361 and for a kid age 12 and under it is $288. For a full day, the price goes up to $634 for adults and $5007.20 for a kid age 12 and under.
*There is a National Park Service entry fee of $15 payable in cash only as well for anyone over the age of 16.
#2 Private Boat
Another great way to get to Dry Tortuga National Park is by private boat.
#3 Fort Jefferson by High-Speed Ferry Ride
And the last way to get there is by ferry boat on Yankee Freedom III It is open 365 days a year. Open 8am-8pm. Be there by 7:30am at the Key West Ferry Terminal, so you can enjoy a continental breakfast of fresh fruit, freshly baked bagels, doughnuts, cereal, orange juice, and coffee. The Yankee Freedom III boat can take you there.
The cost roundtrip is $190 for adults, students from 17+ with college ID) is $180, kids from 4 to 16 and under are $135. So it is not super cheap! The military gets a discount, as well as seniors over 62 at $170. The ride out to dry tortugas does take about 2 hours and 15 minutes. The Yankee Freedom III travels to Fort Jefferson year-round.
Here is the breakdown of what you will do while visiting the Dry Torgas: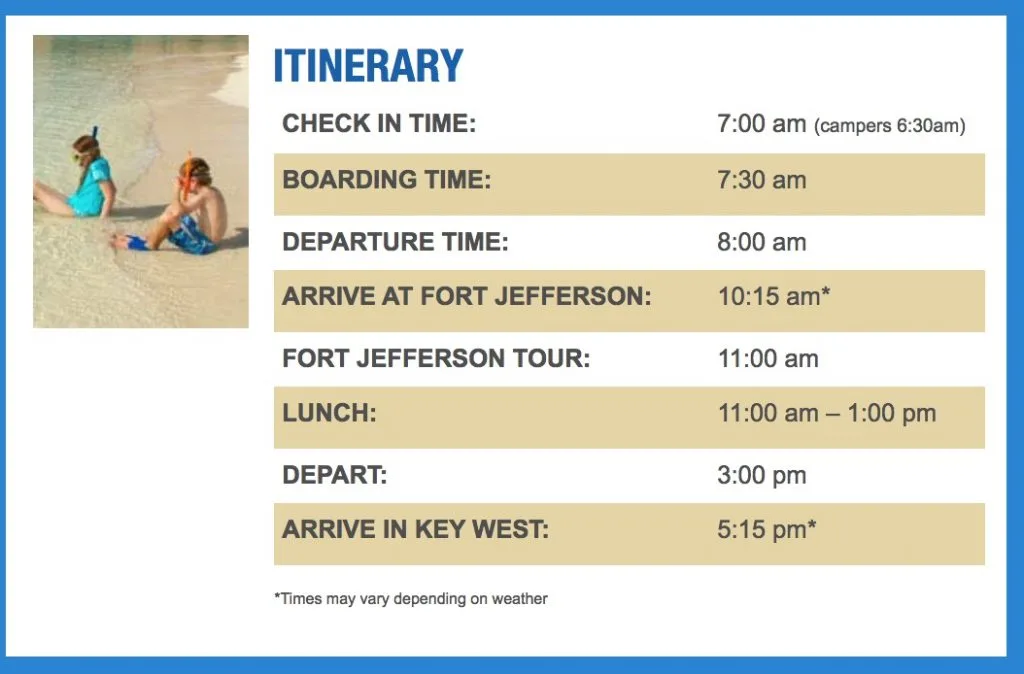 Want to Camp at Dry Tortugas OVERNIGHT?
If you want to camp overnight, the rate is $200 per adult and $145 for kids 16 and under. But you do need to call 8 to 12 months in advance, as there is limited availability. So call, as the reservation must be made by phone them at 1-800-634-0939. Below is a photo fo the YAnkee Freedom III.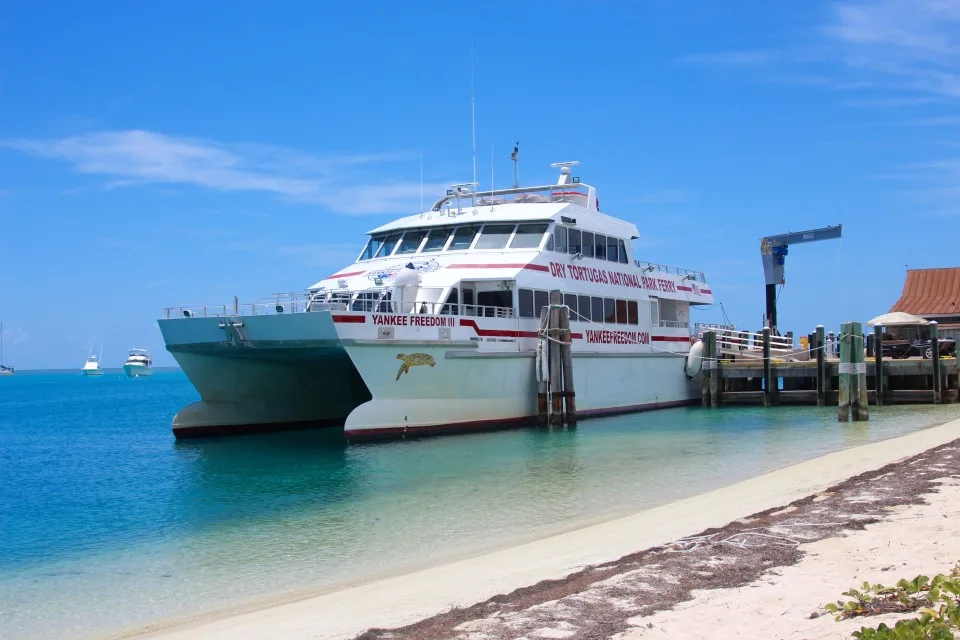 Dry Tortugas Museum in Key West, Florida
And might as well stop by the Dry Tortugas Museum in Key West while you are there. It is located at 901 CAROLINE STREET within the Sails to Rails Musuem. Here you will learn about eco tours, coral reefs, marine life, and bird watching.
What to bring to Fort Jefferson
You will need to bring a beach towel and plenty of sunscreen, since most days it is hot. Also, remember that there is no fresh water on the island, everything has to be brought in. So be sure and pack enough water for your group. Our reservations with the seaplane included water and snacks. But we also brought along additional snacks as well. There are restroom facilities and changing rooms accessible for your use.
When to go to Dry Tortugas National Park
The water is the clearest and calm during the summer, but remember it is hot. But what I like about going in the summer is that that is when the sea turtles come on land and lay their eggs. So if you can deal with the heat well over 90 degrees from June to September, I would go then. October brings cooler temperatures but also choppier waters However, April to mid-May is the best time for birding, as that is peak migration season.
What to do at Dry Tortugas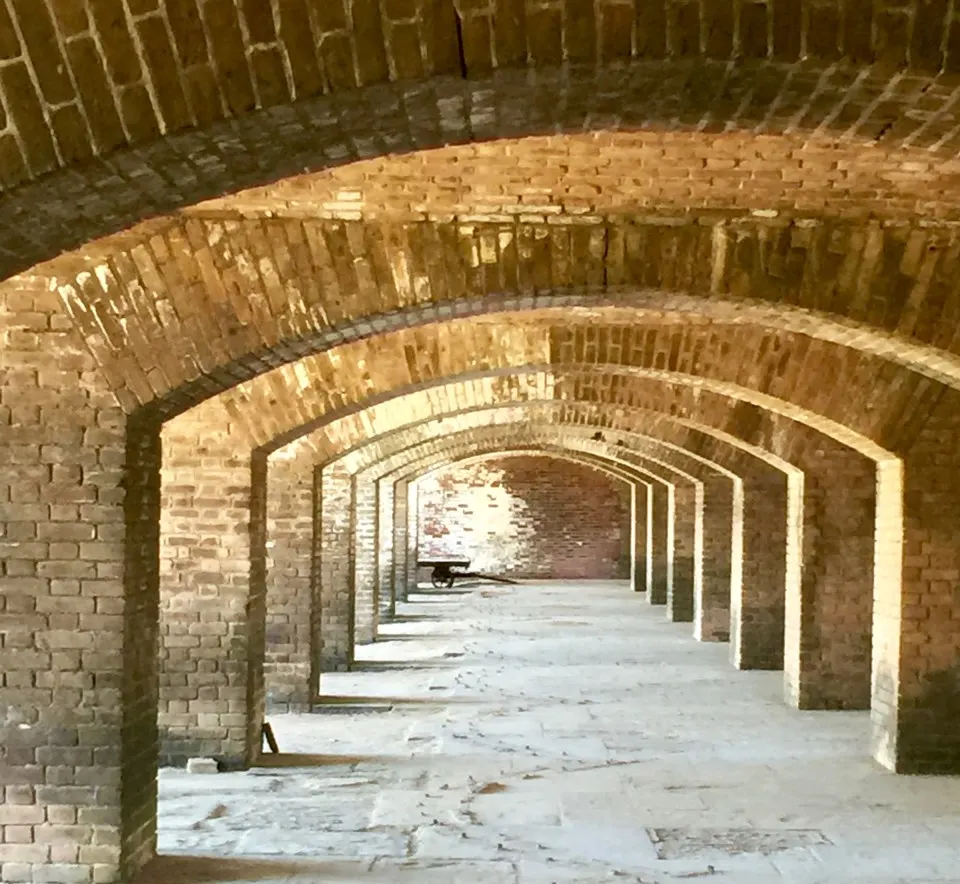 #1 Tour historic Fort Jefferson
Upon arrival, you can tour the Fort Jefferson on your own or they have guided tours you can take as well with information and history about the fort. No one really lives here, other than the employees of the National Forestry Department. Their job is to take care of the island and its massive old fort. Fort Jefferson appears to still be in pretty good shape, although once I took a walk along the roof level, where I could see that parts of it were crumbling into the moat.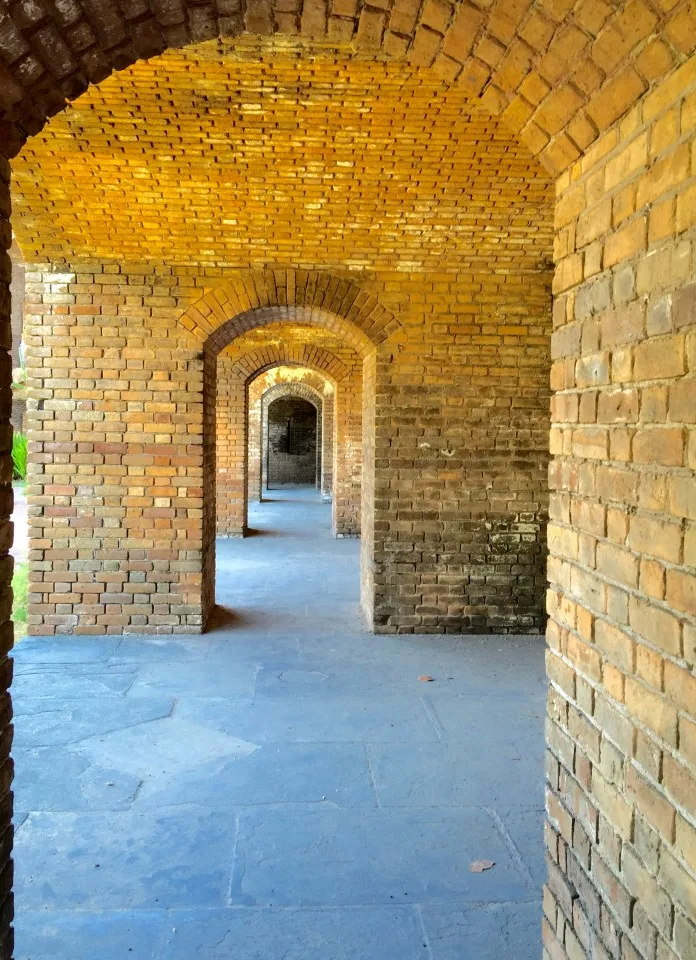 ---
There is no fencing along the top level, so it is walking at your own risk! You can explore most of Fort Jefferson without restrictions, however, some of the most dilapidated areas are off-limits. We hiked the perimeter and went up to the rooftop to get some better views.

---
#2 Camping on Fort Jefferson
If you are more adventurous than me, you can actually take camping equipment and stay out there for up to three nights. It would be a perfect getaway if you can deal with sleeping on the beach, as the views are breathtaking. You do have to get a permit and you can find out more about it on Fort Jefferson's website.
One place you can stay is Garden Key, as it has one campground with 10 primitive first-come, first-served campsites. They have eight individual camps, one group camp, and one grassy overflow area. For that, it is $15 per site, per night. But all the campsites have a three-night maximum if you arrive via ferry, or fourteen days if you come by private boat. The Ferries have space for 10 campers each way each day.
#3 Go Snorkeling
Bring your bathing suit, as they do have changing facilities. The cool turquoise-blue water is refreshing after walking around in the humidity on the island. The day I was there it was HOT and so after an hour or so, it was time to dive in and enjoy the water and go snorkeling. The water looks just like the Caribbean water and the beach is not crowded.
I loved my Fort Jefferson adventure when I snorkeled around the moat wall. So do this and look for creatures that venture out from the coral on the underwater bricks. I saw a basket starfish, decorator crabs, and a few squids. Also, look around the anchor chains and cement barrels. You never know what you will find. Little Africa not far from Loggerhead Key and Texas Rock to the north of Garden Key are the prime snorkeling areas that can be accessed by chartered boat.
---
Remember: You will have to bring your own water, food, sunscreen, towel, etc. (ie everything) because there are no stores on Dry Tortuga.
---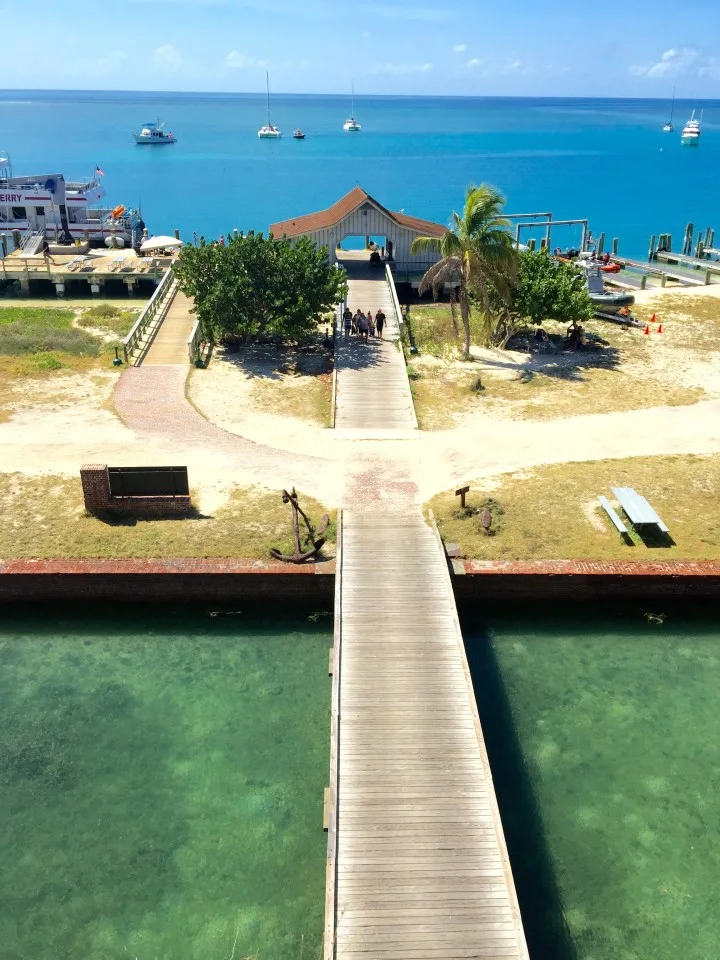 Dry Tortugas National Park is home to over 67,000 acres of coral reef, as this is the end of the Florida Reef system. Because it is located in a protected area, the reef hasn't been very damaged. An most likely it has more marine life than you will find anywhere else in Florida. The waters are stunningly gorgeous with that Caribbean feel to them, ie, crystal clear with no pollution. This is especially true during the summertime. You can also snorkel the moat area, which is teaming with sea life!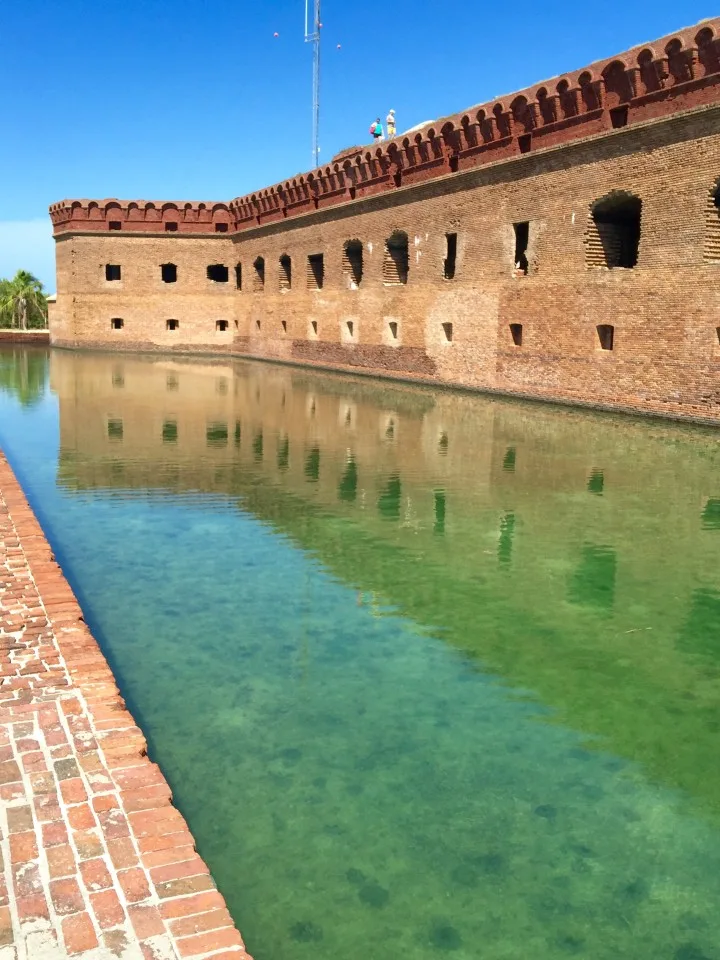 In fact, snorkeling here is probably better than diving in most parts of the Florida Keys. Once you have had a chance to walk all around Fort Jefferson, you will be happy you brought your bathing suit, masks, fins, and a snorkel. Then you can dive into these gorgeous Azul waters, get wet, and stay cool the rest of the afternoon.
#4 Enjoy Scuba Diving
Of course, you guys know I am a scuba diver and the Dry Tortugas is a great place to do it. Now for this, you may need to come out here with a local scuba company or on an overnight liveaboard, so who knows? You may come twice.
At the best dive site – and most popular dive site – is the wreck of the Windjammer that got stuck here in 1901. Apparently, this area is right in the middle of the trade routs from the Gulf of Mexico to the Atlantic Ocean, and because of that, and the fact that the coral reefs are shallow, there are many shipwrecks.
If you want to do reef diving, Pulaski Shoals is a great place to do this. With multiple shipwrecks, you will be able to see many schools of fish that are feeding off the coral.
#5 Don't Forget the Birds and Go Birding!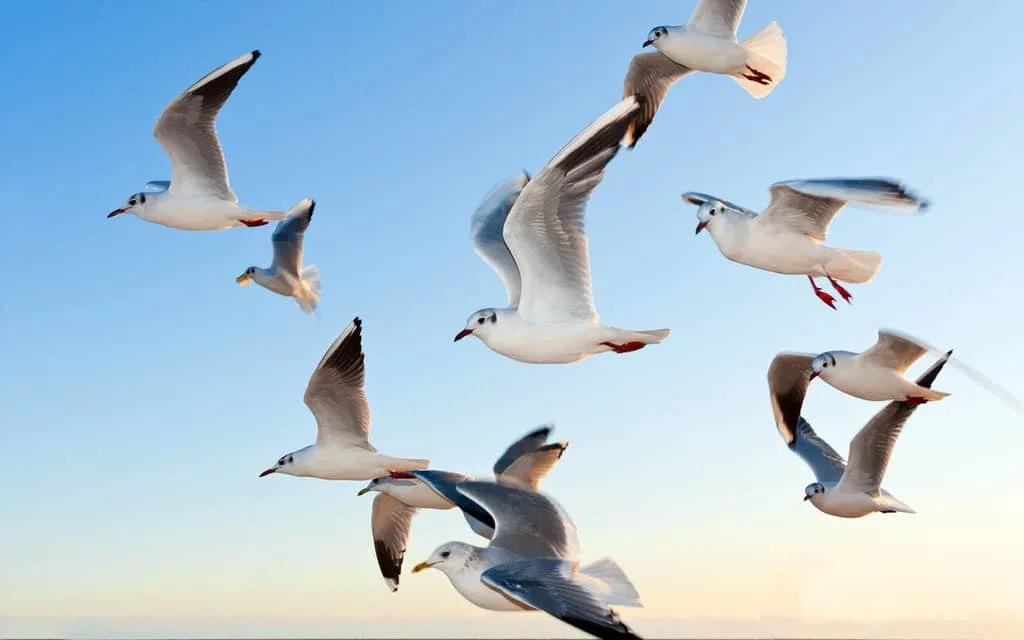 The Dry Tortugas National Park is one of the top birding destinations in North America. Who knew? The sea life that swims around the reefs makes this a popular spot for the Frigate bird. About 100,000 of them nest here every September. I have seen them in the Galapagos Islands and they are spectacular.
Also, the Sooty Terns nests here too! The Red-Footed Boobies and Golden Warblers sometimes show up! Another species to keep an eye out for as well as the White-tailed Tropicbird. They say that over 300 species of birds live here, and they certainly add to the scenery! Even heard that John James Audubon visited here in 1932.
Fort Jefferson History
How did Fort Jefferson Get its Name?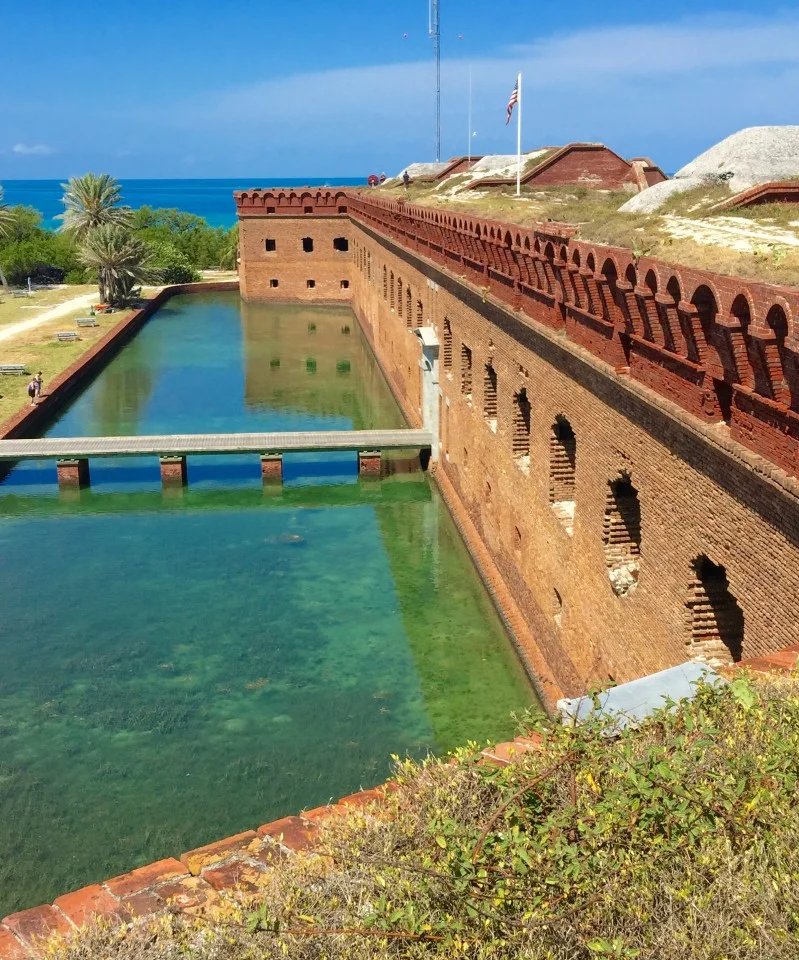 Fort Jefferson was discovered by Ponce de Leon in 1513. It was named the Dry Tortugas after the large population of sea turtles that lived in the island's surrounding waters. "Tortugas" means turtles in Spanish. The rumor is that Ponce de Leon himself caught over 100 sea turtles during his time on the island.
---
Know before you go: There is a total lack of freshwater hence the word "Dry" in Dry Tortuga, a term added to alert sailors about the conditions here.
---
What was Fort Jefferson Used for?
Prison Encampment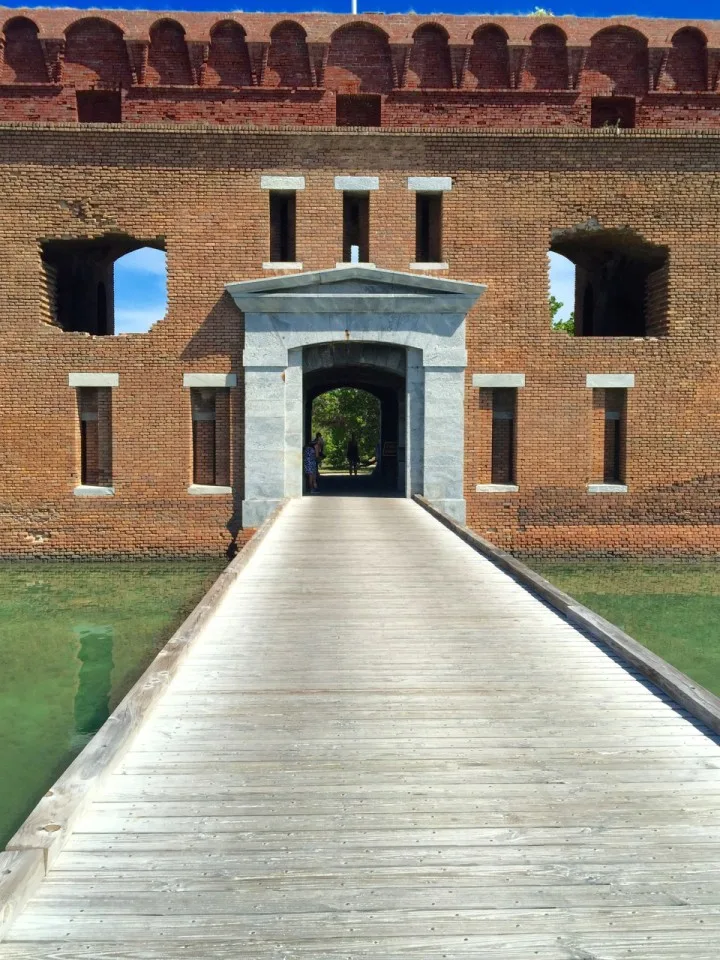 During the Civil War, Fort Jefferson was used as a prison, mainly for the up-to almost 1800 Northern Union deserters, including four men convicted in the plot to assassinate Abraham Lincoln!
One of those convicted and probably its most famous prisoner was Dr. Samuel Mudd, the physician who set the broken leg of John Wilkes Booth on the evening of April 15th, 1865. He was a physician from Maryland who believed in slavery. He was imprisoned at Fort Jefferson for conspiring with Mr. Booth in the assassination of President Abraham Lincoln. A military jury found him guilty of aiding and conspiring in the murder. He was sentenced to life imprisonment, escaping the death penalty by only a single vote.
Samuel Mudd arrived at the Fort in July of 1865 and lived there until his pardon from President Johnson in 1869. He also helped play a key role in solving the yellow fever epidemic! He eventually died of pneumonia at the age of 49 in 1883.
During its peak years, Fort Jefferson housed close to 2000 people including the prisoners, employees (cooks, civilian doctors), and their families. Also, if you can believe it, there was even a prisoner who escaped and swam the 70 miles to shore!!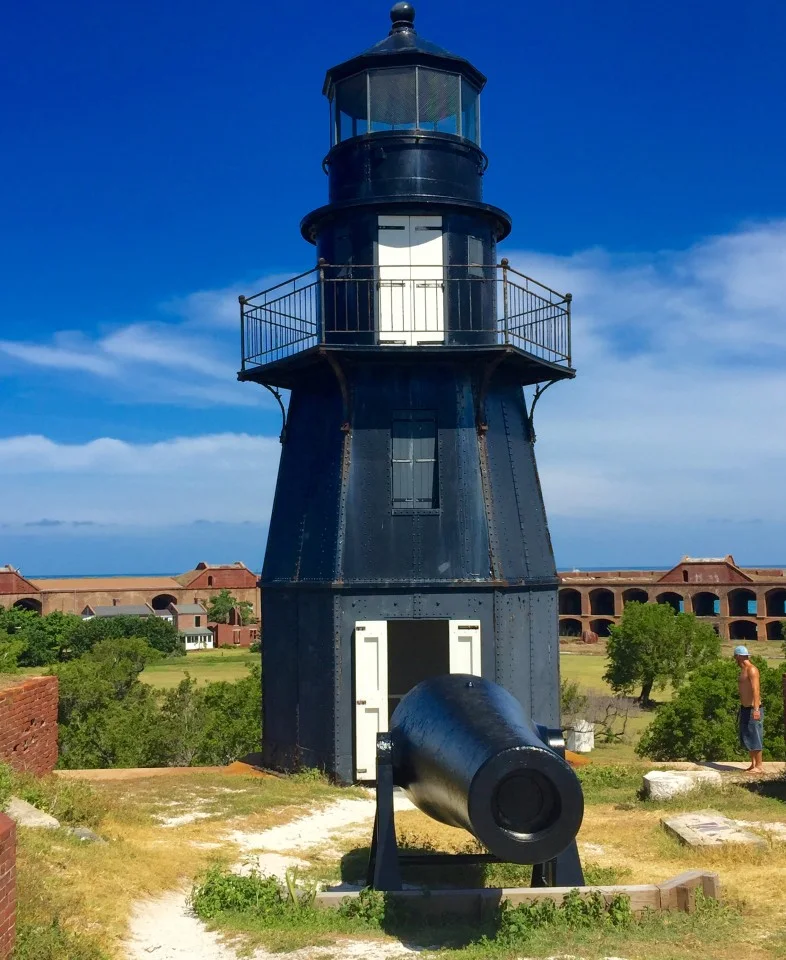 Combat Piracy and Protect America's coastline
Fort Jefferson was originally built to combat piracy and to protect American shipping lanes in the Caribbean. The USA began construction of Fort Jefferson in 1846, which continued for 30 years, yet it was never fully completed.
Eventually, the Civil War began in 1861 and they abandoned the idea of completing Fort Jefferson. By 1888, the cost to maintain the fort, with the effects of corrosive ocean winds and hurricanes, Fort Jefferson was just too expensive to maintain. So the Army turned the Fort over to be a quarantine area for a hospital.
---
Read about the removal of the World's Loneliest Crocodile from Fort Jefferson!
---
Fort Jefferson is one of the least visited National Parks in the United States with only 60,000 visitors per year. It is a Civil War-era fort that was designed to protect the shipping industry.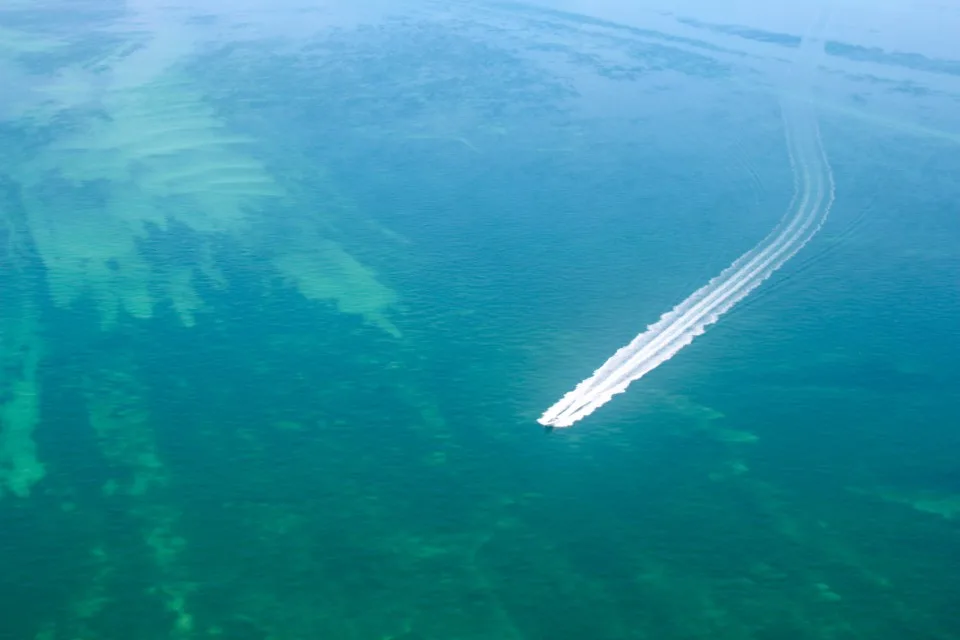 Ernest Hemingway Even Visited the Dry Tortugas National Park
By visiting Key West, you must know that Ernest Hemingway, the famous American author, lived there for more than a decade. You can even visit his home, his writing studio, and see his six-toed cats while there.
But one thing you might not know is that Ernest Hemingway visited the Dry Tortugas. Now it wasn't called that back in the 1930s, but he and his good friend Mr. Thompson loved to fish together. And over time, they and a few of their good friends would take trips out there. They called themselves "the Mob"! For this old man, nothing was much better than a fishing trip out to the Tortugas!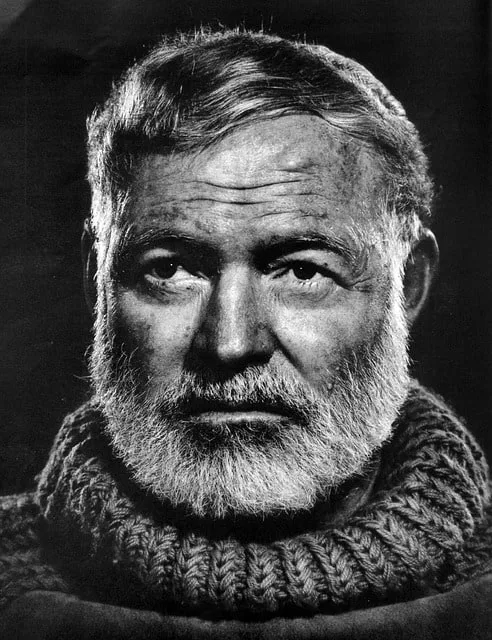 But one time when out on a fishing charter, they had to cut their trip short due to a storm. And it proved to be quite an adventure, as it was like a tale of survival during a hard storm. "The Mob" got marooned at Fort Jefferson for more than two weeks! They had plenty of provisions but continued to rely on fishing for their meals before they were finally able to return to Key West.
I guess it was just another adventure for "The Old Man and the Sea", for which he won the Pulitzer Prize in May 1952!
---
So to sum up this amazing trip, I know it can be quite expensive, but let me tell you, I felt like it was a fantastic trip! I loved pretty much everything we did that day. So if you have the money and the time, please make it the Dry Tortugas National Park!
Recommended Reading:
The Classic American Road Trip: Florida Keys
The Sugary White Sands of Panama City Beach, Florida
Top Places to Eat in Panama City Beach, Florida
Kitschy Florida Roadside attractions: St Augustine, FL
And if you are heading to Cuba: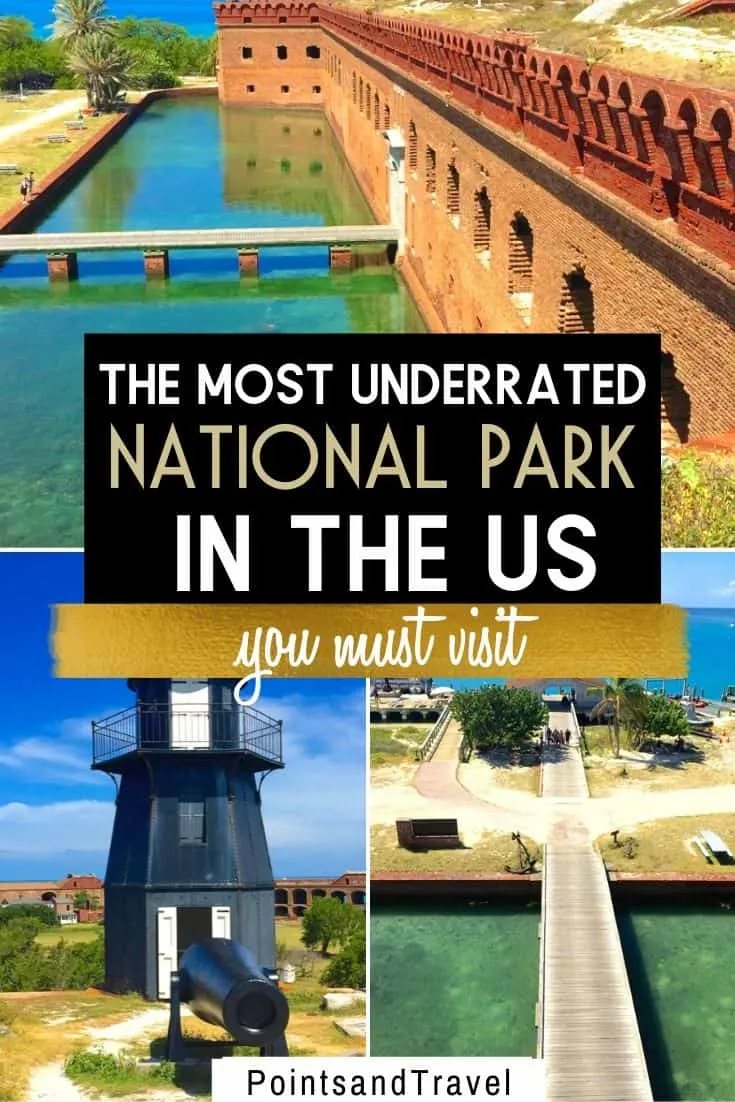 Disclosure: The writer believes in full disclosure and wanted to let you know that this trip was provided by The Florida Keys and Key West Tourism Board. As is common in the travel industry, the writer was provided with accommodations, meals, and other compensation.