✦What To Do in Panama City Beach✦
For just a moment, close your eyes and imagine the perfect beach town in the South. The ones with the cute little cottages painted in pastel colors along the sugar-white sandy beaches. From here, you can see the rolling waves of the ocean. A pale green cruiser bike is leaning against a cottage porch. The tree swing, the hammock, the wind chimes, and flags are all blowing in the wind. Now imagine for just a moment that this place exists and you could go for a long weekend getaway!
It happens to be along the Gulf Coast of the USA in Bay County, Florida. In fact, this imagined town is the charming city of Panama City Beach. It is a resort city that is nicknamed for having "The Word's Most Beautiful Beaches".  You don't just have to take my word for it, but concurring with Southern Living Magazine, two Florida beach towns ranked among the very best beach towns in the South in 2019. And, of course, Panama City Beach is one of them!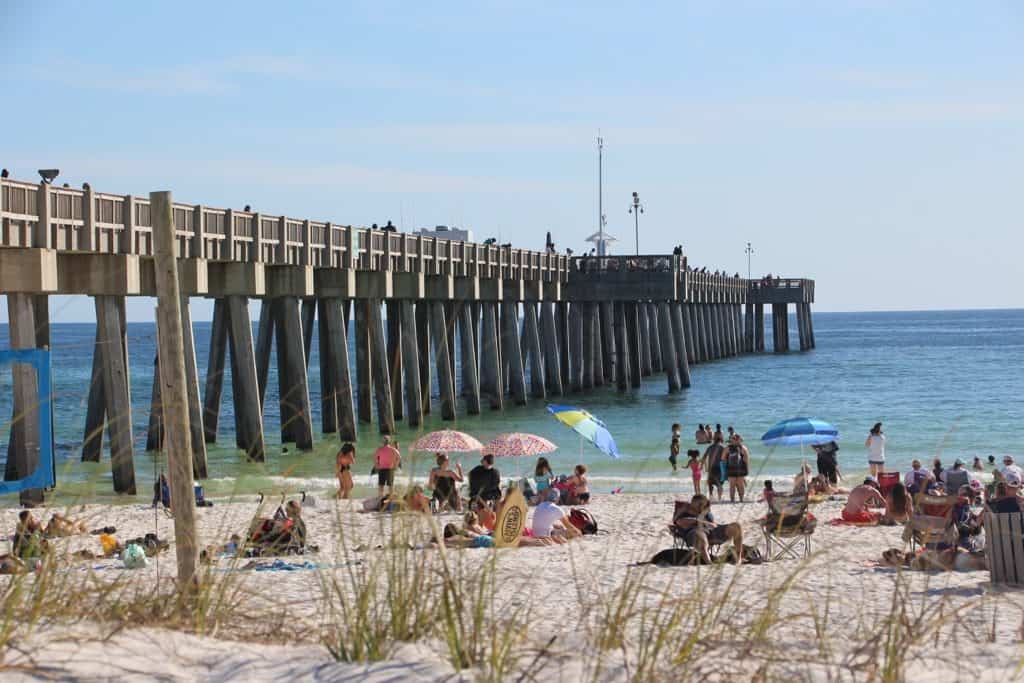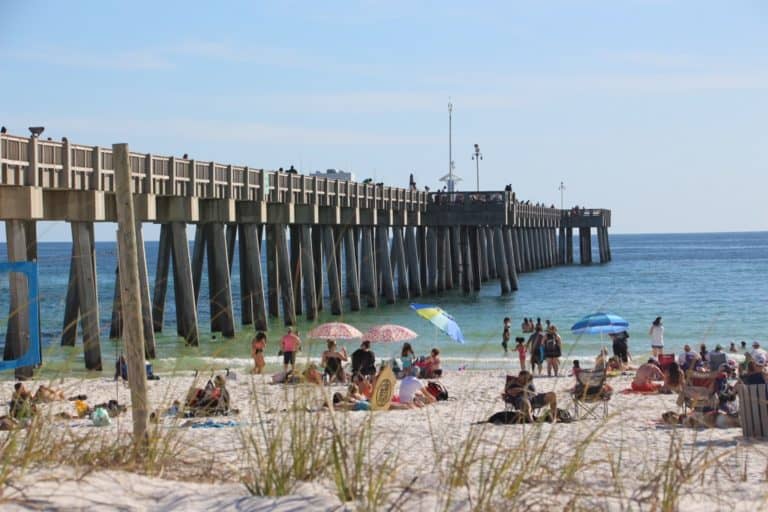 According to Southern Living Magazine readers, the towns listed below are "The South's Best Beach Towns of 2019".
Here is a full list of the top 10 beach towns in the South that made the list:
Hilton Head Island, South Carolina

Destin, Florida

Panama City Beach, Florida

Wrightsville Beach, North Carolina

Orange Beach, Alabama

Myrtle Beach, South Carolina

Gulf Shores, Alabama

St. Simons Island, Georgia

Pawley's Island, South Carolina

Isle of Palms, South Carolina
So let's explore the sparkling crystal white beaches that give Panama City Beach, Florida, its touch of simplicity and character that allows it to make such a prestigious list. Many vacationers come here because of the ease of Panama City Beach's amazing location in the middle of the Florida Panhandle. Plus, Panama City Beach has plenty of activities for vacationers and locals to enjoy. You might be unsure of what to do when you visit Panama City Beach, but keep reading, and you'll be ready to pack your bags. With so many things to do, you won't know where to begin.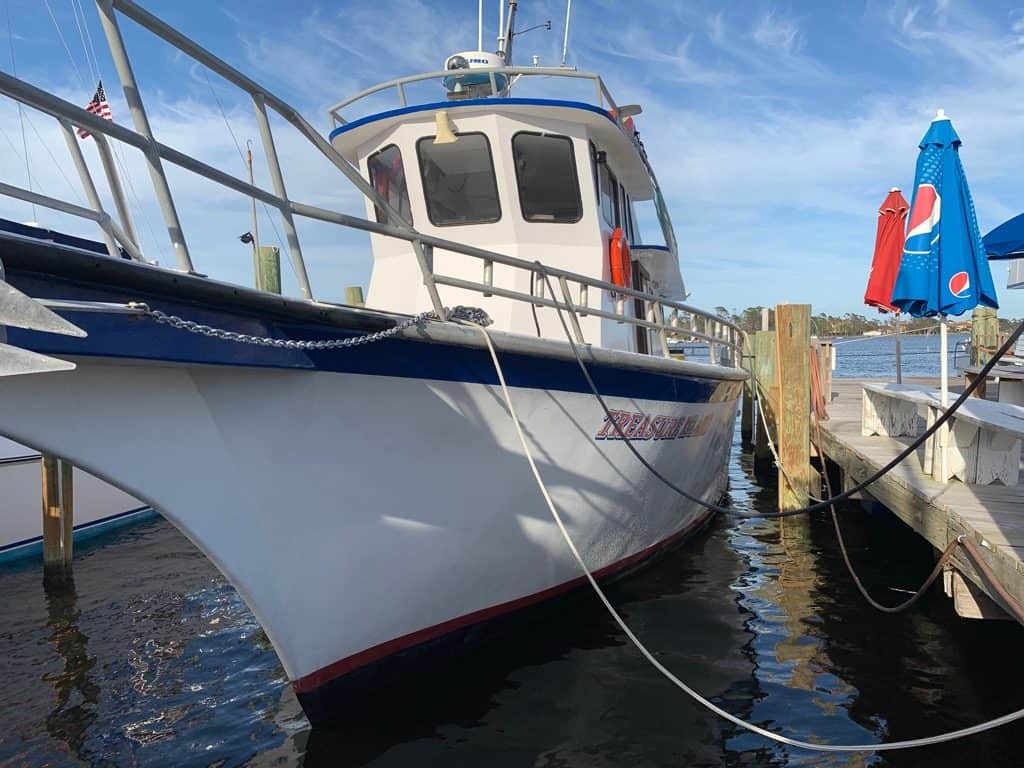 ✦ What to do in Panama City Beach
Eat: Breakfast first!
Andy's Flour Power
As your mornings become a routine of long walks down sugary white sandy beaches, swimming and sunbathing, try to add variety to your day by enjoying different breakfast restaurants. You can try Andy's Flour Power. This awesome breakfast and lunch place created some of the best French toast I think I have ever eaten. And their frittata with veggies (it even had asparagus on it) was fantastic! With a live band playing in the morning, you can't beat it!
Thomas Donut & Snack Shop
You can also try out Thomas Donut & Snack Shop if you are wanting some sweets. But be sure and get there early, as the line begins to grow on the weekend by 10 a.m., and it can get quite long! These fried donuts are freshly made, many with unique flavors, and will make your taste buds melt. After your stomach has had its fill, then it is off to visit the town of Panama City Beach to find some enjoyable things to do in the sun!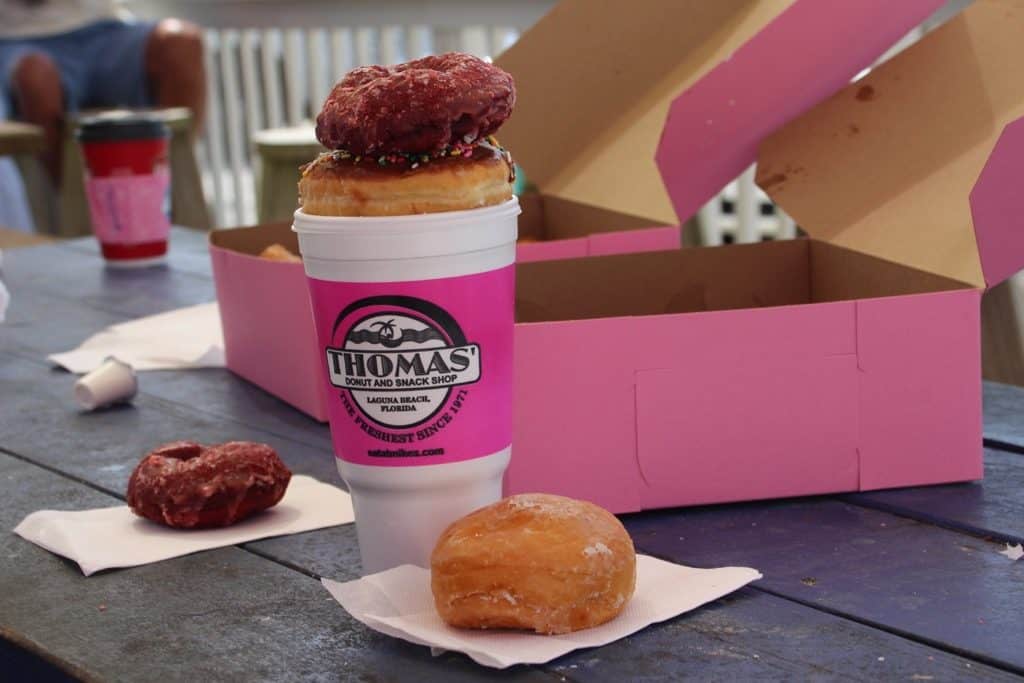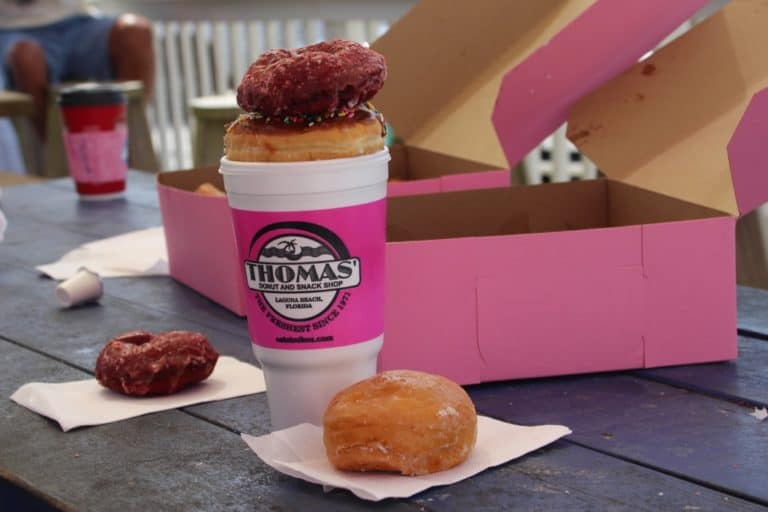 TIP: Be sure and bring sunscree for your skin!
---
✦ Visit Shell Island via a Pontoon!
Pontoon to Shell Island Beach!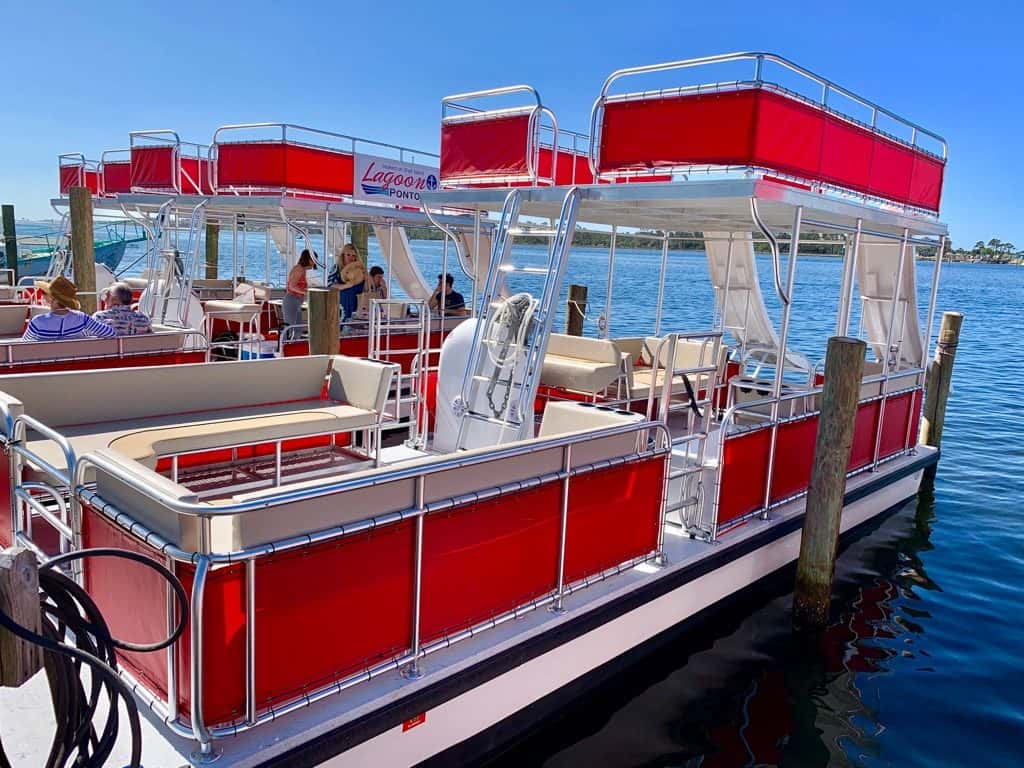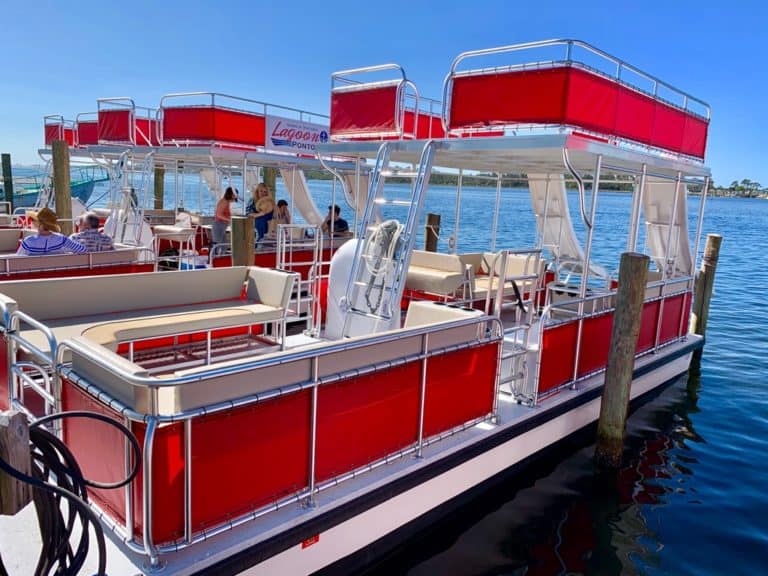 Take a pontoon ride out to Shell Island for land exploration and a snorkeling experience if you like. This is an all-afternoon event, as once you get there, you will never want to leave. Shell Island is a seven-mile stretch of beach with pristine sugary white sands on the Gulf Coast of Florida. It is an uninhabited island, so the perfect people to hire for the day will be Lagoon Pontoon.
You can go aboard the double-decker pontoon boat with a slide. They will park the pontoon beachside and let you enjoy the day on the island. You never have to worry about anything, as they will have everything you need: towels, chairs, food, drinks, etc.
We hired a captain to drive us there since we didn't know that much about how to be a captain of the ship! Or, if you want to go slightly faster, take a look at Wild Thang Airboat Tours. They are located right on the water and have their own covered dock.
---
✦ Visit Beaches and Parks in Panama City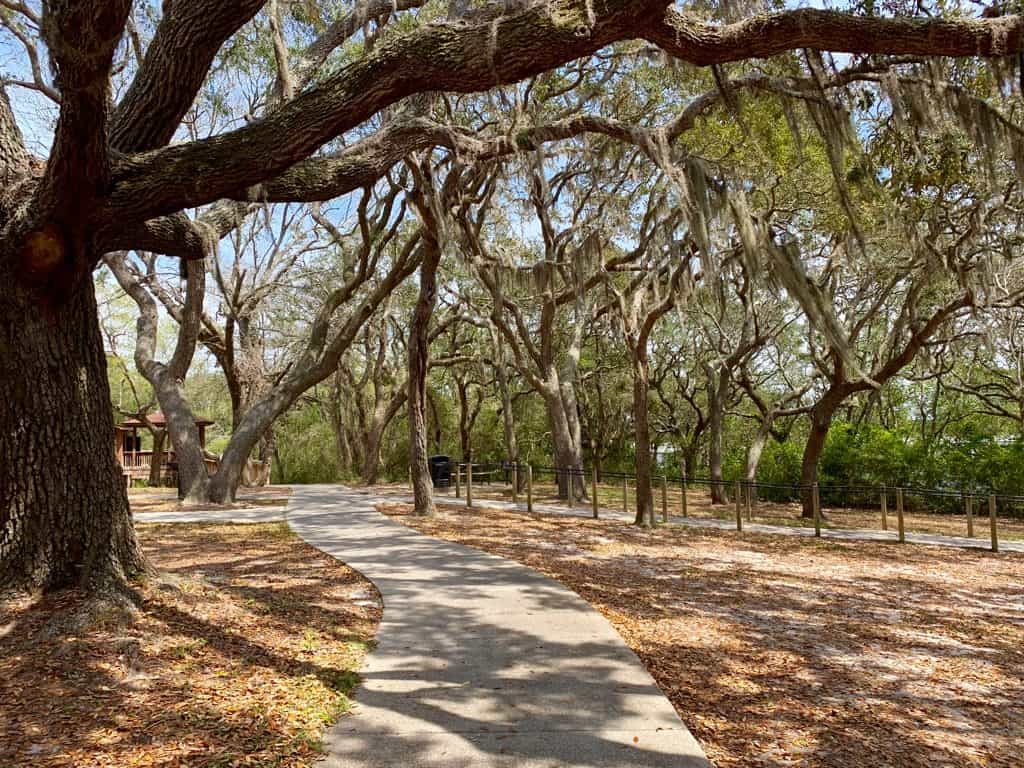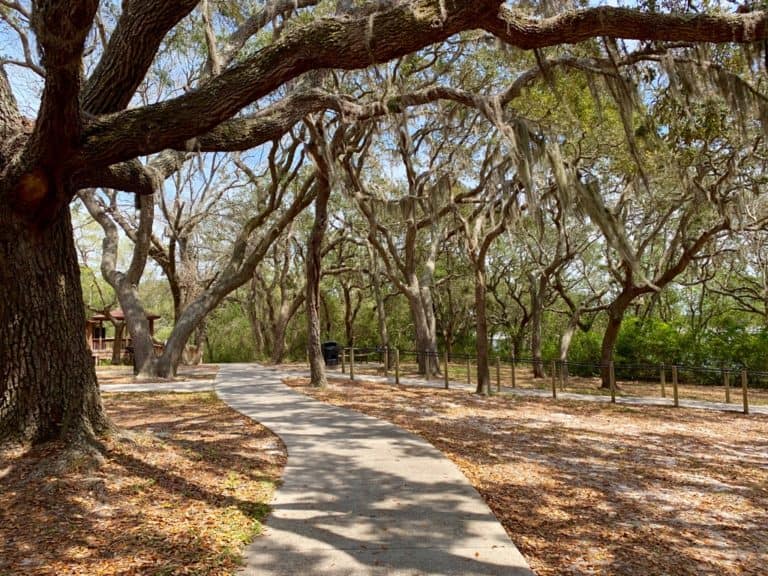 Another thing that comes to mind in this resort city is a visit to the beach. Rick Seltzer Beach is a stunning beach with blue-green water and a simple boardwalk. The simplicity of this beach makes it perfect for a trip away from your hectic life. Also, an early morning walk through St. Andrews State Park will brighten up your day. There is also Carillon Beach on Front Beach Road. This beautiful beach has public access for all to come and enjoy.
There is also Camp Helen State Park along the Panama City Beach Parkway. It is one of the largest coastal dune lakes in Florida. And visit Russell Fields Pier (the city pier) as well as M.B. Miller Pier (the country pier) both sitting out 1,500 feet into the Gulf of Mexico. They were both built within about a year from each other o resist hurricane damage. Everyone loves to fish off these piers!
---
✦ Visit Shipwreck Island Waterpark
A trip to the Shipwreck Island Waterpark will bring the kid out in you. Plunging water slides, zip-lining, and swimming are the perfect activities to engage in on a warm sunny day. They have waterslides, wave pools, and lazy rivers, this tropical water park is one of the most fun attractions in Panama City Beach. They even have a 500,000-gallon Ocean Motion Wave pool! It creates three-foot waves and I couldn't believe it! Plus if you just want to lounge around the lazy river, you can do that too! But don't forget the Tree Top Drop waterslides (now that was scary!) or the Pirate's Plunge!
✦ Visit The Sea Dragon Pirate Cruise
With children in tow, be sure and take a trip on the Sea Dragon Pirate Cruise. It is a great way to keep the kiddos entertained and occupied for hours. You can cruise away into the fantasy world of friendly swashbucklers and one-eyed pirates aboard their real 85-foot pirate ship. They cruise the waters to within cannon shot range of the shores of Shell Island.
✦ Watch the Dolphin Show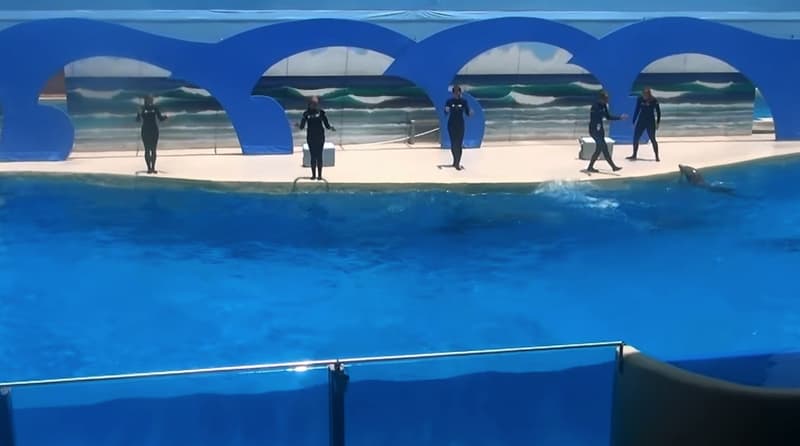 Watching a dolphin show is a fun thing to do while at the Gulf World Marine Park. Snorkeling, diving and dolphin encounters can happen on a private boat trip, as well.
✦ Plus another fun Park and a Zoo!
A few fun activities with the kiddos might include Coconut Creek Family Fun Park. But it is not just for families to enjoy. Everyone can partake in a game of mini-golf. A tricky maze is great fun for visitors to this park. Why not go for a private animal encounter at the Zoo World Zoological Conservatory? You can also get an up-close view of tigers, lions, alligators and other animals at this Panama City Beach zoo. 
✦ Race Go Carts at Race City
If you are into go-kart racing then you will surely want to take a spin around the track at Panama City Beach's Race City. It is the fastest, tallest and steepest go-kart racing around! They even have the Golden Gate track that is a 40-foot replica of the Golden Gate Bridge!  Just one more amusement park for your vaction pleasure!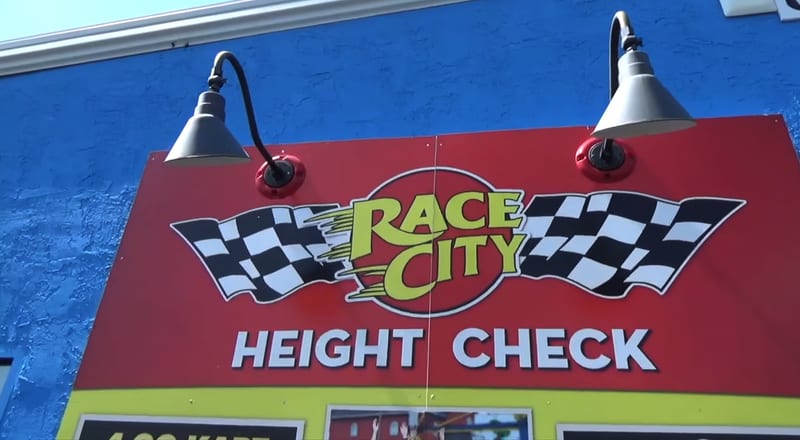 ✦ Hungry Yet? Try A Milk Shake!
The Yard Milkshake Bar
The Yard is the ultimate place to find the perfect milkshake! And I don't just mean any "run of the mill" milkshake, as these shakes are special! How would you like a milkshake with a whole cupcake sticking out of the top of it? They have it all here and more! At The Yard Milkshake Bar you will be dazzled at some of the craziest milkshakes you have ever seen! I couldn't believe my eyes! And yes, they were truly delicious!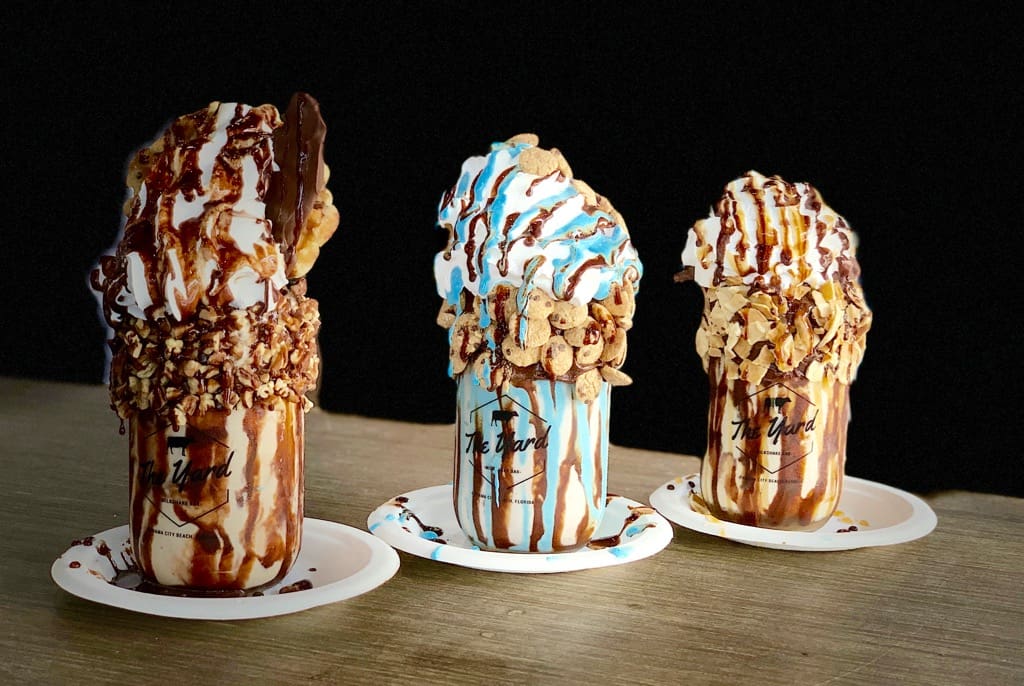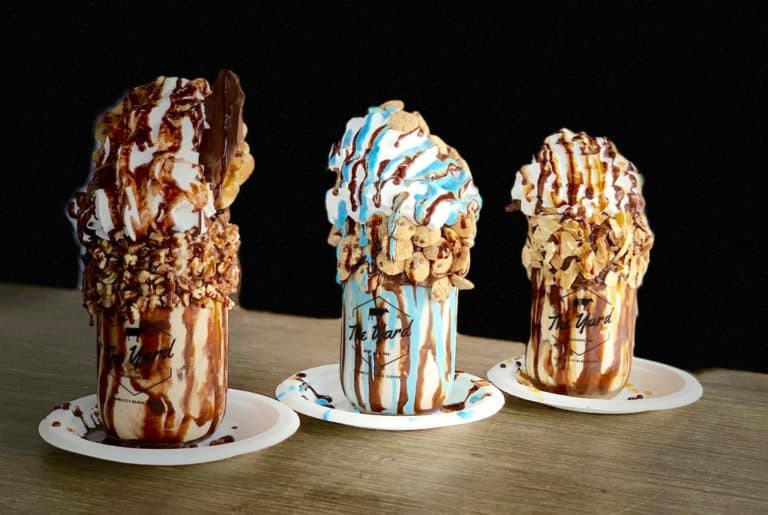 ---
Tip: Be sure to read my article on:
---
✦ Check out the Upside Down Building & Ripley's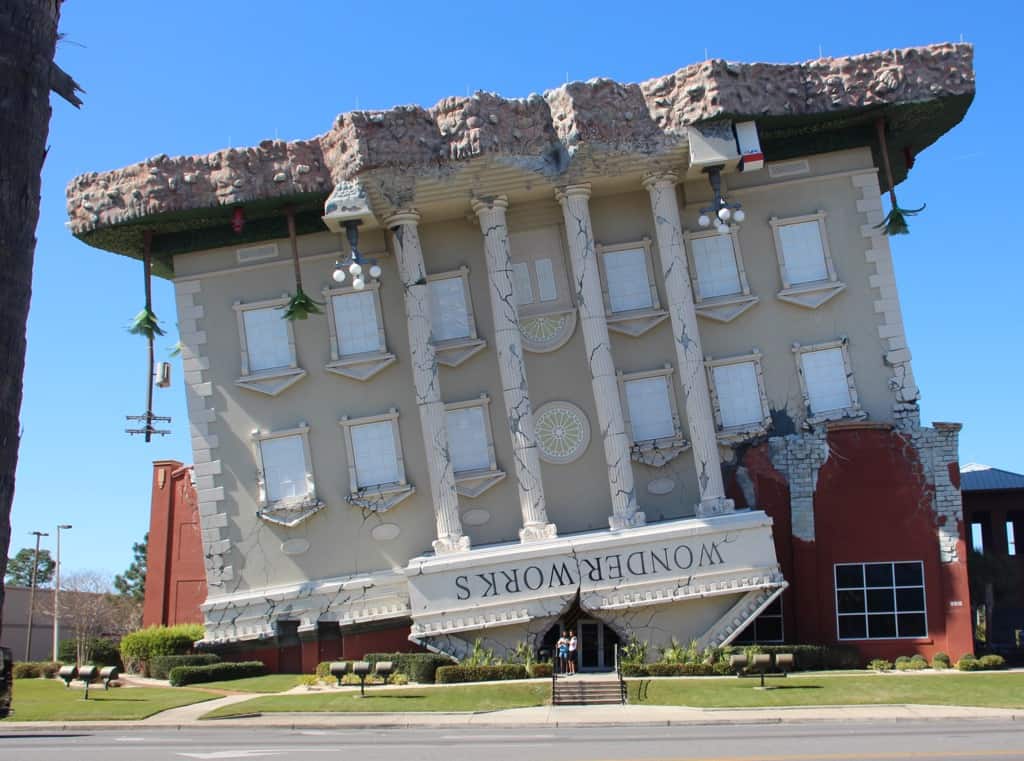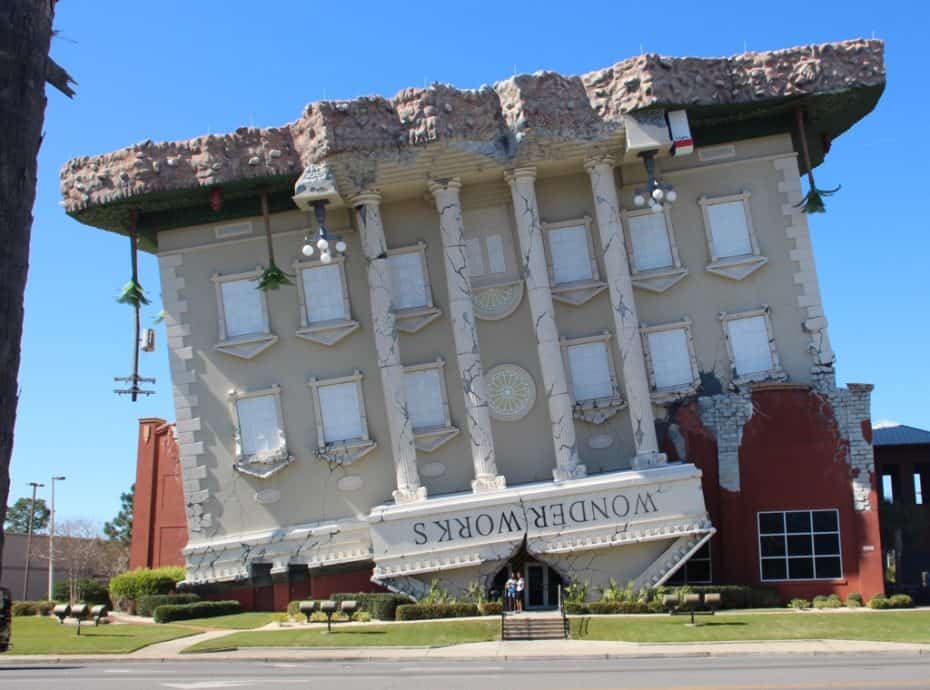 It is called Wonderworks and yes, it really is an upside-down building! Actually, it is an amusement park that provides entertainment and education all in one! The outside of the building is definitely worth a drive-by as it is quite amazing in its own right. But once inside, you can experience the power of a 70 miles per hour hurricane or even make life-sized bubbles! Plus, right across the street is a GIANT Ripley's Believe It or Not! across the street from the upside-down house. Ripley's Believe It or Not! is a treat for both kids and adults, and it offers a 7D movie theater and a mirror maze. It's crazy!
✦ Shop at Pier Park
There is usually at least one rainy or slow day during everyone's vacation. So why not make the most of a rainy day in Panama City Beach and go shopping? Shopping is a favorite pastime of women (and men), especially on a rainy day. The Shops of Pier Park is a great place to shop at your favorite commercial storefront and beach boutique stores. Pier Park also has a wonderful theatre that shows the latest movies and has an IMAX screen. If you have clear skies, then head on over to the SkyWheel for a ride around to see the whole city!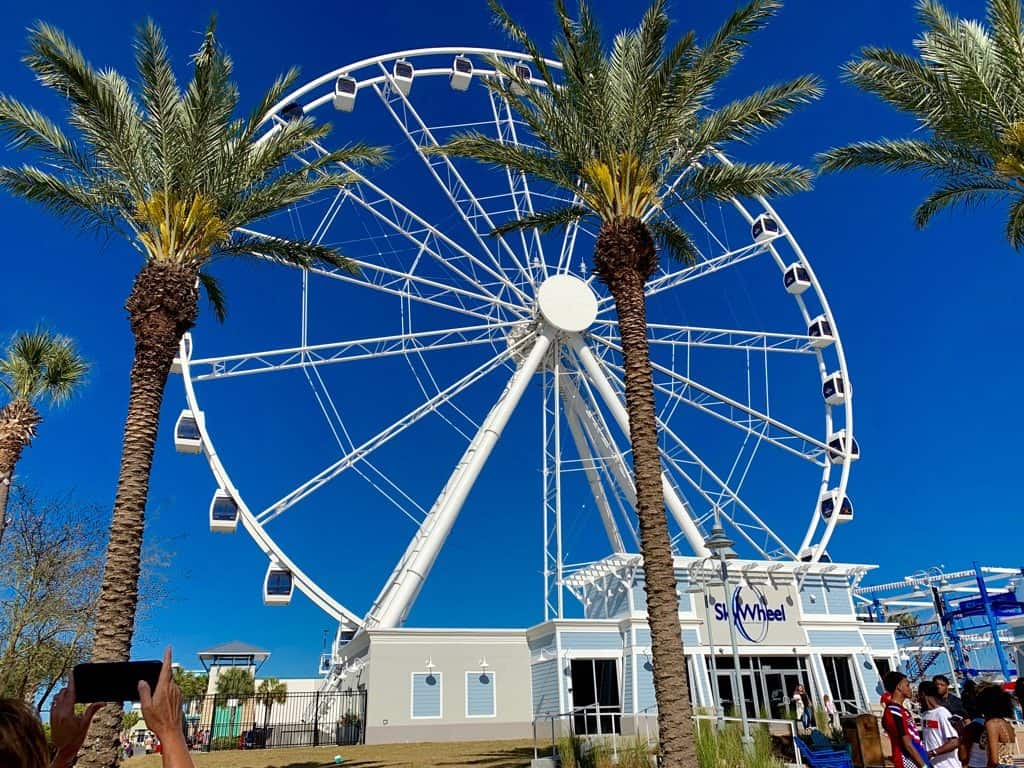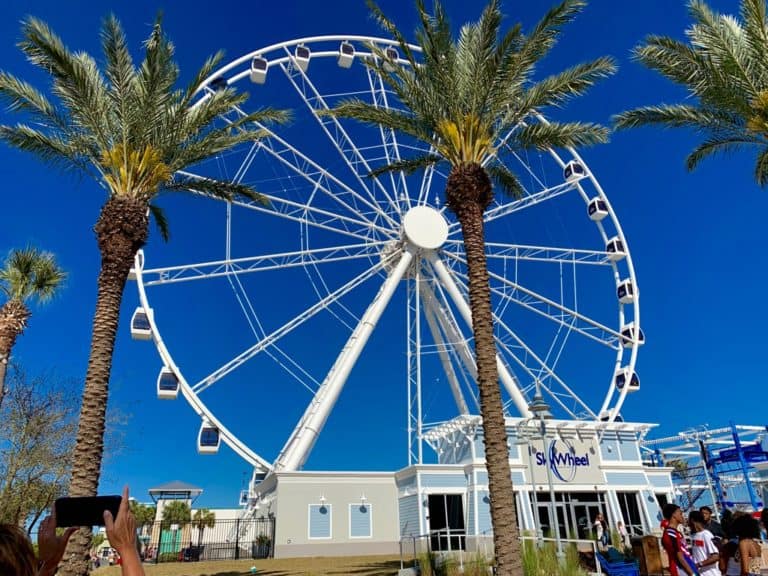 Maybe instead, you want to search out a few coastal décor designs, well you can do just that at Decor by the Shore. It will help you bring back treasures with that irresistible beach vibe! Grab your passport at the tourist office, and set out for a unique shopping adventure on the Décor By The Shore Shopping Trail.
✦Walk on the Russell-Fields City Pier
The Russell-Fields City Pier is right at the end of Pier Park and is 1,500 feet out into the Gulf of Mexico. Pay a small fee of three dollars and you can stroll all the way out ot the end if you want!
✦ Take a Dolphin Sunset Cruise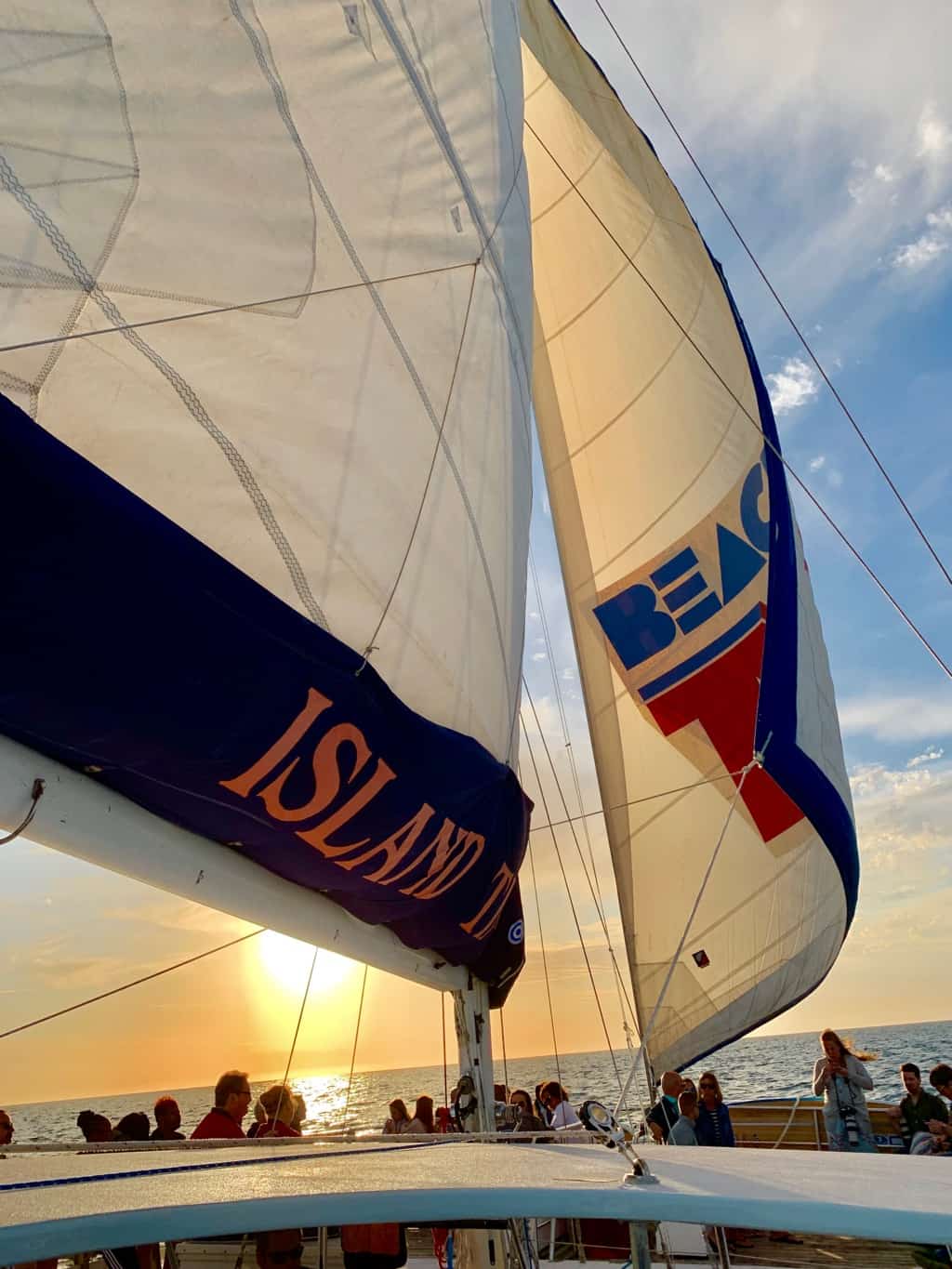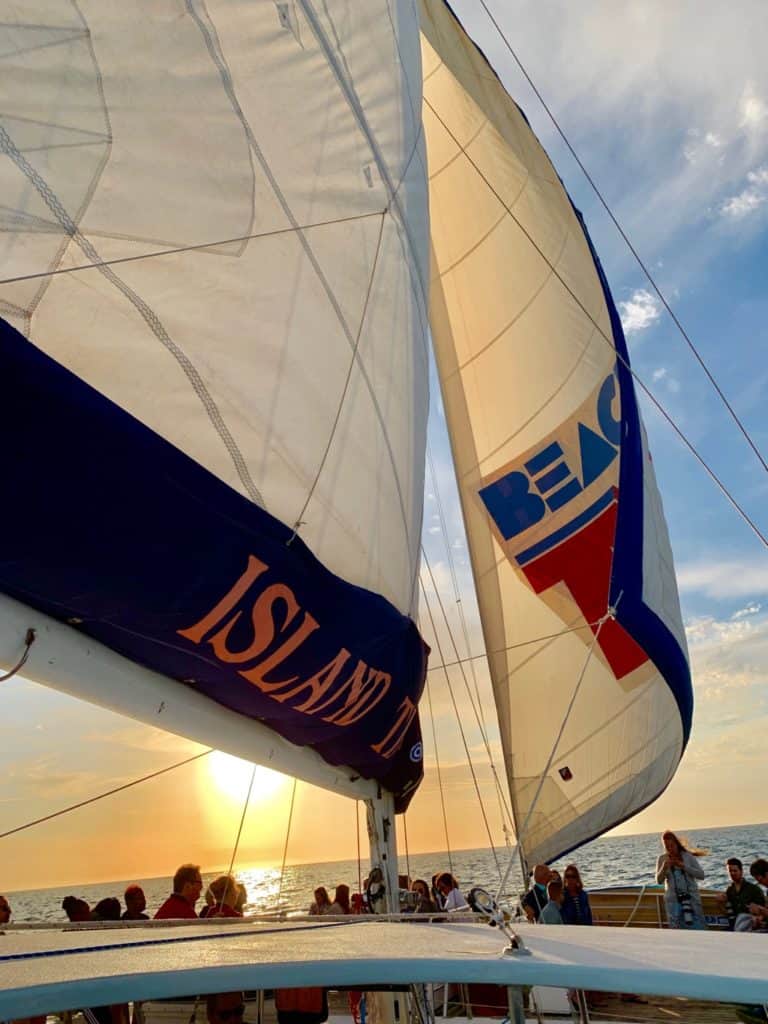 You can spend time aboard Island Time's sailboat and take one of their dolphin sunset cruises. Enjoy two hours of relaxing and cruising through the calm waters of the Grand Lagoon. You go past the marinas, a state park, and the beautiful seaside homes, then off into the Gulf of Mexico on a leisurely sunset sail! We were lucky, the weather was perfect and we saw lots of dolphins!
You could also take a sunset walk along the Russell Fields City Pier, as it is also a leisure activity to do in the evening after dinner in the area.
✦Have a Bonfire on the Beach!
And last, but certainly NOT LEAST, you can hire Endless Rentals to set up a bonfire on the beach for you and all of your friends! This makes it so simple to have a family gathering or friends get together. They provide the fire pit, the chairs, the hammocks, the playlist, and of course, s' mores and all the fixins'! I absolutely loved it, and it is a great way to relax. When you are done, just call them up, and they come and take the whole setup down for you! PERFECTION!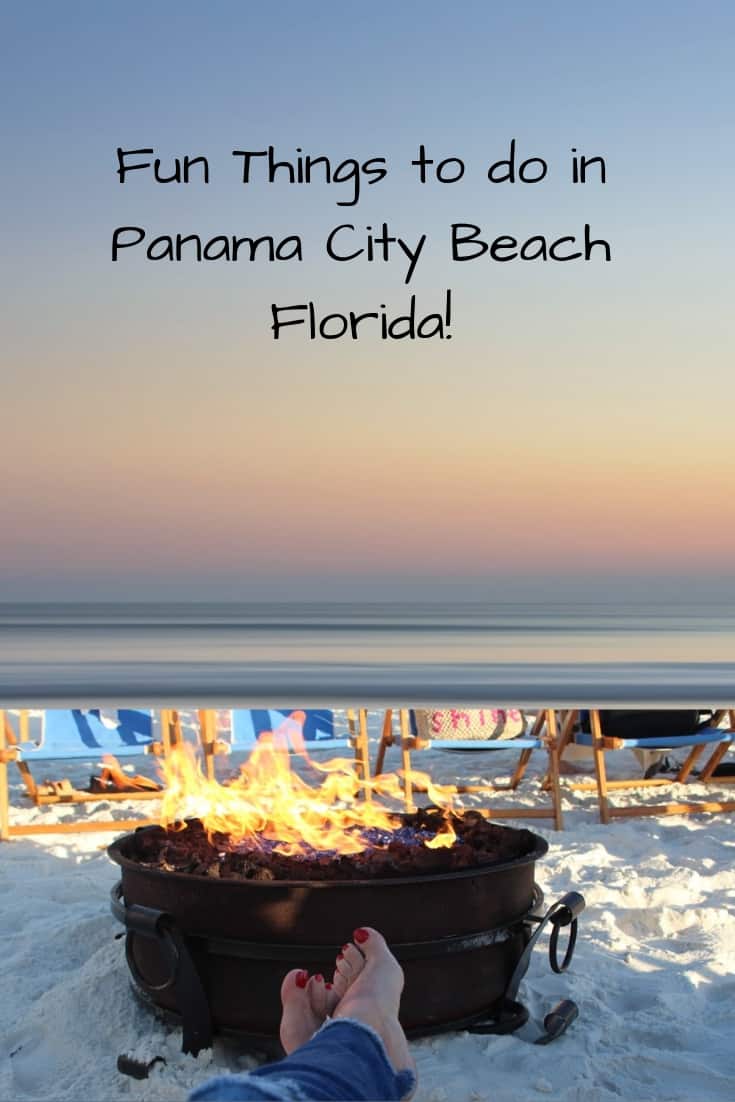 ---
✦ There is also plenty of Nightlife in Panama City Beach:
For a tropical night under the stars, head to the Tiki Bar at the Sandpiper Beacon. You can enjoy live shows and plenty of entertainment while sipping on cocktail drinks. Bikers are sure to enjoy nighttime fun at the Wicked Wheel Bar & Grill. The unique décor is unlike anything you have seen before, as motorcycles take the place of barstools! Dancing the night away at Tootsie's at Pier Park is also an awesome way to spend your evening.
---
✦ Panama City Beach Dining:
If you think that dining outdoors is an unpleasant experience in Panama City Beach, then you would be dead wrong. Restaurants such as Liza's Kitchen, Finns Island Style Grub, Eat My Pasty have great outdoor seating. Or enjoy Schooner's, known as the last local beach club! They had awesome live music the night I visited! So much so that I felt like I was singing along to every tune! It is a fun place to have seafood and a cocktail. You can also have happy hour and heavy hors d'oeuvres at the Grand Marlin.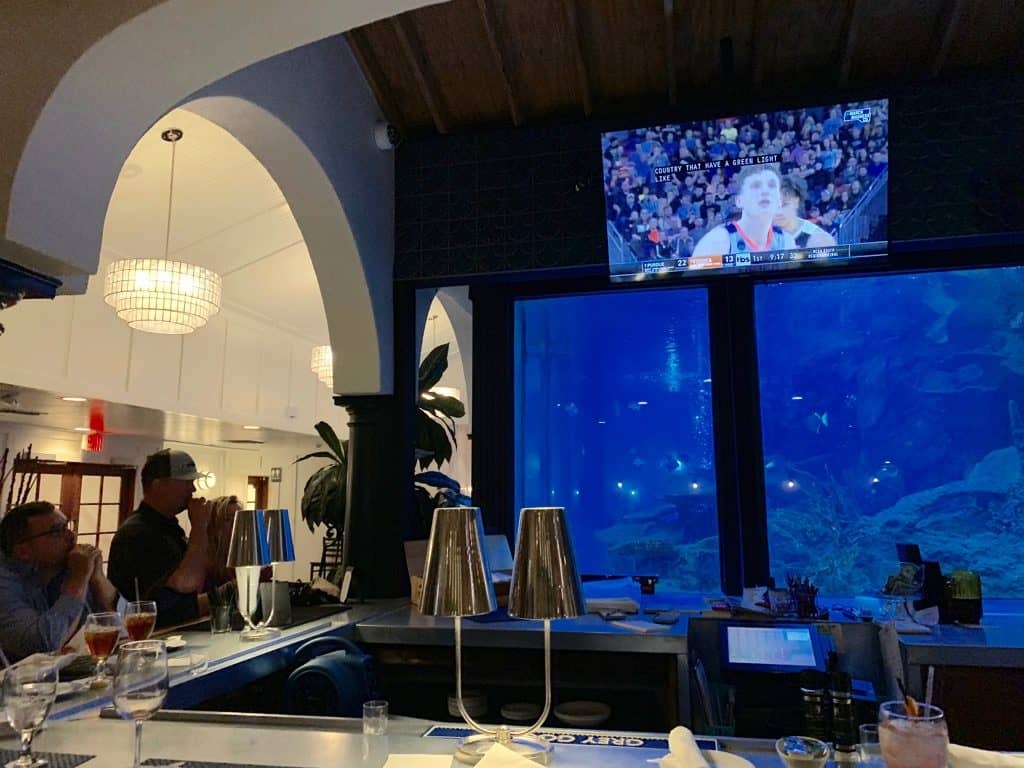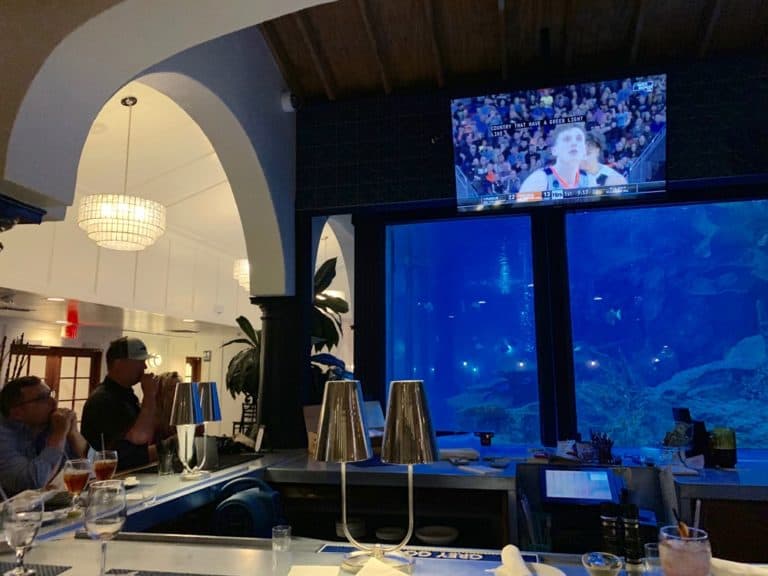 You should not leave Panama City Beach though before eating at the Firefly. The crab soup and filet mignon are delicious picks from the menu! Also, on my last night in town, we tried Saltwater Grill on Hutchinson Boulevard. The waiter was spot on, never missed a beat for our table of 12, was friendly and did an amazing job! The restaurant has a massive aquarium fish tank inside that wraps around the bar. They also had live music that was excellent the night we went. It was a bit loud and dark, but that was the atmosphere.
✦ Panama City Beach: Where to Stay?
Depending on your budget, there are many places to stay at Panama City Beach. You can choose a luxurious oceanfront room on Airbnb, which comes in many price ranges.
I stayed at Seychelles Beach Resort by Wyndham Vacation Rentals. It was the perfect spot for easy access to Schooners and has direct access to the beach. I stayed in a one bedroom apartment with two baths, a mini-kitchen, a living area, and two built-in twin beds for kiddos if needed. I had one amazing view from my room! Of course, Wi-Fi is free, as well as they had two pools and a lounge chair and umbrella set up daily on the beach.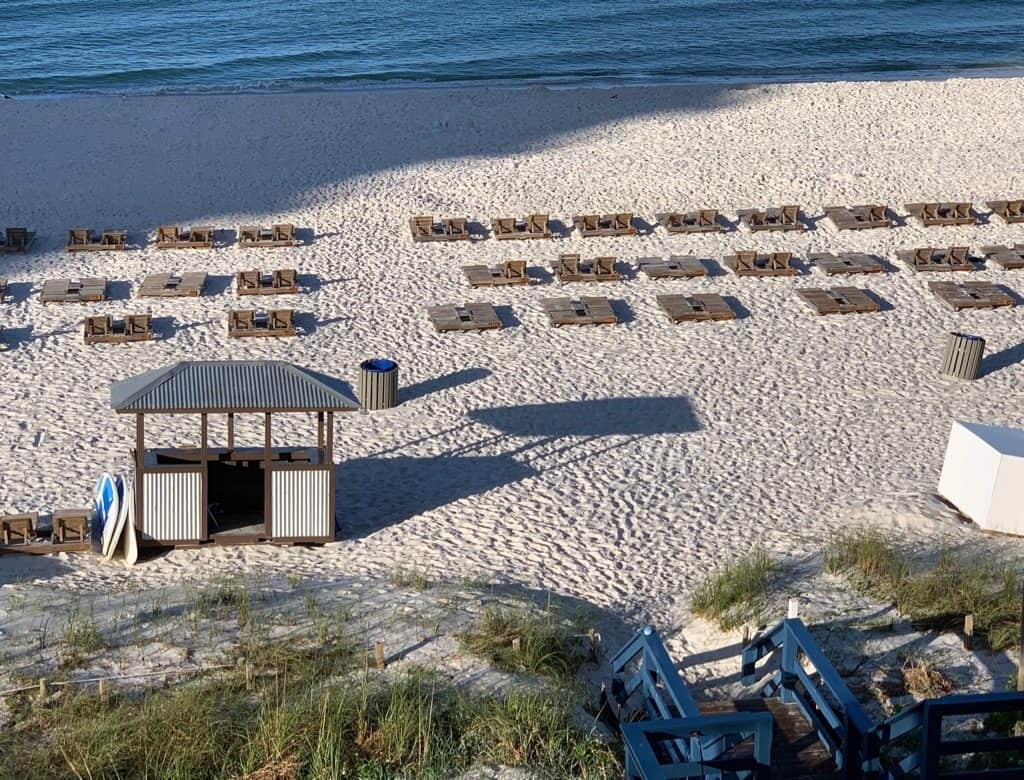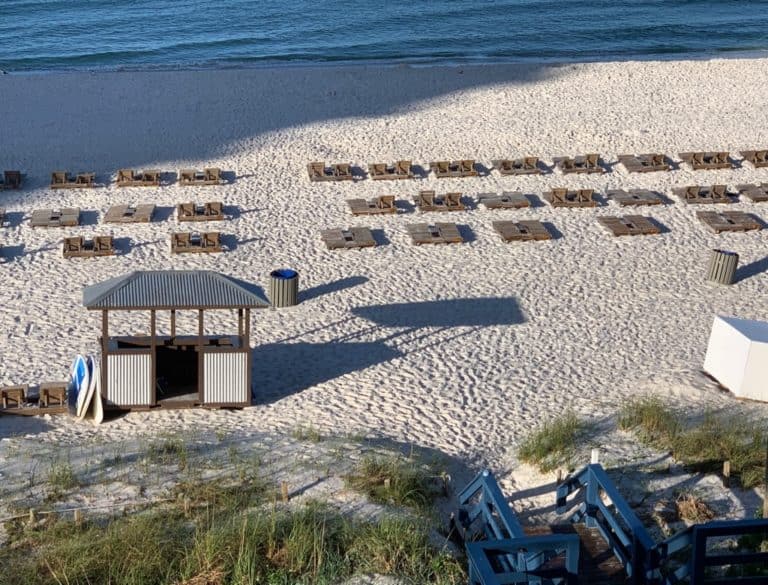 You can check into Aqua Gulf Resort if you're looking for more of a romantic getaway.
Or a stay at Splash Resort by Sterling Resorts is awesome if you have kids and they are ready to get into the pool!
The Waterfront Villa Private Room exceeds guests' expectations with a delicious breakfast, stunning views, and an amazing garden.
A room at the Marriott's Legends Edge at Bay Point will leave you in awe. They have panoramic views, mini kitchens, a swimming pool, and plenty of free parking if you drove your car or are coming from the airport.
---
Panama City Beach is a safe and affordable place to go on vacation. Whether you choose to go alone, with friends or your sweetheart, you will never be bored unless you want to be. The blue-green ocean water and sugar sandy beaches are peaceful and quiet. It is a true blend of Mother Nature's beauty, exotic animals and stunning man-made structures that make this resort city stand out from the rest. There are so many things to do in Panama City Beach that your vacation will fly by in a snap. So make the most of your vacation and experience everything this resort city has to offer.
HAVE YOU VISITED PCB?
WHAT ARE YOUR FAVORITE BEACH STOPS?
You might also enjoy:
25 Things To Do in Key West, Florida
The Classic American Road Trip: Florida Keys 
Kitschy Florida Roadside attractions: St Augustine, FL
Take A Sea Plane to Fort Jefferson
Disclosure: As is common in the travel industry, I was provided with accommodations, meals and other compensation for the purposes of review by Visit Panama City Beach and Travel Mindset. While it has not influenced my review, PointsandTravel.com believes in full disclosure of all potential conflicts of interest. All Photos were taken by the author/or were given permission from the photographer. Affiliate links may be located in this article.