Ahhh! Key West and the Florida Keys islands!! Where else can you go on a "Classic American Road Trip" that has miles and miles of sunny beaches, acres of mangroves, amazing bridges with state parks scattered along the route, as well as sunsets that people stand around for and the best key lime pie in the world? The Florida Keys Islands are some of the most beautiful areas in the United States. So don't miss out on things to do in Key West. The islands are full of adventure, yummy food, and lots of sunshine! Read on for 25 things to do in Key West when you get there.
---
Key West & Florida Keys Islands Bucket List: 25 BEST Things to Do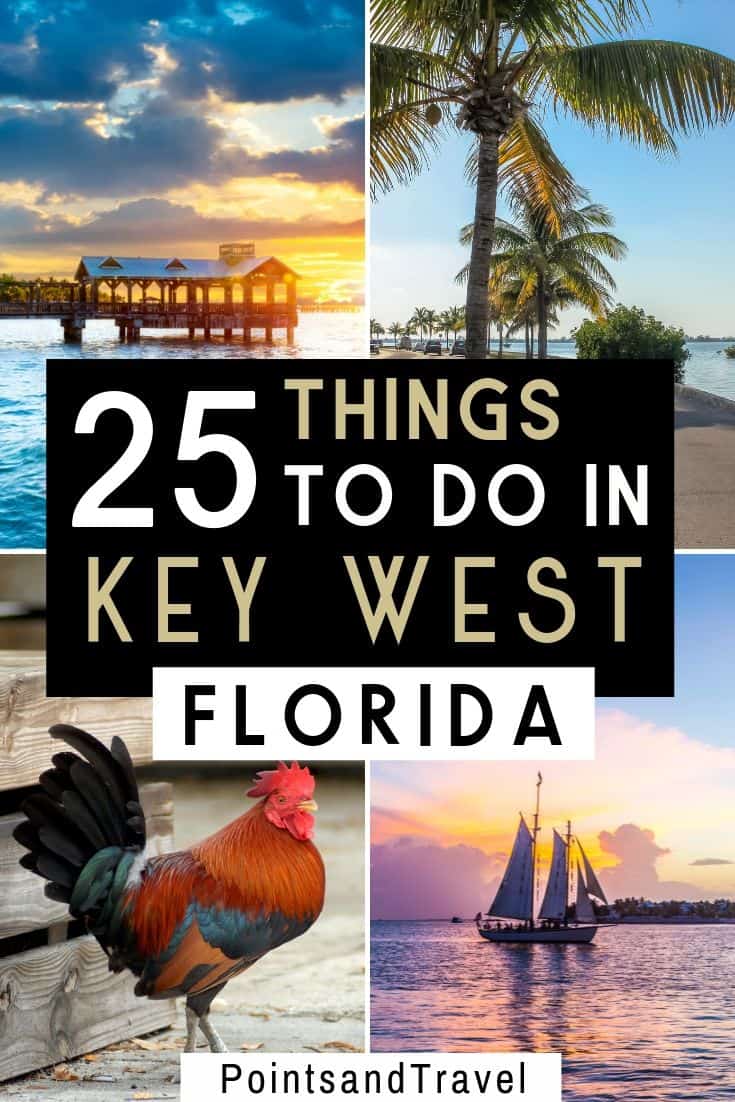 ✦ The Ultimate Guide to Key West Island ✦
---
It had been years since I had gone on a Florida Keys Island vacation during my college days. I had fond memories of riding bikes in the old town Key West area and sipping drinks in a Hemingway Bar… briefly remember visiting his home and his 6-toed cats, but that was about it.
How refreshing it was to finally get to go back to my old haunts and see what all has changed! For such a small island, measuring only four miles long and two miles wide, Key West Island has plenty of "hidden gems" and excursions to go on. I've put together a list of "things to do in Key West and Key West Island excursions" for you to do – I hope you enjoy every one of them!
---
Top Attractions, Fun Activities, and Best Things to Do in Key West (and the Florida Keys Islands)
---
#1. Fort Jefferson in the Dry Tortuga Islands (*Absolute Fav)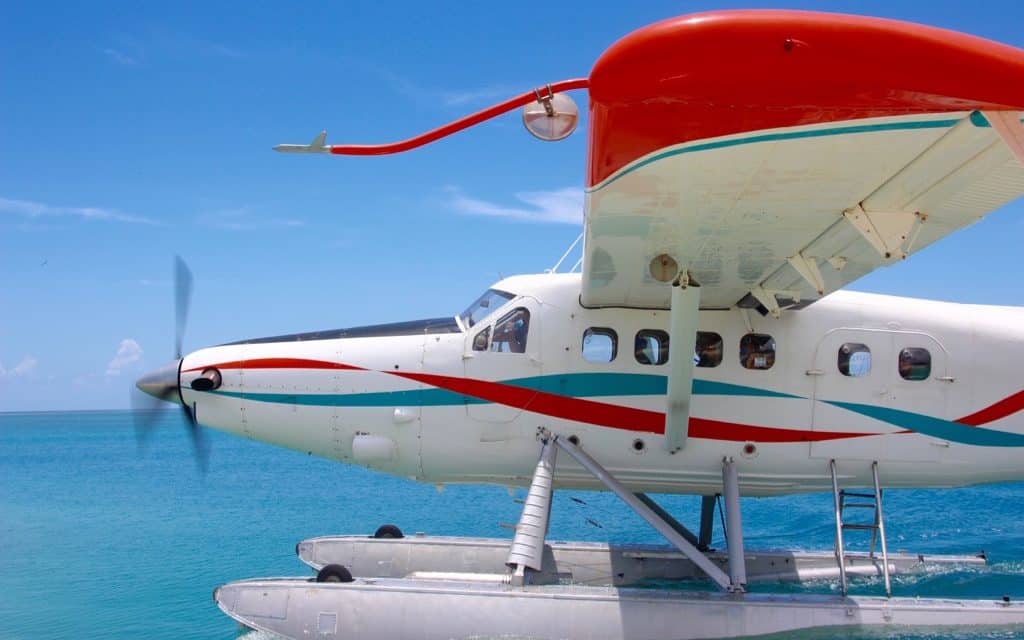 This Key West Excursion will be the #1 fun thing you will do, so go ahead and book it now!
Here is a fun thing to do in Key West: You can take a seaplane to Dry Tortugas National Park (which I wholeheartedly recommend) or there is also a ferry that goes out there every day. The seaplane, by far, was the highlight of the trip, as well as the time spent on Dry Tortuga. The water here is gorgeous and many Americans don't even know this place exists. I have previously written extensively about Fort Jefferson and Dry Tortuga and how much I loved it!
You can thank me later for this piece of advice!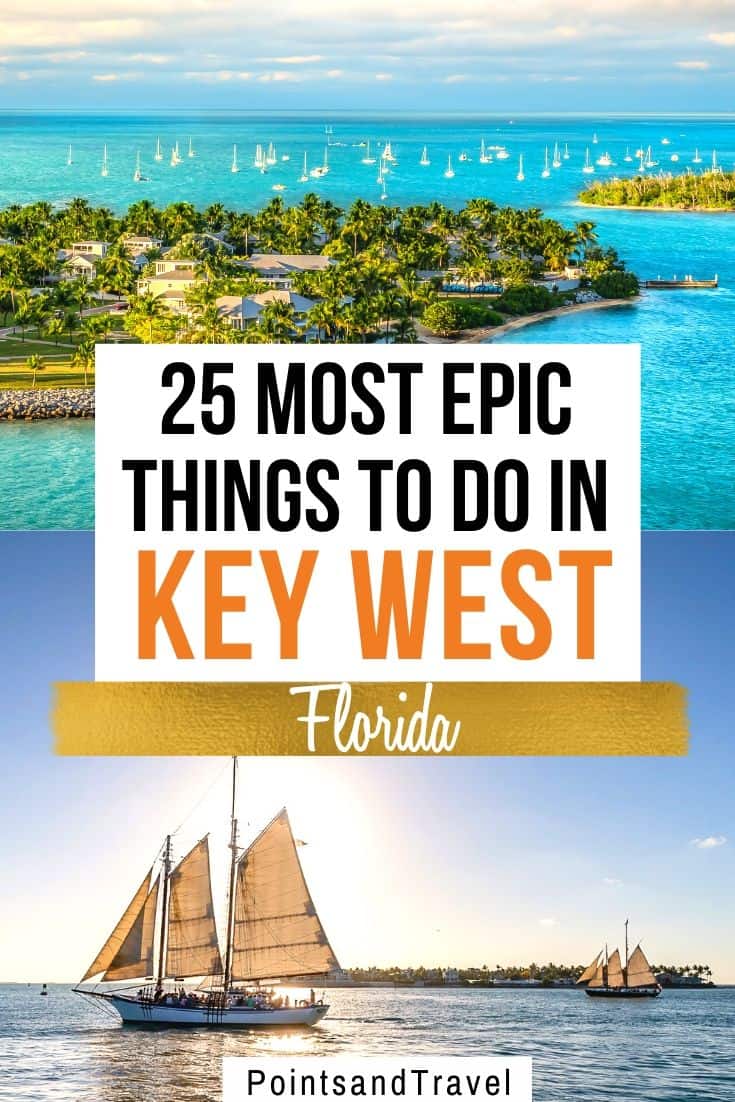 #2. Conch Tour Train
Take the Conch Tour Train. This or one of the other tours (Old Town Trolly) is something I always recommend to anyone new to an area as a fun thing to do in Key West. Do this on the first or second day that you are there so you can get the lay of the land. This gives you an overview of what there is to see and do and then go back to the places that interest you.
One of the best ways to explore Key West is by hopping on a guided tour. One option for your second day in town could be taking one of the Conch Train tours, which highlight various neighborhoods and give you an overview from above.
#3. Take A Bike Ride Around Town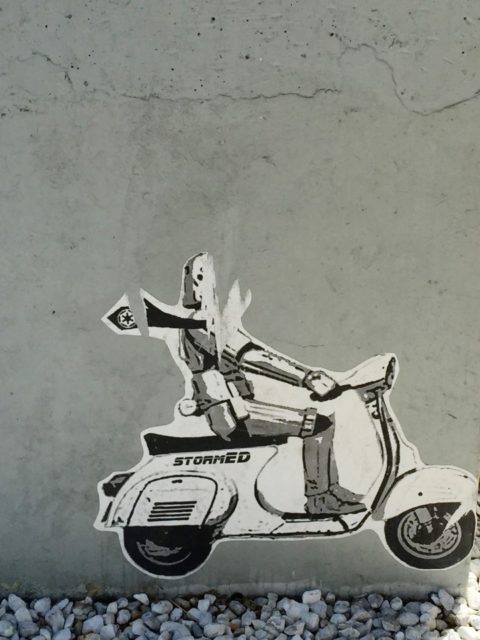 If you prefer a little more exercise than just sitting on a train tour (who doesn't want to get out and see things upfront and personal?), then take a bike tour instead, Key West is small enough, so if you want to see the whole island in a day, it can be done on a bike. Rent a beach cruiser at Eaton Bike's for less than $20 a day or if you prefer someone to show you around, Key Lime Bike Tours offers good tours!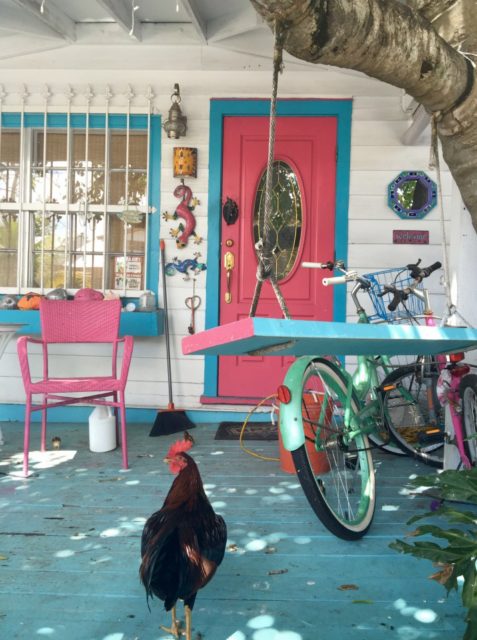 #4. Wander thru Old Town's Prettiest Streets
Wander and take photos of the pretty streets and doors! If you are a regular reader then you know it is one of my favorite things to do in Key West, FL! I am a door nut and I love seeing how people decorate their front doors, so this is a must if you enjoy seeing different kinds of neighborhoods. There will even be a scattering of chickens or two from the old cockfighting days!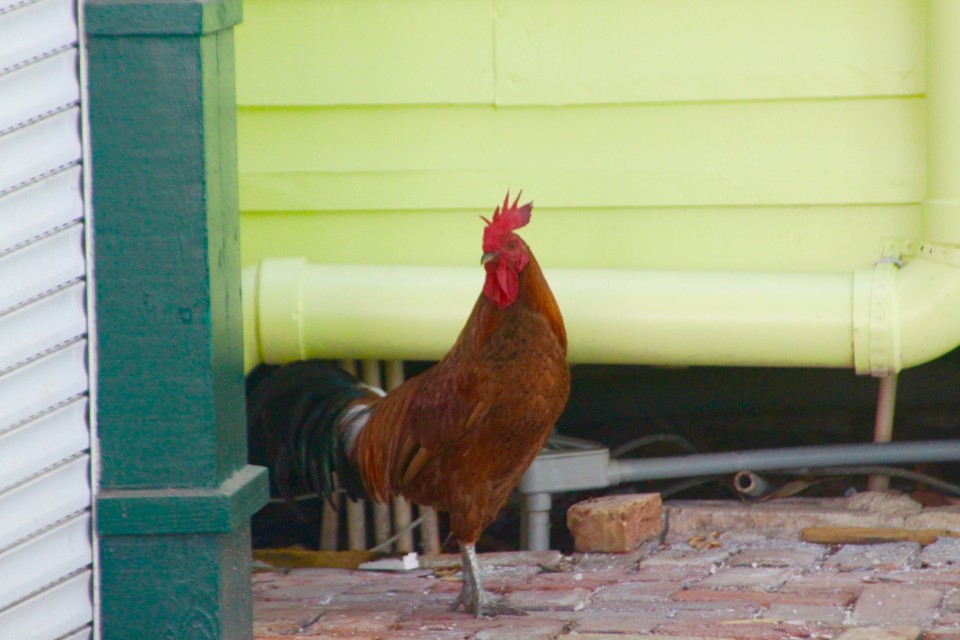 #5. Search for Sunken Treasure
Remember the "Atocha" that was found off of Key West by treasure hunter Mel Fisher? Well, today, visitors can dive into the sunken ship and see it for themselves. Located here in Key West on the corner of Green and Whitehead Streets is also the Mel Fisher Maritime Museum that houses a collection of artifacts from shipwrecks of the colonial period and things discovered by Mel Fisher and his crew.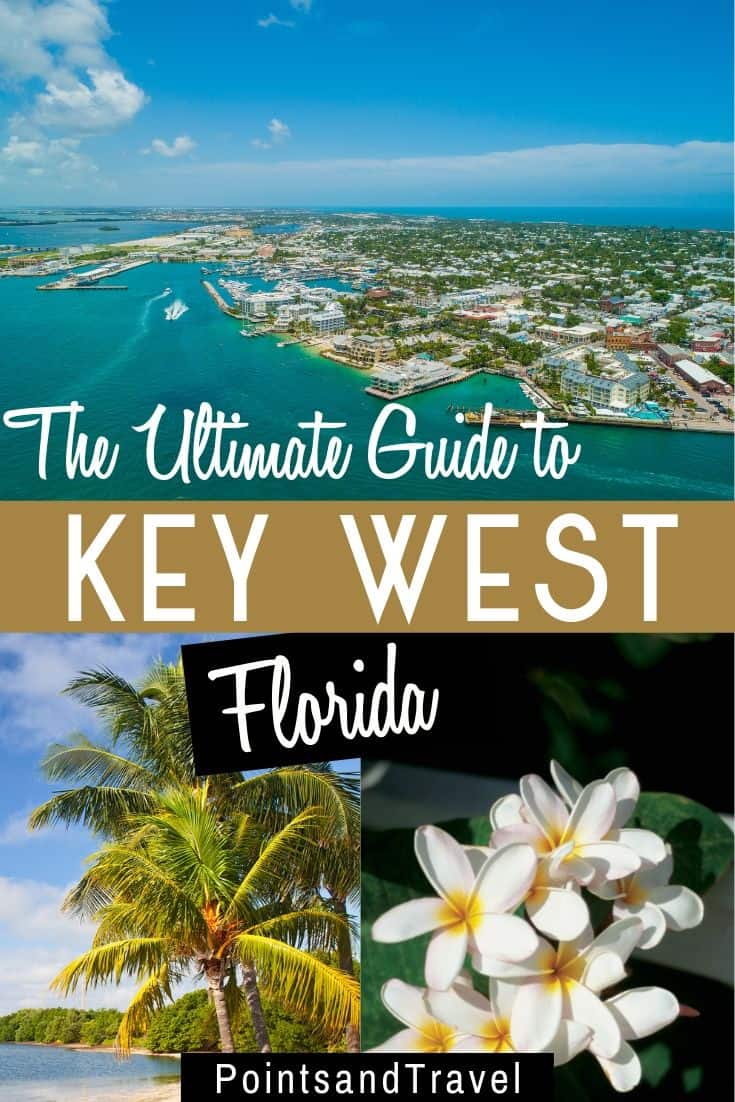 #6. Get into the Ocean
Either by sailboat or water toys, there is something for everyone. Board a catamaran and search for dolphins. They have all kinds of watercraft and beach toys to rent. As well as scuba diving, snorkeling or just plain ole' swimming and hanging out on the beach. I heard Fort Zachary Taylor State Park was nice but didn't make it out there. There are many small islands in the Keys also where you can go kayaking! The water around these small islands is crystal clear and you will also see many varieties of birds there. This is a super fun thing to do in Key West.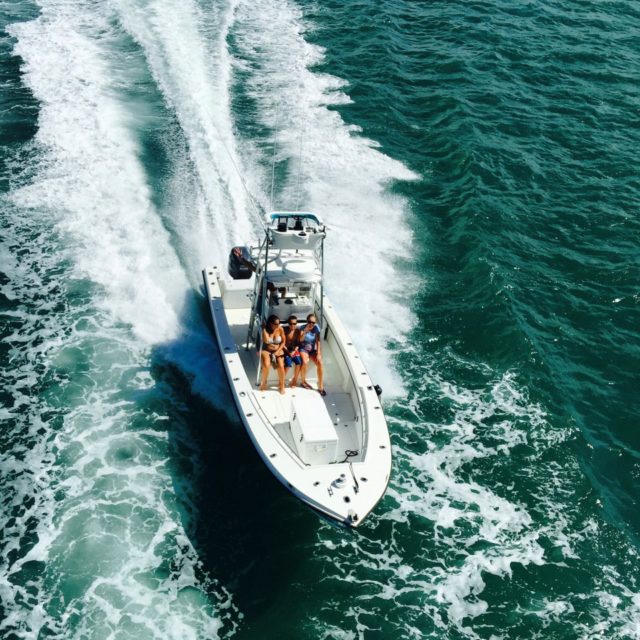 #7. Stop and Play with Turtles
The Key West Turtle Museum at the foot of Margaret Street in Key West Bight, the museum is a great place to stop and enjoy the history of the sea turtles and their time spent in the keys.
#8. Take In the Lower Keys Underwater Music Festival
While I was in The Keys, I had a chance to attend the Lower Keys Underwater Music Festival and it was crazy. It is an annual event, so you can go next year!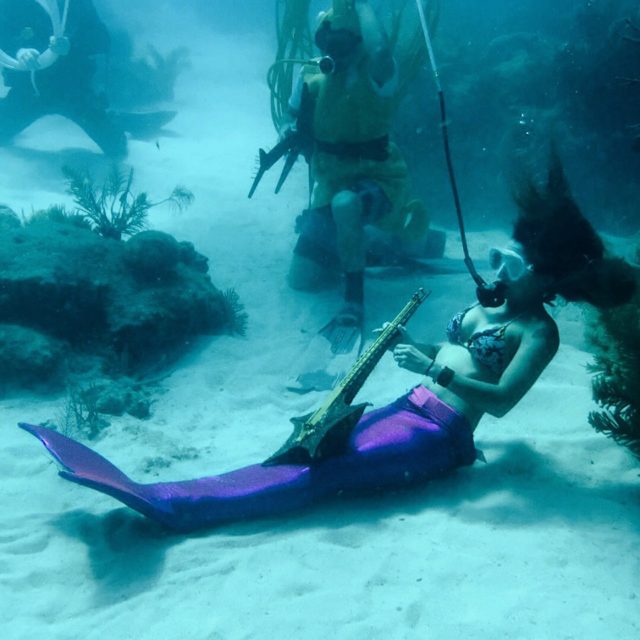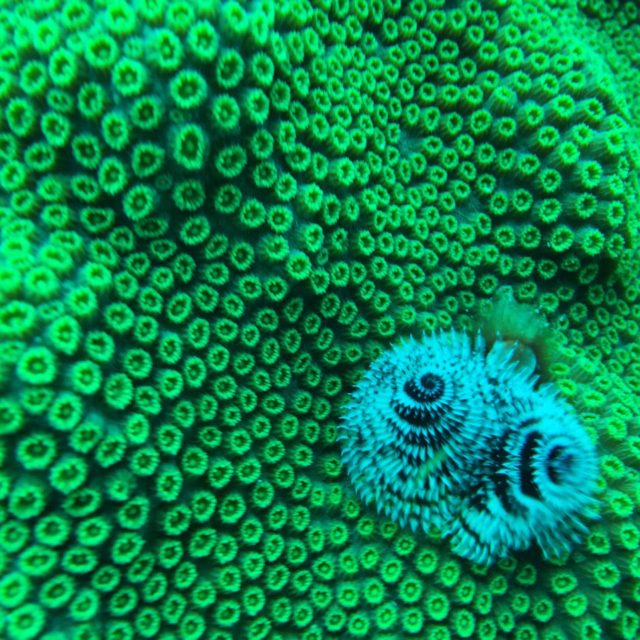 #9. Tour Truman's White House
President Harry Truman ran his winter operations from the naval station command center in Key West, FL. He made eleven trips to Key West during his presidency. The museum has Key West historical documents and presidential artifacts.
#10. Stroll Down Duvall Street
Duval Street is the main bar and nightlife street and bar-hopping is a way of life in Key West. But you can shop, eat and drink your way around town at all the local hangouts. Believe me, there are many, like the famous Sloppy Joe's Bar or Jimmy Buffet's Margaritaville.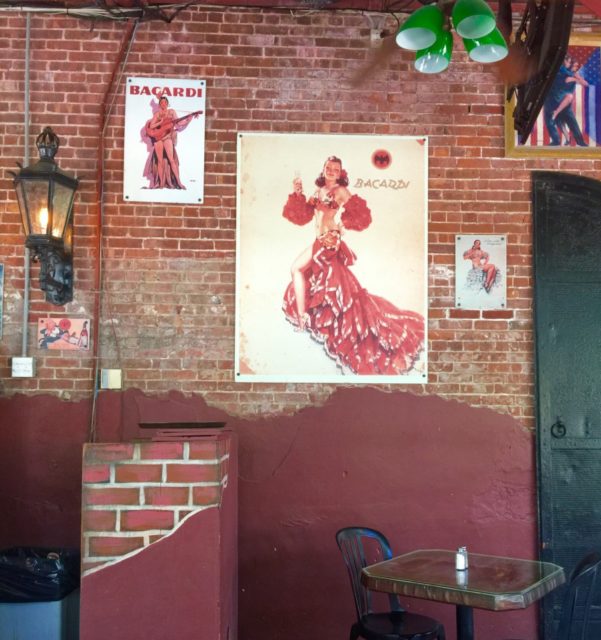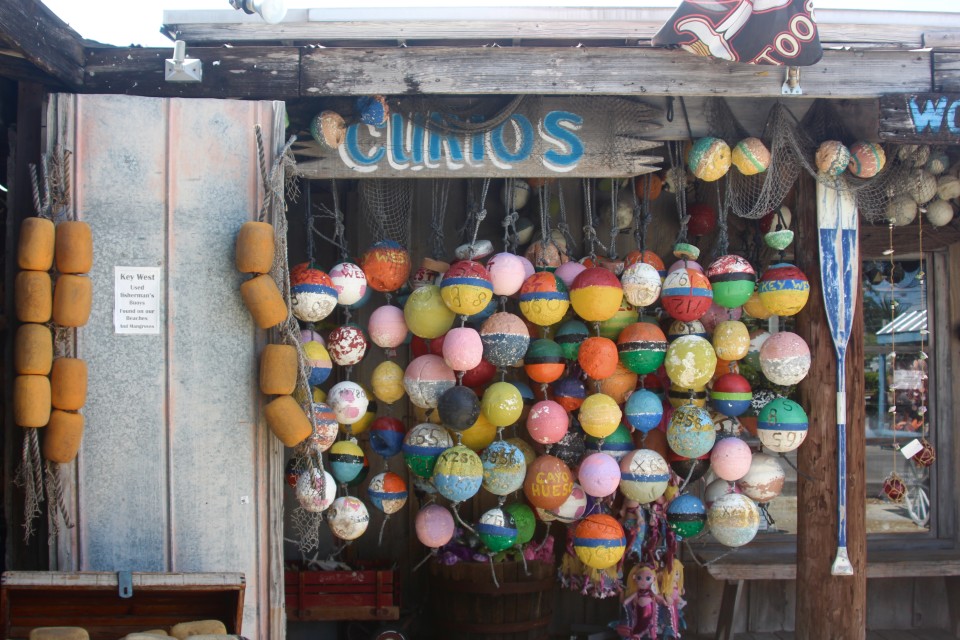 #11. Tour Famous Houses
From the Audubon House to Hemingway and Truman's place, there is a lot of history here to discover. This time around I toured Ernest Hemingway's Home and Museum.
Spend time at Ernest Hemmingway Home & Museum while you are in town because it gives great insight into life during his era. It also showcases many original manuscripts he wrote and shows how this famous author lived. You can even pet Papa's 5 toed cats! It is quite interesting to walk around and to see where the writer did his thing. This is a must thing to do in Key West.
Oh, and while you are at it, Papa Hemingway has a new 8,000 square foot distillery called Papa's Pilar Rum! For $10 you can see how rum is made at the island's largest distillery, a rum tasting, and some Hemingway memorabilia.
But if you really want to know where Papa Hemingway truly hung out while he was in Key West, you will have to stroll on down to Pepe's Café. It is a completely unpretentious place to get a drink and some seafood that embraces its dive bar legacy. It fits right into the party atmosphere in old Key West and is the oldest join in Key West being here since 1909! Say hello to Papa for me!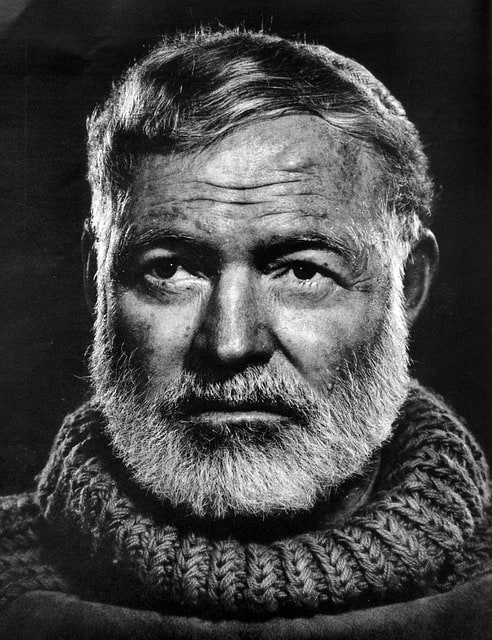 #12. See The Flying Cat Show
And speaking of 5 toed cats… check out the Key West Flying Cat Show put on by the Cat Man himself, Dominique, and his flying cat circus at Mallory Square…no really!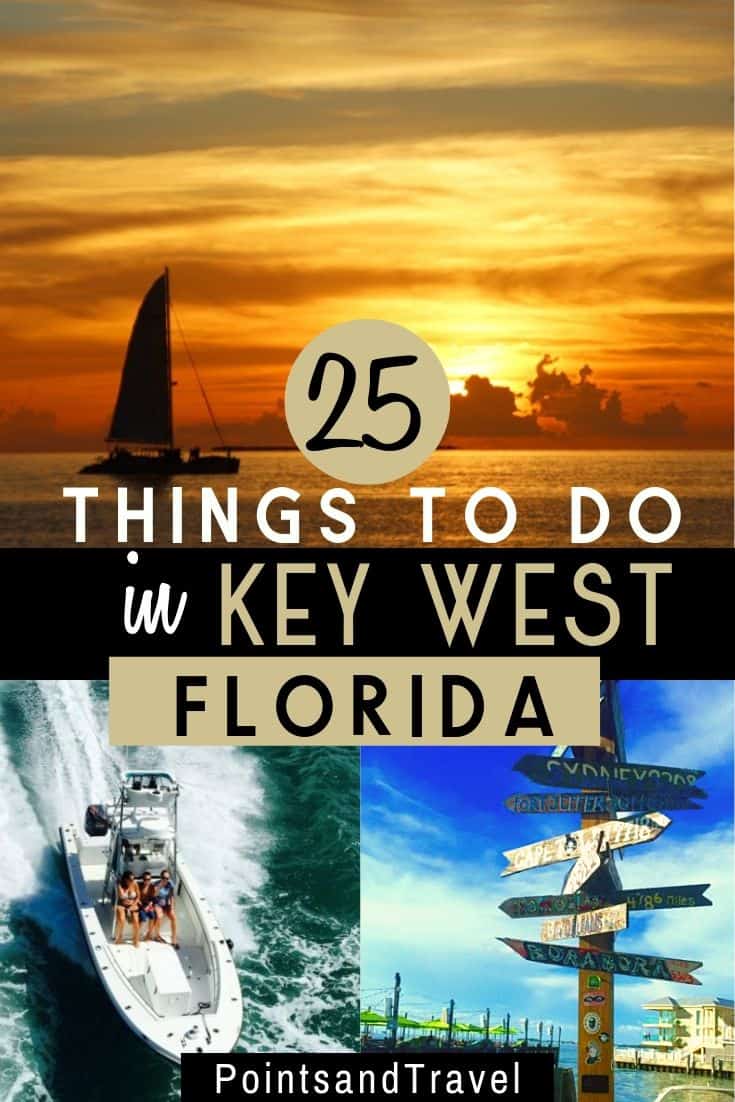 #13. Visit the Key West Lighthouse
See the best view of Key West. I didn't get a chance to climb the 88 steps to the observatory deck as my time was limited, but I walked by and took the photo below. People I spoke to who went up to the top say it has amazing views of Key West! The Key West Lighthouse was built in 1847 and began operations in 1848. It guided ships through the dangerous reefs surrounding the island. It was in operation until 1969 when it was decommissioned by the Coast Guard. It was opened to the public in 1989.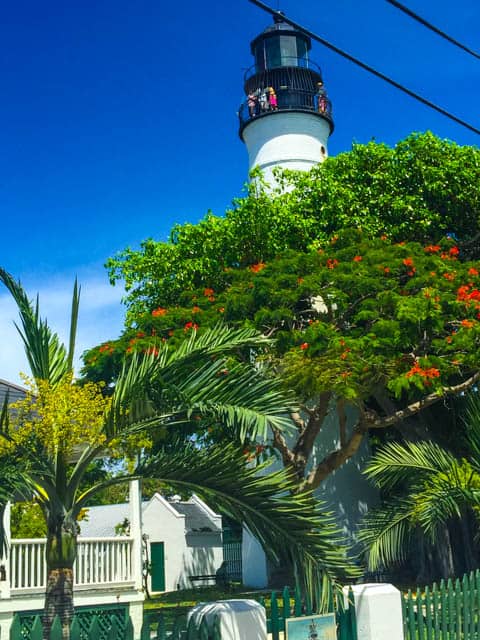 What: Key West Lighthouse
Hours: Open daily 9:30 am – 4:30 pm (except Christmas)
Cost: $10 per adult, $5 per child, FREE for children under 6.
Location: 938 Whitehead Street
#14 Visit the Historic Key West Seaport Nearby
This is a family-friendly attraction with lots of things to do including visiting the aquarium which has over 500 species and touch tanks, as well as seeing the lighthouse!
#15. Drink Naked at a Bar!
Now I am not saying I have done this one before, but I did hear about it! You can strip down to nothing at the Garden of Eden, a clothing-optional rooftop bar on Duval Street in Key West. Say what? Yep, you heard that right, strip down and enjoy a drink in the buff! It may or may not be that great! (Remember Las Vegas? The same thing applies here!)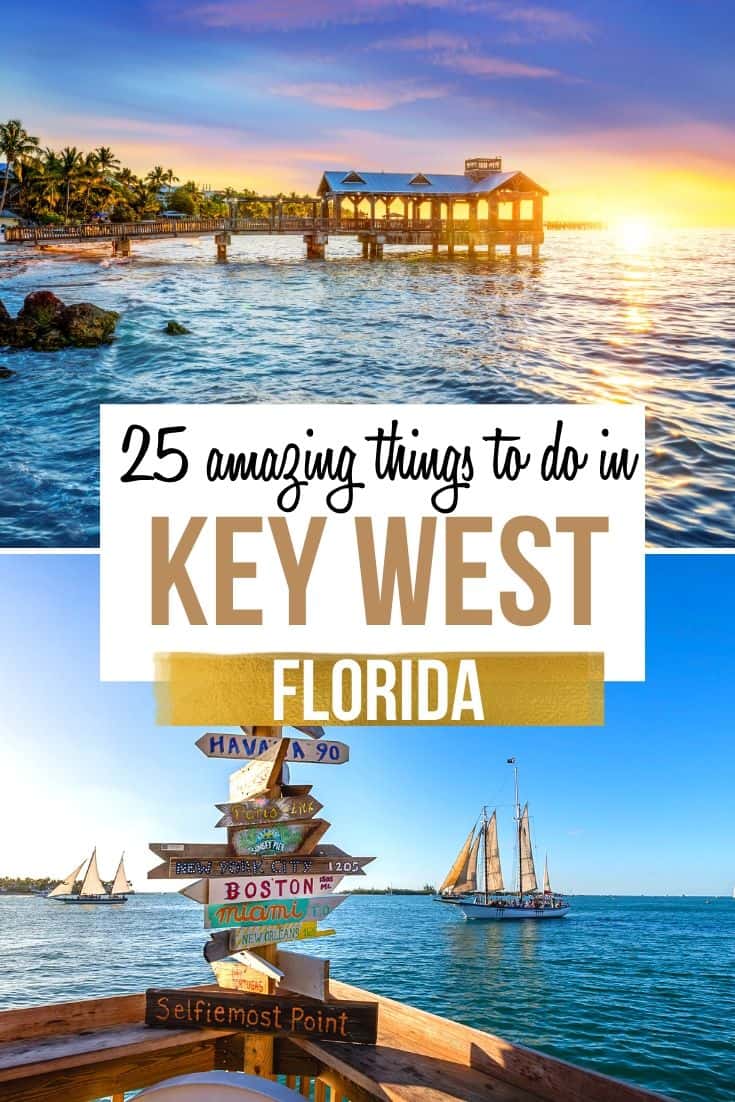 #16. Visit the Custom House
Pirates, Cuban cigar makers, smugglers spongers, turtle people, Flagler, artists – it is all here, the fascinating history of Key West.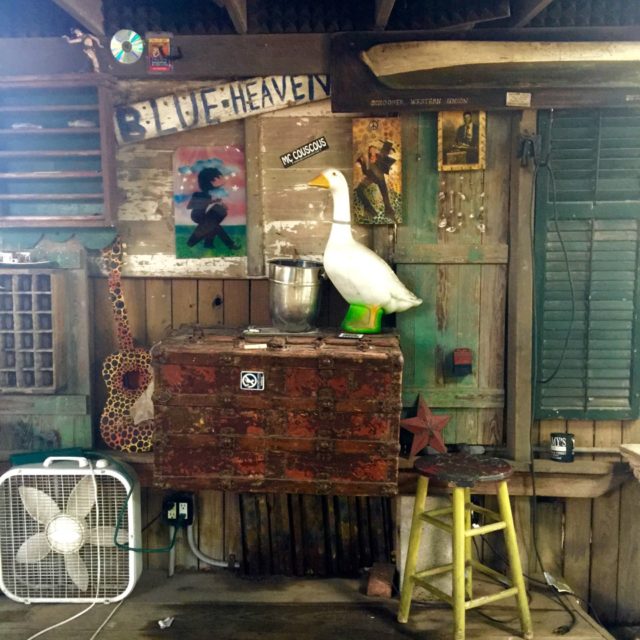 #17. Have breakfast at Blue Heaven
Where they put lobster on everything and of course, you have to have a slice of their Key Lime Pie!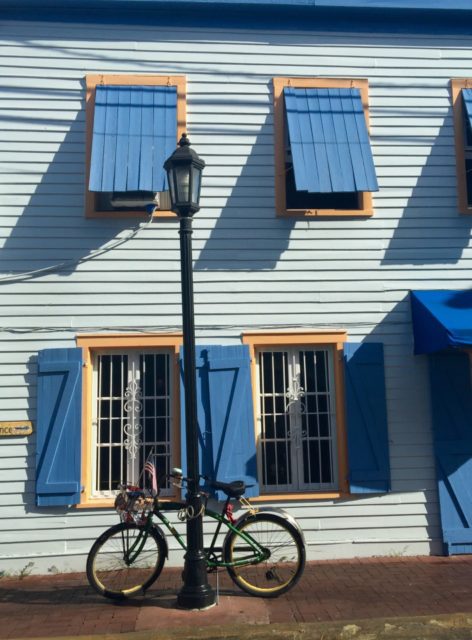 #18. Eat a Slice of Key Lime Pie!
This is a famous American dessert made up of custard pie and the juice of Key limes. The pie has been traced back to Key West, Florida, and was invented by Jack Simons. However, there may have been some mention of a similar pie and its recipe made for Key West's first millionaire in his book. William Curry, a ship salvager mentions it was made by his "Aunt Sally". Typically it is made from canned milk, limes, and eggs. It is not baked but instead is whipped up. The traditional conch version uses egg whites to make a meringue topping.
---
But always the question is… Where is the BEST Key Lime Pie in All of Key West?
---
I haven't tried them all, but I do know that the key lime pie at Blue Heaven was pretty heavenly!! Now the key is those key limes, so make sure they are using that… Citrus plants produce a small green fruit that, when ripe, becomes yellow and offers an intense tartness over the regular green Persian or Tahiti limes often sold in grocery stores.
I even heard about a place that has dark chocolate-dipped Key Lime Pie on a stick! Kermit's Key West Key Lime Shoppe, so check it out and let me know in the comments below!
#19. Have Dinner at Latitudes
For dinner, save a special night for Sunset Key's Latitudes, located on a unique resort island in Key West Harbor. You can take the ferry over to the island and stay until the sun sets with your wine and your lover! (Guaranteed to be a perfect evening!) I mean, really? Look at that sunset! It was stunning the night I was there. This is the perfect thing to do in Key West.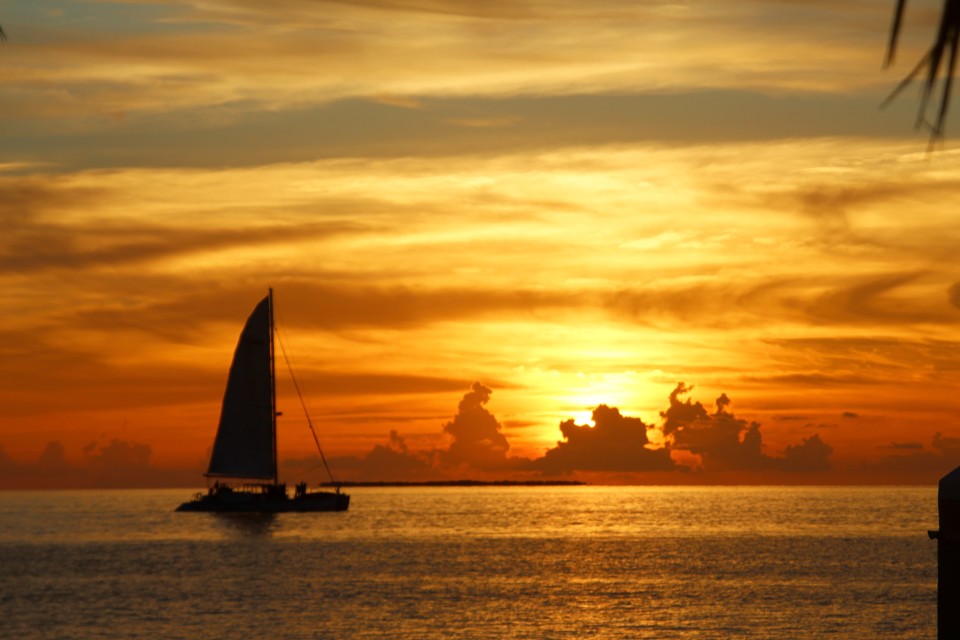 #20. Visit the Key West Cemetery
Anyone who knows me or reads my articles know I love cemeteries! Oh, and this one! And Key West has an interesting one that was founded in 1847 after a hurricane had swept through the area earlier the year before and washed away the old cemetery.
During that hurricane, the old stones had been scattered across the land. So the weird thing about this cemetery is that the oldest gravestones in this cemetery are actually older than the cemetery itself. The tombstones that were found were brought back to this area and they date as far back as 1829 to 1843! This is an exciting Key West excursion!
#21. Take a Photo at the END of Highway 1
At The End: Take a photo of where Highway 1 ends! (the buck stops here!) No telling how many photos I have seen of people standing by this mile marker sign!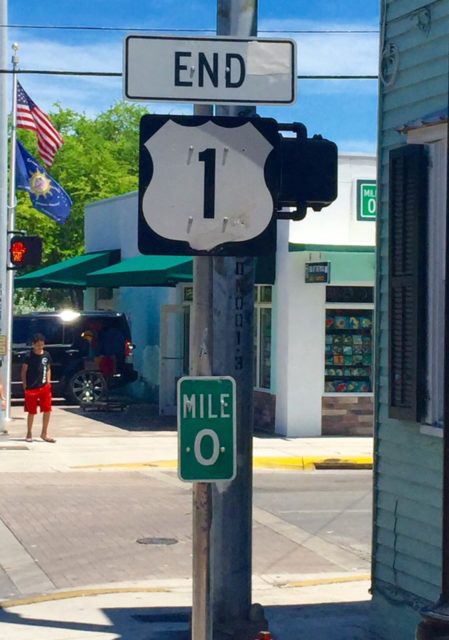 #22. Go to Cuba! Well, if you want to0!
And if you get a chance, you are only 90 miles to Cuba! But honestly, I have tried to figure this out with flights and it is harder than you think… Most airlines want to fly you back to Miami and then to Cuba! Oh well, if you are this close you might as well have some Cuban food at El Siboney! It is casual Cuban food served in a family-owned restaurant.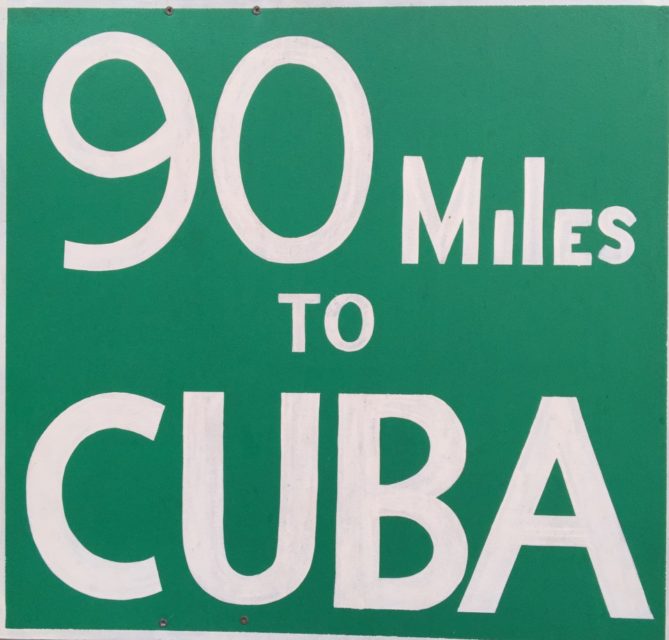 #23. Take a guided Jet ski tour!
Book and take a guided jet ski tour... they will take you on at least 28 miles of water to discover Key West's stunning natural beauty. They have expert guides who take you to the backcountry and teach you how to ride a Sea-Doo. These things are big can accommodate up to 3 people and 450 lbs! It is a way to see the Southernmost point without having to stand in line (see below).
#24. Visit the

History of Diving Museum
You guys know how much I love to go scuba diving, so the "don't miss stop" is the History of Diving Museum. This Diving museum has the world's largest collection of armored suits, diving helmets, and diving accessories. But if you want, you can read about my Scuba Diving Trip to the Galapagos!
#25. Eat the 72-Hour Short Ribs at Spencer's
Nobody does it quite like Spencer's by the Sea, and with views of the Atlantic Ocean from both inside the restaurant and on the veranda, Spencer's by the Sea offers an amazing 72-hour short rib that you cannot resist. You have got to try this!
---
✦ What NOT to do in Key West, FL (haha!)
#26. Go to Mallory Square!
Hang out at Mallory Square for Sunset Celebration--head down there early in the day because people start gathering hours before sunset on Friday nights to get their spot and watch it happen! It's something that should not be missed!! Check out some street art while you're strolling through town; stop by Keysville Street Art Gallery or visit The National Public Radio headquarters where they showcase more than 100 murals including those done by local artists. Their work is fascinating.
I had heard to "Go to Mallory Square" – to see where all the action is, but let me tell you: It is crowded, hectic, and crazy. They do have a nice sunset from here amongst the street performers and the crowds. So only go if you can tolerate the hordes of people! Go if no one is around!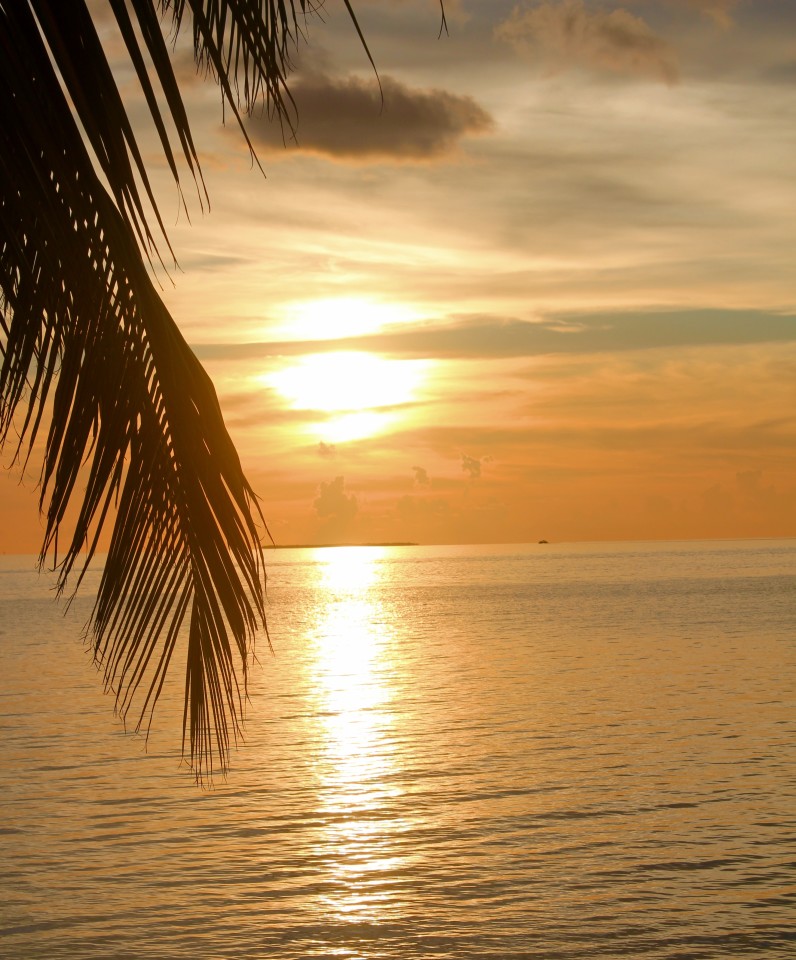 And last, but certainly not least:
#27. Don't go to the Southernmost Point! (Stand in Line!)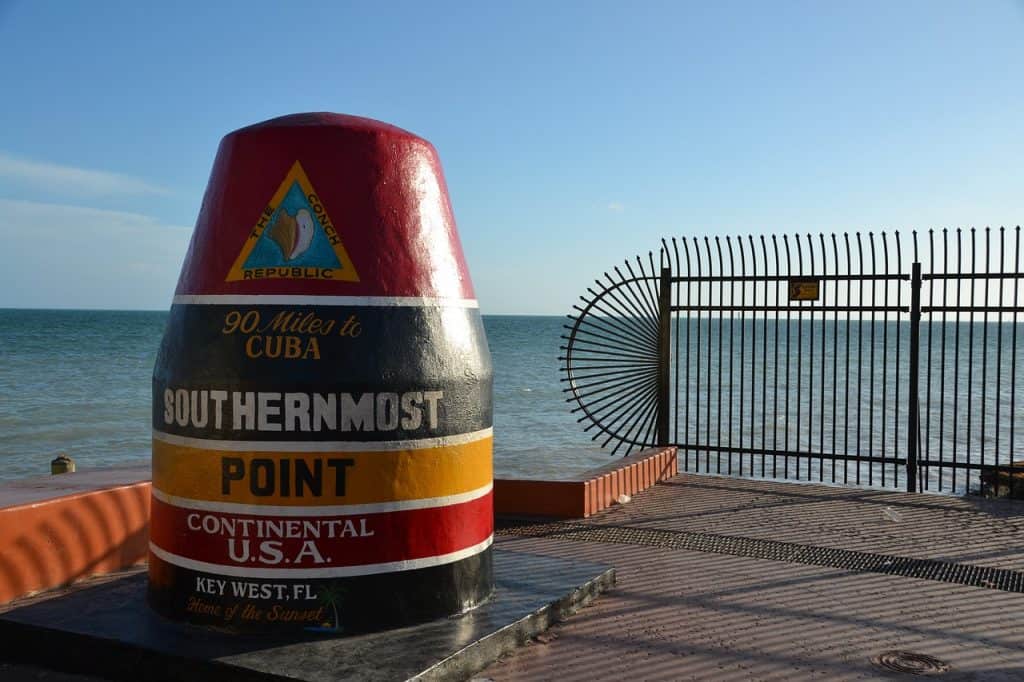 Also, I heard to "Drive to the Southernmost Point" of the United States (I do remember doing this years ago). If you go, be prepared to stand in line in the muggy heat. YUK! Probably not worth it unless no one is around – then do it!
More Things to do (if you have time)
Tour Fort Zachary Taylor Historic State Park and learn about why these cannons are lined up so neatly all along this beautiful island that was once occupied by Confederate forces during the Civil War.-
Go to the Key West Butterfly and Nature Conservatory. Take a self-guided tour of this beautiful natural attraction that has live butterflies, plants, trees, flowers from around the world as well as a bird aviary where you can see different species like toucans and macaws!
---
There you have it, your Key West, Florida Vacation awaits you! Now you know exactly what to do in Key West and two things NOT to do! (unless it is not crowded!).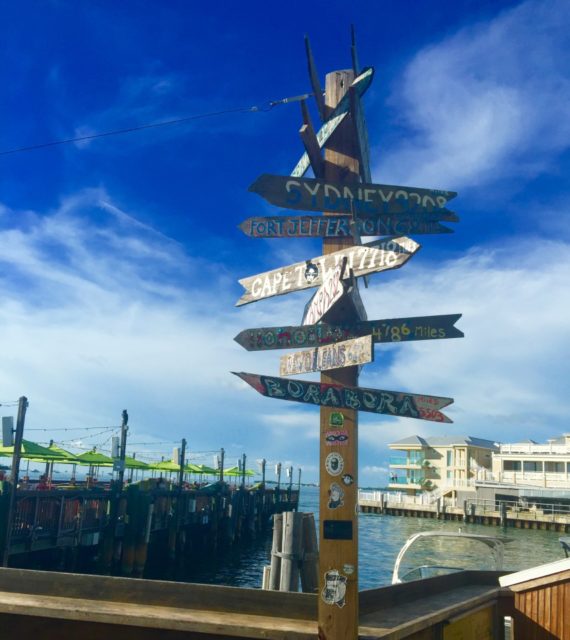 ---
KEY LARGO
What to See, Do, and Eat in Key Largo
---
#1 Jules Undersea Lodge in Key Largo
On the way down to Key West, be sure and spend the night at Jules Undersea Lodge, I have heard it is fun, but I haven't done it yet… if you dare! It is actually underwater (21 feet of water) and located in the lagoon at Key Largo Sea Park! You can choose to stay for just a few hours for a drink. Or if you are really brave, you can stay overnight. Don't worry, they have all the modern amenities you will need for a pleasant evening. Plus, you can cozy up to a movie and watch the fish go by through your large round windows. And below are a few other cool places to stay.
#2 Visit the Wild Bird Sanctuary in Key Largo
Are you a bird lover? I know quite a few of you are! Well, the Laura Quinn Wild Bird Sanctuary. which is close to the John Pennekamp Coral Reef State Park. That park is also another place you may want to stop off to on the way down to Key West. It really should be on a bucket list for bird lovers. There is no charge to get into the Bird Sanctuary, but you are requested to leave a donation; these monies go to the care of wounded wild birds. Here you will see hawks, owls, pelicans, and a wide variety of wild birds that are unique.
---
✦ Other Places To STAY IN KEY LARGO ALONG THE WAY!
The beachfront acres of Playa Largo Resort and Spa is a luxury oasis on Key Largo. Here you can eat down by the water, take a dip in the pool, or even enjoy a cocktail by the fire pit. Or stay at the Key Lime Sailing Club and Spa or the Key Lime Sailing Club and Spa
---
ISLAMORADA –What to See, and Eat in Islamorada
#1 Feed the Tarpon at Robbie's Marina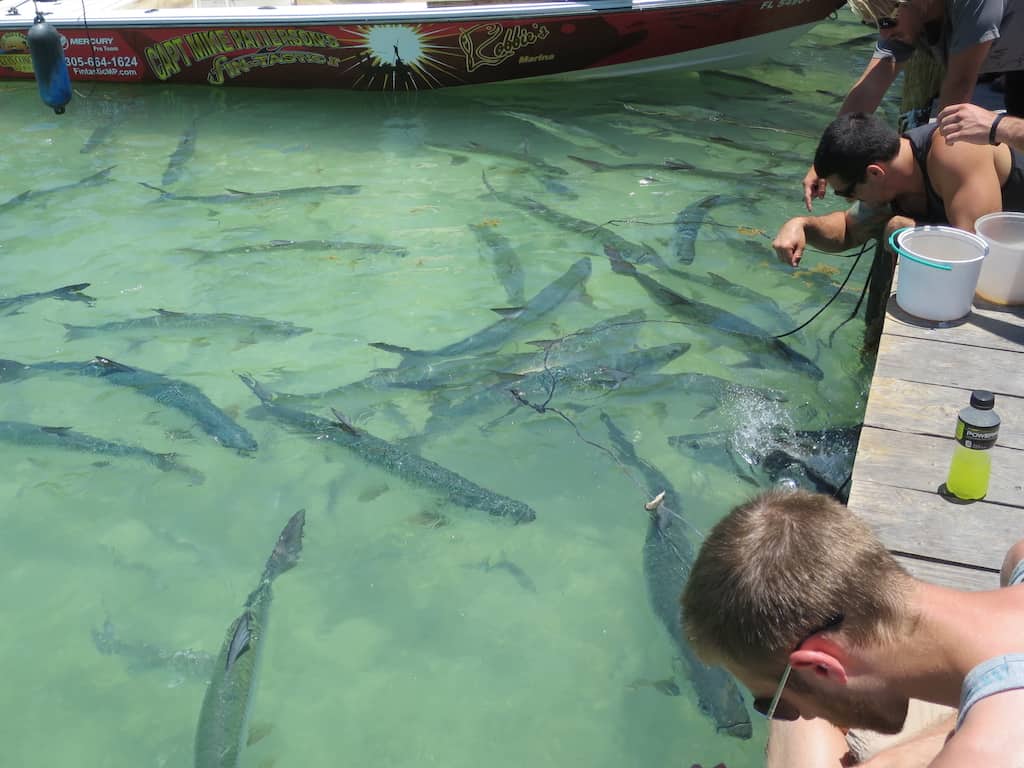 In Islamorada, which is one of the Florida Keys Islands, there is a place called Robbie's Marina where you can feed tarpon! They are bony salt-water fish that have a 'strong' bite. They gather by the dozens at Robbie's Marina waiting for you to feed them fish snacks. Some of these bony fish have mouths almost as big as five-gallon buckets, so beware! Basically, you grab a snack and put your arm in the water and they swim by and snack on, not only your snack but also your arm. So like I said, be careful!
There are quite a few restaurants at Robbie's Marina, but I would recommend eating at Robbie's! Plus they have lots of activities for the entire family. So stop by!
---
BIG PINE KEY
What to Eat in Big Pine Key!
And if you can find this place, then YOU are the lucky one: No Name Pub in Big Pine Key! Looking for this colorful and historic watering hole in the Sunshine State just might be fun! Travelers-in-the-know start their pub crawl early in Big Pine at this place that got its start back in 1931 as a general store and bait/tackle shop! The bar was added in 1936! Since then, patrons started to hang dollar bills from the ceiling!! It is a nice place if you can find it! 30813 Watson Blvd. Big Pine Key, Fl 33043. Good luck!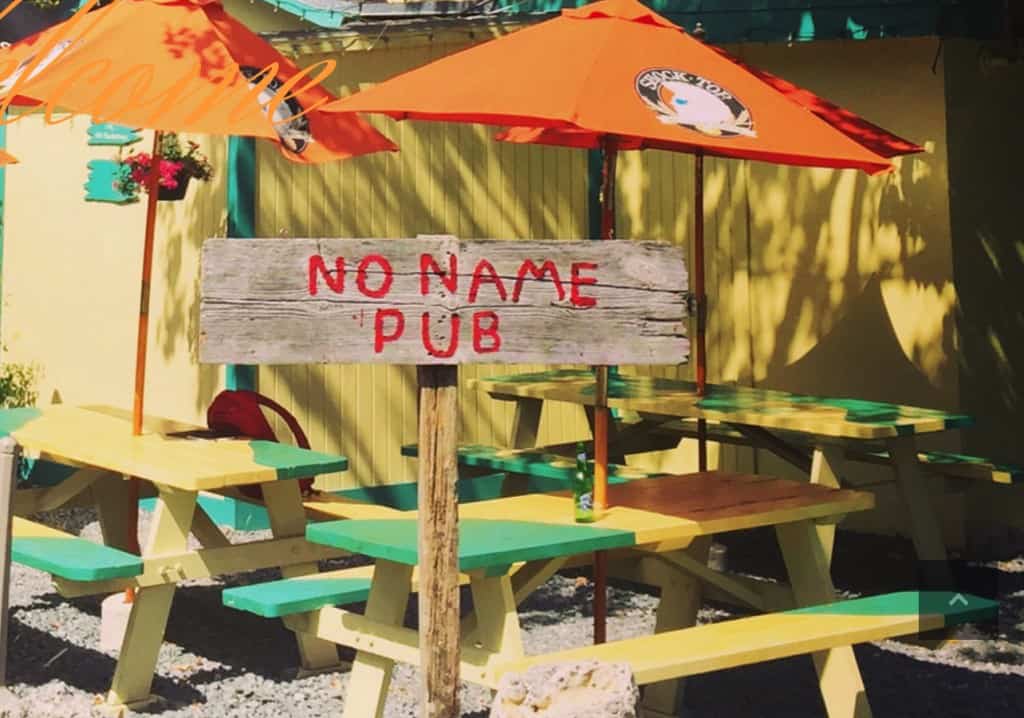 If you're looking for that "old Florida Keys Islands atmosphere" and want to eat some great food, then No Name Pub is the place for you! You can stop by to relax and have a beer.
Marathon
Visit Blue Hole Spring near Marathon; It is an underground spring with crystal clear water that can be reached only through wading across its shallow bay. Have you done that?
---
✦ Getting To Key West
By Land
I believe the best way to fully experience the keys and to #SeizeTheKeys is to take a road trip from Miami all the way down to the southernmost point of the island. And don't forget to make your way even further out to some of the outer islands to experience those awe-inspiring places as well. Having a rental car will make pit stops along the way easy to plan and stop when you want a breather from the car. I recently spent some time in the Florida Keys. Half the fun is getting there.
By Bus
However, there are buses that leave Miami, like Greyhound. They make the trip daily from the Miami Main Bus Station to the Key West Bus Station. It takes approximately 4 1/2 hours and is pretty inexpensive.
The Key West Shuttle is another option from Miami International Airport to just about any Key West destinations of your choosing. It runs three to six times daily, seven days per week. Here are a few places it stops along the route:
| | | | | | |
| --- | --- | --- | --- | --- | --- |
| KEY LARGO | TAVERNIER | Islamorada | MARATHON | BIG PINE | KEY WEST |
Rent a car out of the Miami International Airport and go straight down the US-1 until the end of the road in Key West. It is a 3 1/2-hour drive if you don't have a lot of traffic. And that is if you drive direct, which I don't recommend. Stop along the way and enjoy the ride!
---
TIP: Try not to get out of Miami around rush hour.
---
✦ Key West Map ✦
Here's a map of Key West to get you oriented to the city and to help you decide how to map out your day.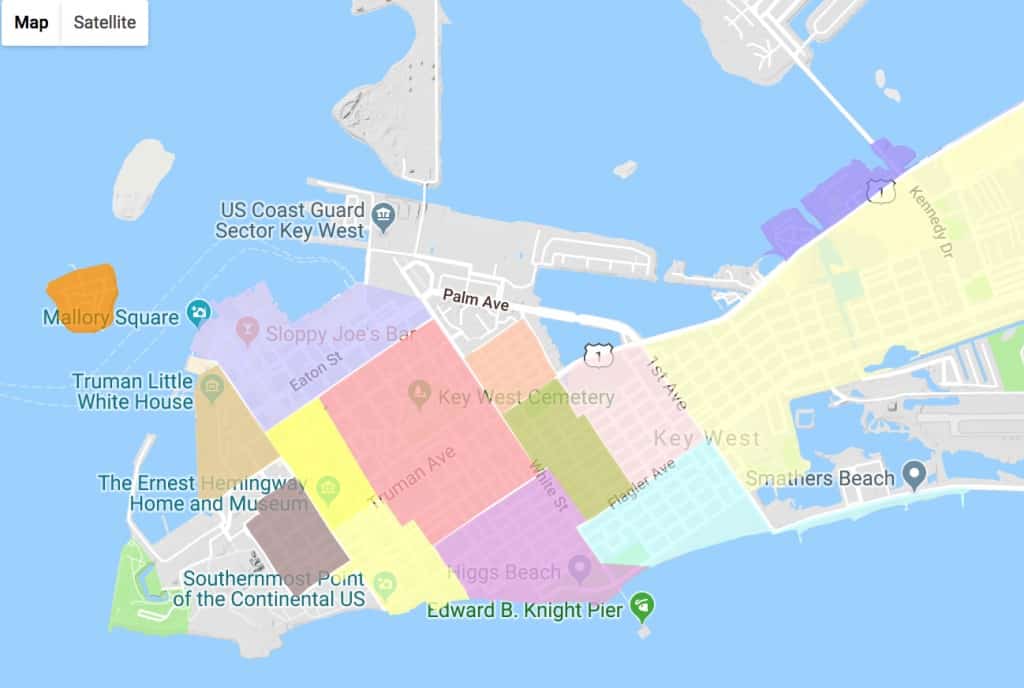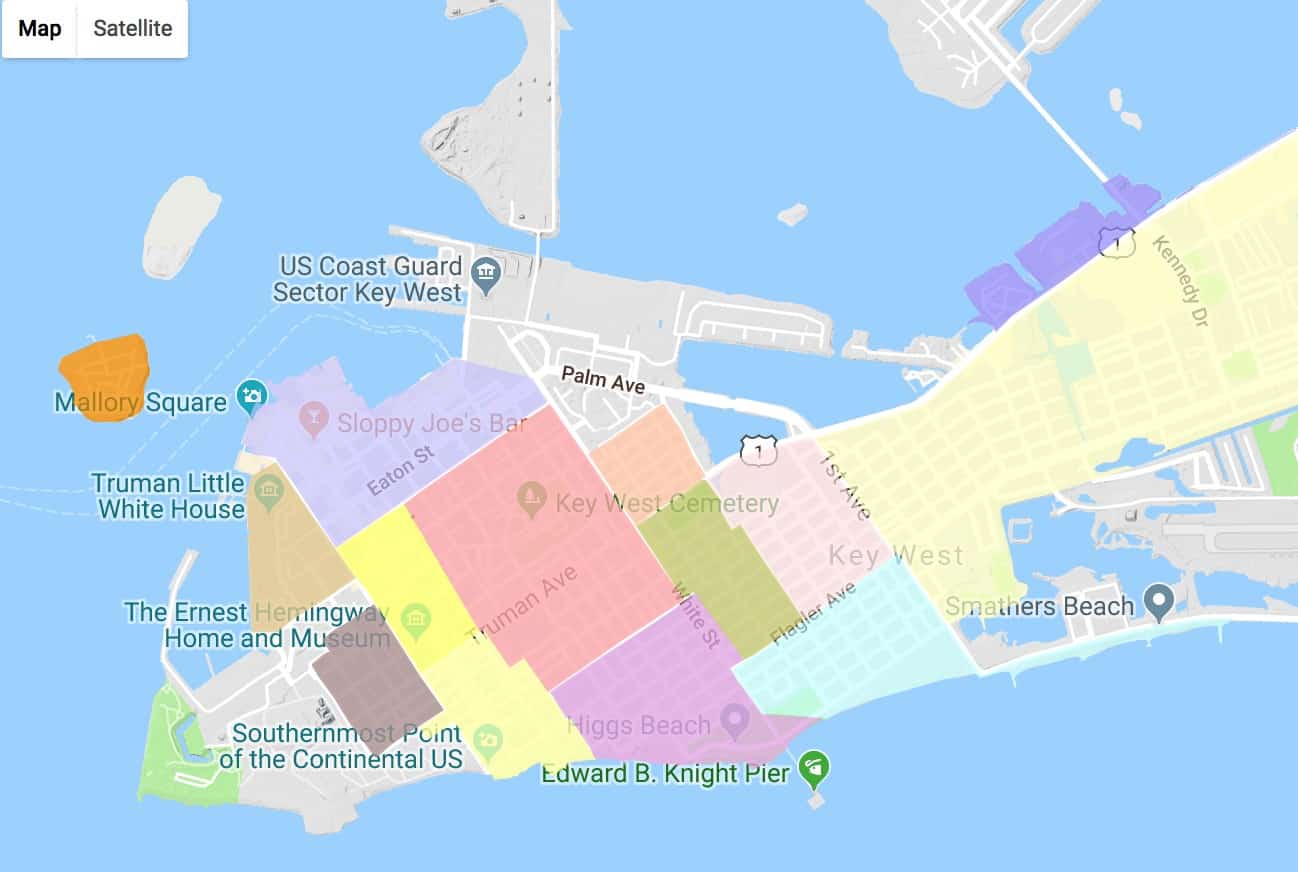 ✦ Best Beaches in Key West ✦
And to get an idea of where to go for the best beaches in Key West, I have listed the best ones around here:
Dry Tortugas National Park (my personal favorite)
Smathers Beach
Higgs Beach/Rest Beach
Fort Zachary Taylor Historic State Park
South Beach
Dog Beach (super cool)
✦ Best Beaches in the Florida Keys ✦
Bahia Honda State Park
Long Key State Park
Sombrero Beach
Anne's Beach
Harry Harris Park
---
✦ You May Also Like to Read up for your time in Florida:
The Classic American Road Trip: Florida Keys
Kitschy Florida Roadside attractions: St Augustine, FL
The Sugary White Sands of Panama City Beach, Florida
Top Places to Eat in Panama City Beach, Florida
Disclosure: I was a guest of the Florida Keys Tourism Board. The joy and excitement I had in the Florida Keys were all my own.