It was over a year ago that I had typed these words to the top of my bucket list on my website, Croatia Vacation. I had been in the travel business for over 5 years at the time and I often hear about all the wonderful places to visit in this world. Whisperings of Croatia island hopping and amazing Croatia resorts have been going on for a while now. I knew there was a reason that a Croatia vacation was near the top of my list. I was ready to find out why. Currently, Croatia, Easter Island, and Iceland are at the top of my ultimate bucket list, but for some reason, they kept eluding me in the past.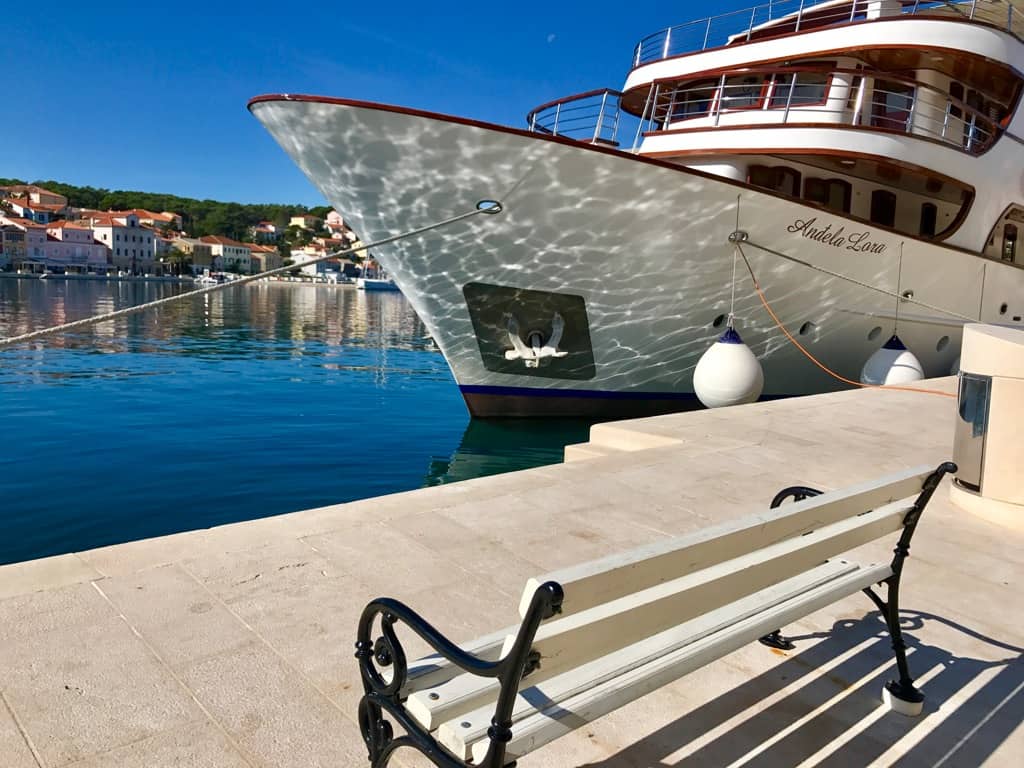 Then one day, this message popped into my inbox on Facebook:
"Hey, do you want to go on a Croatia vacation?"
me: "What? Of course, I want to go, when?"
"Next week…"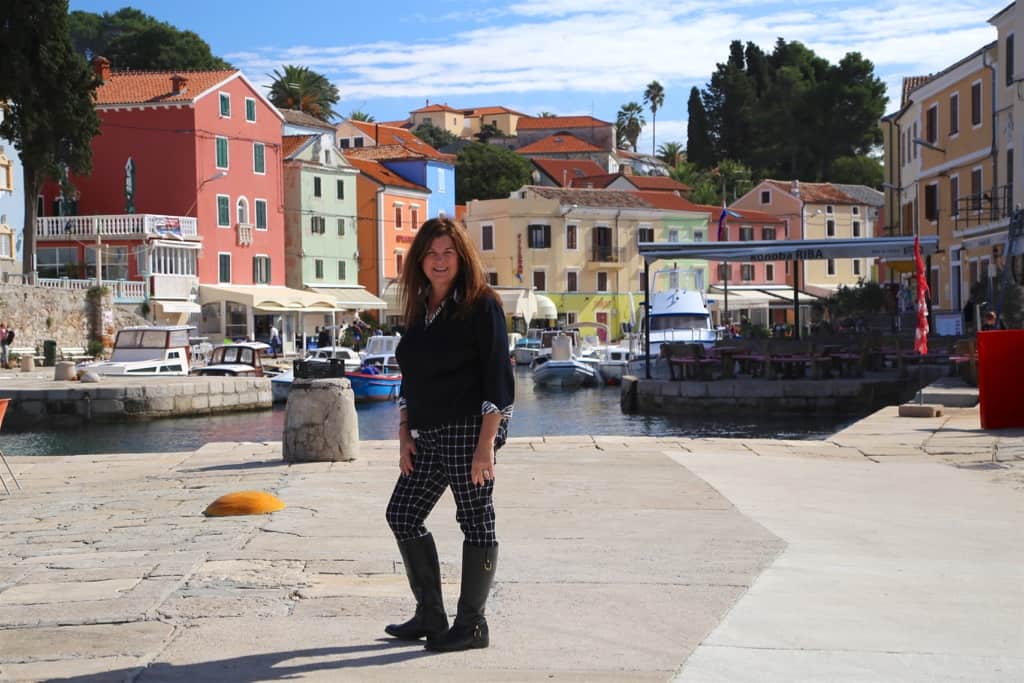 ✦ Croatia Vacation Here I Come
It was not as if my travel schedule wasn't full enough, but who could say no to Croatia travel? It wasn't exactly next week, but having just returned from the Maldives and then Japan, my dance card was full (that is an old saying for you young ones)! But within a few weeks, my bags were packed for my Croatia vacation and I was ready to see that side of the globe – the one on the other side of the Adriatic Sea.
✦ Croatian Island Hopping Stop #1 Zagreb
We arrived in the private jet terminal from the Westin in Zagreb. Right as we were getting into the transport, my colleague mentions he just saw John Mikhailovich check into the hotel we were leaving from. Apparently, it is well known that Mikhailovich is a fan of Croatia island hopping and I now know why.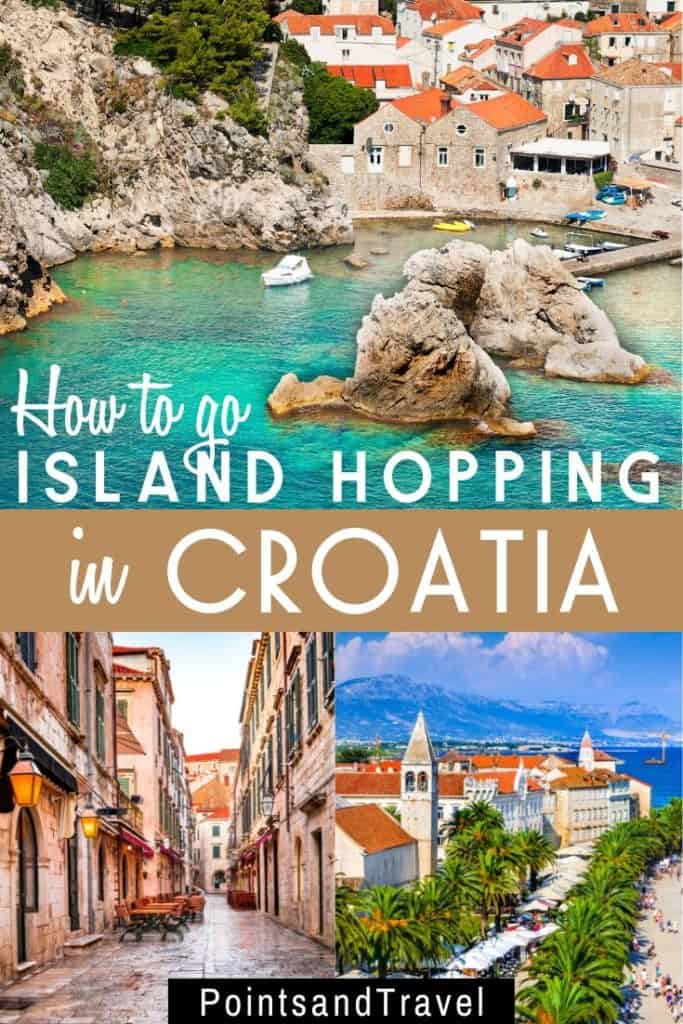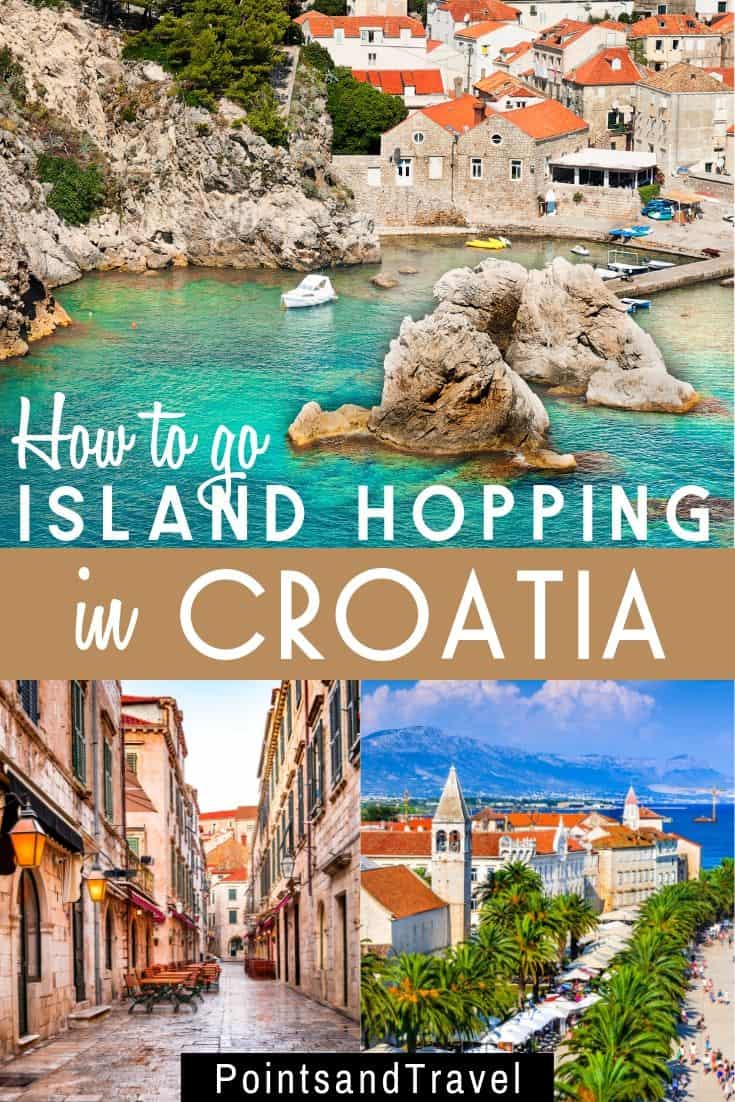 ✦ Arrival by Private Plane to Stop #2: Losinj
The crew brought our luggage to the lounge and then transported it out to a small truck that was waiting for our arrival. We literally could have walked out to the plane tarmac, but I guess when you are VIP, they think you need a ride out to the runway. I couldn't help but want to take a few photographs of the Croatia resort's private seaplane that was going to take us out to Losinj. Upon our quick (35-minute) ride, we landed near the tiny air hanger and they literally rolled out the red carpet for me and my travel friends!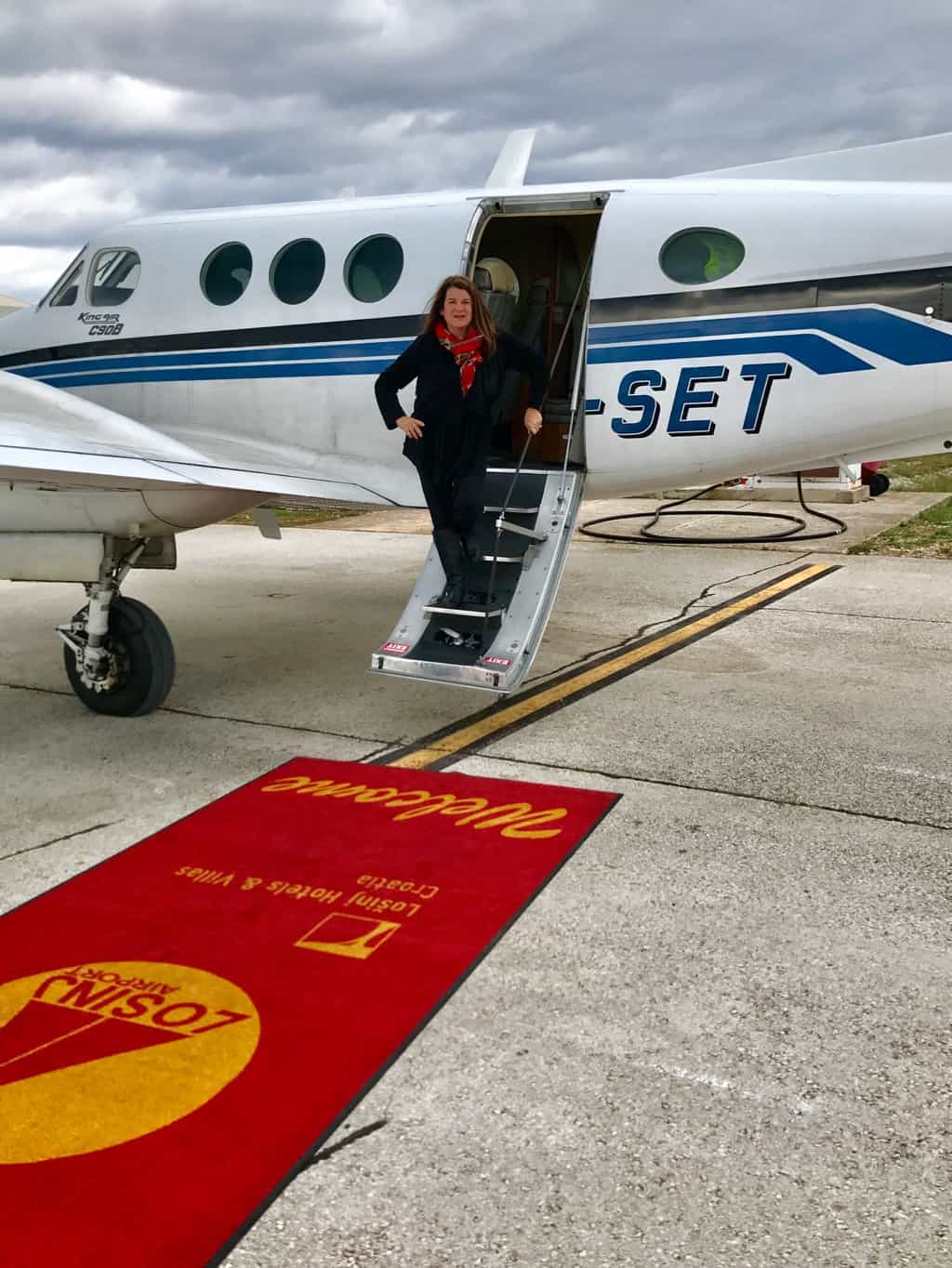 ✦Island Hopping From Losinj, Croatia – The Island of Vitality
I didn't know much about the island of Losinj but heard it was known as the "Island of Vitality" in the Balkans. Evidently, in the late 1800s, nobility built their villas here to escape the European cold winters. They came for the pine-smelling trees and the sea air that was crisp and clean. For years there has been medical tourism here, this was before they actually started to call it that.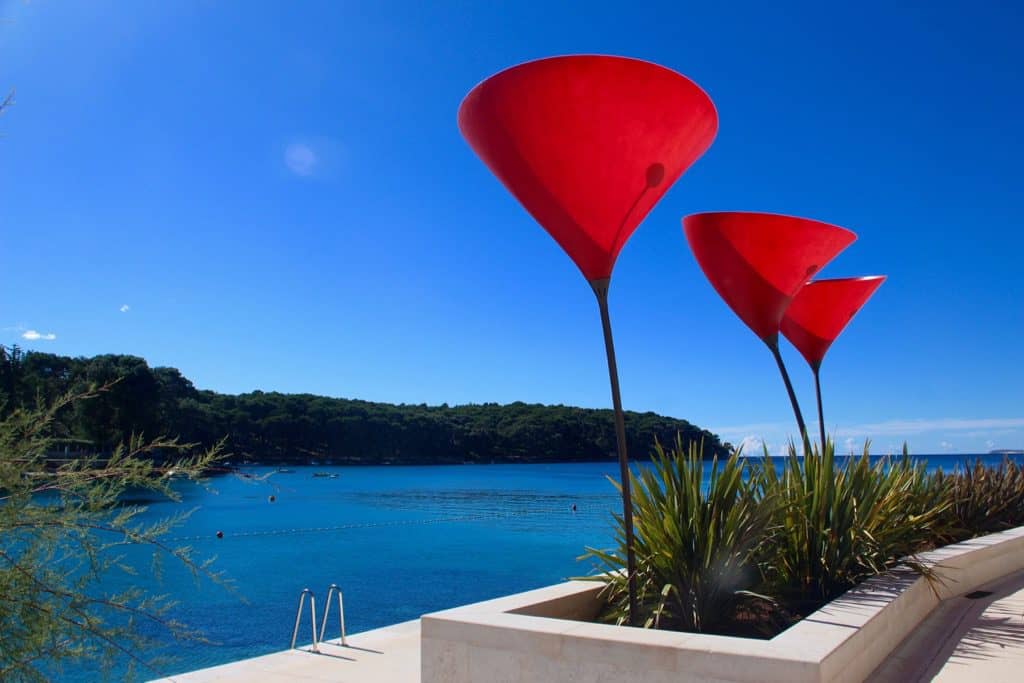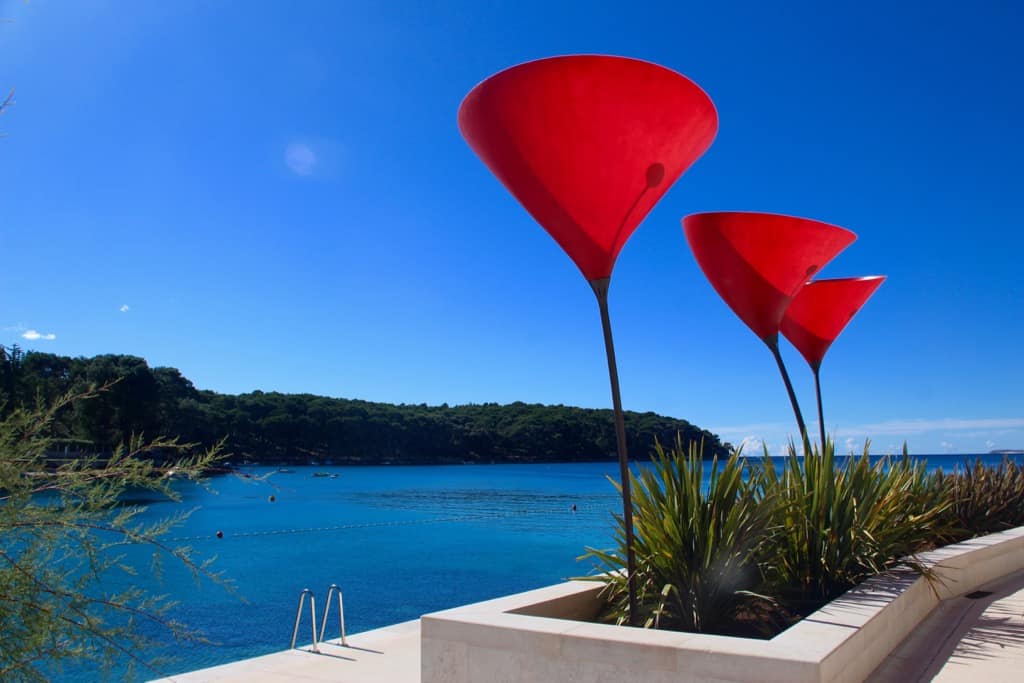 The wealthy Europeans used to come here to help cure their aches and pains. There was even a hospital here for lung disorders, which today is now a medical tourism facility. It is said to have special health benefits because of the 230 native species of medicinal plants located here. And with only 10,000 people living here, it is an island dream, much quieter than the popular island of Split and the port of Dubrovnik. You are able to find a spot on a secluded beach without any trouble.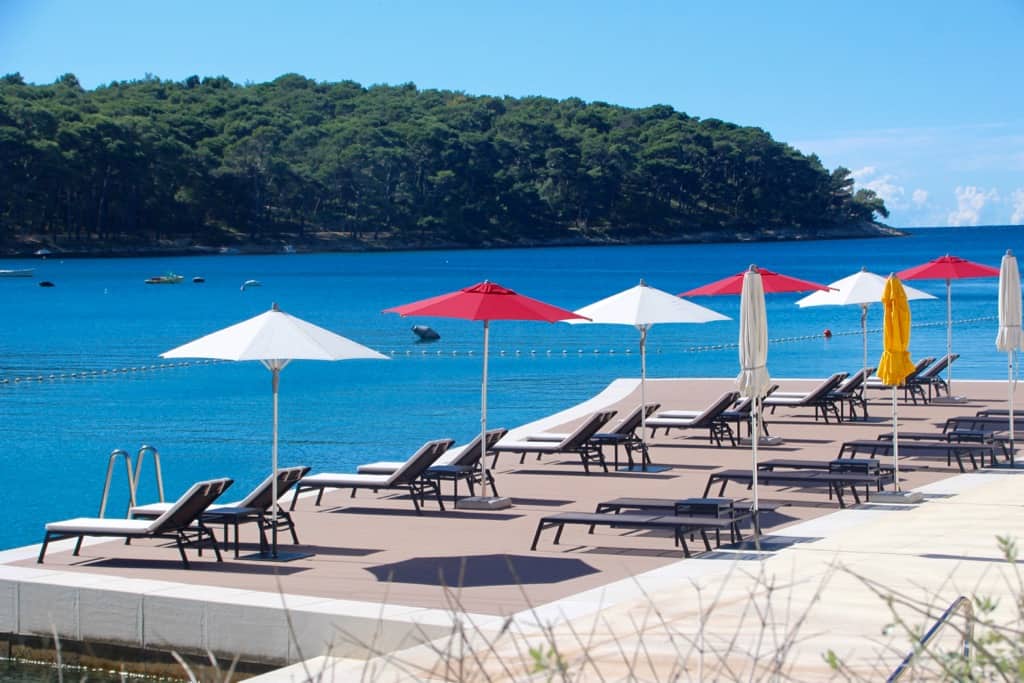 ✦ Where to stay in Losinj for Your Island Hopping Trip
Hotel Bellevue and Spa
Our arrival at the luxury Hotel Bellevue and Spa, a Losinj Hotel & Villa Group, took us through winding roads and seaside views of green tree island living. The views from my room, especially as the sun was setting, was truly magical. I cannot say enough about what an excellent experience it was to stay here. When you come, they have everything that you need. They have even thought of things you didn't know you needed! They have perfected the spa experience. I even mention it in my Travelocity article entitled "6 Ultra-Indulgent Luxury Spa Getaways Not to Miss".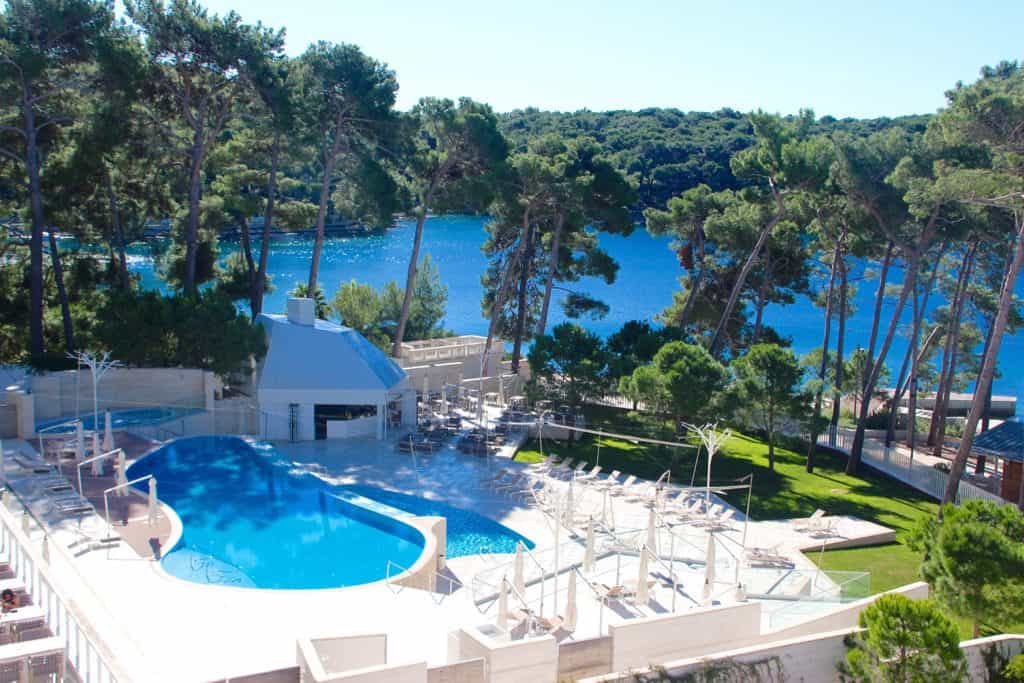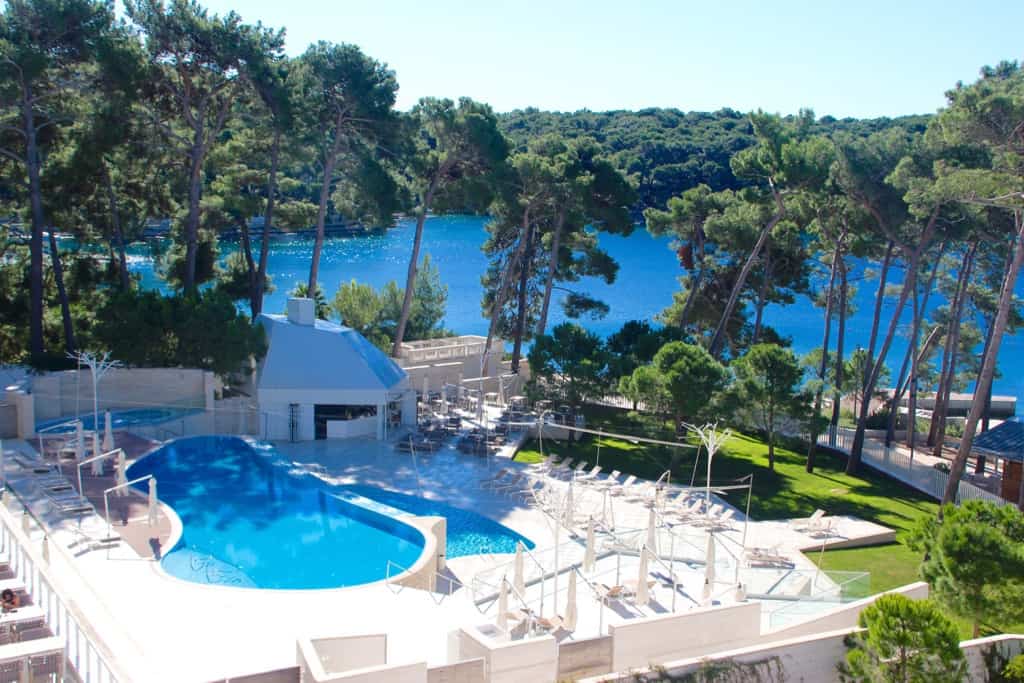 This was one of my top 6 spas in the world that I have visited. I travel the world looking for the best spa retreats and I can guarantee you will not be disappointed! In fact, they recently made the shortlist for the Conde Nast Johansens Awards for Excellence in the Best Destinations Spa Category. Just being recognized for this top-quality award is an honor. The Hotel Bellevue was even the very first 5-star hotel on the island of Losinj in Croatia.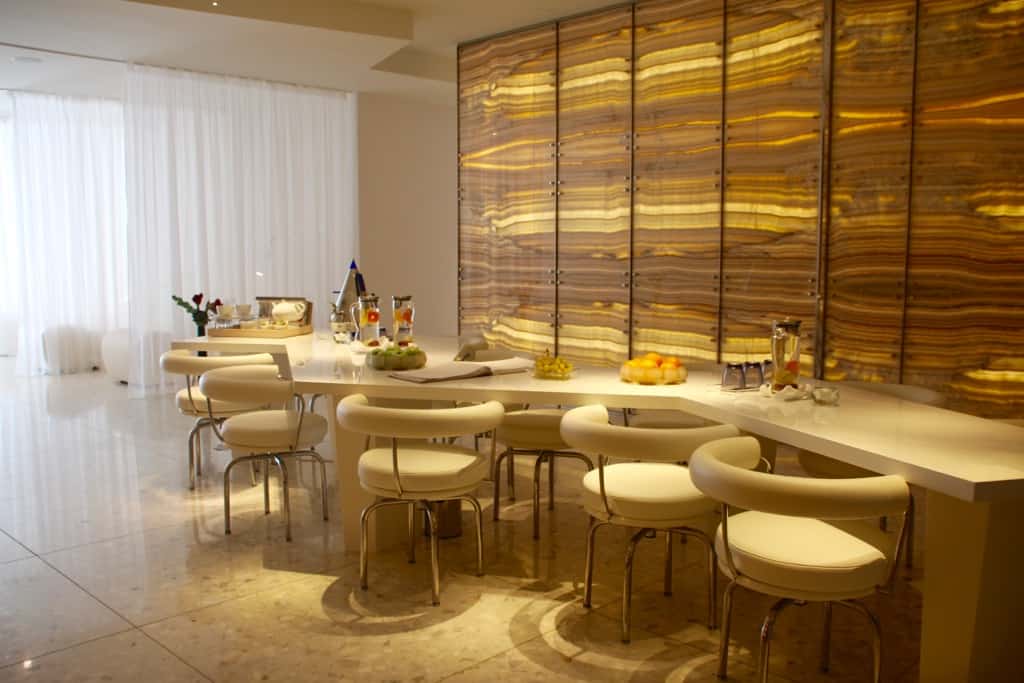 ✦ Croatia Island Hopping Stop #3: Mali Losinj
While you are there relaxing, take a few days to sail Croatia and explore the islands in the nearby fishing villages. On the Losinj island, I visited two fishing villages Mali Losinj and Veli Losinj. Both are worth a visit. I particularly loved Mail Losinj and even though it is small, you will enjoy this seaside village. It has shopping, local seafood restaurants, and a fantastic museum called Muzej Apoksiomena. One afternoon, I walked around for a few hours and even went up into the old tower, to get some amazing views of the town below.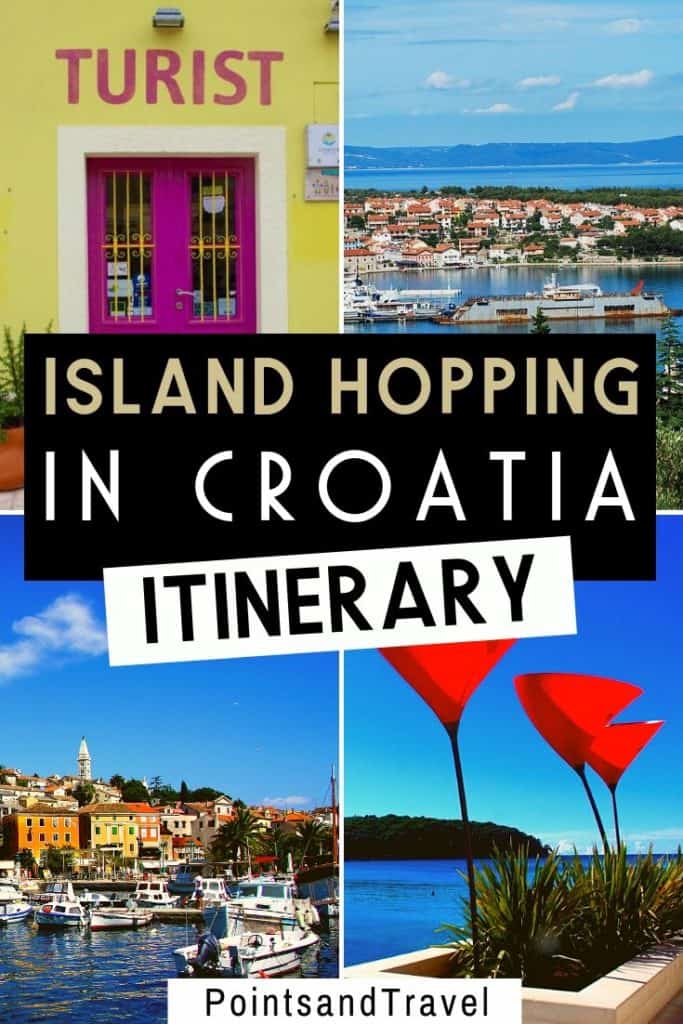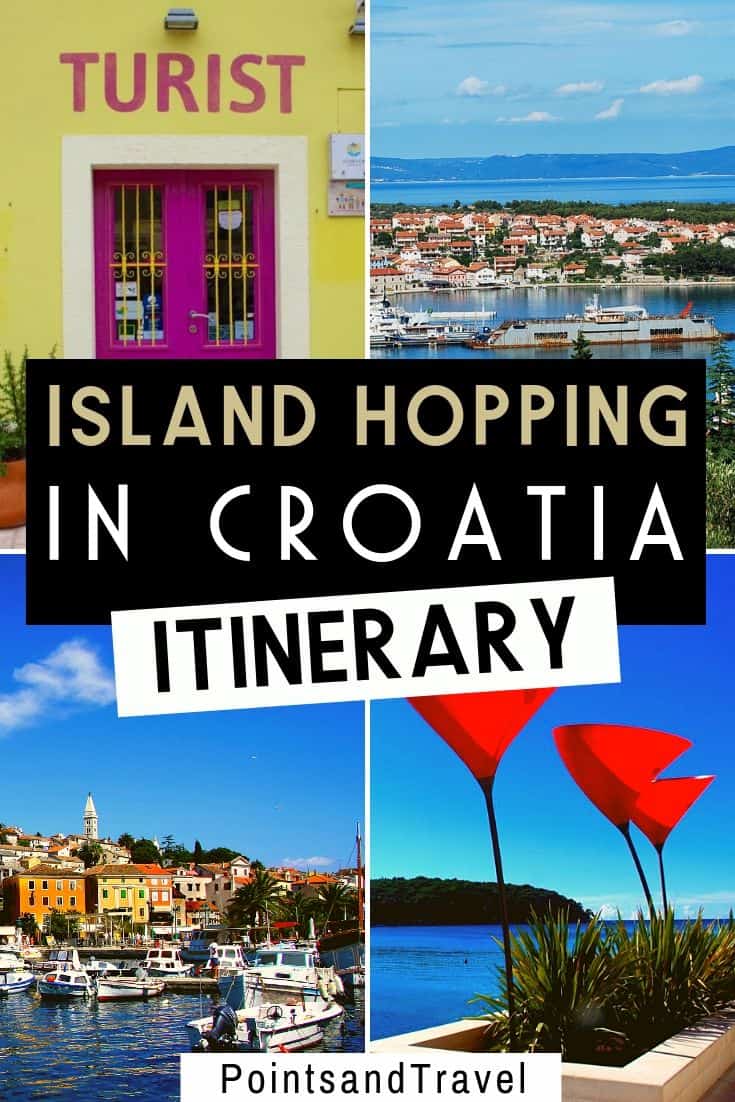 I also cannot say enough about how awesome the local museum Muzej Apoksiomena was, so be sure and pop into this marvelous little gem. The star of the museum is none other than a Greek statue known as Apoksimena, who spent 2000 years in darkness under the sea, before being found accidentally by a scuba diver in 1996. The discovery, recovery, restoration, and now new life of this Greek bronze statue is a mind-blowing journey not to be missed! His story is told through the 5 different rooms of the museum and you will go away in awe of his voyage to get here.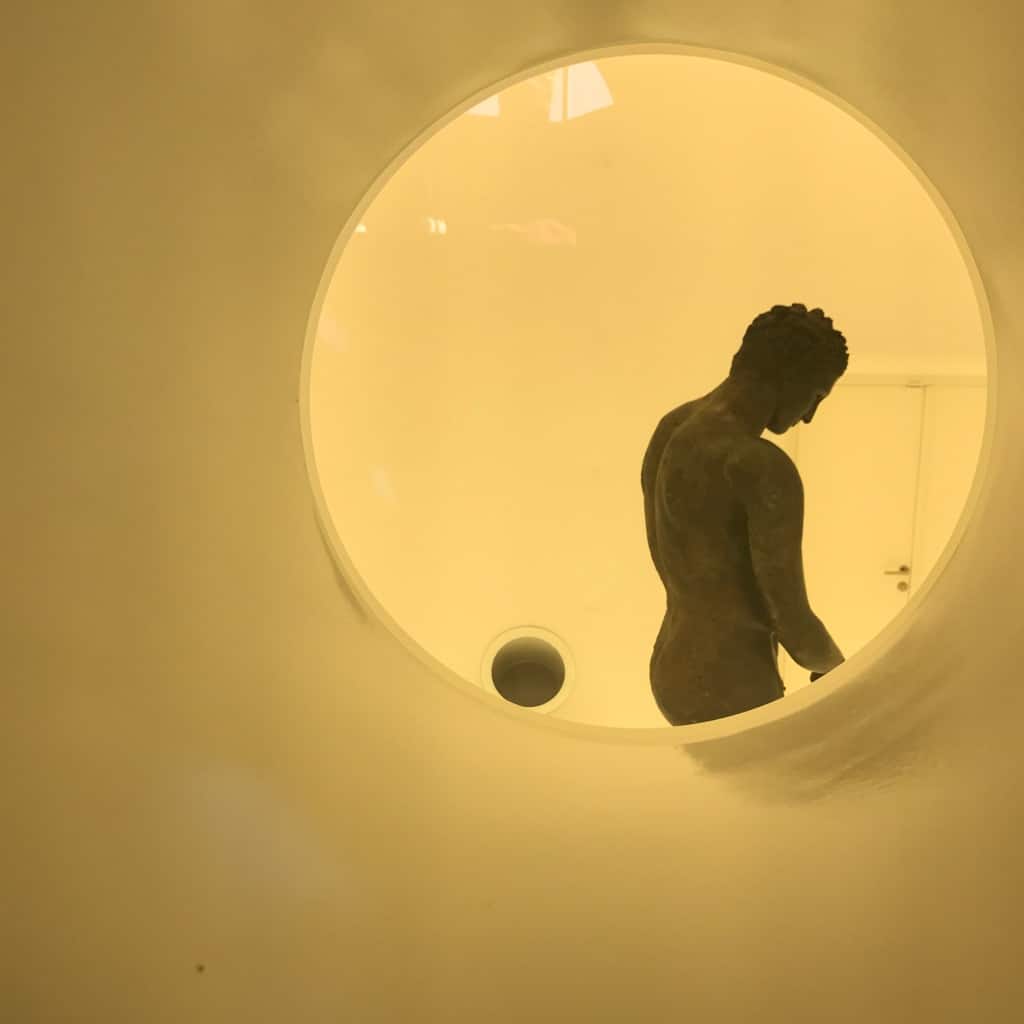 ✦ Croatia Island Hopping Stop #4 Cres
Cres is Losinj's neighbor, so while you are in the area, you can visit this tiny little island gem. You could visit the old fortress, the Venetian Tower, the Old Roman Bridge, and Beli Olive mill. I visited the medieval fortress at Lubenice. It has gorgeous views of Kvarner Bay and happens to be perched on top of a 378-meter cliff, so be careful up there! Then my group had lunch in the nearby fishing village of Valun at the restaurant Tos.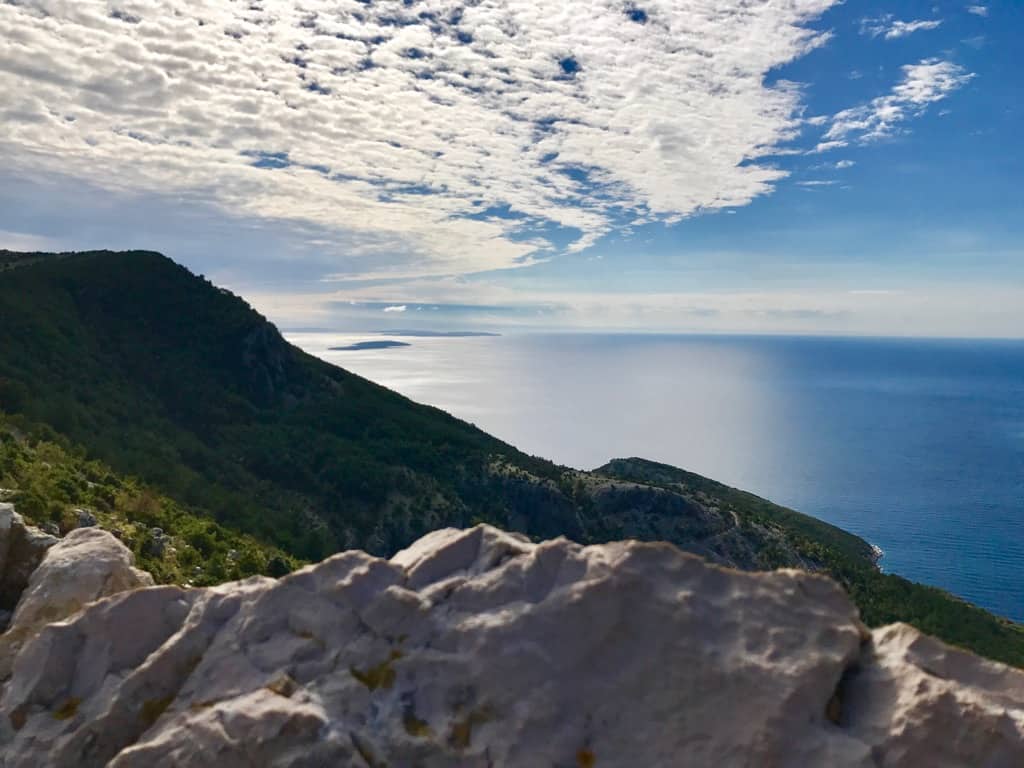 ✦ Stop #5 Ilovik Island When Island Hopping in Croatia
Talk about a lazy island! Ilovik almost looked deserted, but then once we came on land, we started seeing the locals peek through their windows to see who had arrived for the day! We found that this island is best for its fresh fish and ended up having lunch at They don't start cooking until you arrive, so you know it is good!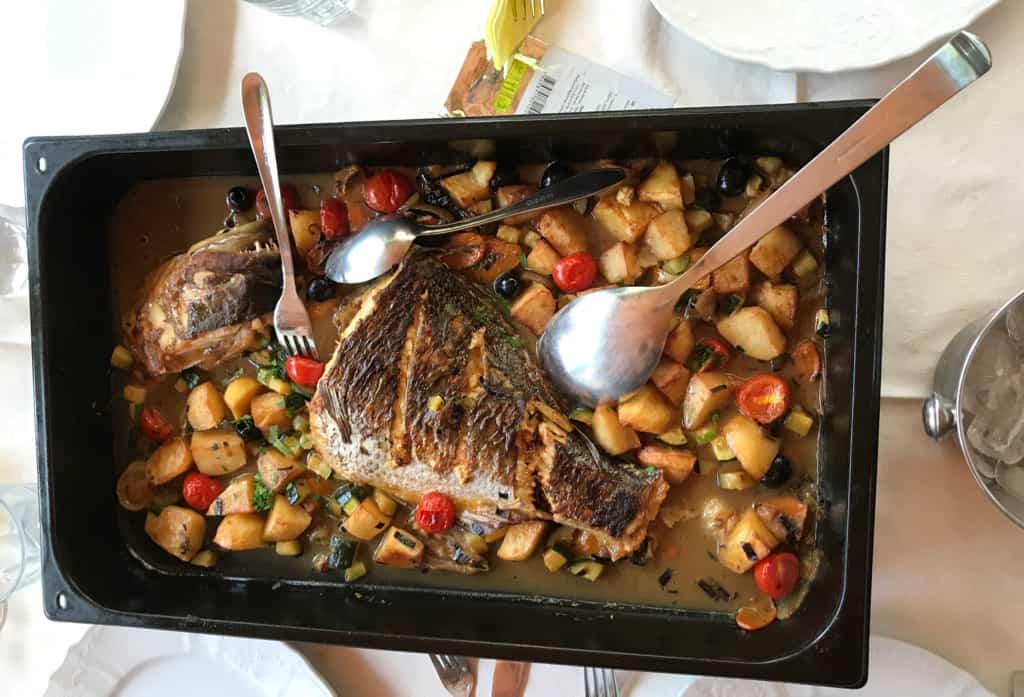 ✦ Using a Local Yacht Company for Island Hopping
Jadranka Yacht
I had a few gorgeous days visiting several islands in the area on the luxurious Jadranka Yacht! Although if you have more time, you can expand the area and visit more islands. Typically in the summer months, their yachts are rented by the week and you can plan what type of schedule you would like. We packed a few bottles of local Croatian wine and lived in the lap of luxury for the day!
✦ There you have it: Northern Croatia island hopping!
So now after my Croatia vacation, I am happy to mark off Croatia travel from my bucket list! But I can tell you that I AM NOT DONE with Croatia island hopping yet!!! I hope to return soon. I know you enjoy your Croatia island hopping as much as I did.
---
And if you want to do some more traveling in Croatia, check out this article I wrote about Island Hopping around Split, Croatia.
---
Disclosure: As is common in the travel industry, I was provided with accommodations, meals, and other compensation for the purposes of review by Losinj Hotels and Villas. While it has not influenced my review, PointsandTravel.com believes in full disclosure of all potential conflicts of interest. All Photos by the author.
Recommended Reading:
Breaking Bread in Dubrovnik with Locals
Sailing via Private Yacht in Croatia!
Magical Islands Near Split, Croatia!
Lošinj Bucket List: 11 Fun & Luxurious Things to Do on the Croatian Island