As most of you know, I book almost all of my own personal travel experiences when I am not working in travel. I am always looking for the smokin' deals out there for my 'value luxury' website readers and myself. I am searching for that 'point' where luxury travel experiences and price intersect. Not all of us can stay in the premier suites with the fanciest bathtubs and crazy amazing views, but it never hurts to try to find them on a discount website! You just never know what you will find out there!
---
Travel Pony
---
My latest find is a booking site called Travel Pony. I have an upcoming trip to Paris (and other places around Europe) and needed a night to stay. I signed up and plugged in Paris and the dates needed just like you would in any booking site, but this one gives you its best DEAL for the particular city you need to stay in. The deals come from the over 2,000 top hotel partners that are competitive.
Then from that information, I can map out where the location is to decide if I want to stay there based on location, price, and percent discount they are offering. Another option I looked at was to take the map locator and hover over the hotel markers which were in the region that I wanted to stay in, this way I knew the location first, then the price.
So for example:
On this trip, I thought I would stay closer to the Louve Museum. I pulled up the map, hovered over each hotel and the prices showed up. If I click on the hotel, it will give me the percentage of discount that that hotel is offering. It also calculated the total cost of the stay, including taxes and fees, and then showed the prices nearest to the deals that they are offering. This is cool because it reduced the amount of time I spent looking for a better deal. Looking at other websites, I also found that their comparisons were accurate.

Tips about using TravelPony.com:
Price Fluctuation: The prices fluctuate based upon supply and demand, many times you can get a great deal 3-6 weeks out, but other times there are great last-minute deals. There is no hard and fast rule.
Cancellation Policy: In most cases* they offer a full refund prior to 72 hours before check-in. *Some exceptions apply at season vacation resorts. See their website for specifics.
Sort by Savings or by Price: TravelPony sorts by the percentage of saving over other travel sites or by price.
The basic concept is that instead of spending billions of marketing dollars on traditional marketing as the big guys do, Travel Pony is able to invest that money into the most powerful marketing channel out there: word-of-mouth and they do it by having satisfied customers post on their Facebook or Twitter pages, saying:
"I can't believe how much I saved on my hotel at TravelPony.com"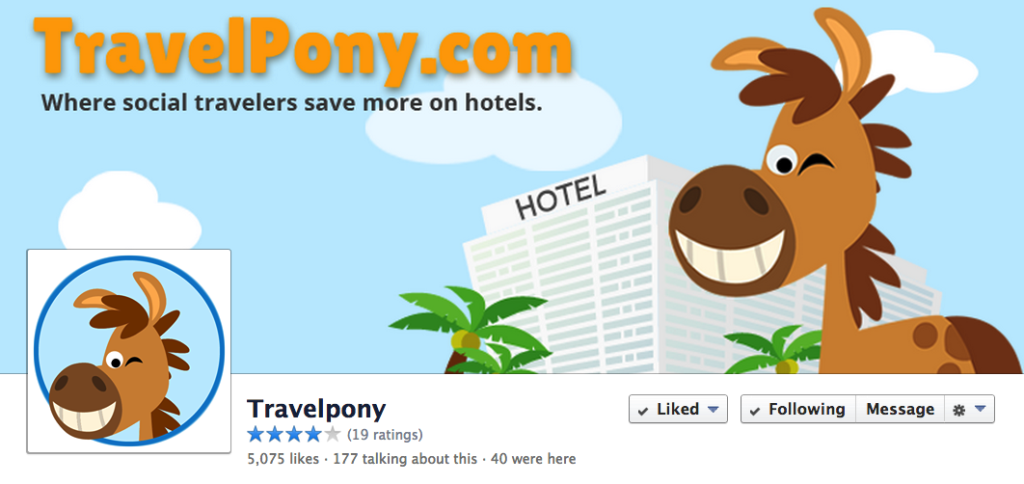 So by using social media platforms, they are cutting down the costs of advertising and sharing those savings with you.
TIP: Check the internet for coupon codes or discounts and plug them in the discount box before checking out. I have seen several discount codes that can work with this website.