Isn't it marvelous how food and drinks bring people together? How the locals want to share the way their grandparents taught them how to cook, how a certain style of cooking is popular in an area of the world, or even how a certain type of beverage is particularly well connected to the land and its people? How having the proper soil that produces that food and drink make it different than everywhere else in the world? This is called the local food culture.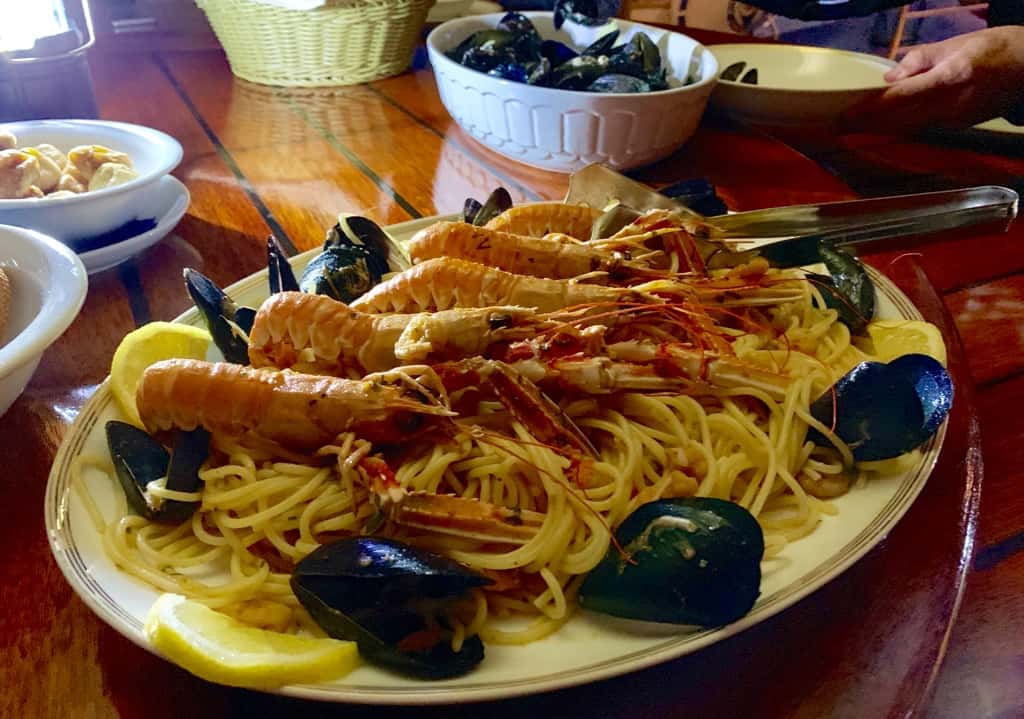 I love it when locals want to share with me their style of cooking, their way of eating, and even the way a drink is prepared – their local food culture. In this article, I will dive a bit deeper into why and how food and culture are so interchangeable. And that having those two things together can make for a truly spectacular vacation. How the food culture is rooted in the land – be that fishing, farming, hunting or even shepherding. How people today honor their ancestry and their ancient customs that have shaped who they are today. So let's get started!
What's in this post:
hide
Dalmatian Cooking at its Finest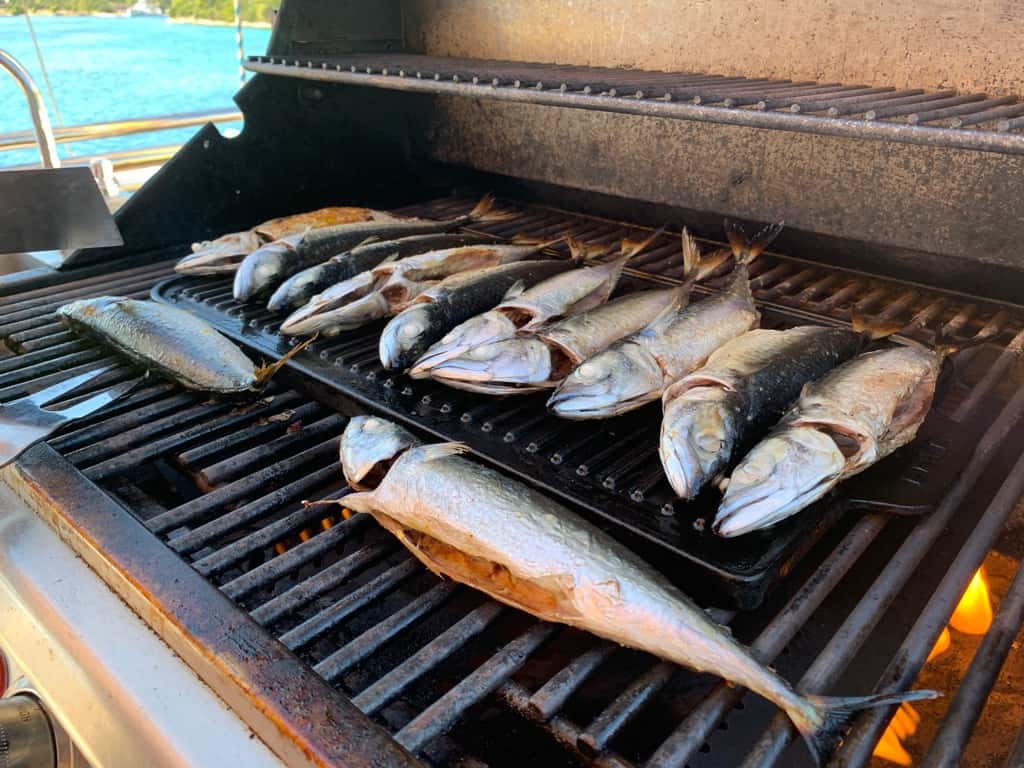 I recently visited Croatia, twice actually, all within a period of three months. I was so impressed with how no matter where I went, there was always a local Croatian who wanted to tell me about their way of eating or drinking, basically telling me about their food culture and how it is apart of their daily lives.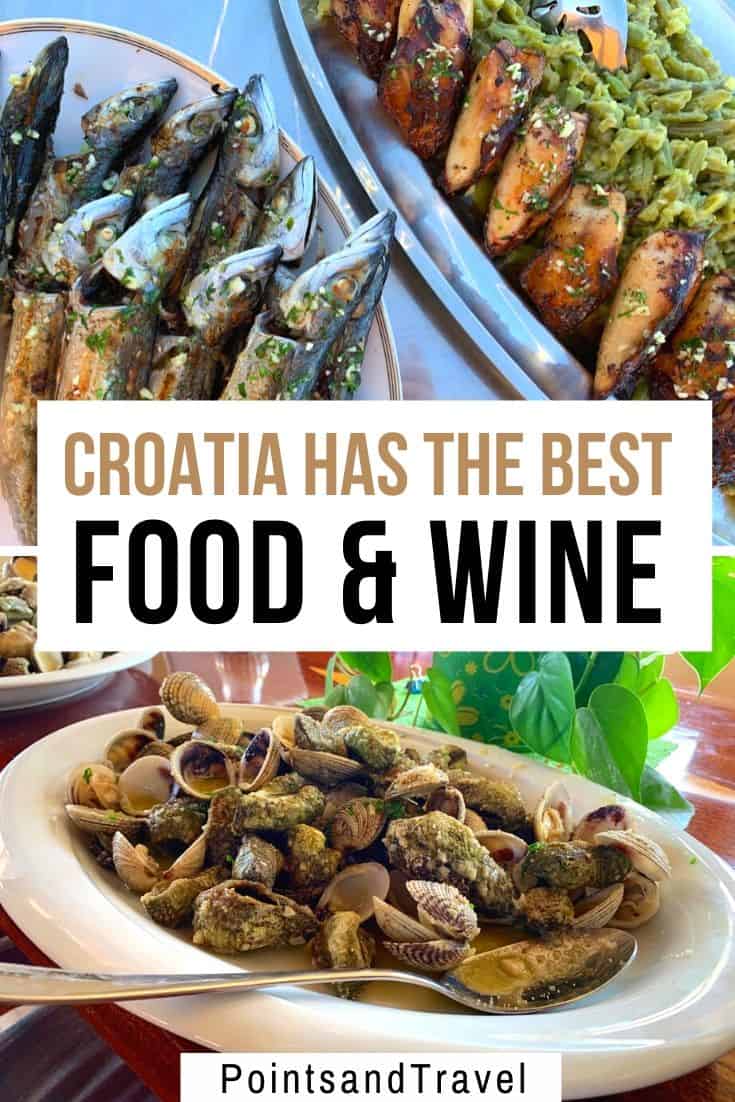 On my last trip to Croatia, I met a local woman in Dubrovnik who cooks in her home and invites tourists to dine with her family at her ancestral home's dinner table. She taught me a lot about how her grandparents cooked – called Dalmatian Cooking and how they eat using only the freshest products in a style called "Peka". I wrote about it extensively on PointsandTravel, so you can read "Breaking Bread in Dubrovnik with Locals" to learn more about this style of Croatian cooking.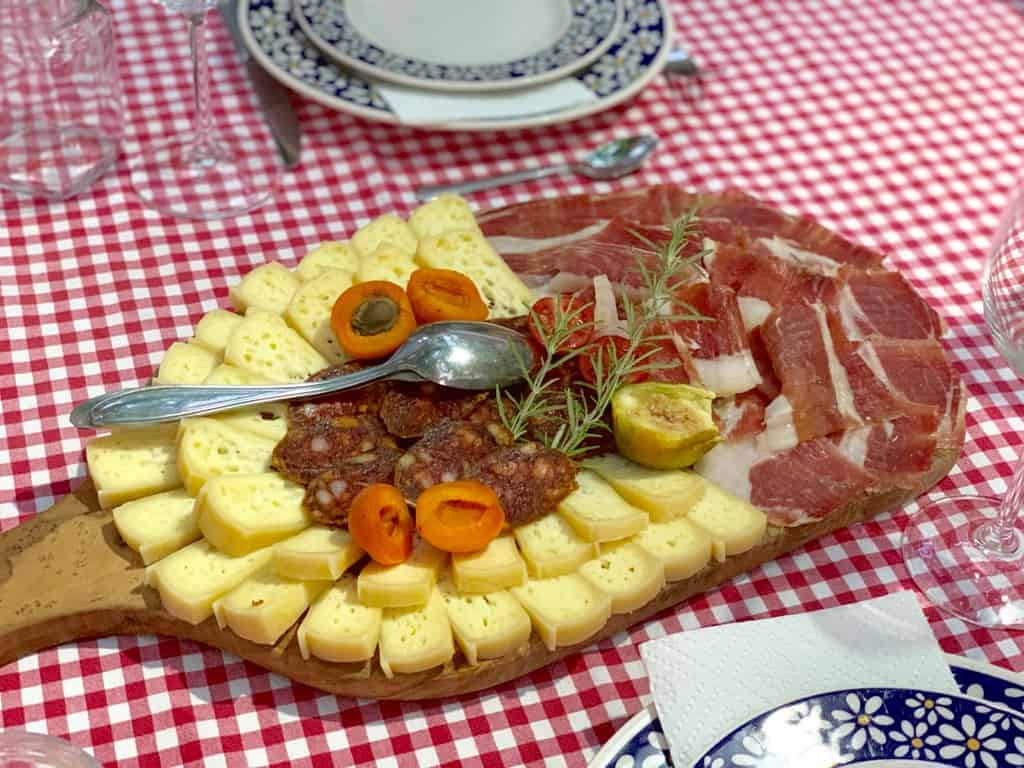 Going Back to Croatia to Sail the Islands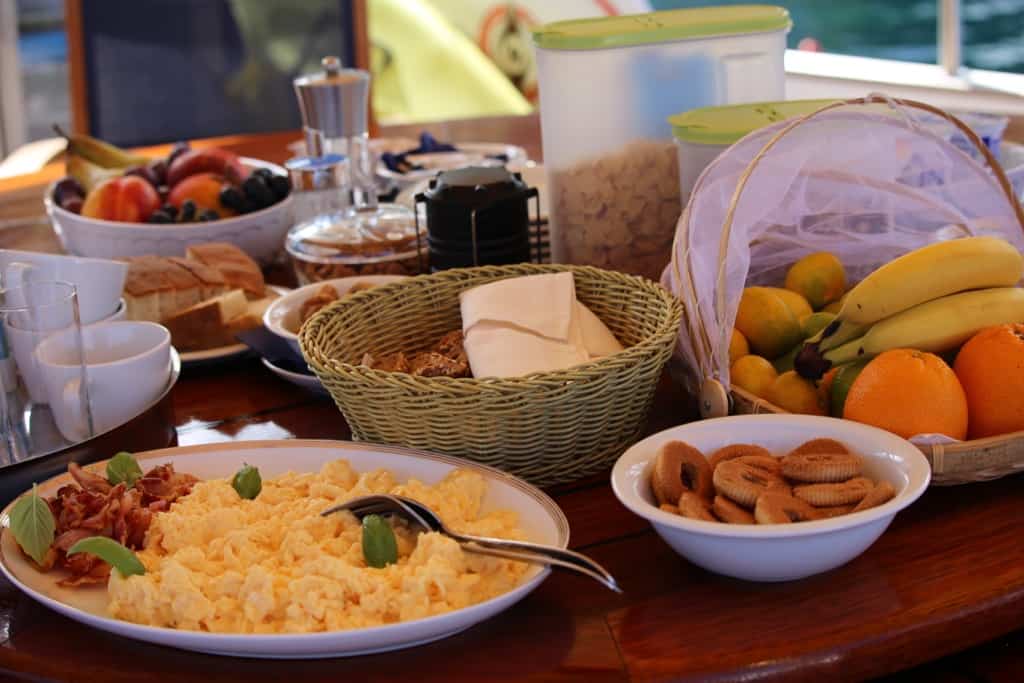 On my two visits to Croatia, I was now a bit further down the Dalmatian Coast, where I came across some delightful food that I wasn't expecting! It was on the yacht Adriatic Breeze for a 6-day Croatian itinerary through the southern Croatian islands! I didn't realize the food was going to be as fantastic as it was! But it was!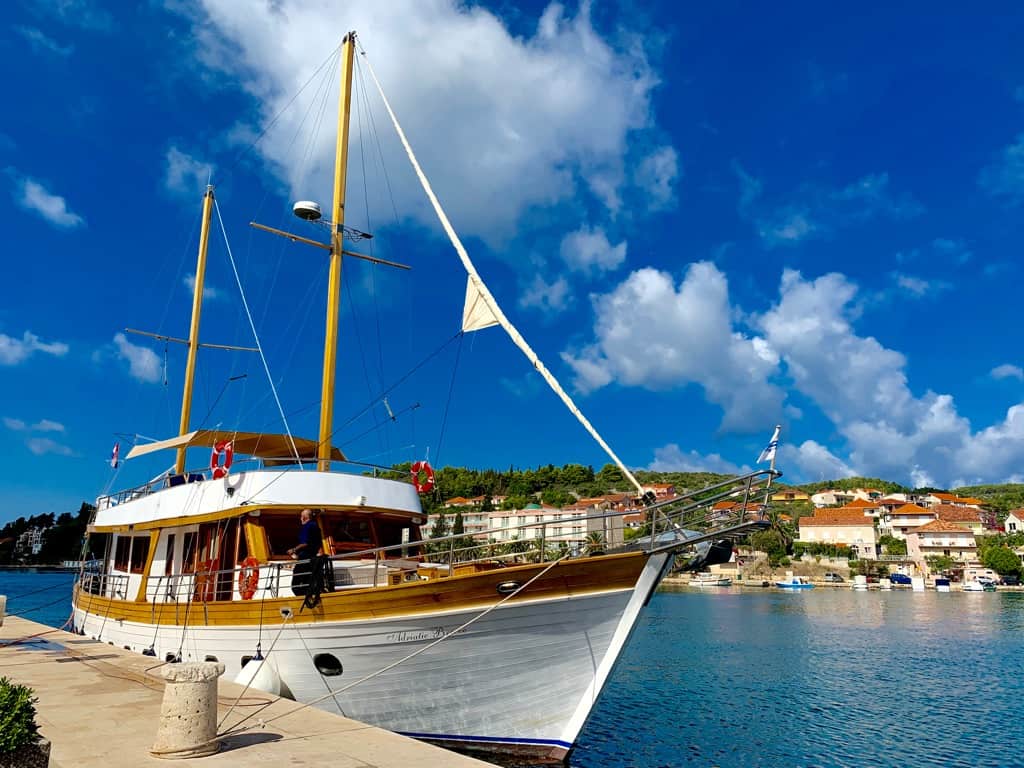 And here is why: the chef on board was (hands-down) a prodigy of his grandmother! Each meal was better than the last. This trained chef, who almost dropped out of cooking school, cooked a few of the best meals I ate while visiting the southern Croatian Islands. Daily he would make huge loaves of bread that he would use to serve with different things throughout the day. And although I believe he cooked in a simple manner, his food tasted "out of this world"!
In fact, it was so good, that by day four, I had to ask to skip breakfast for the rest of the trip because I was afraid I would gain too much weight!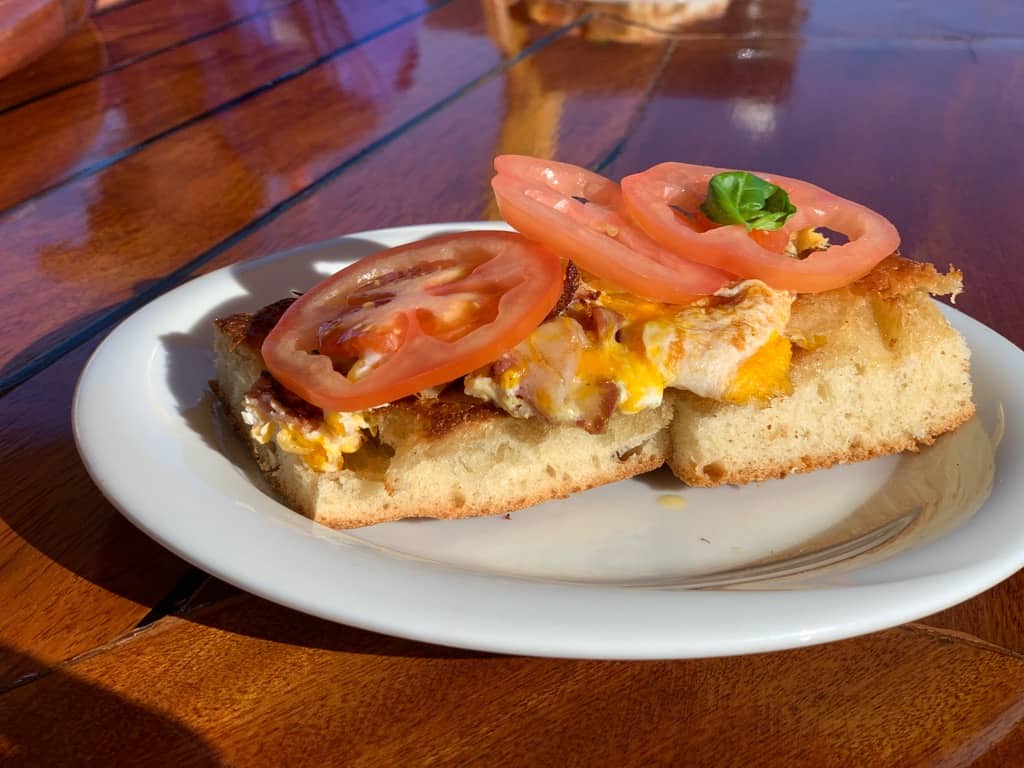 So at this point, I bet you are wondering,
"What Did We Eat in Croatia?"
Obviously, the crew on a yacht are sea people who live and work on the ships that sail in and out of Croatia. Their fathers, their grandfathers, and even some of their great-grandfathers were seamen.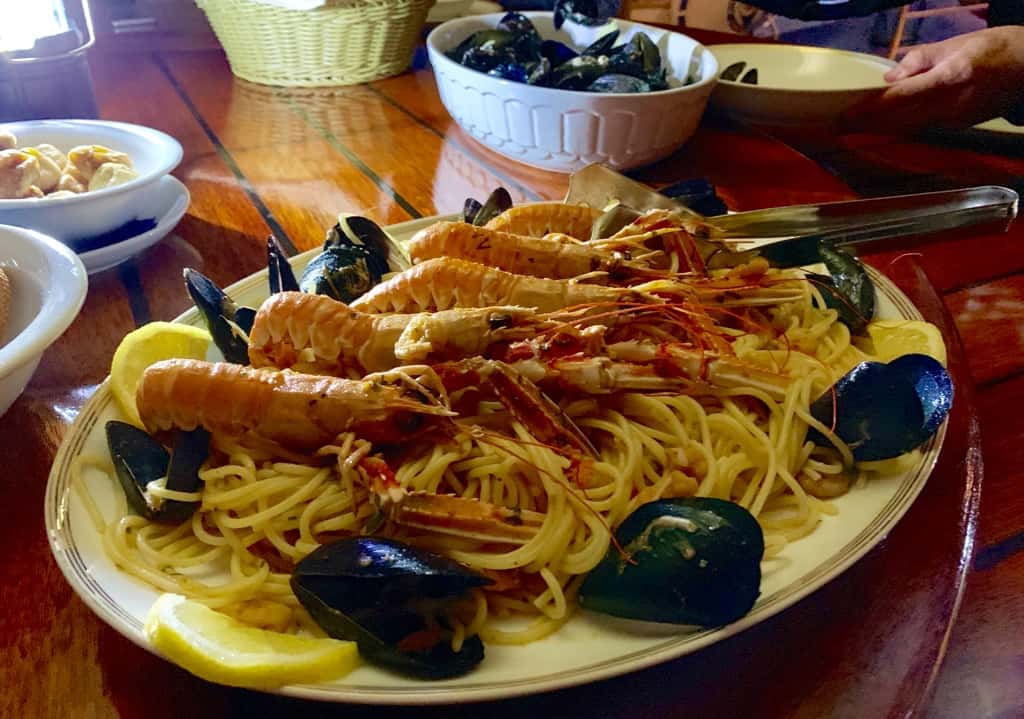 For dinner on my first night in Split aboard the luxurious Adriatic Breeze, we had giant shrimp, mussels in garlic butter and white wine sauce on top of spaghetti with a squeeze of lemon. This dish may sound simple, and it is, but what you might not understand is that the seafood is extremely fresh. In other words, it was caught earlier that day. For starters, we had a platter of sardines and fresh tomatoes with swirls of olive oil and capers. It was divine!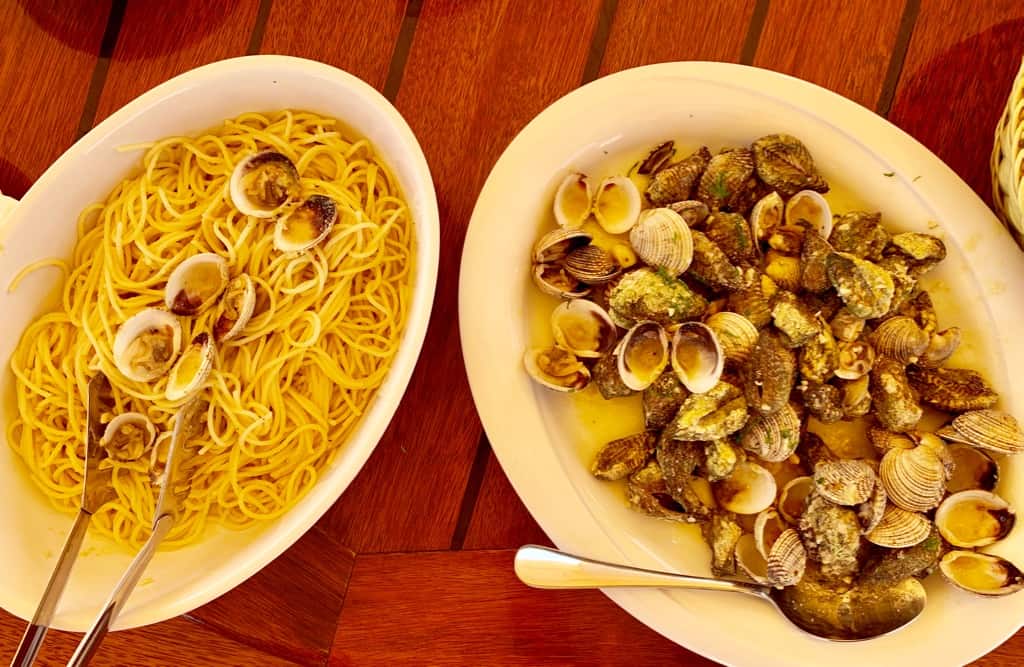 Croatia has Such Fresh Seafood
We then sailed off to our next island, which for us was Vis Island. Each day the Captain would go into the next Croatian village's food market that we were stopping at to choose the dinner for that day. I never realized what a difference the freshness of the seafood makes! He bought locally-caught seafood that was grilled on the Adriatic Breeze's upper deck grill. Each day was a new adventure into Croatian cooking and Croatian food culture – as well as their drinking culture! In Croatia, the local favorite drink is Croatian wine, of course!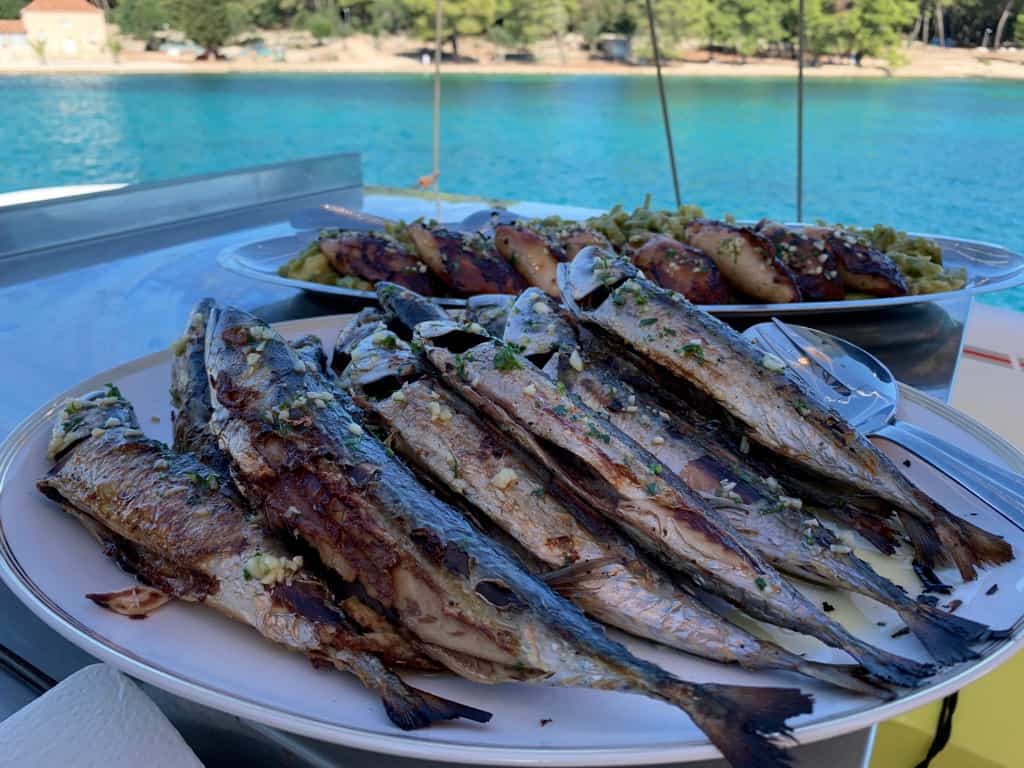 Croatia Has the Best Octopus, Squid, Fish, Mussels, and Shrimp
Don't forget these guys are sailors and so they also would fish while we were cruising. They caught some of our dinner that would later be grilled with sea salt or marinated in local herbs and local olive oil. There was also a waiter on board who was a free diver. He would go out every day and scour the bottom of the Adriatic Sea in search of sea urchins, octopus, squid, mussels, and shrimp. He always found something interesting and brought it up for us to see. Honestly, I never ate so well in all my entire life!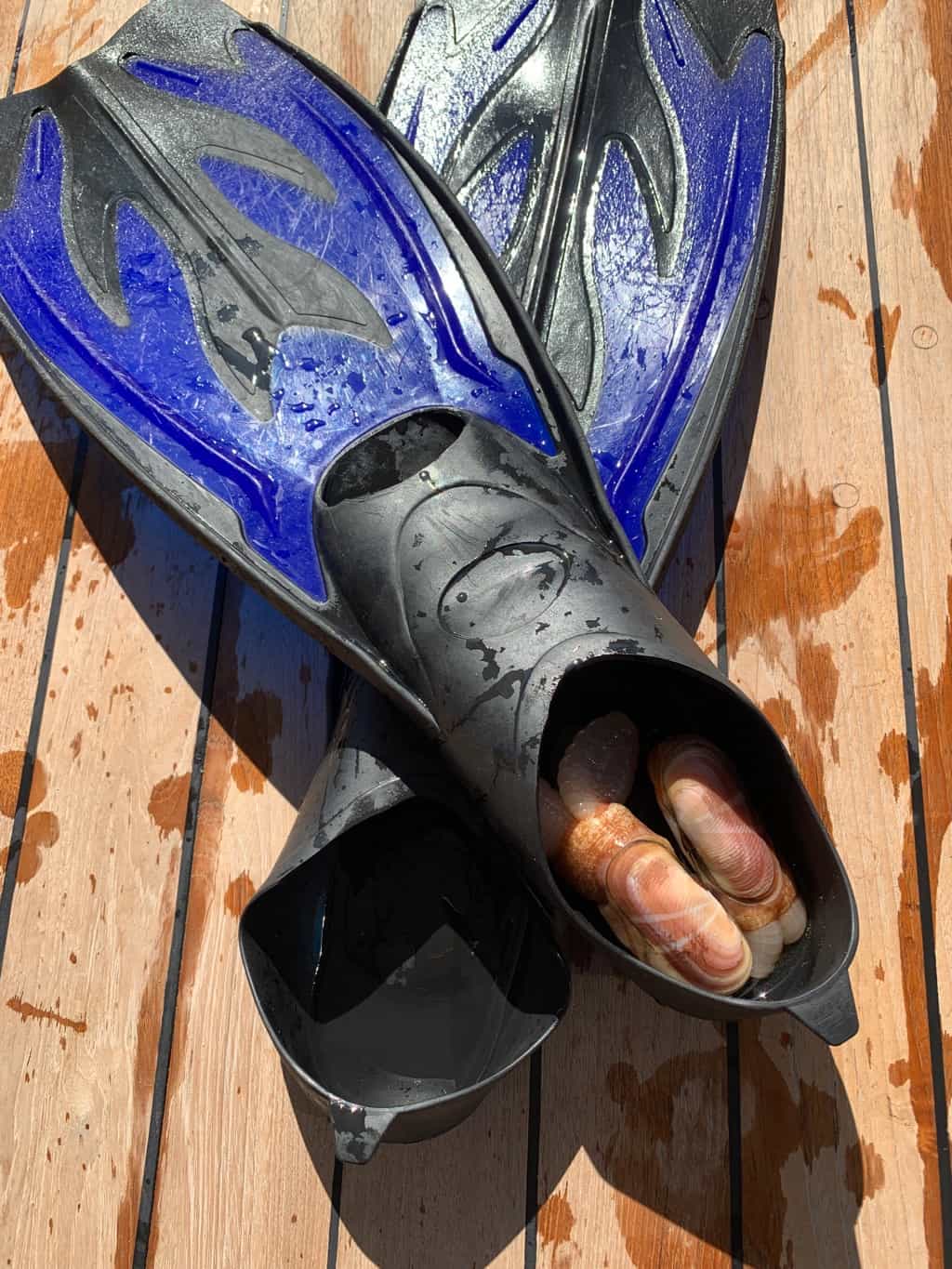 My Best Meal On Board the Adriatic Breeze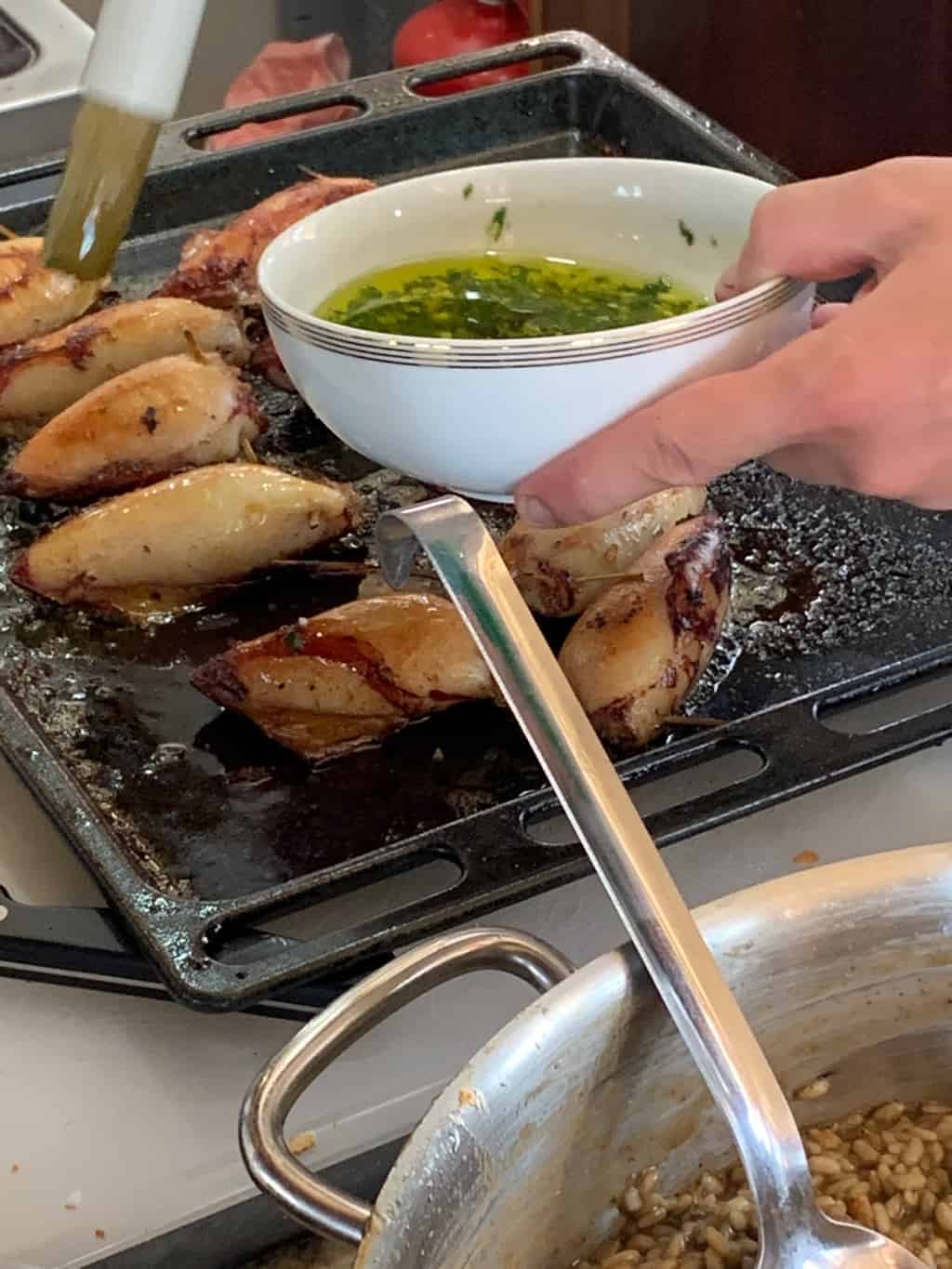 One of the best meals I ate was the night that the waiter caught a huge stash of squid that was stuffed with risotto rice in Korcula! That day, the captain also caught a lot of smaller Mackerel fish. He grilled the fish and the squid by brushing them with marinated olive oil using the same marinade that the chef made for the stuffed squid.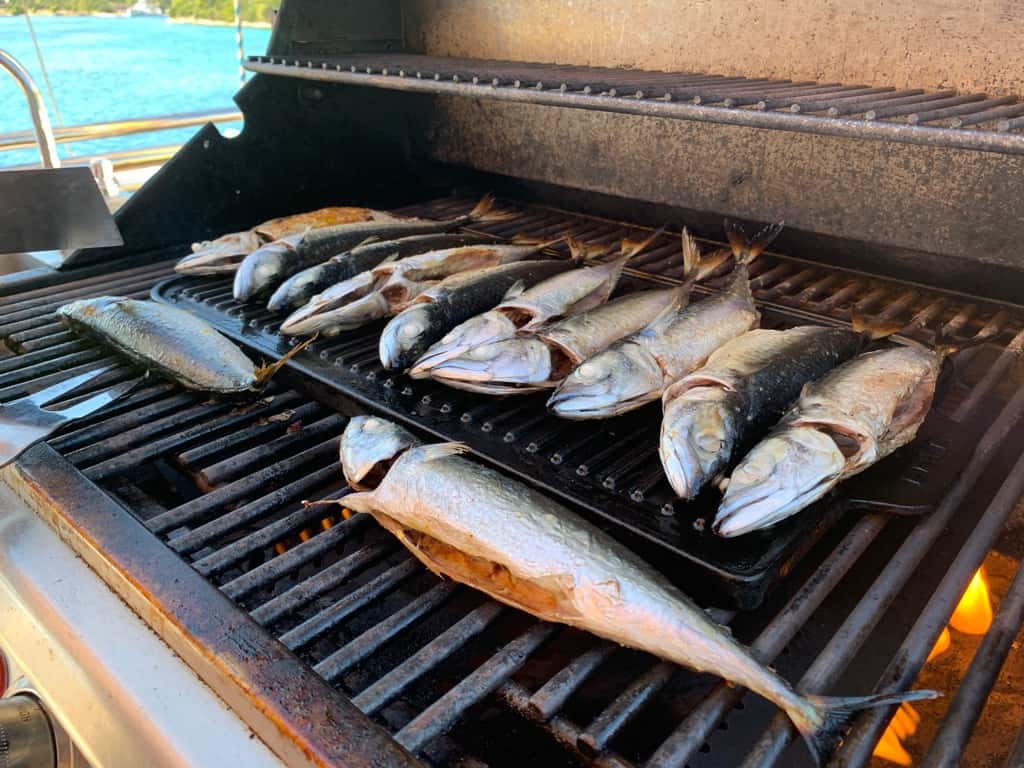 To add to the dinner, they also had fresh (calamari) that was made into a crispy marinated calamari salad! This dinner "was literally to die for" and what I considered to be the best dinner we had while sailing. But believe me, every night was a feast, so it was hard to choose, as each night the dinner was made to perfection.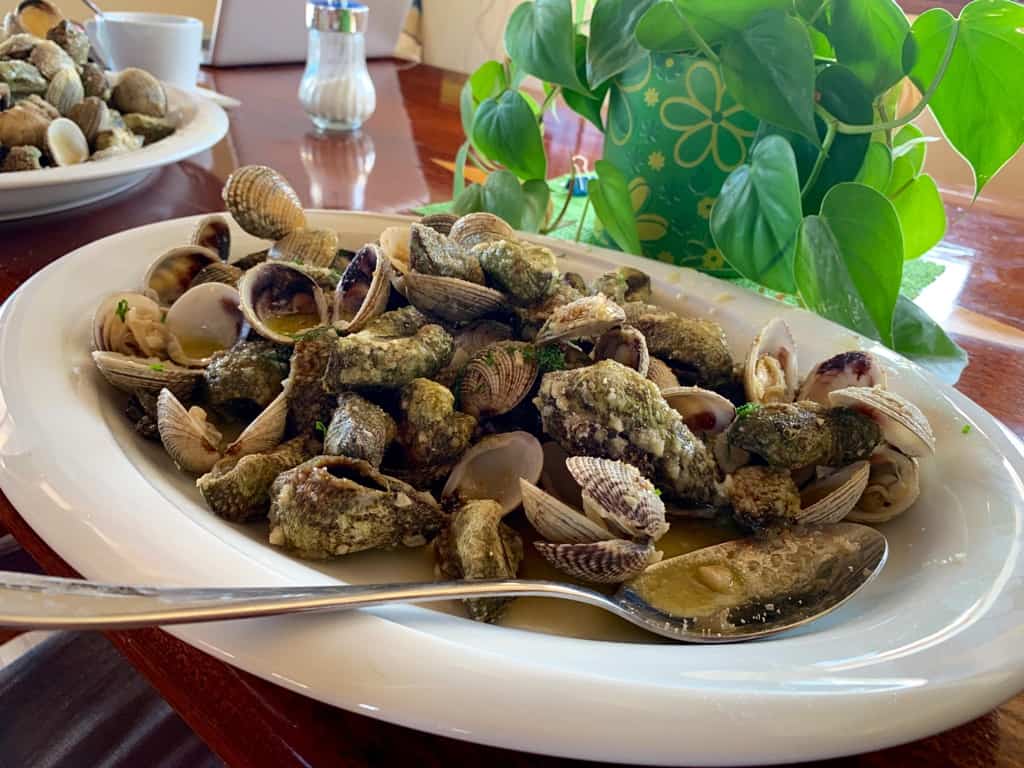 Other Local Food Favorites in the Croatian Islands
A few times, I did leave the ship to eat in the tiny villages that we visited and a few of them stood out. In particular, my visit to my favorite little village of Puscia on Brac Island, where, I am not sure if it is a local treat, but we had fried picarel cheese salad and also a tray of delicious prosciutto and cheese with olives, tomatoes, capers, and olive oil. This second dish is very common in the Croatian islands and a dish that I love very much!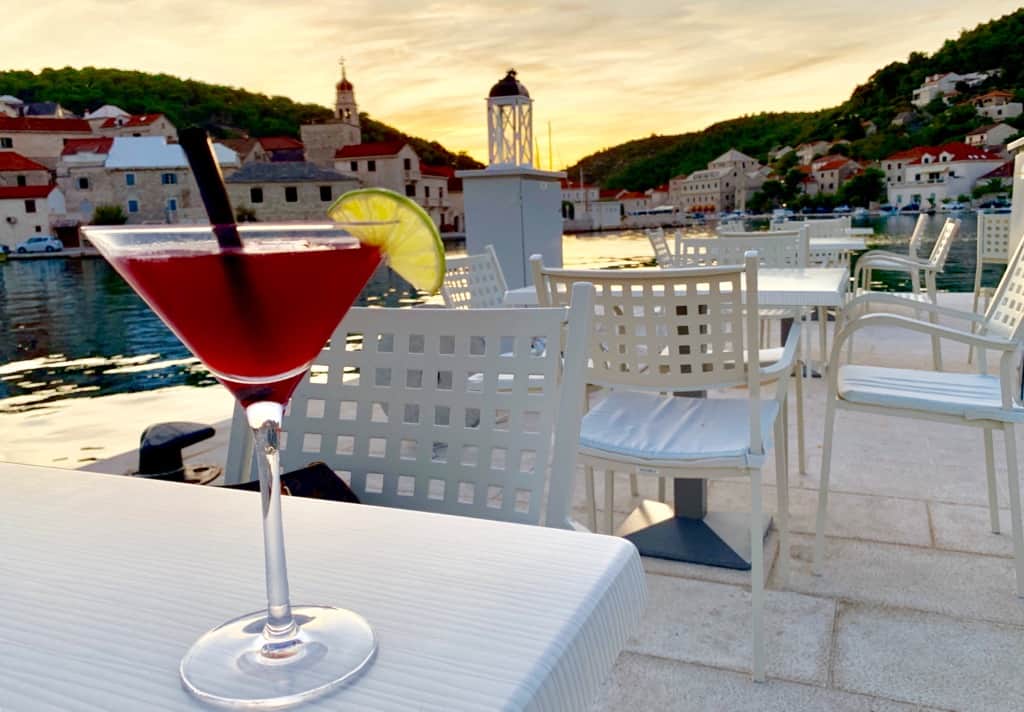 A Visit to Villa Giardino on Bol Island, Croatia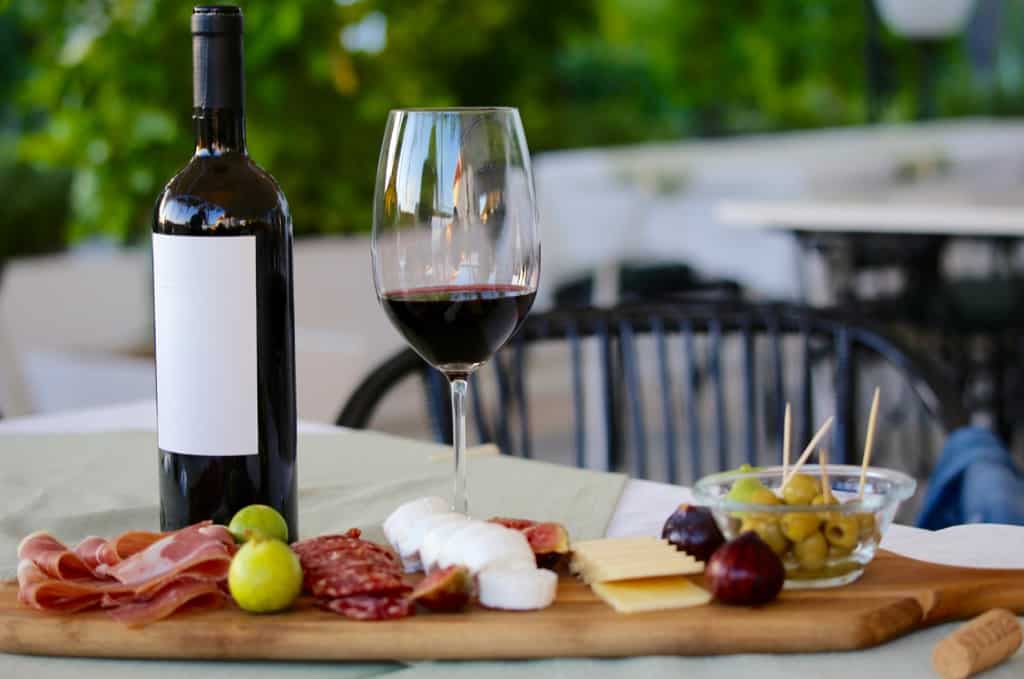 One day on the Adriatic Breeze, we had a chance to visit Villa Giardino near Bol on Brac Island. I had the pleasure of some of the most delicious goat cheese, prosciutto, fig, and crackers as well as the best gin and tonic I think I have ever had (next to the one I had on the Europa 2 at their gin bar!).
When they brought out the deserts, I can't even explain the deliciousness of them. They were simple hand-made cookies in a beautiful glass jar. These tiny star-shaped cookies – I think I could eat all the way to heaven! I don't think God would mind!
Split Croatia has Pizza Paired with a Cocktail Restaurant!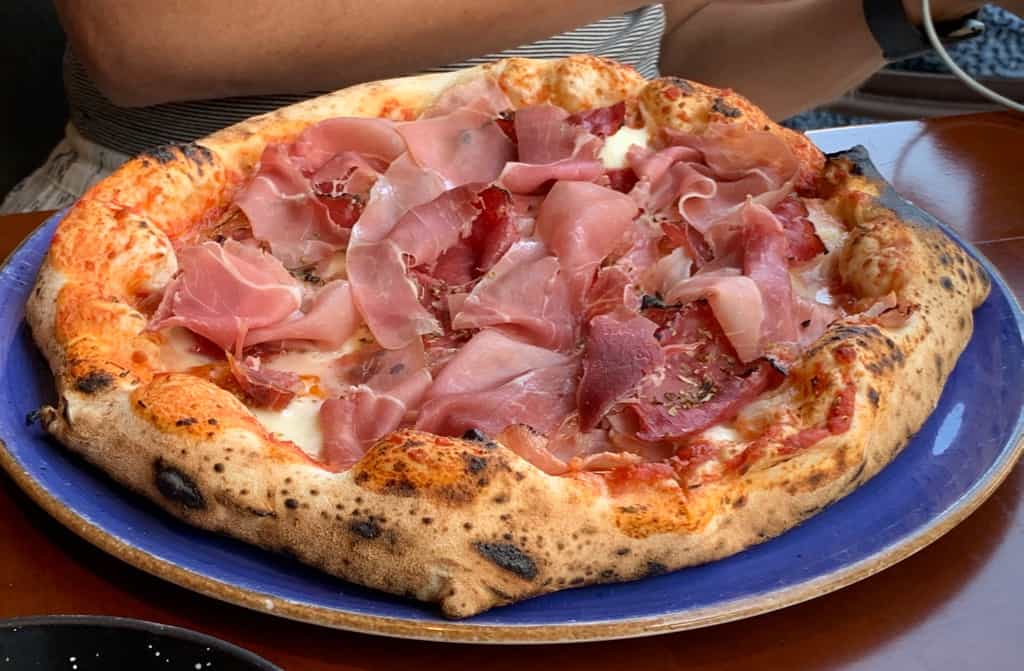 Also, while in Split, there is a fabulous pizza with a paired cocktail restaurant that I would love to recommend to you. Truly they have figured out the art of pizza making, with the crust cooked to perfection and the cocktail to compliment the pizza! It is called Bokamorra Pizzaurant & Cocktails and I can certainly vouch for what a fantastic taste it is. People flock here in the evening, so be sure and make a reservation, although you may be able to slip in for a quick lunch!
Local Food Culture Makes The Biggest Difference in a Great Vacation
Having just returned from Croatia, I decided that their food culture really does make the biggest difference for me when visiting. It makes my visit memorable. The food creates such good memories of Croatia in my mind. But mostly, it is the food and the people who cook it that make the difference for any visit to new countries.
The locals in Croatia genuinely want to share their Dalmatian cuisine with you. Their fresh locally-sourced wine and brandy, olive oil, fish, lamb, and seafood symbolized their Mediterranean vitality and wisdom. It seems that their food is unpretentious, freshly prepared with a slice of bread, and then washed down with a glass of local wine. It is always shared with family and friends who talk and laugh together. And to me, this is the perfect way to enjoy a country's culture.
Click to learn more about the Adriatic Breeze and my fabulous trip to the islands of Croatia!
Click if you want to learn more about Croatian Island Hopping in the North of Croatia.
Disclosure: As is common in the travel industry, Dr. Maloney was provided with accommodations, meals, and other compensation for the purposes of review in partnership with Adriatic Breeze. While it has not influenced her review, PointsandTravel.com believes in full disclosure of all potential conflicts of interest. All Photos are by the author or are licensed under creative commons. There may be affiliate links in this article.