Photo by Gillian Marsh
That moment that I got invited to go to Galapagos scuba diving by the live-aboard Galapagos Sky is solidly ingrained in my mind. Honestly, I was ecstatic, scared, and overjoyed all at the same time. I had dreams of Galapagos scuba diving pretty much as soon as I was able to learn how to dive. Hooking into a rock and watching hundreds of hammerhead sharks pass me by at 90 feet kept reoccurring in my head for days after I knew I was going! Dreams really do come true!
Diving on Galapagos Sky
Being able to dive on the Galapagos Sky by Ecoventura is a dream and nothing was going to hold me back! As you may or may not know, the Wolf and Darwin Islands in the Galapagos Islands are what hammerhead and big fish scuba divers think about on a regular basis and can't wait to see in person. These animals rightfully propel the Galapagos Islands to the very peak of the scuba diving world. There are other great places to scuba dive in the world, but Galapagos Islands are definitely up there close to the top of the diving world.
I have been scuba diving in Belize, Bonaire, Bora Bora, Cabo (Mexico), Cancun (Mexico), Cayman Islands, Cozumel (Mexico)), Curacao, Fakarava (South Pacific), Fiji, Honduras, Gulf of Aqaba – Red Sea (Jordan), Kukulkan Cenote (Mexico), L'Estartit (Spain) Little Cayman, Maui (USA), Moorea, Nuku Hiva (South Pacific), Tahiti, Tonga, Raiatea (South Pacific), Rangiroa (South Pacific), Raja Ampat (Indonesia), and San Carlos (Mexico) through the years, but nothing was going to prepare me for this!
Insane Galapagos Scuba Diving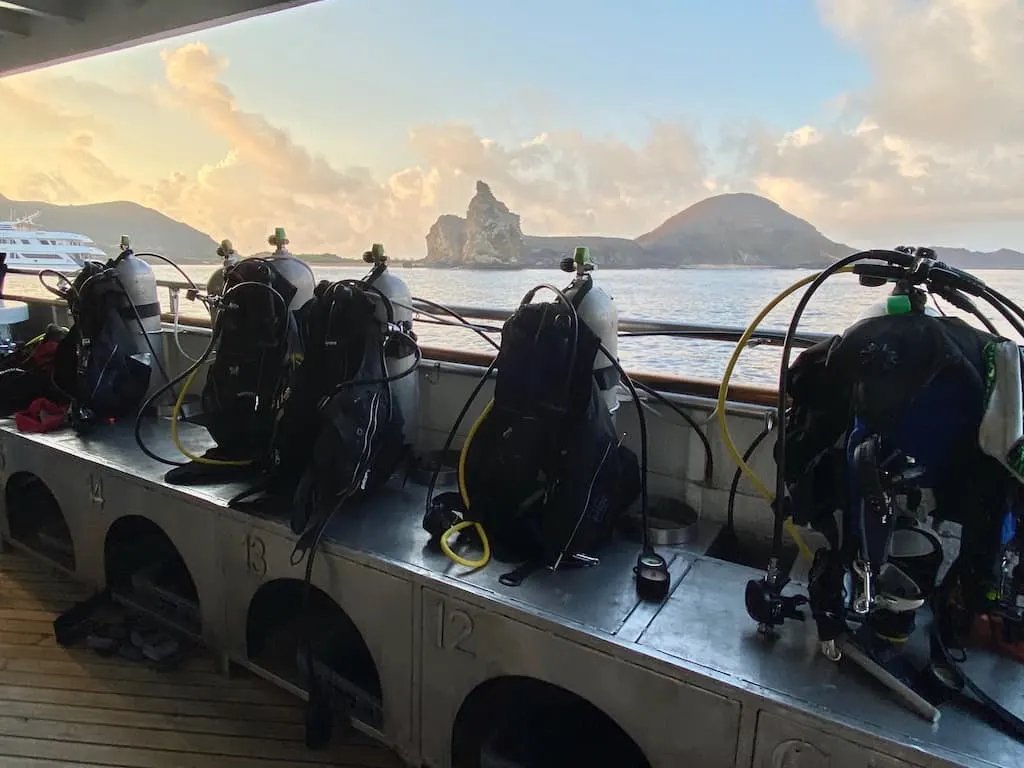 And even though I was the least scuba-dived person on our ship practically (not quite, but in my group named the Dolphins, I was). However, I was up for the challenge to dive Galapagos and see schools and schools of hammerhead sharks, as well as sea lions, eagle rays, manta rays, sea turtles, orcas, and even the sweet penguins and different-footed boobies along the shorelines. It was insane!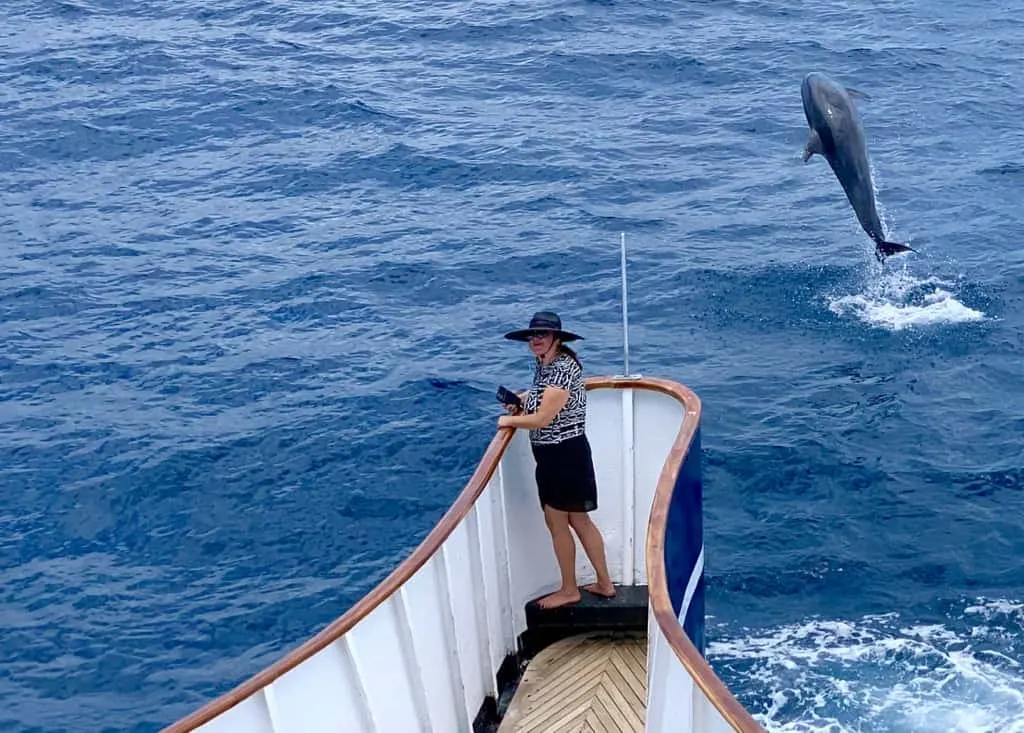 What I didn't expect to see while scuba diving Galapagos was the vast amounts of underwater land iguanas, red-lipped batfish, seahorses, frogfish, tuna, and massive schools of fish! When scuba diving with my group, I felt like the lowest man on the totem pole since my group has literally hundreds to thousands of dives among each of the scuba divers. But I wasn't going to let that hold me back from Galapagos scuba diving! And please don't ask the other scuba divers about all the mishaps I had, as they are all true!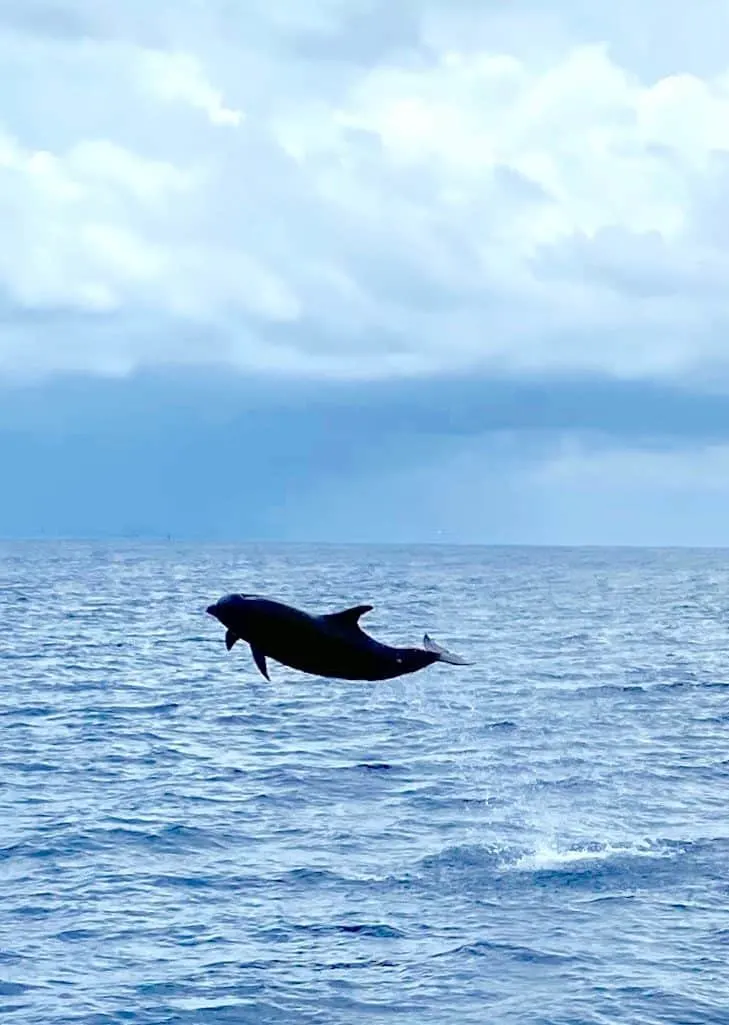 ---
Luxurious Galapagos
I had already spent a week on the luxurious THEORY ship, so I was ready for a different side of the Galapagos (the scuba diving side)! You can read about my other week in Galapagos here:
Galapagos Islands By Cruise: A Complete Guide

---
Marine Life In The Galapagos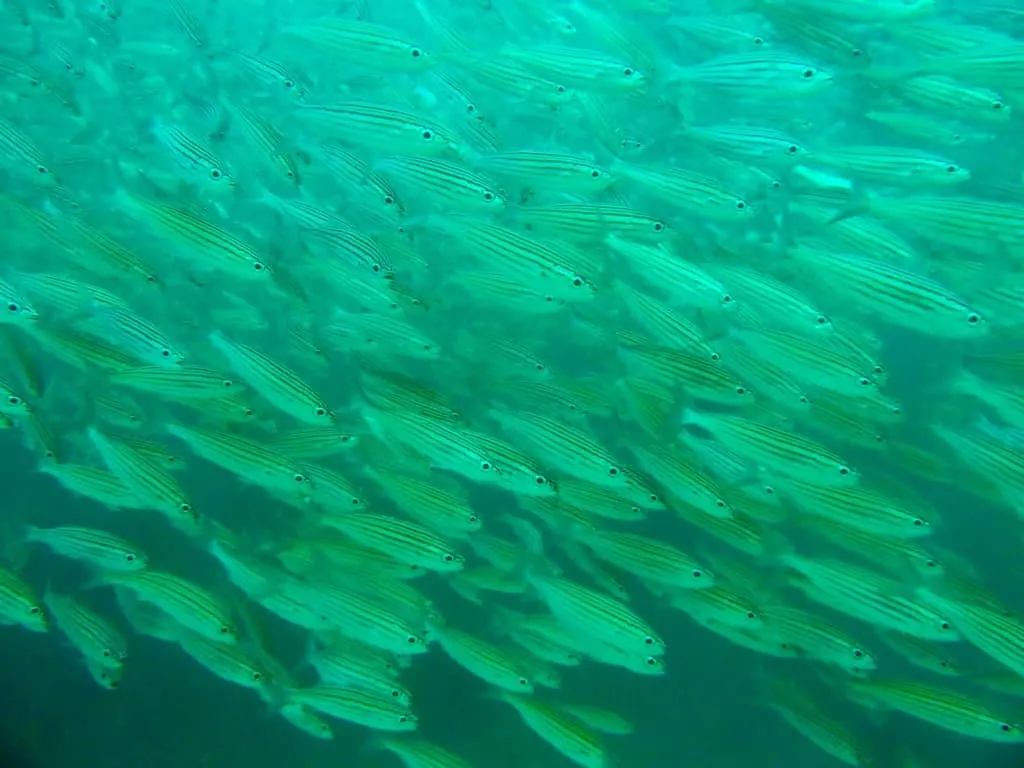 There are so many diving destinations that boast about animals in massive abundance, yet very few destinations are able to offer almost every big-name animal under the sea at their destination. Especially in such a gorgeous, pristine, and natural setting. The diversity of marine life in the Galapagos is truly unreal and after many days of diving in Galapagos, I was enamored with the actual number of marine life I was able to see all at once on almost every single dive.
Galapagos Ocean Currents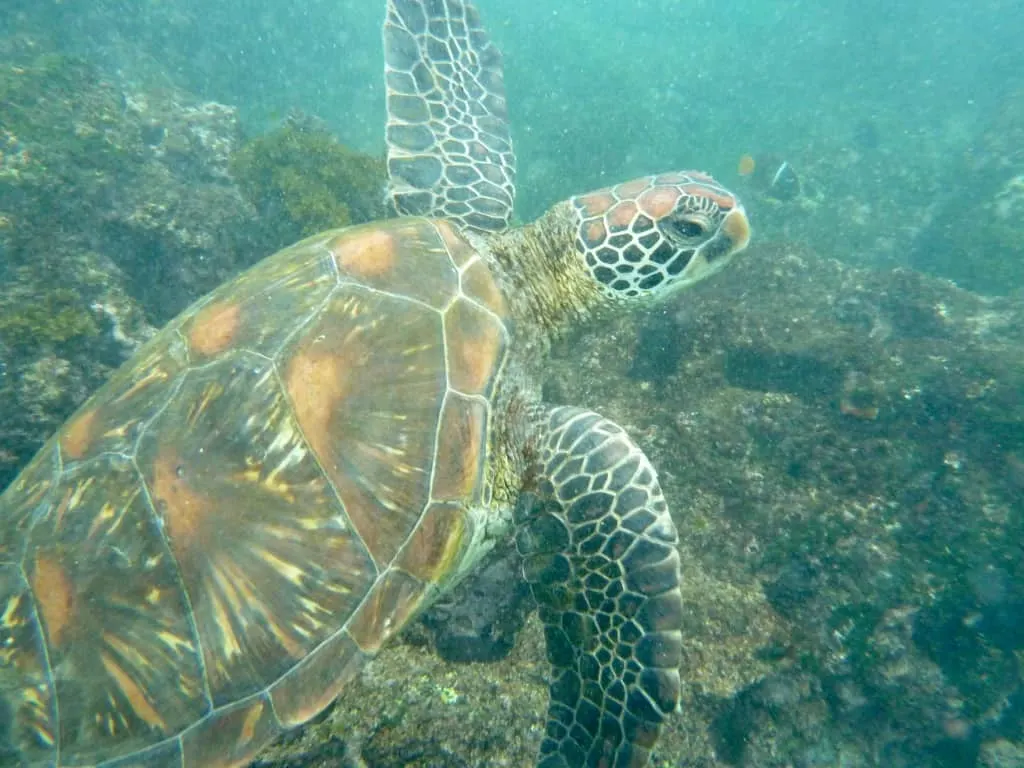 Basically, around Wolf and Darwin Islands, is the juncture where some crazy ocean currents meet. So there is a mix of different currents (warm and cold) coming into the same area all at once. These are the Galapagos dive sites where you will see a vast number of hammerhead and Galapagos sharks layer after layer deep in the ocean. So grab a rock as I did or hook in like many semi-professional Galapagos scuba-diving photographers did and get ready for a show! There will be an abundance of sea life all around you while you breathe in! Scuba diving Galapagos was simply amazing! Along with schools of circling hammerheads, frequently seen are blacktip reef sharks, Silky Sharks, and of course, the large Galapagos Shark. Eagle Ray's darts through the deep blue along with one giant Manta Ray that I was shocked to see coming over my head. It was simply stunning and a moment I will never forget! Truly the list of vibrant animal life is utterly endless.

---
If you are looking for the best rash guards for any budget, look no further!
---
Best Dive Sites in The Galapagos
To the north of the Galapagos archipelago is where Wolf Island is located. On a typical tourist visit to the Galapagos Islands, a trip to Wolf Island is not included, but with the Galapagos Sky, as a dive ship, it is always on the itinerary. Named after geographer Theodor Wolf, he must have been stunned to see such a majestic place.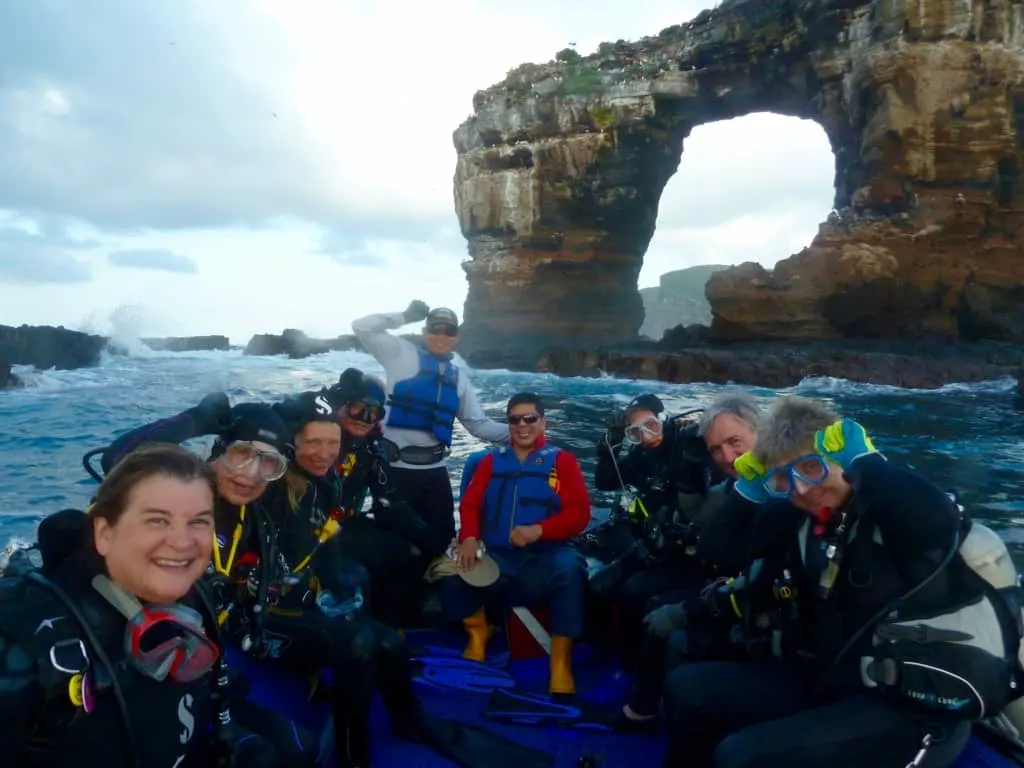 When on the Galapagos Sky, your trip would not be complete without a visit to Darwin Island as well. Like Wolf Island, it's located to the very north of the islands and is most commonly visited by a few Galapagos dive boats and fishermen. The coral reefs in this area are unbelievably healthy and support a wide range of marine life, including schools Angelfish, Batfish, Parrotfish, Trumpetfish, and Barracuda, not to mention the different varieties of sharks, rays, and sea turtles.
Best Time To Dive In The Galapagos
I went to Galapagos this year in March, so I didn't get to see any whale sharks, but some of the crew told me about their experiences and they sounded super cool. So next time I will have to come back during the wet season! Some say that the best season to visit the Galapagos is between January and May when the air temperature is warm and the weather more reliable. It is then when the encounters with Mantas and Hammerheads are particularly common. I guess I hit that timing head-on! There are two seasons in the Galapagos – wet and dry. The wet season runs from January to June and offers warmer water temperatures of between 20 and 25 degrees Celsius. The dry season runs from July to December with water temperatures dropping to 19 – 23 degrees Celsius. This is normally the busiest time of year with a high chance of Whale Shark sightings. But diving in the Galapagos is great all year round.
Experience Level Required for Diving The Galapagos
Several dive sites while on the Galapagos Sky are not suitable for new divers, they tend to be best suited for the more experienced and advanced scuba divers. As mentioned before, I was right on the edge and had trouble with my 7 ml suit and weighting. The currents here can be strong, the surface choppy, and rocks can be an obstacle.
Incredible Staff of Galapagos Sky
As mentioned before, I made my share of mistakes, but always the goal of the dive instructors on the Galapagos Sky is safety. It is their top priority and I can't reiterate that enough about how awesome they took care of me. The staff of the Galapagos Sky is a team that works together to ensure your safety in every way, all the while maintaining their professionalism. The experience of the staff and crew is tremendous. Many of the crew have been working on these ships for decades or longer! They know exactly what they are doing. On my dive trip, we had two dive masters (Max and Keke) that split us up into two groups (Sharks and Dolphins) and we each had 2-3 dives per day. The entire crew helped every day to get us on and off this 16 passenger ship known as Galapagos Sky.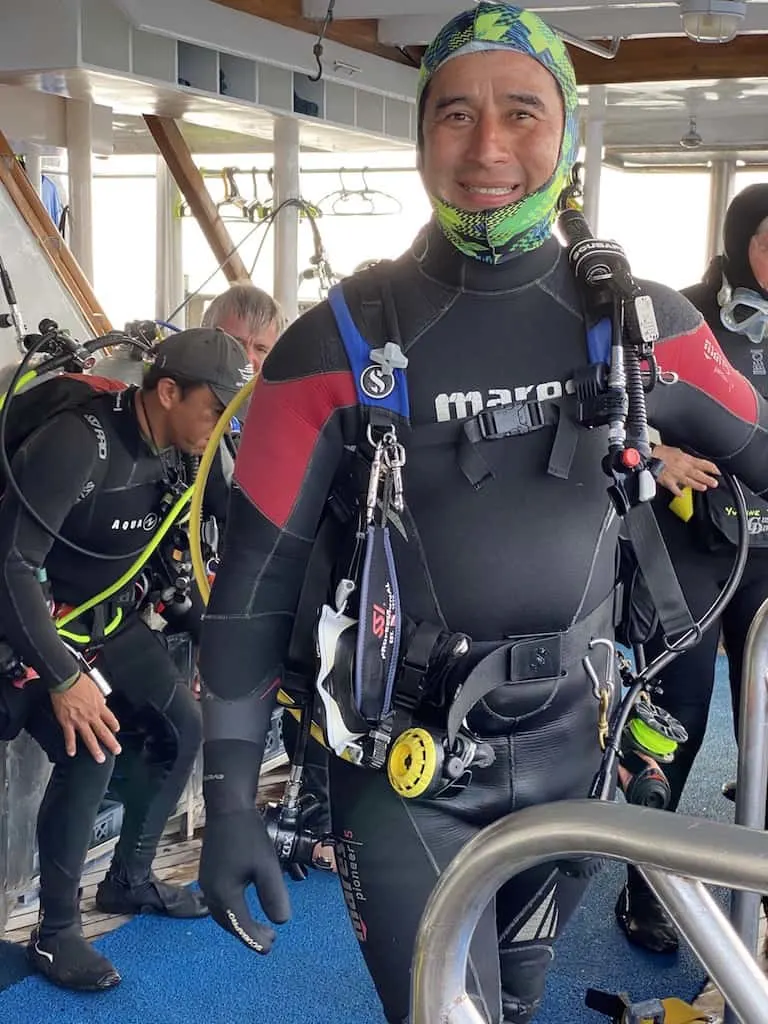 Galapagos Sky has two very large inflatable rubber boats called pangas that we went out on each day with excellent skippers (Christian and Edison) that could handle those pangas incredibly. They knew every inch of those islands like the back of their hands, so you know you are in the best hands that Galapagos Sky has to offer!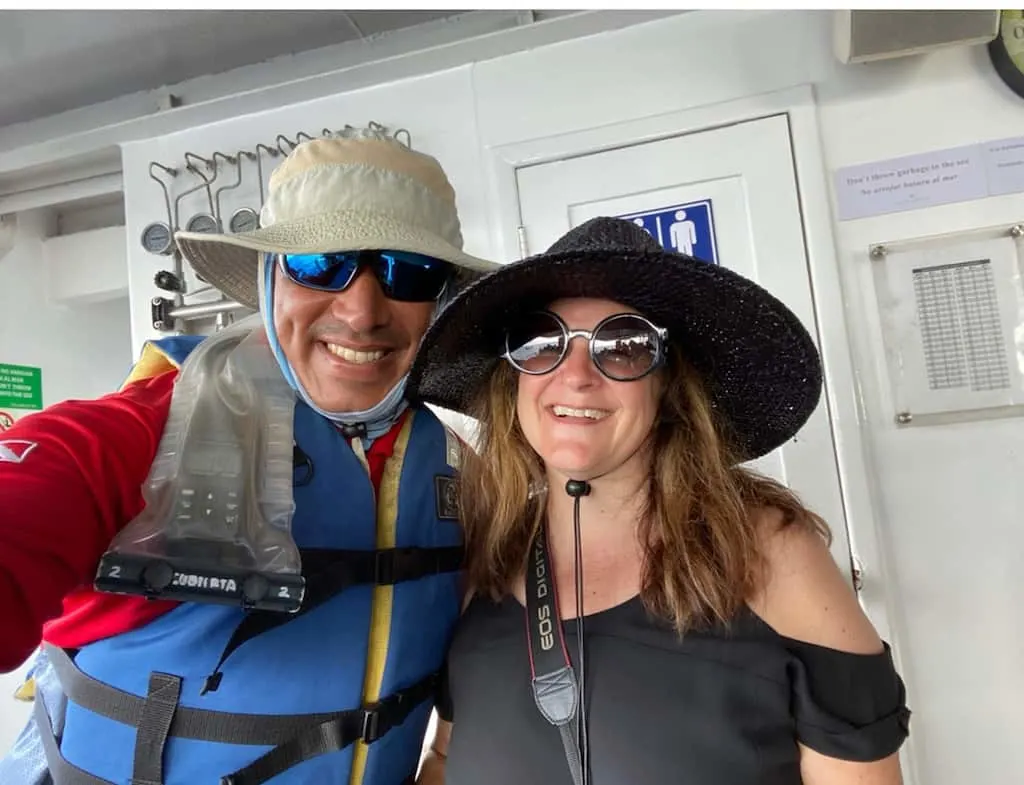 So many times while on the pangas, I would watch the skippers and they pretty much knew where all the divers were at all times even if we were 50-90 feet underneath them. They know the difference between waves and bubbles, that is for sure! I could go on and on about the other staff members as I know they worked diligently hard as a team while we were on board. Kudos to the Captain and his crew!
How Do I Get to The Galapagos to Scuba Dive?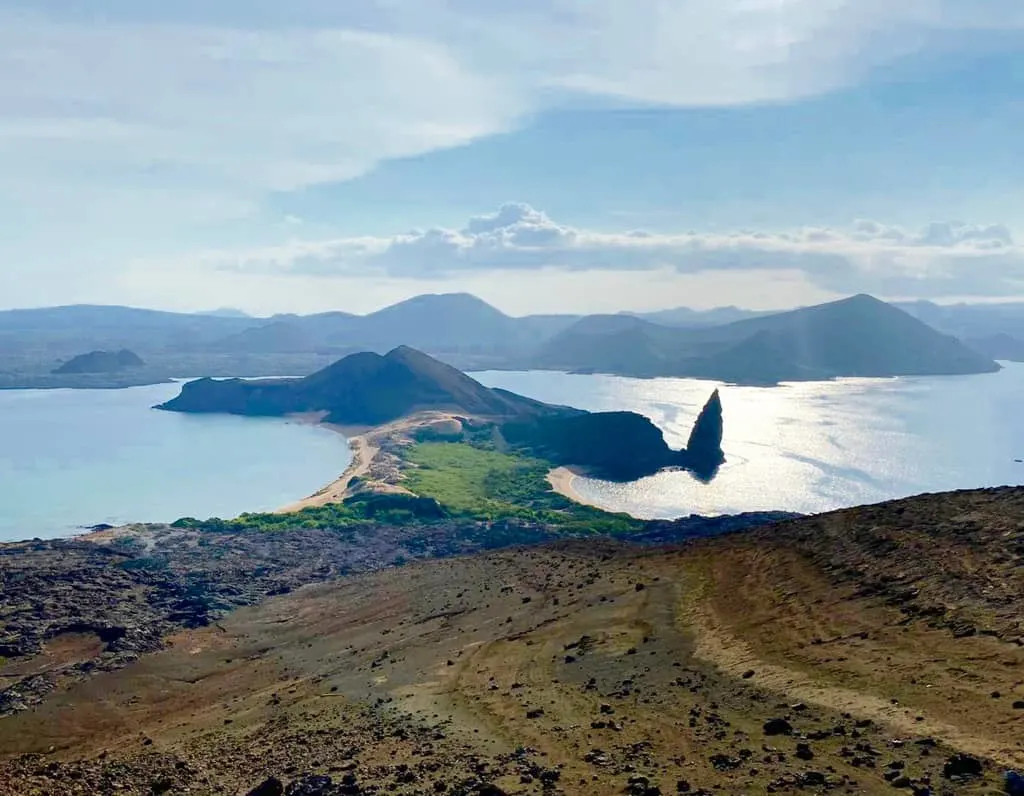 I went into great detail about how to get to the Galapagos Islands in this complete guide to the Galapagos Islands by Cruise. So do let me know if you have any questions about how to get there. Rest assured that the company that you have selected to get there will be picking you up at the airport and getting you through security as fast as possible. Once you have arrived and gotten your luggage, they will take you to the place you will be staying and get you settled in. Since I chose Ecoventura's luxury yacht to stay in, they had me there in no time. Upon arrival, you can be guaranteed a wonderful meal and briefing by the staff. One of the best things about the Galapagos and a reason it has remained so untouched is because of its remoteness to the rest of the world. As such, it requires a bit of traveling to get here, but it is totally worth it to see some of the world's best diving sites.
Memories of some of the Best Dives in Galapagos
Believe me when I tell you that this will be one of the best items you can cross off on your bucket list! As the Galapagos Islands have so many world-class dive sites to choose from that it will be hard to know where to start, but believe me, Galapagos Sky knows! I can tell you that there is no better peace and serenity you can get than when Galapagos Sky wakes up surrounding Darwin's Arch!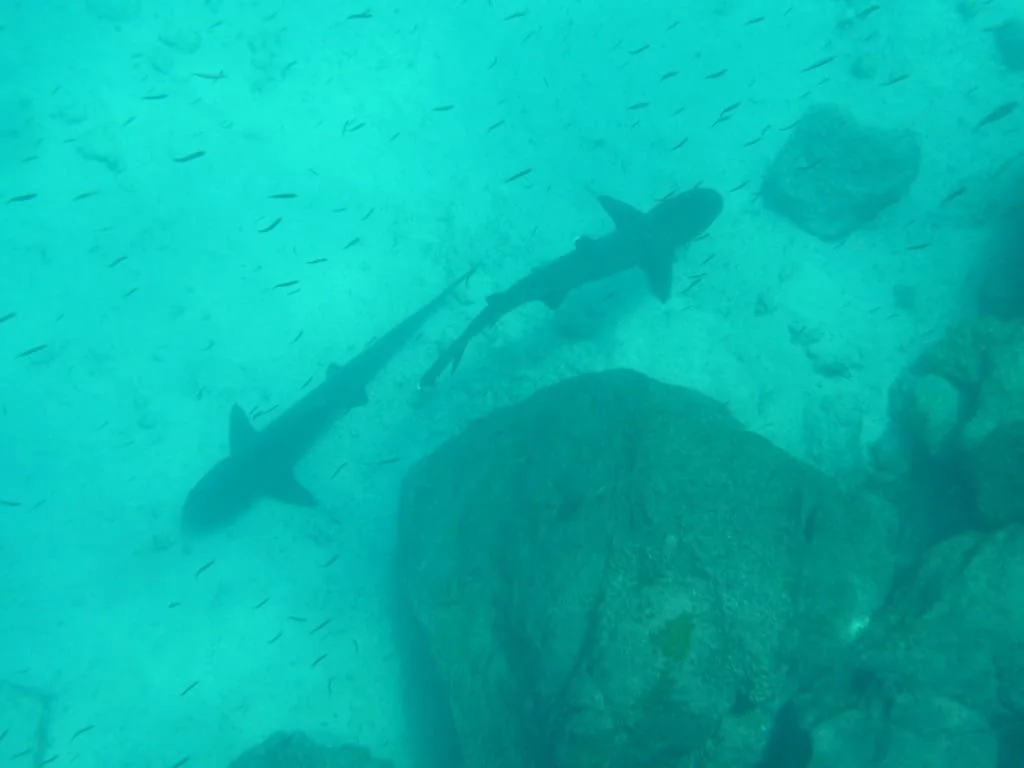 Want to read more articles about scuba diving?:
Scuba Dive Kukulkan Cenote (Mexico)
Poseidon's Adventure: Cancun's Underwater Museum
Scuba Dive the Red Sea (Jordan)
Belize: Life in the Underworld
Scuba Diving Belize with the Best: Chuck & Robbie's Dive Shop
Island Bliss: Castaway Island, Fiji
Scuba L'Estartit (Spain)
Scuba Diving in French Polynesia
Disclosure: As is common in the travel industry, I was provided with accommodations, meals, and other compensation for the purposes of review by Ecoventura. While it has not influenced my review, PointsandTravel.com believes in full disclosure of all potential conflicts of interest. All Photos were taken by the author/or were given permission from the photographer. Affiliate links may be located in this article.