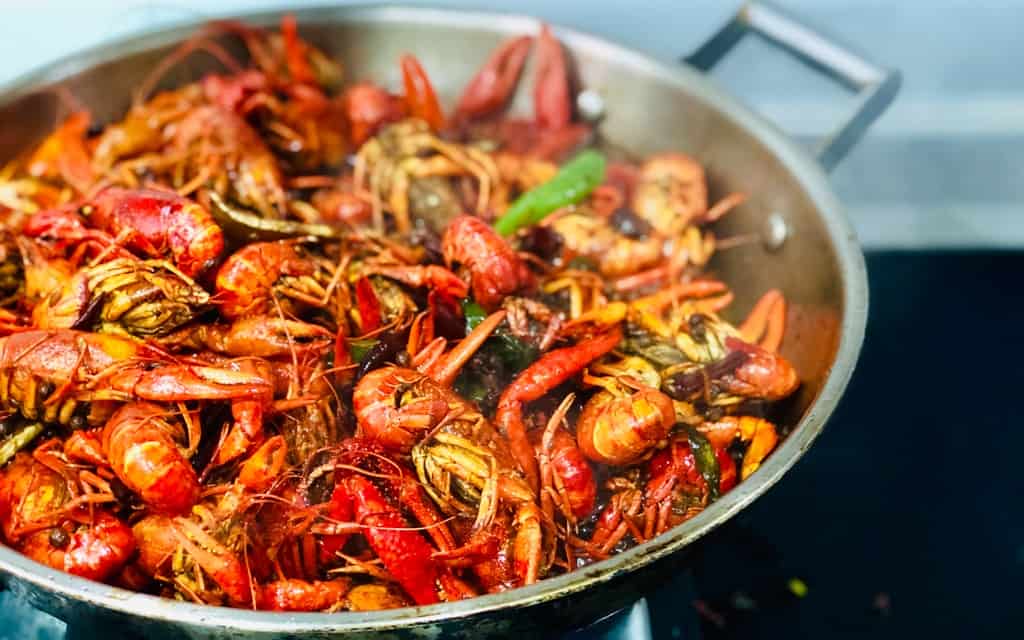 Galapagos Islands Foods and Culinary influences
Ecuador is a country with a diversity of climates, regions, and altitudes that makes it an exquisite country with many different types of traditional dishes. Depending on the region where you are, there is a variety of typical doses. And since the islands are owned by Ecuador, the dishes combine the elements of the Ecuadorian highland dishes with meat, potatoes, and grains, along with the coastal ingredients like fruit, yucca, fish, and all types of seafood. The Galapagos Islands definitely take their culinary influences from coastal Ecuador.
---
More Reading about Galapagos here:
Fresh Fish and Seafood
So it should not come as a surprise that fresh seafood is served on almost every menu in the Galapagos Islands. In fact, the cuisine in the Galapagos Islands is similar to that of many South American coastal nations, like Ecuador, Chile, Guyana, and Mexico, as well as Caribbean nations like Jamaica or coastal nations like Croatia.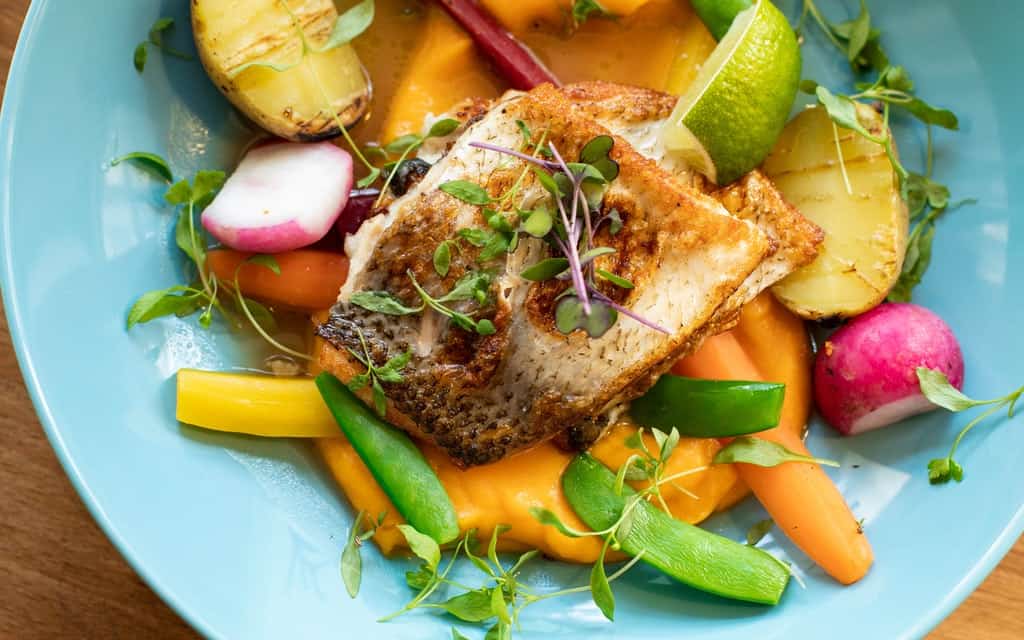 As a UNESCO World Heritage Site with a large number of protected species, you have to be careful in almost everything you do on the Galapagos Islands. It is important to be considerate when choosing where to dine and what to choose from on the menu! Fortunately, there are plenty of local delicacies on this archipelago that are served without endangering any species. As Ecuadorian gastronomy is a little recognized, but very distinct cuisine. Like many island groups, the seafood is plentiful, fresh, and delicious. The careful protection of the island has allowed vegetation to grow and be farmed responsibly for the enjoyment of locals and tourists alike.
Ceviche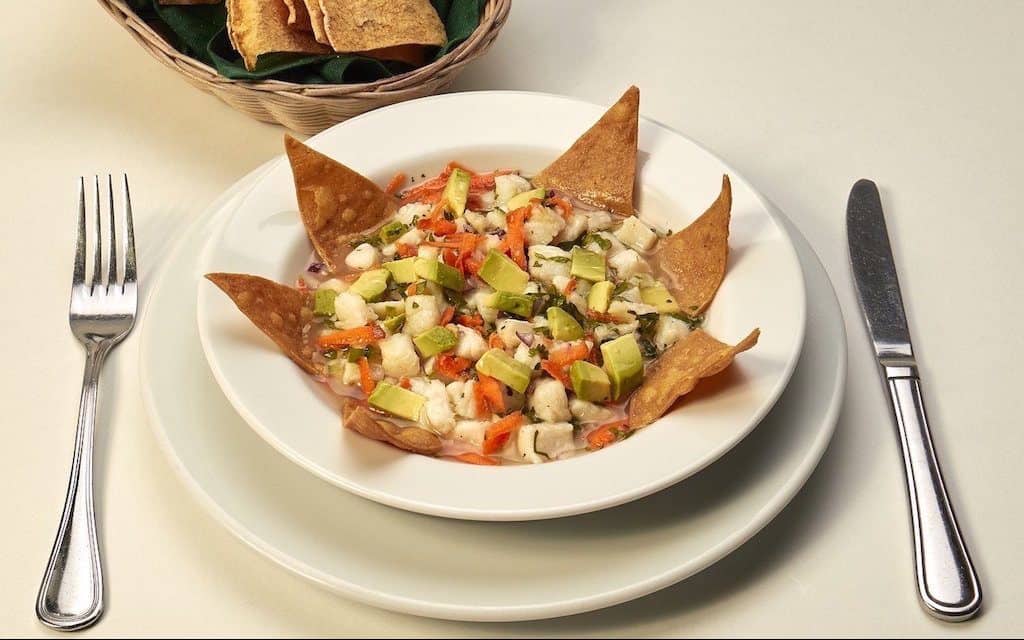 Popular throughout many countries of Central and South America, Ceviche is traditionally built around fresh, raw fish cured in citrus juices and spiced with chili peppers. But it can also be made from shrimp, octopus, squid, Canchalagua, or churros. There are a variety of ceviche dishes – including ceviche cocktails.
The fish in ceviche can be Corvina, which is sea bass. Fish ceviche can also have a wide range of shellfish as the main protein including black clam, oysters and barnacles – depending upon what is in abundance in the region or during the season.
Encebollado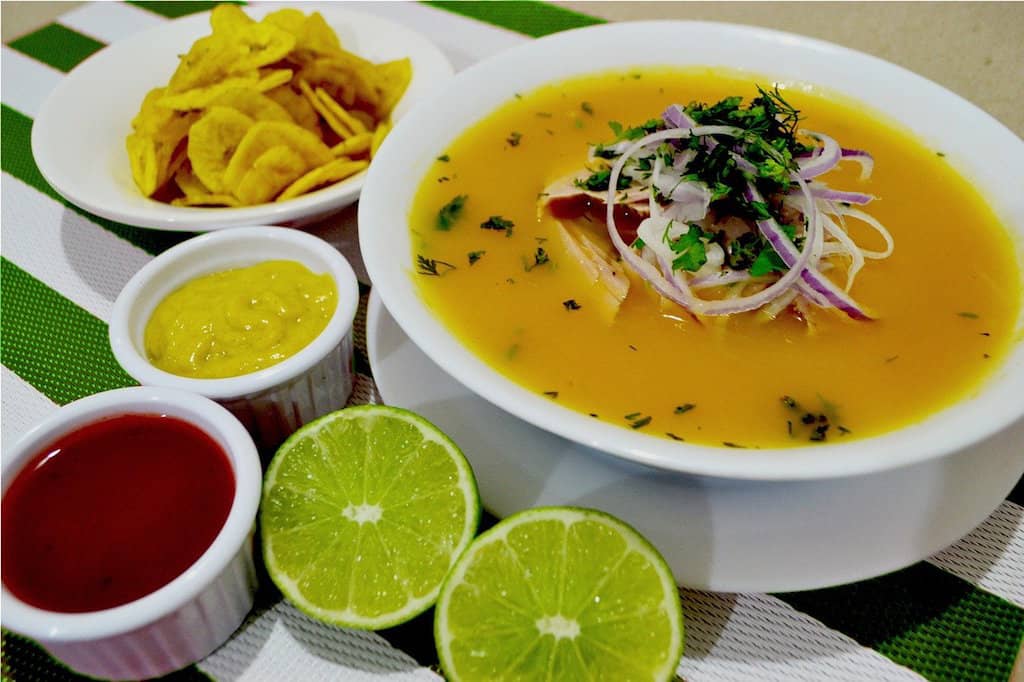 The national dish of the Galapagos Islands, encebollado, is a fish stew, served with boiled cassava and pickled red onion rings. It is often sold by vendors for breakfast, mid-morning snack. or lunch using albacore, tuna, billfish or bonito. Thick fish-based soups like encebollado are a common element in most Galapagos Islands restaurants and many times include yucca, chilies, and onion. For eating on the move, vendors will typically serve the stew with banana chips, popcorn, plantains or even bread (perfect for dipping).
Exotic Sea Cucumbers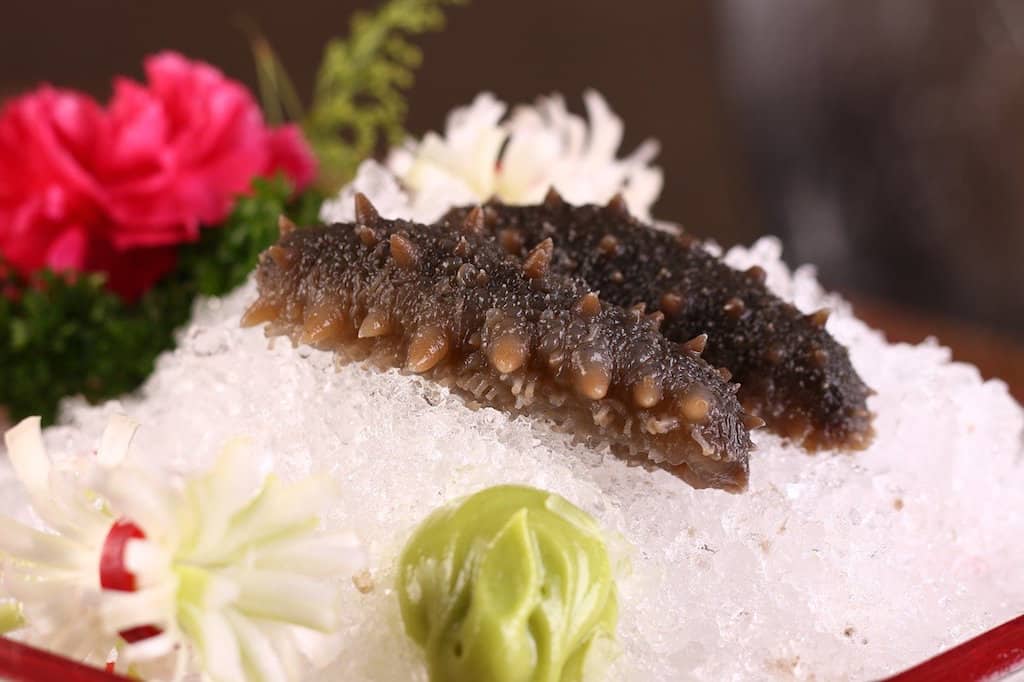 A traditional treat on the Galapagos Islands, sea cucumbers are thought to be an aphrodisiac (and potentially why so many indigenous species thrive and re-populate.) Sea cucumbers are served in a range of different dishes, due to the versatility of the taste. Braising and frying are two of the most common forms of preparation, served alongside stews or with fruit.
Hornado or a Whole Roasted Pig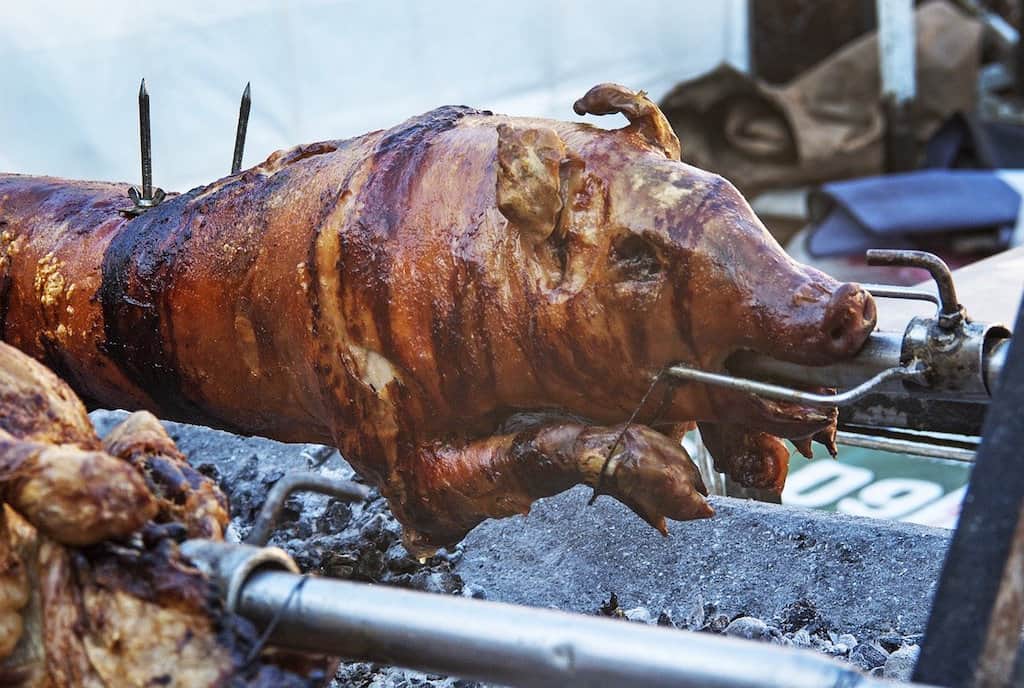 Hornado is one of the most popular foods in the mountainous regions of the Galapagos Islands. It is often served in highland markets. A whole roasted pig, served with vegetables, llapingacho (fried potato cakes) and sometimes grains are cooked in water. Hornado provides the ideal sustenance for visitors hiking through the mountainous regions.
Ecuadorian Fish Soup or Biche (or Viche) de Pescado
This fish soup is called Viche de Pescado and is a soup with a creamy peanut base and chopped vegetables along with a white fish like Corvina (sea bass), tilapia, or halibut. It is very thick, almost like a stew. It also may contain cassava (yucca), sweet plantains, corn on the cob pieces, peanuts, garlic, spices, onions, and cilantro. Many times the chopped vegetables can be squash, sweet potatoes, or green beans. Often even beans are added to the fish soup.
Lentil Soup with rice or Arroz con Menestra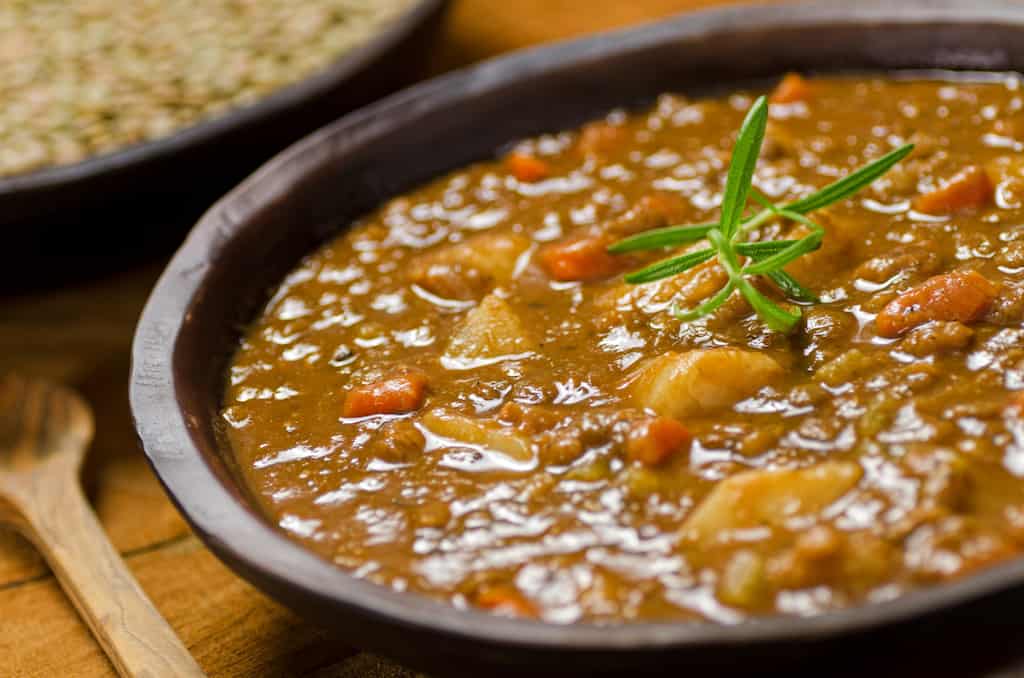 Arroz con Menestra is made of lentils or other varieties of beans and is basically a lentil stew. It is served with roasted meat, fried meat, pork chops or even roasted chicken. Most of the time it comes with sides of patacones and a sliced avocado.
Arroz Marinero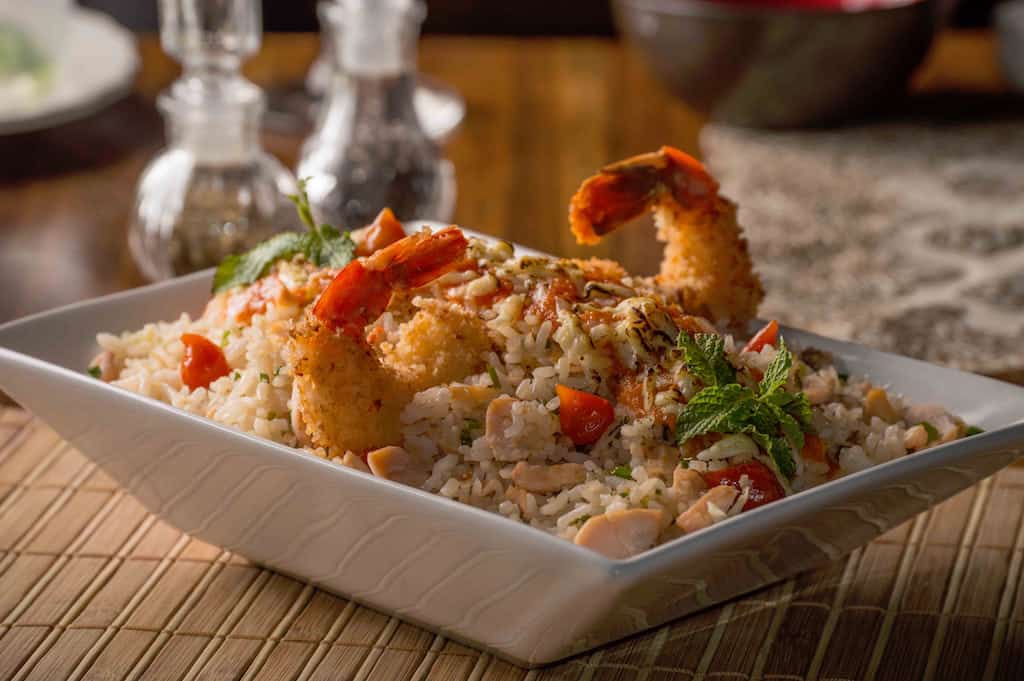 Arroz Marinero is a seafood rice dish that looks similar to the Spanish paella. It is made with cooked long-grain rice in a seafood broth. Added to it, is sautéed shrimp, clams, squid, and bay scallops. Then sauteed onions, green peas, bell pepper, garlic, and cilantro are added. And I do mean a lot of cilantro and garlic are added to give flavor to this dish. Last, but certainly not least, spices are added, specifically achiote or annatto. This gives the seafood rice dish a slightly reddish color and an earthy flavor.
Arroz Marinero is served with fried plantains (sweet or savory types), avocados and lime slices, red-pickled onions, and hot sauce.
Side Dishes are frequently green plantains
Meals typically come with a generous portion of green plantains that are prepared in a few different ways. In fact, plantains are used as the base of the breakfast dish called bolon or bolones, which is a large ball formed from mashed plantains. Many times cheese and meat are added to it and then it is deep-fried. Patacones are quite a bit thicker cut green plantains that have been smashed and then fried twice and Chifles are thinly sliced plantains that have been deep-fried twice and taste more like a salty chip.
Patacones
Patacones are thick-fried green plantains and are seen as a side dish in almost every restaurant. They are similar to fried potato chips, yet are thicker and made from plantains, not potatoes. The plantains are sliced to about 1 1/2 inches into long pieces. They are then twice-fried in oil. Then smashed down with the bottom of a bottle (to make perfectly round slices) or a Tostonera. A Tostonera is a wooden press that flattens the plantains. Finally, the pieces are then fried again and then seasoned to taste, most often with salt. Many Ecuadorians like their Patacones dipped in water seasoned with garlic salt!
Bolones
A bolones is a savory fried plantain that is smashed and formed into a ball that looks like a dumpling. Many times bolones are served with a fried egg on top or with cheese. The local breakfast in the Galapagos Islands might involves some form of bolones along with fresh fruit. Along with this, the locals tend to have juice with breakfast as well. Here in the Galapagos, they have many choices. Juices like tomato juice, guanabana juice, and passion fruit juice, and watermelon juice are few favorites. I saw passion fruit juice in almost every store.
Chifles
Chifles, as mentioned above are sliced plains and are often served with the breakfast of Ecuadorians. It is also eaten with hot or cold soups, like encebollado or ceviche. In Ecuador, they have both the sweet chifle and the salty one. I found the salty one most common while in the Galapagos, as the brand name comes from Guayaquil and is imported. It is called Tortolines de inalecsa.
Breakfast in the Galapagos
As mentioned above, bolones or dumplings are very often served, especially with an egg or cheese on top. But the locals also love Cassava bread, plantain tortillas, empanadas, or even a pork crackings. All of these are popular breakfast dishes in the Galapagos.
Exotic fruits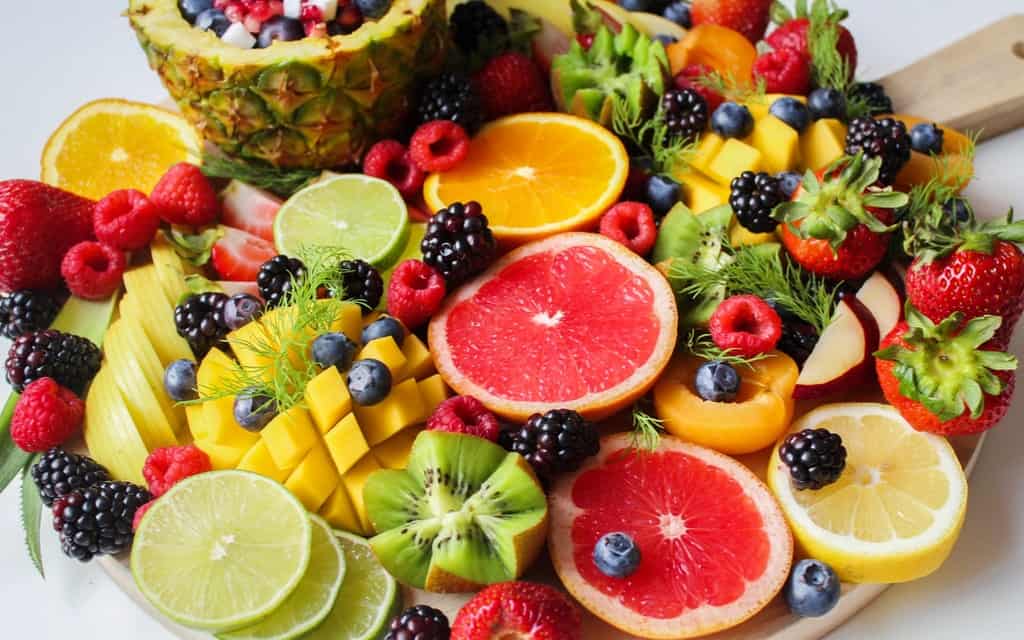 UNESCO declared the Galapagos Islands a World Heritage site because of its exotic flora and fauna. The Galapagos Islands have many exotic fruits such as bananas, papayas, guanabanas (soursop), guayaba (guava), tropical plums, rose apples. tree tomatoes, onions, and hot peppers. In fact, the Capsicum Galapagoense is a popular pepper and found commonly in the Galapagos Islands. They are considered very delicious. Babaco (sometimes called Mountain Papaya or Champagne Fruit), jocote (small tropical sour fruit), and naranjilla (golden fruit similar to an orange) are just a few of the more exotic fruits found here.
Galapagos Island Cuisine
The Most Popular Dishes in the Galapagos Islands
Ceviche
Viche soup with chopped vegetables and white fish
Arroz Marinero or seafood rice
Ecuadorian chicken, beef, and pork
Various seafood-based soups
Galapagos Food Glossary
English – Spanish
Beer – Cerveza
Beef – Carne
Bread – Pan
Butter – Mantequilla
Chicken – Pollo
Eggs – Huevos
Fish – Pescado
Fruit – Fruta
Jam – Mermelada
Lime/Lemon – Limón
Lobster – Langosta or Langostina or Langoustines
Pork – Chanco
Rice – Arroz
Seafood – Mariscos
Shrimp – Camarones
Squid – Calamares
Soup – Sopa or V/Biche
Toast – Tostado
Vegetables – Vegetales
And since you want to try Galapagos foods, you might start reading these articles to start planning your next vacation there:
Complete Guide to the Best Galapagos Cruise
The Galapagos Islands, Like No Other Place on Earth
Through the eyes of a Galapagos Gringa
Post Office Bay, Floreana, Galapagos
The Galapagos Islands – Birds of a Feather
Animals of the Galapagos Islands
Best Time to Visit the Galapagos Islands
Disclosure: As is common in the travel industry, I was provided with accommodations, meals, and other compensation for the purposes of review by Ecoventura. While it has not influenced my review, PointsandTravel.com believes in full disclosure of all potential conflicts of interest. All Photos were taken by the author/or were given permission from the photographer. Affiliate links may be located in this article.