Getting to know Jamaica's exact location will help you discover why its offerings of deliciousness are so diverse. The tropical country of Jamaica is located in the West Indies of the Caribbean Sea, directly underneath Cuba and to the right of Mexico, and to the left of Haiti. This country has been inviting guests from around the world to try its flavors, as well as its Jamaican desserts, all while enjoying a tropical adventure in the sun with a splash of reggae culture.
---
Jamaican Desserts to Die For!
---

And since a country's culture is heavily based on the cuisine that it presents to its visitors, I can tell you that Jamaica does not skimp out on its offerings of all things sweet. Home to the famous Jamaican cakes: Black Cake, Jamaican Rum Cake, and Grater Cake. These amazing cakes are a few of the reasons that people keep coming back to visit Jamaica (other than the stunning beaches, of course).
When it comes to desserts, there are few countries that love them more than the Jamaicans. From Black pudding to black cake and everything in between, you can't go wrong with a dessert from Jamaica. One of my favorite dishes is their Jamaican fruitcake. This moist cake has raisins, pineapple, coconut milk, and other yummy ingredients that make it into one of the best cakes I've ever had!
So today we're going to take a look at some of my favorite Jamaican desserts and learn how easy it is to whip them up yourself with only a few ingredients. Read on to learn more about the best Jamaican desserts that you must try!
✦ Jamaican Desserts ✦
✦ Jamaican Black Cake
When it comes to the most delicious Caribbean cuisine, Jamaica takes the cake (literally). Some of the best cakes in the world were created on this small Caribbean island! I saw and tasted several versions of this same cake, and though many had different names, they all seemed to contain a few of the same ingredients. The Jamaican Black Cake is related to the many rum cakes that are popular in the Caribbean. Although, this cake is thought to have originated with the British colonists who brought their recipes with them for fruit puddings. The British overtook the Spanish in 1655 AD and gained control of the island until 1962. It was during this time that the Jamaican Black Cake was born.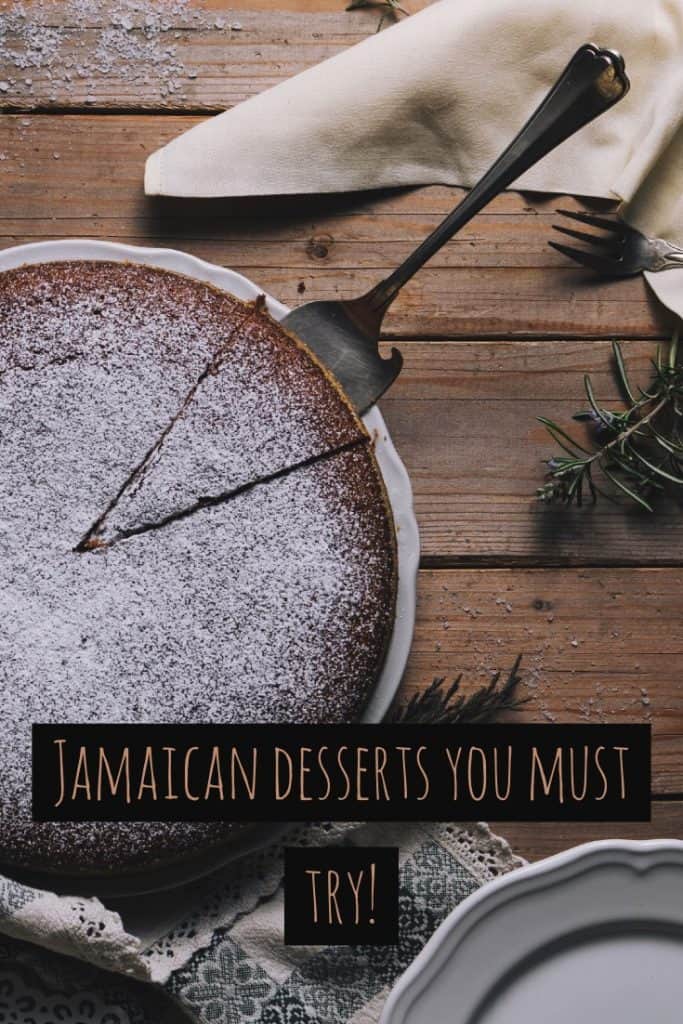 The Jamaican Black Cake is Jamaica's version of a fruitcake that includes raisins, cherries, and typically brandy, wine, or rum. I saw multiple recipes that contained some version of one of these alcohols. It was hard to distinguish between the Black Cake and the Rum Cake, but in general, the Black Cake was darker and the Rum Cake was lighter in color. The Jamaican Black Cake (fruitcake) is the traditional Christmas cake of Jamaica.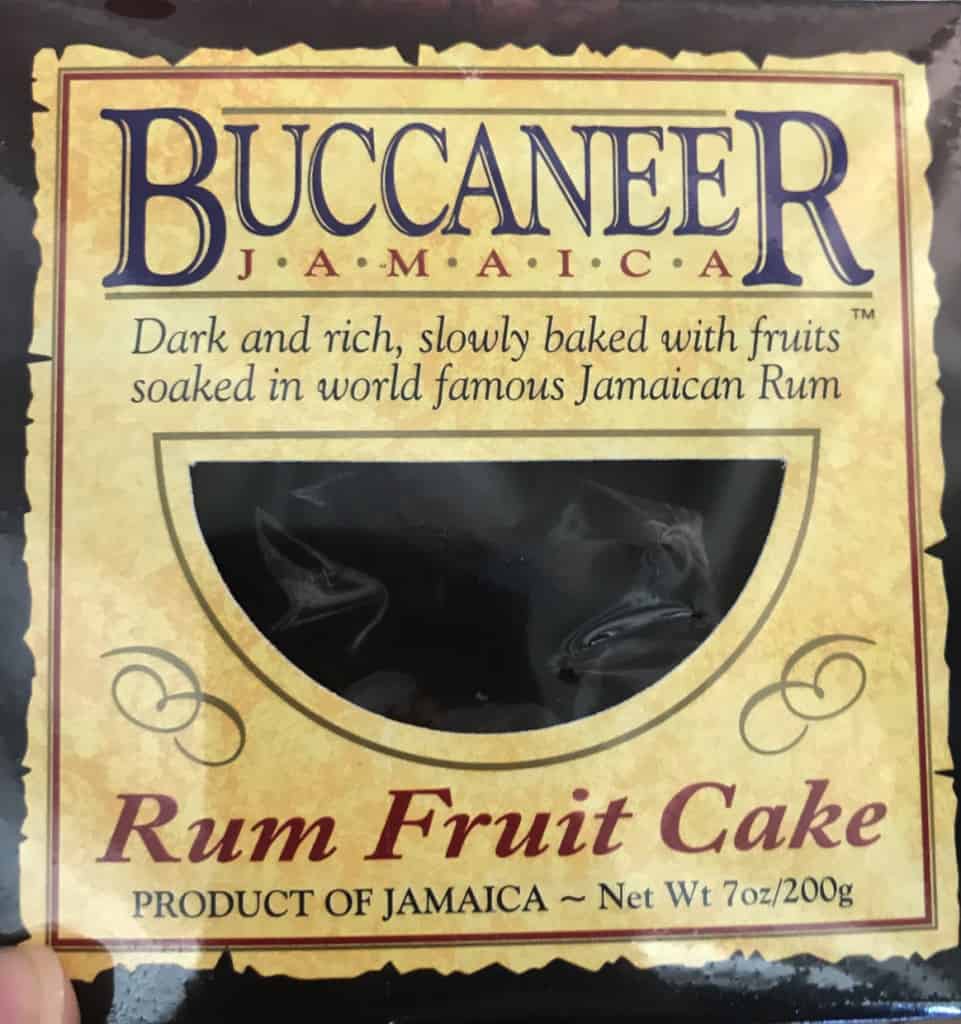 ✦ How Jamaicans Like Their Black Cake
It can't be stiff or dry but must have a pudding-like texture.
It must have the right amount of rum, not so much that it overpowers the taste of the cake.
It must have no icing on the black cake baked at Christmas, some powdered sugar on top is ok.
✦ Recipe For Jamaican Black Cake ✦
Ingredients
3/4 lbs. Chiffon Margarine
1/2 lbs. Brown Sugar
1 lb. Baking Flour
1 tsp. Baking powder
4 eggs
1 tbsp. Vanilla
1 tsp. Nutmeg
1 tbsp. Mix Spice
1 1/2 tbsp. Grace Browning
3 cups Red Label Wine
1/2 lbs. prunes
1/2 lbs. cherries
To soak fruits:
Boil Red Label wine for 2 minutes. Let cool then use it to blend prunes and cherries. Let it soak for two days.
Method/Procedure
Cream butter and sugar until soft and fluffy.
Add eggs and vanilla and beat together
Add dry ingredients (except flour) and mix well
Fold in flour, soaked fruits, Red Label Wine, and browning alternately into the mixture until all the ingredients are finished.
Grease bottom of 10-inch baking tin then add butter
Bake for 1 1/2 hour at 350F.
Black cake is best served cold and is usually topped with whipped cream or ice cream. Black Cake is a Jamaican dessert that you'll have to try for yourself in order to understand why it's one of Jamaica's most popular desserts. This dessert is perfect for a late-night date or for watching the sunset!
---
TIP: To get the ORIGINAL recipe for Black Cake that was created in the 1920s by Mr. Lewis who ran the old Jamaica Inn Hotel on Trelawny's north coast, you must speak to his great-grandson. As it wasn't until 1954 that his great-grandson took over operations of the Jamaica Inn and began making it available to visitors as well as locals! This hotel has been around since 1838 so if anything, you will be getting served authentic dishes!
---
✦ Jamaican Fruit Cake
While many of the desserts in Jamaica are considered fruitcakes, there is only one true Jamaican Fruit Cake. The real Jamaican fruitcake is usually made around Christmas time and is similar to the Italian Panettone. This cake has been around since the 18th century and was originally made by British colonials back in England who would take their recipes with them when they left for Jamaica! This fruitcake combines burnt brown sugar, cinnamon, cherries, and prunes to create a mouthwatering snack. I have posted a Jamaican Black Cake recipe at the bottom of this article for you to try out.
The Jamaican Fruit Cake is traditionally served with tea and custard, and as mentioned before on Christmas Day. The dried fruit in the cake makes it perfect for a cold winter's day when the sea is whipping up or when it is raining. It also pairs well with coffee or hot chocolate if you want something sweeter than just fruit – so that's always a perfect combination.
It's super easy to make and takes so little time! And it doesn't have the use of butter or oil – so it can be used as a healthier alternative for any bakery cake. One of my favorite things about the fruitcake is how you don't need to keep an eye on it as some cakes do. (And we all know those are just way too difficult). This delicious Jamaican Fruit Cake will not disappoint.
✦ Rum Cake Jamaican
The Rum Cake Jamaican typically infuses rose water, vanilla, lime rinds with blackberry brandy or sherry and/or rum. Most Jamaicans soak their fruits in rum for days, months, or years depending on what their preferences are.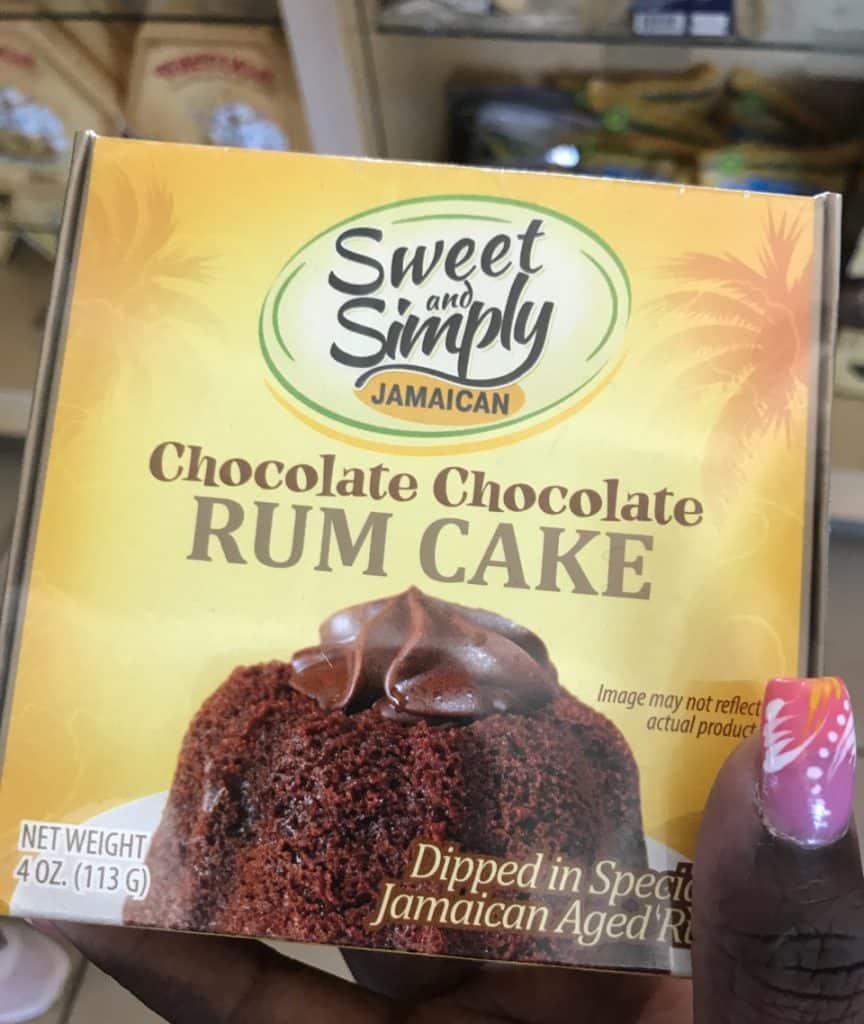 ---
✦ Speaking of all these Rum Cakes, I am sure you want to try some good old Jamaican Rum! Check out my article about 10 Must-Try Jamaican Drinks (including Non-Alcoholic) that are popular in Jamaica.
---
✦ Sweet Potato Pudding
Another scrumptious dessert is the Jamaican Sweet Potato Pudding. Many would not find potatoes and yams in a dessert dish, but only Jamaica can make this Thanksgiving-like dish into a sweet pudding. One of the best Jamaican Sweet Potato recipes can be found here. This pudding is called "Hell a top, hell a bottom, Hallelujah in the middle!" by many Jamaicans. The meaning of this phrase is found in the method of cooking. The pudding is baked in a dutch oven with coals on top of the pot and along the bottom of a coal stove. That's the traditional way of making it, and that's how it is still made in Jamaica.
✦ Black Pudding or Blood Sausage
Black pudding (also known as blood sausage) on the other hand is most often consumed as a breakfast food because it's usually served with fried dumplings or boiled yam together with scrambled eggs. These are also staples at any Caribbean restaurant offering an authentic "Jamaican Breakfast".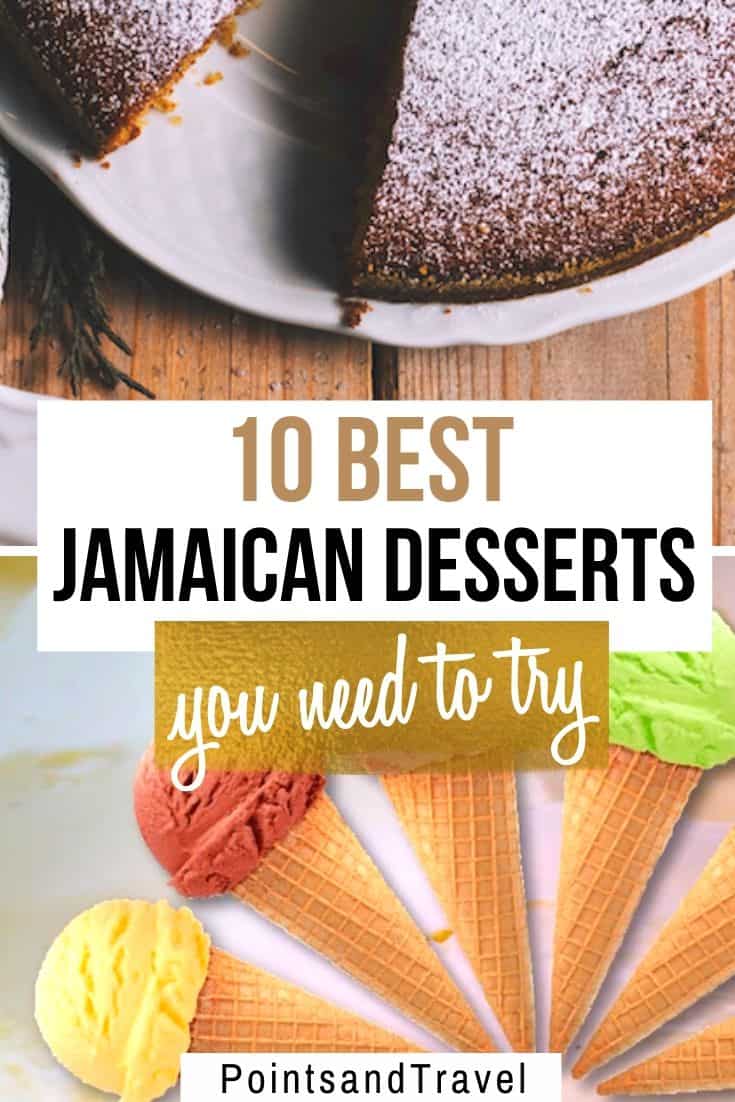 ✦ Jamaican Easter Bun
Then, of course, there is the Jamaican Easter Bun, this bun is usually made with currants or raisins, with a large white cross over the top of the small square pastry, probably due to the traditions of the colonization from England of the Christians. This small square English bun has morphed into a large fruit-filled bun, shaped like a loaf of bread. It is typically eaten with a chunk of "red cheese" that comes in a can and is called Tastee Cheese.
✦ Jamaican Turnover or Chinese Buns
This Jamaican dessert is a pastry made of layers of dough with fruit filling in between, then it's folded and baked. The turnovers are usually eaten at parties or special occasions. This type of sweet was introduced to Jamaica by the Chinese immigrants who came to work on the sugar plantations during colonial times-they were originally called "Chinese buns". I think this name evolved into "turnovers" because they are so easy to make! You can use almost any kind of canned pie fillings for these pastries: apple, cherry, blueberry, grape…whatever you want!
✦ Coconut Drops
Coconut Drops, also known as Cut Cake, is a Jamaican dessert that is made from cut up pieces of the meat of coconut (as the name implies), as well as ginger and brown sugar. It is mixed together and boiled until it becomes sticky and then beaten with a wooden spoon. It is then dropped on a greased cookie sheet until it cools and becomes hardened.
✦ Gizzada
Gizzada, also known as a Pinch Me Around, is a puff pastry filled with coconut. It is a tart that is contained in a small, crisp pastry shell with a pinched crust and filled with a sweet and spiced coconut filling.
✦ Grater Cake
Grater Cake or Drop Pink Cake is a Jamaican dessert that is made with dried coconut, granulated white sugar, and water that is boiled together. The grater cake has very high sugar content. Once boiled, then 1/2 of the mixture is poured out on a greased cookie sheet. The other half is dyed with pink food coloring and then also poured out on a cookie sheet. Once both are dried and allowed to cool, then the pink portion is rounded and put on top of the white portion that has been squared.
The grater cake is generally served with tea. It can be eaten as breakfast, for lunch, or before bedtime. Some people add things such as cinnamon to their mixture in order to give it more flavor.
---
Here is the best Grater Cake recipe I have found:
Ingredients for 10 people:
3

cups of

dried coconut

2

cups of

granulated sugar

1/4

cup of

water

1/8

teaspoon of

almond essence

1/4

teaspoon of

salt

1

teaspoon of

red food coloring
✦ Grater Cake directions:
Peel off the brown portion of the coconut, wash, grate, and set it aside.

Combine grated coconut, granulated sugar, and the water in a pot and boil. Then reduce to medium flame, mix in the almond essence and the salt. Stir constantly until the mixture thickens.

Remove 1/3 of the mixture and add a small amount of red food coloring to give a delicate pink color.

Scrape the remaining coconut mixture into a greased casserole dish and spread evenly.

Spread the pink-colored coconut evenly over the white mixture.

Set aside for 25-30 minutes or until sufficiently cooled.

Cut into squares and serve.

Yield: 10 squares.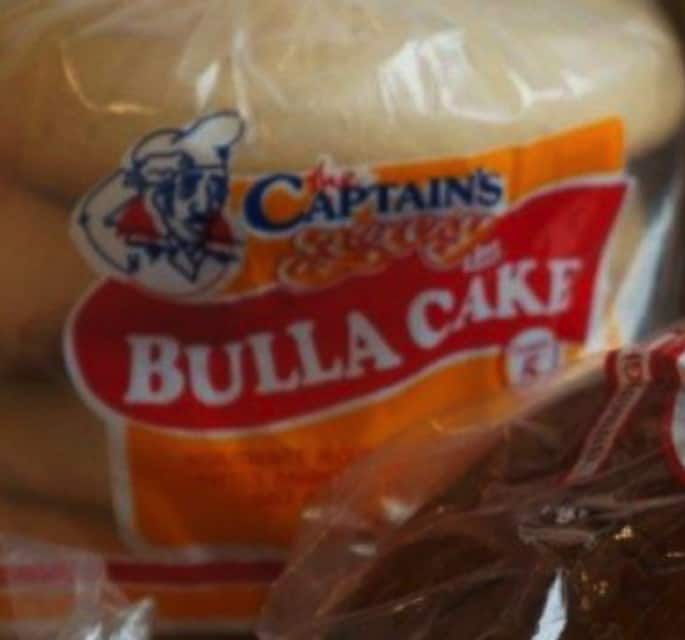 ✦ Jamaican Bulla Cakes
Jamaican Bulla Cakes, also known as a bulla, is a cake made from molasses, flour, and baking soda, with ginger and nutmeg as its spice. It is typically dark in color and like a flat and round loaf of bread. Very often it is served with cheese, butter, or avocado.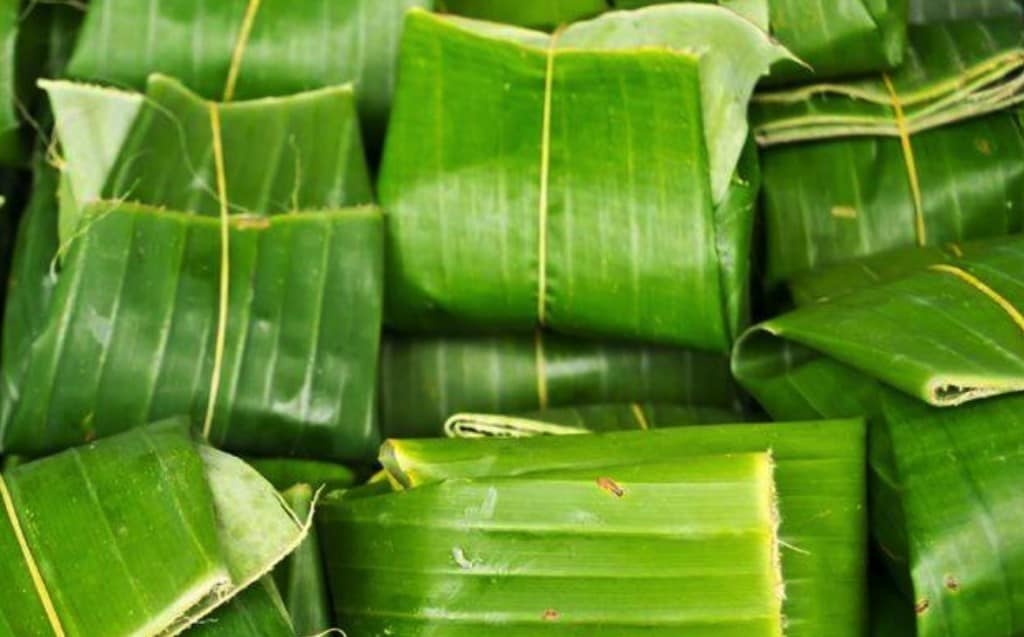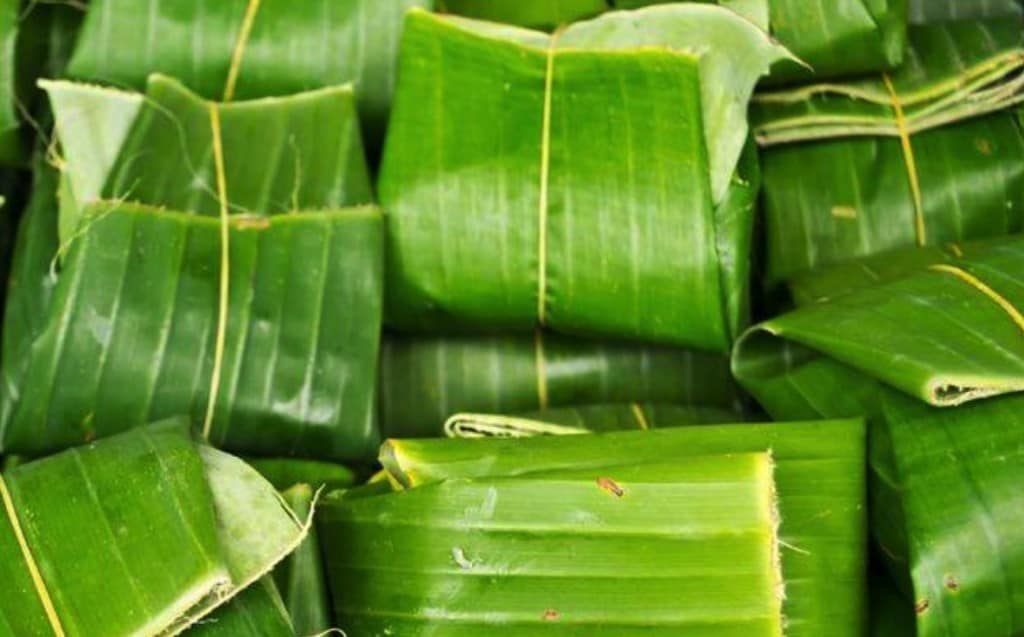 ✦ Blue Draws
Blue Draws, also known as tie-a-leaf or Dukunoo (I found several different spellings of this word) is a popular Jamaican dessert made on special occasions. Basically, they are bananas, coconuts, and sweet potatoes, along with flour that is mixed up with sugar, coconut milk, and spices. Then wrapped in a banana leaf and then tied. The Banana leaf is said to give it a good flavor, but it can also be wrapped in aluminum foil or parchment paper.
Blue Draws are most often served in pairs with the coconut sitting side-by-side on top of the banana halves on one plate; this way they resemble blue jeans or something that someone might wear for work – hence their name!
(also known as blood sausage), Tutti Fruitti Custardsugar, coconut milk, and spices and then wrapped in a banana leaf and then tied. The Banana leaf is said to give it a good flavor, but it can also be wrapped in aluminum foil or parchment paper.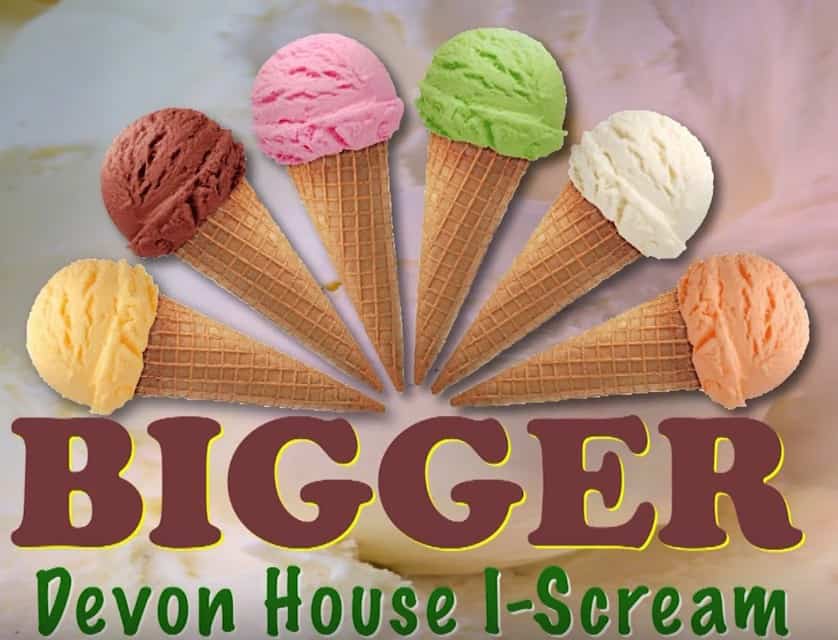 ✦ I Scream! (Ice Cream)
Devon House I scream (ice cream) is the best place on the island to get ice cream according to our guides! Especially if you want to try some flavors of the island, like rum and raisin, stout beer, or chocolate! At this ice cream shop in the courtyard of Devon House —built 130 years ago by George Stiebel, the island's first black millionaire—crowds gather nightly to get a chance at some unusual flavors of ice cream! They also serve tropical flavors like soursop, guava, and sorrel. Just-picked island fruit makes the ice cream taste fresh and delicious!
---
✦ Recipe for Stout Ice Scream
3⁄4 cup sugar
1⁄2 tsp. kosher salt
6 egg yolks
2 cups heavy cream
1 1⁄2 cups strong stout (one 11-12-oz. bottle)
1 tsp. vanilla extract
Whisk together sugar, salt, and egg yolks in a pan until smooth; stir in cream and cook, stirring constantly, over medium heat for about 4 minutes. Pour mixture through a fine strainer into a medium bowl and whisk in stout and vanilla; refrigerate until chilled. Process in an ice cream maker. Transfer to a plastic container and freeze until firm, at least 4 hours.
---
There is no overindulging when it comes to tasting the best desserts in Jamaica!
---
There is no doubt that this article has had you yearning to book a trip to Jamaica. There is no shame in wanting to try the best cuisine in the Caribbean, so start by cooking up some of these Jamaican desserts before you eat the real deal! Your taste buds will explode with desire with every morsel of the best Jamaican desserts.
---
Recommended Reading About A Trip To Jamaica:
5 Jamaican Travel Tips to Make Your Trip Perfect
A Lesson Learned on Giving Back
---
Disclosure: As is common in the travel industry, I was provided with accommodations, meals, and other compensation for the purposes of review by the Jamaica Tourist Board in conjunction with Blogilicious. While it has not influenced my review, PointsandTravel.com believes in full disclosure of all potential conflicts of interest. All Photos were taken by the author/or were given permission from the photographer. Affiliate links are located in this article.