Since I had a chance to lure you guys in with my Jamaican desserts and pastries article, I guess by now I should let you in on a little secret about Jamaican popular drinks. And that is they are proud producers of some of the most amazing and tastiest drinks in the world. Be sure and stop by Sandals resorts on the Caribbean island just to confirm this! This is a great way to confirm how good the drinks are.
Jamaica is famous for a few things, and some of those are the drinks that they make. Things like white rum, local rum, beer, and even coffee! Jamaica produces some pretty common rum that can be bought in the USA. They even produce a famous beer that most people in the USA have heard of called Red Stripe. This is a very popular beer worldwide as well.
---
What's in this post:
hide
Jamaican Drinks You must Try!
---
In fact, you know how famous Peru and Italy are for their coffee? Well, Jamaican coffee might be even more delicious and definitely, it is more expensive. Who would have imagined that such a small country could produce so many different Jamaican drinks?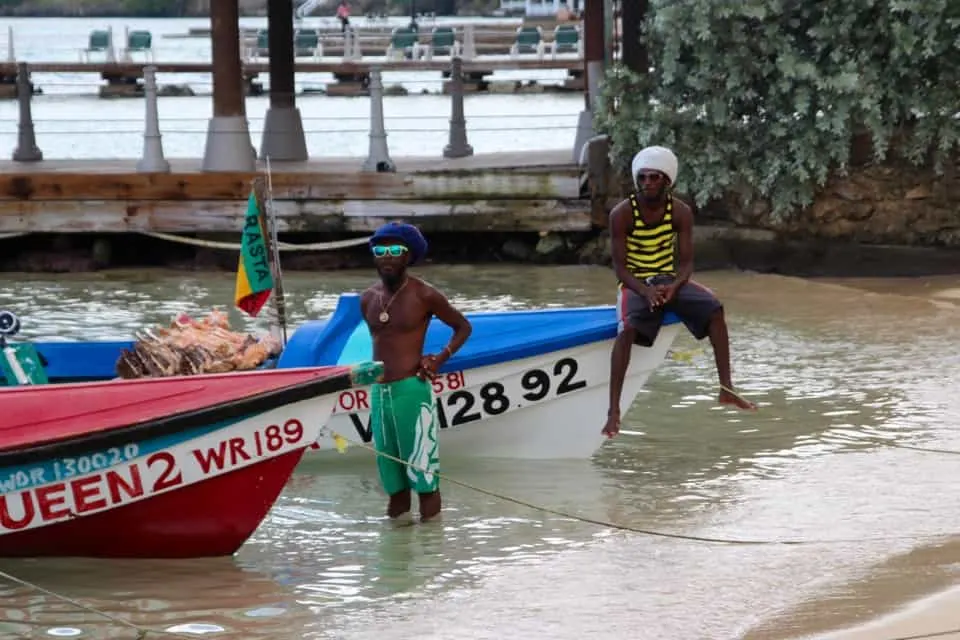 Let me introduce you to a few of their amazing products:
✦ Jamaican Cocktails!
My favorite cocktail in all of Jamaica is the Bob Marley cocktail and usually the first one that I order when I arrive, but there are so many great drinks here, that I order different ones on different days!
Bob Marley – a three-layered liquor drink of equal parts strawberry syrup, crème de banana, and crème de menthe mixed with some overproof rum in order to float atop the heavier alcohol below. They also make it in a shot glass, as this is a great drink!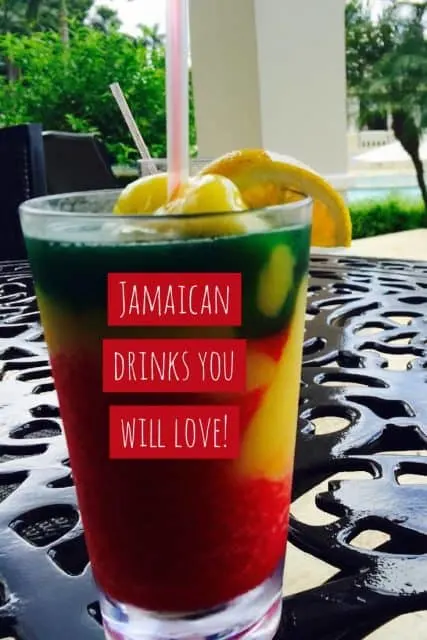 The Dirty Banana – A tropical banana milkshake-like drink with Tia Maria or any coffee-flavored liqueur, rum, milk, and a ripe banana. All the ingredients are transferred into a cocktail glass containing a dash of chilled cream. You can also substitute the chilled cream with coconut milk cream or Bailey's Irish cream.
The Jamaican Bobsled -This Jamaica drink has vodka or light rum with banana schnapps. This is a delicious drink.
The Flaming Jamaican Bobsled – This drink has Red Strip Beer, Dark Rum, and Ameretto Almond Liqueur
The Pretty Lady – This Jamaican cocktail has gin, grenadine, egg white, and lemon juice.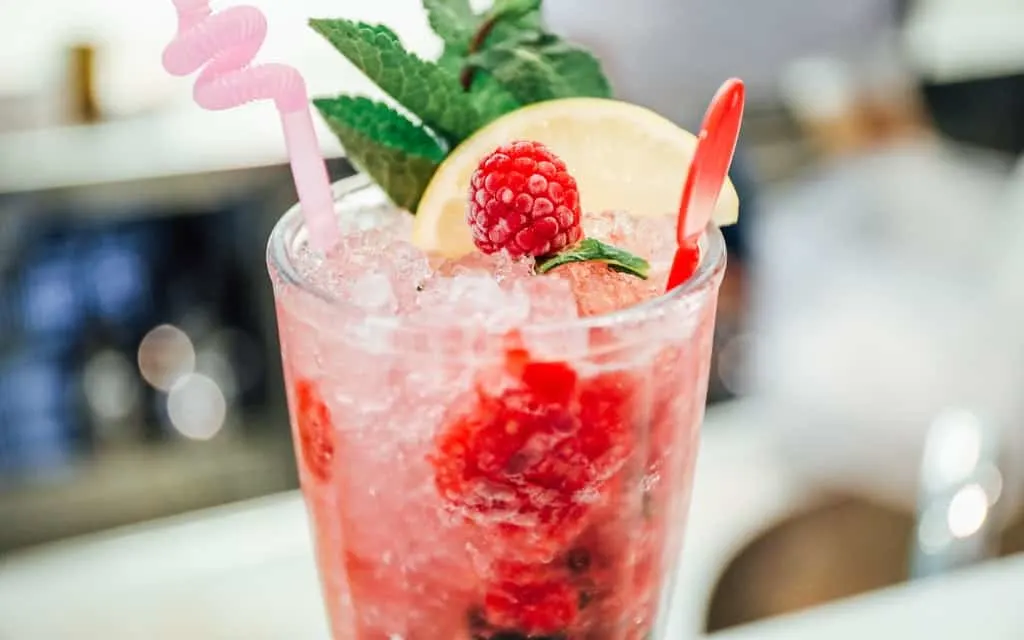 Jamaican Negroni – This Jamaican liquor has Appleton Jamaican rum, Campari, Cocchi Vermouth di Torino, with an orange twist. The Appleton rum comes from the Appleton Estate. Some might even come with cranberry juice or grenadine syrup. Which will make your taste buds love it.
---
The above-mentioned drinks were the ones that I heard mentioned and ordered quite often while out and about in Jamaica.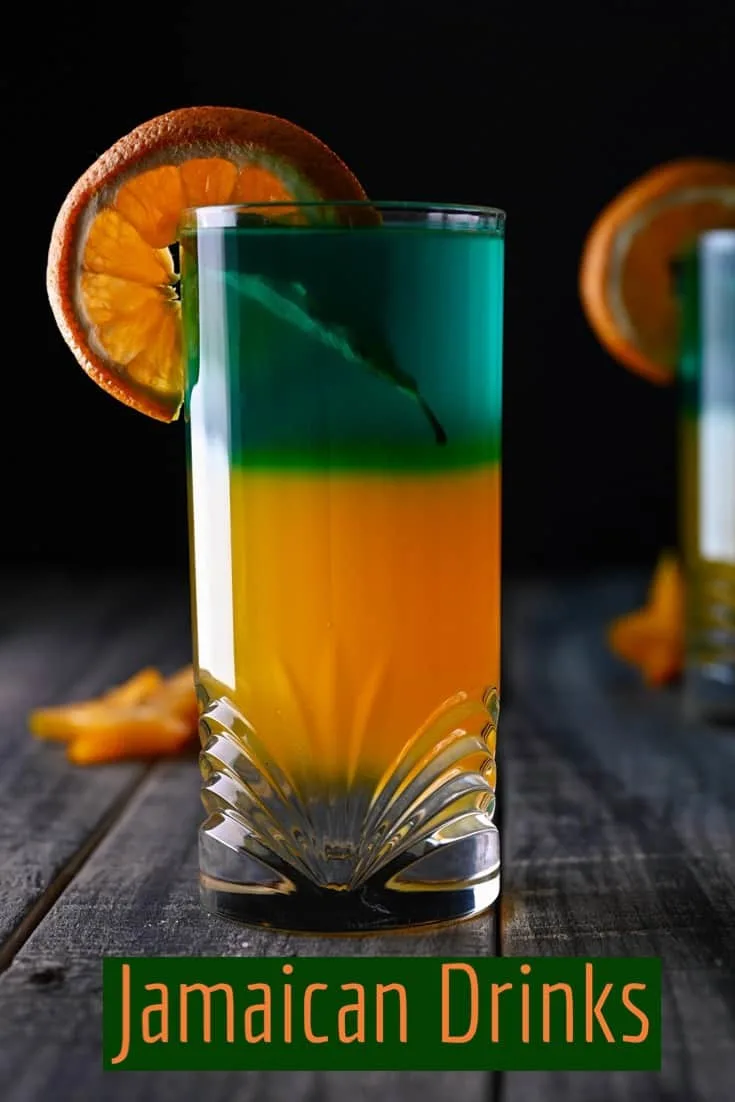 ✦ Jamaican Rum
Who doesn't love rum for those tasty cocktail drinks? Well, Jamaican Rum is the stepping stone for all other rums that came after it. One of the best and most well-known Jamaican Rums is the Appleton Estate Extra Dark Rum. You can find it everywhere here in Jamaica. Also, rum is the basis of most of the cocktail drinks that they serve in the local bars.
It is believed that rum production on the islands of Jamaica began when the Spanish arrived and started sugarcane estates. Clean water sources in Jamaica were scarce during the time, which lead the people to drink distilled spirits to stay hydrated.
And while we are on the subject of rum, there was another widely known brand in Jamaica called Wray & Nephew White Overproof Rum. I saw it quite often for sale in the local liquor and grocery stores. It is a white rum versus the darker color you typically see.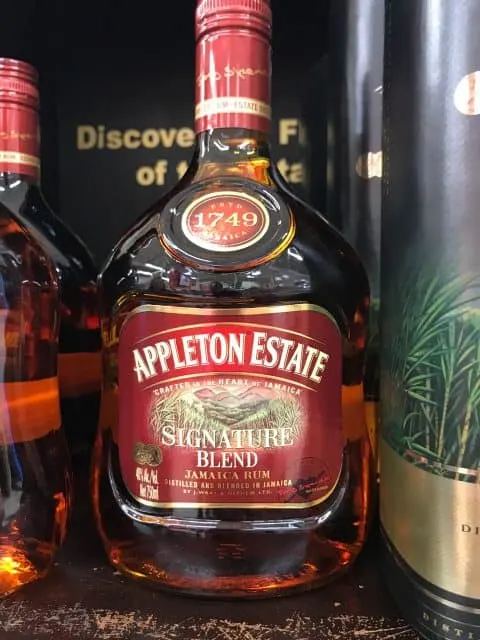 ---
And while we are talking about Jamaican Drinks, be sure and read this excellent article about traditional Jamaican food.
---
✦ Jamaican Rum Crème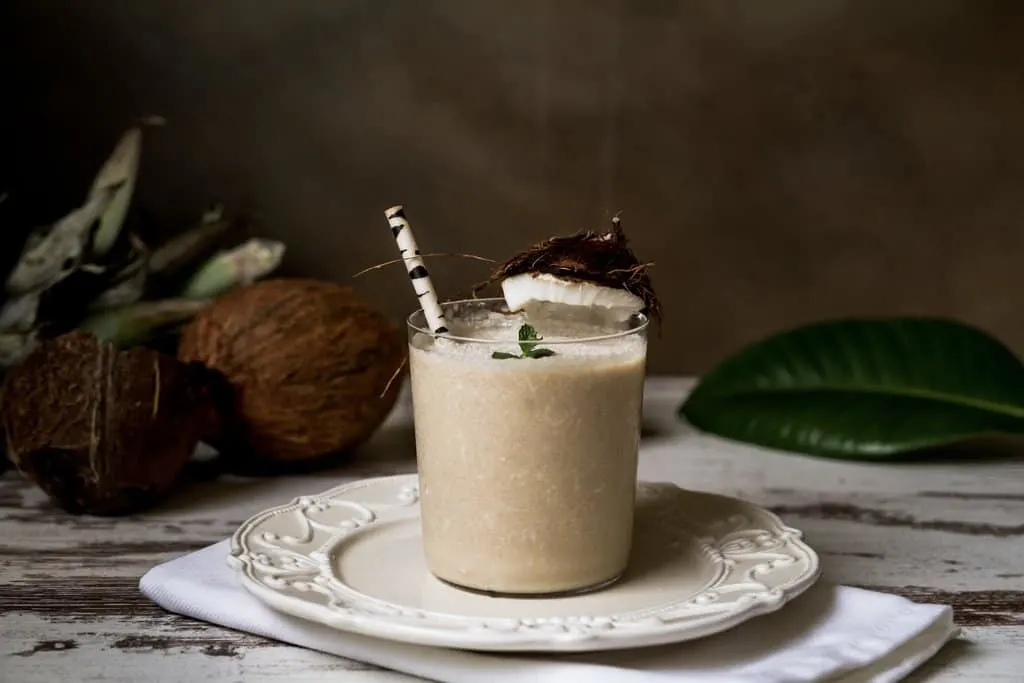 And who can forget rum cream? I often heard this talked about lovingly. And that once you try it you will never give one up! In general, these Caribbean rum crème's are the equivalent to the Irish's crème liquors such as Bailey's and similar to Mexico's Kahlua Coffee Crème.
There are two major distilleries in Jamaica that make this rum crème: O'Riiey's and Sangster's. The better one, of course, is the big debate around the town. And each person seems to have a preference for one or the other. It is typically served on the rocks, but can also be put in cocktails. Some are served with tropical fruits or agua de jamaica.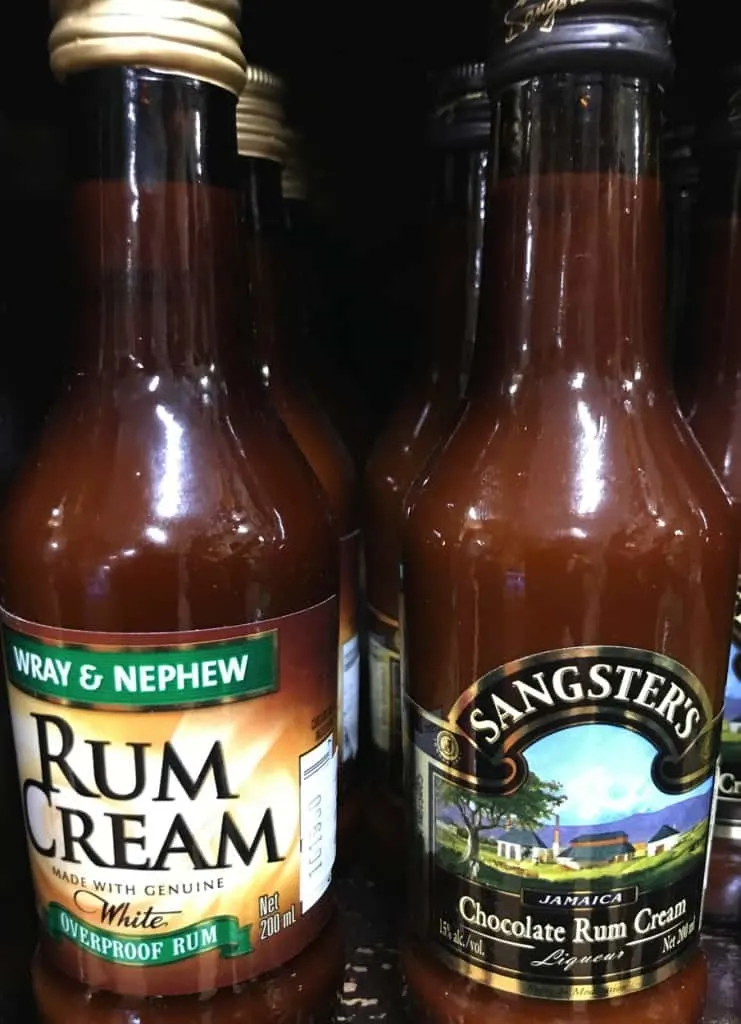 ✦ Jamaican Guinness Punch
If you are looking for a delicious and easy alcoholic punch to make, then try the Guinness Punch. This punch is made from Guinness, condensed milk, nutmeg or cinnamon, and oats, with a dash of vanilla extract. Guinness punch is a smooth drink and it tastes creamy.
It has a perfect combination of the bitterness of the Guinness and the sweetness of the condensed milk. Some call it a Caribbean Cold Blended beverage. But no matter how you look at it, it tastes strong and delicious. And it is an easily blended drink to make at home. I promise you, you will never try anything else like this amazing drink.
Every Caribbean country prepares it a little bit differently, but the base remains the same: Guinness, sweetened condensed milk, vanilla extract, nutmeg, and cinnamon powder. Be sure and use Guinness's dark Irish Stout because that is what adds bitterness to the punch.
Many people use a raw egg in their Guinness Punch, while some people do not put one in. You also use supligen, Supligen is a creamy and flavorful drink that comes in a can that you can get at a local store. Adding this to the Guinness punch gives it a little thickness and added flavor. If you can't find supligen, then you can use whole milk instead.
You can make a pitcher of Guinness Punch using a large pitcher with a lid. I would allow it to chill in the icebox for at least an hour, but if you can't wait that long, then you can pour it in a glass over ice. Be sure and garnish it with some whipped cream and grated nutmeg to serve.
My final thought about Guinness Punch is that I found that it tasted better after chilling in the fridge for at least 24 hours. I would also suggest adding ice cubes to the glass because it makes the drink a lot cooler and smoother. I also wanted to add that if you are not a fan of Guinness (or any type of bitter stouts), then this recipe may not taste right to you. This was my first time tasting a Guinness punch and I was pleasantly surprised.
Have you ever tried a classic Jamaican Rum Punch? What was your favorite recipe? Let me know in the comments below.
✦ Jamaican Breeze
Head to the liquor store and get what you want: a Jamaican Breeze. Here I have an original recipe from bartender Willy Shine.
The cocktail begins and ends with rum. Shine chooses Appleton Estate Reserve. It has aromas of fruit and oak. But also flavors of honey, vanilla, holiday spices, and orange juice. He puts the perfect amount of pineapple juice in the drink. Plus things like Angostura bitters, ginger, and simple syrup. The ginger is squished in the shaker which complements the rich rum and sweet pineapple.
✦ Jamaican Purple Rain
Here is what the Purple Rain has in it:
1 1/2 oz. (45ml) Vodka
3 oz. (90ml) Lemonade
1/2 oz. (15ml) Blue Curaçao
1/4 oz. (7ml) Grenadine
Rim: Purple Sugar
Garnish: Lemon Slice
Rime the edge of your cocktail glass with the lemon slice and purple sugar. Shake well and drink responsibly!
✦ Jamaican Drinks: Non-Alcoholic Variety
Don't worry, you don't have to drink alcohol to get classic Jamaican drinks., as there are plenty of varieties of Jamaican drinks without alcohol in them. The kiddos will love them!
✦ Jamaican Red Stripe Beer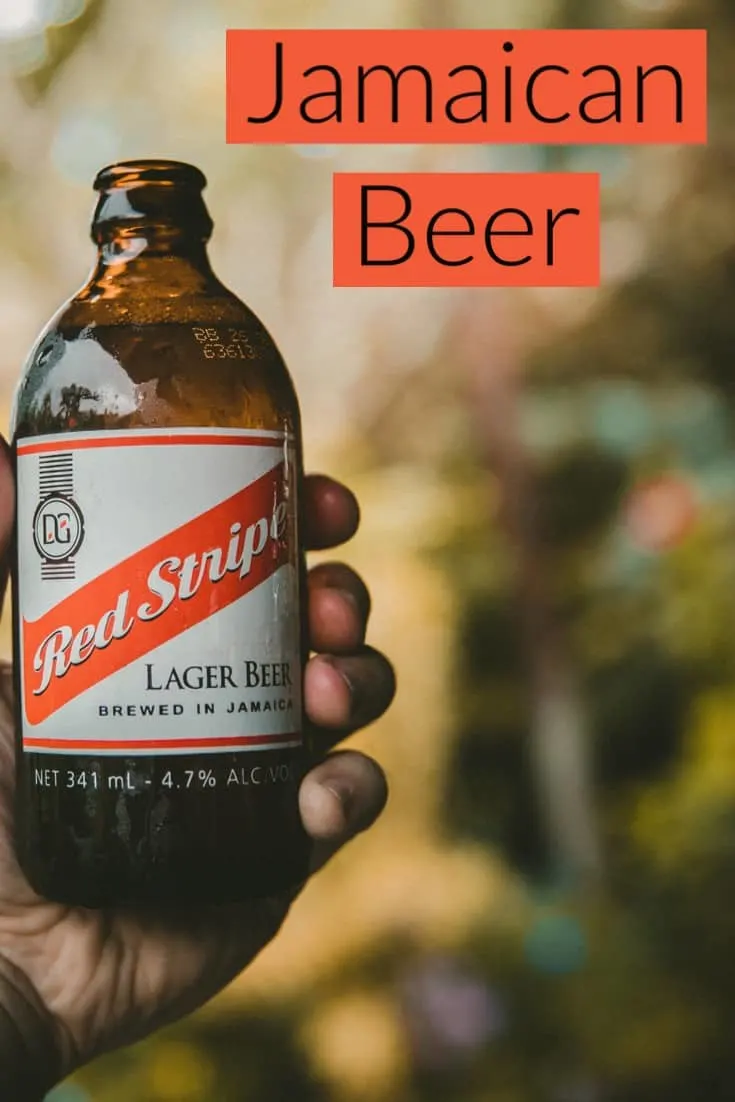 Surely you have either drank or at the very least heard of a Red Strip Beer? I bet you didn't know it was from Jamaica! It is one of the most famous Jamaican drinks and I saw it being served almost everywhere. In fact, it is the quintessential Jamaican beer. According to those who like beer (not me), it is a glorious tasting beer. However, this is the beer that is often associated with and used to make the famous Jamaican Jerk Chicken!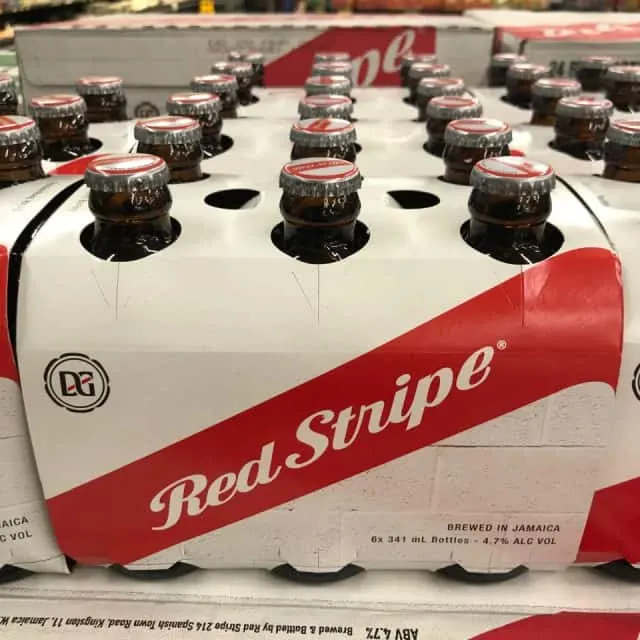 Red Stripe Beer also has several flavors of this beer: Ginger, apple, sorrel, and lime!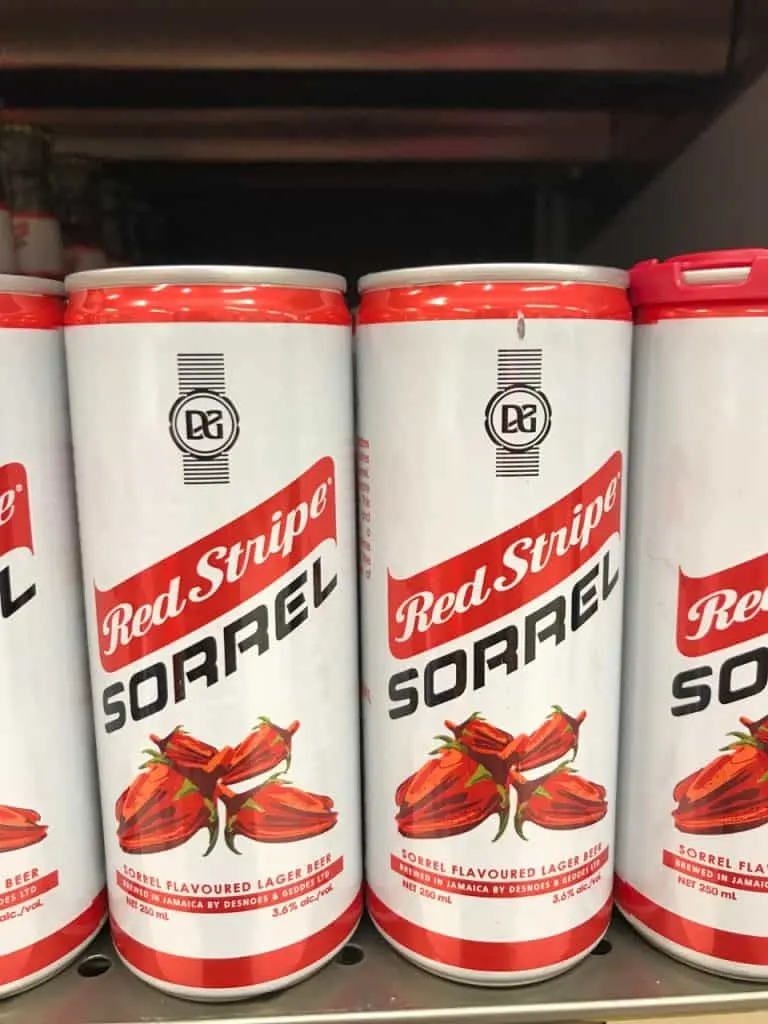 If your taste buds are craving some beer, then you must also try the Jamaican Ginger Beer when visiting this Caribbean country. You can even try making your own homemade beer using honey, lime, and bay leaves, click here for the recipe. The Jamaican type of ginger beer is also made from cane sugar and not corn syrup.
✦ Jamaican Bag Juice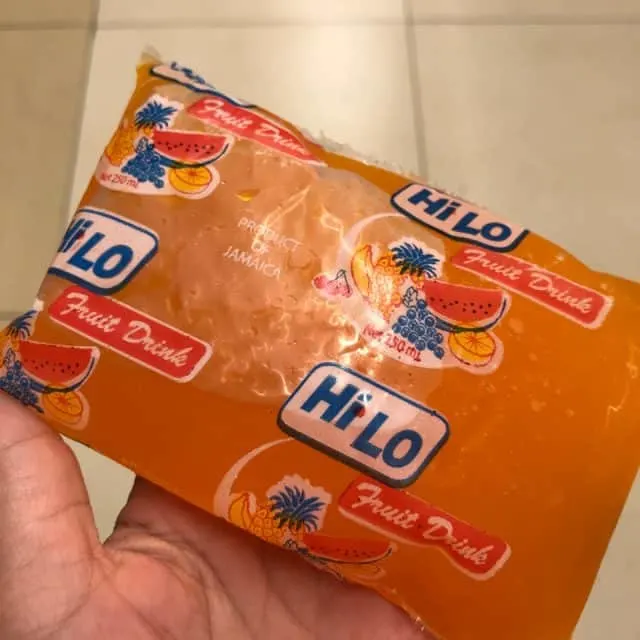 Bag juice is a popular Jamaican sugary drink. In fact, on my return trip to Jamaica, my son asked me to bring him some "bag juice". I really didn't know what he was talking about, but apparently, this is a very popular Jamaican drink for the kiddos. They drink it during school and play afternoon sports.
My son lived in Jamaica over the summer twice volunteering to work with underprivileged kids in the Kingston area and evidently, this was something they drank every day. You freeze the bag juice and then cut the corner of plastic off, and they sip it ice cold. They are quite a refreshing drink. Also, these are non-alcoholic drinks.
✦ Jamaican Ting Grapefruit Soda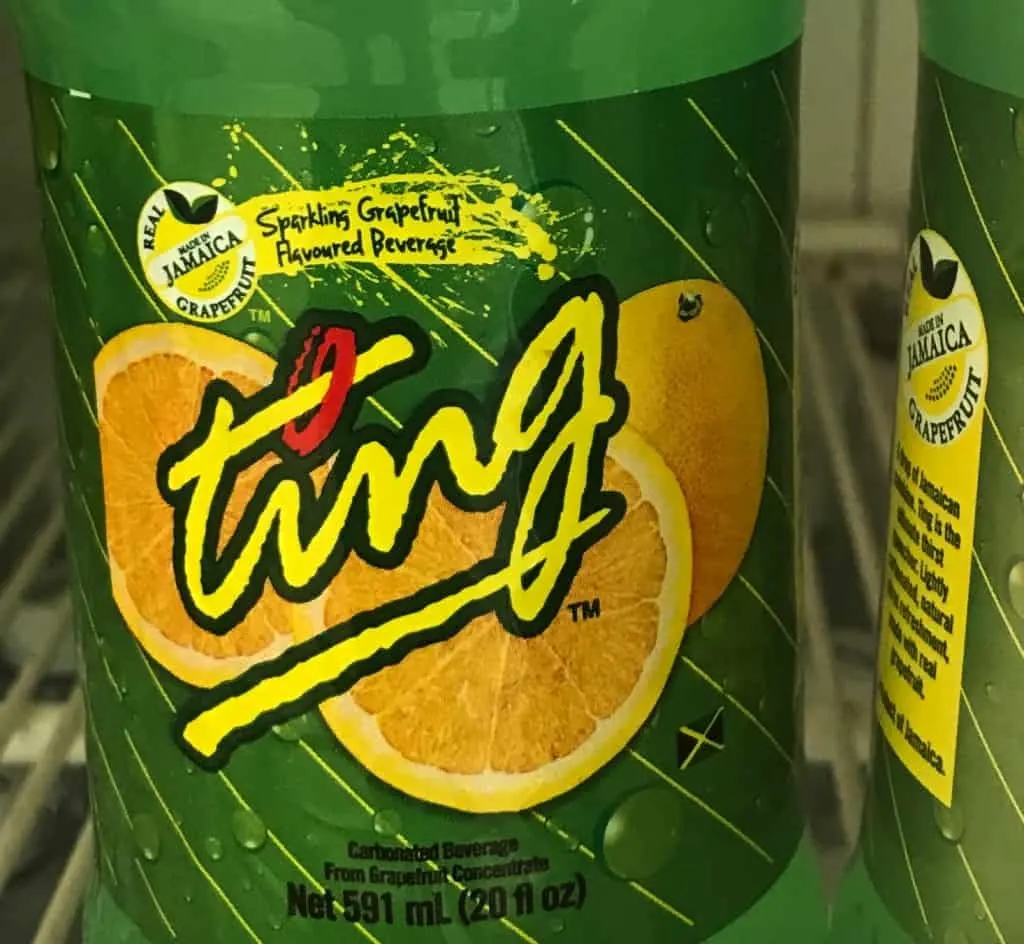 Another non-alcoholic drink is Ting, a Jamaican Grapefruit Soda. This soda is like Pepsi to Americans, you cannot have a meal without this scrumptious grapefruit soda says the Jamaicans I talked to! Ting means "thing" in the Creole language. Creole people are the ethnic groups of people that originated during the colonial era from racial mixing.
---
As a side note: A famous alcoholic drink in Jamaica is called Vodka & Ting! Obviously, you know what is in it!
---
✦ Jamaican Irish Moss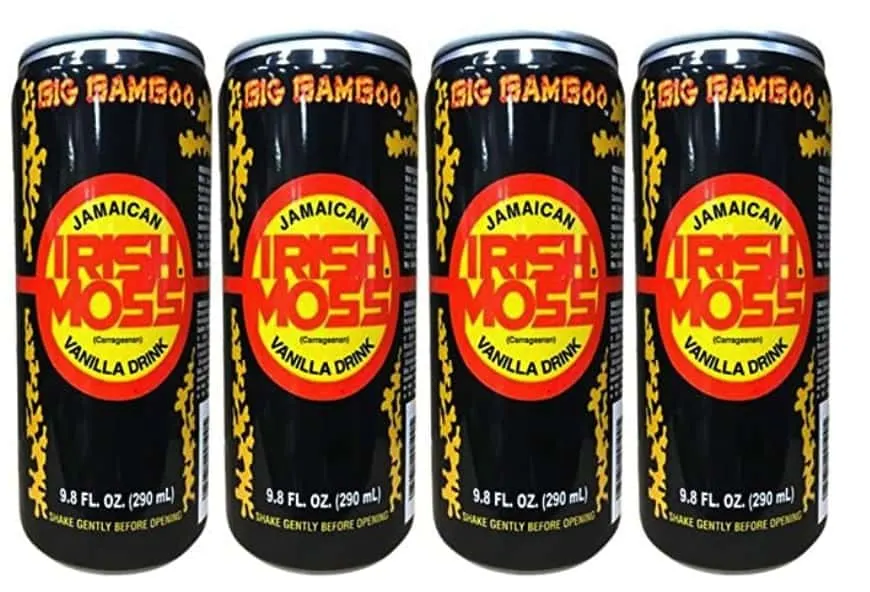 Irish Moss is a classic Jamaican beverage and is a form of sea moss. It is also known as Chondrus crispus. It is a species of red algae that grows abundantly along with the rocky parts of Jamaica. They say it is a drink that helps one with gaining energy.
Apparently, Irish laborers brought the drink with them when they came to Jamaica and planted it. Irish moss is hailed as a wonder seaweed and is touted for its abilities to moisturize, vitalize, and increase male libido. As mentioned before, it is native to Ireland, the red algae is packed with nutrition—10 percent protein and 15 percent mineral matter. Irish Moss is made by boiling red algae in milk and then sweetened with honey.
✦ Jamaican Sorrel Drinks
Jamaican Sorrel drinks are commonly sipped among locals and tourists alike in Ocho Rios, Jamaica. These drinks include Jamaican sorrel and sorrel tea, which is made from the Sorrel flower.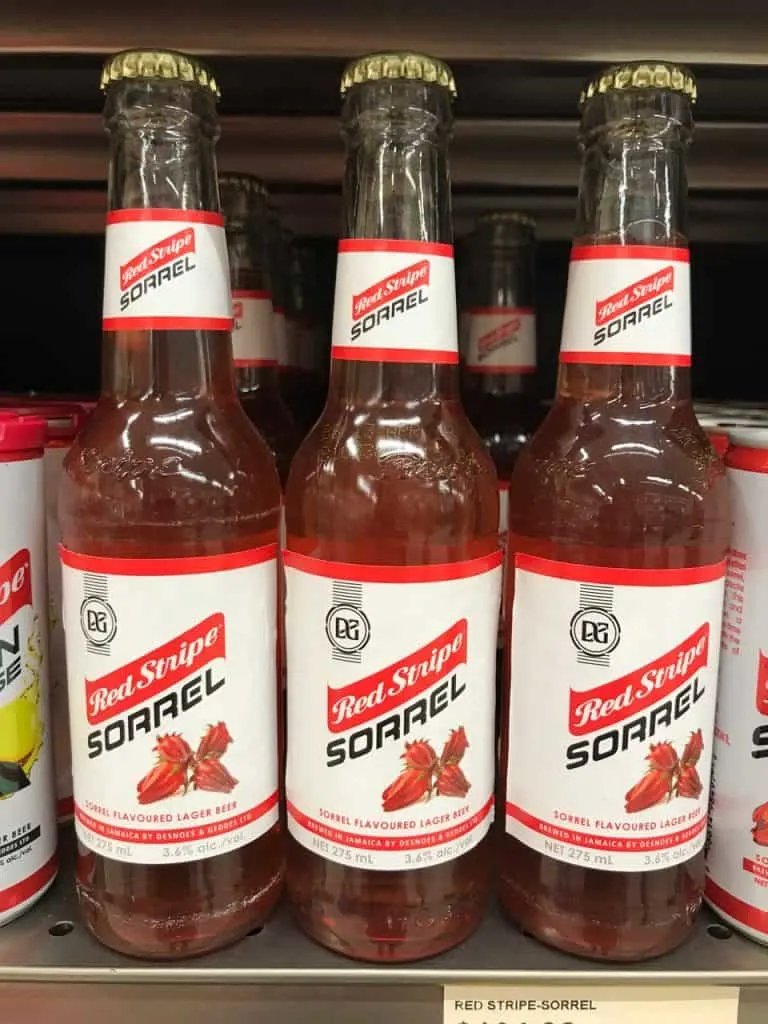 So what is the sorrel flower? It is actually hibiscus. Since this Jamaican drink is red, it is often a traditional Christmas punch. It is made by steeping dried hibiscus flowers with fresh ginger and sugar and then chilled overnight. This flower is known as sorrel in Jamaica and is not to be confused with the pungent green flower that can be found in most Caribbean markets. Typically it is served over ice with a splash of soda water and lime.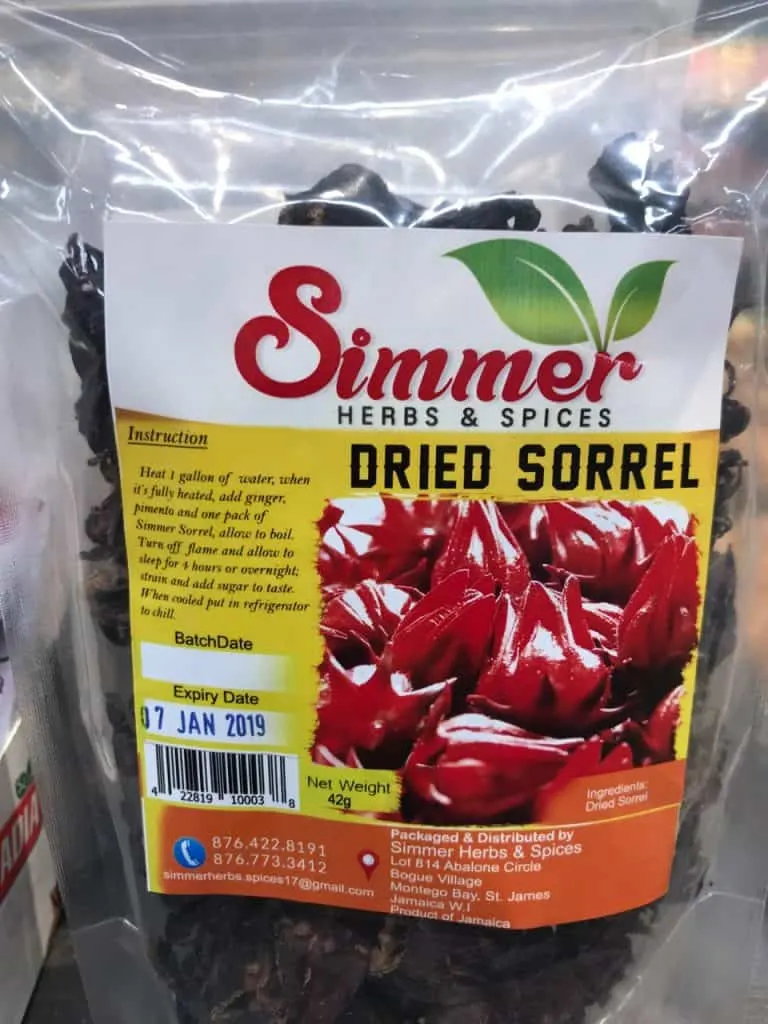 ✦List of Well-Known Jamaican Drinks:
There is a list of the many cocktails you can find at almost any resort on the island: here on TripAdvisor.
✦ Jamaican Blue Mountain Coffee
As mentioned before, one of the most famous drinks in all of Jamaica is Blue Mountain Coffee. This coffee is sold worldwide. Jamaicans have a very hands approach when it comes to growing, picking, and processing their coffee. This process, in turn, makes for less production and a more expensive export. Also, there is not a lot of output of coffee from Jamaica, as they only grow about 4 and 5 million pounds a year.
Whereas, larger regions in the Caribbean area produce between 13 million and 118 million pounds per year! Their growing season high up in the Blue Mountains also takes longer to produce a crop, in upwards of about 10 months for a growing season from bloom to harvest. This, in turn, slows down the production of this amazing Jamaican drink. It is also quite labor-intensive. And even once they are picked, they are graded and sorted by quality, so as you can see, the process takes quite some time to make this delicious and famous Jamaican drink, the Blue Mountain Coffee.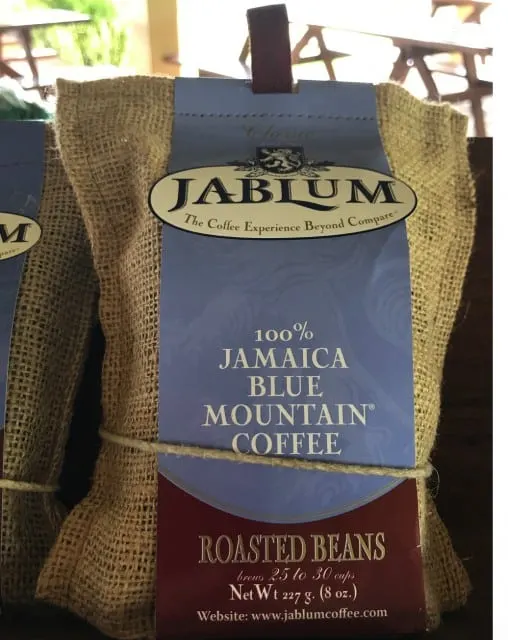 Recommended Reading About A Trip To Jamaica:
5 Jamaican Travel Tips to Make Your Trip Perfect
Come Join Me at Half Moon Jamaica
Sandals Ochi Rios, Jamaica Review
A Lesson Learned on Giving Back
Montego Bay Jamaica Excursions
---
In fact, you can take a look at some other traditional country foods, desserts, and drinks I have written about in these articles:
Season Your Life with These Cuban Spices!
A Guide to Buying in a Mexican Grocery Store
Disclosure: As is common in the travel industry, I was provided with accommodations, meals, and other compensation for the purposes of review by the Jamaica Tourist Board in conjunction with Blogilicious. While it has not influenced my review, PointsandTravel.com believes in full disclosure of all potential conflicts of interest. All Photos were taken by the author/or were given permission from the photographer. Affiliate links are located in this article.