Cozumel Island is a charming island that you will find on the Caribbean Sea. This undeveloped land has retained much of its old-world charm that has attracted tourists to its shores. Aside from that, the Cozumel beaches here are just gorgeous. They boast of soft white sand and crystalline water that you will not hesitate to dive right into.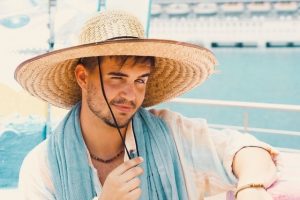 ---
Cozumel Beaches
(Without The Crowds)
---
---
If this is your first time visiting the island, you might not know where to start. Here we rounded up the beautiful beaches that you don't want to miss.

List of the Best Beaches in Cozumel
The east coast of Cozumel island is not that developed. You will come across a rugged and rocky coastline, but this does not take away the beauty on the east side of the island. On the other hand, Cozumel's west coast faces towards the mainland. This is why you will find calm waters and stunning marine life that add color to the place.
If you are planning on spending some time in Cozumel, knowing which beach to head out to is a great idea. Here is a list of the best ones that you will find on this island.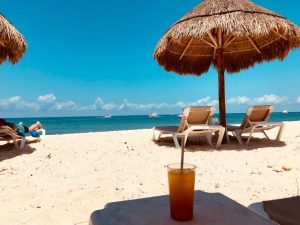 #1 Punta Morena – East Coast
The beautiful coastline of Punta Morena is home to crystal clear water and soft sand. It is a popular spot for families who are visiting Quintana Roo. Aside from getting your tan on its pristine beach, you can also make sandcastles with your kids too. Also, the gentle waters are suitable for swimming.
In addition, there are lounge chairs and hammocks on the beach that you can sit or lie on while you relax. The best part is that there is a beach club here where you can grab some refreshments and food. They also have more beach chairs for you to sit on and a small pool that you can swim in.
#2 Playa Chen Rio – East Coast
Just like the other beaches on the east side of Cozumel, Playa Chen Rio is not crowded at all. This is the perfect spot for you to lie back and just listen to the sound of the waves crashing against the rocks. Aside from that, there is a swimming and diving area with a depth of 6 1/2 feet (2 meters). This is because the large rocks around the area break the waves coming in from the open waters.
In addition, there are lockers and showers on this rocky island that you can take advantage of. If you are getting hungry, head to El Pescador. Where you can expect fresh seafood all the time.

#3 Playa Bonita – East Coast
The first thing that you will notice when you reach Playa Bonita is its powdery white sand set in a beautiful cove. This public beach which they also call Playa San Martin gives that untamed vibe to it. Aside from that, the waters are manageable here even with the waves coming in. Which means that you can go swimming. That without worrying about the tide pulling you out into the open waters. However, keep in mind that there are no lifeguards here so keep an eye on your children if they are with you.
In addition, you will find that there is a bar and a restaurant in Playa del San Martin that you can head to for food and drinks. If you want to take a break from the waters, then go and visit the Mayan ruins nearby. The eastern beaches like this one give you a chance to sit back and relax with just the sound of the ocean as your background music.
#4 Paradise Beach – West Coast
The sheltered Paradise Beach is one of the most popular beaches that you can visit in Cozumel. In fact, families with small children will find this an ideal place. Their kids can idle away the hours on the west side of Cozumel. After all, the calm waters and sandy beach give that relaxing vibe to the place.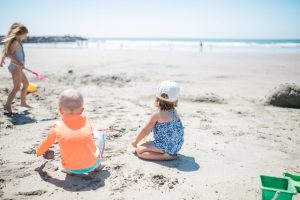 Meanwhile, the beach club offers access to amenities for a small fee. They have food and refreshments available. So you don't have to bring your own food. Also, you can rent paddleboards, kayaks, and even snorkel equipment. Especially if you want to explore the waters some more. The good news is that the admission fee to the beach club comes with free use of their beach chairs. This way, you will be able to sit back and relax. And keeping an eye on your kids.
#5 Mr. Sanchos Beach – West Coast
Mr. Sanchos Beach is a great place to head to if you are bringing your kids with you. Aside from being the largest private beach on the island, it is just 15 minutes away from the town of San Miguel. On a good note, there is no entrance fee here. But if you want to have access to their amenities, you will need to get a day pass. Aside from that, you can go horseback riding, swimming, kayaking, and more here.
A day pass will give you access to their facilities. Which includes large pools with bars. This way, you can swim up to the bar and order your favorite drink. Also, there is a swing seat by the bar. You can stay while enjoying your refreshing drink. The best part is that it gives you a great view of the Caribbean Sea. Expect good food served here too. This makes a trip here more exciting.

#6 Stingray Beach – West Coast
Stingray Beach is another beach that you will find near San Miguel de Cozumel. Which is the cruise port of Cozumel. As the name suggests, there are plenty of stingrays just off the shore. There is an entrance fee to pay before getting access to this stunning beach. If you want, you can go ahead and swim with these gentle creatures. Don't worry, they often swim near the shore because they are expecting people to feed them.
Aside from seeing stingrays up close, there are other activities that you can do here. Among these are paddleboarding, making pinatas, and wine tasting just to name a few. Also, you can grab a drink or two from the bar on the beach. Do try their seafood menu because they have fresh seafood on hand.
#7 Playa Palancar – West Coast
For guests who are looking forward to staying in an all–inclusive resort, do check the ones in Playa Palancar. This is a luxurious beach that boasts powdery white sand set against turquoise waters. You can already imagine why this is the perfect spot to bring the whole family to. It is more than 621.3 miles (kilometer) long. And offers several amenities that will make your stay here enjoyable.
You will find plenty of umbrellas on the beach. Most offer shade from the tropical sun. Aside from that, there is an open dining area. Here you can get fresh seafood and cold drinks are available. Palancar is on the westernmost portion of Cozumel. But worth the trip once you see its natural beauty.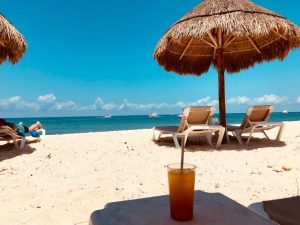 #8 Playa Mia Grand Beach Park
You may not believe this but there is a water park in Cozumel. That's right, Playa Mia Grand Beach Park is not only the largest beach, but it is also ideal for all ages. Bring the whole family or your friends with you to this impressive beach. It will be a trip you will not soon forget.
As a matter of fact, there are dozens of water sports and fun activities that you can do here. For example, you can go paddleboarding, kayaking, and swimming in its crystal clear waters. There are lockers where you can store your belongings. Plus beach loungers are available for use too.
Once you have had your fill of its beach area, why not check the park itself? There are plenty of water slides that come in different heights and lengths that you can try here. Also, there are other activities that you and your kids can enjoy here as well.

#9 Playa San Francisco – West Coast
Playa San Francisco boasts 3 miles of sandy beach that you will fall in love with. In fact, there are two beaches here. They are Playa Maya and Santa Rosa. Cruise ships drop by here because of its stunning stretch of beach and blue waters. Also, snorkelers and scuba divers frequent this spot to see the San Francisco reef. As well as the Santa Rosa Wall.
There are local shops here that sell food, drinks, and other goods. You can also rent out water sports equipment too. Especially if you want to enjoy the sparkling water. If you want to get out from under the sun. There is a beach bar that lets you rent an umbrella and a beach chair. They also have a pool. Which you can access once you pay the entrance fee.
#10 Playa Corona – West Coast
One of the best things that you can do while you are in Cozumel is to head to Playa Corona. This is one of the beaches that have gained notoriety among tourists. After all, this beach is a haven for snorkelers and scuba divers, and with good reason. You can swim to the Chankanaab Reef which is home to a wide range of sea creatures. It is a good idea to bring your snorkel gear with you when heading here. This way, you will not miss seeing the beauty that lies beneath the waters. After all, this is a great snorkeling area with a coral reef and plenty of sea creatures to see.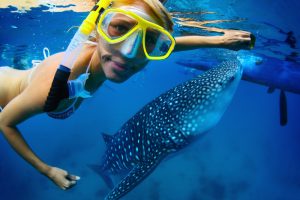 On the other hand, there are beach huts on the white sandy beaches. These will provide you with some shade from the intense heat. Keep in mind that the beach can get busy during the weekends. If you prefer to enjoy the beach without many people, visit here during weekdays.
#11 Dzul Ha – West Coast
The coast of Mexico is also home to Dzul Ha on the west side of Cozumel. What makes this a good place for travelers is it is a sunset beach. Yes, the sunsets here are unbelievable so bring your cameras with you. Although this is not a huge beach, there are several activities that you can take advantage of. For example, you can go snorkeling or scuba diving on the off-shore reef. The best part is that you don't need to have a guide or even ride a boat to reach the reef.
Aside from that, the beach is a combination of pebbles and sand so you should wear some sturdy footwear. This way, it will be easier to go on a stroll here. Don't worry if you forgot to bring food and water here because you can just pop into the Money Bar. They serve food and drinks here at reasonable prices.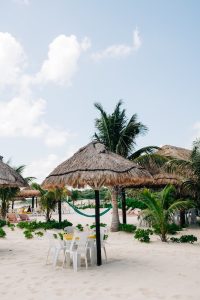 #12 Playa La Palapita Den Medio – West Coast
Playa La Palapita is a tranquil beach that is devoid of crowds. After all, cruise ship passengers prefer to visit beaches further south. What sets this small beach club apart from the others is that it is open day and night. This is quite rare on the island but a treat for those who are visiting.
In addition, the main road will take you to the downtown area of the island which will take you around three minutes to get there. The best way to enjoy this tranquil beach with your friends is to visit on Thursdays because of their karaoke nights. You can belt out your favorite song here while enjoying great food and amazing company.
#13 Passion Island – North
Isla Pasion is a private island that is on the northern part of Cozumel. What makes this small island one of the best places to visit in Cozumel is its white sandy beaches that complement the blue waters. Aside from that, there is no shortage of fun water activities to do here like swimming, snorkeling, and scuba diving just to name a few.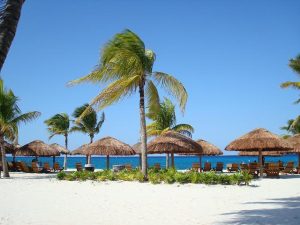 Since this is one of the best places that tourists can head to in Cozumel, make sure that you book a tour of this island. This way, your guide will be the one to handle all of the activities here such as riding jet skis, trying their off-road vehicles, and others.
#14 Playa San Juan – North West
Another option that you can head out to in the Yucatan Peninsula is Playa San Juan. This well-maintained beach is a great spot for families because there are plenty of activities to do here. In fact, its stunning coastline is ideal for making sandcastles with your little ones. Other water activities that you can do here are swimming, windsurfing, and snorkeling.
There are beach huts and palm trees that offer some shade against the sun. Fortunately, there are stalls here that offer food and drinks if you are getting hungry. Also, if you forgot to bring your snorkel gear or you want to rent other equipment, visit Playa El Cielo in Punta Sur. They have everything you need to have fun out in the waters.

#15 Playa Azul – North West
Playa Azul is the perfect beach for tourists who want to be near hotel accommodations and business establishments. Aside from that, this is a great beach for couples who want to escape the hustle and bustle of city life. Just imagine enjoying jet-skiing, kayaking, and swimming in its pristine waters together.
If you are traveling with your family, you will not be disappointed since there is a play area suitable for children. This way, you and your partner can have some quiet moments while letting your kids do what they want in a safe area. With regards to food, the Playa Azul Beach Club is popular among the locals. After all, you will find mouthwatering dishes here that are worth trying.
Wrapping up Best Beaches in Cozumel!
Cozumel is best known to be a haven for snorkelers and scuba divers and with good reason. Aside from the gorgeous white sand beaches, the crystal clear waters make it easier for guests to see the wonders underwater. From north to south and from east to west, you will find one stunning beach after the other. There are areas that have strong currents that divers should keep an eye on but on the whole, this is a safe place to be in.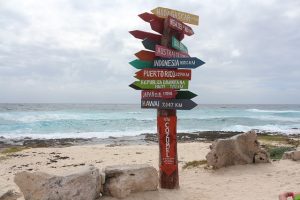 Fortunately, Cozumel is not the only one that has amazing beaches. In fact, you can also head out to Playa del Carmen and the Riviera Maya. All three lie on the Yucatan Peninsula.