An important part of any tourist experience visiting a new country for the very first time is the food. Guyana is one place where you can dive deep into the culture when searching for and tasting the local Guyanese food. In fact, in Guyana, the food appears to be a melting pot of age-old cultures, traditions, and flavors – many coming from Africa, Britain, the Caribbean, Dutch, India, China, and Portugal.
---
What's in this post:
hide
Guyanese Foods
---
Since Guyana has only recently become an independent country, their culture (and food) was never established to form one specific idea. Different ethnic foods have been combined to establish the cuisine of Guyana. Unlike its nearby Spanish-speaking countries, Guyana takes its examples from all these regions thus making Guyanese food quite an unusual and unique mix of flavors.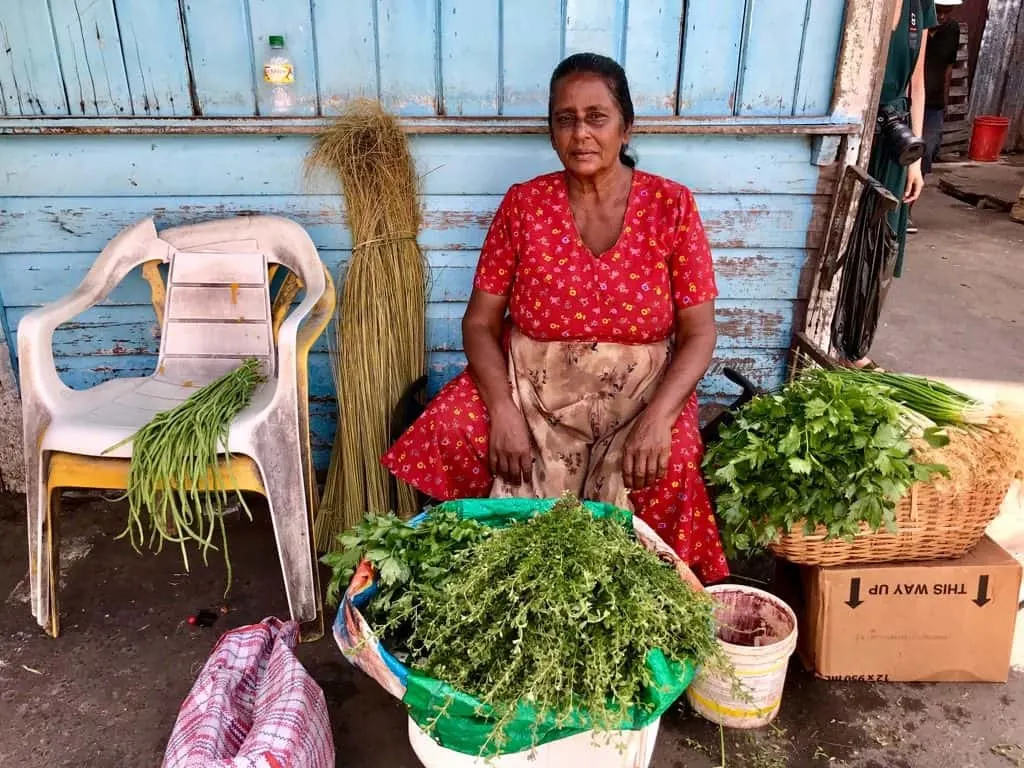 ✦ Guyanese History
South America is home to the most exotic places and cultures in the world, including Guyana. This country had been ruled by the British government until May 1966 when it officially gained its independence. Many people may think that most countries in South America speak Spanish, but that is not always the case.
The official language of Guyana is English and there are 9 regional languages spoken including Guyanese Creole. I never once heard Spanish being spoken here during my 10-day visit! It is also made up of six different ethnic groups.
✦ Guyanese Geography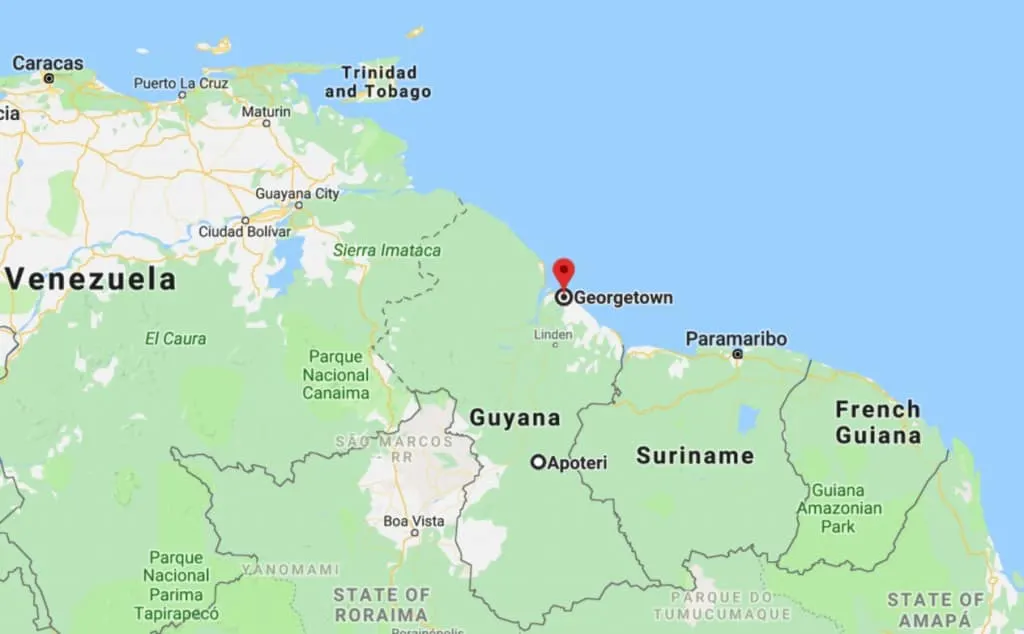 Guyana is in the northeastern part of South America and is one of the closest South American countries to the Caribbean. With over 83,000 square miles of land and water, Guyana is home to a little less 1 million people. Guyana is split into five regions: Low Coastal Plains, Hilly Sand Region, Clay region, Forested Highland Region, and Interior Savannah. Most of the population lives in the Hilly Sand and Clay Region.
This small country has had many disputes with neighboring countries such as Venezuela because of land ownership. Due to the large landmasses, Guyana earns its economic status level by exporting goods such as rice, sugar, and gold.
✦ Guyanese Culture
Musical influences from around the world have contributed to the traditions of the Guyanese people. Popular music genres include Calypso, Reggae and Indian. Like most European cultures, the main sport played in Guyana is soccer (also known as football). Aside from this sport, cricket is a huge hit among the Guyanese people and the 2007 Cricket World Cup was hosted in Guyana.
I even saw a few people playing cricket during my visit to Georgetown in Guyana. While visiting the deep innards of Guyana, I was lucky enough to see a local live cultural dance put on by the Sarama Cultural Group. Their purpose is to help the local villager's children not to forget their indigenous roots.
✦ Guyanese Food: Cassava
Guyanese food is usually prepared with love and richness from different types of food that is grown locally. One of the predominant foods I saw throughout the country is made from Cassava. Cassava is a tubular tree root from a tropical tree.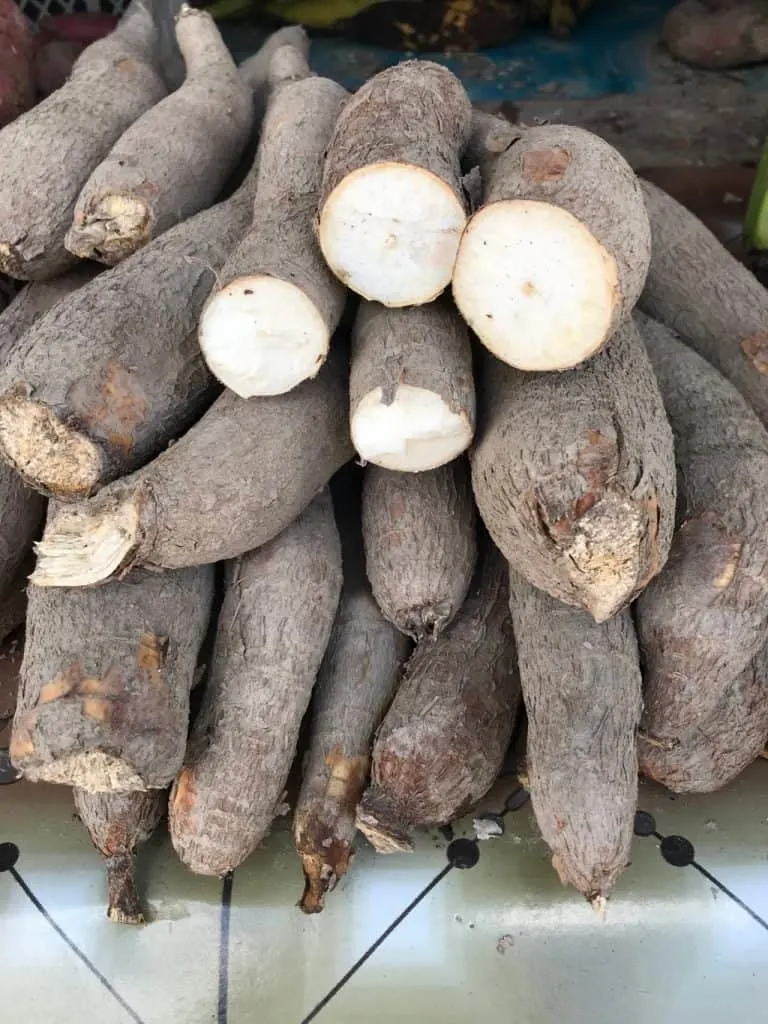 It is important to cook the root properly, as it may contain some poisonous properties.
There are two types of cassava: bitter and sweet. Bitter cassava contains high levels of compounds that when chewed and digested release toxic cyanide. Bitter cassava may contain as much as 1g of cyanide per 1 kg of cassava. Sweet cassava contains the same compounds but in significantly lower quantities.
Sweet cassava may contain as little as 20mg of cyanide per 1 kg of cassava, which is 50% less than bitter cassava. Cassava must be properly handled to detoxify it before it is eaten. For bitter Cassava, soaking it for 18–24 hours can remove up to half the level of cyanide. For sweet Cassava, boiling it does the trick.
Cassava root is used frequently throughout the region and is considered a staple food for many city dwellers and villagers. It makes their beloved staple food known as Farine. One thing that makes it so popular is the fact that it thrives in poor acid soil and works well with the "slash and burn" agricultural methods used by the local people.
I saw it used in the city as well as in the remote villages. Farine was offered at almost every meal except breakfast and seems to me to be like a cross between quinoa and couscous in texture and look.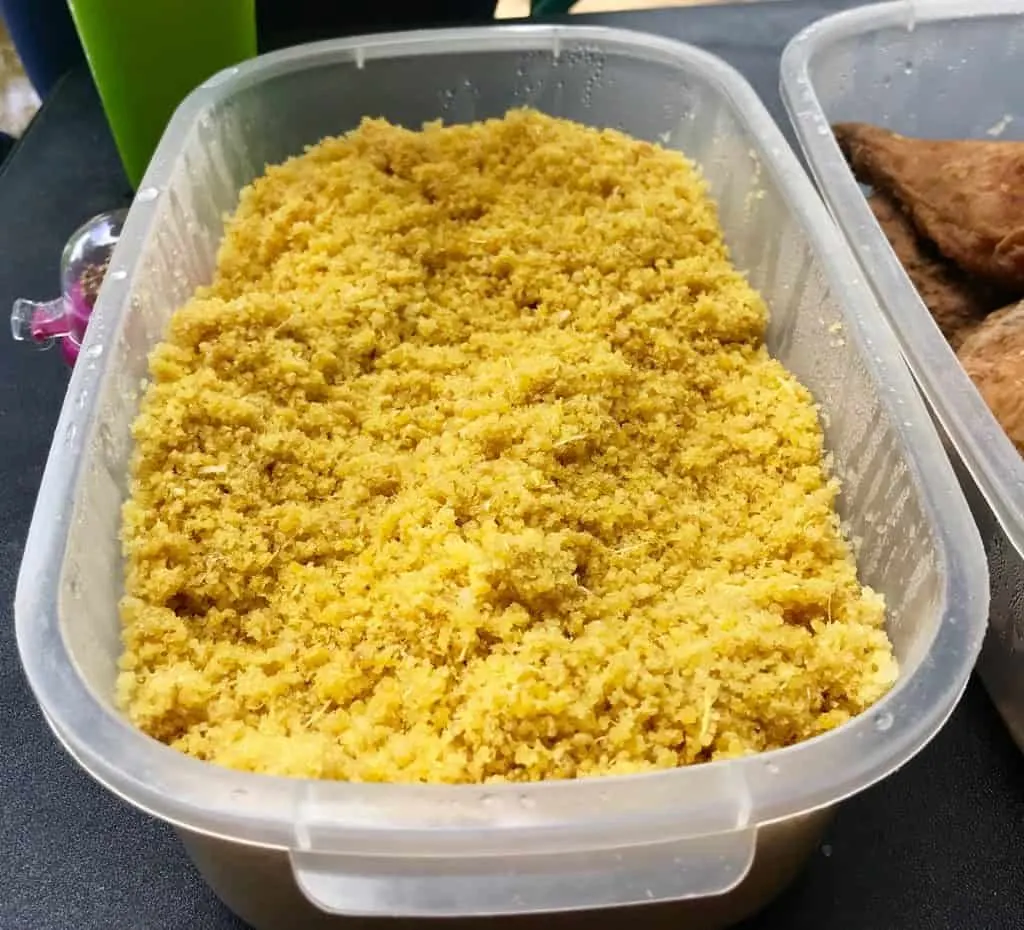 The main products of the cassava root are cassava bread and the grain-like Farine, mentioned before, and Cassareep.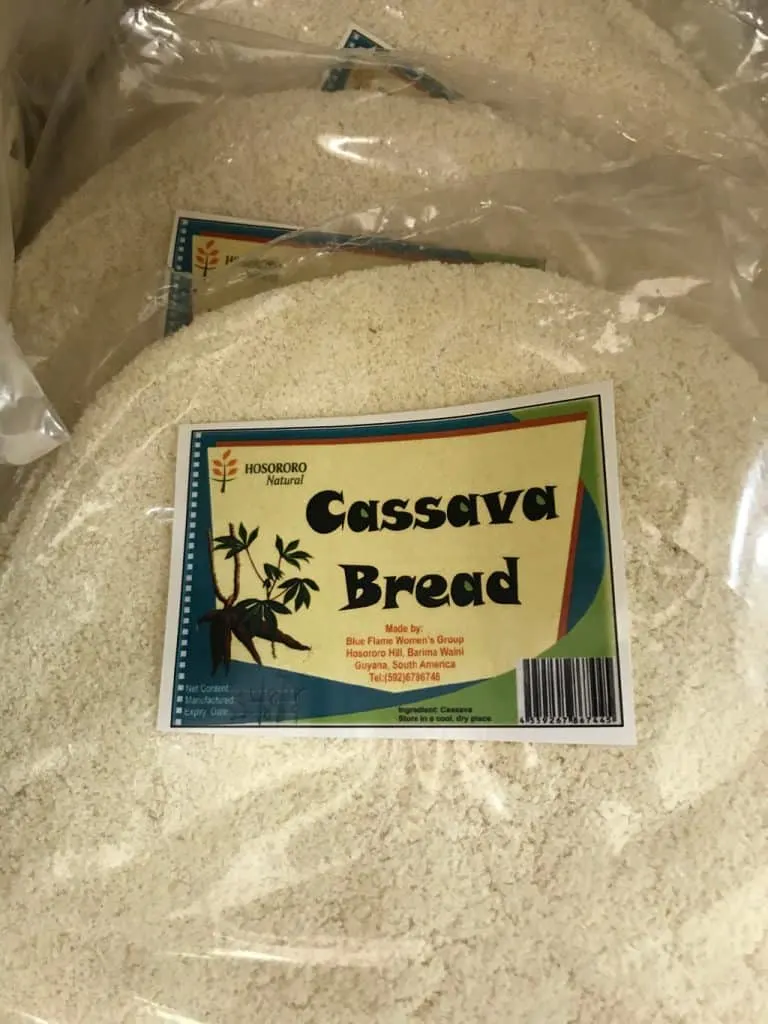 Cassava root can also be scraped and then grated into a pulp. The juice is then collected and boiled to make Cassareep, which is also used to make another popular dish, the Pepperpot. The cassava serves as a preservative since there is little to no refrigeration in the region. So preservation of the meat occurs through the Pepperpot. Pepperpot served with cassava bread is a popular dish in Guyana, in fact, it may very well be the national dish (along with chicken curry and cook-up rice!)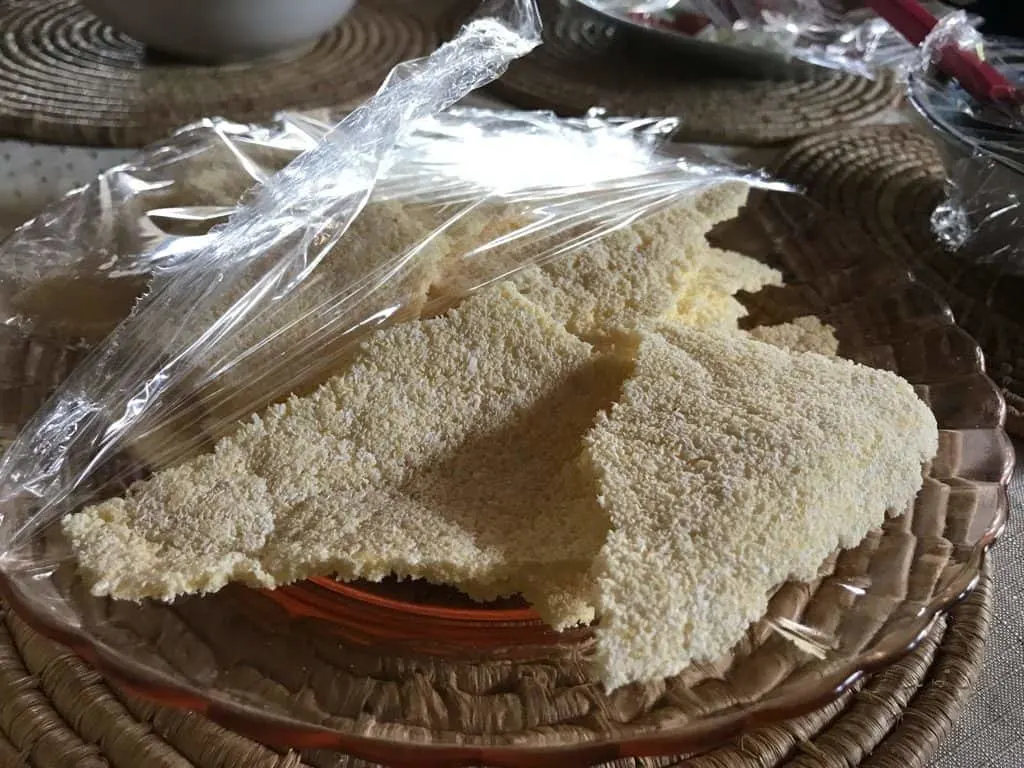 Pepperpot is served on Christmas day in most Georgetown homes but seems to be served daily deep in the jungles of Guyana. It was frequently offered to me at many meals. Another type of cassava is She Bay which is Farine mixed with water.
✦ Foods in Guyana: BAKE
Another thing that I ate almost daily was Bake. Bake is a deep-fried bread that is really delicious. It is like a cross between monkey bread (fried) and an English muffin (thick) in texture. Of course, I love it! Bake is most definitely a mainstay Guyanese Food.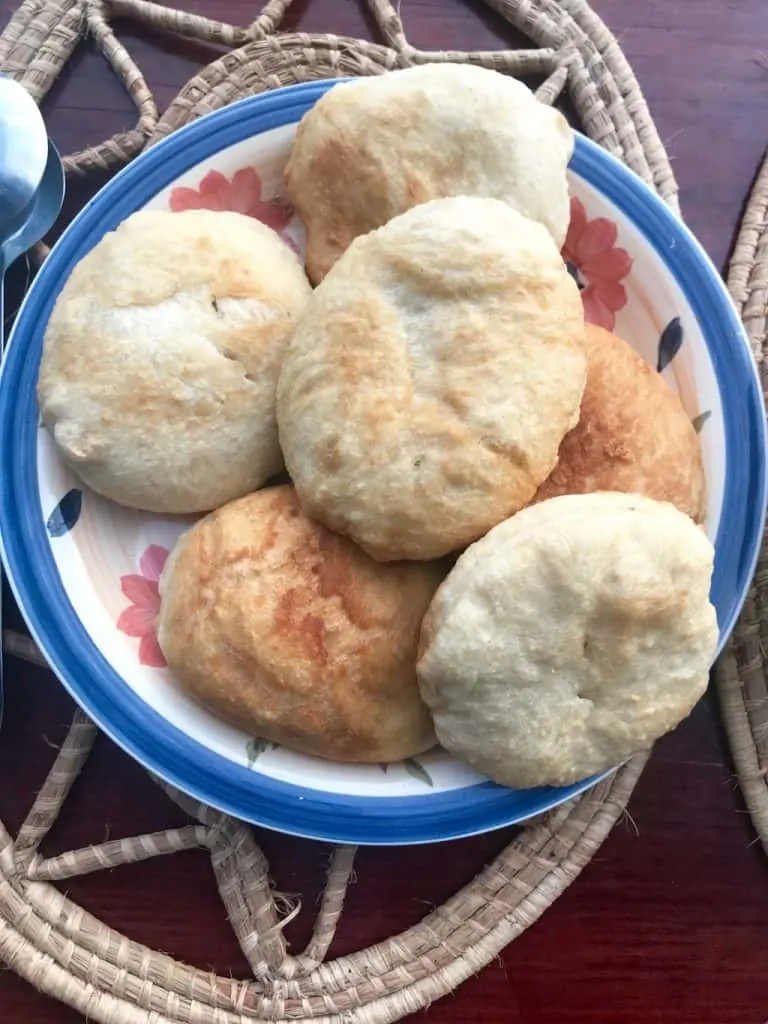 ✦ Guyanese Food: Typical Breakfast
A typical breakfast at the remote lodges I stayed at in the jungle was fruit:
(watermelon, papaya, mango, pineapple, and plantains)
Eggs (many styles)
Bacon
A few times for breakfast I was offered salt fish (salt-preserved whitefish) with Bake
Pancakes with locally made honey.
Calabresa (sausage)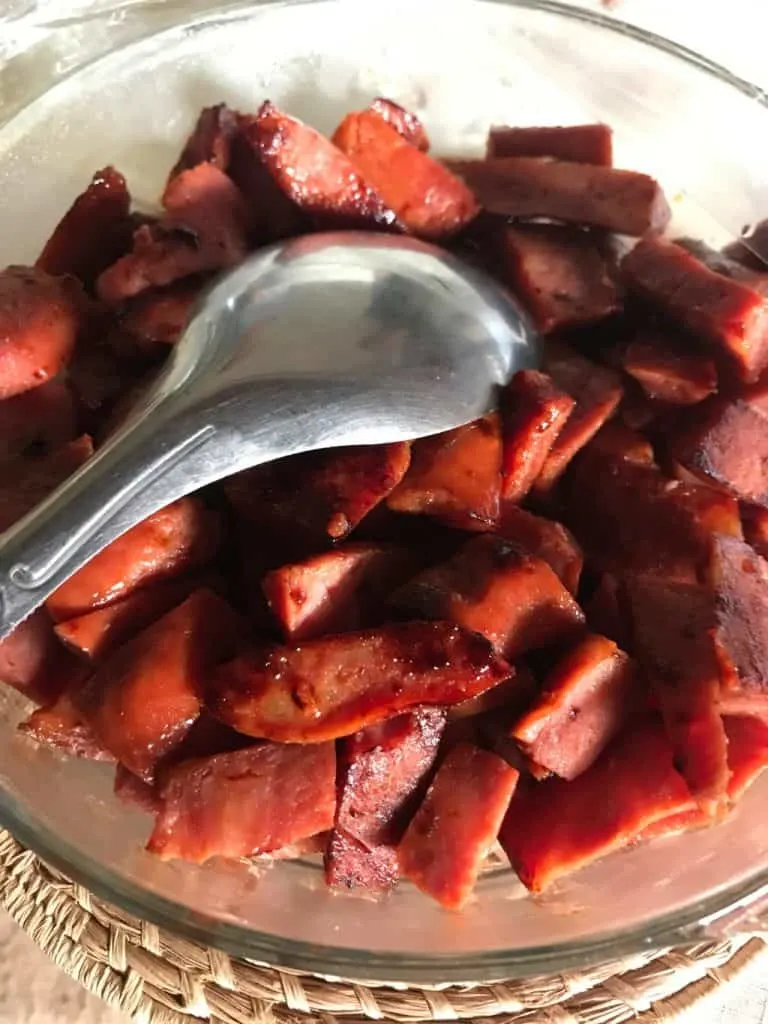 Locally made peanut butter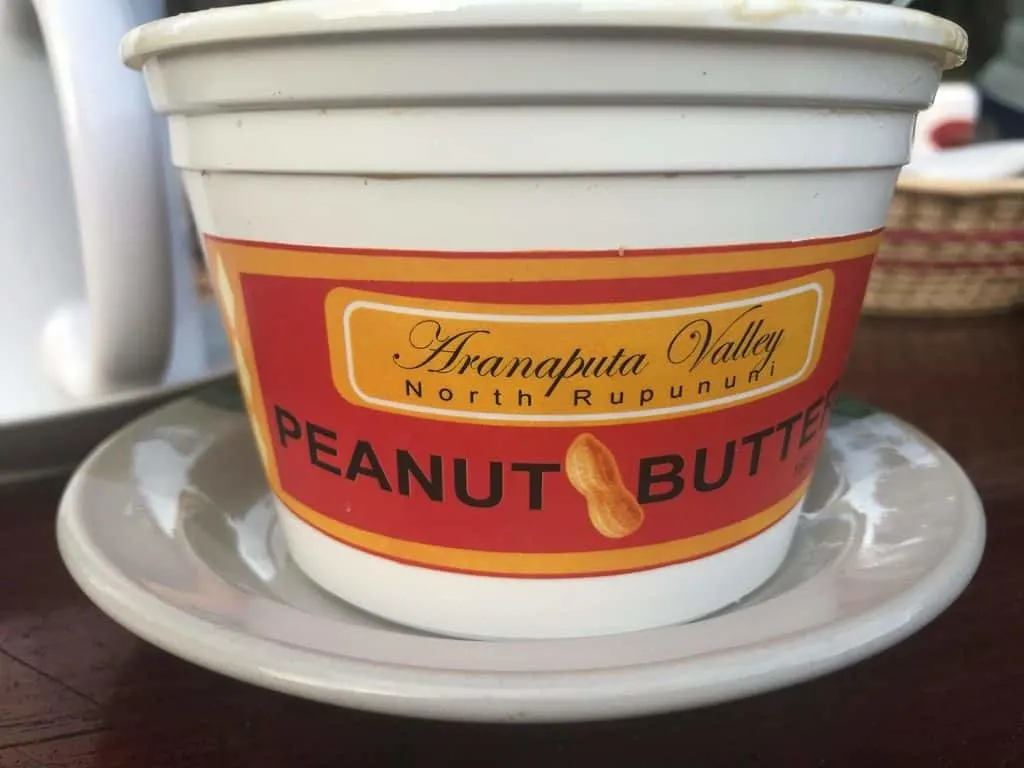 ✦ Foods in Guyana: What's in the pot?
As mentioned before, Pepperpot is a popular Guyanese food. It typically has some form of stewed meat that is strongly flavored with cassareep (mentioned above) with spices such as cinnamon, as well as hot peppers. Beef, pork, and mutton are the most popular meats used, though I did see some Pepperpot made with chicken.
Rumor has it that there is a pepper pot that has been on the pot for over 75 years in Georgetown, but I couldn't confirm this! (remember the cassava syrup serves as a preservative to the meat, so they just keep adding meat to the dish!).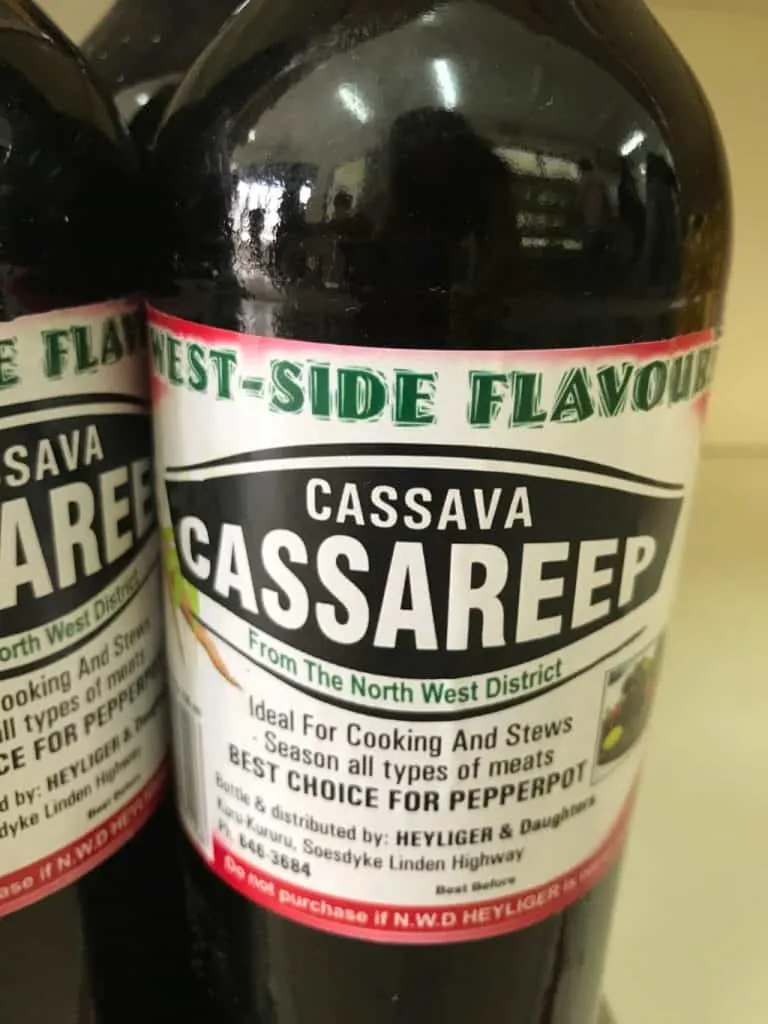 ✦ Guyanese Food: What's for Lunch or Dinner?
Each day I was always offered some form of chicken: fried, baked, barbequed, so chicken is commonly offered. Also, pepperpot, white fish, salt fish, and some form of vegetables. Along the coastline, fisherman bring in different types of fish such as butterfish, catfish, gilbaka, crabs, and tilapia.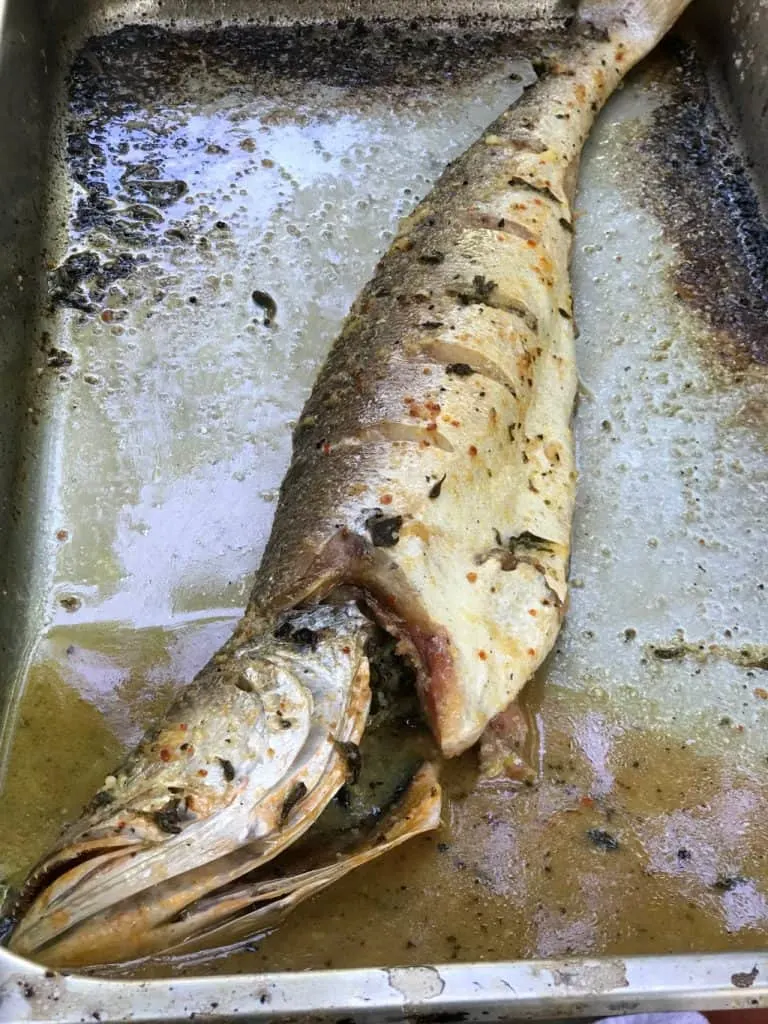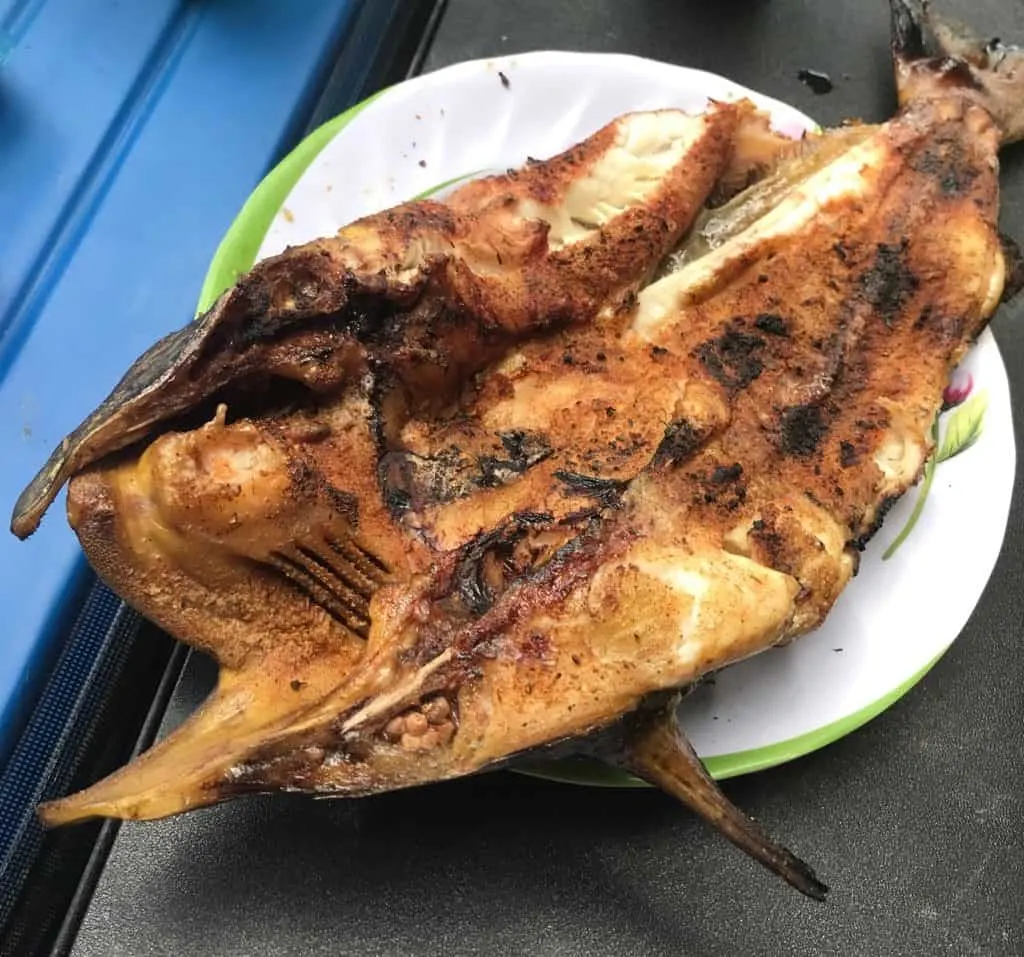 Pepper sauce was on almost every table I ate at. It is the local homemade hot sauce. And it is good to know that the art of bread making is famous throughout the small towns in Guyana.
Here is a video of a lunch we had:
✦ Here are some of the different foods in Guyana I had for dinner:
Curry and roti are a big part of the Guyanese cuisine that comes from India, whereas there is also a Guyanese styled lo mein from China, and of course, the staple ingredient of cassava and plantains that come from the Caribbean.
Roti, a flatbread
Dahl puri – boiled split peas
Tamarind sour legume dip or chutney-a dark brown seed in a shell. They de-shell the seed and make it into a dip. They can also make it into a syrup called a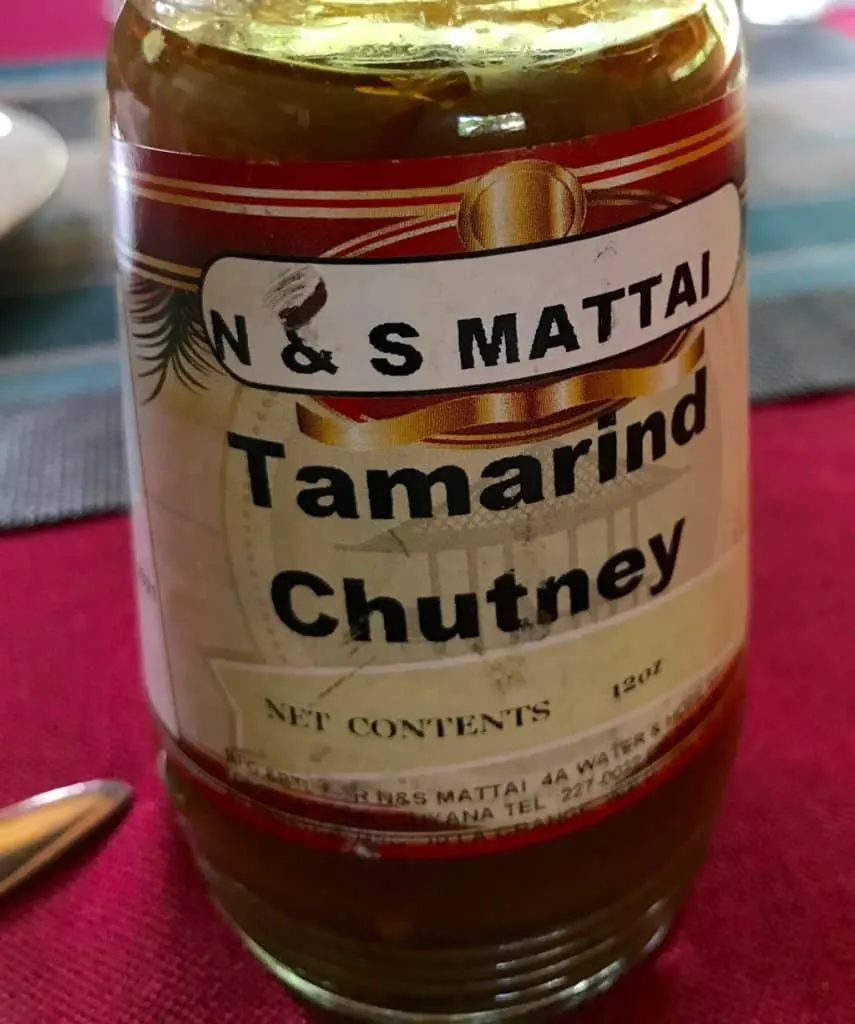 Tamarind ball. It is a sour/sweet snack. The legume is boil and mixed with seasoning.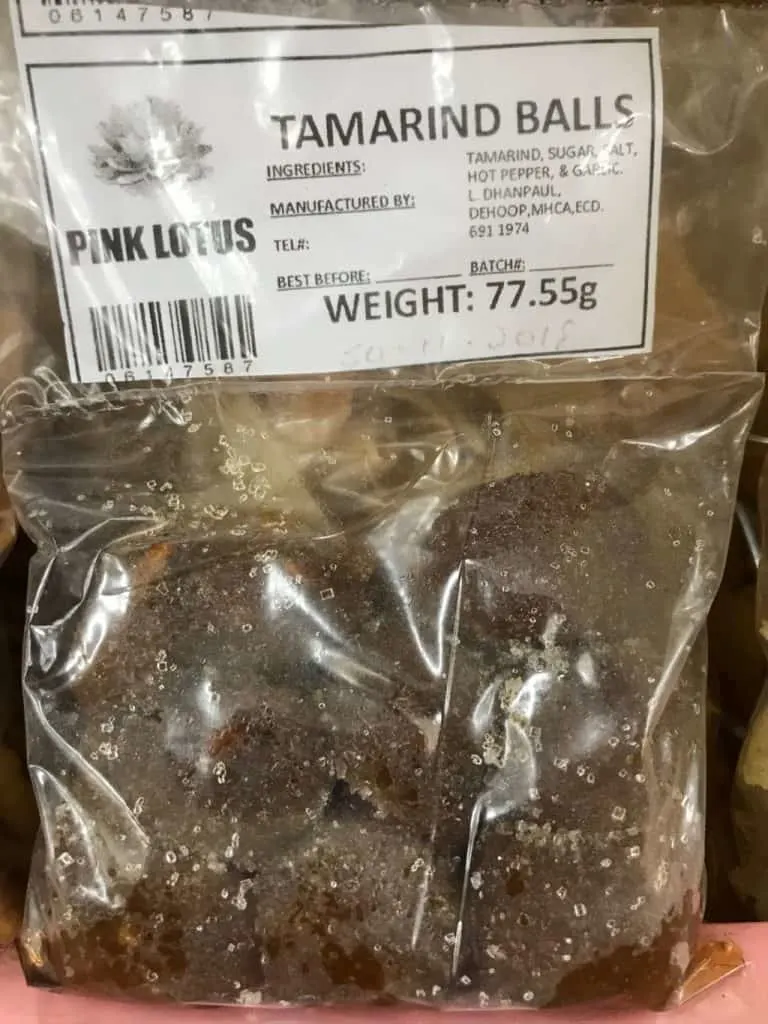 ✦ Foods in Guyana:
Yellow plantain salad
Metemgee is a Guyanese stew made with dumplings, cassava, yam, plantains, okra, and a hot peppery coconut milk sauce
Channa (chickpeas) Cookup
Cream of Eddo Soup (Eddo is similar to a yam, is pictured below)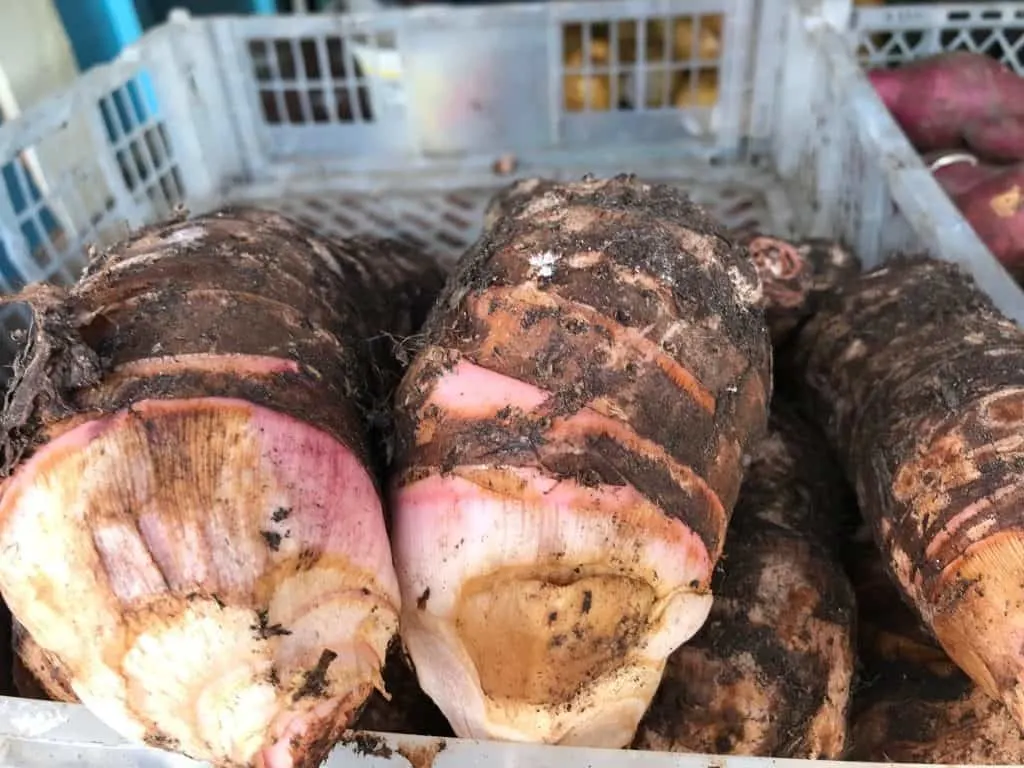 Baigan (Eggplant) and eddo curry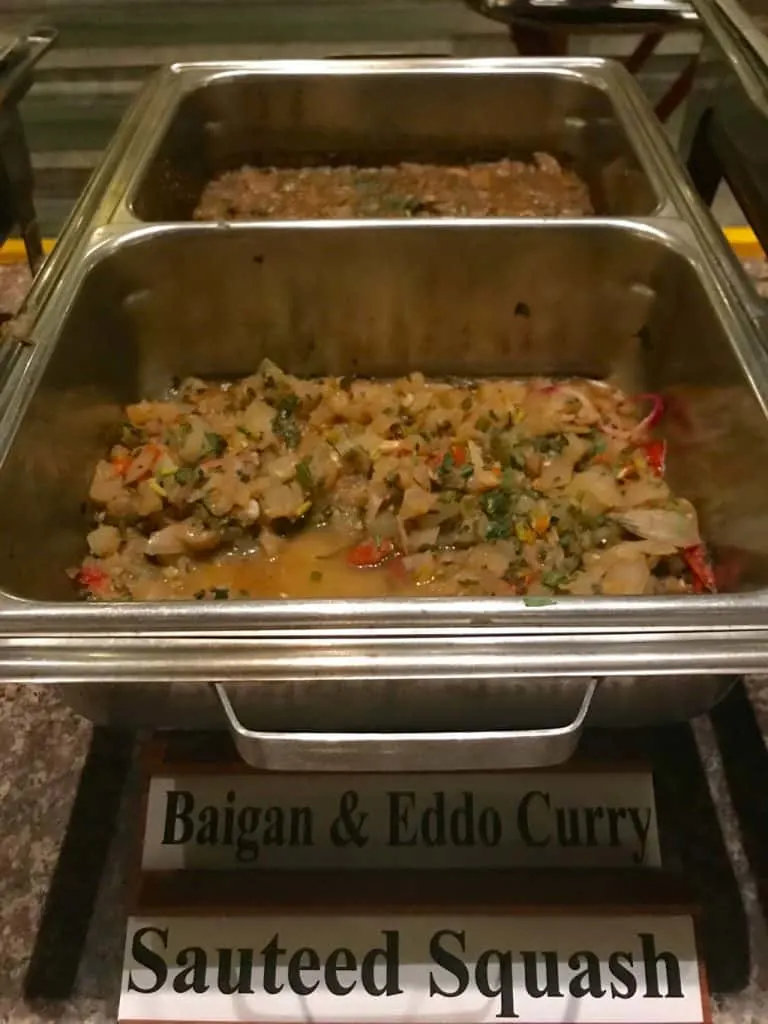 Bora Bora or green beans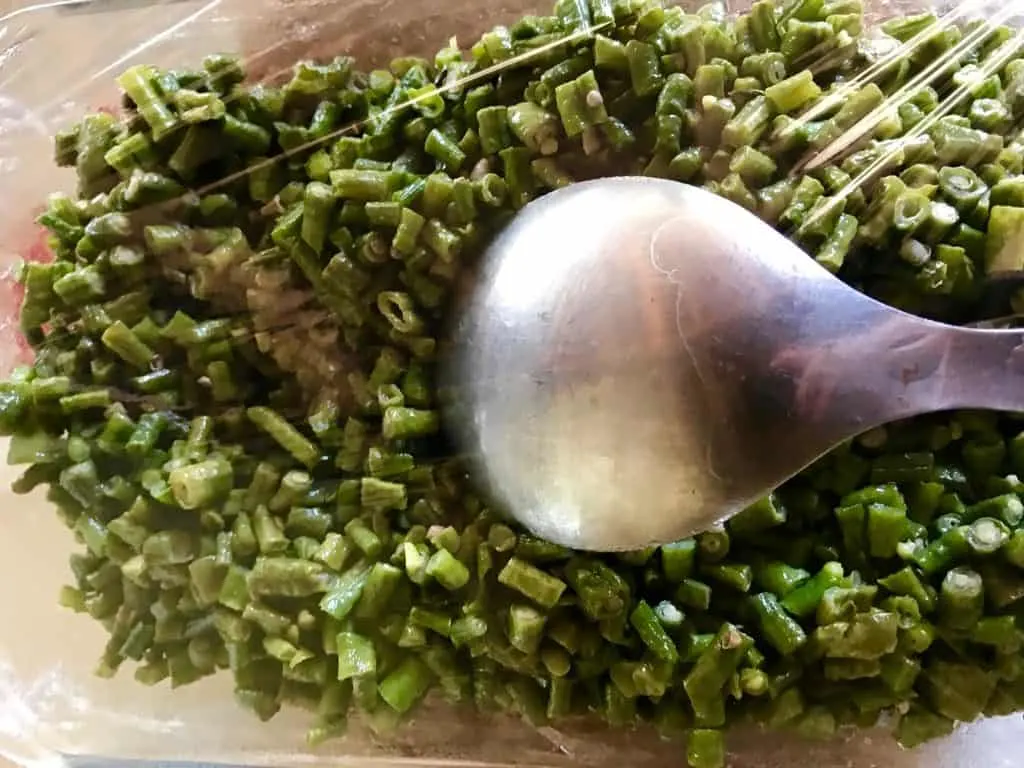 ✦ Foods in Guyana:
Rice and beans
Guyanese Cookup Rice (A national favorite)
✦ Here are some Guyanese Recipes of local dishes:
✦ Guyanese Food: Guyanese Dessert
The Guyanese people love to eat, and desserts are highly praised and eaten among the locals. The most famous and popular dessert of Guyana is Black Cake and is commonly made during Christmas time. Other popular desserts I tried were:
Guava Cheese Dessert (similar to a jelly/jam with a heavy cream dollop on top)
Passion Fruit Cheesecake
Jamun cheesecake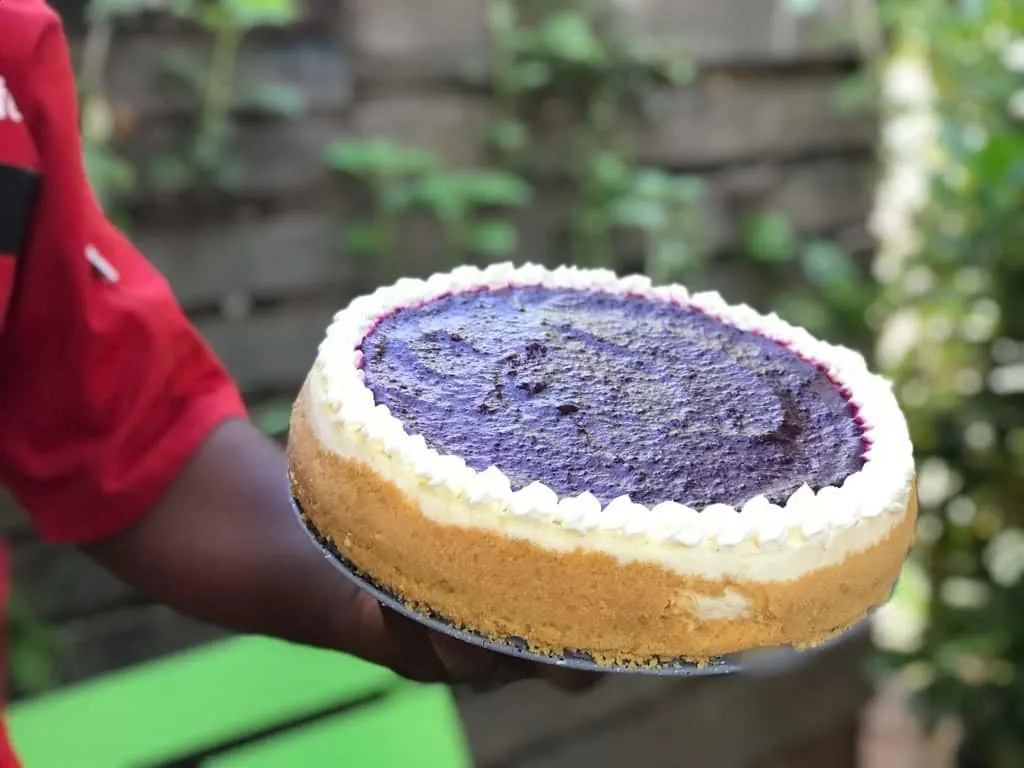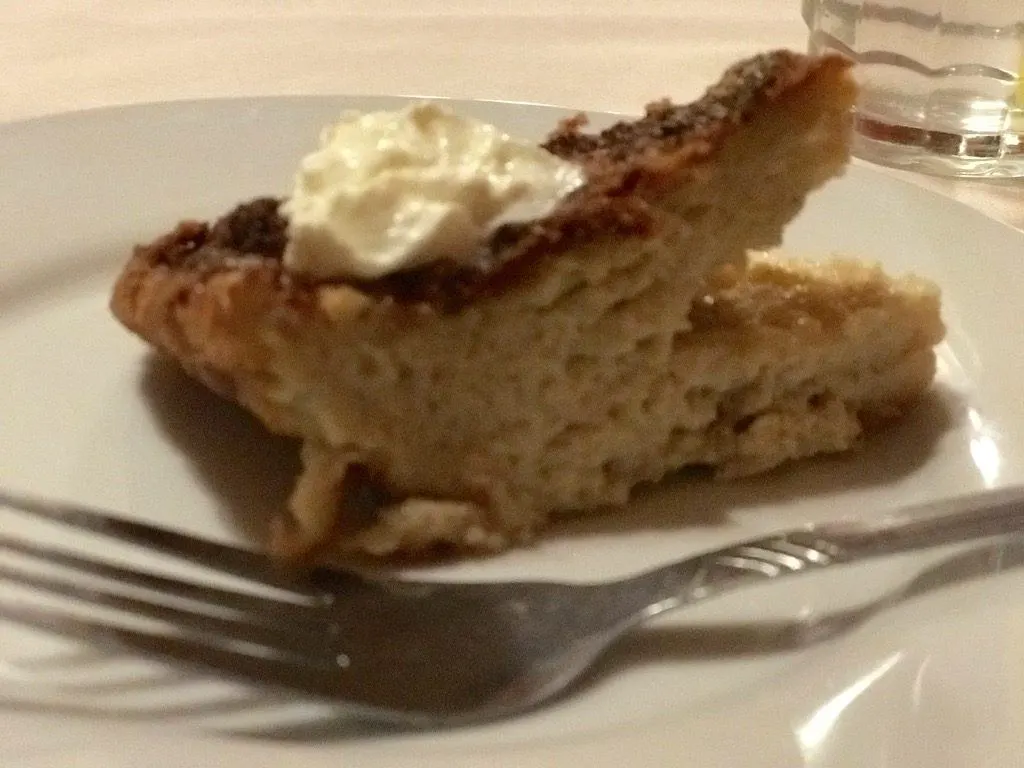 ✦ Guyanese Food: Popular Street Foods and Snacks
Eggball– Sweet cassava is peeled and grated and made into a dough with a seasoning mix. It is then put around a boiled egg and then deep fried!! The boiled egg can also be wrapped in mashed potatoes and then deep-fried.
They are usually served with mango sour or "sour" which is a chutney-like condiment made from boiled green mangoes seasoned with salt and pepper. Sour can also come from cucumbers and is another condiment called Sourley- which is similar to Sour, but made from pickled cucumbers instead.
Chicken foot is a salty snack that is actually NOT chicken! Flour is rolled out thin and baked with seasonings of cayenne powder, curry, and cumin. It is formed into long sticks resembling chicken feet (Warning: It does not contain chicken feet!). It can also be topped with the "sour" condiment
Hill's Hot Balls are found in the grocery store or for sale on the street and are similar to spicy Cheetos cheese puffs and come in a bag.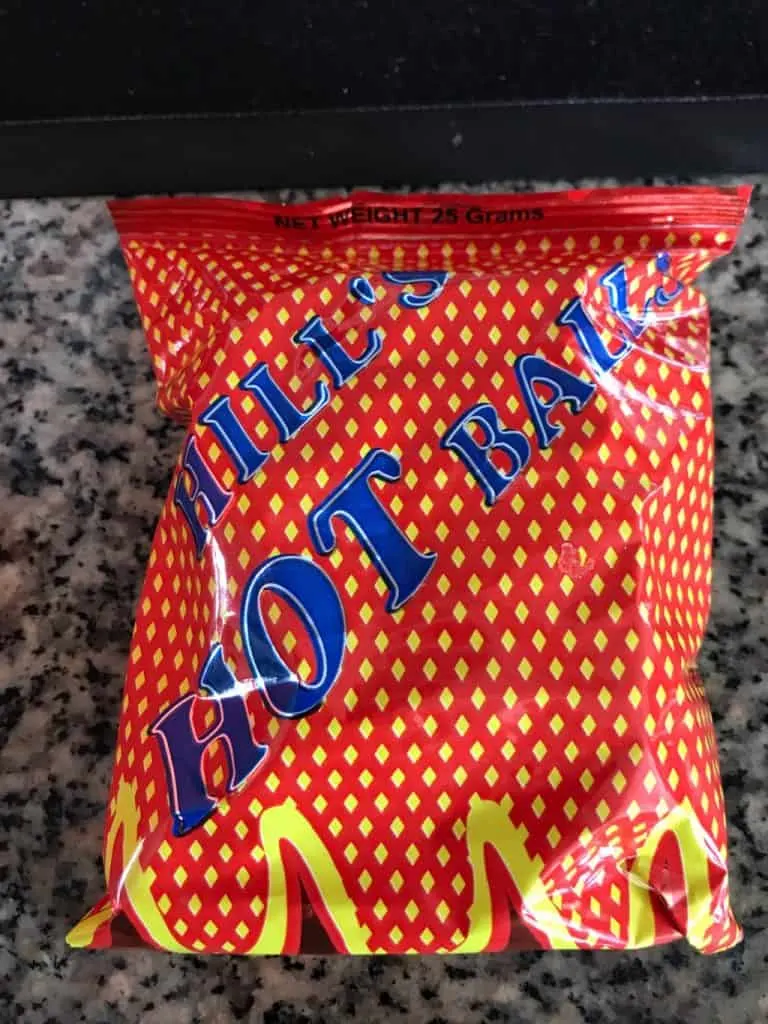 Plantain Chips are fried, thinly-sliced plantains that are salted.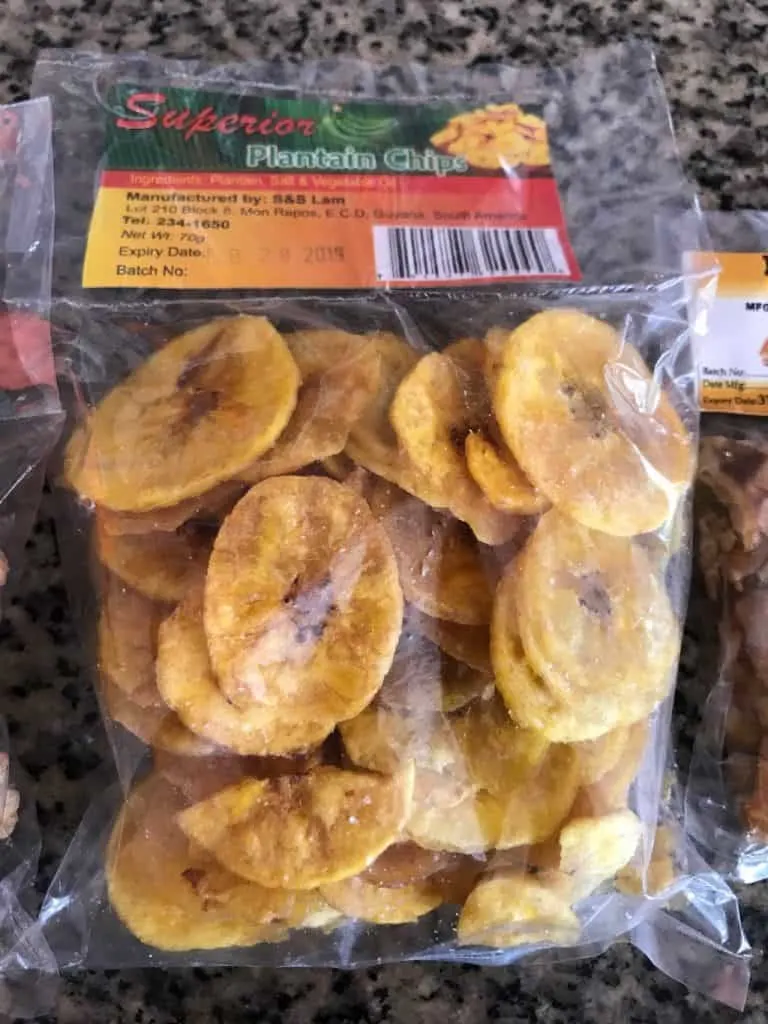 Methai is an East Indian food that is made from flour and deep-fried with sugar. It comes in a package at the grocery store and has a harder texture.
✦ Guyanese Drinks
El Dorado Rum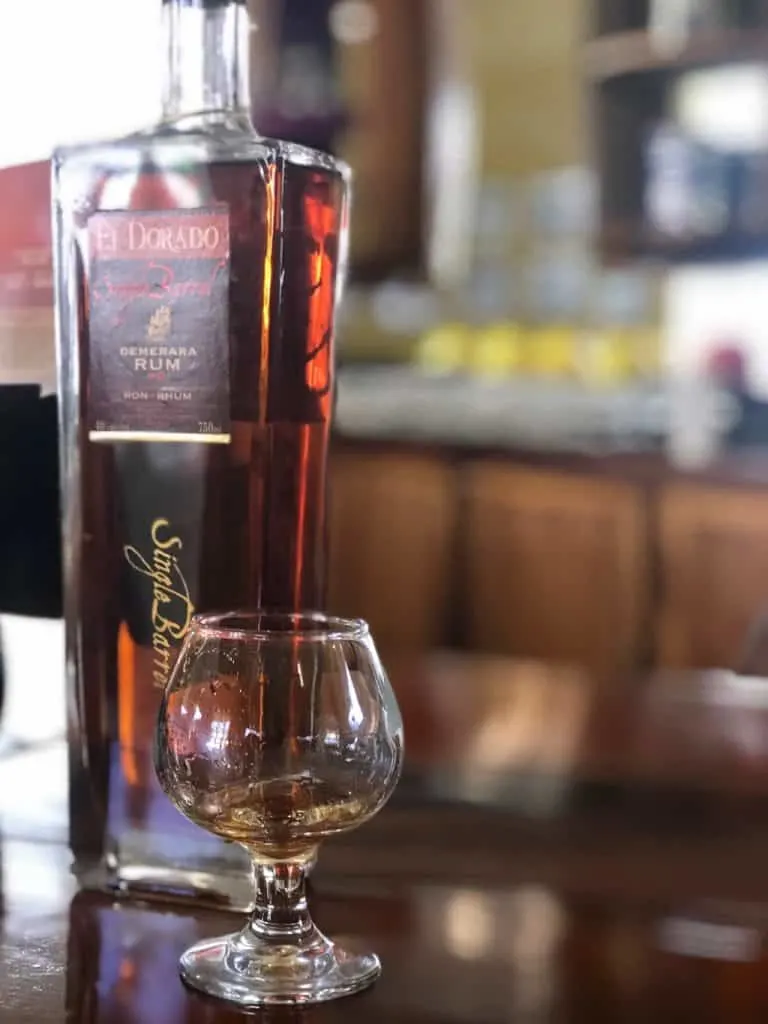 Lime juice with rum and plantains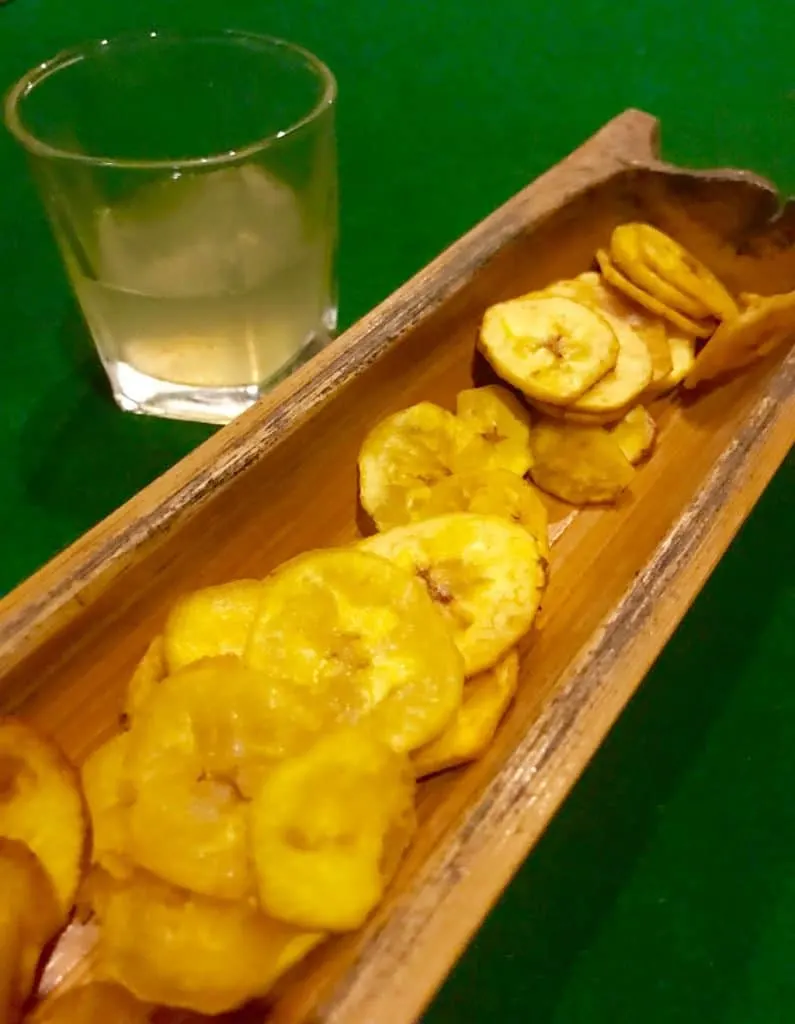 Fresh juices such as Guava juice, lime juice (my favorite!) watermelon juice
Soursop drink
Local beer – (GT Beer -genuine lager beer from Georgetown).
North Americans love their eggnog during Christmas and the same can be said about Ginger beer for the Guyanese.
Cane juice
Mauby Drink (they say it tastes similar to American root beer, I didn't get a chance to try this one!)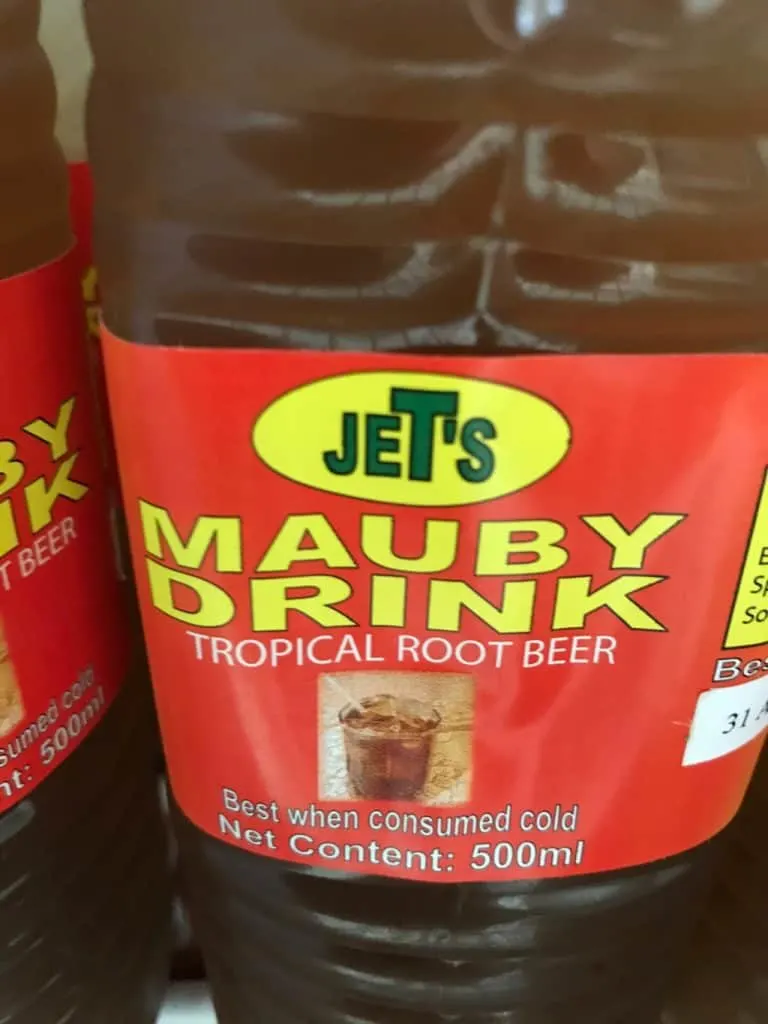 Most of the dishes from Guyana are made from scratch including homemade drinks like pine drink, sorrel drink, peanut punch, and ginger beer.
✦ Guyanese Recipe for Peanut Punch:
Peanut Punch
Ingredients:
2 cups of 2% milk
1/3 cup condensed milk
8 tbsp of peanut butter
1 tsp vanilla extract
1 tbsp sugar
2 tsp rum or brandy
1 tbsp granola
Instructions:
In a blender add the two types of milk and mix on low.
Add vanilla, sugar, and rum and mix on medium.
Add the peanut butter and granola and blend until the desired thickness.
Pour into a glass and enjoy it. Keep in mind that if you are making the peanut punch for children, remove the rum from the recipe!
✦ Guyanese Food: Fruits from Guyana
I spent a day at the Bourda Market in Georgetown. I also had a chance to go to the market with Chef Delven Adams of the Backyard Café. He showed me many new fruits to me, such as:
This fruit is sweet and tart at the same time and also known as passion fruit.
Guayana fruit: Sapadilla fruit (cut open and ate this one)
Guyanese fruit: West Indian Cherries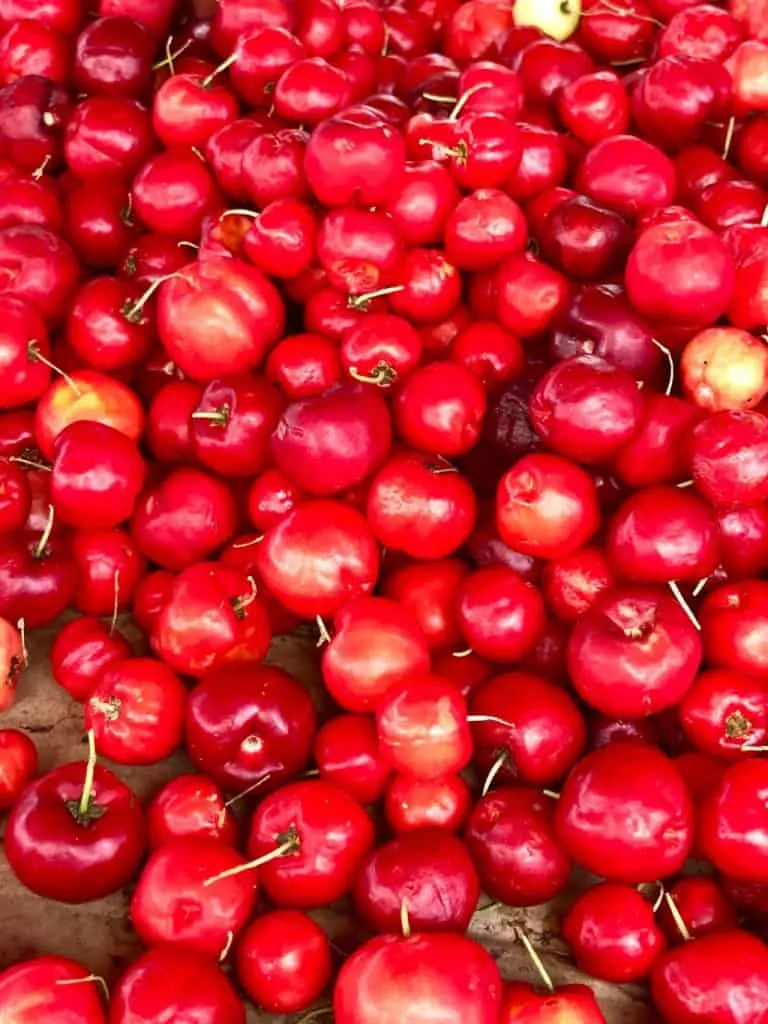 Guyanese Vegetable: Chinese long bean (bora)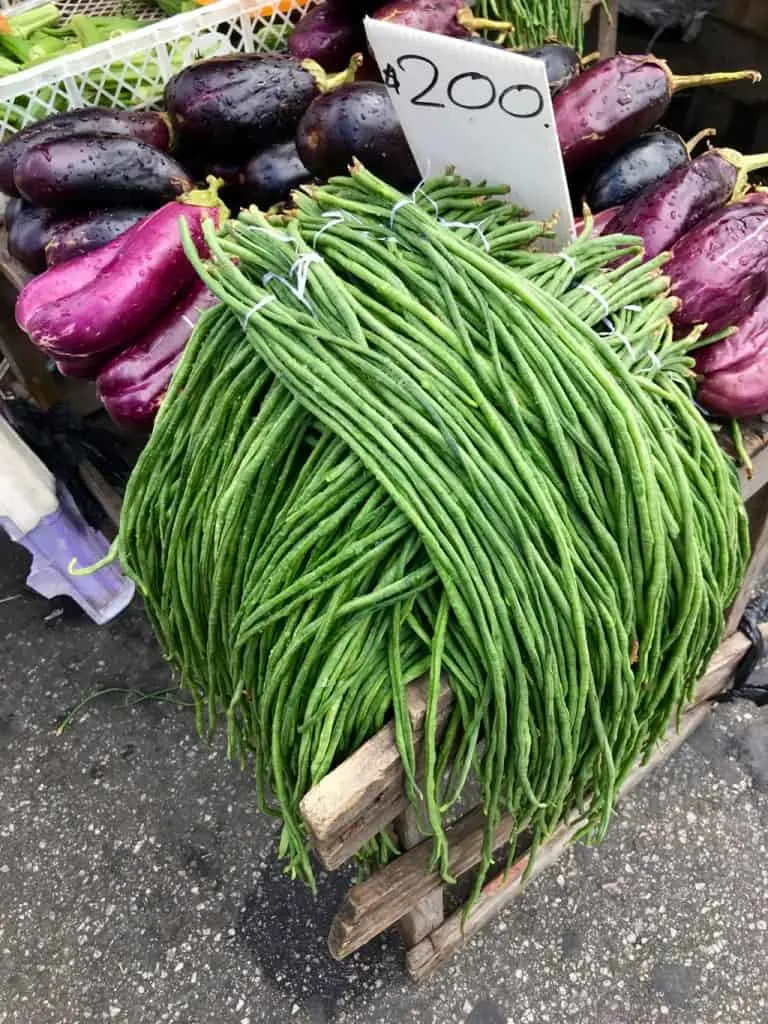 Guyana Fruit: Jamun Fruit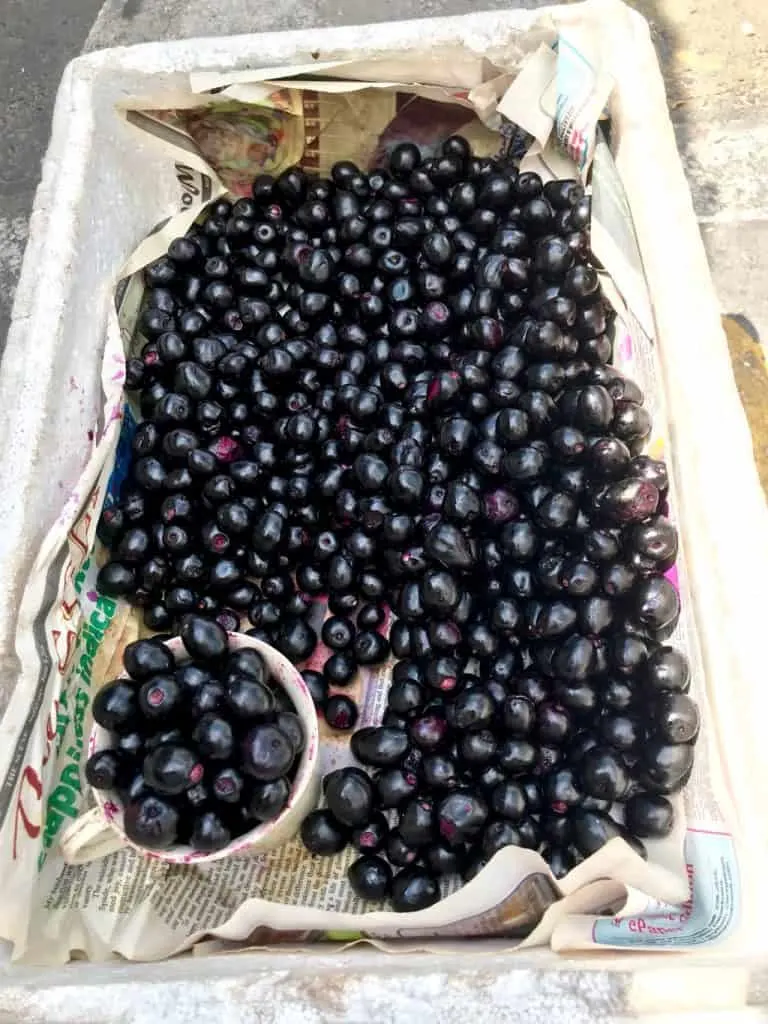 Guyana fruit: Corrello or bitter crud or Krud (melon)
Guyanese Fruit: Soursop is a fruit native to the tropical regions of the Americas and the Caribbean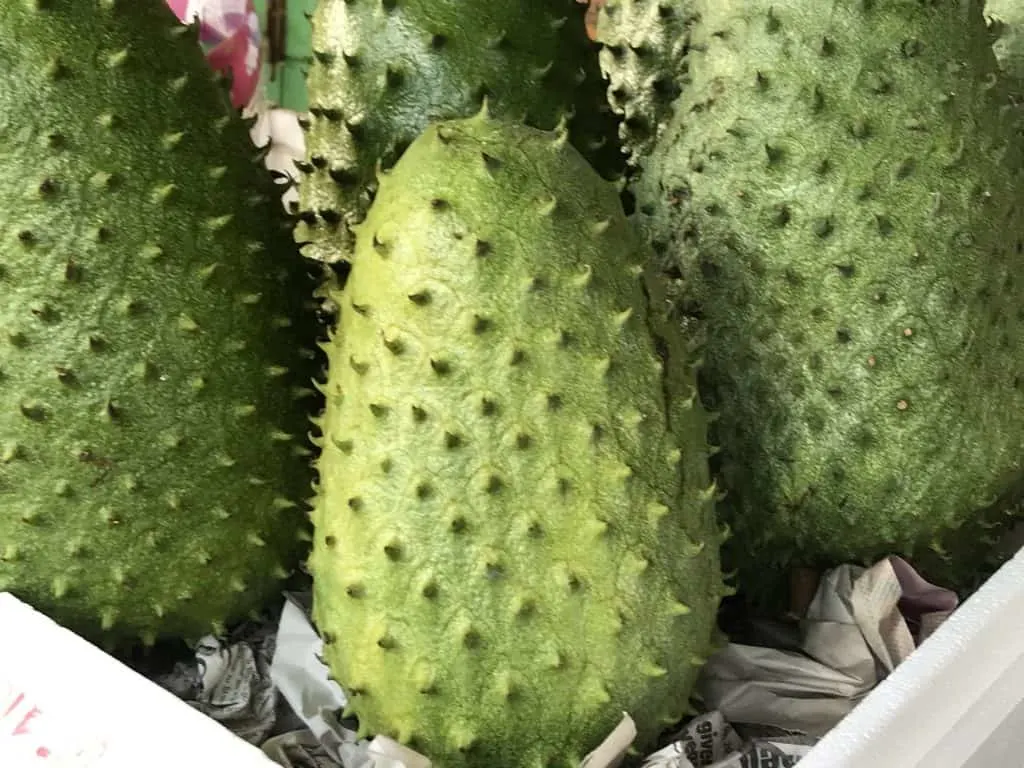 Guyana fruit: Sugar Apple
This Guyanese fruit tastes like an apple custard. The outside of the fruit has a thick, hard outer layer (rind) and knobby looking segments. When the fruit is ripe, they get separated and expose the inner part. The inside flesh color has a creamy-white or light yellow appearance.
Guyana fruit: Rambutan (Leeche)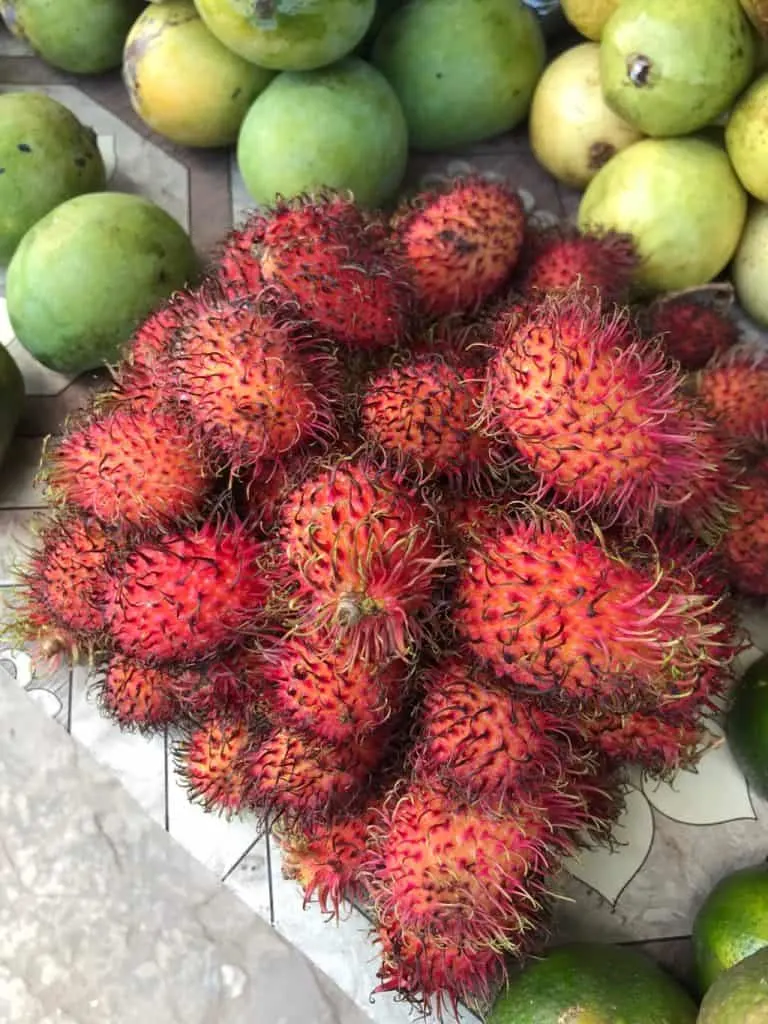 ✦ Is the Coconut Guyana's National Fruit?
Many question if the coconut is Guyana's national fruit with the delicious water that the young nut produces. It certainly is one of my favorite drinks! In fact, I pretty much love all coconut in any form. It has so many useful things you can do with it. Things like coconut oil is not only used for cooking but can also be used in your hair and skin-care products. The leaves can be made into craft items, but also the hard shells can make things like bowls, fridge magnets, keychains, girl's purses, and Christmas ornaments. In fact, my grandmother brought me home a coconut purse once and it was so cute!
Even the coconut husk of old coconut nuts can also be made into rope and also scrubbers for the shower. In Guyana, they have palm-thatched huts, called an Umana Yana or the "meeting place of the people". These have a roof made of dried coconut branches and "thatched" together for the roof. I even have to say that the flower part of a coconut is used to make traditional medicines. Even the wood part of the coconut can catch on fire to make an outdoor fire. So as you can see, the coconut, or whatever you want to call it can have many uses!
✦ Honestly, These Aren't the only Guyanese Fruits!
Have you heard of Awara, Blim Blim, Dunks, Five Fingers, Genip, Gooseberry, Jamoon, Kuru, Maumee, Simatoo, Tamarind, Whitey, as well as "Cheese & Bread", Fat Pork, and Stinking Toe? I hadn't either until I arrived in Guayana. Guyana seems to have an endless array of fruits.
✦ Guyanese Food and Guyanese Recipes:
Here is a Guyanese recipe to try at home:
Scrambled Plantains
Ingredients:
4 medium-size plantains (ripe or yellow)
Tomatoes (as desired)
Green or yellow onions (as desired)
2 tbsp oil
A pinch of salt
A pinch of pepper
Instructions:
Peel and cut plantains into small cubes.
Add plantains and salt to a boiling pot and cook for 10 minutes on medium.
Toss onions, tomatoes, salt, and pepper into a skillet and cook until tomatoes are soft.
Add the plantains to the skillet and mix ingredients together.
Serve hot/warm
Although Guyanese cuisine has taken inspiration from other cultures, the dishes are still unique and they have really made them their own. While you are reading this article, try making the Guyanese cheese pie or the fried plantains. Don't be discouraged if the first time it comes out just ok, try again. Now, throw out the take-out menus lying around the house and make some Guyanese magic with your hands in the kitchen. You can pretend you are a Guyanese chef!
Loved this article? Recommended Reading:
My Trip to Guyana in the South American Rainforest
Kaieteur Falls: Majesty Brought to Life in Guyana
How to be a Pirana Fishing Expert!
Disclosure: As is common in the travel industry, I was provided with accommodations, meals and other compensation for the purposes of review by Guyana Tourism and its PR agency. While it has not influenced my review, PointsandTravel.com believes in full disclosure of all potential conflicts of interest. All Photos were taken by the author/or were given permission from the photographer. Affiliate links may be located in this article.