Just the word "Africa" for me evokes the images of the vast savanna plains with exotic animals, unusually-shaped acacia and baobab trees, and cool-looking safari-style trucks. As the majority of people who visit Africa do so for the purpose of going on a safari, I was no different. I wanted to discover the big five safari animals in Africa. I wanted to experience the magic of close encounters with this continent's famous wildlife on a game reserve. By having the chance to tour a few National Park in Africa, I was able to see many wild animals in their natural habitat.
---
What's in this post:
hide
Animals on a Safari
---
Thrilled to have visited Africa for the very first time as country #89, I also got the chance after visiting three National parks to see the big five! They are the safari animals that are considered the most difficult animals to hunt (for me it was with my camera!). The big five are the Black Rhino, the Lion, the Cape Buffalo, the Leopard, and the African Elephant. Most of the animals I saw are unique to Africa and many of them are easily recognizable (believe me, I have been to plenty of zoos in my lifetime!).
In this article, I wanted to take a look at ten of Africa's most iconic animals. You should pick your favorite animals on a safari to see and make a trip to Africa to visit them. But just remember not to get to close to my photographs! ha ha!
Safari Animal #1: Lion/Lioness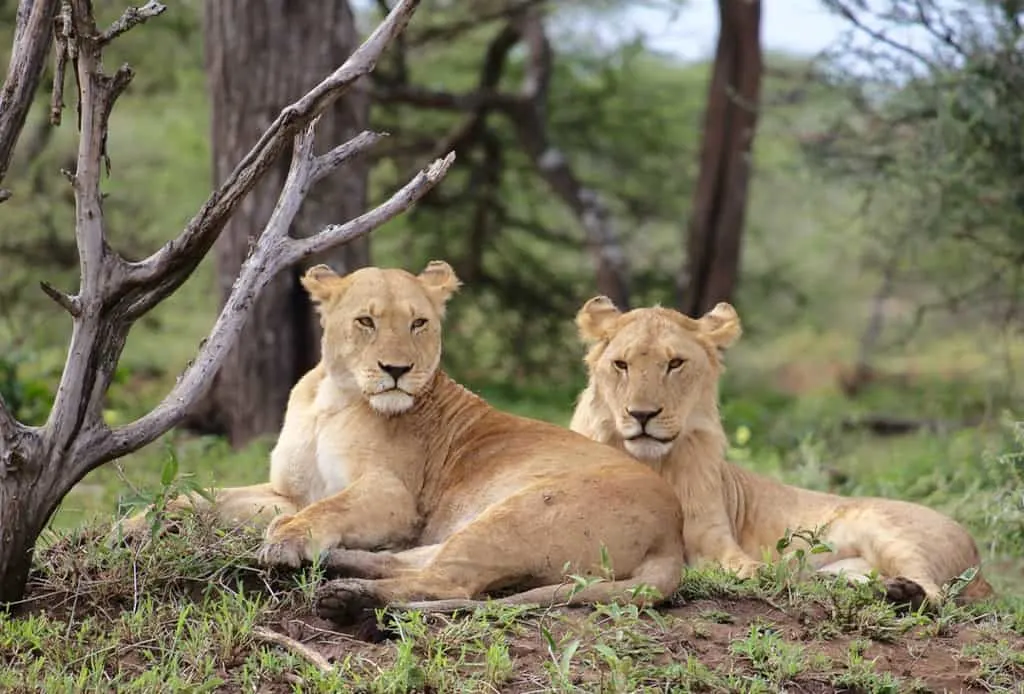 Wonderful views of lions and lionesses were seen throughout the Serengeti National Park during my visit with Four Seasons Serengeti in Tanzania. The guide told us that they normally do not migrate unless they are hunting their prey. Lions tend to mainly eat meat and can prey on animals that are their own size or bigger. The most common foods that lions eat are cape buffalo, zebra, boar, deer, and an eland (antelope). I was surprised to find out that contrary to popular belief, lions can only run for a short distance because of their lack of stamina. They typically will only catch their prey if it is close by.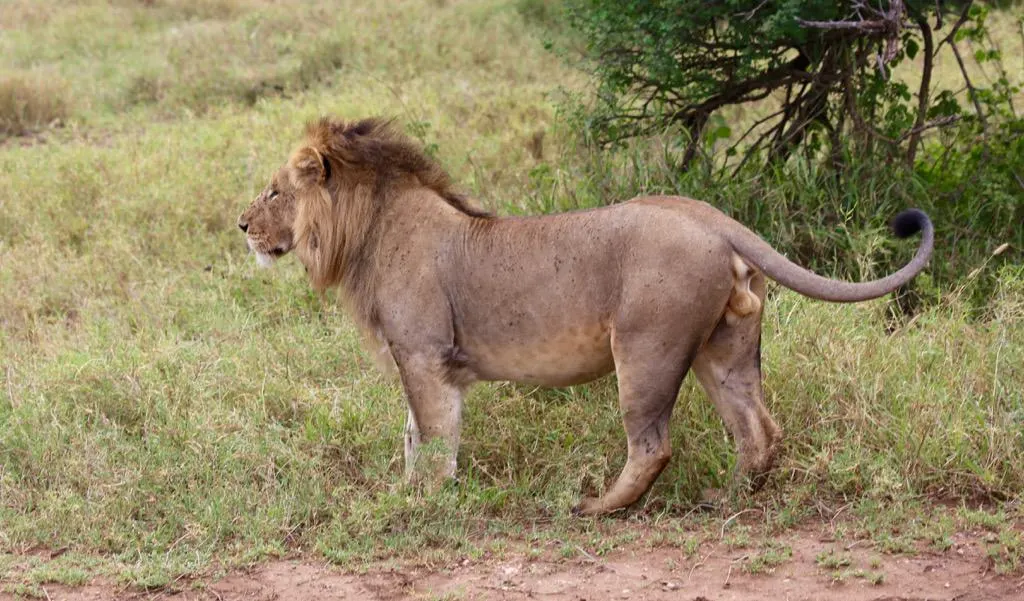 It should also be stated that lionesses are better hunters than lions and do most of the hunting needed for their pride. Lions often live together in different prides, one for related females and another for the males. These territorial creatures will often fight outside lions/lionesses who try to take over their pride by killing their cubs. (Yikes!) You will instantly notice when a fight is about to start when you hear a lion's roar. You can actually hear a lion's roar up to 5 miles away according to my guide! The most populated area in Africa to spot a lion/lioness is Kruger National Park in South Africa, but I didn't make it there. However, I saw plenty of lions in Tarangire and Serengeti National Parks.
Animals on a Safari #2: Leopard
Unlike other animals, leopards tend to prefer living in dense areas but can also be found in habitats such as the savanna, mountains, grasslands, and deserts. Leopards live in warm places and therefore do not need to hibernate nor migrate. They are secretive animals who practice nocturnal habits. A good place to spot one of these solitary animals is at the Serengeti National or Kgalagadi Transfrontier Park systems. These animals can get very close to their prey because they go undetected by blending into their surroundings.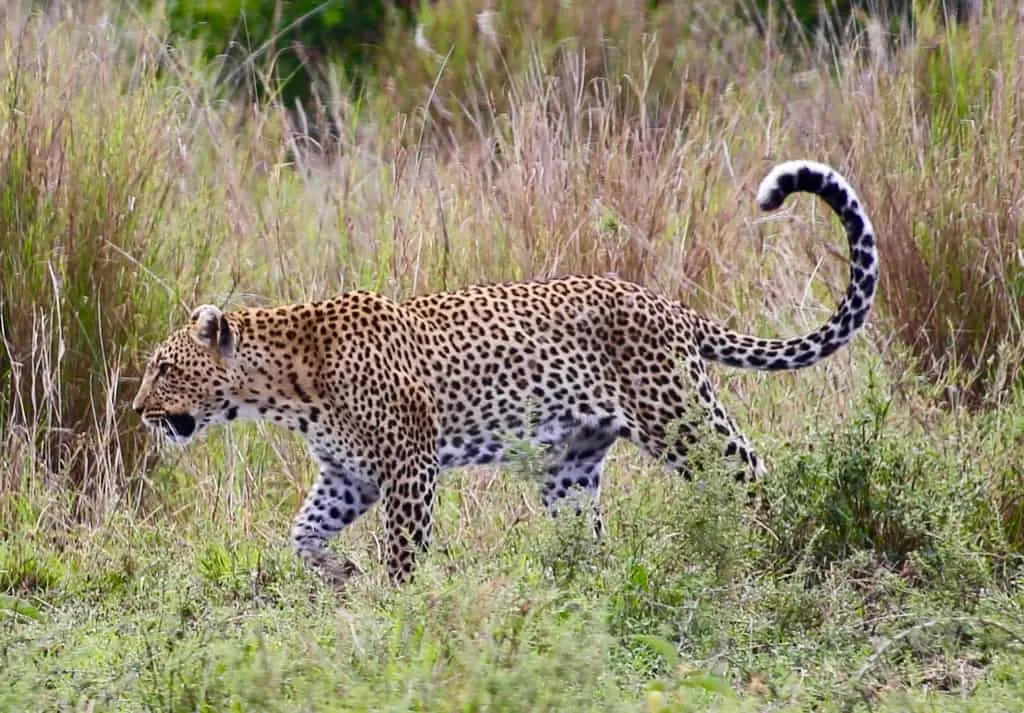 Due to their enhanced retinas, leopards often hunt at night because they can see seven times better than humans in the dark. Leopards eat other animals such as gazelles, monkeys, and even fish. These strong animals have the ability to climb trees, swim, and run up to 36 miles per hour. I was fortunate enough to see one in the Serengeti National Park as it walked from the grasslands then jumped up onto a tree to rest!
Safari Animal #3: Black Rhino
Black Rhinos are solitary creatures who live in large areas and will only migrate if they need food or water. These animals are picky eaters but can go at least 5 days without food or water if necessary. Their diet consists of branches, twigs, leaves, and fruit. Black Rhinos have a high mortality rate due to constant fighting and injuries from "battle wounds" or poaching. They are very aggressive animals who will charge at anything they fear is a threat.
A few of the most common forms of communication of this animal are scent marking, urine spraying, grunting, and snorting. The Black Rhino has two horns which grow continually from its base throughout their lifetime. They can also have horns of different shapes. Unfortunately, it is these horns that have caused the Black Rhino to be on the critically endangered list due to the aforementioned poaching.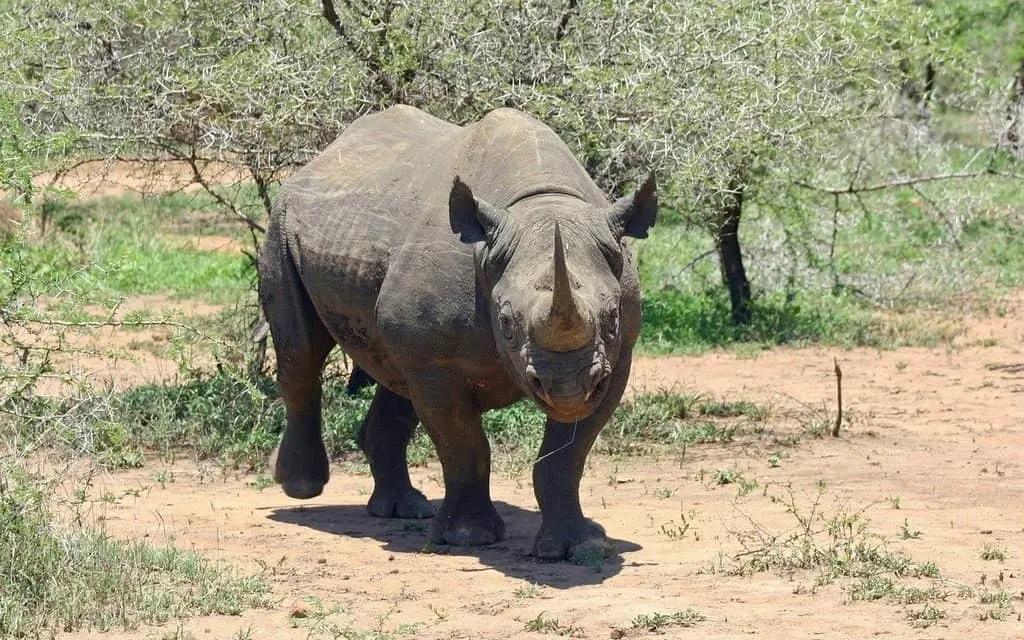 Black Rhinos also have poor eyesight and cannot easily detect an object more than 100 feet away, yet they can detect movement quite well. They also have a very good sense of smell and hearing. I got lucky and had a chance to encounter three Black Rhino inside the Ngorongoro Crater. However, I heard from my guide that some of the best places to see a Black Rhino are in the Darmaland region in Namibia or at the waterhole at night at the Etosha National Park in North West Namibia. The Serengeti National Park has a population of about 40 Black Rhino, but I didn't see any of them!
Animals on a Safari #4: African Elephant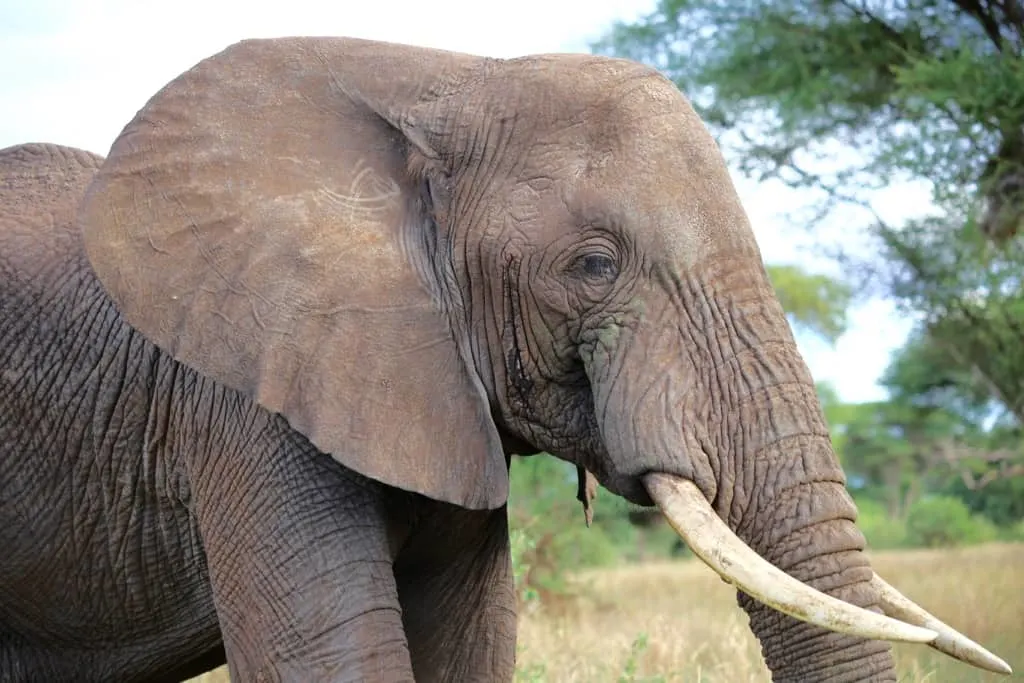 Elephants do not have a particular habitat because they can survive in many different locations. Elephants do not hunt because they are herbivores who eat things such as grass, leaves, roots, and fruit. Each year, elephants will choose to migrate depending on their food and water needs. Due to the increasing number of droughts, elephant herds have been moving more just to find enough water. My guide mentioned that African Elephants are extremely intelligent animals that also have a complex social structure. Elephants are more of a family animal and usually have herds with siblings, parents, and even grandparents.
The female elephants tend to be more social than the male elephants and they supervise or lead the herd, which doesn't surprise me! The male elephants prefer to be isolated until they need to mate, which didn't surprise me either! The best place to see elephants is the Chobe National Park, but I saw these African Elephants in all three National Parks that I visited in Tanzania: Tarangire National Park, Ngorongoro Crater, and Serengeti National Park.
Safari Animal #5: Cape Buffalo
The Cape Buffalo is an herbivore, which means it only eats plants and is most active during the day. They travel in a herd that consists of males, females, and baby calves. They prefer to spend their time in a social gathering that can reach up to thousands of Cape Buffalos in one vast area in the Savanna. The Cape Buffalo cannot go without drinking and needs a water source that is no more than 10 miles away which is the reason you will frequently find them near rivers and watering holes. They love to roll around in the muddy water to keep themselves cool.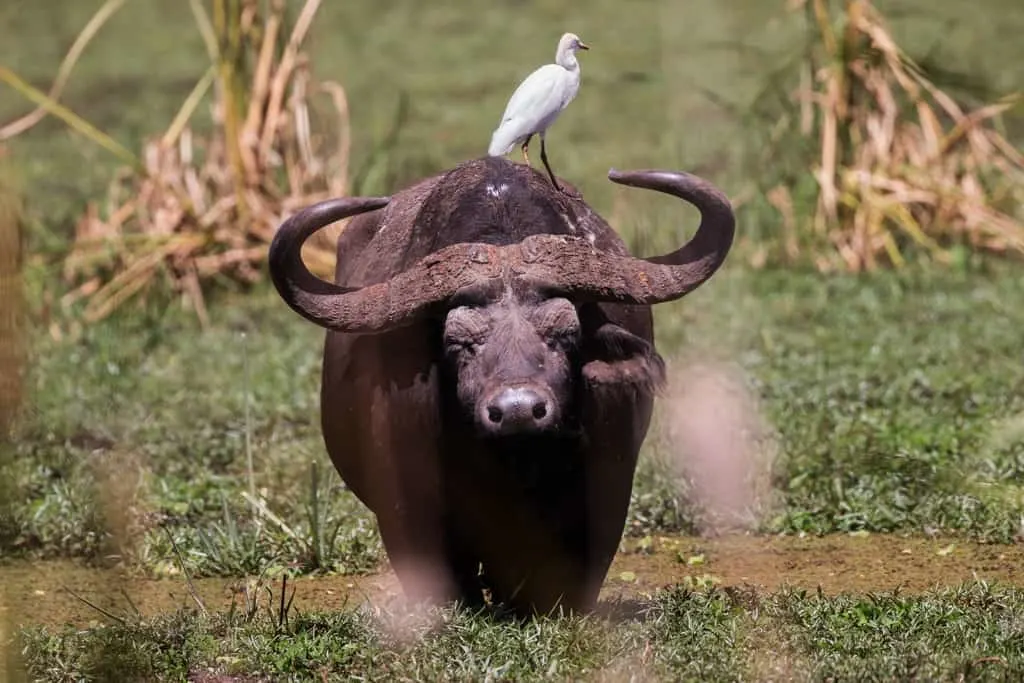 Although Cape Buffalo eat plants, they are notorious fighters and will kill any hunter or predator that they deem a threat. You can find this amazingly large animal at the Katavi National Park, Tarangire National Park, and Ngorongoro Crater in Tanzania. At these parks, you can witness how the herd storms across the Savanna. I saw quite a few of these animals on my luxury safari.
Animals are seen on a Safari #6: Giraffe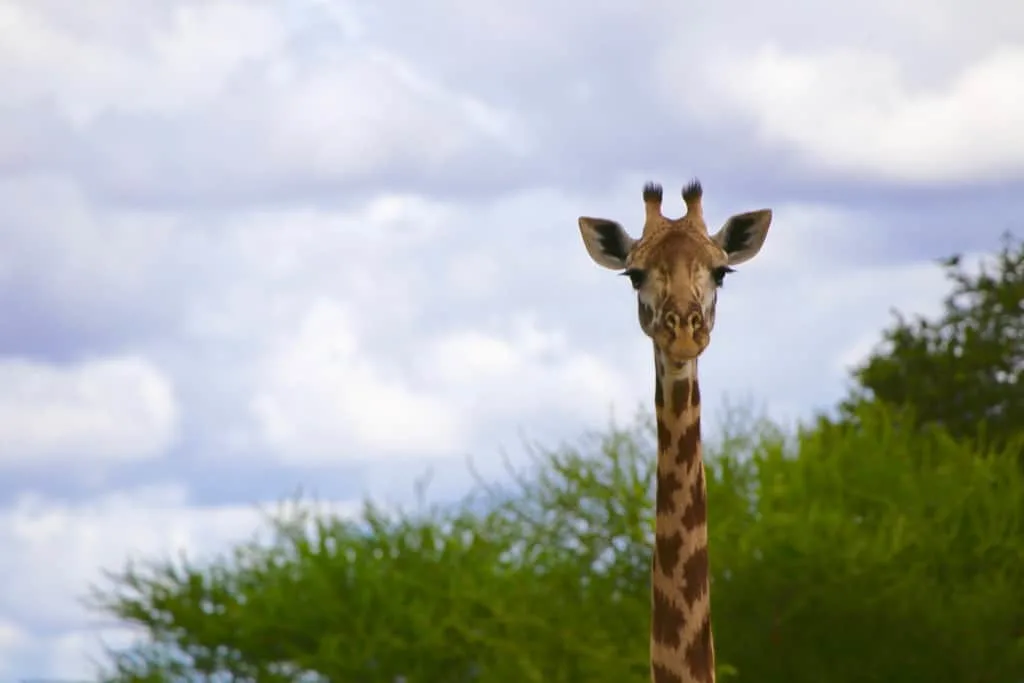 Giraffes are well known for their height, with fully grown male giraffes standing up to 18.7 feet tall! Their tall necks help them feed on treetops and other plants because they are herbivores. Every giraffe has a unique fur pattern (almost like a human fingerprint) that stays the same throughout its life. The pattern helps with camouflage, but also helps with releasing body heat through an intricate system of controlled blood vessels. Giraffes also have a prehensile grasping tongue that is approximately 18 inches long! It is so long that a giraffe can also use it to clean its ears! Crazy, huh? I loved watching the giraffes!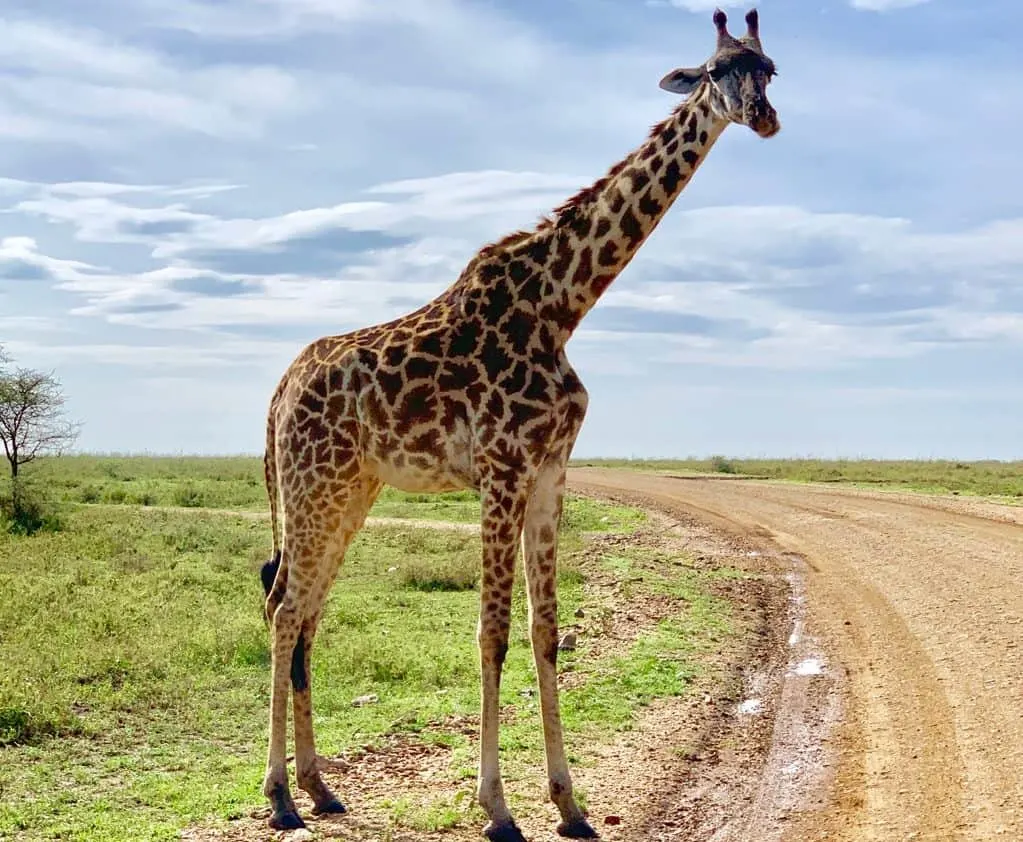 Giraffes are also known to be social creatures who have "ever-changing" groups or packs. Giraffes usually like to spend time in open areas so they can spot their predators easily. These animals use their necks during combat in a maneuver called "necking". They also have only two gaits (or ways of walking). They can either walk or gallop. When walking, they move both legs on one side at almost the same time – to ensure that they do not trip. When galloping, they can go up to speeds of 35 miles per hour and actually curl their tails while doing this. The Serengeti-Mara ecosystem has approximately 10,000 giraffes in its park! I think I saw all of them! Just kidding!
Safari Animal #7: Zebra
The zebra is a beautifully striped animal that loves to live in woodlands and open plains. You can see zebras at all of the National Parks in Tanzania. According to my guide, female zebras are prominent members of their family groups and enjoy staying together living with their own families. Like most of the other animals listed above, zebras are also herbivores. Zebras are very protective of their group and always keep an eye out for predators. If a predator like a lion or a hyena begins to approach, then the zebras will form a semicircle and try to fight the predator to avoid harm to their family.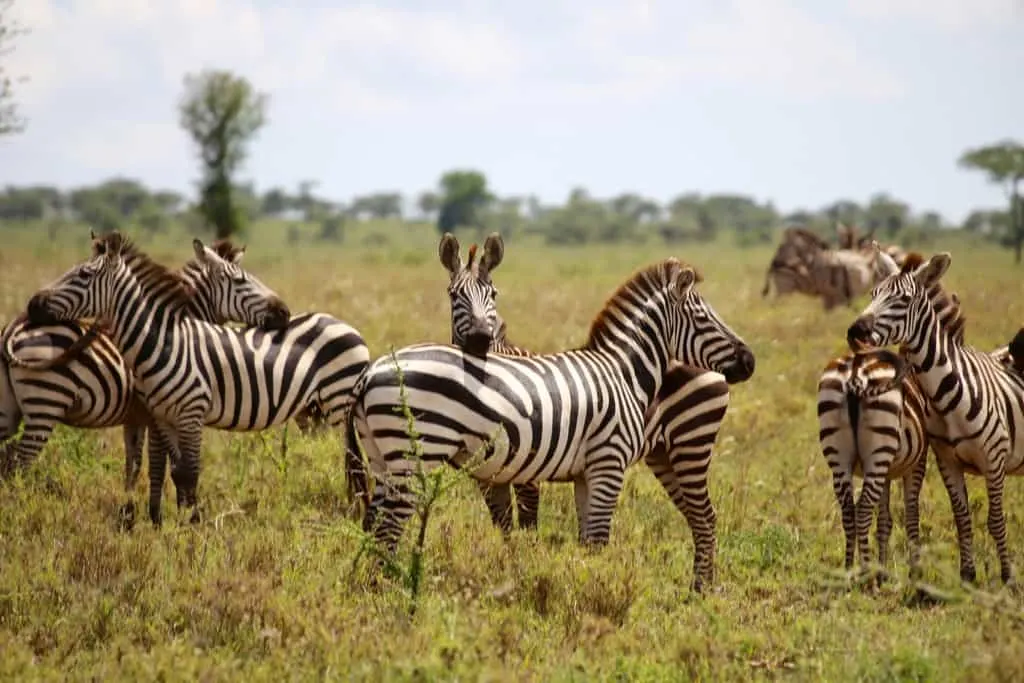 Many times I would see groups of zebras together and doing a maneuver our guide told us was called "necking", where they would rest their heads on the other zebras back, each facing a different direction, as they were keeping an eye out for these predators while napping. Although zebras cannot change their stripes, all zebras have a slightly different pattern from one another, but honestly, it was super hard for me to see this!
Animals on a Safari #8: Wildebeest
There are two types of wildebeest, the Black and the Blue Wildebeest, that are found in regions of Africa. The Serengeti National Park is a good place to see these animals in their own habitat. At least once a year wildebeest will join in on the Great Migration across Africa. Most wildebeest do not have a specific home but enjoy being on the move, sort of like me, like a nomad! When they are in one place, the wildebeest live in plains and open woodlands.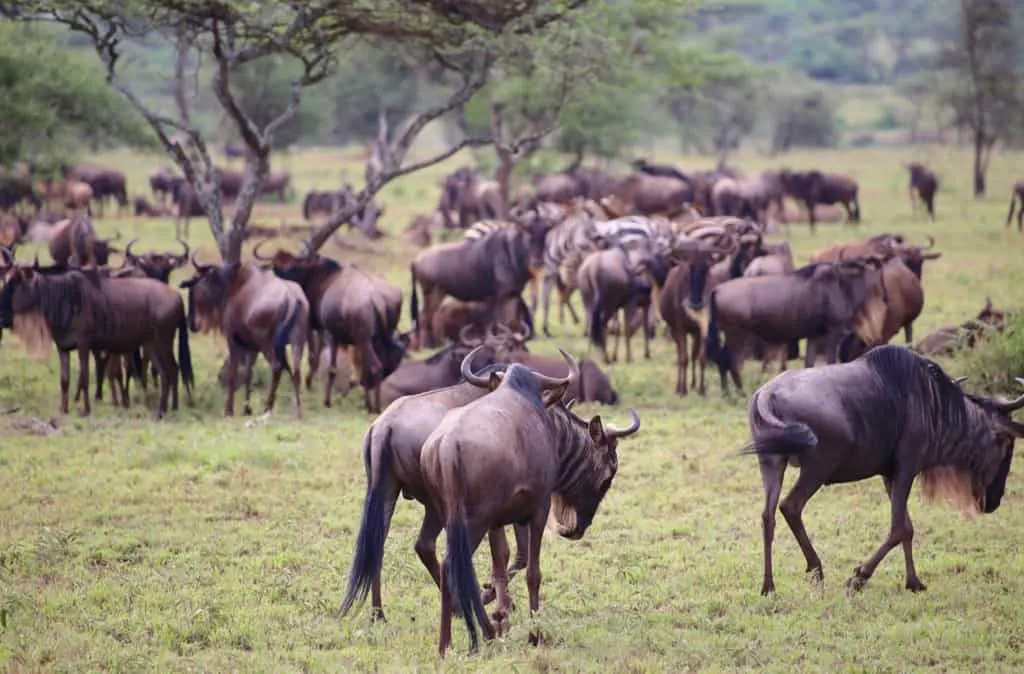 The wildebeest are plant-eating animals who live on the ground and are active during the day. They walk on their hooves and are quite energetic animals, despite their size. This animal has many predators such as the lion, the leopard, and crocodiles. One of the defensive mechanisms of this animal is herding, which helps protect the younger, larger, and older wildebeest. Another thing they do is listen for an alarm call from predators.
Safari Animal #9: Hippopotamus
One of the best ways to see a group of Hippopotamus is to rent a boat at the St. Lucia Estuary in South Africa. You will get a chance to see these animals up close and personal. Lakes and rivers are the main habitats for the hippos, while swamplands are where the pygmy type of Hippopotamus hangs out. Although they spend most of their time in the water, they do not feed on fish, but instead, feed on grass and other plants.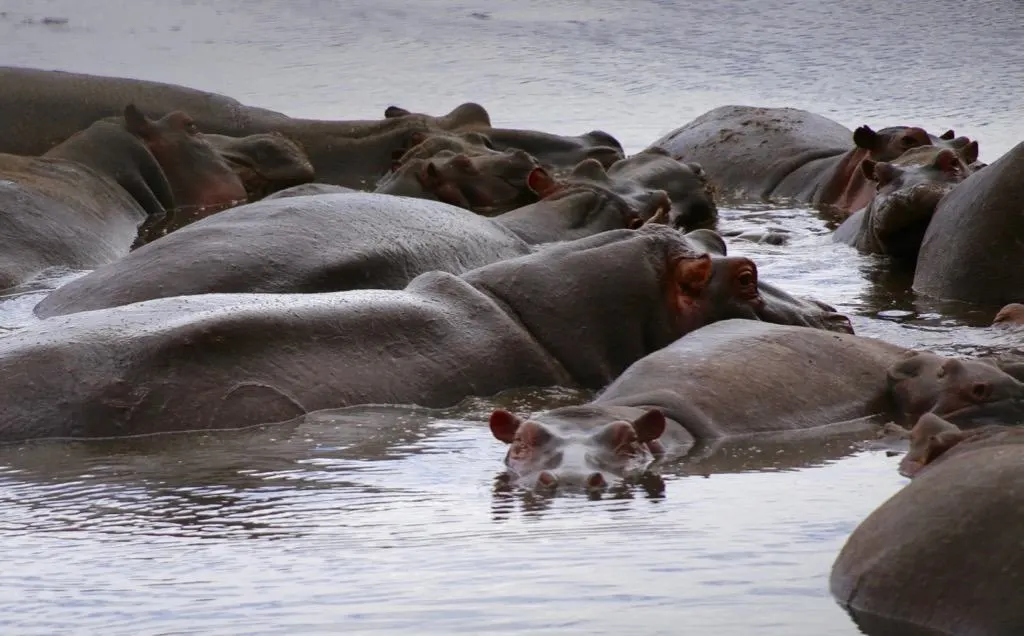 It is likely that you will find these animals in a pack while they are in the water, but they tend to be solitary animals. We found a huge group of them at the hippo wading pool inside the Ngorongoro Crater, which is a typical place where the safari-goers go to eat lunch. They also have a large number of them at the iSimangaliso Wetland Park in St. Lucia, South Africa.
Animals on a Safari #10: Baboon
There are 5 different species of baboons that live in groups of up to 300 members called "troops". The Serengeti National Park is a wonderful place to see these monkeys in action. They live on the savanna plains and in woodlands, but they are also extremely adaptable animals. As long as there is plenty of water resources and safe places to sleep, then baboons are sure to be around. Baboons follow an omnivorous diet and will eat anything from leaves and seeds to fish and insects. You can usually find these intelligent monkeys hanging around in groups of 50 to up to 300 baboons at a time. Baboons usually sleep all day and are active at night according to our guide. But honestly, I thought they were pretty active during the day!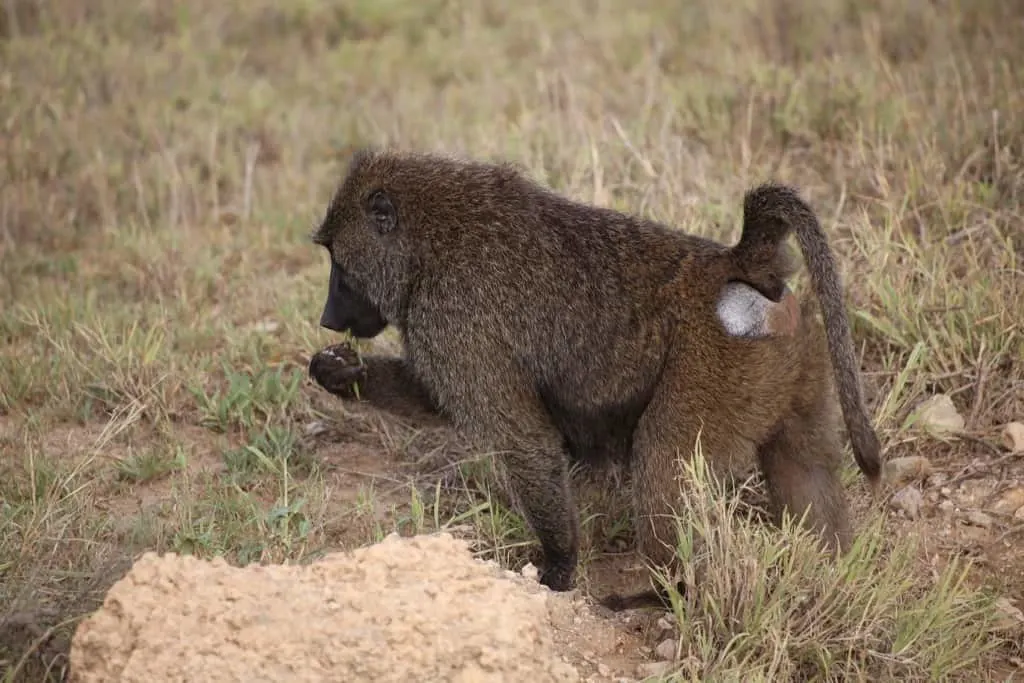 An Africa safari will certainly include visits to different National Parks where you will see different types and styles of parks. I had a chance to visit three parks, of which the Serengeti National Park was my favorite. When you get a chance to make it to Africa, it will be a trip you will NEVER forget! For me, I am ready to go back, as I fell in love with the African luxury safari!
Disclosure: As is common in the travel industry, I was provided with accommodations, meals, and other compensation for the purposes of review by Shadows of Africa and Four Seasons Serengeti. While it has not influenced my review, PointsandTravel.com believes in full disclosure of all potential conflicts of interest. All photos were either taken by the author/or were given permission from the photographer. Affiliate links may be located in this article.