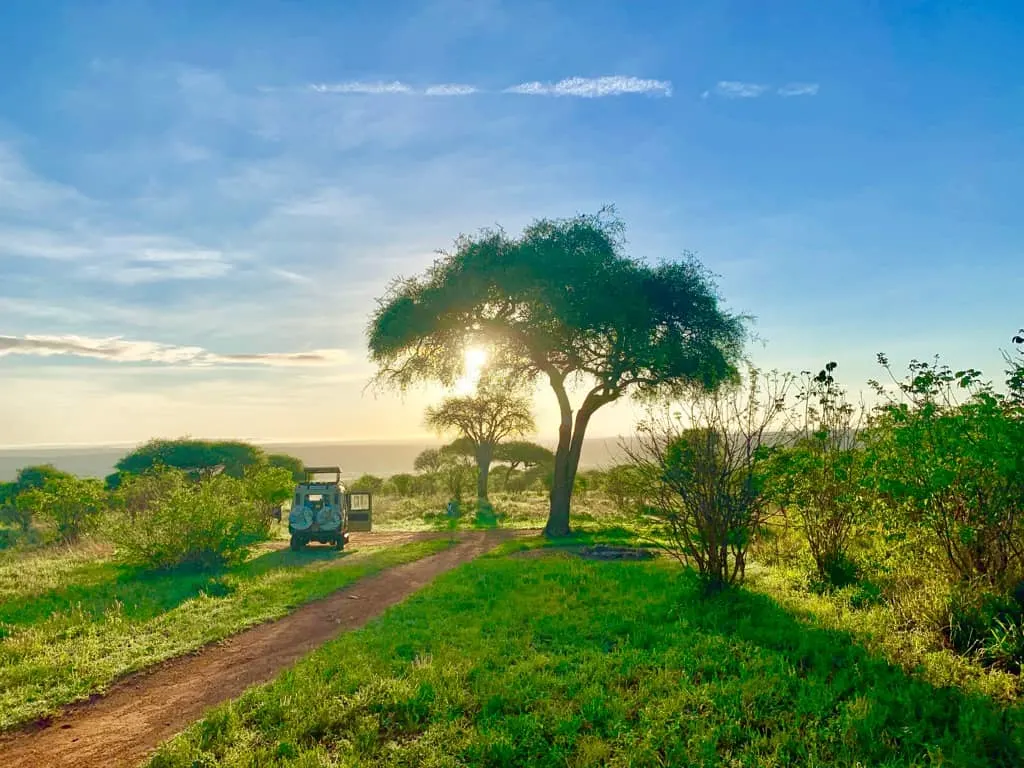 I have always wanted to go on an African Safari, but for some reason, Africa has always escaped me. With all my travels, you would think I would have booked my Tanzania itinerary by now, but alas, it never happened. Every time I hear about someone's African itinerary, they always come back and say the same thing – "It was the best travel experience I have ever had." Or "You will absolutely love it!" It appears when people return from Africa, they seemed to have "fallen in love" with the country. I am no exception!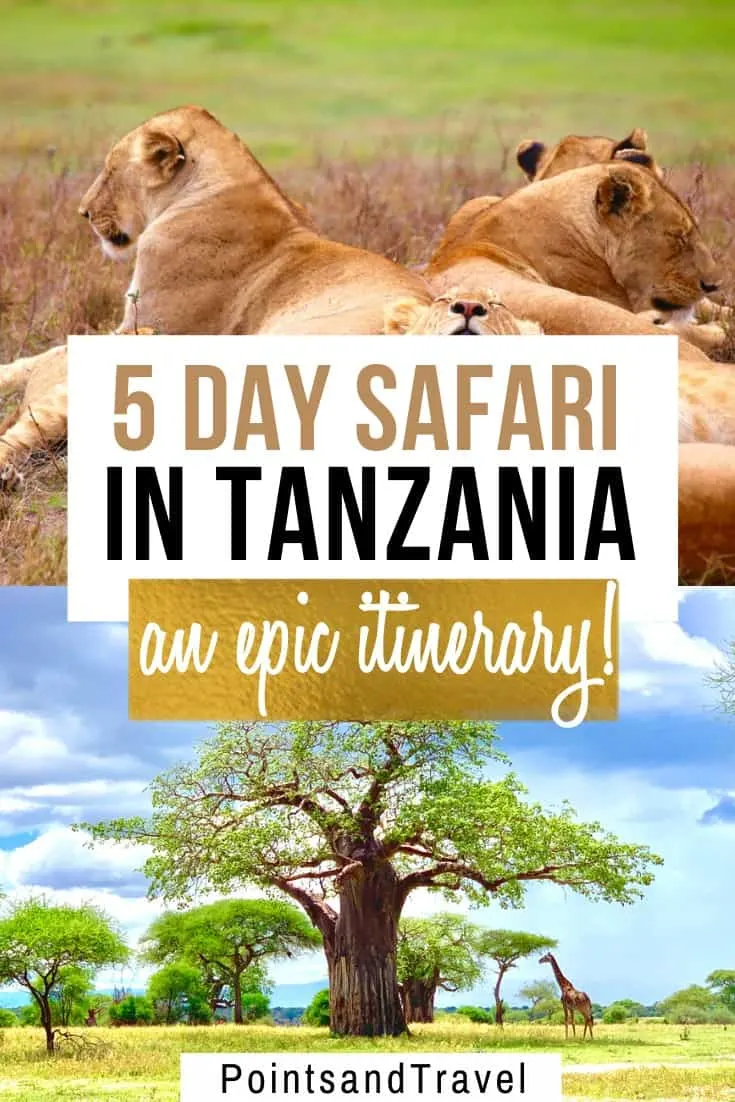 Come along with me as I experience a 5-day Tanzania Safari Itinerary as a first-timer! It was one of the best travel experiences I have ever had! I have been on an elephant safari before in other countries, even swam with wild animals, and gawked at all things wild in Galapagos, but it was not like this!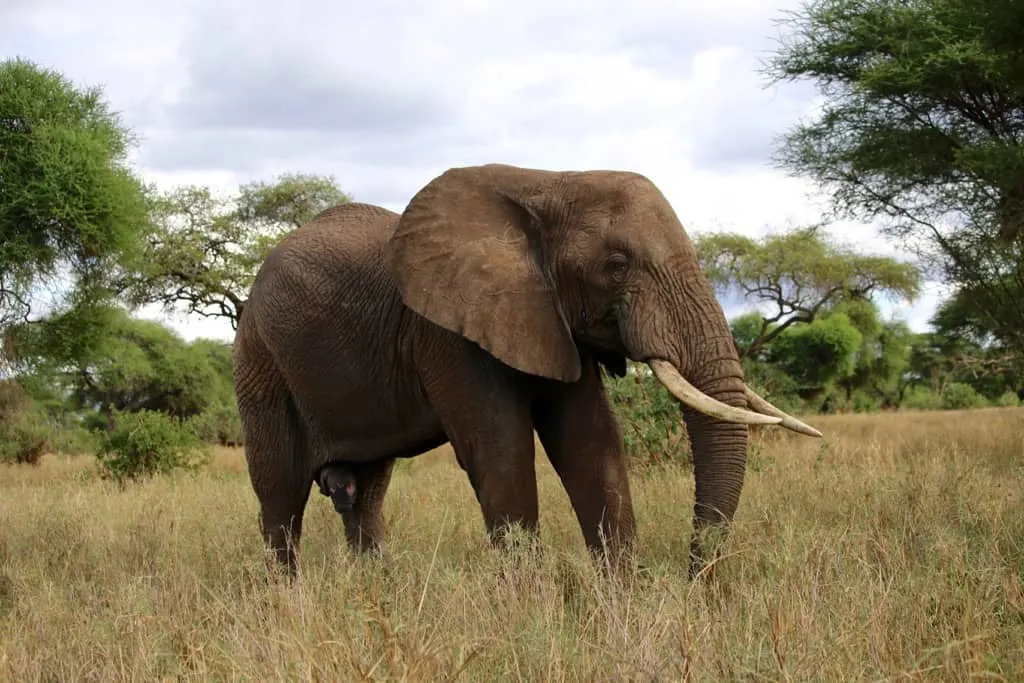 There are many bucket list destinations to see, and most definitely Tanzania is one of them. Here are my experiences with a travel safari company known as Shadows of Africa. Honestly, I cannot say enough about how terrific they are! In fact, they very well may be the best Safari company in ALL of Africa, as that was my experience! I could not have asked for a better luxury travel experience than the one I had with them! So read on as to why I chose Shadows of Africa.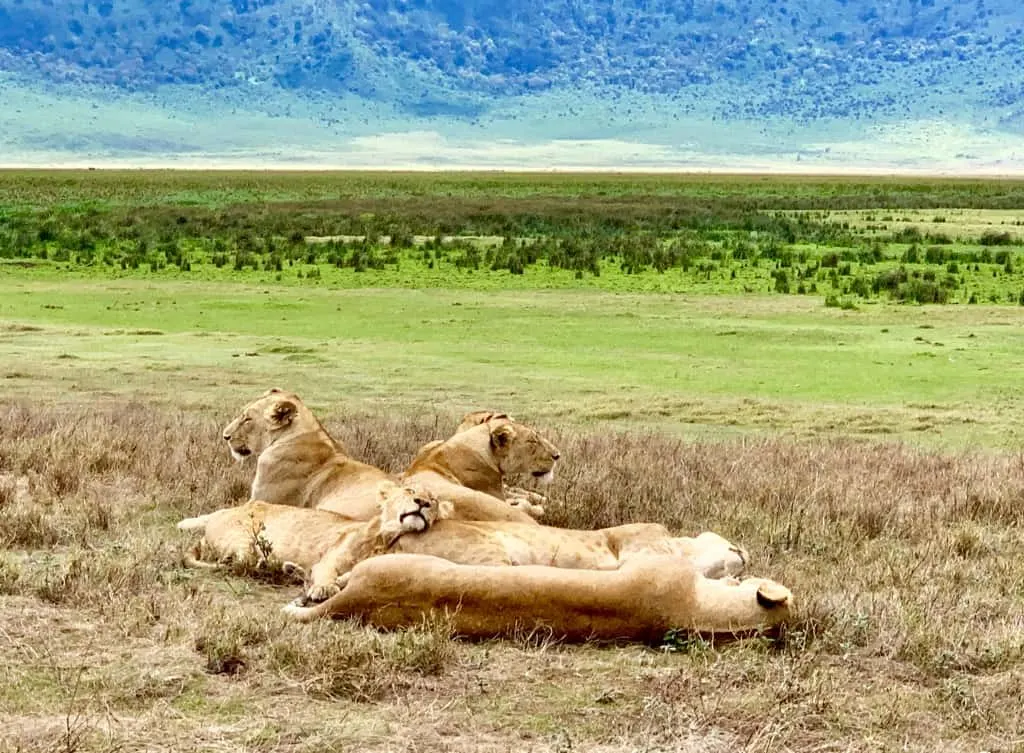 Choose Shadows of Africa for your African Itinerary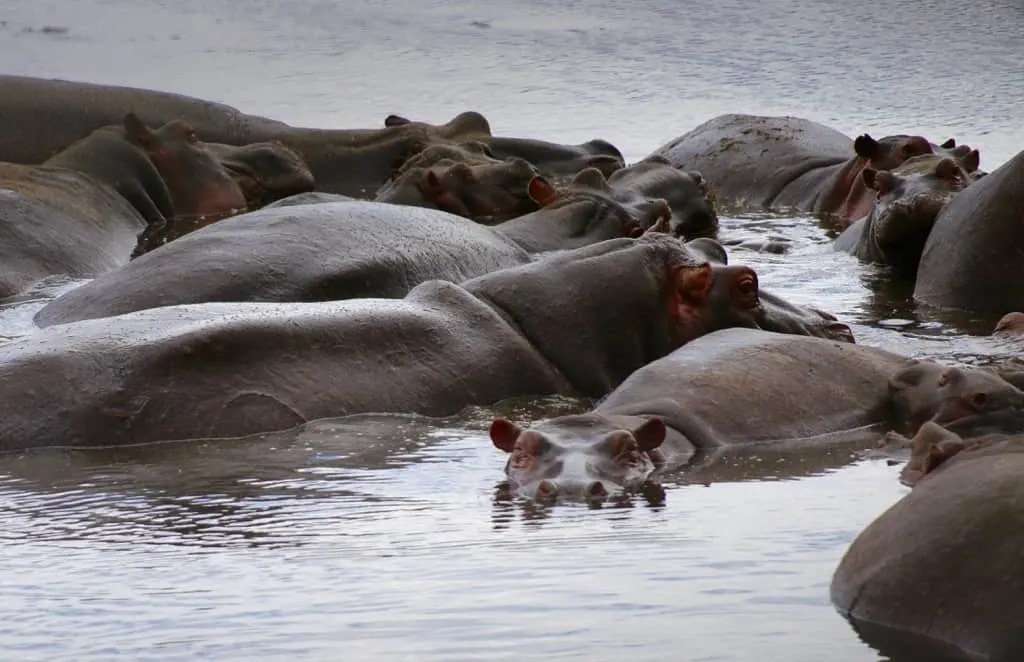 The safari company and the itinerary you choose will literally be your eyes and ears of one of the best travel experiences you may ever have. It is important to choose wisely the company that will create this travel experience for you. The way in which Shadows of Africa handled my trip from the beginning to the end of my Tanzania itinerary was spectacular. They don't let anything slip by them, so if you have any requests or need anything, you simply ask and the entire team figures out a way to help you.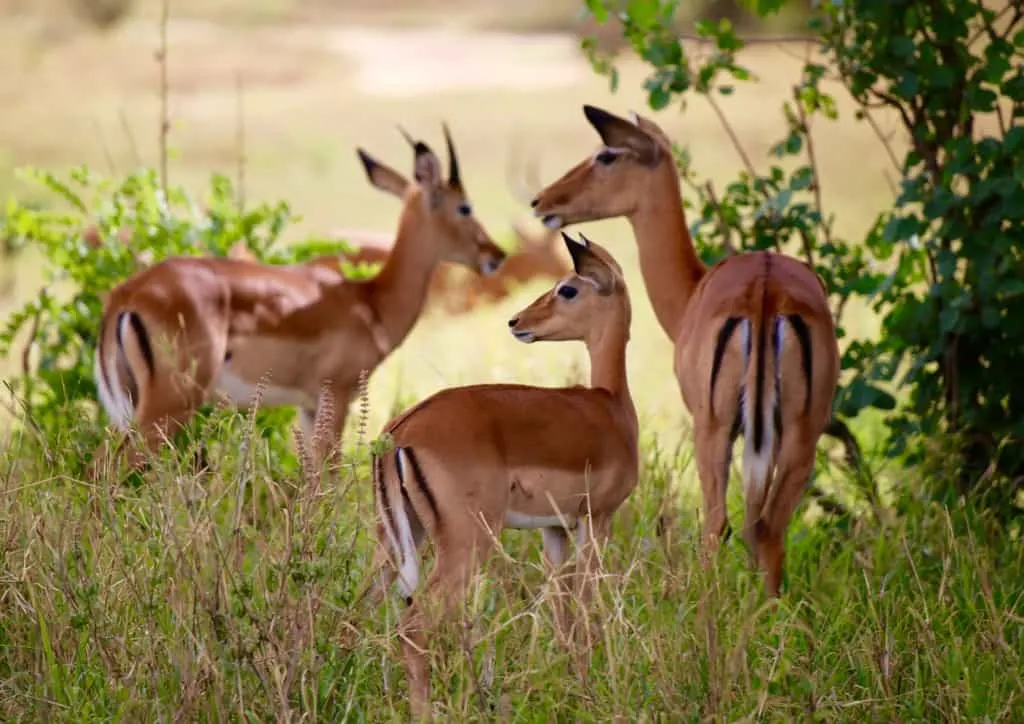 Everyone from my driver to my guide (Moody) has extensive knowledge in their area of expertise and has spent their entire life living and traveling around Africa. Moody seemed to know this area of Tanzania like the back of his hand. Let's just say that "they know what they need to know to make your experience and travel itinerary spectacular". Not only that, this team was a fun and rambunctious bunch, which made it even more enjoyable (and hilarious) at times, as we laughed at all the humor that was provided!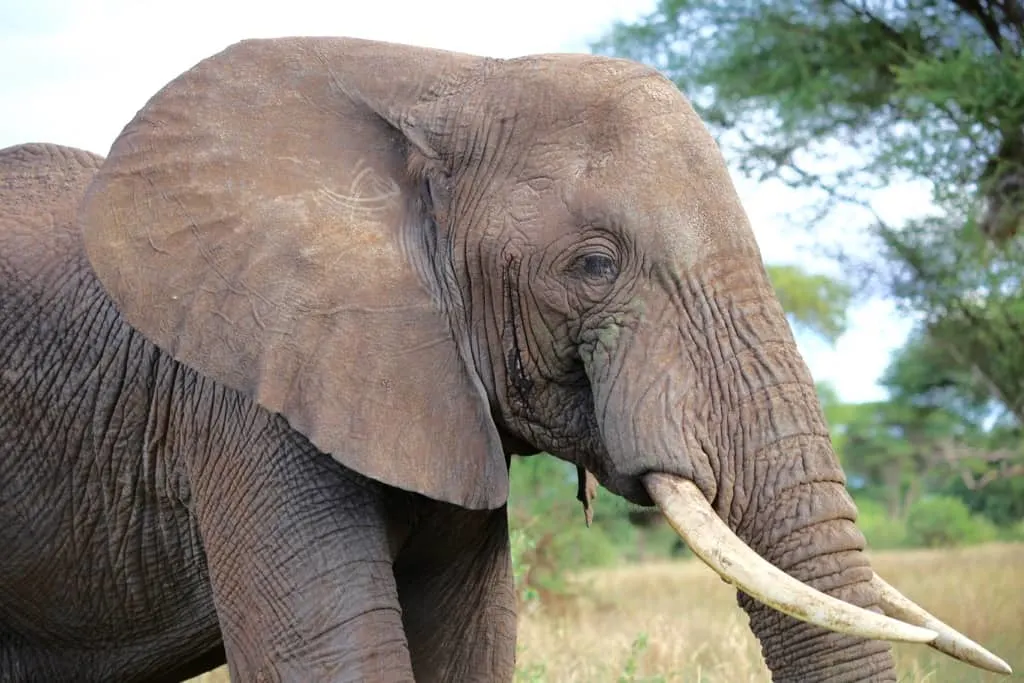 Yes The Guides Speak English (and Swahili!)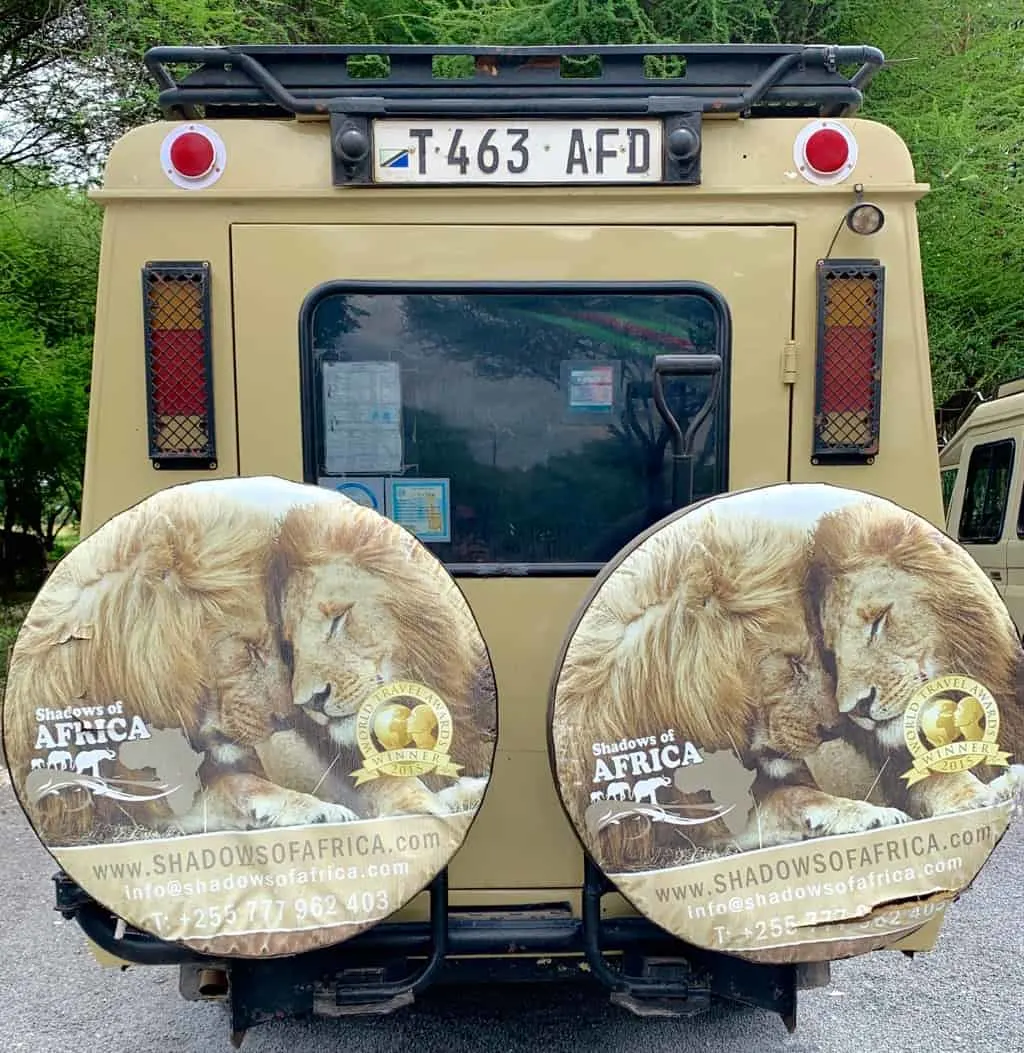 It goes without saying, but I will say it anyway, all the guides are English speaking and speak it well, so there is no problem not understanding them. They also hire guides who speak the native languages when you visit other tribes, so there is always the ability to ask questions and communicate with the remote tribes you will visit. And I might add, they also have very nice open-top Toyota Land Cruisers with bucket seats, so every seat has a great view!

I honestly can't think of anything that I would change about my 5-day Tanzania Safari Itinerary other than just spending more time in Tanzania! Be sure to check out their website, as they have many flexible safari itineraries and can make a custom itinerary for you or you can join any of the many different options they have available. So let's get started and let me share my first visit to Africa with you.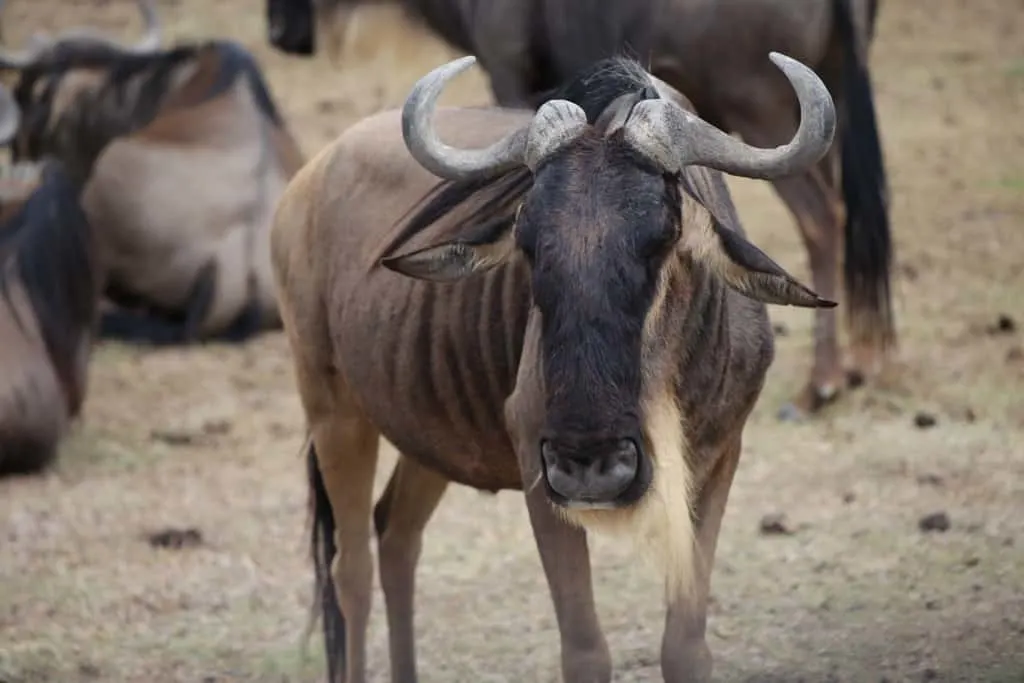 5-Day Tanzania Safari Itinerary: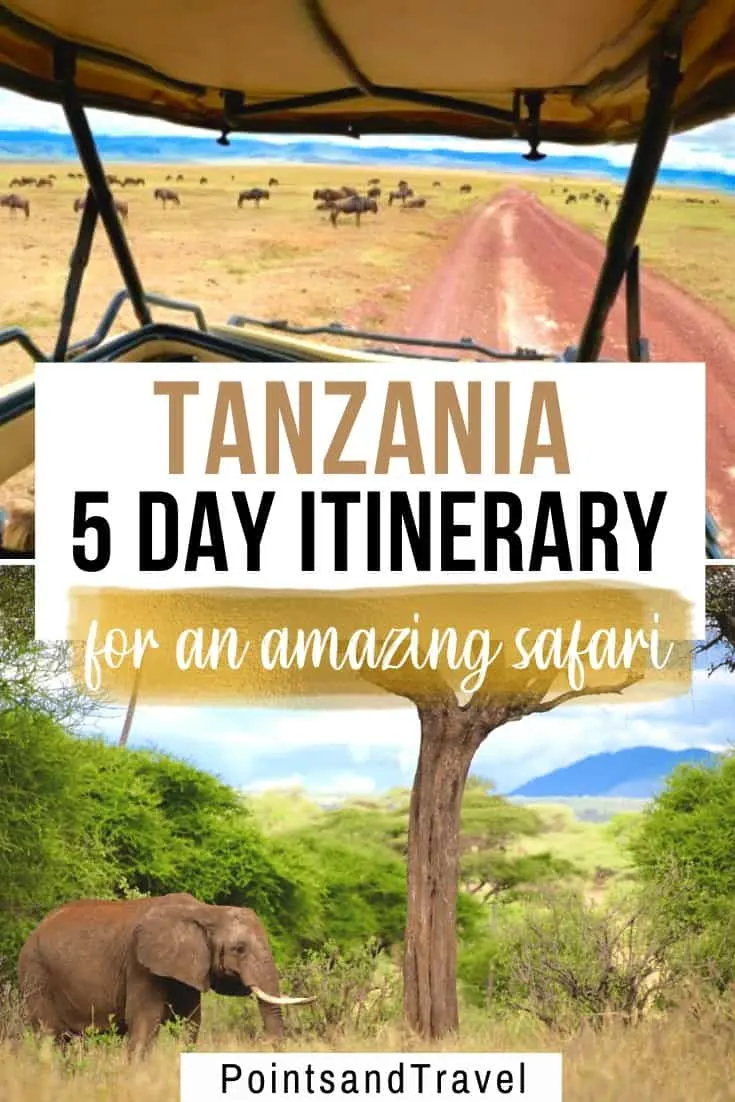 Day 1 Arrival into Arusha, Tanzania – Olerai Lodge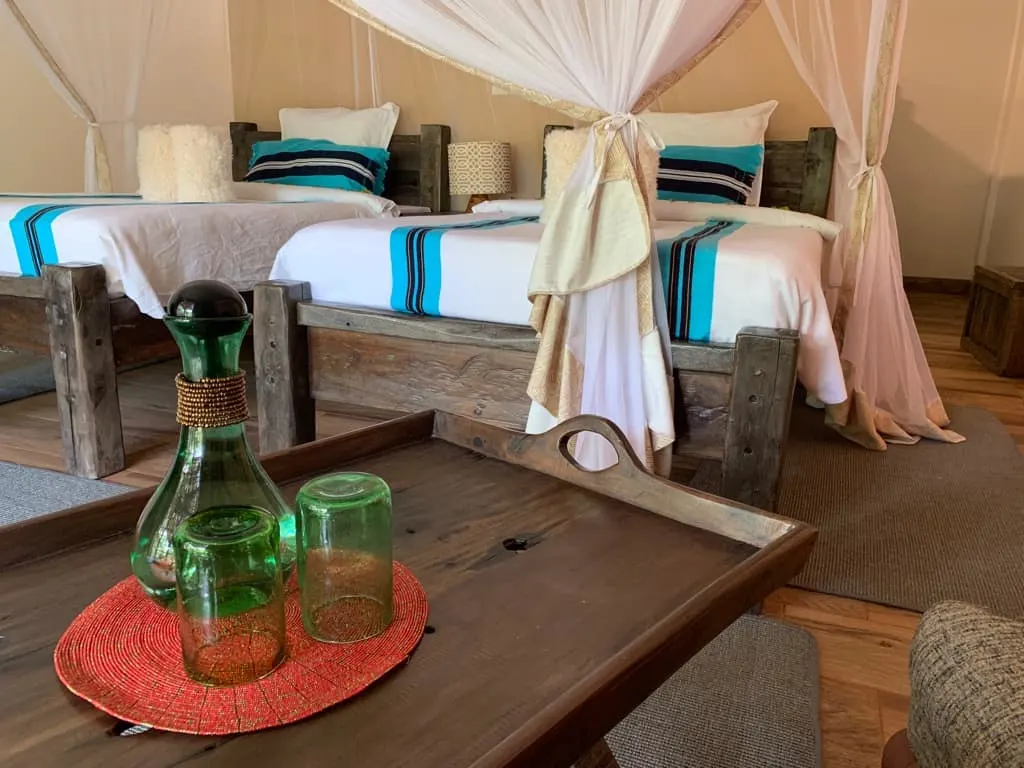 Landing in the Kilimanjaro airport, a Shadows of Africa guide was there to pick me up after my 30+ hour flights to get here. Fortunately, the signature lodge of Shadows of Africa's newly-opened Olerai Lodge is only about 45 minutes away! I was tired and needed a nice place to rest my weary head. This newly-opened lodge was the perfect place to do it. It has gorgeously decorated bungalows in an African style and was perfect for my first night's sleep in Tanzania.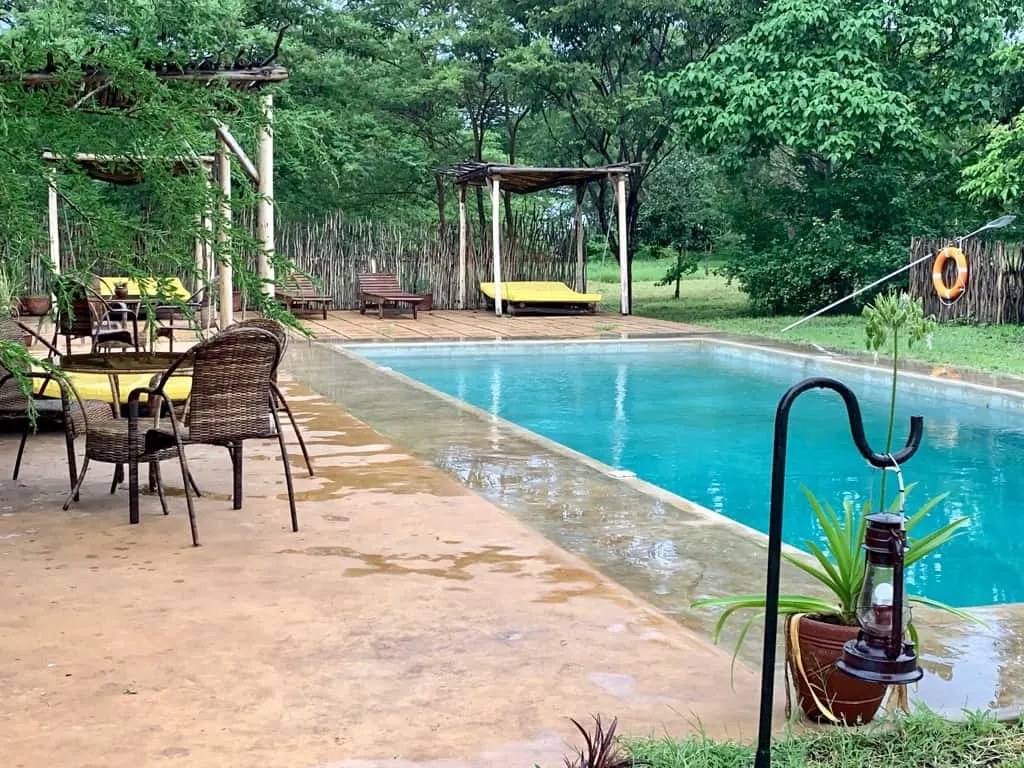 I can't tell you how much I enjoyed this gorgeous oasis set in Arusha's Savanna and among the patchwork of local farm fields. With its swimming pool, bungalow-styled rooms, excellent cuisine, and great service, it was here where I first came to know African hospitality. Olerai Lodge was the PERFECT beginning and ending place for my Tanzania safari itinerary once I arrived in Arusha, Tanzania.
The Tanzania Savanna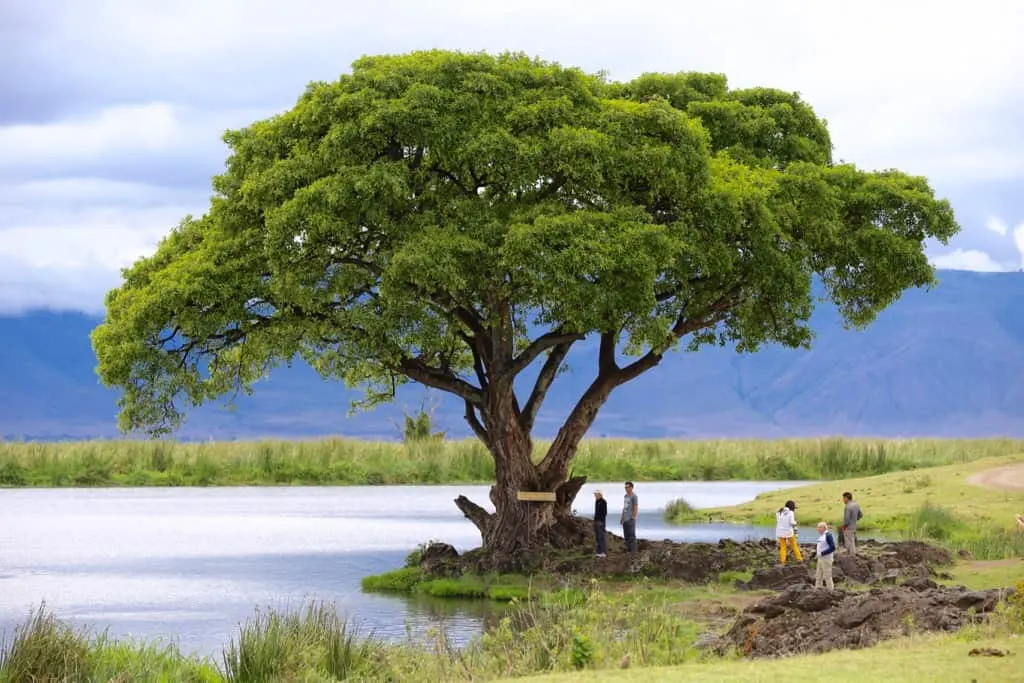 Looking out over the horizon, I was taken aback by the landscape of Africa. It is as if the bush and the trees have their own personality as they sway in the African breeze. In the Northern lands of Tanzania, the Baobab tree, the Acacia trees, and the people are all interconnected. In just one glance of my eye, I can see the symbiotic relationship they represent to each other. It is as if they interact to sustain each other. The beauty of Africa explodes as I travel around this intriguing country unlike any other I have been in. The landscape alone is worth a visit to go on a Tanzania itinerary and the people and animals are like the icing on the cake!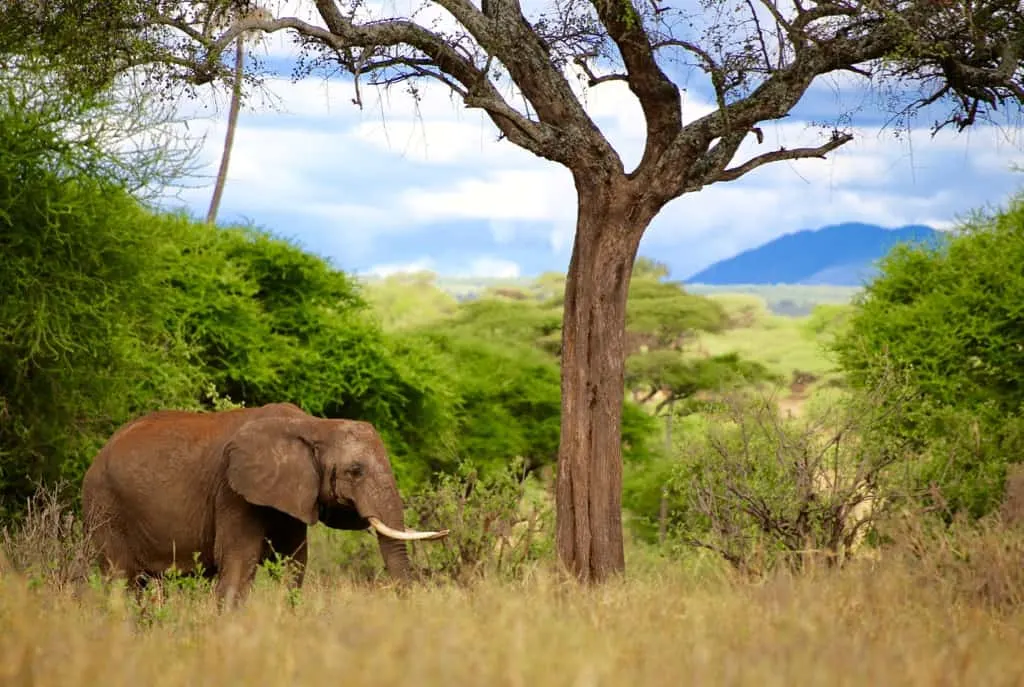 Day 2: Tarangire National Park – Let Get This Safari Itinerary Started!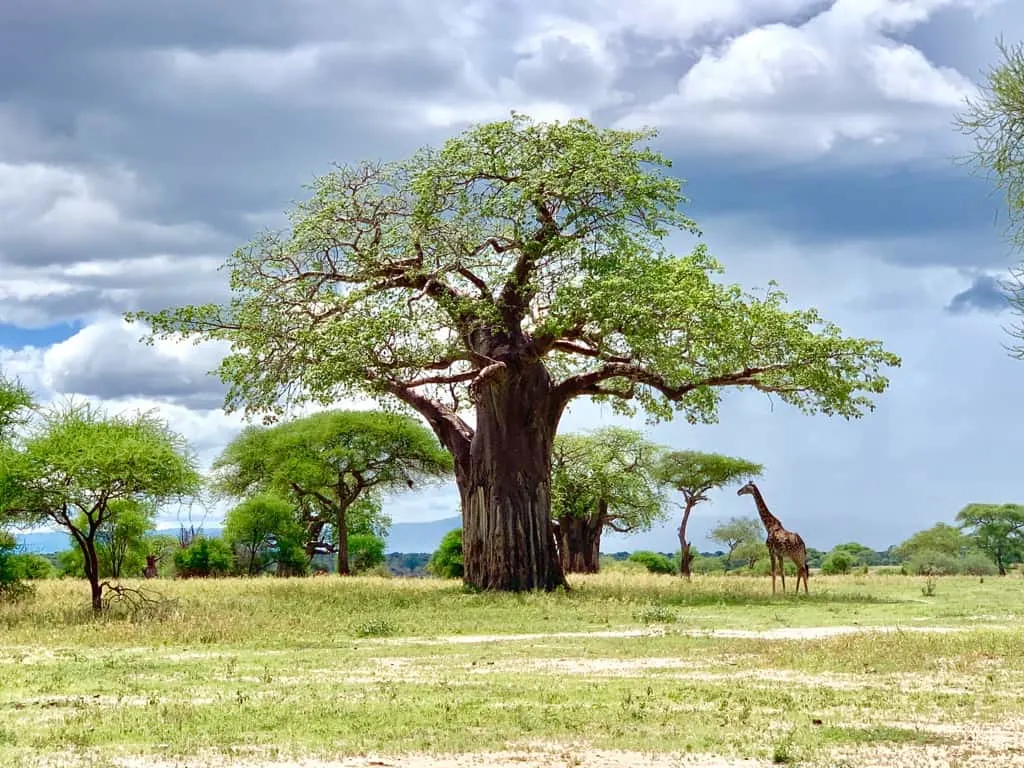 Leaving the Olerai Lodge, we headed out in our safari-style Toyota Land Cruiser and make our first stop at the Monday Market in Arusha called Nanja. Immediately, we were surrounded by the Maasai women to buy their handmade wares – mostly jewelry made from animal bones, metal, and beads. We took a quick stop and looked around at the things they were selling in the market – shoes made from tires, clothes, beans, onions, cabbage, bananas, oranges, potatoes, even a meat market with hanging meat inside a hut with no refrigeration!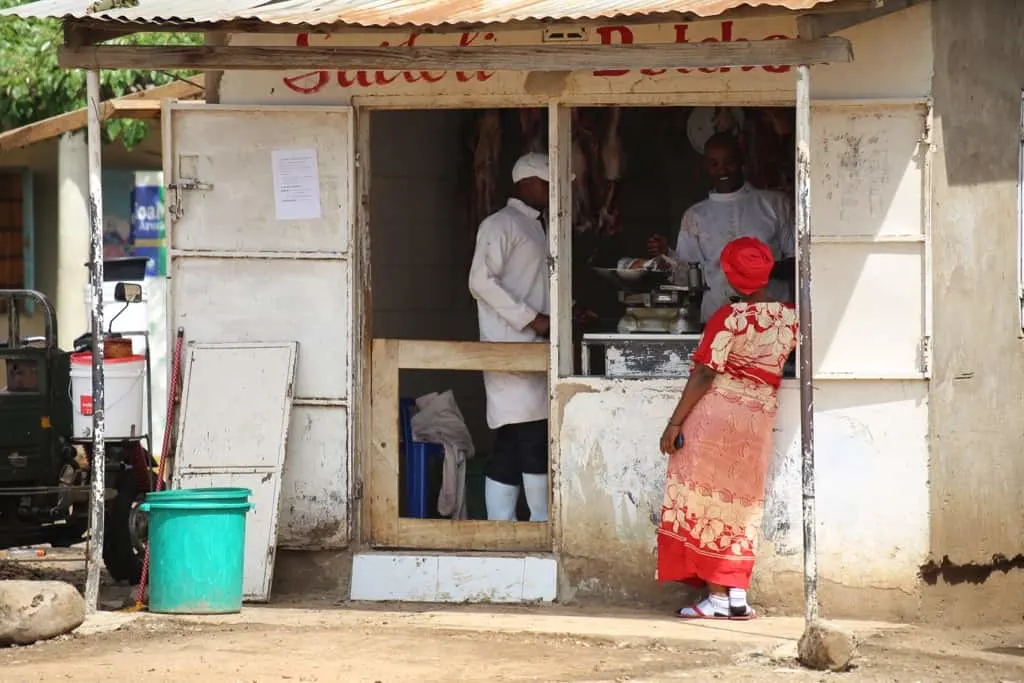 Driving to Tarangire National Park from Arusha
Then we were off to conquer my very first safari itinerary in Tarangire National Park. It is located about two hours from Arusha, so we spent time driving through small towns along the way. The thing that struck me the most was how colorful the people were. Many Maasai people and other tribes are interacting together on a day to day basis with their colorfully bright robes. Many with sticks in hand herding goats or cattle along the roads.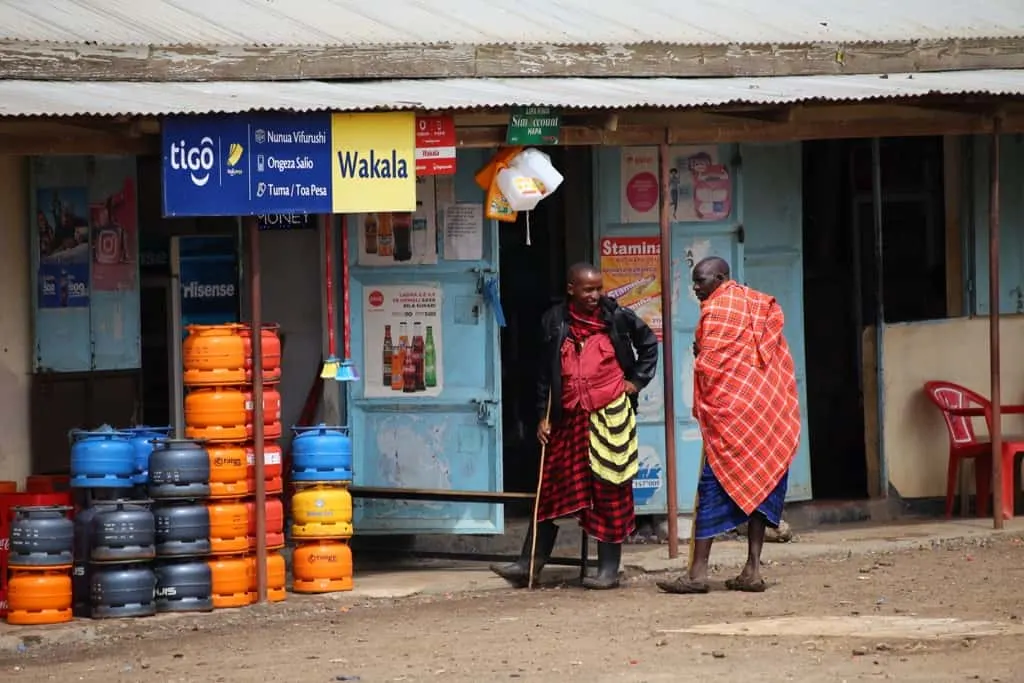 Life looks hard in Africa to me, but I am a soft Westerner. It is a regular way of life for these people. Here everyone walks… school kids, goat and cow herders, lettuce pickers. However, I did notice that in the villages, they have tuk-tuks for people to get rides.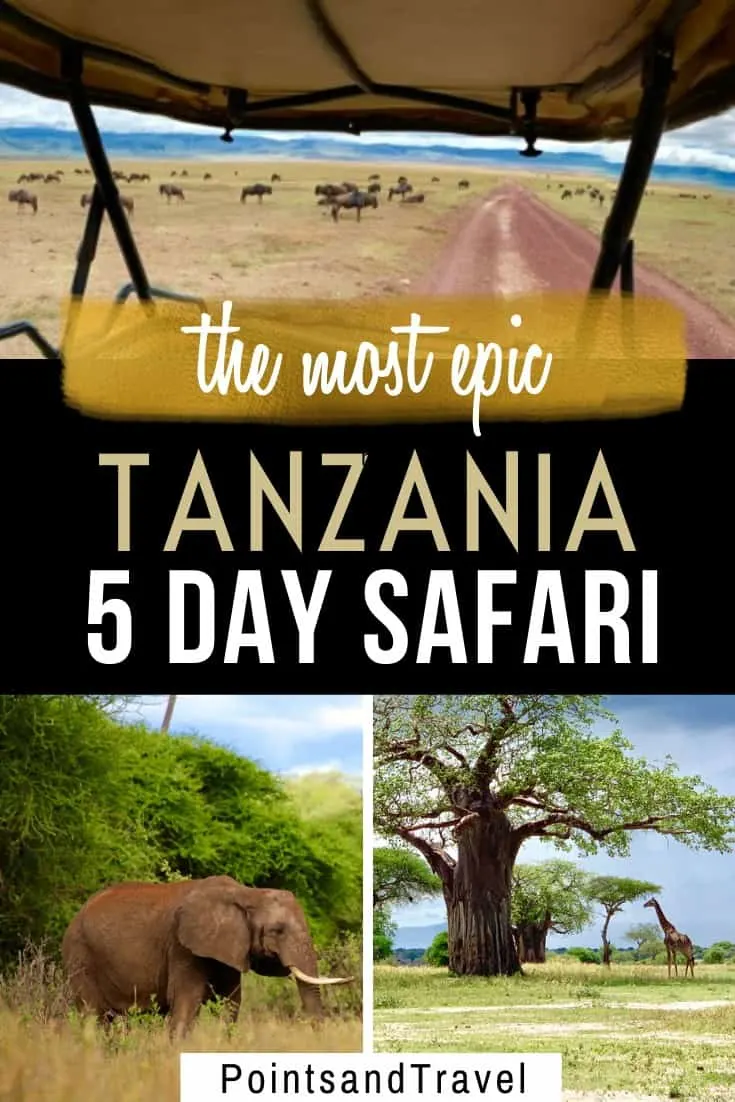 Tarangire National Park – Here We Come!
Eventually, we made it to the entrance of Tarangire National Park, then we got our 24-hour park tickets and soon we were on our way to see what wild animals we could find with our guide and driver Moody (short for Mohammed).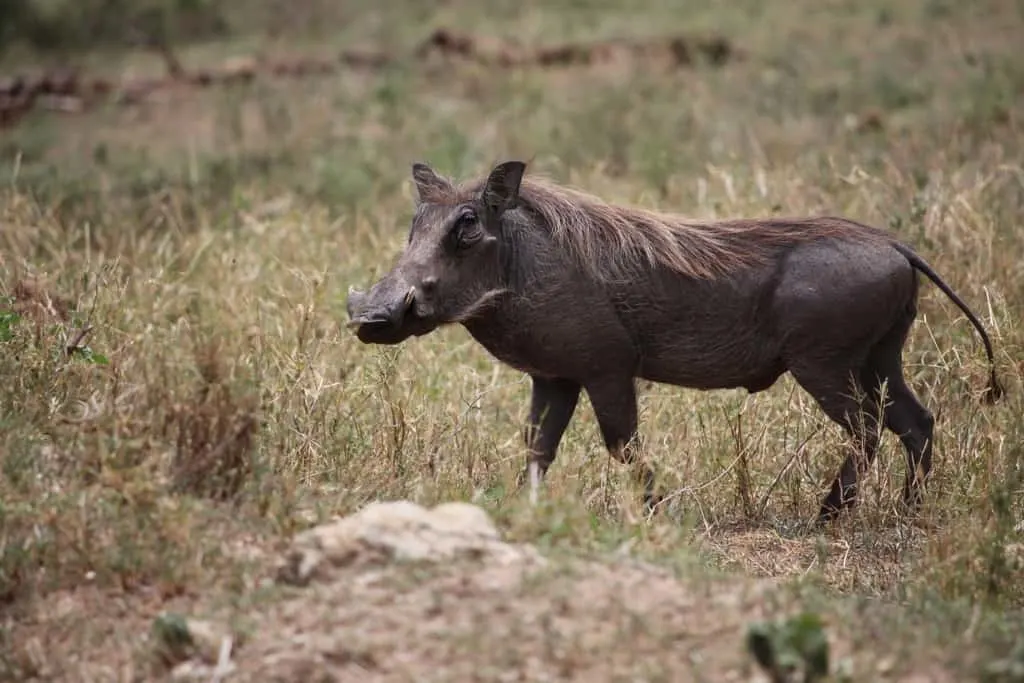 After monkeys, the first animals I spied were warthogs, with their funny looking legs, where the front ones are longer than the back ones! Then impalas and giraffes crossing the road. I think giraffes so far are my favorite!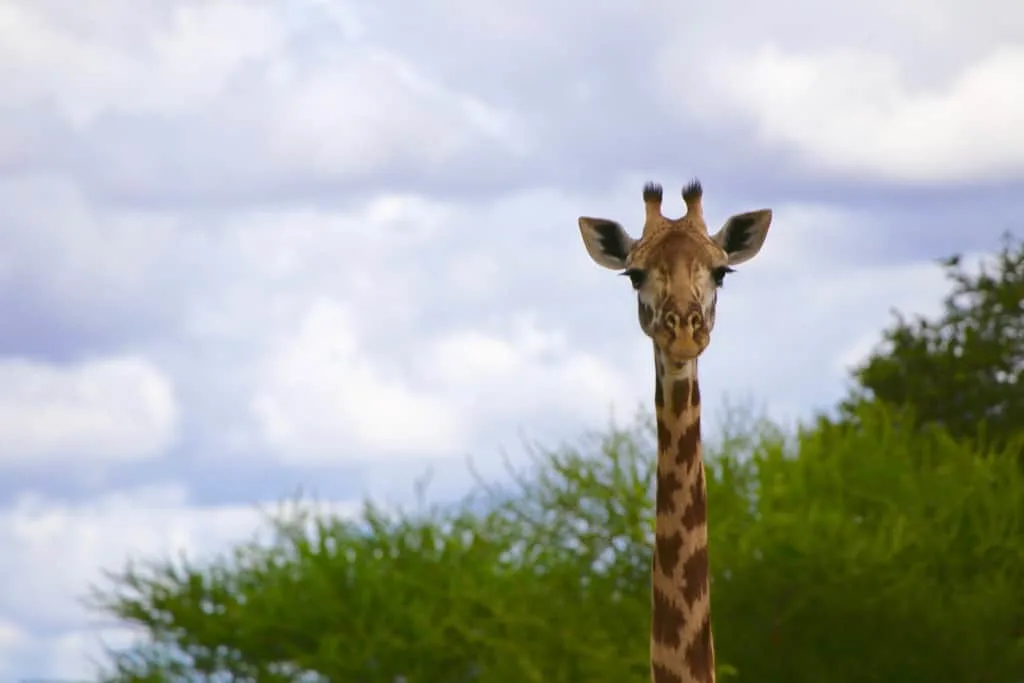 Next were giant ostriches, birds of all varieties, wildebeests, and zebras. I love zebras too with their gorgeous and interesting stripes and patterns.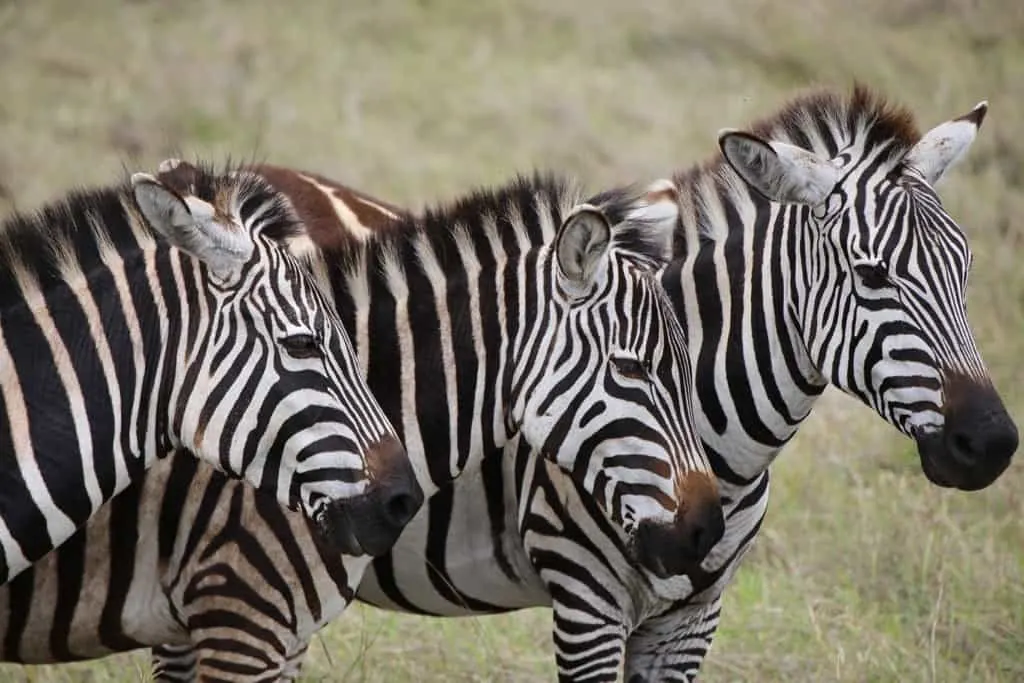 And of course, we saw the African Elephant with its large white tusks and eventually, we even spied lions laying in the grass, then cheetah somewhere else altogether. It truly was insane to be so close to these incredible wild animals. My photographs don't do these majestic animals justice!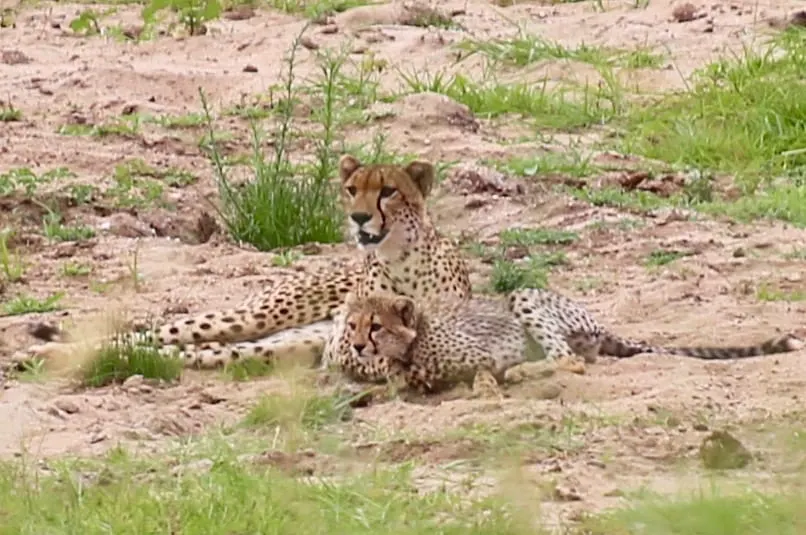 I also loved the landscape of the Tarangire National Park coming alive with its Balboa and Acacia trees against the backdrop of Safari-styled trucks. All of these things say "African Safari" to me almost more than anything else. Especially with a few animals sprinkled into the photograph. I love every minute of my Tanzania itinerary so far!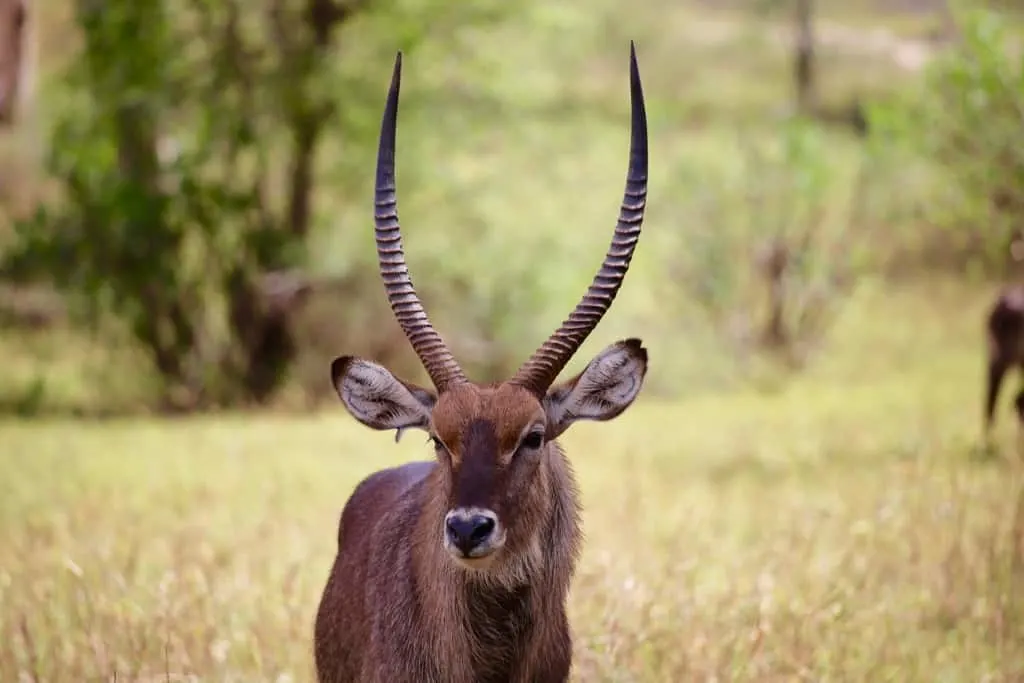 Day 2 Spend the Night Inside the Tarangire National Park
We spent the night inside the Tarangire National Park at the Ata' Aga Camp – that's right, luxury glamping at its finest! A place to rest our head for the night with electricity in the main tent and private casita tents with a bathroom and shower area. It was actually really nice considering we were inside the National Park!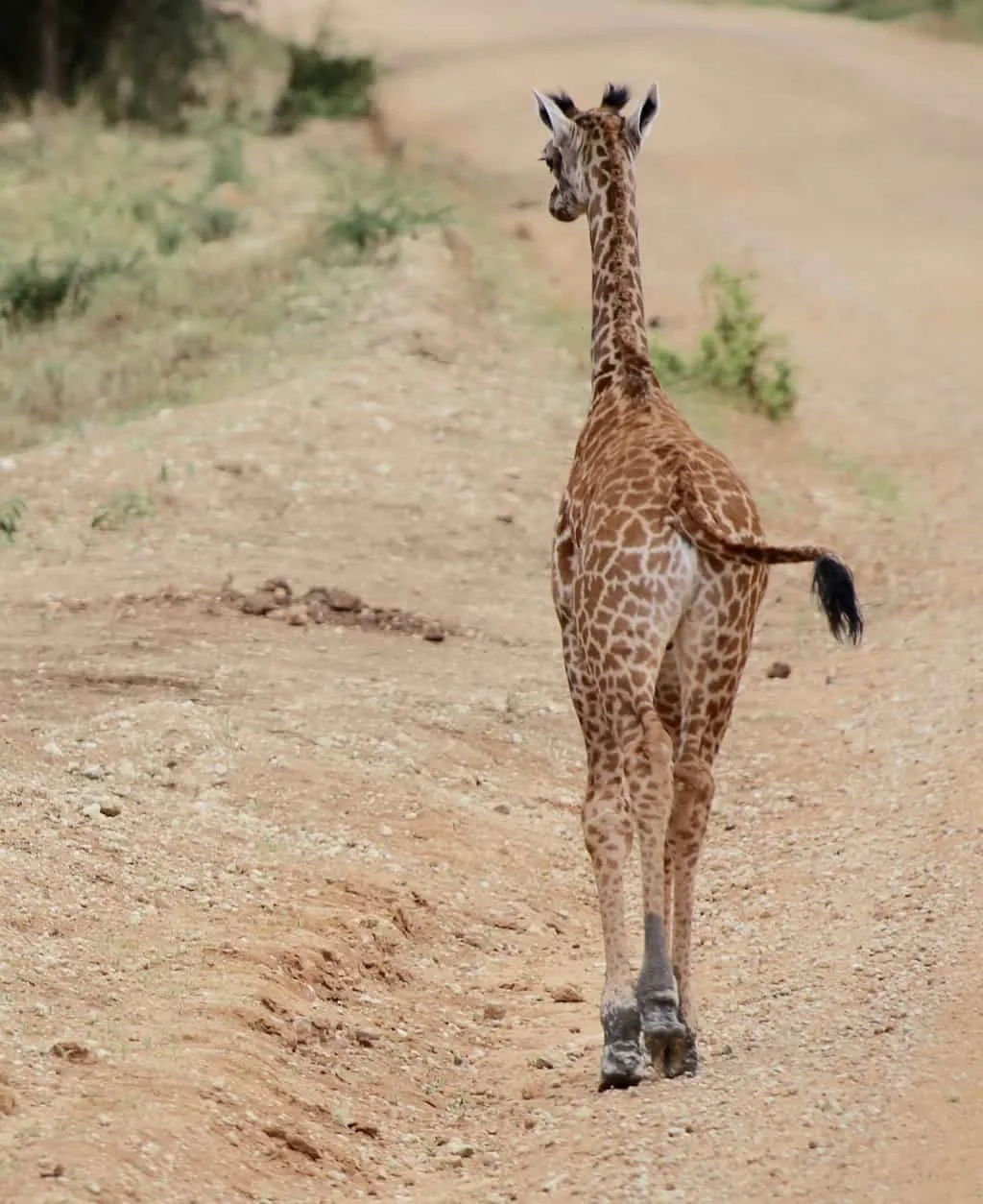 We experienced an early morning to finish off our park experience and to see a few more animals before making our way out of the National Park. The earlier in the morning inside the park is always the best for sightings of the animals. We were able to find sleeping lions and, of course, many of the animals I mentioned before!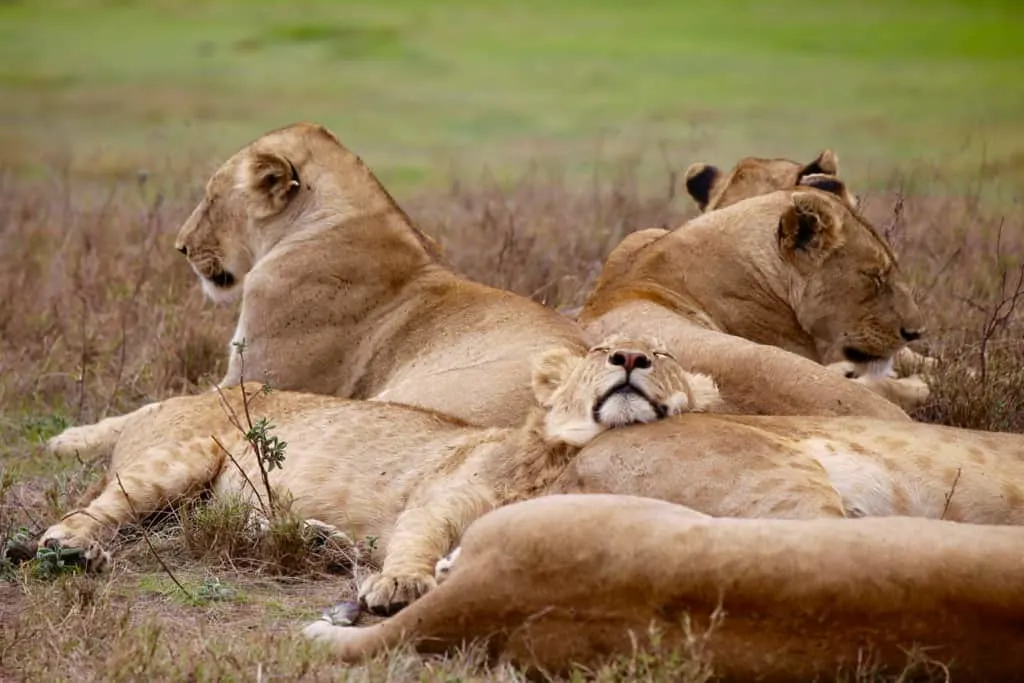 Day 3: Tarangire National Park, Ol Messera School & Maasai Tribe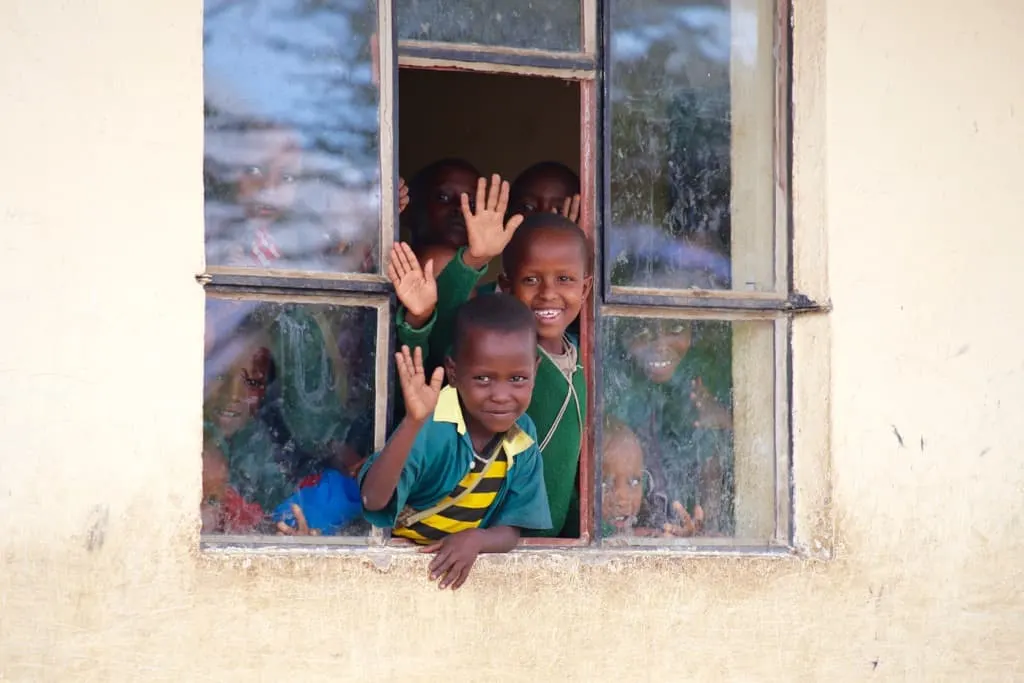 Around noon that next day, we left the Tarangire National Park to continue on our scheduled Tanzania itinerary. We headed towards the Ol Messera area on a bumpy road to visit a school that Shadows of Africa helps to support. We saw lots of everyday life teeming around the towns and villages, as we made our way there.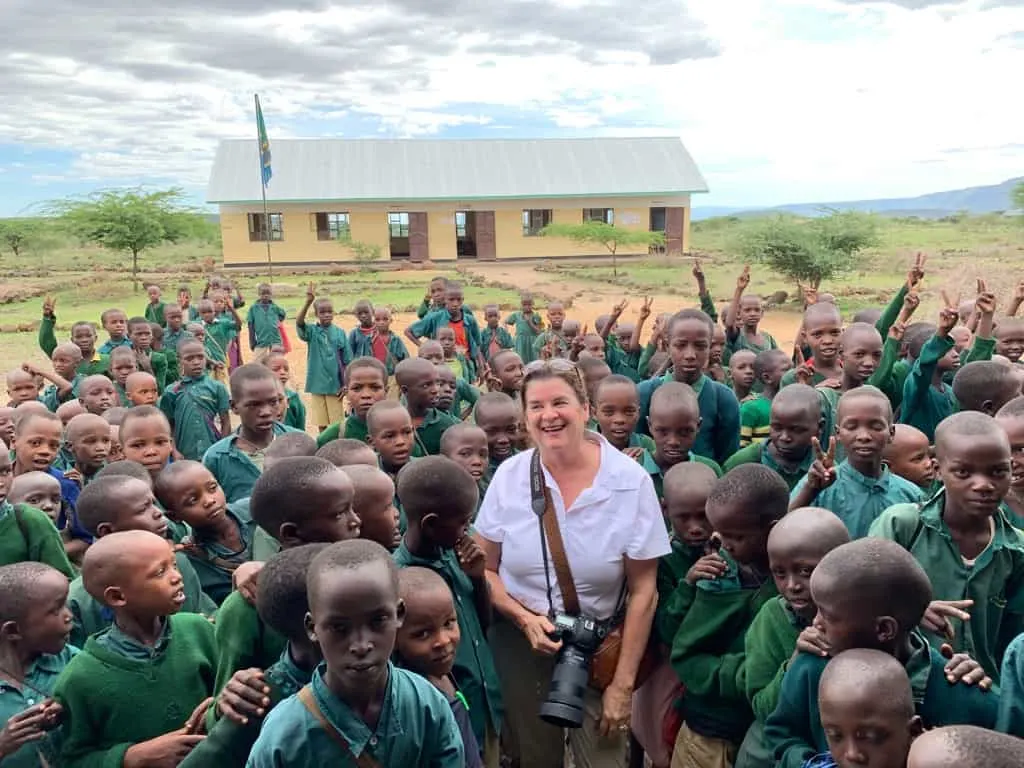 After many bumps and rough dirt roads, we pulled our Safari-styled Land Cruiser into the school grounds where maybe 200 kids were at school. As we piled out of the truck, we could see they were curious about us and why we were there. We were probably just as curious about them! The kids plastered their faces out the windows, waving and smiling as kids do! I have never seen such gorgeous smiles and excited kids!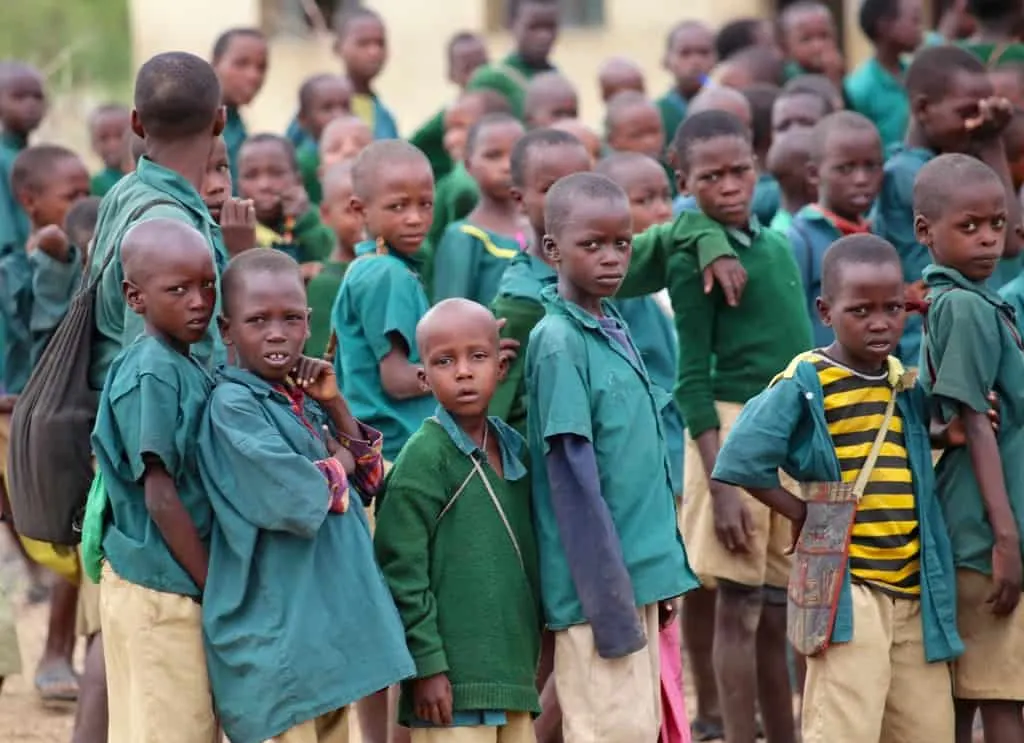 The school visit was quite an experience as it seemed many were quite astonished to actually see photos of themselves, especially videos on my iPhone. They were super curious about our cameras and smartphones! Every kid wanted to see themselves on video. Shadow of Africa helps support this school by giving them the things they need, versus trying to change them by giving them strictly money. They give what is asked for by the leaders of the school.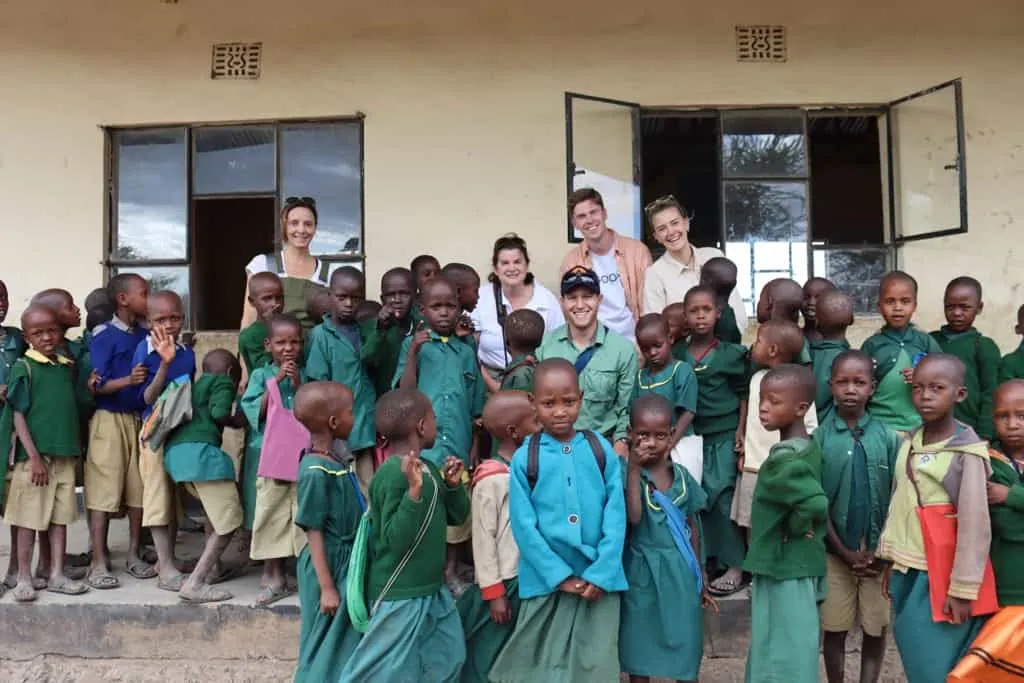 Our Next Scheduled Itinerary Stop: A Remote Maasai tribe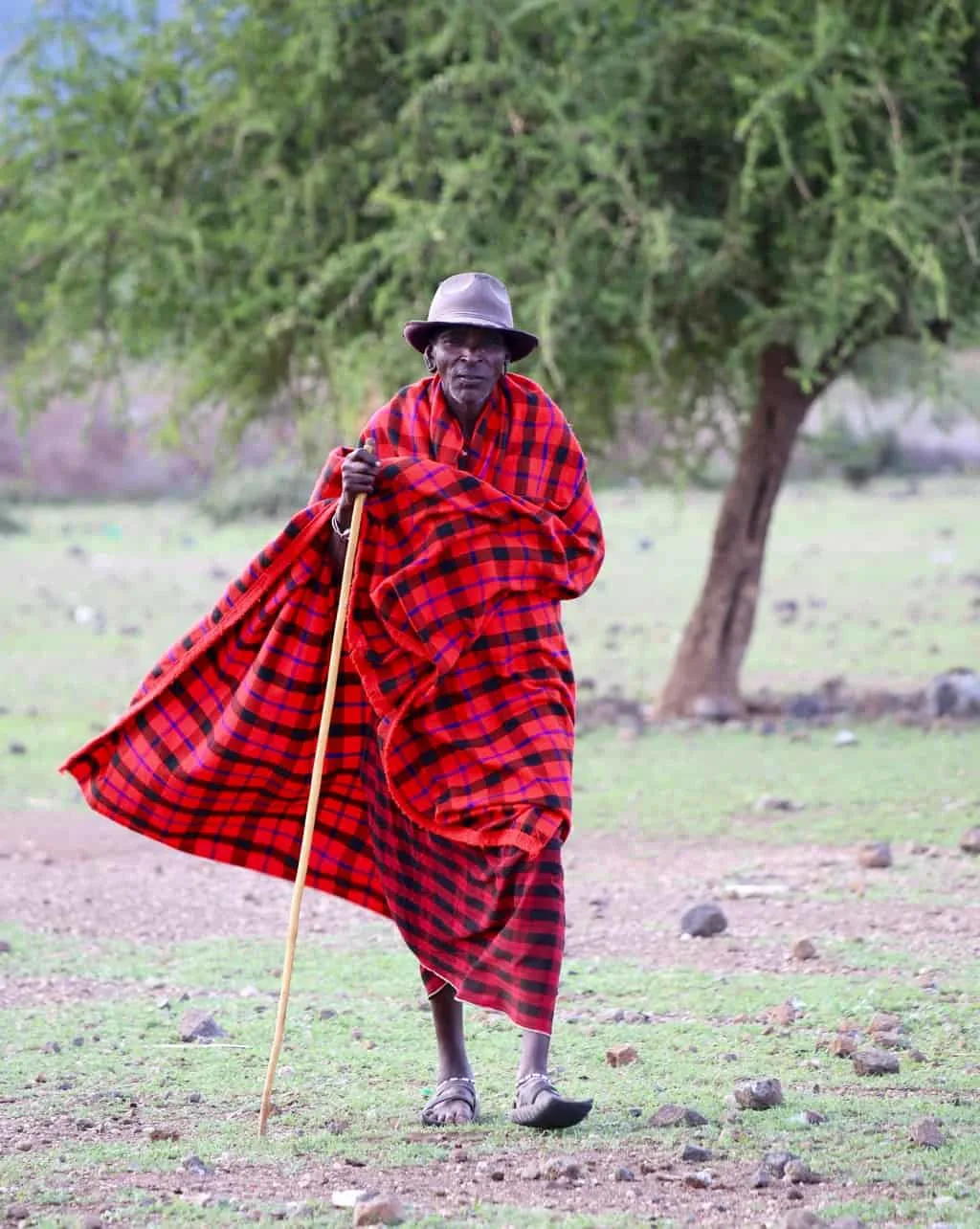 In the distance, I could see goat and sheepherders, so I knew we were getting closer to the tribe the guide had described to us earlier. This Maasai tribe consisting of a chief with 8 wives and 50 children called the Ol Messera Maasai Village. They weren't too far from the school mentioned above.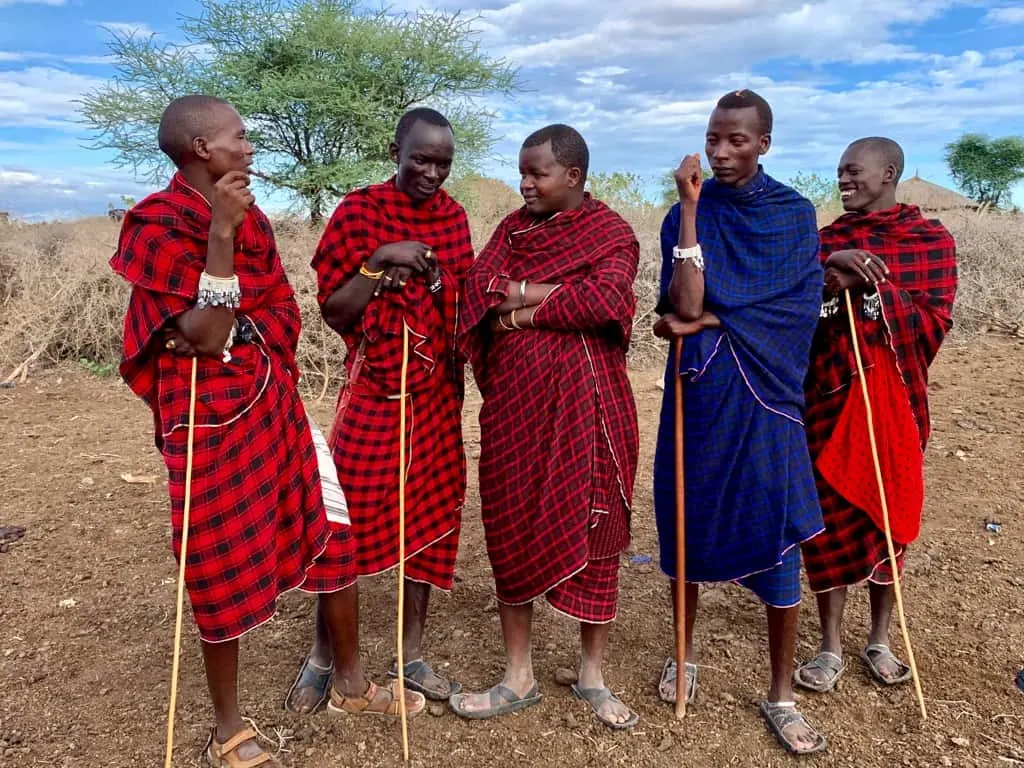 Unfortunately, the chief of this group of Maasai had passed away. The village of 8-10 huts we could see was for the wives and children of the chief. They live here in these handmade huts made by the women of the tribe with no running water or electricity. Again, this area is quite remote from the main villages along the highway. This spontaneous visit was worth every bump in the old dirt road to get here. They were super curious that we had come for a visit, as they don't get many visitors here. This tribe lives off what the men hunt and kill, as the women cook, take care of the children, and build new mud huts as needed.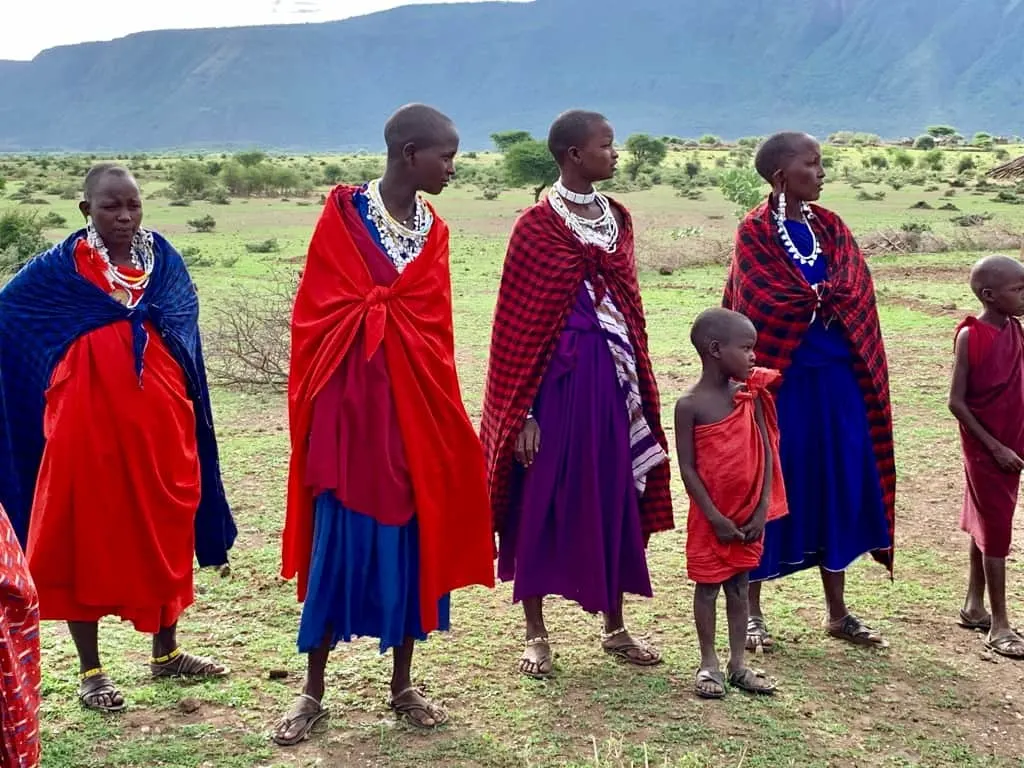 As the men showed us around their "camp", more and more of the women and children seemed to appear. Eventually, it turned into a party with them singing, chanting, and dancing for us! It was an incredible day! The photos I took that day are etched in my mind, as I don't think I have ever seen such spontaneity.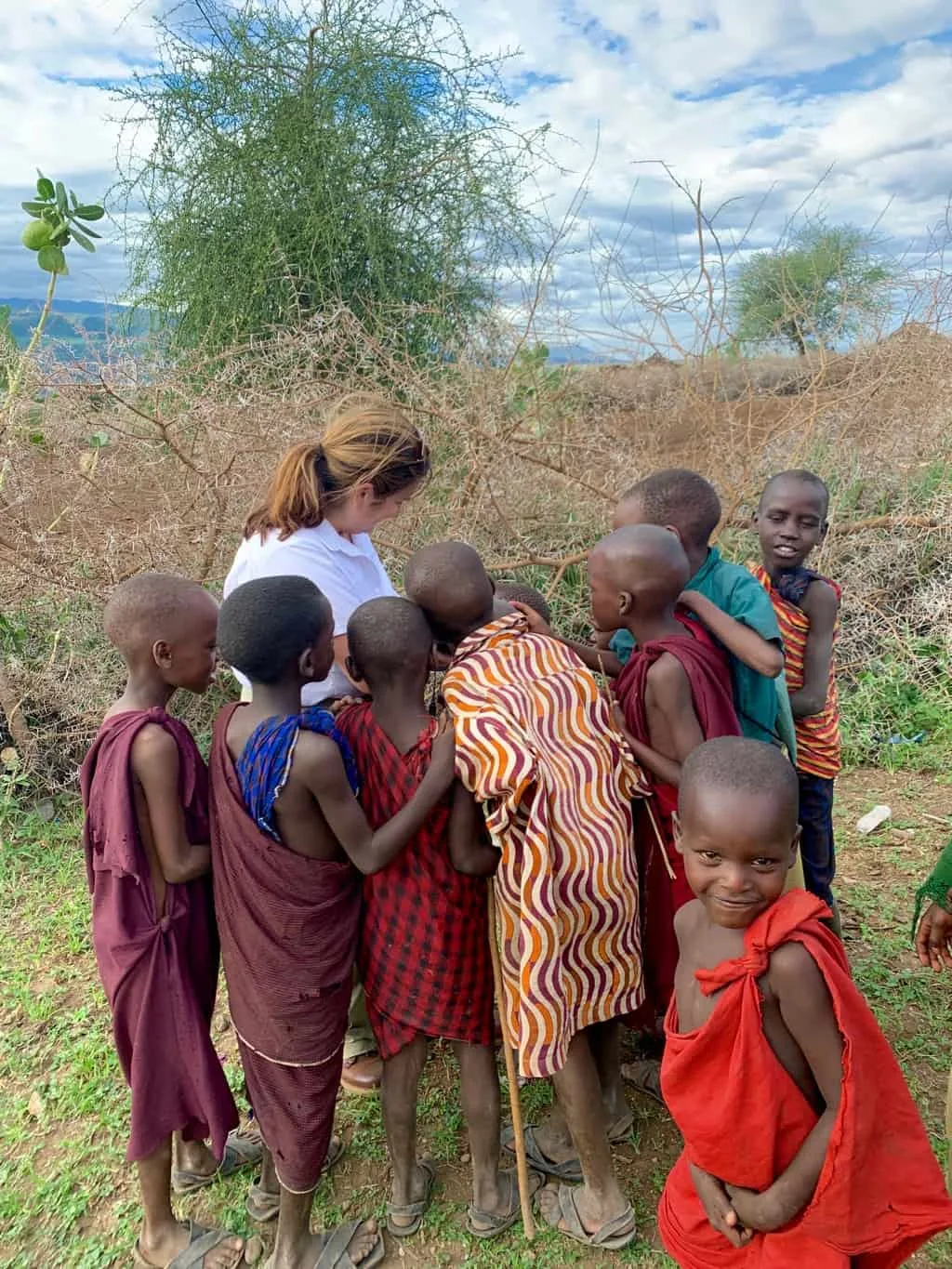 The men of Maasai are famous for a dance affectionately referred to as the "jumping dance" with low chanting sounds. They jump straight up in the air three to four feet! Believe me, they make it look so easy but it's not! And the women also have a dance all their own! They were all beautifully dressed in drapes of material in many bright colors.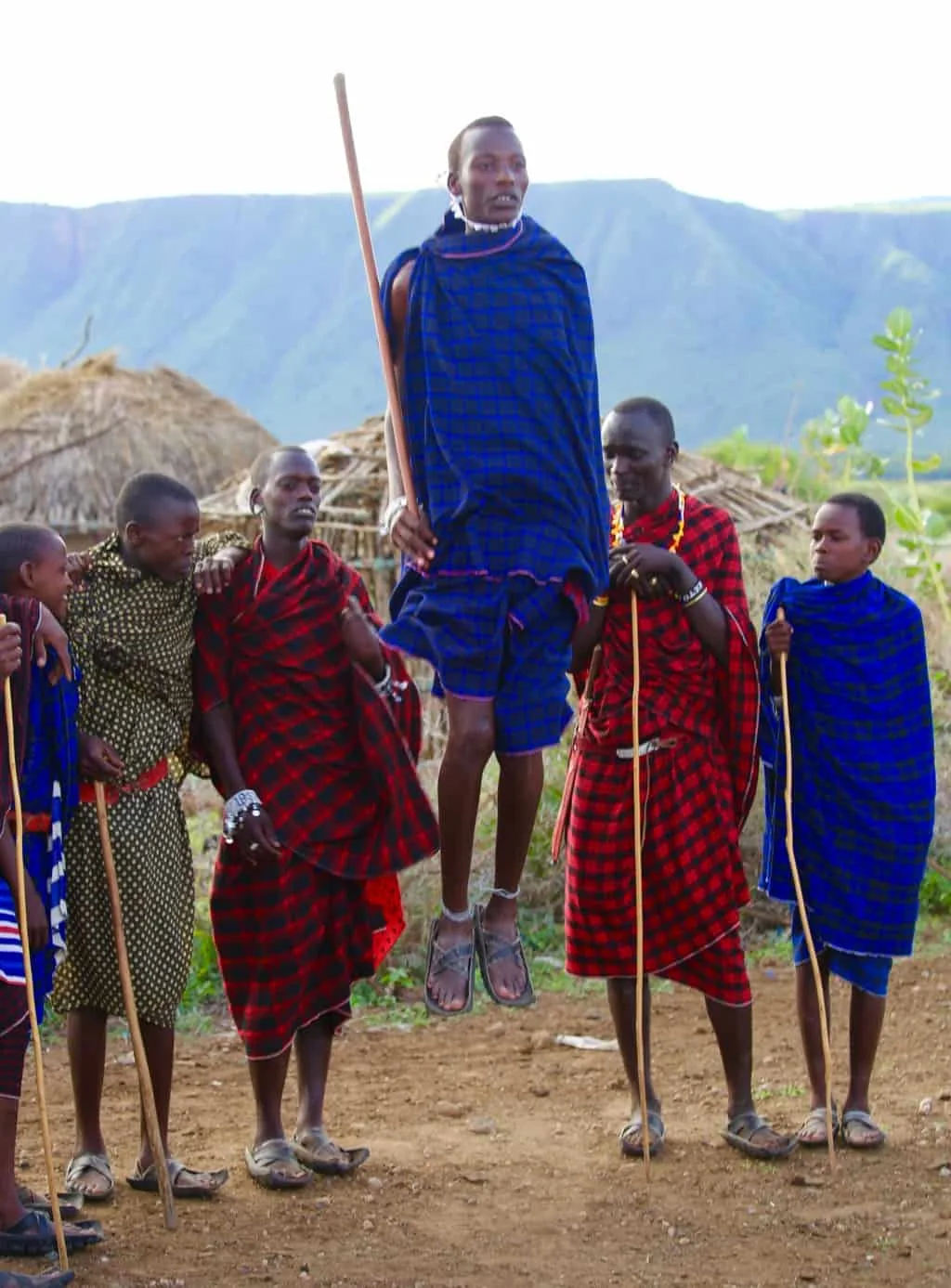 These two visits, the visit to the children's school and the visit to the small Maasai village will be with me forever I think. It was quite astonishing to see how other people halfway across the world live. I will never forget my time spent with them!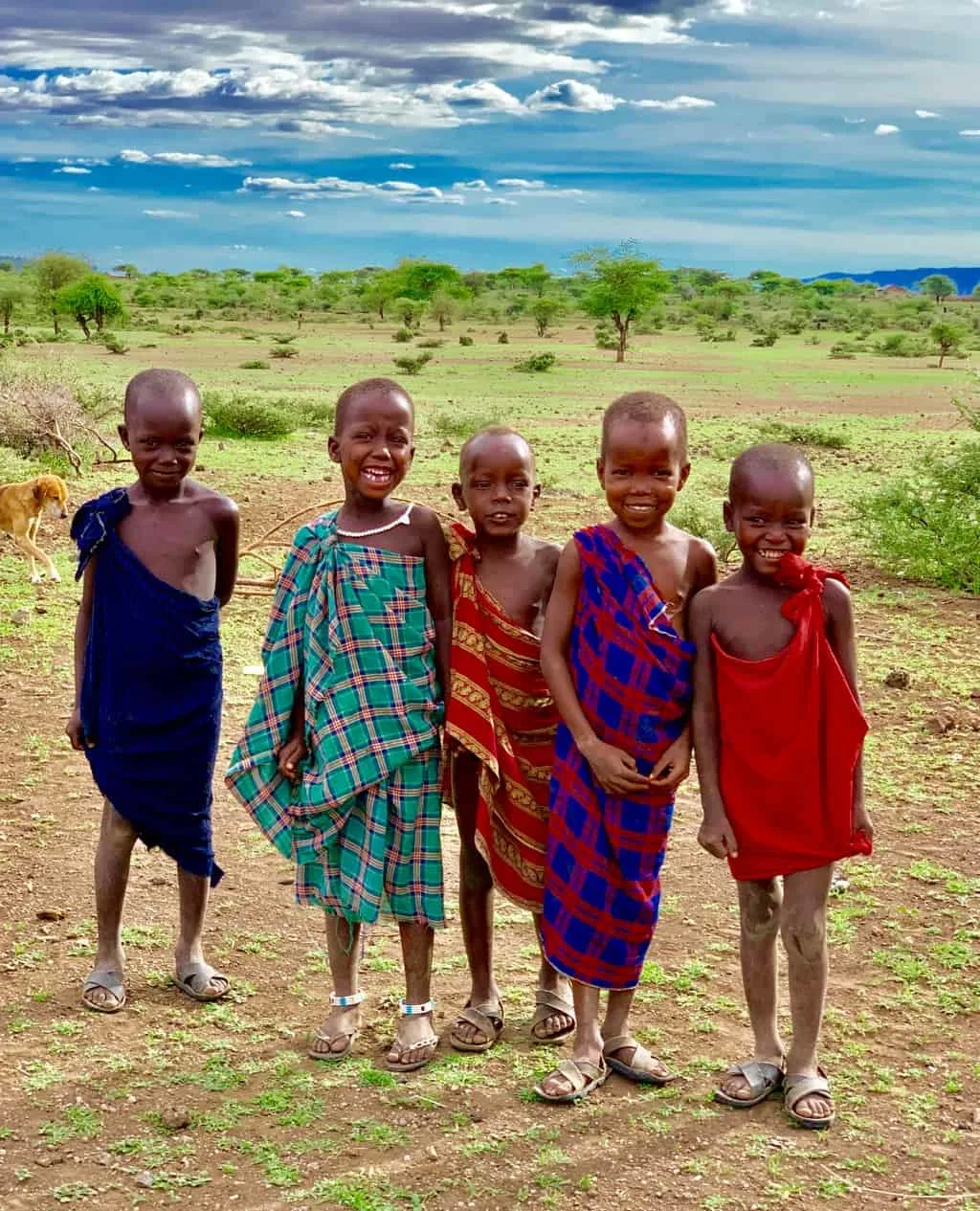 Lake Manyara Kilimamoja Lodge Arrival
Unfortunately, we arrived a bit later than the scheduled Tanzania itinerary said because we didn't want to leave the Maasai village. But eventually, we did arrive at this almost unbelievable African hotel known as Lake Manyara Kilimamoja Lodge. What an amazing greeting we received and what an oasis it was! I totally wasn't expecting to see such an outstanding 5-star hotel to what seemed to me to be out in the middle of nowhere (about an hour's drive from where we had been)! Remember Shadows of Africa takes good care of you on your safari itinerary!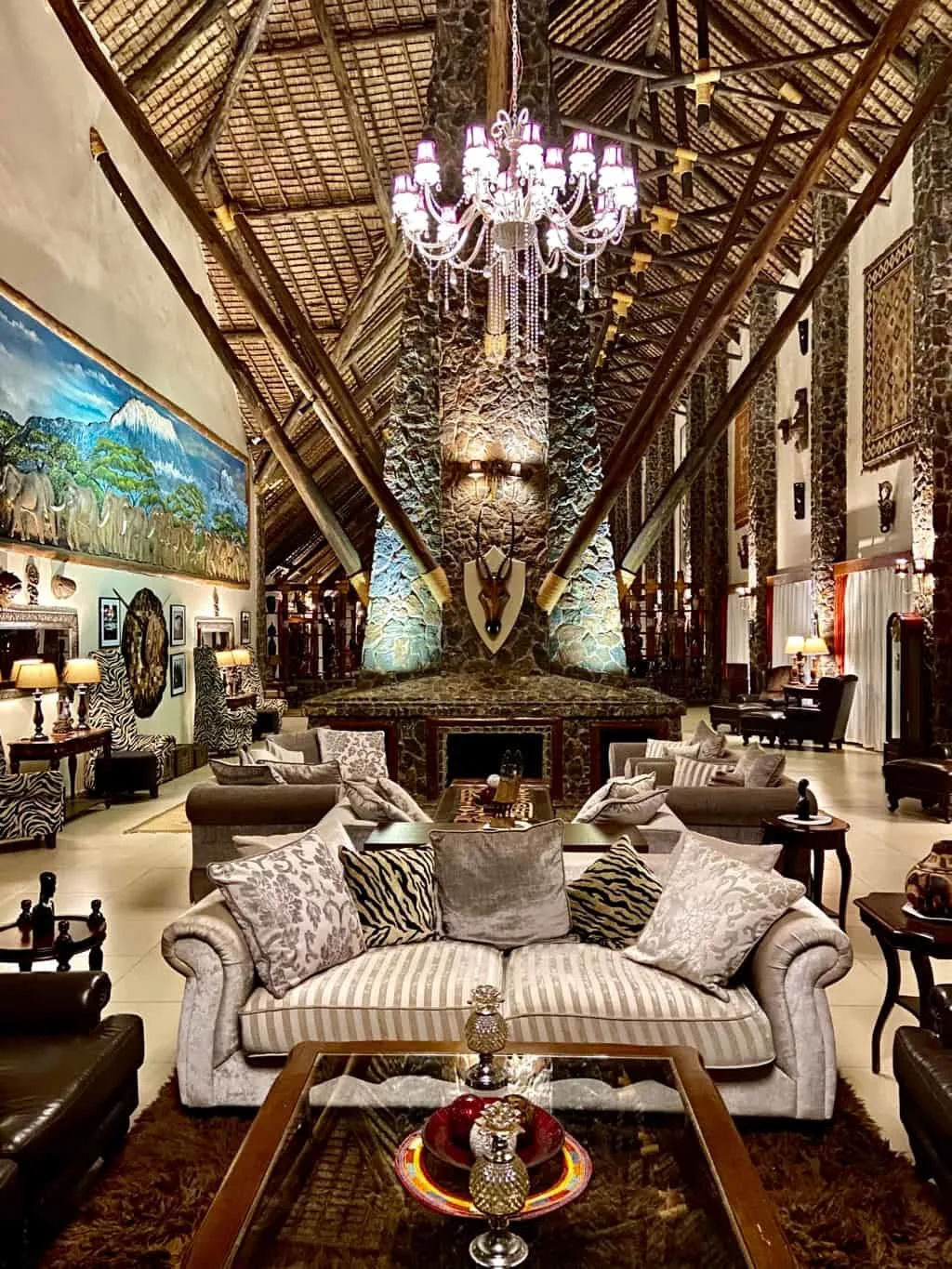 The lodge faces Lake Manyara and the views from my one-bedroom bungalow were stunning, especially in the morning when I woke up and got to see it in all of its glory! This luxury hotel, with its huge main lodge and a massive pool, made for the perfect stay on this Shadows of Africa, 5-Day Tanzania Itinerary trip of a lifetime! Unfortunately, I was only there for one night, but next time, I would stay at least two nights, just to let them spoil me rotten!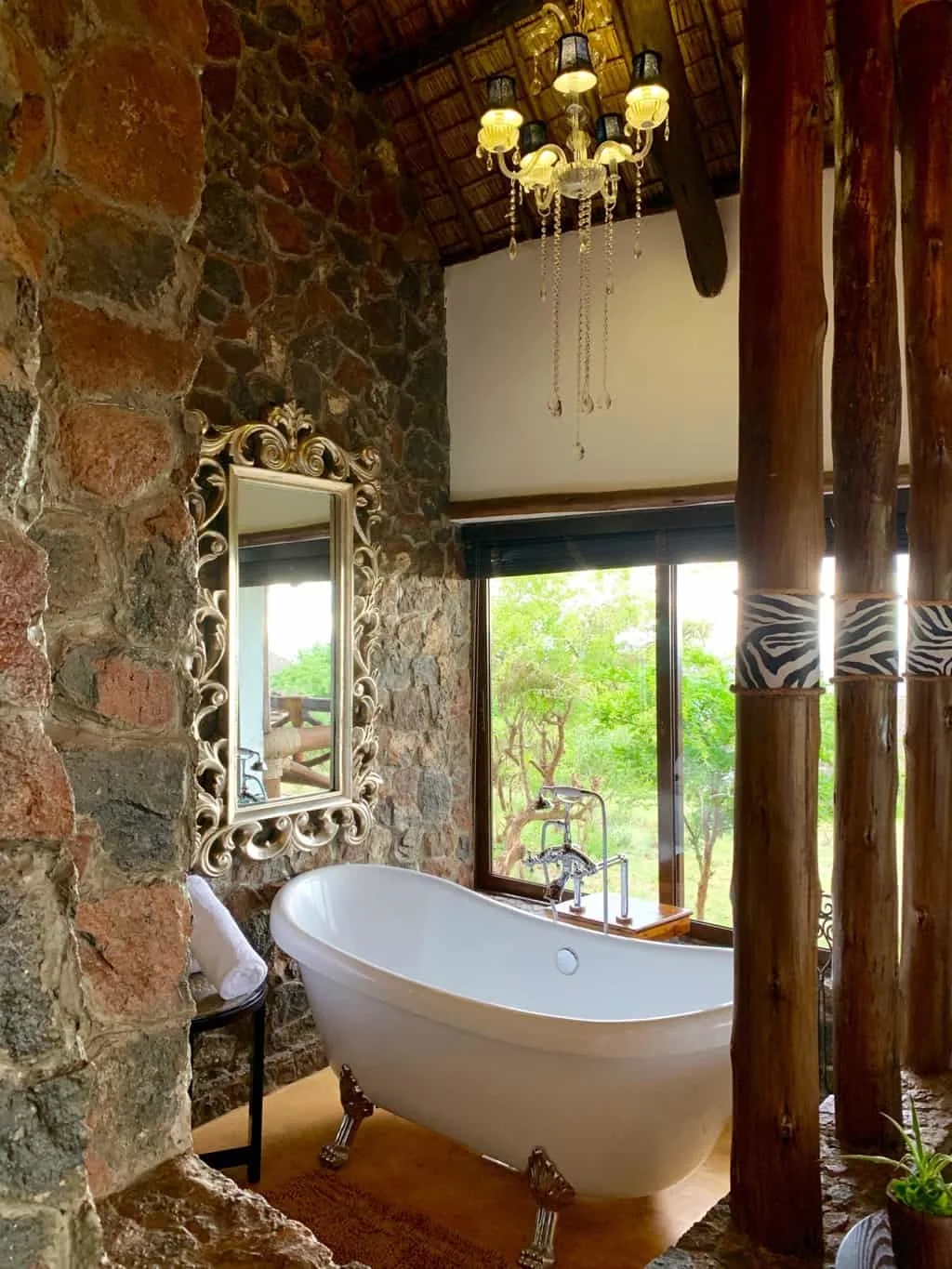 Day 4: Ngorongoro Conservation Area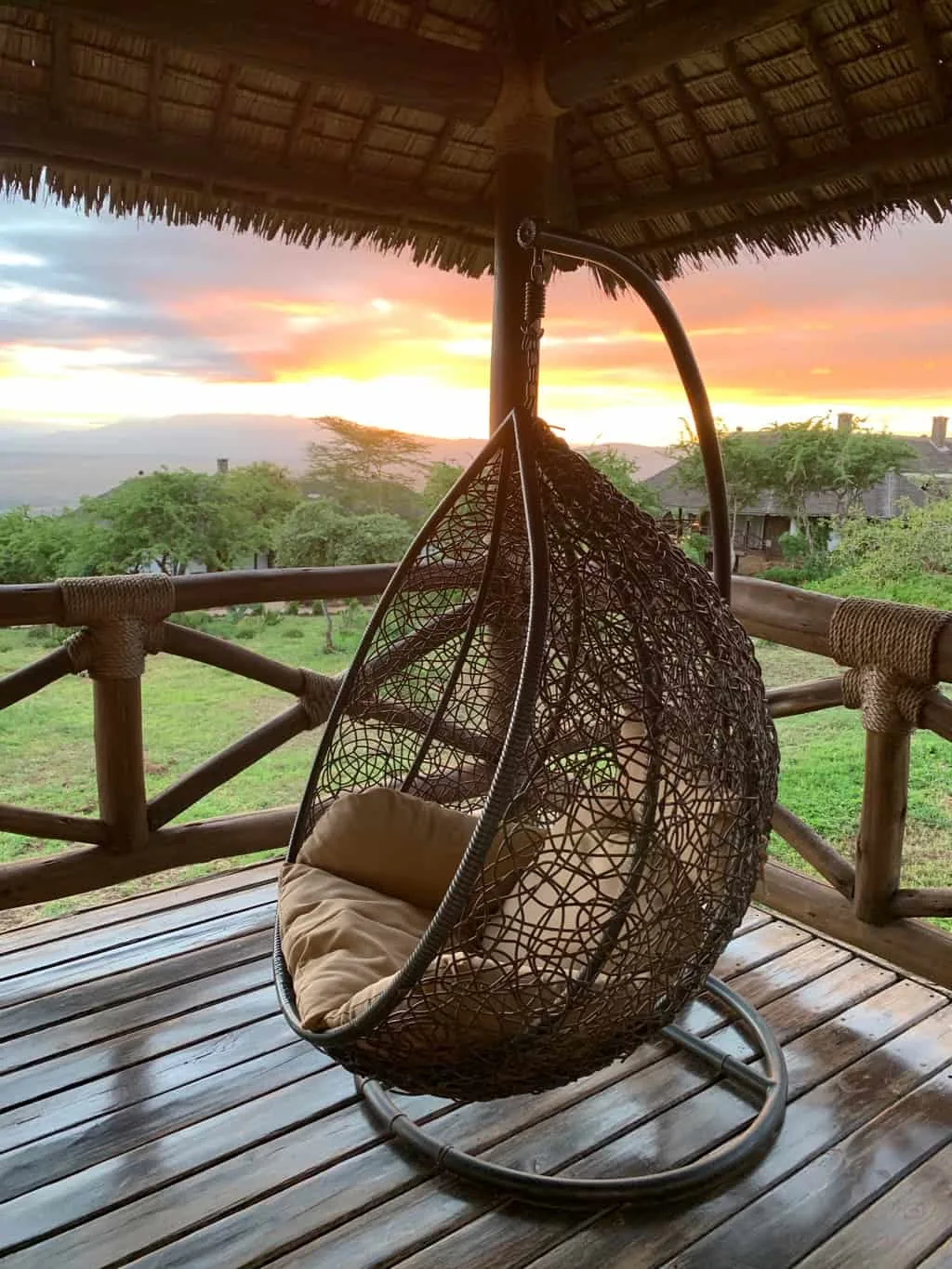 We were up early again and had to say goodbye to the luxurious hotel staff way too soon, as today we were scheduled to visit Ngorongoro Conservation Area (otherwise known as " the crater"). This crater is the largest inactive dormant volcanic caldera in the world! Literally the size of this caldera is massive! And although we drove down into it on a steep vertical descent (approximately 30 minutes down into it), I cannot describe the amazing views and massive size this caldera was!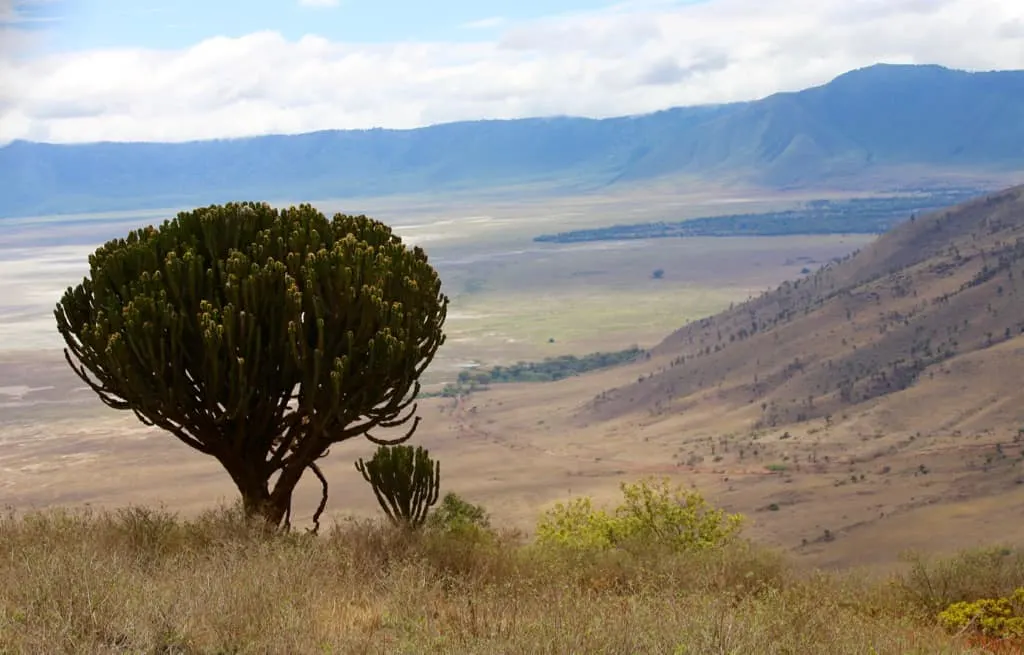 It is home to the black rhinoceros and is a reason that many visitors flock here to get a glimpse! The crater also has large amounts of African land animals grazing. At first, it was just a few giraffes, zebras, and wildebeests, but before you know it, there were massive numbers of all types of animals everywhere! It was here in Ngorongoro crater where I saw my first glimpse of not one, not two, but three black rhinos! These black rhinos are, of course, known to be close to extinction and are on the list for the critically-endangered population. There are thought to be only about 5000 of them left in the world!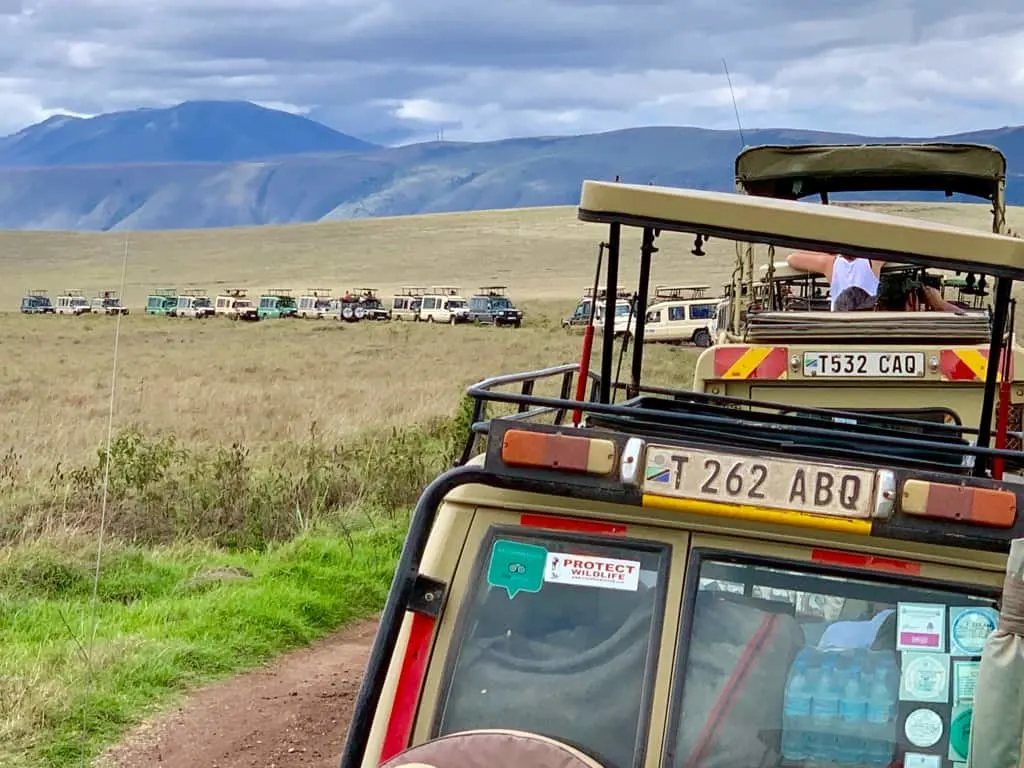 This made my #4 of our Big Five sightings, as I had already seen the cape buffalo, the lion, the African elephant and now #4 the black rhino! Literally, the chase to get to see the black rhino was almost as fun as seeing the black rhino! Because once our driver Moody got word of it on his radio, we were flying down those dirt roads, weaving in between other safari-style vehicles, and racing towards the sighting! You can experience the thrill of the photographic hunt here! While, unfortunately, they were a bit too far away but it was awesome to see these animals in their natural environment.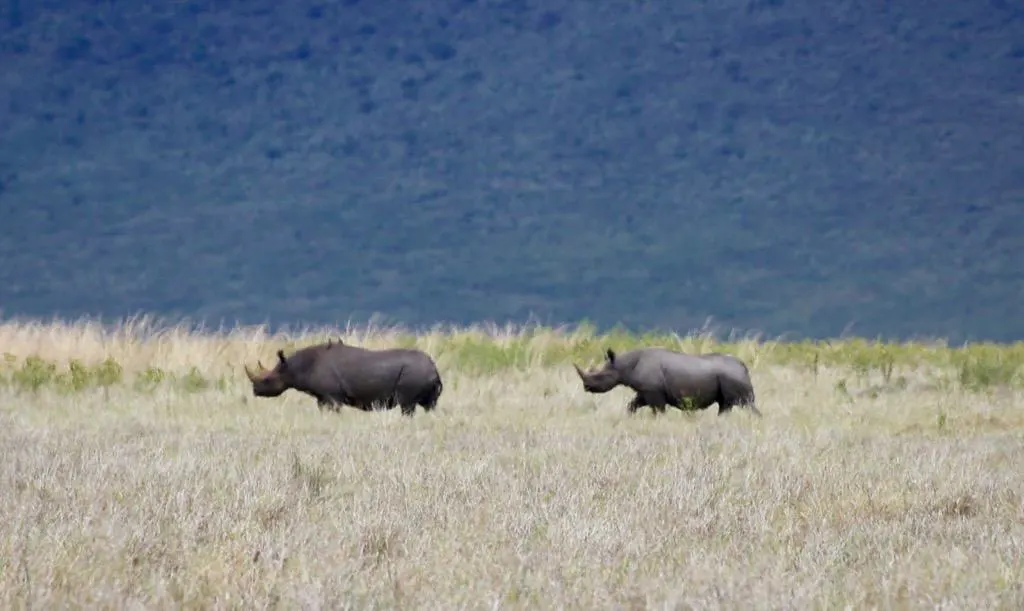 So after all the rhino excitement, it was time to move on to the hippo pool before having a nice lunch! One of the awesome things about Shadows of Africa was that they serve hot lunches! So while other safari-goers are eating out of boxed lunches (sandwiches and chips), we are eating delicious warm meals that have been prepared by the previous hotels that we stayed at.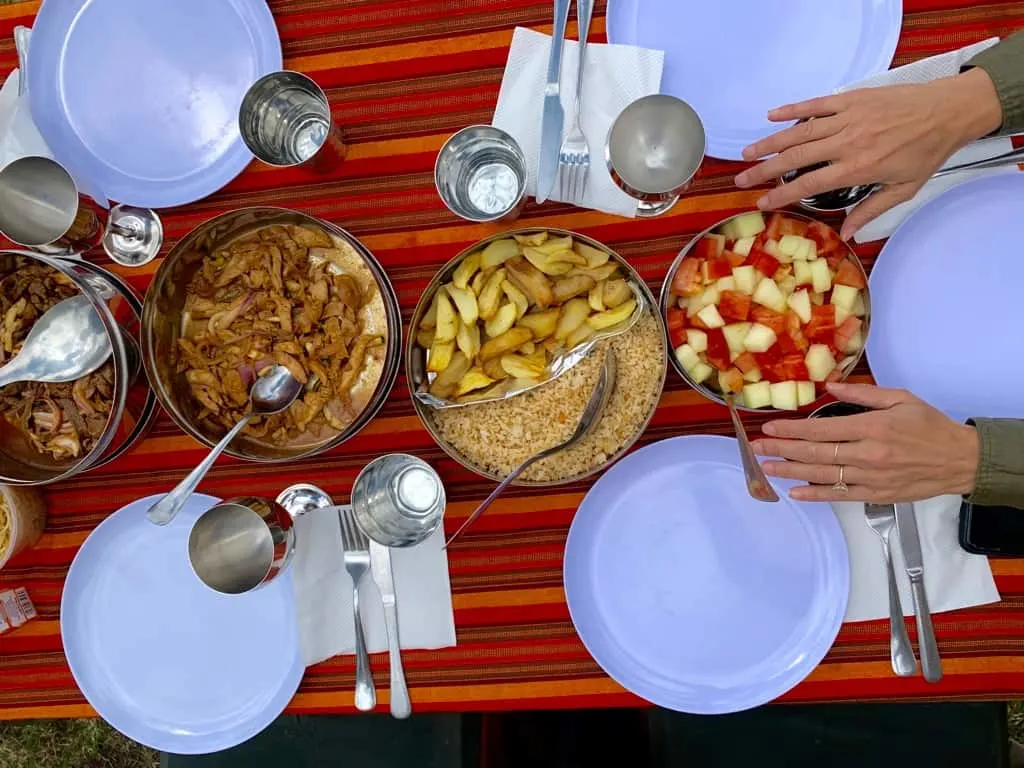 These meals were simply delicious! And honestly, it was some of the best food I ate while in Tanzania! Oh, and the other safari-goers were hanging out in their vehicle eating their lunch inside the crater. While our guide, Moody, has prepared a lunch for us on a table that he set up by our safari vehicle, including chairs! Shadows of Africa also includes a bottle of wine or juice with every meal! Soon we wrap it up and after lunch, we head out of the crater for our drive to the next lodge for the night.
Ziwani Lodge's Chic and Romantic Style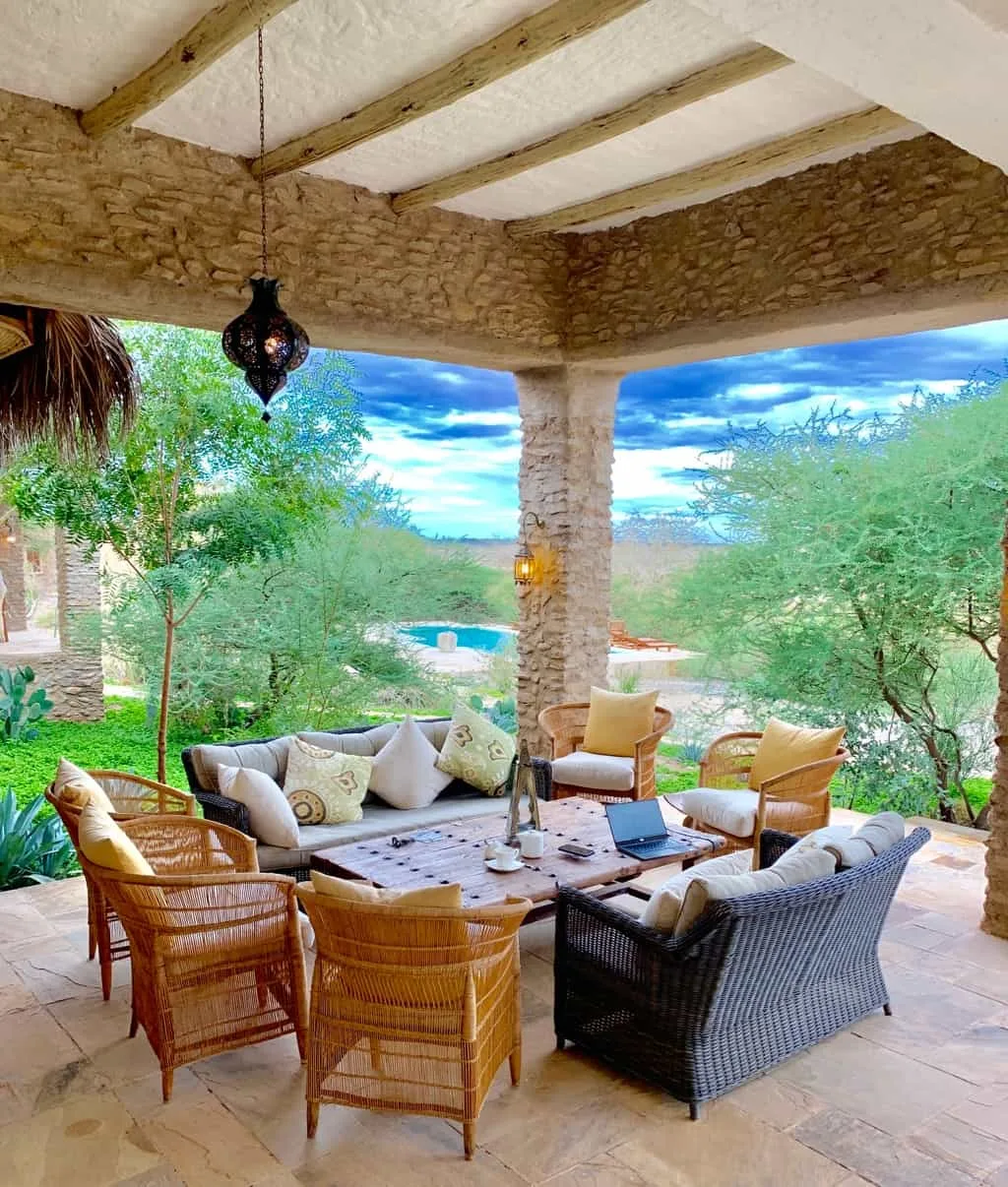 Although we had a long-scheduled drive up next, our upcoming stay was absolutely incredible and was near Lake Eyasi at the Ziwani Lodge. This luxurious lodge was the perfect location to stay though when visiting the Hadzabe and Datoga tribes that we would be visiting the following day. And although exhausted from such an incredible 5-day safari itinerary, I absolutely loved the lodge itself. I felt like I was in Morocco with its Middle Eastern and African chich vibe. This lodge, once again, was that oasis in the middle of nowhere!
The ambiance in the lodge and dining area was minimalist and chic – all while running on solar power! They even had a pool that overlooked Lake Eyasi. I think I could stay here for a week and never get bored.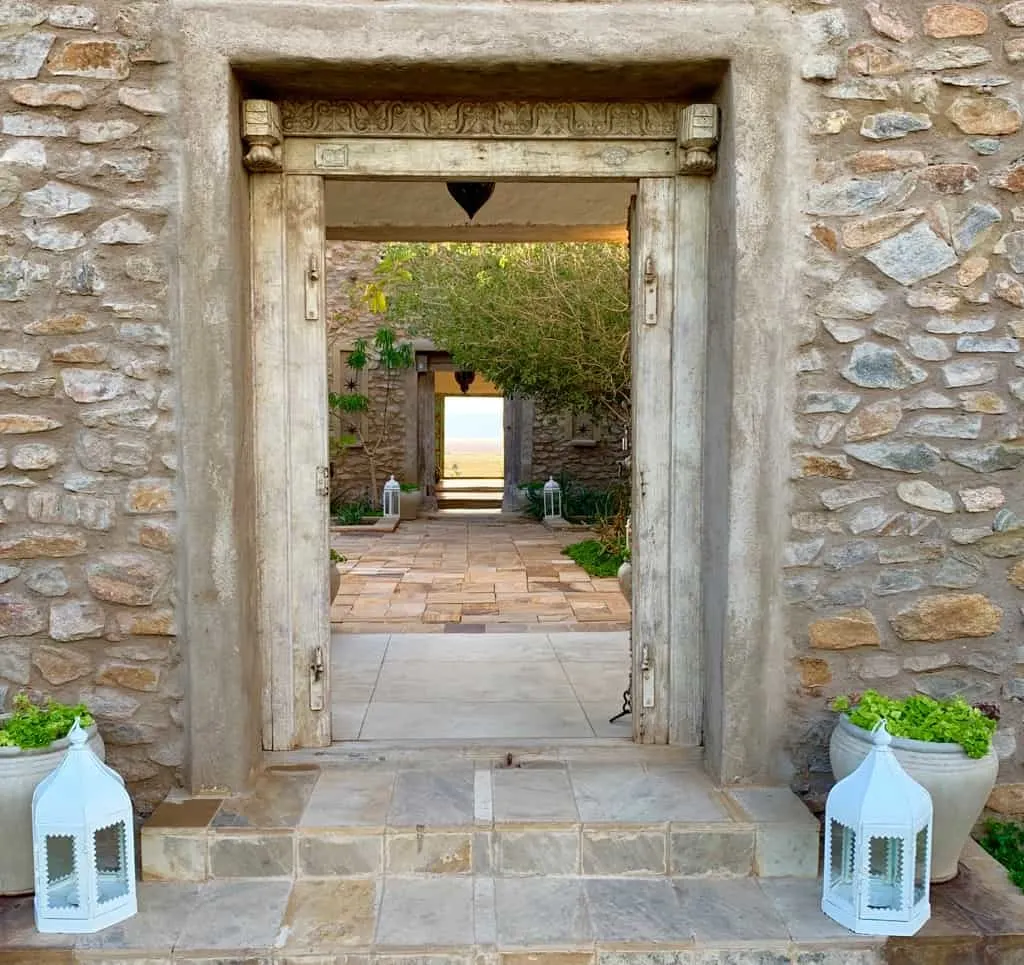 I stayed in a large private bungalow that had a stunning view from my patio (and my king-sized bed) as well as from my rooftop deck! Literally there was nothing about this place I would change, other than staying additional nights to really soak up the ambiance!
Day 5 of my Tanzania Safari Itinerary: Visit Hadzabe and Datoga Tribes
But as you may or may not know, African safari itineraries are fast and furious! Before I knew it, the sun was coming up and it was another early rise to visit a few of the local tribes in the area. The first tribe we visited was the Hadzabe tribe. This tribe is a hunter-gather nomadic tribe with no permanent house, no running water, really nothing to speak of other than bows and arrows for the men and jewelry that the women make to sell.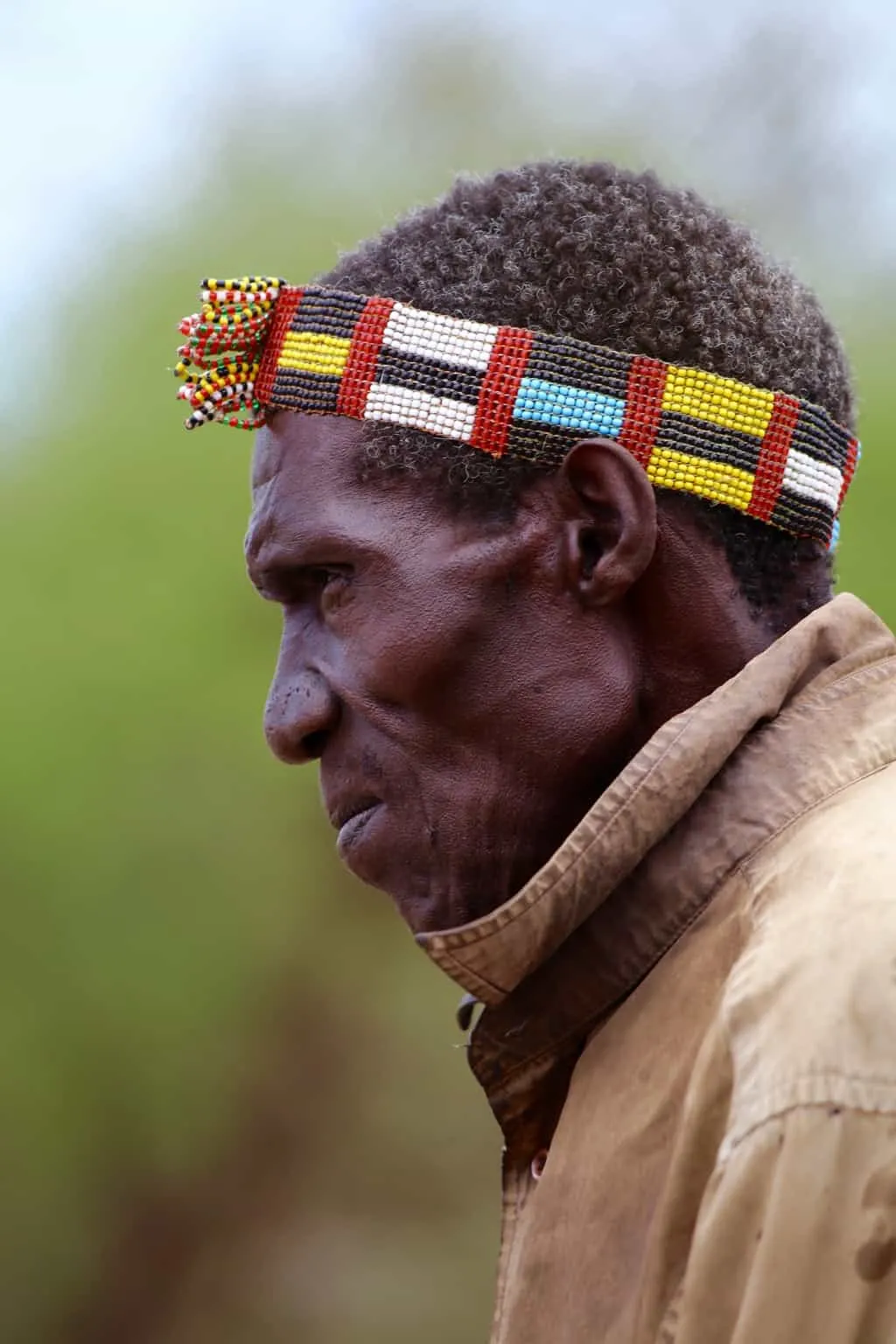 This group of Hadzabe was about 30 people who move across the lands according to the weather and their needs. They know how to survive in the wilderness and the government of Tanzania allows for them to roam. This sounds wild to me, and it is, but that is Africa – wild! They follow the rains and set up temporary mud huts or live in caves for a few months at a time as they navigate across Tanzania's lands and live as their ancestors have lived for centuries.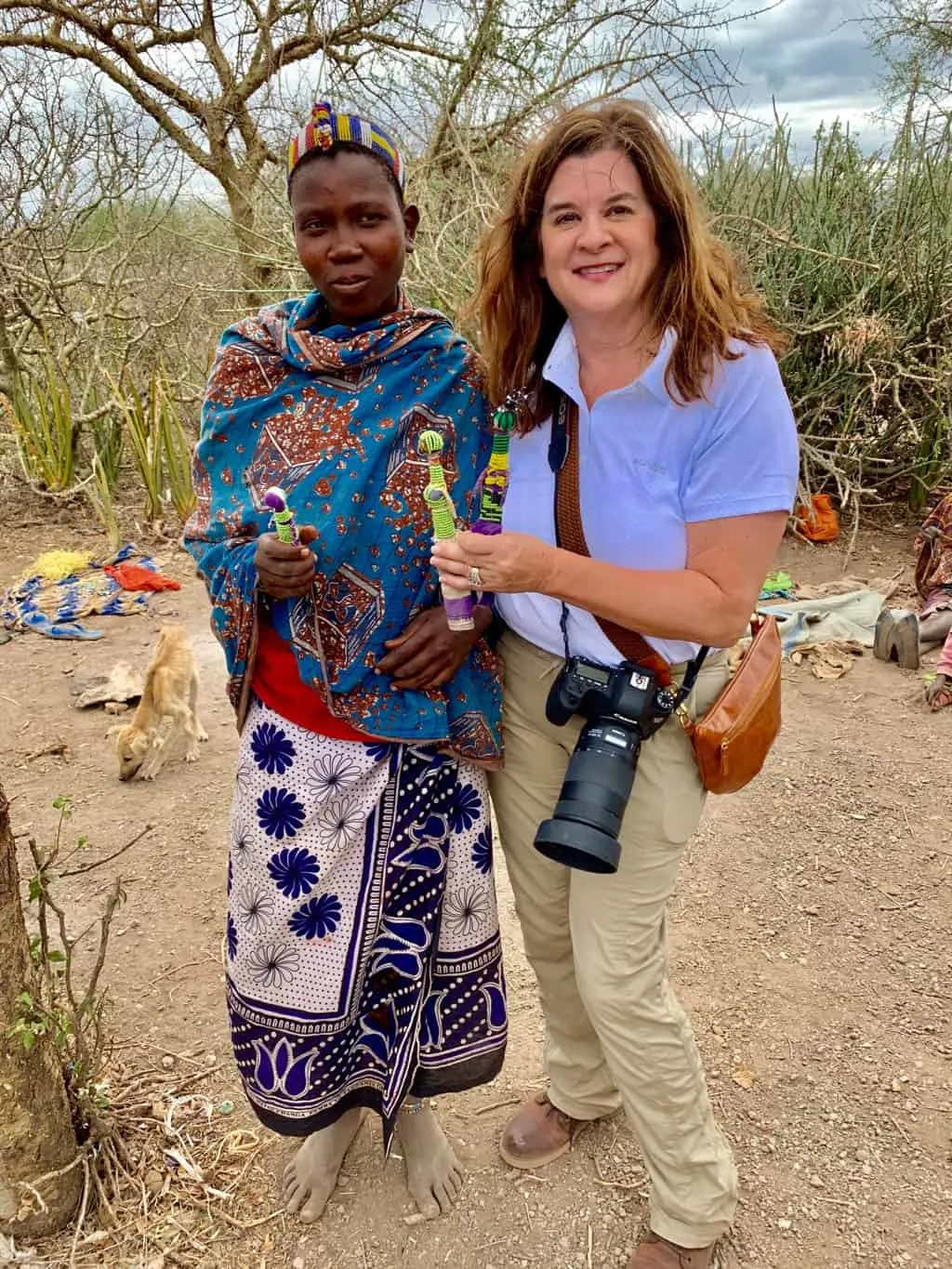 Hadzabe Speak Their Own Language
Getting out of the Shadows of Africa safari-style vehicle, I heard the sounds of "click-click" – simply those sounds you make in the back of your throat. These sounds are a part of the language that they speak. We arrived in the early morning, just after they had returned from a hunt where they had captured a baboon. They had stripped its skin from the body but left the head, feet, and hands covered in hair. They were sitting around a fire on the ground, peeling off pieces of the baboon's muscles and placing them on the coals before eating them. They offered us a piece, but no one from my group tried it!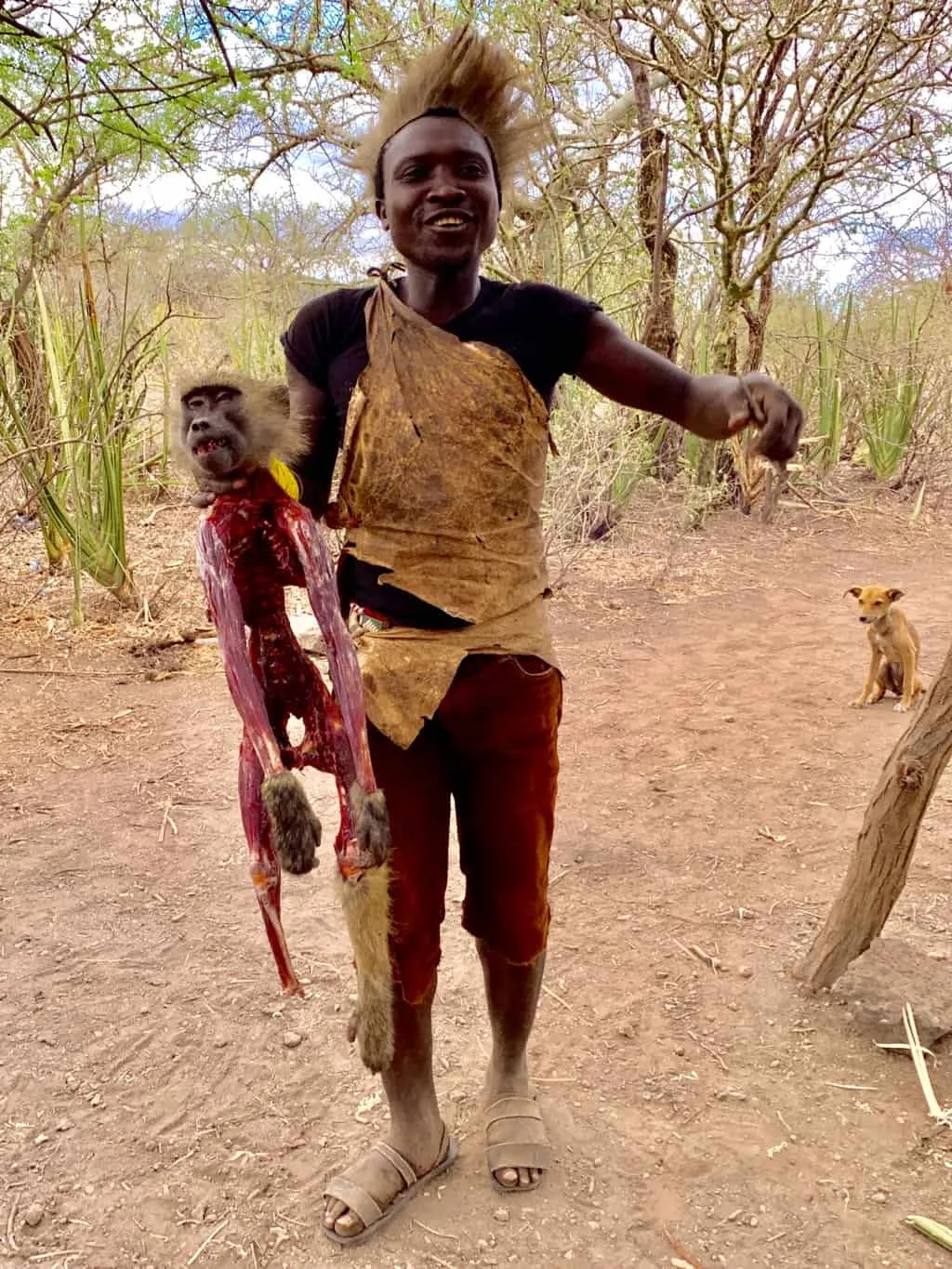 Later they challenged us to a bow and arrow contest, to see who could hit the target's mark. You can imagine how great they were and how bad we were at it! The men are expert hunters, while the women and children gather fruits, berries, and roots. Eventually, they showed us their rain dance, as we watched in awe at their primitive lifestyle. It is still quite astounding that they live as they do today!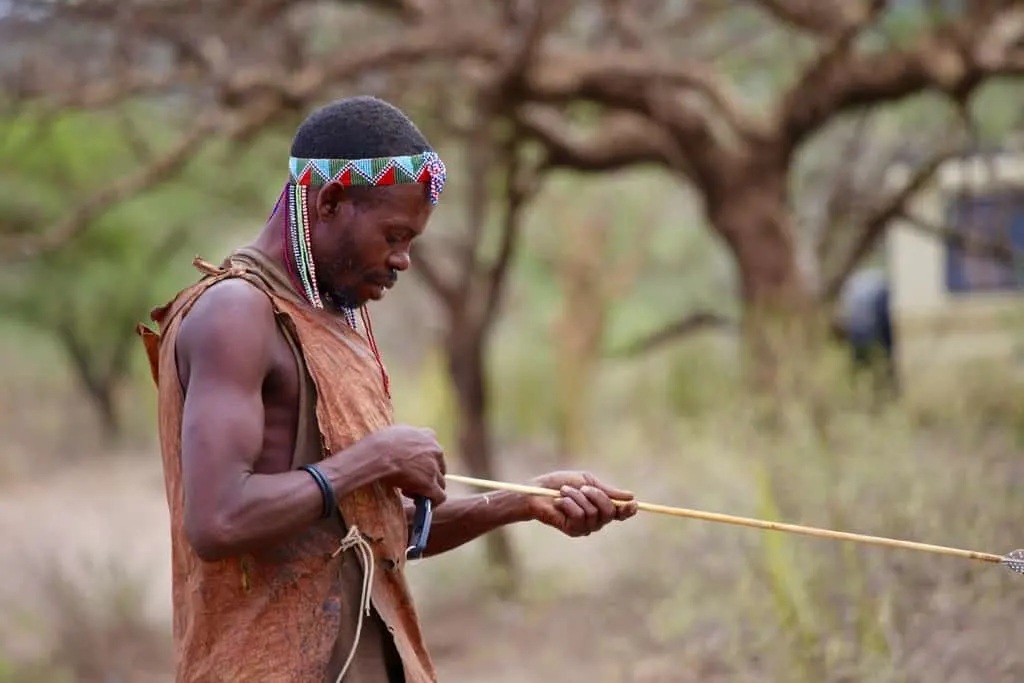 Datoga Tribe Visit
Next on our Tanzania itinerary was a visit to meet another tribe, the Datoga tribe. This tribe does have permanent huts and are a group of blacksmiths (metal workers). They make and sell bracelets and metal arrows to visitors and other tribes.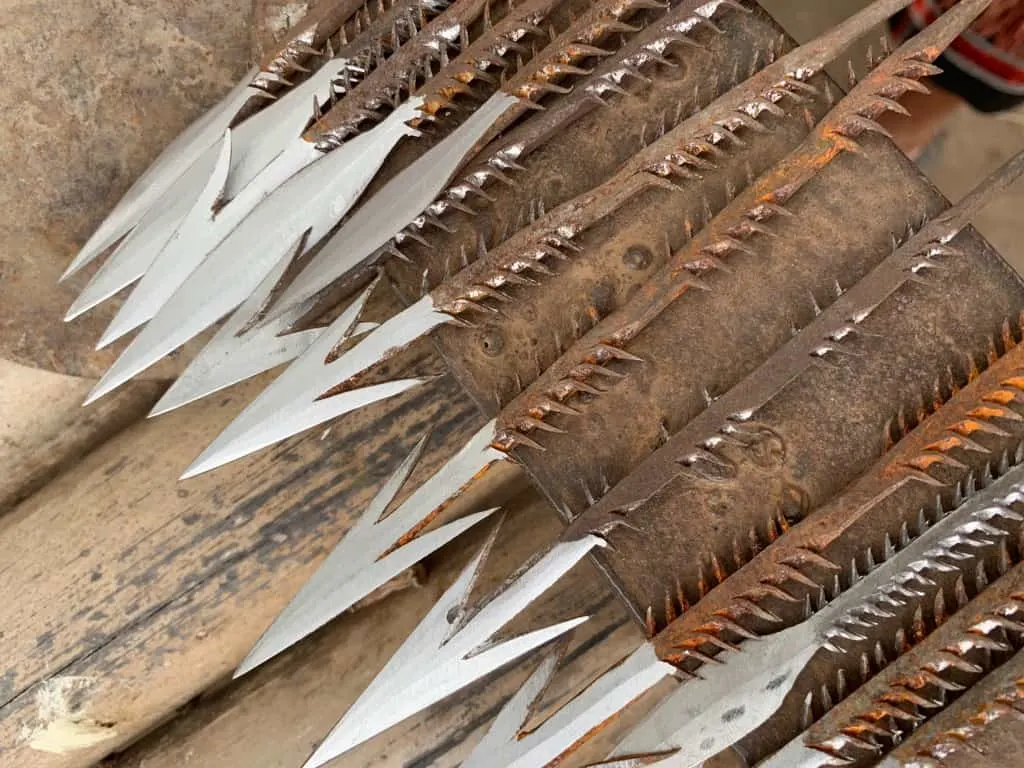 They invited us inside their mud hut to show us how the women crush corn into cornmeal using a pestle on a stone. And even though they do have permanent housing the life of a Datoga tribe member is still quite primitive with no running water or electricity.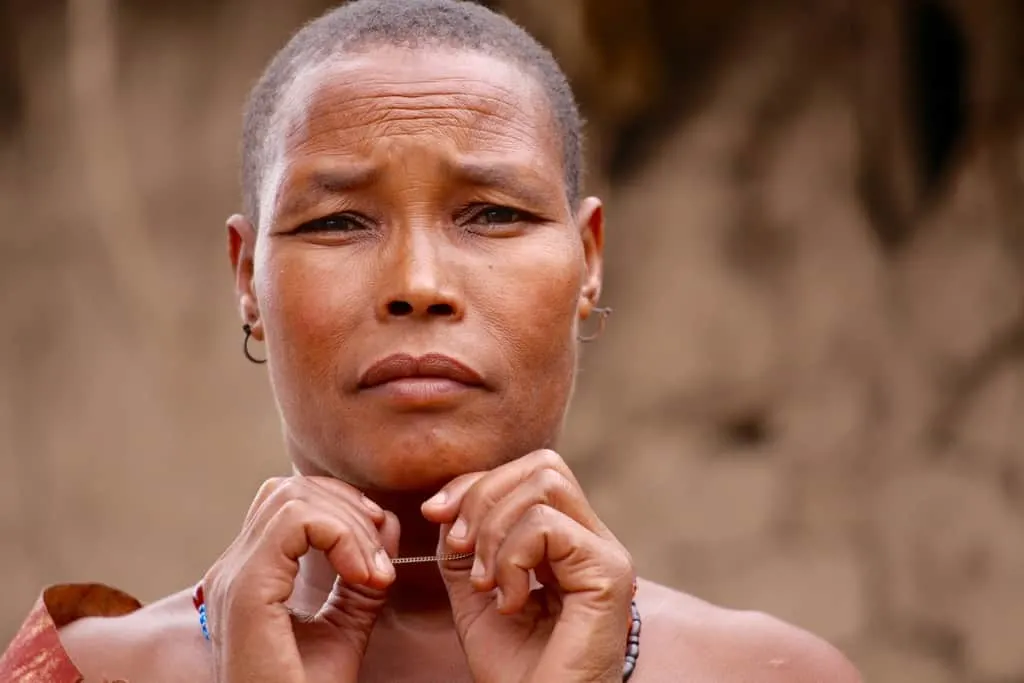 Back to where it all started- Olerai Lodge
After what I describe as one of the best travel experiences I have ever had, we were back in the safari-style truck. We were on our planned journey home to spend our last and final night in Arusha at the Olerai Lodge, the original place we stayed. We had a final dinner together as a group at the lovely brand-new signature lodge of Shadows of Africa. We reminisced about what a tremendous trip we had. We laughed, we cried, we said our "goodbyes", knowing that Shadows of Africa and the safari experience we had will be something we will never forget.
Good night Tanzania! I loved my 5-Day Tanzania Itinerary that Shadows of Africa custom made for me!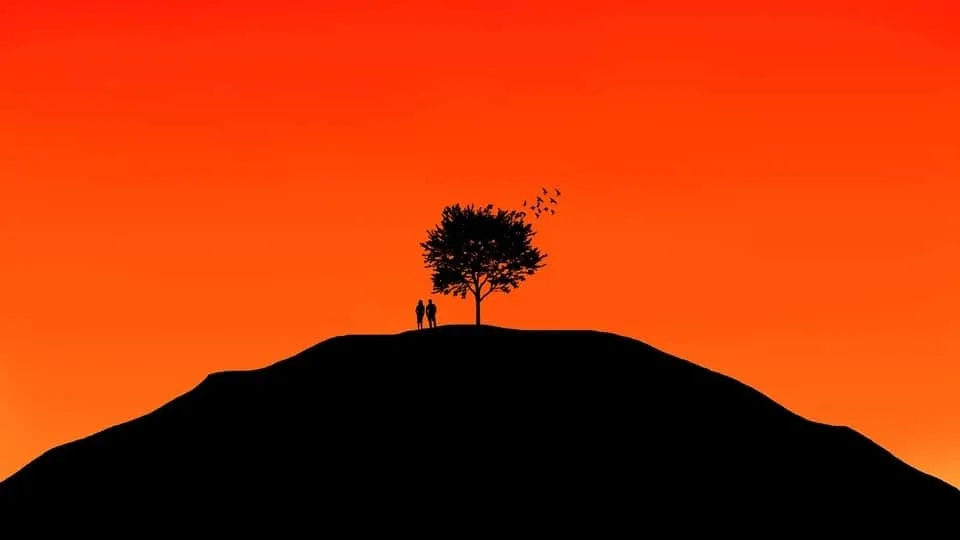 And then the next morning I was off on a tiny plane to visit the Four Seasons Serengeti… hoping to be seduced by the Serengeti!
Disclosure: As is common in the travel industry, I was provided with accommodations, meals and other compensation for the purposes of review by Shadows of Africa. While it has not influenced my review, PointsandTravel.com believes in full disclosure of all potential conflicts of interest. All photos were either taken by the author/or were given permission from the photographer. Affiliate links may be located in this article.