Swimming with Whales in the Wild: Beluga Baby!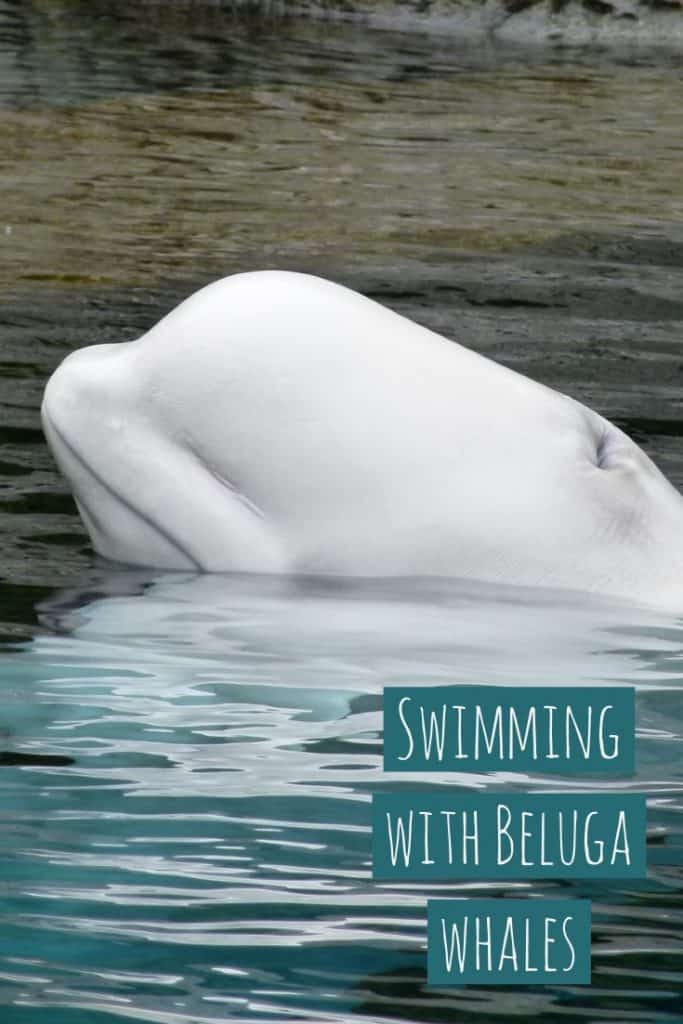 Have you ever wanted to go swimming with whales? I hadn't either until I heard about an expedition up in Canada where you could do just that! I mean, who doesn't love seeing a Beluga baby while whale watching Canada waters? On day two of my trip to Churchill, the weather wasn't as good as when I went kayaking with those beluga baby whales the day before. The day looked overcast and cold outside, but the whale watching Canada guides decided that this was our only chance to do it: Go Swimming with Whales! I was actually going to get into the freezing Churchill River at the mouth of the Hudson Bay and do diving with whales, which is crazy if you think too long about it! But I was game and ready for the adventure.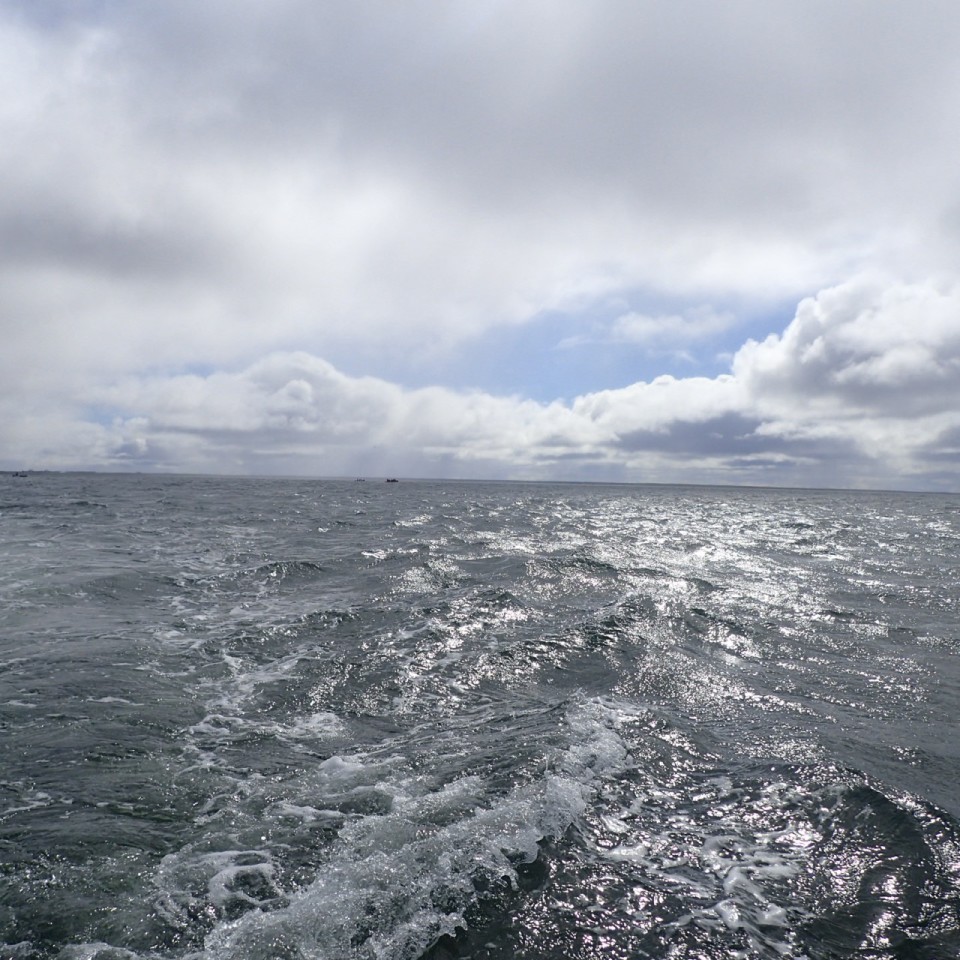 Swimming with Whales in the Wild: Get suited up!
We all went for it even though it was cloudy and cold. I got suited up to go diving with whales in long johns, a thin layer of pants, then the wetsuit on top of that. Later I put on my soft-shell ski jacket liner and then a dry suit (yes, it was that cold). I was extremely bulky and I looked like the Michelin man, but I didn't care! My group made our way down to the dock from whale watching Canada and sped off in the Zodiac in the freezing water with not a beluga whale in sight. Hmm, things did not look good. We searched and searched, but there were no sightings of them, which was unusual because just the day before there were hundreds of them near the kayak put-in. We were in one of a group of two zodiacs, our group had the bad-ass girl guide JUD (if you ever go there. you will know what I mean, the photo below.)
Swimming with Whales in the Wild: Get a badass guide first!
JUD decided to take off in a different direction than the other zodiac and we continued to search. Suddenly she caught sight of a few beluga whales when honestly I thought they were white caps in the ocean! (that is how rough the "seas" were and how much of a professional she is).
She drove toward them and stopped.  It was now or never.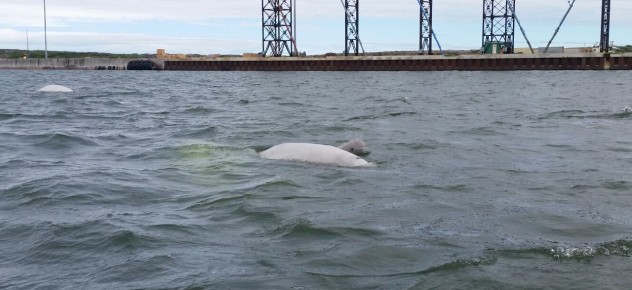 Swimming with Whales in the Wild: Diving with Whales!
I jumped in the freezing water ready to go swimming with whales. I had volunteered to be at the end of the rope, as I had heard that was the best spot to be able to see and interact with the beluga whales. Hand-over-hand on the rope, I pulled my way to the end of the rope in the freezing water. The zodiac boat pulled two ropes behind it. Another girl was at the end of the other rope (Canadian Kim Gray of Toque and Canoe). She started singing lullabies to the beluga whales. As we had heard that they were attracted to singing in the water.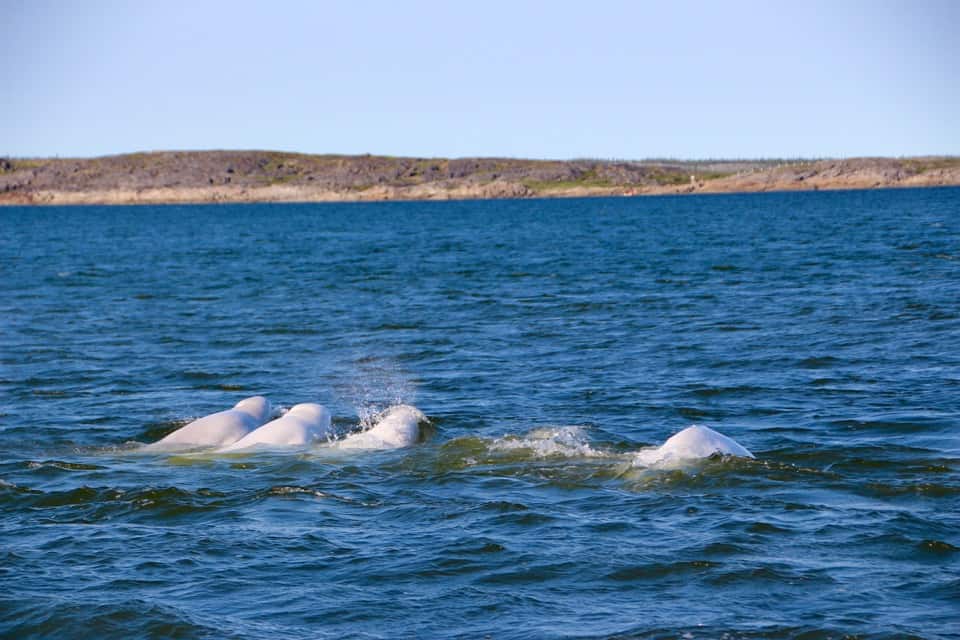 Swimming with Whales in the Wild: Beluga baby!
I was out there for a good 25 minutes when I only saw two belugas pass by me at least 6 feet away. And I was freezing, so I decided to go back in. I could just view them from the boat, as I decided I had had enough of the cold water. Once myself and other snorkelers came in, we kept watching Kim at the end of the rope. She was singing and we noticed that the beluga whales started to swarm around her and the boat!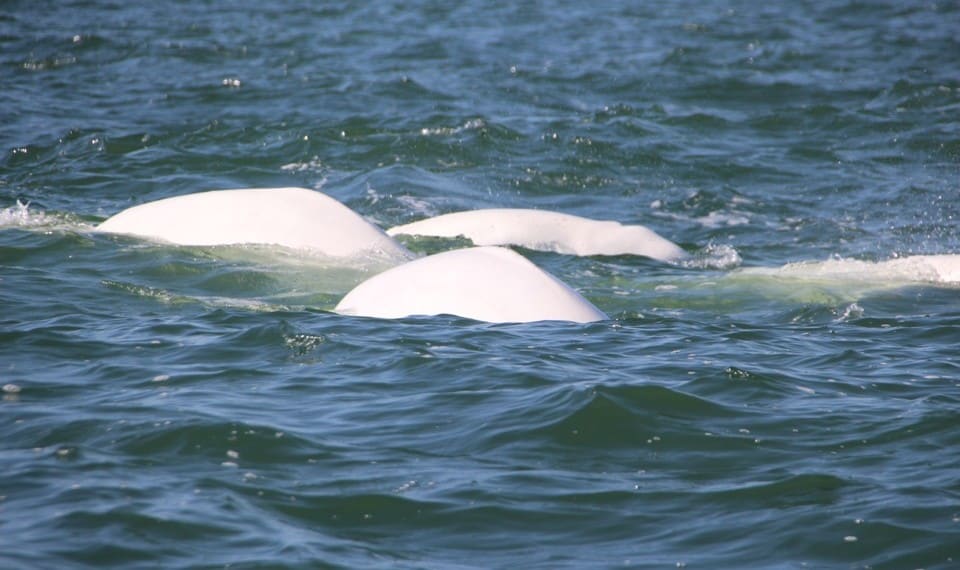 Swimming with Whales in the Wild: Beluga Whales in the Wild
Since there were so many beluga whales swarming the boat, the guide told us to put our faces in the water, so that we could view them better. Well, of course, I did this immediately, but then I accidentally fell in face first! LOL! So now here I am in the freezing water again, when JUD asked me if I wanted to go back out on the rope. I decided at that point to just go out on the rope and WOW! I am so glad I did.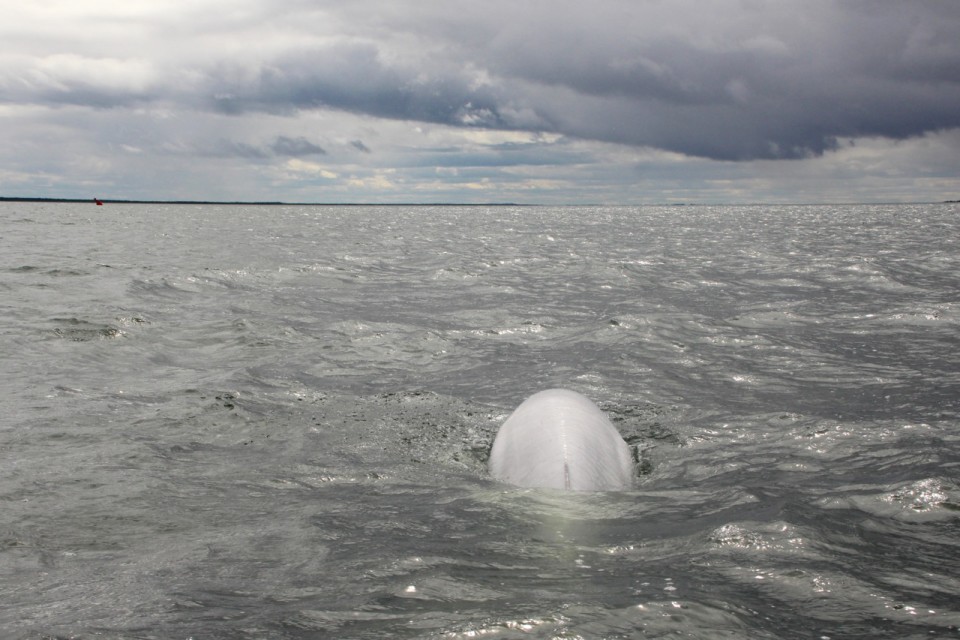 Swimming with Whales in the Wild: An experience I will NEVER forget!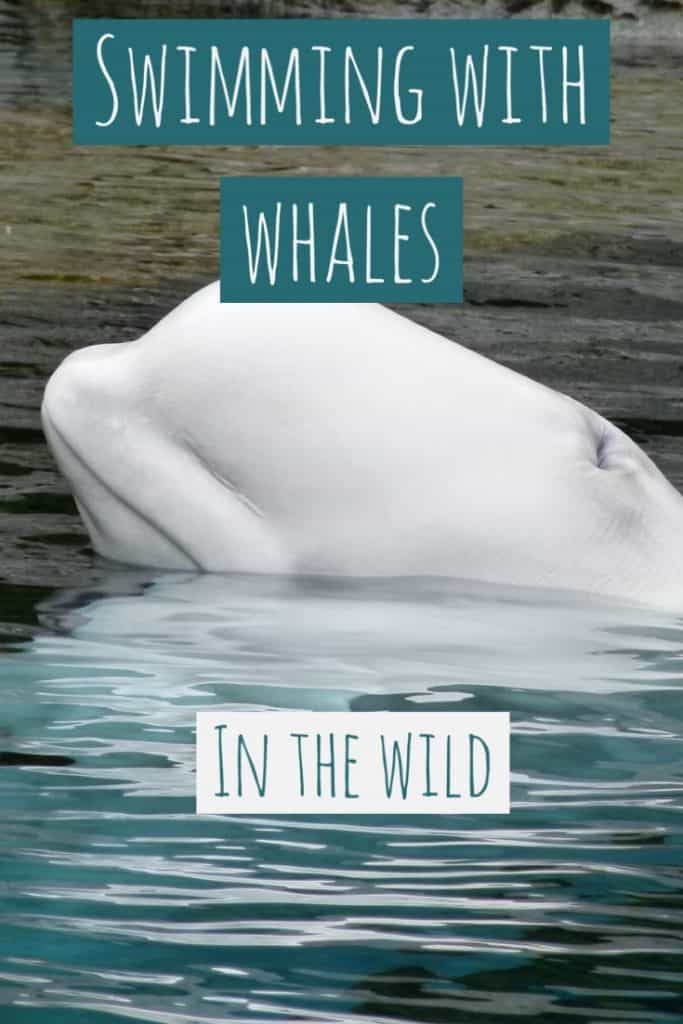 WOW! Diving with whales was magical! Beluga whales were everywhere, the momma beluga whales with their beluga baby were right next to them! They would swim by me, stop or hoover beside me, and stare at me with the one eye that I could see with what looked like a smile. They would swim under me, and around me… they were everywhere…it was so much fun! I was swimming with whales!
‪This is one experience I will NEVER forget: Diving with whales!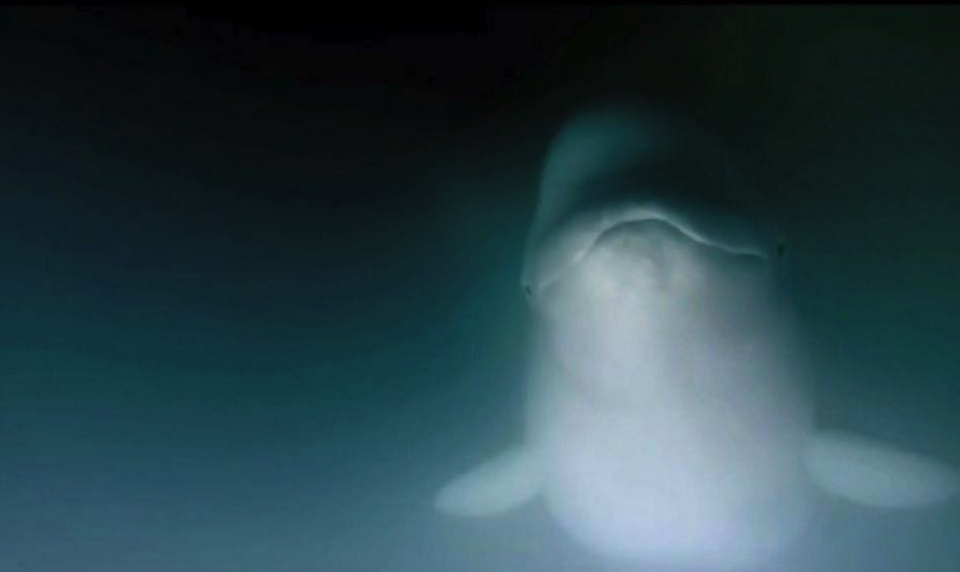 Too bad I don't have more great photos, as the visibility was not great, but I do have fond memories of one amazing week in Manitoba with beluga whales, memories I will never forget!
Swimming with Whales in the Wild: What do Beluga Whales Eat?
You may wonder, what do beluga whales eat? I thought about that too while I was under the water with them, hoping they didn't want to take a bite out of me! Apparently, what beluga whales eat does vary according to the region they are found in and the season, as they are opportunistic feeders. Since the beluga baby and the beluga whales were in the cold, cold waters of Manitoba, their diet ranges from fish (sculpin, flounder, salmon, herring, Arctic cod, smelt, and capelin) to invertebrates like squid, sea snails, shrimp, and crabs) as well as marine worms (bristle worms) and even large zooplankton. Belugas feed on the bottom of the ocean as well, even though they are considered to be at the top of the food chain!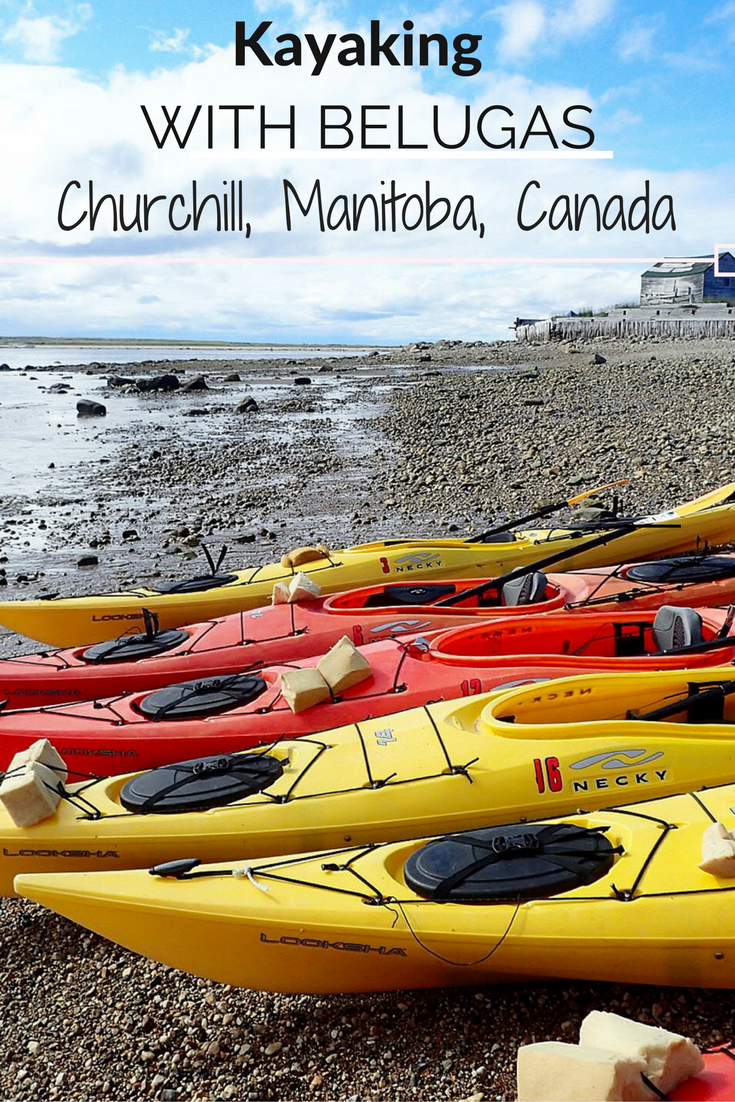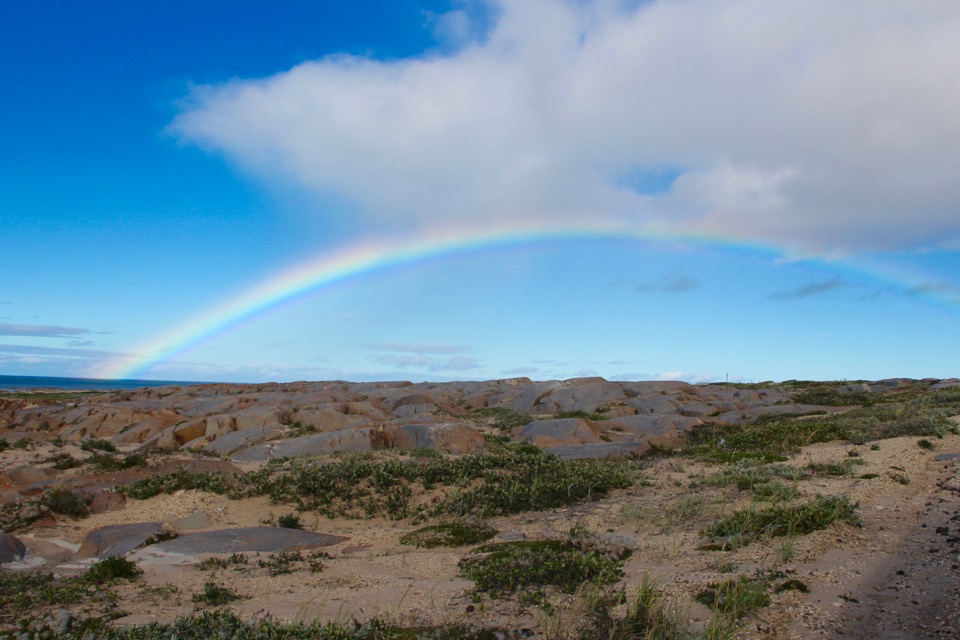 Want to read more about Manitoba, Canada? Here is some recommended reading:
Polar Bear and Beluga Whale Safari in Churchill, Manitoba
And Some recommended reading about Canada's Train Journeys:
Journeys Canada: Canadian Rockies Train
7 Things You Will Not See on the Rocky Mountaineer
Rocky Mountaineer – The World's Greatest Trip
In the Lap of Luxury – The Rocky Mountaineer Train 
Rocky Mountaineer Train: Enjoy The Ride! 
A Trip of a Lifetime – Riding the Rocky Mountaineer
Disclosure: As is common in the travel industry, Dr. Maloney was provided with accommodations, meals, and other compensation for the purposes of review by Travel Manitoba and Lazy Bear Lodge. While it has not influenced her review, PointsandTravel.com believes in full disclosure of all potential conflicts of interest.