When we arrived at the Lazy Bear Expedition dock, a dozen kayaks of orange and yellow colors lined the edge of the water. I had been kayaking before on a few of my travels – remember when I kayaked in the river through Riga, Latvia? or the time I was kayaking at The Pearl in Doha, Qatar? But this time there was going to been added element of adventure – I get to kayak with beluga whales! Say what? Yes, that's right, Lazy Bear Expeditions was taking me to the Hudson Bay waters on an adventure of a lifetime…
Whale Dreams
Sometimes at night, I have these dreams about whales. Many times I have wondered what the meaning is and why they flash through my mind. Some say that whales are symbols of strength, others say they are a sign of darkness or loss in our lives. For me, I am not sure what the meaning of the dreams are, but I can say my dreams have probably influenced many of my experiences and beliefs. And even though I dream about them, I never thought in a million years I would one day be able to go free diving or kayaking with beluga whales!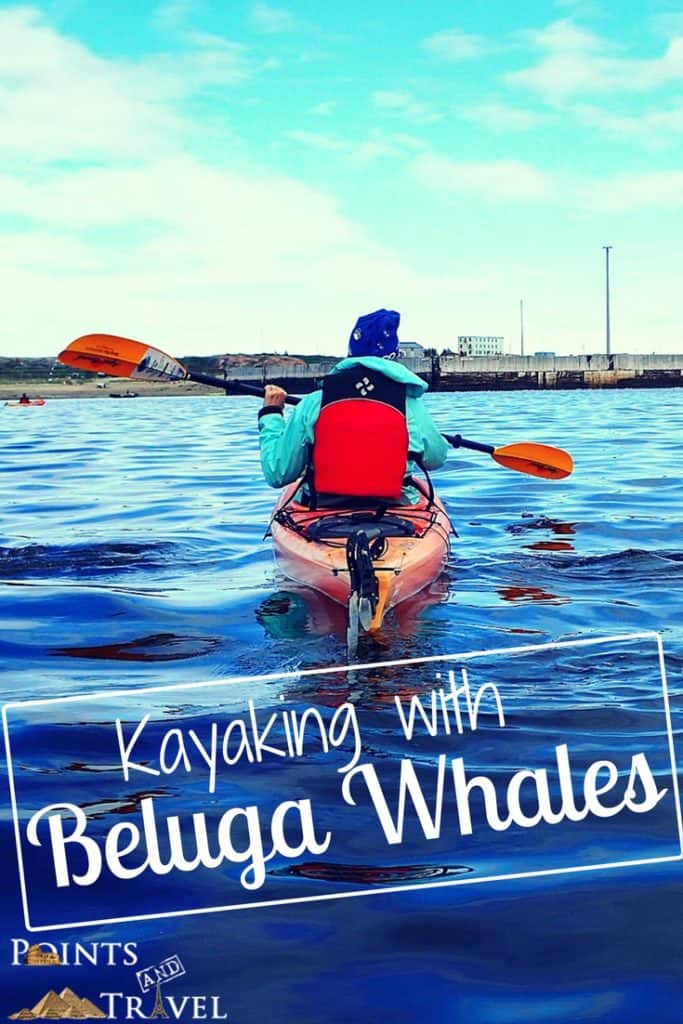 The Start of a Beluga Kayaking Day
Our beluga whale day was gorgeous … relatively speaking for a Summer Arctic adventure in Northern Manitoba, Canada on the Hudson Bay. It was technically summer. Although the weather here can change by the hour or the minute more than by the day! The temperature was in the low 60's, but the sun was shining! So this was a great start.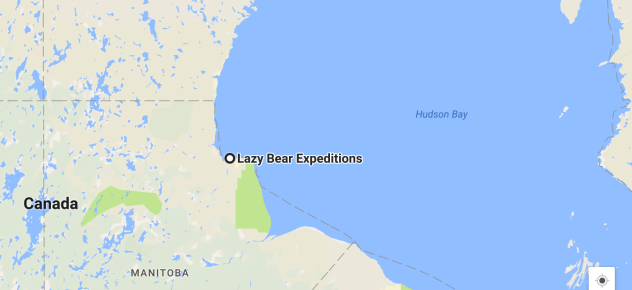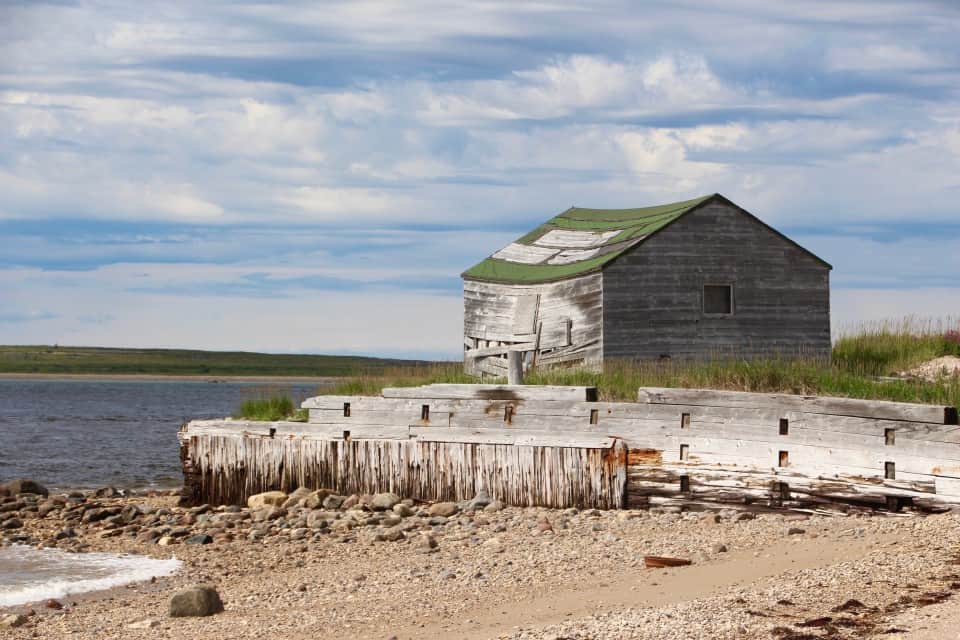 Kayaking with Belugas Whales
I chose a yellow kayak and started to drag it behind me from the beach to shore. This was quite a feat and I stopped along the shoreline to rest. I had dreamed of this adventure for a while and I could see the beluga whales out in the distance bobbing their bodies in the water. Suddenly there was a bit of commotion on the shore, as I looked over to see that another kayaker had found herself knee-deep in quicksand. Yikes! Someone grabbed her arm from one side and then someone from the other side and pulled her out fast!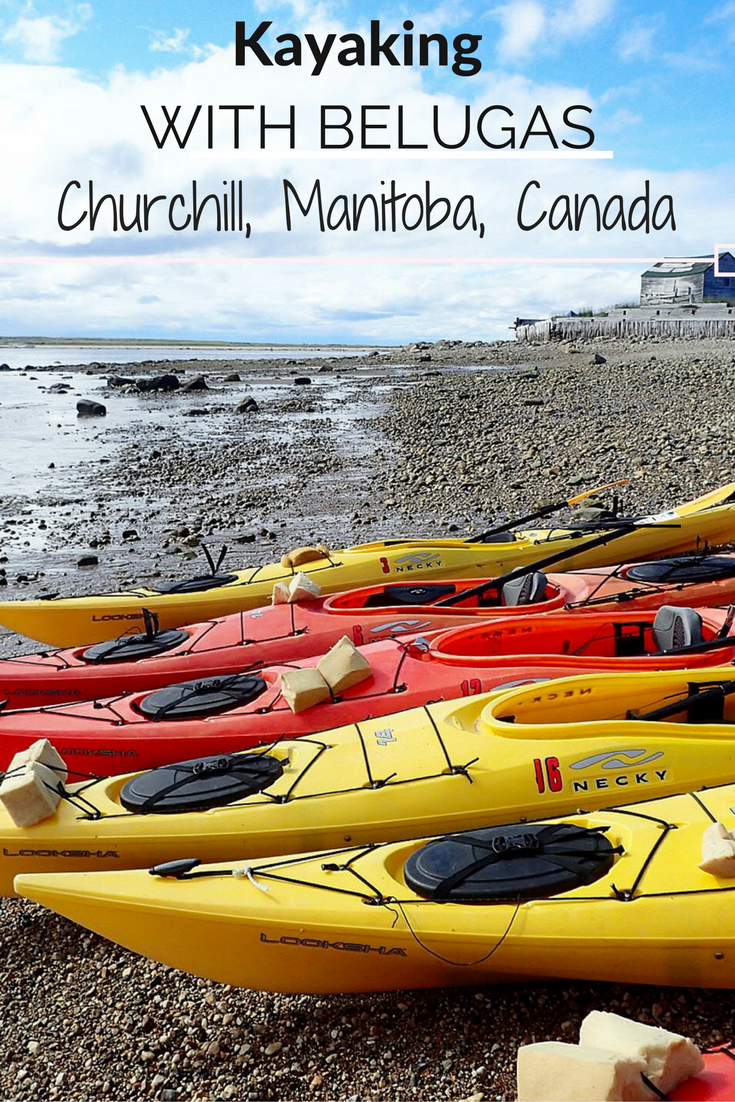 Quicksand Close to The Shore
Whew! That was the first time I had ever even seen something like this happen! Quicksand forms in the loose sand that has been saturated with water. When the water in the sand can't escape, it creates a liquefied soil and cannot hold the weight of the kayaker. She was fine, just a bit scared.
TIP #1 Be aware of liquefied sand!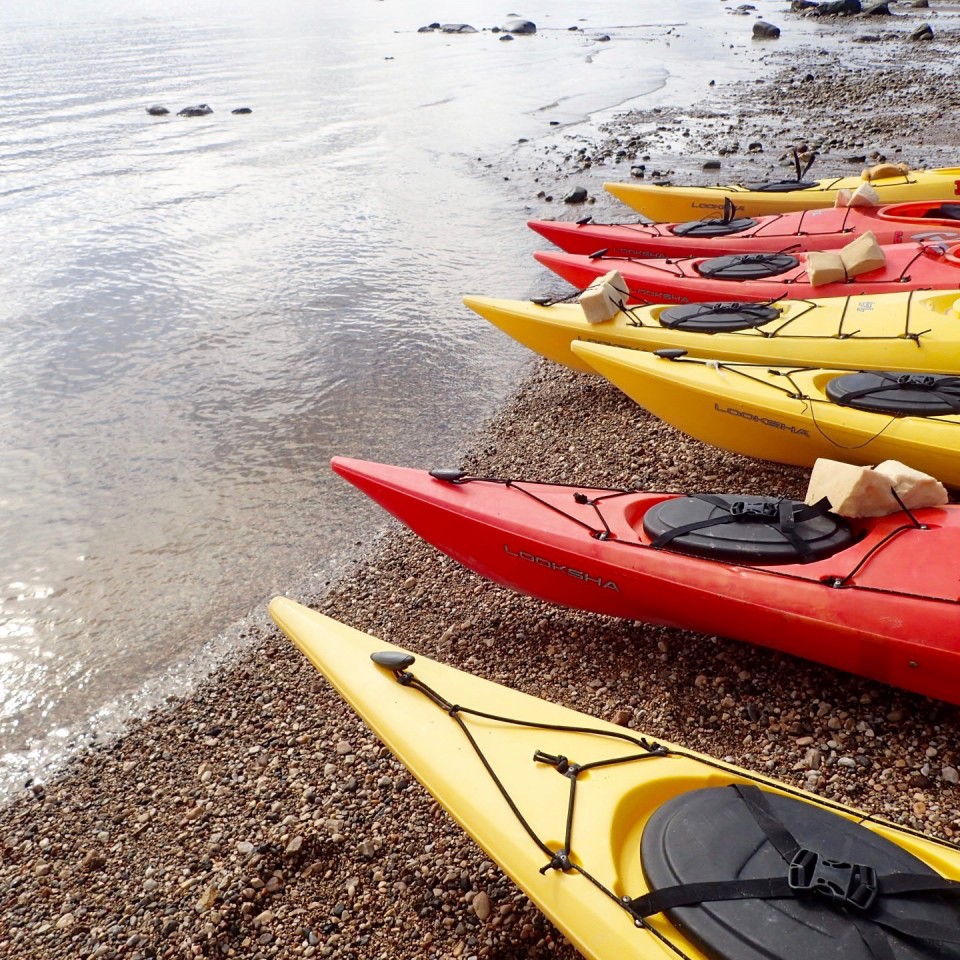 Steady the Kayak
Ok, now back to the task at hand…I waded ankle-deep in the freezing Hudson Bay and settled into the kayak's seat. I then steadied myself, trying not to splash or get myself all wet before I even began. Soon I got the rhythm of the sea and the kayak as I was gliding my way towards a large group of beluga whales.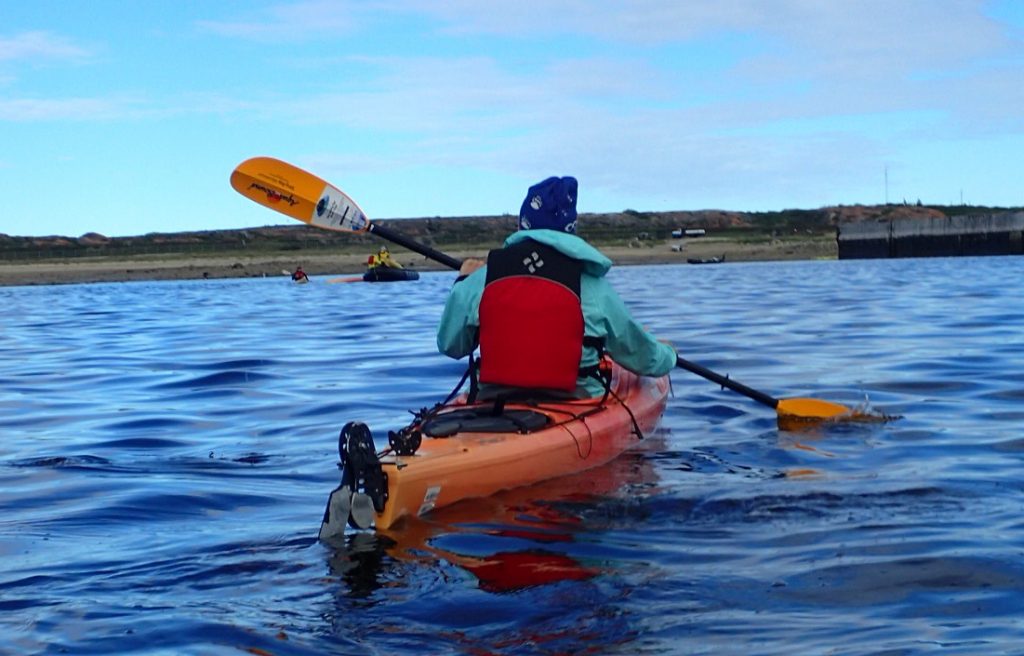 In the distance, I could see them… one thing I learned about beluga whales is that they barely come out of the water, just enough for you to see their backs or the tops of their heads or only their tails.
Beluga Whales Bump the Kayak!
But soon enough, the beluga whales would come up next to me and bump the kayak! They would peek their head up out of the water just to get a glimpse of me. I thought they were so darn cute with big smiles on their faces. I would talk to them in my "high mom voice" and they would just come back around or stay steady close to the kayak. I would put my hand in the freezing water and touch them. It was incredible. I was much more excited to see them than I had expected to be and I had to be careful not to tip over my kayak.
Kayak, please don't tip over!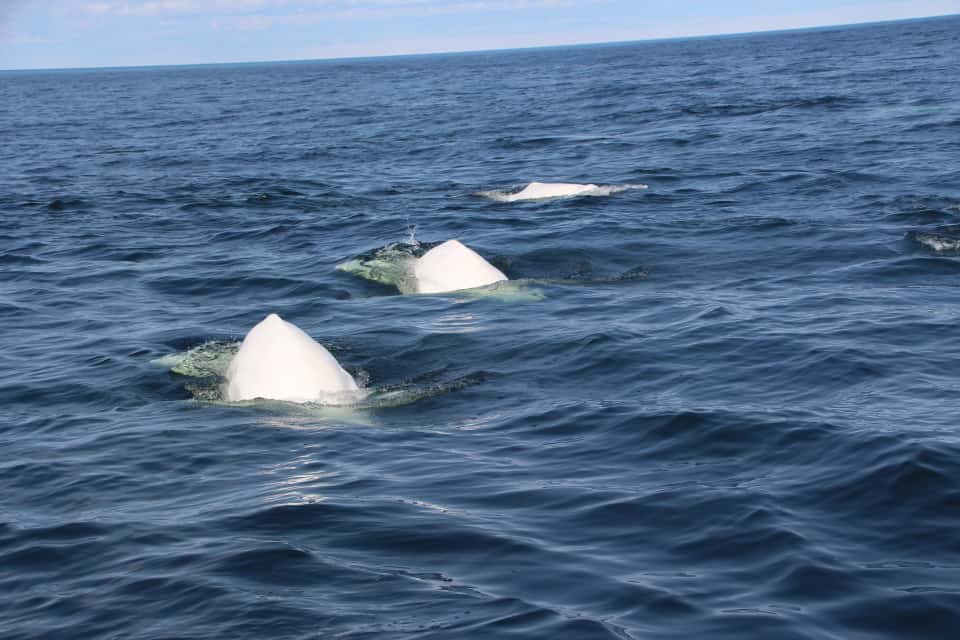 ---
TIP #2: Be careful not to tip your kayak over while admiring the beluga whales!
In my dreams, this never happens!
---
Come to Manitoba at the RIGHT time!
Between mid-June to September is the time when the beluga whales come to the Churchill River, more than 50,000 of them! In the winter, this river is frozen over, but in the summer, they come up here to clean their skin and have their babies. I literally saw hundreds of babies and momma whales swimming side by side. They come up through the Hudson Bay and make their way up to these calmer waters in the Churchill River that are a bit warmer for them, which is now about 40 degrees F!
---
But who knew it would get even better than that?
You can read more on PART TWO of this series: Beluga Whales in the Wild: Swimming with Belugas!
More about my Beluga Whale and Polar Bear Safari: Churchill, Manitoba
---
Getting to Churchill
Churchill is located in the Northeastern portion of the Manitoba province in Canada.
Most tourists fly into the Winnipeg James Armstrong Richardson International Airport and from there take a domestic flight to Churchill. If you have booked with Lazy Bear Exhibitions they will have a charter flight waiting for you in Churchill. So be sure and check to make sure you arrive with enough time.
Best Time To Go
The beluga whales come to the Hudson Bay from mid-June through mid-September. You will most likely see polar bears during this time too, as their peak season is in the Fall.
A Few Packing Tips
Remember to bring bug repellant.
As I mentioned, the weather can change super fast during this time of the year, so it is wise to bring clothes that you can layer.
Bring heavy boots or boots that you can walk in on tundra.
Bring a beanie, here in Canada they call them toques.
Disclosure: As is common in the travel industry, Dr. Maloney was provided with accommodations, meals, and other compensation for the purposes of review by Travel Manitoba, Travel Winnipeg, and Lazy Bear Expeditions. While it has not influenced her review, PointsandTravel.com believes in full disclosure of all potential conflicts of interest.