As I continue my series of articles about the Baltic Capitals, the next one I am writing about is Riga, Latvia. You have probably never even considered Latvia as a destination to visit, as I hadn't either. Despite how many times I've been to Europe, I had never really considered visiting the Baltic regions – Estonia, Latvia, and Lithuania. I had heard of these countries and yet I didn't even have them on my radar until I was invited to go. Once that happened, it was time for me to do my travel research. I hope this article helps to change your mind about the Baltic Capitals and specifically about Riga Sightseeing in Latvia. I think you just might fall in love!
Especially if you are interested in an exotic eastern European vacation at a good price (what I call "smart luxury"). I talk a lot about "smart luxury" on my website, as it is one of the pillars of my brand of travel or the way I prefer to travel. I know sometimes that it is hard to define, as smart luxury is different for each of us, but I think we can all agree that when the price of a meal, a tour, a hotel, transportation or gas is significantly lower than an equivalent location and the city has amazing luxury aspects, and the value is there, then I call it "smart or value luxury travel".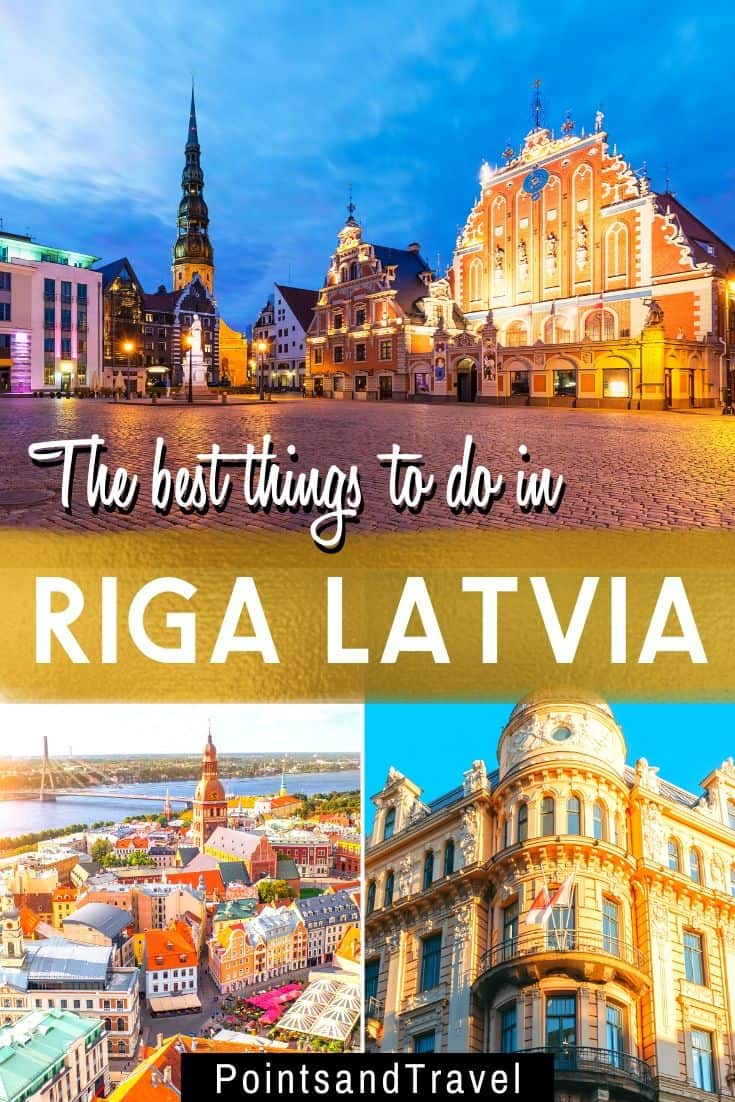 I found Riga to be gorgeous and I had a sense of it being safe. Never did I feel out of place. In a way, it felt like Western Europe, only that there were a lot fewer people here (yay!) and that there was more room to explore undiscovered places. I don't know exactly how to describe it, almost like a place that was once thriving and alive, then fell on bad times because of its owners and that now it was being restored back to its grandeur. It has a unique character all its own. There are still Soviet-era buildings, lots of graffiti, and burned out/abandoned churches, but there is a lot of beauty as well.
Riga Sightseeing
Riga is the picturesque capital of Latvia, and even though you may have Soviet-era gray stone buildings in mind when it comes to Riga, this couldn't be further from the truth. You will be transported back into the Middle Ages while exploring this city. In fact, Riga is filled with gems of Art Nouveau architecture, has a multicultural heritage, and is home to many fascinating museums and churches. Riga's "Old Town" area is also a UNESCO World Heritage Site. As you can see, there is something for everyone to explore here.

✦ Riga Sightseeing – The Museum of the Occupation
To truly understand Riga and its people, you should start by a visit to the Museum of the Occupation, which spells out the history of the Latvians. Latvia is a country that has spent most of the past 500 years under foreign occupation. In 1941, the Germans attacked the city, but at the time were known as the "liberators" of the Latvian people, who were under the rule of the Red Army of Russia!
Can you imagine that the Nazis were deemed the liberators? Well, that did not last long and they ended up being just as bad as the Red Army for the Latvians. The Nazi's murdered many of the Latvians, and also made the Latvians join the Nazi Army to fight against the Russians. They killed over 25,000 Jews just outside the city in the Rumbula Forest, where today stands a memorial in their honor. In 1944, the Russians came back into the country and sent thousands of Latvians to Siberia. However, Latvia was freed from it captors in 1991 when the USSR broke up and Latvia became a free nation.
✦ Riga Sightseeing – Literally a Panoramic View
See Riga from a bird's eye view – Head to one of the places with the best panorama of the city, either St. Peter's Church's tower in the Old Town, the 26th floor of the Skyline bar at the Hotel Radisson Blu Latvia, or just maybe, if they let you in, you can see this view from the window of a suite at the Neiburg's Hotel (their restaurant is amazing by the way). A travel blogger I met that lives in Riga told me that so far, this was the best view she has seen! Another good spot for a bird's eye view is the Panorama Observation Deck located on top the Latvian Academy of Sciences.
✦ Riga Sightseeing – The Bremen Town Musicians
And don't forget, while at the St. Peter's Church to go around the back to see the famous statue known as Bremen Town Musicians and touch each level of the statue for good luck.
---
Hotels Nearby Bremen Town Musicians:
The Dome Hotel & Spa – Relais & Châteaux
---
✦ Riga Sightseeing – Night Kayaking!
Go night kayaking through the ring of city canals on the river Daugava. This is a fun and exciting night to meet up at around 10 pm and make your way around the entire loop of the city, with a return to your hotel by 2 AM!
✦ Riga Sightseeing – Check out the Art Nouveau District
Visit the Art Nouveau district – Riga is internationally famous for its beautiful art nouveau quarter that is just a short way from the Old Town. Head to Alberta Street, and look up. You will soon discover Europe's most beautiful art nouveau buildings. Other Art Nouveau gems are nearby on Elizabetes, Dzirnavu, and Antonijas Streets.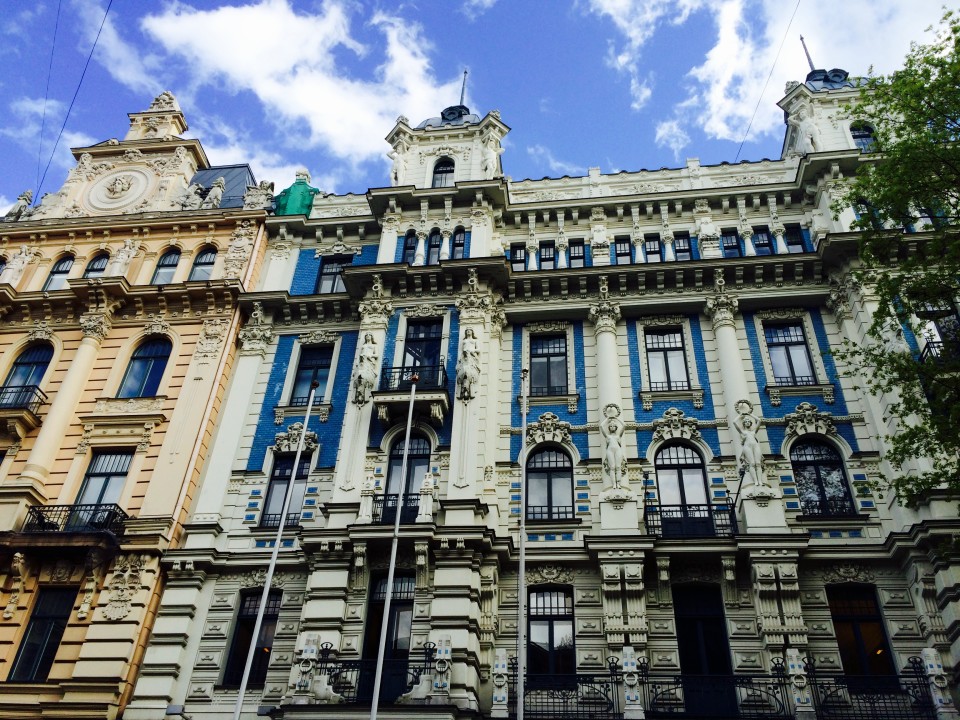 While there, go ahead and visit the Art Nouveau Museum and take a look at that stunning staircase, then pop in across the street to the Art Nouveau Café and Bookstore and sit for a while.
✦ Riga Sightseeing – Visit the Central Market
Visit Riga's Central Market – A visit to Riga would not be complete without making your way to the giant city market. This overcrowded gem will give you an opportunity to taste some of the local food and see the city in action. It was at one time a hanger of the WW1 blimp Zeppelins, so you can imagine its enormous size as Europe's largest indoor food market and bazaar. Each of the 5 hangers has a different specialty from meat to dairy, to fish to vegetables to bakery and flowers too!
✦ Riga Sightseeing – Drink Riga Black Balsam
You know how some places have a traditional drink? Well, Riga's traditional drink is Black Balsam. It is a liqueur made with many different plants mixed in vodka! So don't say I didn't warn you! It kind of has a medicinal taste and it is easy to find in bars and most restaurants in Riga.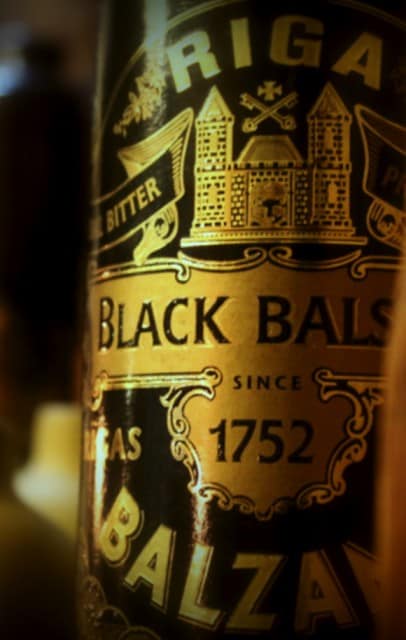 ✦ Riga Sightseeing – Visit the restored House of the Blackheads
Visit the restored House of the Blackheads with its Dutch Renaissance façade. The original building was erected in the 14th century, for the Brotherhood of Blackheads. They were a guild of unmarried German merchants, so if you were single and German, this is where you would stay back in the day. Unfortunately, the house was destroyed in 1941 during World War 2 and reconstruction began over various years with its completion in 1999.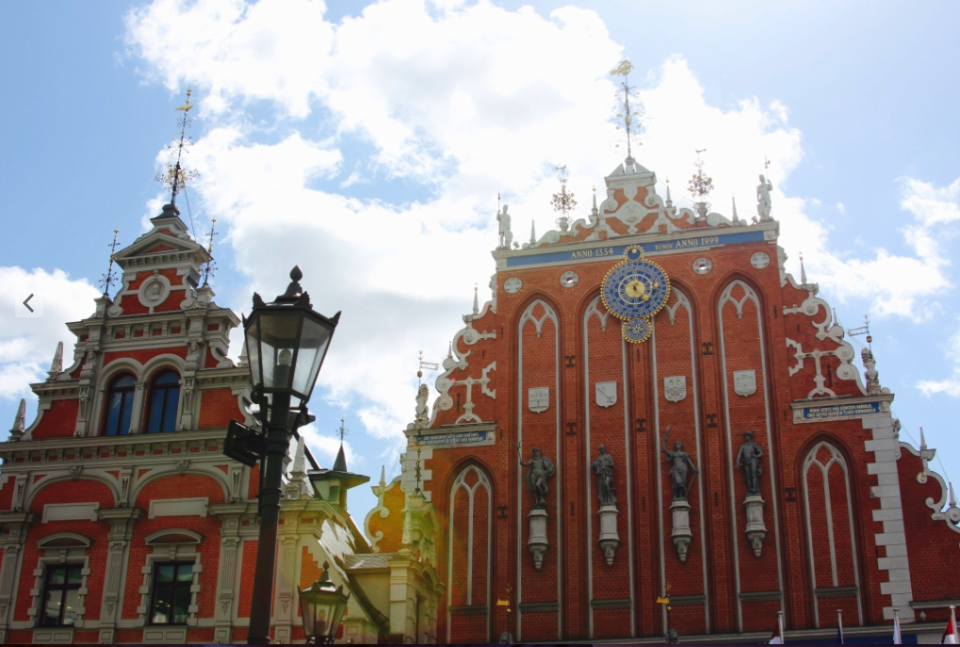 ✦ Riga Sightseeing – Visit the Song and Dance Festival
Visit the Song and Dance Festival for a major celebration of Latvian culture and spirit. This festival began in 1873 and is held every five years and features thousands of singers and dancers from all over Latvia. The last one was held in 2018 and our guide couldn't stop talking about it!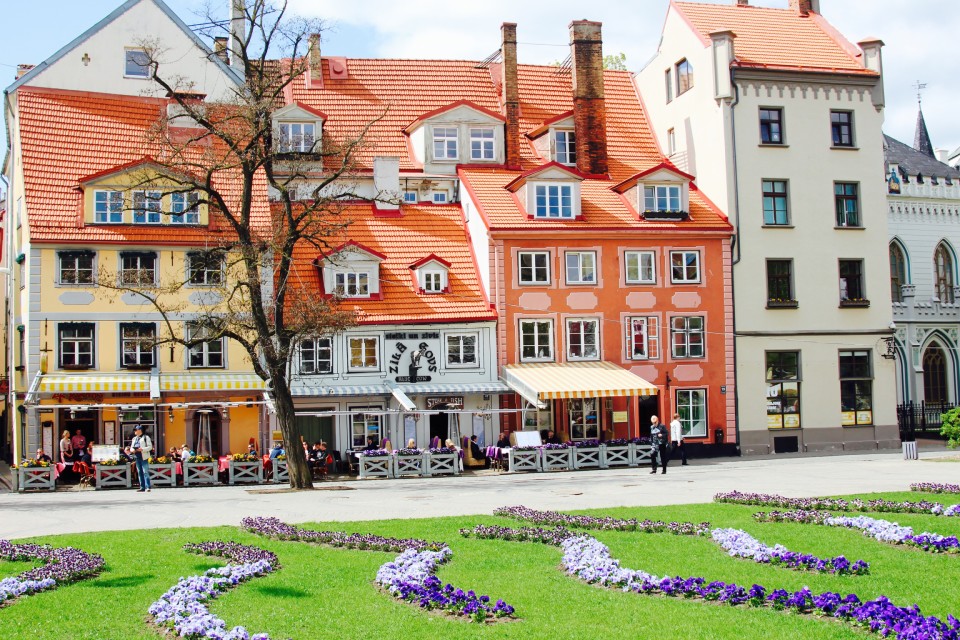 ✦ Riga Sightseeing – Take A Walking Tour Of The Old Town
On a private historical guided walking tour, you can explore the Old Town of Riga. The tour typically starts with a view of Riga Castle, that was founded in 1330. The President of Latvia lives there now! Then you will visit some parts of the old city wall, continue to the Old Nunnery and the Hospital, plus you will enjoy the medieval atmosphere and architectural styles of this city.
Other Tours of Riga, Latvia
Riga Discovery Tour: Small-Group City Walking Tour
Private Riga: The Darkest 50 Small Group Tour
✦ Riga Sightseeing – Take A Walk In The Park!
You must visit the Bastion Hill park called Basterjkalna Park, truly, you can not miss it, as it is right in the center of town near the Freedom Monument. I had no idea, but Riga is a very green city! There are plenty of parks scattered throughout the city. This park has a canal running through it, where I was able to do the night kayaking mentioned above! It was really cool to be kayaking through the city when there were people still hanging out in the park!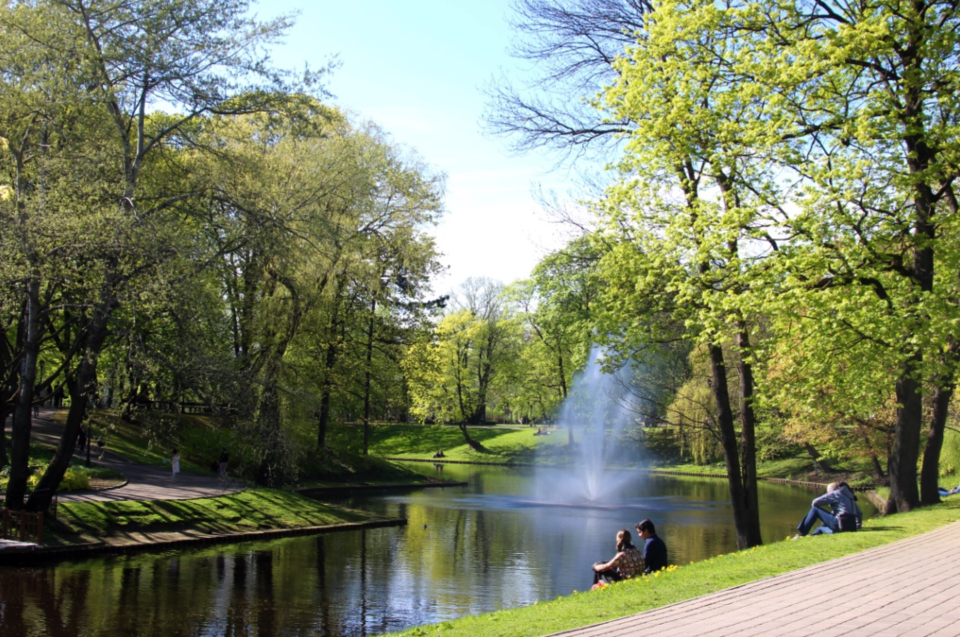 ✦ Riga Sightseeing – Visit the Three Brothers Buildings
The buildings of the "Three Brothers" – These houses form the oldest complex of dwelling houses in Riga, one from each century! The white house is from the 15th century, the yellow house is from the 16th century, and the green house is from the 17th century. They are built side by side.
✦ Riga Sightseeing – Visit all the Gorgeous Churches of Riga
Riga has many churches scattered throughout the city. While walking around, you should make a point of going into a few of them in Old Town. I loved the St. Peter's Church and the Nativity of Christ Cathedral. Here are a few to explore:
Nativity of Christ Cathedral – The biggest Orthodox church in Riga that adds a little bling to the city with its gold domes.
St. Peter's Church – The one with the observation tower for a bird's eye view.
Riga Cathedral – The church organ is considered one of the most historic organs in the world.
St. Jacob's Catholic Cathedral – The beginning of the Reformation in Latvia took place here and in St. Peter's Church in 1522.
✦ Sightseeing in Riga – Travel Tips
When walking around, be sure and bring a scarf to cover your head and shoulders before entering a church. Also, it is not allowed to wear shorts, so to be safe, wear capris for women and long pants for me. Also, Latvia is part of the EU, so they use Euros! Which is a blessing!
---
Just a reminder that all the experiences mentioned here can also be had by booking with JayWay Travel.
---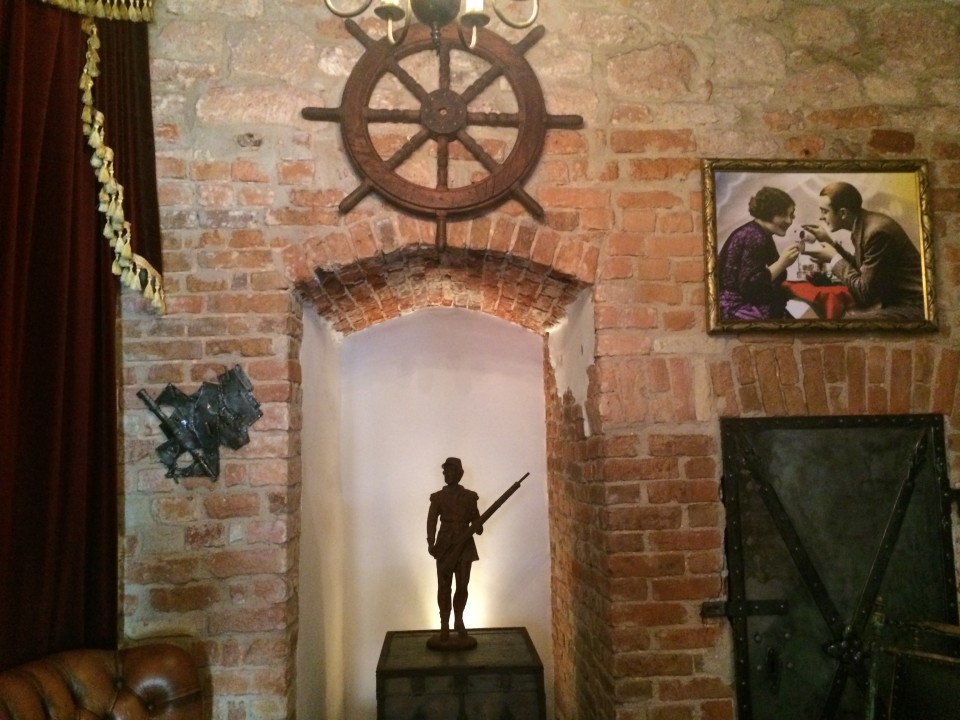 ✦ Recommended Reading about the Baltic Capitals:
Tallinn, Estonia – Vibrant Capital
The Schlossel Hotel in Tallinn, Estonia
Trakai Island Castle in Lithuania
Disclosure: My time spent in Riga, Latvia was courtesy of the wonderful host JayWay Travel. My enjoyment of the charms of Riga was all my own and I would jump at the chance to return. There are affiliate links in this article.