The Bremen Town Musicians statue is based on one of the many Brothers Grimm Fairytales and is a major attraction in Riga, Latvia. The story is simple enough. The Brothers Grimm story is about a donkey, a cat, a dog and a rooster who are past their prime. They feel too old to be useful and are terrified they will be put down by their owners. They decide to head out for Bremen to become musicians. They want to live a life of freedom. On the way, they find a cottage that has robbers inside, and therefore they cannot take refuge for the night. They then decided to scare the robbers by standing on each other's backs to make noise.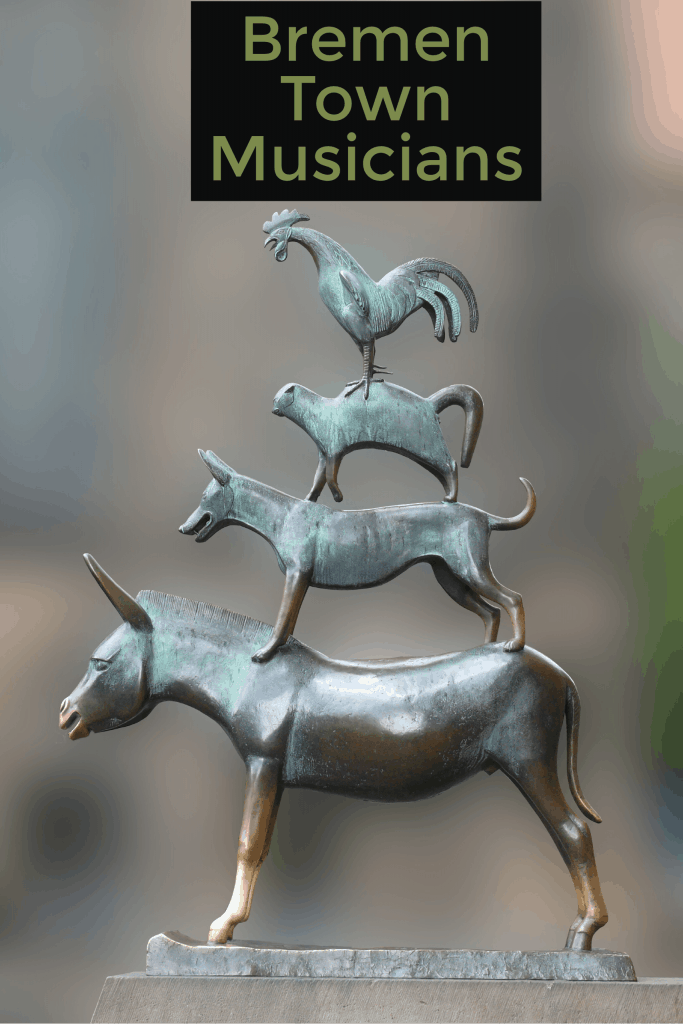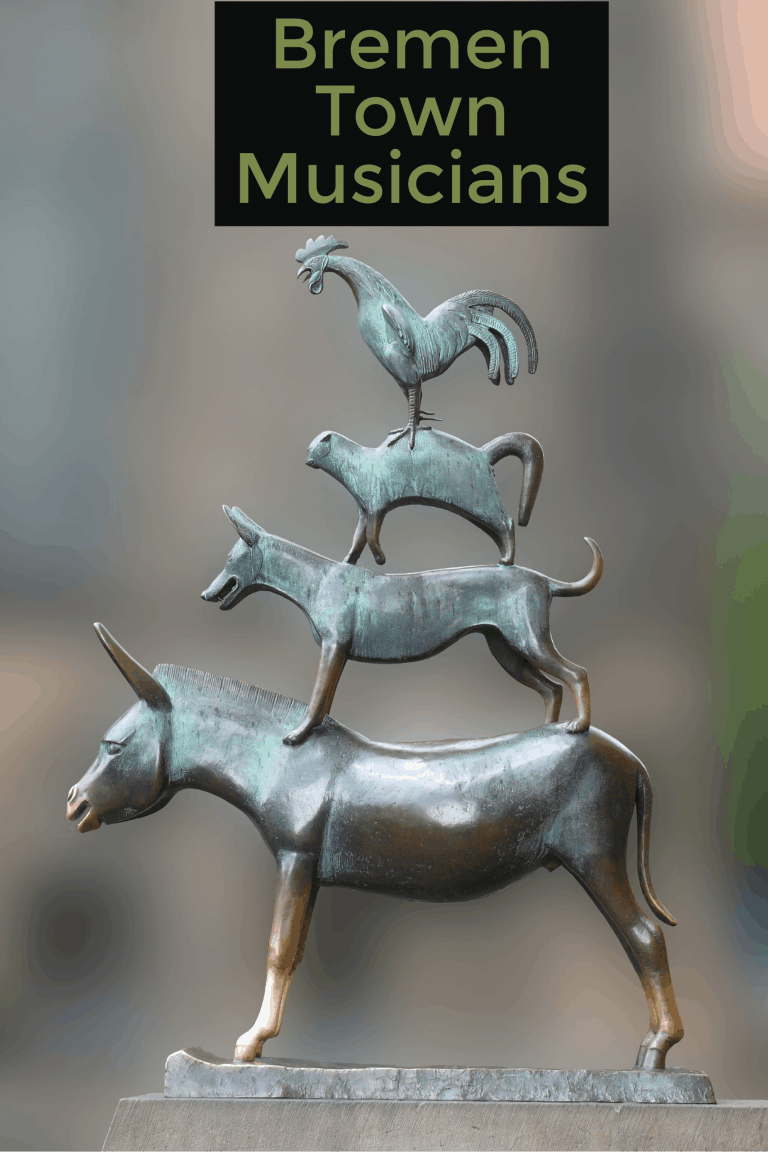 This made themselves look bigger than they really were. It worked and the robbers ran away.
Only this fairytale is different!
The Bremen Town Musicians – Riga, Latvia
---
"What the heck is that?" was my first reaction when seeing the Bremen Town Musicians Statue in Riga, Latvia.
"When you come across something like this, there always has to be a backstory".
---
If you go around the back of the St. Peter's Church on Skarnu Street between St. Peter's Church and the Convent, you will find the Bremen Town Musicians statue.
Bremen Town Musicians – Latvia statue
The original statue of Bremen Town Musicians was created by Gerhard Marx in Bremen, Germany in 1951. This statue became a symbol of the city. Then based on this statue, Crista Baumgartel sculpted a similar one. The city of Bremen, Germany gave Riga, Latvia the statue in 1991. This was the year that Riga became an independent nation. It is believed that German merchants who first landed at the mouth of the Daugava river were from Bremen, Germany and thus it was a gift of freedom for its relatives.
Bremen Town Musicians – Moral of the Story
Every Grimm Brother story has a moral to the story, so what exactly is this one? Well, I think there are quite a few. Things like respect your elders is one of the clear lessons in this story. The old grandparents may not be as strong as they once were, but they are still important. This basic moral is a lesson that every generation has to learn. Another moral might be teamwork. The animals in this story are weak and getting old and alone none of them would be able to achieve much. But by working together, they can get the job done. There may be other morals here that involve age, death, and change as well.
Bremen Town Musicians – Political Statement
Today, the bronze figure of the Bremen Town Musicians is more a political statement, in that the animals standing on top of each other are really just peering thru the "Iron Curtain of Communism" and they are seeing a new world – a view of independence. It is hard to imagine that the change of governments has only happened quite recently. In 1994, Latvia and Russia signed troop withdrawal agreements. And in 1995 a new government was formed in Latvia.
Tourist note: It is considered good luck to rub one part of each of the statue's appendages. The trick is to try to and touch each appendage. You can search the internet for the different variations of the Brothers Grimm stories.
Bremen Town Musicians – Hotels Nearby in Riga, Latvia
The Dome Hotel & Spa – Relais & Châteaux
Bremen Town Musicians – Tours of Riga, Latvia
Riga Discovery Tour: Small-Group City Walking Tour
Private Riga: The Darkest 50 Small Group Tour
Discover what it was really like to live under Russian rule in this eye-opening small group tour of Riga, Latvia.
Bremen Town Musicians – Statue in Bremen, Germany
Note that the original statute made by Gerhard Marx is located in Bremen, Germany and located on the western side of the town hall.
There is also a Bremen Town Musicians Statue by artist Gerhard Marcks located at the Lynden Sculpture Garden near Milwaukee, Wisconsin.
Disclosure: My time spent in Latvia was courtesy of the wonderful host JayWay Travel. My enjoyment of the charms of Riga was all my own. There are affiliate links in the article.
This is a continuous series on the Baltic Capitals:
#1. Tear Down That Wall – Freedom for the Baltics
#2. Tallinn, Estonia – Vibrant Capital on the Shores of the Baltic Sea
#3. A Medieval Gem – The Schlossel Hotel in Tallinn, Estonia
#4. Top 7 Things To Do in Riga, Latvia (linked above)
#5. Baptized by Earth, Fire, and Wine in Lithuania
#6. The Bremen Town Musicians Statue – Riga, Latvia