---
48-Hour Itinerary in Old Town Tallinn
---
Old Town Tallinn, Estonia is a vibrant, medieval city sitting right dab on the shores of the Baltic Sea in Northern Europe. With her old world charms, you will be glad you visited the Tallinn Old Town during the post-Soviet era to see how she has evolved since the USSR dissolved in 1991. Back then, she was known as Reval. I can tell you that twenty-four years later, she is alive and well! Estonia is ticking all the right boxes, so now is the time to go. Estonia has moved to the Euro currency and in my opinion, the prices were much less than in Western Europe, yet she has all the "old world" romance a girl could want for in this Old Town Tallinn district.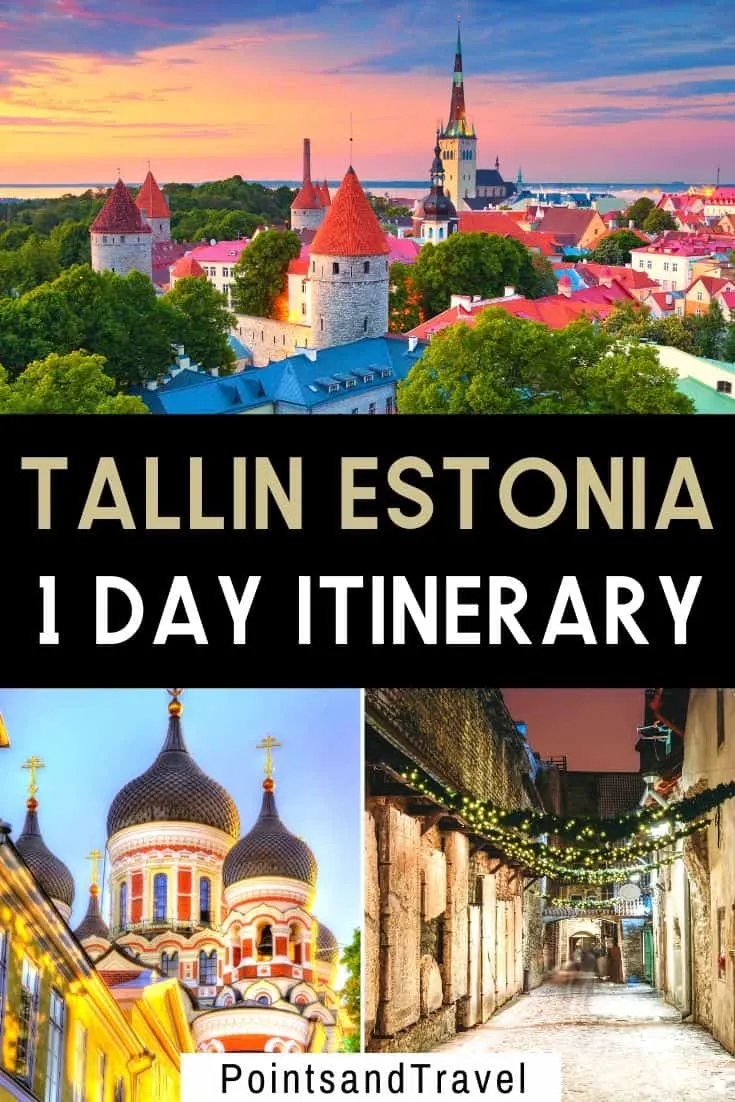 Tallinn Old Town – Tallinn Guide
If you go, the city has two main areas to explore for your time in Tallinn:
OLD TOWN
The "Old Town", which was added to the UNESCO world heritage site in 1997 and has pretty, cobblestone streets, shops, and trendy restaurants. This area is named the European Capital of Culture.
Kalamaja
Kalamaja, the gritty, up-and-coming "arts, and historic district" where you can still see the old Soviet apartments, abandoned warehouses, and graffiti, yet it is intertwined with trendy restaurants and cutting-edge fashion and design houses of Old Town Tallinn.
Tallinn Old Town- Tallinn Guide
Visit Lennusadam Sea Plane Harbour Museum
I was recently in Tallinn and must mention that the Lennusadam Sea Plane Harbour Museum in the arts and historic district is a must-visit. Space itself is spectacular and at that time I had a chance to see the Titanic Exhibit, which was extremely well done and well attended. They always have new exhibits for you to explore this gorgeous place.
Tallinn Old Town- Tallinn Guide
Get a Guide for your Walk
This time around though, I had a guided city walk with EST Adventures with our guide Andrew. As we walked the streets, he told us about the different cultures that make up the history of what Tallinn is today. From Danish Kings to Latvians, Germans, Swedes, Finnish, and Russians, these lands have been inhabited for centuries with different dominant rulers during different times. He was full of knowledge and had many stories to tell us.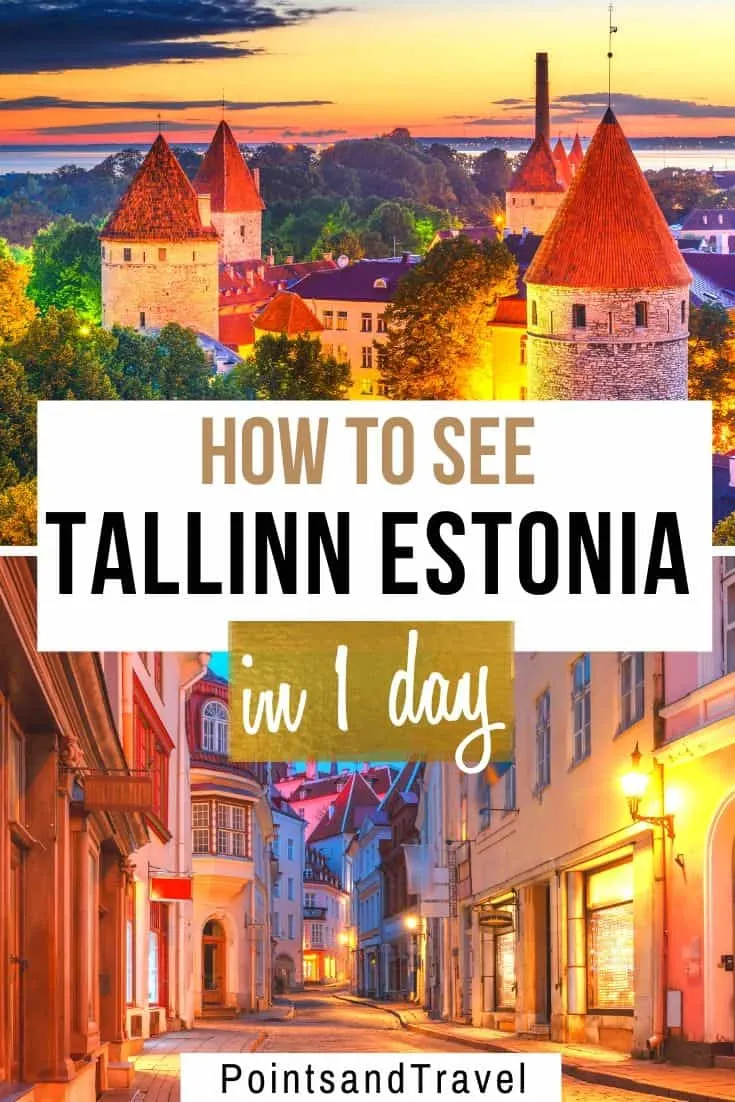 Go ahead and get a guide and walk around the city for the day, you will learn so much more than being on your own. This also helps you orient yourself to the town for the following days that you are there.
Old Town Tallinn – Where to Stay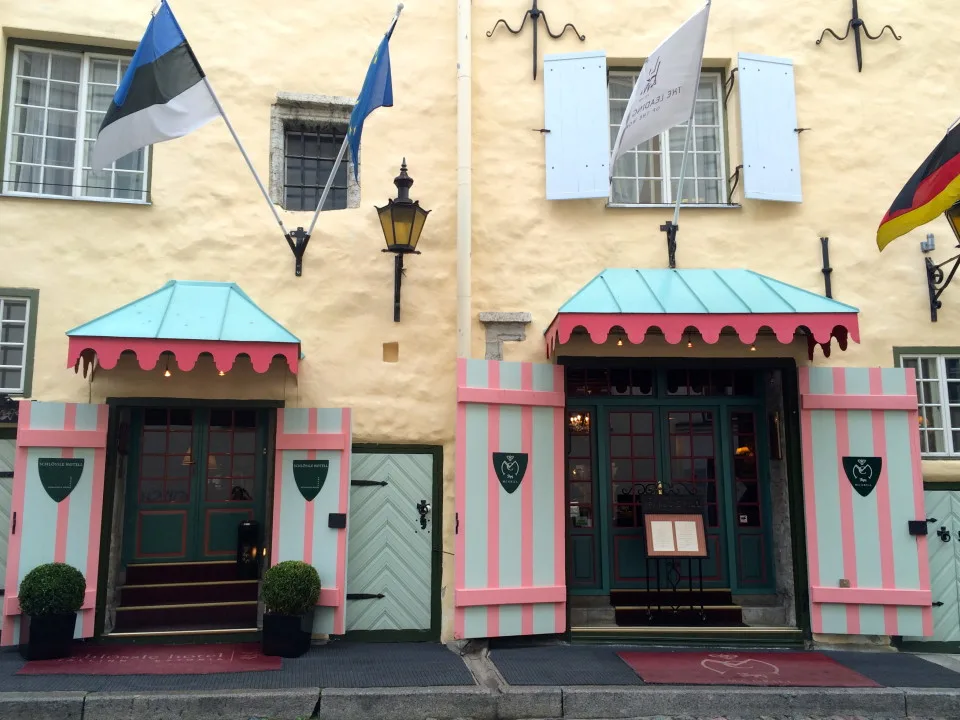 Hotel Schlössle
I stayed at the well-appointed Schlossle Hotel, which is a member of the group of Leading Luxury Hotels of the World. Built into the existing facade from the 13th century, I found my medieval Schlossle Hotel's "cave room" and immediately got into relaxation mode. As I swung open the heavy door, I was able to find paradise waiting inside after my long journey from Girona, Spain to Tallinn, Estonia.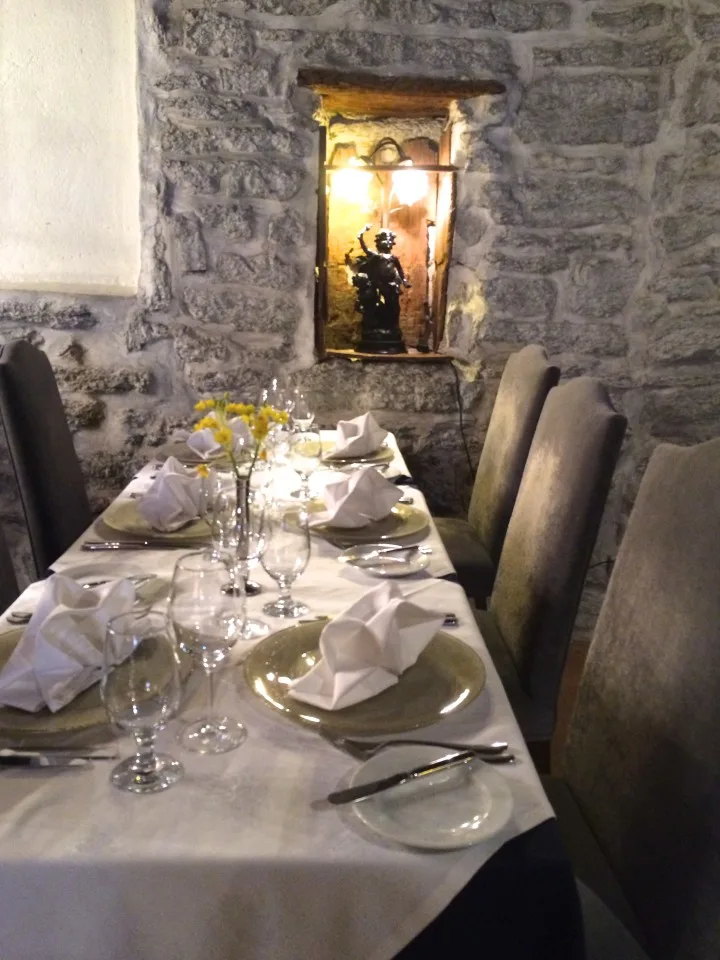 It was quite charming with the "cave-type room" I stayed in near the back of the building. Although the main building's rooms seemed quite standard. The hotel did have a gorgeous room where the breakfast was served and was also a restaurant at night. The servers were quite attentive.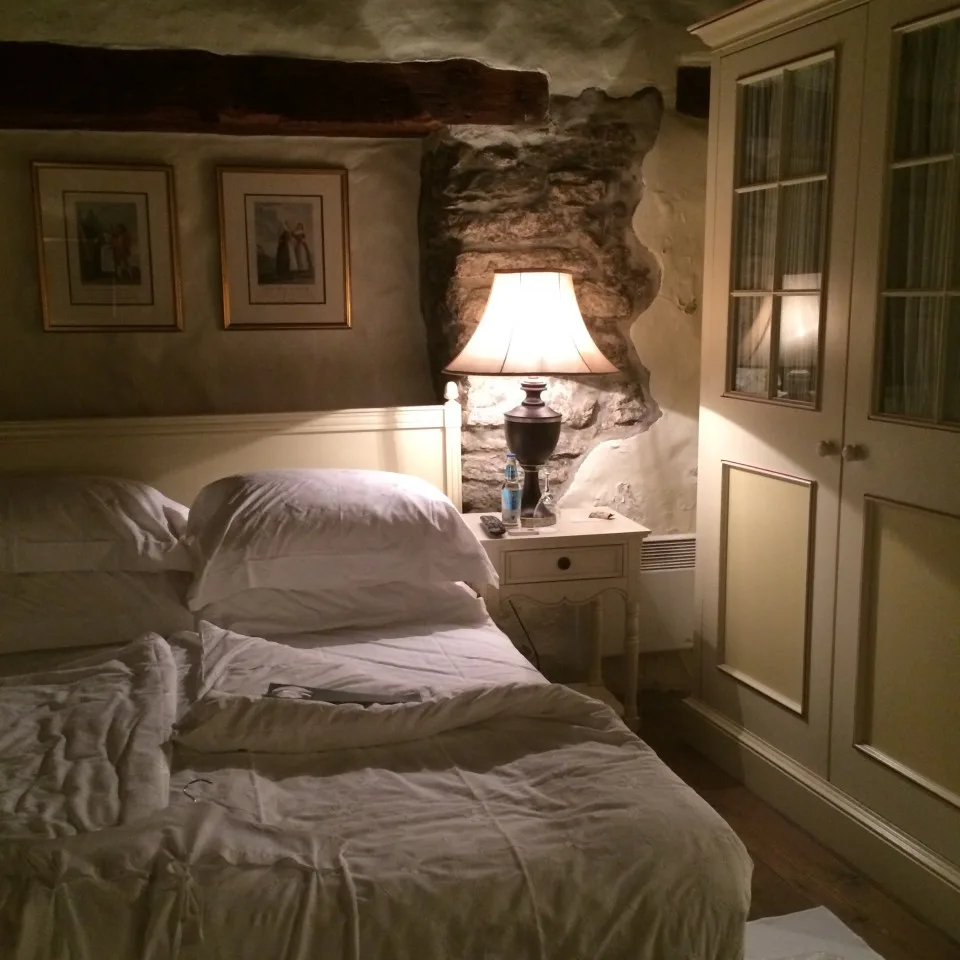 It was quite charming with the "cave-type room" I stayed in near the back of the building. Although the main building's rooms seemed quite standard. The hotel did have a gorgeous room where the breakfast was served and was also a restaurant at night. The servers were quite attentive.
In my room, I had:
a floor mat with my slippers laid on the floor by my bed
a bottle of still water with a genuine glass
an actual laundry bag that was pinned to my bed for future dry cleaning
a soft comfortable bed with fluffy pillows
I then decided to grab my computer, got in this big comfy bed for some "me" time.
And later, I found out it had an amazing shower with great water pressure!
The Hotel Schlössle was right off a narrow cobblestone street. The location is perfectly situated near the center of "Old Town". It is where numerous merchant houses used to be located on the main road leading from the central markets to the harbor. Right on the corner of Pühavaimu and Vene Street, also known as "Holy Spirit Street" I rested my head.
It was a close walk to the famous Russian restaurant called Rataskaevu16 and The Farm.
Schlössle Hotel
Scouring the hotel for details, I learned that this building was first mentioned in the history books in 1363. This hotel was the home of merchants. It is strange to think that there have been over 600 years of history on these very streets. The Schlössle Hotels are small, but luxurious hotels tucked away on cobblestone streets in many romantic cities in eastern Europe and I was lucky enough to stay in this one in Tallinn.
"Schlössle Hotel" has painstakingly preserved all the valuable old structural details and exposed them to their original splendor. Almost as if untouched by the passing centuries, the central chimney, portals of cut stone, small spiral staircases, and living chambers with irregular corners and wall niches, all this belongs to classic limestone architecture from medieval times and can be experienced as they once were." – Historian Jüri Kuuskemaa
What: Schlössle Hotel, the first Estonian 5 star hotel and is the only one in the country that belongs to the Leading Hotels of the World chain.
Where: Pühavaimu 13/15 Tallinn, Estonia 10123
TripAdvisor Rating: #4 Hotel in Tallinn
Rates: $$
"Value Luxury" Deals: Stay Three Nights, save 15%
If you want elegance, sophistication, and taste, you will find it here, along with a great location on your visit to Tallinn. Simply charming.
Time in Tallinn – Bog Walking
If you have a few days to spare, I can recommend an unusual adventure called "bog walking" and then for kicks, you can try a new experience called a "home restaurant". This would be for a one-day excursion and takes around 4-5 hours. The bog is right outside of the city proper, not more than an hour's drive and you are literally in the forest, then the bog.
This "bog" or marsh is basically miles and miles of water fields with densely packed greens and berries that live in the water. The group I was with had so much fun wearing modified snow-shoes that attached to our rain boots, which allowed us to "glide" through the bog. Don't worry about bringing any equipment, as they bring everything for you.
Spend Some Time Outside of Tallinn – Estonian Food
While there, we also had a chance to pick local, off-season berries. You will find that this is a popular sport amongst the Finnish, as well and much like the popular sport of mushrooming in Europe. After an hour or so of bog walking, we drove down by the seashore to Mer Mer, a "home restaurant" – and within no time we were sitting in a family's dining room right on the beach.
It was quite a unique experience and I thoroughly enjoyed diving into the life of a local Estonian couple. Our hosts were an older, yet hip couple who lived on the beach and turned their dining room into a restaurant for special groups. The food was exquisite and well prepared. We were even surprised when the main dish came out and it was actually a beaver! You just never know what other people have for dinner!
Spend Some Time in Tallinn, Estonia!
Just a reminder that all the experiences mentioned here can be had by booking with JayWay Travel.
This is a continuous series on the Baltic Capitals:
#1 Tear Down That Wall – Freedom for the Baltics
#2 Tallinn, Estonia – Vibrant Capital on the Shores of the Baltic Sea
#3 Top 7 Things to do in Riga, Latvia
#4 Baptized by Earth, Fire, and Wine in Lithuania
Disclosure: My time spent in Estonia was courtesy of the wonderful host JayWay Travel. My enjoyment of the charms of Tallinn was all my own and I jumped at the chance to return.