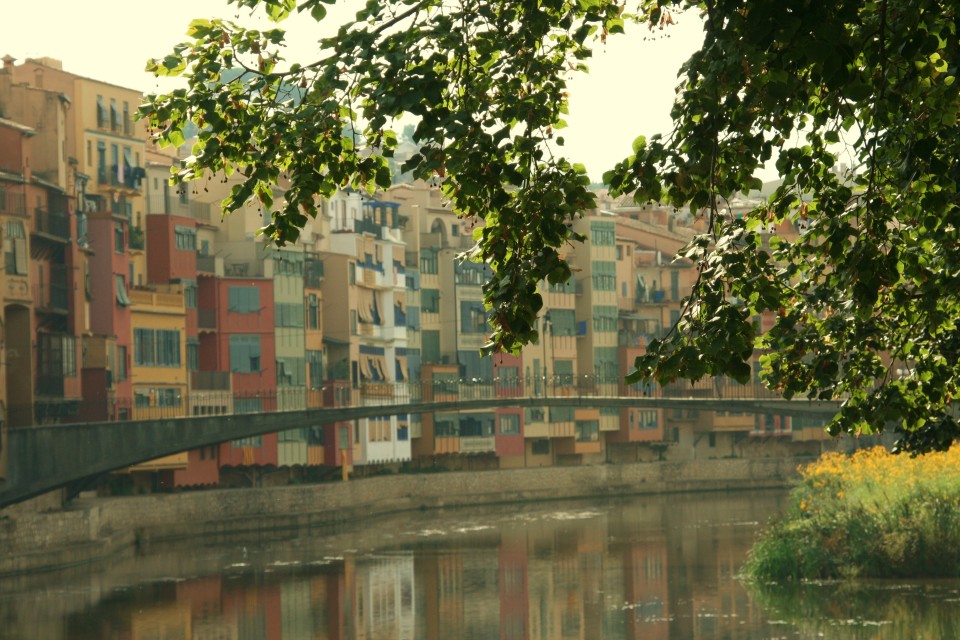 Girona, Spain and its Diamonds
Sometimes on trips, you find diamonds …I found one… I can say, without a doubt, that exploring Barcelona and the Costa Brava area of Spain is a guaranteed adventure and an amazing trip within trips. It is a trip that must be taken. It can be done in 7 to 10 days by a family, a couple or alone. You don't even need to speak Spanish. If I can do it, so can you. I explored Barcelona's Gothic Quarter and then also Gaudi's creations in Barcelona. After a few days in Barcelona, you should take the train to Girona. This is an easy, quick trip on the almost-hourly train ride from the central station (Estación de Sants).
Girona, Spain I love old, walled cities, cities that take you back in time… medieval towns with churches, castles and towers. The history is rich and dreamy like. Life just slows down here.
The feel of the town is reminiscent of Italy.
The cobblestone streets, which are as narrow as a tiny car, have perfect windows and doors.
The café's are right outside of the massive church steps,
so you can enjoy the views and people-watch all at the same time.
Girona, Spain
This city has rivers that run through it, a main one that surrounds the city is called the Rio Onyar River.
There is also a beautiful, large park.
with amazing trees.
Napoleon and The Spanish War
While I was there, they were reenacting the war in 1809 between Napoleon and the Spanish (smoke, muskets and explosions!). They are proud of the fact that they were able to hold off Napoleon's troops for months.
This battle blazed on and went from the top of the hill, down to the steps of the cathedral. All the Gironians and tourist alike, came out for the show.
Girona, Spain is a UNESCO World Heritage Site
Girona was recently awarded to be a UNESCO World Heritage Site and thus they follow the guidelines of UNESCO by preserving the authenticity of the town. Within the city walls, the city managers have chosen four colors that one can paint their century old homes. Of those four colors, they can choose different tones, so this makes the look of the town consistent. Medieval towns like Girona, Spain also have amazingly painted frescoes on archways,
and it is the attention to detail is what makes it a stand out city. The vines grow up the walls of buildings …
and statues and fountains abound. Beauty is everywhere. Stop, take a look around, your life could slow down too, if only for a moment. Coming home from this trip, you will feel refreshed and ready to conquer your world again. Come visit Girona and the Costa Brava area in Spain. More trip reports as related to this area of Spain are coming shortly.
---
If you are following along in my series on Costa Brava, Spain:

Post #1: Costa Brava: Spain's Northeast Coast, getting there
Post#2: Girona, Spain: Diamonds are a girl's best friend (this article)
Up next Post #3: So, you want to go to Spain's Brave Coast: Seaside LEstartit
Post #4: Medieval villages along the Costa Brava of Spain -Begur
Post #5 Where to stay in Begur: Hotel Aigua Blava
---
Interested in Reading about Old Town Barcelona, Spain:
Barcelona, Spain: Sweet and Salty at La Boqueria and Beyond
Barcelona, Spain for Families…
Exclusive Luxury Cava and Wine Tour In Spain
---
Required Reading about Spain:
Salamanca Spain and its Small Luxury Hotel: Hacienda Zorita
Traveling to Avila – The Walled City of Spain
The apples in Spain fall mainly on the plain
Charming Medieval Villages Along the Costa Brava Area of Spain: Peratalada to Pals