Aiguablava is a small indention of a bay on the Costa Brava Coast in Catalonia, Spain. It rests quietly along the Mediterranean Sea with miles and miles of Spanish coastline. As I sit out on my balcony, staring at the beauty and charm of the Bay, I am struck by the simplicity of it all. It has an old world charm about it that is romantic as I stare out at the crystal blue sea. And as I sit silently, I am transformed back in time to an old fishermen's village, with row boats and dinghies lining the beach and forgetting about the rest of the world.
Aiguablava Bay
Hotel Aiguablava History
I was staying at Hotel Aiguablava. It is located in one of the most beautiful corners of the world. The hotel is surrounded by coves, rocks and pine trees framing its picturesque setting on the shores of the Mediterranean sea. It is sort of a mix of fisherman's house, villas, bungalows, and apartments. The rooms are scattered among the cliffs of Aigublava and is family owned by the Capella family.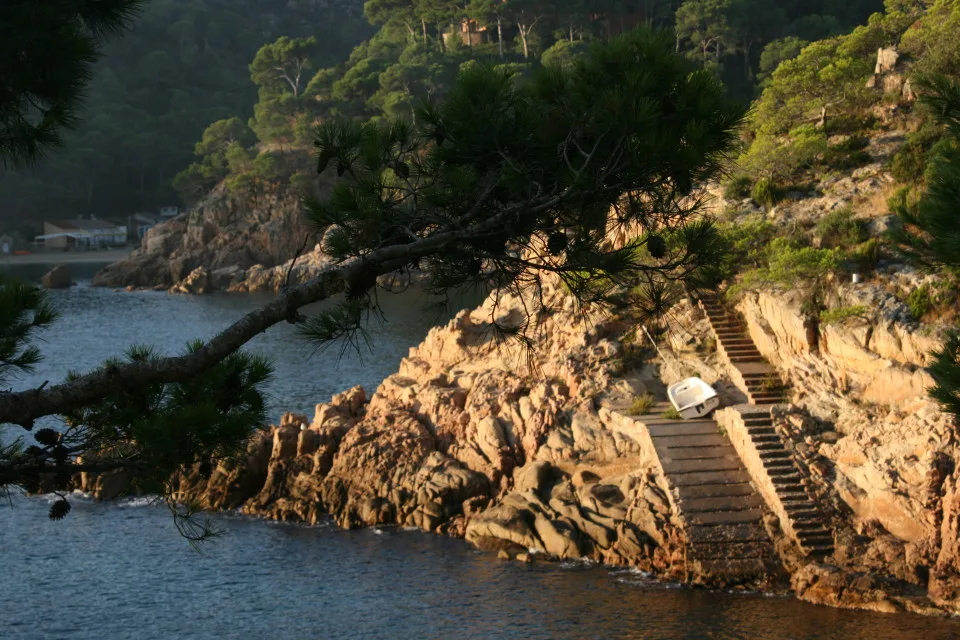 Its mere beginnings are a romance story within itself. Young Clara Capellà,"la Clareta"was the daughter of a hostal owner that sat beach front overshadowed by a wealthy Barcelona family home up above. The nephew of the wealthy family fell in love with Clarita, which resulted in the opening of the Hotel Aigublava in 1940. It is now a fairly large hotel with several homes jumbled together around flowered terraces and pine trees. Here you can see an old photo from 1934 showing the two residences.
It is the closest thing to heaven on earth I have found in a long time. Treating me like family is exactly what they did from the moment of my arrival. My room had a stunning bay view and it was walking distance to several tiny, but pristine beaches seen down below. It also had an incredible swimming pool and lush gardens, as well as family activities like ping-pong tables, and tennis courts.
Aiguablava: Getting There
Located on the Begur coastline it boasts spectacular views of the bay and the cape of Begur. To get to the hotel, you need to be a good, non-bashful driver, but the rewards are worth it. It is at the end of the road, facing the Mediterranean Sea, with small rocky and sandy coves. Even though the hotel is off the beaten path, it is still only a few kilometers from Begur, which is itself a very pleasant town with enough shops and restaurants to provide day and evening entertainment.
By Taxi to the Town of Begur:
It is a 10 minute taxi ride to the town of Begur at a cost of approximately €14 in 2015.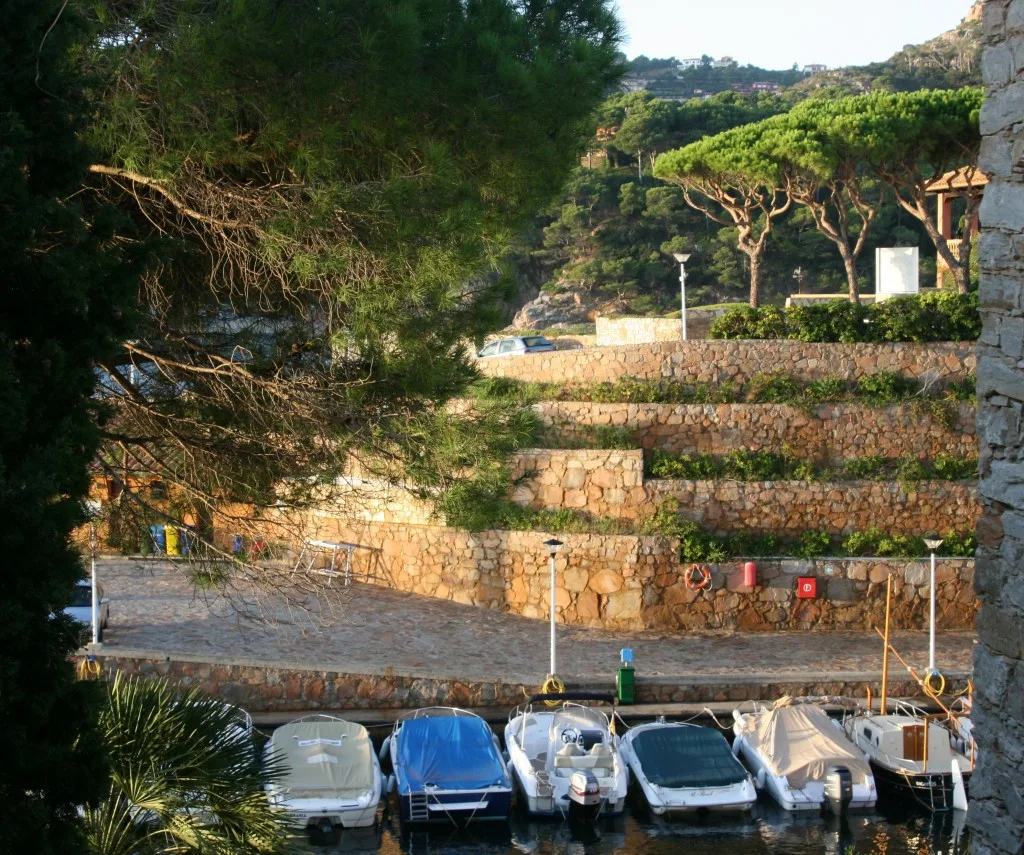 Aiguablava Bay: Hotel Aiguablava Grounds
Hotel Aiguablava has lush gardens, ping-pong tables, and tennis courts,as well as an incredible swimming pool with access to the sea and the beautiful Aigua Blava Bay. The views across the bay are stunning.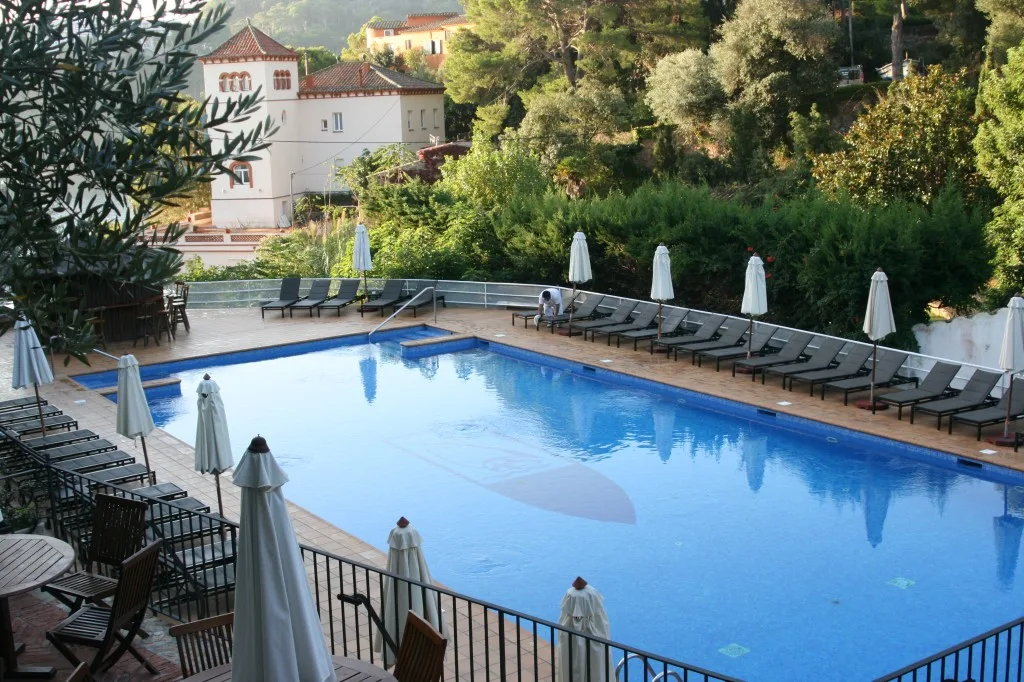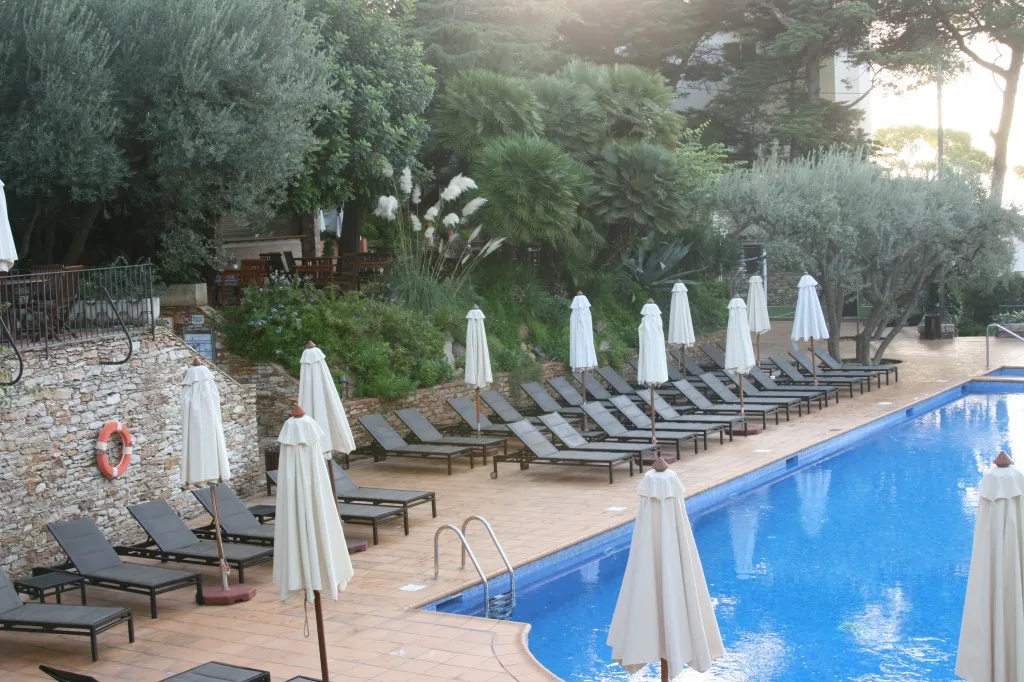 Aiguablava Bay: Hotel Aiguablava Rooms
The hotel is an older hotel and thus has some old fashion ambiance in the rooms, but this didn't bother me in the least, as I was there for the views of the Mediterranean. My room was not large, but it was comfortable with adequate space and a comfortable bed. The bathroom was large with a huge marble double sink. At the crack of dawn I was up to explore the nearby coves and to take photographs of the sea, so the old, lacy tablecloth covering on the tables in my room didn't bother me in the slightest. There is some dated decor, but don't worry, you won't be there long.
Room Tip: Pay extra and get a room with a sea view. It is amazing to sit out on your balcony.
Aiguablava Hotel: A Family Tradition
I met people there who have been coming for the same week every year for 15 years and booked again for next year. The maitre d' of the hotel had been there for almost 4 decades at the time I was there and was a complete charmer making me feel as welcome as the guests whom he already knew.
Aiguablava Hotel Aiguablava Food
Set under a slanted ceiling on the terrace, breakfast was fantastic and they serve everything you could ever want. The service style is old-fashioned excellence, and the evening meal is first class. It shows in both the attention to detail and the level of service given. The multi-course gastronomic feast prepared by Chef Lluis is out of this world and not to be missed. At my dinner, we had figs with roasted banana lasagna, a mini cut of duck liver, seafood, lobster bisque and mojito ice cream served in a pineapple!
Aiguablava Hotel Aiguablva Drinks
I was able to have a lesson on how to make traditional Cuban Mojito by a fourth generation employee of the hotel named Josep. He made the mojitos with a recipe that had been handed down from a family member that had once emigrated to Cuba. He made traditional and strawberry mojitos.
Enjoy your time in Aiguablava and tell them PointsandTravel sent you!
If you are following along in my series on Costa Brava, Spain:

Post #1: Costa Brava: Spain's Northeast Coast, getting there
Post#2: Girona, Spain: Diamonds are a girl's best friend
Post #3: So, you want to go to Spain's Brave Coast: Seaside LEstartit
Post #4: Medieval villages along the Costa Brava of Spain -Begur
Post #5 Where to stay in Begur: Hotel Aigua Blava (this article)
Post #6: Charming Medieval Village Along The Costa Brava Area Of Spain: Peratalada to Pals
Post #7: The Apples in Spain Fall Mainly on the Plain
Other articles I have written about Spain:
Interested in Reading about Old Town Barcelona:
Barcelona, Spain for Families…
Ode to Barcelona's Street Violinist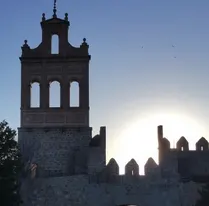 The Most Charming Walled City in Spain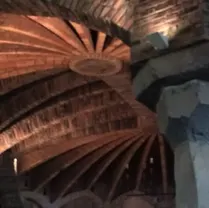 A Day Trip From Barcelona, Spain – Colonia Guell and Gaudi's Crypt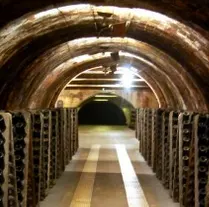 Exclusive Luxury Cava and Wine Tour in Spain
Wandering The Gothic Quarter: Barcelona, Spain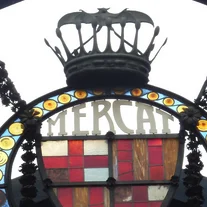 Barcelona, Spain: Sweet and Salty at La Boqueria and Beyond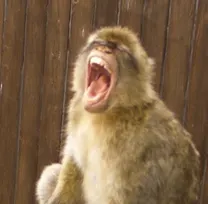 'One Monkey Don't Stop No Show' The Rock of Gibralter and Seville, Spain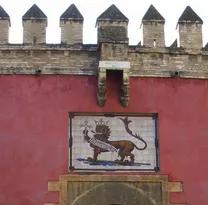 Seville, Spain: Red HOT
Disclosure: My visit to Begur and Hotel Aigua Blava was sponsored by the Costa Brava Tourism Board. Opinions noted here are entirely my own.