---
Best Day Trips From Barcelona
Colonia Güell and Gaudi's Crypt
---
My Grandfather, John Clark, was born in a tiny hospital in a small town in Texas back in 1898. At that same time, halfway around the world, there was an artist named Gaudi. He had been asked by his friend to build a place of worship. It was for the factory workers in a village just a short ride from Barcelona, Spain. The town was called Santa Coloma de Cervello, Spain.
This is a fascinating stroll into the lives of factory workers that was built to keep them away from the revolutionary movements that were common during this time. It was a world within itself, away from the influences of Barcelona, where factory workers lived, prayed, played, and worked. And a simple day trip from Barcelona.
If you come here today, you can stroll the streets to see what a "planned community" of the early 19th century looks like. All crafted by Mr. Gaudi himself.
Best day trips from Barcelona
Philanthropist and wealthy industrialist Mr. Eusebi Guell had bought the land here in Spain to put his factory. Since he had a strong sense of social responsibility for his workers, he decided to build them a community to live and work in. It housed elaborate brick-patterned facades throughout the town, a cinema, a school, a doctor's office, a parish house, and a church.
In the village, you will also find a square where the people gathered and strolled. Today there is a coffee and gelato shop around the square, although not really a place to stick around for very long as it is quite sparse today.
If you have ever been to Barcelona, then most like you have heard the name Guell and of course, by now, you know who the artist was: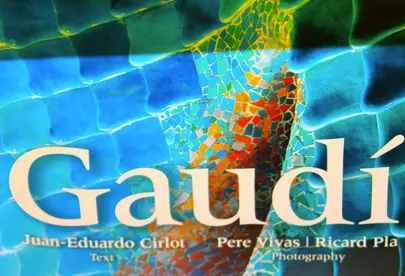 Park Guell is a famous stop amongst Gaudi's creations. It is a public park system composed of gardens and architectural elements on Carmel Hill in Barcelona. I call it fairytale land! It is like a giant gingerbread house where people gather to admire his works, but mostly to enjoy the scenery.
This project was one of the few creations of Gaudi's that did not have a fixed budget or an idea of what it needed to look like. So Gaudi was free to express his creativity the way he saw fit. He even used this church as a testing center to apply the pioneering techniques of columns and windows that are so well known today from the Sagrada Familia.
Best day trips from Barcelona
The church itself is fascinating with the way in which Gaudi uses natural light in the varying shapes and sizes of the windows, the lopsided and uneven number of columns, and the cave-like structure of the building. He used re-purposed and recycled materials to build it with mosaics that are decorative broken mosaics called "trencadis".
If you are familiar with Gaudi's work, then you know how unusual it can be, yet captivating as well. One thing you will notice upon entering the crypt is the layout of the parishioner's chairs/benches, which are made like a school bench and are angled so that wherever you are sitting, you can see the alter with no problems. The benches are made of wood and wrought iron and have a rounded ergonomic form, as most things do inside the façade. So there you have it, one more day trip from Barcelona. This one leads you into the world of Gaudi. This church, known as "the crypt", was declared a World Heritage Site by UNESCO in 2005.
Other articles about Barcelona or nearby:
Barcelona Spain: Sweeet and Salty at La Boqueria
Wandering the Gothic Quarter: Barcelona, Spain
Luxury Cava and Wine Tour in Spain
Want more info about Costa Brava?
Post #1: Costa Brava: Spain's Northeast Coast, getting there
Post#2: Girona, Spain: Diamonds are a girl's best friend
Post #3: So, you want to go to Spain's Brave Coast: Seaside LEstartit
Post #4: Medieval villages along the Costa Brava of Spain -Begur
Post #5: Where to stay in Begur: Hotel Aigua Blava
Post #6: Charming Medieval Village Along The Costa Brava Area Of Spain: Peratalada to Pals
Post #7: The Apples in Spain Fall Mainly on the Plain
Post #8: About That Castle Party In Spain!
Want more info about Spain?
The Most Charming Walled City in Spain
The Rock of Gibraltar and Seville, Spain
Disclosure: My trip to Colonia Guell to visit Gaudi's Crypt was sponsored by Turisme de Barcelona with the aid of the Costa Brava Tourism Board. My fascination with Gaudi was only enhanced by this visit!