Barcelona Spain with its cosmopolitan feel, "old town" architecture, some of the best gastronomy around, and beachside bohemian vibe, how could any city get much better than this? Truly visitors love its Mediterranean climate, as it never really gets too hot or too cold (only muggy in June and July). Barcelona's old town is like a breath of fresh air as you walk the medieval streets to find things to see and do, as well as eat.
What's in this post:
hide
Wandering the Gothic Quarter:
Barcelona, Spain
On my first impression of Barcelona, I wrote this simple article about my experience with her "four seasons". But not the ones you are probably thinking of! Read on to find how the streets of old town Barcelona are not only lined with gorgeous architecture, but with people who inspire you, sometimes for the rest of your life!
My Four Seasons of Barcelona
After Gaudi's art show, I was wandering the narrow, cobblestone streets of the Gothic quarter in Barcelona's old town, which is considered the center of the old city of Barcelona… when I got lucky. I came upon rustic-colored buildings with great texture, arches, and window sills. Rounding the corner, there was this fabulous, nameless church, with an incredibly beautiful, maroon red and wrought iron front door.
---
Best Day Trips From Barcelona – Colonia Güell And Gaudi's Crypt
---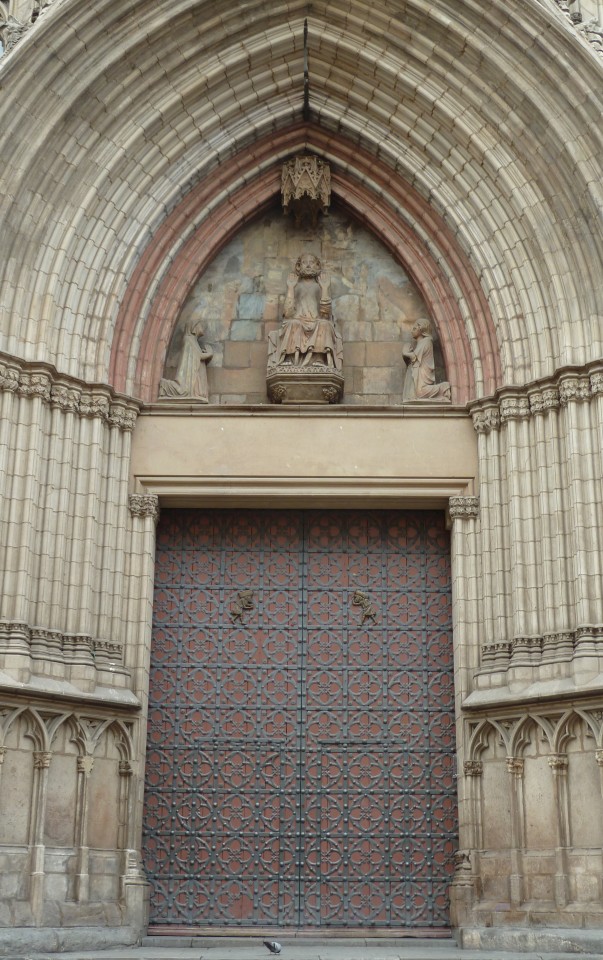 People were going about their day at the little cafe outside on the square as if in Barcelona, this would just be an everyday occurrence. I guess to them, it is! But it wasn't to me. I stood there for a while, watching the little Spanish boy with the red-striped shirt playing in front of the grand doors near his parents. Then another quirky-dressed woman came along and sat by the door entrance.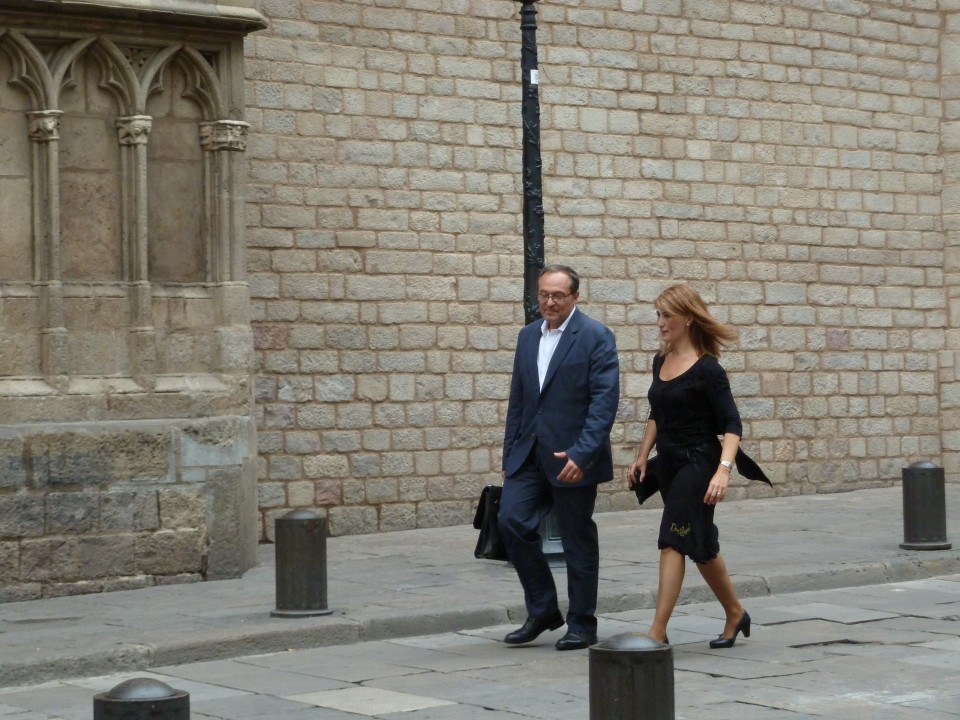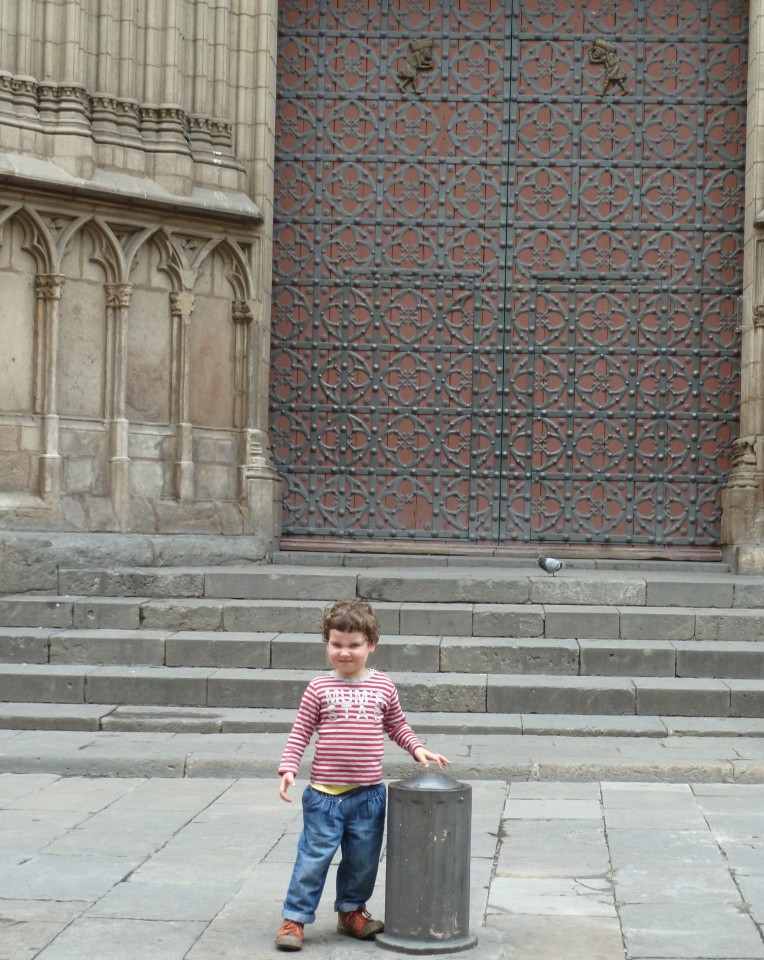 Medieval Basilica Cathedral de la Seu
The place was mesmerizing to me, it just had that glow. I immediately knew this was one of those magical moments in travel. I took a few photographs and reluctantly moved on around the corner. I was making my way to the spires that I could see jutting out from in between buildings. This is the "old roman ruins" area of town. The juttings I could see were from the medieval basilica Cathedral de la Seu, which was built on top of the ruins from the Roman Empire temples of 343 AD.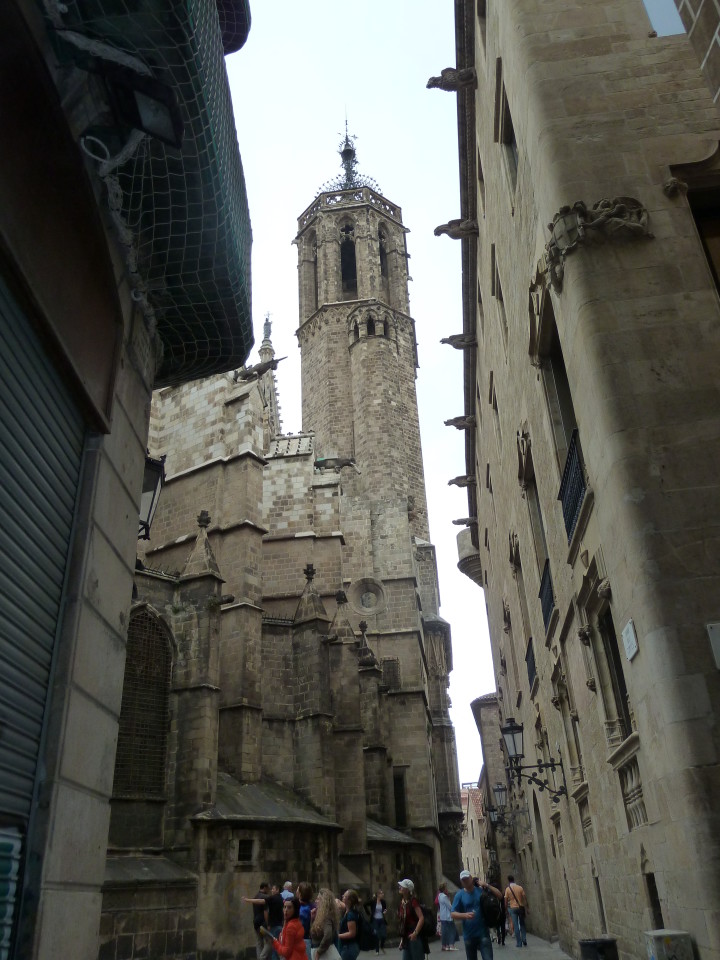 Barcelona Magic
Little did I know, the magic would continue around a few more corners. I could hear it but wasn't sure what it was. It was coming from another courtyard square, it was the sounds of a violin that make you want to stop and listen. Yet knowing you need to get closer to the sound. This sound was a violin concerto by Vivaldi called The Four Seasons. I was expecting to see someone selling one of those CD's that you can buy on the streets for a concert that the church would be having later that evening. But what I got was so much more than that.
---
If you listen closely while you continue to read this, you can hear me say "bravo" at the end of his concerto!
---
Seasons of Life
There he was. Only one man, in his blue jean shorts and black t-shirt standing up against the amazing basilica door . . . playing his heart out in a song. The acoustics were stunning in this small little square. At that very moment, I realized my life was going through seasons, seasons of life, seasons of change. And I imagined he was going through a season too.
Why was he here? With such talent as this, playing his music on the streets of Barcelona in the midday sun? Did he actually play for an orchestra every evening and he was just practicing? Did he just love to entertain us and we were his muse? Was he just trying to get by, needing money to pay his rent? I could not for the life of me figure it out, how could one so talented be playing on the streets?
Season Winter and Summer
But then as the season "Winter" played, peppered with its silvery pizzicato notes from the high strings, I knew I must sit still in silence and pay attention. In that square, that day, the seasons of my life came to me, and as he played "Summer", which evokes a thunderstorm in its final sound, the sounds told me that this is the path I am on, the sound of Summer.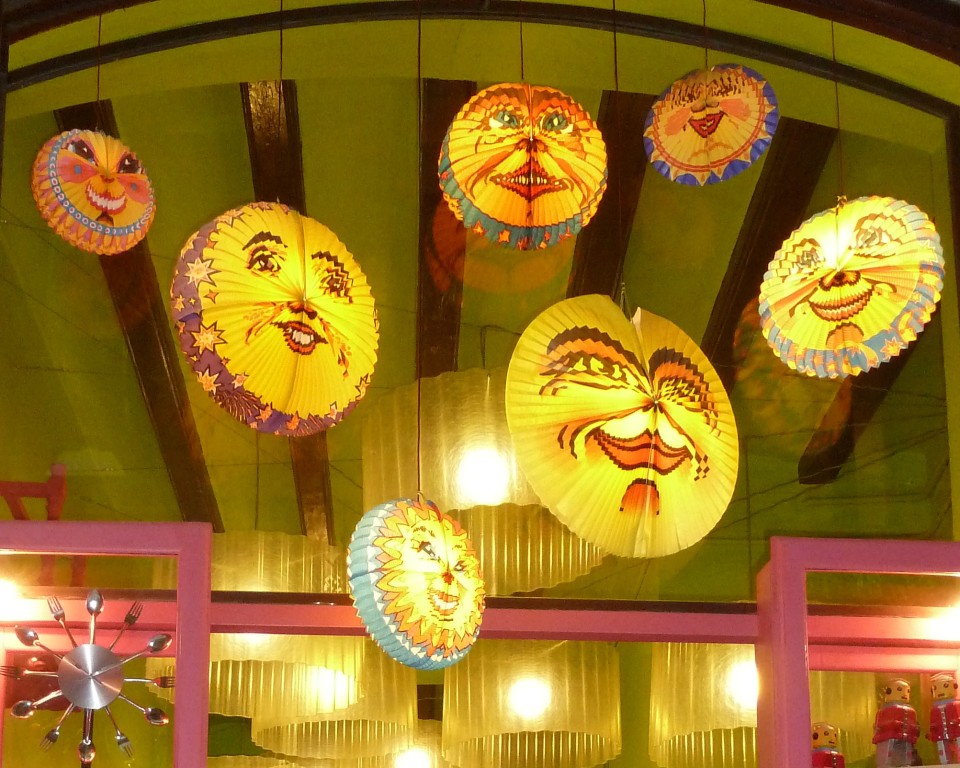 ---
In case you are interested, here is a follow-up to this story about the violinist who inspired me:
---
Summer in Barcelona
Summer is the most popular time for tourists to come to Barcelona. The sun is at its brightest along its gorgeous beaches and the locals are out walking in the old town Barcelona streets. There are many outdoor concerts, but it surely is crowded.
Best Time To Visit Barcelona
The best time to visit Barcelona is early Summer from May to June or in the Fall from September to October when Barcelona's weather is pleasant and mild. August is the hottest month, with an average high of 74°F. January is the coldest month, with an average high of 49°F. Choose the Spring and Fall shoulder seasons. As the weather is a bit milder and some of the crowds go away. It seems prices are better as well.
Mealtime in Barcelona
Mealtimes in Spain are way different than in the USA. We have our lunch as early as 11:30 am sometimes and it can go as late as 2:00 pm. Not in Barcelona though! Here mealtime can be confusing. Restaurants are open from 1:30 pm to 4:00 pm for lunch and from 8:30 pm until well after 11:00 pm for dinner. Many stores close from 2-4 pm for their siesta (rest) time! A lot of businesses close for the whole month of August, so keep that in mind when planning a visit.
Where Should I Stay?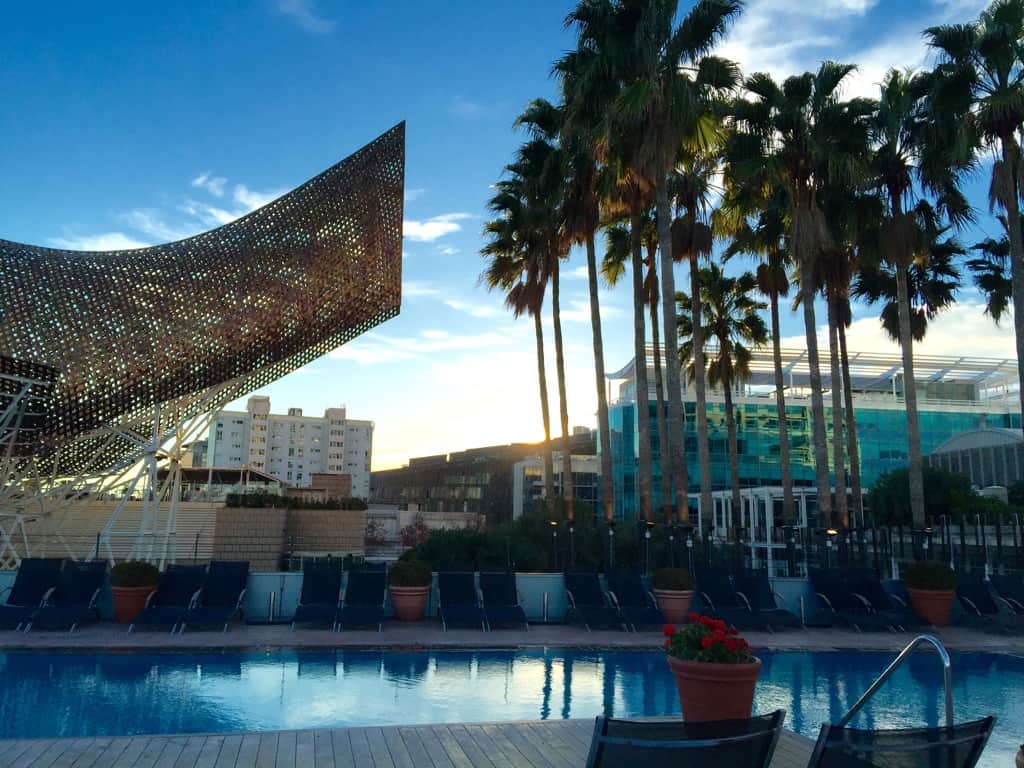 #1 District in Barcelona: 4 Neighborhoods
Ciutat Vella is literally the number one district in the city. It means "Old City" and is the beating heart of Barcelona. Inside Ciutat Vella, there are four of the most famous neighborhoods in Barcelona: La Barceloneta (Barceloneta), El Gòtic or Barri Gothic (Gothic Quarter), El Raval (Raval), and Sant Pere (St. Pere, El Born is located here). I will let you decide which neighborhood is for you! I have stayed at the Ritz Carlton's Beach hotel: Hotel Arts, the Mercer hotel (mentioned here), and I have also rented an apartment in Barcelona. When I was younger, I stayed at Ana's Guesthouse (a room
El Gòtic or Barri Gothic (Gothic Quarter)
El Gòtic is in the eastern district of "old town" Barcelona. This area is the cultural and touristic center of Barcelona. The former Roman settlement Barcino, which is the largest Roman dig outside of Rome, is located here. That is why they call it the Barri-Gothic area.
El Raval (Raval)
El Raval is the most western district of the "old town" and is Barcelona's most multicultural district. The word Raval means neighborhood in Arabic (from the word Rabad). El Raval is located to the west of the main street of La Rambla.
The Rambla separates the district, El Raval, from the Gothic quarter. Barcelona's medieval city wall used to run along the Rambla until it was torn down creating Barcelona's most famous strolling street.
Sant Pere (St. Pere)
In the Southern part of Sant Pere is where you can find the El Borne area, as well as the Parc de la Ciutadella and the Barcelona Zoo. It is famous for its many restaurants, bars, and nightclubs. El Born is one of the hippest spots in Barcelona at the moment. It is also where the church Santa Maria del Mar is located. They also have lots of designer shops and art galleries.
La Barceloneta (Barceloneta)
La Barceloneta is the district between the old port and the beach and is Barcelona's smallest district. If you love the sea… this is the place to be!
---
Interested in Reading about Old Town Barcelona:
Barcelona, Spain: Sweet and Salty at La Boqueria and Beyond
Barcelona, Spain for Families…
Exclusive Luxury Cava and Wine Tour In Spain
---
OR Reading about a few about Northern Spain:
Costa Brava: Spain's Northeast Coast, getting there
Girona, Spain: Diamonds are a girl's best friend
So, you want to go to Spain's Brave Coast: Seaside LEstartit
The apples in Spain fall mainly on the plain
Charming Medieval Villages along the Costa Brava in Spain: Peratalada to Pals
A Spanish Tapas Pub Crawl in Palamos Spain
---
Salamanca Spain and its' Small Luxury Hotel: Hacienda Zorita
Traveling to Avila – The Walled City of Spain
---