A quick jaunt over to the Hotel Arts Barcelona, had me excited about all the hype I had been hearing regarding this 5 star Hotel. Someone even told me it was the most luxurious hotel in all of Europe! I was ready to find out if Hotel Barcelona was the one!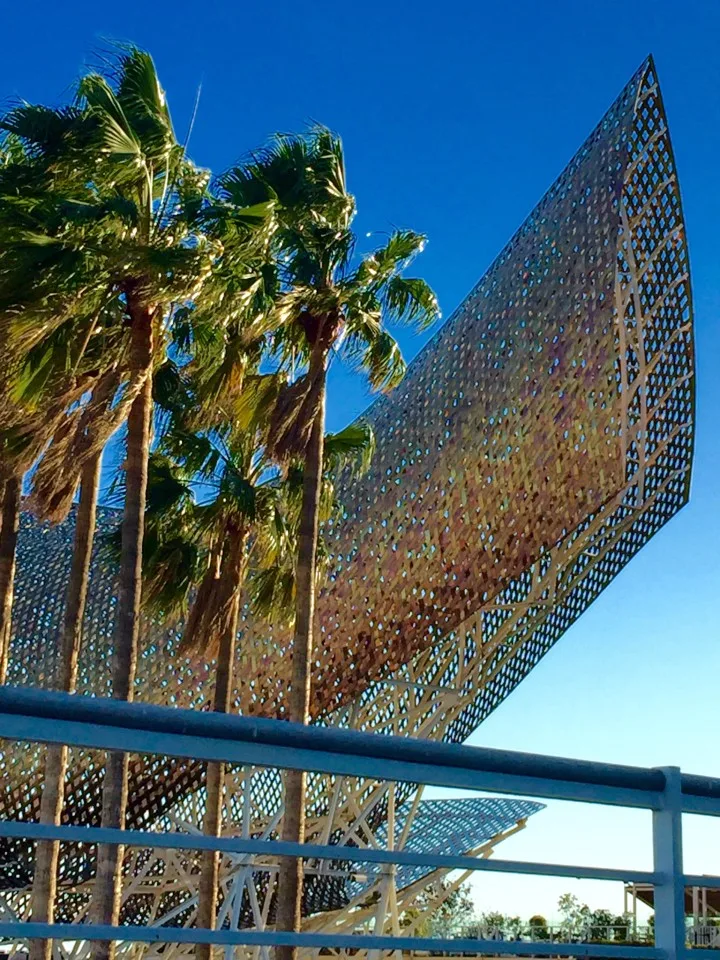 Arriving via ground transportation on the bottom floor, they quickly had me up the elevator to the lobby on the first floor, which is vast and lovely. I was immediately greeted and asked for my passport.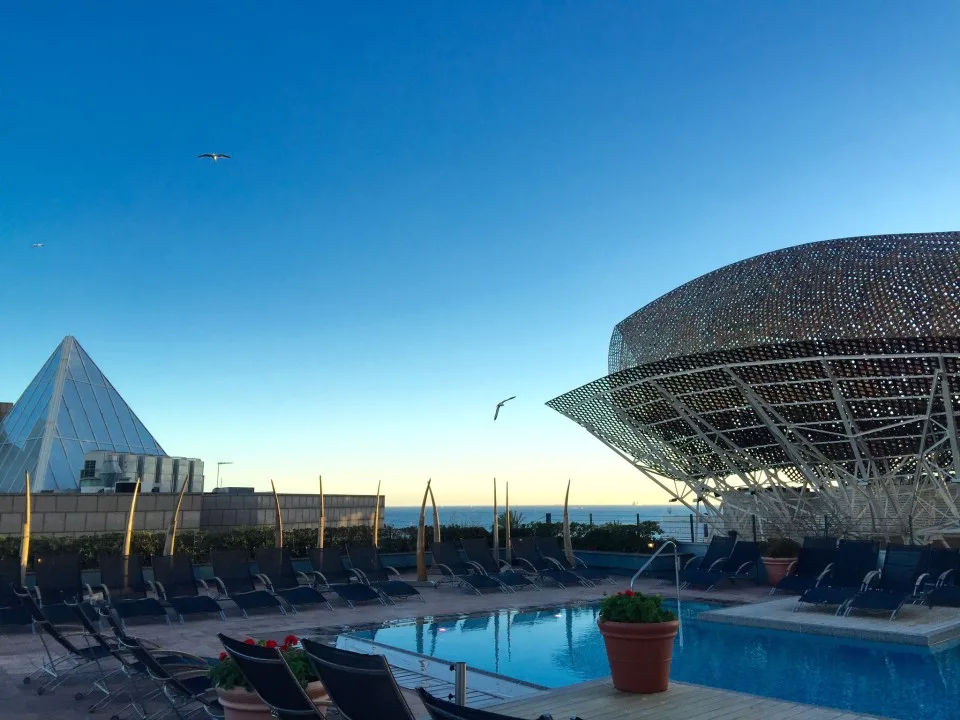 Oops! I had been coming from a hotel in the Gothic Quarter and had overslept from the night before, so I threw everything in my bag fast and didn't think to get my passport out, as it was not in my purse. So be sure and don't do what this experienced traveler (ha!) did and have to go through your luggage in the lobby of a 5 star hotel! The staff could not have been more gracious, but they knew their government required it for check-in (I knew that too, just forgot!) and there was nothing they could do but let me search.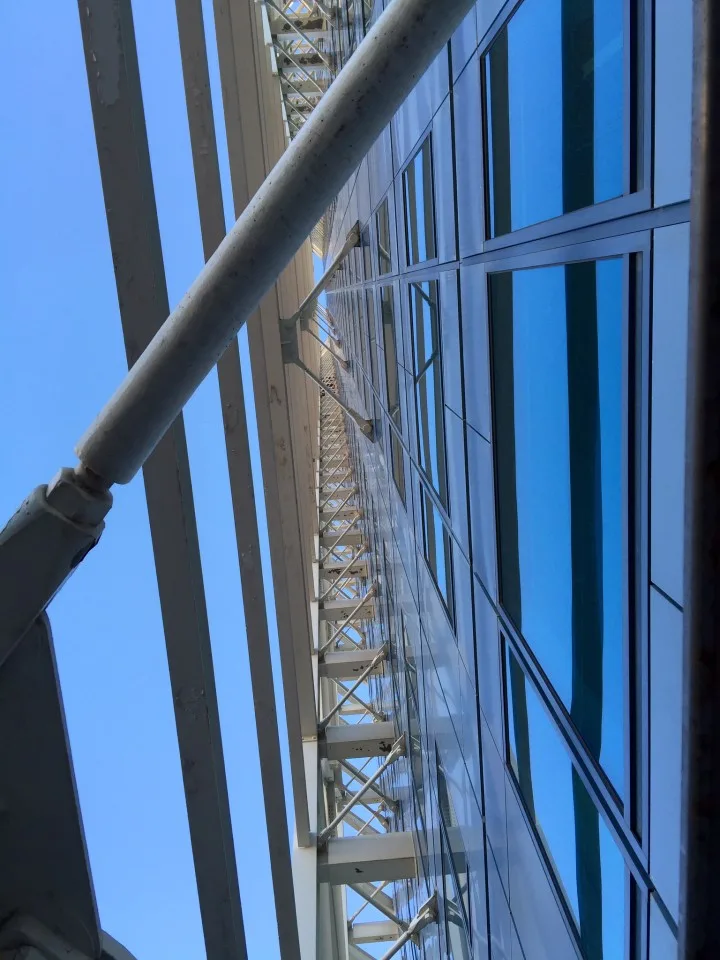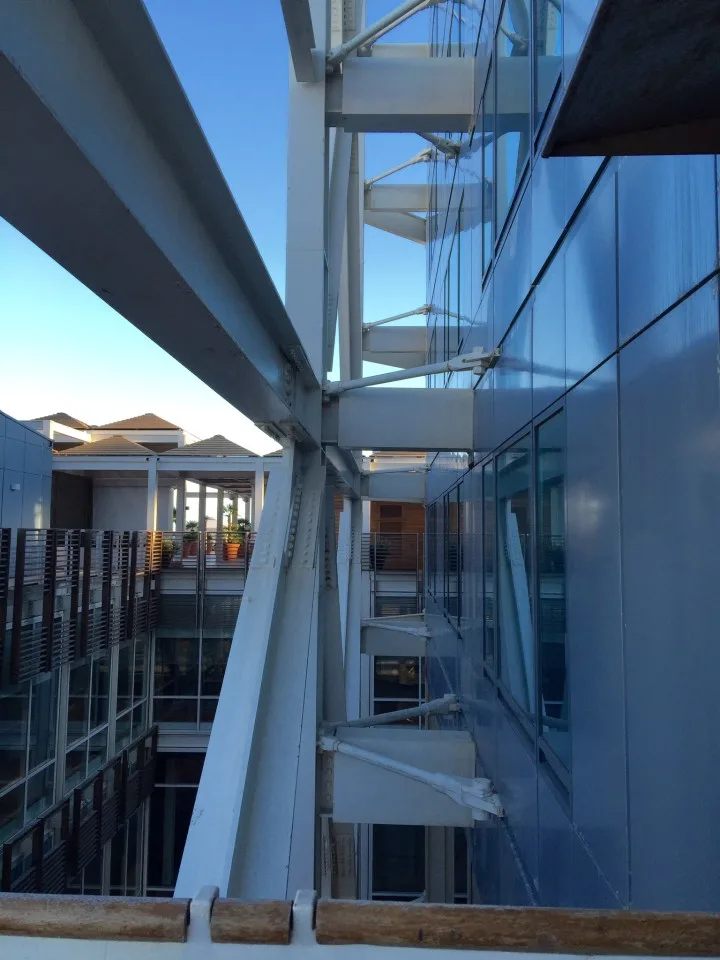 Once found, we were all relieved and they whisked me away to Level 33- the Club Floor, where I did a quick check-in and they showed me around. The young, but elegant Harry showed me to my room with breath-taking views of the city. He said my room was his favorite since it had two sweeping views, one of the city and one of the beaches along the Mediterranean Sea! How lucky was I to get this room.? Oh, and it is not really a room, but a suite that is modern in style and had an enormously fluffy, white king-sized covered bed for me to plop on! There were chocolates and other sweets waiting for me in the sitting area! The dark chocolate truffle one with gnash inside melted in my mouth!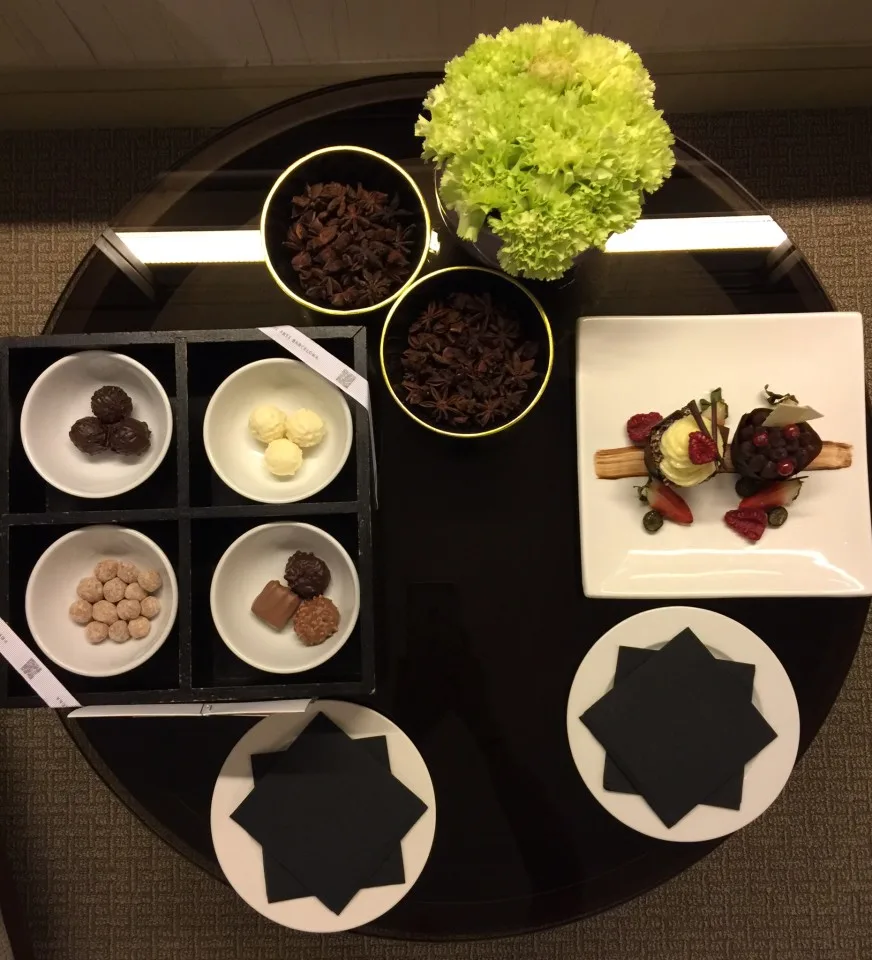 Harry also told me that he has been told that they have the best bathrooms in all of Europe and quite honestly, he may be right! Although I do seem to remember an amazing suite in Italy that can give it a run for its money! The bathroom is very spacious and has a separate power shower to die for! The jets come out not only from the top, but also from all sides, like a spa shower. It is awesome and will have you staying in there longer than normal! There is also a deep, jetted bath tub with Asprey toiletries that are regular sized and like none I have seen at any other hotel of recent recollection. (I managed to snag a wood brush, a back brush and a fingernail brush, as I asked and they are for the taking!)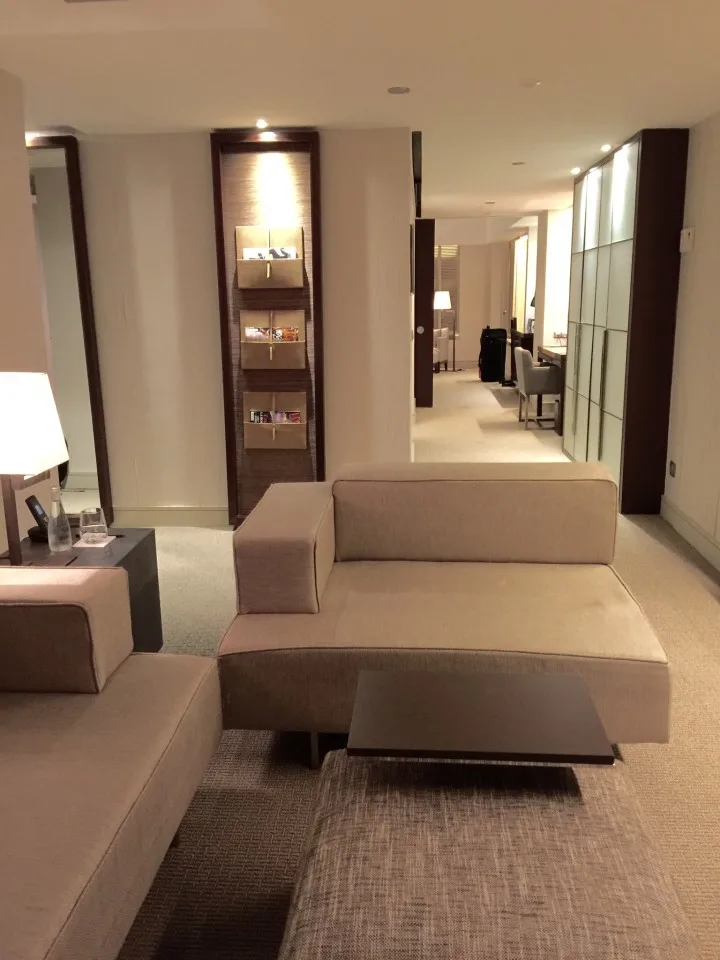 Soon enough, my husband arrived from 'the States' and they rang my room to let me knew he had was here. One thing I noticed about this hotel is their outstanding service; they never forget a single detail. I met my husband down in the Ritz Carlton Club Lounge so that he could have a light breakfast before he came up to our room.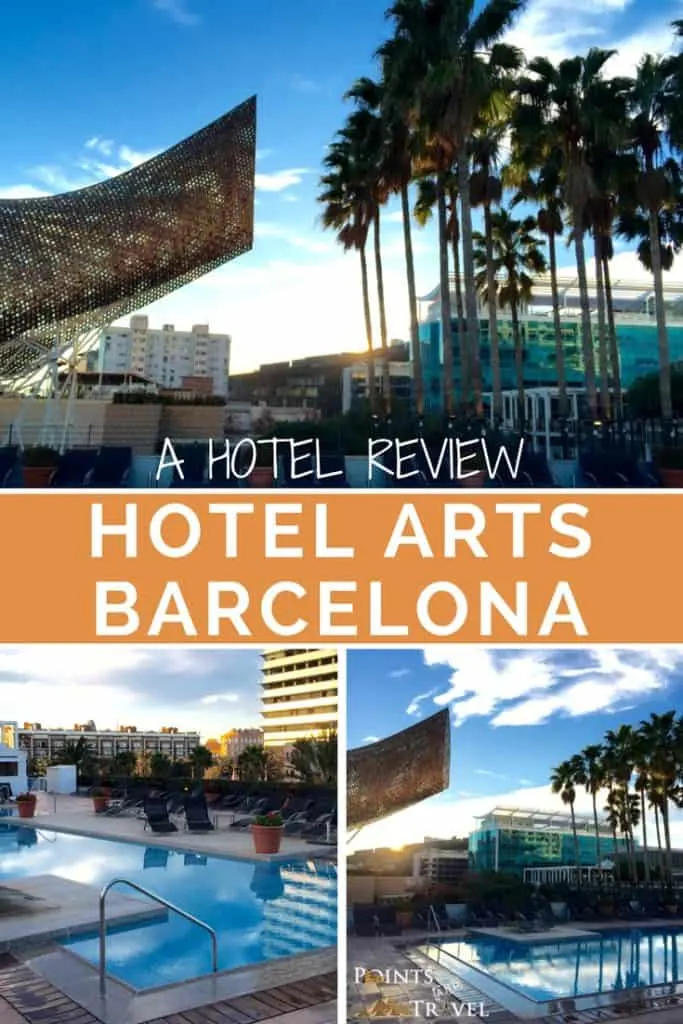 The breakfast spread was amazing and complete with an omelet chef. There was only one other couple there! The atmosphere in the lounge is quiet, nicely styled and relaxing. The staff is there waiting and watching to see what your next need may be! On the club floor, they serve 5 different meals per day: breakfast, light lunch, afternoon tea, evening hors d'oeuvres and late night snacks! Any time of day and late into the evening, if you are hungry or need a drink, they are here to serve you.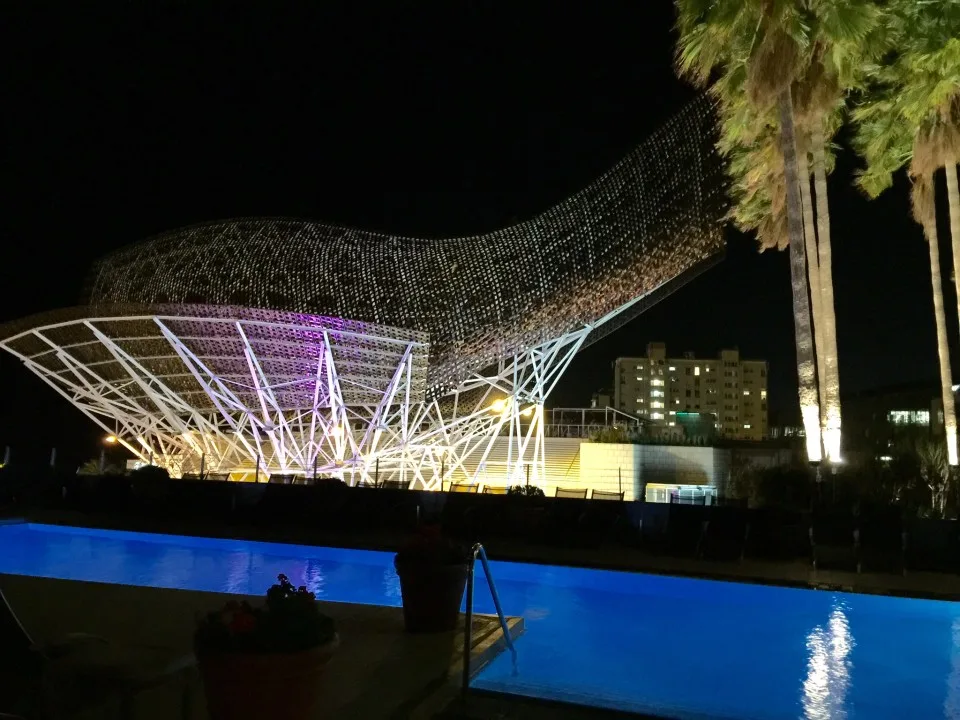 A great plus of staying on the club level is also that they have unlimited alcoholic drinks, as well as soft drinks, juices, lemonade, etc. Not only regular alcoholic drinks, but my preferred premium spirits, such as whiskey, vodka, brandy and gin as well as premium water, such as Evian and San Pellegrino are all available.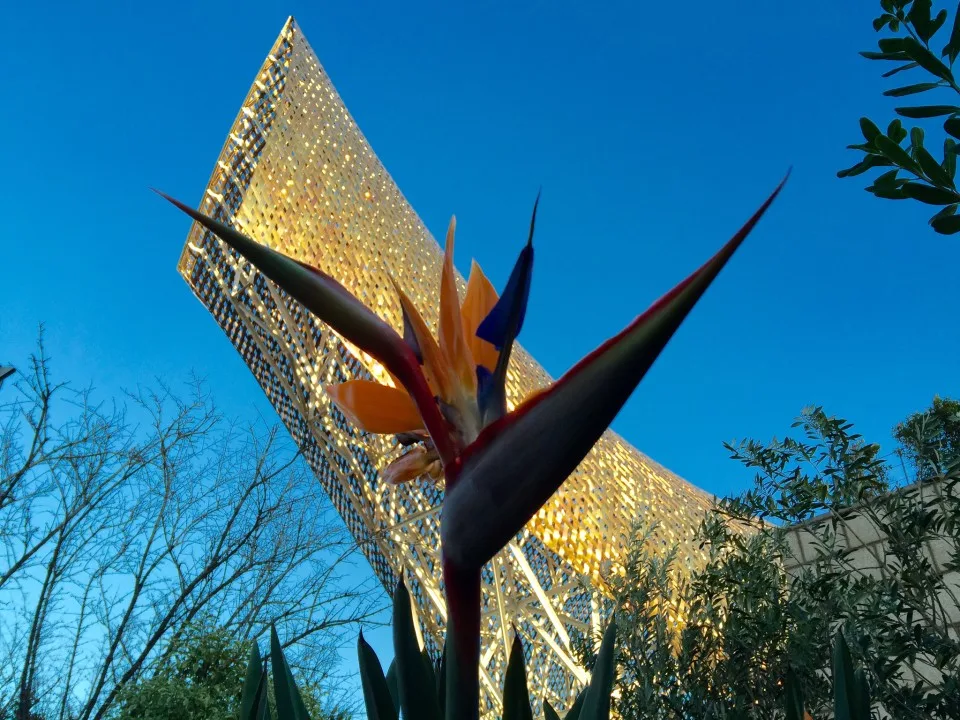 The next amazing thing about this hotel is its architecture! It must have been a dream in the designers' head for a long time before it came to fruition. It is not one of those gothic 13th century boutique hotels, yet instead it is a modern version of how Spain is today. I love both, but they are so completely different and this one actually shines due to this feature. Of course for me, my favorite part was the view from the pool! OMG! THAT VIEW!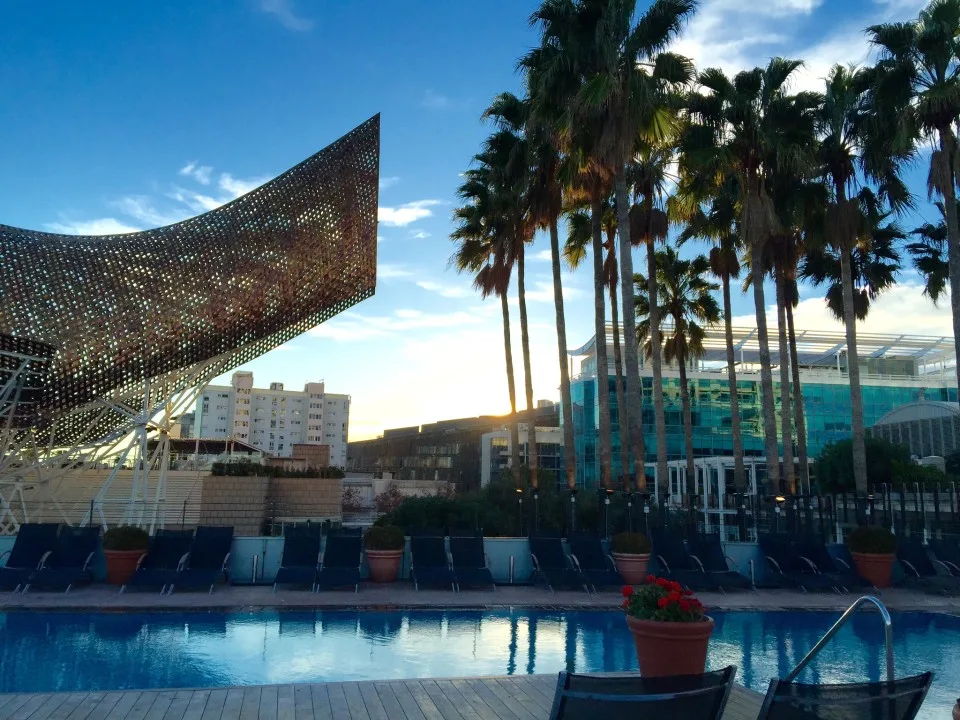 I walked around the property shooting from as many different angles as I could. The glistening gold metal would peer through my lens and make each shot better than the last. So what is that thing? Some call it 'the whale', the actual name is Peix in Catalan, by Frank Gehry. It is an art installation that was put on the boardwalk, and can be seen from several different angles, but for me, the views from the pool and the back of the Hotel Arts Barcelona are absolutely stunning! I couldn't take my eyes off the thing! I even laid down in the wrought iron rocking chaises on the green lawn grass under the palms, day-dreaming about how blessed I am to have made it to this very spot in my life.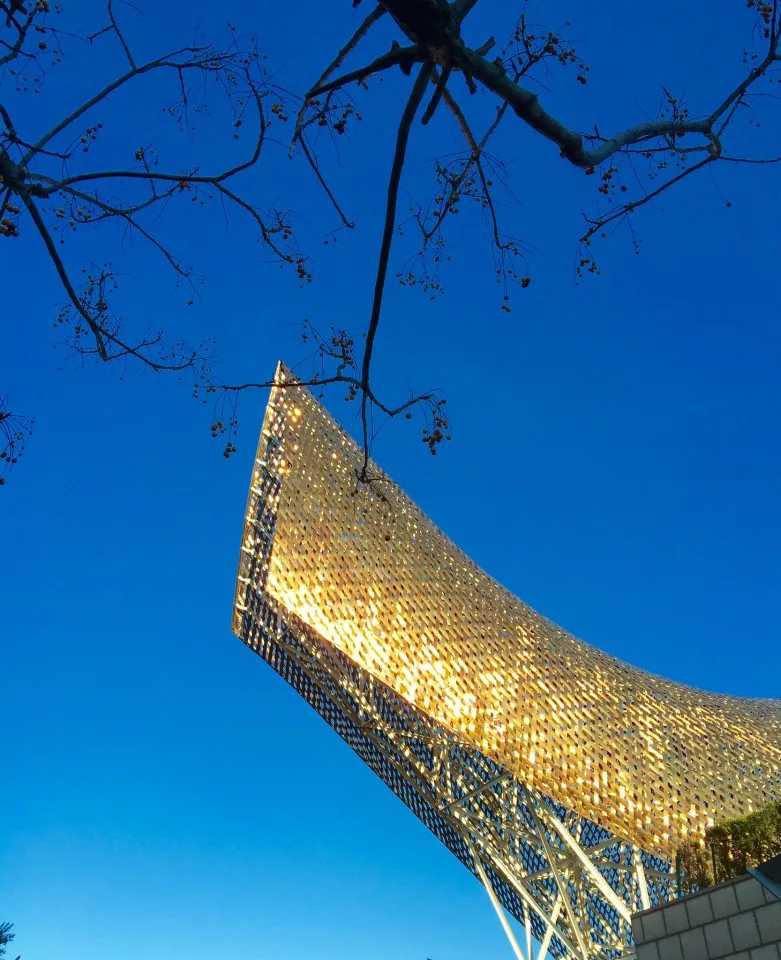 Hotel Arts Barcelona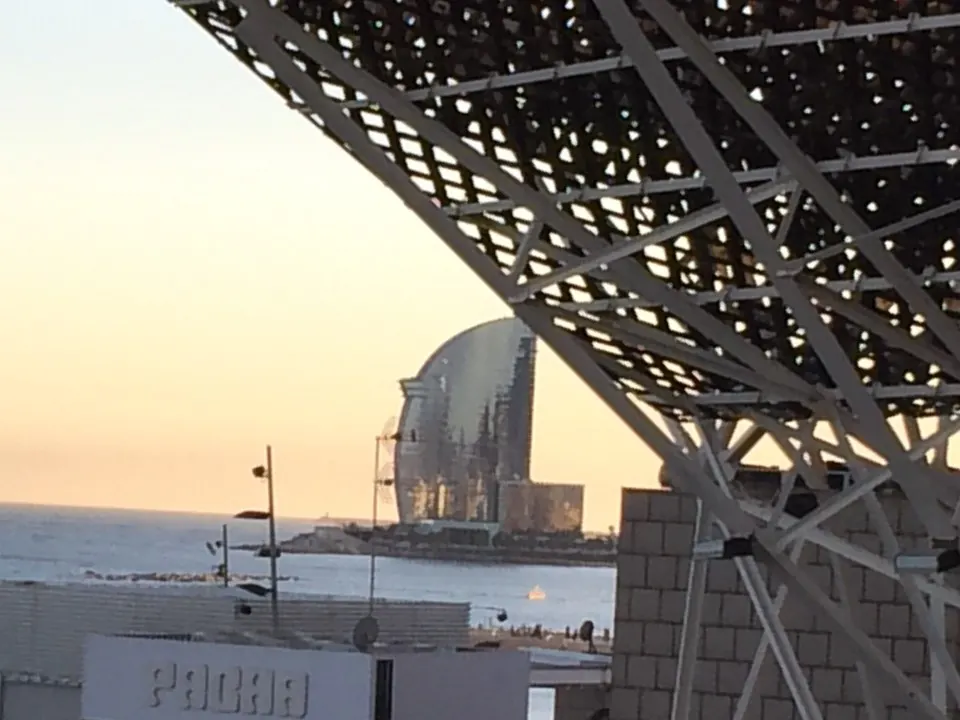 What: Hotel Arts Barcelona
Where: Marina 19-21, Barcelona, 08005 Spain
Rooms: 28 luxury deluxe apartments
TripAdvisor Rating: #41 of 519 hotels in Barcelona
$$$$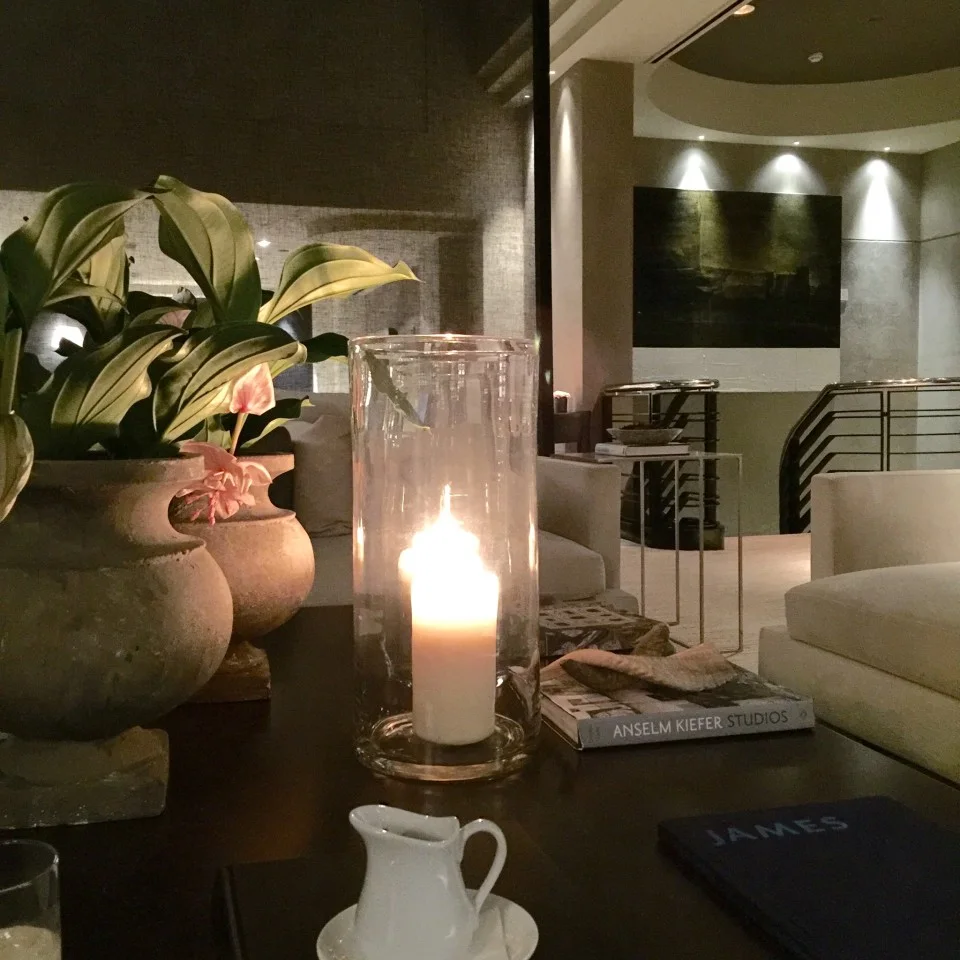 Disclosure: My visit to the Hotel Arts Barcelona was complimentary and sponsored by them.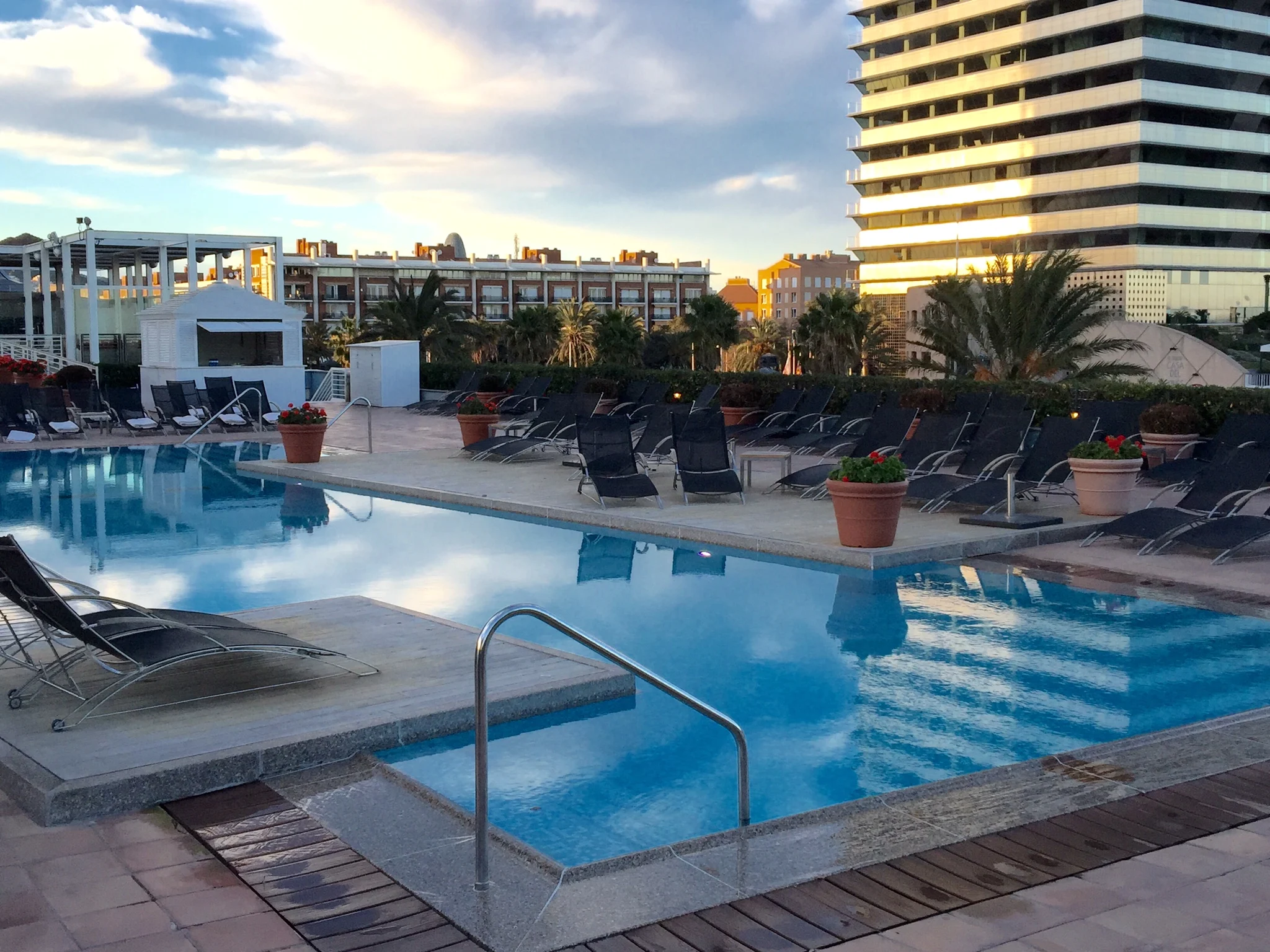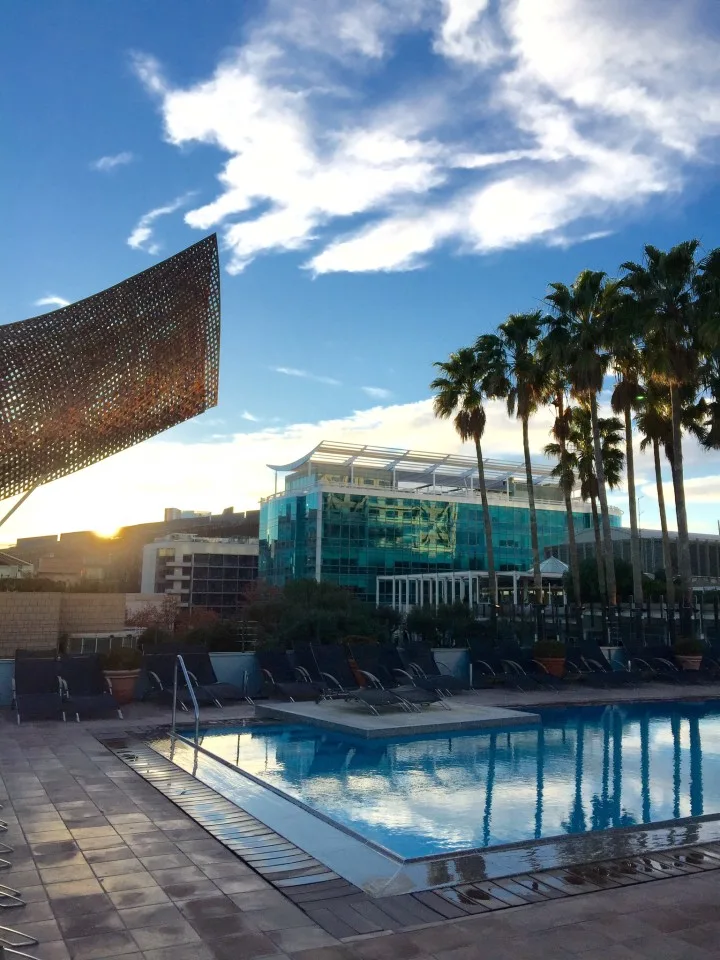 This place rocks!
Recommended Reading
Barcelona, Spain: Sweet and Salty at La Boqueria and Beyond
A Day Trip to Colonial Guell and Gaudi's Crypt
Exclusive Luxury Cava and Wine Tour In Spain
The Apples in Spain Fall Mainly on the Plain
A Tapas Pub Crawl in Palamos, Spain: My flamenco dance with food!
If you are following along in my series on Costa Brava, Spain (north of Barcelona):

Post #1: Costa Brava: Spain's Northeast Coast, getting there
Post#2: Girona, Spain: Diamonds Are A Girl's Best Friend
Post #3: So, you want to go to Spain's Brave Coast: Seaside LEstartit
Post #4: Medieval villages along the Costa Brava of Spain -Begur
Post #5 Where to stay in Begur: Hotel Aigua Blava
And more about Spain:
Salamanca, Spain and Its Small Luxury Hote: Hacienda Zorita