Update: Restaurant Benazuzu has been named the #4 Restaurant in the World!! As voted on by TripAdvisors' 2019 Travelers Choice Awards, which have just been announced. Calling it "Great flavors unique" and "Truly an experience"! This is GREAT news for Restaurant Benazuzu in Cancun, Mexico!
The mysterious drink appeared at the bar, sugar cane chunks immersed in a cocktail. The bartender instructed us to "chew the sugar cane to soak up the drink!" What a fun way to "drink a cocktail", by not actually drinking it, but chewing the juice out!
When foodies go on vacation, they dream about adventures in flavor. Things like culinary foams and gels, the kind used by creative and innovative chefs to make gourmet meals that are the ingredients of dreams.
This was just the beginning of THE most unusual culinary experience I have ever had in my life! Molecular gastronomy, have you ever heard of it? It is a sub-discipline of food science that seeks to investigate the physical and chemical transformation of ingredients that occur while cooking. (1)
Well, that is the "wiki" definition, but really it is a modern way to cook that involves lots of science-y things and focuses on the five senses to your meal. A lot of the things you taste look like one thing but then are really made out of something else. Your eyes are telling you are eating one thing, but in the end, your taste buds are telling you, you are eating something else entirely different.
So when taking a culinary tour in Cancun, Mexico, I had no idea what kind of treat (pun intended) I was in for when I had a chance to meet the chef of Benazuza, Rafael Zafra. He studied under the grandfather of molecular gastronomy, Ferran Adrià of the #1 Restaurant in the World: El Bulli in Spain and has two Michelin stars himself and is the master creator of Benazuza.
I even had a chance to dine at Benazuza for both breakfast and dinner on the same day and tried their tasting menu for each. Yes, that's right, an 18-course breakfast and a 26-course dinner. This is strictly for the professionals; so don't do this at home!
Breakfast
For breakfast, we had things like Mexican coffee: café de "olla", that was steeped in cinnamon and cloves before piloncillo (unrefined sugar that is pressed and tastes very similar to brown sugar with a molasses flavor ) was added. As well as various fresh juices – watermelon and hibiscus juice, grapefruit and guanabana with rosemary juice and orange juice. Then they brought out a spread of mango with chipotle chile pepper marmalade, strawberry with tequila marmalade and cream cheese jalapeños along with truffle and vanilla butter for spreading on tiny toasts.
Next up was fruit kabobs made of cantaloupe and watermelon with honey brochette and modena.
And then white chocolate yogurt with strawberries and white chocolate foam with citrus, a salmon and tomato volcano, and ham and cheese "sincronizada".
There was also a potato foam with beans that was rich and creamy.
Then a selection of baked goods with hot chocolate, but not the kind you drink around a campfire, more like real chocolate that is a liquid and pours out thick, rich, and dark.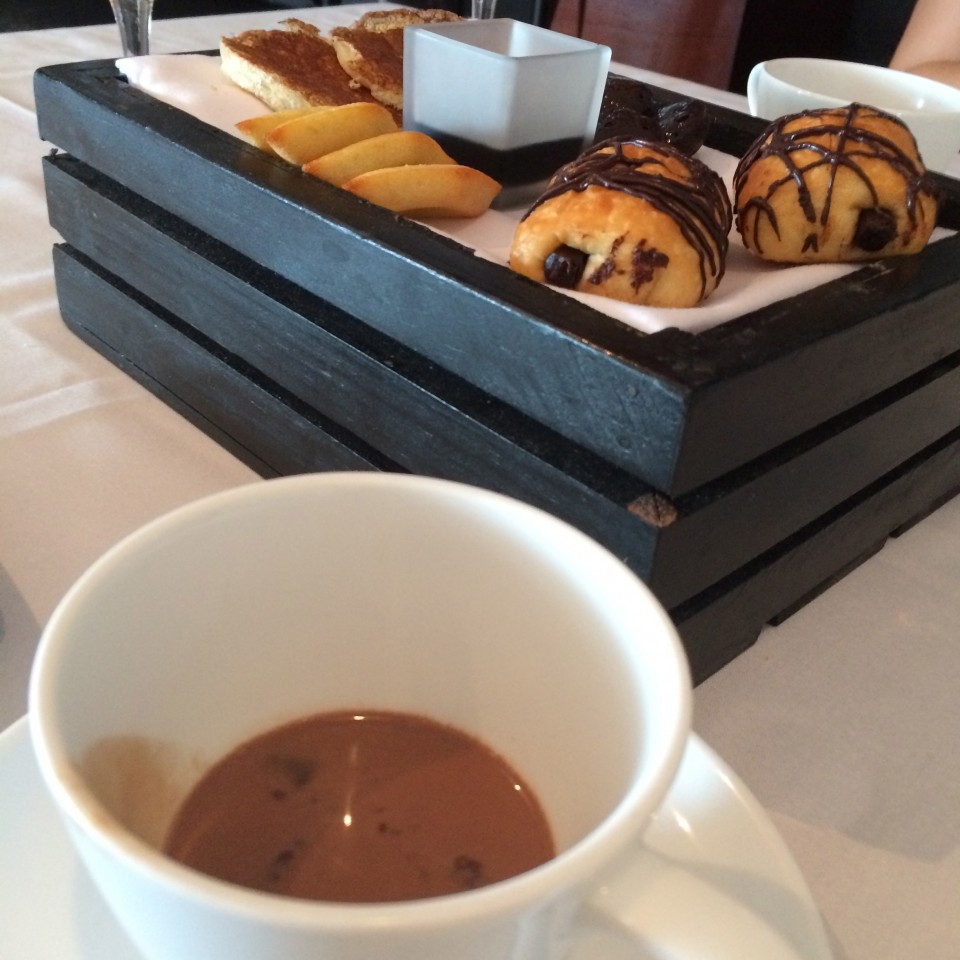 Benazuza, Cancun, Mexico
Bar – Cocktails with expert mixologists!
I had everything at the bar from an invisible margarita, to the sugar cane chew that I mentioned earlier to a cotton candy martini.
For the Invisible margarita, the shot is in the straw!
This course started at the bar with a total of 5 unusual, yet amazing drinks. I especially like the mezcal foam, which was creamy and served with "worms" (actually a clever way to serve it with a crispy snack), the type you see at in the bottle of a tequila or mezcal bottle.
Dinner
Starters –
You have got to see this to believe it:

As seen in the very beginning of the video, we were given a show of damiana sour and nitro, and I have no idea what it was, it was frozen with dry ice and then tasted like a sweet dessert to clear our palate.
Then on to a false popcorn snack made with sour cream
and "reef" snacks with edible sea creatures made out of puffed rice
and then a "piñata" that was crunchy and tasted more like caramel. The waiters struck the "piñata" with a spoon and inside exposed the mound of guacamole. So we tore off the piñata pieces and dipped into the "guac".
Tapas –
We also had tapas, that included baby corn with vanilla mayonnaise and an imposter baby corn that was really foie gras!
Next up was crispy rice treats covered in poblano pepper flakes (Pablano rice Kellogg's) then the waiter poured the chicken broth on top and the treats did the "snap, crackle, pop", we are all used to when having rice crispy cereal.
Main courses included a modern take on traditional Mexican food, like Benazuza fajitas, white asparagus with lemon and chicken mole.
And crispy tostadas with cream cheese and salmon.
As well as a "chef's garden" – a layer of breadcrumbs and microgreens on top which gave the appearance of grass and earth and veggies.
Now, I may have forgotten a course here or there, as there was so much to take photos of and actually enjoy the meal at the same time, so please forgive me!
What is a 26-course meal without a dessert?
We had three:
Pre Dessert –
Guanabana mollusk- "clam" that was really soursop jelly formed into the shape of a clam.
Dessert –
Maracuya Pinata – The sphere "pinata" made out of passion fruit ice cream and when cracked open with a wooden bat delivered berries and tiny, cut-up brownies inside, followed by a box of "fruits and vegetables", which were "cherries" filled with chocolate cherry mousse and "oranges" filled with orange cream.
And of course a shot of ?? but this time I lost count of what on earth it could be!
Wait? are those limes? They look like limes…
Nope, that is NOT a lime…
Other Things To Do In Cancun:
What to pack for Cancun? Flip flops and beachwear are a must, as it is hot! Here are some things to do in Cancun when you get there:
Here are a few other articles I wrote about Mexico:
San Miguel de Allende:
Step Back in Time: San Miguel de Allende
Zihuatanejo:
Zihuatanejo, Mexico: Unplugged Paradise
Stone Island:
Puerto Penasco, or Rocky Point:
Arizona's Beach: Puerto Penasco, Mexico
Disclosure: This culinary tour experience I was on was with the Cancun Convention and Visitors Bureau and hosted by Benazuza at the Oasis Sens Hotel.