Most tourists flock to Cancun, Tulum, and Playa del Carmen for their beautiful beaches. Although these are all in the state of Quintana Roo, more beaches are waiting for you to discover them. In fact, if you turn your attention to the Yucatan Peninsula, you will find more. What sets them apart from the top beaches of Mexico is that they are laid-back.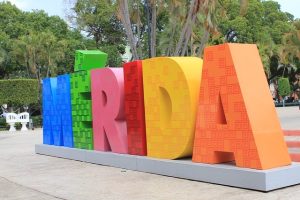 ---
Best Merida Mexico Beaches
in
the Yucatan Peninsula
---
---
What's even better is that these beaches are near the city of Merida. Merida is a great starting point for those who want to see more of the Yucatán Peninsula. In this town, you'll enjoy listening to live music while dining on delicious meals. You can even go shopping for souvenirs here too.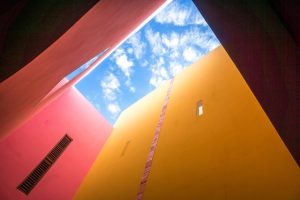 The best part is that public transportation is available to take you to the nearby beaches. From Progreso, which is the closest beach to the city, San Crisanto, and Celestun, you'll find more gorgeous beaches here that boast blue waters.
What are the Best Merida Beaches to Visit?
The closest beach that you can visit from Merida is Puerto Progreso Beach. This is a cruise port city that is a 45-minute drive from Plaza Grande, Downtown Merida, and Paseo de Montejo. Aside from that, there are several options that you can also add to your itinerary. Let's take a look.
#1 Progreso
Puerto Progreso is a popular beach among the locals because of its proximity to Merida. Since it is a cruise port city, when there are more ships at the dock, it means that the area will have more tourists on that day. Aside from that, this is the most developed among Merida and the rest of the Yucatan beaches. This is why there are a large number of ex-pats not just in the United States but also in Canada who are living here.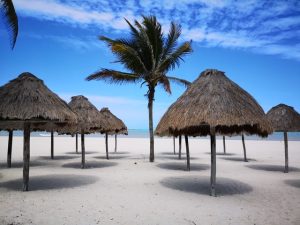 Aside from visiting Progreso Beach, there are other activities that you can do here. For example, you can explore the Malecon to get something to eat and to see what this town can offer you. Also, you can visit Progreso Beach clubs so you can lounge in one of their chairs by the beach. The town of Progreso has several shops, diners, and bars to satisfy your tourist needs. In addition, you will find the world's longest pier here too.
Another activity that you can do here is to visit the El Corchito Ecological Reserve. You can reach this by riding a boat that will ferry you to Raccoon Island. There are two cenotes here that you can swim in while raccoons pass you by. The cheapest way for you to reach Progreso is to catch the Auto Progreso bus from Merida. From the bus stations, you can make your way to the small islands nearby where warm water and pristine beaches meet.
#2 Chelem and Chuburna
Chuburna is the westernmost beach that you can reach through Costa Esmeralda. It will take you 20 minutes to half an hour from Progreso to get to this small town. Aside from that, you will find that there are plenty of ex-pats living here. This is a sleepy town which suits those who want to enjoy the beach to themselves. One of the highlights of Chuburna is the Playon Las Dunas. You can take a walk on the beach dune while admiring the scenery. Keep an eye out on sea turtles making their way here at night to lay their eggs.
While you are in Chuburna, you can also take a short drive to nearby Chelem. Although it has more people living here, it is still a small town worth exploring. In fact, you will love the tranquil beach that you can swim in. You can reach these towns via a rental car or by taking the Auto Progreso bus. You can then ride an Uber or taxi to get you to either destination.
#3 Sisal
For those who are looking for a quiet beach in the state of Yucatan, you can head out to Sisal. This "pueblo magico", or magic town, has white-sand beaches, a pier, and a few bars and restaurants to dine in. You can rent a beach chair from the local restaurant. So you can sit back and relax while waiting for your food.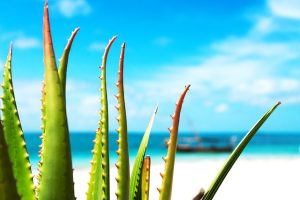 Sisal is a good option if you are planning a day trip around Merida. The best way to reach this location is by renting a car. You can also opt to ride a "colectivo" as this is a small van that can be uncomfortable for some.
#4 San Benito
Drive past Chicxulub Puerto and you will reach San Benito. It is one of the upscale beaches that you will find in Merida and the Yucatan state. Additionally, it is a bit far from the crowded beaches of Progreso. This is why it is one of the best places to unwind. However, it is not too far. That you will be able to reach the town and experience the nightlife.
#5 Chicxulub Puerto
Chicxulub Puerto is 8 km from Progreso which is worth visiting. The name of this quaint town may sound familiar to you. Well, it is here where an asteroid hit the earth millions of years ago. It left behind a large crater that led to the formation of cenotes in the Yucatán state.
Aside from that, the main attraction here is the huge stretch of beach. The best way to access the beach is to rent a beach house nearby. Meanwhile, scores of ex-pats are making this town their home which is not surprising. After all, waking up to the sound of waves is not a bad experience
#6 Celestun
One of the best Merida Mexico beaches that locals and tourists flock to is the small village of Celestun. However, this is the farthest from Merida but worth the trip. After all, the biosphere reserve that you will find here is a must-see. Also, there are thousands of pink flamingos that stay here which is an attraction on their own.

Celestun is one of the cleanest beaches that you will find in Merida. It has a stunning white-sand beach. Plus it is facing the west making it a good spot to see gorgeous sunsets. Also, it is not as busy as Progreso. So you can enjoy the ebb and flow of tourists visiting the beach.
The good news is that there are Celestun buses that you can ride from Merida. The trip will take around 2.5 to 3 hours so you might want to spend a day here. This way, you will not feel rushed.
#7 Telchac Puerto
Telchac Puerto is a quiet fishing village that is near a number of beaches. First, there is the San Bruno beach which is a stretch of beach that gives you easy access to the ocean. Although there are plenty of private residences and gated communities blocking access to the beach. There are ways around this. You can go off the main road and drive along the beach road until you see the entrances. Some areas will give you access to the public beaches here too.
Second, you can visit the Mayan ruins at Xcambo. The entrance fee is only $4 and you will be able to explore the beautiful archaeological sites at your leisure. If you are not able to visit Chichen Itza, which is a UNESCO World Heritage Site, this is a good alternative. This is the perfect place to satisfy your need to explore ancient ruins that are in good condition.
Afterward, you can head to the Reserva Ecologica Sayachultun which is on the lagoon side. One of the best things to do here is to ride one of the small boats that will take you around the lagoon.
#8 El Cuyo
For those who are tired of the overpriced beaches in Riviera Maya, make your way to El Cuyo. This is one of the most beautiful Yucatan beaches that you'll enjoy. Unlike other nearby beaches, the facilities available give it a touristy vibe to the place. The miles of beaches here are perfect for various water sports. You can go swimming, kayaking, paddleboarding, or just sunning yourself on the beach itself. Also, you can make your way to Las Coloradas where the pink lakes draw the tourists.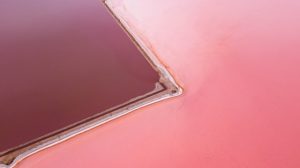 #9 San Crisanto
Another great place that you can visit near Merida is San Crisanto. This little village boasts colorful homes that are in the main square. Aside from that, there are boat tours that will take you around the lagoon to see some wildlife. Although the beach itself is not spectacular like the others, you will still enjoy the clear waters here. There is an entrance fee that will let you access both the beach and the restroom.
#10 Pig Beach
Have you ever wondered what it is like to swim with the pigs? At Playa Cochino, you will enjoy this unique experience. There is not much to see here except for the pot-bellied pigs that are let out to swim from time to time. If you are lucky, you can even get to carry one of them during your visit. Aside from that, you can grab a bite to eat at the nearby Playa Bonita Restaurant & Beach Club.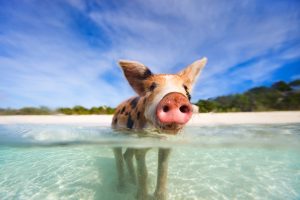 #11 Dzilam de Bravo and Santa Clara
These are the last beach towns that you can reach before the road ends. Tourists who love to go off the beaten path will love these places. For starters, there are great seafood restaurants where you can have lunch in. Dzilam de Bravo is just a half an hour's drive from San Crisanto. It is after Santa Clara which is a small fishing village on the Yucatan coast.
From here, you can take a two-hour boat ride to Ojo de agua where you can go swimming and sightseeing. Although there are no beaches here, the place itself is magical especially since there is plenty of wildlife too.
#12 El Palmar State Reserve & Beach
This ecological reserve remains untouched making it a great destination for tourists. It lies between Celestun and Sisal. Tourists who want to be close to nature should take advantage of the eco-tourism in this area. After all, you have a beach on one side and an eco-reserve on the other side.
El Palmar has plenty of mangroves that became the home of different species. The good news is that it is an easy drive from Sisa and Celestun. However, you should opt for a four-wheel drive when heading out here since the road can be slippery at times. If you are not confident behind the wheel, just stick to the beach where you can relax and swim instead.
#13 Uaymitun
Uaymitun Beach is another option to consider if you are looking for the best beaches near Merida. You will find this beach next to San Bruno. What you'll love about this place is that it has the nicest homes on the entire Coast of Esmeralda. Fortunately, these beachfront homes are for rent so you can book a stay in one of them. You will need a rental car to get around here since there is not much public transportation to use.
Things to Do in Merida
Aside from visiting the beautiful Gulf of Mexico beaches near Merida, there are other activities that you can do here as well.
Explore Centro Historico
Centro Historico is the largest city in Merida where you will find plenty of colonial buildings that are still standing. This popular location is home to the Plaza Grande, the Palacio de Gobierno, and the Catedral de San Ildefonso. Aside from these structures, you can also take your time to visit the popular art museum in the city too. This is the Museo de Arte Popular de Yucatan.
There is more to see and do in the city center. The best time to do this is early in the morning so you can visit more of these tourist hotspots. From the center of town, you can make your way to the local markets for some local experience.
Visit Gran Museo del Mundo Maya
This is the largest museum that you will find that is close to Progreso. Aside from that, it is home to plenty of artifacts that came from the Mayan civilization. In addition, the design of the museum is art itself. It is similar to the ceiba or sacred tree that connects the living to the heavens and the underworld. Aside from that, the museum has a free light-and-sound show at night. You can also find a small museum in other areas near here.
Go on a Day Trip to San Miguel de Allende
If you have seen the best beaches in Merida but would like to explore some more, you should visit San Miguel de Allende. This is one of the beautiful places you'll find near Mexico City that you will fall in love with. It is a charming town that boasts colonial architecture. One of its popular structures is the Parroquia de San Miguel Archangel.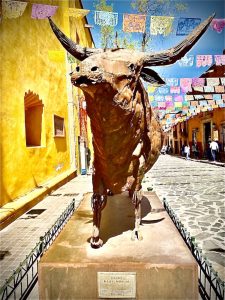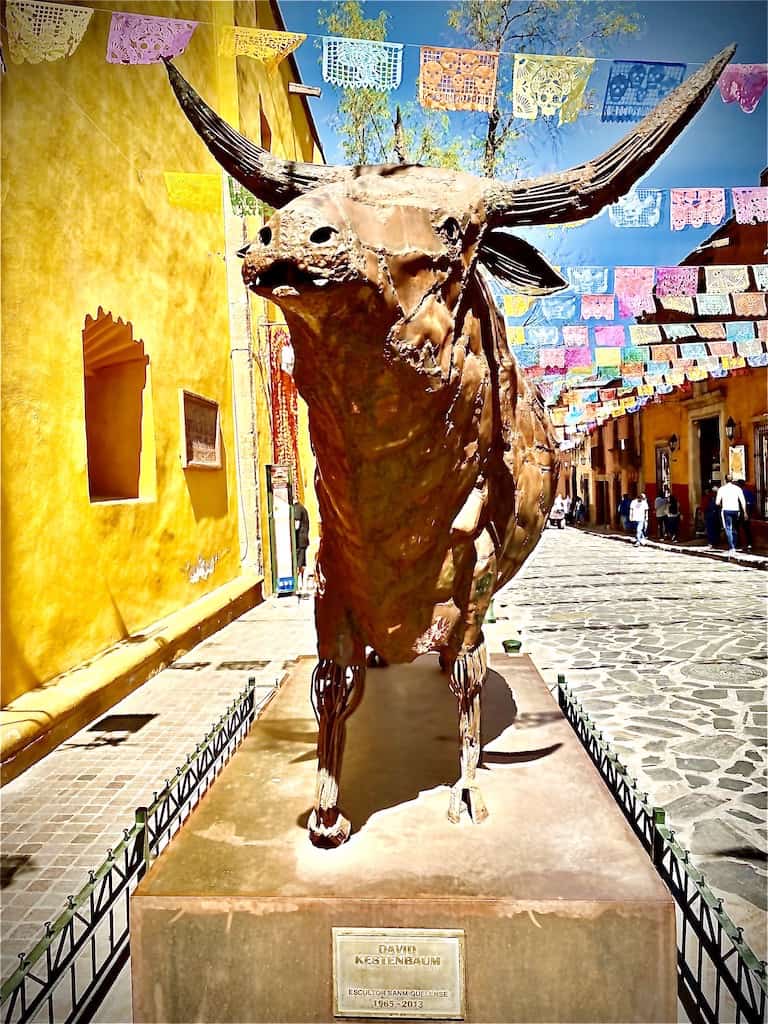 Swim in Cenotes in Santa Barbara
Aside from the famous beaches near Merida, you can also add swimming in cenotes to your bucket list. These cenotes are ideal for families because of the safety measures installed. Aside from that, swimming here is a great experience. You can even take numerous photos to remember your time in the cenotes.
Wrap Up
If you are looking for a good place to stay in Mexico that is far from the crowd, Merida is a good option to consider. Aside from having easy access to the main bus station, you can also use a rental car to get around. In addition, you can buy your essentials from a convenience store nearby while checking out the best restaurants to eat from. Don't forget to try the one that you can pair with piña coladas while you are here.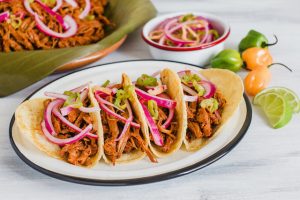 If you are like other ex-pats who want to take root here, the White City real estate is a good place to start. Make sure that you consider these places on your next trip to Mexico. Who knows? You might find yourself staying here longer because of the beauty that you have yet to witness.