The country of Mexico has gifted the world with many wonderful things such as archaeological sites, chocolate, tacos, Salma Hayek (the actress, obviously), and beautiful beaches. This small part of North America is home to more than 130 million people and welcomes millions of tourists per year. It is no shock that most of the tourists visit Mexico for its stunning beaches.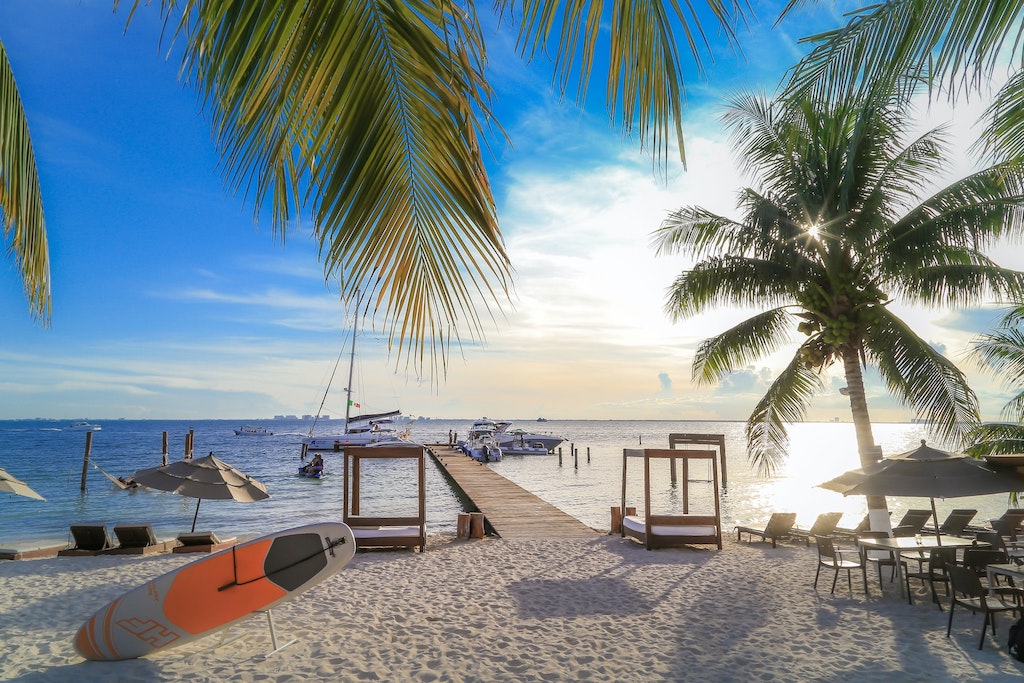 ---
What's in this post:
hide
Best Beaches in Mexico
---
---
More than 400 beaches line the Mexican coastlines and more than half of them are popular destinations. Mexico has close to 6,000 miles of coastline that is surrounded by the Caribbean Sea, Gulf of Mexico, Gulf of California, and the Pacific Ocean. To be honest, one can visit almost any beach in Mexico and fall in love with the spectacular views and warmth of the Mexican atmosphere.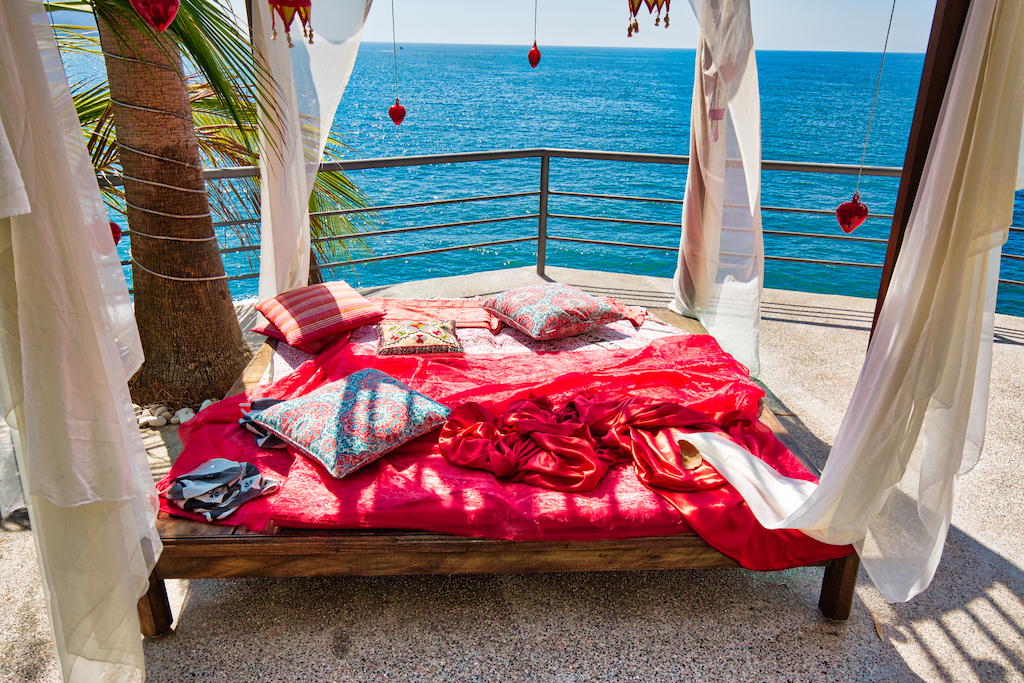 Best Time to Visit
Alright, so in theory, there is no bad time to visit Mexico. Depending on what you enjoy doing and seeing, Mexico is a great time to visit any time of year. Each season celebrates new beginnings, festivals, and events. The summertime brings forth hot (and humid weather) along with the hurricane season. Although the spring is warm and dry, there are way too many tourists on a Spring Break vacation.
With that being stated, visiting Mexico as a popular beach destination means that it is best to visit during the end, like fall or winter. January is one of the best months to visit Mexico because the weather is pleasant, the large crowds have subsided, and you can get great rates on inclusive resorts, hotels, and flights.
How to Get There
There are several ways to get to the beautiful tropical destination known as Mexico. The first and most obvious is via plane. Flying to Mexico is one of the fastest ways to touch down in any region of Mexico. Other ways to travel to Mexico include cars, buses, trains, and cruise ships. Most people choose to spend their summer vacation on a cruise ship that travels around the country of Mexico, which allows them to visit gorgeous beaches.
Keep in mind that airfare is especially high during the holiday seasons (Easter, Christmas, New Year's). If you are lucky enough to play around with your travel dates, then you can get really great deals.
Best Beaches

in Mexico
#1 Akumal Beach
One of the best-kept secrets along the Riviera Maya is the charming Akumal Beach. The name of this beach literally translates to "Place of Turtles" and that is exactly what you will see at this beach. Aside from the turquoise waters, this beach is littered with sea turtles. Most tourists love to go on a snorkeling adventure with this marine animal. This stunning beach offers 3 miles of pristine white sand, crystal clear waters, and charming huts. If you want to go on a quick adventure nearby, then I recommend visiting the Cenote-Ik-Kil.

#2 Cabo San Lucas
Cabo San Lucas is a tourist destination that is strung together by inclusive resorts, private villas, gourmet restaurants, and beautiful beaches. Within Cabo San Lucas there are at least 10 spectacular beaches that one must visit.
Some of the sandy beaches of this sparkling resort town include Chileno Beach, Playa del Amor, Bay of Cabo San Lucas, and Santa Maria Beach. Chileno Beach has easy access and offers many boat tours from the San Lucan Marina. A mile from Chileno Beach is Santa Maria Beach. A good reason to visit this beach is to admire the blue water and the natural cove that sits beside the granite rock formations.
The Bay of Cabo San Lucas is one of the main beaches of the area and can get quite crowded. This is a super relaxing beach to visit and offers services from paddle boarding, dance clubs, and swimming. Just be aware of the rough waters during the rainy season. The Playa del Amor is a charming hideaway beach. This beach is an ideal place to let loose and strip down to your birthday suit (literally).
#3 Cozumel Island
Cozumel Island sits off the coast of the Yucatan Peninsula in the Caribbean Sea. It is best known for its shallow waters, plus its toadfish, blue land crabs, and coral reefs. The great barrier reef of Cozumel Island is one of the main reasons that tourists flock to the island. The coral reef in Cozumel Island is home to hundreds of marine life, hard and soft corals as well as black corals. Most of the coral reef is located in underwater cliffs and near the Cozumel National Park.
#4 Isla Holbox
If you haven't guessed it yet, the Isla Holbox is an island off the coast of Mexico. It is roughly two hours north of the Cancun beaches. The weather from January to April is absolutely perfect to visit. Some of the favored activities you can enjoy are swimming, snorkeling with the whale sharks, lounging in a sea hammock, and sunbathing.
Restaurants on this island offer fresh food and yummy traditional dishes. Budget-friendly restaurants to eat at include Las Panchas, Arte Sano, and Antojitos Abuleo Tom. Las Panchas is a traditional Mexican restaurant located in the island center that serves up fresh seafood accompanied by live music.
#5 Isla Mujeres
Isla Mujeres is truly a tropical paradise island nestled in the heart of the Caribbean. In recent years, this island has been developing new resorts and offering more activities for tourists to engage in. For example, tourists cannot get enough snorkeling with the whale sharks.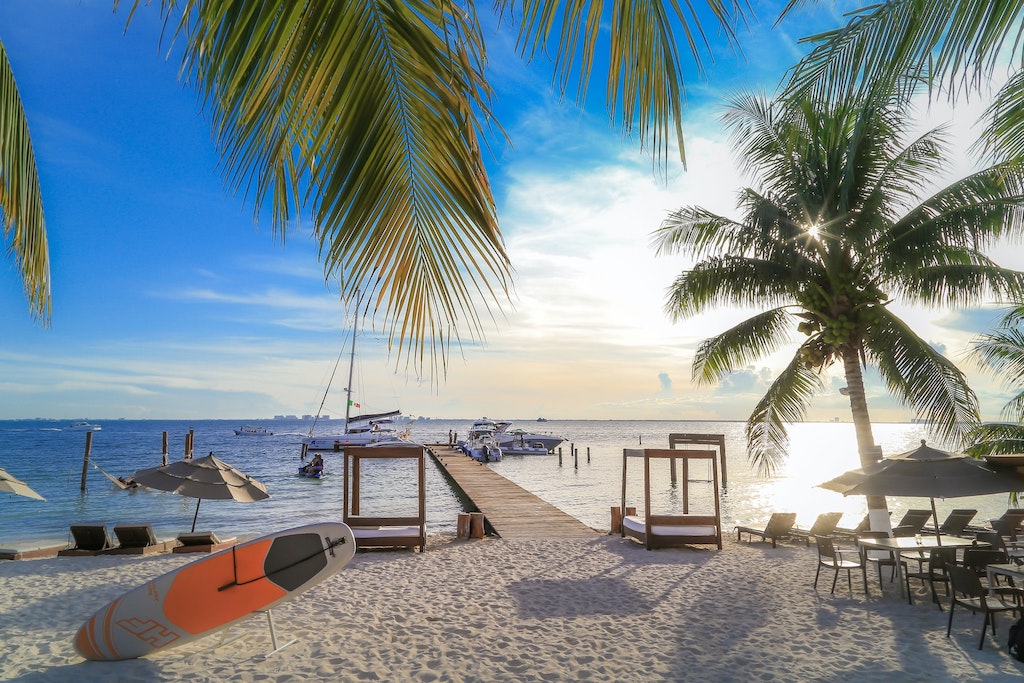 Plus visiting the pristine beaches, including Playa Norte. Although this small island does not have epic buildings, large entertainment venues, or ancient ruins, it is home to the gorgeous Playa Norte. This beach has the whitest sand on the island and is a great place to admire a breathtaking sunset. For those of you who are looking to add something more to your beach trip, then I suggest heading into town in a golf cart. You can admire the street art of the island as your golf cart bounces up and down on the cobblestone streets.
#6 La Paz
When heading to the Baja Peninsula, there is one spot you cannot miss visiting, La Paz. This area is the perfect spot for those on a family vacation as well as singles. Some of the beaches located in La Paz include El Coromuel and Playa El Tesoro. The best time to visit this city is between October and May.
There are so many wonderful activities to participate in while in La Paz and let's explore some of those activities. Tourists and locals alike love to enjoy sea kayaking on the Sea of Cortez. The crystal-clear and calm waters of La Paz make for the perfect spot to admire the marine life as you kayak your way through the area.
One of the best things to do in La Paz is to visit the sea lions at Espiritu Santo Island. Obviously, you cannot miss out on the chance to visit the best beaches in La Paz, including Playa el Tesoro, Balandra Beach, and Ensenada Grande. Another activity that tourists enjoy in this Baja California beach town is paddleboarding along the Sea of Cortez. Click here to find tours and excursions to your liking at La Paz.
#7 Playa Carrizalillo
Located in Puerto Escondido, the Playa Carrizalillo is the second most popular beach in Puerto Escondido. This beach is less crowded than the main beach. But thanks to its stunning palm trees and gorgeous coastline view, it is actually number one on my list.
I recommend buying a pool water float (flying mattress) and lying atop it as you float around the crystal-clear water of Playa Carrizalillo. Just make sure you have plenty of energy because the quickest way down to this beach is walking down the 100+ stairs. But don't fret about the stairs because once you step foot onto the beach you are sure to admire the warm sand, beach huts, and stunning view. For a small fee of 200 MXN, you can rent lounge chairs and a beach umbrella to shade yourself away from the bright sun.
#8 Playa del Carmen
Along the Caribbean Sea is the charming tourist city of Playa del Carmen. This city is a popular tourist destination for the PGA golf tournament. As there are plenty of golf courses around the city. Thanks to its location in the Riviera Maya, there are several inclusive resorts that are lined with beautiful beaches.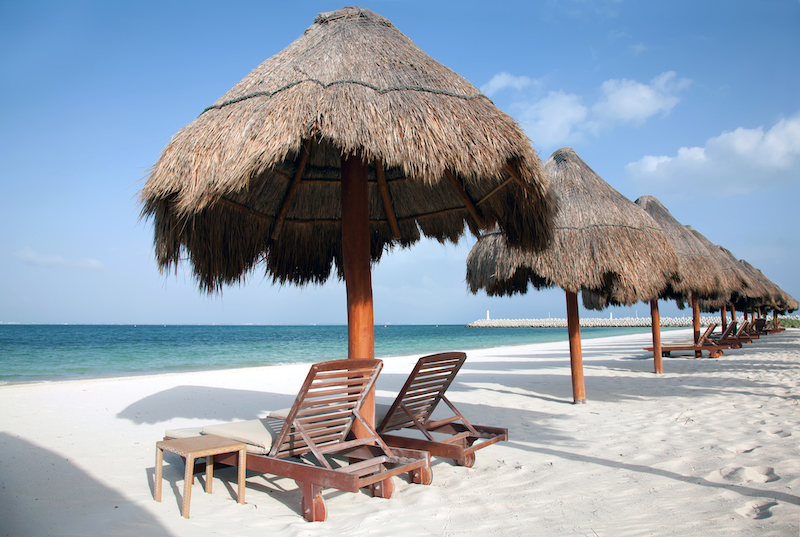 Locals and tourists alike jump at the chance to take a photo under the Playa del Carmen Arch at the most iconic beach of the town, Parque Fundadores. This beach is fully equipped with lounge chairs, a volleyball court, and a food stand. Young adults are sure to enjoy their time at the Calle 10 beach. This is one of the best places to listen to live music, dance at the club, and stick your feet in the white sand.
The white sandy beaches of the Coco Reef are nestled under the palm trees of this little gem. This beach is located on 48th street and it is a secluded place to get reconnected with a special someone. Calle 2 beach is one of the famous beaches in Playa del Carmen. Thanks to the daily games, splendid beach and restaurants, families, singles and the elderly take pleasure in visiting this beach.
#9 Playa Delfines
One of the cleanest and lovely beaches in Cancun is Playa Delfines. This beach was awarded the Blue Flag in Mexico, which means that it is clean, well-maintained, relaxing, and filled with shopping facilities. This beach and its water are well maintained all year round and offer a romantic and beautiful atmosphere.
#10 Playa la Ropa
Playa la Ropa is located in the Zihuatanejo area and was voted Travelers' Choice Best of the Best in 2021. The water at this beach sparkles like an emerald and is the largest beach in the area. It is one of those beaches where you can lounge around, go jet skiing and swimming but it is not so good for snorkeling. As you swim in the emerald-colored sea, you will notice the tropical fish swimming around your feet. This beach is bordered by restaurants and is a 10-minute walk from Playa Madera.

#11 Playa Las Gatas
Another beach in the Zihuatanejo area is the Playa Las Gatas. This beach is named after the nurse sharks, which once swam in and around this beach (they are no longer visible). Thanks to the amazing rocky caves and coves, this beach is perfect for snorkeling and exploring the coastline.
#12 Playa Zicatela
Located in Puerto Escondido is Playa Zicatela, which is almost 2 miles of stunning beach. Thanks to the amazing waves and currents, this is the perfect spot for surfers. According to the local surfers, the best waves can be caught at the north end part of the beach. Honestly, this is not the best beach for swimming or newbies looking to catch a wave. It is best you either surf your heart out or eat at the nearby cafés and restaurants.
#13 Puerto Morelos
A great place to purchase real estate in Mexico is in Puerto Morelos. You can rent or purchase a charming bungalow, house, or lot in this charming area. What was once a sleepy fishing village has now turned into a hospitable and viable place for tourists to explore the Riviera Maya. This town straddles the Caribbean Coast and the Mesoamerican Reef captures the beauty of this area as well as the marine life. Puerto Morelos Beach offers tourists calm water, a big beach for swimming, snorkeling, and even boat tours. If you are lucky, a local fisherman might take you on a tour of their deep-sea fishing sites.
#14 Puerto Vallarta Beach
Horseback riding, riding on jet skis, kicking it scuba divers, and sailing are just a handful of the activities one can enjoy at Puerto Vallarta Beach. This beach is a great place to get away from the business of Mexico City or the Mayan Ruins. There are many protected coves in the area that allow for deep-sea fishing and watching the sunset. Puerto Vallarta Beach has one of the best views in Mexico because it has the beautiful backdrop of the Sierra Madre Mountains.
#15 Punta Mita
There are many luxury hotels in the Punta Mita area, which is located at the northern end of Banderas Bay. Visitors of this fishing village have experienced wonderful activities and among them include swimming at the Playa El Anclote, surfing at Punta Sayulita, horseback riding, and mountain hiking. I recommend sailing, diving, and whale watching at the El Anclote beach.
#16 Riviera Nayarit
The Riviera Nayarit has over 200 miles of Pacific coastline for tourists to visit. In recent years, this area has become a new place for tourists to go on an exotic vacation and explore the mountain peak and natural beauty of the area.
#17 San Jose del Cabo
The beaches at San Jose del Cabo are quite beautiful but not all of them are meant for lounging and swimming. Due to the heavy and strong currents of the Pacific Ocean and Sea of Cortez not all beaches are safe to visit. I recommend visiting Costa Azul Beach, which is a surfers paradise beach. There are also plenty of restaurants and hotels such as Cabo Surf Hotel that may interest many people.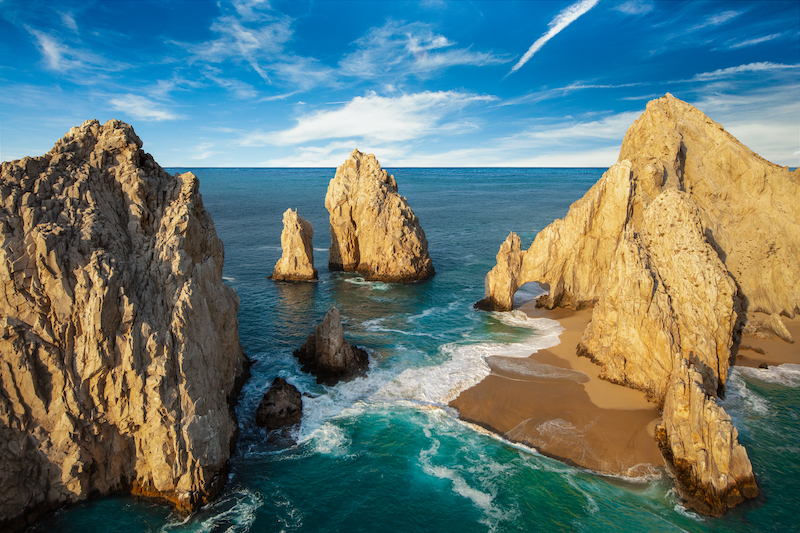 Another stunning beach to visit is the La Playita. This is one of the smaller beaches in San Jose del Cabo but it offers activities such as swimming and fishing. Just remember to bring your own food because there are no restaurants or food stalls nearby.
Super Bonus Tips You Need to Know
Since I am in the sharing mood, let me share with you some tips to make your Mexican vacation more memorable.
#1 Always Carry Pesos!
It is important to carry Mexican pesos with you because not all places accept credit cards. This is especially true at many beach towns and little beach shacks. It would be a total mood killer for you to be enjoying a day at the beach but couldn't get any food or drinks because you didn't bring cash!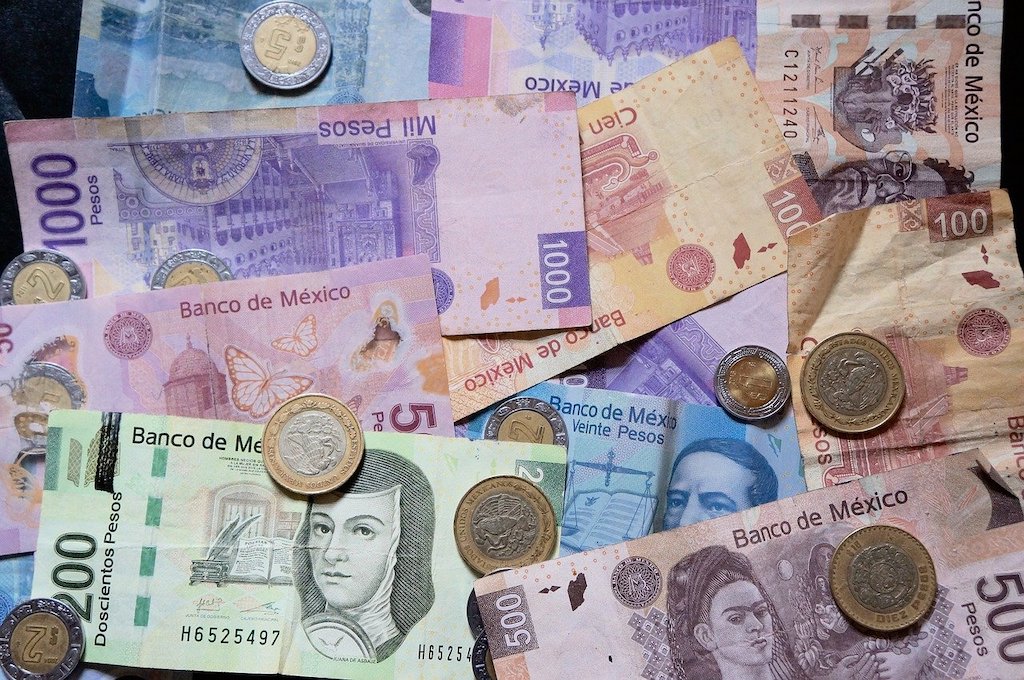 #2 Learn Some Spanish!
You might know how to say simple words like, "Hola", "Muy Bien" or "Gracias". But it would definitely come in handy to know phrases like, "How much is it? (Cuanto cuesta?), "Where is…?" (Donde Esta…?) and "I don't speak Spanish. Do you speak English?" (No hablo espanol. Habla usted ingles?).
#3 Do Not Overpack!
I recommend packing light and versatile items for your tropical paradise vacation. Pick your favorite outfits, bathing suits, and comfy shoes. And make sure you have plenty of room to bring home Mexican souvenirs.
#4 Drink Bottled Water!
It shouldn't come as a surprise to many people that drinking tap water is out of the question. It is more like a rule than a tip to only bottled water and avoid tap water at all costs. Due to the lack of plumbing and other factors, the tap water is not purified so it can make you sick.
$5 Beware of Scams!
Honestly, this should be a staple rule for every travel destination. No matter where you are in the world, locals can spot tourists in a heartbeat (and the same goes for scammers). Scammers will try to get you to buy a timeshare, buy their "expensive" products, or eat a "free" meal. But don't fall for any of their traps.
#6 Enjoy your Vacation!
This one should go without saying but I thought it best to add to the list. Sometimes people plan out their vacation to Mexico down to the last minute but forget to have fun! Tuck away your worries, problems and let yourself be free of worry during your Mexican beach vacation!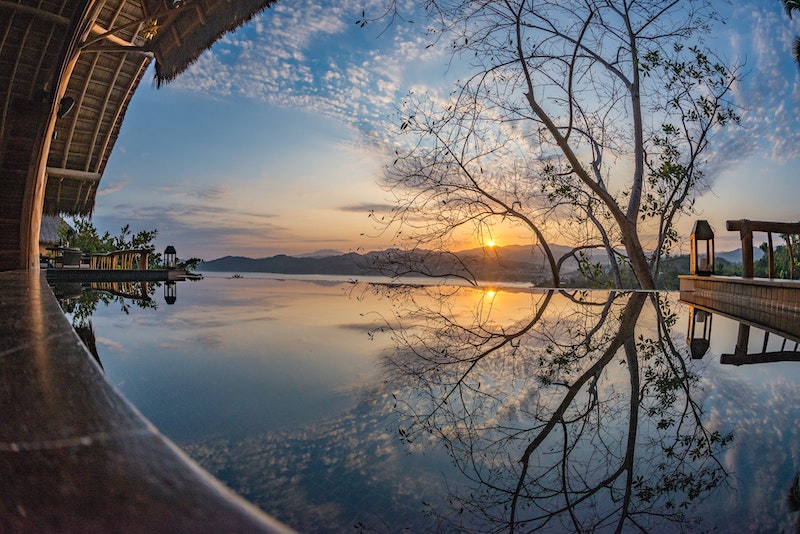 Weather
It is a common mistake to associate the entire country of Mexico with constant hot and humid weather all year round. There are six regions in Mexico and each region has its own climate and weather pattern.
For example, the Yucatan Peninsula is situated in the southeastern part of Mexico and experiences hurricane season from June-November. The Pacific Coast Region is where you will find the Mexican Riviera and it has hot weather all year round. The Baja Peninsula is one of the drier spots in Mexico and can get quite cold in December, reaching temperatures of 40 degrees Fahrenheit. The overall gist of the Mexico climate is that the rainy season can last between June-November (more or less) and the weather is mostly sunny and warm.
Ways to Get Around
I have already established that the fastest and easiest way to get to Mexico is by flying. But once you are in Mexico, there is no need to get on a plane to get around. One of the best modes of transportation in Mexico is by car. If you have driven your own car to Mexico then obviously you can use it to get around. Renting a car in Mexico is a great way to visit the country and its beaches on your own timetable. Just watch out for scammers, check up on insurance costs and rates. It's a good idea to use trusted sites like Expedia or Hertz to rent your car.
Bus services in Mexico range from first-class to second-class service and are a great alternative to driving to different beach settings. For the adventurous types, riding a motorcycle or scooter through the streets of Mexico is a thrilling way to get around. Other modes of transportation include riding a bicycle, walking, train, and the public bus.
I hope You are Inspired!
I hope that after reading this article you have been inspired to take your own trip to an inclusive beach resort or beach town in Mexico. All of the spectacular beaches mentioned in this list are awaiting your company and it would be a shame to disappoint. I do hope that you take the chance to begin the year with excitement and the possible hope of spending your next holiday on a Mexican beach.