In the sleepy hills of Mexico lies one of the most gorgeous towns I have ever seen, San Miguel de Allende. This picturesque town is sure to give you all the "wow moments" of a big city, but with the pleasure of a small-town atmosphere. Don't expect to find a fast-paced lifestyle in Saint Miguel, Mexico– but rather a tranquil one. One that slowly evolves right in front of you.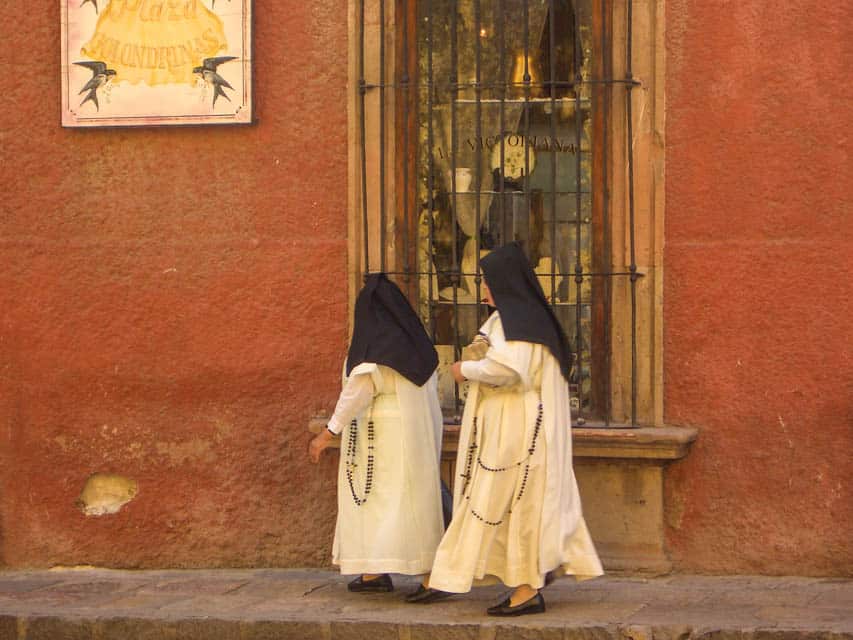 ---
What's in this post:
hide
Things to do in San Miguel de Allende
---
Located roughly 150 miles north of Mexico City, this town is the perfect spot for an awe-inspiring and yet relaxing vacation.
San Miguel de Allende
is filled with gorgeous cobblestone streets, stunning architecture, elegant places to shop, and stunning hotels, and rooftop bars. And although this town might seem small, there are numerous things for people to do, to see, and to enjoy while visiting.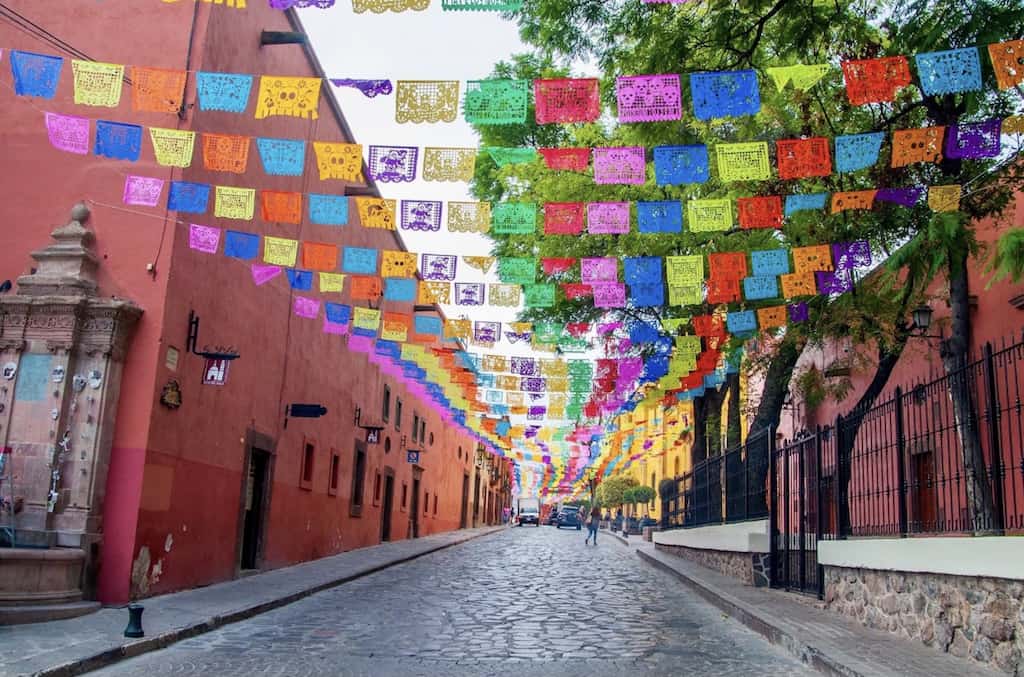 Among all that there is to visit in Saint Miguel Mexico, its historical and architectural heritage stands out the most for me. Surrounded by rolling hills and picturesque towns, it proves that Mexico is far more than just the beaches of Cabo and Cancun., it is romance, style, and beauty as well. Once you have arrived, you may never want to leave!
---
A Miguel by any other name just isn't the same!
---
So let's dive right into the many wonderful things to do in Saint Miguel Mexico, let's go straight to the really good stuff. I'll take you on a journey to the best shopping destinations, stunning San Miguel de Allende churches, gardens, museums, libraries, day-trips, hotels, rooftop bars, restaurants, and anything else that is chic, vibrant, and cool. If it has those elements, then it is on my list of everything that I love about San Miguel de Allende, Mexico. Fortunately for you, my list just keeps growing and growing! And if I forgot anything, let me know in the comments!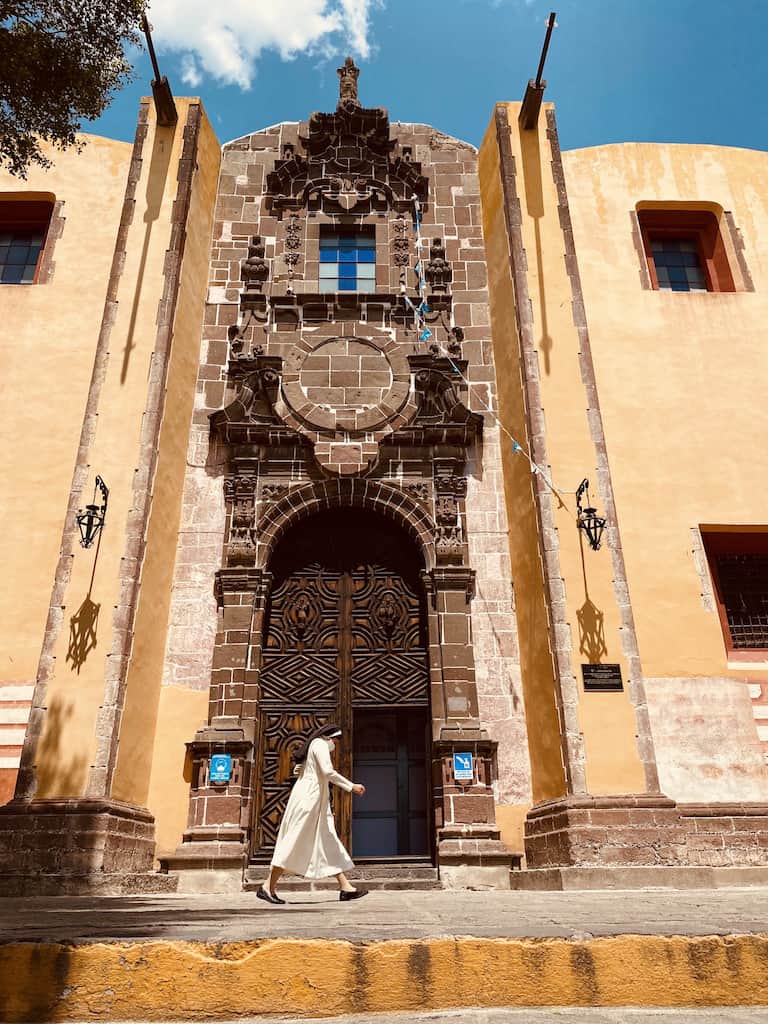 My Journey Through Saint Miguel Mexico – Things to see!
#1 Admire the Streets of Saint Miguel Mexico
First, let me tell you that I am a Mexico Colonial Architecture lover, and truly enjoy the Spanish Colonial Revival style. My entire house's interior design is done in the Colonial Mexican style. And if there is one thing that I have always wanted to do, it is to own a store with Mexican colonial-style furniture, art pieces, religious paraphernalia, and other interior design products and gifts for homes.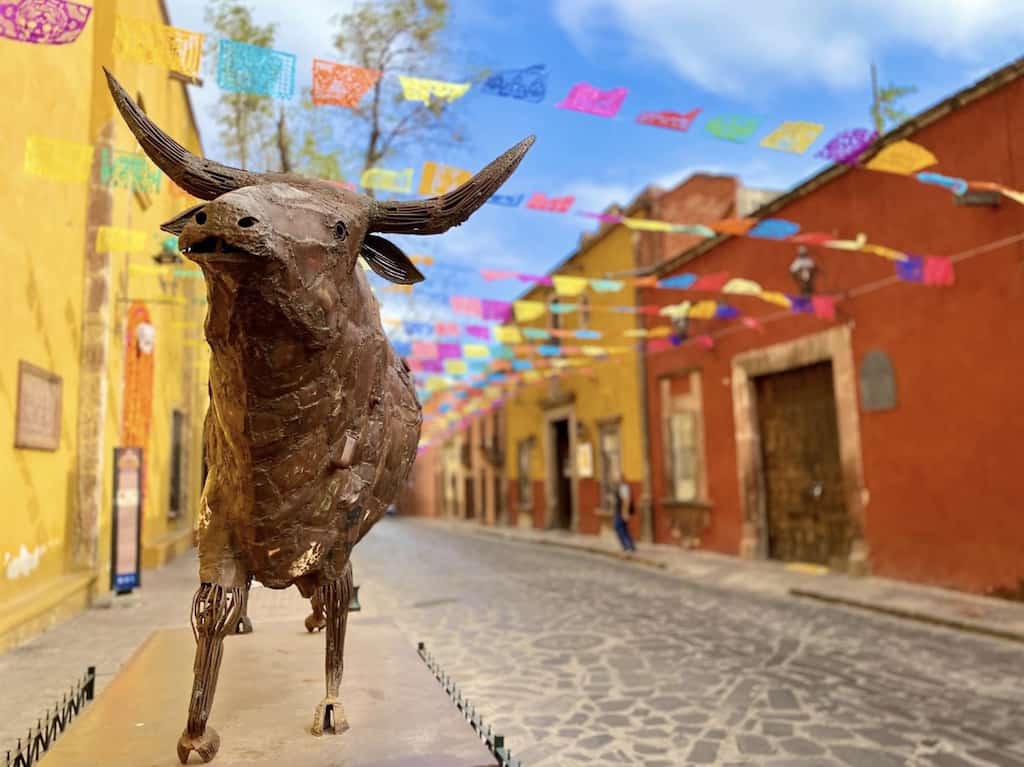 So when I say the first thing I notice about San Miguel de Allende is its gorgeous cobblestone streets, you may laugh, but for me, they are what adds to the charm of this stunning city. Many times I have sat on that park bench in front of the Parroquia de San Miguel Arcángel and often wondered what these cobblestone streets have seen… the history, the religious processions, the mariachis, and the people that have come before me. If only I could have been that proverbial fly on the wall!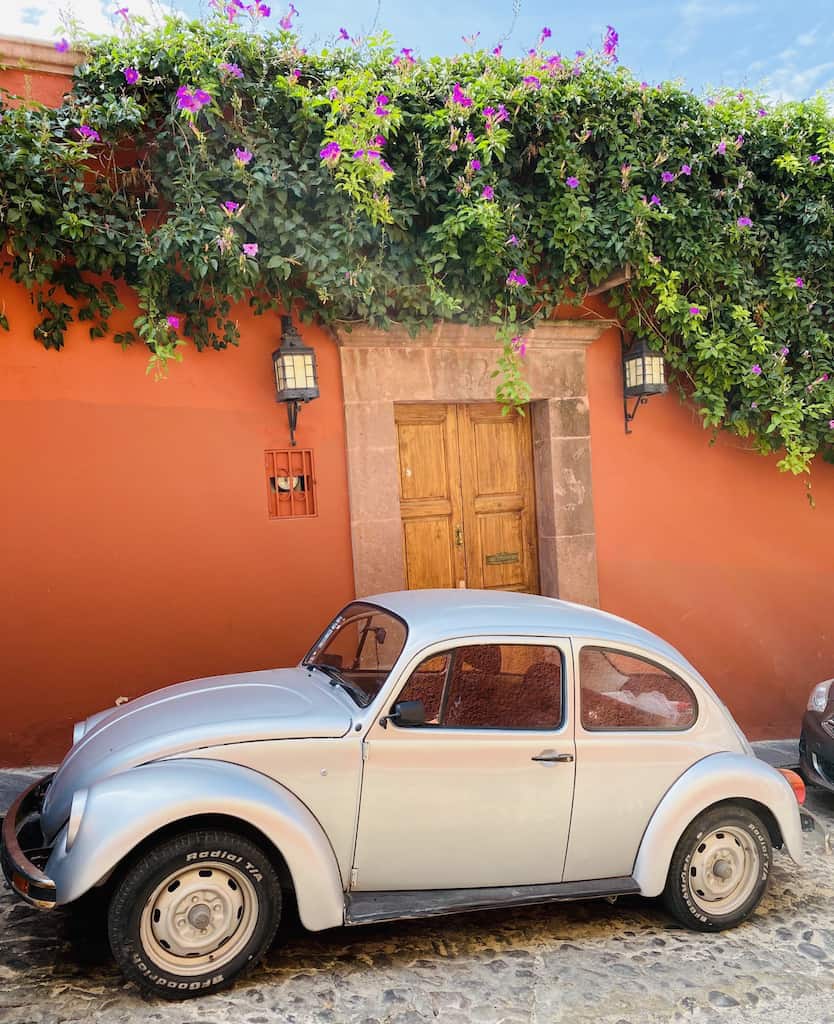 And one more thing about the Streets of San Miguel – they are incredibly tiny, narrow, and sometimes have steep hills or only go one way! Some of San Miguel's streets are only wide enough for a single car. But I tell you, those taxi drivers sure do a great job at navigating these streets with ease. And there ARE NO TRAFFIC LIGHTS! Yes, you read that right, in his little town, they have created a system of traffic. I think the cab driver called it "uno a uno" or 1:1. The cars take turns when they come to an intersection, they stop, give the other car the right of way, and then continue on. Yep! People and drivers are pretty courteous in San Miguel!
#2 Stare at the Stunning Architecture of Saint Miguel Mexico
Buildings with thick adobe walls and terra cotta roofs… catch my eye every time. I admire the 16th-18th Century buildings with domes, curved archways, and repeating patterns. Everything from churches to stores to old factories, I just love the deep thick colors of Mexico. How some buildings look with crumbled brick and plaster and then patched up at the same time. And the frescos on the sides of many buildings in San Miguel is gorgeous.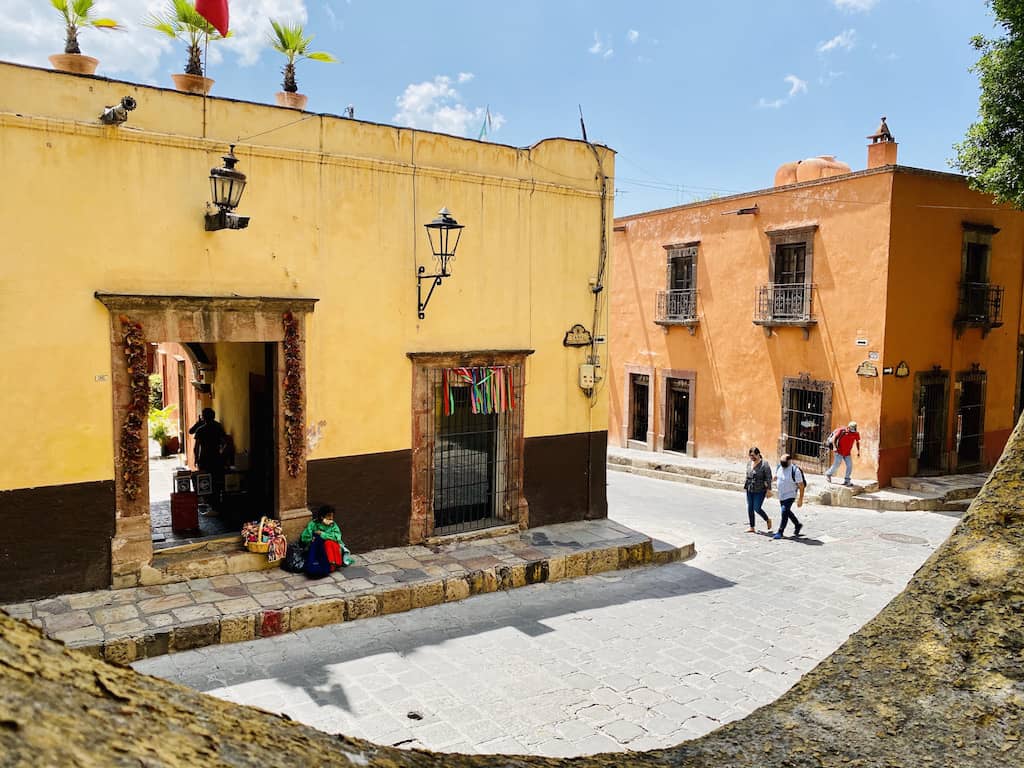 I also appreciate catholic religious paraphernalia, curved staircases, painted tiles, and open courtyards. I love wandering into stores, businesses, lovely homes, and open doorways that have old facades. I am always trying to peek around the corners of any open doorway or courtyard.
And speaking of doorways… San Miguel has some of my favorite doorways ever! There are so many unique styles differentiating one from another. With everything from ornamental wrought iron to wood to adobe to stone, it all makes me stop, look, and appreciate the effort. In fact, it is during my morning walks that I always want to have my camera in hand for just one more photograph.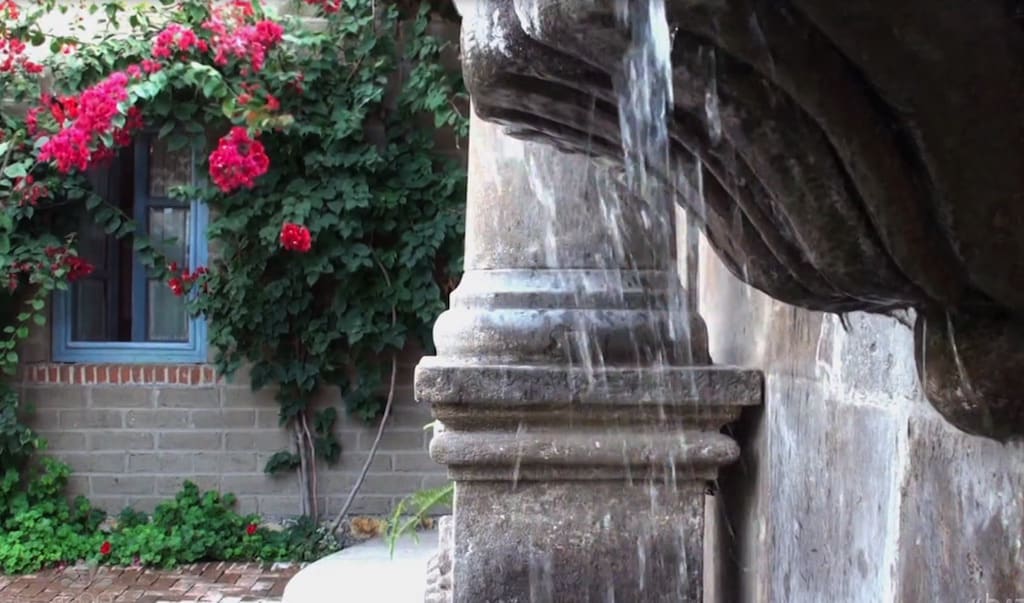 ---
San Miguel de Allende, Mexico has been voted by Travel + Leisure readers to be the #2 TOP City in the World to Visit for 2020!
---
#3 Go Shopping in San Miguel in Mexico!
Shopping in Saint Miguel de Allende is one of the best experiences you will have while visiting this town. A day in San Miguel can unfold in so many wonderful ways; You can explore various markets, both indoors and outdoors, that sell a variety of items. Although many markets sell similar items, many are all so different and unique. If your trip to San Miguel is short, then I recommend picking the most appealing shopping destination listed below (which might be difficult) and make the most out of your shopping experience while in San Miguel.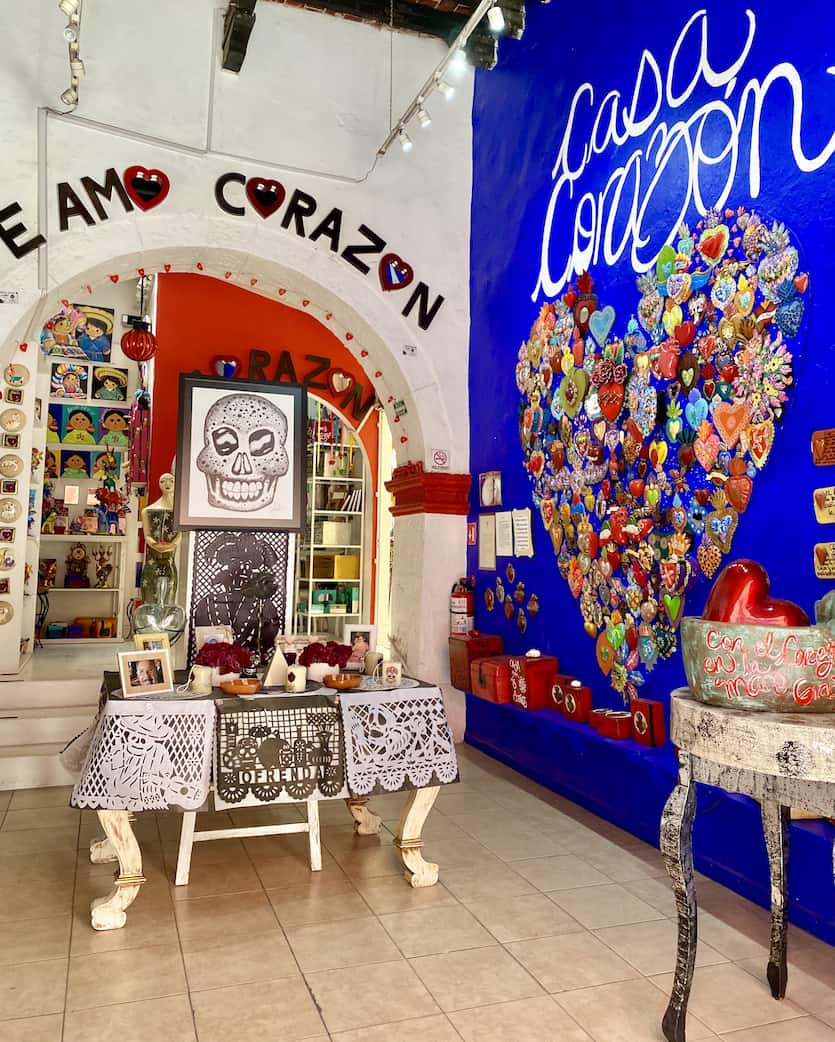 ---
✦ Mercado de Artesanias
This Artisan Market is a charming market that sells hand-crafted items from jewelry, pewter, clothing, to ceramics at reasonable prices. There are stalls that even sell silver jewelry from Taxco, rugs from Oaxaca, Talavera pottery from Dolores Hidalgo, tin lamps, and even Coca-Cola bottles covered in Huichol beadwork. You can find pretty much anything here. Located in Andador Lucas
Balderas, it is open daily from 9 am to 7 pm and is the perfect spot to buy yourself local spices to take home with you or even souvenirs for your family and friends.
I recommend wearing comfortable shoes because this closed-in market covers a lot of areas. Don't be afraid if you see random skull-shaped ceramics because they are a locally crafted specialty. As you walk through the aisles of this market that sometimes spills out into the alleyways, take advantage of the free food that the local's handout such as grilled sweetcorn. You are going to love it!
✦ Mercado San Juan de Dios
Located just five minutes from the main square of San Miguel is the beloved Mercado San Juan de Dios. This is one of the most traditional indoor markets in the town. It is open every day from 9 am to 6 pm and is famous for selling produce. The moment you walk into this market, you will be amazed at the high stacks and piles of fruits and vegetables at each stand. This market sells only food, so don't expect to buy clothes or jewelry. But do expect to see cactus leaves, pozole (pork and corn broth), and yams!
✦ The Tuesday market – Tianguis de los Martes
This is another free market to visit while in San Miguel, but it's only open on Tuesdays, hence the name. This enormous market is situated across the road from the Plaza la Luciérnaga (a shopping mall ex-pats call Liverpool). The market is a popular, open-market that mostly locals love to visit because it sells unique items such as tennis shoes, clothes, antiques, hand-blown glass, and even hand-made furniture. The only recommendation I would give when visiting this market is to arrive early. You may be the only gringo there, so know your Spanish!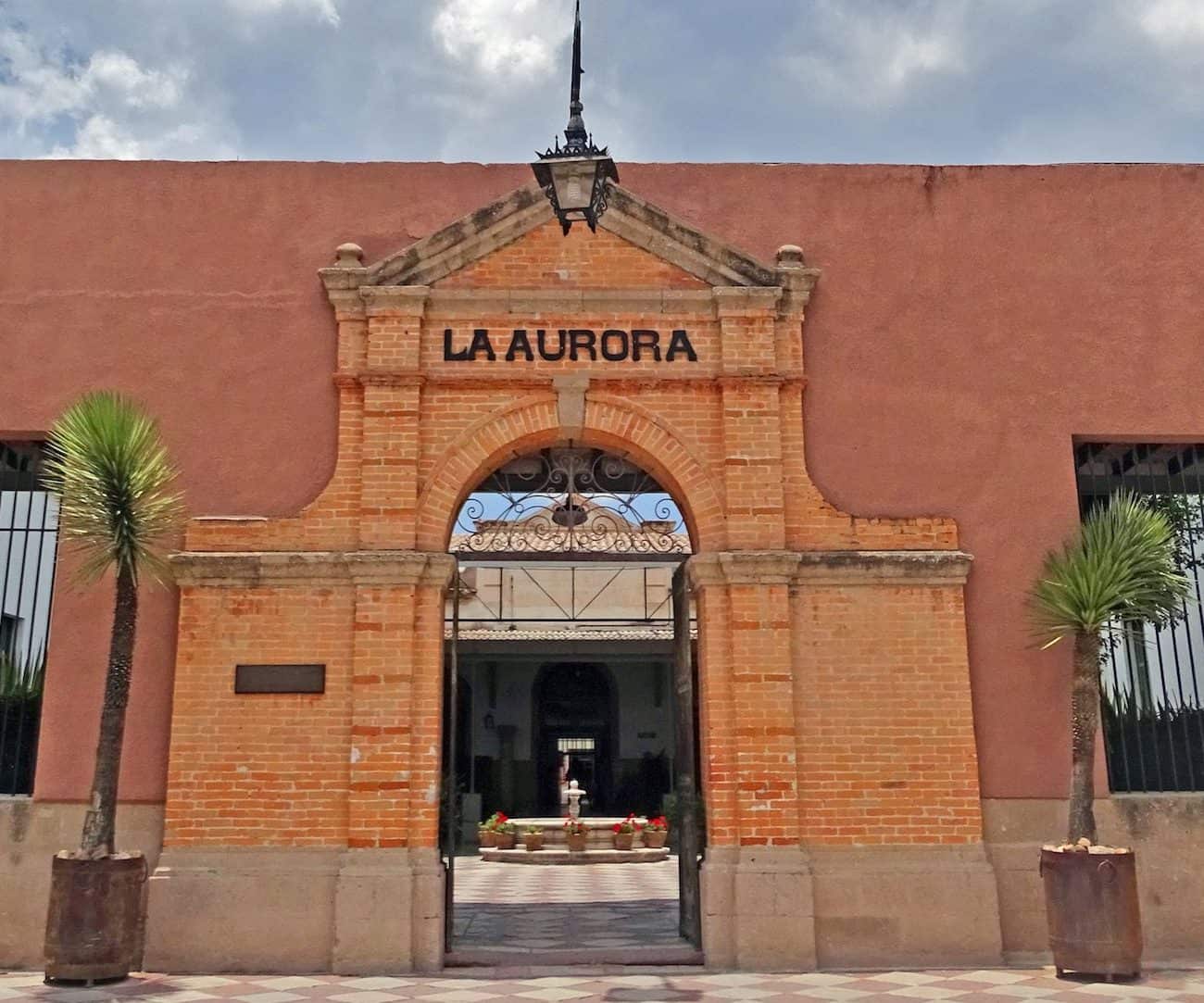 Fabrica La Aurora, located 0n Calzada de la Aurora street, used to be an old fabric mill or better known as a textile factory. According to the locals and ex-pats, this gallery is the perfect place to admire the stunning creations of local artists. Inside the building, you will discover its modern and trendy space filled with art galleries, studios, shops, and cafes. It is easy to get spend a whole day exploring this old fabric mill. Be sure and check out the small butterfly garden!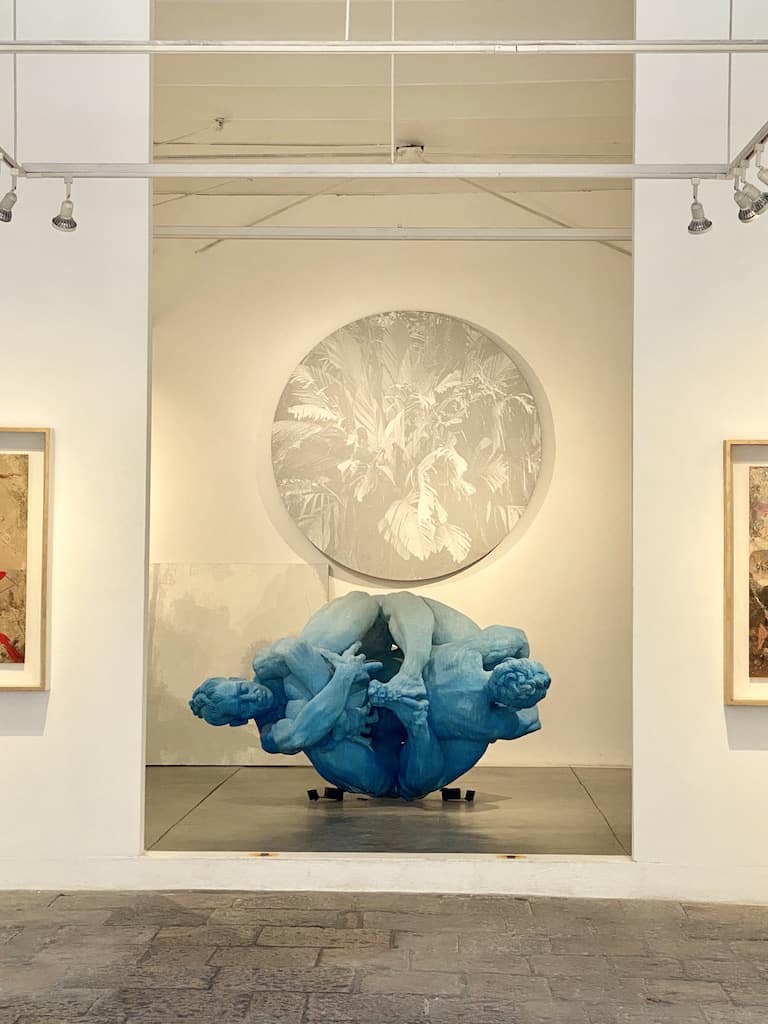 ✦ Mercado Ignacio Ramirez
The oldest market of this 16th-century town is the Mercado Ignacio Ramirez. Situated in the main plaza of San Miguel de Allende, this is a wonderful open-air market that is known for selling local delicacies. People love to visit this market because it gives them the real San Miguel shopping experience.
As you mix and mingle with the local people and ex-pats, you will get advice as to which fruits to buy, flowers to pick, and which meats to eat. You can also pick up things like elote (Mexican street roasted corn), esquite (also known as elote en vaso, which is grilled corn in butter), jicama, and pan dulce. They also have fresh juice, shaved ice, and agua frescas at the fruit stalls inside! Aside from food, this market also sells piñata's, shoes, wooden toys, and jewelry.
The people of San Miguel de Allende have captured the hearts of locals and tourists with a stunning shopping destination. The Doce-18 Concept House is a place where you can find an assortment of purveyors who sell hip clothing, jewelry, and home décor. The shops are open daily from 11 am – 7 pm and are located in downtown San Miguel. Aside from shopping, you can also eat, drink, and sleep at this amazing destination.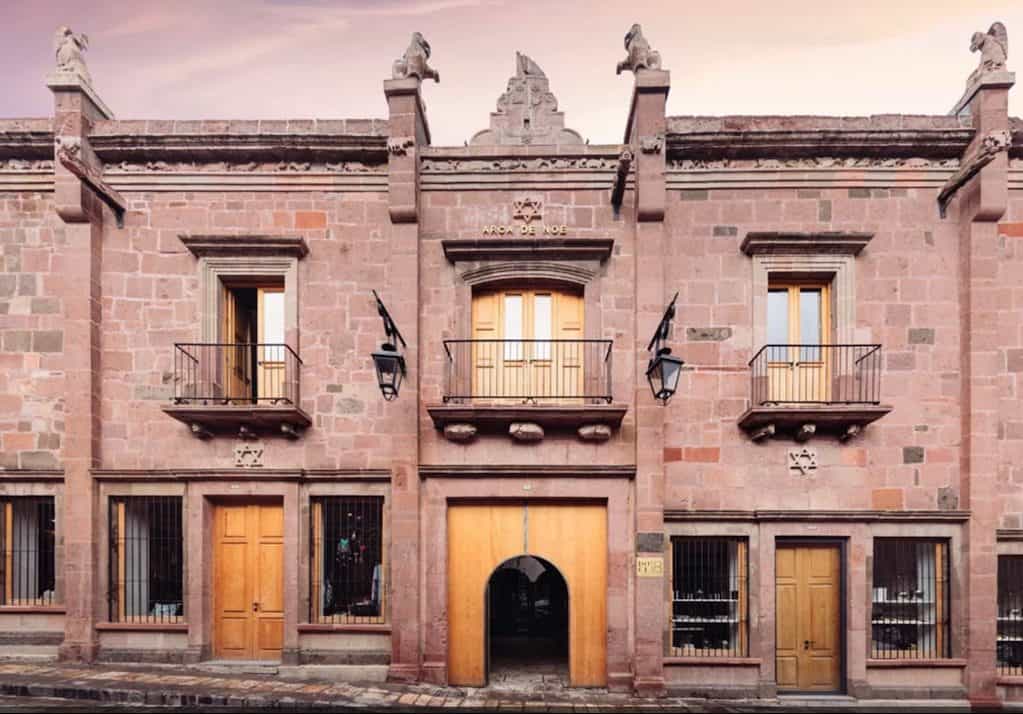 ✦ Tianguis Organico
Adjacent to the Instituto Allende Art school is the organic weekly market known as Tianguis Organico. The best way to spend a leisurely Saturday afternoon is at this organic market that sells bread, fruit, cakes, chocolate, cheese, and more. One of the most famous cheese that is sold at this market comes from the Ovejero Dairy stall, which sells cheese soaked in wine. Organic and healthy produce and products are the only thing you will find at this weekly market.
✦ Sindashi
If you are looking for unique hand-painted dresses, then you will look no further than Sindashi. Located on the street Hernandez Macias #83-A, this arts and crafts/women's clothing store sells beautiful items. As you enter this charming boutique you are instantly greeted by hand-painted purses, dresses, and one-of-a-kind Mexican-style outfits.
---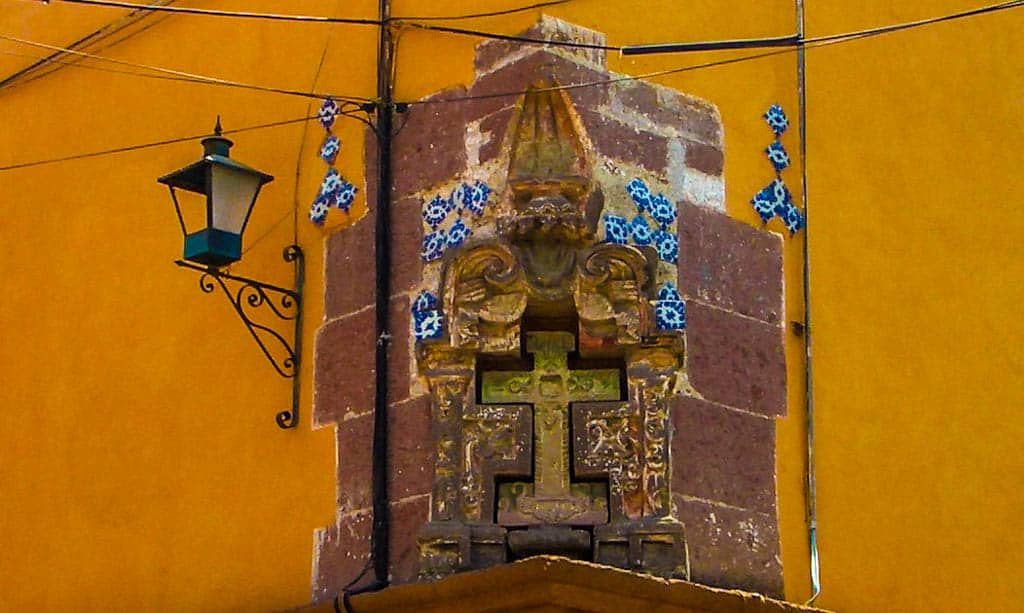 ✦ Chapel of Jimmy Ray Gallery
Sometimes in life, you just have to see things more than understand them. That is the case with the Chapel of Jimmy Ray Gallery. Trying to describe is quite impossible – but basically, it is a 2.5-acre art installation showing the work of a guest artist and is full of mosaic whimsy. You have to see it to appreciate it, for sure!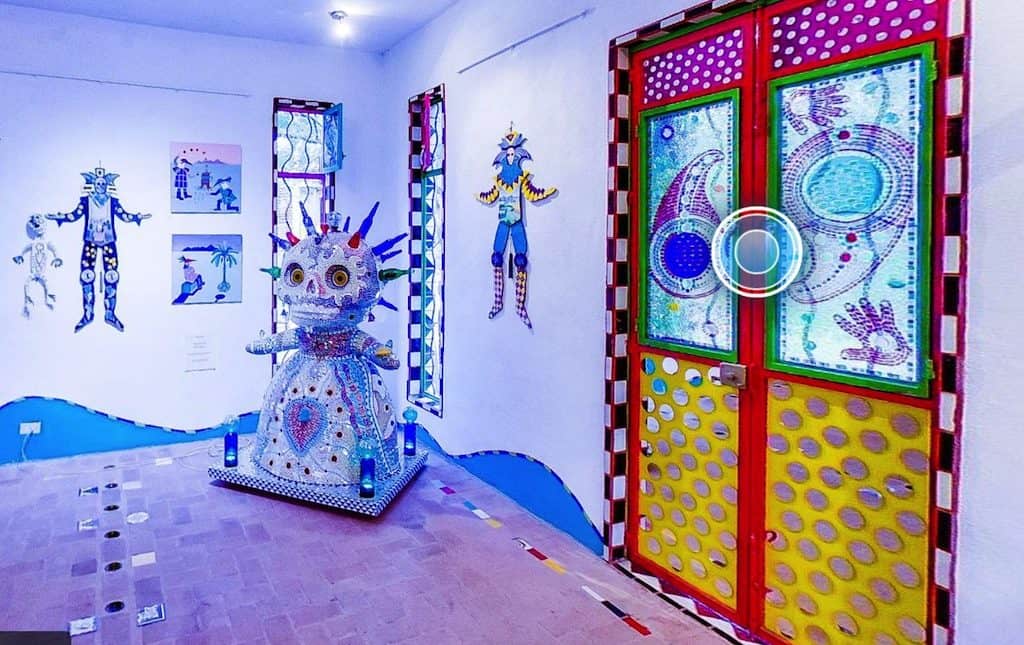 ---
Recommended Reading about Puerto Vallarta, Mexico
Casas en Puerto Vallarta: A Romantic Luxury Boutique Hotel
Puerto Vallarta All-inclusive Resort: Hyatt Ziva on the beach!
Experiencing the All-Inclusive Now Amber Puerto Vallarta Resort
---
#4 Interact with the Churches of Saint Miguel Mexico
When visiting a new city, you really should check out all the amazing buildings and historical parts of the city, including churches and cathedrals. It doesn't matter what religion you are; everyone can admire the architectural craftsmanship of a church. And believe me, San Miguel de Allende, Mexico has about 42 old churches that I counted! So let's check out the best churches to visit in San Miguel de Allende.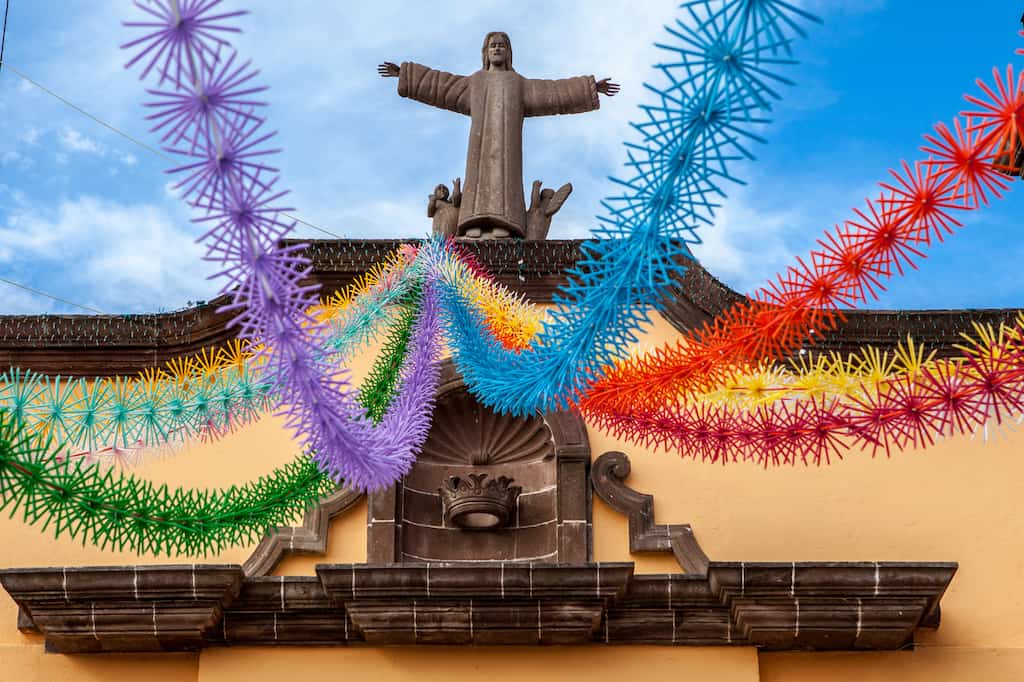 ---
✦ Parroquia de San Miguel Arcángel
(Church of St. Michael the Archangel)
Every city has its main church or gathering place for worship and the neo-gothic Parroquia de San Miguel Arcángel is the town's Catholic centerpiece. If you have seen a photo of San Miguel, then you have seen a photograph of this church. It was originally built in the 17th century with a traditional Mexican façade, but in 1880 a Gothic façade was introduced.
Many people have said that this church resembles the Disneyworld castles, due to its pink pilasters, spires, and droopiness. Throughout the tower, there are eight bells, with the largest being La Luz, which was added in 1732. But more than all that, I get a kick out of the mariachis and balloon vendors in front of the Parroquia de San Miguel Arcángel selling their wares and playing music. This church and its public square is the town jewel!
✦ San Juan de Dios Church
The San Juan de Dios Church and San Rafael Hospital are attributed to Juan Manuel de Villegas and was opened on October 24, 1770. It was only until recently that researchers discovered that this church was actually established in 1546. This church follows the Catholic denomination and is located in the San Juan de Dios neighborhood. During the early 19th century, the hospital began to deteriorate and was taken over by the government and renamed the Civil Hospital. It remained a hospital until 1935 when it was converted into a school.
✦ Centro Cultural Ignacio Ramirez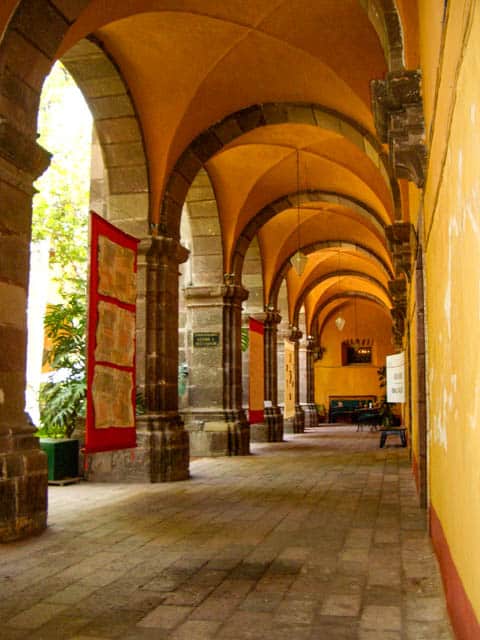 The Centro Cultural Ignacio Ramirez was once the former Hermanas de la Concepción. Nowadays it is also known as the Escuela de Bellas Artes or El Nigromante, (Sisters of the Conception) convent. Both the church and the convent were built in 1755. The Centro is located within 2 minutes of El Jardin and is in between Canal and Insurgentes streets. As you enter this center you are greeted by a large courtyard, trees, and stunning fountains. Visitors of this center have adored art exhibits, take classes for drawing, ceramics, and sculpture.
✦ El Nigromante or Bellas Artes
Better known as the Bellas Artes, El Nigromante is a cultural center and art school housed in the former convent Ignacio Ramirez. Originally constructed in 1765 by Maria Josefa Lina de la Canal y Hervas, this art school helps students realize their full potential as artists. One of the most beautiful parts of this center is the recently restored, but unfinished mural by David Alfaro Siqueiros.

✦

Sanctuary of Atotonilco
The Sanctuary of Atotonilco is a church complex and World Heritage Site right outside of San Miguel de Allende. It was built in the 17th century under the direction of Father Luis Felipe Neri de Alfaro. The artwork within the complex was primarily the work of Antonio Martínez de Pocasangre over a period of thirty years featuring Mexican Baroque murals that adorn the main nave and chapels. It is now known as the "Sistine Chapel of Mexico." This sanctuary continues to be a place of worship today sometimes attracting as many as 5,000 visitors every week!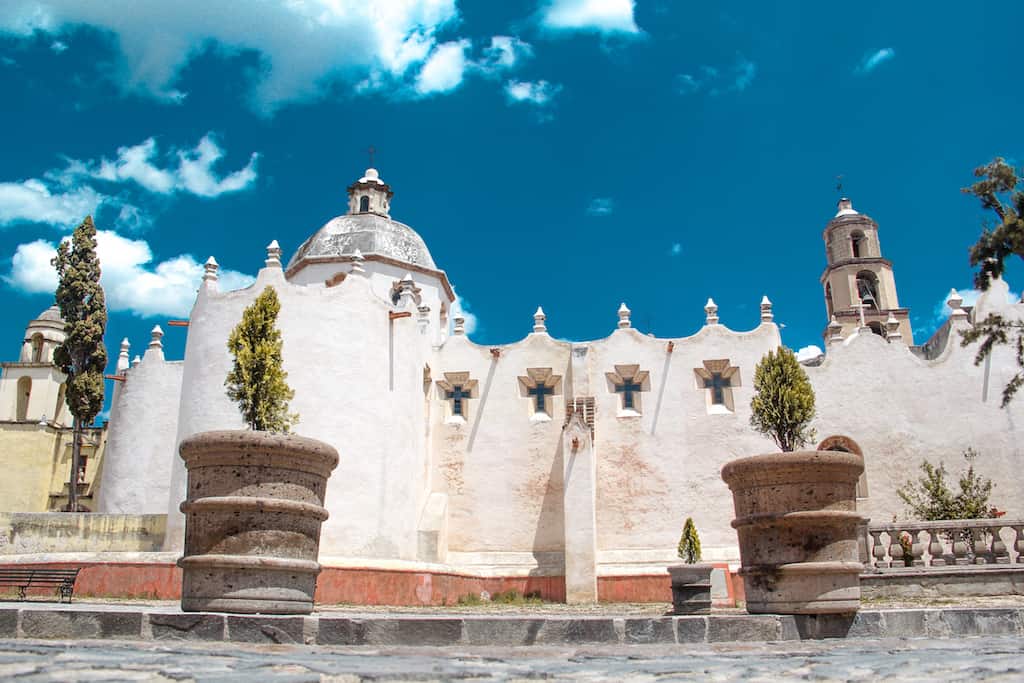 ✦ Inmaculada Concepcion Church
The locals call this church "Las Monjas" (the Nuns). It took over 100 years to build it, between 1755 and 1842. Although this is now a Catholic church, it was originally intended to be a convent. It was originally constructed as a portion of the convent.
The church was constructed by Albañil Zeferino Gutierrez and the final touches of this church were added by Zeferino Gutierrez in 1891. This is more than just a church because it contains the El Nigromonte center (art space). The most prominent feature of this church is the dome, as it was inspired by the dome of Versailles.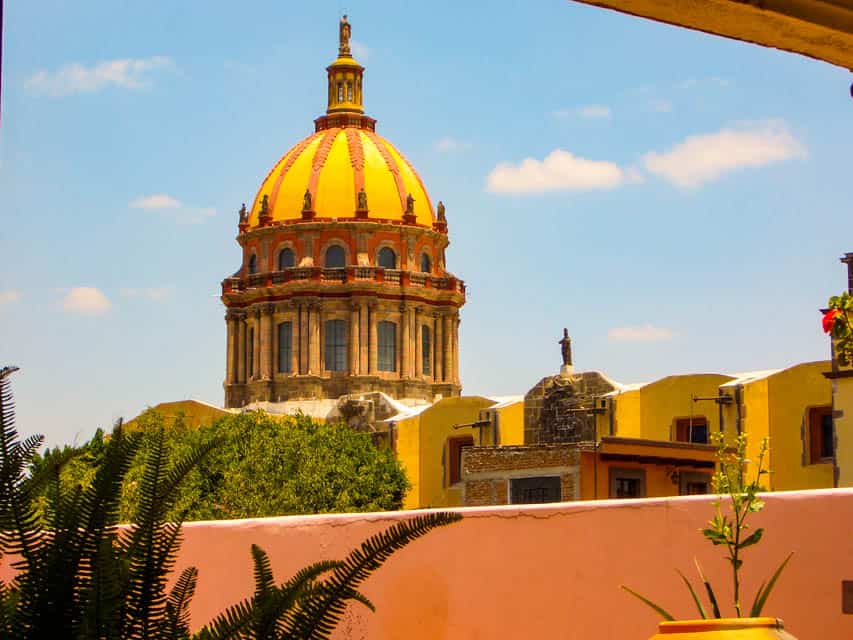 ✦ Tercera Orden Church
Traces of the beginning of construction of the Tercera Orden Church dates back to the early 17th century. This is a Catholic-based church and was ordered to be constructed by the Franciscan Church of the Third Order. Contrary to the other ornate churches of this town, the Tercera Orden is more modest and simple.
✦ Templo del Oratorio
Unlike the churches listed above, this is a special church that is mostly devoted to preaching. The most active oratorio in San Miguel is the Oratorio of San Filipe Neri, which was named after the 16th century Italian Saint Filipe Neri. This oratorio was built in 1712 and materials such as rose quarry stone were used to build the facade. The colors of the oratorio are remarkable.
Once inside this church, you can admire at least 33 oil paintings that depict the life of San Filipe Seri. The most spectacular part of this oratorio is the Santa Casa de Loreto, which glows with ornate gold trimmings. This is worth a quick visit, as it is very impressive.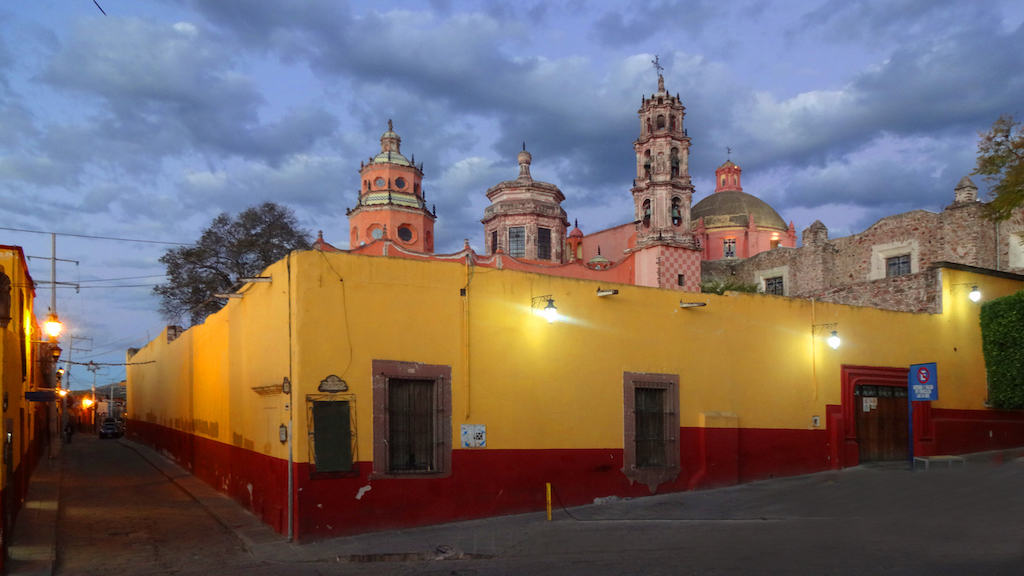 ✦ Temple of Nuestra Señora de la Salud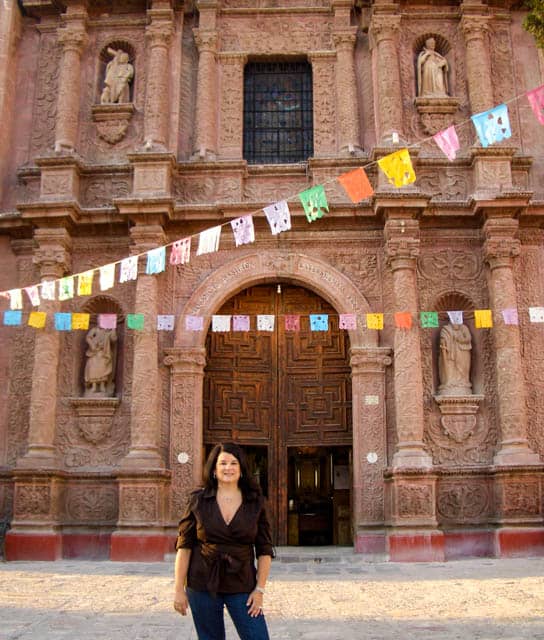 This church has a fixation on Calvary or suffering. It is located on Insurgentes street and can be seen from the Plaza Allende. With its baroque front architecture from the 18th century, the shell stone is stunning and the dome of blue and yellow is also gorgeous!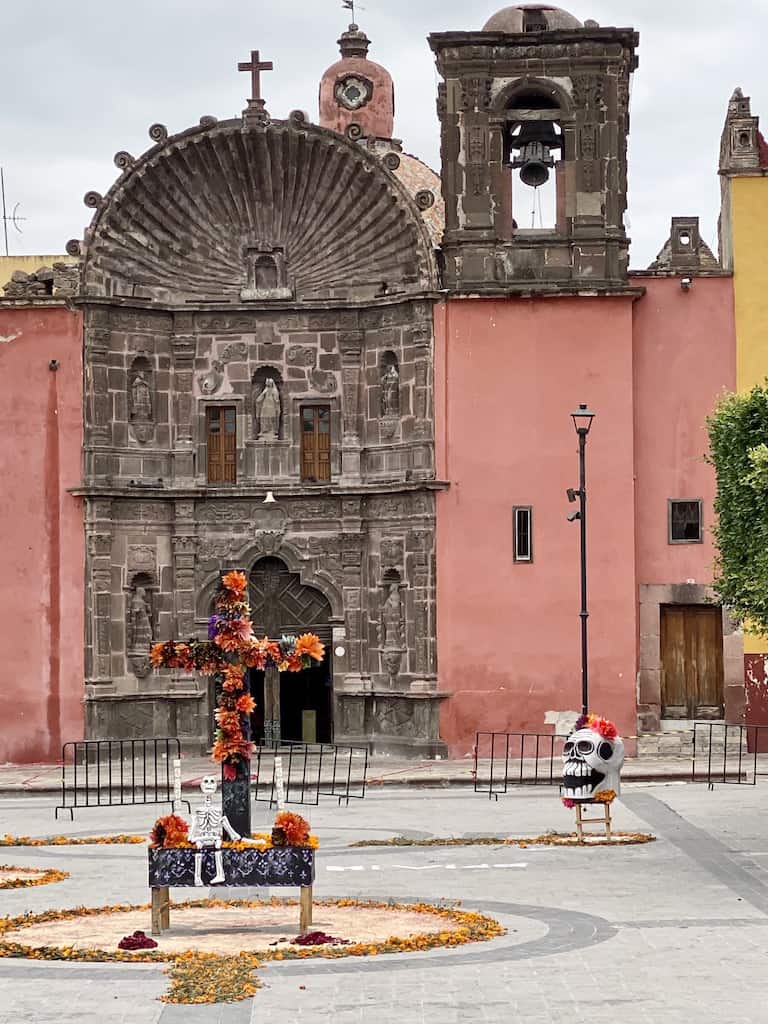 ✦ San Francisco Church
During the 18th century, surrounding towns began to compete with one another to see who could build the best and most beautiful churches. The construction and completion of this church took over 20 years and was finally finished in 1779. Chirrogueresco was a Spanish-baroque decorative style that was used throughout the church. This church honors Saint Francis and you can see close-up depictions of him throughout the facade of the church, including the center stained-glass window depiction of Saint Francis being crowned. The Catholic religion is what is practiced at this church.
✦ Santo Domingo Church
This city center church dates back to 1737 and was built to be a part of a monastery complex. This church is also known as Convento de Santo Domingo and strictly follows the Catholic faith.
✦ Santa Cruz del Chorro Chapel
According to the historical records, the Santa Cruz del Chorro Chapel is one of the oldest religious buildings in San Miguel de Allende. This church is located at the top of one of the San Miguel de Allende hills and was originally used to supply water to the town. The entire structure was built of stone and includes a charmingly small garden.
---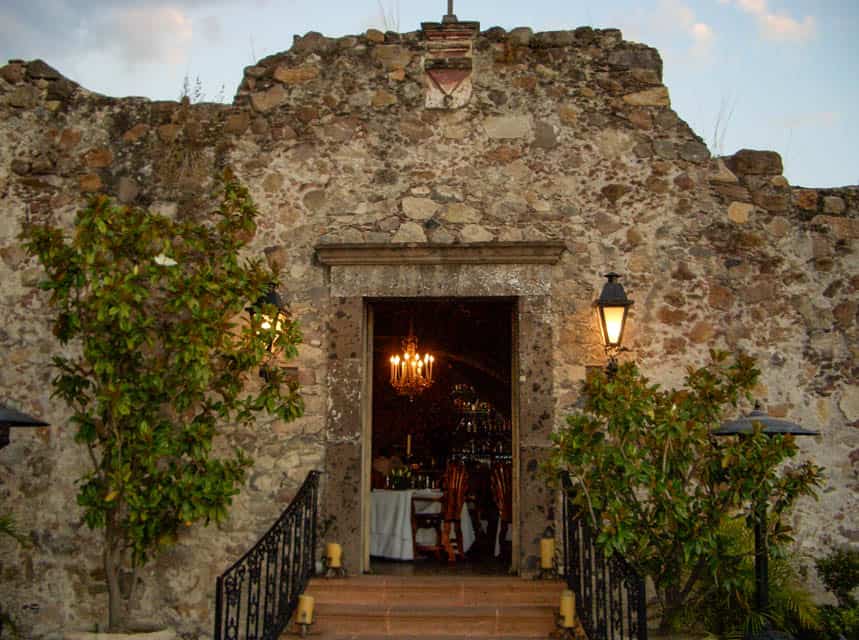 ---
Recommended Reading about Cancun, Mexico:
Foodie Heaven: Benazuzu, Cancun Mexico
Amazing Adventure Park in Mexico's Riviera Maya: Xel Ha
---
#5 Visit San Miguel's Gardens and Plazas
A trip to San Miguel would not be complete without a trip to one of the many wonderful gardens of the town.
✦ El Jardin
Centered in the heart of the city is El Jardin or Zocalo, the central plaza. This square and garden is one that locals and tourists alike love to visit. El Jardin is famous for hosting mariachi bands, live music, political rallies, religious ceremonies, dance performances, fiestas, and also showcasing art. The vendors are here too, selling everything from hats to balloons to toys and of course, street food!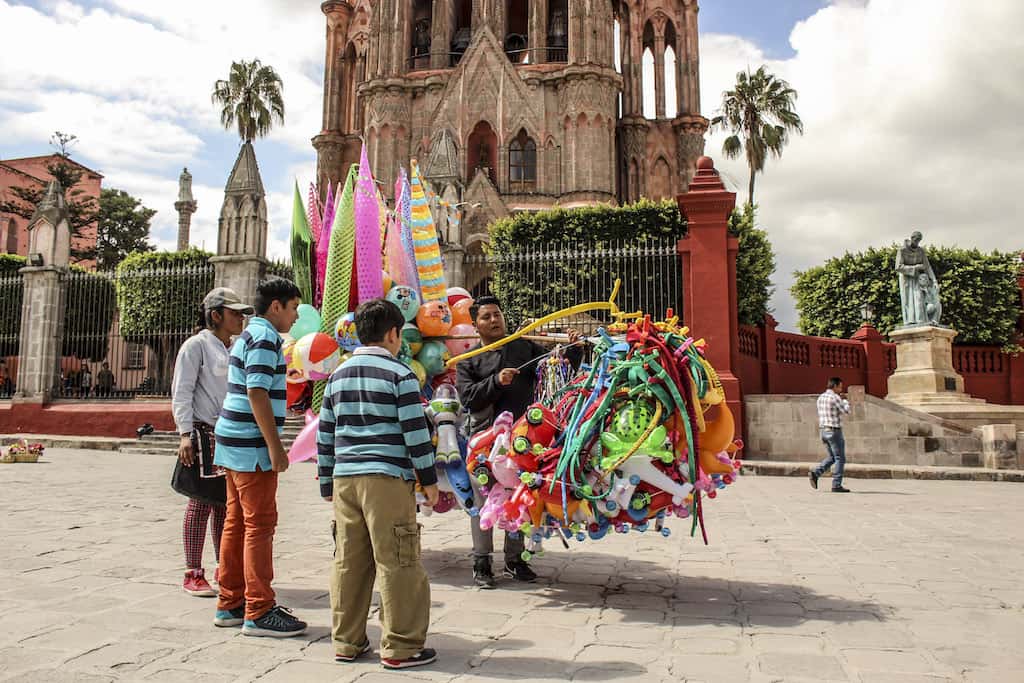 I would recommend avoiding visiting weekend afternoons or evenings because it can get quite crowded since it is positioned with a fantastic view of the Parroquia de San Miguel Arcángel. This garden is surrounded by restaurants, bars cafes, and shops. It is quite literally the center of the bustling town.
✦ El Charco del Ingenio (Botanical Gardens)
You cannot miss the opportunity to visit the Botanical Garden and nature preserve, El Charco del Ingenio. This natural area is located just a few minutes outside the town. This garden was created to preserve the rare Mexican plants and cacti, all of which are in danger of extinction.
The botanical collection is rich with aquatic plants, cacti, and other succulent plants that come from the Crassulaceae and Agavaceae families. Visitors can enjoy scenic trails such as the Regional Plants trail, Wetlands trail, and the Northern Preserve. There is also an interactive children's garden, gift shop, and cafeteria. El Charco del Ingenio has been declared a "Holy Peace Zone" by the Dalai Lama!
✦ Plaza de la Soledad
This plaza was the first main square of San Miguel de Allende in the 16th and 17th Centuries. It was the political center and was also known as the "Arms Square". It is surrounded by manicured trees with gorgeous old buildings nearby. Plus, the statue of Ignacio Allende (of whom a part of the city was named upon) is here on top of a horse. It is a good place to sit and relax for a while.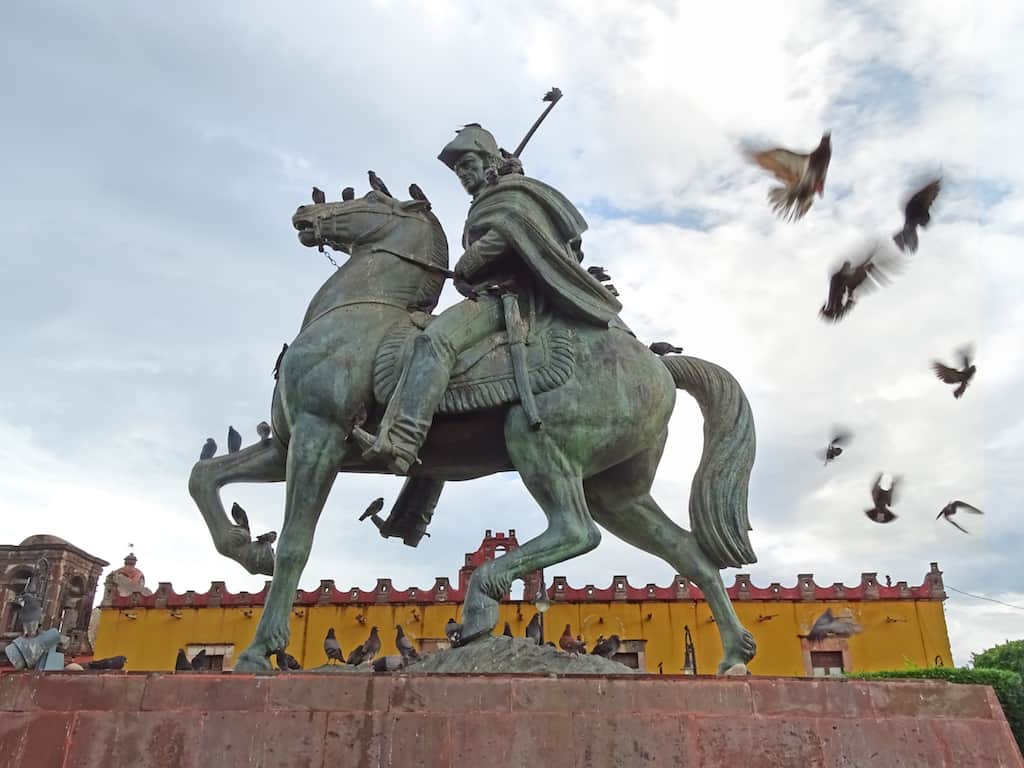 ✦ Hummingbird Garden
If you love hummingbirds, then you cannot miss the Hummingbird Garden on Zacateros Street. At this garden, you are sure to spot these tiny, but beautiful creatures flying around. Each year the town hosts a festival to honor these "flying jewels". All those who visit this garden cannot help but stop at Camino Silvestre shop. This shop sells everything from hummingbird feeders to birdhouses.
#6 Visit Parks in San Miguel
One of the best places where you can come to relax and enjoy Mother Nature is a park in San Miguel. San Miguel de Allende has a few of the most beautiful and simple parks.
✦ Parque Benito Juarez
If you happen to be visiting the Parroquia de San Miguel Arcangelo, then you should stop by the Parque Benito Juarez, which is directly across from the church. This park was established in 1904 and it is open daily from 8 am-9 pm. A tranquil stroll through this park is the perfect way to start the day. Most people enjoy resting on the benches, people watch or browse through local art pieces and flowers on occasions when the park houses a market. This park is quieter and much more private than El Jardin and a great place to curl up with a book.
✦ Parque Guadiana
This is a nice and pretty park to visit that is strewn with luscious trees and many benches. It is located in Calle Potranca 12 Center. This is the perfect park to visit to get in touch with the local community and meet new people.
#7 Check out the Library and Theaters in San Miguel
It is important to keep the culture alive in this small town. The public library and theater are two places that people can visit to explore the rich San Miguel culture.
✦ Biblioteca Publica
Most people don't visit libraries during their vacation, but I completely recommend making an exception for the public library of San Miguel de Allende. As it is the second-largest bilingual library in Mexico. This is a free library that is located in the central zone of the town. The library is housed in an 18th-century building that has a courtyard cafe and theater.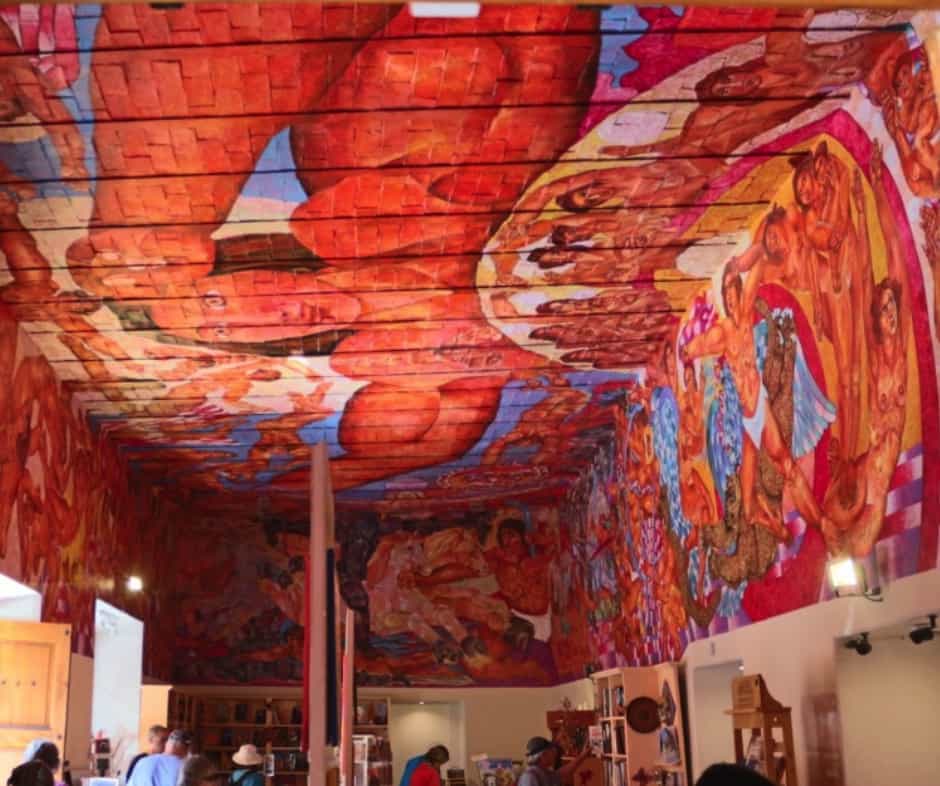 There is an extensive collection of Spanish and English books and films to peruse. The library is free to visit, but guided tours of the house and garden usually cost about $12 per person. This is a super impressive library with ornate frescoes on the walls and a gorgeous courtyard café not to miss. It is almost as impressive as the Biblioteca Malestina that I found in Cesena, Italy!
Also, besides books, the library organizes walking tours and even day trips, so stop on by and pick up some information about what they have to offer. They also have a whole schedule of lectures, live music, and movies available.
✦ Angela Peralta Theater
Some of the best shows can be seen at the Angela Peralta Theater since it has a welcoming and intimate atmosphere. It is located in the historic center at Calle Mesones 82. This theater was named after the Mexican queen of opera, Angela Peralta. She performed Rigoletto here at this theater. This is the third theater named after her. The most famous and beloved opera that is performed at this theater is L'Elsir D'Amore by Donizetti.
#8 Visit Museums and Famous Houses in San Miguel
✦ Casa de Ignacio Allende
Located in the center zone of the city at the Museo Historico is the Casa de Ignacio Allende. This is the birthplace of the Spanish army officer, Ignacio Jose de Allende y Unzaga. The museum is located on two floors and features paintings from the 16th, 17th, and 18th centuries. The admission to this house is $3 and it is open from Tuesday to Sunday.
✦ Casa Canal
A few steps from the main square is the charming 18th-century home, Casa Canal (located on Calle Canal). This mansion is owned by the family of Manuel Tomas de la Canal. The orange facade of the mansion is bright and inviting. The carved wood doors and courtyard of the house is a beautiful site to admire some stunning Spanish architecture.
✦ La Esquina Toy Museum
This is one of the most popular Mexican toy museums. The craftsmanship of the toys and artwork is stunning and enjoyable for people of all ages. So be sure and bring the kids along!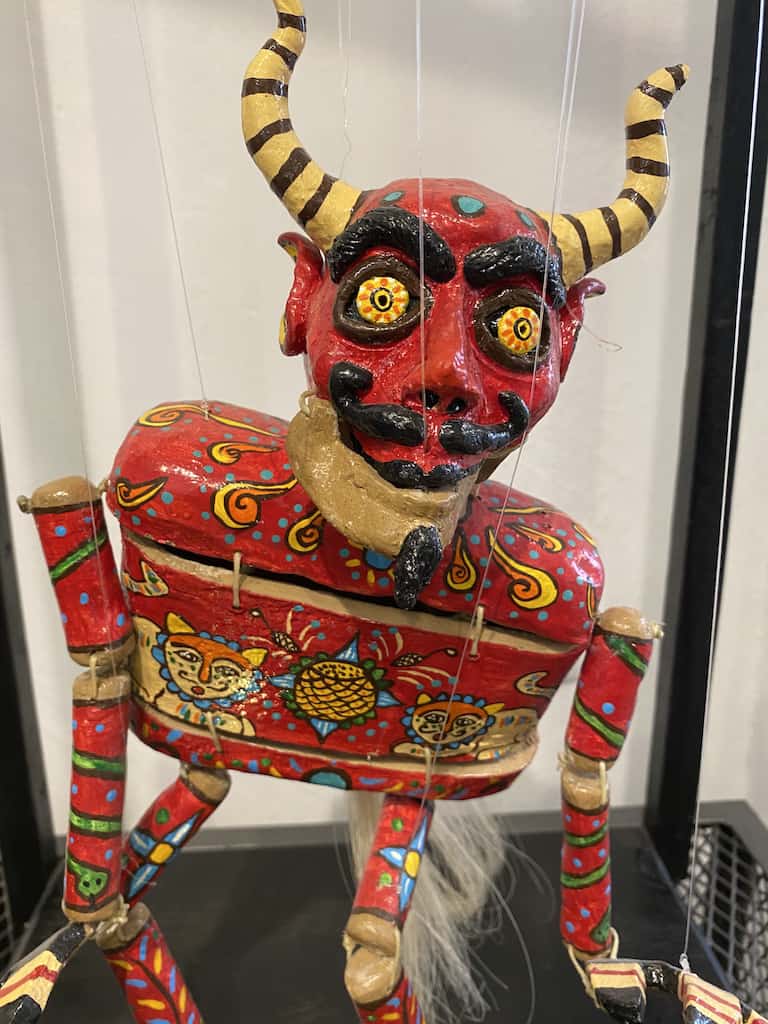 At La Esquina Toy Museum there are more than 1,000 handcrafted toys are held at the childhood amusement toy museum. This museum is located in Nunez 40, close to El Jardin. This toy museum is a great reflection of the Mexican style. Some of the rooms in the museum are the Dollhouse (houses dolls made from cloth), Unforgettable Mattes (houses transportation toys), and The Fair (houses Ferris wheels and musical instruments) and of course, the room full of luchadores!

✦ Casa de Inquisidor
This is the home of Victorino de la Fuentes, who was an adviser to the Court of Inquisition during the 19th century. This house was built in 1870 and has a French carved stone facade and balconies. This house was declared a historical monument in 1982 and is currently not open to the public. But that shouldn't stop you from admiring the facade of this wonderful building.
✦ La Otra Cara de México Mask Museum
Ex-pat Bill LeVasseur is the owner of this eccentric mask museum called La Otra Cara de Mexico. He has over 500 masks that are on display that have been showcased in various dance ceremonies and performances. This museum is located within 15-minutes of walking distance of El Jardin at Casa de la Cuesta. You must inquire to visit this museum by appointment only and can be made by calling + 52 (415) 154-4324. Your suggested 50 MXN ($4.50 USD) admission fee will be donated to a children's charity. You can inquire about the Mask Museum at Casa de la Cuesta.
---
Pick up an Atencion newspaper and check out the "Que Pasa" section to see what is going on in
Saint Miguel Mexico.
---
#9 Buy Fireworks in San Miguel
It may seem an odd choice to include purchasing fireworks in a list of top things to do in San Miguel. While I usually reserve special occasions in other parts of the world, seeing and hearing fireworks go off in San Miguel at a far more regular rate than in other cities – much to the confusion of many first-time visitors.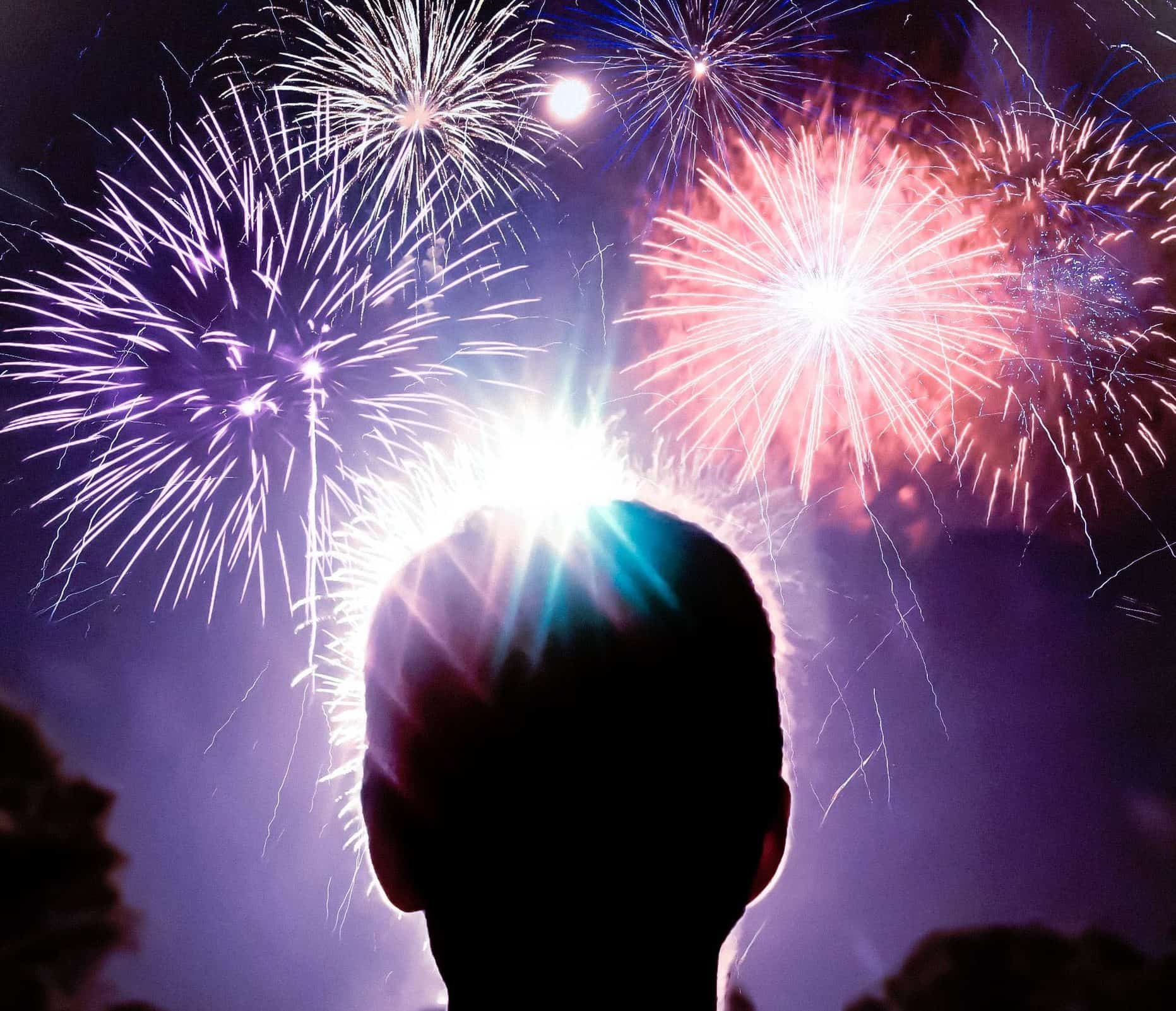 In Mexico, and here too in San Miguel, fireworks are set off at just about every celebration, festival, or religious holiday (which is quite often!) and it's not uncommon to be awoken at 6 a.m. to the sound of fireworks. Given this affinity for fireworks, laws in Mexico are a tad more relaxed, meaning the sale of fireworks is more accessible and commonplace here.
If you're interested in seeing these spectacular light displays, then consider visiting during one of the many 'Festas' throughout the year. These include Independence Day celebrations on the 16th of September, the festival honoring the city's patron saint San Michael around the 29th of September, New Year's Eve, or during the holy week celebrations at Easter time.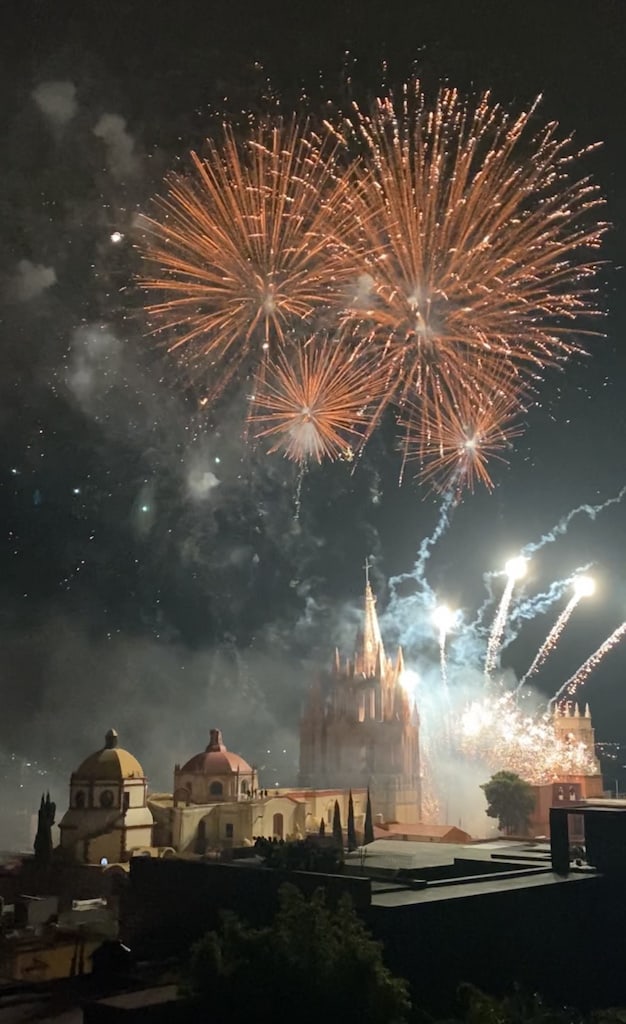 #10 Reminisce about a Bygone Era while in San Miguel
Authenticity and a healthy dose of old-world charm are in my opinion what best defines San Miguel de Allende. This is a slice of Mexico where time comes to a halt as the pace of life slows down drastically. A place where you'll find no traffic lights, yet locals seem to manage and obey road rules with ease, and where at gas stations a friendly attendant will still help you pump your gas. They even have these old fashioned pharmacies where you go to get your homeopathic remedies since 1852: Botica De Santa Teresita.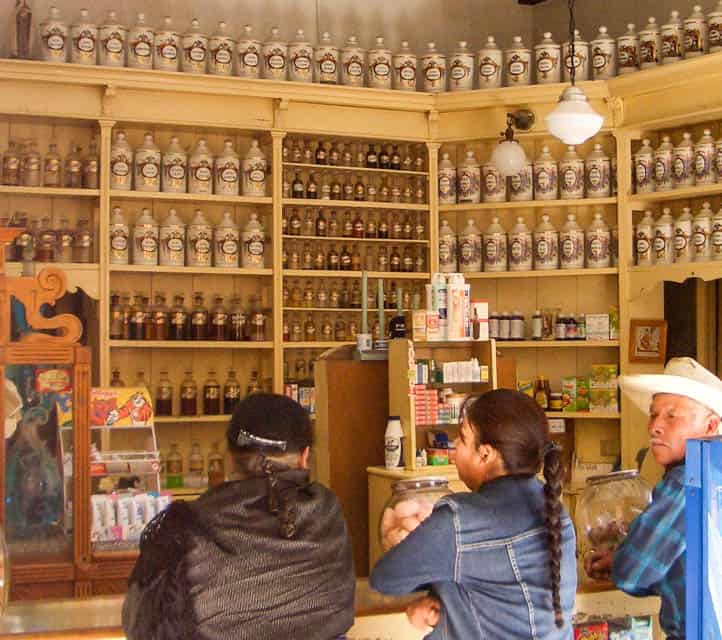 Everywhere you go you will hear locals addressing their elders as Señor or Señora, a respect that's still culturally ingrained in them to this day. And then there's the incredible architecture, too. As you make your way through the cobbled streets, admiring the mixture of colorful colonial and Mexican architectural styles, found in just about every and any vibrant hue you can think of, you cannot help but feel that you have somehow been transported back in time to a bygone era.
#11 Take photographs of the "Doors of San Miguel"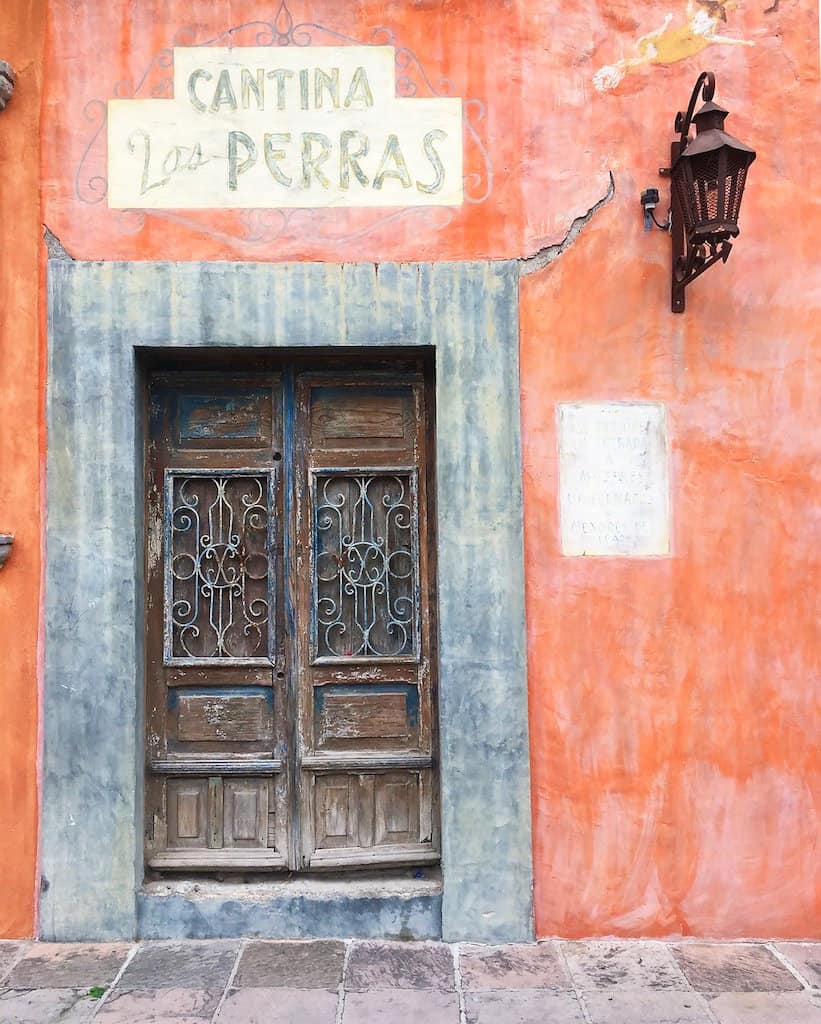 If there is one thing that the age of Instagram has given us, it has been a keen interest in intricately designed doors and windows from around the globe. It's here, in San Miguel, that you'll be able to stoke your creative imagination as you wander through the vibrant streets and alleyways, admiring the incredible variety of beautiful wooden doors, each one uniquely different in style and design.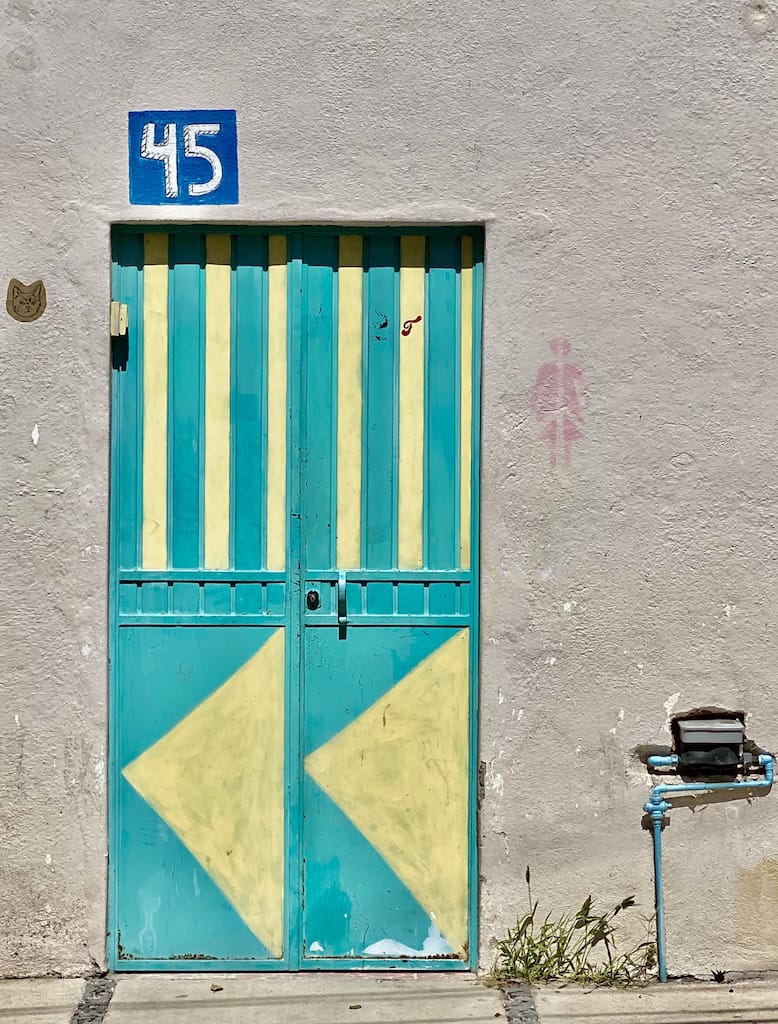 These elaborate doors, which often feature quirky and one-of-a-kind door knockers have become so popular and synonymous with San Miguel over the last few decades that they've inspired countless articles and books written about them. 'Behind the Doors of San Miguel de Allende' by Robert de Gast is one such example, giving the reader a sneak peek behind the scenes and allowing them to explore the inner sanctuary and world beyond these exquisite doors.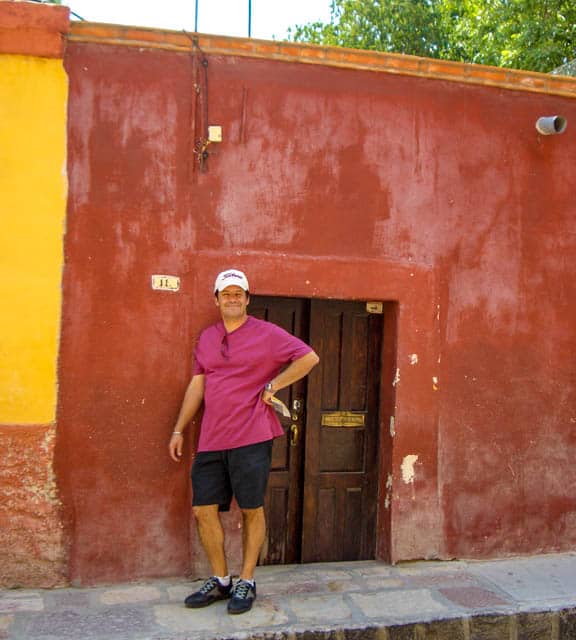 A visit to San Miguel would simply not be complete without snapping away at these gorgeous and ornately carved doors in order to capture the pure magic of San Miguel. And quite honestly, I love them!
#12 Play a Few Games with the kiddos…
Traveling the world, you quickly realize that each country or place has its own set of oddities that adds bucket loads of personality and charm. So why not celebrate these in a fun way by playing a game as you wander through and explore San Miguel de Allende. So every time you see one of these you get a point:
A rooftop dog barking at a passerby, since most homes in San Miguel don't have their own gardens and dogs laze on the roof.
A vintage Volkswagen, since they seem to be everywhere around here.
A donkey walking past you (or better yet, find the tequila donkey at festivals and parades and enjoy a shot!)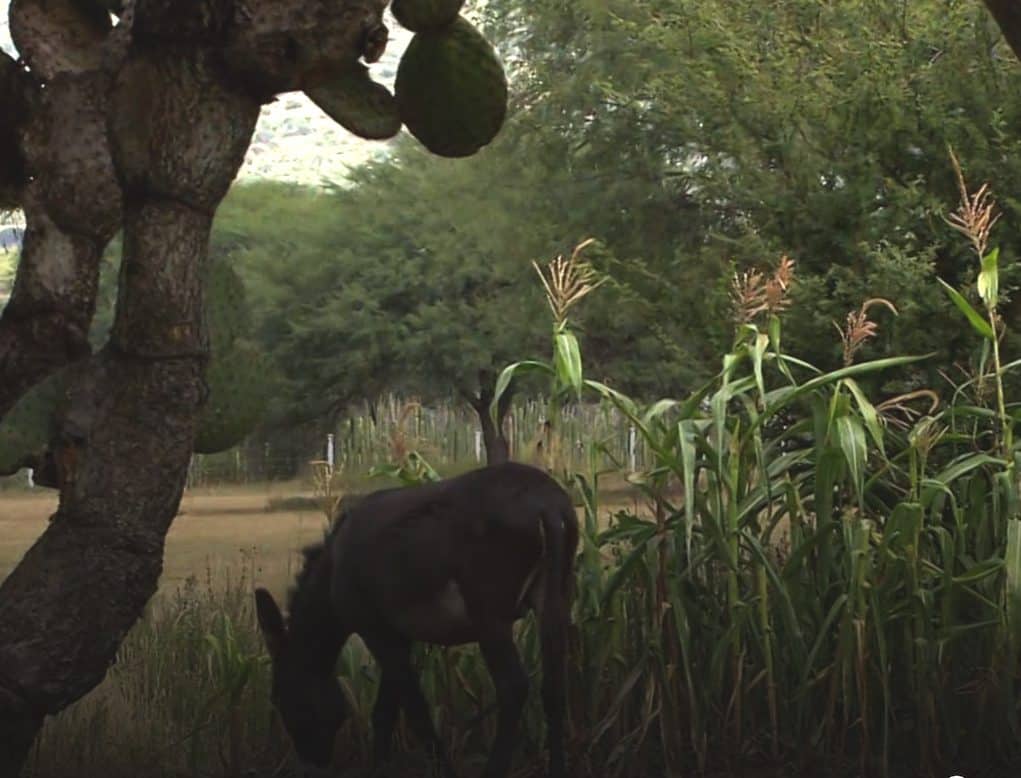 All of these are part of San Miguel de Allende's crazy quirks.
At the end of your week in San Miguel, add up all the points and the winner gets the thing your family deems an appropriate prize! This is a great way to get your kids involved in the family vacation. It may just make them appreciate these unique characteristics that make San Miguel de Allende such a special place.
#13 Take a class at Instituto Allende in San Miguel
It's no secret that San Miguel de Allende is home to a thriving ex-pat community. This is in large part due to the infrastructure, safety, and beauty of the city. If you too plan on spending a couple of weeks, months, or even longer in San Miguel, then why not immerse yourself in the local culture and art scene by enrolling in a class at the Instituto Allende.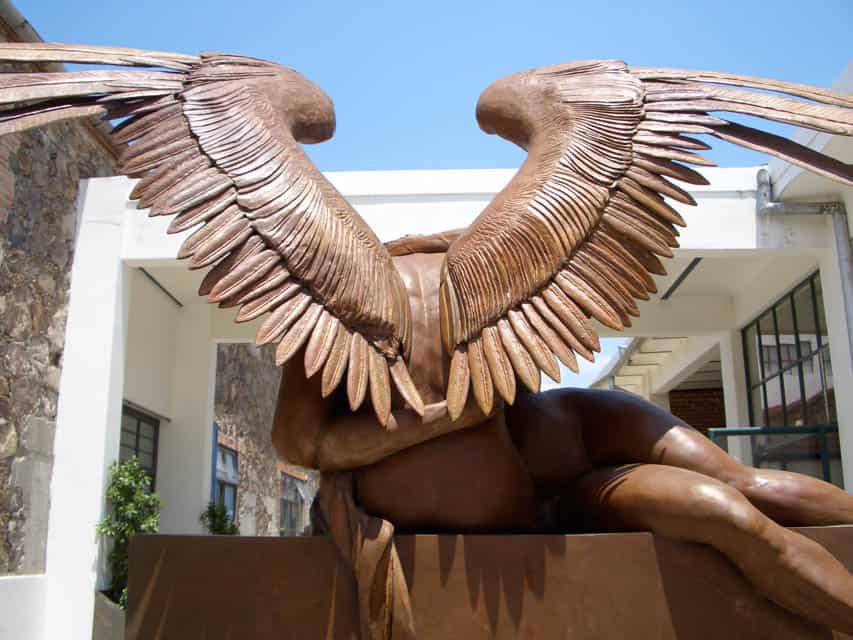 A popular arts and language school, the Instituto Allende offers a variety of Spanish language and art classes and workshops. Ranging from group to fully immersive Spanish courses, they have it all. As well as sculpture, acrylic painting, printmaking, and traditional Mexican weaving workshops, this renowned institute will no doubt have a course to pique your interest.
#14 Plan a Day Trip to Guanajuato
If there is one thing Mexico is known for, it's undoubtedly the colors and vibrancy found throughout this incredible country. A fine example of this is none other than the charming UNESCO listed city of Guanajuato, located only an hour away from San Miguel, making it a perfect day trip option. In fact, I simply love San Miguel, but my husband prefers Guanajuato! This old silver mining town really is super cool!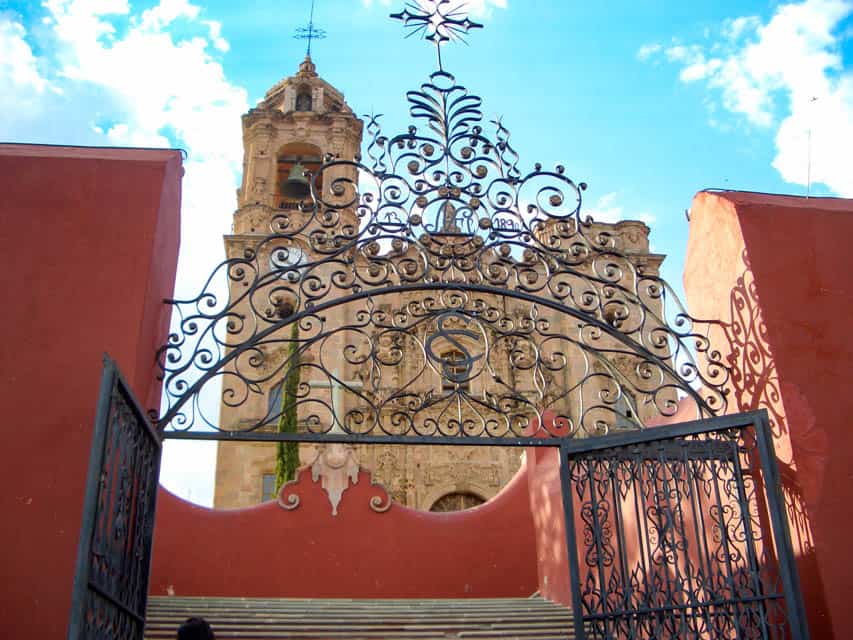 The appeal of Guanajuato is easy to understand. The city's brightly colored buildings, churches, and cathedrals cascade down the mountainside. The well-preserved historic city center is completely pedestrianized making exploring it by foot a breeze. As you explore, meandering through the narrow streets and alleyways, you'll stumble upon shaded squares and plazas around every corner while you admire the charming architecture of the city.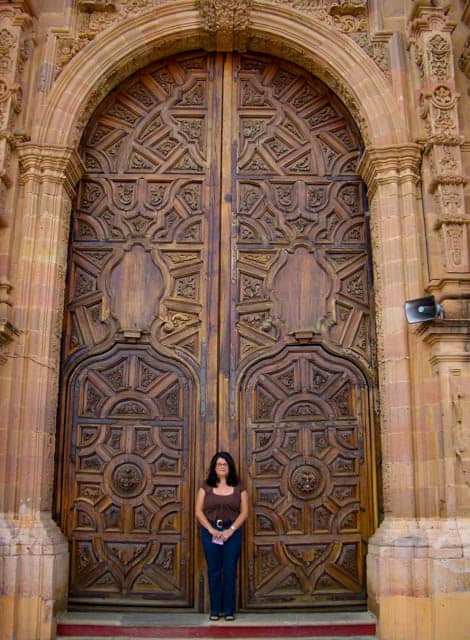 In its affluent heyday, Guanajuato was known for being one of the world's most important silver mining cities, at one stage accounting for around two-thirds of the world's total production! While you can still visit and tour the mines today, visitors flock to Guanajuato to experience a more authentic and less-touristy side of Mexico.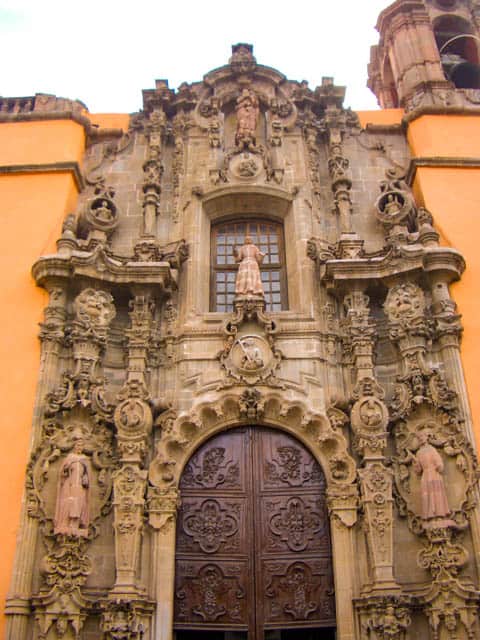 Be sure to visit the fascinating Mummy Museum that's home to over a hundred mummies, explore the historic city center on foot, and pay a visit to the gorgeous Teatro Juarez (Juarez Theater) which was my husband's favorite.
Plus, stop by and tour the home of Mexico's famous artist Diego Rivera at the Diego Rivera Museum (of course you know who he was married to, Frida Kahlo), visit and admire the stunning yellow colored Basilica de Guanajuato or take the funicular up and along the mountainside, providing spectacular views out over the city. You can also see the entire city at El Pipila Viewpoint. Then wander through Mercado Miguel Hidalgo and the Museo Iconografico del Quijote.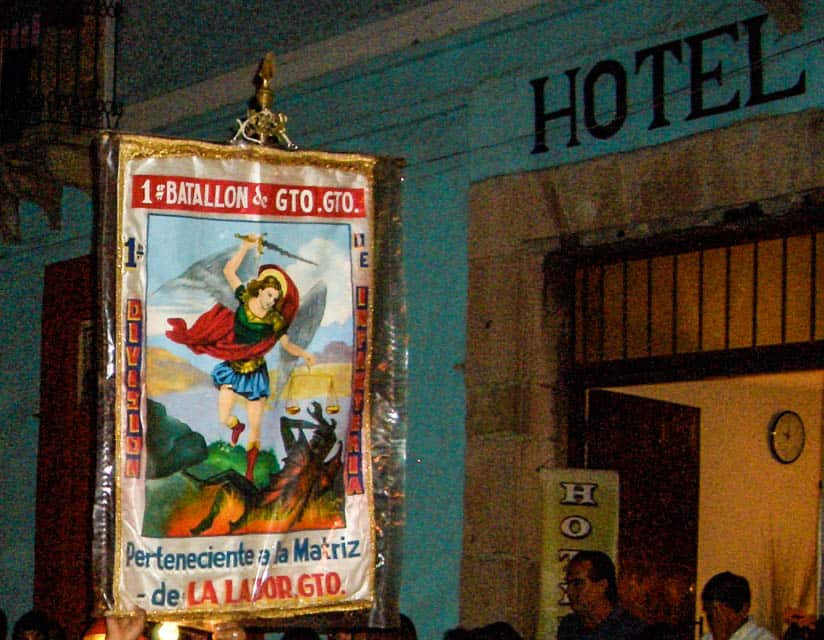 To make the most of your time on a day trip to Guanajuato, I suggest booking a guided day trip to the city. Or, once there, join a guided walking tour to learn firsthand about this alluring Mexican gem.
#15 Buy Talavera in D0lores Hidalgo
Conjure up iconic images of Mexico and I'm almost certain you'll be imaging brightly colored, handcrafted ceramics and pottery that Mexico has become known for. And what better place to get your hands on one of these, as the perfect keepsake to remember your trip to San Miguel by, than in the nearby city of Dolores Hidalgo. It is famous for selling the traditional Talavera ceramics.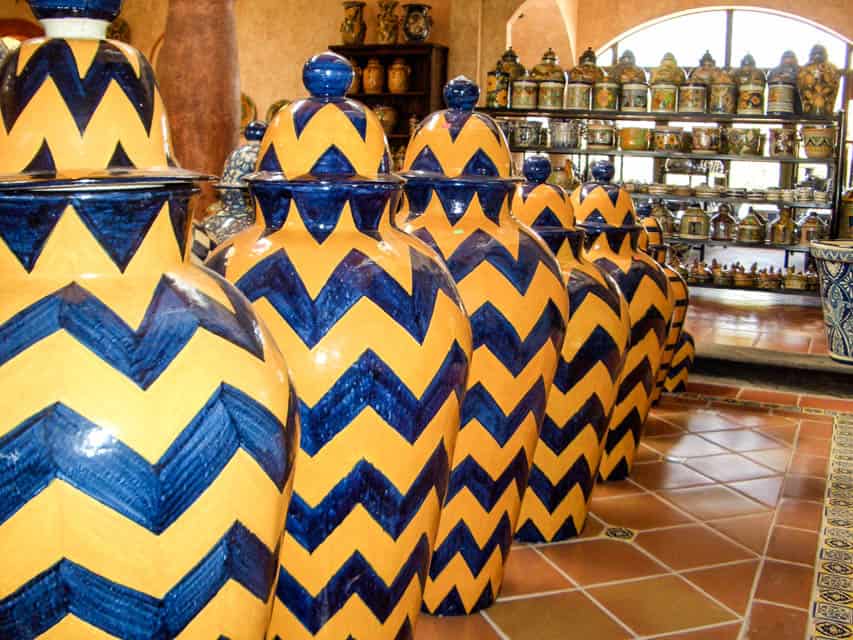 Located roughly 27 miles from San Miguel, this city is known to be the 'cradle of Mexican Independence' from the Spanish. It is thanks to a priest, Father Miguel Hidalgo, who rallied the people and issued his now-famous for the independence of Mexico' (referred to as the 'Grito de Dolores'), which ultimately led to the independence movement. Initially, the town was simply known as Dolores but was later renamed Dolores Hidalgo in honor of Father Hidalgo after the country claimed independence.
Today, Dolores Hidalgo is a great spot to stop off at for handmade and hand-painted pottery and ceramics that the town is now famous for (also thanks to Father Hidalgo who started the ceramics industry). Head to the city center where you'll find a variety of smaller boutique ceramic and tile stores, one such being example being Talavera JMB, selling an assortment of crockery, kitchen utensils, as well as garden and décor accessories.
#16 Unwind at the La Gruta Spa & Restaurant
After a few days of back-to-back sightseeing in San Miguel, you will no doubt deserve a little rest and relaxation in order to recharge from all the walking and exploring. Thankfully, you can do just that at the La Gruta Spa and Restaurant, located about 7 miles from the city. Translated as 'The Grotto', La Gruta offers visitors the chance to unwind in one of three outdoor hot spring pools, benefiting from the restorative properties of its rich natural minerals.
Of course, the main attraction here is the actual 'Grotto' cave, accessible by entering through a narrow cave pathway that leads into the grotto. In the center of the dome-like cavern more natural spring water flows from the ceiling with visitors waiting their turn to delight in a natural mineral shower.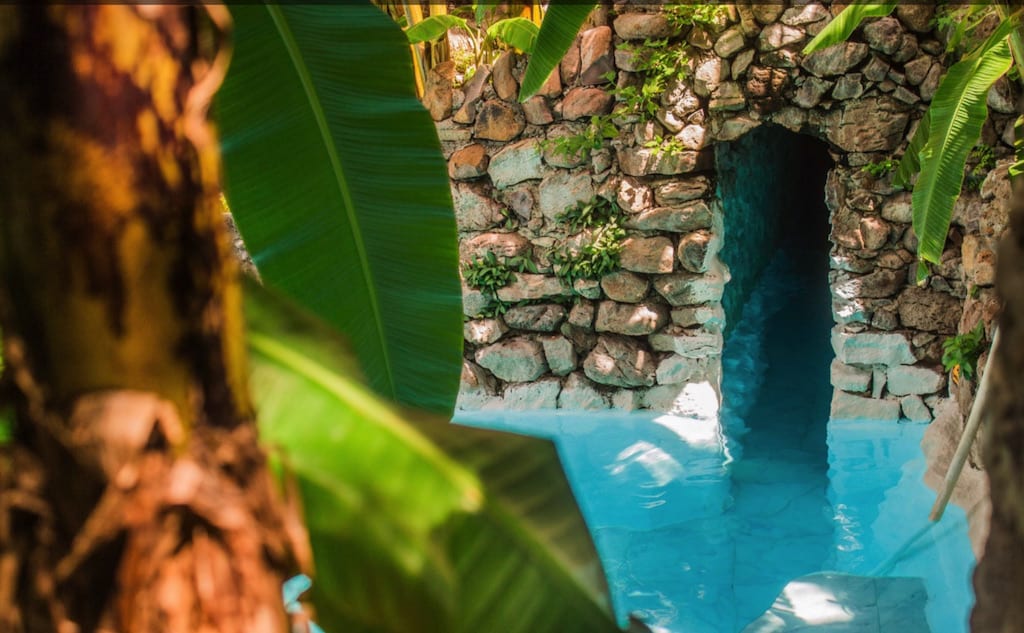 For an added treat, spoil yourself by booking a massage or other treatments that are available at the spa facilities located onsite at La Gruta. Amenities rounding out the experience at La Gruta include a restaurant as well as a small boutique store, in case you forgot any essentials. To get here, you will need a taxi from the center of San Miguel which should cost around $23 roundtrip, and the cost to get in is $10 USD.
Top Tip: Do make sure to get there early and grab a poolside lounger as these do get snatched up rather quickly as it gets busier throughout the day.
#17 Sip Wine at San Miguel's Vineyards
Stereotypically, we all assume that Mexico is obsessed with tequila or mezcal, and quite right it is, but did you know that San Miguel is also home to a number of fantastic wineries too?
Paying a visit to vineyards such as Dos Buhos, Rancho Toyan, Cuna de Tierra, La Santisima Trinidad, and Viñedos San Lucas as well as Viñedos San Miguel, will provide wine lovers the opportunity to sample some of the region's best wines while also learning about the winemaking history and processes here.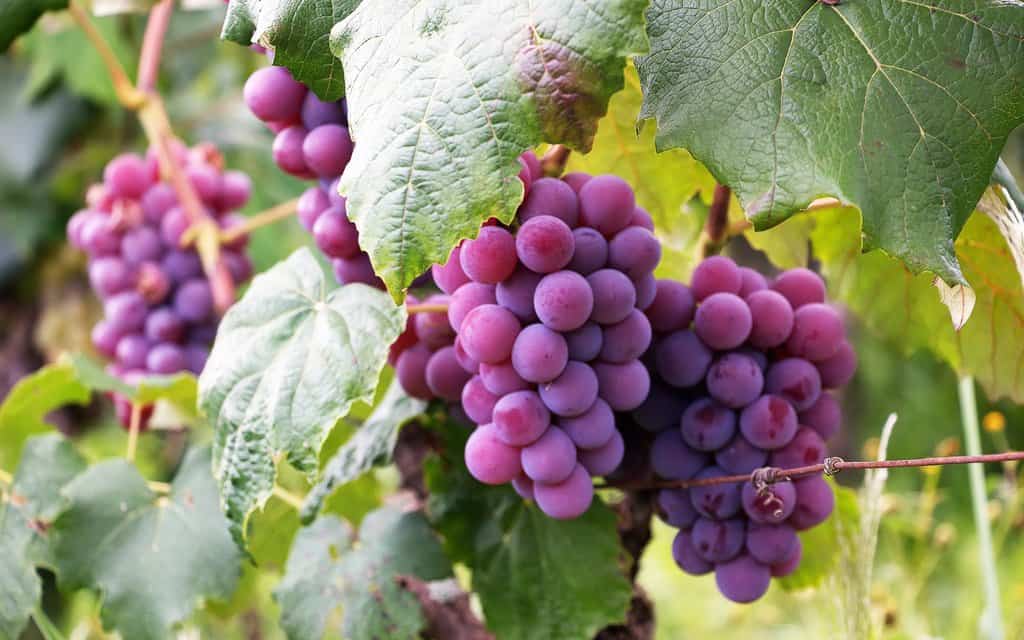 Even though the state of Guanajuato has been known to grow grapes for decades, San Miguel's wine economy has only recently seen a revival as the wine estates started opening up tours to the public and selling their wines commercially. To make the most of your time, it may be worthwhile to book a guided wine tour that allows you entrance to a handful of these vineyards, as you learn about and savor the flavors of San Miguel's excellent wines.
#18 Recharge Yourself at Escondido Place
Similar to La Gruta, Escondido Place is yet another natural hot spring resort located a short 7-mile drive from San Miguel. Escondido Place has 10 thermal pools in total (both indoors and outdoors), set amongst luscious green gardens, allowing you time to unwind and de-stress.
The onsite Renacimiento Spa offers a good selection of body and beauty treatments, including massages, reflexology, facials, and more. Once you've worked up an appetite, head over to the Elena Restaurant to dine at your heart's content on delicious Mexican fare.
#19 Discover an Ancient Archaeological Site
Cañada de La Virgen is one of the most important historical sites situated around 15 miles west of San Miguel. Perhaps not as well-known as some of Mexico's other ancient historical sites, like Chichen-Itzá, Cañada de La Virgen is still a hidden gem and definitely one of the top things to do in San Miguel de Allende if you have extra time for a day trip.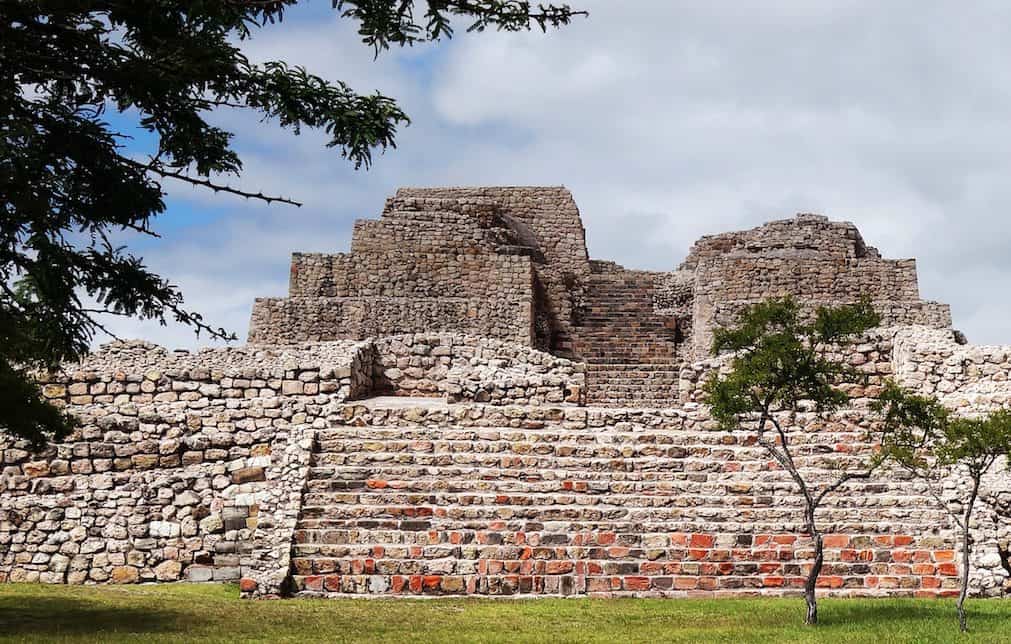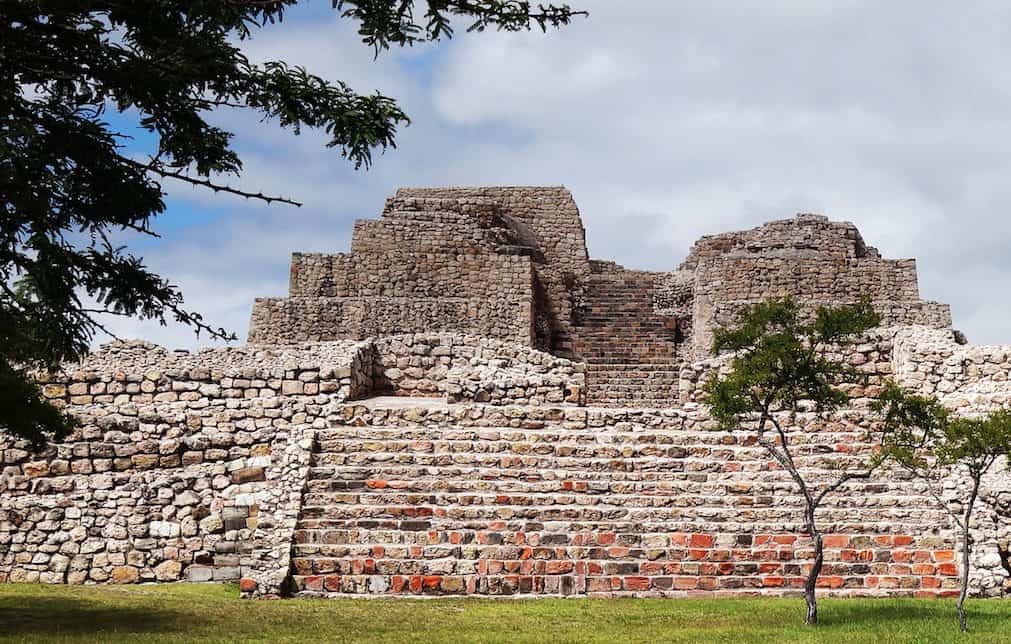 Interestingly, this archaeological site, which comprises seven pyramid-like structures stretching across 40-acres of private land and dating back to as early as 540 AD, was only discovered in 1995. It officially opened to the public in 2011. The Otomi civilization that occupied this area until 1040 AD, used the structures to help track and observe the stars. Although you are able to tour the complex by yourself, I would highly recommend you book a guided tour of the pyramids or an astronomy tour led by a knowledgeable expert.
The site does also offers other activities including horseback riding, hiking, and camping. Although, do note that the camping site is fairly rustic and basic. It would require you to hike to the campsite which is a 45-minute hike on foot from the main sites of Cañada de la Virgen Archaeological Site
#2o Visit San Miguel during Festival Time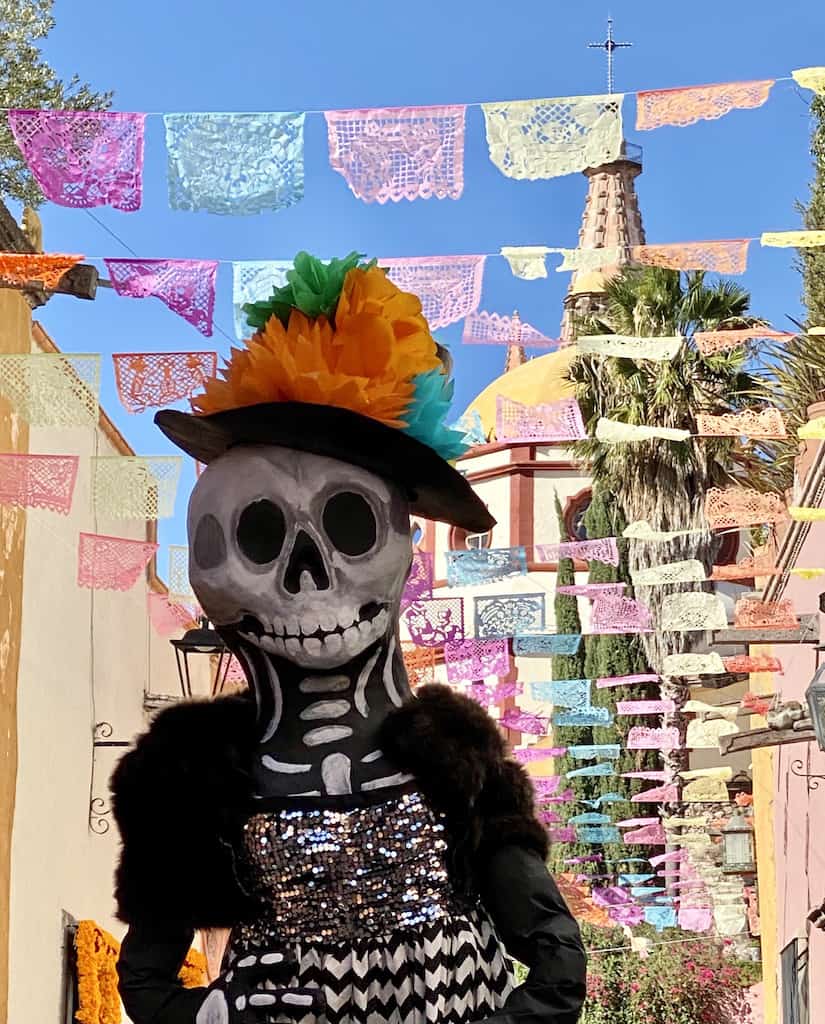 As I've alluded to earlier in this post, San Miguel de Allende is known for its elaborate celebrations and festivities throughout the year. Wildly colorful costumes, spectacular fireworks display, exuberant parties, and parades all form an integral part of these events, some of which are religious while others carry more cultural and historic relevance.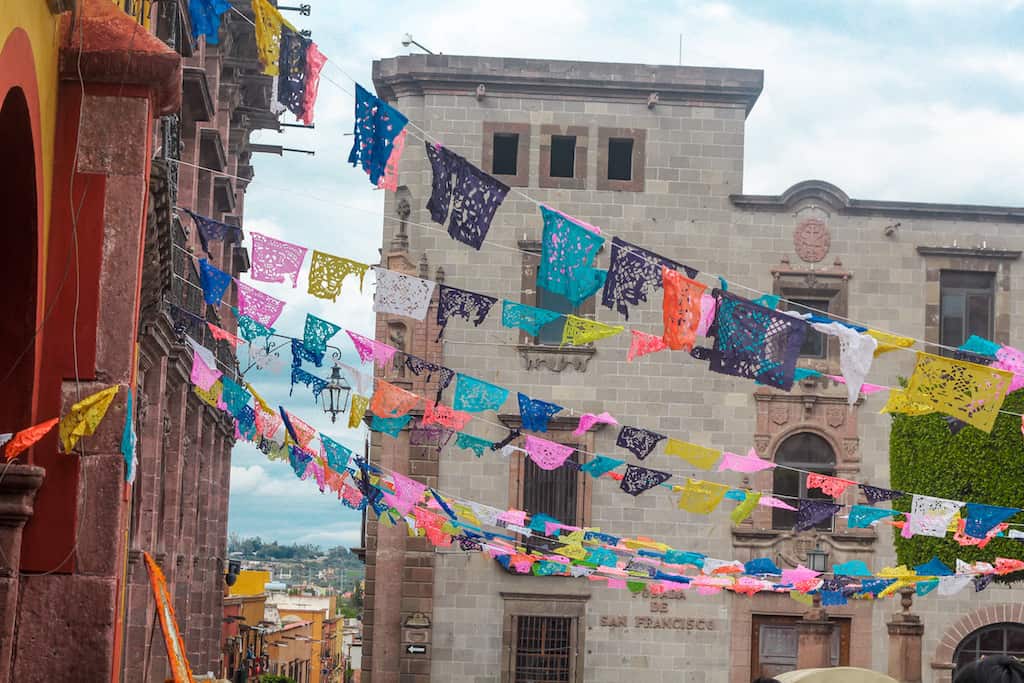 If you're planning your next trip to Saint Miguel de Allende, considering booking right away, as the accommodations book up fast. A couple of the most well-known festivals include:
✦ El Senor de la Conquista (The Lord of the Conquest) – In Early March
This festival in honor of Christ. It is known for its flamboyant and colorful costumes resembling those that would have been worn by ancient civilizations such as the Aztecs or Toltecs. Hundreds of 'Concheros' dancers from various parts of Mexico all form part of the hypnotic dances and parades during this festival.
✦ Easter Time – Semana Santa in April
A deeply religious celebration, Semana Santa is one of the holiest weeks in Mexico. In San Miguel de Allende, religious floats and shrines are paraded through the streets while large puppet effigies (known as mojigangas) are filled to the brim with fireworks, strung up across the street, and set on fire, much to the excitement of the crowds gathered to celebrate. These mojigangas are giant puppets that resemble large dolls and are known as iconic puppets of San Miguel.
✦ Mexican Independence Day – September 16th
Annually, Mexicans across the country celebrate Independence Day that culminates in the reading of the 'El Grito de Dolores', the decree of Independence, followed by lots of cheering and a show-stopping fireworks display.
✦ San Michael the Archangel – September 29th
Festival de San Miguel the Archangel lasts for three to four days. They start out the event by a late-night parade of mojigangas — (mentioned above). Locals and tourists alike sing and dance on the streets as mariachi bands play music until dawn. As you can guess, fireworks light up the sky. This typically begins at 4 am and goes long after midnight the next night. If you ask a local, this festival is a favorite of theirs. ❤️
San Michael the Archangel is held on September 29th. From what I have heard, it is one of the most fun festivals of the year and includes the Voladores de Papantla (the sky dancers- a ceremony with spiritual significance originating from the Mexican state of Veracruz) and the "Alborada," as well as concerts, and street parties. Sounds fun to me!
✦ Dia De Muertos – November 1 & 2
Forming an intrinsic part of Mexican culture, the Day of the Dead is one of the most important celebrations in all of Mexico. This is a time when families gather to celebrate and honor loved ones who have passed away. Families create altars at home, sugar skulls are sold by vendors and shops, and festival-goers dress up in elaborate costumes with intricate skull face paintings. If you want to experience a celebration that is inherently Mexican, then visiting San Miguel de Allende during Dia De Muertos is an absolute must.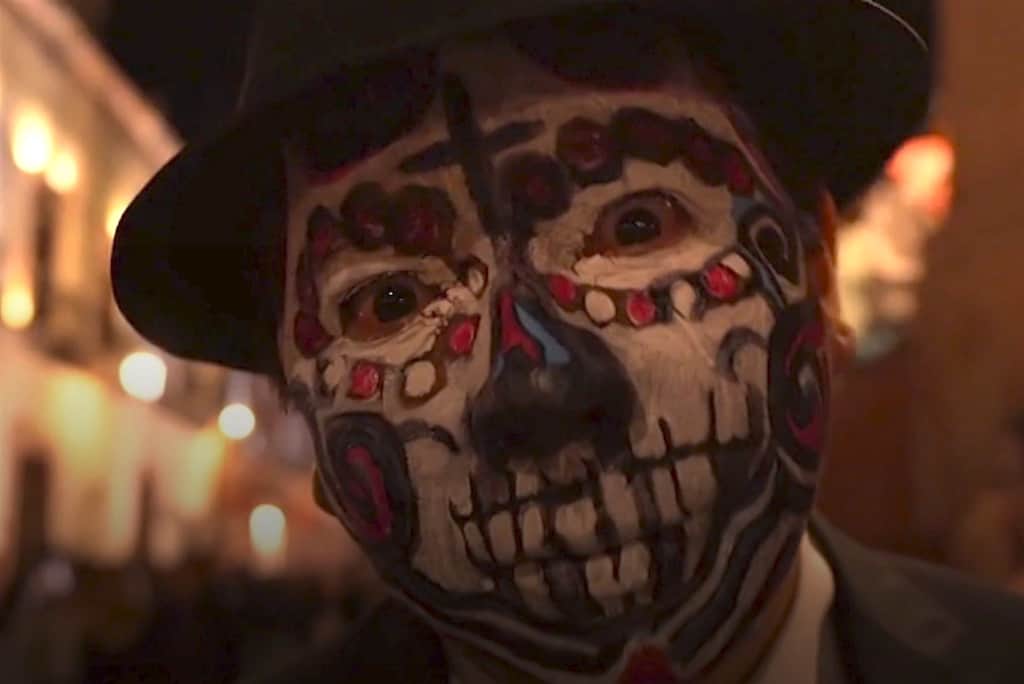 #21 Go Horseback Riding near San Miguel
Many hotels can arrange half-day riding tours at Rancho Xotolar, which is located about 45 minutes outside of town. You will turn off the highway at the Cañada de la Virgen and bump down a narrow dirt road until you reach the sprawling compound where the Ranch is located.
Then you can ride out to the mesa through the cacti and brush and descend on a narrow trail that is carved into an arroyo. Then down through a small river, you can gallop. It will be dusk before you get back to the ranch, but there will be an open kitchen where you can have a meal over a traditional wood oven. Eating queso fresco, a fiery pico de gallo, beans, rice, with warm enchiladas. It may just be the best meal in town!
Where to Stay in Miguel?
The places to stay in San Miguel de Allende seem endless, but I have chosen a few of the more luxurious stays for you to choose from. It seems to me that travelers to Mexican cities are being spoiled for choices on almost every front and San Miguel is no exception! Unfortunately, there are so many great choices that I cannot include them all.
#1 Casa No Name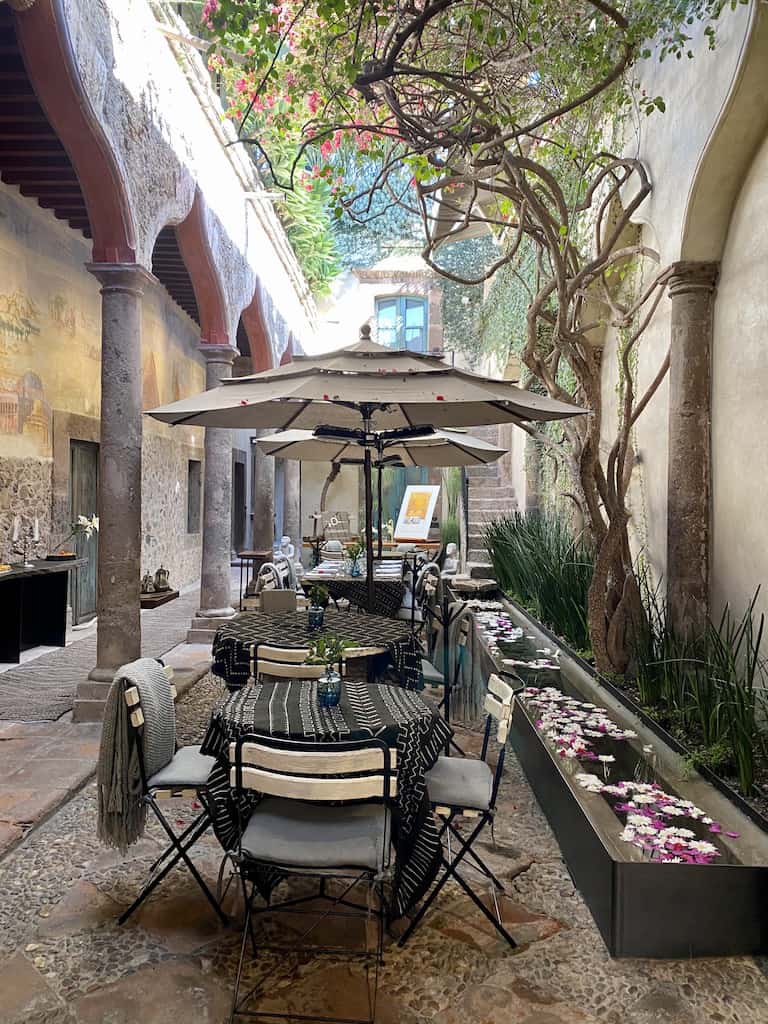 Casa No Name, a small luxury hotel, is one of the most gorgeous hotels in all of San Miguel de Allende. I keep finding myself going back again and again. They have a gorgeous rooftop bar, Olivia Bar, for lounging that is decorated in an international Tibetian chic style. You can walk around the casa, listening to the sound of water between the Moorish arches waterfall, the bougainvilleas that float in the fountains, and go through the woven tunnel of leaves topped with leafy ferns. Here you will find the waterfall of the Jacuzzi next to the OLIVIA BAR terrace – simply stunning.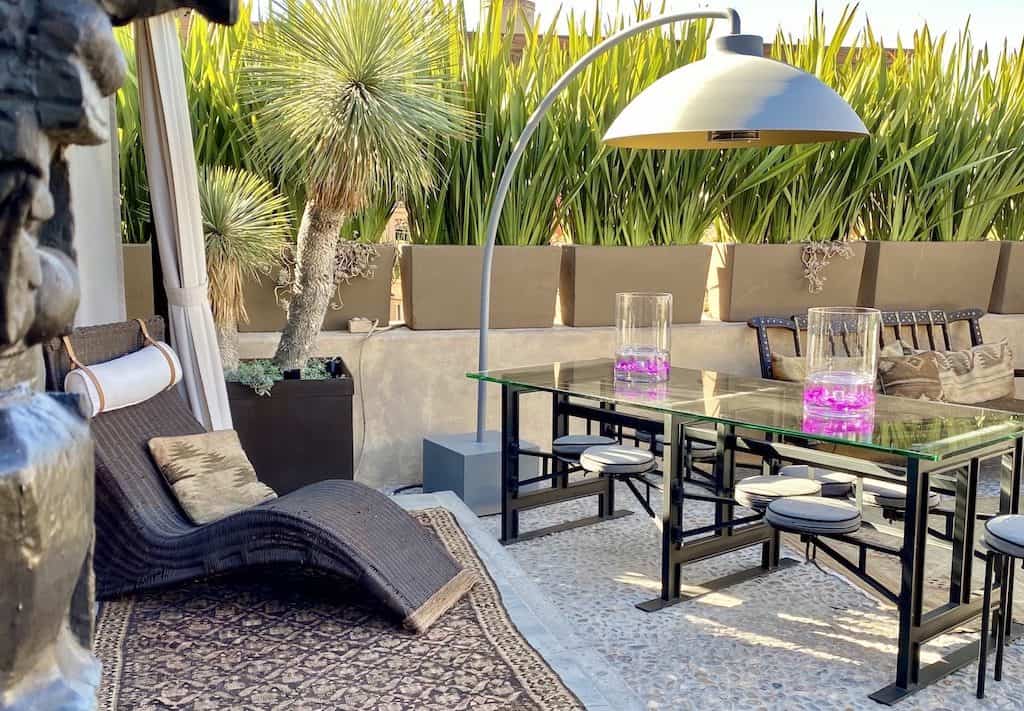 Casa No Name was built in the 18th century and is a 6 room mansion built right in the heart of San Miguel.
#2 Hotel Amparo
Hotel Amparo is dubbed "a small piece of paradise in the world's most charming city." And I would happen to agree, as it is tucked away off of Mesones Street. Yes, it is just steps away from El Jardin in the historical area of San Miguel and offers a place for travelers who seek an alternative to the city's traditional luxury stays. With only five suites, it has only been opened since January of 2019 and yet has already made quite a big impression. Travel + Leisure readers have already voted it as the #1 Top City Hotel to stay in Mexico in 2020 and #2 in the world!
Situated in a former mayoral residence, the hotel's "attention to details" is beyond ordinary! Each of its five rooms has a unique "feel" to them. And their level of service is outstanding. It combines Spanish-colonial antiques with edgy contemporary works of art. I believe it is the best addition to San Miguel de Allende in a very long time!
#3 Belmond Casa de Sierra Nevada
The gorgeous hacienda-style Belmond Casa de Sierra Nevada reminds me of a bygone era. As you swing open the old, wooden front doors and encounter your own private sanctuary. A sense of calm will come over you as you wander the grounds of this 17th-century fortress. A dip in the pale-stoned pool will leave you refreshed, as you sip a tequila-filled margarita under the perfect sun. Later you can meander through the gardens filled with cactus and agave trees, while live Latin music fills the air. The perfect oasis for those who need to get away.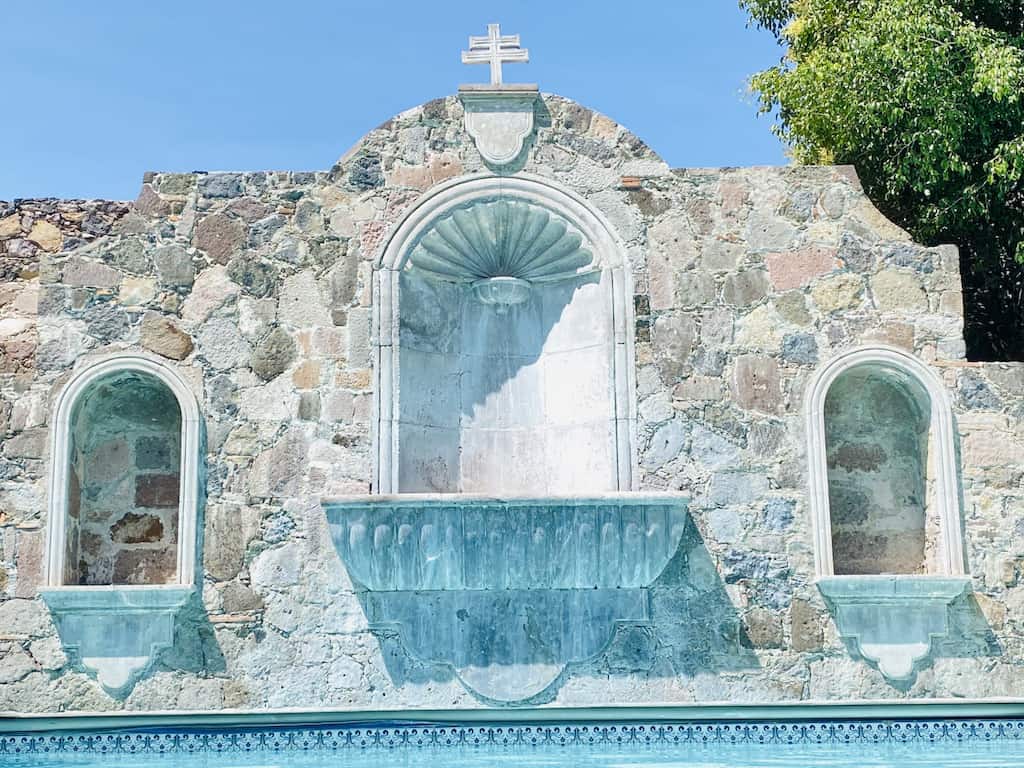 The Belmond is like a cluster of colonial mansions that are built around a central courtyard yet is walled off from the street, so the vibe is like a private sanctuary. And yet it is right in the middle of everything you need. It has 27 rooms, many with stone fireplaces, and copper-lined tubs…which adds to its elegant look
#4 Rosewood San Miguel de Allende
Rosewood San Miguel de Allende is simply a stunner and easily captured the grandeur of an old Mexican hacienda from the 15th century. You can feel its elegance the moment you step into the courtyard. This is quite simply a "WOW moment" indeed. It really is that spectacular and the pools with their private oasis are quite grand! The colonial arches, hand-carved wood trim, and warm color tones had you before you even said "!hola!"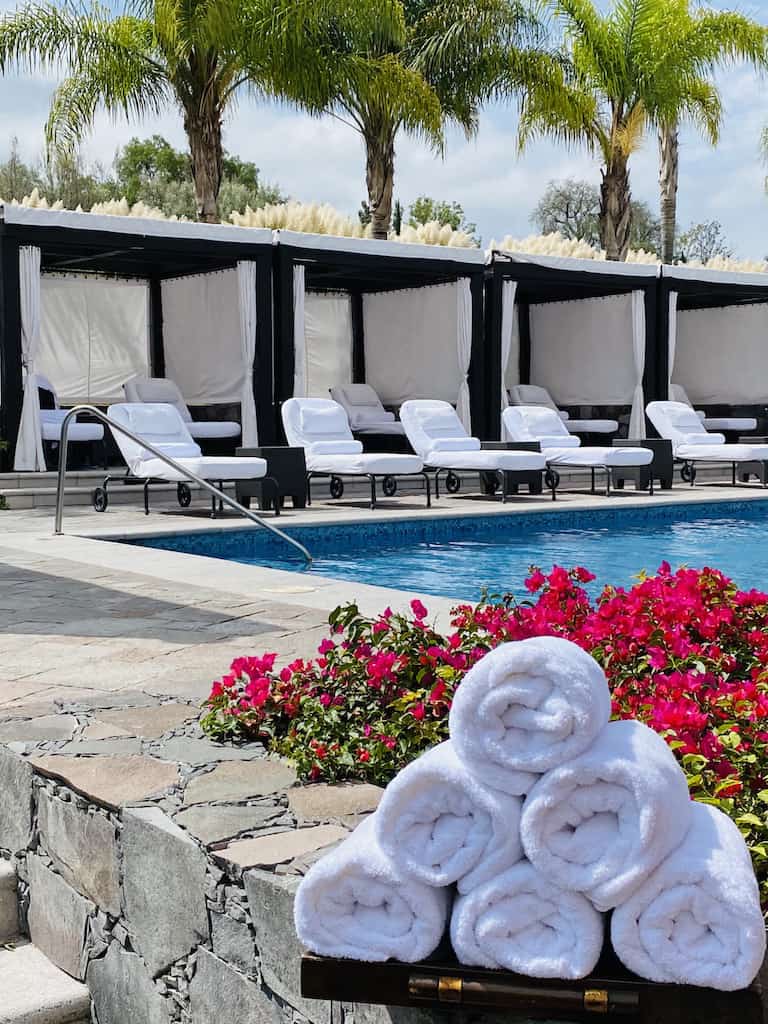 #5 L'Otel
The trendy L'Otel – what they call one destination, two properties. You have your pick of "intimate and romantic" or "vibrant". With both hotels close to the center of town. They give you Vibrant L'Otel with ten very impressive rooms and suites that make up the top floor of the Dôce 18 Concept House. Or if you are here for romance and intimacy, you will want to stay at Callejon de Chiquitos that is located on the smallest and quietest street in all of San Miguel de Allende. It offers four unique rooms in a colonial-style house with colors that stimulate the senses.
#6 Dos Casas Hotel and Spa
Dos Casa Hotel and Spa eludes a cool sense of Mexican modernism in its two adjoining 18th-century colonial houses. With 12 chic guestrooms, it evokes a sense of Mexico's rich colonial heritage with its stone, wood, iron, and leather touches. And its on-site restaurant, Aperi, has been getting amazing reviews with its rooftop terrace offer breathtaking views of San Miguel.
#7 Live Aqua Urban Resort San Miguel de Allende
One of the newest additions to the San Miguel hotel collection is the Live Aqua Urban Resort, the fifth location for this Mexican-branded hotel. It is now the largest hotel in town with 153 rooms. It is a mix of artsy contemporary Mexican décor. Located in a renovated hacienda-style building in front of a centuries-old dam. It has repeating archways, a gorgeous pool, and sculptures across its grounds. Its front reception even doubles as a bakery!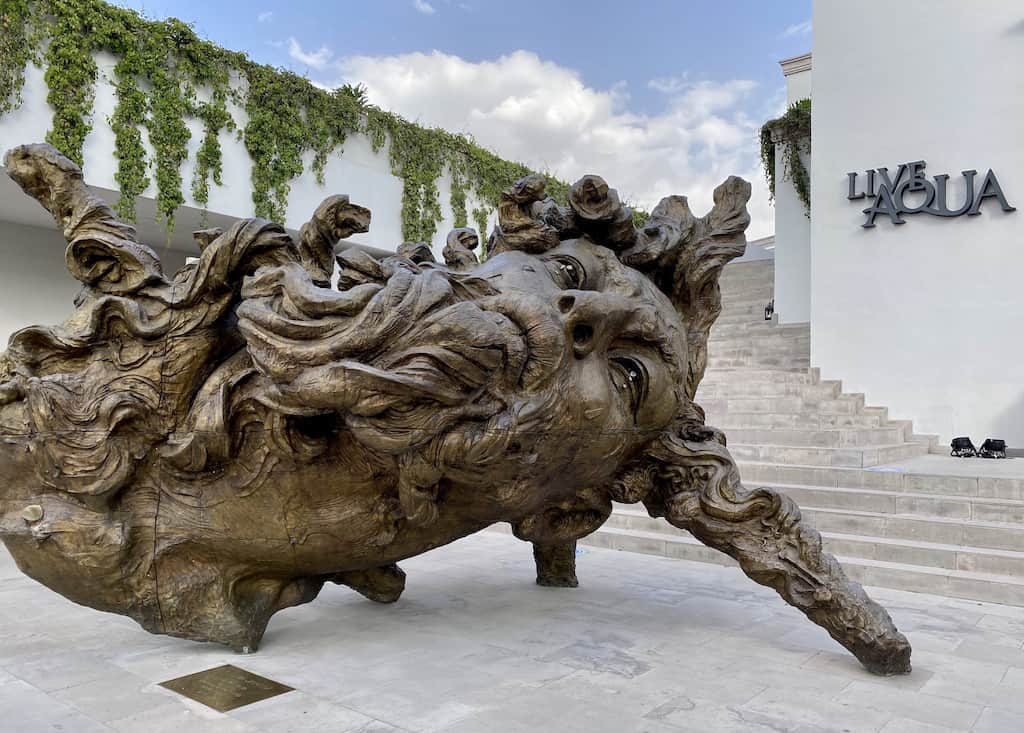 #8 Hotel Matilda
The boutique Hotel Matilda is truly a feast for the eyes with its upscale vibe and artsy flair – a contemporary design with an impressive collection of artwork. It is super chic and elegant and located right in the heart of San Miguel de Allende on Aldama Street. And let's talk about that pool! What a WOW moment! The pool-side décor and the cocktails are a few of my favorite things!
#9 Casa 1810 Hotel Boutique
As I said before, San Miguel has so many stunningly gorgeous places to stay and this is yet another one! Casa 1810 Hotel is steeped in history and charm, with its 15 rooms just around the corner from the main square. It offers a unique fusion of modern comforts plus traditional architecture and contemporary Mexican décor. And just downstairs, you will find its cava-style wine bar.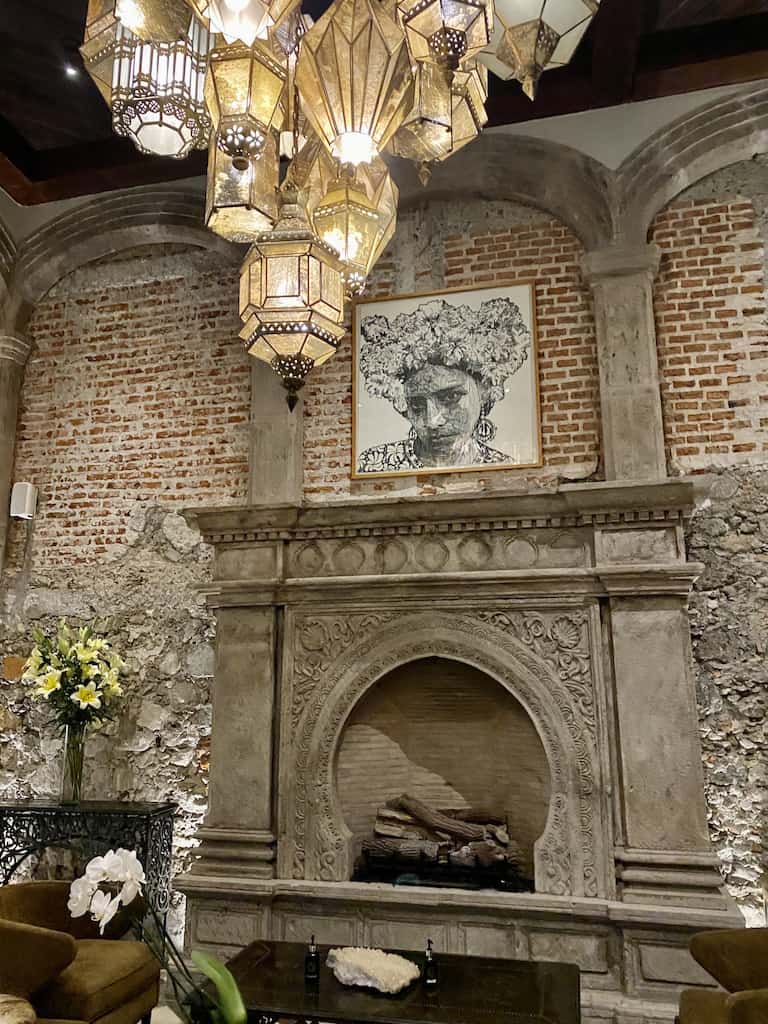 ---
Hey, Get me a cocktail and a cigar!
---
Best Restaurants in San Miguel de Allende: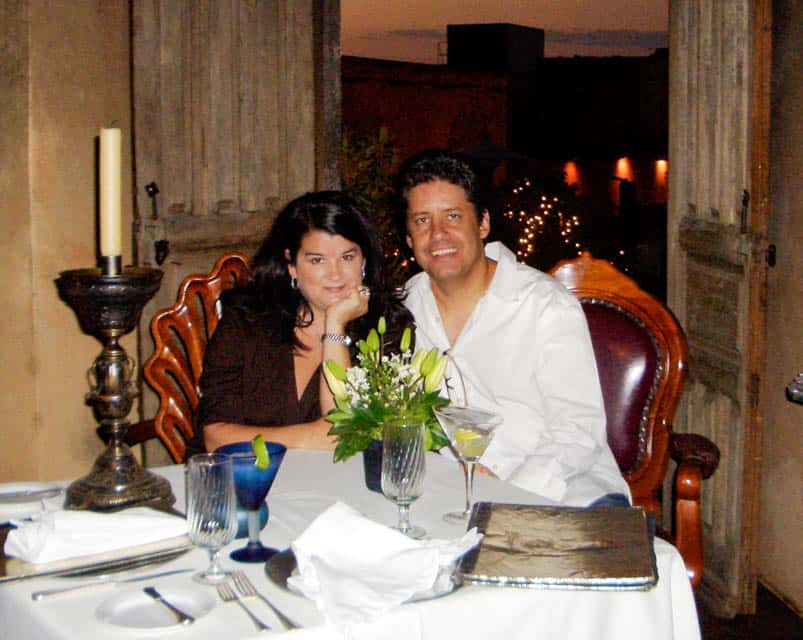 ✦ Luna Rooftop Tapas Bar at Rosewood San Miguel
Even if you don't stay at the Rosewood San Miguel since it is a bit further out of Centro, make a reservation at the Luna Rooftop for a magical sunset. It is known to be one of the best rooftop bars in the whole city for its stunning view of the city. The service is great, and despite the swanky atmosphere, the drink prices are decent. Order a Casa Verde – a tequila with limoncello, lemon juice, kiwi, and celery or the ribeye tacos – to die for! You can watch the crowd snap selfies of the Parroquia as it turns pink in the late afternoon light! Don't miss your chance on a visit to this bar.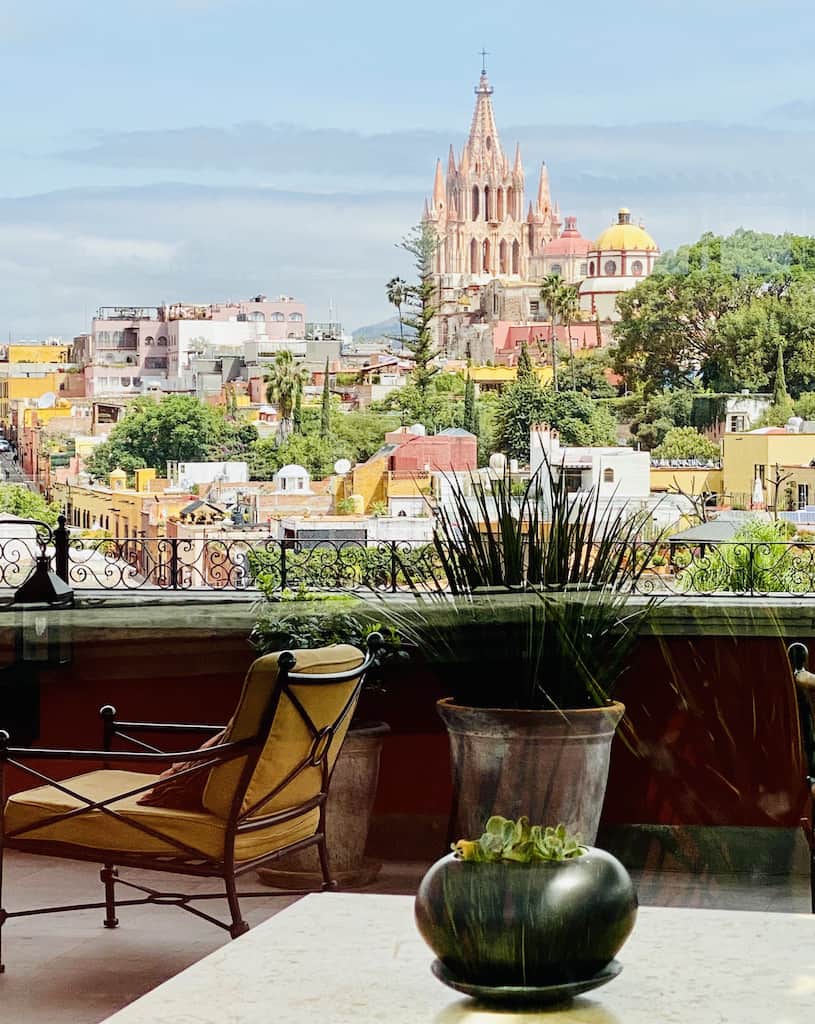 ✦ Mirador
Check out the Mirador for the best bird's eye view of the town. From here, you can see all the places you have visited on foot, including Parque Juarez, San Juan de Dios, and the Parroquia. Grab a coffee or a snow cone and just enjoy the panoramic views. The best way up to the Mirador is on the tourist trolley (Tranvia Turistico) which stops a few feet away. Or you can grab a taxi or walk to the top. Take the set of stairs within Benito Juarez Park for the easiest access.
✦ El Palomar
Perched in Centro, you can get a great perspective of the city, with the lake in the distance. You can enjoy fabulous sunsets here with the Parroquia as the star of the show! She is quite beautiful at night!
✦ Quince Rooftop
Another chic and swanky stop is Quince's Rooftop. This stunning rooftop bar and restaurant with an up-close and personal view of the Parroquia has a great atmosphere. It upon occasion will have a DJ and a nice crowd that makes this place feel special.
---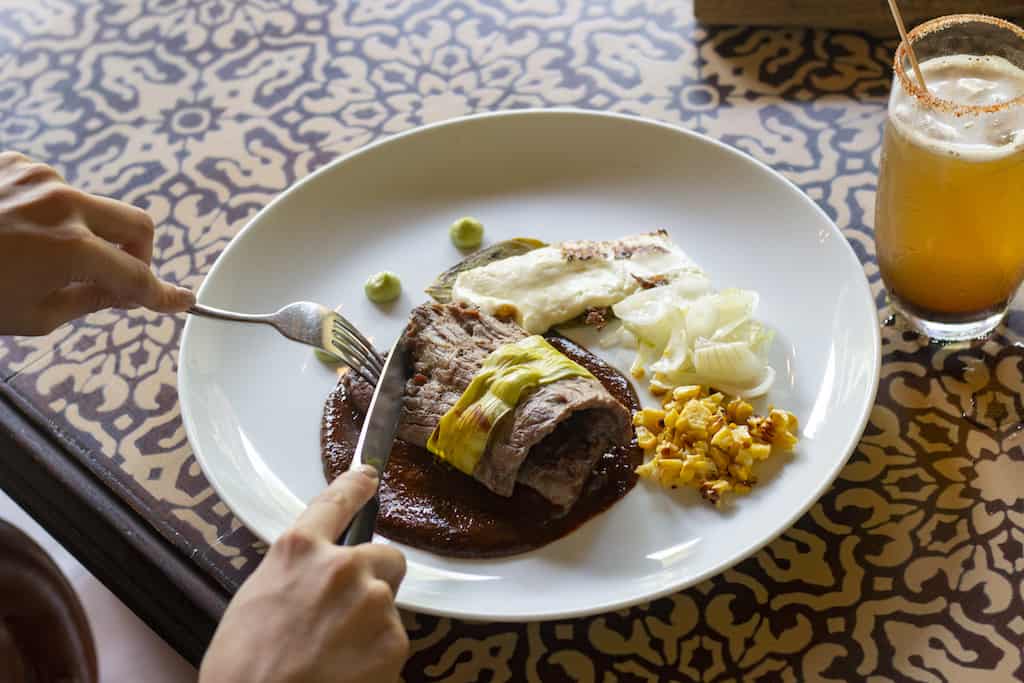 ✦ La Posadita
Like Quince, La Posadita is opposite the ornate spire of the Parroquia but its tucked away position doesn't afford such a spectacular vantage point. The terrace at the back however has comfy sofas and a sweeping view across the outskirts of San Miguel. A perfect sunset spot. Plus, they have a great bar and many times live music.
✦ La Pizzeria Chiquita
An understated rooftop that is a great place to sip wine and eat pizza if you want lunch in San Miguel in Mexico.
✦ Tequila Tasting Room at Casa Dragones
Since it first opened in 2016, Casa Dragones has become an essential stop in the Mexican colonial town of San Miguel de Allende. I always head there on my first night to pay respects to the tequila gods! It is a small-batch tequila producer with a passion for producing extraordinary tequilas one bottle at a time!
✦ La Azotea
La Azotea, the rooftop of Pueblo Viejo Restaurant is actually one of my favorite bars in town. Here they have great views, comfortable décor, and the drinks are strong – just the way I like them.
✦ Tostevere (I give this one 5 Stars!)
Tostevere is an affordable, popular, and charming spot that offers innovative food and serves small-style Mexican tapas, similar to what you might find in Mexico City in a hipster's joint. The owner is quite nice and the food is super creative. The seasonings, sauces, and presentations are quite unique. We ordered a pizza with fig, trout, and cheese that was to die for! Voted #1 by readers of TripAdvisor in the eats department!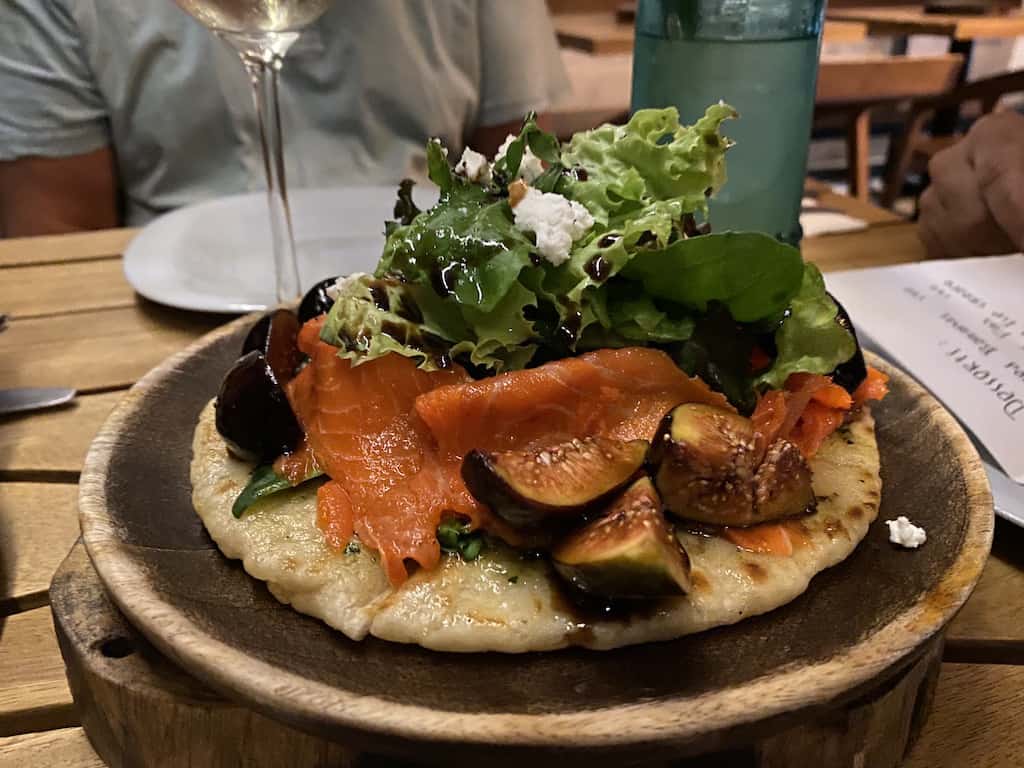 ✦ Olivia Bar at Casa No Name
With a terrace full of life where you can enjoy the house cocktails with Mexican appetizers and tapas surrounded by the most beautiful domes of Saint Miguel Mexico. This space also dedicated to cultural programs, exhibitions, and concerts. Plus they have the best juices in town – and awesome Mexican cocktails!
San Miguel de Allende's Health and Safety
Many SanMiguelenses that I met were super proud of the city of San Miguel – boasting that it embodied many of Mexico's best qualities like the food, culture weather, and the people yet had none of its worst qualities. So many times, I was told that San Miguel is one of the safest places in Mexico! And I felt safe during the day and took regular precautions in the evening.
But beware that you can't drink the tap water, as it is not potable. But pretty much everywhere you go, they will be serving you drinking water that is sourced from good water. Feel free to bring your own bottle and refill your bottle with water from your hotel.
How to get to San Miguel de Allende:
When traveling to San Miguel de Allende, you will have a few options to get here. And I do have to say that it is not the easiest place to get to, but totally worth every minute you get to stay here!
Here are the Main Four (4) Options:
#1 Fly into Leon/Guanajuato Airport (BJX Airport): Fly into the Del Bajio Airport (BJX) that services Leon and Guanajuato. This airport is about an hour and fifteen minutes from San Miguel de Allende. Most likely, the hotel or place you are staying can send a car to come to get you for a fee.
From here you can take a shuttle van which costs about $30 USD per person. A company that operates a shuttle van service is BajioGo.
#2 Fly into Querétaro International Airport (QRO): You can fly into Querétaro International Airport that services Colon and El Marques, Queretaro, Mexico. It is about 75 minutes away from San Miguel de Allende. Most likely, the hotel or place you are staying can send a car to come to get you for a fee.
From here, there are 3 ways to get to San Miguel de Allende by bus, taxi, or car. The bus runs from $2-$12 per person, takes about an hour and can be booked here. Taxi runs about $55-70 USD and takes about an hour. Rental car runs about $8-$10 USD per day and takes about an hour.
#3 Fly into Mexico City Airport (CDMX Airport) and take a bus: Fly into Aeropuerto Internacional Benito Juarez Airport. Although further away, it is about 3 hours and 10 minutes away from San Miguel de Allende. You can either rent a car from here and drive or you can take a shuttle bus from Mexico City to San Miguel.
The bus from Mexico City departs to San Miguel de Allende and takes roughly 3 and a half hours to get there. You will have to take a cab ride to the bus/shuttle station (Mexico Norte Bus Terminal) which is about 15 minutes away. A few steps in front of the Arrivals Gate Exit, you'll see a handful of stands with the words"TAXI" on them. These are the ones you will take to the Mexico Norte Bus Terminal. The full name of the bus terminal is "Terminal Central de Autobuses del Norte." The taxi company will give you a ticket. You give this ticket to your driver. (cost is roughly $11 USD).
Once you arrive at the bus terminal, there are a few different luxury bus companies you can use, but the best are Primera Plus and ETN. You can buy your bus ticket at the bus station or buy in advance up to 30 days before. The tickets cost roughly $25-$35 USD. You will have to go through security and show your ticket before getting on the bus. Then you wait in the bus boarding hall until time to go. All buses are labeled with the destination across the illuminated display at the front of the bus. These buses are primarily safe and come equipped with USB ports for charging, bottled water, and footrests. It will take about three and a half hours. And once you arrive, it takes about a ten-minute taxi ride into the center of town.
#4 Hire a private driver: You can hire a private driver from Mexico City for about $250 USD. The drive will take about 3 and a half hours.
Look at Things you May Not Know about San Miguel in Mexico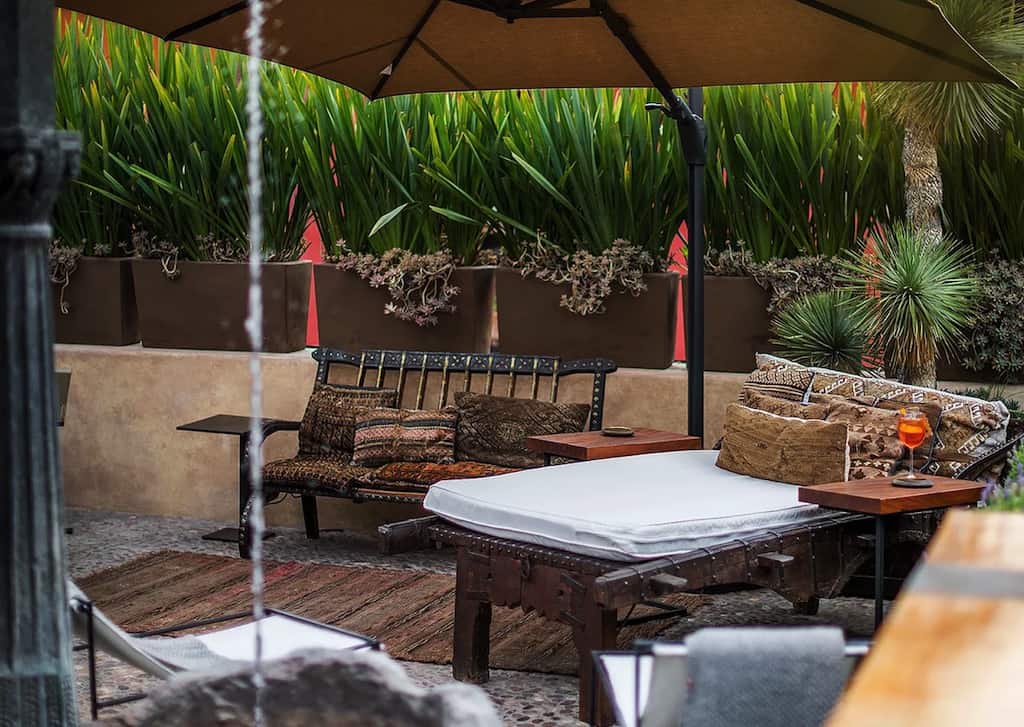 Walking is the best and simplest way to get around this unique town. The feeling you get when your shoes hit the antique cobblestone streets of San Miguel is quite like nothing you have ever felt. But GOOD FOOTWEAR is essential. Leave the high heels at home when walking the cobblestone streets! (Strollers don't do too well either!) So be practical with your footwear!
Due to this 16th-century town's impressive historical, architectural, and cultural significance, it was named a UNESCO World Heritage Site in 2008.
Although Mexico is surrounded by water, San Miguel de Allende in Mexico is also surrounded by mountains and canyons!
This town is named after two people, the first is a monk, Juan de San Miguel. The second person is a hero in Mexico's War of Independence in the early 19th century, General Ignacio Allende.
People from around the world love to visit Saint Miguel Mexico and some even remain as ex-pats. There is a large ex-pat community in this quaint town, most of which speak English.
Public restrooms are all around the city, so be sure and have a few pesos with you. There are also many great hotels and restaurants that you could use.
What to Bring to San Miguel de Allende?
Bring Comfortable Shoes – you will need them for walking.
Bring a bathing suit for your stay if they have a pool.
Bring a reusable bottle to carry around.
Bring a lightweight jacket for the cooler mornings and nights.
How to Get Around San Miguel?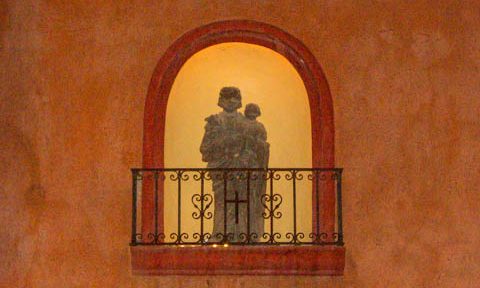 Unlike Mexico City, if you are looking for Uber, they do have it, it just may take a few minutes more to get one to you. But I also recommend finding a taxi or cab, as they are a reliable source for a ride. But don't worry, there are taxicabs everywhere!
A stroll through the streets of San Miguel de Allende has you wandering through the historic center, churches, and gardens. Each new place that you visit in this charming town will have you in awe. The museums are just as beautiful as the churches as well as the library. Go on as many shopping excursions as you can afford and enjoy the time you spend in this quaint and beautiful town of Saint Miguel Mexico. I would say it is my favorite place in the world!
Here are a few other articles I have written about Mexico:
Step Back in Time in San Miguel de Allende
Famous Landmarks in Mexico You Must Visit!
Zihuatanejo, Mexico: Unplugged Paradise
10 Popular Mexico Destinations & Cities to Visit
Playa Zipolite, in Southern Mexico
Grand Velas Los Cabos -Elevating the Bar Once Again
Disclosure: The writer believes in full disclosure and wanted to let you know that this trip was provided by San Miguel de Allende Tourism Board. As is common in the travel industry, the writer was provided with compensation for this article.