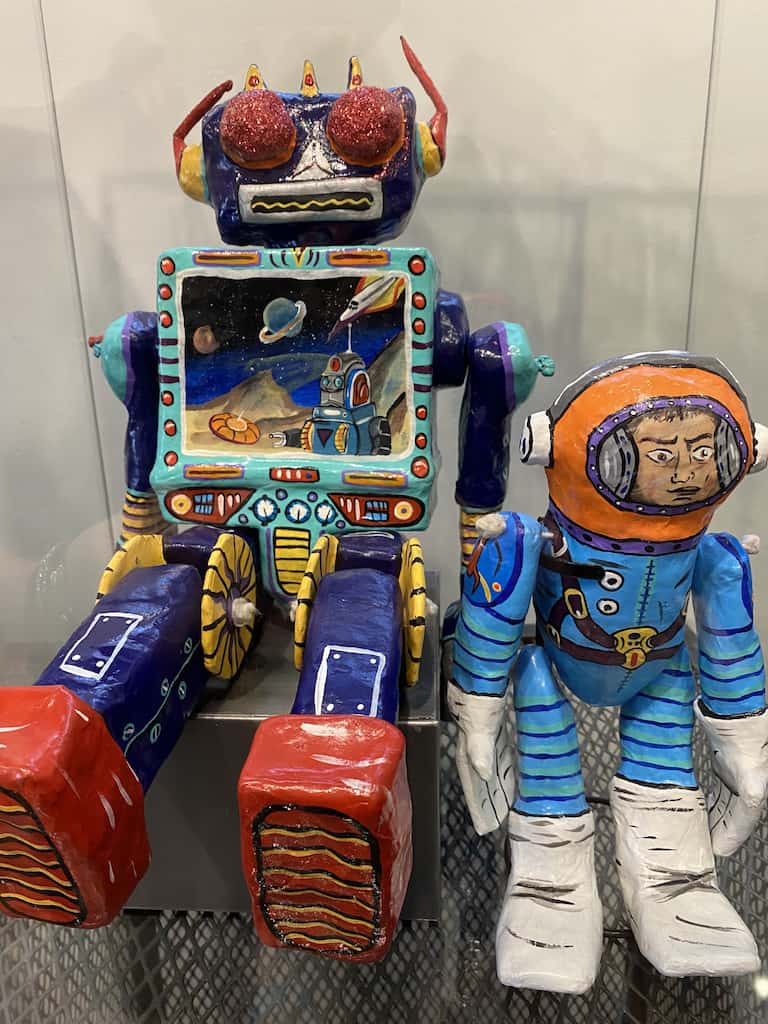 This popular Mexican Toy Museum or "Museo La Esquina" in San Miguel de Allende is one of the many treasures you will find in Latin America that specializes in collecting and exhibiting handmade and beautifully-crafted Mexican toys. It is a collection made up of more than 3,000 toys that have been amassed by its director Angélica Tijerina, for over fifty years! And it is a traditional Mexican handcrafted toy collection that she is super proud of. So stop on by to take a look at this fascinating Mexico Toy collection!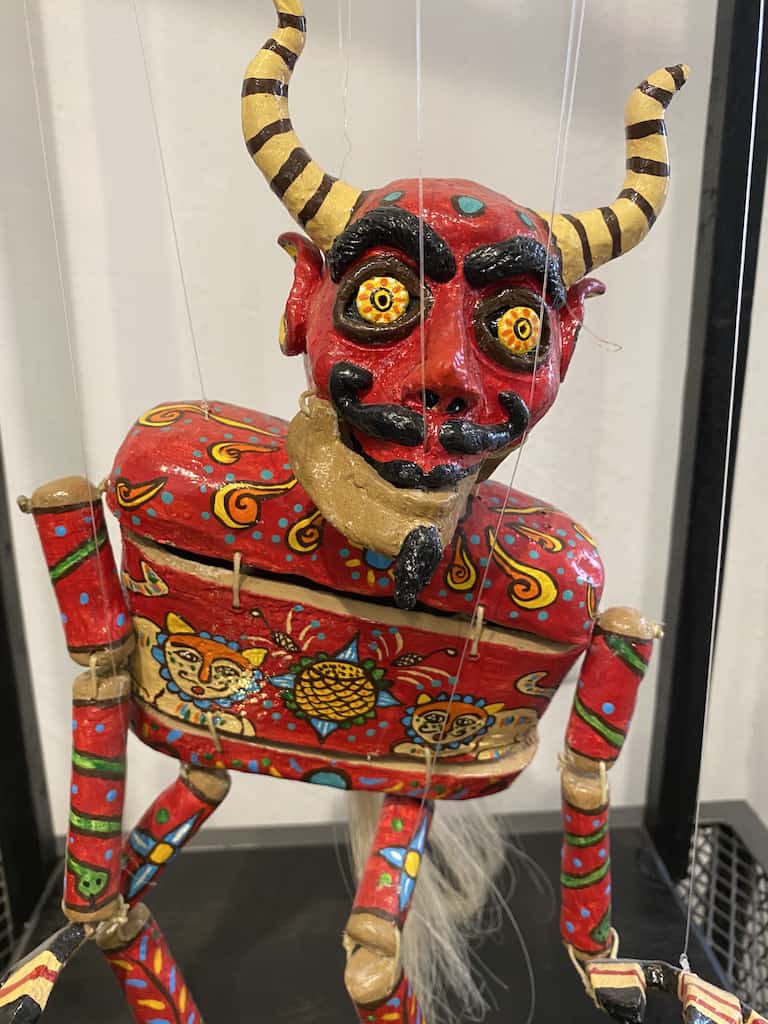 ---
Visit the Mexico Toy Museum in San Miguel!
---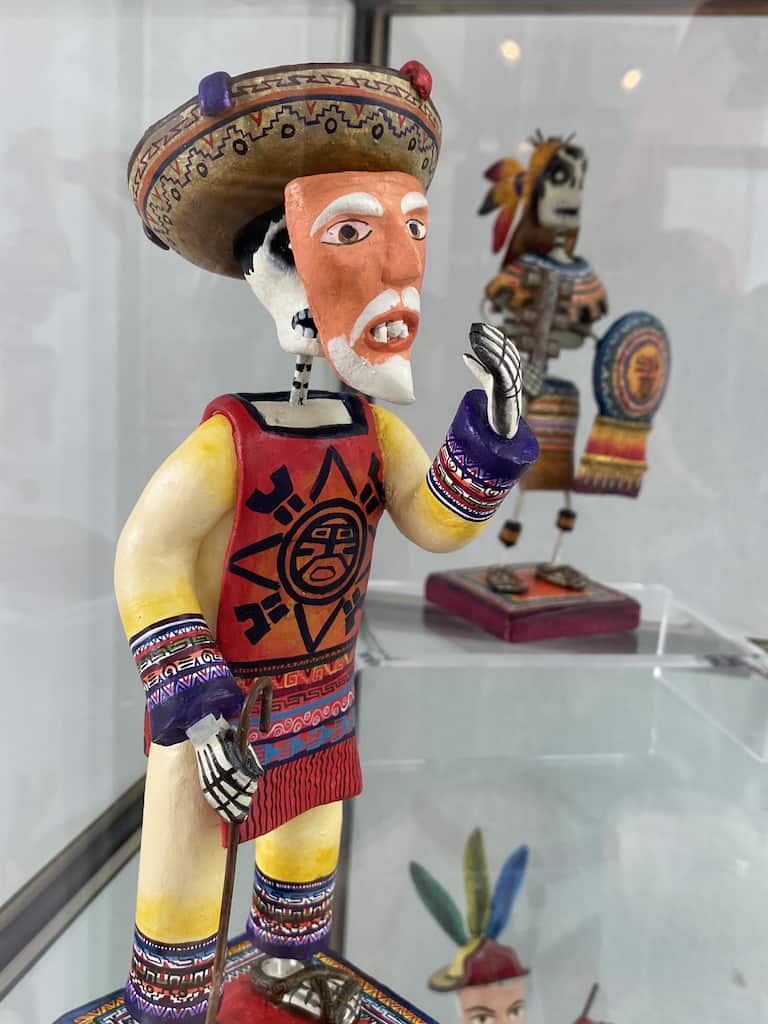 With the more than 3,000 beautiful hand-crafted toys – many are a one-of-a-kind treasure. They are displayed at the "Museo La Esquina" in the #1 small city in the world San Miguel de Allende. (As voted by the Conde Nast Traveller's readers in 2020.)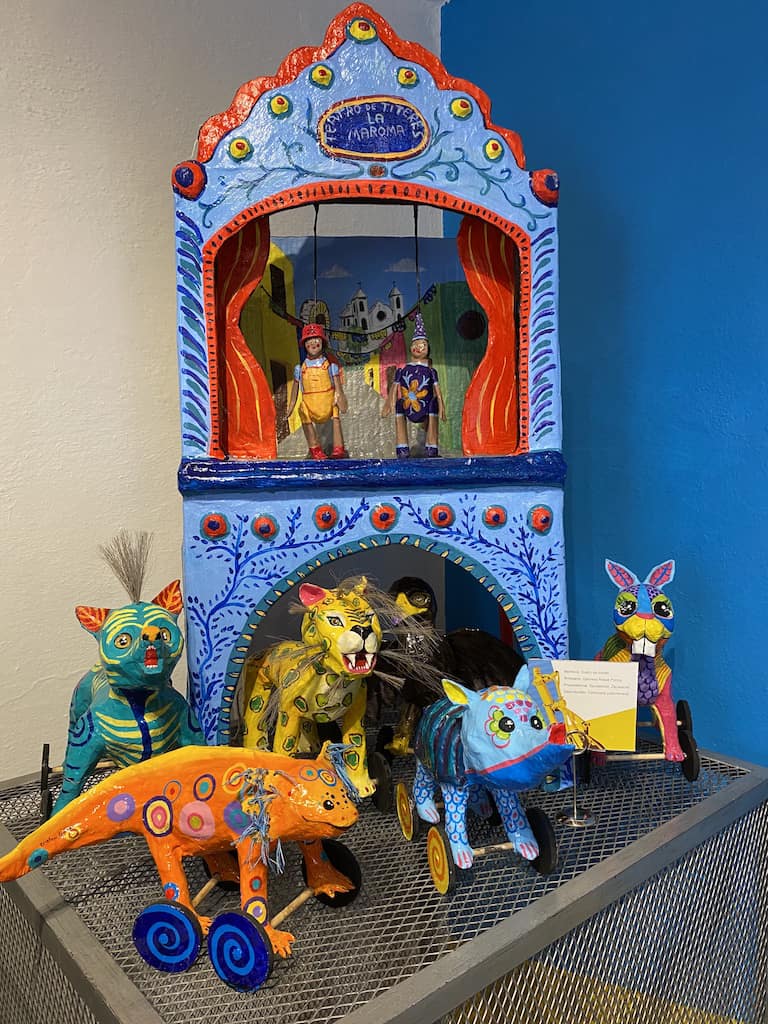 Stop by and pick out your favorite toy in the Mexican colonial city of San Miguel de Allende, Mexico. Of all the San Miguel de Allende museums I have been to, this is one of my favorite museums. It and the ceremonial Mexican Mask Museum also grabbed my attention: Another Face of Mexico Museum. So stop by there too, but by appointment only!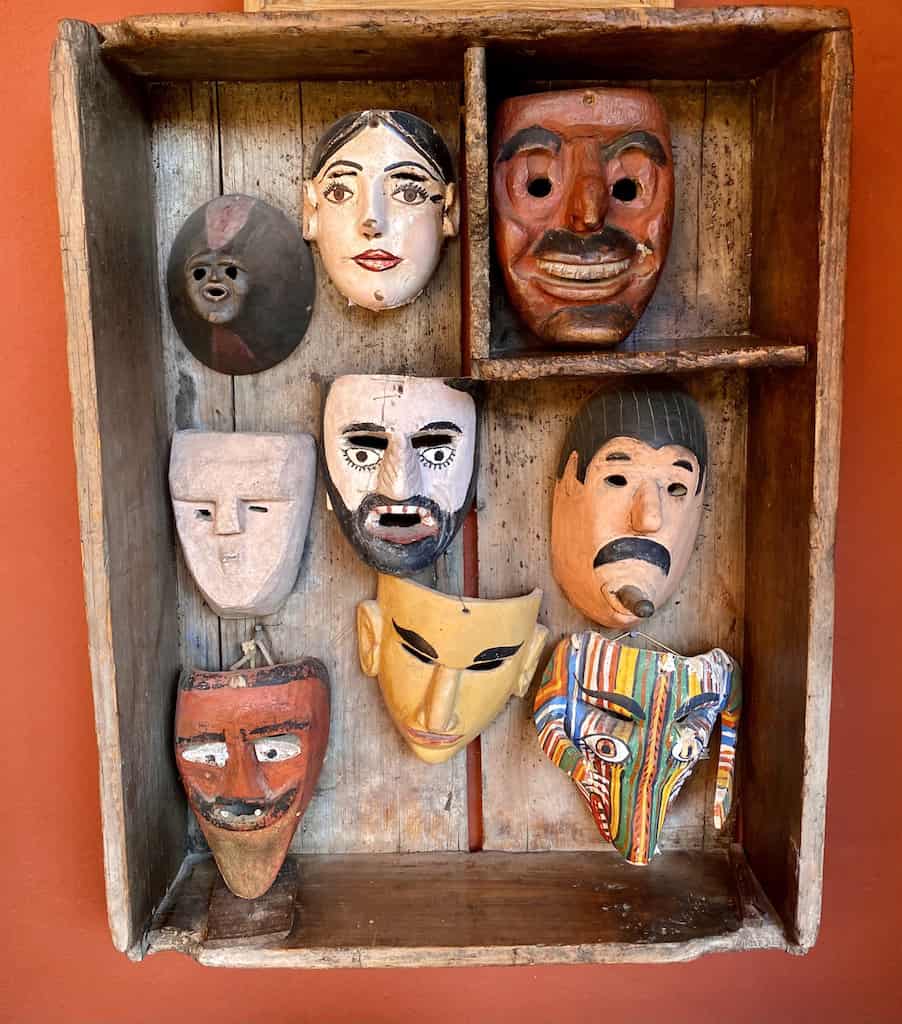 Lots of Colorful Toys Live Here!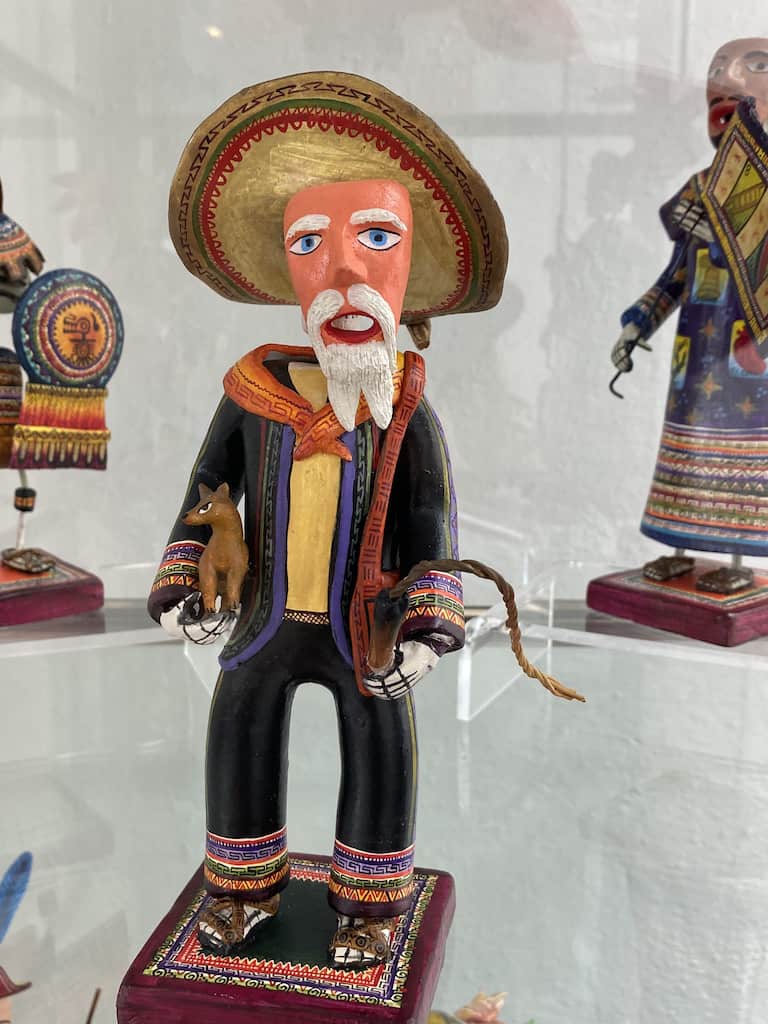 This large and light-filled Mexico Toy Museum has many levels, housed within a renovated old house with many areas of exposed stone. The toys are made from all sorts of materials, everything from bamboo, ceramics, cloth, iron, metal, paper, papier mache, steel, vegetable fibers, wire, and wood. You name it and they have almost every type of Mexican toy you can imagine – and then some. I believe you may even be able to find many look-alike toys manufactured in local Mexican grocery stores. Many are hand-painted with bright Mexican colors. Some toys are made from one continuous piece of wood! They are simply amazing!
Here are a few of my favorite Mexican Toy areas:
The Lucha Libre Wrestlers Area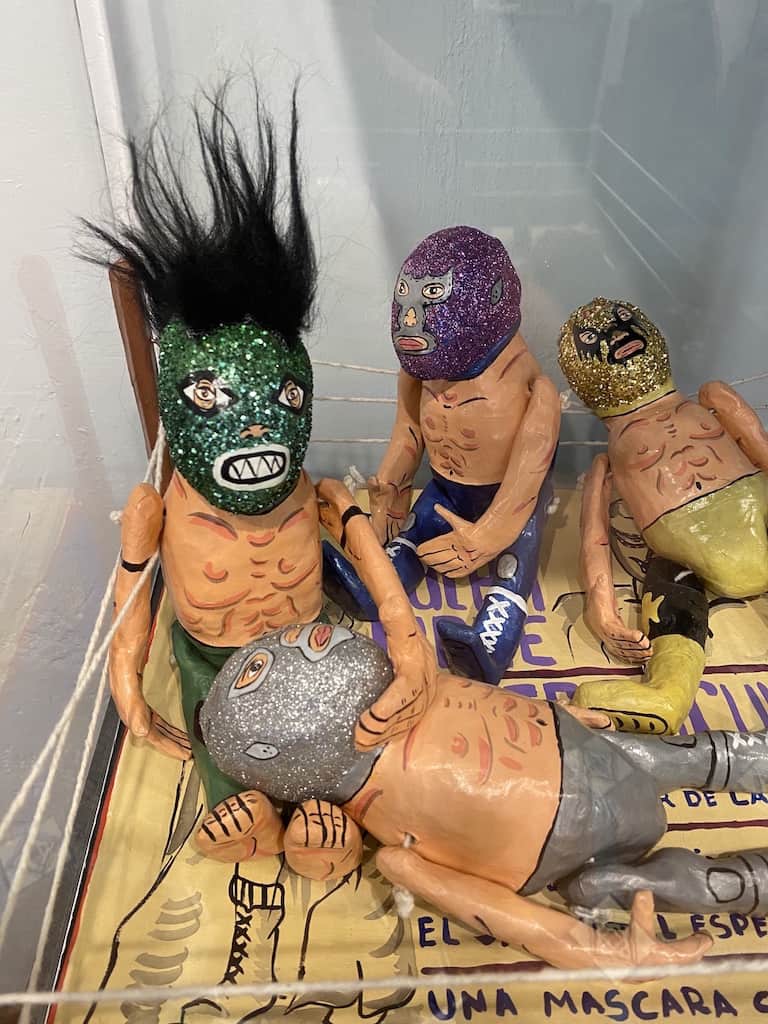 These are crazy renditions of original Lucha Libres or the name given to Mexican wrestlers known as "freestyle wrestling." These "little guy dolls" or "luchadores" are inside real hand-made rings! The "little guy dolls" are so cute with their masks on and wild furry hair sticking straight up!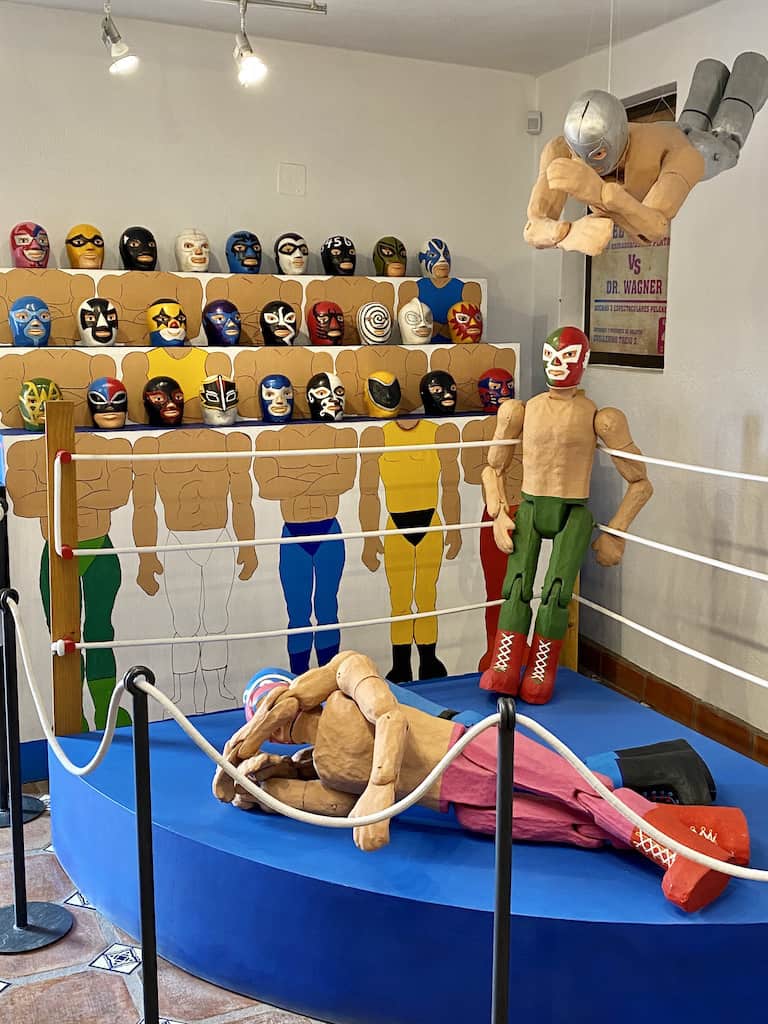 Some of them are choking a wrester on the floor of the ring! Others have glittery heads in colors of lime green and purple. With their colorful masks, rapid sequences of holds and maneuvers, as well as their "high –flying" aerial maneuvers, it is almost like being ringside!

The Public Transportation Area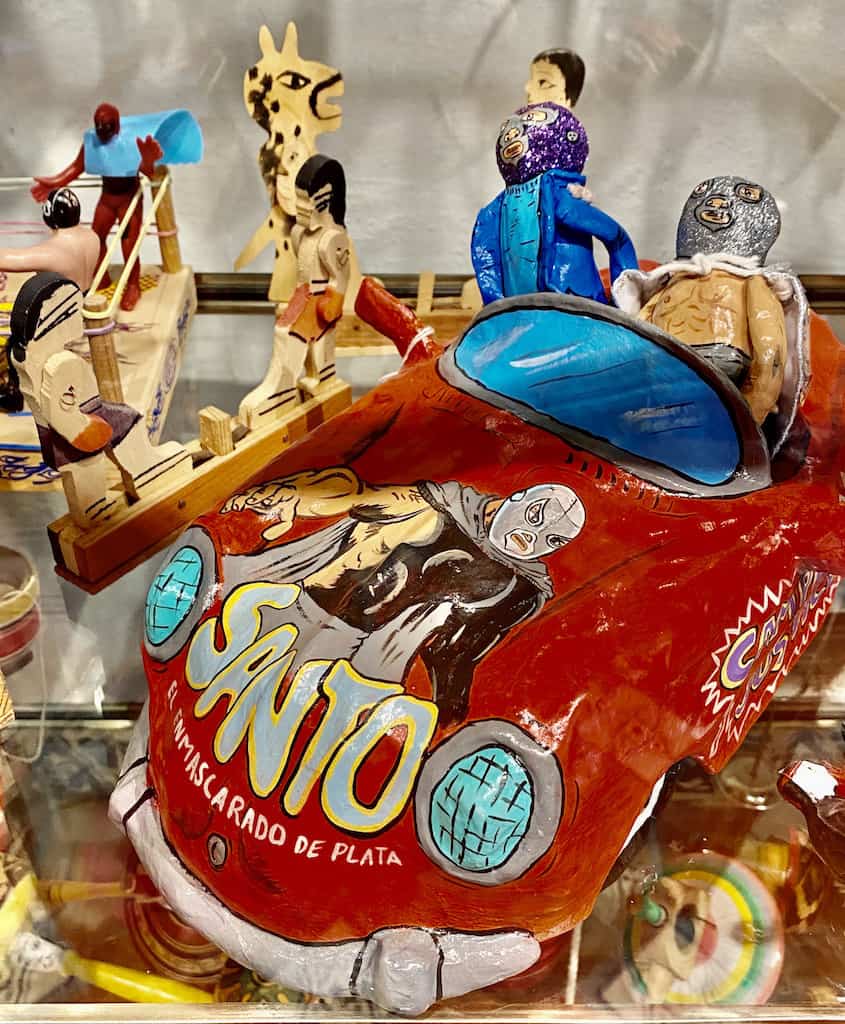 One of the levels contains a collection of toys representing public transportation. They have a large choo-choo train on a track that is made from clay with the engine and a caboose! A small Volkswagon painted yellow, with animals and cute painted dots covering its entire body. They even have little metal boats, which, in the old days, could be powered by placing a candle at the back of it to make it move while floating in water!
I even saw a large plane made from one continuous piece of wood that was hand-painted! They had airplanes made from Coke cans and a black-and-gold train made from bull horns. They have it all in the way of public transportation!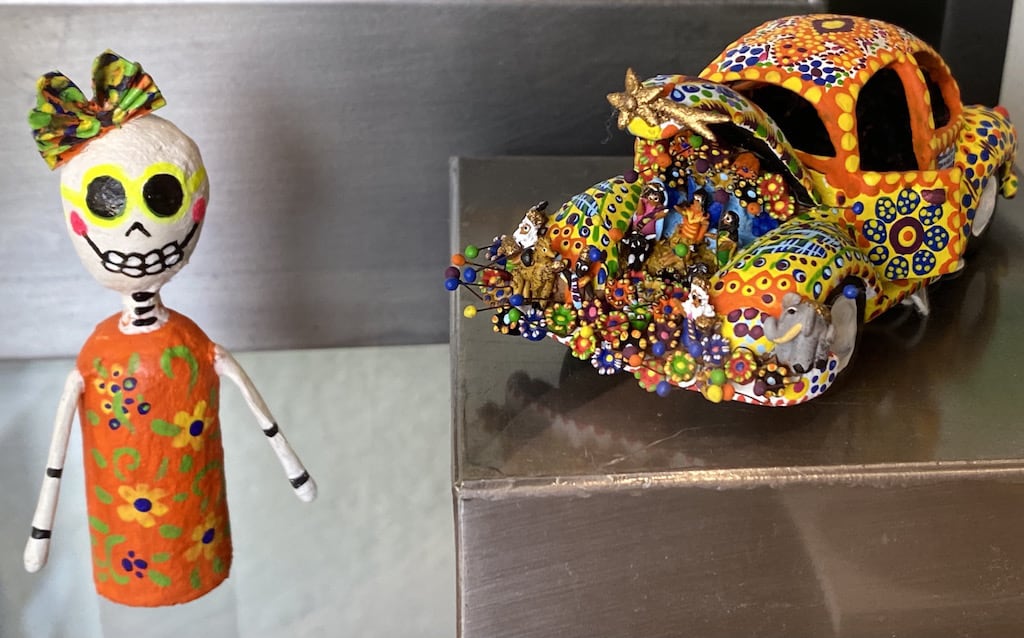 The Giant Doll House with Dolls Area
Another room is one giant dollhouse with so many dolls I couldn't count them all! Some wear rustic hand-woven dresses. Others are hand-painted, while still others are soft and made from cloth. Even Frida Khalo was there… a colorfully-dressed Frida doll with her dark furrowed eyebrows was center stage in her magnificent clothing. They even had puppets with strings attached to paper mache skeletons and devils!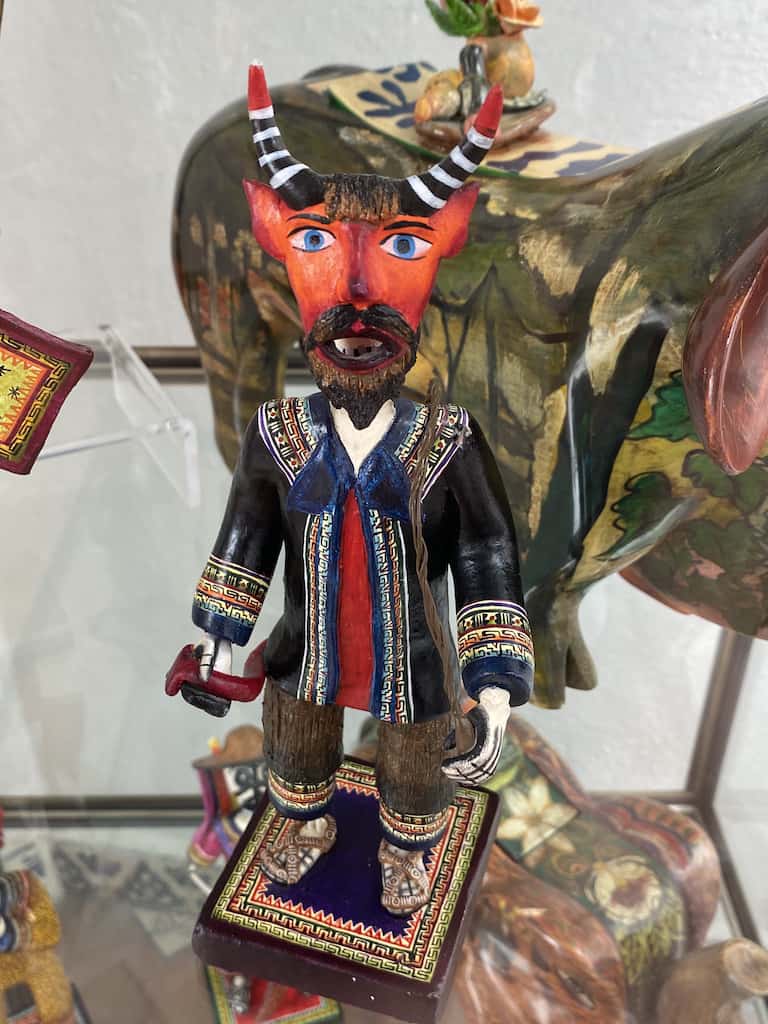 The Traditional Mexican Fair Area
Another area that represents everything that you would see when visiting a traditional Mexican Fair! Things like moving carousels, Ferris wheels that go around, and carnival rides are found here.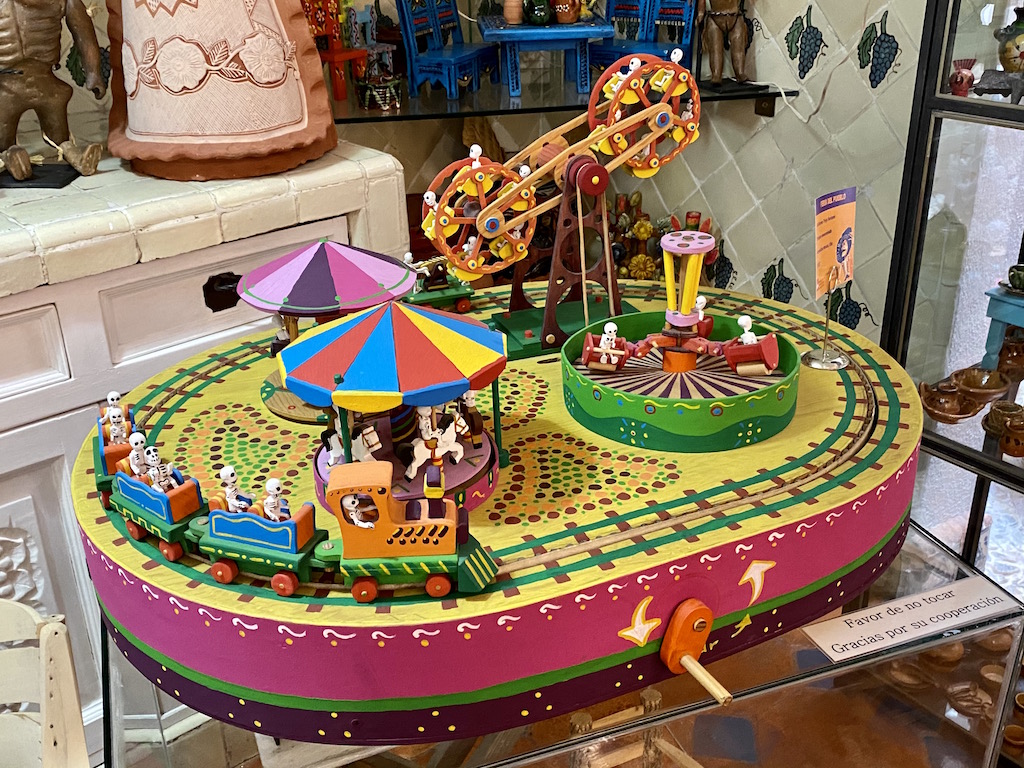 Where is the San Miguel de Allende Toy Museum?
Address:
Nunez 40, Centro, San Miguel de Allende
Hours:
Open Wednesday through Saturday from 10:00 am to 6:00 pm, and Sunday from 11:00 am to 4:00 pm
Admission:
About $3 USD per adult
For more information:
See the Museo La Esquina's website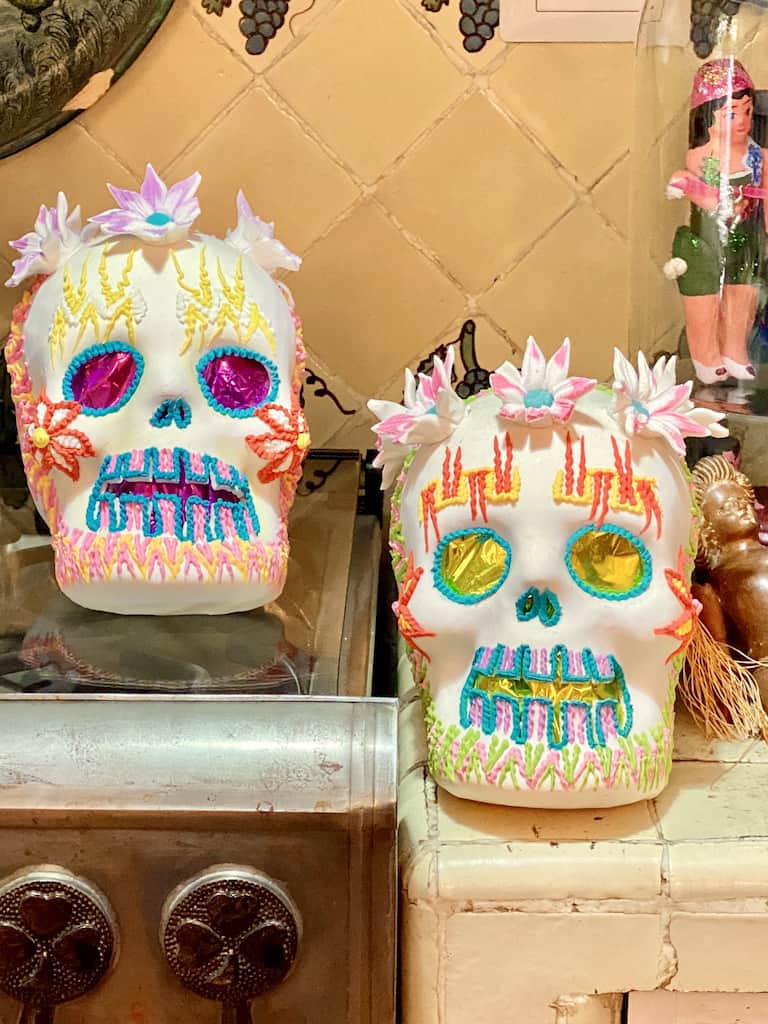 Bring the Kids!
You can bring the kiddos, but they just cannot touch the toys, as each one is a treasured gem. However, they do have a kid's area where kids can do arts and crafts. The day I visited, I mostly saw adults who were getting in touch with their inner child (like me!). You can easily expect the museum's collection of traditional Mexican toys to grow.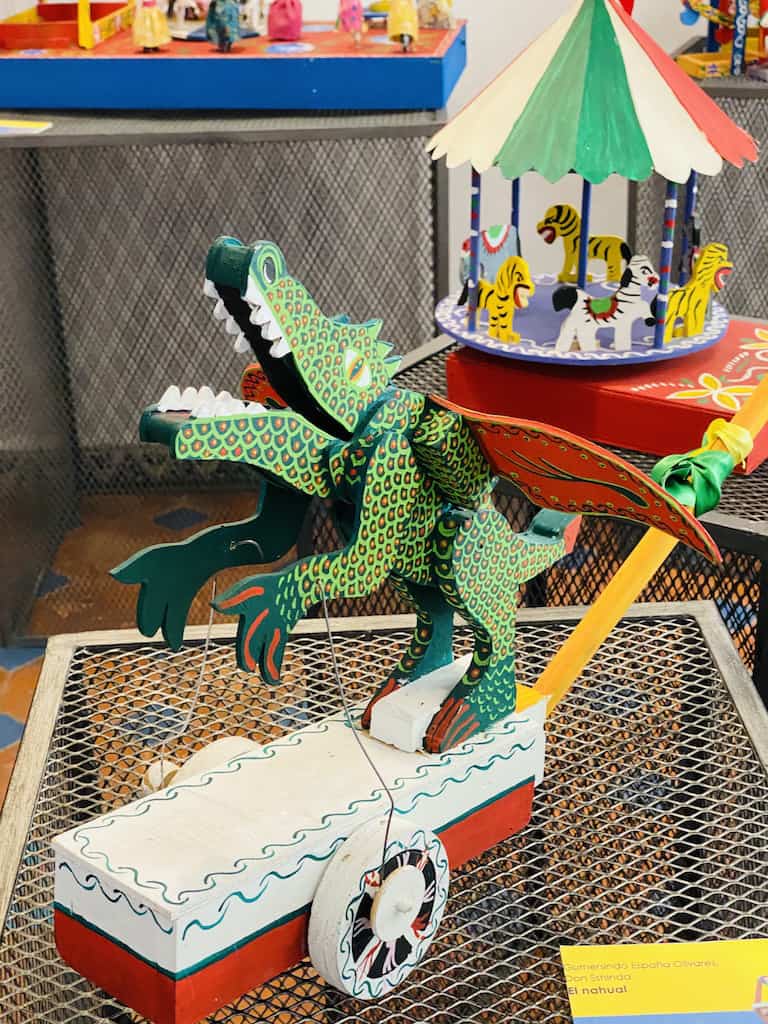 See Another Toy Museum in Mexico City
There's another Mexico toy museum – the Antique Toy Museum of Mexico ("Museo Juguete Antiguo"), located in Mexico City. Created by a Mexican of Japanese descent, it contains more than 1 million pieces, including miniature toys the size of a pinhead. Some 40,000 classic toys are on display.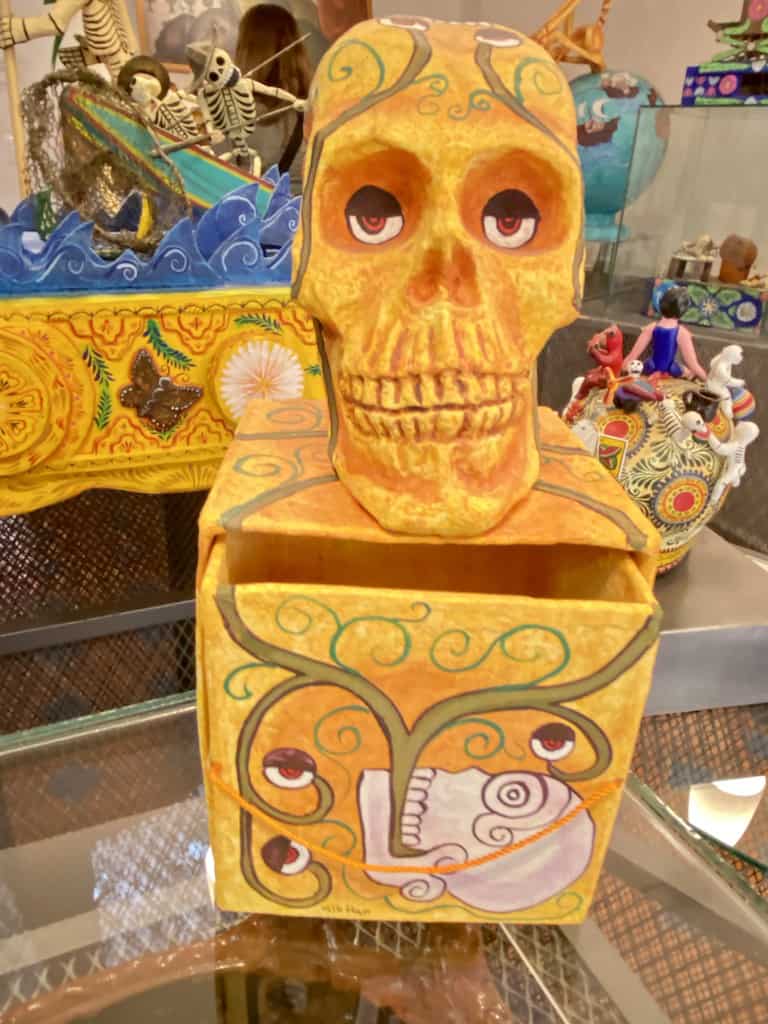 Experience more of Mexico!
Read PointsandTravel posts on:
10 popular Mexican Destinations
Zihuatanejo | Living it up on the beach.
Mexico City | A rich historical center. There are oodles of cultural activities in Mexico City to enjoy.
Puerto Vallarta | Where to stay? You'll love these beautiful boutique hotels in Puerto Vallarta.
Cabo San Lucas | The gorgeous Grand Velas Resort: You won't soon forget!
Cabo San Lucas | Or a community of Golf you won't forget either!
Cancun |You'll love scuba diving in the cenotes.
Riviera Maya | Gliding Through Hidden Worlds
Puerto Penasco | The ultimate Guide to Rocky Point!
Cuernavaca | A night in a Mexican Hacienda!
---
Have you played around at a toy museum? What was your favorite toy as a child?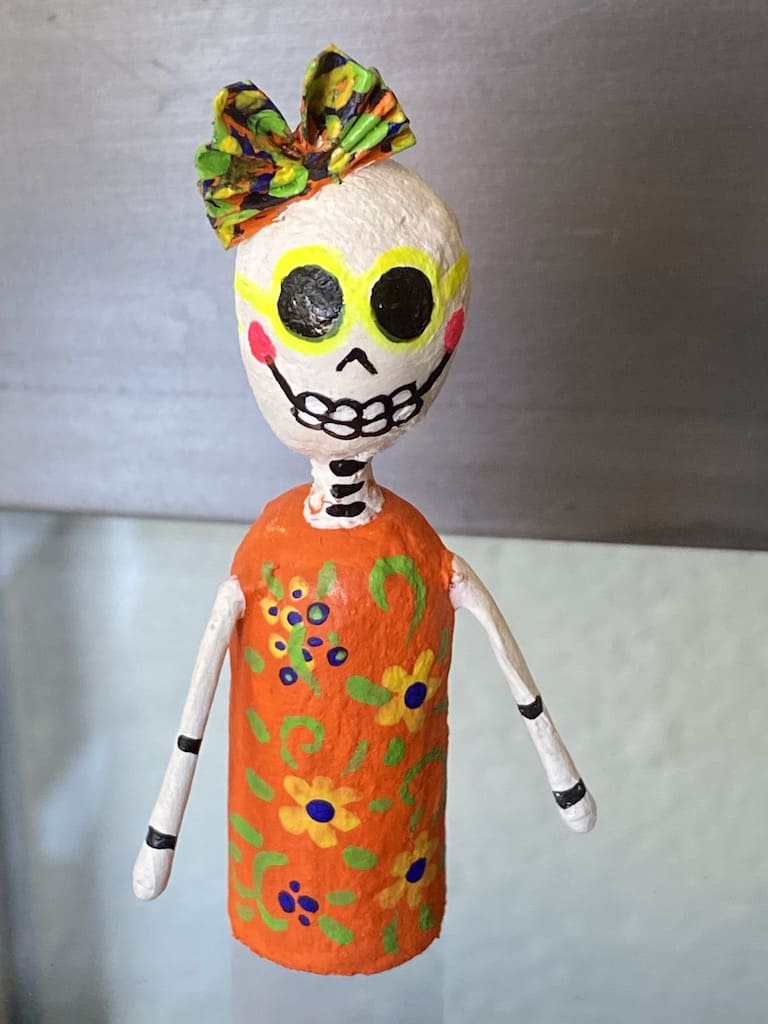 ---
This is just another reminder of the excellent craft and ingenuity of the Mexican people. We even bet Santa Clause would love to get his hands on these toys to give to the children of Mexico!