Of all the choices of small Mexican fishing villages to visit, Zihuatanejo is a hard one to put into any type of grouping. Zihua (pronounced "zee-hwa "- by the locals), for short, is up against the Sierra Madre del Sur mountains, with cliffs, deep ravines, and a gorgeous bay.
Just 40 minutes away by plane from Mexico City, this Mexican beach feels like a million miles away from the mass tourism like Cancun and Tulum. This city feels undiscovered, despite its warm waters, no-shoes-required fish shacks, and a laid-back attitude. The fact that it is in the state of Guerrero—probably closer to Guatemala than it is to the USA—also makes it hard to get to. So maybe this is the reason it is so peaceful. As change here is very slow.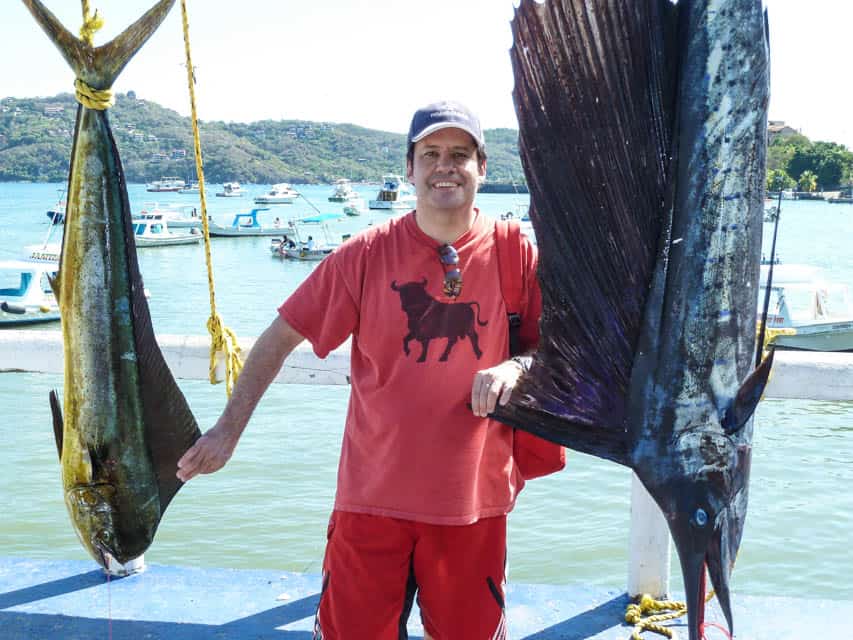 However, it is the perfect combination of Mexican flair, breathtaking nature, and good old-fashioned charm. It is the best place to relax by the beach. Its party-haven neighbor, Ixtapa, is only a few miles away. So if you do come here, you get a two-for-one deal of nightlife and relaxation!
---
What's in this post:
hide
Zihuatanejo, Mexico
---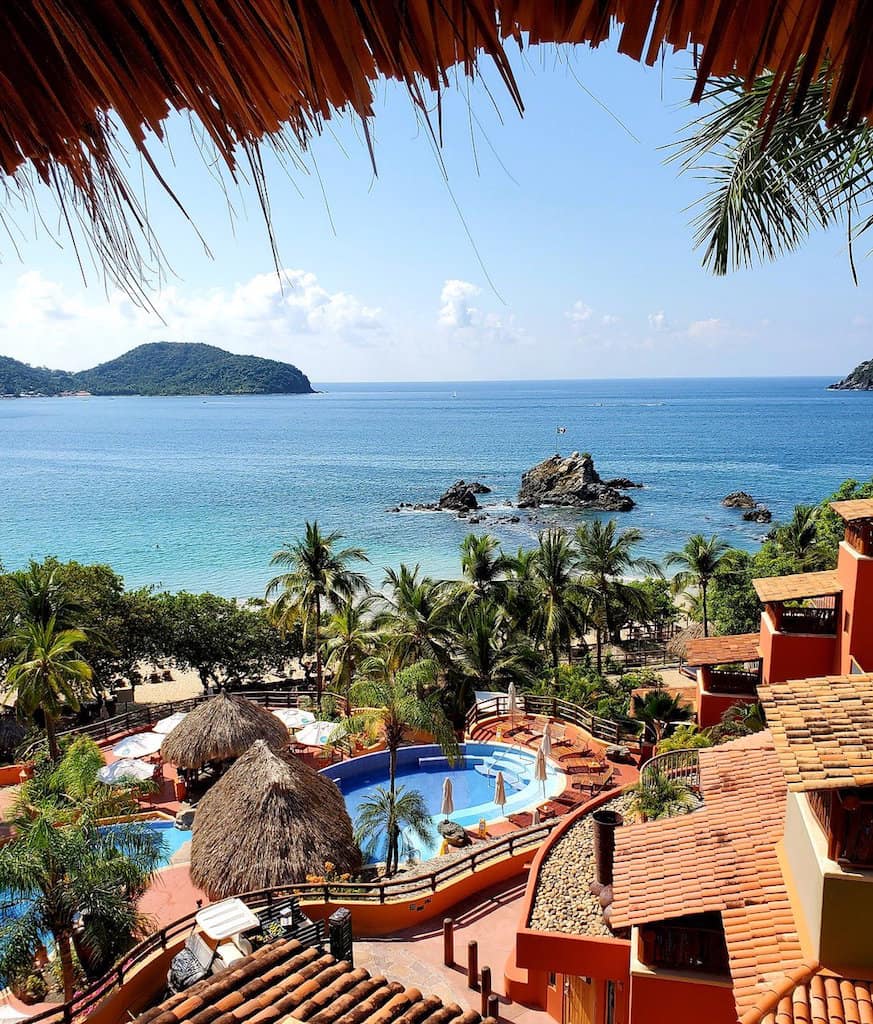 Zihuatanejo has been on the hipster radar for quite a long time—Andy Warhol, and the Rolling Stones have all visited. But, thankfully, the mountainous terrain protected Zihua from any type of resort development.
Choose Zihuatanejo over Ixtapa
Zihuatanejo is a colorful fishing village that is full of history and culture. In the 1970s, the Mexican government commissioned a resort town to be built next to Zihuatanejo to boost tourism. Well, that it did and they called it Ixtapa. For us, Ixtapa left something to be desired. We much preferred Zihuatanjeo with its cobblestone streets, quirky restaurants, and an authentic Mexican atmosphere. If you're heading to this area in Mexico, we suggest staying in Zihuatanejo. Ixtapa is too crowded and attracts quite a younger crowd.
Zihuatanejo is Calm and Quiet
Zihuatanejo means "place of beautiful women" in the Nahuatl language, spoken by the Aztecs. Nahuatl has been spoken in Central Mexico since at least the 7th century and is still spoken in Mexico today. The Aztec language, whose empire expanded into most of Mexico preceding the Spanish conquest, has been borrowed into the Spanish language.
Most of these "loan words" denote things indigenous to central Mexico which the Spanish heard mentioned for the very first time by their Nahuatl names. The English words of Nahuatl origin include things like "avocado", "chili", "chocolate", "coyote", and "tomato".
Food is a Perfect Mexican Meal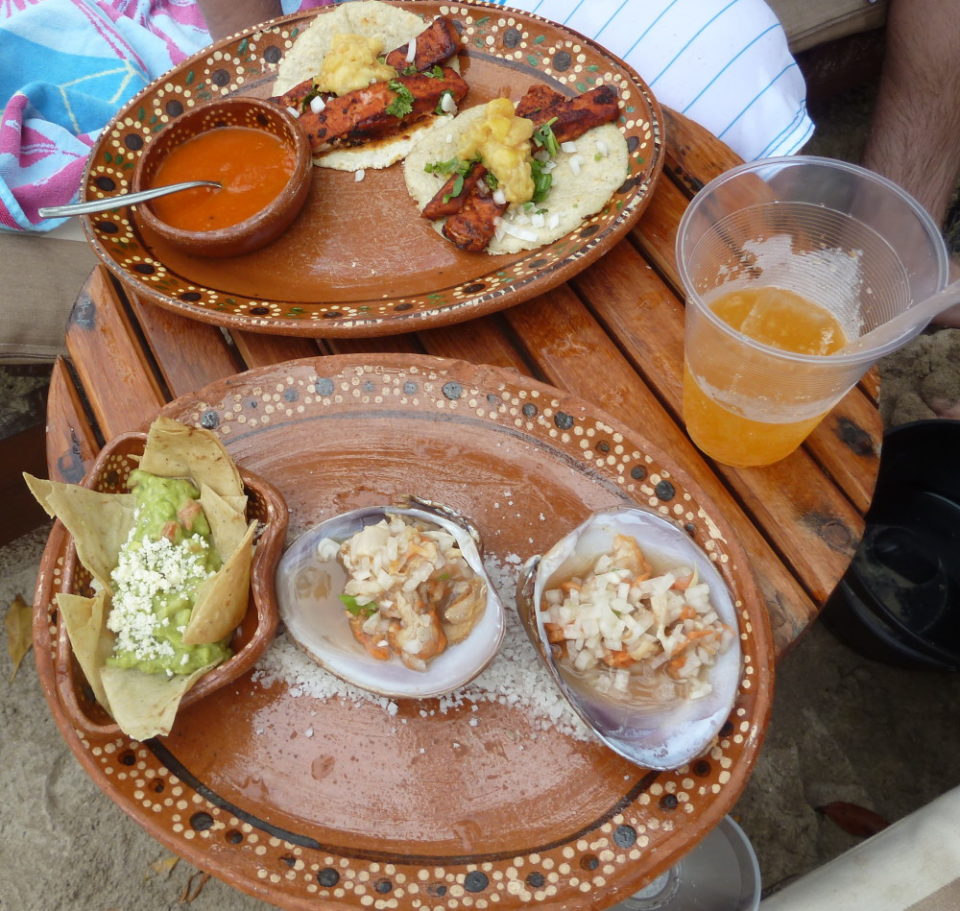 I find this area of history fascinating about the language, especially since avocado, tomato, and chocolate are some of my favorite things in the world to eat and not necessarily in that order or together!
Where to Eat in Zihuatanejo
The Thompson Hotel and La Casa Que Canta both boast their own high-end restaurants with fancy preparations and stunning views, but the best casual eating on Playa la Ropa happens at the mom-and-pop spots where just-caught fish is prepared in traditional style.
Arguably the best of the beachside restaurants is La Perla, a 40+ year-old family-owned establishment that's an equal parts sports bar, café, and beach hangout. Grab an outdoor table and order the tiritas de pescado—a Zihuatanejo specialty similar to ceviche—strips of the freshest fish cured in lime juice and local sea salt and served with slivers of red onion, searing hot habanero pepper, and tortilla chips.
Tame the spice with a glass of mezcal or a cold beer.
Down at the end of the beach, La Gaviota, another nearly 40-year-old restaurant, is enjoying a new burst of creative energy: The kitchen was recently taken over by the owner's daughter. She turns out classics like coconut shrimp, and octopus in garlic sauce. They also serve lobster meatballs and fish tacos al pastor. Watch pelicans dive for their lunch as you enjoy yours, seated on the patio at the top of the salt-encrusted steps.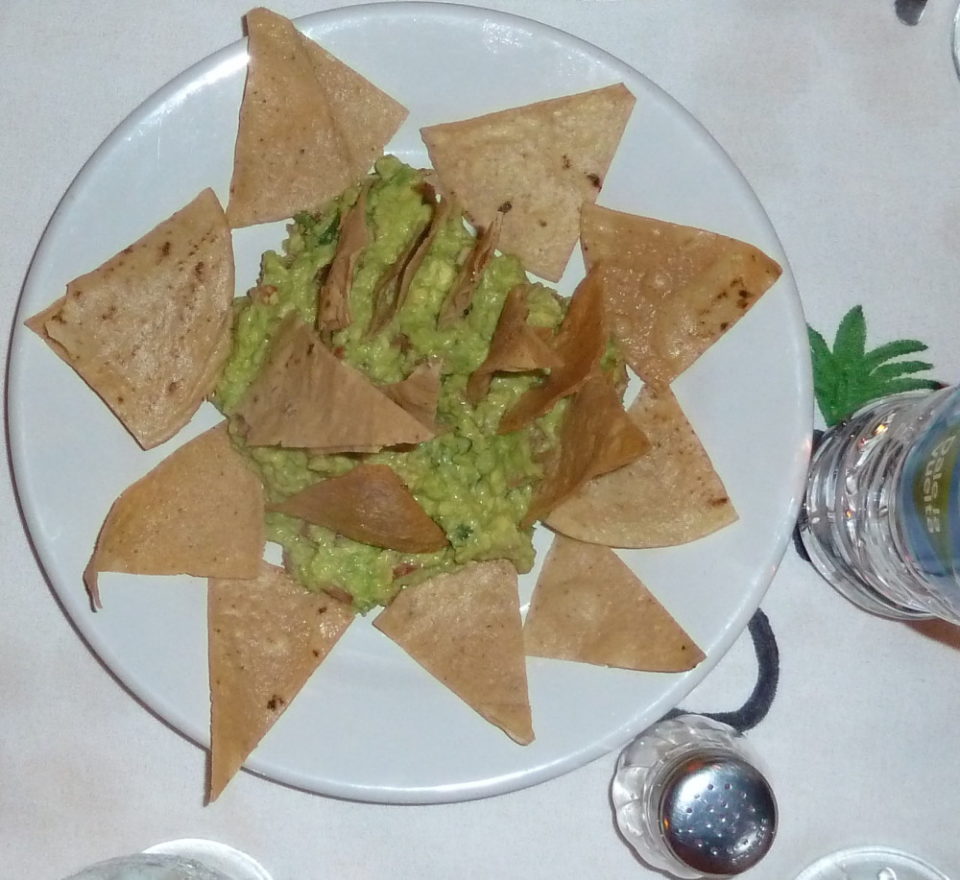 Be Sure to Visit on an Empty Stomach
One of our favorite parts about this trip was the food! We had some really incredible dinners in Zihuatanejo, It seems that most of our meals were all made with fresh ingredients. And kudos to the service as well! Always with the best service.
But if it's wildlife you're after, El Manglar restaurant provides a view of a mangrove canal that's excellent for bird- and crocodile-watching. Be sure and don't miss the blackened tuna with sesame seeds at El Manglar. Now I do have to warn you they have crocodiles lurking in the lagoon next to the patio, but don't be alarmed. My kids thought it was cool and fun!
Also, plan on stopping by Loot, pretty much every day for a "jugo verde" or an iced coffee. This is a totally cool coffee shop/surf place/art gallery with a huge covered patio. You can escape the heat with the mini fans and enjoy the comfortable couches instead! I pretty much-ordered avocado toast every day!
Fulfill any hang-10 fantasies with a visit to Loot, which is the cultural epicenter of Zihua. The multistory building is also home to a barbershop and an open-air rooftop bar.
Head to Bandido's on Friday nights at 10 pm for salsa dancing and for their freshly made salsa – made to order at your table! We also loved the atmosphere and garden setting at El Vigía. You have to try the steak and homemade chocolate ice cream, as it is delicious. Snack, sip, and watch families casting fishing lines at the magic hour, lit by the magnificent sunset. You will enjoy every minute of it.
Zihuatanejo has a Gorgeous Bay
Zihuatanejo was a sleepy little fishing village at one time. Now it is an amazing little find for this Mexico lover. The gorgeous bay, with all the tiny dotted sailboats out for the morning, makes me want to drop anchor and come over here to live for a while. It is that kind of place, once you are settled in, that you can sit back and forget your worries from back home.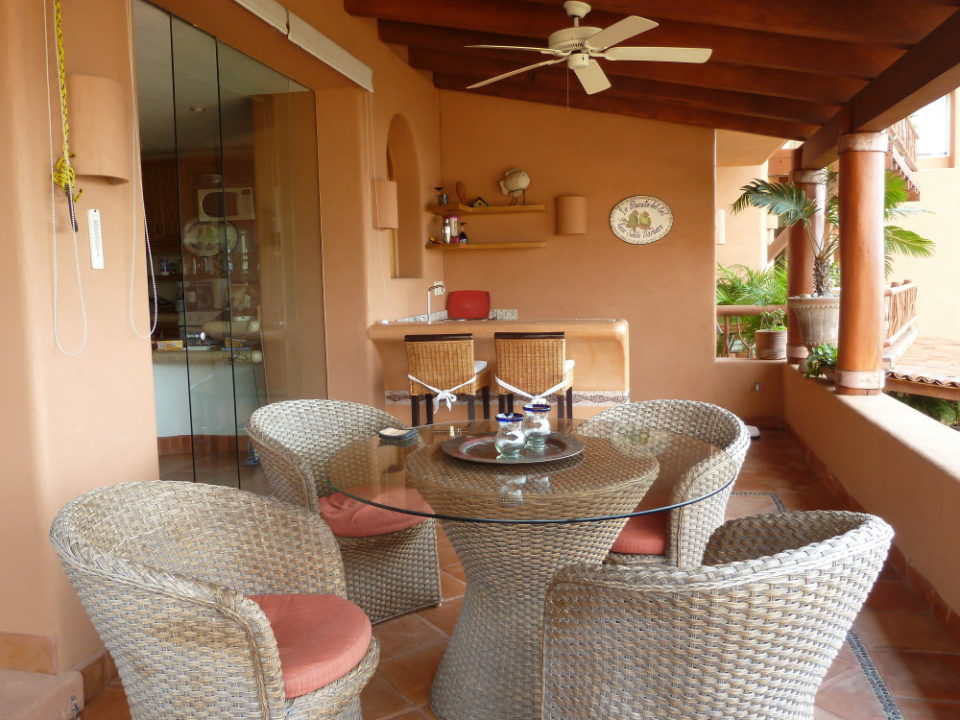 When to Come:
We went when it was a bit humid and hot, which was in June. So don't go then, wait to go during the perfect season which is January, February, and March! We highly recommend going during that time frame, when it's dry, yet still warm to experience the best weather in Zihuatanejo. Also, if you are traveling to Zihuatanejo during COVID-19, here are some helpful tips.
What to Do in Zihuatanejo
The best way to get acquainted with the town is to head to Playa la Ropa and snag a seat at one of the many beachfront restaurants during happy hour. Order a beer or margarita and a whole coconut, then kick off your shoes. Relax. Drink the coconut water, then ask your waiter to "sacar la carne," then go hop in the ocean for a dip.
By the time you return, a plateful of coconut meat garnished with lime wedges, local sea salt, and Tajín spice will be waiting.
For the Adventurous Visitor
For the adventurous visitor, there's no lack of activities on the largely tranquil waters of the Bahia de Zihuatanejo. Things like banana boating, jet-skiing, and parasailing are all fun. They have over a dozen gorgeous beaches that are great for surfing—La Saladita. It is about 40 minutes north and home to the annual Mexi Log surf competition and music festival.
Be sure and head to Centro to watch the fishermen bringing in their catch to the marina, or go shopping at the Saturday Eco Tianguis, a weekly outdoor organic market.
Where to Stay:
La Puesta del Sol
For my family, we chose a VRBO condo called La Puesta del Sol, in the well-managed and manicured Casa Que Ve Al Mar neighborhood, which was the perfect selection for our family of four. As there was plenty of room for all of us.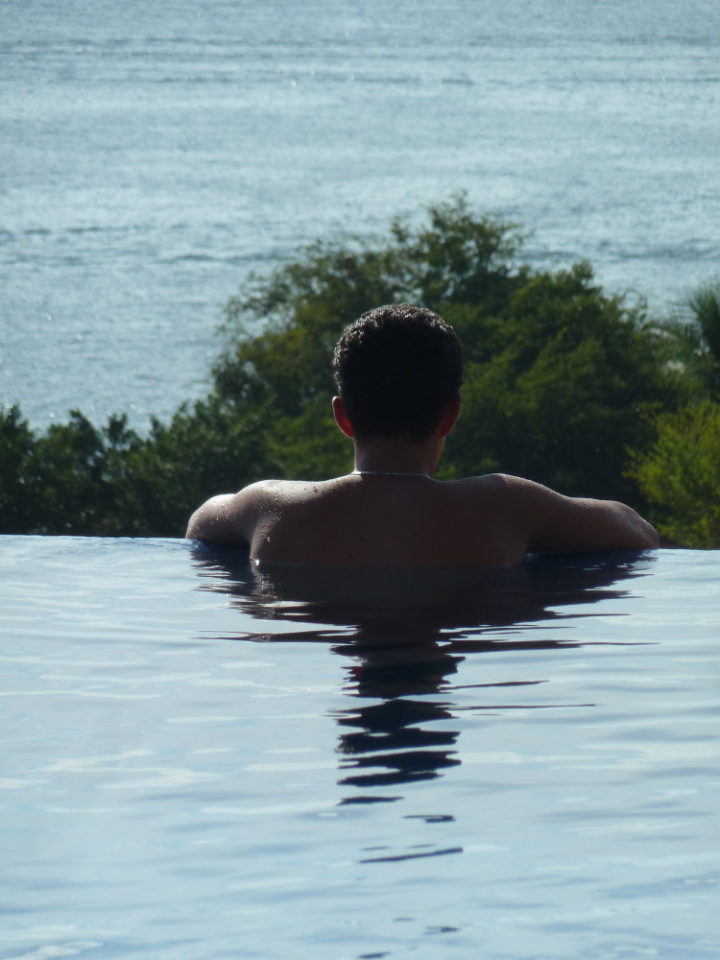 With two negative edge pools, and an amazing view right outside of our great room and master bedroom, we were in heaven! Not to mention the gorgeous kitchen and wonderful light coming in the bedrooms. I enjoyed my time sitting out on the balcony in the cool air and watching the beachgoers playing in the ocean.
Even my son enjoyed his time on the well-placed hammock right on our balcony!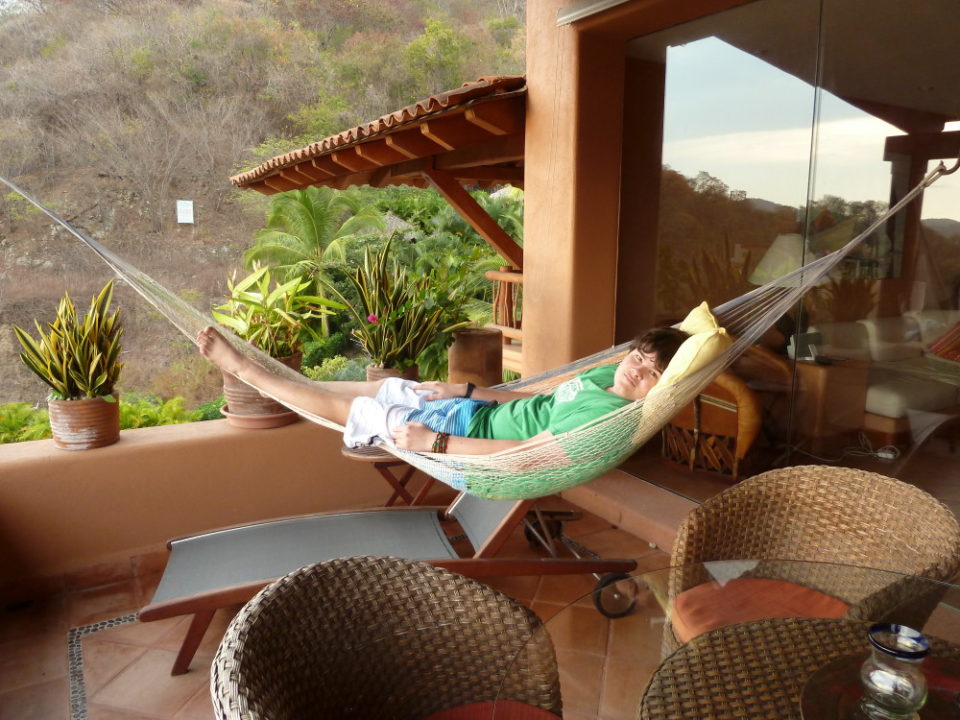 Other Places to Stay in Zihuatanejo:
Betseyville
Book now: sleeps 8; from $600 per night
Zihuatanejo's Airbnb options offer a good variety, but the most fun listing is designer Betsey Johnson's own villa, Betseyville. Betsey Johnson has a signature wild style that can accommodate 6 to 8 people.
Thomas Hotel
Book now: from $279 per night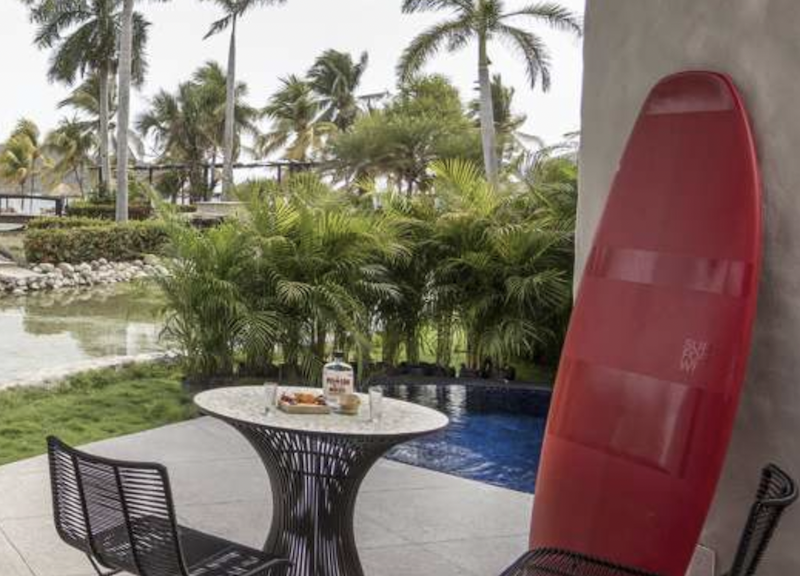 The newest addition to the town is the Thompson Hotel, which brings its midcentury-modern-meets-local design. Most of the renovated 56 guest rooms offer direct access to the coconut, tree-lined beach. Or you can hang out at the two pools: an adults-only infinity pool; or a family pool featuring a swim-up bar.
The hotel's beach is smack in the middle of Playa La Ropa. It is dotted with palapas with an attentive waitstaff serving beverages and food from one of the hotel's two main restaurants.
La Casa Que Canta
Book now: from $240 per night
If you want pure romance, head to the adults-only La Casa Que Canta. It is considered one of the most romantic hotels in the world. Its secluded location, on the side of a cliff overlooking the ocean, may mean a hike down to the beach, but the sunset view from the infinity pool can't be beaten.
The property's 25 spacious guest rooms are full of local touches like adobe brick, palapas, and handcrafted wood furniture. They are literally a step away from the main hotel and offer dreamy night digs for up to eight guests each.
The View from La Casa Que Ve al Mar
In the complex where we stayed, the buildings were designed by the locally famous architect Enrique Zozaya that also designed the most famous hotel in Zihuatanejo: La Casa Que Canta. The staff there takes great care of each of its guests, so soon we will head over there for dinner!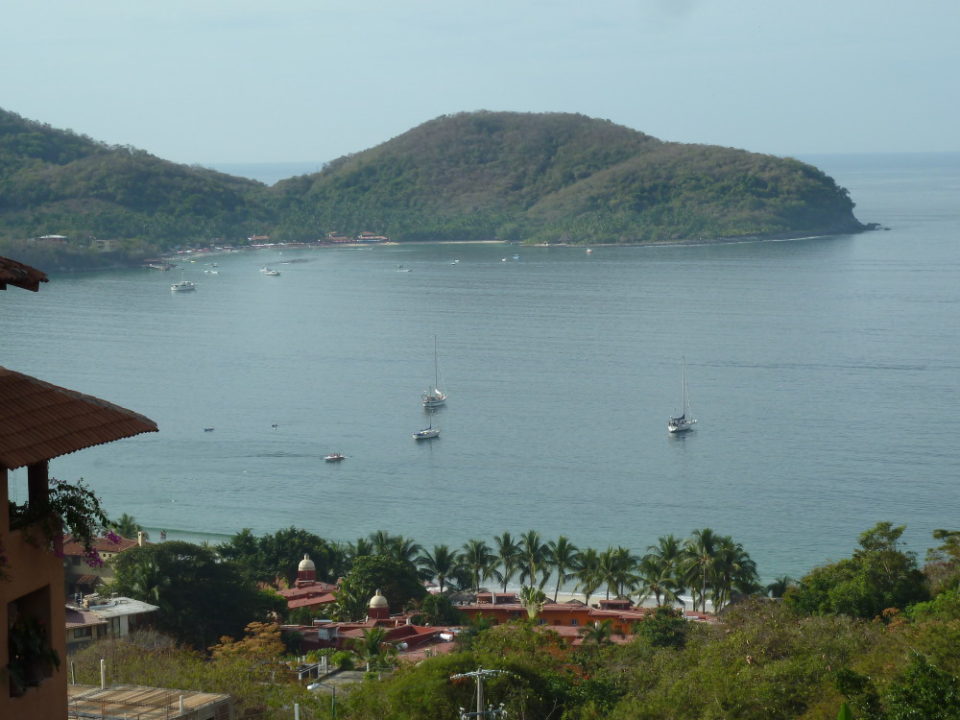 La Ropa Beach
Of course, the view was stunning from our condo and the walk down to the ocean is only a five or so minute walk. Our portion of La Ropa Beach was sandy. There are rows and rows of palm trees that line this curved beach and the sand was so soft it almost felt fake. But it wasn't! This area of the beach also has plenty of restaurants with chairs out on the beach, so you can sit and enjoy the view with a refreshing tequila drink, Coke, Tea, or whatever you want to order!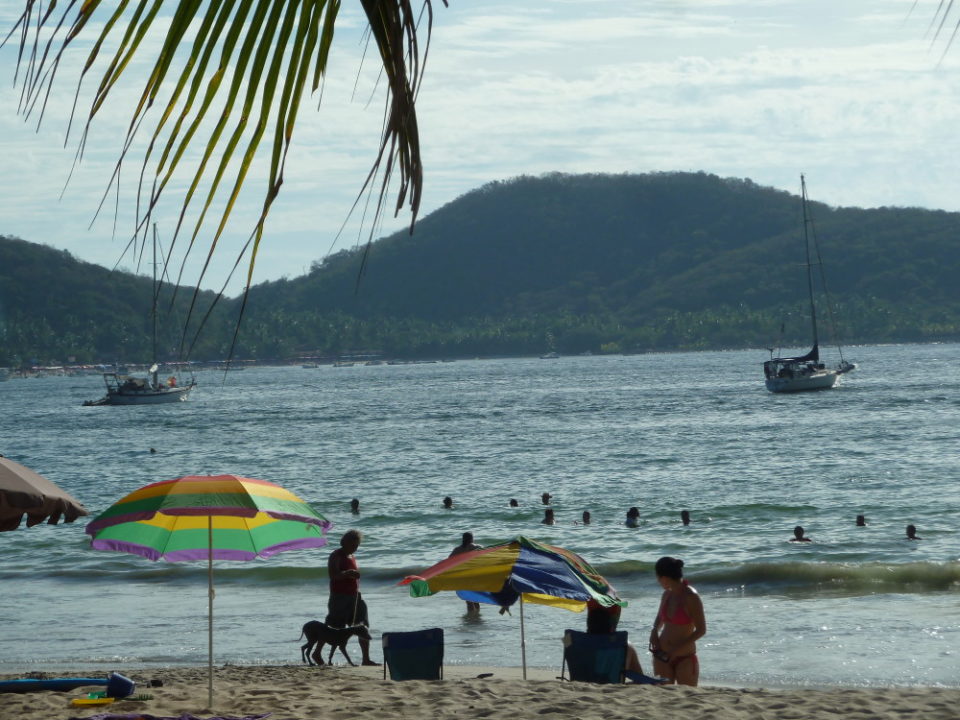 We recommend staying away from Playa Principal, the main beach, unless you need to go to the pier to join a sunset cruise or fishing excursion.
We picked the perfect place to Relax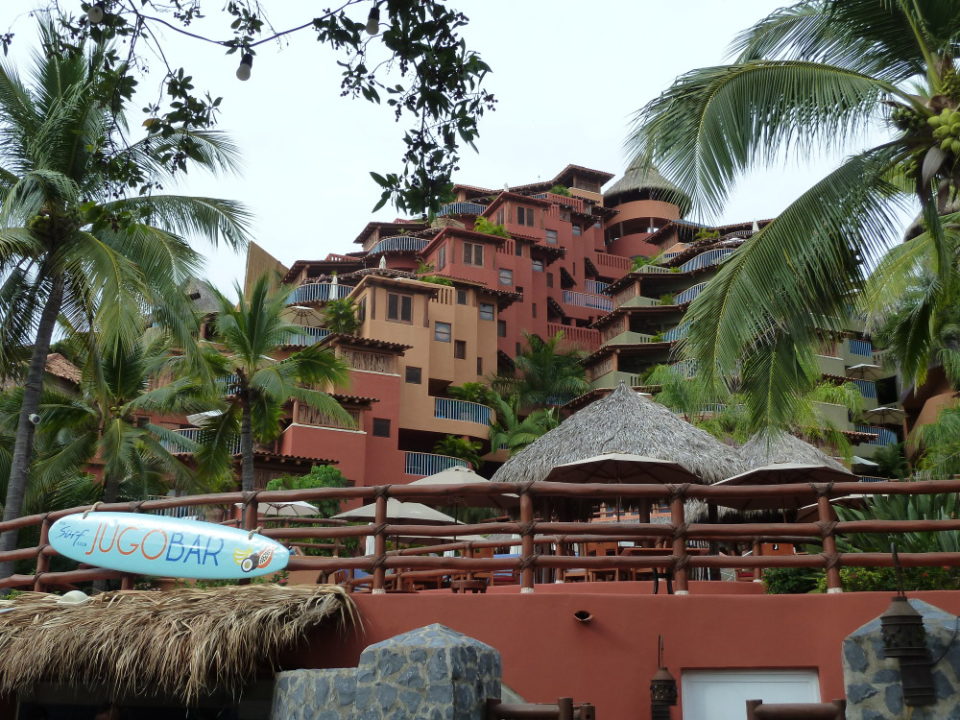 Pick a restaurant along the way and just ask the servers if they can set you up a spot for the day. They will gladly oblige, as long as you order a few drinks while you are there. We chose Intrawest and the facilities and amenities, as well as the service, as over the top. If you need a quick getaway, or just a nice day at the beach with every type of fun thing to do, you will not be disappointed.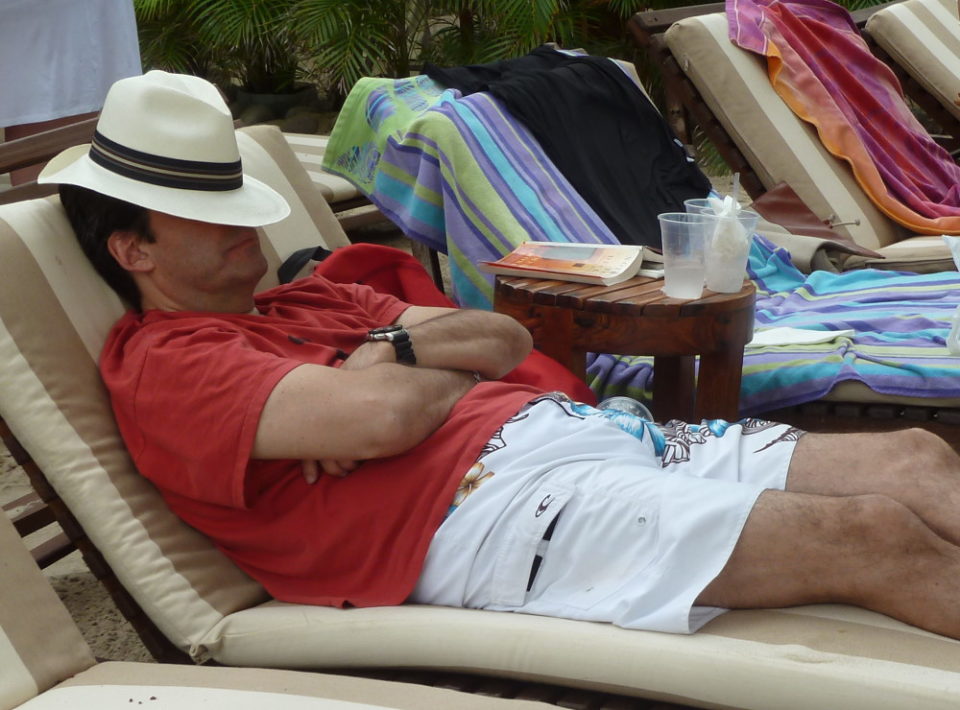 And as you can tell, my husband enjoyed his siesta at the beach! But not for long… soon we would go on a deep-sea fishing excursion!
Deep-Sea Fishing Excursion
While we were down near Playa Principal Pier, we found a company to take us out for a deep-sea fishing excursion. So the next morning, we got up super early (5 am) to meet the guys at 6 am for a little fun on the water. They showed us around, brought our lunch, drinks, and snacks, and before you know it we were out fishing our hearts out! This was a pretty new experience for both my sons, as it has been a few years since they have been fishing and they were excited.
Soon, we caught the baby fish, that caught the next fish, that caught the bait And my son had a great time putting the tiny fish on the hooks. It didn't take long and we began to catch a few fish!
We spent quite a few hours on the boat, while they served up some delicious Mexican tacos complete with cabbage, cheese, salsa verde, and rojo, as well as genuine Mexican Fantas, which my boys love!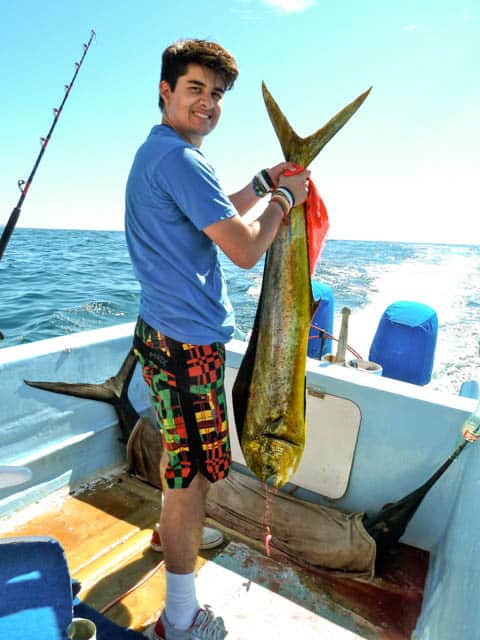 Now back to Fishing
Before you know it, we had caught quite a few fish, a few for us, and a few for the captain. He was quite pleased, to say the least. Later, he was going to filet it at the pier, then take it over to a restaurant on Playa Las Gatas where we would eat it later on the beach! With our feet in the sand, the dinner was perfect. How cool is that?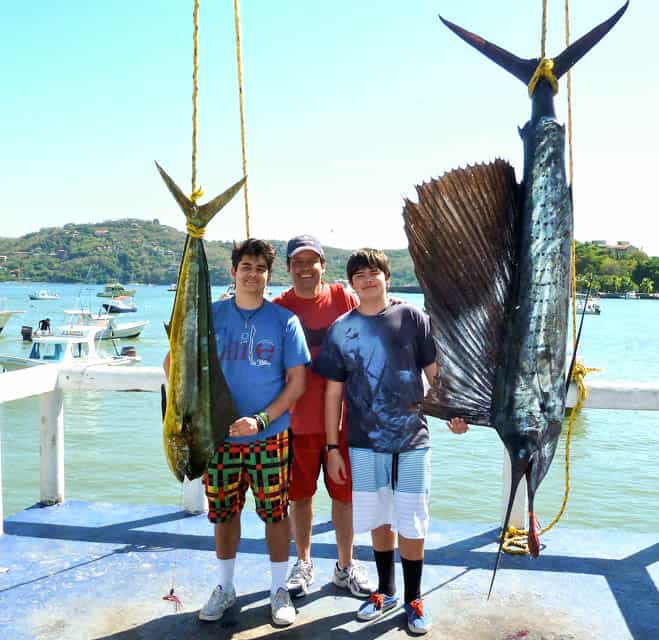 So there you have it, a perfect vacation in Zihuatanejo, Mexico – you can't beat that!
A Note on Safety in Zihuatanejo
Most parts of the state of Guerrero, where Zihuatanejo is located, are currently unsafe (the U.S. State Department has given the state a Level 4 travel warning due to criminal activity).
However, Playa la Ropa remains safe for tourists. Exercise caution and avoid traveling on roads at night.
Most of the hotels in Zihuatanejo run airport shuttles or will help you organize transport to and from the Ixtapa-Zihuatanejo airport (a 25-minute drive).
You may also enjoy reading:
Dia Del Nino, A Mexican Tradition
Want to read more:
10 Popular Mexico Destinations & Cities to Visit