This trip to Western Finland, of course, included a sauna. But where on earth were we? We were in Liminka, Finland, a town that was founded in 1477. And according to folklore, the name "Liminka" comes from the fictional giant, Limmi. They even have a famous bird paradise named "The Liminganlahti Bay". As we were here to do some birdwatching. But where exactly were we? We were in the Northern Ostrobothnia region, in the province of Oulu, in Finland. And Liminka is located about 16 mi south of Oulu (that is, if you can find us hidden away!).
Oh, by the way, I saw this hanging on the wall and love this Old Finnish Proverb: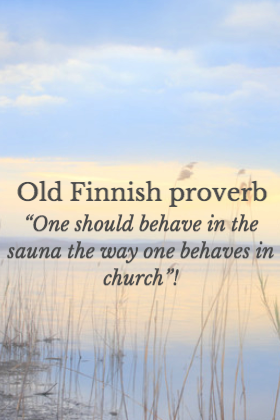 ---
What's in this post:
hide
A Traditional Farmhouse in Liminka, Finland
---
Our other activity during this trip was, of course, to be spent in a traditional kota smokehouse, as well as a regular sauna and an outdoor jacuzzi. We arrived at the Liminka farmhouse on the late-ish side of 6 o'clock in the evening and had been quite worn out from our other excursions that day. All I wanted was an electric plug (iPhone 10 drained) and a bathroom, but our hosts had a different idea.
They swept us into a tiny, stand-alone log cabin built centuries ago and immediately had us sit down to a beautiful spread of food, along with a guide who would tell us a little about the farm, the sauna, and the way of life in this western area of Finland.
How on earth can I write a story about Finland without the mention of a sauna experience? Honestly, I don't believe I can and this time will be no exception. I dove into the culture and history of the Finnish sauna on my last trip to Helsinki, so you can read about that experience here. The immersion into the culture of a Finnish sauna is quite a foreign concept to a southern American girl like me, but refreshing nonetheless.
Liminka Finland's Sauna Changing Rooms
Soon enough they gave us directions as to where the changing room was and showed us the area where their darling "kota" smokehouse was. A kota (as they are called in Finland) is a sort-of native Indian hut that is typically elongated and lower to the ground. The standard type of sauna, which has remained unchanged through centuries, is this one-room, rectangular log hut that houses an open rock stove.
Many Finns still consider this style unrivaled when it comes to the sauna experience. When the rocks in the stove are heated, the smoke from the burning wood rises and circulates in the room before escaping through a vent in the ceiling. The smoke blackens the room with soot and the heat rises up.
Down to the Sauna House in Liminka Finland
I quickly slipped into my swimsuit and cover-up and made my way through the creaky white-crackled gate and down the path to the sauna house. Because we are guests, we were allowed two things that are different than traditional saunas: some clothing (bathing suits) and mixed company.
"Being naked in the sauna is a key feature of the Finnish sauna culture, which the Finns consider completely natural. However, they are aware that other cultures are intimidated by it, and so they don't impose it on their foreign guests. They believe that wearing a swimsuit is unhygienic and as uncomfortable as having a shower with your socks on!" I laughed out loud when I heard that!
Two Level Bench Sauna in Liminka Finland
Once inside the sauna, there were two levels of benches to sit on. I took the lower bench, as I remembered how this sauna thing works: heat rises. I knew I didn't want to be up on the highest benches in the hut and so I was nice enough to let our wonderful Finnish hosts take those prize spots!
Once we were all in, the time for the scoop of water to go onto the coals came and you can imagine that the heat overcomes you like stepping into a forest fire, with the smoke and heat running up your nostrils that almost makes gasp to catch your breath.
Murmers were heard from the back row, as yelps and squeals follow from the front row, as the foreigners all try to figure out the passion for this cultural tradition. Over time, someone relents and heads out the door and I soon follow, ready for a breath of fresh air, but the mosquitos are out in full force and so my only options are to retreat back inside into the heat or head on over for the heated outdoor jacuzzi.
Honestly, I don't think I stayed inside the saunas long as the traditional Finn's would, but I gave it a hearty try, as my skin did begin to feel rejuvenated and moist and so off to the jacuzzi and the other non-smoke sauna it was.
Liminka's Traditional Farmhouse
With all these options, there is plenty to do at this traditional farmhouse, where a farmer and his wife hosts small parties and places for small groups of people to stay in this rural town in Finland. Eventually, I retired back to the changing room and got dressed for dinner.
Liminka, Finland's Awesome Dinner
Our amazing farmhouse chef (a local farmer's wife!) cooked our group a wonderful meal and the whole experience was quite homey, cozy, and wonderful! The farmhouse itself was extremely quaint and the farmer and his wife are breeders of some really cute dogs and so we had a great time playing with and watching the doggies play, as well as the sauna and the dinner.
The time spent here had the feel of going to your neighbor's house for dinner and was excellent exposure to the local Western Finnish way of life. So Thank you Western Finland for the birdwatching and traditional Liminka Finland sauna, it was spectacular.
Disclosure: My trip to the Liminka Farmhouse was in association with my trip to Western Finland by VisitFinland with OutdoorsFinland campaign. The unique experience I had were all my own.