Quito Ecuador, a fabulous UNESCO capital city in South America, has so many wonderful things to offer tourists these days. From its list of outstanding churches, museums, Spanish colonial architecture to the Ecuador Mitada del Mundo (middle of the world equator), along with its outstanding viewpoints, and of course, its modern cable car TeleferiQo. This capital city is incredible and worth a visit. I have written this comprehensive travel guide that will list for you a few of the best things to do in Ecuador, Quito, advice on where to stay, and how to get around the city.
---
Things to do in Quito Ecuador!
---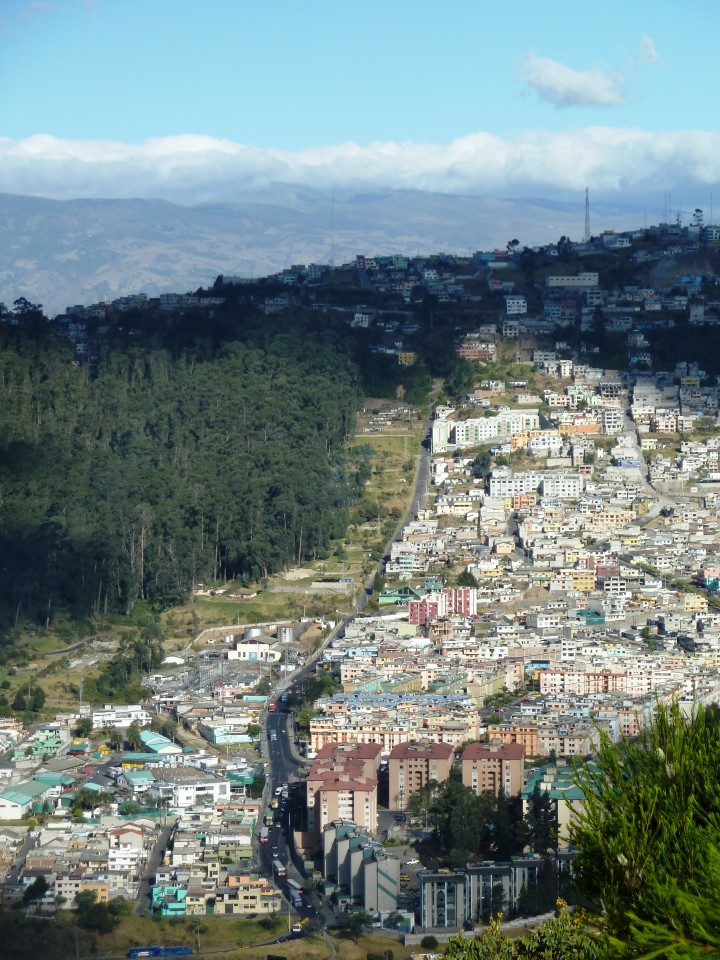 Hill after hill, I rode on a local bus in Ecuador. Quito is such a fabulous city! I certainly could not believe my eyes, for as far as the eyes could see, I saw houses stacked upon each other so tightly crammed upon one another that I could barely see through them. Plus there were high line wires everywhere blocking my view! I don't think I have ever seen so many high line wires in my life. I thought the world had gotten rid of those years ago. But not here in Ecuador, in Quito, they crisscross the city like a crossword puzzle.
I was ducking my head on the open-air bus many times to make sure I didn't get hung by one around my throat. I am told many of the shops avoid paying for electricity by tapping into these illegal connections. There were dozens of electrical cables on each street that we rode down that were so intertwined, I felt like they looked like a knot that could never be untied.
Quito Ecuador and Its Crammed Buildings!
Then, as I rode the bus a bit further, I saw buildings upon buildings. Clutter and old plastic bottles lined the streets. The hustle and bustle of this nation's capital have many sights, sounds, and smells that tourists really do want to experience. And I couldn't wait to get my hands on this stunning city!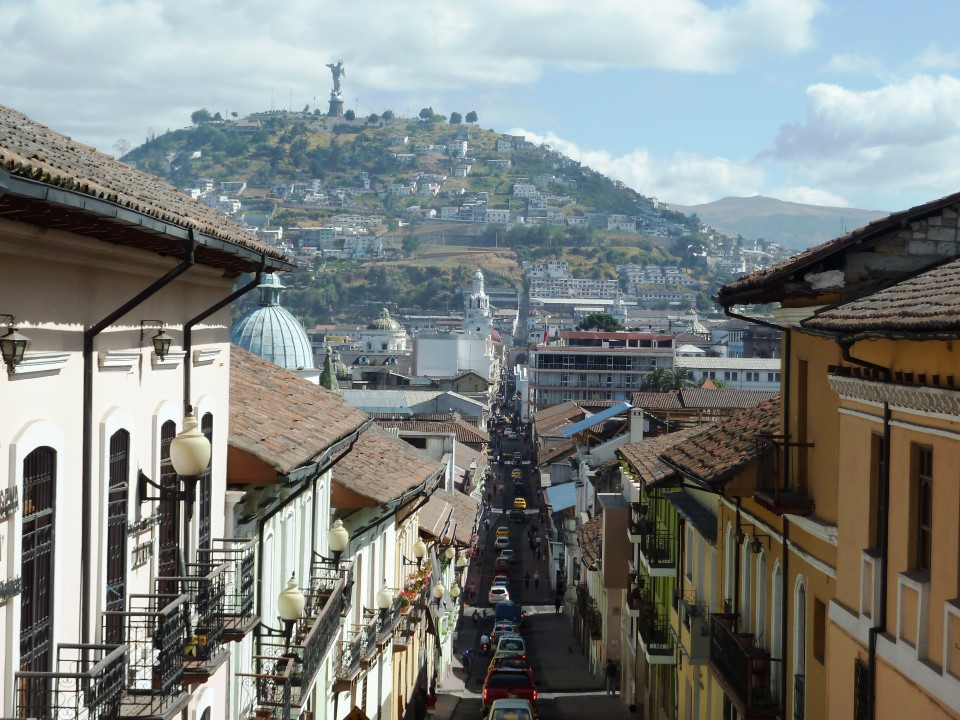 My simple advice to you is to get lost in the colorful and narrow streets of Quito. The architecture of the buildings built so long ago, the sculptures and frescos that line the insides of the churches. Literally, there is so much to see and do. And I can see that the city of Quito is taking great strides in preserving its historic center. So let's get started!
---
Things to do in Quito Ecuador:
#1 Visit the Churches of Quito Ecuador
The first thing I noticed was how religion has played a role in the way this city was built. 300 years of Spanish colonization transforms a city. The Spanish founded modern-day Quito and Guayaquil as part of their political administration era, which lasted until the War of Independence. When the Spanish Conquistadors took over this area, they indoctrinated the indigenous people into the ways of the Catholic Church. So as you can imagine, there are quite a few churches here.
It is no wonder that the Pope of the Roman Catholic Church today is from Latin America. Every other block had a church on the corner and after a while, I could not even remember the names of them or remember which one was grander than the next.
Literally, there are so many cathedrals in Quito that you could make an entire trip out of visiting houses of worship. I found a list of churches in the old town of Quito and decided to make you a list of some of the best ones to visit.
Basilica Church

Buenaventura & Cantuña Chapels

Cathedral Church

Chapel of the Old San Juan de Dios Hospital

Chapel of the Rosario & Chapel of the Virgin Escalera

El Carmen Alto Church & Convent

El Carmen Bajo Church & Convent

El Sagrario Church

El Tejar Church & Convent

La Compañía de Jesus Church

La Concepcion Church & Monastery

La Merced Church & Convent

San Agustin Church & Convent

San Blas Plaza

San Diego Church & Convent

San Francisco Church & Convent

San Juan Church & Monastery

San Marcos Church

San Roque Church

Santa Barbara Church

Santa Catalina Church & Monastery

Santa Clara Church & Convent

Santo Domingo Church & Conven

t
It is quite astonishing how many churches there are in Quito, Ecuador and I am not even sure that this list contains all of them.
#2 Visit the "Golden Church of Quito", Ecuador
There was this one church that stood out to me: Iglesia de La Compania de Jesus, also known as "Quito's Sistine Chapel." This is one of the churches I won't soon forget, as it is magical. This Jesuit church is a masterpiece of baroque and colonial art with lavish gold altars and gilded columns on the inside, making it one of the most ornate structures in the world. Throughout my travels, I don't think I have seen one quite so grand and it is definitely a rival of the best churches I have ever seen! (including churches in Spain, Italy, France, Austria, and Russia).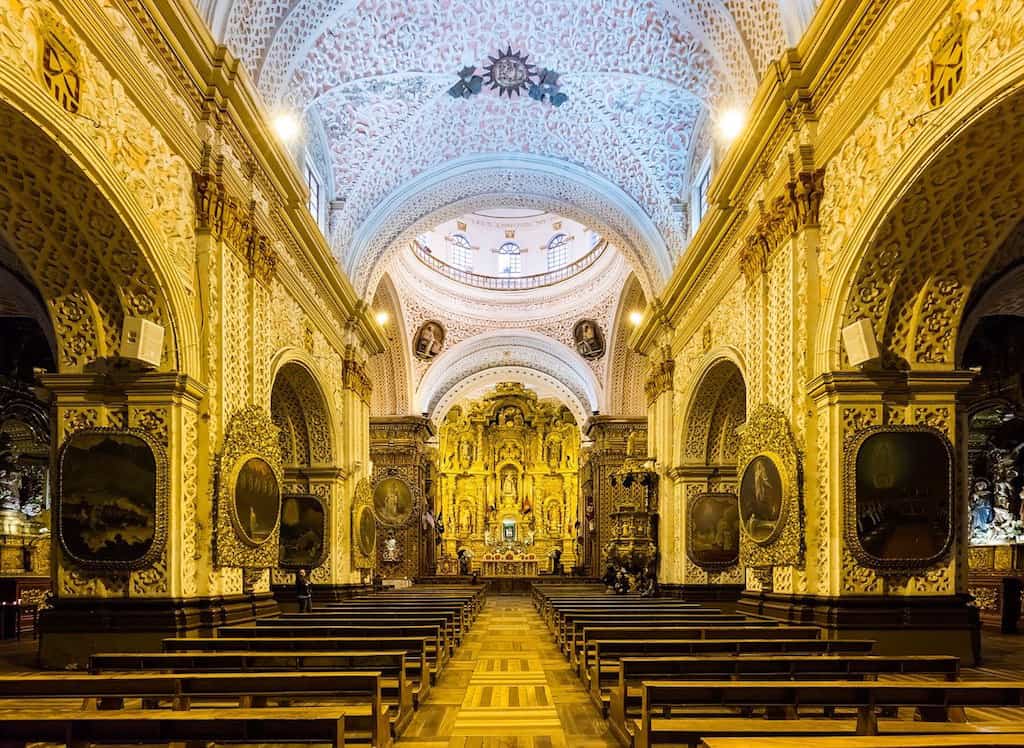 Just look at its stunning interior! It is among the best-known churches in all of Quito because of its large central nave, which is decorated with gold leaf, gilded plaster, and wood carvings. In fact, the day I was there to visit it, they would not even allow a photograph to be taken of this majestic church.
This church epitomizes the pinnacle of Latin American Baroque architecture. Built between 1605 and 1765, the builders took their design references from two emblematic Jesuit temples in Rome: Il Gesú and San Ignacio. To me, it is astonishing that it took over 160 years to build.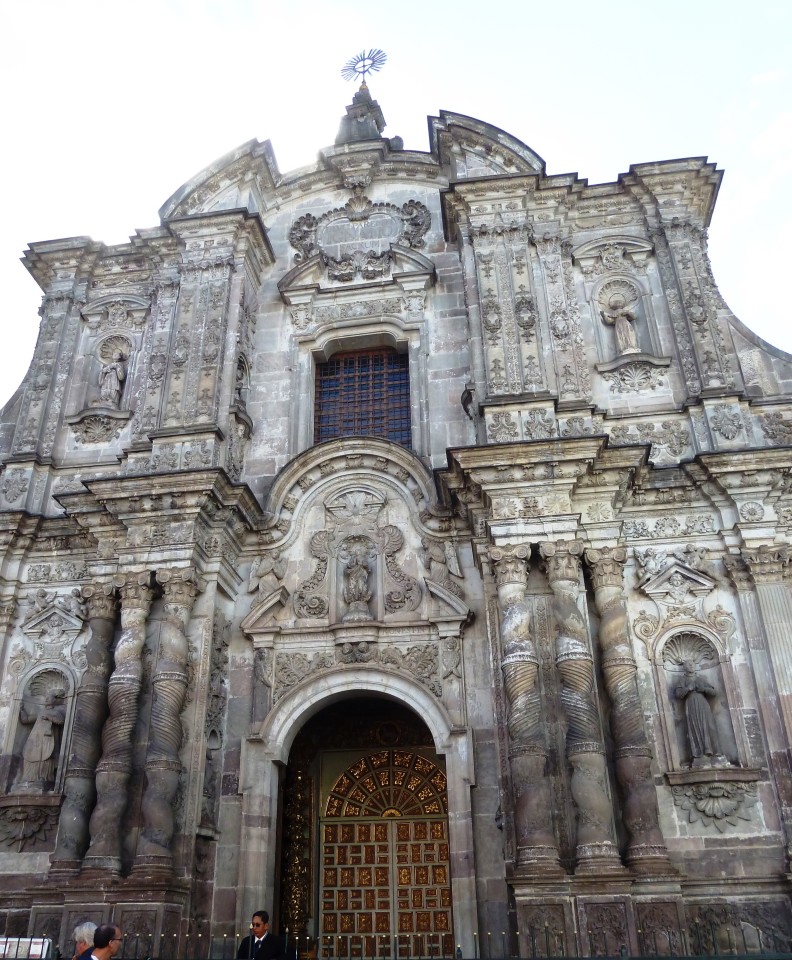 ---
Articles to Read about Galapagos, just in case you want to go there too!
Galapagos Islands By Cruise: A Complete Guide
Post Office Bay, Floreana, Galapagos
Through the Eyes of a Galapagos Gringa
Birds of a Feather in Galapagos
---
#3 Visit Independence Monument
Independence Square is home to the Independence Monument, which honors those who first called for the independence of Quito Ecuador from the Real Audience of Quito in August 1809. The Real Audience of Quito had been created in 1563 by Philip II of Spain. It was an administrative unit of the Spanish Empire that had political, military, and religious control over Ecuador.
The Independence Monument is directly in the middle of the square. From here you can see a wounded lion (in reference to the Spanish troops); a condor breaking the chains of oppression (the emblem of the country); and the Roman goddess, Libertas, holding a torch. These three things represent the country as a whole.
Not too far away is the historic Teatro Bolívar and the Plaza Chica if you get a chance to see them.
#4 Visit Independence Square
The heart of the Old Town Quito centers around beautiful Independence Square. This area is anchored by the Quito Cathedral, the Presidential or Carondelet Palace, the Municipal Palace, the Archbishop's Palace, and the Plaza Grande Hotel. This square is listed on the UNESCO World Heritage website as the Quito Plaza de la Independencia.
Despite being the city center, it is a great place to visit and there are many cafes where you can enjoy the sights and sounds of this bustling city that I call a "City upon a Hill". This was a phrase from the parable of Salt and Light in Jesus' Sermon on the Mount. Seeing this city from upon its many hills, makes me think about the origins of Quito Ecuador, and how this stacked city came into existence.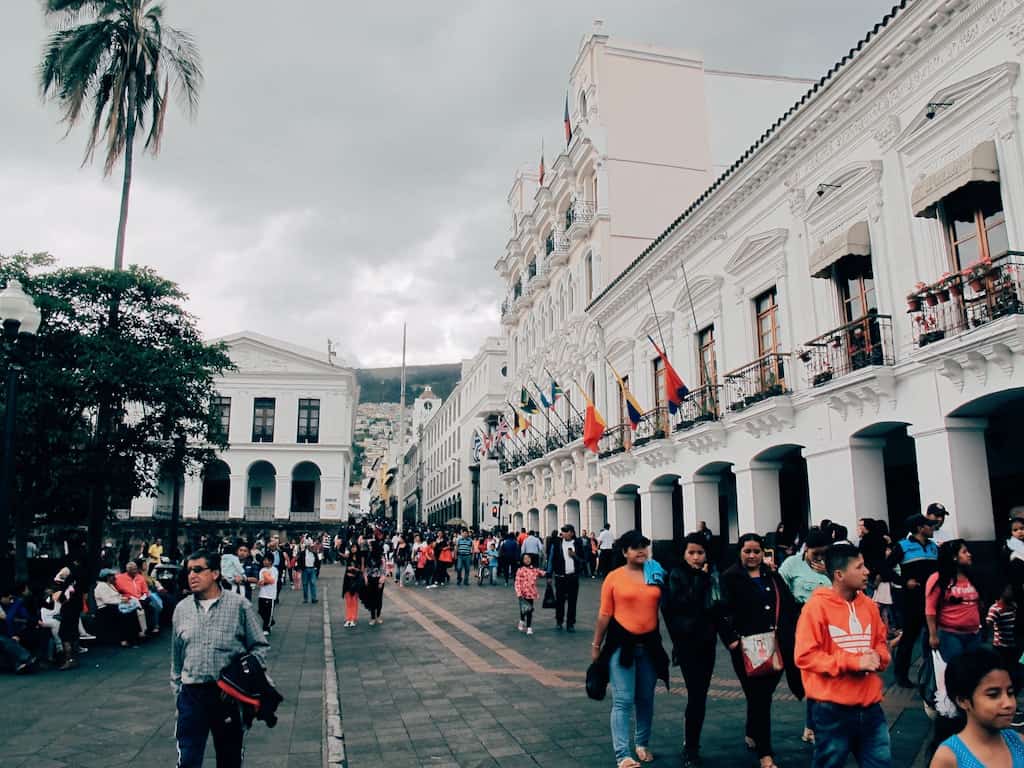 ---
"You are the light of the world. A city that is set on a hill cannot be hidden." Matthew 5:14
---
The term "City upon a Hill" is influenced by Plato's Republic and the concept of the "good city" – a city-state that is governed by philosopher-kings. In my mind, Quito is a tall, proud city, a city that is built upon rocks that are stronger than the ocean, and even God-blessed. It has people from all kinds of life. They seem to be living in harmony and peace together.
This city has a majestic feel to it and yet, in reality, it is a city that is still struggling to find its financial feet. The people are overworked and underpaid and the reality of the many cathedrals is and was most likely for them to find refuge from the uncertainty and difficulties of their daily life.
#5 Go see "La Capilla del Hombre" – Chapel of Man
"La Capilla del Hombre" is a work of architecture that was built as a tribute to the great Ecuadorian artist, Casa Taller Guayasamín (painter), and is a cultural complex that shows different archaeological and artistic collections of Ecuador. Chapel of Man is certainly worthy to be on this list of things to do in Quito!
The Chapel of Man consists of exhibiting colonial and contemporary art and archaeological pieces that Guayasamín collected throughout his life. The other sections of this complex allow tourists to explore the areas in which Guayasamín lived and worked. The Chapel of Man is located on the hill Guangüiltagua, next to the entrance to the Metropolitan Park.
The symbolism of the white walls with semicircular arches on a stone wall, configuring the courtyard of the bells, reflects the painter's constant preoccupation with the Latin American identity that fuses Hispanic and Andean, the core of the Ecuadorian nationality.
#6 Climb the Virgen de El Panecillo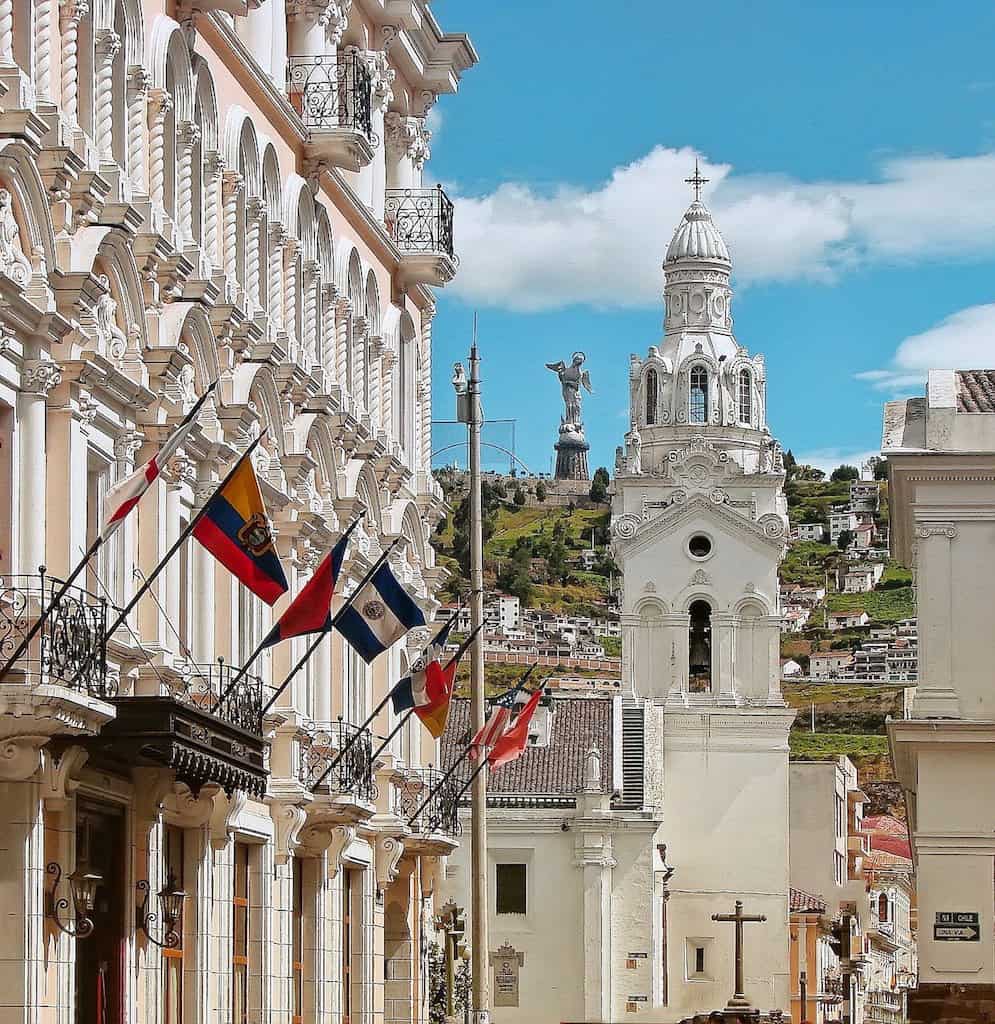 Be sure and stop by and even climb to the top of Virgen de El Panecillo, also known as the Virgen of Quito. Located at the top of the hill of El Panecillo, a hill in the heart of the city which serves as a backdrop to the historic center of Quito. It is 135 feet tall including the base and is the highest statue in Ecuador. It is the tallest aluminum statue in the world! And since it has wings, you could say that it is the guardian angel of the city.
Actually, as a tourist destination, it is one of the most visited places in the city. Also, due to its location, it is the most important natural viewpoint of the city. If you go here, you are able pay $1 to climb inside the virgin to get a 360 degree view of the city.
More Things to do in Quito, Ecuador:
#7 Stop by the Basilica del Voto Nacional
One of the best things to do in Quito is to visit the Basilica del Voto Nacional. This impressive neo-Gothic basilica built back in the 1800s is huge and takes up a couple of city blocks. Honestly, I was shocked at the size of the building but loved the gargoyles that adorn the façade.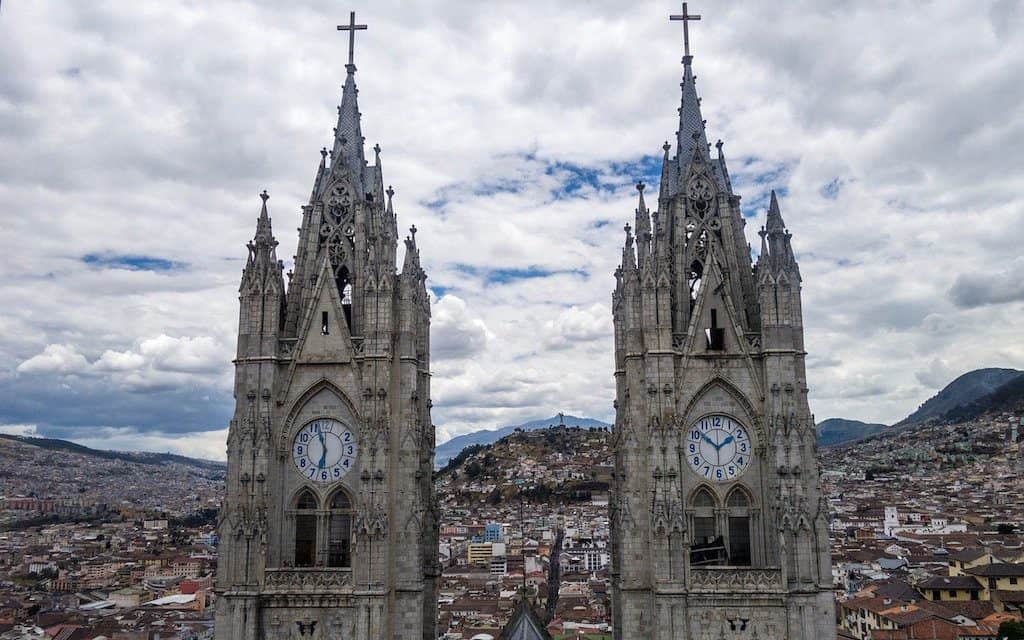 Once you have located the massive front door ($1 entrance fee), You can head into the gorgeous sanctuary. Notice the stairs on each side of the sanctuary. These are the ones that can take you up to lookout points.
The real lookout point is way up at the very top of the basilica. So if you really want to get a photo from up there, you will have to make your way across a catwalk before climbing straight up a ladder! Then, hike up three sets of metal stairs outside. It is quite scary, so only for the faint of heart! This gives you a birds-eye view of the rooftops dotting the hills as far as the eye can see.
---
Bonus tip: For Quito Ecuador sightseeing, Basilica del Voto Nacional has one of the best viewpoints in the entire city! Remember you have to buy a special ticket for $2 for this viewing to go up into the towers of the basilica. You can even go inside the clock and climb to the very top of one of the towers…but prepare yourself, as you even have to climb ladders at the end.
---
Oh, and one more crazy thing – the Basilica del Voto Nacional has a cafe at the top of one of the towers, so for $4-$5, you can enjoy a coffee and a treat with the craziest view of the city!
#8 Visit Quito's Historic Center
Quito's historic Center is the best-preserved Historic Center in all of South America. Made up of 800 square acres dating back to the era of the Spanish Conquest to the early twentieth century.
With thousands of pieces of colonial art, from numerous paintings and sculptures, all were the product of The Quito School or Escuela Quiteña. The large part of the buildings in Quito's city center were scenes of diverse events that changed the course of this nation's history.
#9 Be sure and stop at San Francisco Church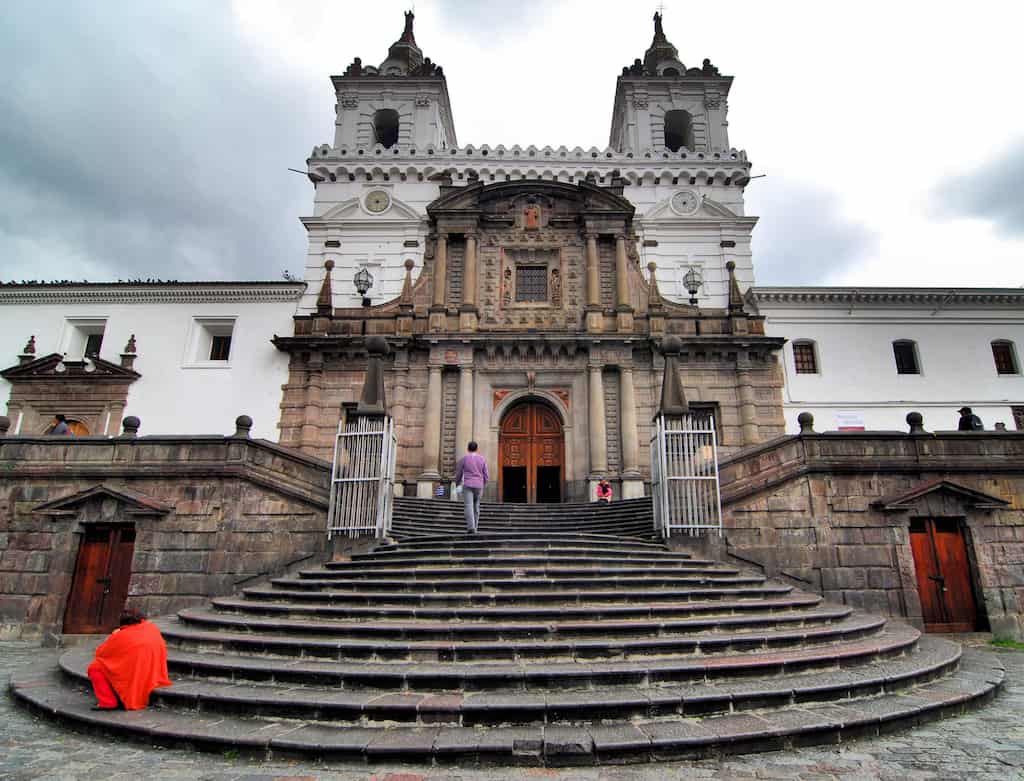 If you haven't got your fill of churches, there is one more worth making a stop at known as the San Francisco. This cathedral overlooks a plaza lined with little shops, making it a great place to pick up an ice cream cone or to buy some souvenirs. It was built way back in the early 1500s and includes two bell towers. There inside features statues of saints, a large altar, and century-old artwork.
#10 Ride Quito's TelefériQo – Cable Cars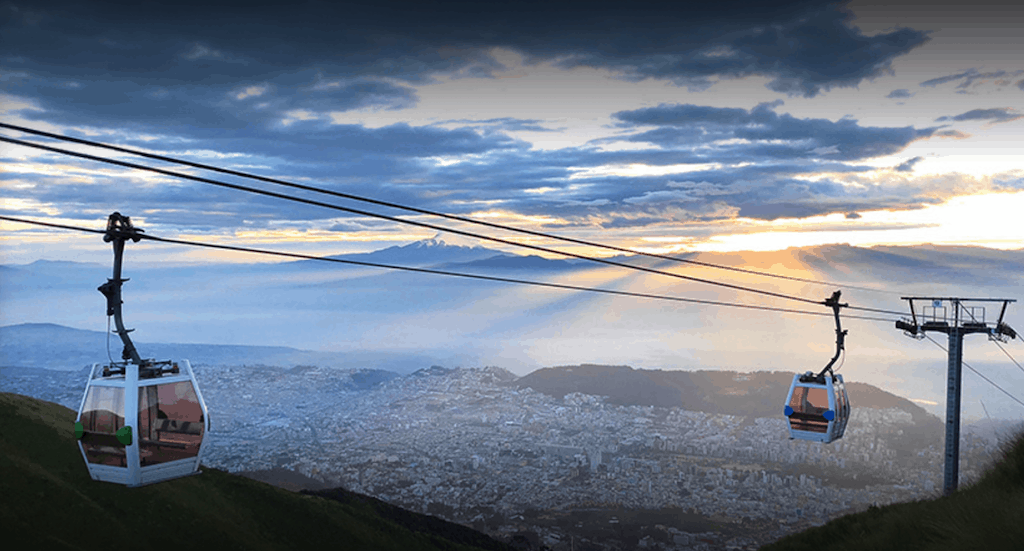 If you are in Quito on a clear day, be sure to take the cable car to the top of the Pichincha Volcano to Cruz Loma in Quito's stunning cable car, TeleferiQo. Be sure and bring along your camera or iPhone. As you will be able to see at least four (4) snowy peaks and 14 distinct volcanoes!! This cable car takes you high up into the Andes Mountains. You will see sweeping views of the city of Quito and Cotopaxi. Remember that some people suffer from altitude sickness, so be sure and get acclimated to the city before heading up, up, up!
The cable car ride lasts 10 minutes and costs is $8.50 per adult. It begins at 2,950 meters above sea level and reaches 4,053m (in a 2.5-kilometer double track).
#11 Take A Day Trip to "Ecuador Mitada del Mundo"
Many people do not know that there is actually a place in Ecuador called the"Middle of the World". But there is, and it is located on a tract of land located approximately 20 miles from Quito. This is a great day trip to take so that you can learn more about Ecuador Mitada del Mundo. And honestly, it is a lot of fun to take your family and enjoy the day.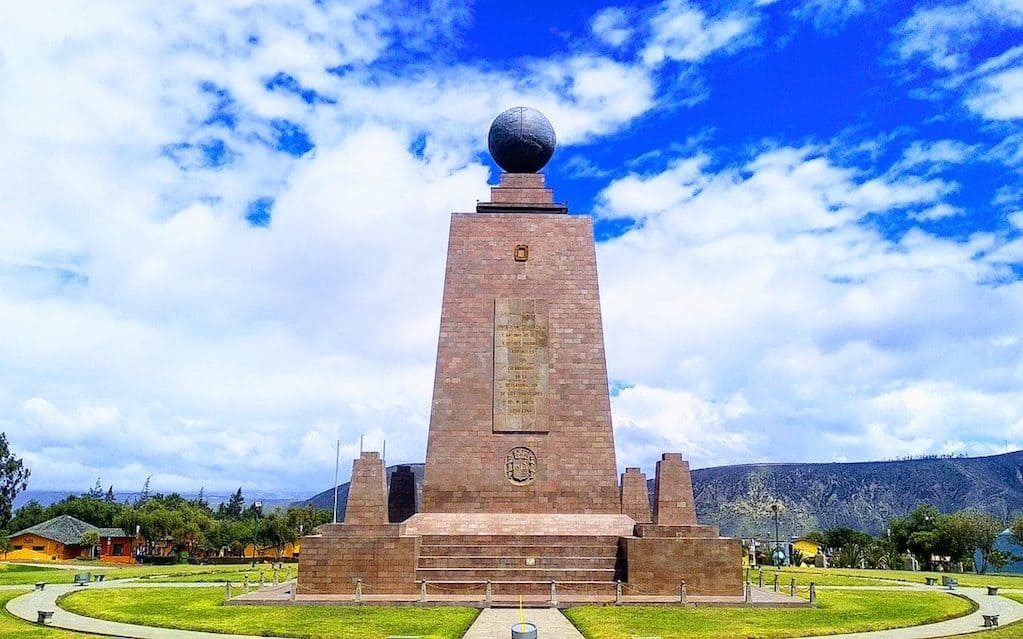 #12 Shop till you Drop!
So once you have had your fill of historic things, there is a great place to shop in Quito Ecuador. Head over to La Mariscal, this is a district that is filled with hotels, cafes, and nightclubs. It is also home to an artisanal market, where you can pick up some authentic Ecuadorian souvenirs.
#13 Walk Down Calle La Ronda
There is a famous pedestrian street in Quito's historic district called La Ronda Street. Back in the 19th Century, houses in the street became places for gatherings of painters, poets, sculptors, singers, political activists, and writers. As time went on, the area homes struggled with drug dealers, homeless, and prostitutes. But eventually, in the late 20th century, the city took over the street and gentrified it back into shape. Now La Ronda is one of the crown jewels of Quiteño culture.
Calle La Ronda is no traffic-free and has many artisan shops, galleries, restaurants, and educative boards about the colorful history of this well-known street.
Quito Tourismo: Getting There
Fortunately, the airport draws tourists and new routes to its Mariscal Sucre International Airport, located just outside Quito. This international airport offers increased capacity, both in the number of flights it can handle as well as the size of the aircraft. It is located safely outside of the residential areas.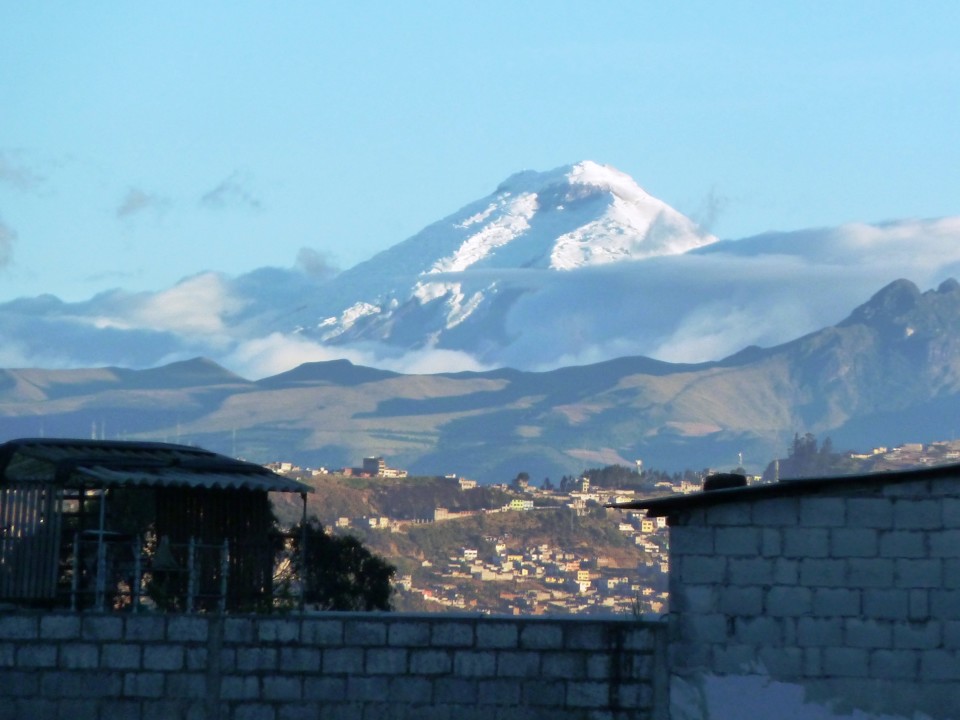 ---
Recommended Reading about Ecuador:
15 Of The Best Things To See & Do in Ecuador
Chordeleg: A Day Trip from Cuenca
Montanita, Ecuador: Out of My Comfort Zone
---
Quito Turismo Ecuador
I have noticed that Ecuador's cultural attractions are beginning to get a little more extra attention these days compared to its pristine Galapagos Islands. Ecuador is well known for a segment of tourism known as "Natural Tourism" and does a great job at "Sustainable Tourism" as well. But, I believe it is high time for this country to continue to develop cultural activities and highlight the local culture, This will help Quito Ecuador expand the numbers of tourists that it draws. I believe this is the key: to diversify its attractions to attain a more diversified tourism market.
Ecuador voted South America's Leading Destination
Having been named as South America's Leading Destination with the World Travel Awards, it is on a high note to make cultural tourism work. In 2014, it was a finalist in the international New 7 Wonders campaign for its status as a UNESCO World Heritage Site. Quito ended up finishing in the top 14 but did not move to the next round of 7. By 2020, Chile was the winner of the World Travel Awards for South America.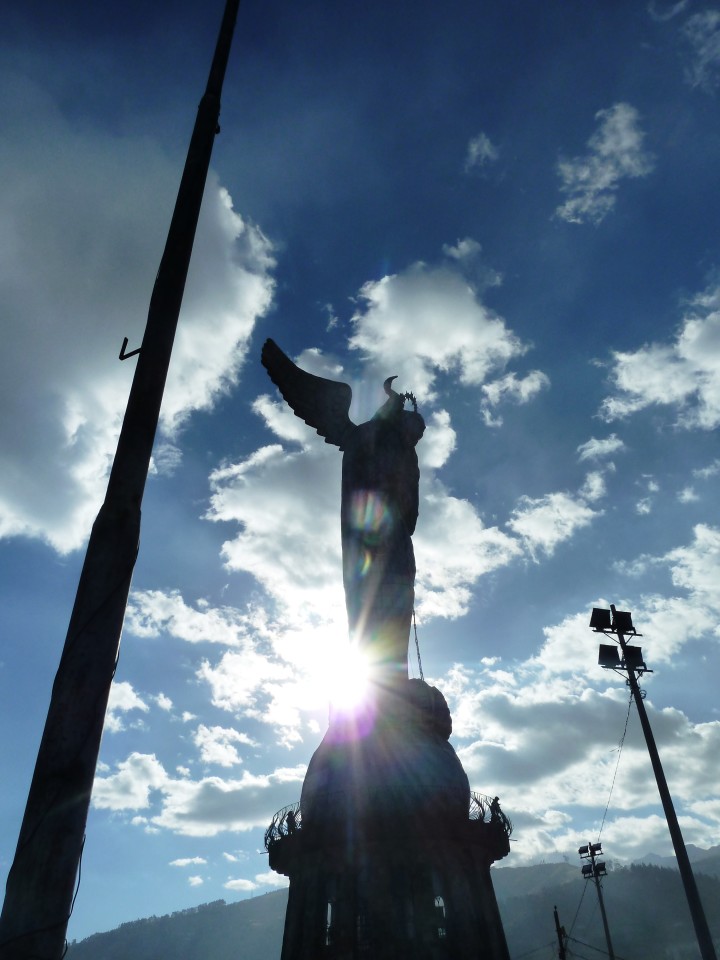 Quito – the City Upon a Hill
In 1978, UNESCO named Quito one of the first of two World Heritage Cities (the other being Krakow). Quito is the largest and most historically preserved city in all of Latin America's colonial cities. The city government did nothing but literally, let the city go "downhill". Finally, some politicians and a few wealthy businessmen decided it was time to bring the city back to life. Now the historic center is full of life with tourists that are staying longer than the obligatory one night en route to the Galápagos.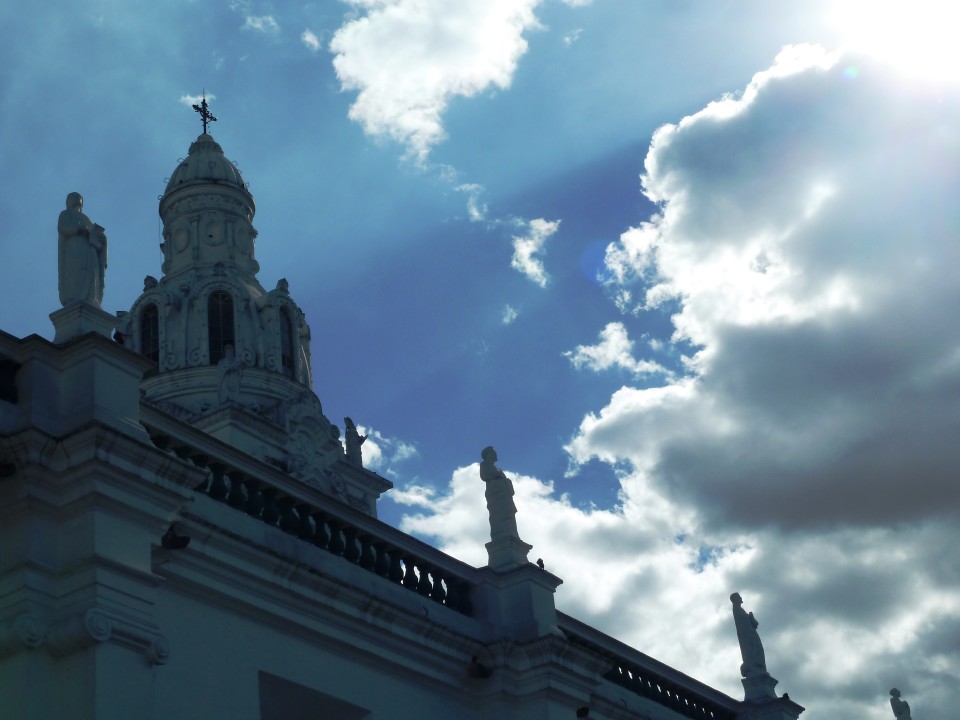 I believe Ecuador Quito is on its way to becoming a cultural tourism destination due to its many museums, historic center, cathedrals, and rising culinary scene. By continuing to develop cultural activities and cleaning up the city, these things will help Quito expand the numbers and types of tourists that it draws.
Where to stay in Quito, Ecuador
Hotel Reina Isabel – This is a nice mid-range and stylish hotel that fortunately has air-conditioned rooms, modern facilities, and an excellent location in the Mariscal district.
La Casona de la Ronda Hotel Boutique Patrimonial is a luxury, colonial-style house in a wonderful location in Old Town. La Casona de la Ronda features comfortable beds, spacious rooms with great views, has a fabulous restaurant, and has all the amenities you will need for a luxurious stay.
---
So there you have it, Quito in a nutshell. I am sure you would love to go for a visit!
Happy Vacation!