This post has been updated after my recent return from the Galapagos Islands! You can read my complete guide to Galapagos Cruising here.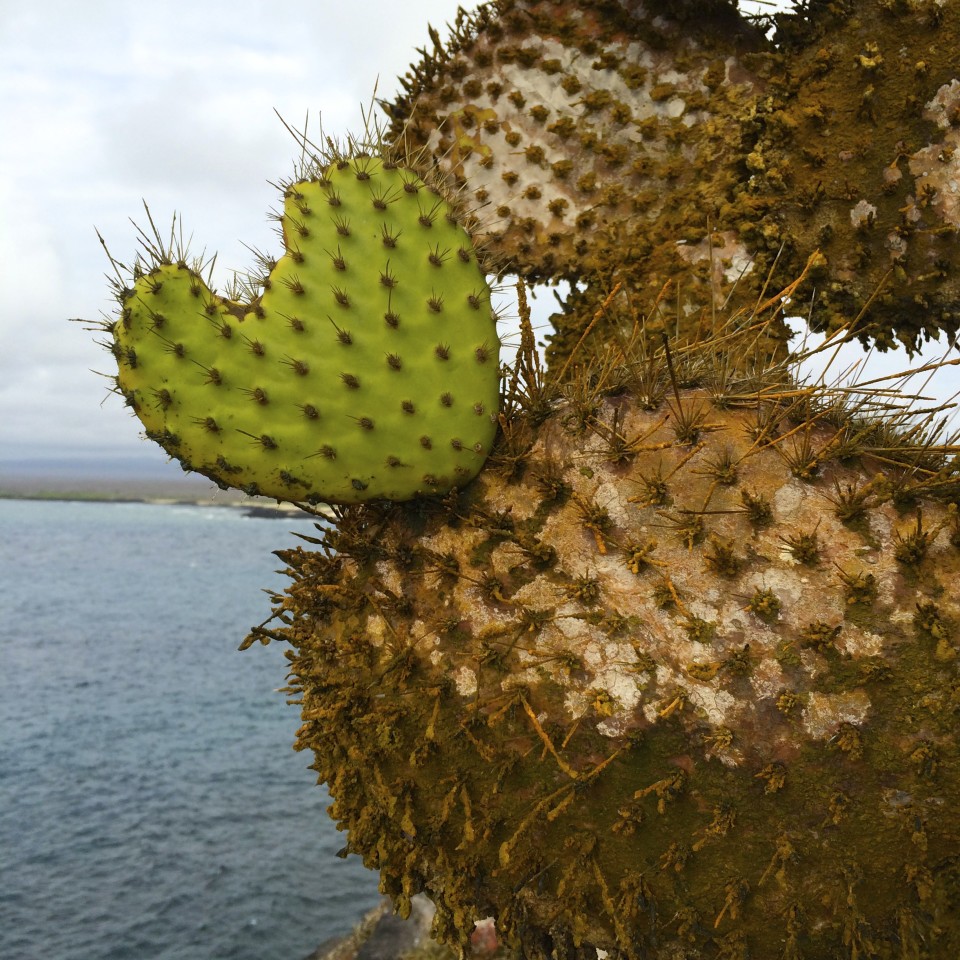 Wide Eyed and Bushy Tailed
Back in my early days of writing as a traveler, I loved every second of my new adventures. My eyes were wide and my love for travel grew exponentially. Today, I laugh as I re-read old articles I had written, as I was such a novice. But that is how you learn to hone your craft which is exactly what I was doing when I first visited the Galapagos Islands back in 2014. As of now, I have visited them three times and spent over a month there. The Galapagos Islands are fascinating, but as time has passed, they bring me more comfort and awe than ever before.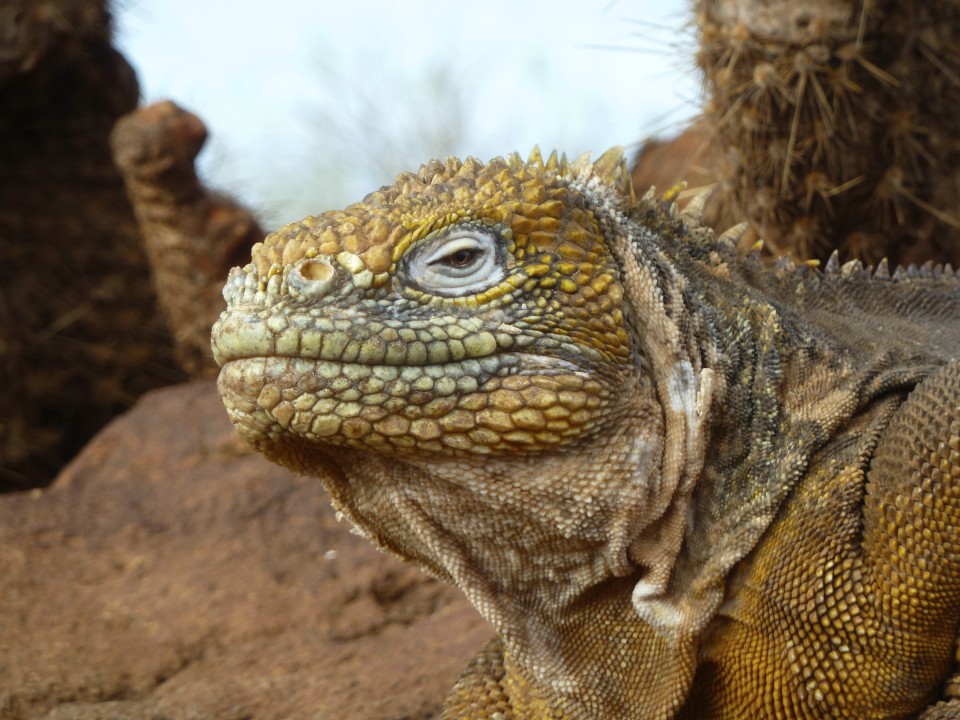 The Legend of the Galapagos Gringa
Maybe it is just an urban legend to spook tourist from visiting this tiny island in the center of Galapagos, far out in the Pacific Ocean known as Baltra. But from the look in the deckhand's eyes, it was as real as if he saw her himself. The way his dark brown eyebrows raised up as he told me the story made even me believe him. He spoke of her as if she was alive.
The history of this land includes its legends, its myths, and now its new people, who have only inhabited the islands since 1593. English pirates pilfered the Spanish galleons carrying gold during that time. But today, stories here can unnerve even the most traveled of all globetrotters with their stories of the Galapagos Gringa when not told by a pirate, but a deckhand!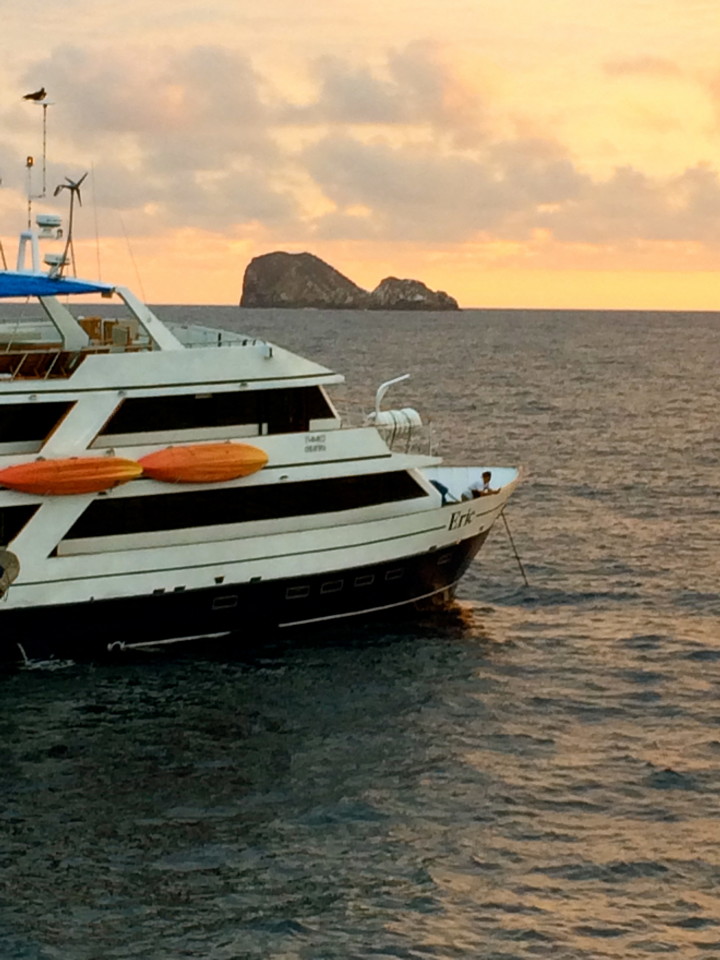 The legend goes like this:
A wandering spirit called the "headless gringa" wanders Baltra Island (also known as South Seymour Island) late at night and kills lonely men and solo travelers. She was an American girl living on the US military base on Baltra with her serviceman boyfriend. During World War II, Baltra Island was a US Army Air Force Base. Servicemen stationed here patrolled the Pacific for enemy submarines and provided back up protection for the Panama Canal.
As the story goes, this American girl was caught cheating by her boyfriend. He killed her by throwing her off a cliff, where her head got caught in the rocks and was ripped off. Shocked, he climbed down to get her body, but there was no head. He then buried her on the island somewhere. I had seen the edges of some of those rocks on other similar islands and I certainly didn't want the crush of death, so no visiting Baltra Island for me! LOL!
Now that is some story about the Galapagos Gringa! I couldn't find any documentation for this story anywhere! But the legend lives on.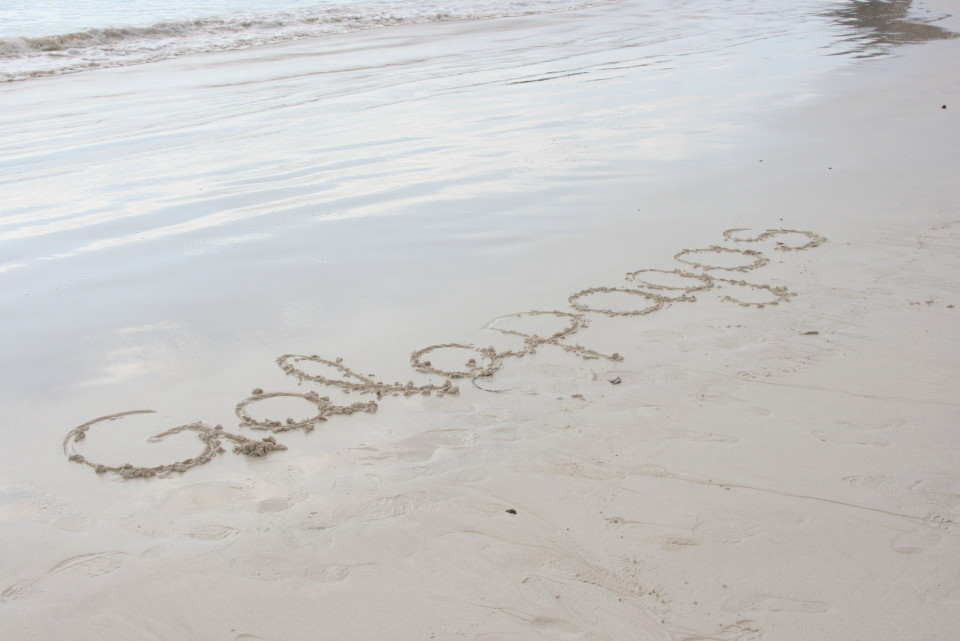 Galapagos Islands – North Seymour Island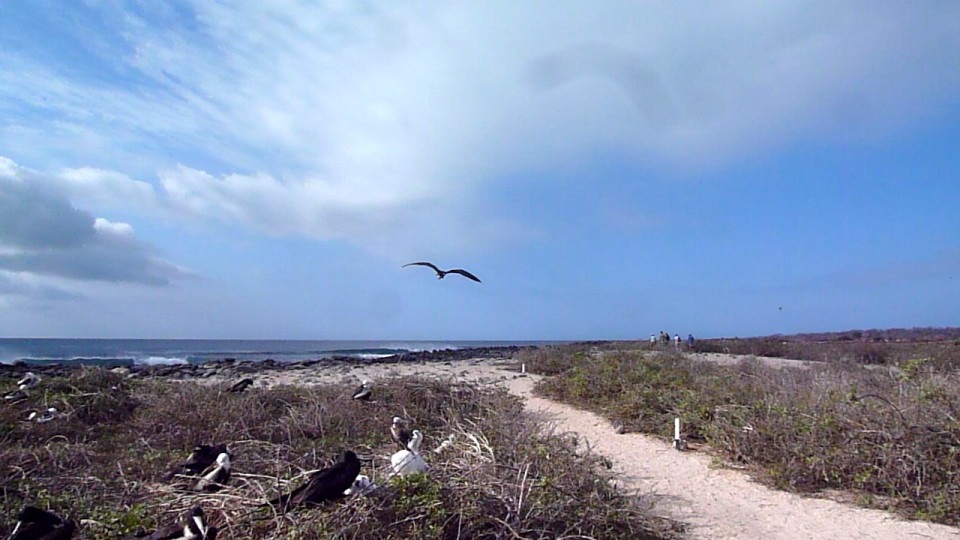 As the panga approached this tiny spit of land, I could see the rock and cement stairs that were supposed to be a "dry landing". I took extra precautions in getting out of that tiny boat and on to the shore safely. Once on land, there were two paths, some adventurers going right with Ivan, others going left with Orlando. Both are the Naturalist that have been assigned to the Letty, the Galapagos yacht that I had spent the last 8 days on with Ecoventura.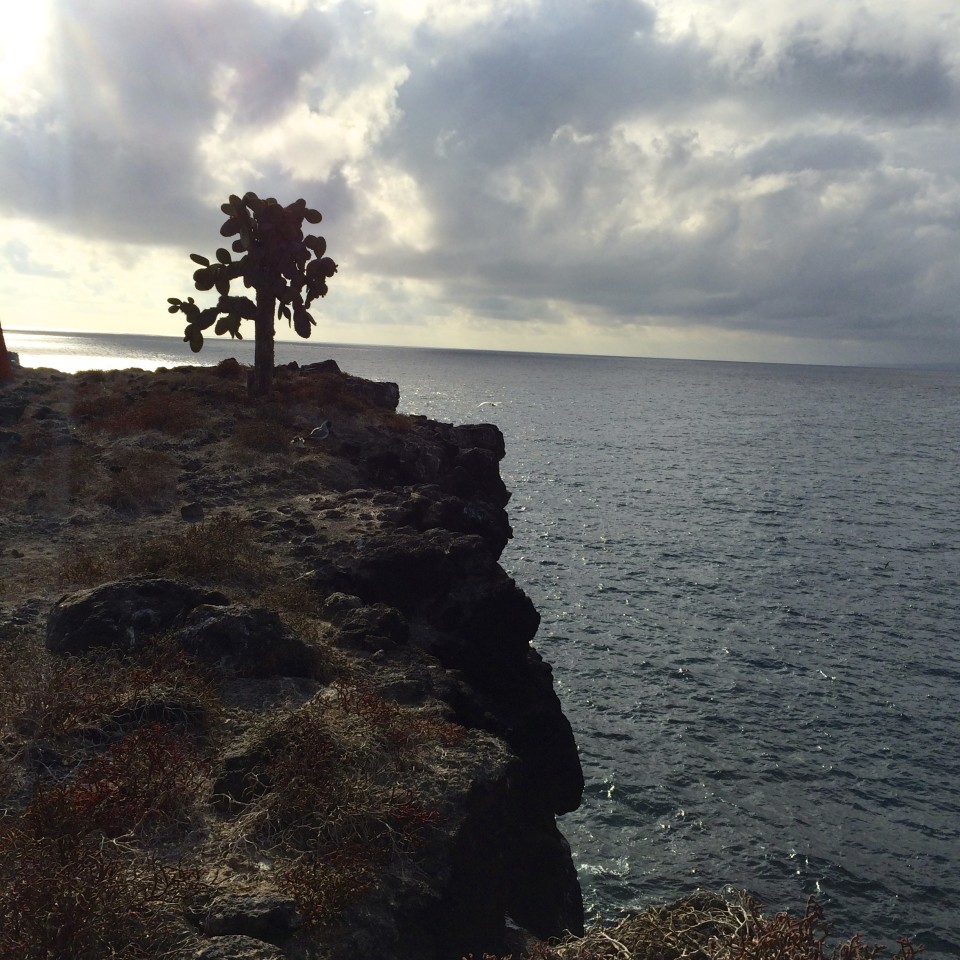 Frigate Birds and their Babies
I walked through a well-defined path, with stones marking each side, when I came upon them. Not one, but literally hundreds of Frigate birds were in my path: mothers, fathers, and babies in various stages of growth. The fathers were well marked – pitch black with a bright red chin sack. When they were ready to mate, they would blow their chin sack up with air. It can take up to 2 hours for the air to deflate from the sack. This was supposed to attract the female frigates. I found it absolutely fascinating how birds mate.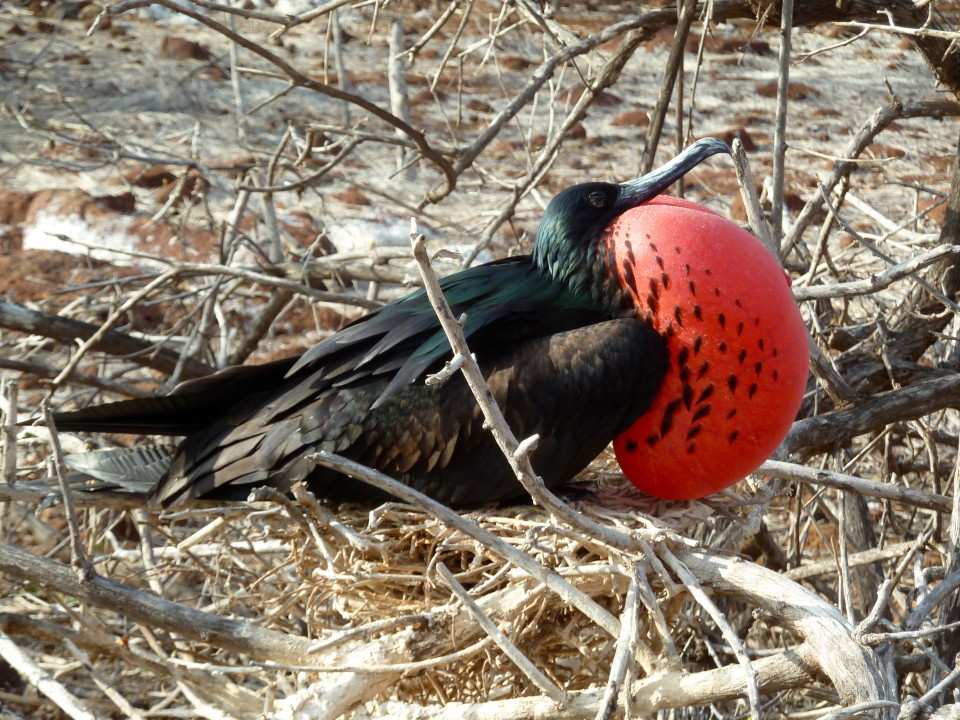 The baby Frigate birds sat in nests and on branches of bushes along the path. Literally, you could reach out and touch them (but don't as official rules are to stay at least 6 feet away). Typically when you see birds, they always fly away from humans. But this was not the case here. They knew this territory was theirs and they were not afraid of us.
Galapagos Land Iguanas
Also along the path were the famous Galapagos land iguanas, some the color of red dirt or a color that matched the rock they were on. As I took steps along the now rocky path, I had to take extra precautions not to step on some form of lava lizard or land iguana.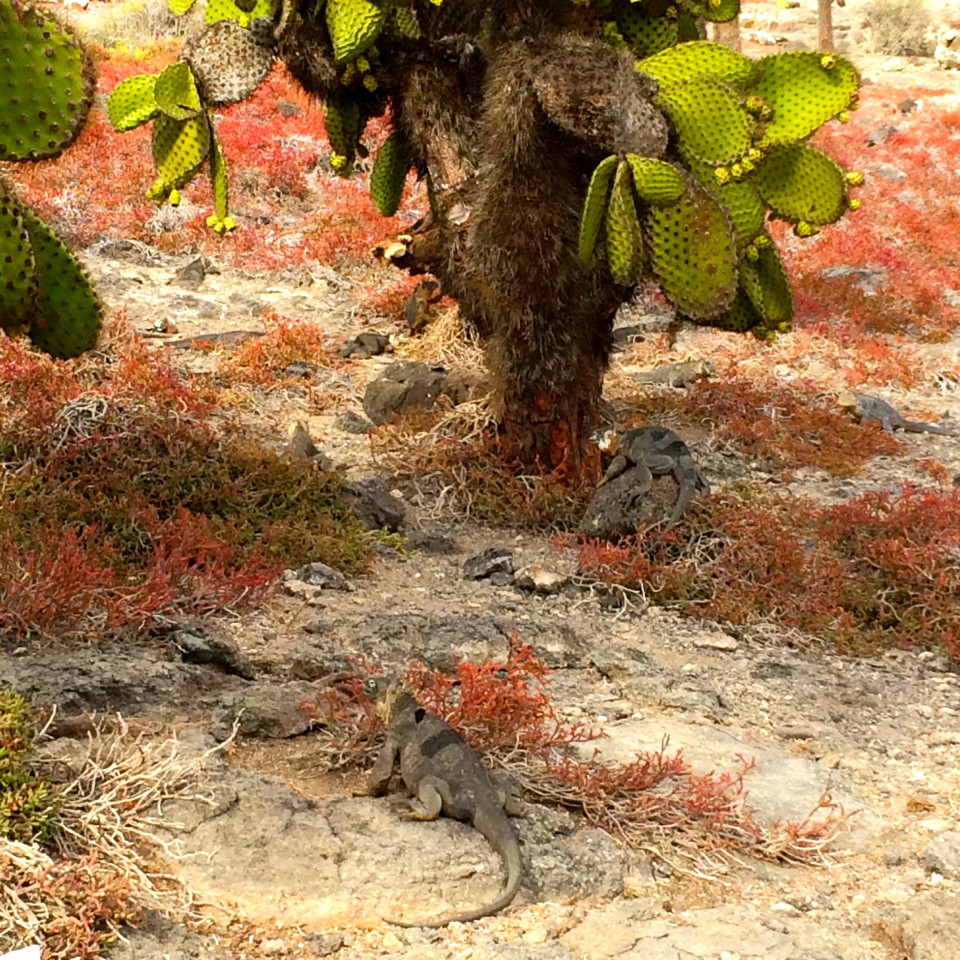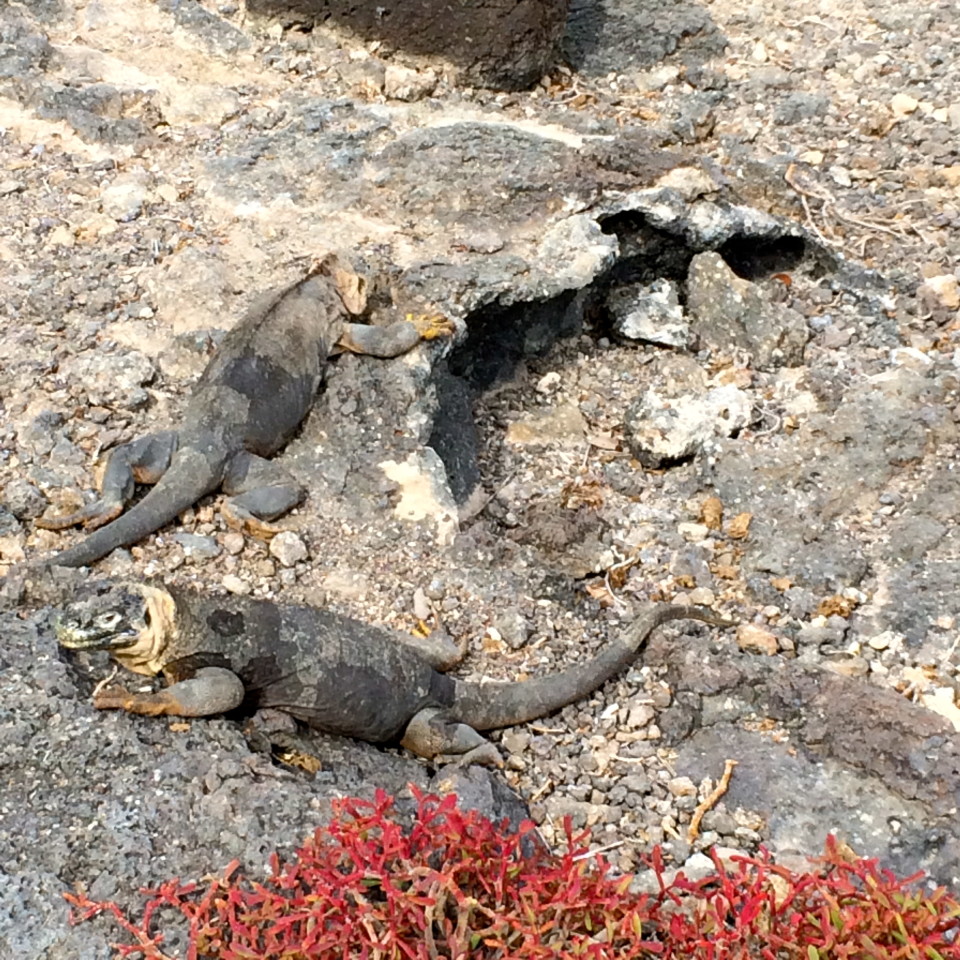 What I loved about this island is that the animals go about their day, doing what wild animals do, and you just get to watch them in their natural habitat.
Keep Your Distance
As mentioned before, there is a rule in the Galapagos to stay at least 6 feet distance away from any animal in the islands, and we tried desperately to adhere to it, although many times they were so close, you just wanted to make sure you didn't step on them. I took hundreds of photographs of them, instead.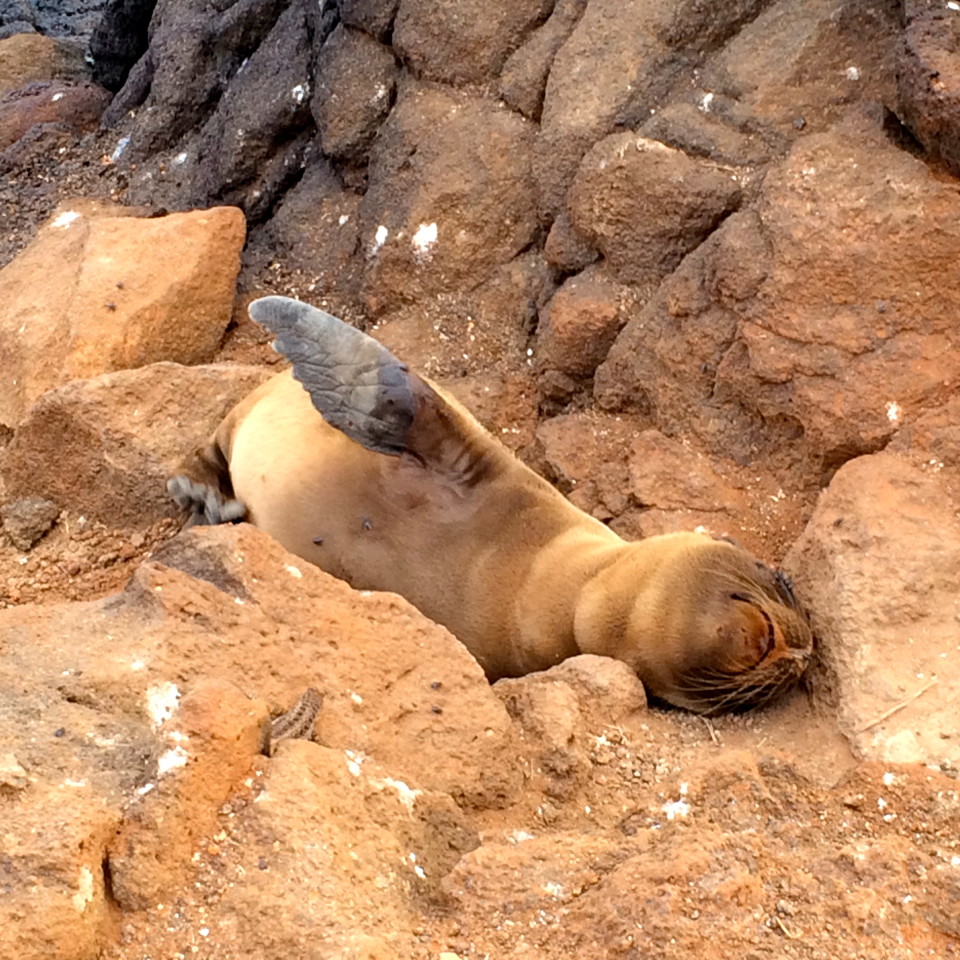 North Seymour Island was the last island on my visit to Galapagos. It became a remarkable and fitting island to end a fabulous 8-day tour of the Galapagos. I think for me, it is my favorite island other than Wolf and Darwin.
North Seymour Island
North Seymour Island with its crashing waves that would make any California surfer jealous. It had black rocks, red dirt, prickly pear cacti, yellow-leathered skin land iguanas, and the lovely red-chinned Frigate birds with their cute little babies. The experiences I had on that island are forever engrained into my soul. I rarely say this about a trip, but Galapagos, for me, was a "trip of a lifetime".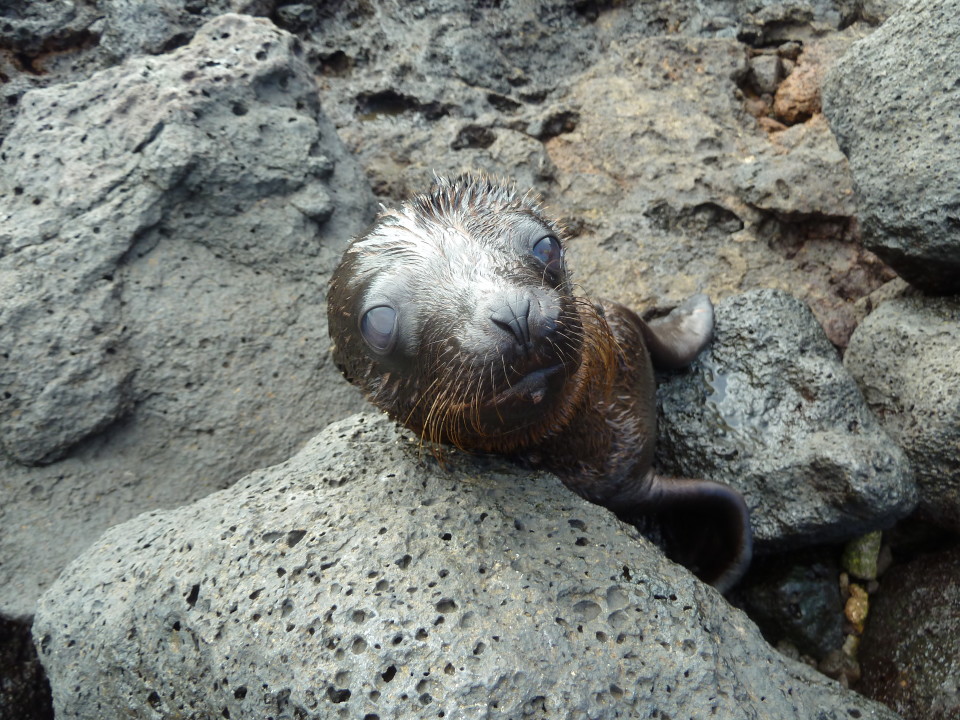 ---
"It is like being in a zoo, where there are no cages and the animals don't mind if you are there. "—Dr. Cacinda Maloney
---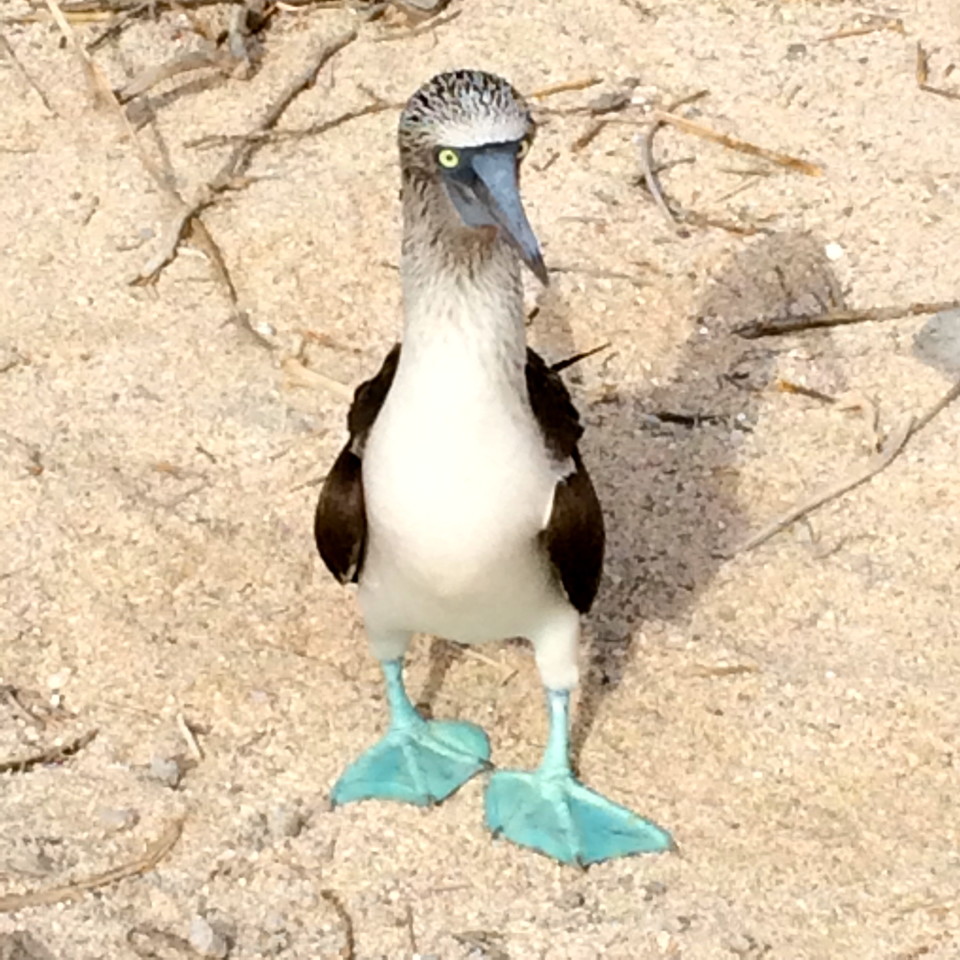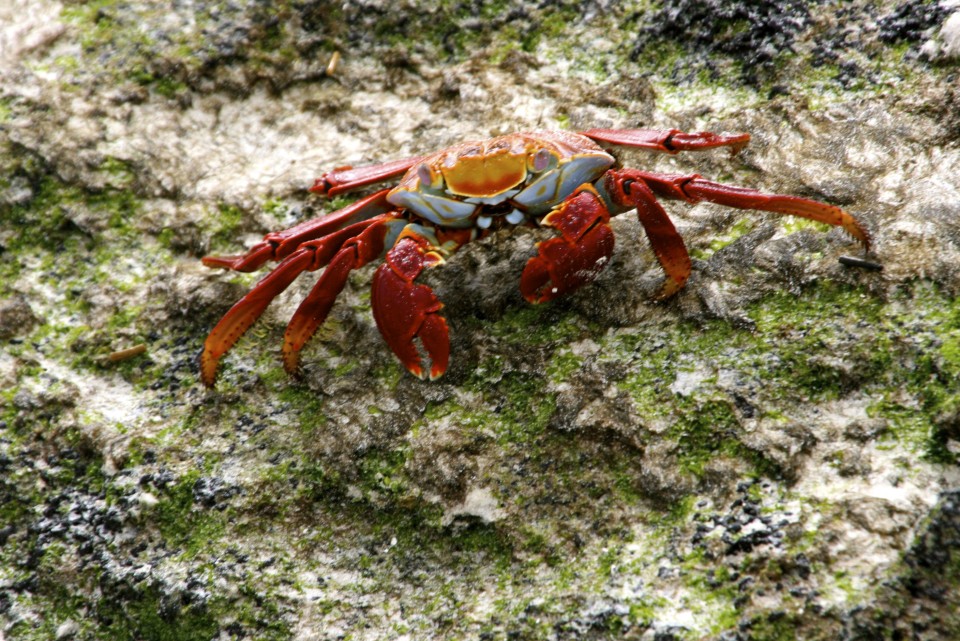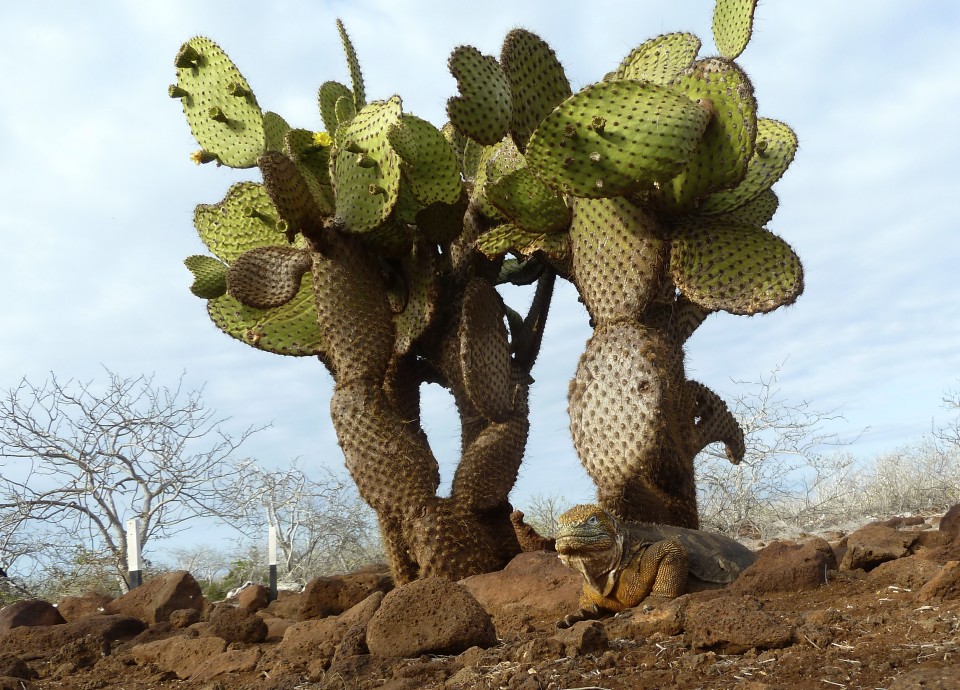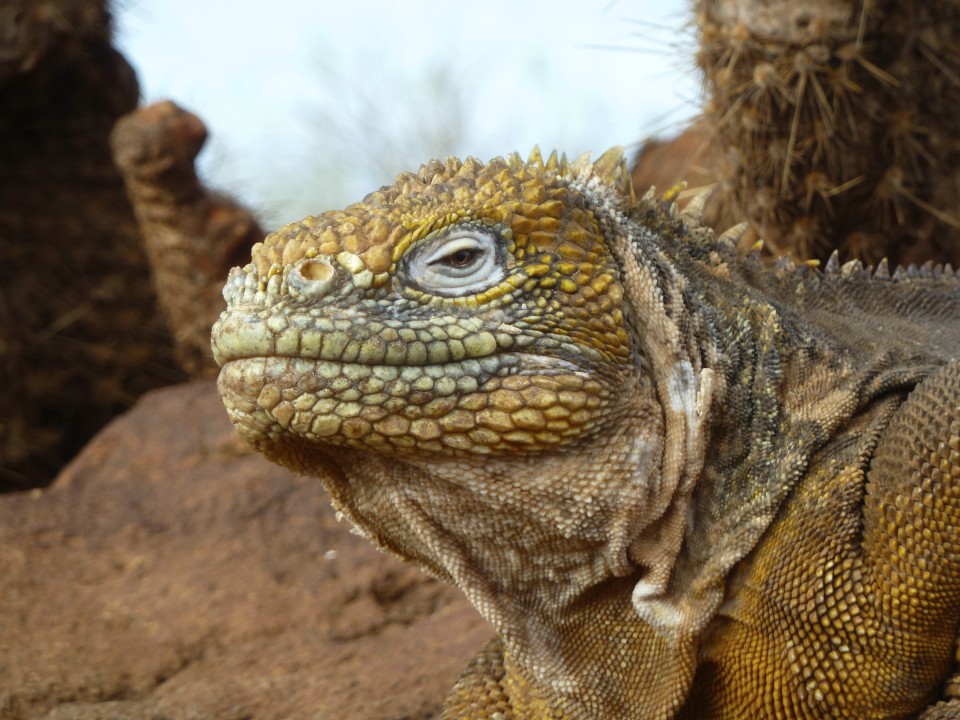 Recommended Reading about Galapagos:
Letty: What is it really like on an Ecoventura Yacht in the Galapagos?
Post Office Bay, Floreana, Galapagos
The Galapagos Islands, Like No Other Place on Earth
Delicious Foods in the Galapagos Islands
Best Time to Visit the Galapagos Islands
---
Other articles about Ecuador:
Chordeleg: A Day Trip from Cuenca
Quito: A Visit to the Middle of the World
Montanita, Ecuador: Out of My Comfort Zone
Disclosure: As is common in the travel industry, I was provided with accommodations, meals, and other compensation for the purposes of review by Ecoventura. While it has not influenced my review, PointsandTravel.com believes in full disclosure of all potential conflicts of interest. All Photos were taken by the author/or were given permission from the photographer. Affiliate links may be located in this article.