What is it really like on an Ecoventura yacht in the Galapagos?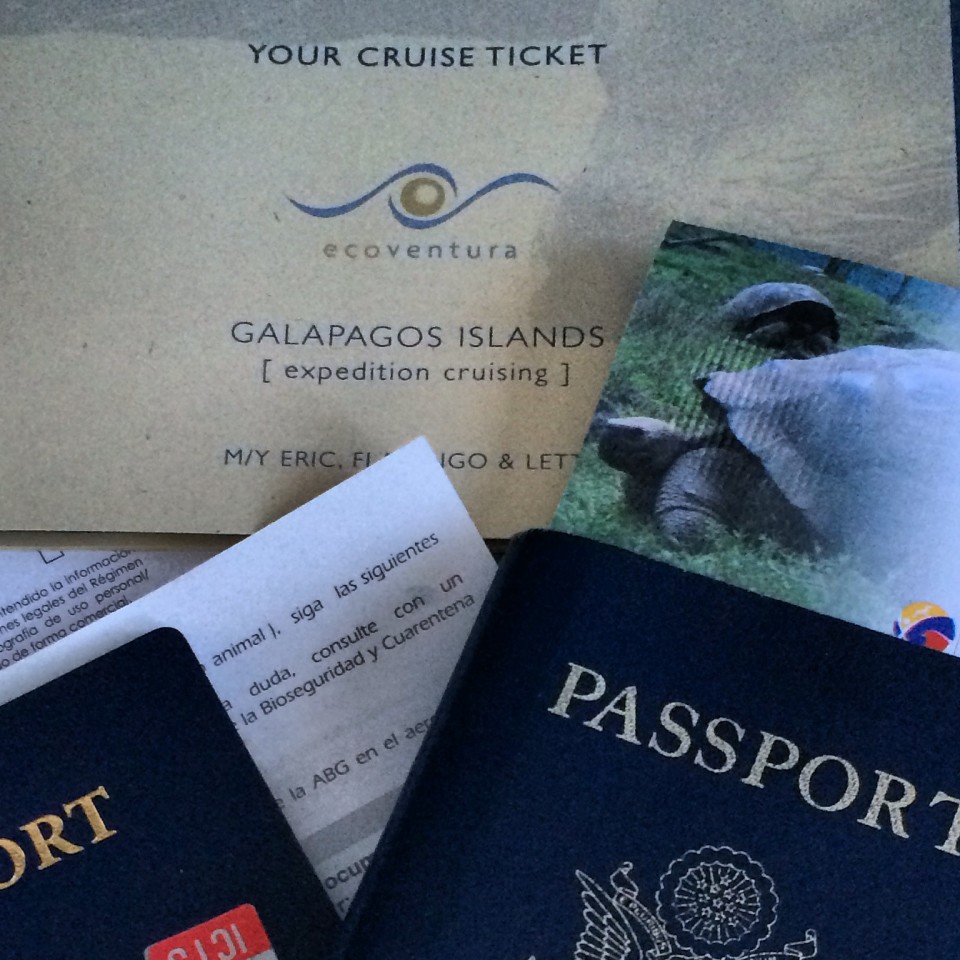 Moist, breezy air flows thru my Michael Kors bathing suit cover-up made of an animal print design, as I am squint my eyes looking at the sky on the yacht's top deck. I am lying here trying to decide what to tell you first about what an amazing adventure I went on for an entire week with Ecoventura to the Galapagos Islands.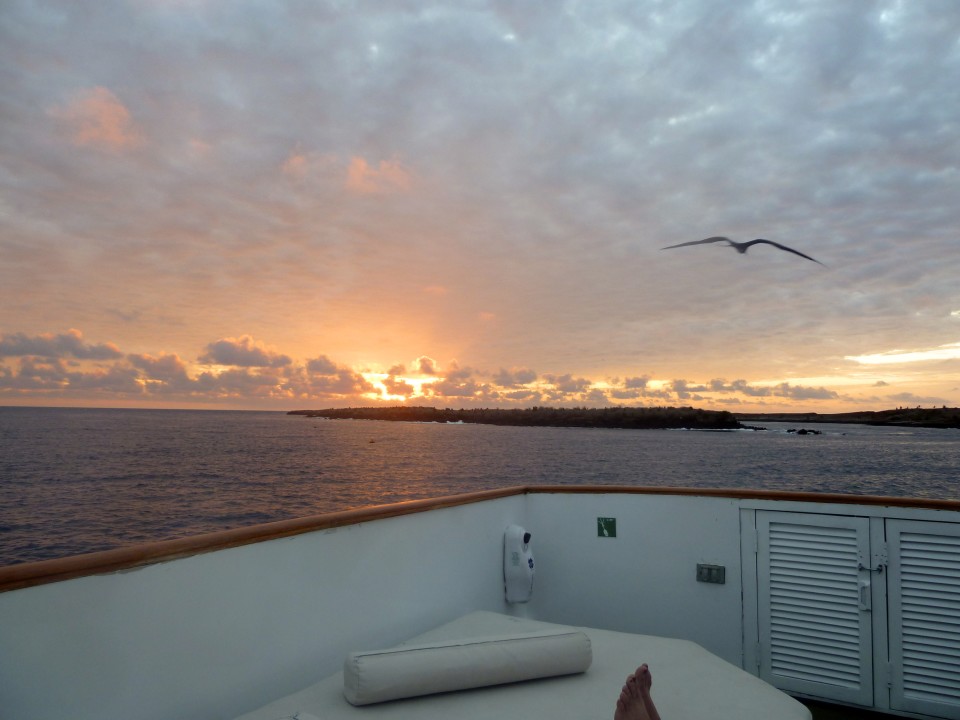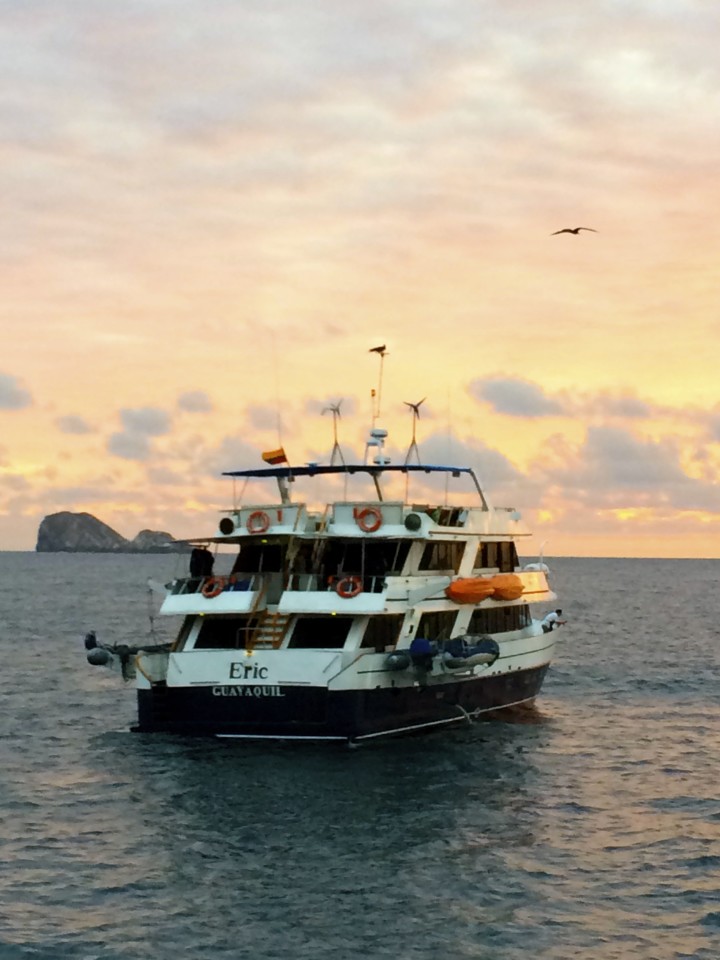 One thing you need to know about before planning your trip to Galapagos is the requirement that you must have a naturalist with you at all times when you go to each of the protected islands in the Galapagos. You cannot just purchase a ticket to San Cristobal and expect that you will be touring the different islands alone. Only about 3% of the islands allow you go and stay on them without having a guide. The Galapagos National Park Service manages the majority of these pristine islands. They monitor the number of people and yachts allowed on the land and in the water. However, you don't have to worry about that, because Ecoventura will take care of all that for you. They have pre-purchased all the permits that you will need in order to visit the islands. They will also have the schedule of each of the islands that you will be traveling to during your visit.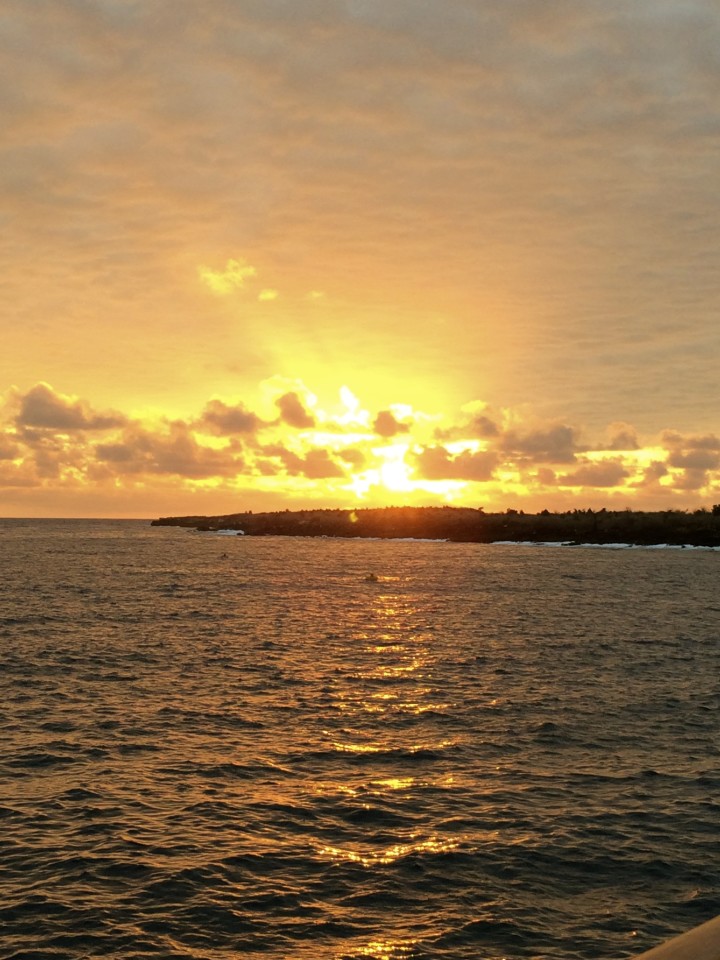 There is no place quite like the Galapagos!
Hay no lugar como Galapagos!
Day to day, each island is quite unique in its own way. I spent time exploring the different landscapes, from lunar to lush, to cliffs and white sandy beaches. I also had time daily with two naturalists on board the Ecoventura. Listening to them gave me quite an education about the islands and her long history. I learned everything from the animals that are endemic to the islands, to the mating habits of different animals, to the various island's histories, to Darwin's theories. There is a plethora of things to learn when coming to the Galapagos Islands.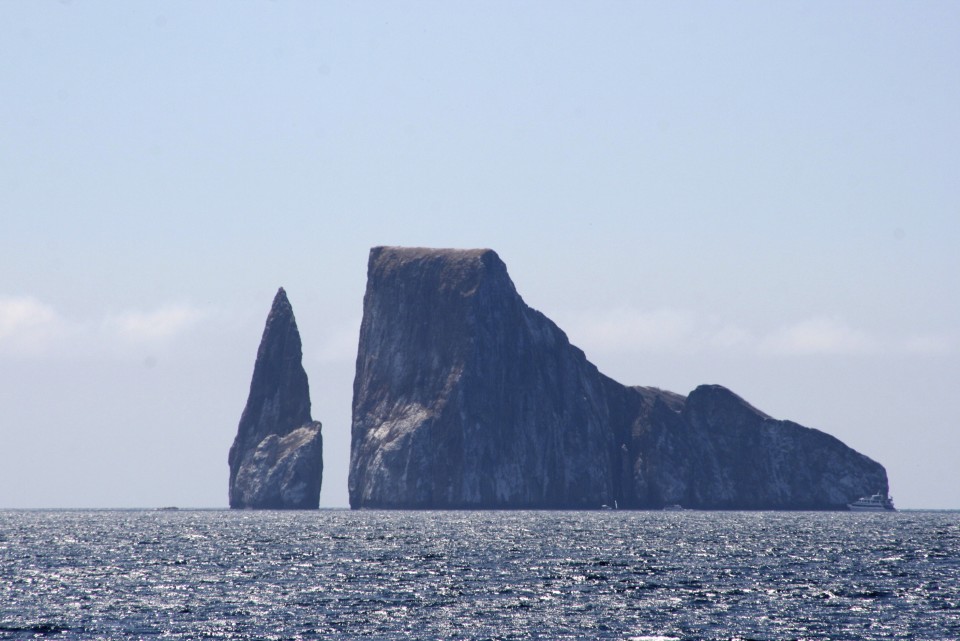 "A little world within itself." – Charles Darwin
Let me tell you a bit about the yacht I was on in the Galapagos for one week. Ecoventura is one of the official tour companies that can take you on an 8-day trip through the Galapagos Islands. They own 3 yachts, the Eric, the M/S and the Letty, each one is equipped identically and holds up to 20 passengers each. There are 4 decks on each yacht.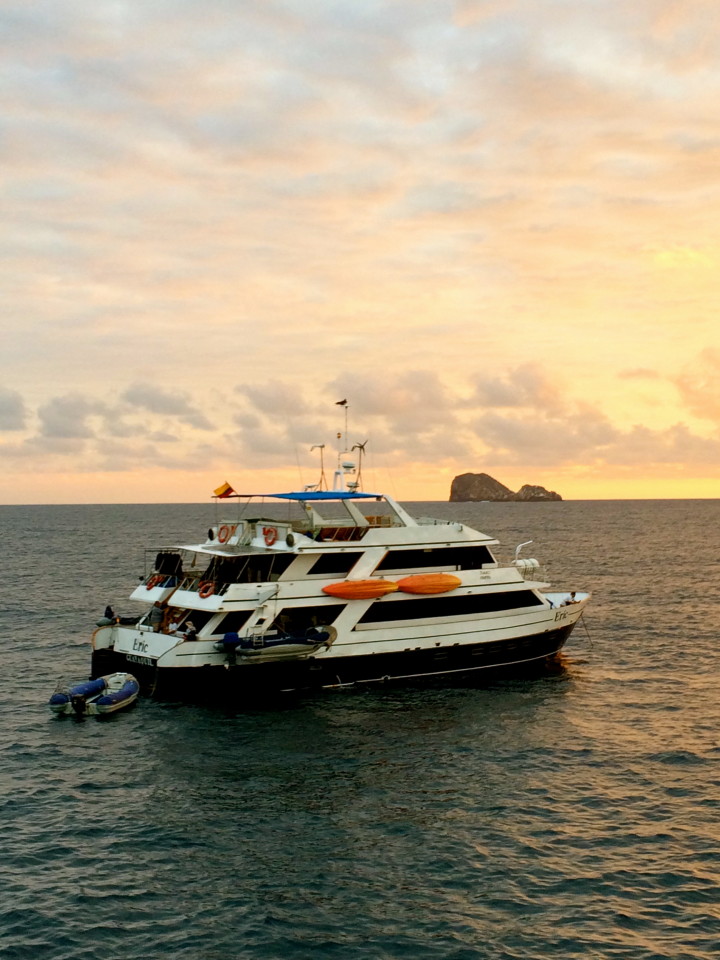 My outside facing cabin on the Letty was on the 3rd deck and had a full-sized bed, small closet and small bathroom. And when I say small, I mean small. But don't let that discourage you, as you will barely have time to do anything but sleep in this tiny room, as the world of Galapagos awaits you!
The ships were built in 1991 and all are refurbished annually, so they are in good condition with polished teak wood interiors and shiny brass fittings. I can vouch for the fact that the crew is continuously cleaning, and then cleaning again. In fact, we were not allowed to bring in sand on our feet and legs and upon each return from the panga to the yacht our feet and shoes were sprayed with on board water hoses to minimize the amount of sand brought onto the boat (which is a good idea considering how much you bring back with you on each excursion).
Ecoventura is also currently building a brand new mega luxury yacht, so it will be interesting to see it and all its features when it is finished, which is projected for January 2016.
Once on board, there is a full-sized dining room downstairs, where we had many a tasty breakfast, lunch and dinner. We rotated tables so that over the course of the week we would meet the other passengers, but you could have a seat alone or with your travel companion if you prefer. They have a full-time chef to meet your taste buds with an Ecuadorian twist and also have snacks prepared for you upon your return from every excursion.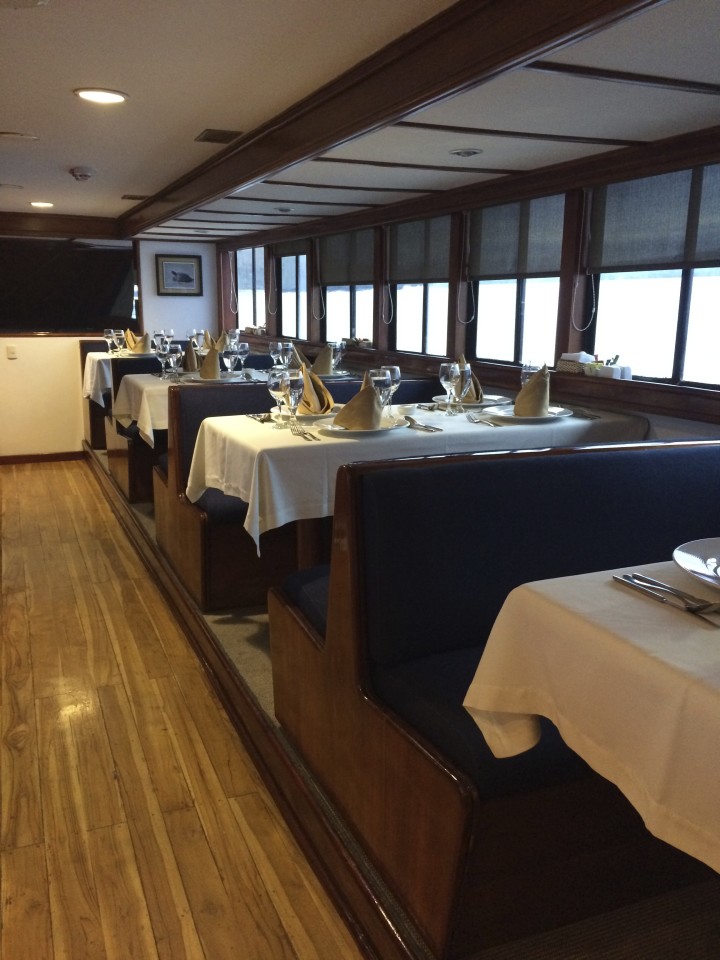 They also have a fully stocked bar, and they serve wine throughout dinner. There is a conference center with a flat screen TV in which we gathered each night for briefings. It is here that they tell you what is on the itinerary for the next day, what to bring and what type of landing (wet or dry) it will be.
They have planned excursions every day and then more in the afternoon and you can choose to go on as many as you wish and all are at no additional charge. This would include anything from hiking on the islands to snorkeling excursions. I went on all of them but one and most likely you will want to go on as many as you can.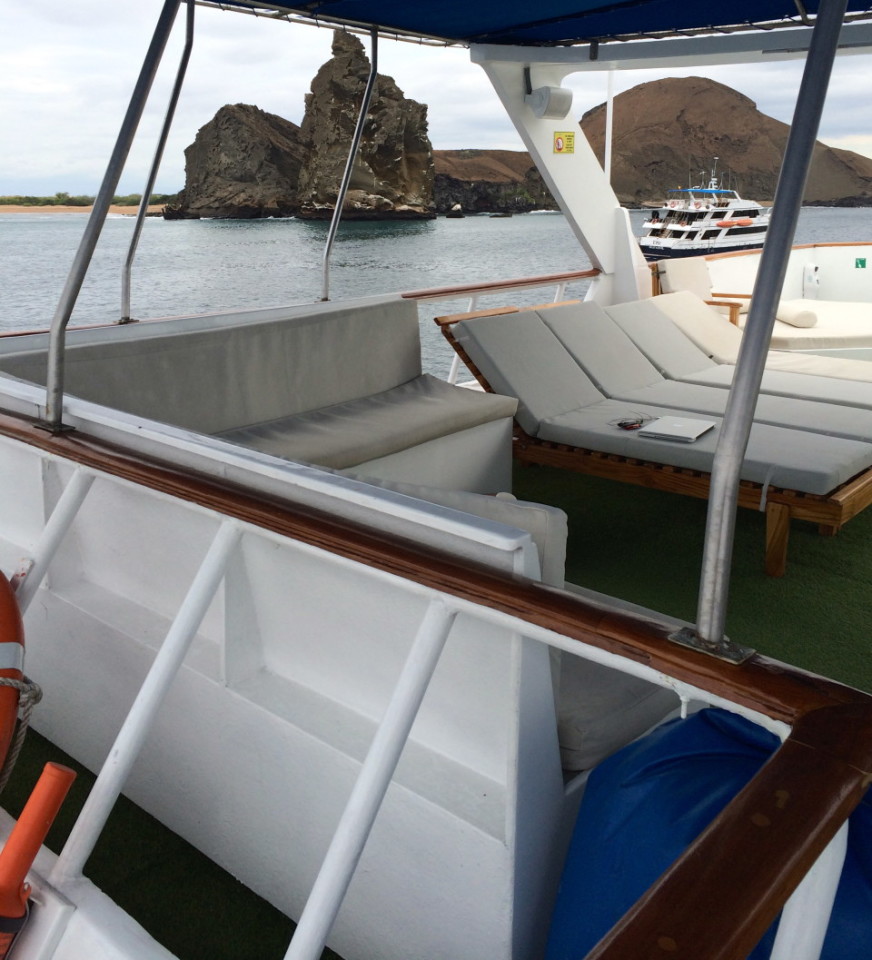 I also spent some time on their an marvelous sundeck that was perfect for lounging, admiring the sunsets, and then watching the sky full of stars at the end of the night. I particularly enjoyed watching the massive birds that would fly overhead in the backwind of the boat. A few times, I would notice the female bird land on the boat, where her male counterpart would fly right above our heads for at least an hour before flying away.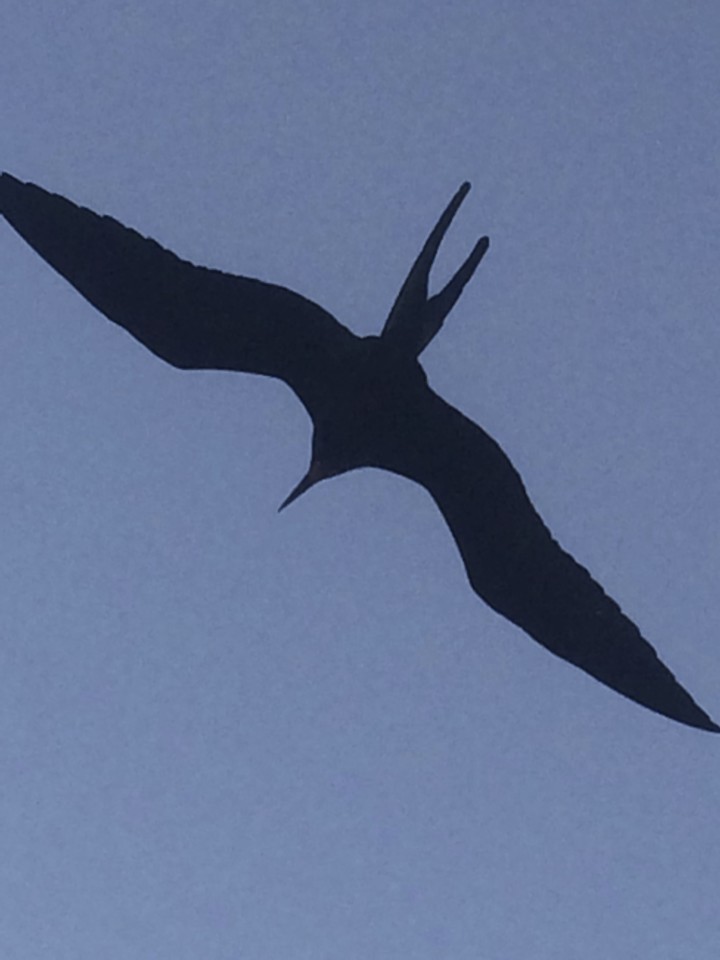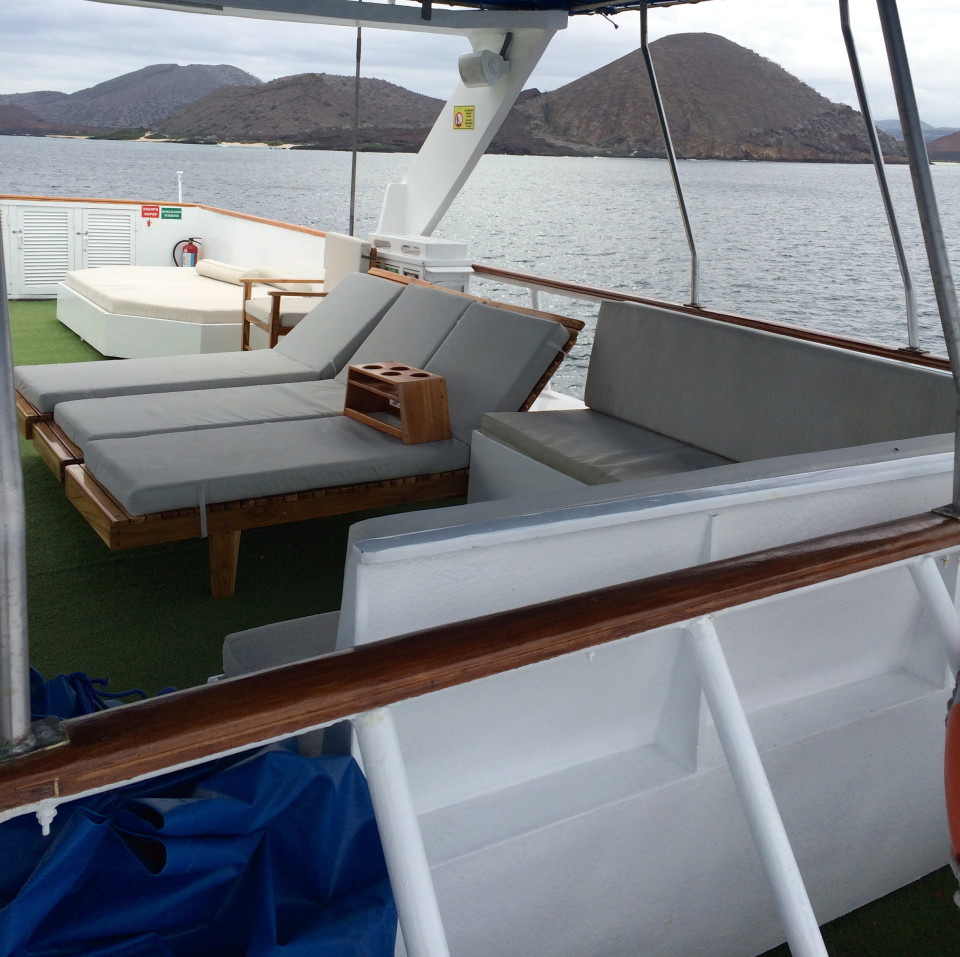 So there you have it, I can easily recommend Ecoventura yachts for your next Galapagos adventure.

Disclosure: My visit on the Ecoventura yacht was courtesy of them, but the joy I felt on this trip of a lifetime, which involved many encounters with the earth's natural creatures, was all my own!
Recommended Reading:
about Galapagos
Through the eyes of a Galapagos Gringa
Post Office Bay, Floreana, Galapagos
9 (+1) Reasons You Should Visit The Galapagos Before It's Too Late
other articles about Ecuador:
Chordeleg:  A Day Trip from Cuenca
Quito: A Visit to the Middle of the World
Montanita, Ecuador:  Out of My Comfort Zone
Pinners, pin this one: