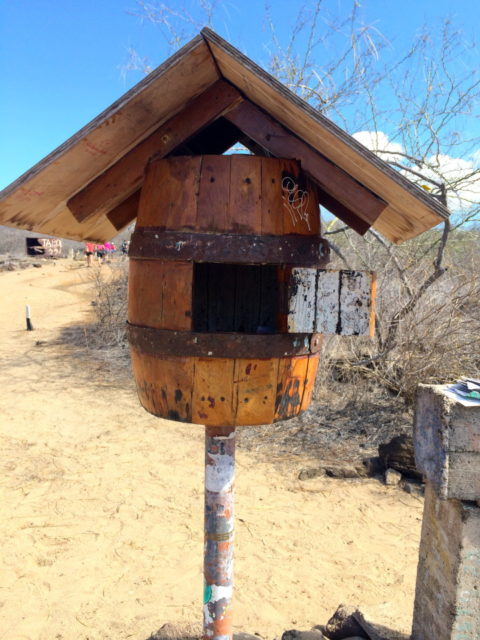 Post Office Bay, Floreana, Galapagos
Literally hundreds of stories start and end right here at the Galapagos Post Office on the island of Floreana. Written by those who have experienced the Galapagos Islands, there is a tiny post barrel, where since the 19th century, whalers have kept a wooden barrel for mail at Post Office Bay. This mail can be picked up and delivered by whoever passes through here, all you have to do is take it and deliver it!
Tourist Drop their Letters Here
Tourists by the hundreds (maybe thousands) stop by the post office and go through the mail every day, each one checking carefully to see if there is someone from his or her neighborhood. If you are lucky enough to find one, you are supposed to take it with you and either put a stamp or hand-deliver it yourself.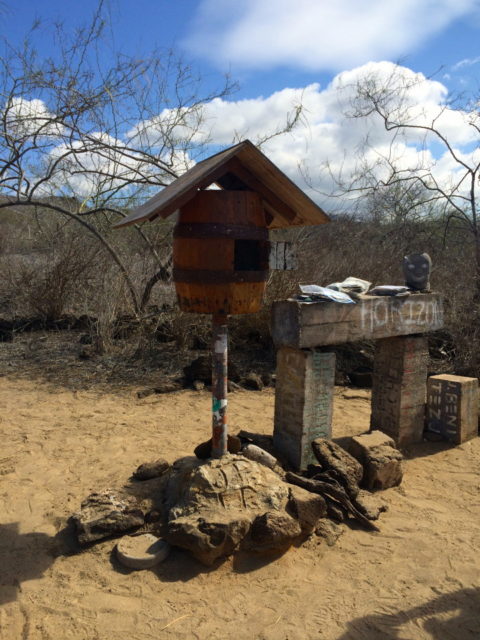 Tourist leave postcards and take a few to mail
Many looked worn and tattered, but this one in particular interested me: Baby Girl Foster: A postcard to the baby that wasn't born yet!
10/20/10 "We left this here when Mom was 25 weeks pregnant with you. You snorkeled and you saw sharks, rays, and turtles. We hope you enjoyed your time here."
Love Mom Alicia and Dad Chris
Wouldn't it be cool to find BBF and get this postcard to her from her parents?
Our whole group was into searching through the postcards to see if there was someone we could take the cards back to. I even wrote one myself to my Mom, so maybe one day she will receive it:
I hope one day, it finds it way to a small town in Texas where I am from!
UPDATE:
2/22/15 I received this email from my Father: "
"Today your Mom got a card from you dated 1-28-15. A picture of a ship that says Galapagos Ecuador.
The card looks like it has been in the water. Someone has written on it in ink: picked up on Floreana Island on 2-12-15 and taken back to Lubbock, Texas, and mailed on 22 Feb, with a name signed K. Cooper. I thought this was strange. Do you know where you mailed it?"
LOL
Disclosure: My trip to the Galapagos Islands was sponsored by Ecoventura, a luxury yacht company that takes two 7 night guided itinerary tours through the Galapagos Islands.
Recommended Reading about Galapagos
A Complete Guide to Galapagos Cruising
What is it really like to be on an Ecoventura Yacht in the Galapagos?
Through the Eyes of a Galapagos Gringa
Best Time to Visit the Galapagos Islands
Delicious Foods in the Galapagos Islands
---
Other articles about Ecuador:
Chordeleg: A Day Trip from Cuenca
Quito: A Visit to the Middle of the World
Montanita, Ecuador: Out of My Comfort Zone
Disclosure: As is common in the travel industry, I was provided with accommodations, meals, and other compensation for the purposes of review by Ecoventura. While it has not influenced my review, PointsandTravel.com believes in full disclosure of all potential conflicts of interest. All Photos were taken by the author/or were given permission from the photographer. Affiliate links may be located in this article.