There are many adorable small towns nestled in the foothills of the Azuay province near Cuenca, Ecuador. This area is the new hub for American retirees that I wrote about in my article "Should We Retire to Ecuador?" The picturesque town of Chordeleg is just one of those small quaint towns. Getting there from Cuenca was easy, the bus crested a hill and rolled down into a lush green valley in no time. Down below there were terra-cotta roofed houses clustered around a quaint town square. After a one-hour bus ride from Cuenca, we had arrived in Chordeleg Ecuador.
---
A Day Trip from Cuenca
Chordeleg, Ecuador
---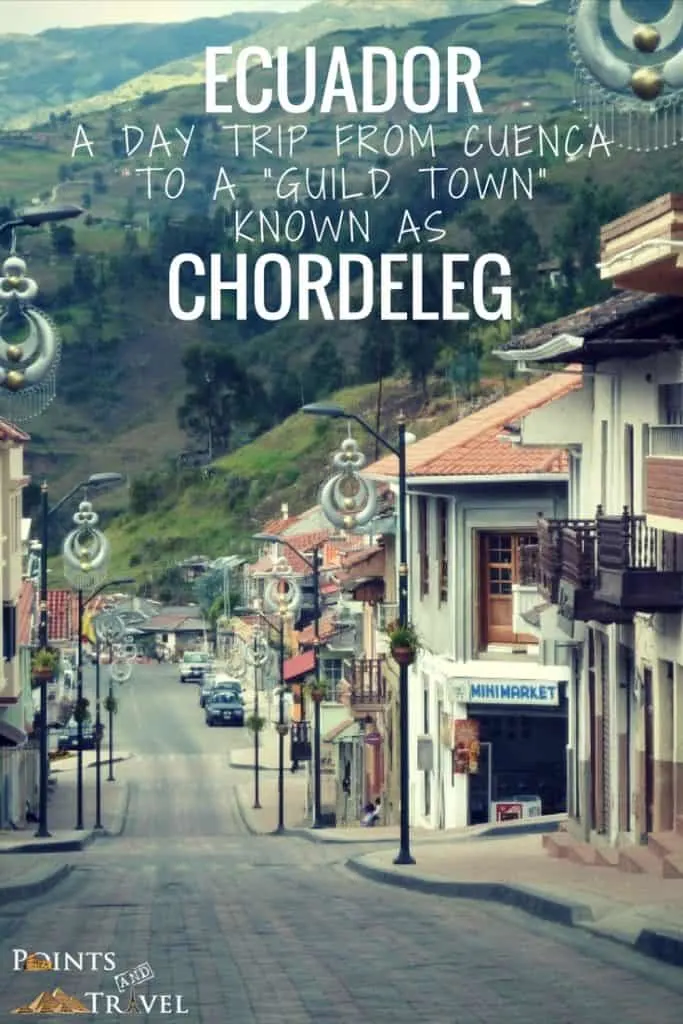 Chordeleg's Guild System
Chordeleg is one of the small towns in Ecuador that still adheres to the guild system established during Spanish colonial times. The guild system required each town to have a certain skill or craft that they specialized in. There are towns in Ecuador that produce pottery, leather goods, weave scarves, as well as make incense, soap, and oils.
The people of Chordeleg were metalworkers. Today those metalworkers became silversmiths and are the jewelers that produce silver, nickel, and brass jewelry. While some might people fear that jewelry making is a dying craft, at least for now, there are still plenty of small shops with silversmiths working. You can walk into some of the shops on the square and find many of them working by hand right inside the stores. This town's craft of jewelry is made for… any woman!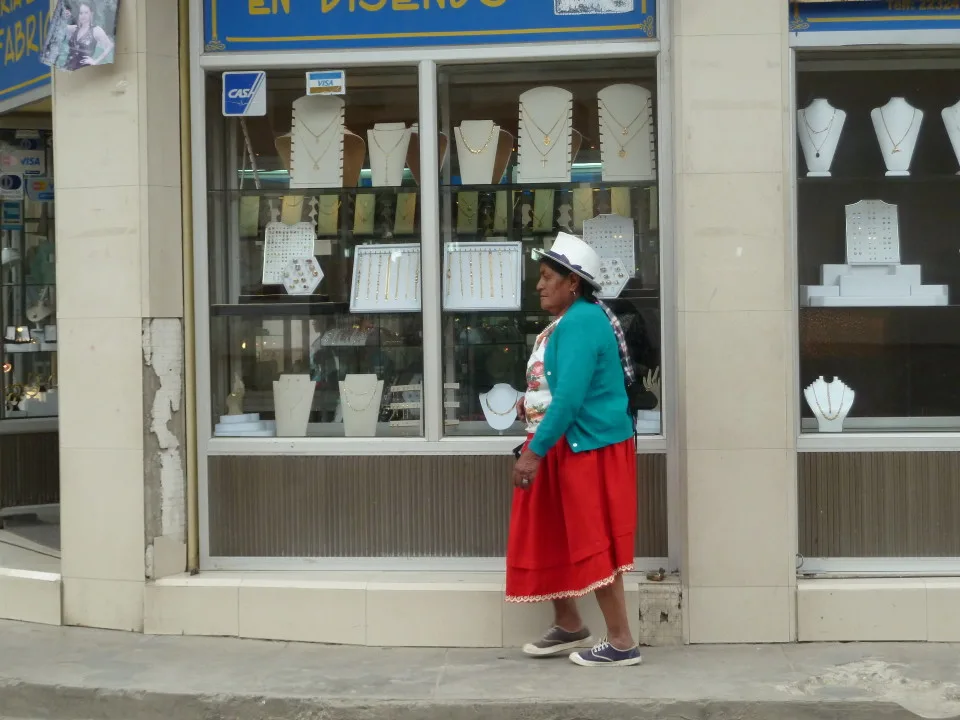 ---
Have you thought about going to the Galapagos when you are in Ecuador?
Then read my Complete Guide to the Best Galapagos Cruise
Through the eyes of a Galapagos Gringa
Post Office Bay, Floreana, Galapagos
The Galapagos Islands, Like No Other Place on Earth
Ecoventura: What Is It Really Like on a Galapagos Cruise?
Learn the Science behind the Galapagos Islands
---
A Jewelry Making Tradition
Entire streets of this town are lined with jewelry shops, where one can watch the amazingly fine and skilled handiwork of the craftsman. As Ecuador becomes more developed, fewer people are interested in learning these ancient crafts I was told. So, unfortunately, the day will likely come when all these items are mass-produced in factories, but for now, Ecuador is a treasure trove of these "guild towns".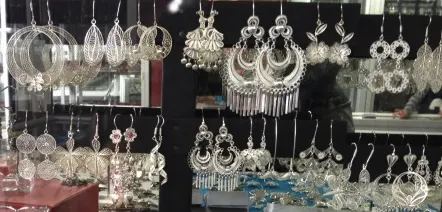 Downtown Shops in Chordeleg
There are dozens of jewelry stores lining the streets surrounding the park, and scattered throughout the side streets as well. I've never seen so many jewelry stores in such a small area! The abundance of silver jewelry is almost overwhelming. One of my favorite things about this little town though was the Spanish-style chandelier filigree earring lamp posts! I have never seen a city with those before.
---
Check out these Chordeleg Lamp Posts!
---
A Day Trip from Cuenca
I saw many of the indigenous women of the Andean highlands wearing these dynamic earrings to the markets. I noticed an abundance of them right away. Of course, once I had seen them, I had to buy a pair of these beautiful, feminine sparkling earrings with dangles to wear with my original Panama hat. And since they are handmade in Ecuador, I was able to pick up both right here. Now I can feel like a local, even if I don't look like one.
How Filigree Earrings are Made
The above photo is an example of sterling silver filigree earring that is traditional in Chordeleg. The craftsmen feed silver into a rolling mill, where it becomes flattened, into the shape of a wire. By hand, they continue to work with this wire until it becomes a thin strand. Then they twist the silver and dust it with silver powder. Eventually, they meld it together with a soldering torch. All pieces are made by hand and according to the difficulty of the design and the weight of the silver, they are priced. The pair above I got for $20 USD.
Where to Eat in Chordeleg
For lunch, we ate at La Tipaja, for about $3 each. It was a very basic meal, but completely filling food. I had chicken and rice, with popcorn as an appetizer! This is a very common food in Ecuador for lunch and something that the locals eat regularly.
Main Square in Chordeleg
In the center of town is where the main square is located, as well as and the gorgeous green and yellow-painted church. This is where the main action is and if you wander too far off of this square, there isn't much to see unless you are invited into someone's home or want to wander the picturesque mountain roads on foot.
Leaving the town, I got some great photographs of the backside of the church from the hill down below before I had to hop on our bus quickly. I had caught the number on the side of the bus pulling out down the hill out of the corner of my eye.
Chordeleg Cemetery
Right as the bus arrived, (I almost missed it), I spied the cemetery that had been painted in two shades of purple but didn't get a chance to take photographs with my camera. As you may know by now, I love cemeteries like this one about Guatemala, as I mentioned here in New Orleans, and here in Savannah, and this one in France, and my very favorite: Recoleta Cemetery in Buenos Aires, Argentina as well. Darn it, now I have to go back!
How to Get To Chordeleg from Cuenca
It makes for an easy day trip via the local bus for about $2 USD roundtrip. From the main bus terminal in Cuenca, look for the bus line heading to Gualaceo. If your Spanish isn't that great, ask around with the word "Chordeleg" and someone will get you there. There seemed to be quite a few buses all day, but I did hear that the number drops off after 5 pm, so be sure and finish up your shopping and head on down the hill for the next bus to get you back to Cuenca. I think most travelers can complete this trip in 6 hours, with one hour each way and four hours to wander the square and have lunch.
What to bring
Antibacterial wipes
Toilet paper
Sunblock and hat – The Ecuadorian sun can be brutal, even on a cloudy day.
Appropriate clothing – Layering is key.
A good pair of walking shoes
Money (USD is fine) – for all those earrings you will be buying for everyone back home.
---
Chordeleg is a jewelry shopper's paradise, I am sure you will enjoy a day trip to Chordeleg
Farewell Chordeleg!
---
This post is the #2 post in a series of posts regarding taking a trip to Ecuador:
Post #1: Should We Retire in Ecuador? Exploring Cuenda, Ecuador
Post #2: Chordeleg: A Day Trip from Cuenca
Post #3: The Markets in Cuenca, Ecuador
Post #4: Ahh! The Foods of Ecuador
Post #5: Quito: A Visit to the Middle of the World
Post #6: Montanita, Ecuador: Out of My Comfort Zone
Post #7: Montanita, Ecuador: Balsa Surf Camp
Have you thought about going to the Galapagos Islands since you are in Ecuador?
What is it really like to be on an Ecoventura yacht in the Galapagos?
Post Office Bay, Floreana, Galapagos
Through the Eyes of a Galapagos Gringa
The Galapagos Islands, Like No Other Place on Earth