Normandy Beach
Today I am remembering Normandy.
Where is Normandy?
Normandy is tucked away in the northwest region of France about a four hour ride via car or bus outside of Paris. It attracts thousands of visitors each year for its historical significance having to do with World War II and the Mont-Saint-Michel.
As I step onto the shores of the Normandy Beaches, for my day trip from Paris, I was thinking about how World War II finally ended in 1945. The end would have never happened, if it was not for the bravery of the Allied Forces who landed here in June of 1944. American, British and Canadian soldiers, who sacrificed their lives, for the freedom of so many others is quite astonishing. I am forever grateful to these brave men. So today I am remembering Normandy.
Normandy Beach
World War II
Imagine what the conditions were like on Omaha Beach in June of 1944: 
"The hill was on fire!"
"Put on your gas masks, so you can breathe!"
"The noise is terrible!" as the artillery fire whizzes by
"Crackling sounds of the bullets!"
"It was black with thick smoke"
This is what the Americans saw, smelled, and heard as they invaded Normandy Landings: Utah and Omaha Beaches. Arriving in the rough seas, they had to swim to shore and then rappel the high cliffs to solid ground. This region, by far, was the most difficult area of all the five Normandy Landings to overcome, and upon making land, they encountered fires, thick black smoke and had to dodge bullets from the German forces on the ground.  Obviously, these were very harsh conditions for these soldiers to endure and the weather conditions were far from idea as well, yet this was the chosen day for these events to occur, June 6th, 1944. The Normandy Landings occurred like this: The Americans landed at 6:30 am on Normandy Beach. The British solders invaded Gold and Sword Beach at 7:25 am and the Canadians invaded Juno Beach ten minutes later at 7:35 am.  This invasion played a key role in the liberation of France at the end of World War II.
Normandy Beach
Normandy Map
One by one, as you travel from West (Utah and Omaha) to East (Gold, Sword and Juno) of the Normandy Landings, the beaches get less rocky, have more sand and the cliffs eventually disappear. Therefore, although difficult, the conditions were not as harsh for the British or the Canadians solders, yet they had other things to encounter, such as mines and heavy resistance from the German Army.
Normandy Beach
June 6th 1944, also known as D Day, it was quite the surprise attack on the Germans, who had already invaded and taken Paris. They never expected that 24,000 Allied Soldiers with armored vehicles would invade this area along the Normandy Beach area in such harsh conditions. This landing ended up being the largest seaborne invasion in history.  The planning of this invasion had occurred at least a year earlier with a military deception plan to mislead the Germans as to the date and location of the Allied Forces Normandy landings.
Although the Normandy landings were tough and slow going, they eventually were able to expand and gain a foothold on the Germans over the course of a few months.
It is interesting to note, that when at Juno beach, you will encounter the artificial landing harbor that was built by the Allied Forces in less than 15 days, and it is still there today.  These Allied Forces, with all the odds against them, were able to overcome their enemy.
Remembering Normandy
While in this area of France, be sure and visit the American Cemetery of Saint-Laurent, the final resting place of almost 10,000 soldiers who died in this region during the war.  It is one of fourteen permanent American World War II military cemeteries constructed on foreign soil by the American Battle Monuments Commission. It is a beautiful resting place for remembering Normandy and everything that happened here.
Remembering Normandy
It is also stunning, the raw numbers of cold white crosses and Stars of David stones on football-field lengths of green grass overlooking the crashing blue ocean. Just the sheer number of deaths is quite overwhelming for any human to experience while remembering Normandy and Normandy beach.
Normandy Landings
Caen Memorial Museum
While in this region, you can also stop by the Caen Memorial Museum, which will give you the history behind the war. It is regarded as the best World War II museum in France. It is also only 15 minutes away from Normandy Beach and D Day beaches. For being so close to them, the museum also runs guided tours.
On display are exhibits of other World War II locations, such as the Berlin Wall.
This museum has exhibits of the entire history of World War II, but the last section of the museum deals exclusively with the Normandy landings.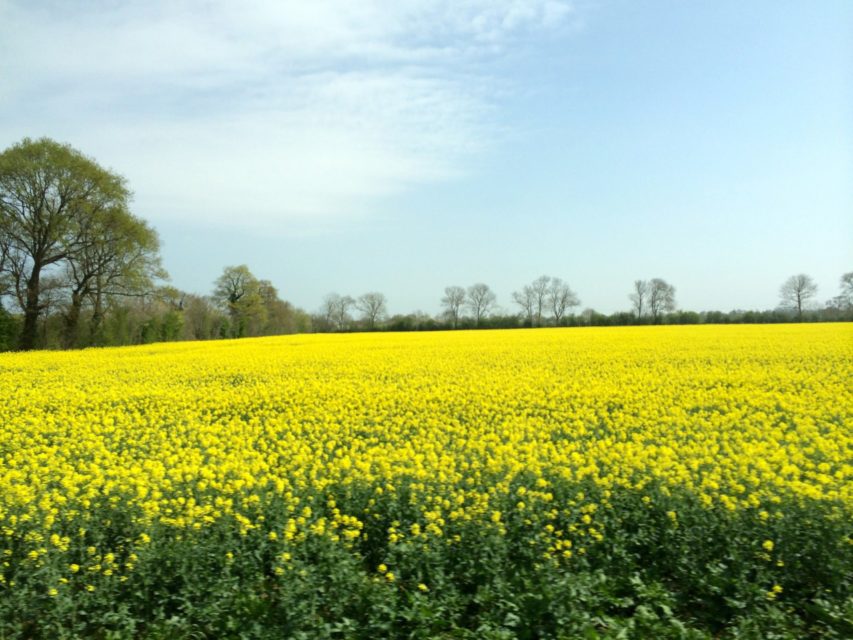 Normandy Beach
How to Get There:
Take Trains from Paris to Normandy Beach:
Regular train service to several of the towns near the Normandy Beaches gives you a variety of touring options, including day trips to the seaside ports and cathedral towns (Bayeux, Evreux and Rouen).
Take an Organized Tour
You can also choose an organized tour like I did and do the entire trip in one day from Paris with Viator Tours. We drove through the picturesque Normandy countryside to the Caen Memorial, had lunch and then visit the Pointe du Hoc. From there we went to Saint-Laurent and then to Omaha Beach. We also stopped at Juno beach. It is up to you to decide how much time you want to spend in this region, but it is very easy to do more than a whole day.
Remembering Normandy
The main two cities to go to:  Caen and Bayeux
Caen
If you plan to visit the Normandy Beach or the Caen Memorial Museum, then you will want to select Caen as your destination. From Paris (St. Lazare train station) to Caen it is about 2 hours via RailEurope and Bayeux is only another 15 minutes.
It is ideal for travelers to have a car to explore this region.  From Caen you can rent a car and explore this area on your own.
Bayeux
You should also go to Bayeux, where you will learn that General Charles de Gaulle made his first major speech in 1944 in Bayeux. It was during this speech that he made it clear that France was going to side with the allied forces. Fortunately, the Cathedral of Notre-Dame in Bayeux was left untouched from the bombing during the Battle of Normandy, sparing this city's gorgeous church.
Cathedral of Notre-Dame in Bayeux
The Cathedral of Notre-Dame in Bayeux was a national monument of France and was consecrated in 1077. Here you can see an incredible piece of art – the Musée de la Tapisserie. This church is where the Bayeux Tapestries are stored that were woven in 1066 by Reine Mathilde, the wife of William the Conqueror to commemorate the Norman Conquest of England. Today it is one of the world's oldest tapestries still intact.
Remembering Normandy, France
The ravages of war are shocking.  It truly is unbelievable what humans do to other humans and the era of the time makes that no different. Today, I say a prayer to the brave soldiers who lost their lives, as today I am remembering Normandy.
Recommended Reading about France:
15 Photos To Make You Pack Your Bags for Southern France
Champagne, France: Journey Through Champagne
Reims, France:  Explore the Champagne Houses in Reims 
La Champagne, France: Tiny Bubbles in the Countryside of France
Paris, France:  How to be a Queen for the Night
Strasbourg, France:  A Love Letter to Strasbourg
Disclosure:   My trip to Normandy was sponsored by Viator Tours and was a day trip from Paris.