French Polynesia is known to have a rich artistic culture and the Marquesas Islands group is no exception. The main island of Nuku Hiva houses some ancient, as well as modern, structures associated with a Polynesian culture that includes the famous tiki and even a moai statue. Everywhere you go on Nuku Hiva you can see large stone structures unlike anywhere else in French Polynesia. The lush vegetation in the valleys hides ancient sites that offer stunning views. These deep jungle sites give a glimpse into a civilization that once was. Follow me as I show you what my experience in Nuku Hiva was like as I explored the island's largest archeological site, Tohua Koueva.
---
What's in this post:
hide
Nuku Hiva
---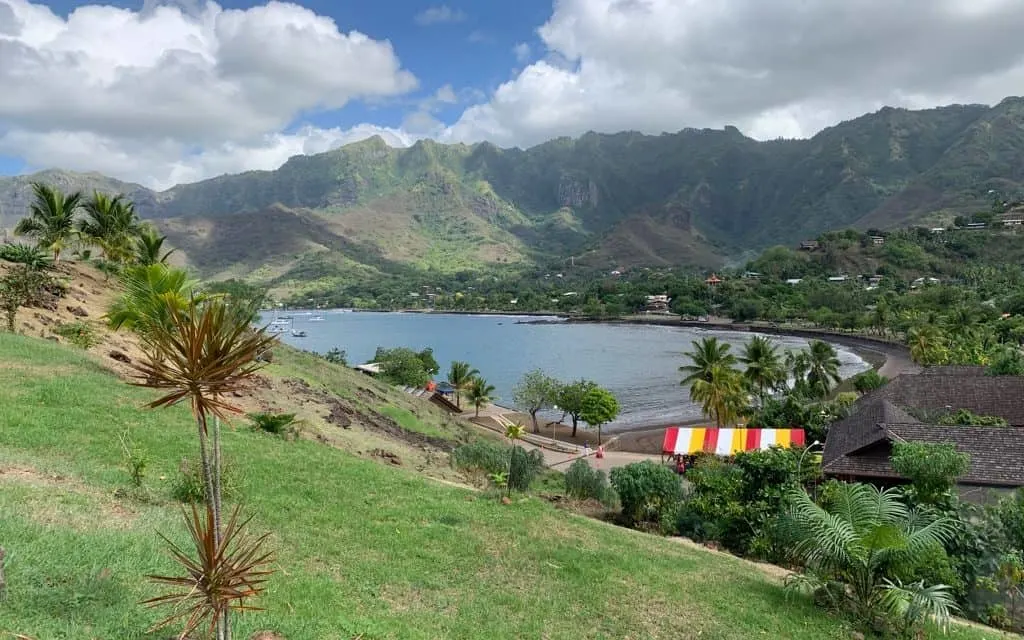 Marquesas Islands Stone Statues – Tu'Hiva
The Marquesas Islands are a bit isolated from the rest of the 108 of islands in French Polynesia. This has meant that they have adopted certain cultural aspects not seen on other French Polynesian islands like Bora Bora or Tahiti. The main difference you see is the stone statues found throughout the island group, especially on Nuku Hiva.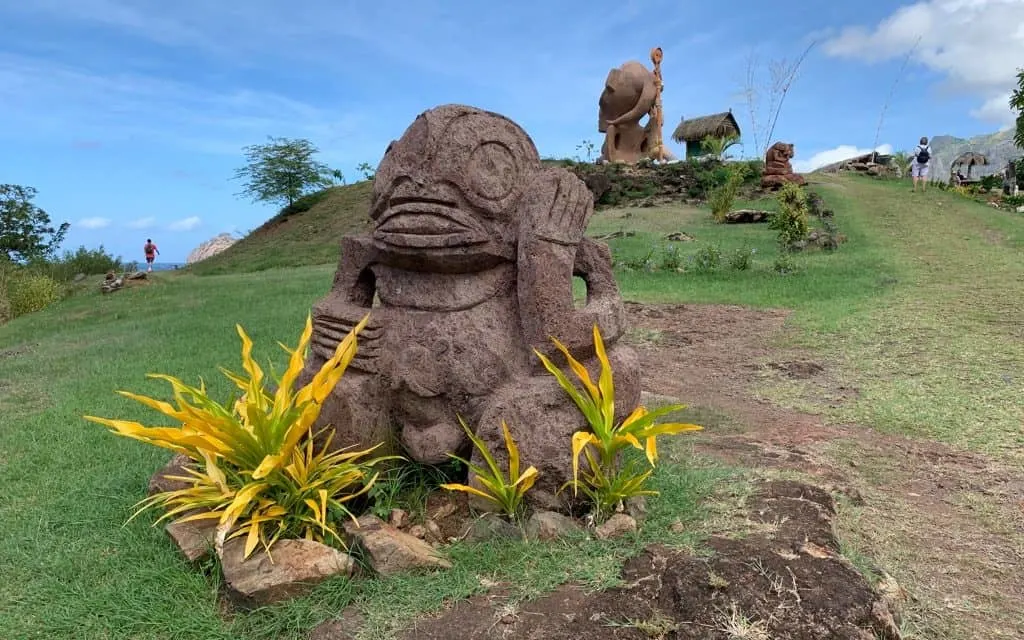 Taioha'e, the main settlement on this island, has a nice little port from which ships from around the world dock to enjoy its black sand beaches and rich prehistory. From here, you can easily visit some of the island's most important archeological sites. In town are a number of stone structures that are unique in their depictions of gods, chiefs, and animals. These can be seen all around the Taioha'e Bay alongside shops and restaurants. The contrast between the modern buildings and the ancient statues is interesting and was certainly appreciated when we visited.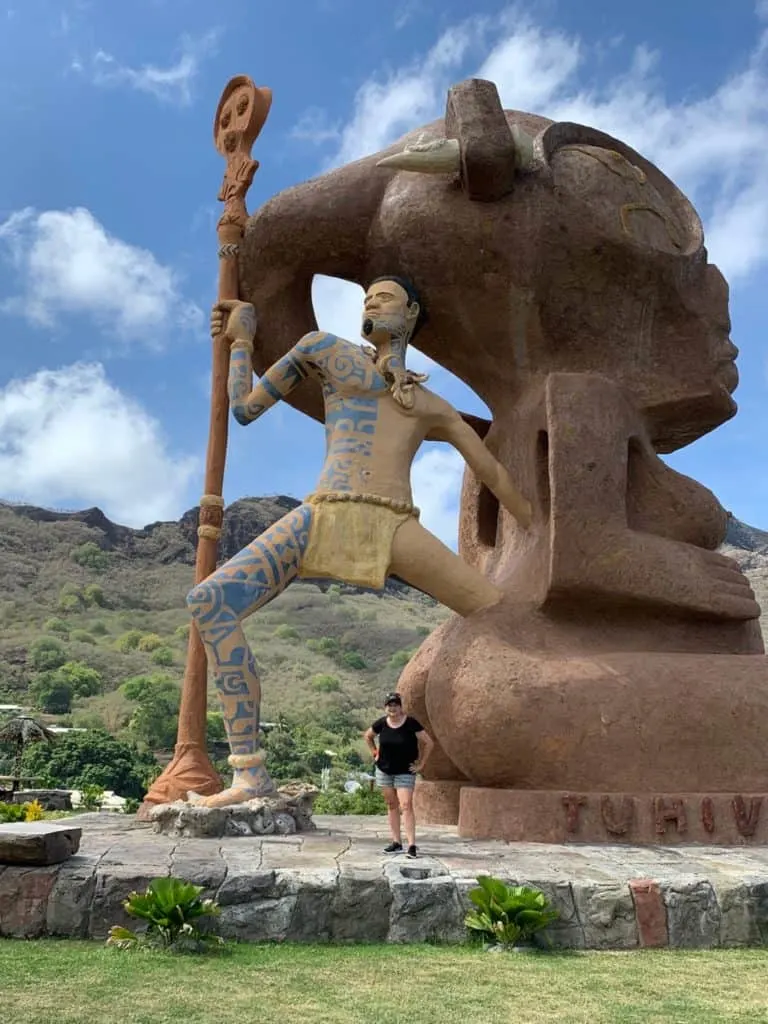 Nuku Hiva Stone Statues – Tohua Koueva
When our Holland America South Pacific cruise ship docked in Nuku Hiva, my son and I decided to get away from the crowd and go on our own little adventure. We had heard about Tohua Koueva while doing research on the island and decided to dedicate the day's activities to visiting this ancient site. But before that, we walked up the hill near the port to see some statues at Tu'Hiva. There you could see many large stone carvings that overlooked the bay. After we spent some time up here, we walked back down to begin the hike to the main attraction, Tohua Koueva.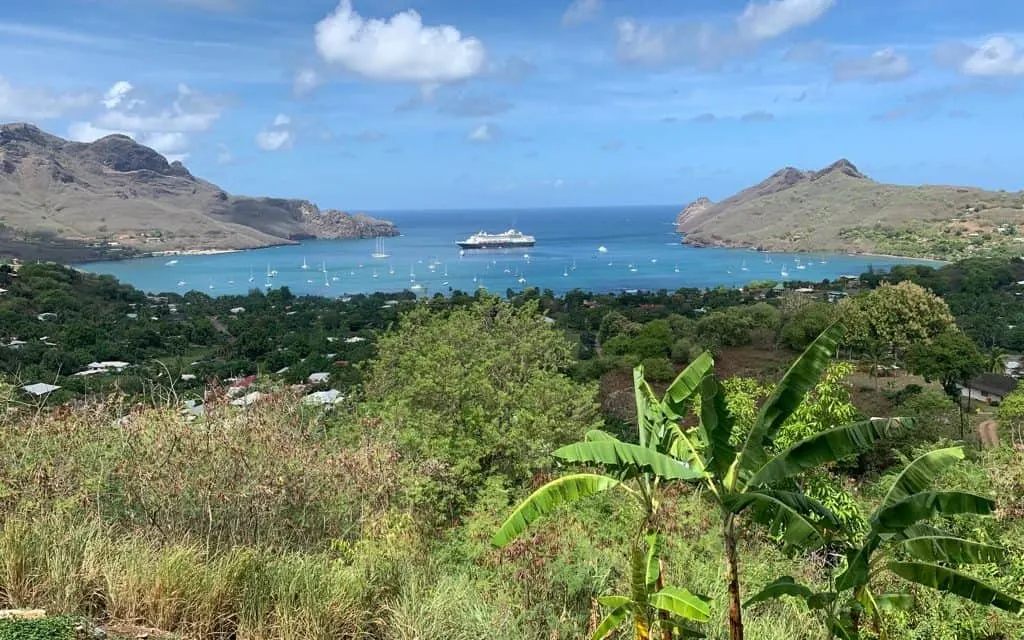 From the port of Taioha'e, we walked for 40 minutes up the main road into the valley before realizing that we were lost and must have missed the sign. Luckily, we were able to hitch a ride from a local who spoke no English who was driving towards the other side of the island. He turned around, drove us into the jungle and dropped us off at the entrance of the site. It was an amazing act of kindness that we really appreciated thus we tipped him to say thank you.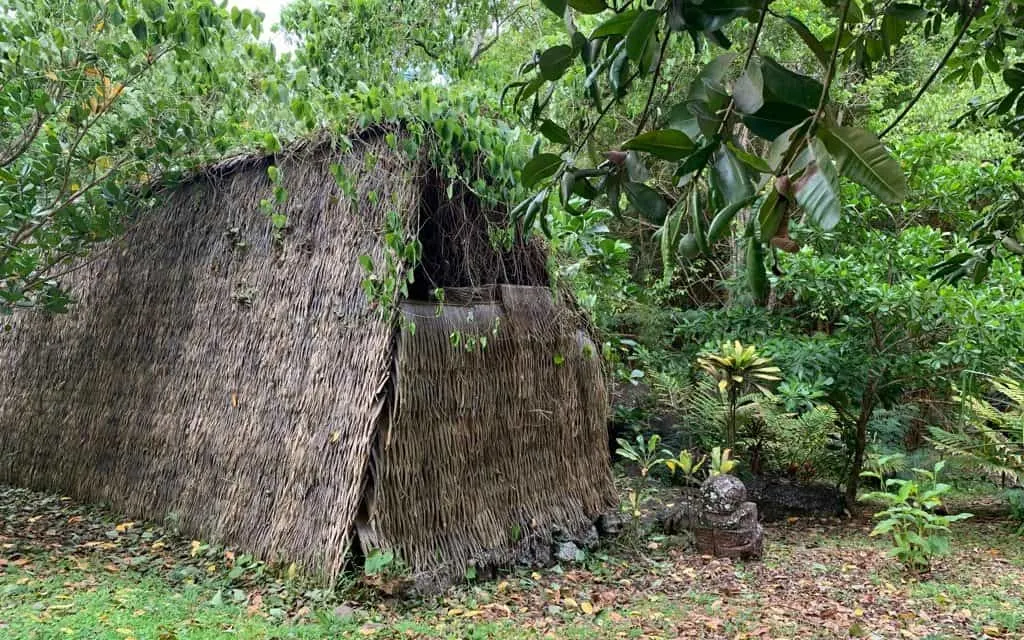 If you DON'T miss the turn off like we did, walk about 1 mile (1.6km) up the Taipivai road from the pier towards Pakiu Valley before turning east onto a dirt road for another half mile (.8km). However, since we did miss the initial turn off we were greeted to these views. Plus had an interesting interaction with some beautiful white birds that were flying around in the area. They were very interested in why we were hanging around taking photos.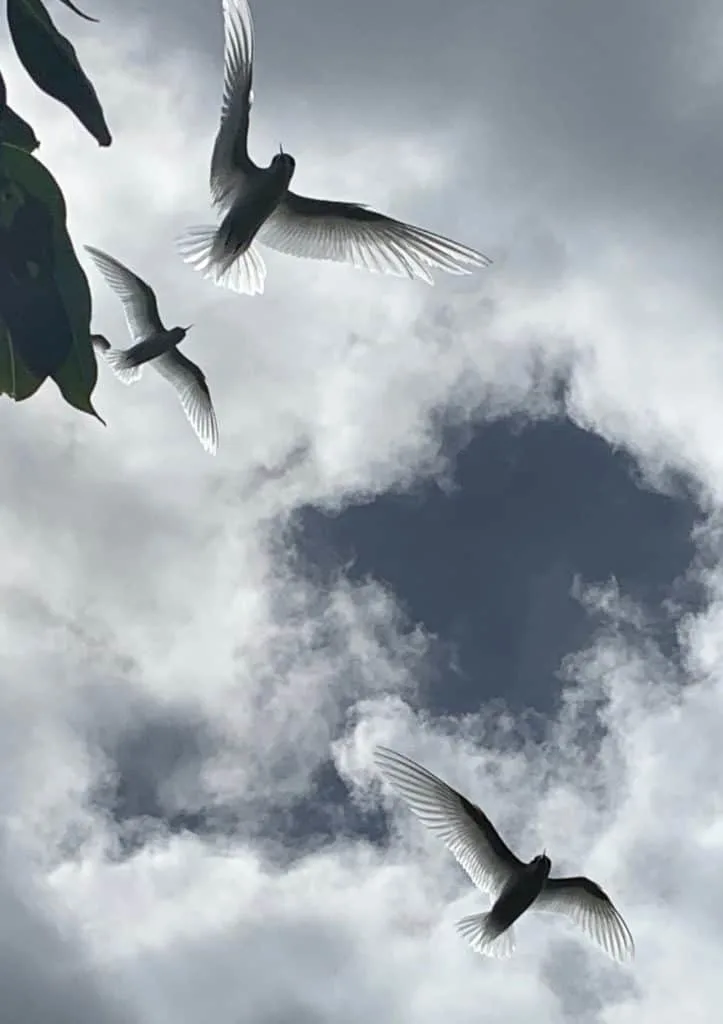 Nuku Hiva Stone Statue – Moai from Easter Island
When we arrived at Tohua Koueva, we saw the massive open-air space that was believed to be the home of the great war chief Pakoko. At the center was an absolute giant of a banyan tree, by far the largest we came across in all of Polynesia.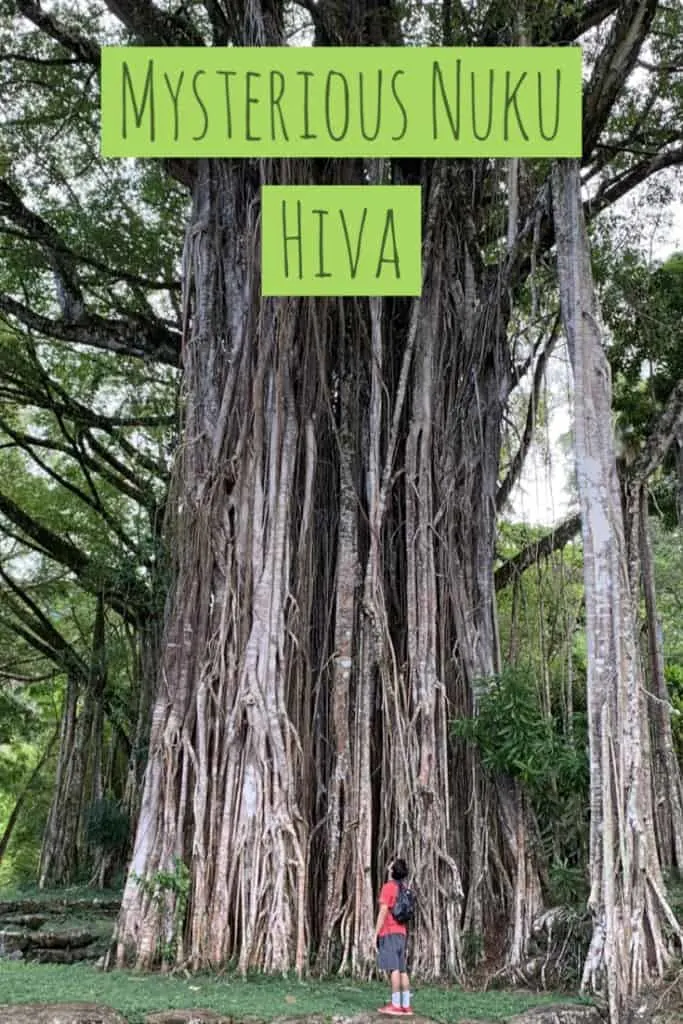 Around it are refurbished huts, paepae (ceremonial stone platforms), and ancient tiki statues carved from stone. This area also huts that house some seafaring canoes that were used by the ancient peoples.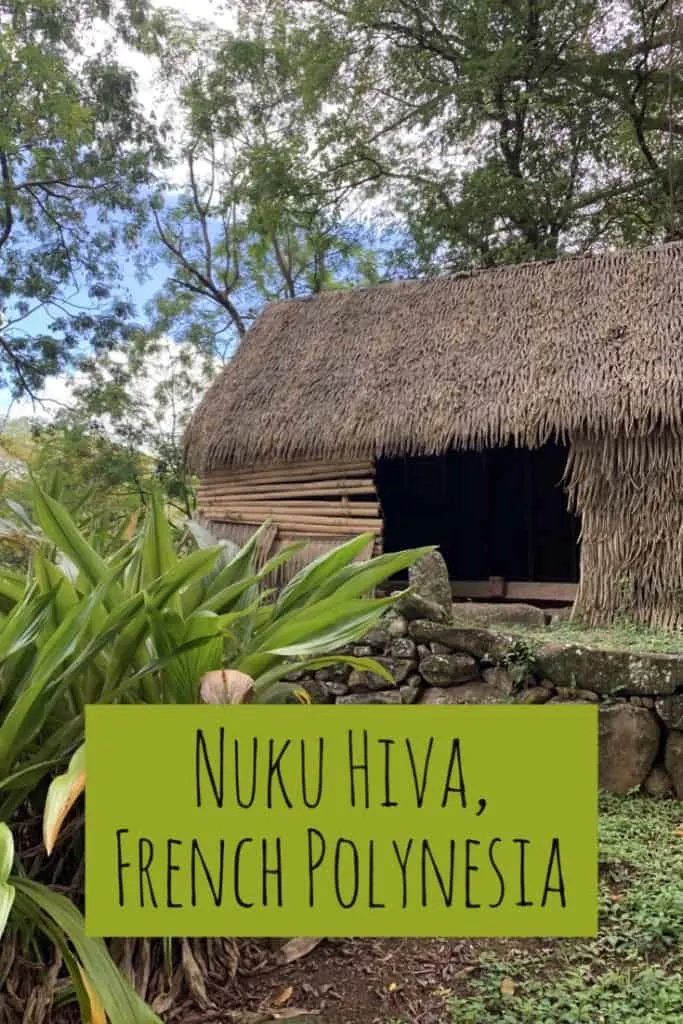 Finally, a moai can be found at the back of the site which according to AFAR Magazine was donated by the people of Easter Island to the people of Nuku Hiva. Upon further research, we found at least one claim that it was donated by a sculptor from the Marquesan Arts Festival. The jury is out on this one, but regardless it was a very cool thing to see alongside the more traditional stone statues that surrounded the site. And since my husband is half Chilean, it was great to see one of these ancient stone carvings from Easter Island, if, in fact, it is an original.
Nuku Hiva Stone Statue – Moai from Easter Island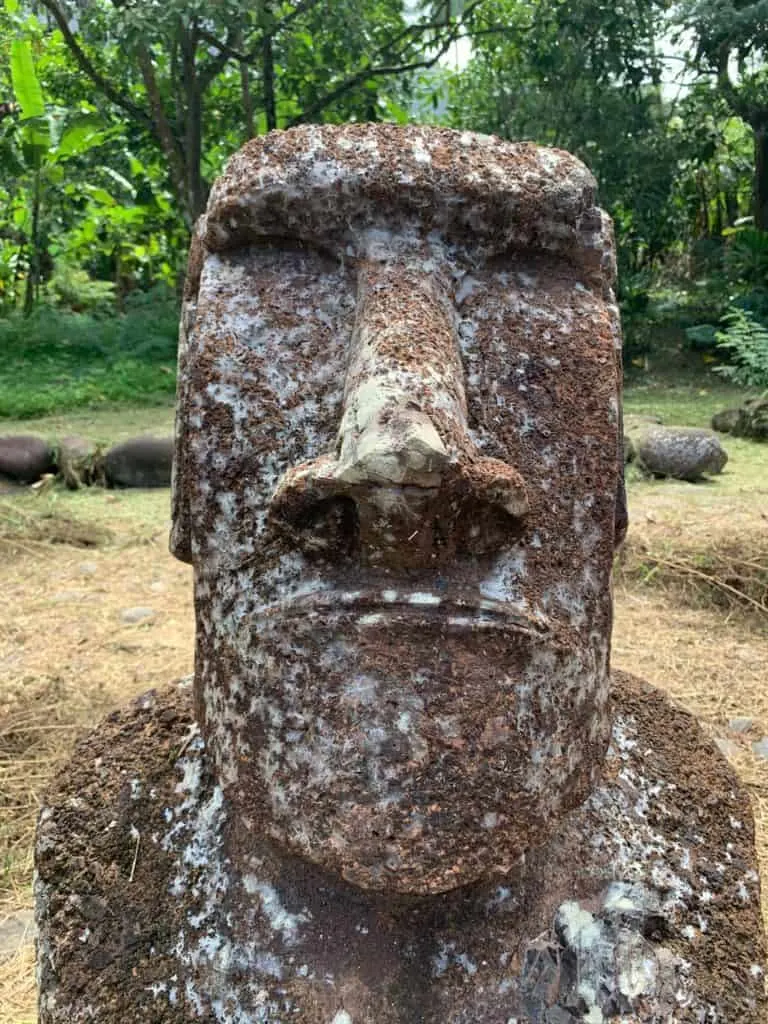 Since we were the only two people there at the time, it was like we had our own private viewing of Tohua Koueva. Breaking off from the cruise ship crowd served us well in the end. We were able to explore (and of course take some great photos!) without tons of people around. Taking our time to investigate each individual hut and gaze upon the largest tree my son and I had ever seen in our lifetimes was truly special. The restored site put on display what life was like for the Marquesan people more than a millennium ago.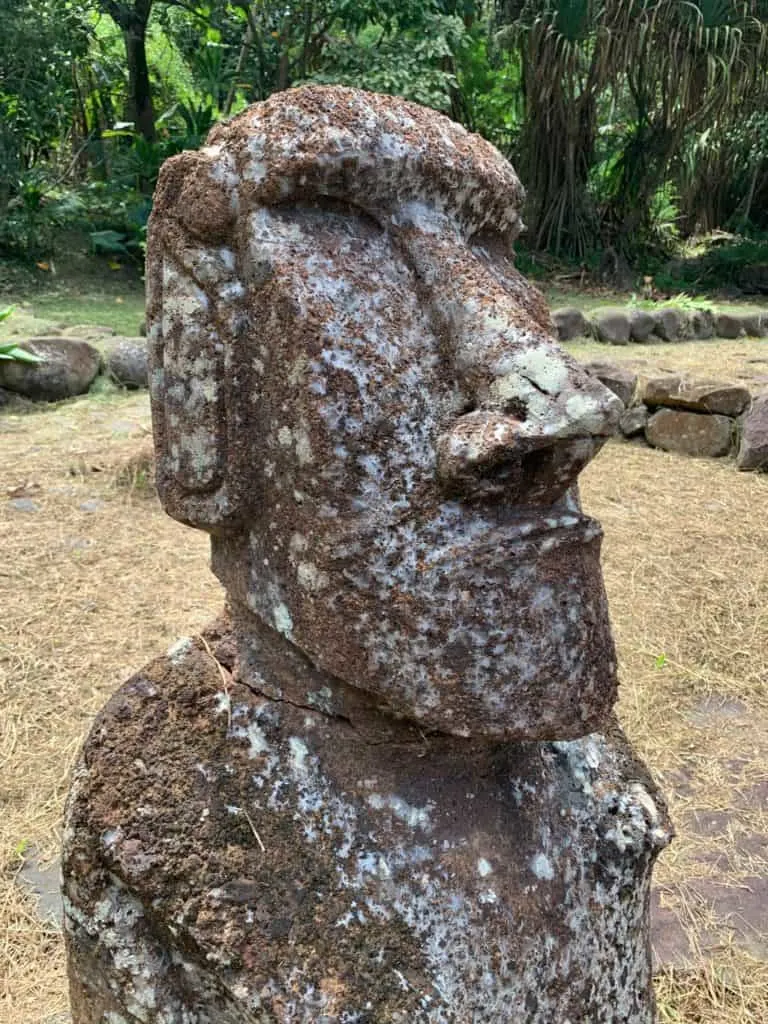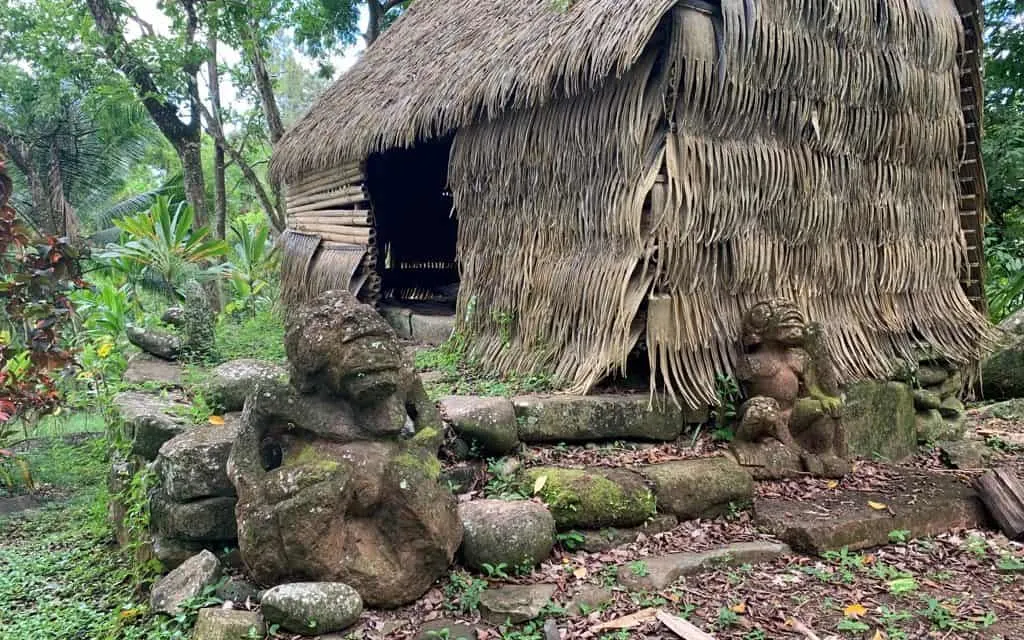 Also, the island's cathedral is supposedly amazing. With our plan to hike into the jungle, we weren't able to visit this spot, but we heard good things from other cruise passengers. Spending the day exploring Tohua Koueva was a great experience. I saw photos and I can recommend it to anyone planning on visiting Nuku Hiva.
Read more about our trip from New Zealand to San Franciso via the Polynesian Crossing:
Nuku Hiva: Tiki's, A Moai, and More
Scuba Diving in French Polynesia
Disclosure: As is common in the travel industry, I was provided with accommodations, meals and other compensation for the purposes of review by the Holland America Line. While it has not influenced my review, PointsandTravel.com believes in full disclosure of all potential conflicts of interest. All Photos were taken by the author/or were given permission from the photographer. Affiliate links may be located in this article.