Ecuador is famous for its colorful indigenous markets. The most famous of them is in Otavalo, northwest of Quito. The Otavalo Market takes place every Saturday. This Ecuador market has hundreds of stalls where locals sell their goods. This indigenous market is well known for weaving, thus selling scarves, hats, and sweaters. However, there are many indigenous markets in Ecuador, with Otavalo being the most well known for international visitors.
---
What's in this post:
hide
Cuenca Ecuador Market
---
The city of Cuenca, on the other hand, has lesser-known, but more local markets spread throughout the city. Cuenca is a monumental city in Ecuador with a rich history spanning back to the Spanish colonial era. The markets in Ecuador here are geared more towards the local Ecuadorians and so have a very authentic "feel" to them. Cuenca is also a major export center for Panama hats, so you will find plenty of them to purchase around here. Cuenca is also a place to purchase large straw baskets as they are also well known for their fine weaving skills.
---
In case you are looking for a place to stay in Cuenca, you can check here for many great options.
---
The Markets Ecuador: Cuenca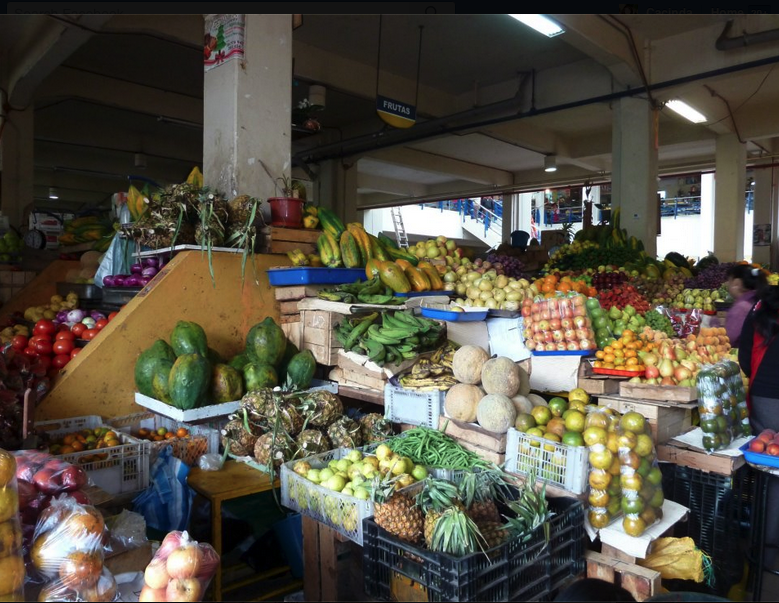 In Cuenca, the local markets have every type of fruit (almost) or vegetable that you can imagine. If you're a fruit and vegetable lover, you will be amazed at the staggering variety available. Although the apples are imported to the markets in Cuenca, almost everything else is grown in the region. Because it is not cold enough to grow apples in Ecuador, they are actually imported from Chile.
There are also more than 4,000 varieties of native potatoes grown in the Andean highlands of Peru, Bolivia, and Ecuador. But Ecuador itself grows more than 500 varieties of potatoes. They have a variety of types noted for their taste, texture, shape, and color. Most vendors come out on Thursday, with fewer stalls on Saturday and fewer still on the other days of the week.
Markets in Cuenca:
#1 Plaza San Francisco and Plaza Rotary
The two main market areas in town are the Plaza de San Francisco Market and the Plaza Rotary Market. They are within walking distance of each other. The market at Plaza Rotary is mainly fruits and vegetables. This is one of the biggest markets in the main area of Cuenca. It is where the farmers bring their crops to sell to the public.
#2 Plaza de San Francisco Market
The Plaza de San Francisco Market is mainly for locals, though there's a row of stalls on the north side with souvenirs made from other areas of Ecuador for tourists, especially from Otavalo. Here they have everything from basketry, ceramics, to ironwork, gaudy religious paraphernalia, and even guinea pig roasters!
See if you can figure out what is in the photograph below? They call it chocolate, but I laughed because my kids bought a chunk of it from the markets in Cuenca, Ecuador. They brought it back to the hotel room, as my boys couldn't wait to try it out. But, alas, they tasted and spit it out, it is a baking type of chocolate and not sweet chocolate as we find in the States! It looked so good!
Visitors should be warned that the sellers can become annoyed by tourists who take too many photographs of the market but don't purchase anything. As you can see, this lady wasn't too happy with all my photographs!
That's the thing here at the markets in Cuenca, Ecuador, you really have to know when to snap a photo and when to stop! Otherwise, you get "the look" from the local market ladies!
---
Have you thought about going to the Galapagos Islands since you are in Ecuador?
Galapagos Islands By Cruise: A Complete Guide
Birds of a Feather in Galapagos
What is it really like to be on an Ecoventura Yacht in the Galapagos?
Post Office Bay, Floreana, Galapagos
Through the Eyes of a Galapagos Gringa
---
#3 The Feria Libre
The Feria Libre (literally the Free Fair, or Free Market) is where people from the local area shop. The Feria Libre Cuenca is spread over acres of land and has a 'hustle and bustle' type of atmosphere. Unless there's a sign with a posted price posted, you don't need to pay the first price they ask, but instead, you can haggle. Especially if you can speak Spanish! You will find that Feria Libre is an amazing experience for a photographer and a fun place to shop if you really just need the products.
When to go to Feria Libre:
I recommend that you avoid Wednesdays and Saturdays because these are the days when buses bring in people from the surrounding areas to do their weekly shopping. They are especially busy on these days and it might be best to avoid the markets in Cuenca, Ecuador on those days. The markets get extremely crowded and since you are not a local, it might be best to avoid this time.
You can even eat at the markets, too!
Like most markets in Ecuador, there are plenty of food stalls where you can actually sit down and have lunch. Because locals mostly come here, you will find local dishes like soup, chicken, rice, and even fried fish.
What to Expect in the Markets in Cuenca, Ecuador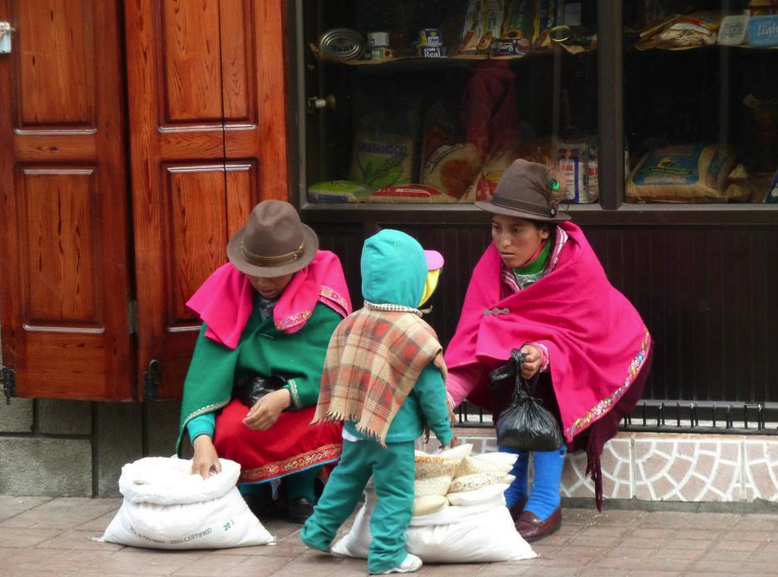 #4 Street Vendors
There are also street vendors that are just outside of the market that doesn't have booths. They will sell you anything you are interested in. The indigenous people in their traditional dress are like a world away, yet, probably much like you and me by just trying to make a living.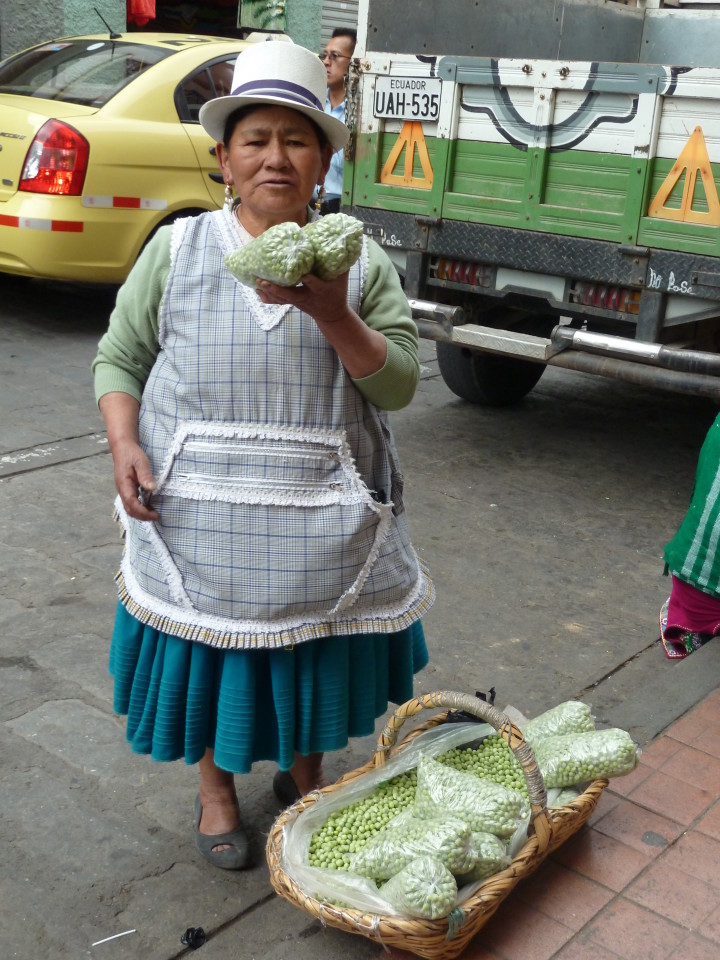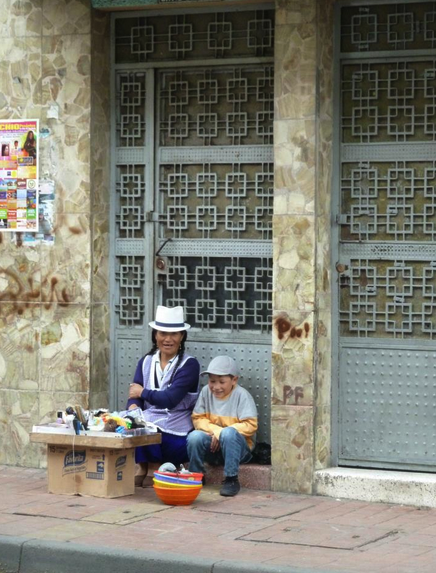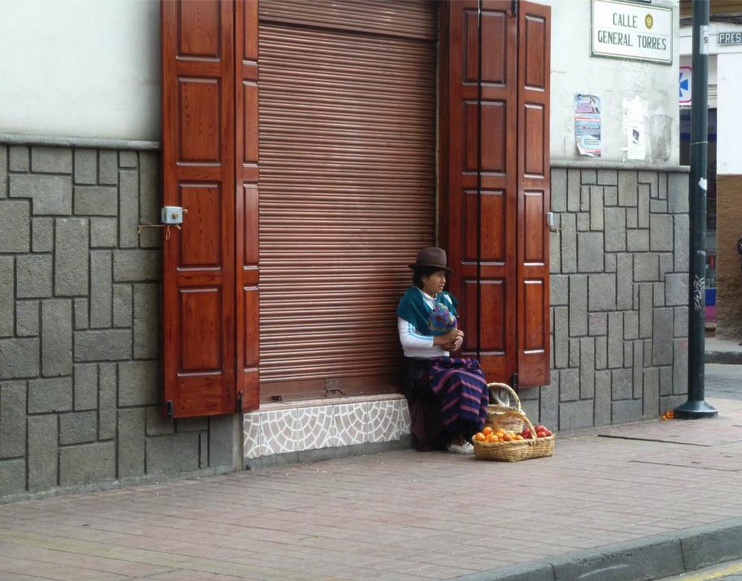 And here's a bicycle made to sell fruits and vegetables parked right outside of the markets in the main area where the markets of Cuenca, Ecuador are. They sell fresh watermelon on a stick.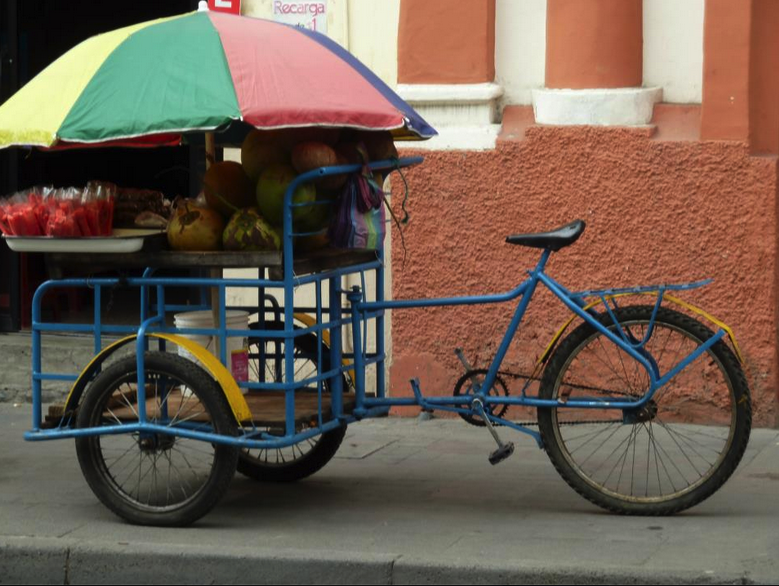 I also enjoy photographing modes of transportation, in this case, a bicycle that transports coconuts!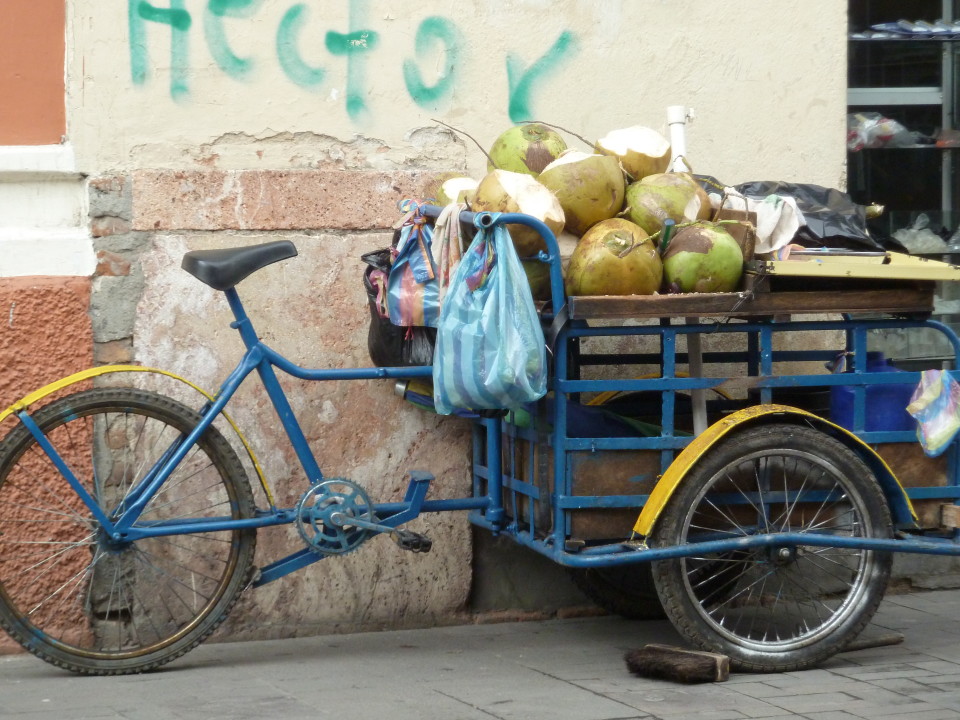 #5 Flower Markets
And don't forget the flower markets! The flower markets in Ecuador stand out with a gorgeous backdrop of the great Catedral de la Inmaculada Conception. Here they have hundreds of different vendors that have set up shop on the street, selling their beautiful flowers with everything from orchids and arum lilies to giant roses.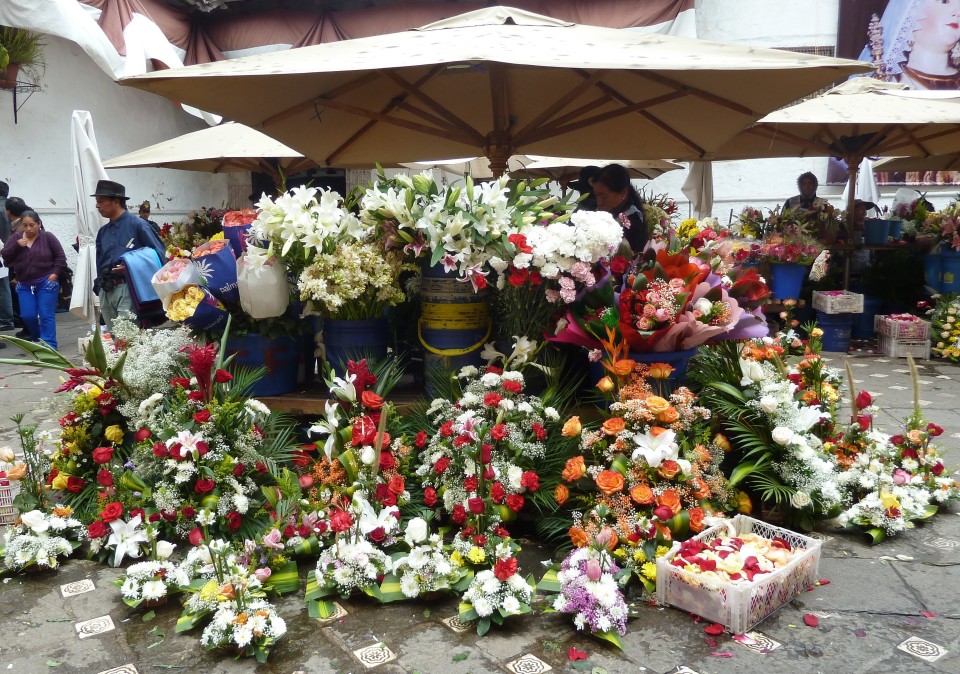 Recommended Reading:
This post is the #3 post in a series of posts regarding taking a trip to Ecuador:
Post #1: Cuenca, Ecuador – Stepping back in Time
Post #2: Chordeleg: A Day Trip from Cuenca
Post #3: The Markets in Cuenca, Ecuador
Post #4: Ahh! The Foods of Cuenca, Ecuador
Post #5: Quito: A Visit to the Middle of the World
Post #6: Montanita, Ecuador: Out of My Comfort Zone
Post #7: Balsa Surf Camp in Montanita, Ecuador
Post #8 Cultural Tourism in a City Upon a Hill: Quito, Ecuador
Post #9: 15 Of The Best Things To See & Do in Ecuador