The Islands of the Galapagos in Ecuador, South America are considered one of the top 10 bucket list items in the world. If you read as many travel articles as I do, you will see it listed over and over again. With its blue-green waters and white sandy beaches as well as the incredible variety of unique and endemic animals on the lands and sea, the Galapagos Islands are most definitely a magical place to visit. In fact, I love it so much that I have now been there three times and have stayed for over a month. I have decided to create a guide for you to visit the Galapagos Islands on a cruise ship – which in my opinion, is the perfect way to see the islands.

As most people know, the Galapagos Islands are owned by Ecuador, but did you realize that they are famous for the distinct species of animals that actually inhabit the lands and the sea? From blue-footed, red-footed, and Nazca boobies to the sea lions, as well as its population of giant tortoises and schools of hammerhead sharks (and the list goes on and on), the Galapagos island's wildlife is distinctive and unusual in almost every way. Many are endemic or native to the country itself.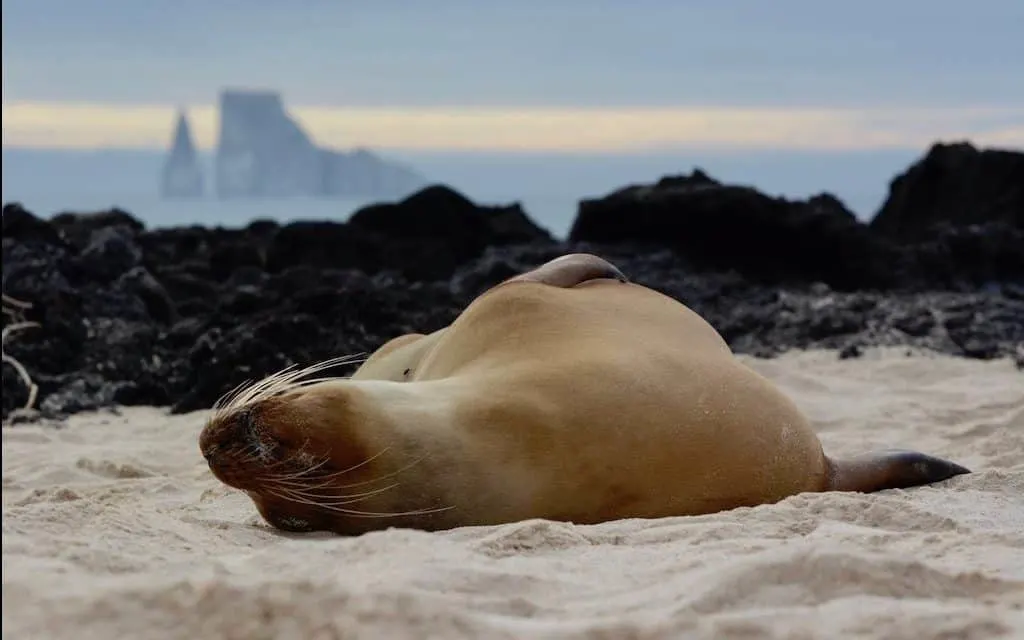 And quite honestly, this trip is one of my TOP FIVE bucket list trips you could EVER TAKE! So get ready to learn about Galapagos Island cruises and the excursions you can take with them! To find out more about the Galapagos Islands and how to enjoy this trip of a lifetime, just keep reading!
Where are the Galapagos Islands?
The Galapagos Islands are an archipelago of volcanic islands located on either side of the equator in the Pacific Ocean. The Galapagos Islands lie roughly 600 miles west of Ecuador and they sit right on top of the Equator line! The islands of the Galapagos are found in the northern, southern, and western hemispheres.
How Many Galapagos Islands Are There?
There are 13 major islands with 6 smaller islands with large amounts of islets and rocks surrounding them. The northernmost island is Darwin Island, named after Charles Darwin. The southernmost island is the Espanola Island, to commemorate the Spanish Bishop that originally founded the Galapagos Islands. Some of the older islands of the Galapagos have been slowly disappearing into the ocean as newer islands begin to form.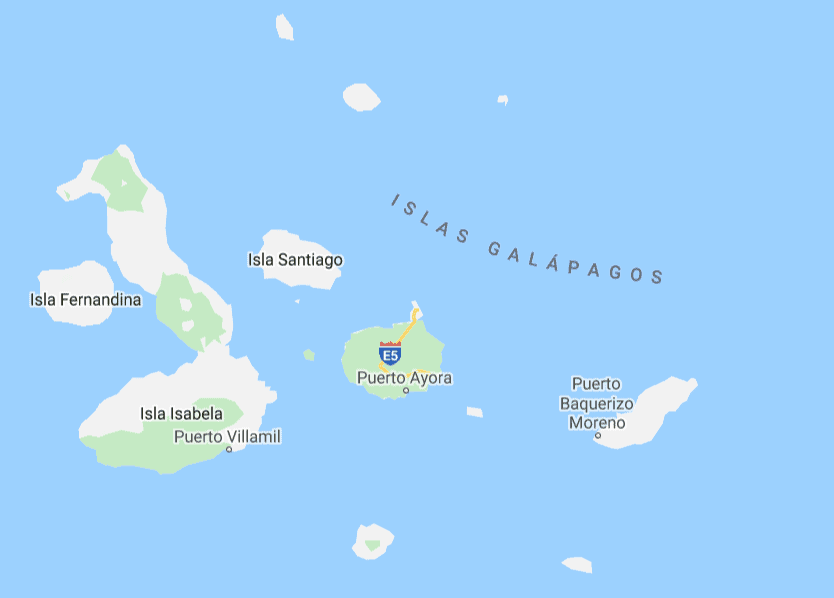 But before I dive into all the ins and outs of this guide about a Galapagos Islands trip, I want to tell you the #1 question I get all the time about the Galapagos Islands! In fact, it is more about how to visit the Galapagos Islands versus where they are or what to do! So let's dive into that question first!
So Which is it? Land or Cruise?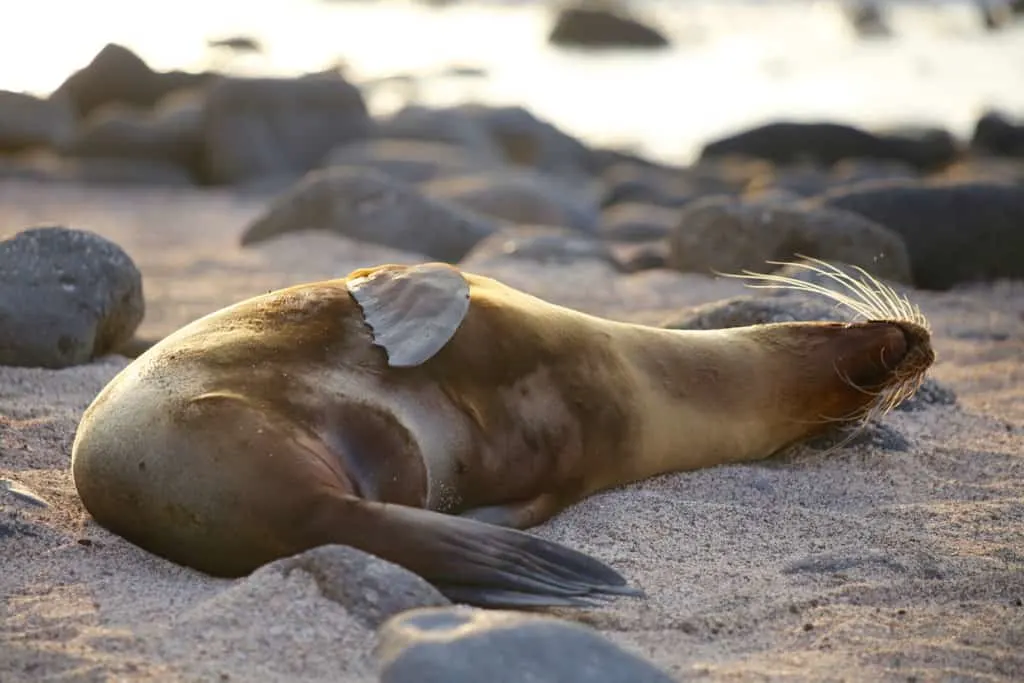 There are three main factors to consider when choosing between land and sea. The factors are:
Time management
Access to the different islands you will have
Cost/convenience ratio
Land-Based Stays in Galapagos
There are land-based hotels on four different islands of the Galapagos out of the thirteen islands: Santa Cruz (Puerto Ayora), San Cristobal (Puerto Baquerizo Moreno), Isla Isabela (Puerto Villamil), and on Floreana (Puerto Velasco Ibarra). Land-based hotel stays can further be divided into two options:
Option #1: You base yourself on a single island (taking daily boat trips to nearby islands).
Options #2: You island-hop and change destination every couple of days.
Land-based Stays: Time Management
You can choose to stay in a hotel, however, you would be limited in the activities you can do each day from where you are staying. You will have to move around constantly to get from your hotel to the pickup spot (to a boat), to the island you will visit, and then back again. And the time management of that is difficult and tiresome. Or you can choose to option #2 above a move every couple of days.
Land-based Stays: Limited Access
You may be limited by access to the islands as well. How? Because land-based tours are limited to the four islands that can be reached near your hotel stay. The four islands that have hotels is where you would embark on tours and day trips to see the other nearby Galapagos Islands. Many of these other islands are far away, so keep that in mind, as you would not have access to many of the other islands. Travelers will not be able to visit the more distant islands that ship-based itineraries include because they are too far away.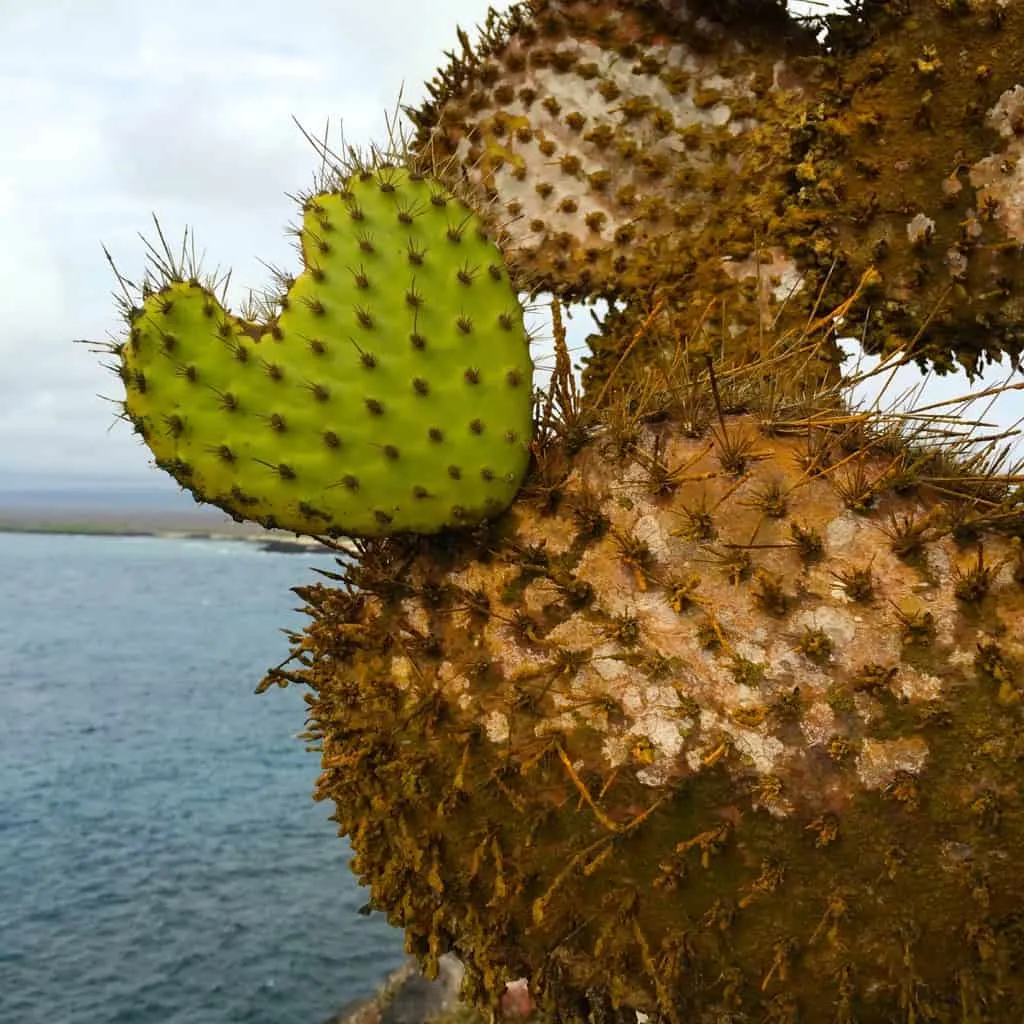 Land-Based Stays: Cost/convenience Ratio
Based on my calculations, land-based hotel stays with paid activities should be less expensive than cruise-based stays. Remember you did pay to get to the Galapagos Islands and it isn't cheap, so think about what is most important to you to make your decision.
---
With all of the above said… I can recommend the most awesome place to stay, whether land-based or before/after your cruise experience. And it would be the luxurious Finch Bay Eco Hotel. It has captured National Geographic's Unique Lodges of the World title and that should be enough said according to my travel agency friends. Their activities program is quite impressive, offering everything from guided land hikes, snorkeling, and kayaking excursions to private yacht tours.
---
Ship-Based Galapagos Cruises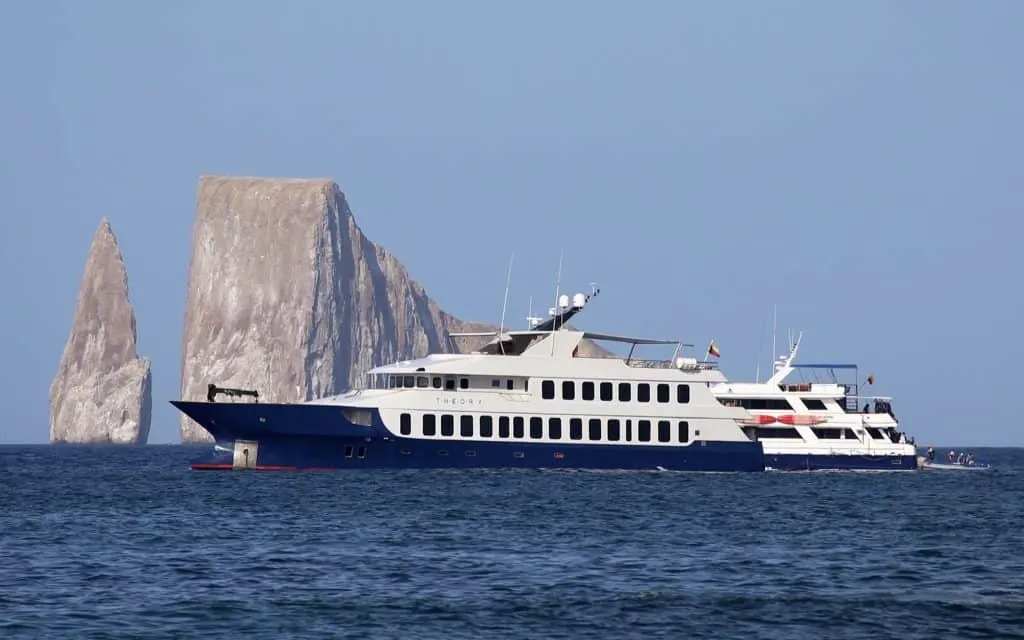 There's no denying that cruising around the Galapagos Islands is the best way to explore the true essence of these stunning islands. With the islands' pristine condition, the unspoiled wilderness, and the sheer numbers of its incredible wildlife available to you, it is hard not to do a cruise.
Cruises tend to offer a wider option of islands to visits, a different group of wildlife, and a more immersive experience, especially when you consider that some of the most unique islands are also the more remote ones. No land-based stays will offer options to visit these islands in just a single day.
In my opinion, because of the lack of ability to see a majority of the islands, the time management it takes, and the cost-to convenience ratio, I believe the best way to visit the Galapagos is via a small yacht Galapagos Islands cruise. Cruising on small ships is so much easier since each night you will be staying on the ship while it is moving to the next island as a destination. You will have more intimate onboard experiences and faster transfer times between your main ship and the panga rides. You will also visit more islands on your trip.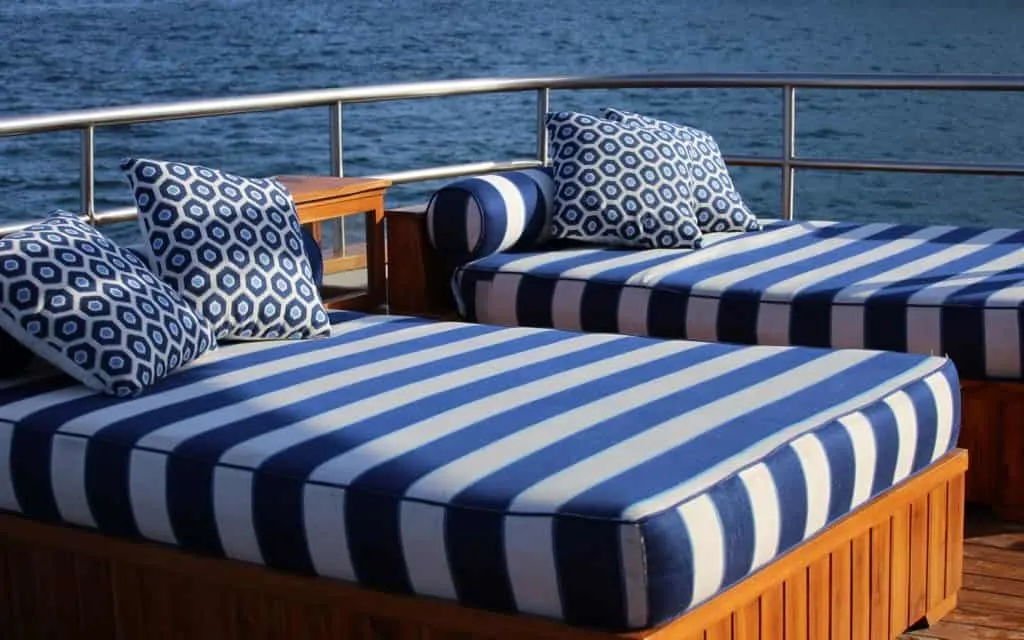 Plus, you get to rest and relax a bit more! And I can guarantee after a week's trip to the Galapagos, you will be tired!
I realize the cost is higher, but it is well worth it. Remember, no Galapagos vacation is ever cheap, as this is a moderately expensive place to visit, no matter which option you choose – yet stretching the expense a little here to take a Galapagos cruise can really deliver a much more comprehensive travel experience.
I believe that small ship cruising offers the best choice of all. On small vessels, you don't have to deal with overcrowding and waiting in line as you are not part of a large group. You have the ability to explore the bays of the islands, which is something large ships simply can not do.
How should you go about picking a Galapagos cruise?
Let's dive into how to pick the best Galapagos cruise ever! Since I tend to prefer luxury cruises, one of my favorite Galapagos cruise small ships ever has been on the Ecoventura's T•H•E•O•R•Y Ship. The company, Ecoventura, also has three other ships: Origin (luxury), Letty (moderate) and their Galapagos Sky (dive liveaboard). I have also been on both the Lety ship and the Galapagos Sky.
Choosing a ship that is right for you and your budget is important. Ecoventura has something for everyone. Both the Origin and the Theory ships are luxury-priced ships, the Lety is a moderately-priced ship, and the Galapagos Sky is for those who want to scuba dive and see the outer islands. Remember, Galapagos cruises come in all shapes, sizes, and budgets, so no matter what you are looking for, there IS a boat that will fit your needs.
What is the best size for a Galapagos cruise ship?
Personally, I prefer a smaller 10-12 cabin ship that will have no more than say 20 people on the entire ship plus the crew. That way you will get the individualized service you are looking for. To prevent overcrowding, the Ecuadorian government has set a strict visitor number of people who can visit an island at any one time. This means that very large cruise ships are not allowed to dock on some of the islands, or if they do, they can only take a strict number of people to the islands and you would have to wait to get on the island.
Cruise –Ecoventura's T•H•E•O•R•Y Ship

About Ecoventura's T•H•E•O•R•Y Yacht
One of the many cruises you can take is onboard Ecoventura's T•H•E•O•R•Y Ship, which I absolutely loved! On this type of cruise, you will visit roughly 5-7 islands, excluding, the outer lying islands which are mostly for scuba diving trips. Each island is different and has a story all its own to share with visitors.
T•H•E•O•R•Y is a 10-cabin ship was named after Charles Darwin and his theory of evolution. Each day onboard this ship you will take at least 2 walks/hikes or go on a snorkeling adventure, or even kayak or go paddleboarding. Typically there is a morning activity, then lunch/nap, and then an afternoon activity, then dinner.
All Ecoventura ships have professionally-trained (and funny!) Naturalist on board with you who take your out on daily activities. They split the group in two, so that there are only about 6-8 people in each group where you will learn about the islands and the animals, have fun, hike, snorkel, and overall just have fun the entire trip!

This luxury yacht was custom-made for the ultimate Galapagos experience. The cabin amenities on this ship include modern décor, fine linens, climate-controlled rooms, Apple TV, a universal docking station, Espresso and tea makers in the suites, safety deposit boxes, private bathroom with toiletries, hairdryers, and rainfall shower.
The additional amenities include an absolutely stunning sundeck, lounge area, a fitness center, a small boutique, and library area, and of course, the best of all – a Jacuzzi and nearby cocktail bar! Wi-Fi and laundry services are available as well.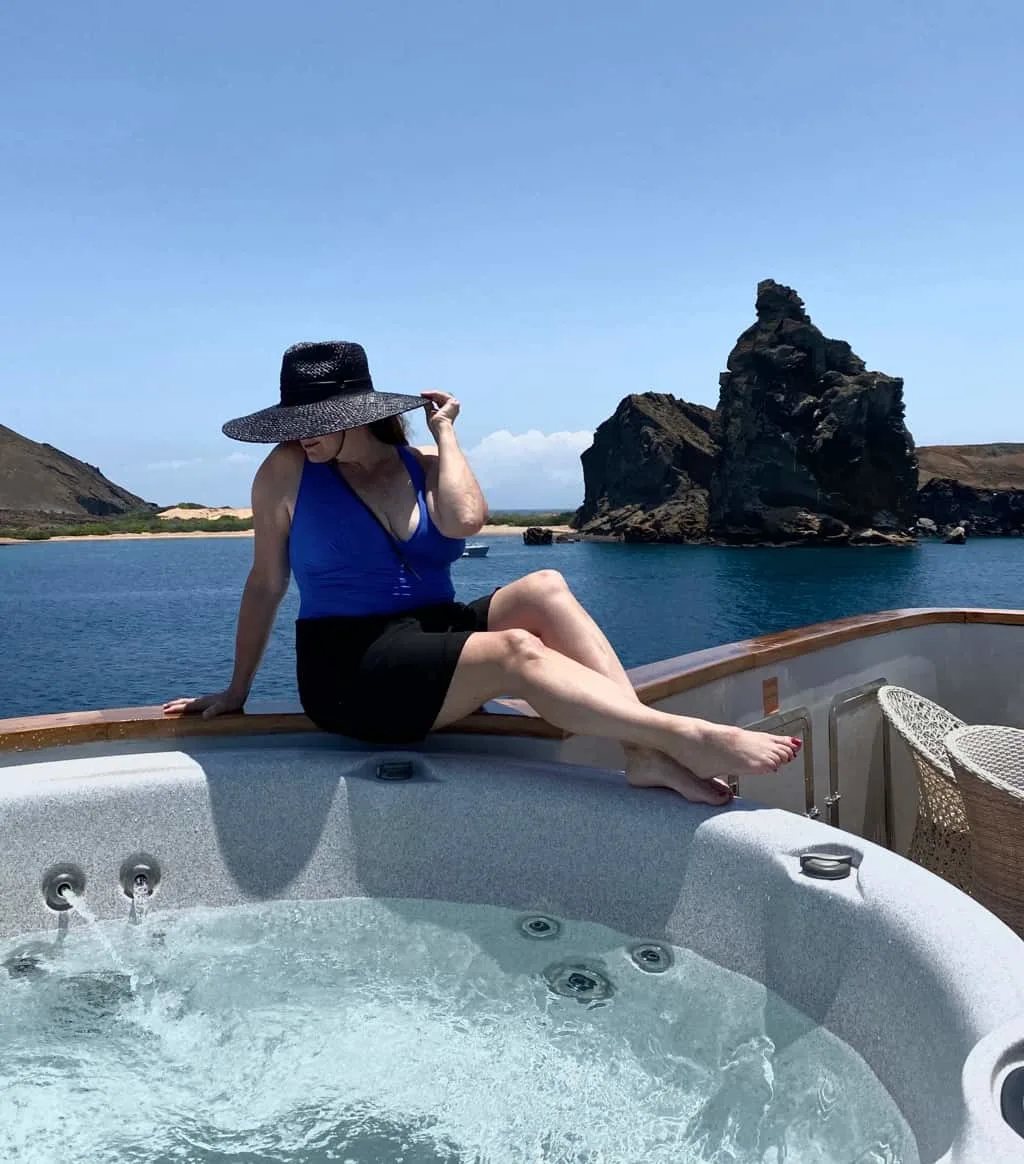 A Relais & Châteaux Cruise Brand!
I almost forgot to even mention, but Ecoventura is a member of the famous French brand Relais & Châteaux! What does that mean? Relais & Châteaux is an association of individually owned and operated luxury hotels, cruises, and restaurants. The group currently has about 500 members in 60 countries on five continents and was established in France in 1954.
The group is known for its strict admission standards. In addition to luxurious facilities, its members must have special features distinguishing them from chain hotels, cruises, and other restaurants. Most of them are in idyllic settings and offering exquisite cuisine. How could I ever forget about my stay at the Inn of the Five Graces in Santa Fe, New Mexico, which is also a member of the Relais & Châteaux.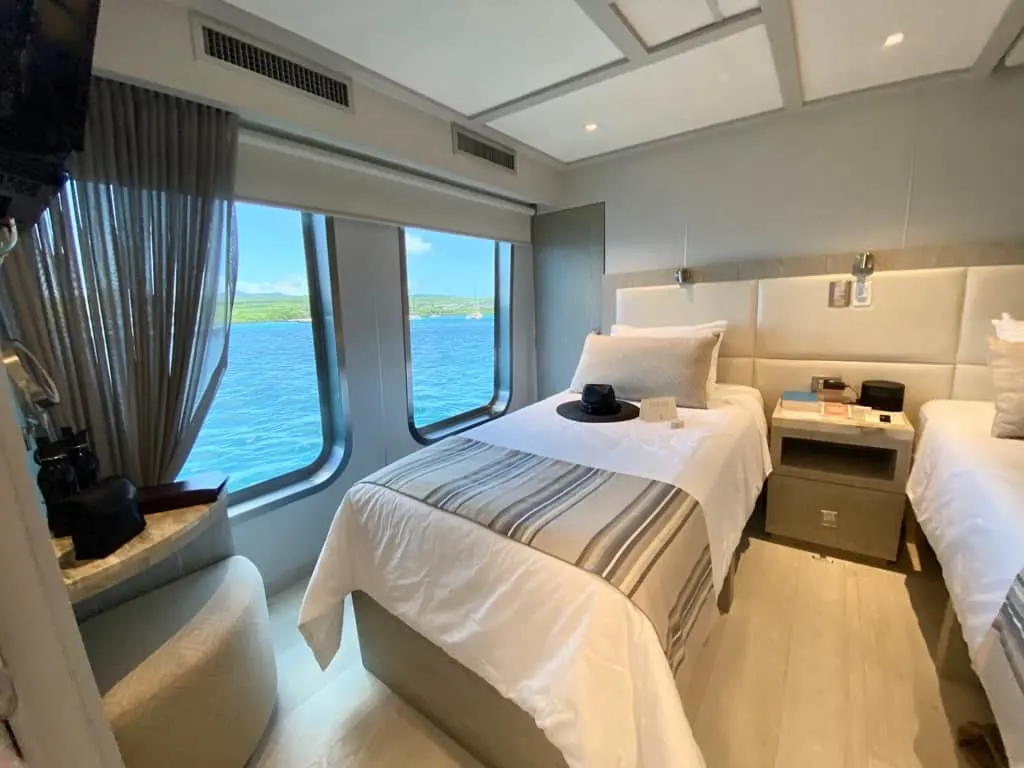 Superb Dining and Service onboard T•H•E•O•R•Y
Ecuadorian food is amazing. But the food onboard this ship is absolutely some of the best I have had. The executive chef, Francisco Vintimilla, has menu options that focus heavily on organic ingredients and many gluten-free options. For example, the breakfast station serves Benedictine eggs, fresh orange juice, natural yogurts, and Swiss oatmeal.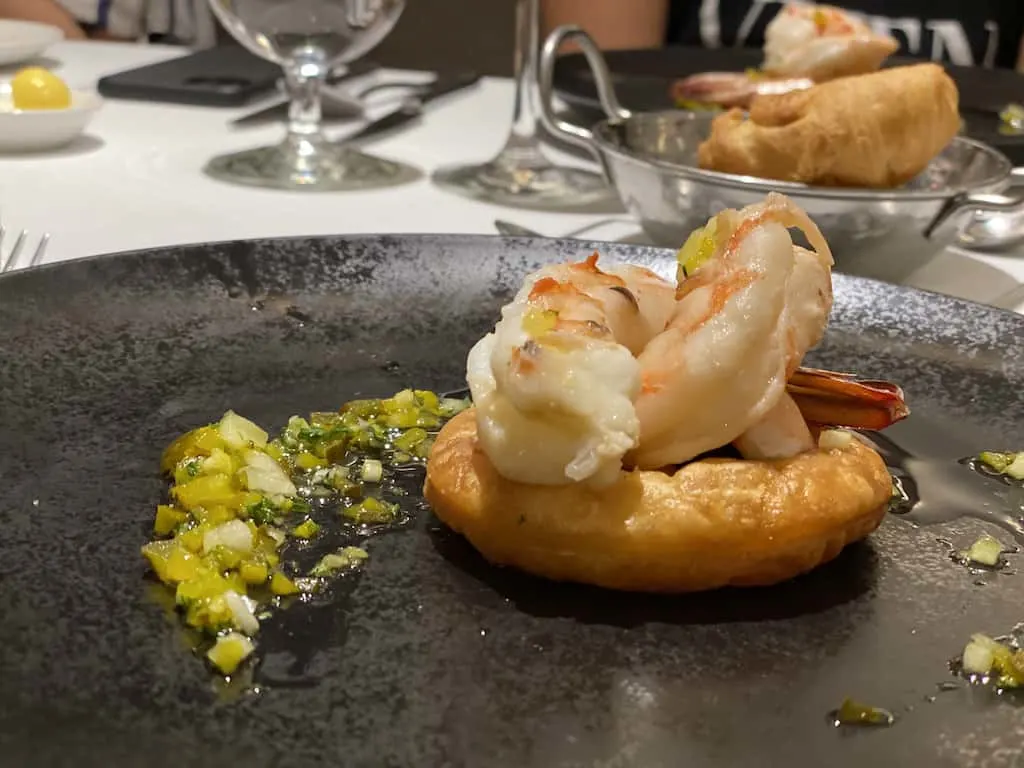 Just one of the many lunch options included Ecuadorian fish soup, roast beef with vegetables, and a platter of fresh tropical fruit. A typical dinner meal might include tartlets filled with apple and brie sauce, pumpkin cream with goat cheese, and grilled langostino in garlic aioli. The executive chef chooses different meals for each day of the cruise.
Ecoventura Offers Two Routes:
Routes are dictated by the Galápagos National Park officials to mitigate crowding to the islands and environmental stress to the animals. They only allow a certain number of people on any one island in a certain time slot.
Northern & Western Route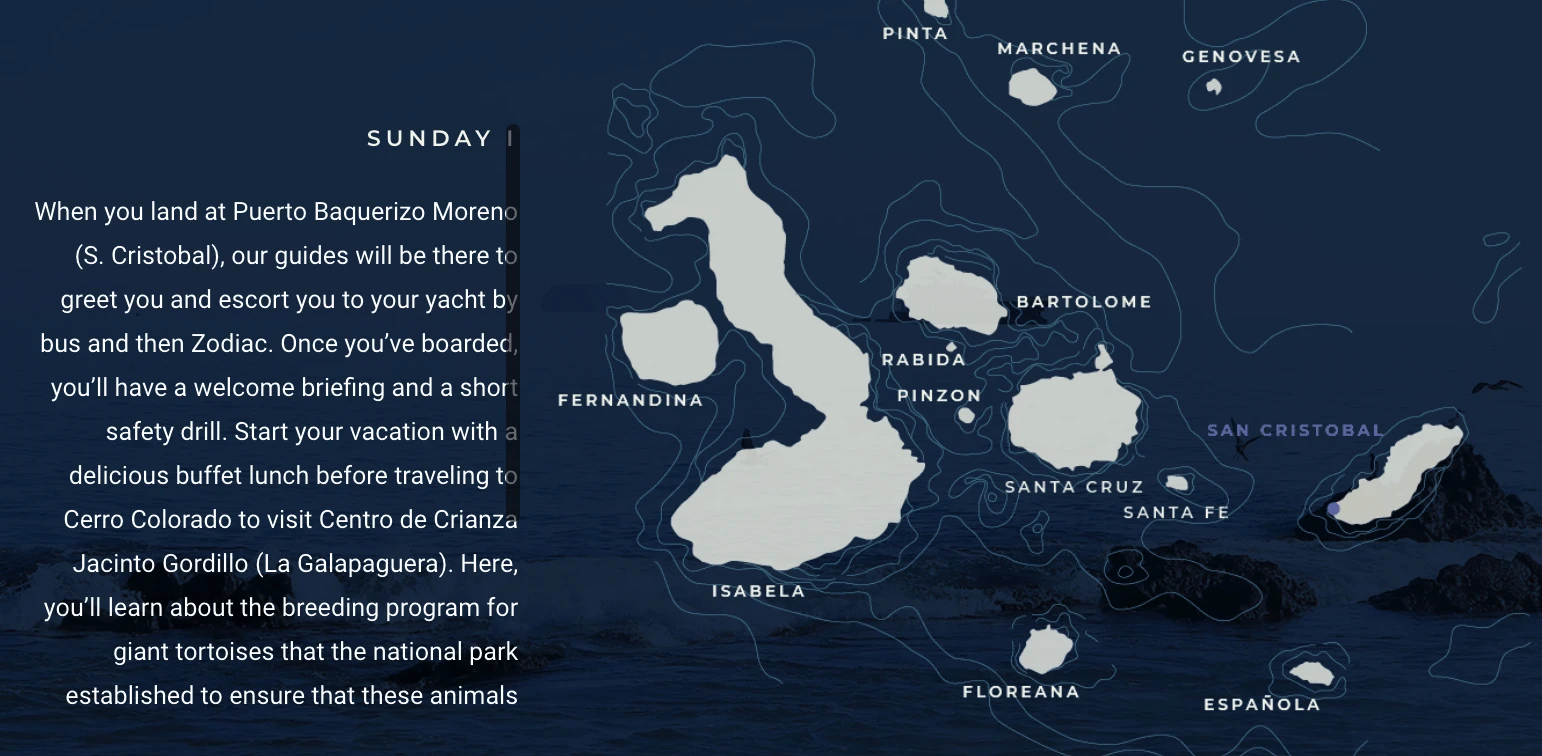 This route begins in San Cristobal and then takes you to the islands of Genovesa, Santa Cruz, Isabela, Fernandina, Rabida, Santa Cruz, and then again to San Cristobal. During your trip on this route, you are sure to see the following: Centro de Crianza Jacinto Gordillo, Opuntia cactus, Cerro Dragon (Dragon Hill), and the dark red beach of Rabida.
Southern & Central Route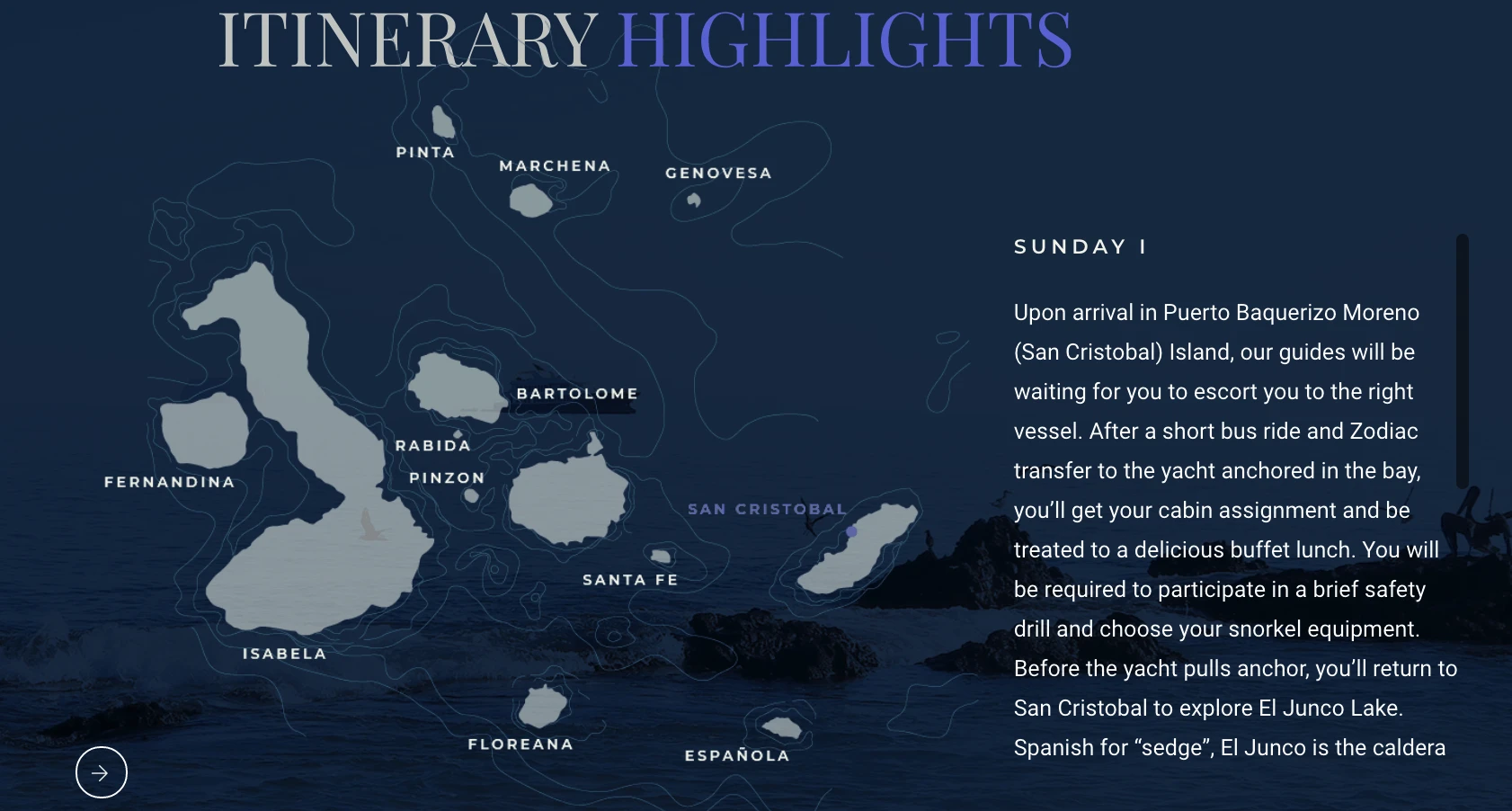 This route will start off in San Cristobal and then take you to the islands of Espanola, Floreana, Santa Cruz, Bartolome, and then back to San Cristobal. You are sure to see some unique places during your trip and that may include the following: El Junco Lake, Wizard Hill, the lava tunnels at El Mirador and Los Gemelos (Santa Cruz), and Pinnacle Rock.
Activities while on T•H•E•O•R•Y ship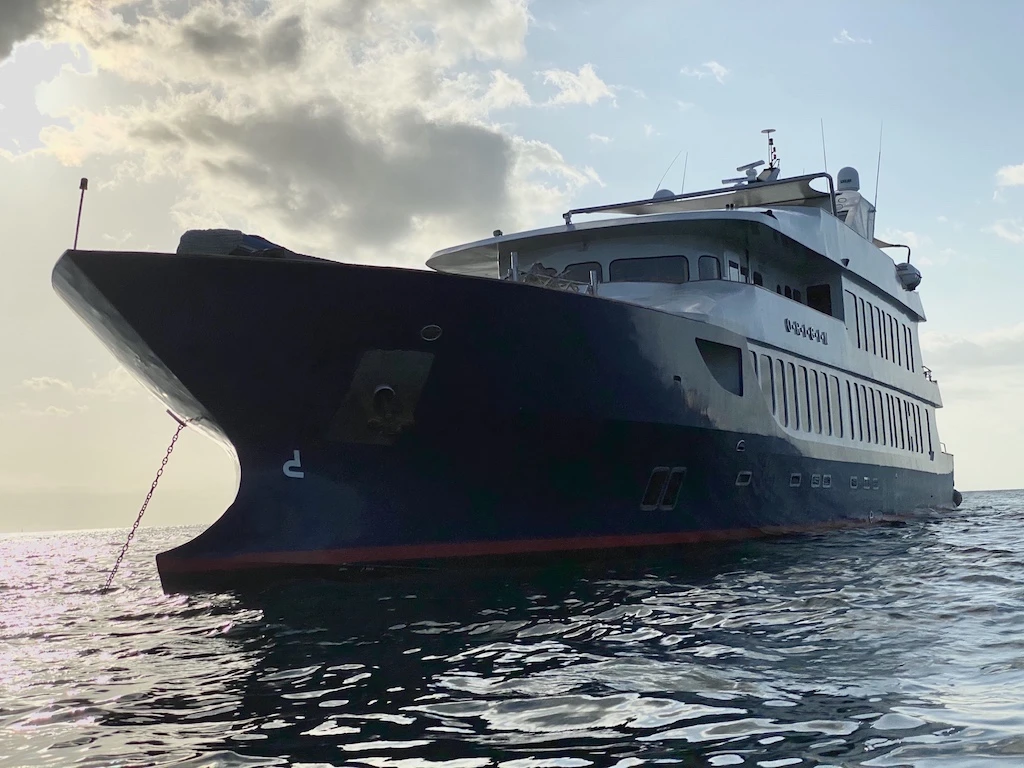 Guided walks or hikes alongside the cliffs, lava fields, and beaches with professionally trained Naturalist who are certified
Snorkeling at the Marine Reserve
Paddleboarding or kayaking
Soaking in the warm sun in the onboard the magnificently-placed Jacuzzi tub by the sundeck's bar.
A small tour on a glass-bottom boat along the shores of the Galapagos Islands for those who prefer
You can get up close to the sea turtles and other marine life animals while out in the ocean on your many excursions each day.
In the evenings you can lounge on the sundeck at dusk because the sunsets are not to be missed.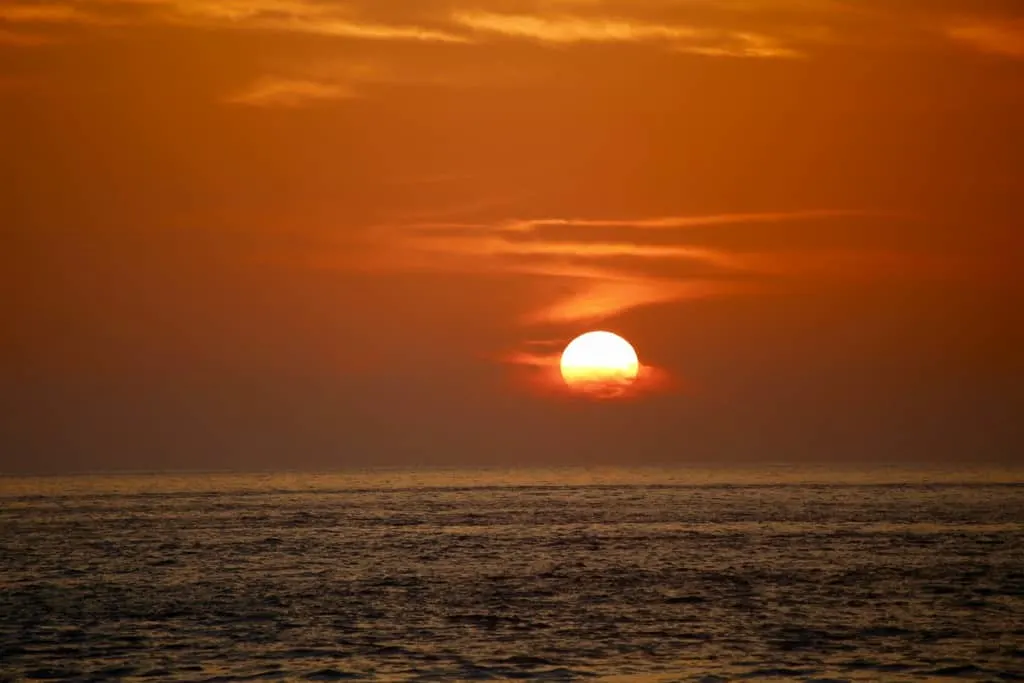 The frigate birds often chase each other overhead, frequently landing on the ship. There is also a jacuzzi to relax in while sipping your favorite Pisco Sour or any other drink you deem necessary!
How to get to the Galapagos Islands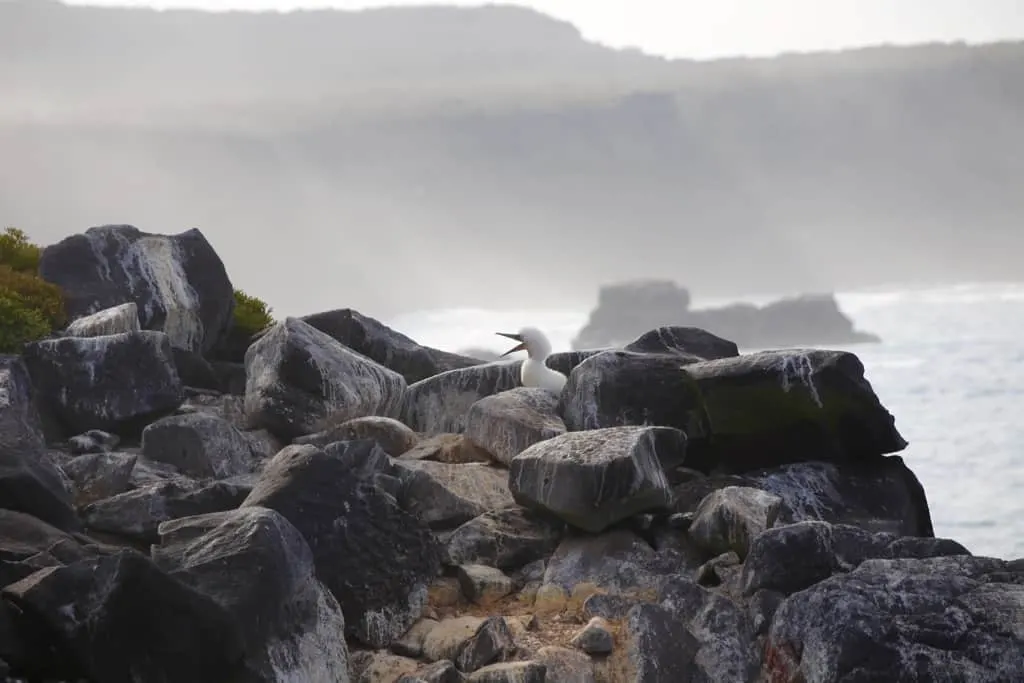 To get to the Galapagos Islands you should from Ecuador. There are two cities with airports that frequently fly into the Galapagos Islands, they are Quito and Guayaquil. Most flights are typically with either Avianca or LATAM. Both are reputable South American airlines. But you can book with major USA airlines to get to Ecuador and then use these South American airlines to fly into one of these two cities. I booked my flights from Phoenix via Miami and Guayaquil to San Cristobal with Avianca using frequent flyer points, which saved me quite a bit on the costs of this smart luxury adventure.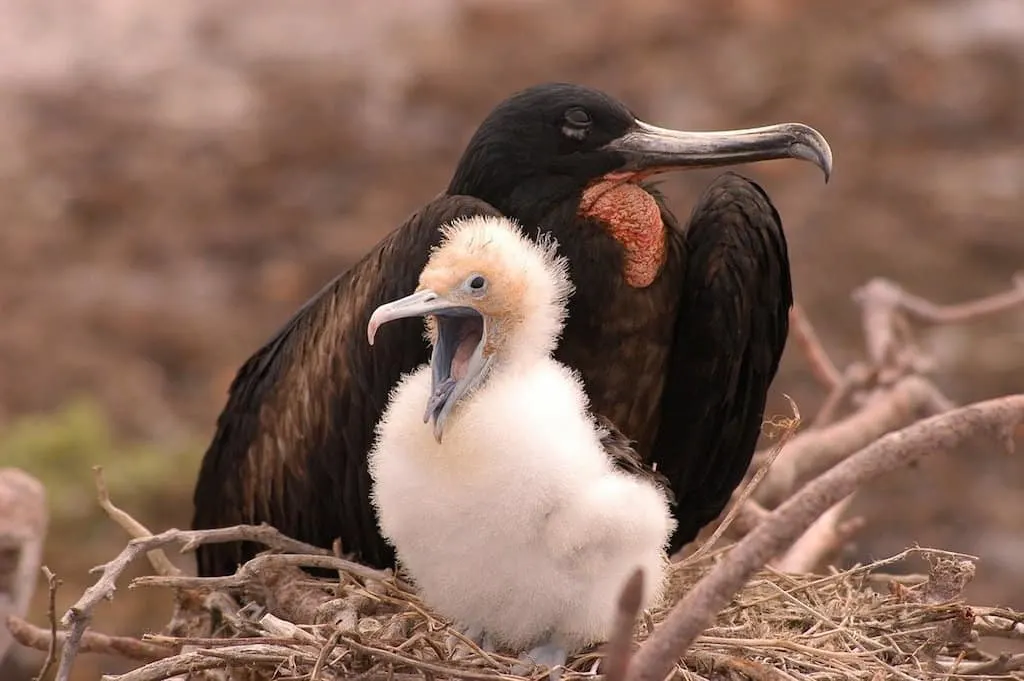 Galapagos Airports
There are two airports in the Galapagos Islands:
San Cristobal Island: San Cristobal Airport (SCY) is right on San Cristobal Island. This airport is the best place to fly into for your Galapagos cruise. Your cruise specialist will pick you up at the airport.
Baltra Island: Seymour Airport (GPS) is the airport closest to Santa Cruz Island and could be an airport you would fly into for a land/hotel stay. It at one time was used by the United States Army and Air Force to defend the South American coastline and the Panama Canal against Japanese submarines during World War II.
Fees to Enter Galapagos Islands

$100 Visitor Entrance Fee
When you arrive in the Galapagos Islands, regardless of which airport you arrive at, you will have to pay the $100 visitor entrance fee. The fee is shared between the Government agencies that help protect the Islands: the Ecuadorian Navy, the Galapagos National Park Directorate, the Ministry of Agriculture, local municipalities, and the Galapagos Governing Council.
$20 Transit Card Fee
There is also a $20 Transit Card fee. All visitors to Galapagos Islands are required to purchase a "Tarjeta de Control de Transito" or TCT card for $20.00. This card allows INGALA, the institution that controls migration to the islands, to better regulate the flow of all arrivals and departure to the Galapagos Islands. Ecoventura registers all passengers in advance provided the fee is pre-paid with the passenger information form.
Galapagos Islands – Unique in Every Way!
Some may think that these islands are islands like in the Caribbean where you can hop from one place to another and party the night away. But that is simply not the case! These islands are special and unique completely in their own way! To visit a majority of the Galapagos Islands, you will need government approval and a guide (naturalist) to visit certain islands. That is just one more reason why taking a Galapagos cruise is so important.
Charles Darwin's T•H•E•O•R•Y of Evolution Began Here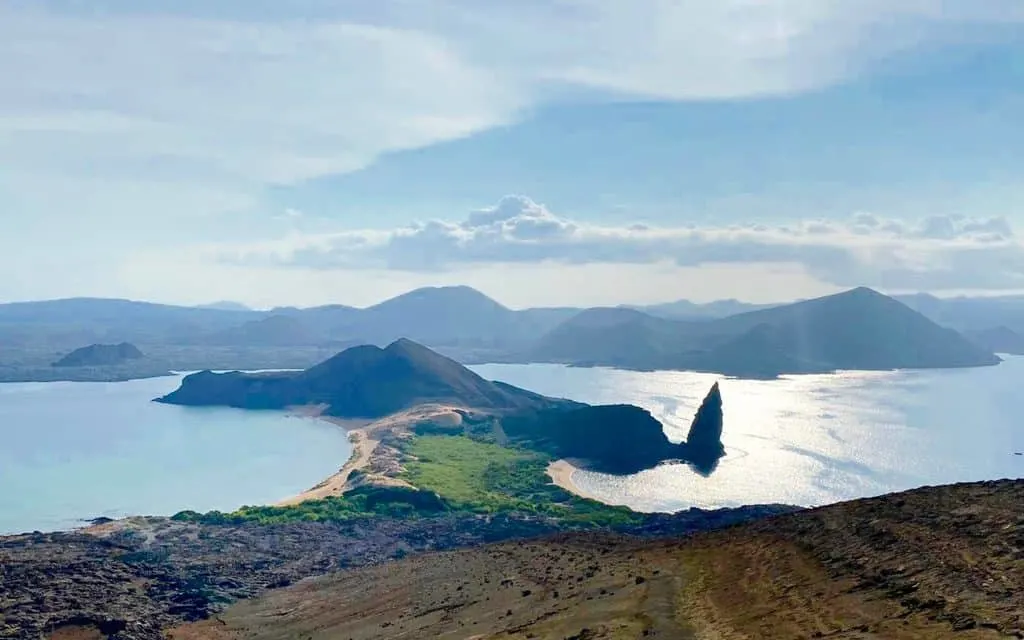 Since the islands of Galapagos are considered approximately 97% National Park, the diverse species of animals isn't the only important part of them. Like Charles Darwin, the famous 19th-century biologist and author of the On the Origin of Species spent much of his time here studying the inhabitants of the Galapagos. He contributed to many theories and ideas about how natural selection occurs. It was in the Galapagos Islands that Darwin's theory of evolution was literally born.
Who discovered the Galapagos Islands?
The Galapagos Islands were discovered in 1535 by Tomas de Berlanga. This Spanish Bishop happened to stumble upon these islands by accident as he was traveling to South America.
The Galapagos islands are in a unique position because they converge along three different ocean currents, Equatorial Counter-Currents, as well as the North and Equatorial Currents and the South Equatorial Currents. The total landmass of these islands is about 3,000 square miles that are spread out among 17,000 square miles of ocean!
The highest point of elevation can be found at 5,600 ft. atop of Volcano Wolf on Isabela Island. According to geologists, the first islands may have formed up to 90 million years ago. The history of the land itself is so interesting to me.
---
Learn the Science behind the Galapagos Islands – Natural Selection
---
Weather in the Galapagos Islands
The Galapagos Islands have a dry and a wet season. The dry season of the Galapagos occurs from June to December and brings forth cooler winds and air. The wet season occurs from January to May. I have been here during both these seasons.
Unlike other islands and countries of the world, the Galapagos has cold and warm currents that often times clash with one another. This climate clash means that the four seasons that we are used to seeing are often blurred in the Galapagos Islands. The dry season sees a dip in the temperature on land and the ocean with roughly a 5-15-degree difference between the two seasons.
For your convenience, here is a temperature guide in Fahrenheit:
Best Time to Visit the Galapagos Islands
The best time of year to experience a trip of a lifetime in the Galapagos Islands is between December to May during the rainy season. These months offer beautiful weather, pleasant conditions, and this is a great time to spot wildlife mating periods. During this wet season, you may experience persistent showers, but they are usually brief and the sun shines very often.
Breeding Season: You Choose Which Season To Come!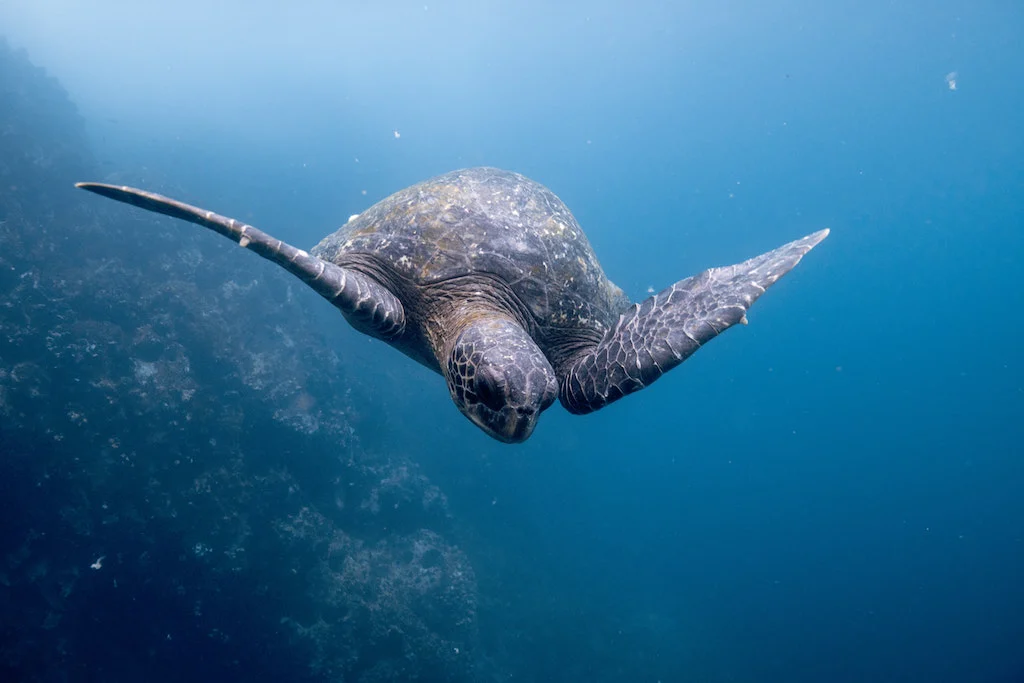 However, the time of year that you would want to visit the Galapagos can vary depending on the type of wildlife that you want to see. Certain animals breed better during the rainy season than they do during the dry season and vice versa. My suggestion is to make a list of the animals you cannot wait to see and then find out when their breeding season is and voila, you have chosen your time to visit!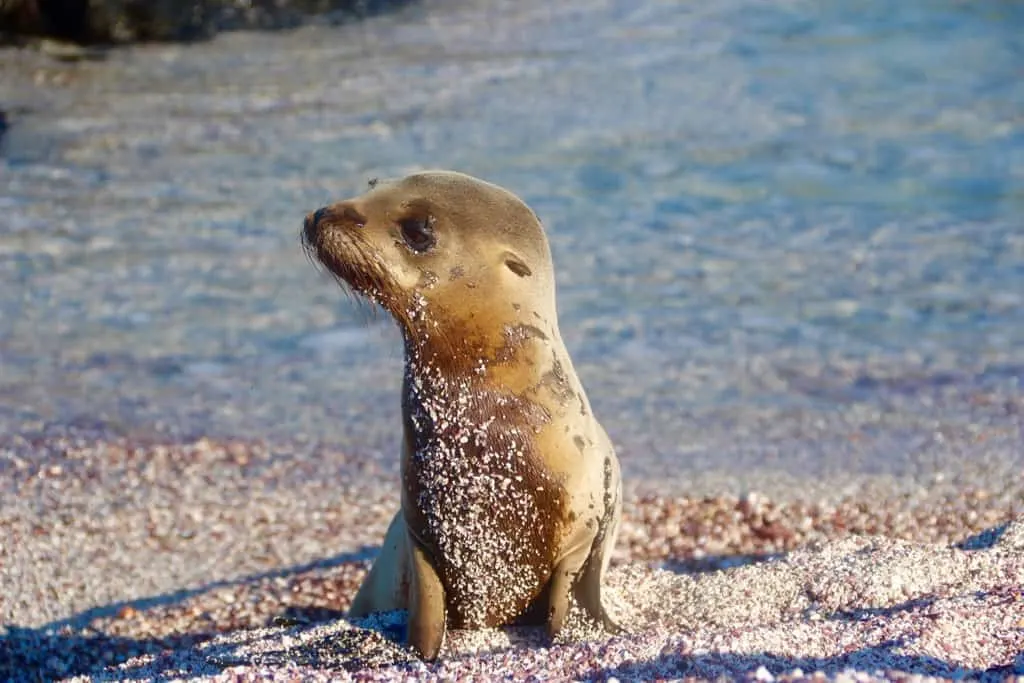 Animals You Will See:
I briefly touched upon the animals you might want to see, but I didn't go into the specifics. Well here's your chance to dive into the different animals on the Galapagos Islands.
Giant Galapagos Tortoises: These are the most famous animals on the islands and they can live up to 150 years old. Unfortunately, over the years their population has gone from 250,000 to less than 3,000 in 300+ years. As you may have guessed, it is illegal to hunt these tortoises.
They are allowed to roam free on ranches and farmland that is owned by locals. You can easily spot these animals on Santa Cruz Island and near the city of San Cristobal on San Cristobal Island, as they chomp on leaves, milkweed, and grass on your visit to the colder highlands.
---
Read here a comprehensive photo guide of the Galapagos Birds
---
Galapagos Penguins: This is the only place in the Northern Hemisphere where you will find penguins year-round. The penguins have a "tuxedo" look to them but with traces of pink on their beak and body. They are quite small and there are less than 1,500 penguins that live here. But you are sure to spot one or two during your trip. I spotted several while snorkeling and scuba diving.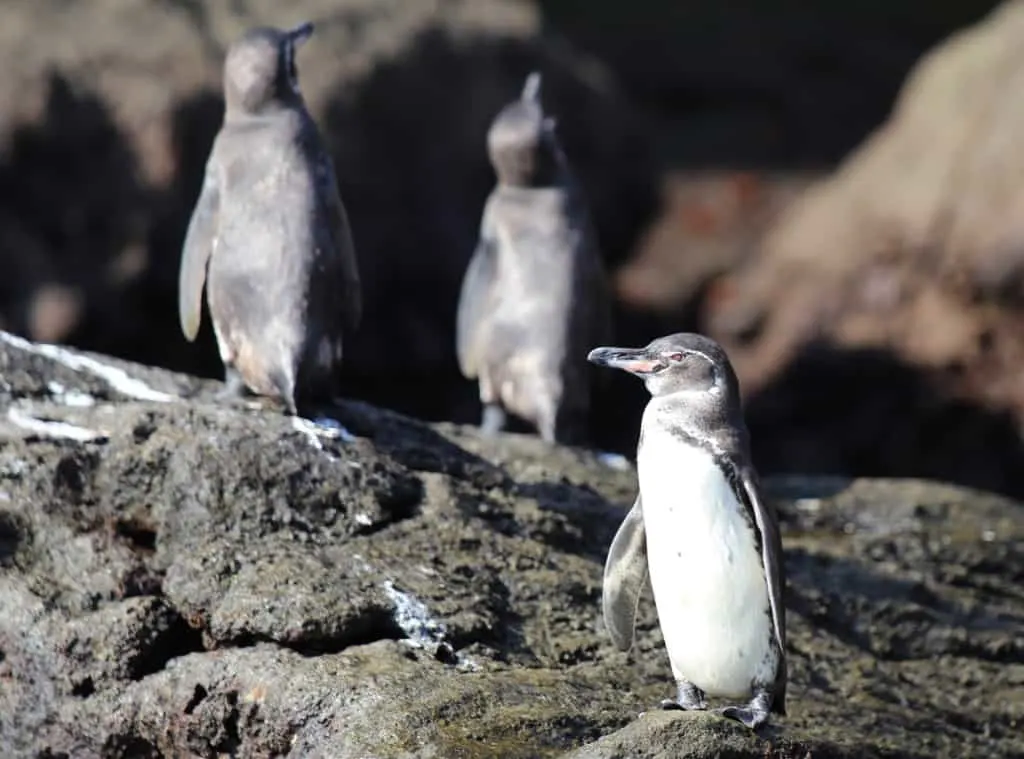 Galapagos Boobies: There are three types of boobies in the Galapagos Islands. The Blue-footed, the Red-footed, and the Nazca Booby. See my extensive guide of the Galapagos birds here. The Blue-footed booby is one of the most attractive birds in the Galapagos. These birds have a stable population and can be seen eating on sardines, fish, and squid. They have beautiful turquoise colored "feet" and can be spotted eating close to the shoreline. They also have a very unusual mating dance that the male preforms to impress the females, with whistling sounds and movement of the feet included!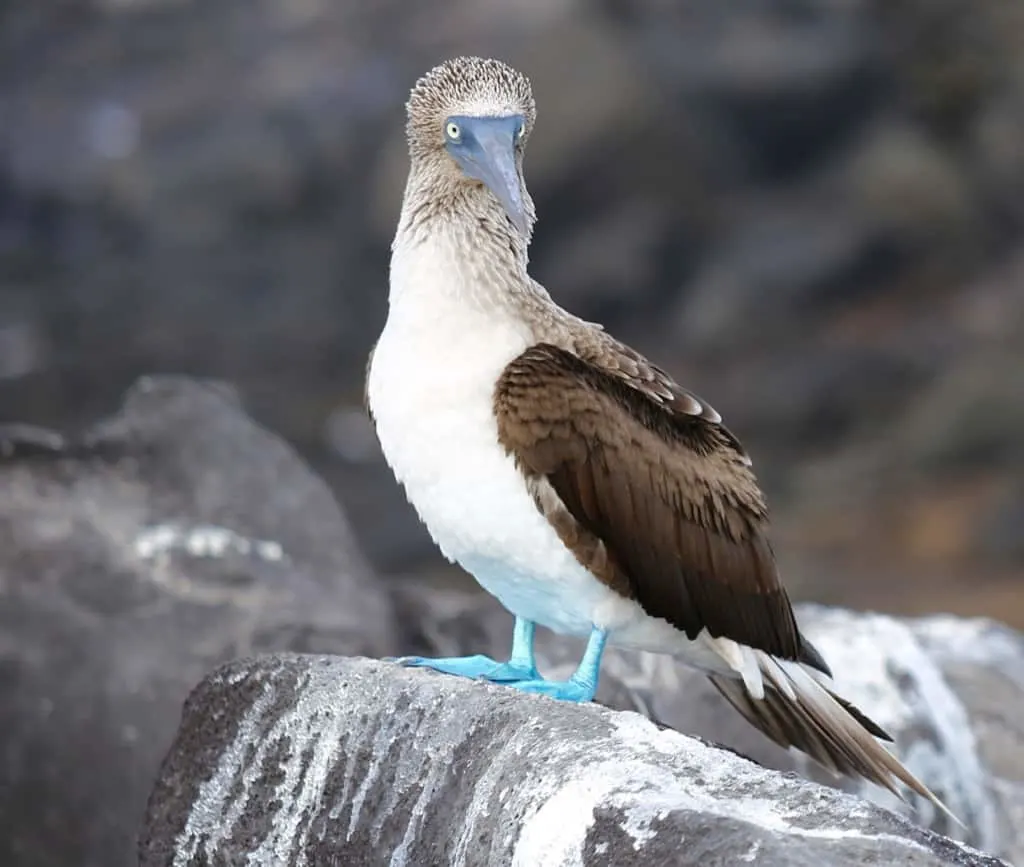 The Red-Footed Booby tends to find their food far out to sea. The best spot to see these red-footed animals is on Genovesa Island. Regardless of the plumage, they always have red feet.
And the last one, Nazca Booby. The islands seem to flourish with this type of booby, as I think I saw them in many of the islands that I visited. It typically has a solid body shape and a long and pointed orange-yellow bill. The adult Nazca Booby is white and black with a pointed tail.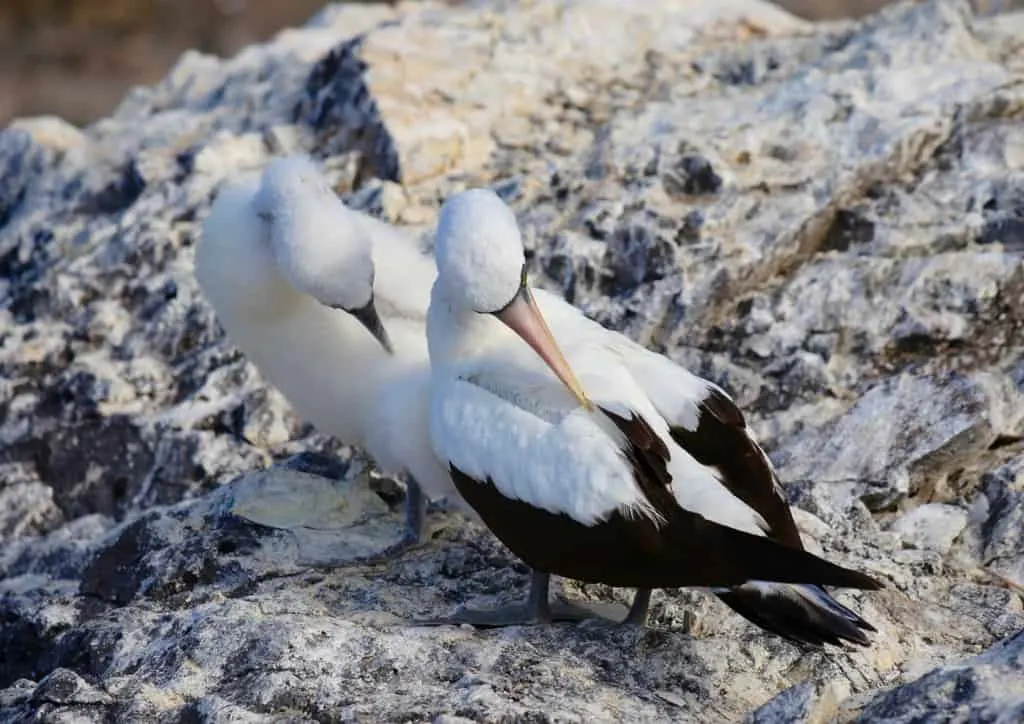 Galapagos Finches: How can I speak of animals without mentioning the Galapagos finch? These finches were first discovered and written about by Charles Darwin. Darwin wrote about their shape, size, and feeding behavior–all which helped contribute to his theory of natural selection.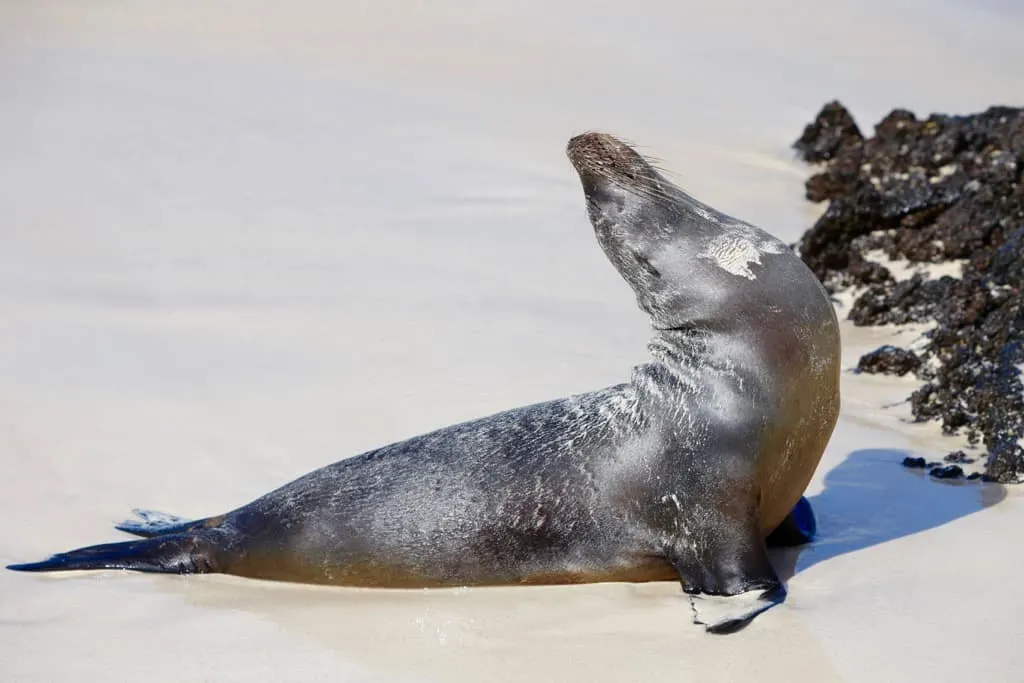 Other animals that you will find in the Galapagos Islands include:
fur seals, sea lions, hammerhead sharks, sea turtles, bottlenose dolphins, green sea turtles, spotted eagle rays, whale sharks, red-lipped batfish, sunfish, possibly a manta ray, marine iguanas, lava lizards, hawks, lava herons, hood mockingbirds, hoary bats, brown pelicans, red-billed tropical birds, the only nocturnal gull in the world, yellow-crowed night herons, flycatchers, flamingos. . . actually, there are so many animals in the Galapagos that I cannot name them all here!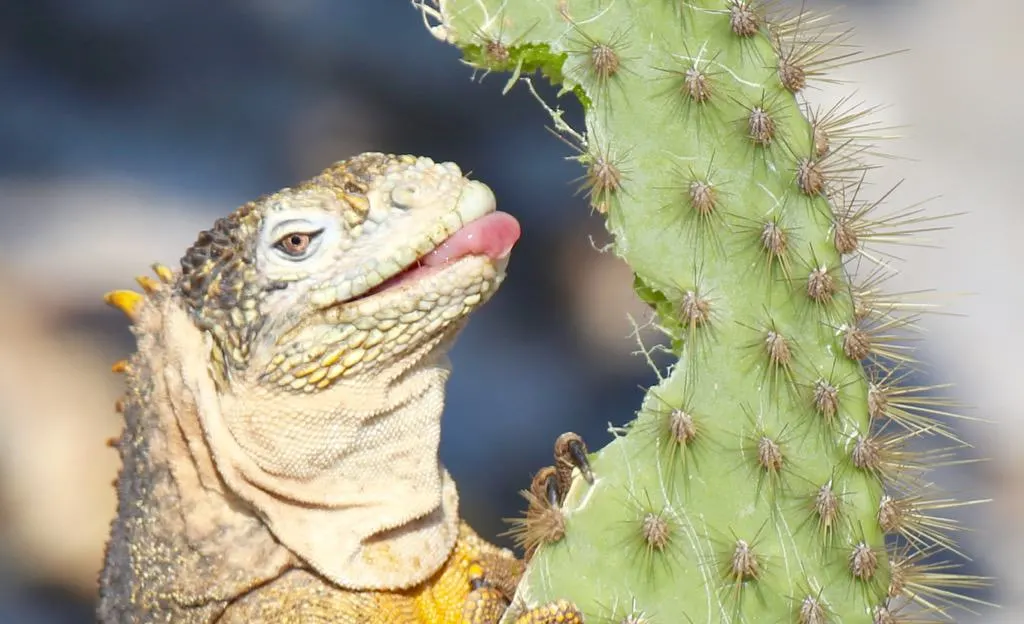 *A quick note for photography lovers: DO NOT use the flash on your cameras or smartphones when taking pictures of the animals (both above and below the water). The sudden flash of the camera interrupts the animal's natural habitat.
Know What to Pack:
Now that you have decided that you are going on your trip of a lifetime to the Galapagos Islands on a cruise, you will certainly want to know what to pack on your bucket list trip. Well, not to worry. I have come up with a list of important things you will need on your trip to these breathtaking islands.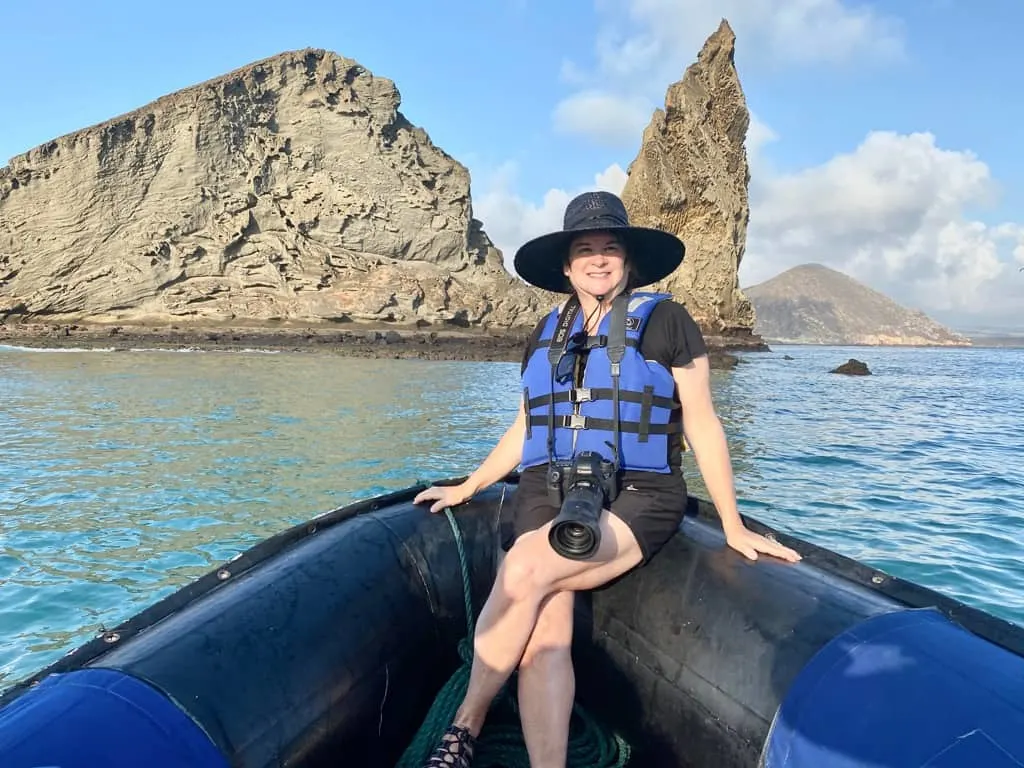 Packing List for your Galapagos Cruise
Important travel documents, passport, credit cards, and money.
Medication, toiletries, and a basic first aid kit. Most ships have Dramamine or motion sickness pills. Some people wore motion sickness bracelets.
High SPF Sunscreen (biodegradable, if possible) and Aloe Vera gel – (for if you get a sunburn). Sunscreen is vital, as you are right where the Equatorial sun shines and can easily get burnt in less than 45 minutes.
Wide-brimmed hat – This is a necessity to keep the Ecuadorian sun off your face and neck.
Sunglasses
Proper footwear – comfortable sandals (ex: Teva Sandals) and broken-in sneakers, water shoes, and flip flops. However, I would narrow the shoe selection down to about 3-4 pairs.
Clothes – comfortable t-shirts, tank tops, shorts, lots of layers of clothing, swimsuits (at least 3), rain jacket. (Traveling by cruise, I recommended one or two more formal outfits for special events on the boat). You will want to keep covered up mostly because the Ecuadorian sun can burn! Maybe even bring a rash guard for your neck and wear it after about day 3 or 4. A UV Swim shirt is perfect to bring as well.
Day Pack – A small bag you can carry your things in.
Dry Bag – This is great to keep your things in and keeps the sand and water off of them! An alternative might be a large sealable plastic bag, but dry bags are better!
Accessories – Things like your phone, phone charger, camera and camera's extra batteries and charger, solar-powered flashlight, eco-friendly water bottle, and go-pro (or underwater camera).
Most Galapagos cruises provide:
Snorkel Gear
Wet suit
binoculars
Eco-friendly Water Bottle
Dramamine or motion sickness pills
What it is like to visit the islands of the Galapagos?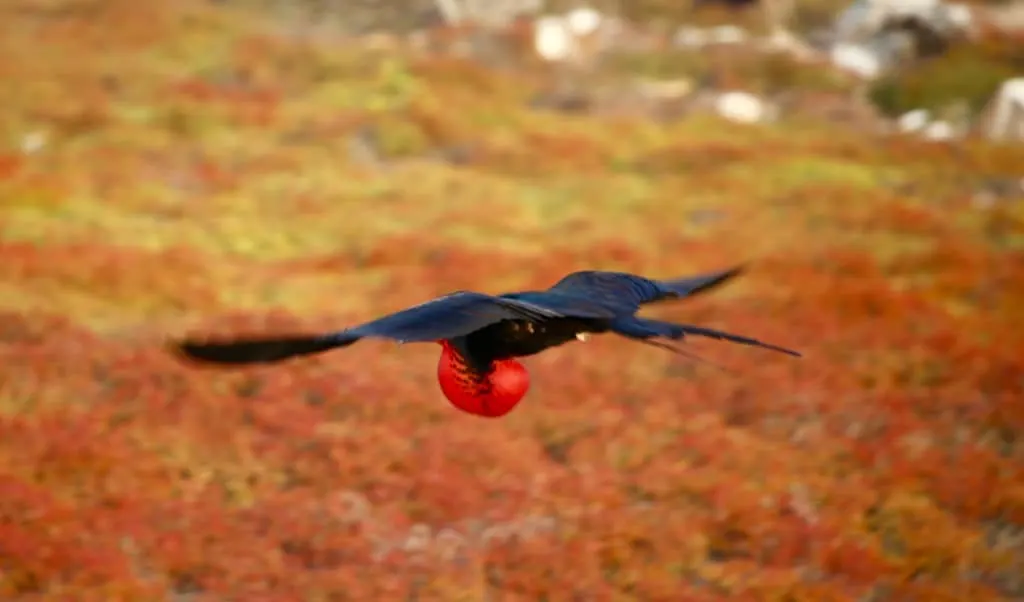 Visiting the island of the Galapagos is unlike any other trip you might have been on. You shouldn't expect to find lounge chairs, beach umbrellas, or fruity cocktails while on your Galapagos trip (unless you are on board a luxury yacht similar to T•H•E•O•R•Y!). What you should expect is a vast archipelago of volcanic islands with hundreds of endemic species. Your visits to these islands will simply be magical (and rocky, and hot on some days!) Some days are rougher than others, but always enjoyable.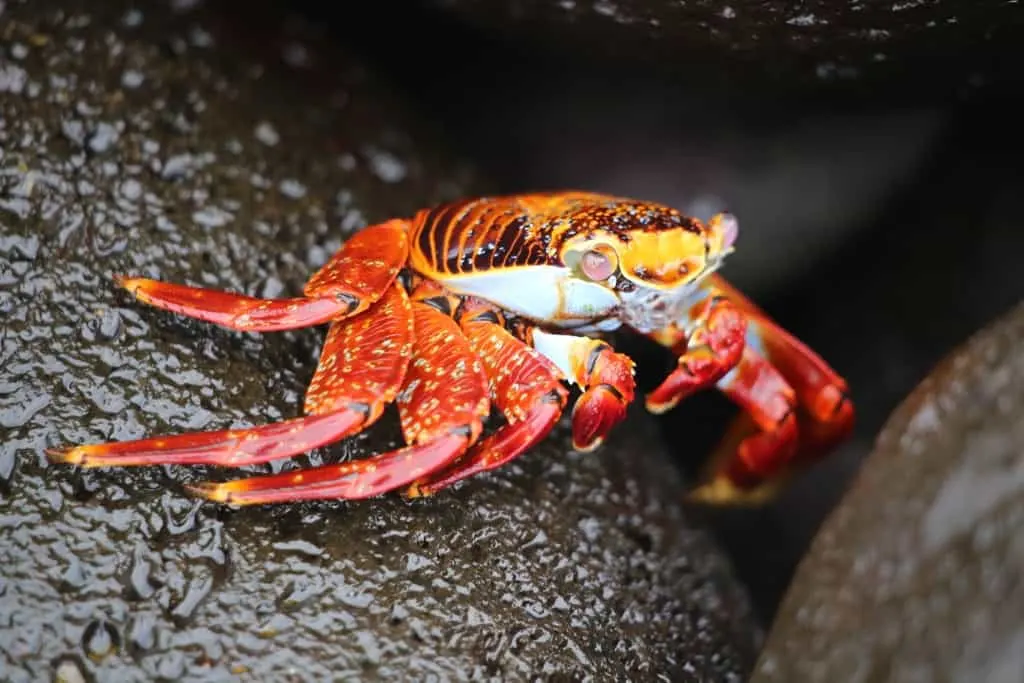 Each island will present you with beautiful scenery, unusual animals to admire, and other great memories through the photographs that you take. There is a total of 54 land sites that guests can visit volcanic sites and the natural habitat of the animals.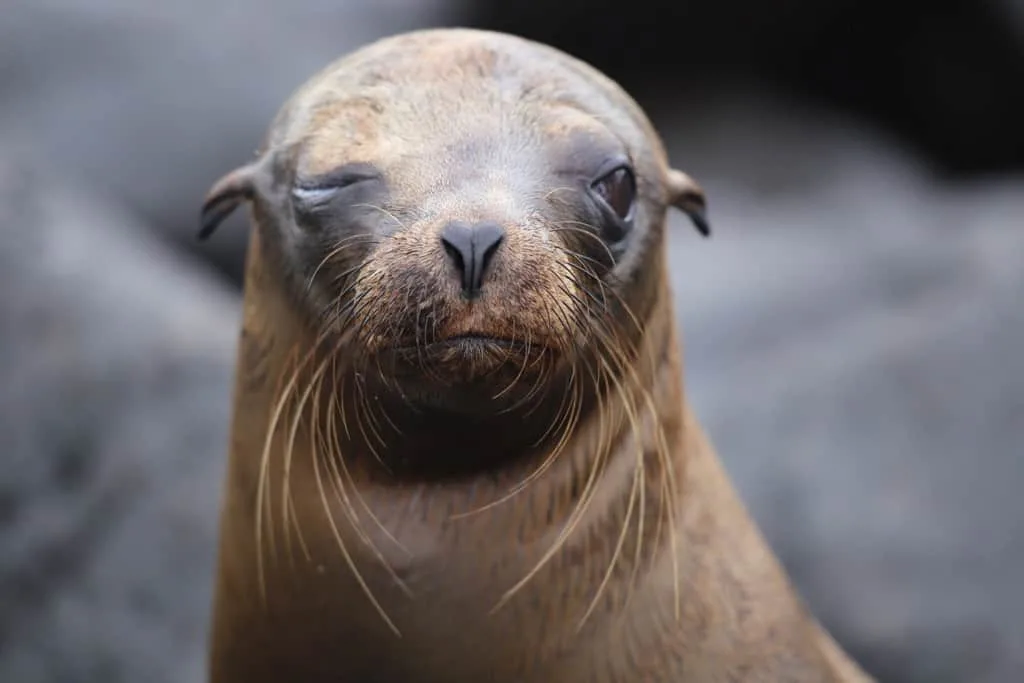 However, if like me you love to snorkel and scuba dive, then you must check out the 62-scuba diving or snorkeling locations around the islands. I was lucky enough to do a week on the Galapagos Sky liveaboard and visit many of these sites as well.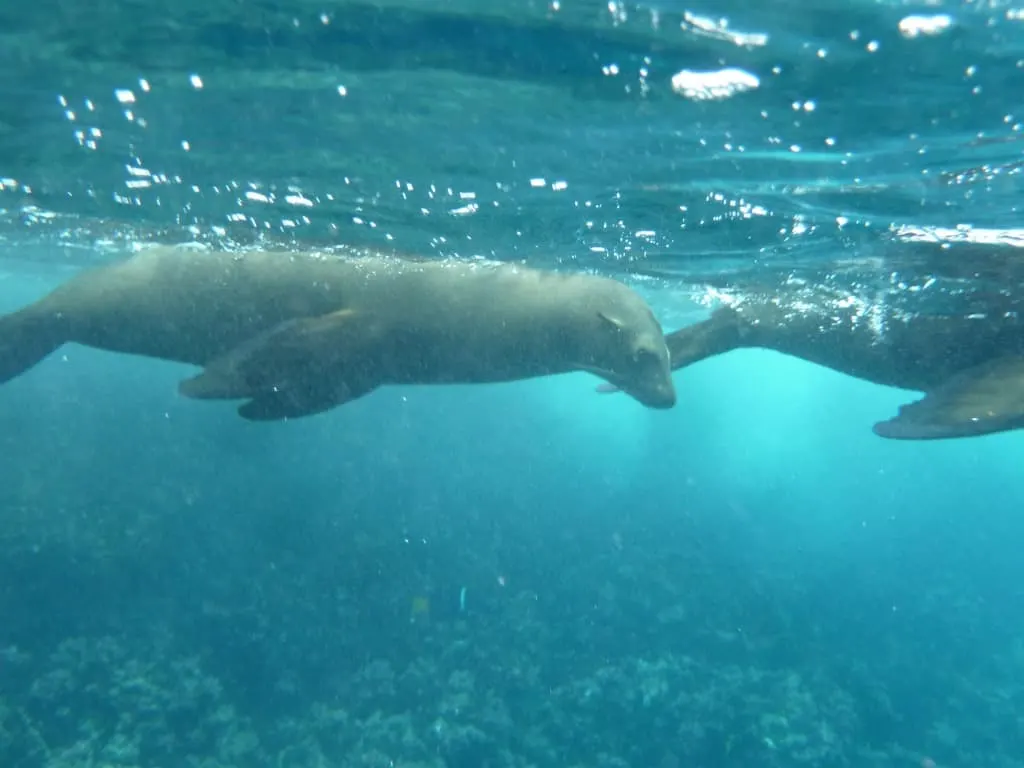 What is the Main Island and City in the Galapagos?
San Cristobal
San Cristobal Island is where the capital city in the Galapagos Islands is located and is known as Puerto Baquerizo Moreno. The town is also nicknamed "Cristóbal" by the local people.
San Cristobal is one of the oldest islands and the first island that Darwin stepped foot on. The island is roughly 215 square miles and has a population of about 6,000 people. It is on San Cristobal that you will find the largest freshwater lake up in the highland area that is known as Laguna El Junco. Yet, despite its name, it is a volcanic crater lake.
You can also find "Kicker Rock" or "Leon Dormido"(lion sleeping) near San Cristobal Island. This area is a cool rock formation that many tourists visit when staying in San Cristobal.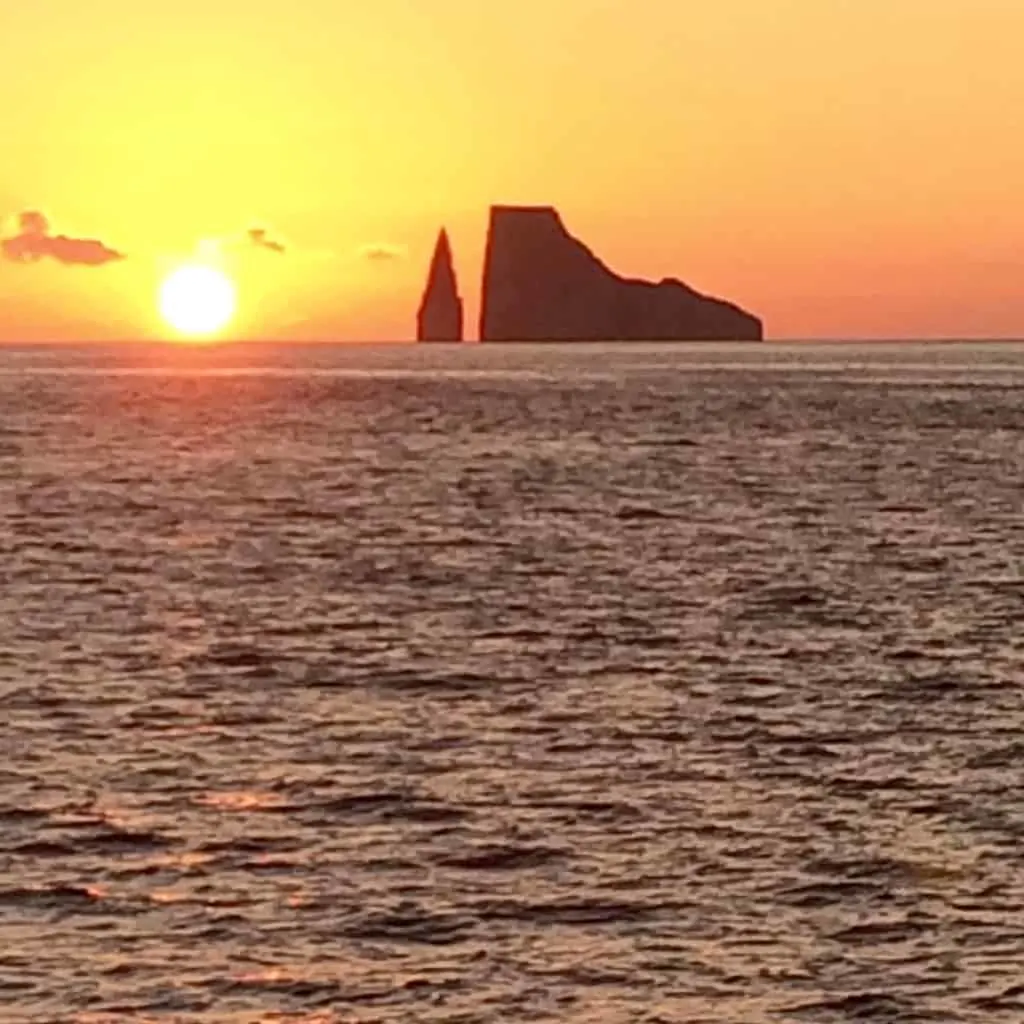 Fun Facts about the Galapagos
It's always nice to learn some fun facts about the places that you hope to visit. Here are some interesting facts about the Galapagos Islands.
The official name of these islands is Archipelago de Colon!
The Galapagos Islands became a National Park in 1959 and a UNESCO World Heritage Site in 1978.
The Galapagos are considered volcanic islands and there have been at least 13 volcanic eruptions in the last 100 years.
The Galapagos Islands are famous for its giant tortoises, which can weigh over 500 pounds and survive for more than 150 years.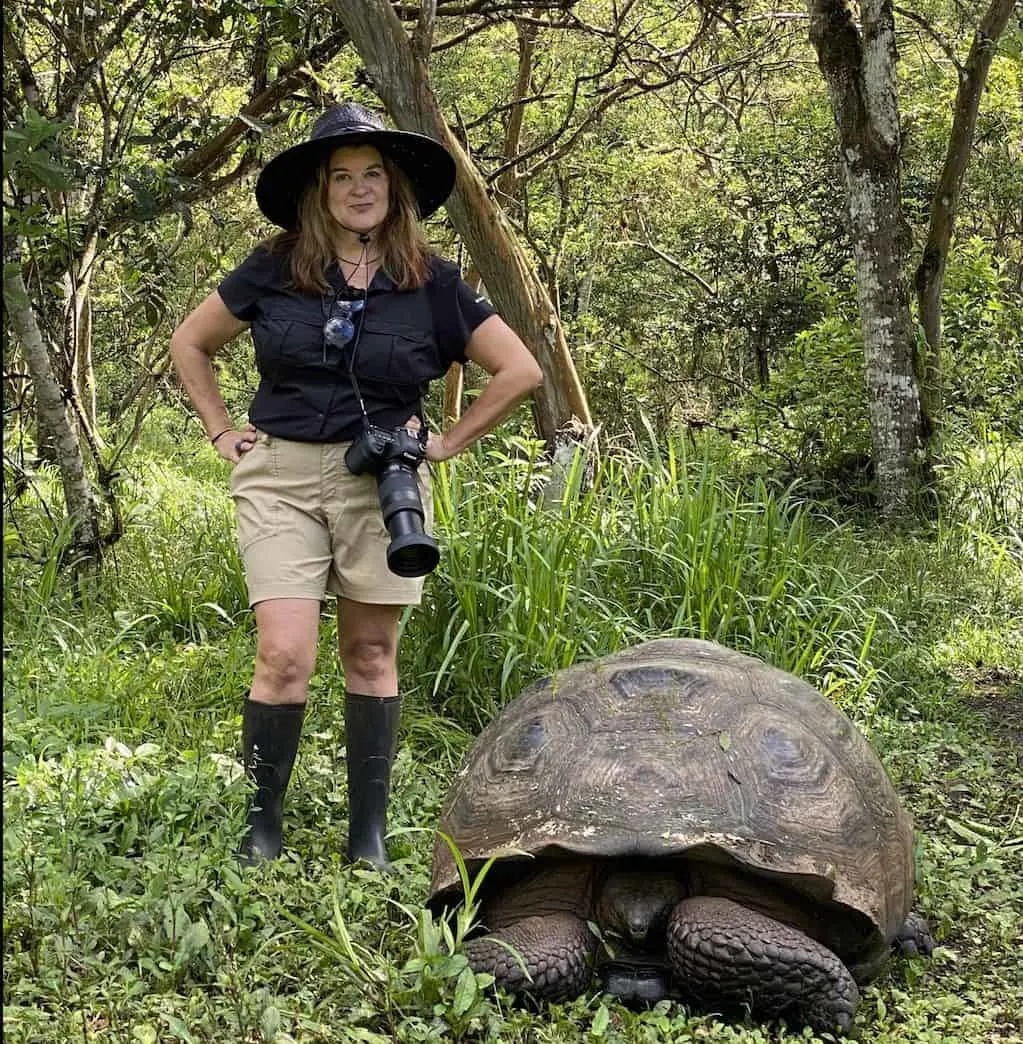 It is estimated that at least 275,000 people visit the Galapagos Islands each year.
The island of San Cristobal is the only island that has a fresh water supply.
The best island for scuba diving is the Nameless Island (Isla Sin Nombre) and is located between Pinzon Island and Santa Cruz Island. Wolf and Darwin are also famous scuba diving islands, known for the massive numbers of hammerhead sharks.
The same amount of daylight occurs during both the wet and dry seasons (so take your pick!).
If you need to mail a letter, then you can drop it off at the Post Office Bay During the 18th century, a barrel was used to hold letters to/from sailors and then shipped around the world in whaling ships. This method is still used today.
The Galapagos Islands were a favorite spot for pirates to hide, just don't expect to find any buried treasure among the islands.
The Galapagos Islands have a small population of people that reside in Santa Cruz, San Cristobal, Floreana, and Isabela in the Galapagos Islands.
Movies about the Galapagos Islands: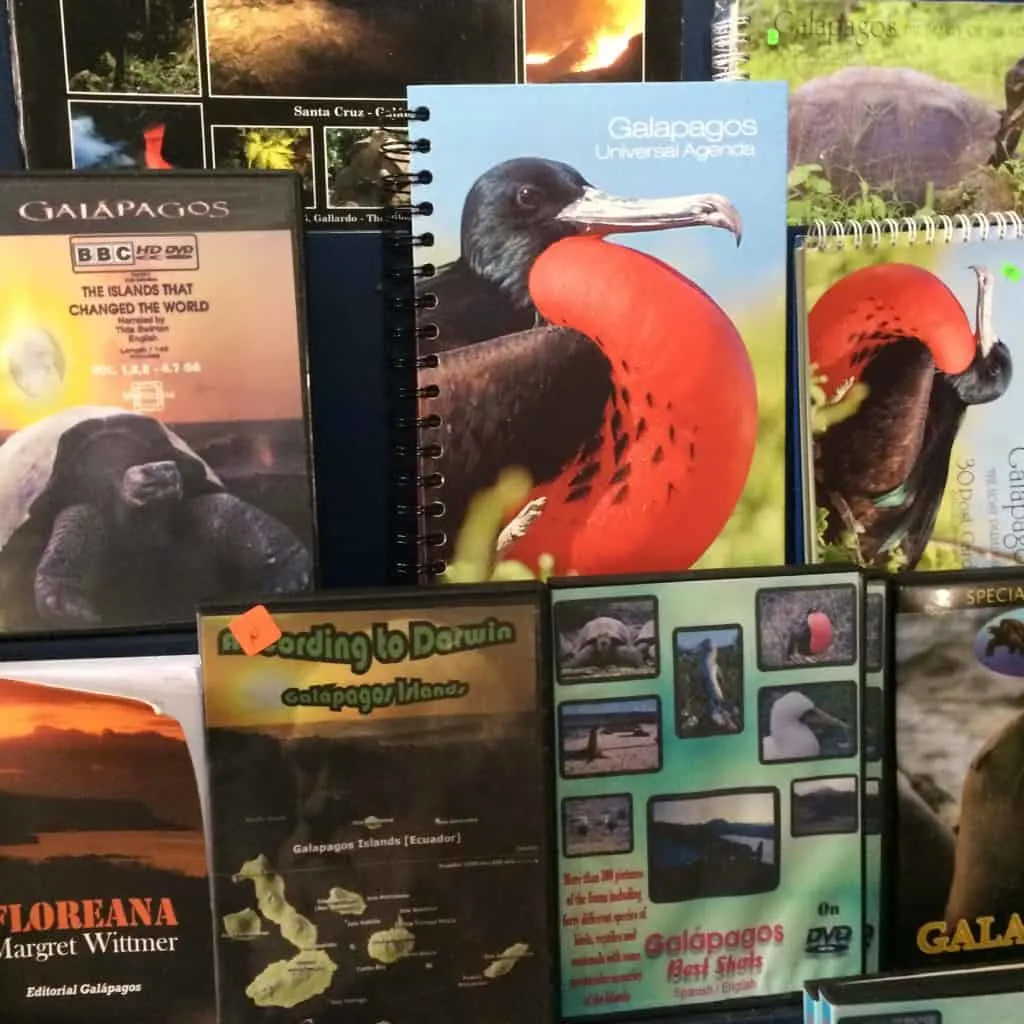 The Galapagos Affair: Satan came to Eden (2013) A murder mystery documentary.
Galapagos 3D with David Attenborough (SKY) (2013) nature documentary series
Creation (2010) starring Paul Bettany as Charles Darwin, Jennifer Connelly as Emma
Master & Commander, The Far Side of the World (2008) starring Russell Crowe, Paul Bettany Galapagos,
The Islands that Changed the World (2007) Tilda Swinton
Galapagos (IMAX) (2002) Follows marine biologist Carole Baldwin to the ocean floor.
The Empress of Floreana (1934) A silent short film.
Other articles about Ecuador:
15 Of The Best Things To See & Do in Ecuador
Cuenca, Ecuador: Stepping Back in Time
Chordeleg: A Day Trip from Cuenca
Montanita, Ecuador: Out of My Comfort Zone
---
More reading about the Galapagos Islands:
Delicious Foods in the Galapagos Islands
Best Time to Visit the Galapagos Islands
Disclosure: As is common in the travel industry, I was provided with accommodations, meals, and other compensation for the purposes of review by Ecoventura. While it has not influenced my review, PointsandTravel.com believes in full disclosure of all potential conflicts of interest. All Photos were taken by the author/or were given permission from the photographer. Affiliate links may be located in this article.