On a breezy Saturday night in Santa Fe Plaza, a group of revelers in wobbly heels and party hats greet each other with kisses and hugs, ready to hit the town to ring in the New Year. Along with them, they have small flasks of mescal (however the law says… no drinking in public), the more interesting and smoky cousin to tequila that they clink together in celebratory wishes for a successful new year.
Santa Fe Plaza
A few hours earlier, on the opposite side of Santa Fe Plaza, the well-worn blankets of the local Native American Indians are laid out on the ground in front of the Palace of Governors. With their handmade jewelry, turquoise, and pieces of folk art, the artisans display their wares underneath the eaves of the landmarked building.
They are involved in a program made specifically for them thru the New Mexico Office of Cultural Affairs that enables tourists to purchase genuinely made products from native artisans. This allows for them a have a place to show their goods where tourists gather.
Santa Fe Plaza: Art Art Everywhere
As you walk around this blue-sky town, you will notice that art is everywhere in Santa Fe. You can see it emerging from behind the wrought-iron trimmed windows in the Santa Fe Plaza. Art peeks through the hacienda-style courtyards and adobe mud homes that are now art galleries.
Santa Fe Art Galleries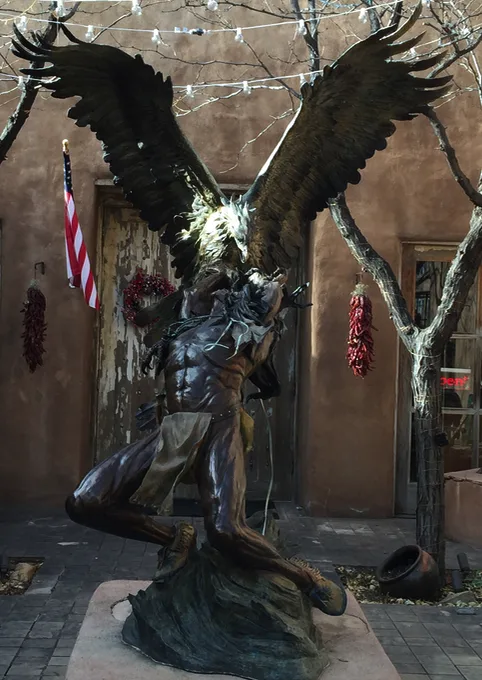 Santa Fe is the only city in the world that boasts more than 200 world-class art galleries in two square miles. Along with the artisans are writers, actors, foodies, entrepreneurs, and fashionistas. They are all the rage in this pueblo known as "The City Different", a charming 400-year-old state capital.
It is a haven for art, music, eclectic culinary choices, diverse art galleries, museums, theaters and outdoor adventures, even skiing. It is a city of trade and exchange, with famous markets, built at the crossroads of the old Camino Real and the Santa Fe Trail.
Santa Fe Plaza: Where Cultures Collide
Where to eat and drink:
A tourist's day typically begins and ends at the Santa Fe Plaza. The Plaza Café has been here for so long that it is a Santa Fe institution. It is where you go to taste 100-year old recipes, many made with Santa Fe's famous green and red chilies. Then, you can head on over to the Ohori's Coffee, the 30-year-old micro-roaster for your version of "the morning bar", or try a chocolate elixir instead at the Kakawa Chocolate House, served in dainty blue and white Mexican decor expresso cups.
Throughout the downtown area, there are even more streets filled with sidewalk cafes, shopping, the oldest mission in the United States, and traditional New Mexican homes.
---
Other reading about Santa Fe?
7 Free Things to do in Santa Fe!
Santa Fe Weather Is Perfect: You Should Come For A Visit!
What a Wonderful Stay: Inn of the Five Graces, Santa Fe
——————————————————————————————————————————
The Architecture of Santa Fe
The homes here are typically one of three architectural types: the pueblo, the territorial, and Northern New Mexico.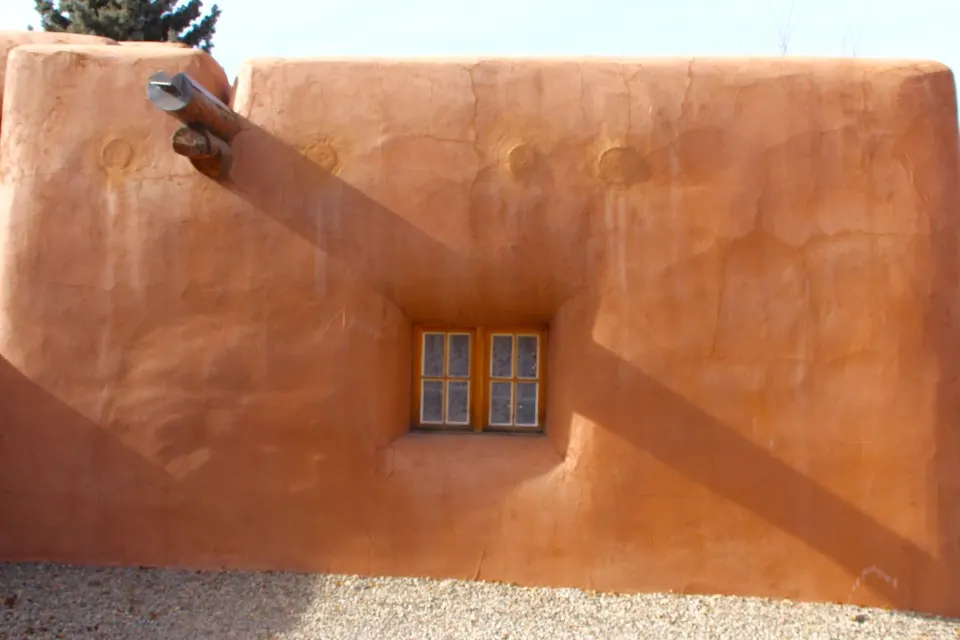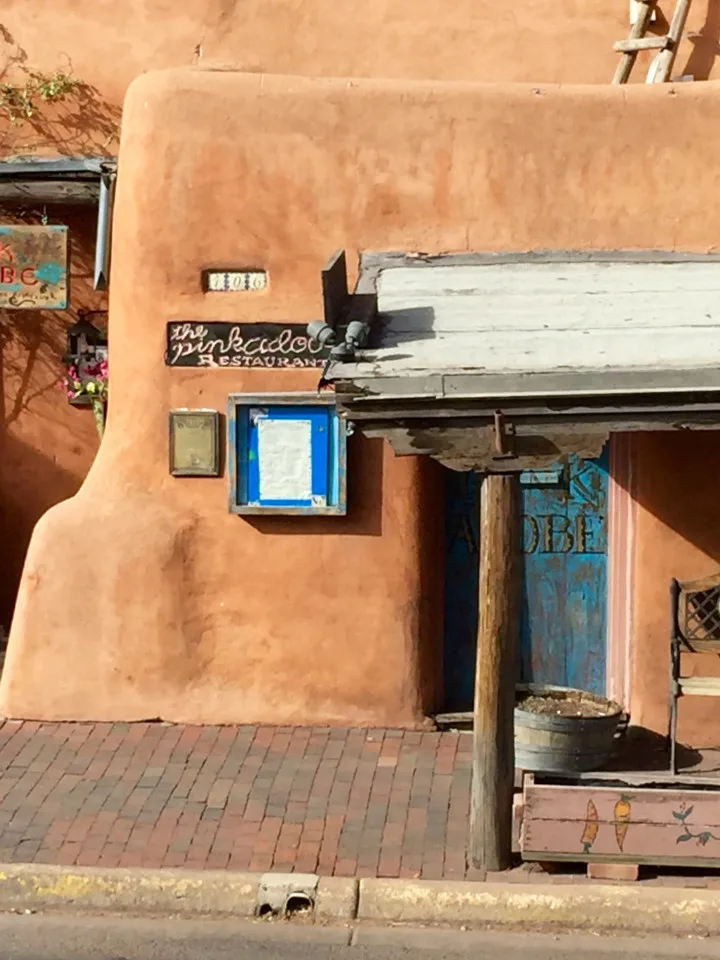 Many are built of adobe and are as rusty-brown as a cougar's hide. They are made from sun-dried clay bricks mixed with grass for strength, mortared with mud and are covered with more protective layers of mud.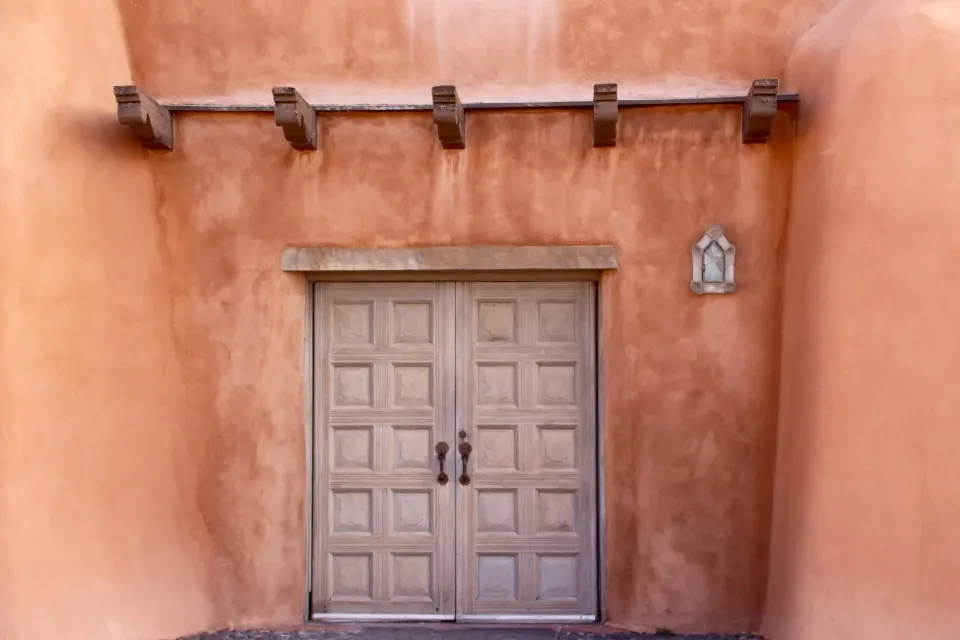 But just a few houses down the street from the Santa Fe Plaza though, there are tin-roofed homes in various states of decay.
Behind a peeling pale blue paint, high grass from the yard has grown up around the windows.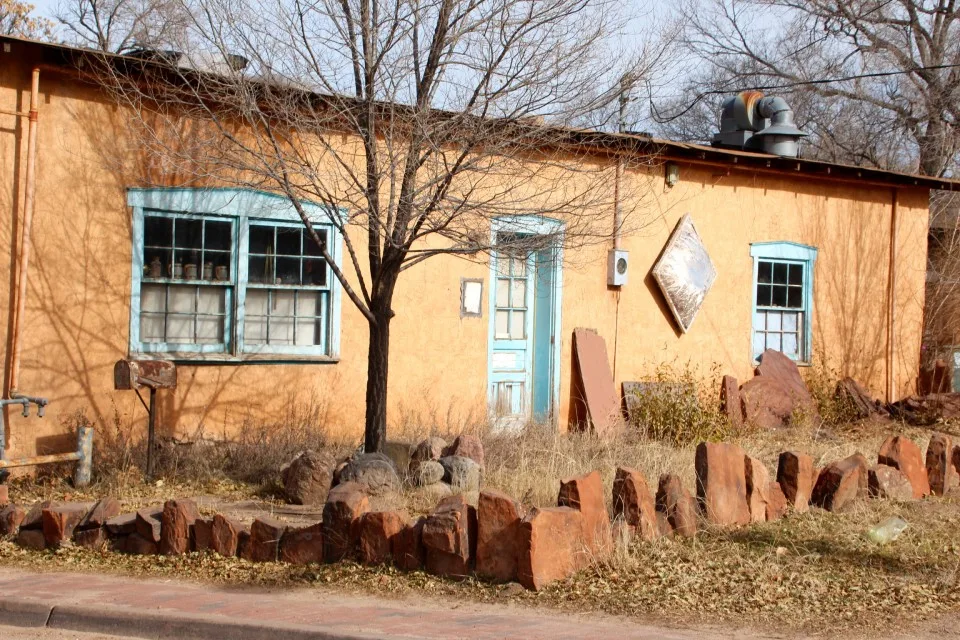 The remains of life are still visible thru lacy-curtained windows – an old television, mason jars, an American flag.
Further up the street, splashes of blue matching post boxes.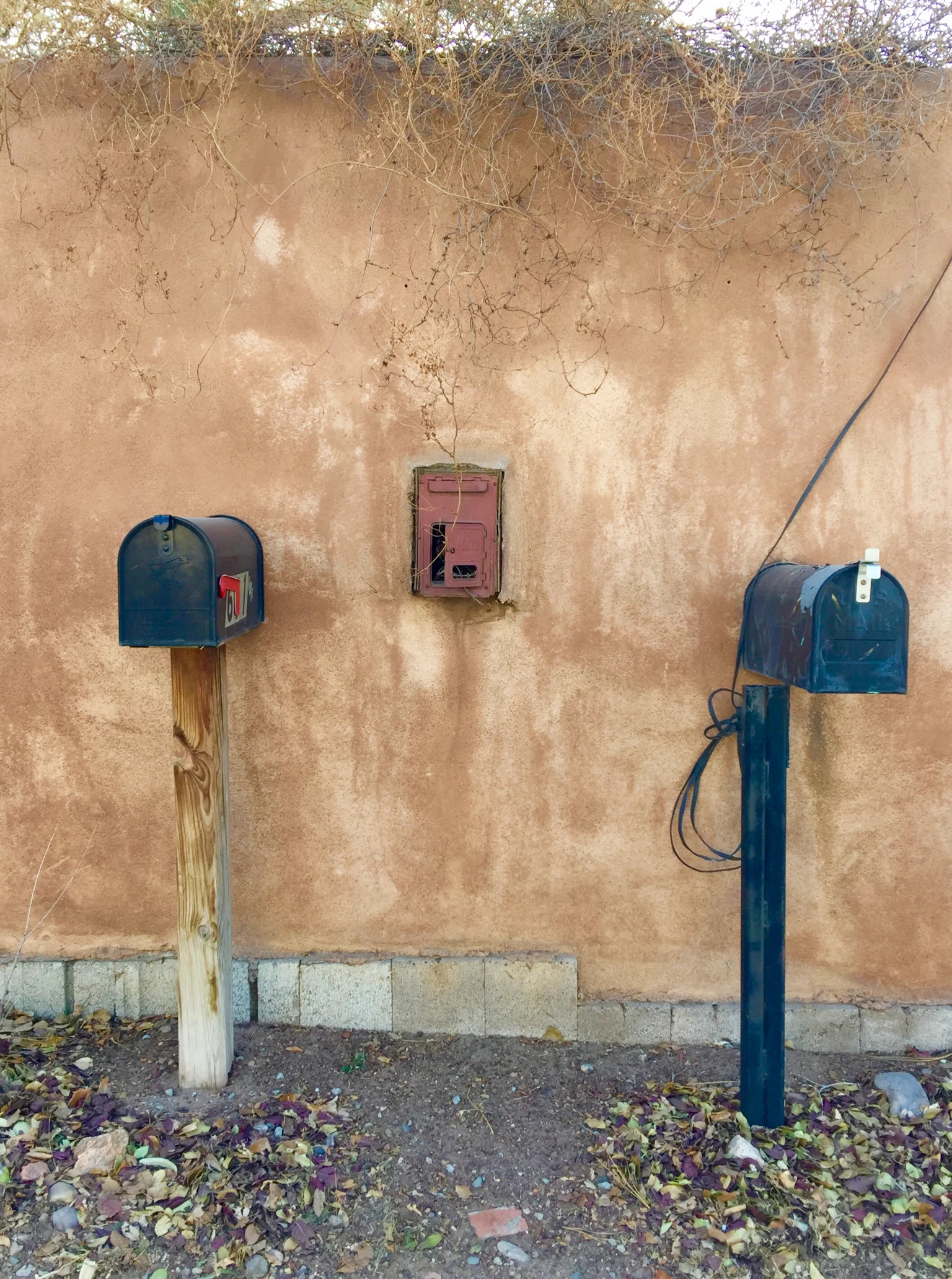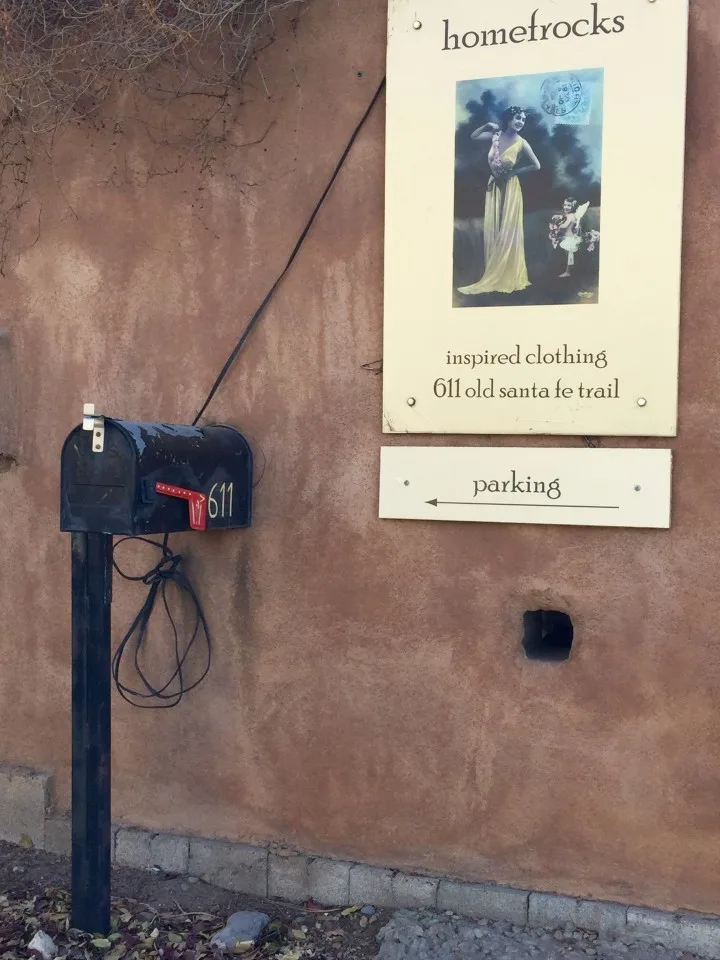 Santa Fe Plaza: Arts, Music, Literature, Fashion
The arrival of all of these artisans of art, literature, acting, music, food, and fashion was no accident. The "anglo" artisans began to arrive at the beginning of the 20th century primarily due to the landscape (think Georgia O'Keeffe). To many of the earlier artisan settlers, there were advantages to the dry desert climate. Then, as they settled in the Santa Fe Plaza, they were charmed by the native inhabitants and artisans that had been in this area for centuries.
Santa Fe: Cultural Diversity
The cultural birth of Santa Fe's artisan district is the product of years of work by a committed group of Santa Fe advocates who are interested in local history, art and culture. Its birth is rooted in ideas of embracing the town's history, growing the arts and saving its soul, which have breathed life into the downtown area. Santa Fe highlights its history, its dignity and brings back respect to the people of this land.
Santa Fe: A Mix of Cultures
As you walk the streets to Santa Fe Plaza, you can see that cities don't have to sell their soul to tourism. Tourism can exists side-by-side with the local people. Today, Santa Fe is anything but soul-less. The Native American, the Spanish, the Anglo artisans, and tourists alike mingle with each other on most blocks around the Santa Fe Plaza with a mix of multigenerational families and recent transplants from cosmopolitan cities worldwide. One of the best things about Santa Fe is that it is a city that is shared by all who live here, including the tourists.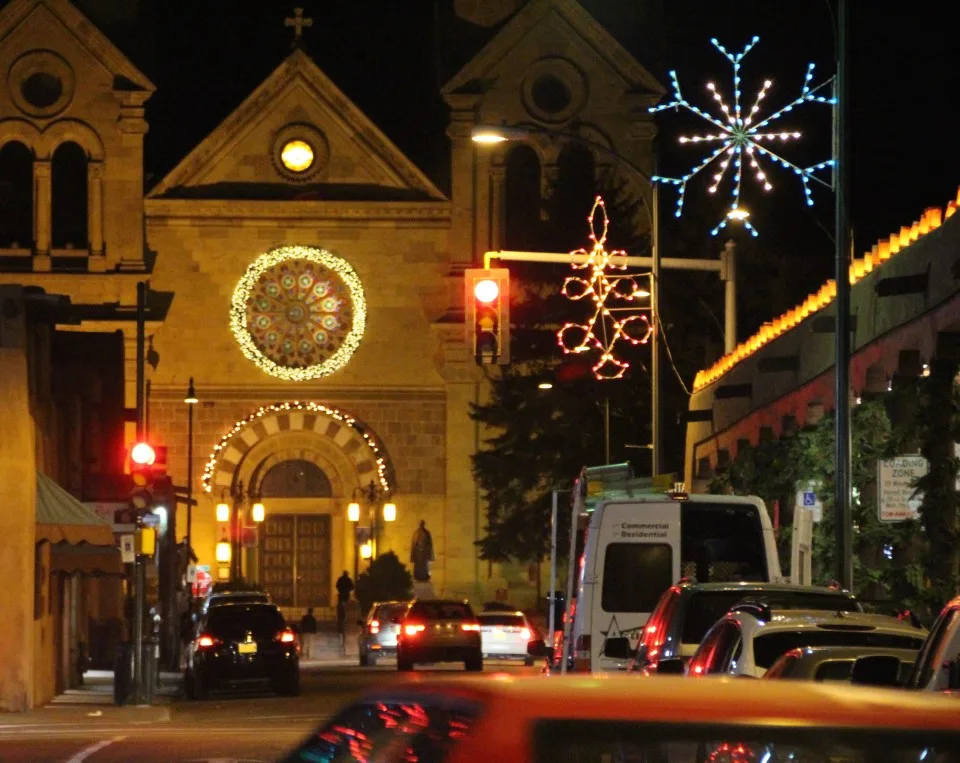 Santa Fe At Night
So when the air cools into the night, a feverish nightlife begins. You can start with "garden-to-glass" fresh cocktails at Secreto Lounge (the worst kept secret in town!), then make your way to the Cowgirl Smokehouse's music room for local, live music and dancing. For a bit more mellow, take in the piano bar at Vanessie or the Flamenco, Blues, Tango, Jazz and Sangria at the bar at El Meson.
But for real nightclub action with the energy of a big city's club scene, head on over to Shadeh at Buffalo Thunder Resort & Casinos. You can see for yourself how this vibrant and magical city comes alive at night and lures travelers from far and wide to return to the Santa Fe Plaza.
Disclosure: Cacinda Maloney offers up tips and inspiration to fellow travel enthusiasts. This post was sponsored by the Tourism Santa Fe.