Christian pilgrimage
Lithuania Restores its Old Rugged Cross for a Crown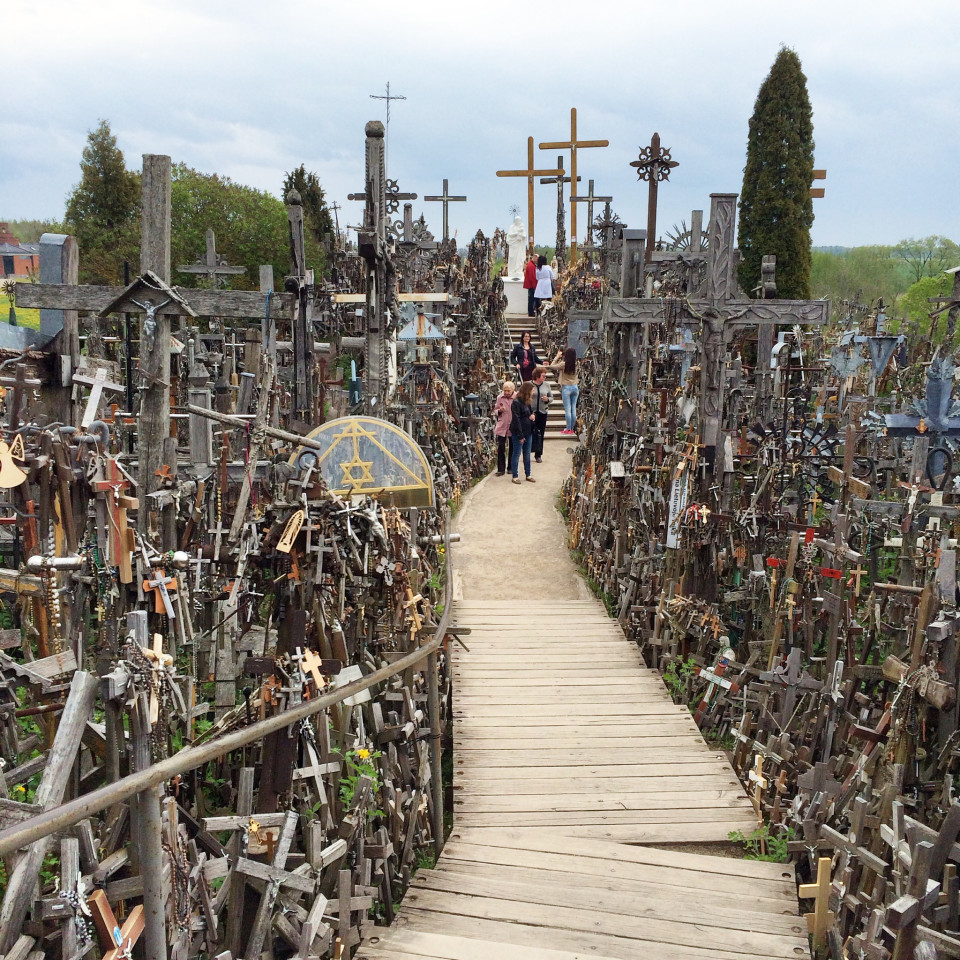 Once there, I didn't want to leave. Lithuania's Hill of Crosses: its' magnetic pull drew me in.
Christian Pilgrimage
It had been slightly raining, with an on/off drizzle all morning. I was excited to finally arrive at "The Hill" after our driver had gotten us lost in the area due to the rain and its out of the way location. It is located about 7 ½ miles north of Siauliai, in Lithuania. Siauliai is an ancient village that was founded in 1296 and is literally out in the middle of no where!
Somehow upon arrival, the skies opened and the rain stopped. Before taking the pathway to "The Hill", I stopped by the outdoor gift shop to buy a few crosses. My eyes swept across the selection of handmade and hand-carved wooden crosses. There are literally hundreds to choose from and each are beautiful to me. Selecting one for my dead son is hard when people are around. I try not to show any emotion. I picked one out for him. I also bought one for my paternal grandparents and one for my maternal grandmother. People with loss in their hearts know how it is hard to go places like this, so they come armed with something to plant in the ground or hang on a tree. It gives us something to do.
Christian Pilgrimage
Lithuania Hill of Crosses
I had heard of it for years, those 400,000 crosses. Honestly, no one really knows for sure how many crosses are on that hill, as the numbers grow daily. In 1895, it was recorded that there were 150 crosses and by 1940, 400 were recorded. How and when it all began can vary, but one thing is for sure, this hill is about resilience in the face of persecution. Legend has it these hills were full of crosses back in the late 1800's. In 1961, the Soviets even flattened "The Hill" and banned people from the area. Somehow though, during the night, a cross would reappear. They would be destroyed again, but would always reappear. I like to think that faith and hope always overshadows oppression and tyranny.
Lithuania gained its independence in 1991. At that point, I believe the hill became a symbol of the country's perseverance, its suffering. But for me, it was magical; it had a magnetic pull to make me stare at each and every one of the crosses. To examine them and think about the suffering of the person who died themselves, their family and their friends. The crosses stand there and they stare back at you like a testimony to their sacrifice, to their hope of a history without persecution. As I walked through the crosses, I felt the pain, the hope and the faith behind them. I also joined them in prayer for peace for this region, having only gained its freedom less than 20 years ago.
Christian Pilgrimage
"Thank you Lithuanians for this Hill of Crosses which testified to the nations of Europe and to the whole world the faith of the people of this land." – Pope John Paul
I rejoiced when I saw a girl being photographed there by her parents when I was leaving. They brought her here to have "The Hill of Crosses" be the background. Finally people can use this hill for something other than mourning and death.
I kneeled down in the mud-soaked grass, I wrote my son's name on the cross with a Sharpie. I found a spot and buried it into the ground. What an honor! He was now a part of history; I have entered him into God's story in Lithuania.
Christian Pilgrimage
The Old Rugged Cross, by George Bennard, 1913
On a hill far away stood an old rugged cross,
The emblem of suffering and shame;
And I love that old cross where the dearest
and best,
For a world of lost sinners was slain.
So I'll cherish the old rugged cross,
'Til my trophies at last I lay down,
I will cling to the old rugged cross,
And exchange it someday for a crown.
Disclosure: My time spent in Lithuania was courtesy of JayWay Travel. I can recommend them for the services they provide, their attention to detail and their planning of my trip. My pain that day on "The Hill" was all my own, but I would jump at the chance to return.
And for a real treat:  Check out my rugged Backpacker friend who sees the world in a whole different way: Visiting Kryziu Kalnas (The Hill Crosses) near Siauliai Lithuania
This is a continuous series on the Baltic Capitals:
#1. Tear Down That Wall – Freedom for the Baltics
#2. Tallinn, Estonia – Vibrant Capital on the Shores of the Baltic Sea
#3. A Medieval Gem – The Schlossel Hotel in Tallinn, Estonia
#4. Top 7 Things To Do in Riga, Latvia
#5. Baptized by Earth, Fire and Wine in Lithuania
#6. The Bremen Town Musicians Statue – Riga, Lativa
Pinners!  Pin this one: