Along the secluded beaches of Puerto Vallarta, Mexico, the Hyatt Ziva stands out among the crowds of Puerto Vallarta All-Inclusive Resorts. This is because of its comfortable atmosphere and location RIGHT on the beach. Yet, the Hyatt Ziva is also located only about two miles from downtown Puerto Vallarta. This is an excellent location, as guests can easily catch a 5-minute Uber ride into the city center to experience Puerto Vallarta. When guests are looking to book a fabulous Puerto Vallarta All-Inclusive resort on the beach, they should look no further than the Hyatt Ziva in Mexico.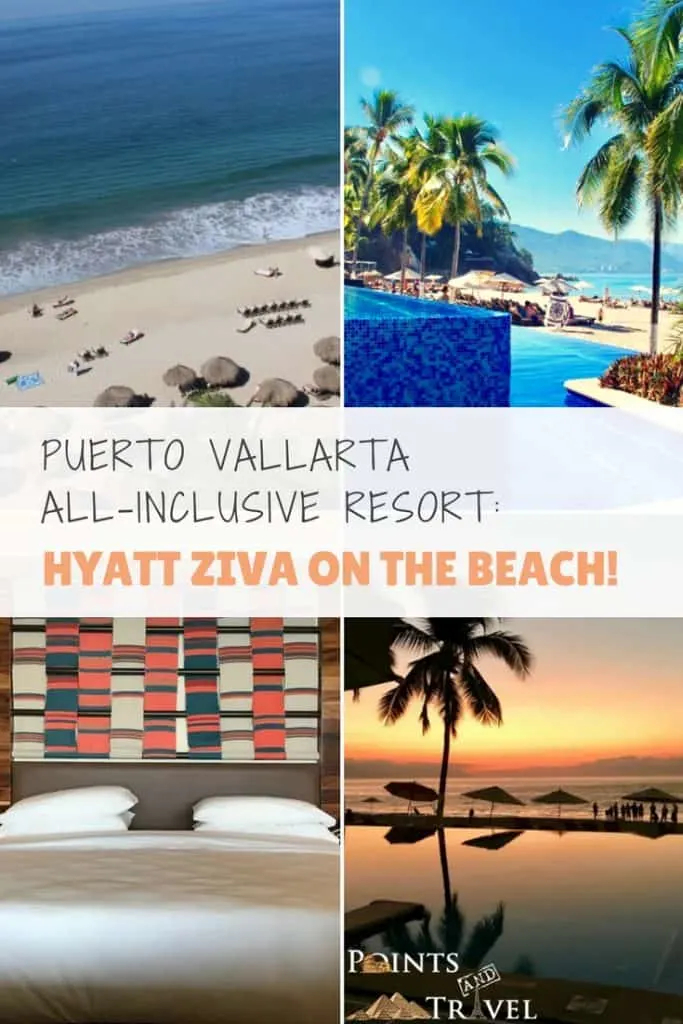 Hyatt Ziva Puerto Vallarta
The Hotel Ziva caters to couples, singles, families, and people of all ages. They have something to keep everyone happy during their stay. I believe this hotel is one of the best all-inclusive resorts in Puerto Vallarta. The Hyatt Ziva Puerto Vallarta is ranked as a 4 1/2-star hotel, according to Travelocity. The stunning views of the beach and Vita Mar Spa are only a few luxuries that travelers can indulge in. Be aware that this hotel is currently undergoing construction as recent as Dec 2017. However, the staff of Hyatt Ziva works around the clock to ensure you have the perfect vacation with minimal interruptions.
Hyatt Ziva Puerto Vallarta
Whether you are vacationing alone, as a couple, or looking for a Puerto Vallarta all-inclusive family resort, the Hyatt Ziva is a great place to choose! I think it is super cool that young children can be dropped off at the KidZ Club. This is while their parents are basking in the Mexican sun near one of the many infinity pools onsite. Also, they are taking advantage of the spa and beauty services offered at the Vita Mar Spa in this Puerto Vallarta All-Inclusive Resort! I know I certainly took full advantage of the spa while I was there. And I loved it, the view, and most importantly the privacy.
The Hotel Ziva Puerto Vallarta has 335 rooms and suites. Each room has been designed with luxury and style in mind. All rooms and suites are fully-equipped with free Wi-Fi services. Of course, wheelchair accessibility, smoking, and non-smoking rooms can be requested. Guests can also choose from rooms such as a double, club ocean view front with hot tub, or even the presidential suite, just to name a few. Each room and suite at the Hyatt Ziva is equipped with a workspace area. This is for those of you who are still having to check in at home. There are also laptop-sized security boxes in each room to ensure the safety of a guests' personal belongings. This is something I really liked!
Puerto Vallarta All-Inclusive Resort: Dining
Don't forget that the Hotel Ziva, a Puerto Vallarta all-inclusive resort, has many dining options for guests. There is a buffet, a deli restaurant, and a food cart, which are located around the beach and pool areas. There is also the cutest little coffee shop with pastries. The deli is open 24 hours a day which is very convenient for those of you who want to explore the town past midnight.
Although this Puerto Vallarta All-inclusive resort is located in Mexico, the Puerza restaurant transports guests to Asia with their delicious Asian-inspired cuisine. But I know I come for the tacos, so traditional and mouthwatering dishes of Mexico are served at the Casa Grande.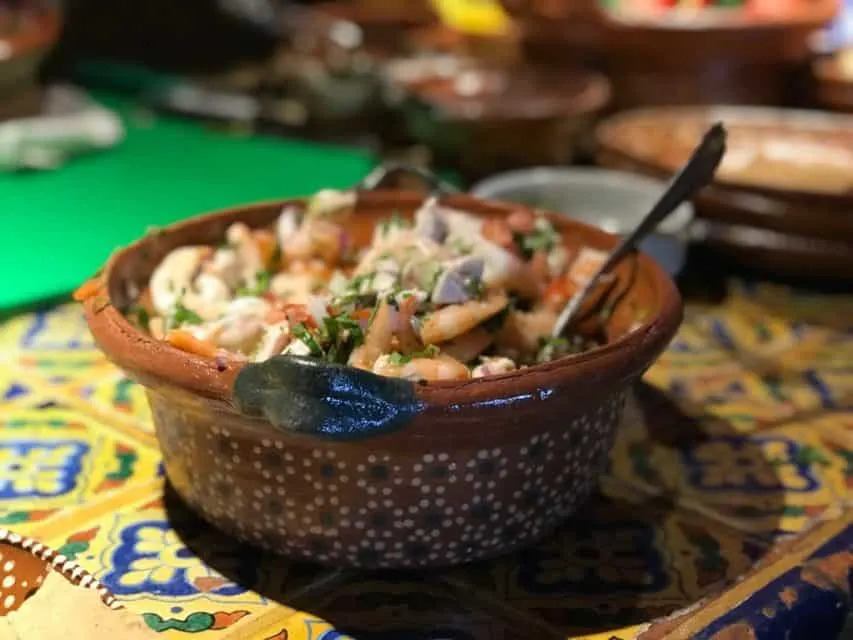 The Melanzane restaurant is available for breakfast and lunch as a casual dining area, buffet style. The Blaze Steakhouse that serves seafood and steaks was excellent as well. I had lobster one night here and it was mouthwatering and delicious! Vegetarian, gluten-free, and allergy-free meals are available.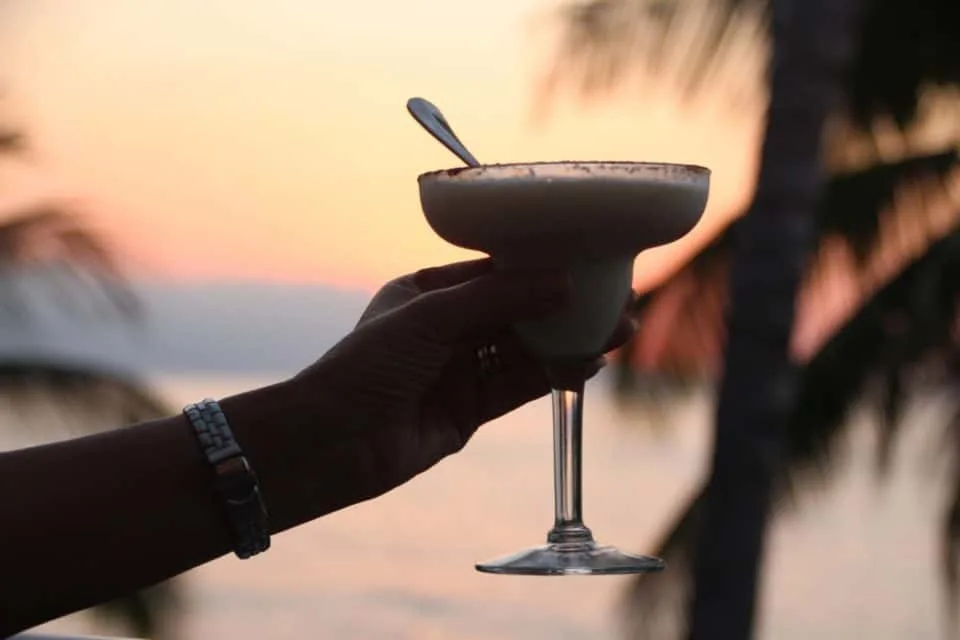 Adults guests can also enjoy a delicious cocktail made by a mixologist on site at one of the bars. I watched one of the molecular mixology demonstrations. It was amazing what this guy could do!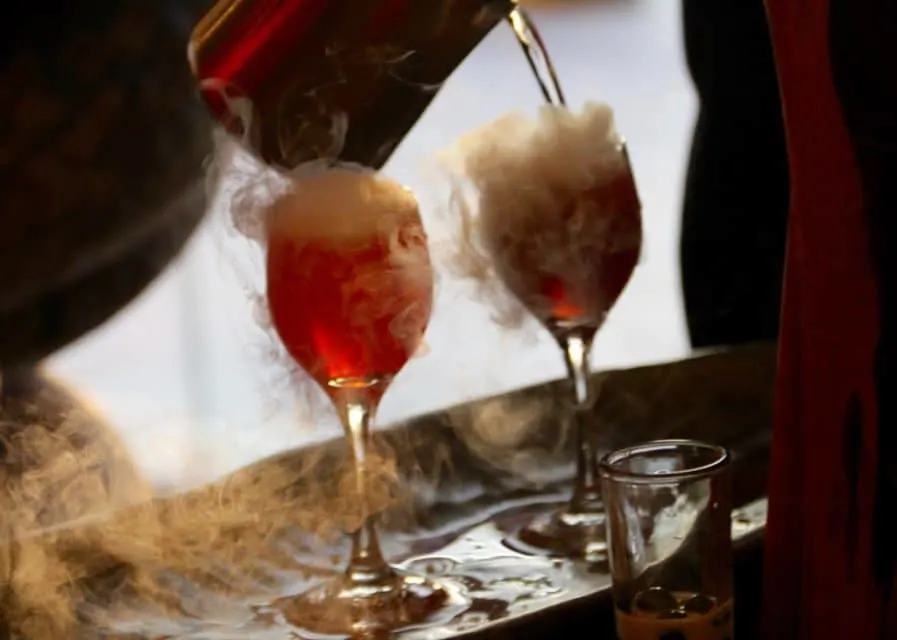 Puerto Vallarta All-Inclusive Resort: Resort Activities
At Hyatt Ziva, there are a total of seven pools. One is an adults-only zone, two are kiddie pools, four are infinity pools and there is a swim-up bar pool.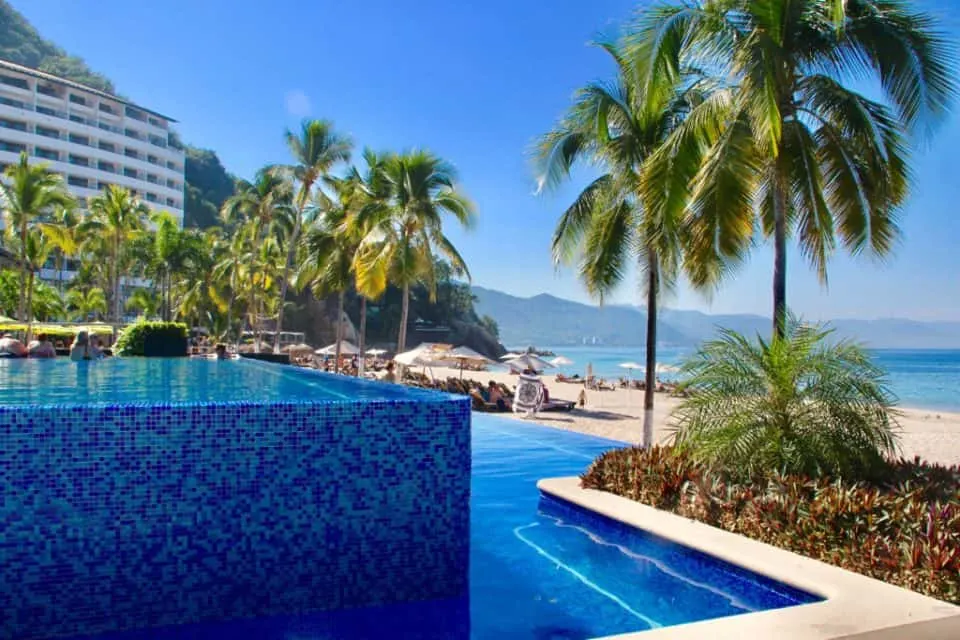 Hyatt Ziva Puerto Vallarta
On-site of the Hyatt Ziva Puerto Vallarta, there is also a tennis court for guests to enjoy. Other recreational activities available are beach volleyball, windsurfing, kayaking, and other water sports. For guests who are interested golf, there are nearby golf tournaments that occur in which guests can play or watch. Guests can also experience the turtle release program, which is exclusively offered at the Hyatt Ziva Puerto Vallarta. This will warm your heart and make your vacation unforgettable. I loved watching those tiny creatures make it out to sea!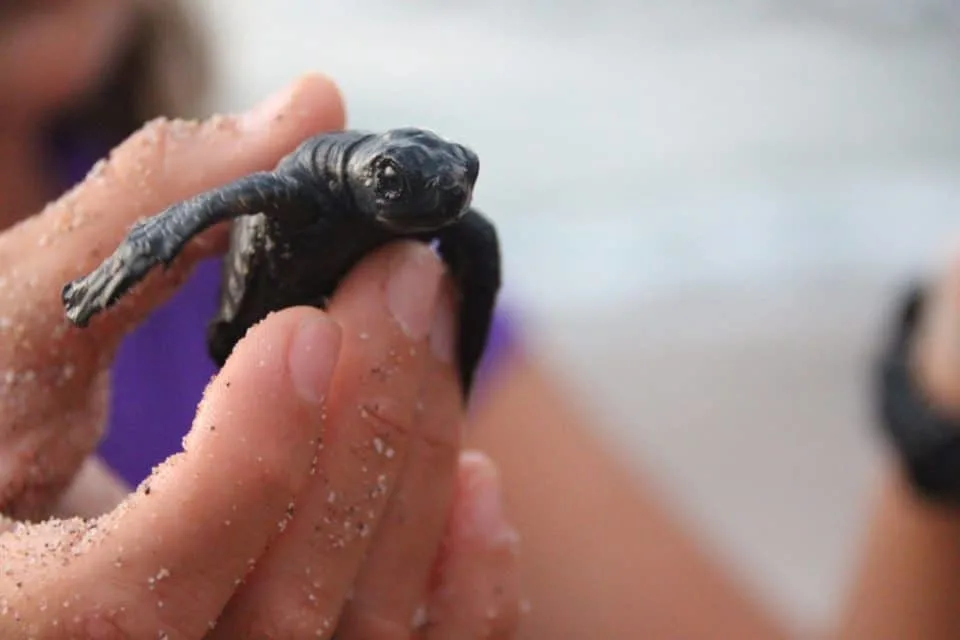 Hyatt Ziva Puerto Vallarta
Also, during the right season, guests are offered a chance to go whale watching in the open waters of Puerto Vallarta.
And I do have to mention that the at-night entertainment was spectacular! I saw intriguing Spanish dancing shows and even a Michael Jackson concert. The entertainment was actually that: entertaining!
PIN ME!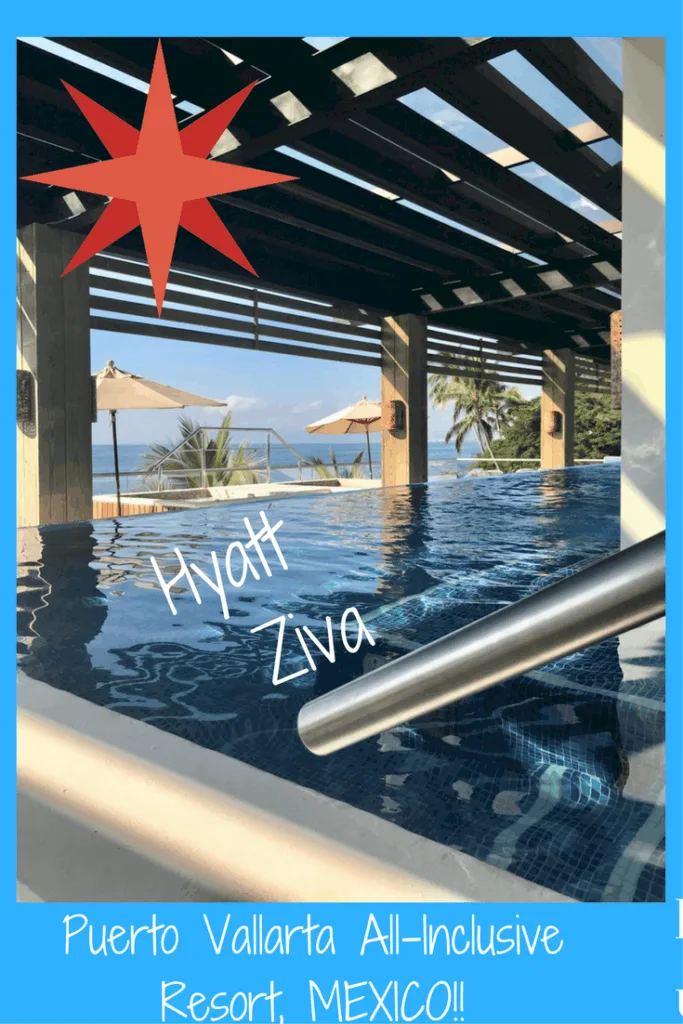 Puerto Vallarta All-Inclusive Resort: Review Wrap UP
The Hotel: Hyatt Ziva Puerto Vallarta, Mexico
Location: Carretera Barra de Navidad S/N Km. 3.5 | Zona Hotelera Sur, Puerto Vallarta, Mexico
Rooms: 335 Rooms and Suites
Trip Advisor Rating: #13 of 123 Hotels in Puerto Vallarta
Rates: $420 and up
Taxi Service: There are no taxi or shuttle services at the hotel, but guests can ask the 24-hour service desk to call for a taxi.
Airport Shuttle: There is also an airport shuttle service that guests can utilize, cost range from $21-$24 each way, per guest.
Amenities: A telephone, hairdryer, coffee and tea maker, iron/ironing board, and lots of closet/drawer space, as well as air conditioning.
Vita Mar Spa and Fitness Center: Located on the premise is a sports and fitness center. Guests can indulge themselves in a relaxing yoga class while admiring the stunning ocean view from the fitness center. The spa is open daily where you can use the hydrotherapy pools or have a spa experience.
Wedding/Event Space: There are over 6,500 square ft. of space that the Hyatt Ziva operates for business events, weddings, receptions, and meetings. The capacity to hold 700 attendees is a huge plus for guests staying at the Hyatt Ziva.
The Hyatt Ziva is one of the best resorts in Puerto Vallarta, Mexico and you will have no regrets when staying at this resort.
Disclosure: As is common in the travel industry, I was provided with accommodations, meals and other compensation for the purposes of review by Hyatt Ziva Puerto Vallarta. While it has not influenced my review, PointsandTravel.com believes in full disclosure of all potential conflicts of interest. All Photos by the author.
Recommended Reading:
10 Popular Mexico Destinations & Cities to Visit