Visiting Oaxaca City in the foothills of the Sierra Madre along the banks of the Atoyac River in Mexico is a wonderful experience. It has numerous colonial-era buildings and churches, as well as a significant archeological site nearby. Known as Monte Alban, it is the ruins of a 2,300-year-old Zapotec city just outside of town. With its pastel-colored buildings, each building is cuter than the next. And once you get a whiff of the smells coming from the local markets and kitchens, you will never want to leave this gastronomic well-known city. With its great temperate climate and lovely walkable layout, Oxacaca City is so easy to love!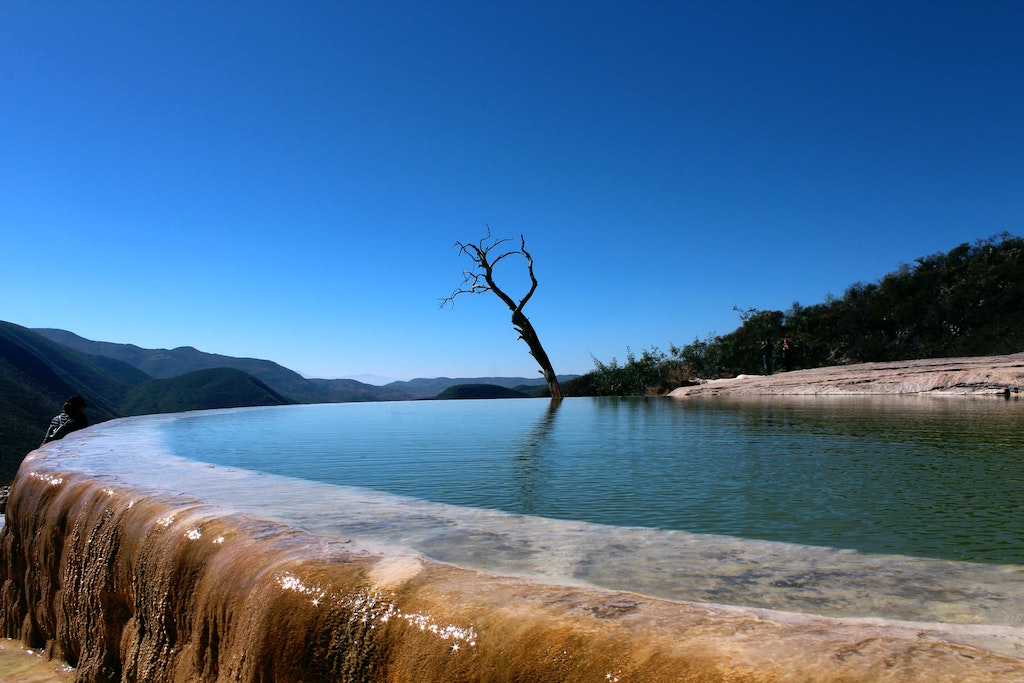 During my trip to Oaxaca City, Mexico, I had a chance to visit quite a few nearby places, but one of my favorites was Hierve el Agua, so I will tell you about it first. However, my trip to this region in Mexico was one of my favorite trips, so keep reading as I tell you more about the region.
---
What's in this post:
hide
El Hierve el Agua
---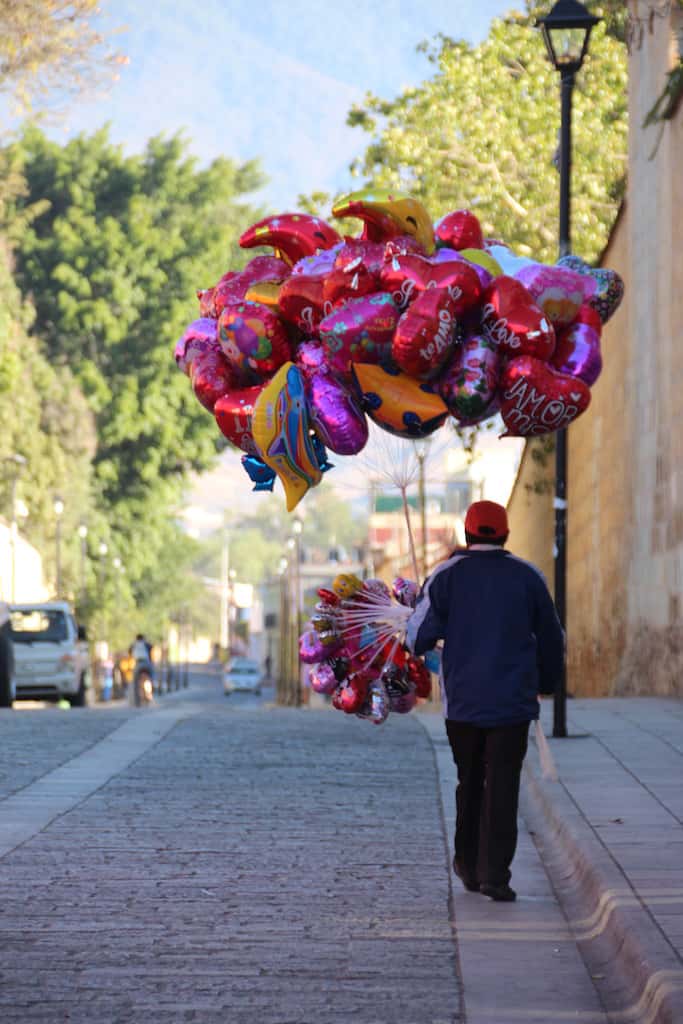 ✦ Hierve el Agua – A Petrified Waterfall
A petrified waterfall not too far from Oaxaca City, known as Hierve el Agua is a super fun day trip to take. This waterfall in the small municipality of San Lorenzo Albarradas is about a 2-hour drive from Oaxaca City and a 6-hour drive from Mexico City. The views of this natural infinity pool and petrified waterfall are absolutely stunning!
✦ Hike Hierve El Agua
You can even take a hike around the Oaxaca waterfalls. Afterward, I chose to slip into the "pools of chilled water" and look around at the surrounding beauty from inside the pool area of the petrified waterfalls. As day trips go, it is definitely worth a visit, as I thoroughly enjoyed my visit here and I think you will too! It is quite incredible!
✦ What is Hierve el Agua Petrified Waterfall?
Hierve el Agua is a unique rock formation in Oaxaca, Mexico of hardened mineral deposits left by water that has calcified over thousands of years. It is one of only two petrified waterfalls in the world! Because the literal translation in Spanish of 'Hierve el Agua is "water boils", I would have thought that the waters here would be boiling or at the very least be warm, but instead, they were refreshing and cool. So don't let the name fool you!
This calcification has created two natural "swimming pools" for people to enjoy the afternoon in. I chose to spend most of my time lounging in the water, which has a beautiful blue-green aqua color. The water was cool in temperature, but refreshing. I have heard if you come at a different time of year, it may even be super cold, so be aware of this! But honestly, this was one of the most interesting and unique experiences I had on my trip to Oaxaca.
My group of friends and I decided to use the hiking trails first, then get in the water after we were nice and hot from our hike around the area.
✦ The Mirage that is Hierve el Agua
At a distance, the rock structure of Hierve el Agua looks like a frozen waterfall, however, as you come closer to the falls, you realize your eyes have played a trick on you. As there is actually water flowing in freshwater pools that are saturated with calcium carbonate and magnesium. The rocks are made up of mineral deposits on top of a limestone mountain. The pools drip down the sides of the mountain and cliffs depositing these minerals onto the sides of the mountain. Over time, these deposits accumulate and make the pools look icy cold and look like white/yellowish waterfalls.
✦ Hierve el Agua is for Friends to Enjoy!
Although it was a hot and sunny day the day I arrived, the waters were pretty cold after staying in a while. It was necessary to just plunge in, instead of trying to get in slowly or to "get used to it". This was literally an oasis in an arid dry desert, surrounded by mountains where you can relax and hang out in a petrified waterfall! It may even feel like you are on a different planet and far, far away from the rest of the world! Or at least that is how I felt.
✦ How was Hierve del Agua formed?
Hierve el Agua was formed from minerals in the earth that hardened into a calcium carbonate over thousands of years to create the waterfall. It has carved out two natural "mineral pools" out of the rock formation, where the locals and visitors come for a day to hike around the area and to hang out among the cool waterfalls.
✦ The Cultural Significance of Hierve el Agua
Hierve el Agua is not just a gorgeous petrified waterfall, as it does have some local cultural significance in that it was thought to be a sacred site for the Zapotec Indians. They most likely were as surprised as you are to find water bubbling out of the ground in their arid lands. Also, these Zapotec Indians were ingenious in that they created an ancient irrigation system using Hierve el Agua that dates back some 2500 years. It was the only one of its kind in all of Mexico.
✦ How to get to Hierve el Agua
---
Whichever way you chose to get here, I can say that – THEY ARE ALL WORTH IT!
---
By an Organized Tour:
I think the easiest way to get to Hierve el Agua is to go with an organized tour guide. I went with a privately organized tour group and they took great care of us!
One of the best things about traveling with them was that they understood the local culture. This provides the opportunity for me to understand more about what is going on in the area. They not only showed me and my group off-the-beaten-path places, but they also taught us about the unique culture, history, and importance of the area from the viewpoint of a Mexican who has lived there and who understands its' culture.
I think it is important to find a tour group that provides this type of information for your trip to Hierve el Agua. Plus we got to spend an entire half-day there, so we were able to truly enjoy these Oaxacan waterfalls.
By A Private Driver:
With that said, you may also hire a private driver for the day if you are visiting Oaxaca City (Some say the estimate for the day is about $70 USD.).
By A Private Guide with a Driver:
There are also guides that do a sort of rushed version of the three well-known sites in the area all in one day (Mitla, Hierve el Agua natural pools, and Tule) – where you can see 'del Tule' – the world's largest tree. This is so that you can get the essence of all three sites. In my opinion, this does not allow you enough time to completely enjoy each of the sites, but it can be done.
There is also a collectivo (shared taxi) that takes you from Oaxaca City to Mitla and then from there another van collectivo goes to Hierve el Agua. You can catch the collectivo at the Oaxaca Baseball Stadium, but beware they pack people in and the ride is bumpy and sweaty.
By A Public Bus:
From Oaxaca City, you take a public bus (approx 18 pesos) to Mitla. Then in Mitla, transfer to a camioneta (approx 40 pesos) that will take you to Hierve el Agua. Here are various routes:
✦ OAXACA TO MITLA
Mitla can be reached via a public bus from the Oaxaca 2nd class bus terminal or on Boulevard Jose Vasconcelos (Highway 190).
As mentioned before, it is possible to combine Hierve el Agua with the Mitla Ruins and the world's largest tree at El Tule since they are all located east of Oaxaca. However, this will not give you a lot of time at Hierve el Agua, just FYI.
✦ MITLA TO HIERVE EL AGUA
You can get a camionetas from Mitla just opposite the bus station in Mitla, but they do require 7-8 passengers to depart, so just know that this is an option.
By Renting A Car:
You could also rent a car and drive, which is my least recommended way to get there, as rental cars in Mexico are difficult to get and if you are not familiar with the area, it probably would not be a good idea.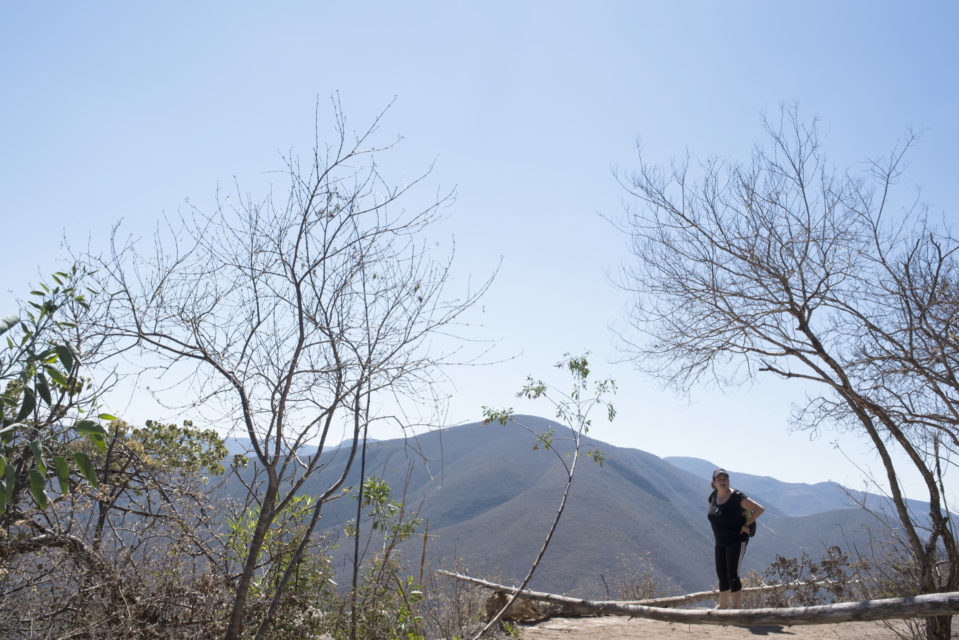 Photo by Cantimplora Travel
✦ What to Know Before You Go to Hierve el Agua
As you may know, sometimes things in Mexico (and the rest of Mexico and Central America) can be complicated. You should be aware that this area of land has been fought over by many local people. The villages of San Lorenzo and San Isidro both claim to own and manage it, so sometimes there can be inner fighting about the lands. The waterfalls were actually closed from 2005-2008, due to land disputes. Finally, the two towns outside the waterfalls have come to an agreement and each has an entrance and an entry fee, depending on where you are coming from.
✦ What does it cost to go to Hierve el Agua?
The townspeople that currently manage Hierve el Agua charge an entrance fee of $1.30 USD or 25 MXN to gain access to the area. They also charge $2.60 USD or 50 MXN to park your vehicle.
They no longer allow the use of drones as they did when I visited back in 2015. And if you do use it, they may ask you to pay them a fee of up to $100 USD or 2000 MXN!
Plus the road to get out to these petrified waterfalls is a toll road. The Mexican Government has now decided to promote this area to tourism, so it may soon get crowded and well-known, but for now, it remains sort of a secret oasis known mostly to the locals or those that visit Oaxaca City! My suggestion is to come soon!
✦ What are the Facilities like at Hierve el Aqua?
There are stalls set up by the locals that serve corn snacks, chips, quesadillas made of string Oaxacan cheese, and other local food. There are also soda/water drinks available. At the site, there are also small change-room facilities for your use, although this area is quite limited.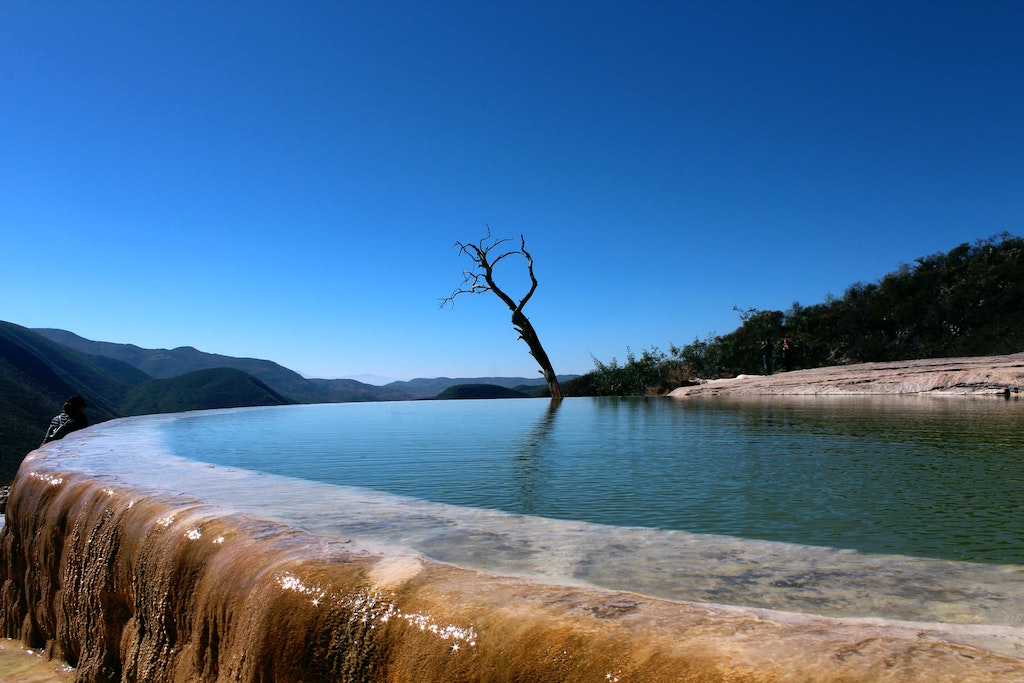 ---
I recommend a trip to Oaxaca City first, but 72 hours in Oaxaca City is not enough!
---
✦ Where to stay in Oaxaca City, Mexico
Since most people who visit Hierve el Agua are coming from Oaxaca City, I made a list of a few places to stay while in this unique and gorgeous old city.
Hotel Azul Oaxaca
This is where I stayed, and honestly, I love it! The Hotel Azule Oaxaca or Blue Hotel is a boutique hotel with the colors of blue throughout the common areas, as well as a gorgeous old blue stove from the 60s that is to die for! Located in the city center, it has an alfresco dining bar and a gorgeous buffet for breakfast! Upon arrival, we were given shots of delicious mezcal (the local drink that is similar to tequila) and were immediately checked in.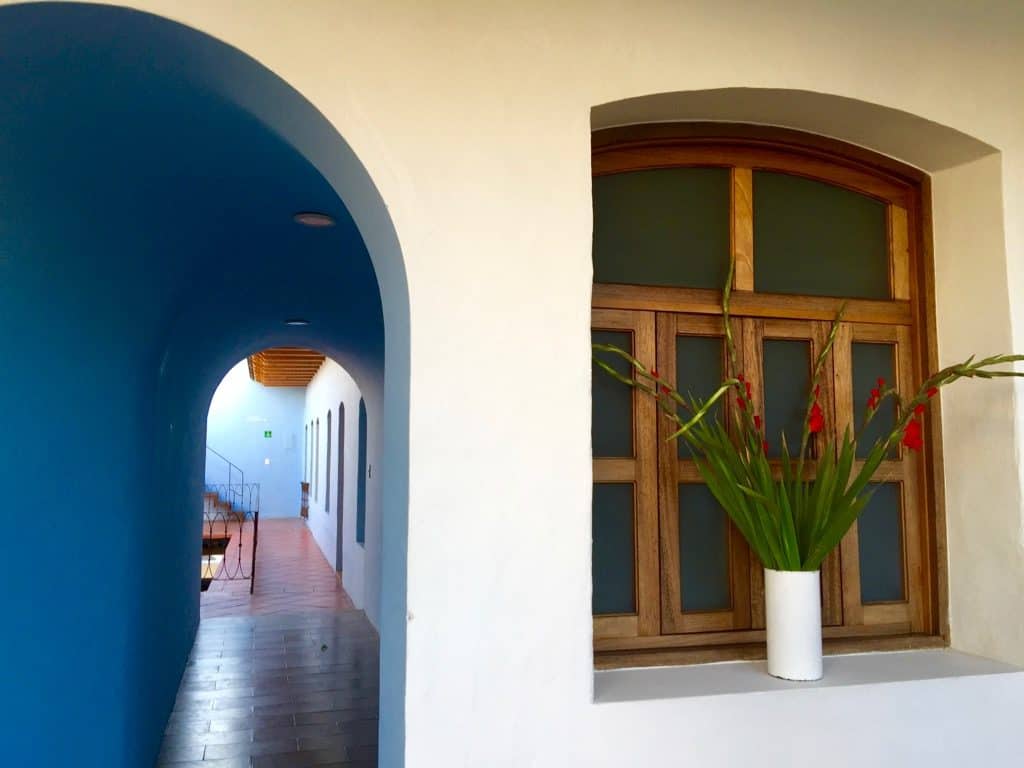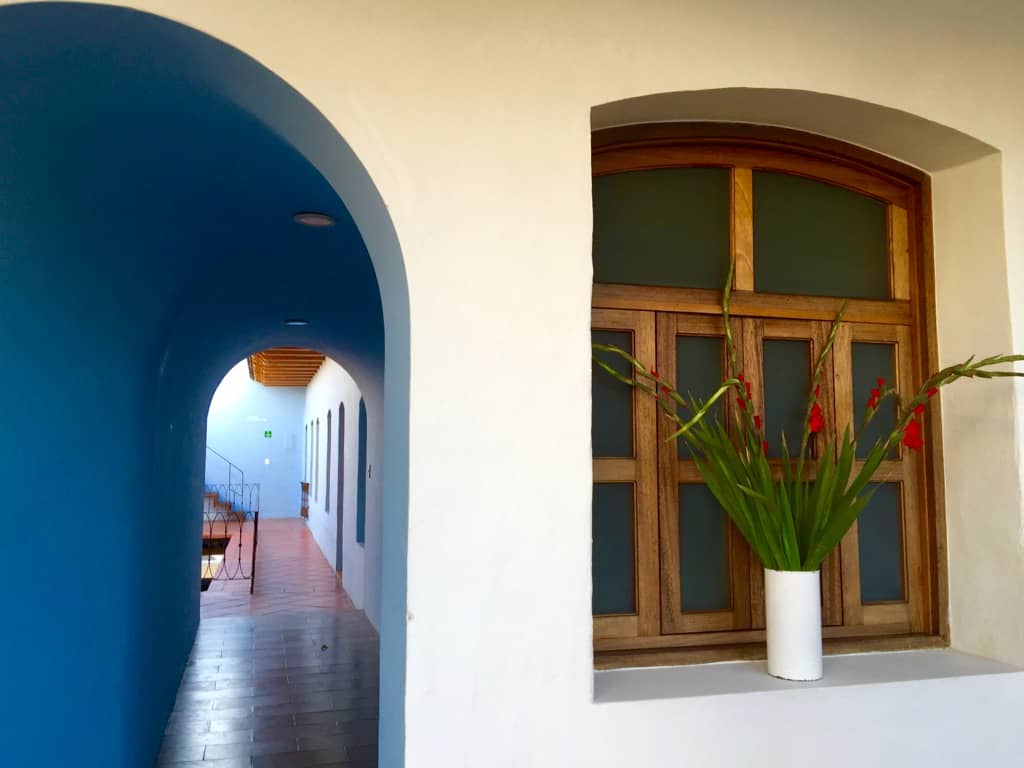 Quinta Real Oaxaca
This exclusive jewel of the Quinto Hotel Collection is absolutely stunning and reflects the splendor of New Spain. Quinta Real Oaxaca is located in the City Center about a block from the cultural center and among where the best galleries, museums, and craft shops are located.
Hotel Parado de Alcala Oaxaca
The reviews for Hotel Parador de Alcala Oaxaca were out of this world! And even though it is only a 3.5-star hotel, most people who stay here love it. It is a boutique-style hotel with a gorgeous swimming pool.
Casa de Adobe Gallery & Luxury Boutique
This Case de Adobe Gallery & Luxury Boutique hotel looks good and the reviews are good too, so it may also be a contender, however, I have not stayed here.
Where to Eat in Oaxaca City:
Las Danzantes
My favorite place was Las Danzantes!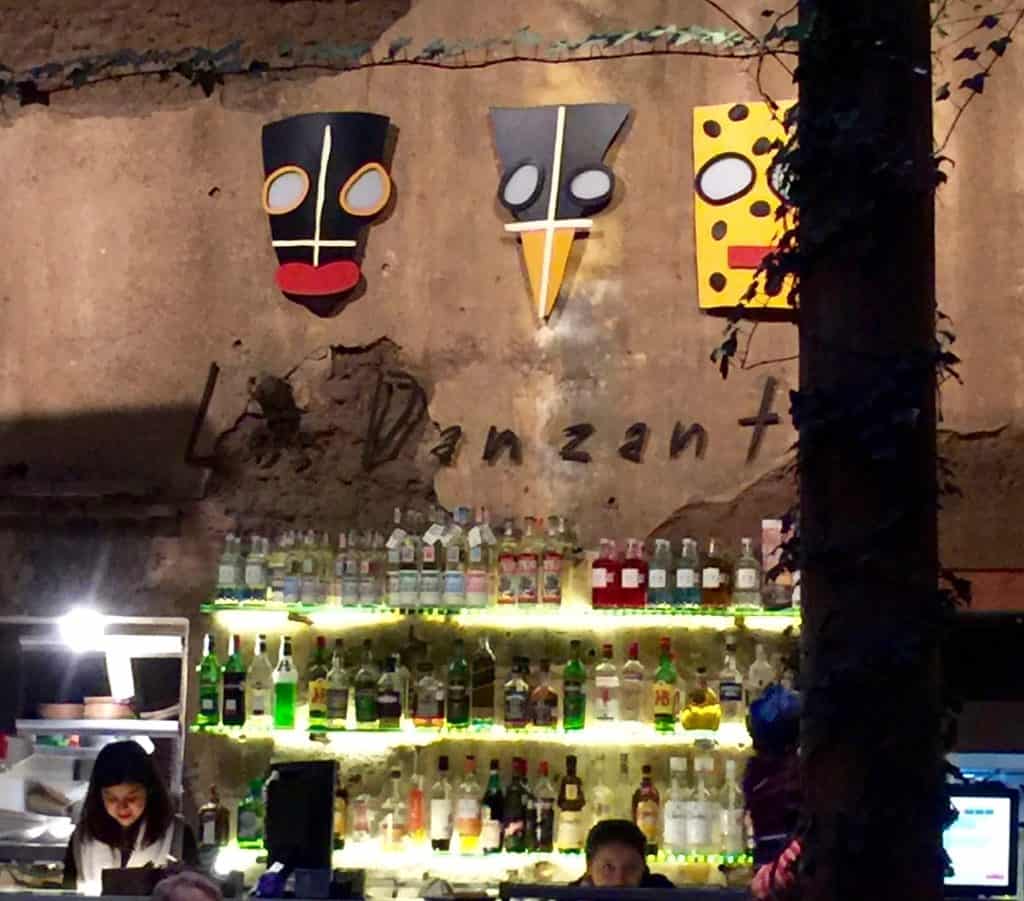 ✦ Day Trips from Oaxaca City, Mexico ✦
While you are visiting Oaxaca City, you must go on a few day trips. The ones I recommend are:
Monte Alban -A majestic pyramid.
San Pablo Villa de Mitla – A Mexican archeological site.
Hierve el Agua, Oaxaca, Mexico – This fantastic limestone Oaxacan Waterfall.
El Arbol del Tule – A tree with a trunk diameter of 46 feet (The stoutest tree trunk in the world and UNESCO site.)
Teotitlán del Valle – Another traditional weaving village in the area.
Jacobo and Maria Angeles Factory of Alebrijes – a craft shop making Mexican handicrafts known as Alebrijes
In fact, below is a photo that was taken at the Jacobo and Maria Angeles Factory of Alebrijes in San Martín Tilcajete, Oaxaca. We stopped here along the way for a quick visit.
The Sunday Market in Tlacolula, Oaxaca, Mexico
For the Sunday Market in Tlacolula, Oaxaca, Mexico, we stopped here for a little shopping and to have a snack!
A visit to a local Oaxacan mezcal farmer – For some mezcal tasting.
---
Recommended Reading:
If you love food and drink guides about Mexico, then read:
and a guide to a few of my favorite Mexican Destinations.
---
Here is an article I have written about the Sea of Cortez area of Mexico:
The Ultimate Guide To Puerto Penasco, Mexico
---
Notice: This article continually gets updated for the latest information about Hierve el Agua, should you know about or have to add additional information or if you have noticed a mistake, please let us know by leaving a comment. As we try to keep this information up to date on the latest information and I am sure that future users of this website will appreciate your latest knowledge on the subject.
---
Disclosure: As is common in the travel industry, I was provided with accommodations, meals, and other compensation for the purposes of review to Hierve el Agua, Oaxaca, Mexico by Cantimplora Travel. While it has not influenced my review, PointsandTravel.com believes in full disclosure of all potential conflicts of interest. This article may contain affiliate links.