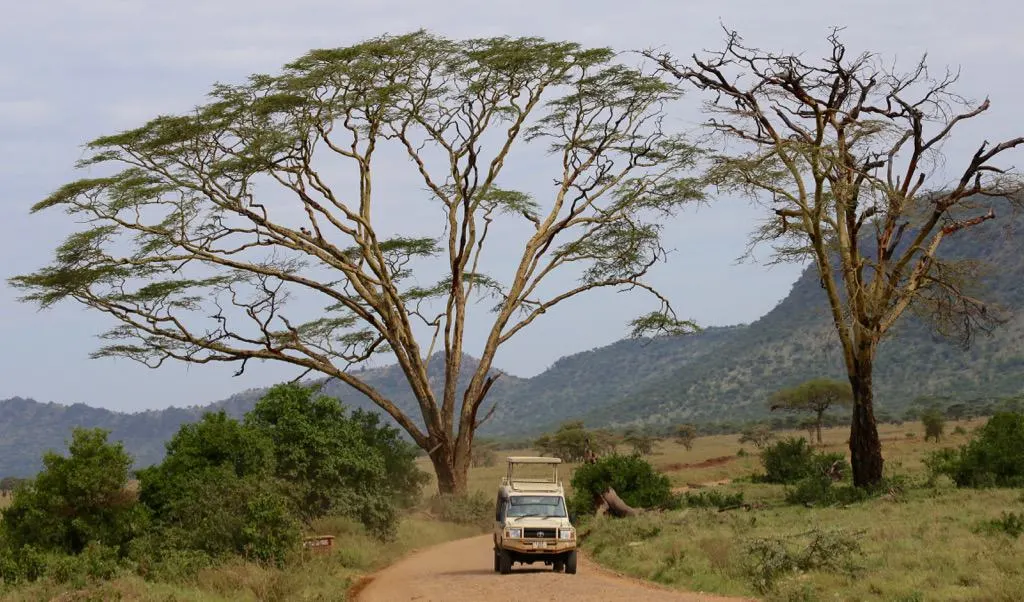 After my trip of a lifetime and luxury safari with Shadows of Africa and their school visits, tribe discovery, and all-day game drives, I was off to visit the Serengeti. The Serengeti is one of the seven Natural Wonders of Africa and is located in the northern part of Tanzania. It has a landmass of approximately 12,000 square miles, so there is a lot of lands to explore!
This stunning area is best known for its keen observation of wildlife, especially the lion population, where it is home to more than 3000 lions. I was ready to see more safari animals and to visit one of the best luxury safari getaways in Africa, the Four Seasons Serengeti. Honestly, I was also pretty exhausted from my travels and ready to relax!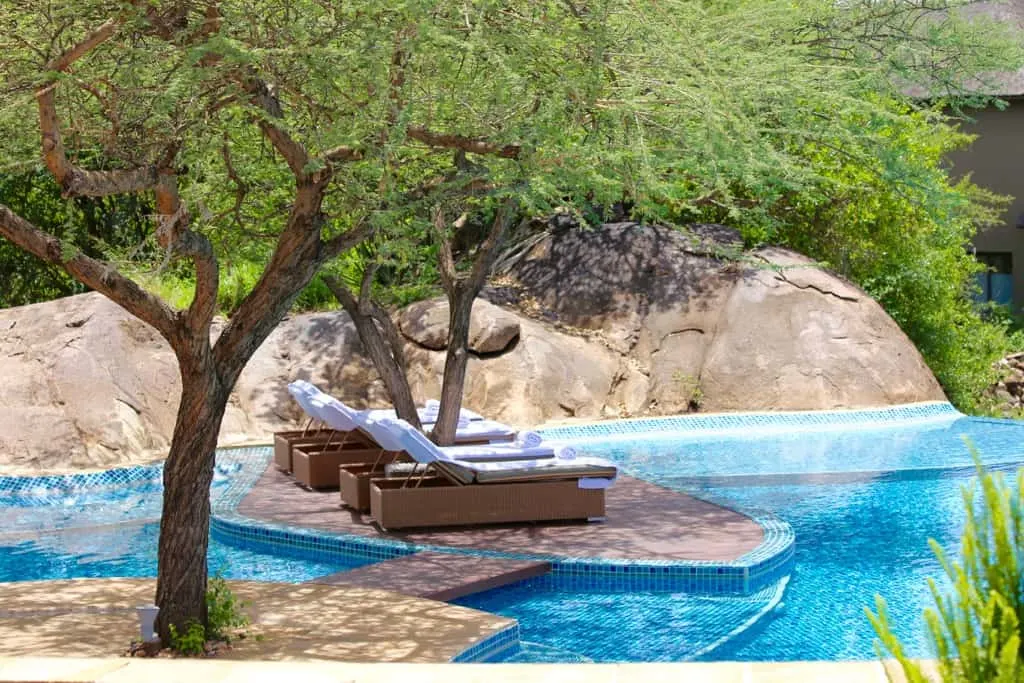 Off to Seronera Airstrip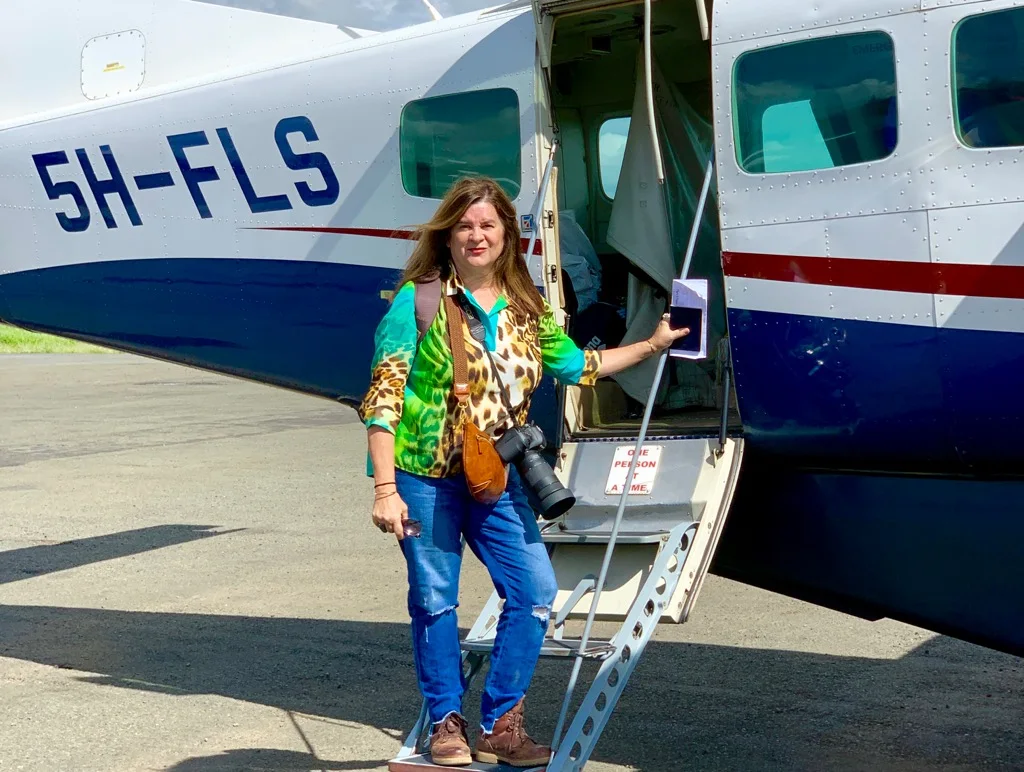 So from Arusha in Tanzania, I jumped on to a tiny prop plane to the airstrip in the Serengeti called Seronera. The Four Seasons Lodge Serengeti offers airport pickup and drop off services from here. And it was here where I had my first interaction with the Four Seasons… and an awesome experience it was as we were greeted by our guide.
He grabbed our bags and immediately we were off to the safari-style Land Cruiser that was parked out front only minutes away. The guide had set up a table by the truck for a quick snack and champagne! What? Am I dreaming? No, I certainly wasn't, afterall, this is a one of the most exclusive safari lodges in Africa. A small table was set up against the pop up styled truck with everything I needed to fill my belly with munchies as we began our 45-minute drive to the hotel.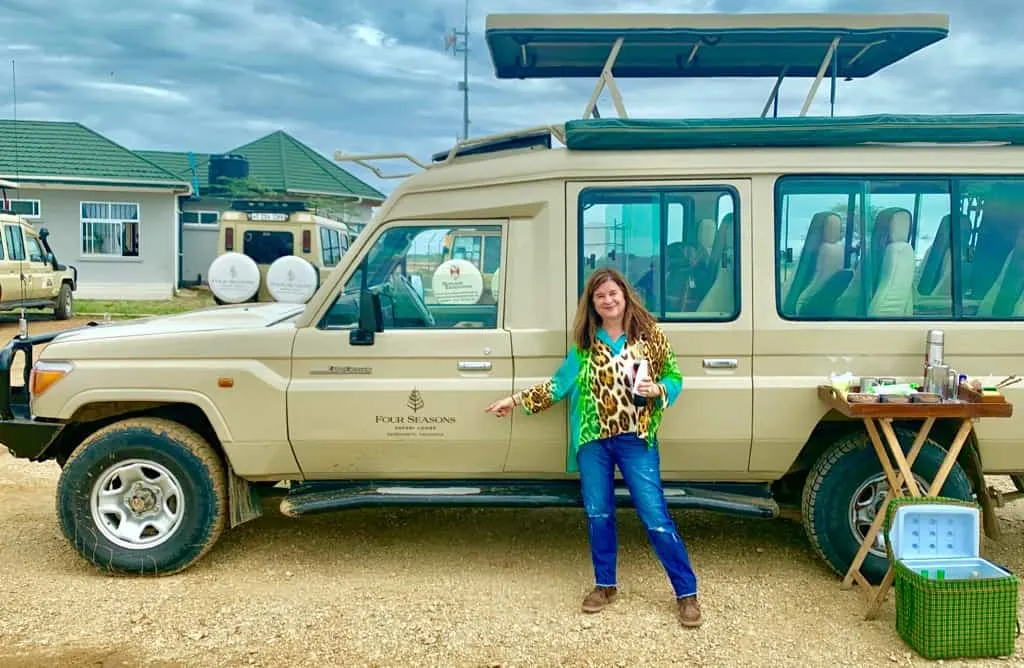 Luxury Safari to the Four Seasons Serengeti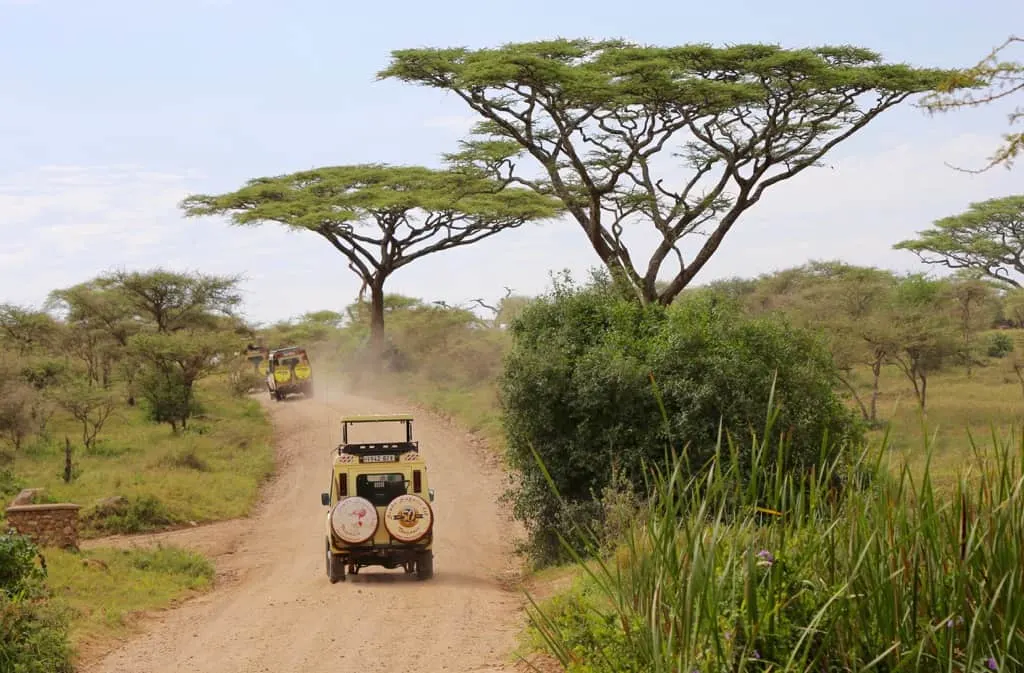 And this wasn't just any 45-minute drive, as the drive itself is practically a 45-minute luxury safari to the Four Seasons Serengeti. With wildebeest, giraffes, zebras, lions, and baboons practically everywhere you look, it was actually exciting to stop along the way and see so many animals in their natural environment. I was quite surprised to see so many as compared to my time in Tarangire National Park, where they were spread out more in the park. Maybe it was just the area we were in, but again, it was a thrill to be observing them in their world.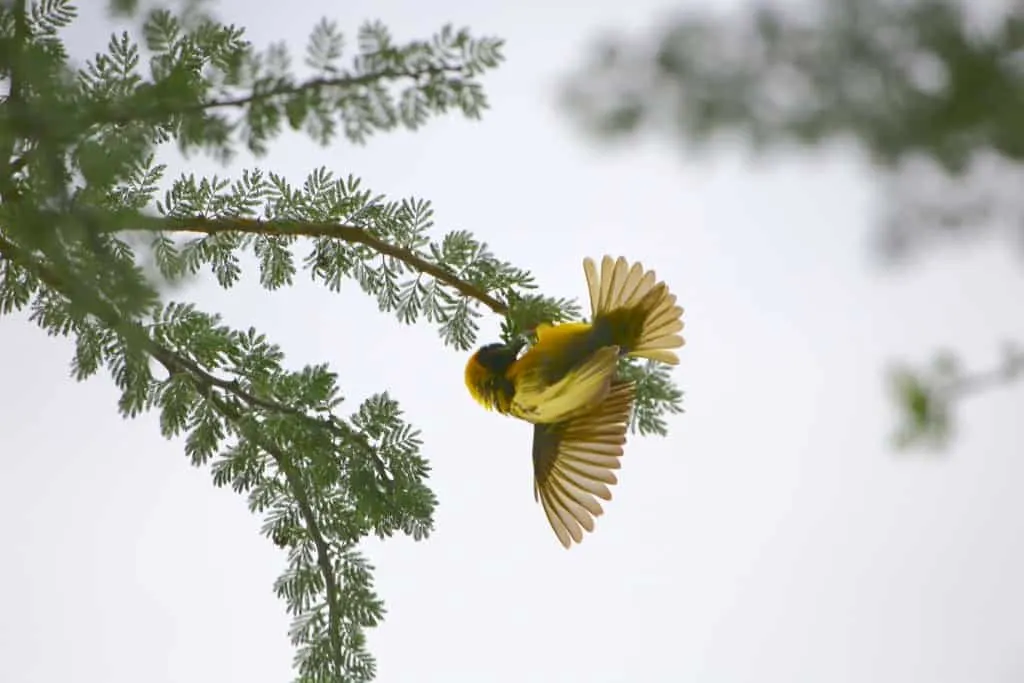 Shhh! I think I See Something! Lions!
That was all I heard him say when we were out for the day and had pulled off on a side road. We were thrilled after seeing thousands upon thousands of wildebeests, zebras, and monkeys. He turned off the safari vehicle and sure enough, just out of the side of my eye I could see a female lion coming towards the truck. She walked as if she didn't care if we were there or not. We had the top open, and so this enabled us to see her as she approached and crossed directly in front of the SUV.
Wild Lions in the Savannah Bush
And then within a few moments, here came her friends, a male lion, with all his magnificence hanging around his neck! He quietly approached us and also walked right in front of our truck. Across the road, but within feet, he found a tree in which he stopped to scratch his face and then just like that he disappeared into the brush. Minutes later, another female lioness approached the same way the other two lions did! What a delight it was to see them so close! This is genuinely a luxury safari!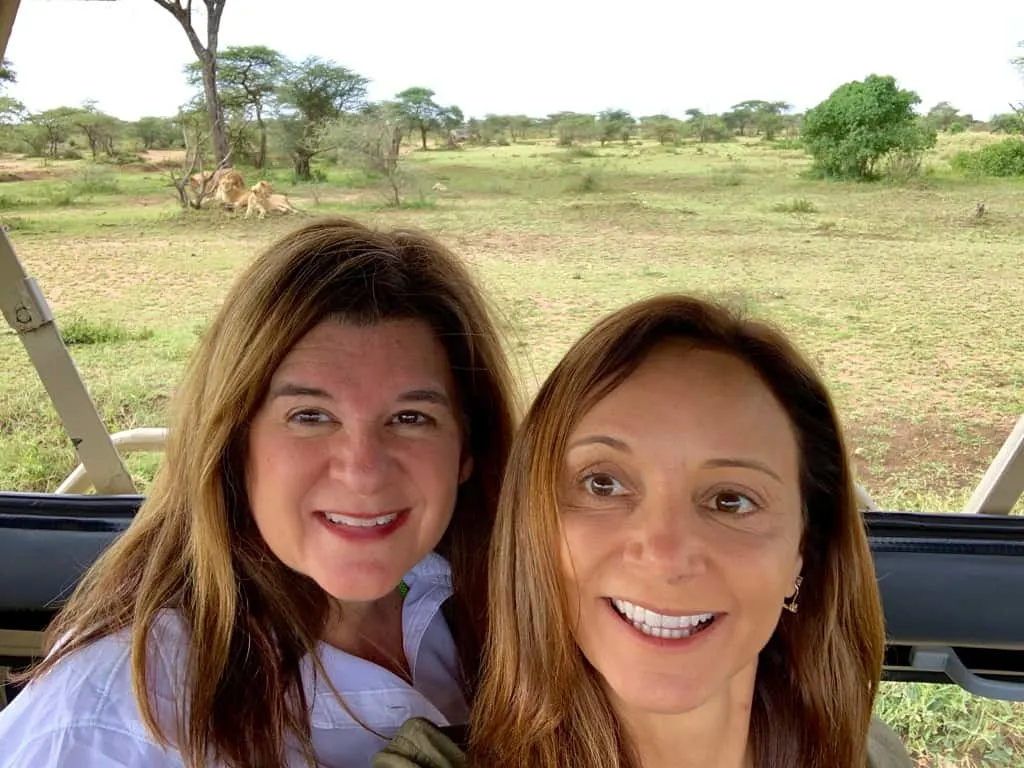 Leopard Sighting! Completing My Big Five!
On another game drive, our guide got wind of a leopard sighting and so off we went to see if we could jockey for a great position to see it! Sure enough, we found it and got in a good position with our truck to see her walk across the Serengeti and then jump up into a tree! That completed my BIG FIVE sightings and I was overjoyed with excitement! And for those who don't know, the BIG FIVE are the large African wild animals that are said to be most difficult to hunt: lion, leopard, rhinoceros, elephant and cape buffalo.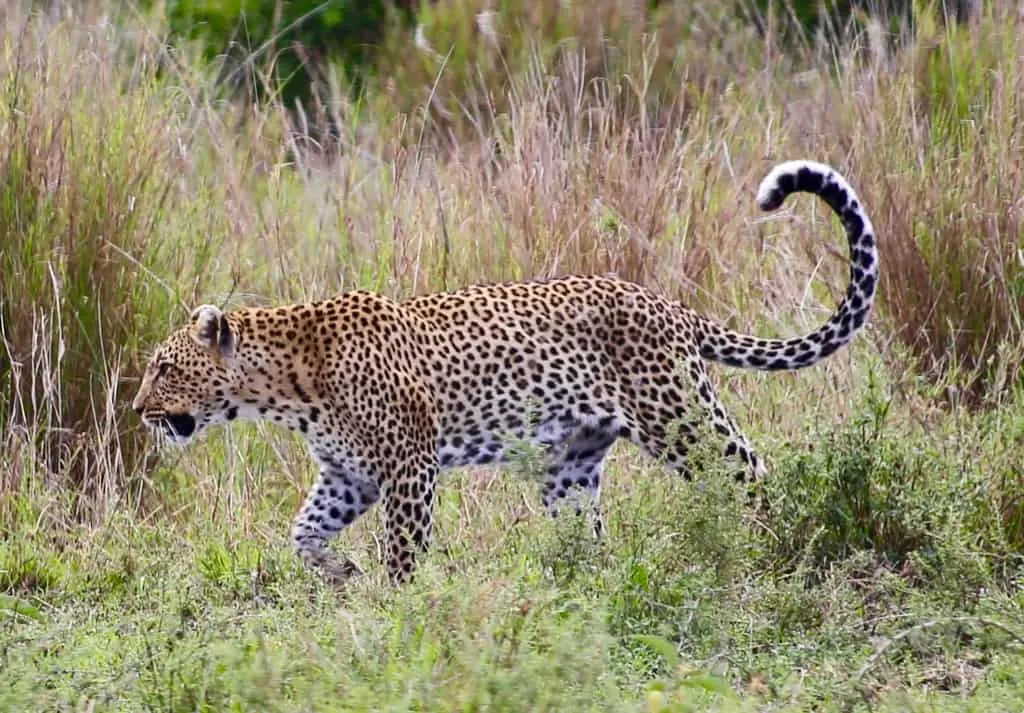 Exclusvie Serengeti Safari Game Drives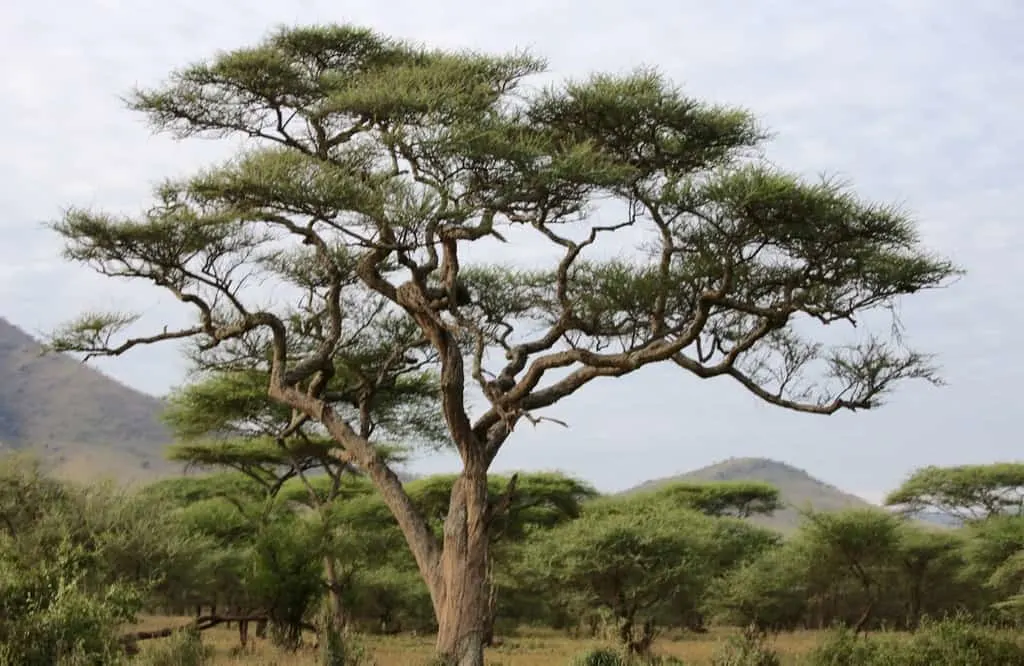 At this resort, there are plenty of opportunities to engage in activities at and away from the resort as well. Serengeti Game Drives are a once-in-a-lifetime excursion that allows you to get up close and personal with the animals. They have both a half-day game drive and a full-day game drive available.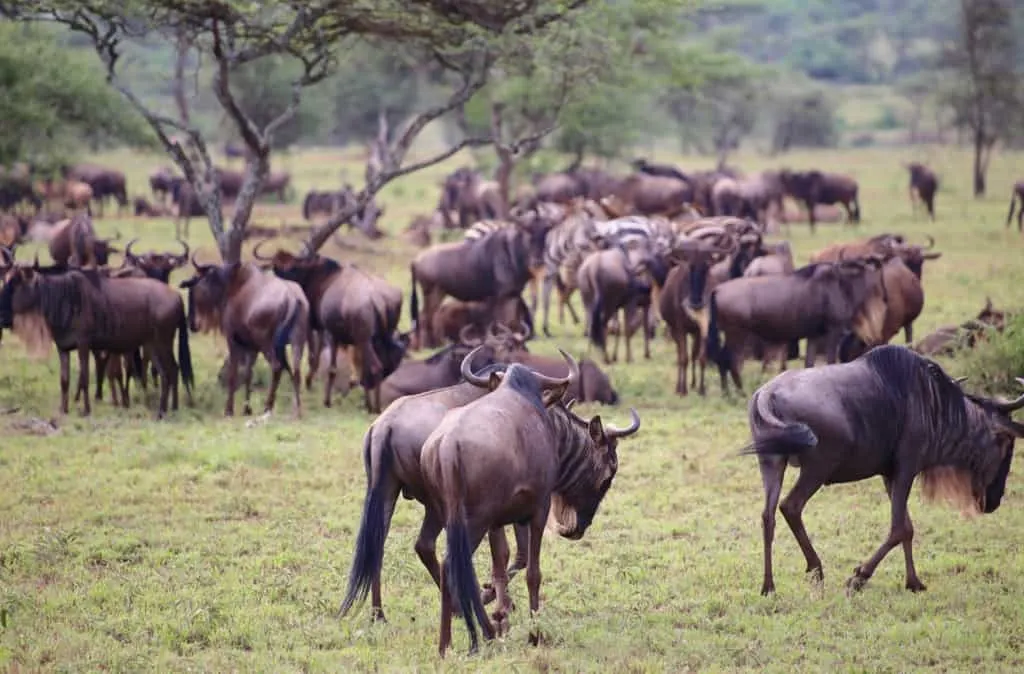 They even have a Serengeti Balloon Safari that takes you for an hour-long trip into the sky of the Savannah during the morning sunrise. Another must-see adventure of the game drives is the Walking Safari. A guided 90-minute walk through the Serengeti is the best way to observe the landscape, spot animal tracts, and enjoy the Serengeti's natural beauty. They also have many Maasai Adventures such as the Gong Rock, Olduvai Gorge, Shifting Sands Safari, and the Maasai Rock-Painting Safari. And if you want to see how the Maasai live and work, you can even visit a Maasai village.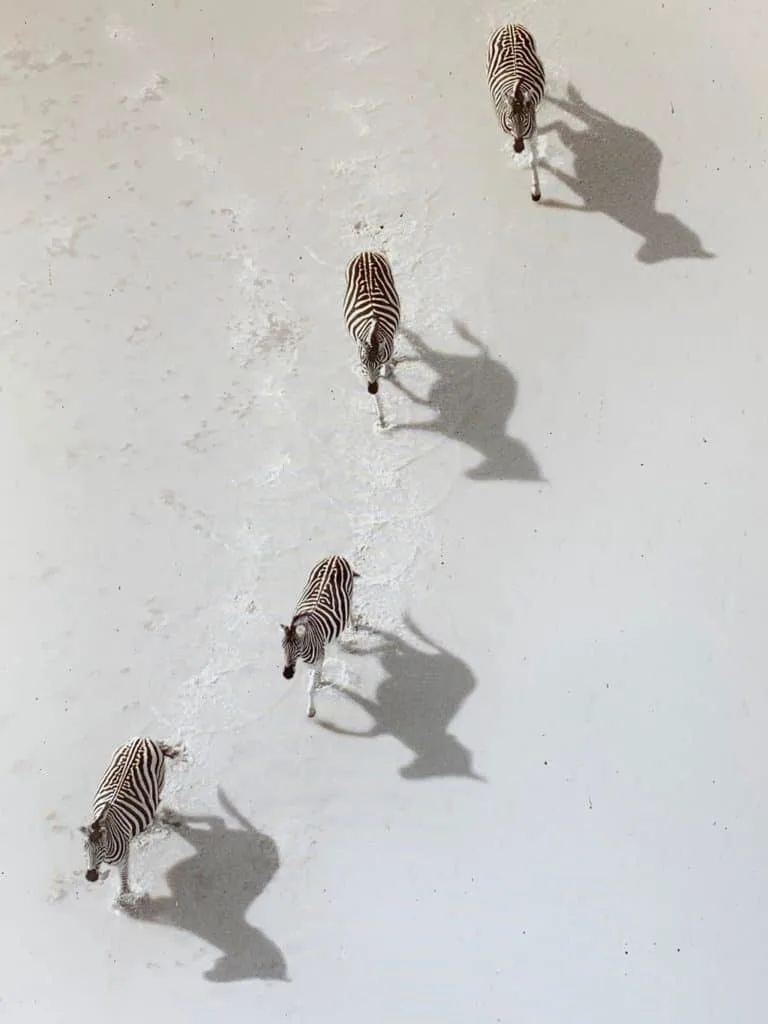 If you don't mind driving out of the Serengeti, they have other trips to places like the Retima Hippo Pool and the Ngorongoro Crater where the black rhinoceros' roam.
Most Exclusive Safari Lodge: Four Seasons Serengeti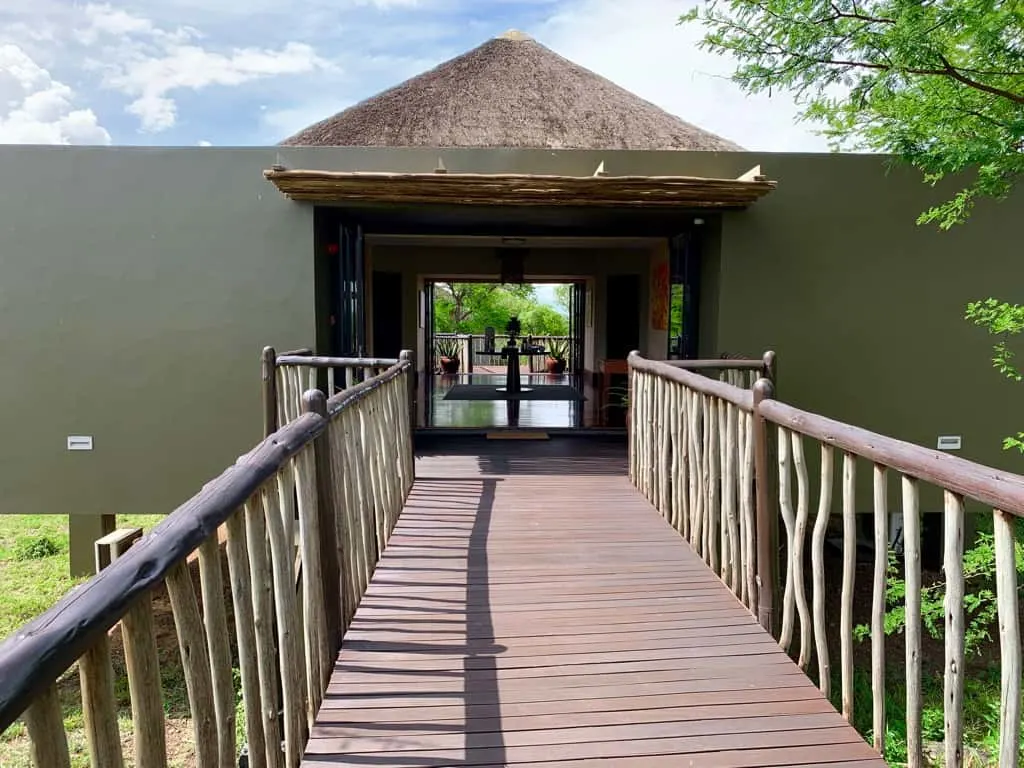 Pinch me, but I had a chance to stay at the Four Seasons Serengeti in a Terrace Suite with its own swimming pool! The Four Seasons Serengeti actually helps connect people with many wildlife and cultural adventures through small group journeys on the African savannah plains.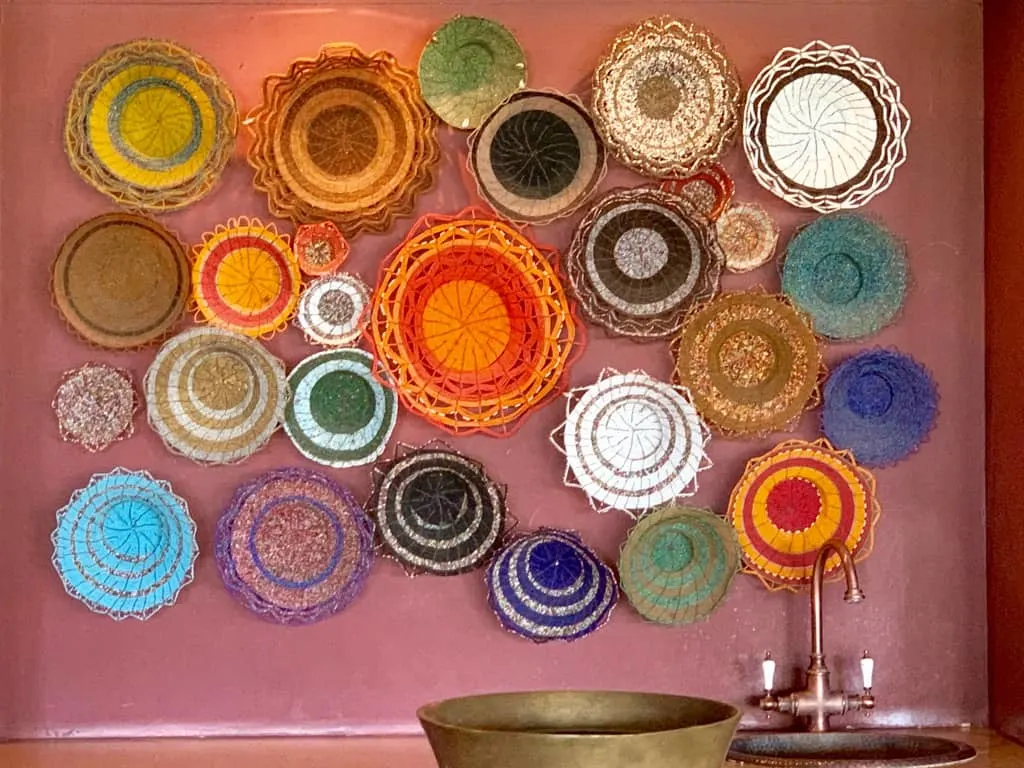 In fact, the front desk staff mentioned a few times that we would be staying in the resort "with no fences". At first, I didn't "get" what she meant by "no fence", but as you can imagine, when I was escorted to my room, that is exactly what she meant. The Four Seasons Serengeti is located INSIDE the Serengeti National Park and so the animals are free to roam! For me, this added an element of surprise to the stay at what some say is the world's best safari lodge in Africa!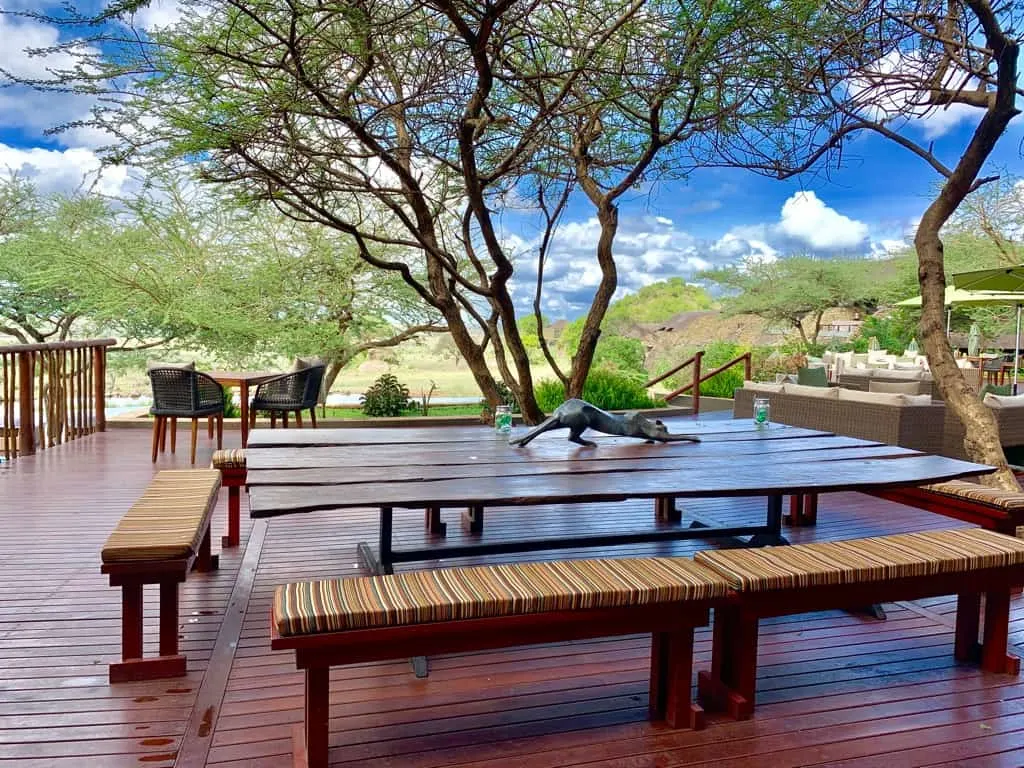 I can guarantee that you will be dazzled by the stunning wildlife observations and other African adventures that you can have from Four Seasons Serengeti. They have so many choices of African adventures for your safari holiday. So if you are looking for the ultimate Safari adventure in the Serengeti, then this resort is the best place to begin your journey. Keep reading to find out more about their wonderful accommodations, half-day and full-day game drives, Maasai adventures, their famous Discovery Center, the gorgeous Kani Spa, and so much more. I believe Four Seasons has thought of everything!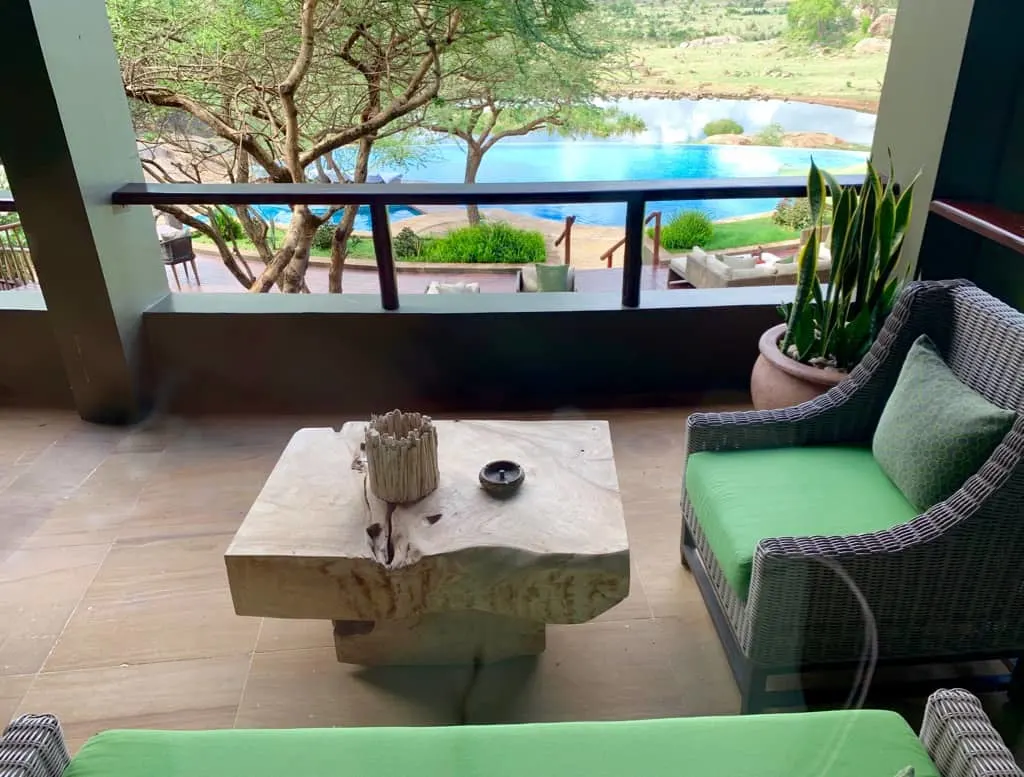 Four Seasons Serengeti Accommodations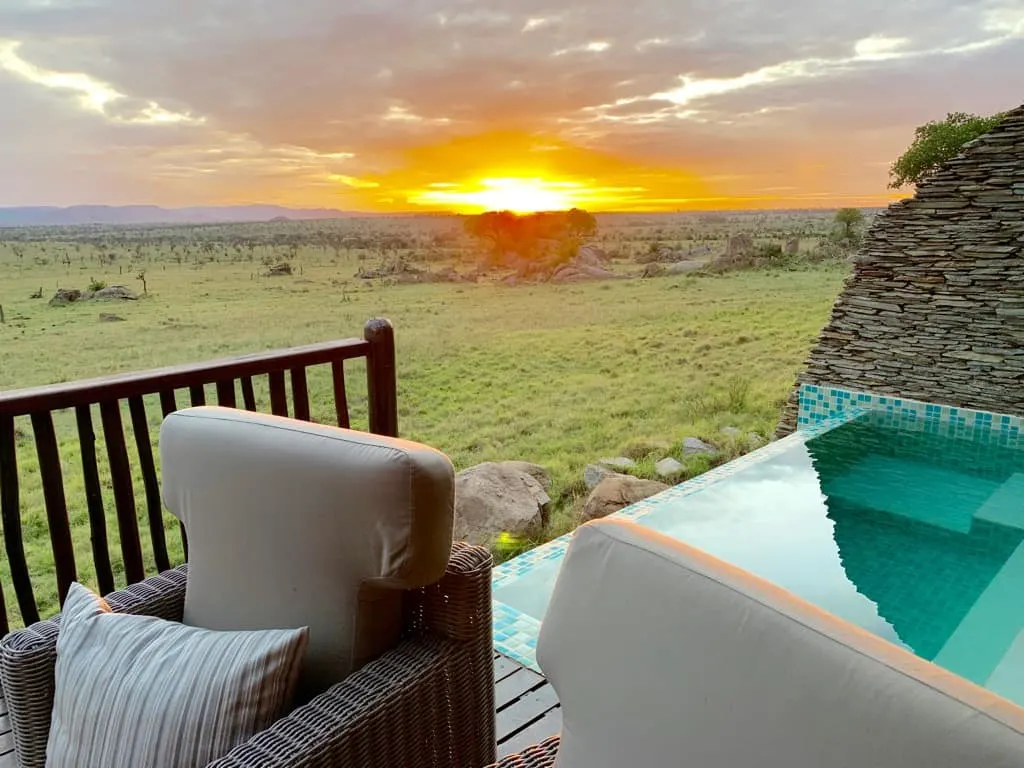 Four Seasons Serengeti has 77 guest rooms, a relaxing spa, and many outstanding restaurants at this resort. You can choose from a room, a suite, or even a villa for your room choice. Of course, they have several room types available, each with exotic names from the Savannah Room to Horizon Room Waterhole view and everything in between. But honestly, any room/suite/villa you choose will be perfect.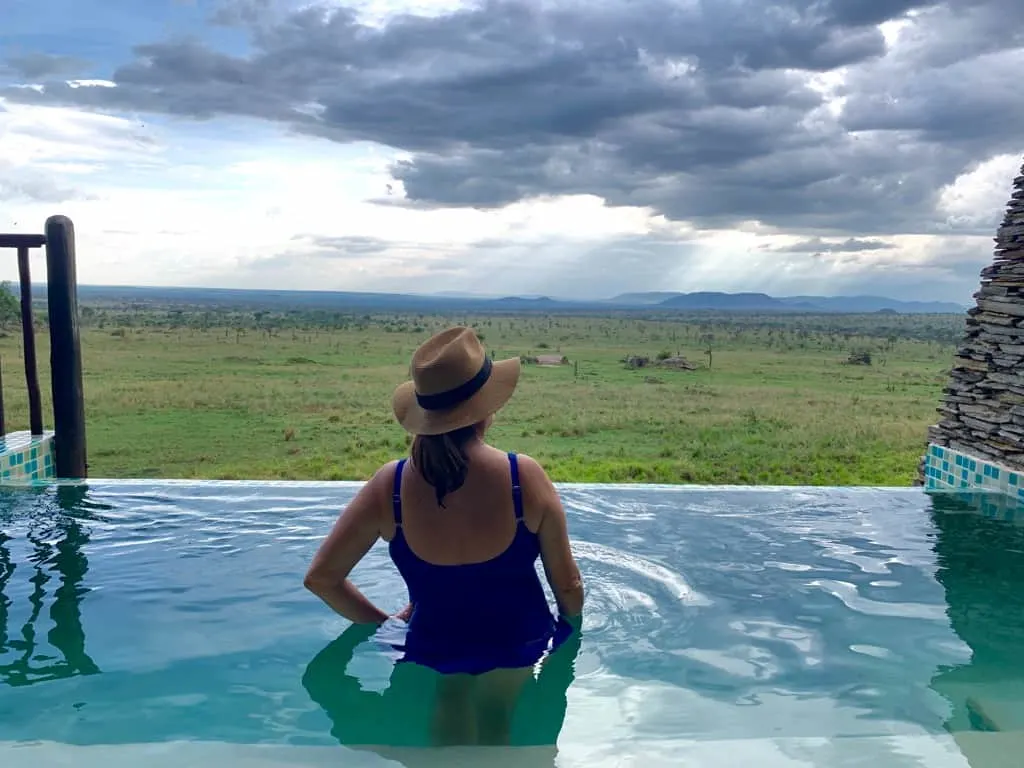 Four Seasons Restaurants: 3 Outstanding Places!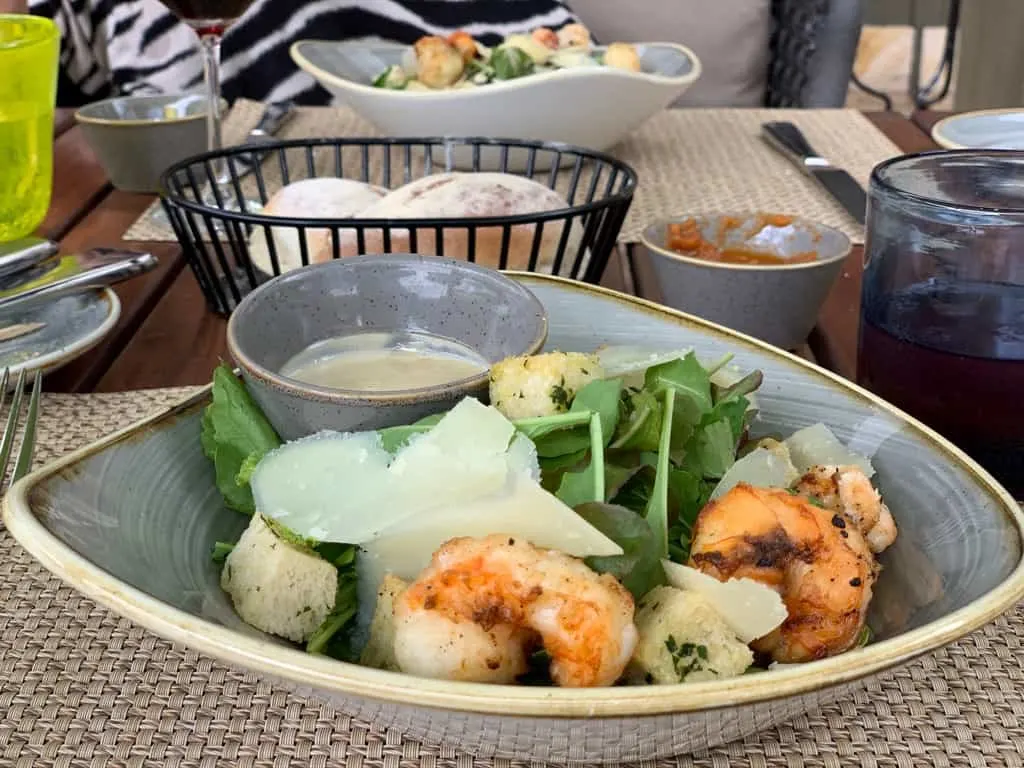 The Four Seasons Safari Serengeti has 3 outstanding restaurants, a wine cellar, and room service is also available, so you will never go hungry!
The Kula's Restaurant is known for serving its food buffet-style. This buffet-style restaurant serves a mixture of African delicacies and international delights at the live cooking stations.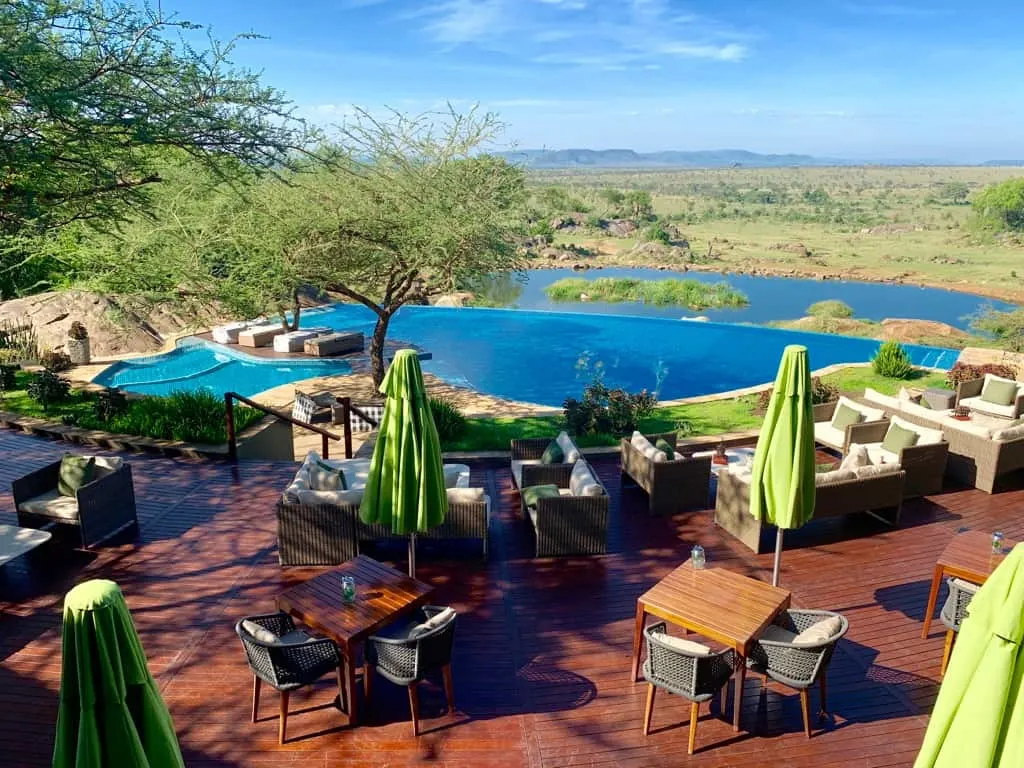 Looking for an authentic dinner at this resort with a welcoming performance that you won't want to miss? Then head on over to dinner at the Boma Grill. Dinner is served in the evening and you can enjoy a hearty African feast as you sit around an open-air firepit and eventually the local Maasai will surround you with chanting, singing, and dancing as only they know how. This cultural experience alone is worth this a visit to the Four Seasons Serengeti.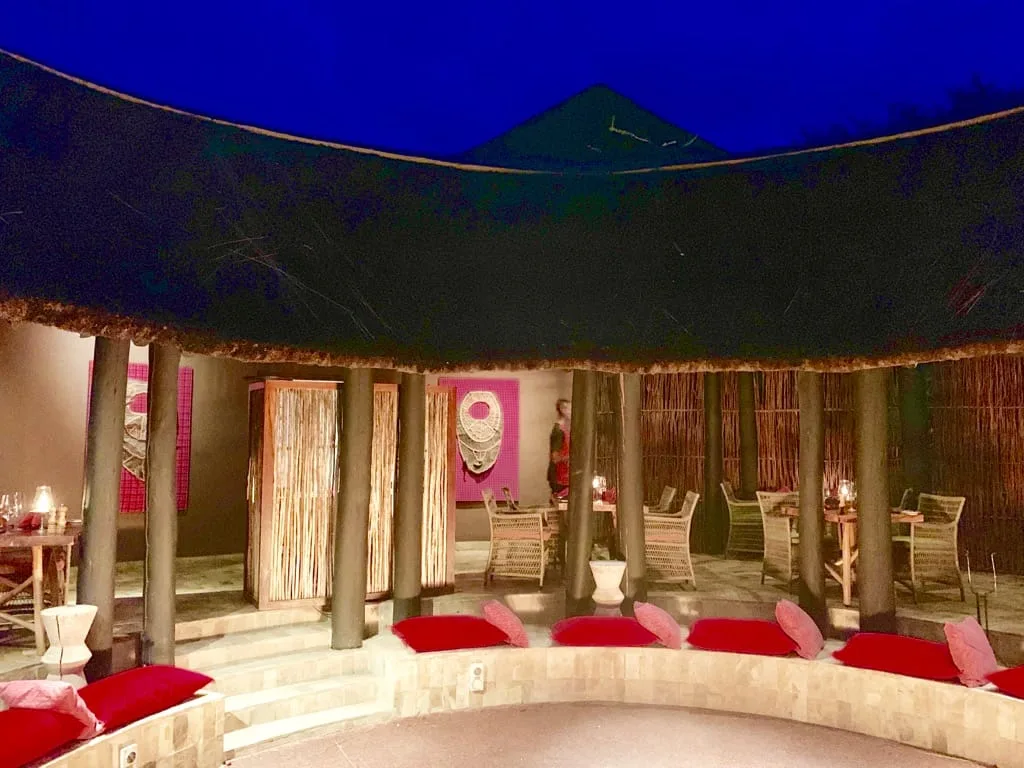 But if you are ready for a great meal anytime? The Maji Bar and Terrace is the only restaurant in the resort that serves breakfast, lunch, and dinner and also includes a bar service. I do recommend the homemade beetroot and goat cheese ravioli, which is delicious, along with the crispy fried shrimp salad. This restaurant has a gorgeous terrace that looks out over the infinity pool and in the distance, you can see the wild animal watering hole! How unusual is that?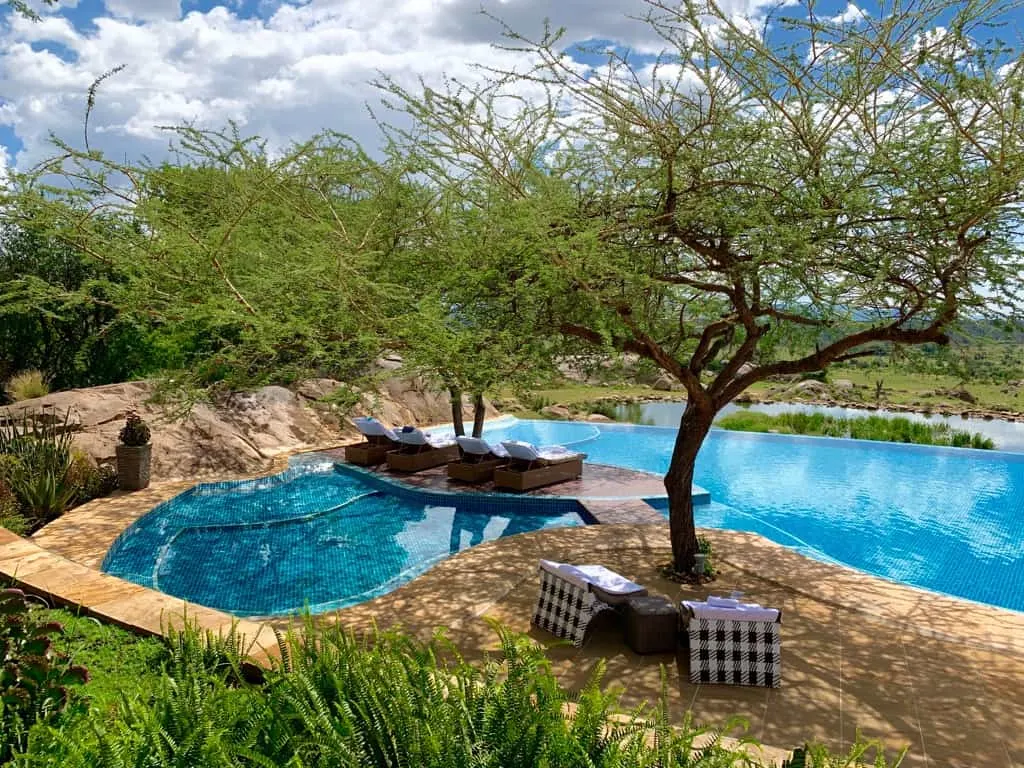 Keep your eyes and ears open, as you will see some gorgeous views from this spot while sipping your favorite drink, mine happens to be a Cosmopolitan! I also wanted to note that for wine enthusiasts like my travel partner Annette, you can book wine tasting sessions and take a tour of the Wine Cellar.
The Spectacular Kani Spa!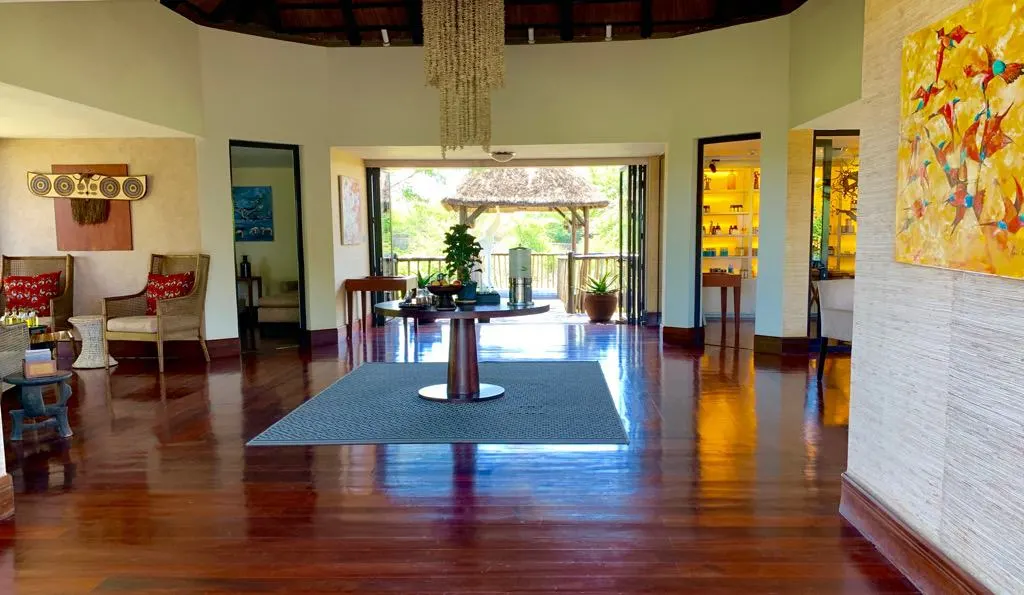 But if you really want to enjoy a nice relaxing day at the resort and nourish your inner ecosystem, then the Kani Spa is the place to be. It is located in six free-standing pavilions in a gorgeous indoor/outdoor setting within the vast Serengeti plains. Honestly, my photographs do not do it justice! The rooms themselves are nothing less than spectacular and you will enjoy many wonderful and unique services. Kani Spa utilizes indigenous and organic plants and minerals in their therapies.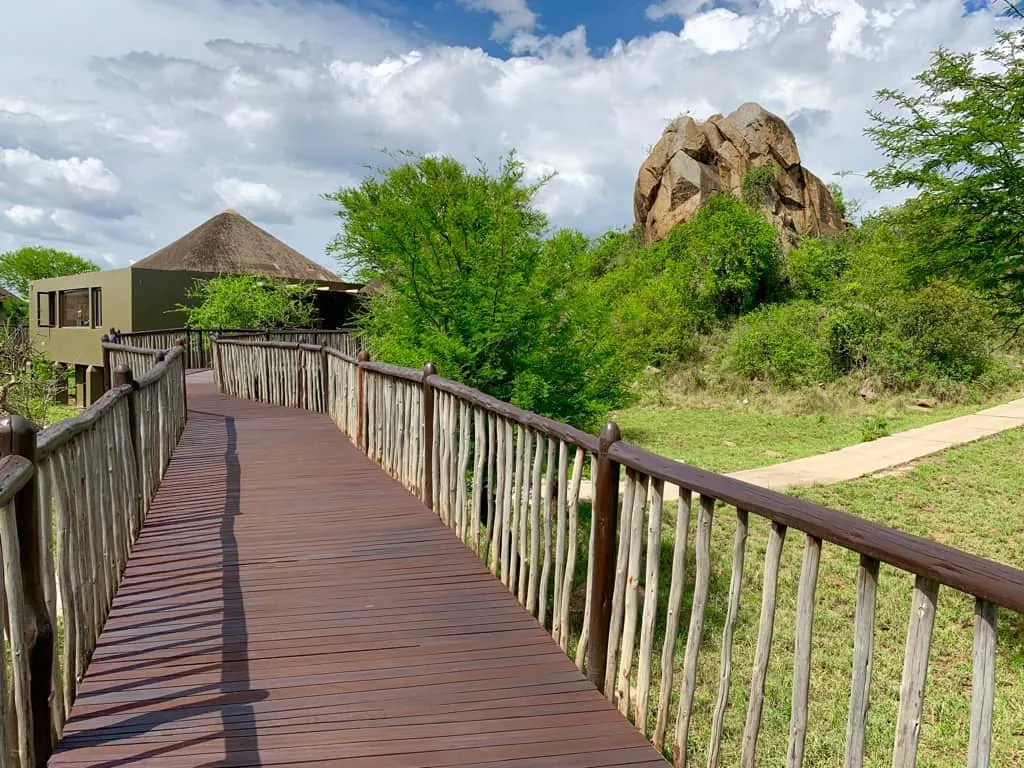 They have services such as the four-handed Kifalme (Swahili for "Royal") Ritual which includes two therapists and the Safisha (cleanse) that detoxes you from head to toe. Other offerings are the Ancestral Rituals, Migration Massages, and the Big 5 Kani Wellness Safari. They have fitness classes, yoga, and Pilates available as well. They even have the Mini Maasai for guests under the age of 12, so there is something for everyone!
The Four Seasons Serengeti has it all!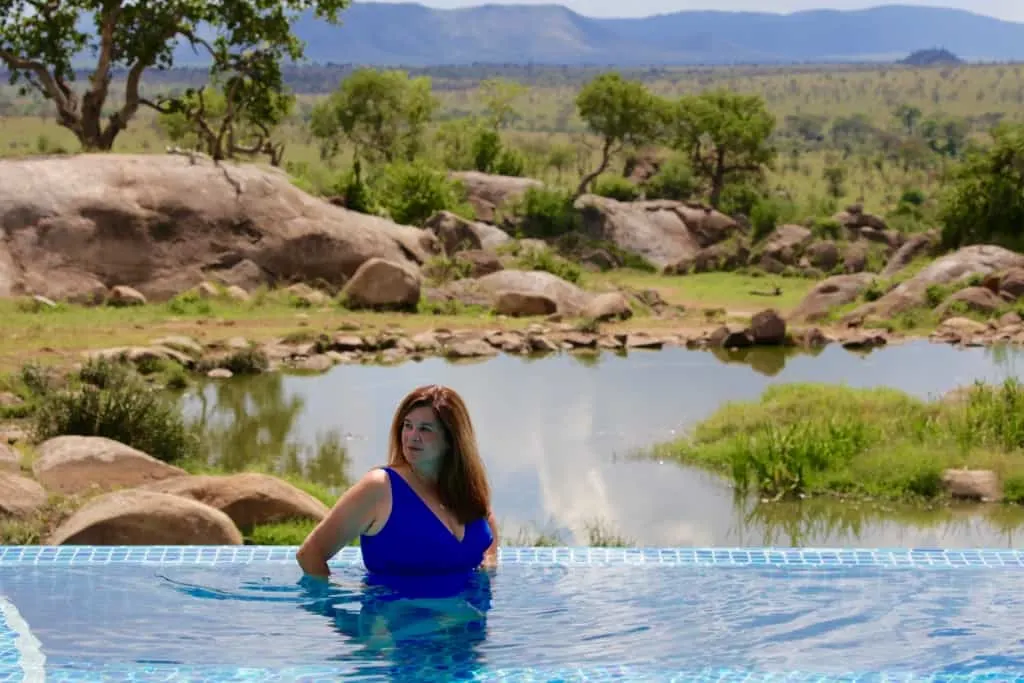 Besides resting to your heart's content and relaxing at the spa, there are plenty of other amenities at this resort that you will certainly want to enjoy. The outdoor free-form infinity pool is absolutely stunning and surrounded by trees in view of the animal watering hole.
This resort also has a fitness center, babysitting services, a children's club, a 24-hour business center, a game room with pool tables, and a boutique gift shop filled with things you won't find anywhere else.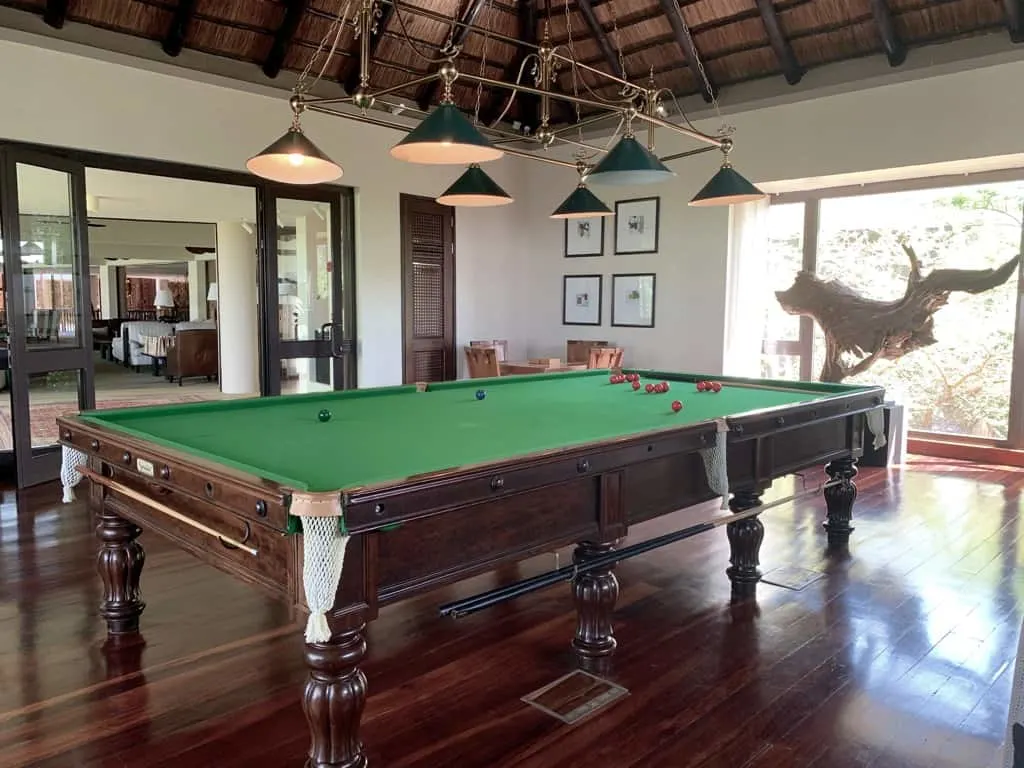 One could literally stay here for a week and not see and do everything that is available. We laid out at the pool for a gorgeous afternoon and we were the only ones there, so it is like having this private infinity pool all to yourself.
Four Seasons Discovery Center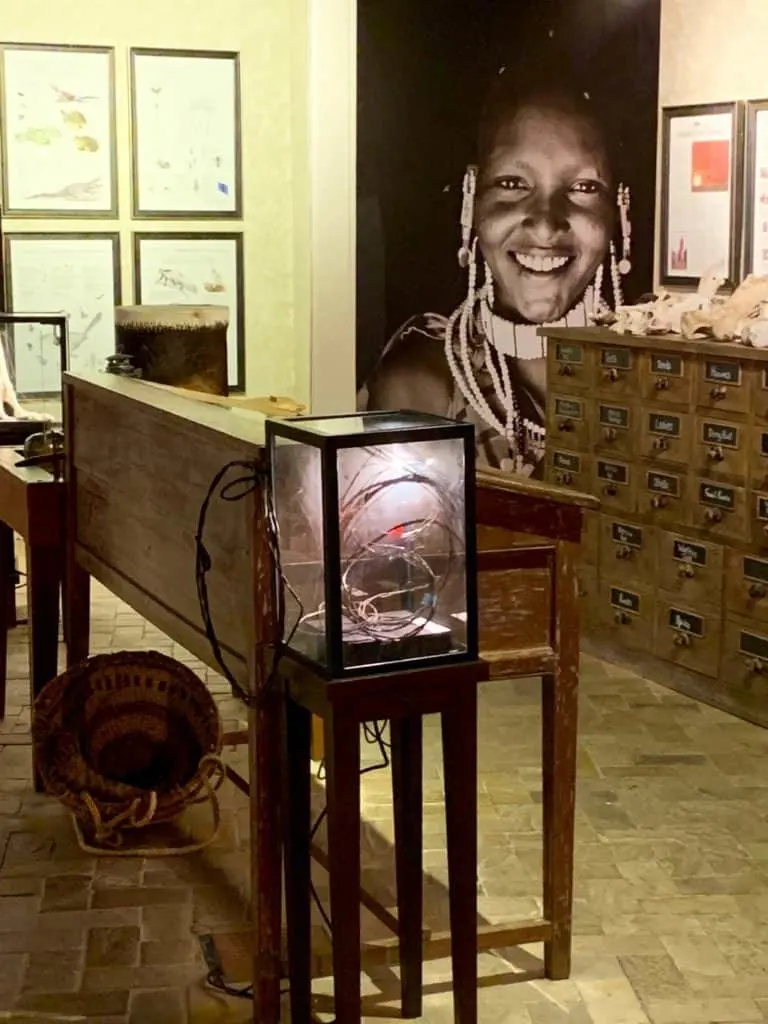 Another unique attraction that this resort offers is a visit to their Discovery Center. This center is part museum and part lecture theater. At the center, you can learn about the people of Serengeti, its history and the wildlife in the area. There is also an interactive map of the Serengeti-Mara ecosystem. You can walk through this center on your own, but there are several expert guides to help you along the way such as the lodges' naturalist, a photographer-in-residence, many local wildlife experts, and even Maasai warriors to engage with. They are all here to help enhance your visit to the Serengeti. So be sure and take advantage of visiting this Discovery Center before you head out on your luxury safari adventure.
Four Seasons Serengeti Sustainability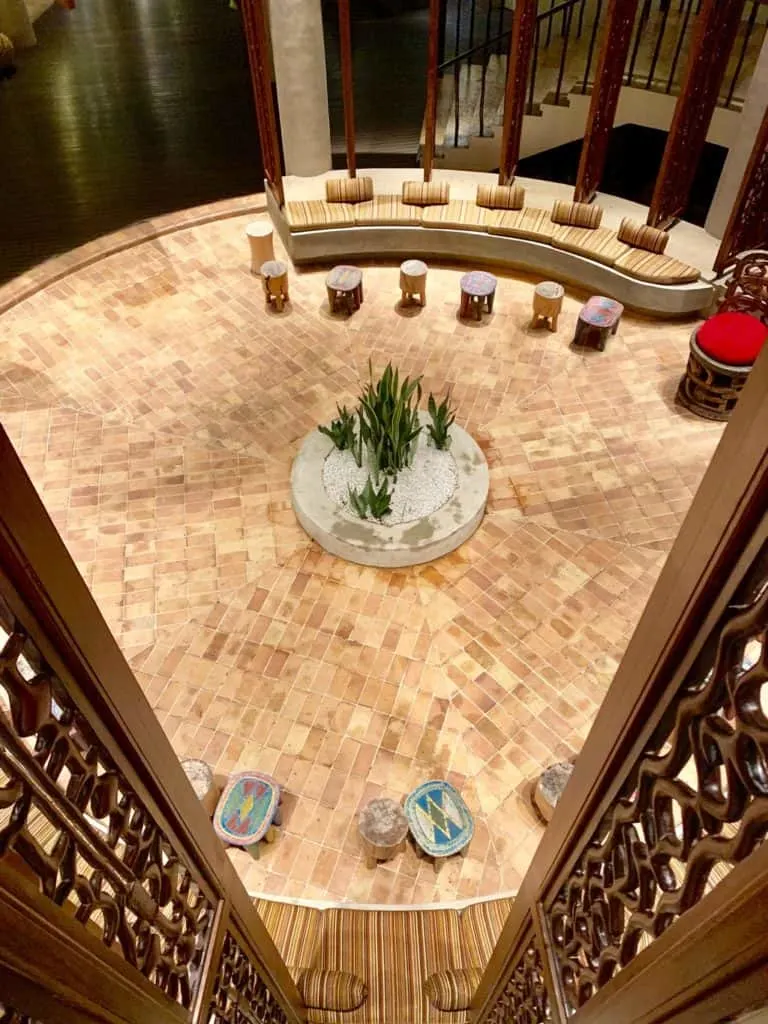 The Four Seasons Serengeti is not only a wonderful resort that shares many luxury Safari experiences with people all over the world, but it also has many sustainability and wildlife sustainable projects. Contributions from the game drives, walking safaris, and guest donations all help support the wildlife projects and community. This resort supports projects such as the Serengeti Lion Project, the Serengeti Cheetah Project, and the Serengeti Wild Dog Conservation Project. It also contributes to the Frankfurt Zoological Society's Serengeti Snaring Project.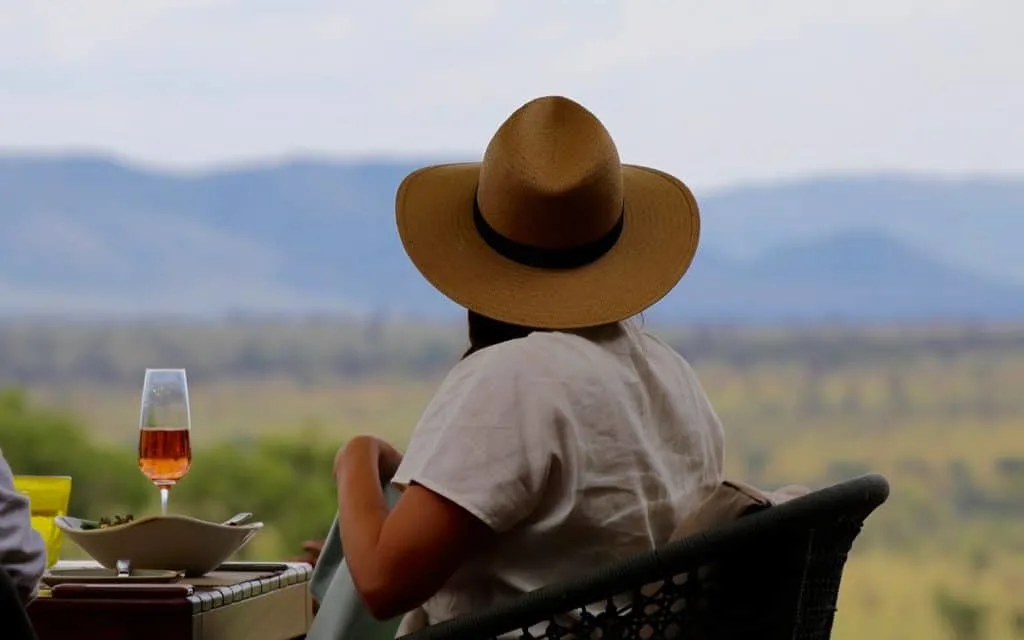 Be one of the many people who not only visit the Four Seasons Serengeti Lodge for comfort and relaxation but also help preserve and protect the Serengeti wildlife. A truly amazing gift anytime is to treat yourself to a much-needed vacation but also give back to the community and help preserve the wildlife of Serengeti.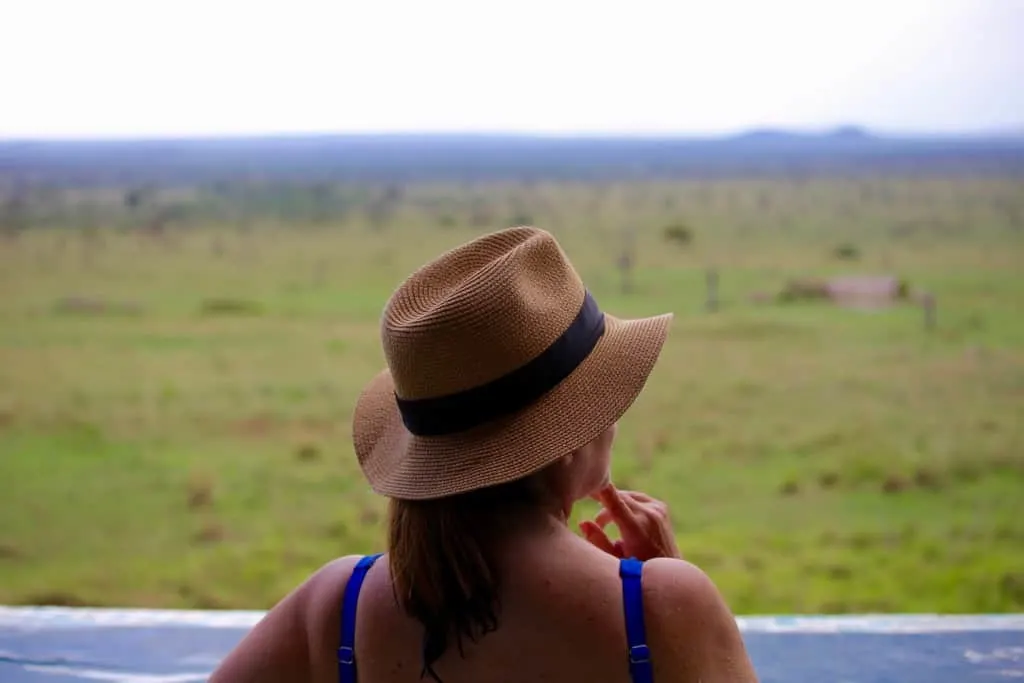 Disclosure: As is common in the travel industry, I was provided with accommodations, meals and other compensation for the purposes of review by Four Seasons Serengeti. While it has not influenced my review, PointsandTravel.com believes in full disclosure of all potential conflicts of interest. All photos were either taken by the author/or were given permission from the photographer. Affiliate links may be located in this article.