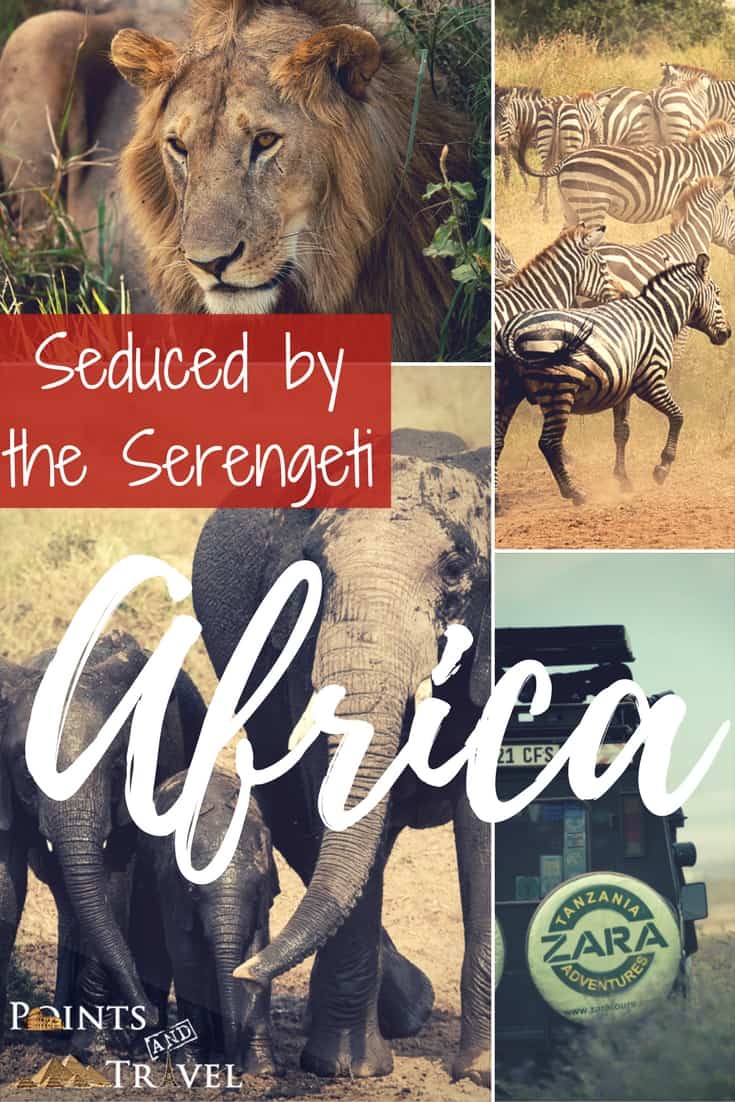 Tanzania Safari: Seduced by the Serengeti
When I sign on for the photo safari of the Serengeti in Tanzania with Popular Photographer's E Mentor Series, I picture myself a bit like Meryl Streep in the movie "Out of Africa", dressed in khaki-colored safari clothing surveying those sweeping plains with lions and leopards roaming in the tall tawny-colored grass. As it turns out, my impressions aren't too far off. Granted, the film takes place in Kenya, but like Meryl, I will ultimately be swept off my feet, not by a dashing big-game hunter, Robert Redford, but by an epic landscape teeming with life in the Serengeti.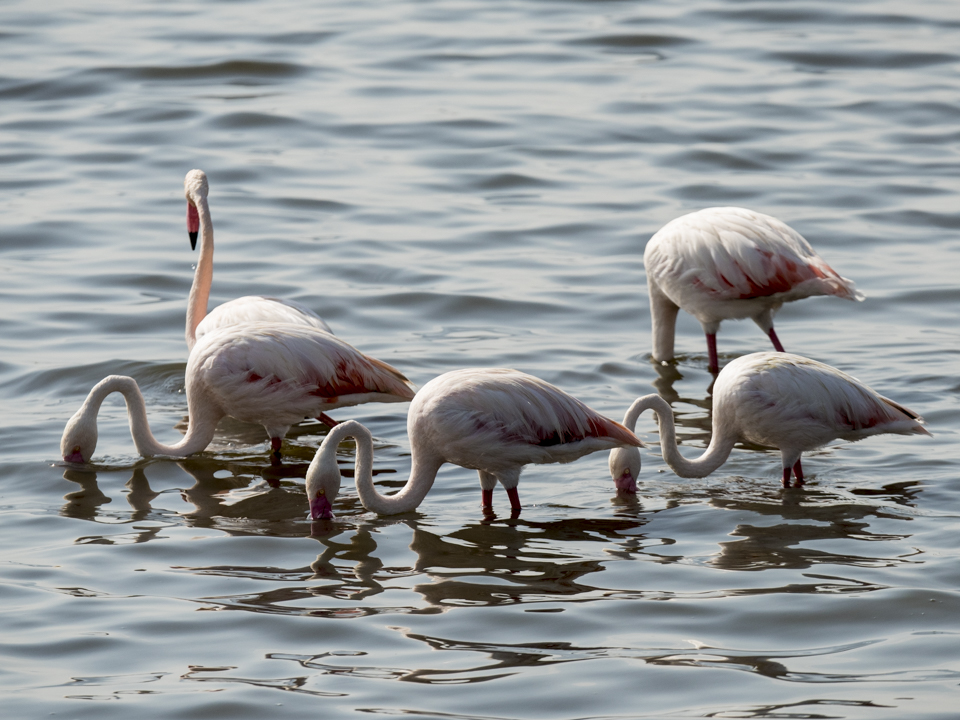 In short, a safari, at least in the Serengeti of Tanzania, is easily defined as a game drive. You spend the bulk of the day driving on dusty gravel and dirt roads through national parks and conservation areas looking for and observing a plethora of animals and birds. The bonus is being able to check off the "big five" from your bucket list – lion, elephant, leopard, Cape buffalo, and rhinoceros.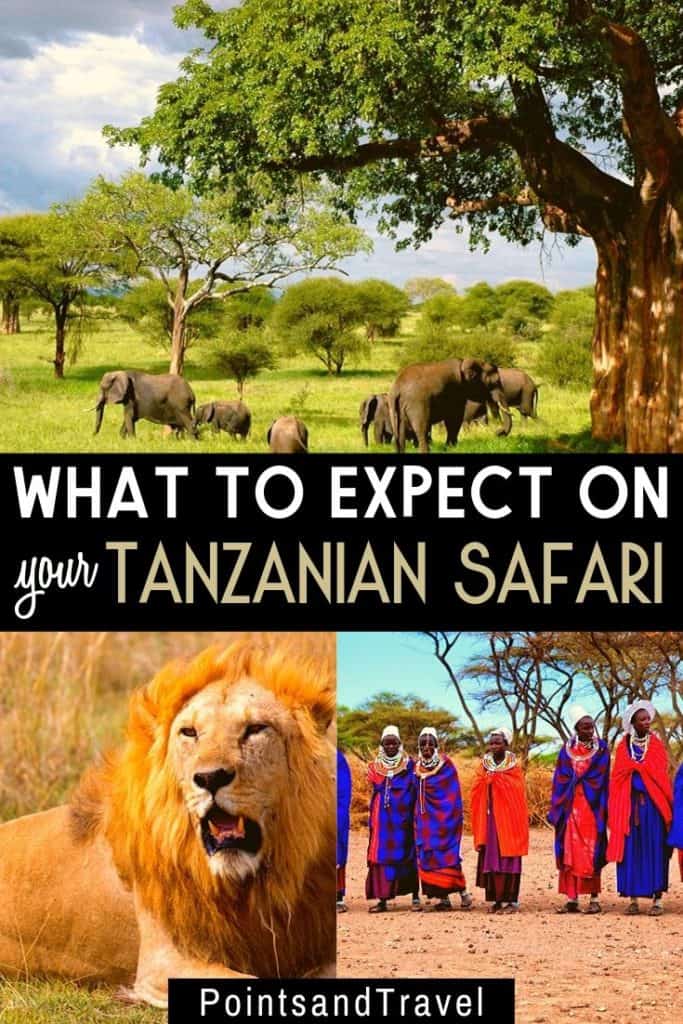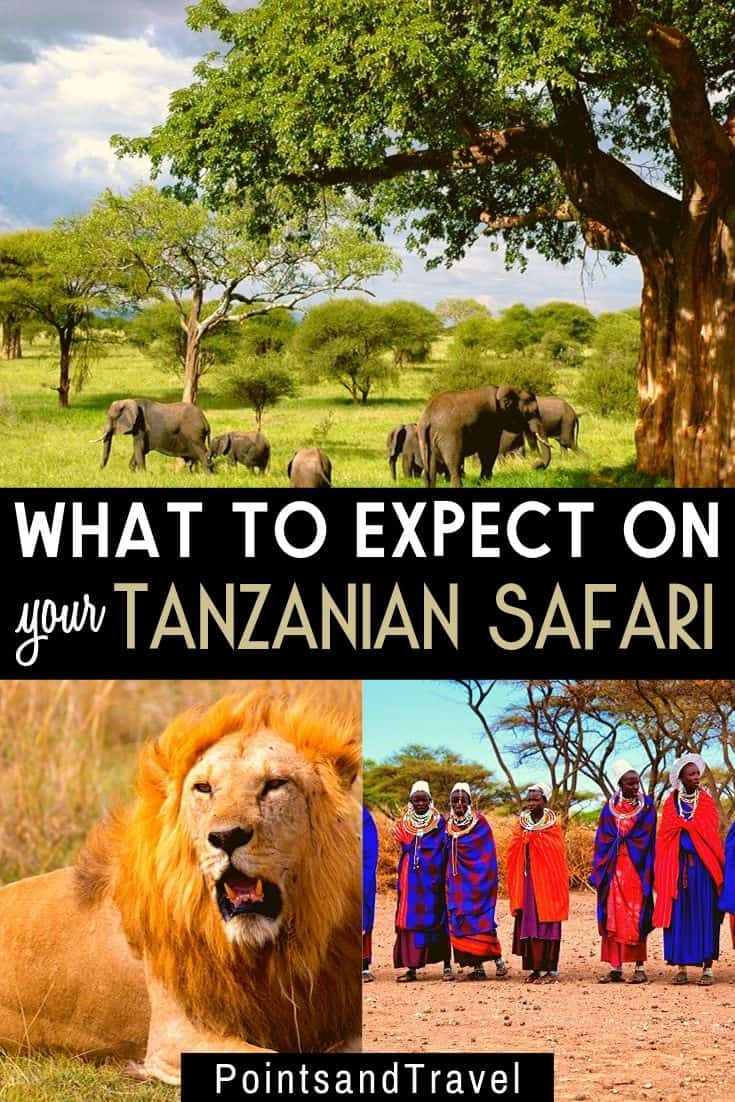 A typical day in the Serengeti involves about 7-8 hours of driving, with a few bathroom breaks and a lunch stop. The Serengeti park rules dictate that no one is on the road before sunrise or after sunset, and there is no getting out of the vehicles unless at a designated picnic or camping area, or a lodge. Now you might wonder what happens if you really need to pee and there is no bathroom for miles. It is possible to "check the tires" in the Serengeti as long as the driver/guide determines it is safe.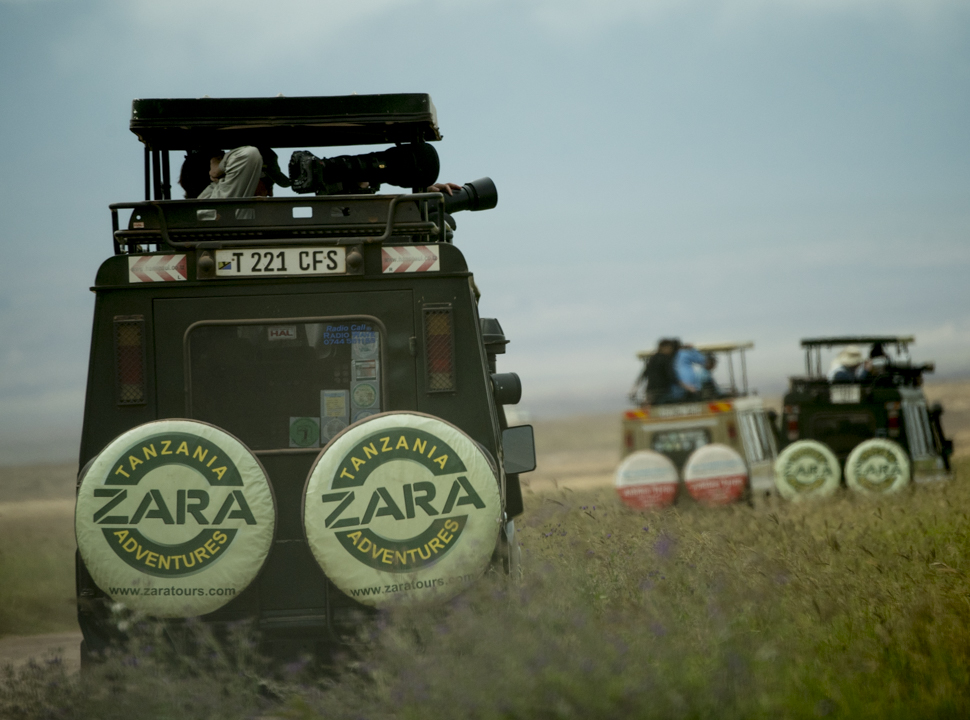 Seduced by the Serengeti…African Safari
Our tour company, Zara Tours, uses modified jeeps with tops that pop up, so you can stand on the seat (without shoes) and easily survey everything in sight with camera or binoculars in hand. The guides stay in touch with each other by radio, so if anything significant is spotted, such as a pride of lions, the news spreads quickly. And then it becomes a road race with jeeps vying for the best position for their clients. It's common to see 8 or 10 jeeps squeezed together with mere inches between them on a lion kill in the Serengeti.
Tanzania Safari
We start our seven-day safari with a drive to Manyara National Park, where the first sightings of zebras and wildebeests roaming together cause a cacophony of "oohs" and "ahhs" from our group.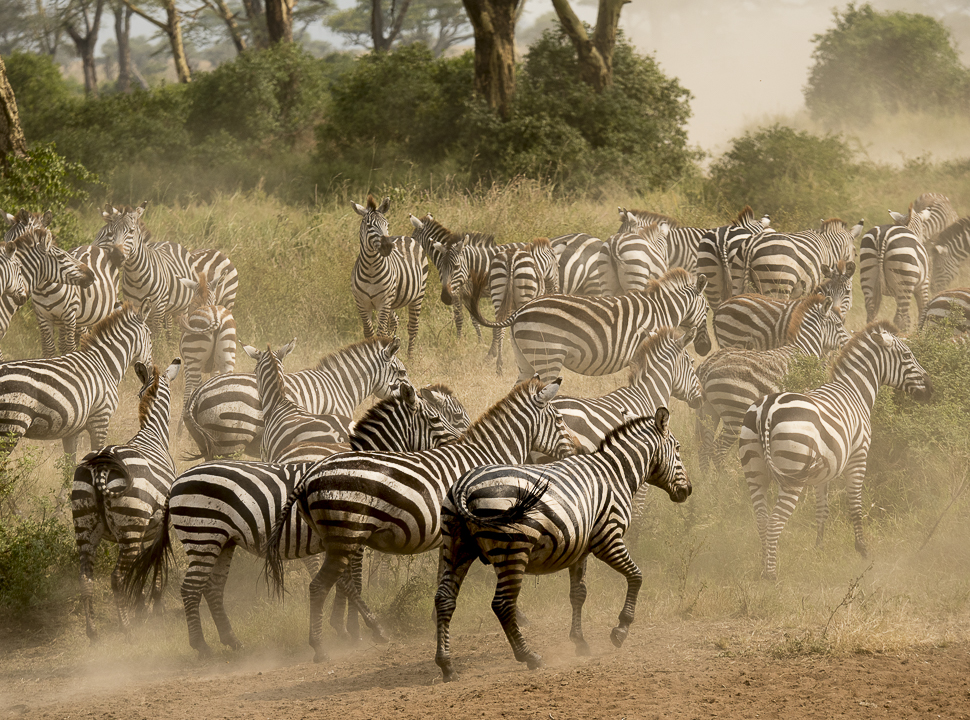 Gorgeous songbirds, shimmering flamingos at the lake's edge, giraffes with their graceful gait milling about, baboons grooming each other, and finally a small group of elephants passing within just a few feet of the jeep marks this first day as a glowing success.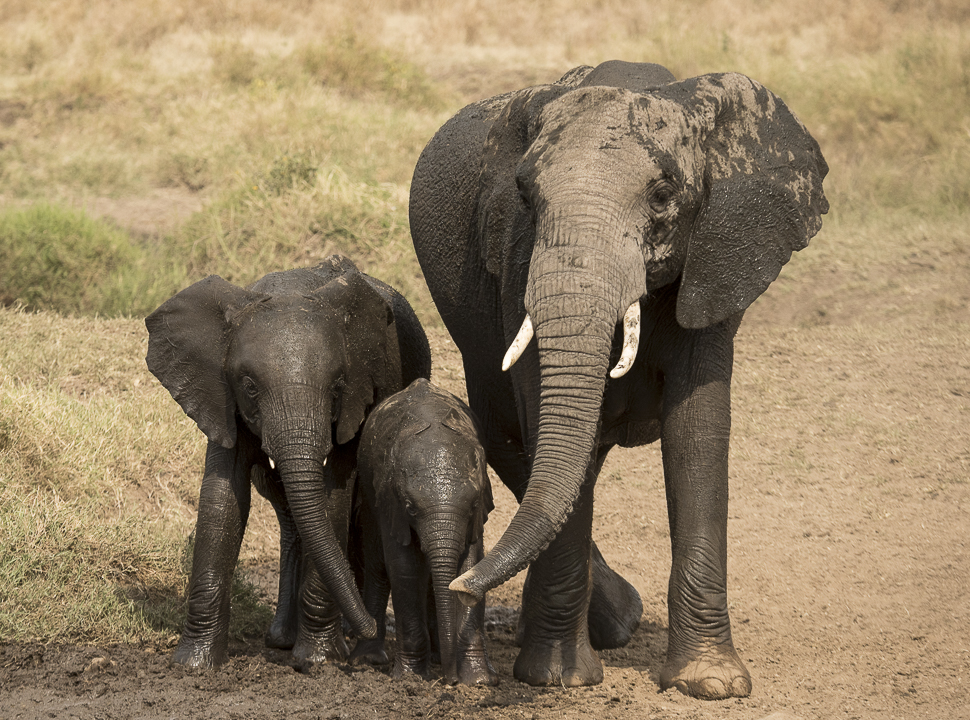 We move on to Ngorongoro Conservation Area where our first lion is spotted in the distant tall grass – barely a head showing, but hey, it's a lion.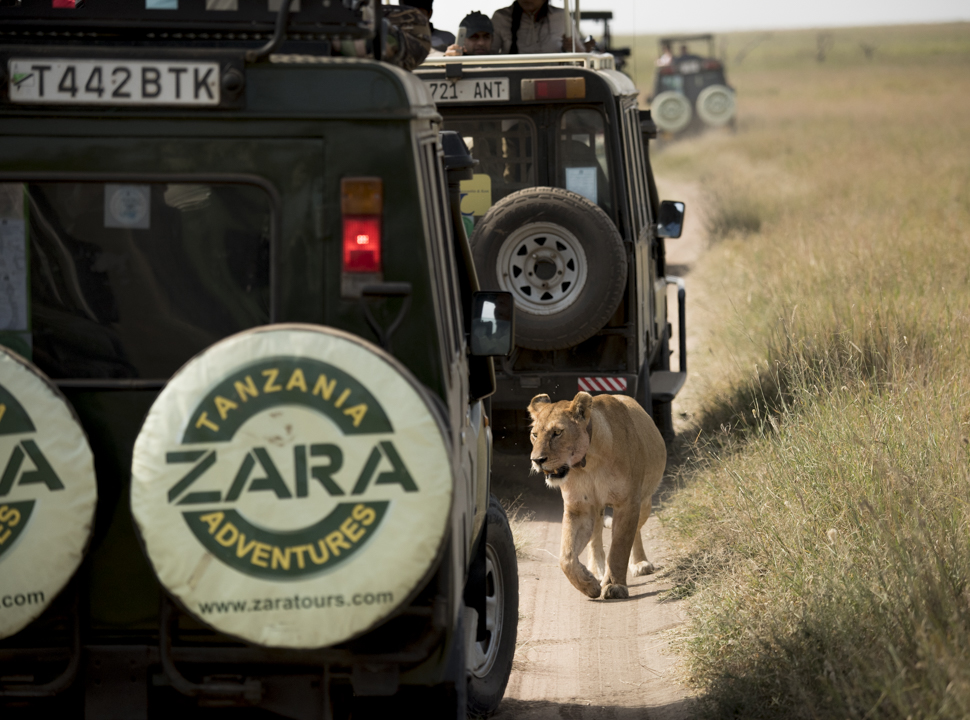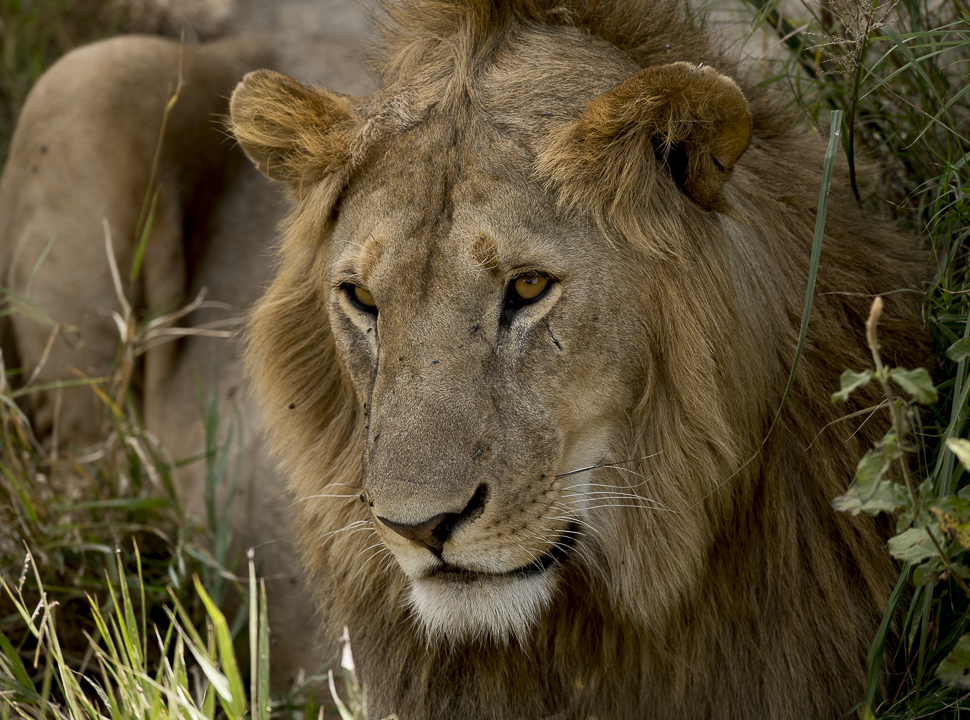 Tanzania Safari – What an amazing experience
By the end of day two, the excitement of elephants, zebras, and wildebeests is wearing off. We are on the hunt for lions, leopards, and rhinos. Being photographers, we don't want just a lion and leopard – we want groups of them in action, up close with ideal lighting conditions.
Clearly, we are becoming a tough group to please in the Serengeti!
The Ngorongoro Crater (a UNESCO world heritage site) is the centerpiece of this conservation area in Tanzania. As we drive down into the massive crater floor (8,200 square kilometers), we see the first of the Maasai villages, a cluster of mud huts in a circle. We'll ultimately pay a visit to one of these villages, but that's a story for another time on how these beautiful people manage to co-exist with some 25,000 animals, mostly ungulates within the crater.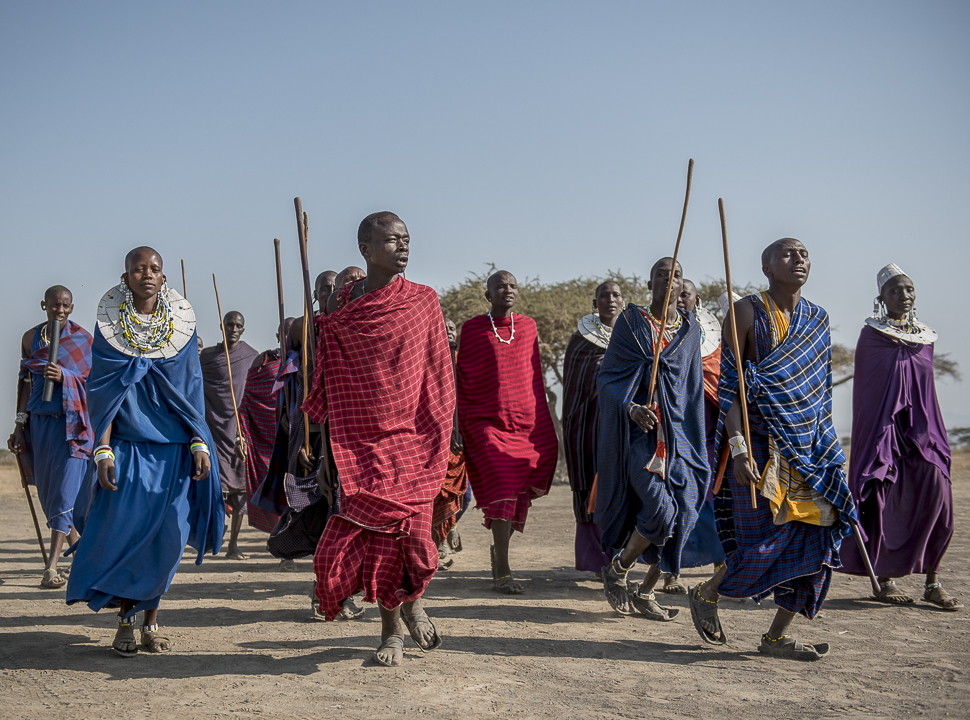 Tanzania Safari- The Tanzania People
The crater marks the location of where the remains of the first humans were discovered by Dr. Louis and Mary Leakey over 50 years ago in the Olduvai Gorge. Over dinner, the talk turns to the magical spell that Tanzania is casting on all of us, realizing we are hunkered down in the backbone of civilization, literally surrounded by thousands of animals. We surprise ourselves by the number of images we're taking – only day two and all of us have a minimum of 2,500 shots.
Our remaining 5 days will be game drives in Serengeti National Park, with each day presenting more astounding experiences. We will observe a lion on a kill, lions within mere feet of our vehicles, a leopard lazily chilling in a tree,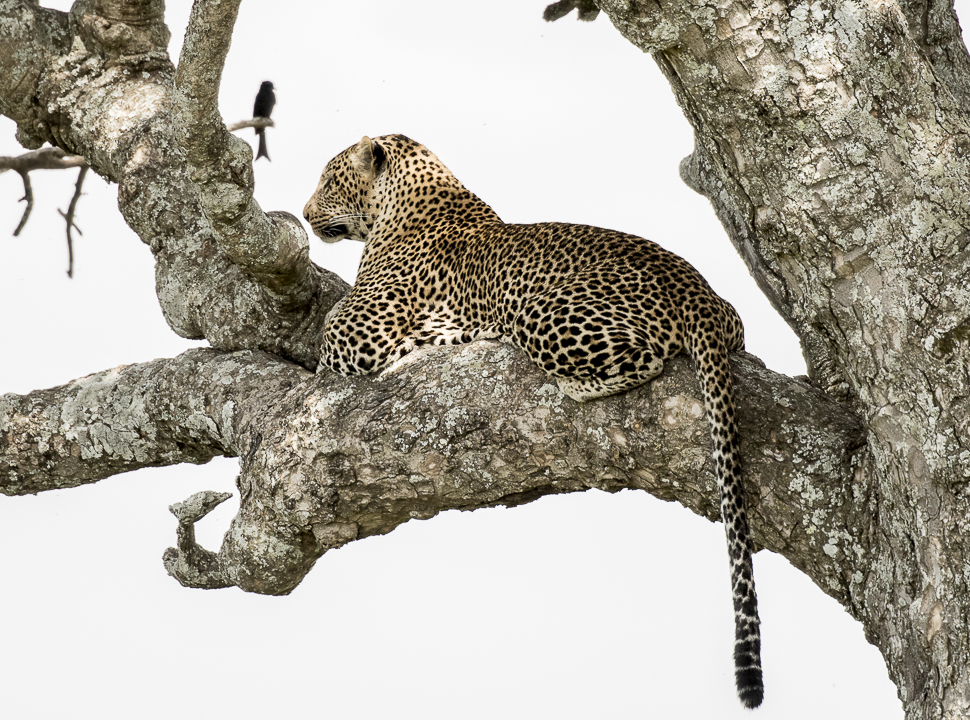 a pool of grunting, smelly hippos, alligators, Cape buffalo,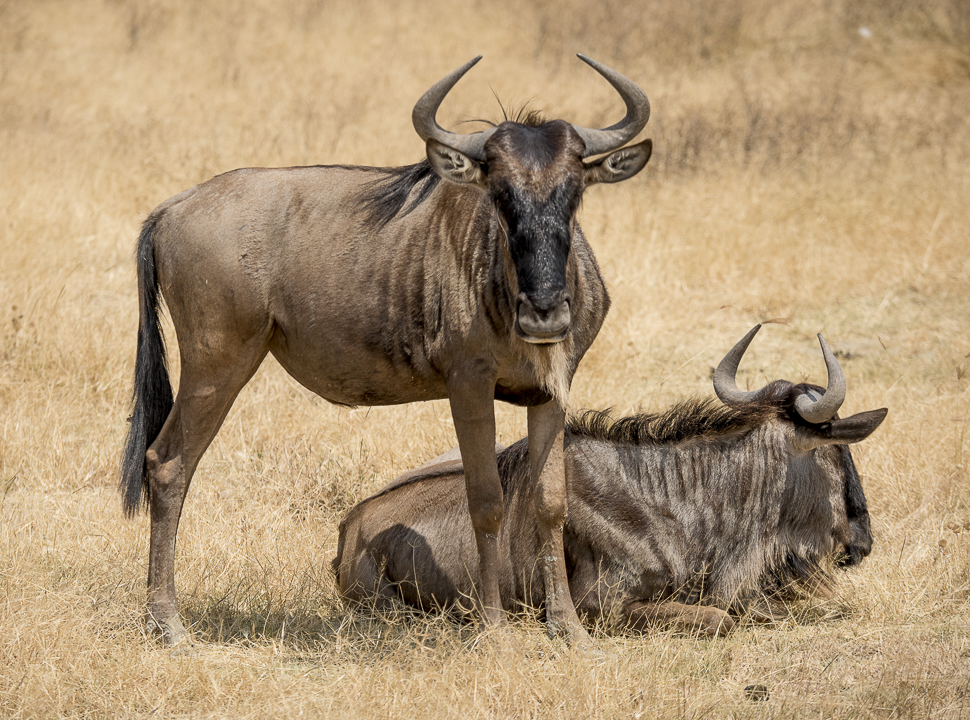 warthogs, gemsbok, topi, and gazelles. The black rhino, however, is proving to be a no-show, so for those keeping scores, we miss one of the "big five". The birdlife is spectacular – vultures, cranes, storks, herons, ostriches, and my favorites – the stunning the lilac-breasted roller, kori bustard, and the secretary bird.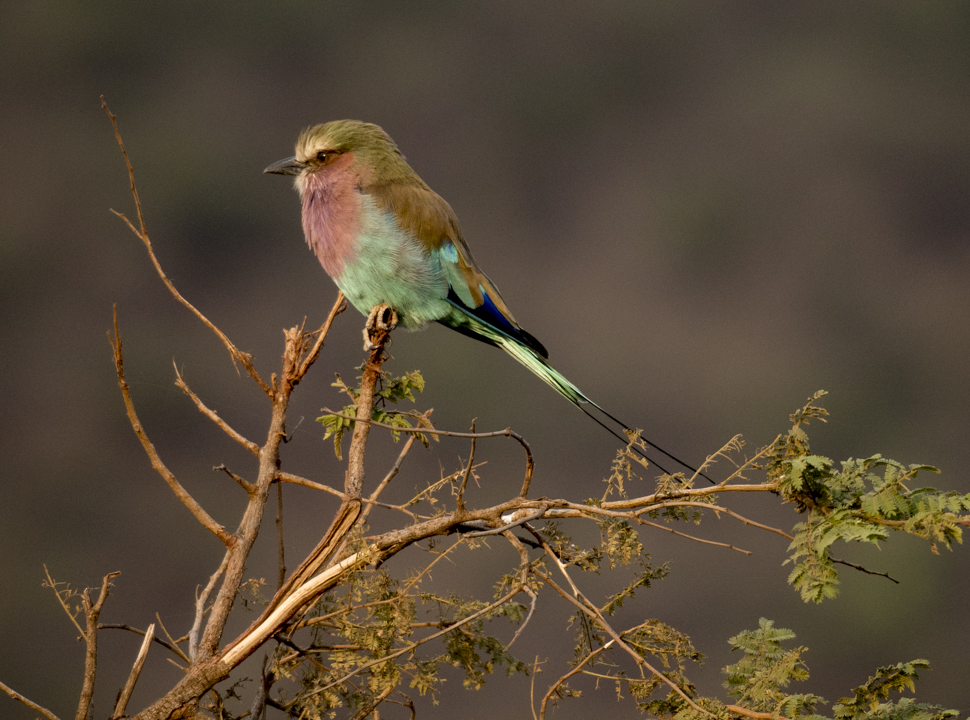 Seduced by the Serengeti – Tanzania Glamping
Tanzania borders Kenya, so at one point when our head guide Yusuph says we are close to Kenya, I get the brilliant idea that it would be so cool to straddle both countries. It doesn't take much to twist Yusuph's arm and soon we are on our way to the guard station on the Tanzanian border. With a $50 bribe tucked into this pocket, the head honcho carrying an Uzi jumps in with us for a short drive to the border, marked by two stone pillars and with that, we line up with one foot in Kenya and one in Tanzania and have the photos to prove it!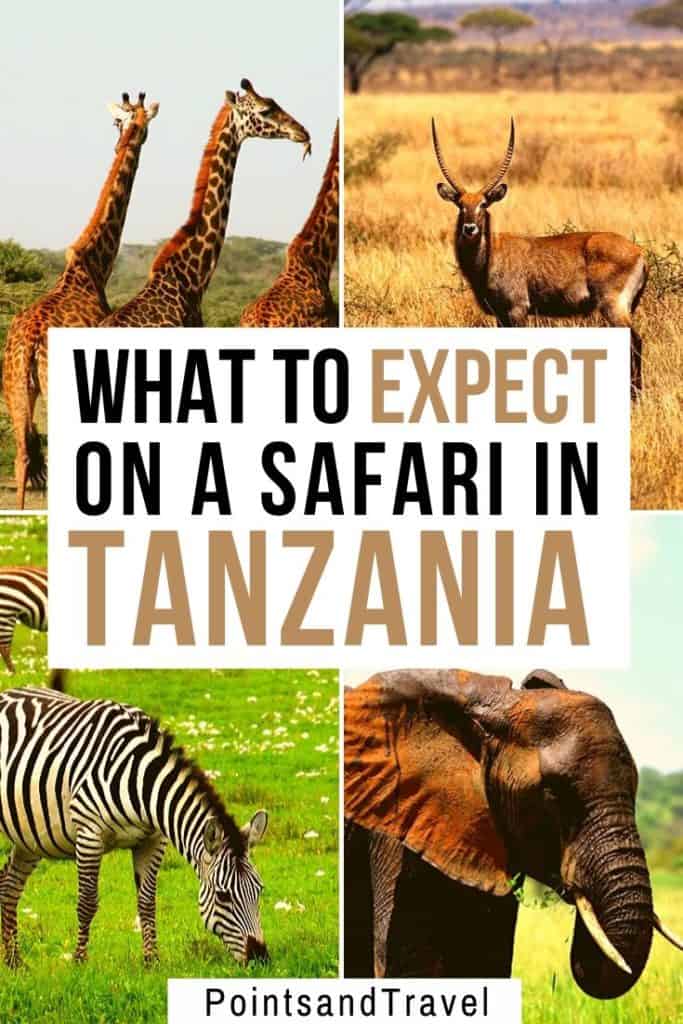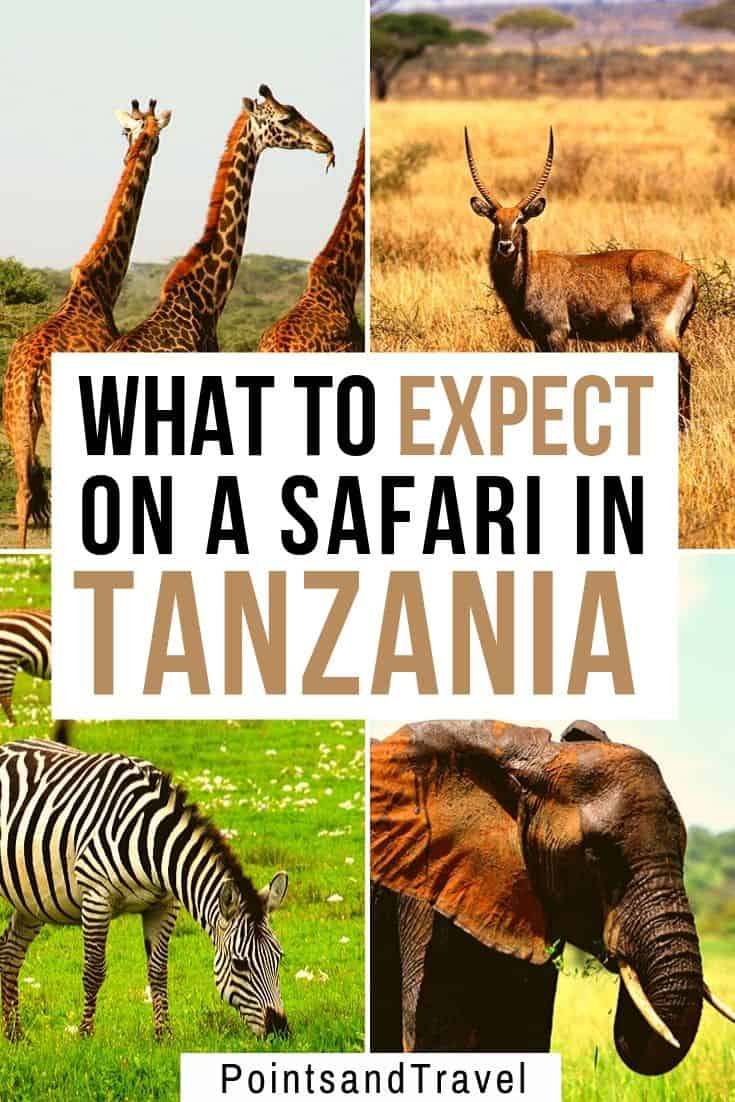 As if the landscape and intensity of the animals aren't enough, every day ends with impressive accommodations, including two nights of glamping. We're talking upscale folks, especially considering we are in the middle of nowhere.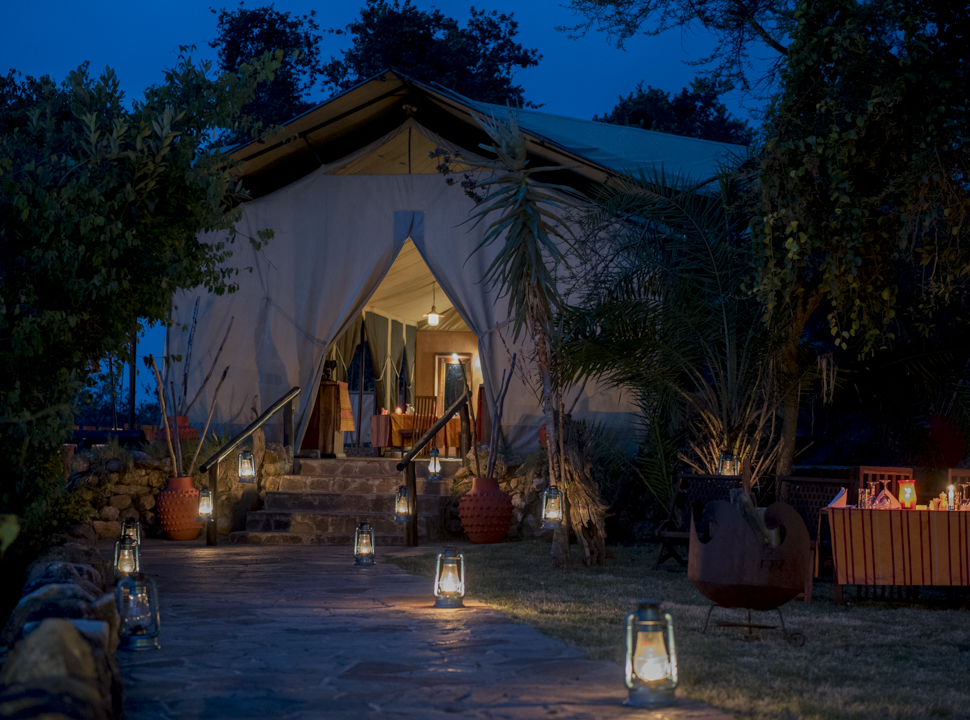 Attentive staff, exceptional food, plenty of hot water for showers, open-air bars, and décor designed to reflect the spirit of Africa – caps off our exhausting but fulfilling days. At the tented camps and a few other lodges, there is always a guard available to escort you after dark in the interest of safety from roaming animals. It's curiously intriguing to try and fall asleep to the grunting and snorting of hippos and buffalo milling about outside your door.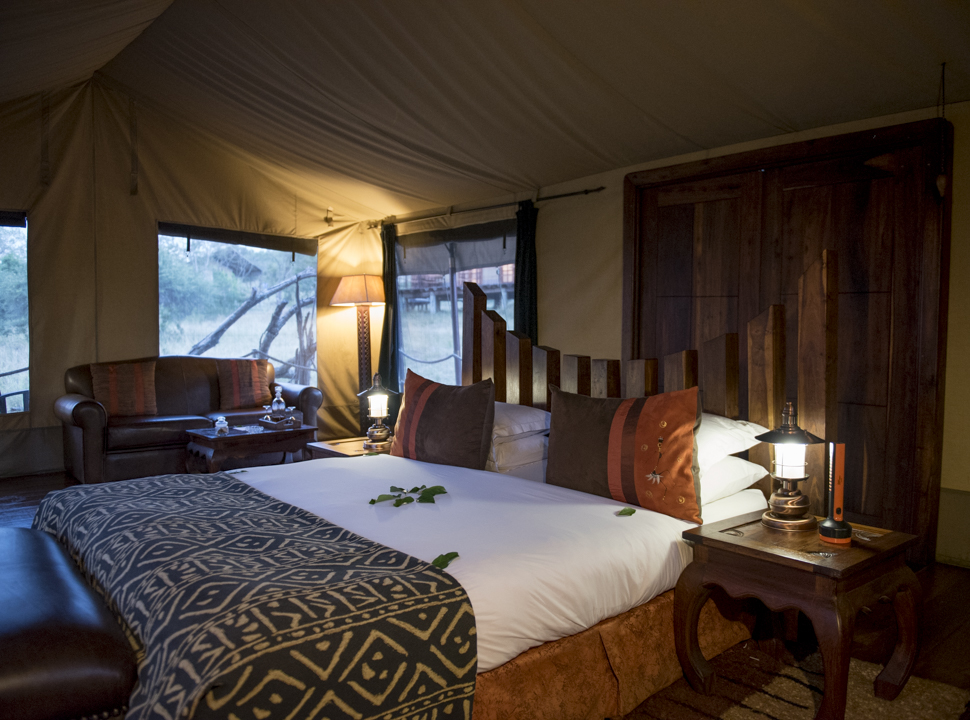 A Tanzania trek can price out many different ways, depending on the number of days, the choice of accommodations, the number of people you take in each jeep (we are four to a jeep, giving each of us ample room for photographing), and the time of year. Our drivers/guides have a wealth of knowledge about the animals and birds and their movements in this vast landscape. Time your visit to hopefully coincide with the migrations.
It is estimated that four million wildebeests and thousands of zebras along with hundreds of gazelles move north across the plains of Tanzania in May when the southern part of the Serengeti gets dry, then in July, these herds move across the Mara River into Kenya. In October they move back to the Serengeti. Unfortunately, our group missed the great migration in the Serengeti.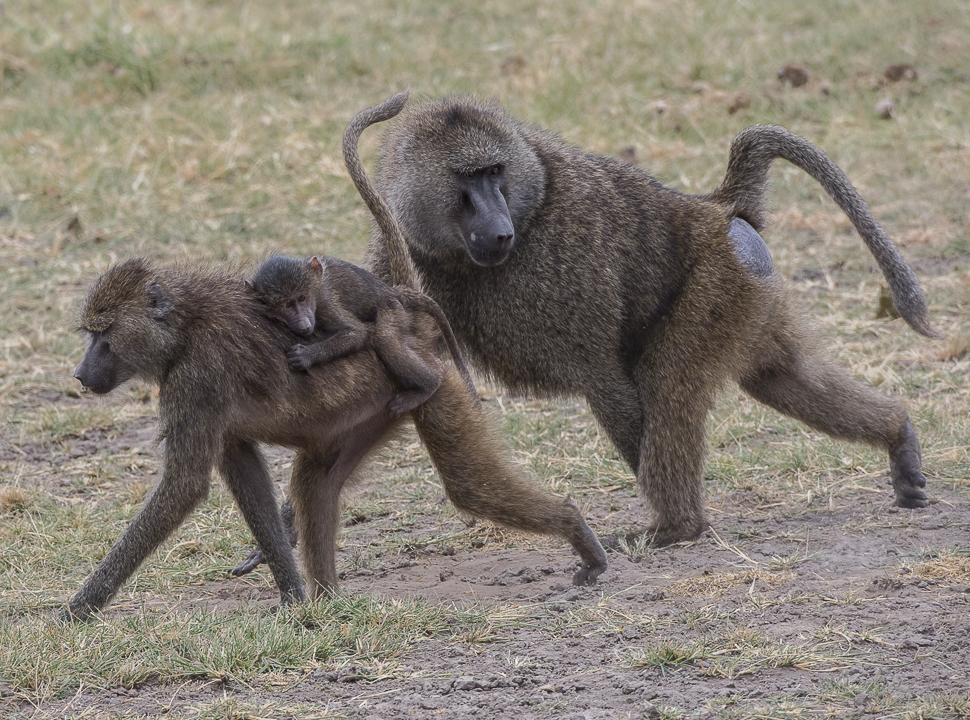 Tanzania Safari- Ready To Go Again
I'm ready to head back to the Serengeti in Tanzania. I don't need more photos – the 10,000 I shot is more than enough. This part of the world has me in its grip. I'm in awe of how the Maasai people live the simplest of lives, yet adapt well to their surroundings.
I'm relishing a land where I feel cleansed from all that is disturbing in the world today, where there is a natural harmony, respect, and order to life that has been in place for thousands of years, and I'm privileged to see it unfold from the sidelines. If only the rest of the world could behave this well.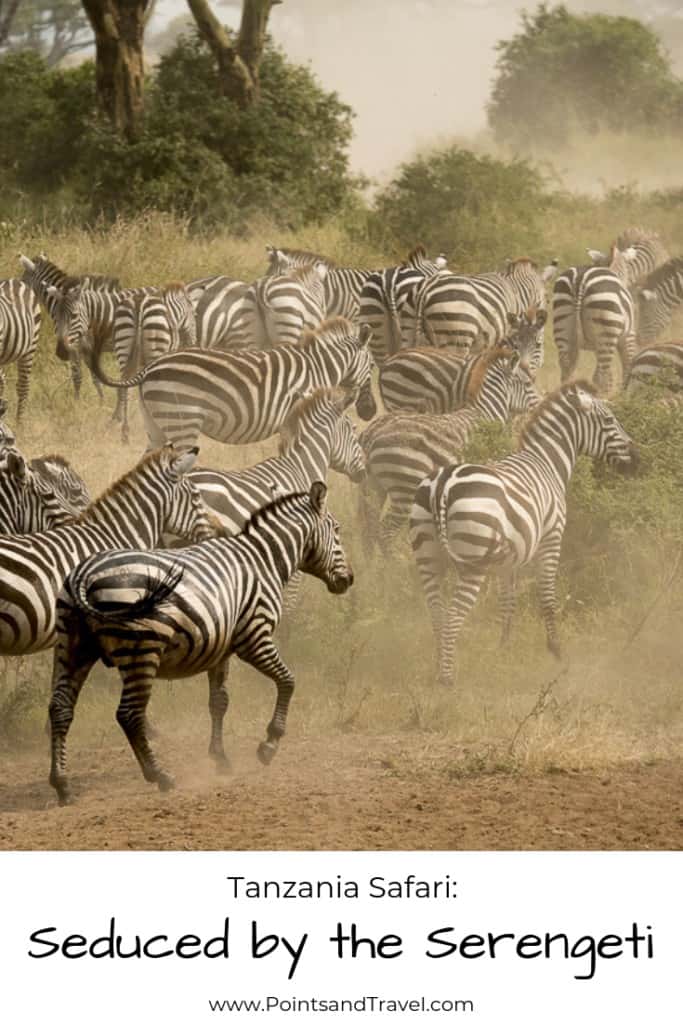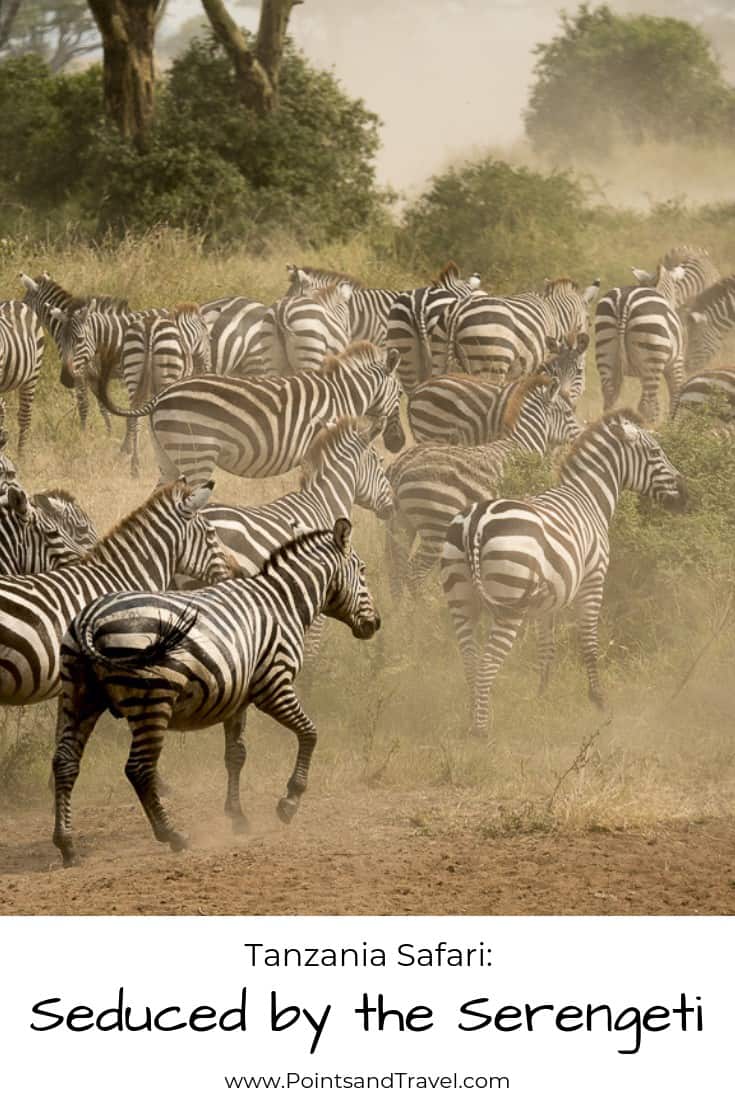 Disclosure: Travel Writer Donnie Sexton was a trek leader for the Mentor Series program. Her opinions expressed here are all her own. You can follow her over on Instagram @donniesexton1
Biography: Donnie Sexton has been with the Montana Office of Tourism for 26 years, splitting her time as a staff photographer and working closely with the media. She is a self-taught photographer and has been fortunate to take a few workshops along the way with some inspiring instructors. She has an insatiable appetite for travel that she has been documented primarily through her photos. She always tells a story behind her images that define a destination or an experience.
This is her voice: "I hope to convey these stories through my words. I can't speak to having a defined bucket list because every place I read or hear about tugs at my heart. What I can say is this girl will never try skydiving or bungee jumping! I choose to leave myself open to serendipitous moments that present themselves while on the go."
This is mine: "When I met Donnie in, Missoula, Montana, I knew she was something special. She had an inner being that was bursting to get out that she expressed while we had a heartfelt conversation about our lives over gelato. I knew immediately she would be a fantastic writer and as you can see, she is an awesome photographer and I am proud to introduce you to the voice of Donnie Sexton. This won't be the last time you hear from her."
Read other articles by Travel Writer Donnie Sexton
Exploring Venice: Best Things to do in Venice Italy
The Ranch at Rock Creek – A Slice of Heaven
Myanmar's Water Dwellers of Inle Lake
Africa: Seduced by the Serengeti
Venice of the East – Water Towns of China
The Serene Side of India – Kerala